Crusted Chicken Romano is tender and juicy and each chicken cutlet is blanketed in a crunchy, crispy breading made with freshly grated Romano Cheese and panko bread crumbs. This recipe might remind you of the famous version served at the Cheesecake Factory. Dish it up with a squeeze of lemon on the side and enjoy it with Butternut Squash Mac and Cheese or Creamy Pumpkin Pasta Sauce and a salad with Blue Cheese Vinaigrette for a tantalizing chicken dinner!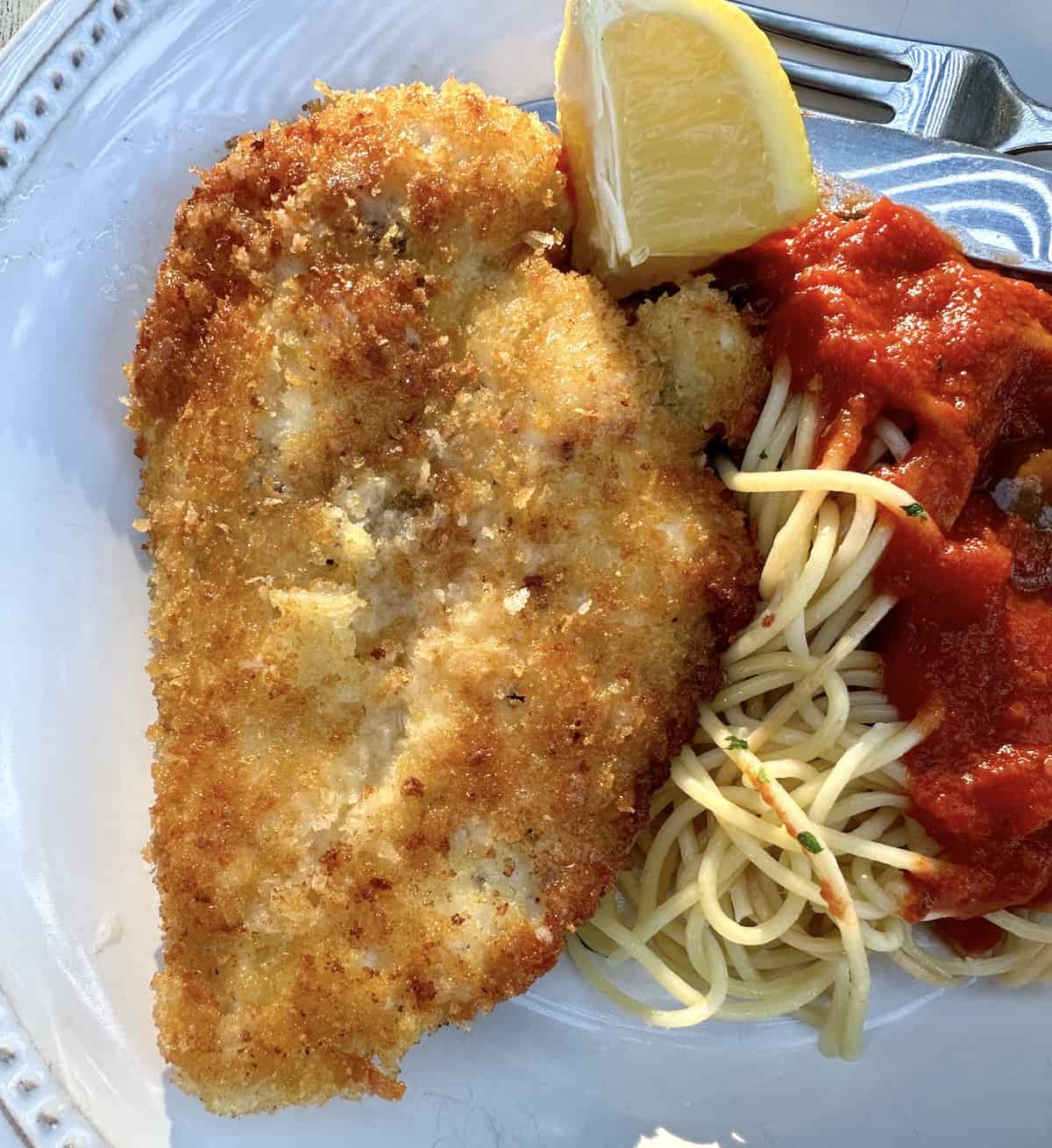 Jump to:
⭐ Why You'll Love Crusted Chicken Romano
This Crusted Chicken Romano recipe was inspired by the popular entree served at the Cheesecake Factory. It's a restaurant-quality recipe you can make in your own kitchen any time.
It's a classic comfort food recipe. Serve with a side of Roasted Balsamic Brussels Sprouts and freshly baked, Classic Potato Rolls for an incredible meal!
Each tenderized, pan-fried chicken cutlet is cooked to golden brown and the crispy crust includes a delicious blend of Romano cheese and panko breadcrumbs.
🥘 Ingredients to Have on Hand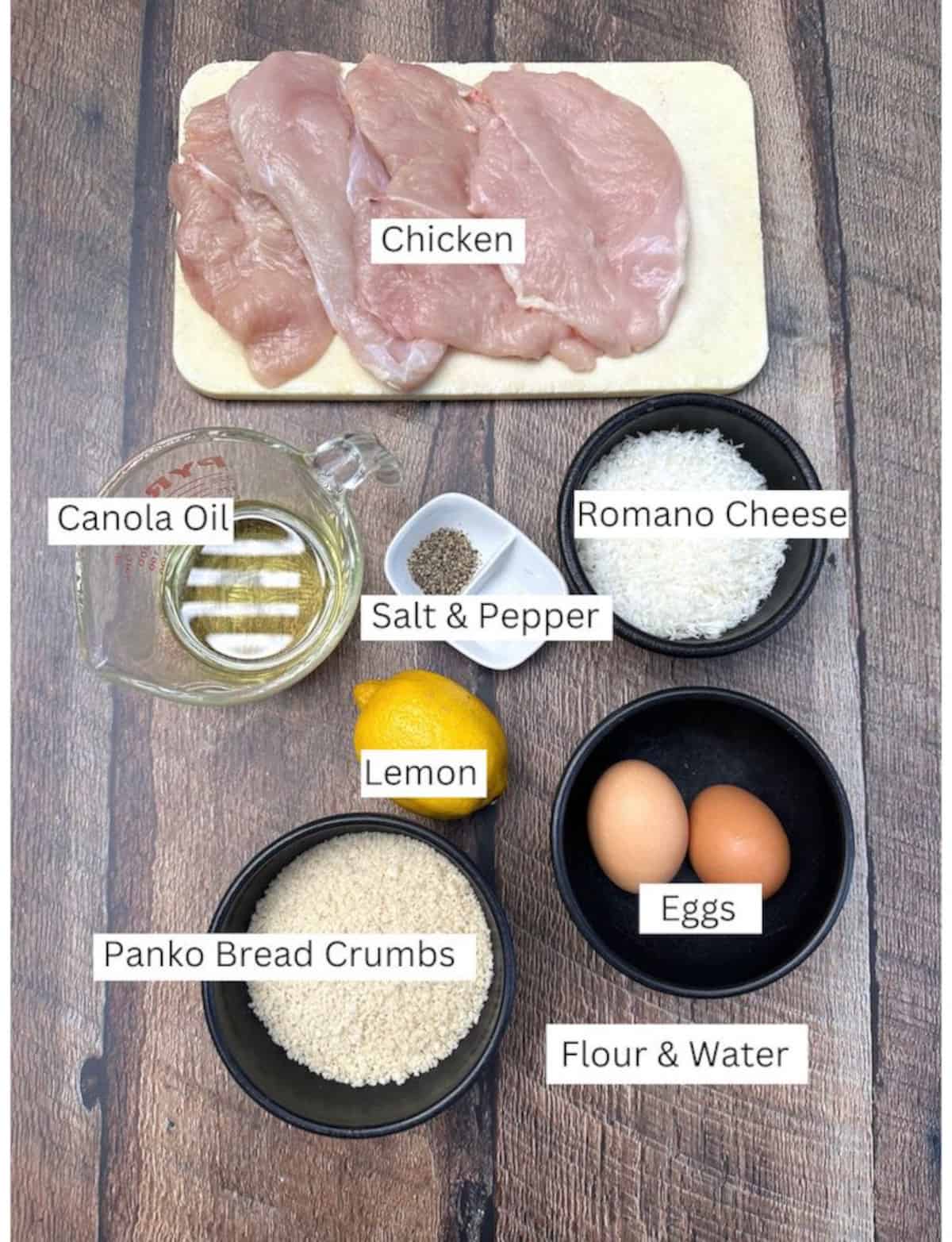 It's surprisingly easy to make this delicious chicken dinner recipe. Crusted Chicken Romano combines both fresh and pantry ingredients.
It is tried and true and a classic family-favorite recipe much like Chicken Spaghetti with Rotel and Velveeta.
Chicken Breasts: Whether you buy thinly sliced chicken cutlets at the grocery store or chicken breasts that you slice in half in your own kitchen, you'll want to tenderize each piece using a meat mallet. This ensures a consistent size, uniform cooking and juicy, tender bites of cooked chicken.
Panko Bread Crumbs: These are the secret ingredient to creating that golden brown, crispy and crunchy crust. Panko Bread Crumbs are light but sturdy and create the most delicious breading!
Romano Cheese: I highly recommend using freshly grated Romano Cheese, it's a low moisture, hard and salty cheese and it can stay fresh in your refrigerator for up to six weeks, so it's easy to keep this cheese on hand.
Eggs: These serve as the perfect binder or "glue" to keep all the breading ingredients together.
Lemon: A spritz of freshly squeezed lemon adds a bright touch of citrus to the savory chicken breading after it's fried. We don't always think of lemon with pasta recipes, but when it comes to Crusted Chicken Ramono, that squeeze of lemon is absolute perfection.
Scroll to the recipe card below for a full list of ingredients and measurements.
📋 Substitutions
Romano Cheese is the star of the show with Crusted Chicken Romano, but you can swap it out for freshly grated Parmesan cheese. The difference is Parmesan is slightly sweeter, a little less salty and has more of a nutty taste.
Panko Bread Crumbs are a must, these are what create the crunchy, crispy breading around each chicken cutlet.
Canola Oil can be substituted for any high-heat, neutral-flavored cooking oil such as vegetable oil or even extra light olive oil.
💭 How to Tenderize Chicken Breasts
It's very easy to prep chicken breasts or even thinly sliced chicken cutlets to ensure they will be tender and juicy. The trick is to use a meat mallet and pound the meat so it's a thin, uniform size. This allows for quick, consistent cooking.
Pounding the chicken helps break down the proteins in the meat which in turn makes the meat tender.
If you've purchased chicken breasts, slice them in half horizontally to create two thin fillets or cutlets from each breast.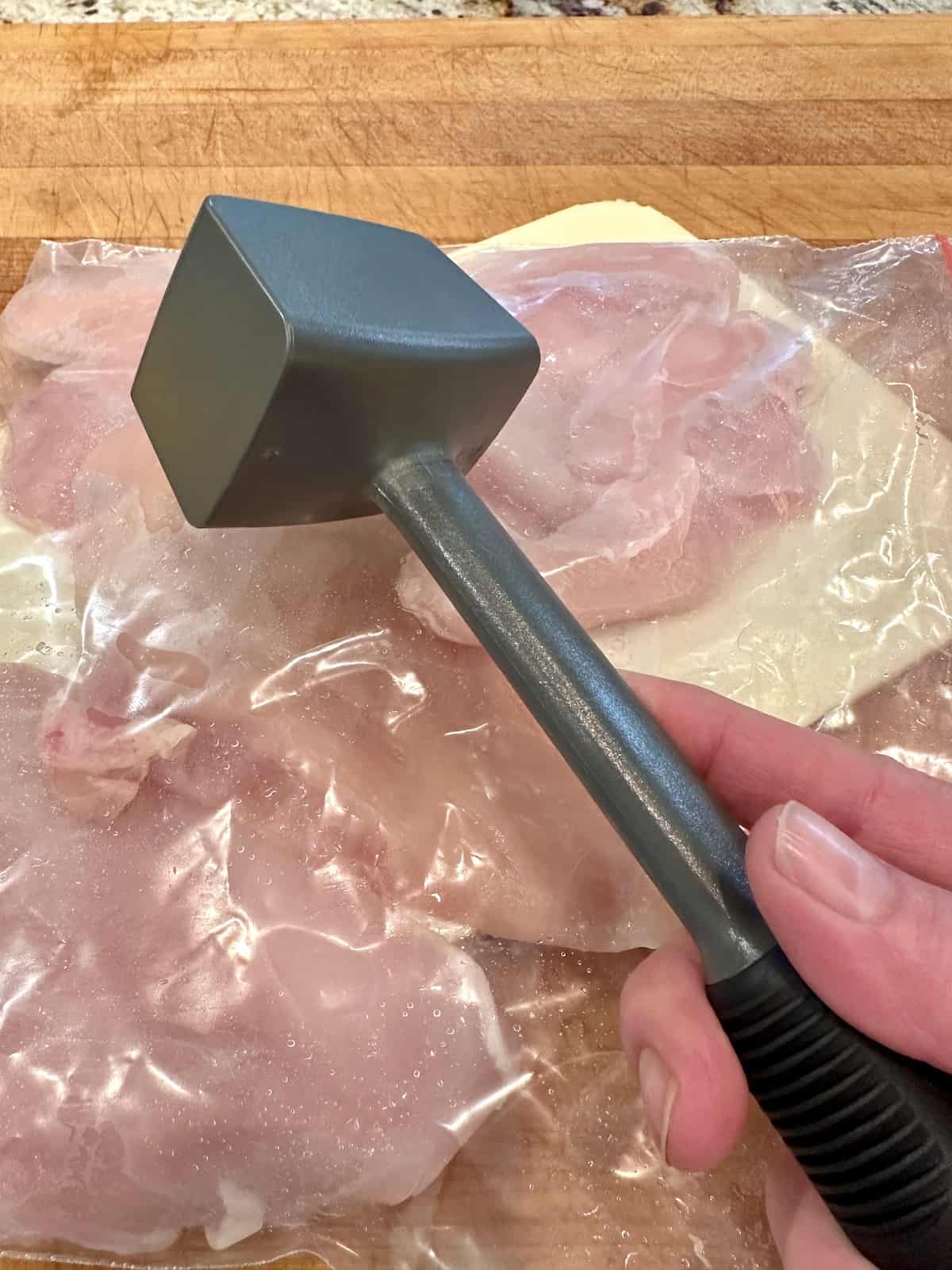 If you use thinly sliced chicken cutlets from the grocery store or butcher, you will still want to pound them to ensure each bite of cooked chicken will be tender and juicy.
The first step to tenderizing chicken is to place the thinly sliced portions into a plastic, zipped top bag. As an option, you could wrap each piece of chicken in plastic wrap.
Next, using the flat side of a meat mallet, gently pound each piece of chicken until it is ¼ inch thick.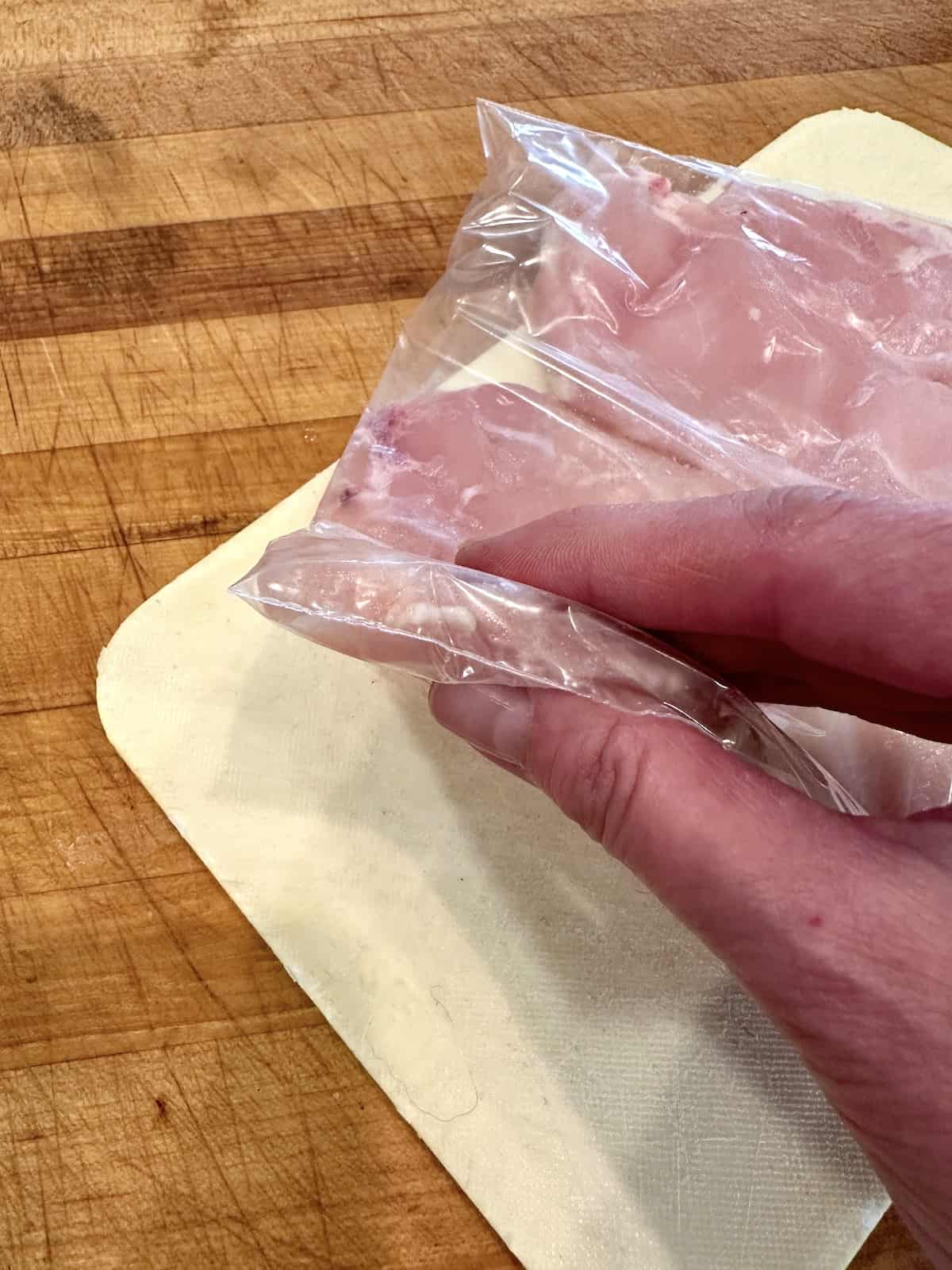 Continue pounding each piece of thicken until the entire chicken breast or cutlet has the same thickness, even the thickest portions.
Proceed to the next steps for making the most delicious Crusted Chicken Romano ever!
🔪 Step-by-Step Instructions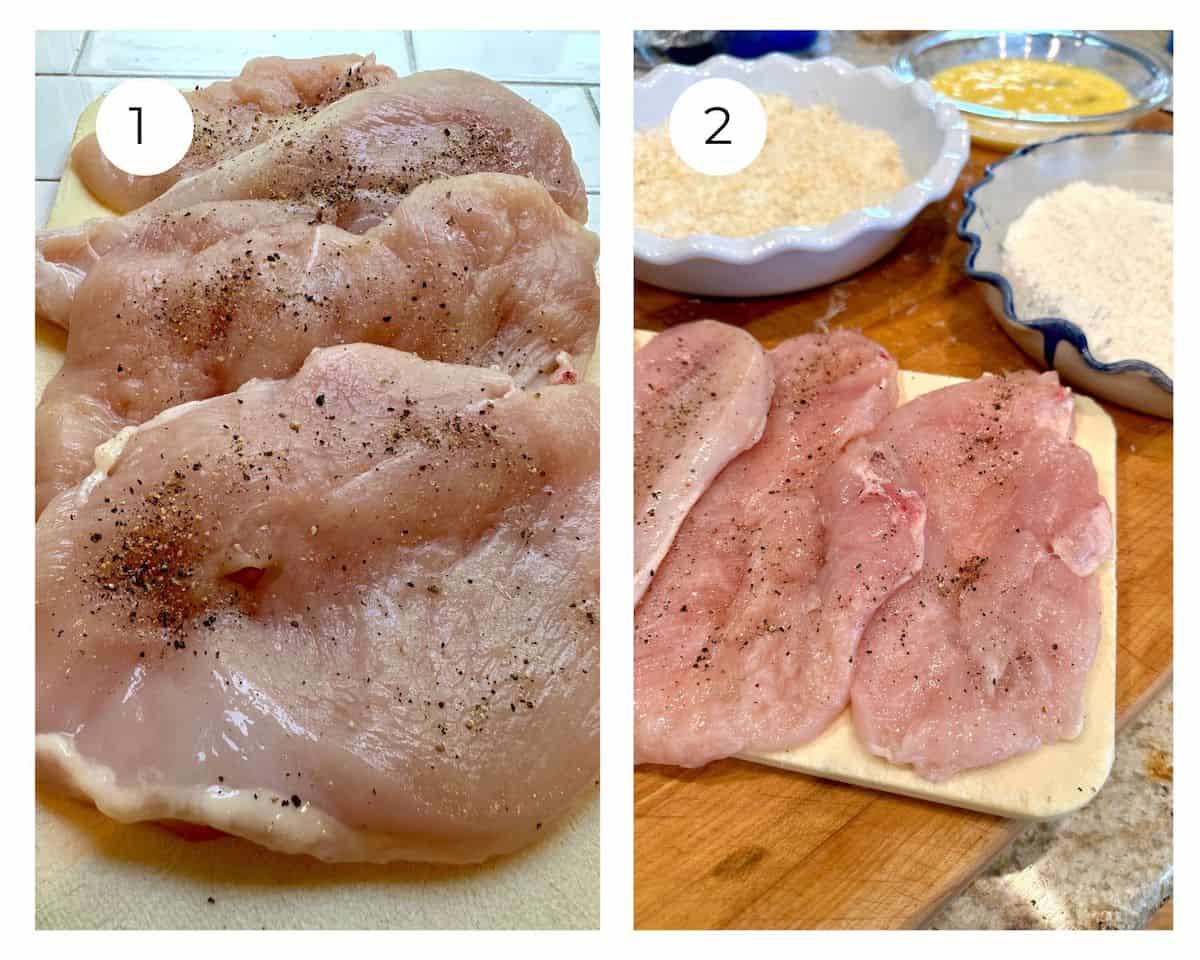 Step 1: Remove the cutlets from the plastic wrap or bag and place them on a large plate or baking sheet. Sprinkle each side of each cutlet with salt and pepper. Set aside. (Photo #1)
Step 2: Set out three shallow dishes on the counter, pie dishes work great. Crack open the eggs and place them in one of the dishes. Add 2 tablespoons of water. Whisk to combine until the eggs are light and frothy.
In the second pie dish, place ½ cup of flour.
In the third pie dish, place the panko breadcrumbs and grated Romano cheese, and stir to combine. (Photo #2)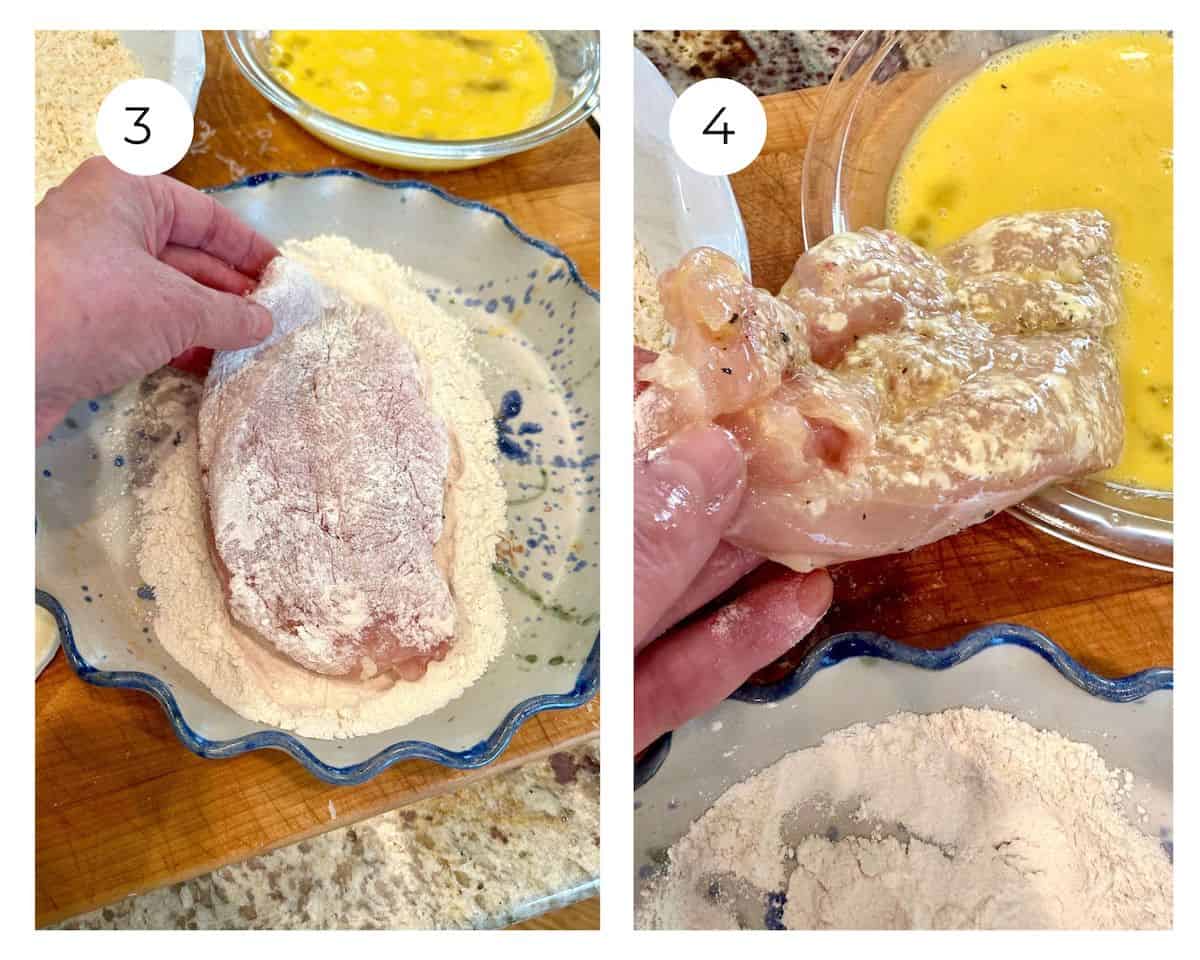 Step 3: Bread the chicken by placing each cutlet in the flour mixture and moving the cutlets back and forth to thoroughly cover the cutlet with flour. Lift each cutlet and shake gently to remove excess flour. (Photo #3)
Step 4: Dip each floured chicken cutlet into the egg wash and lift to allow the excess to drain off. (Photo #4)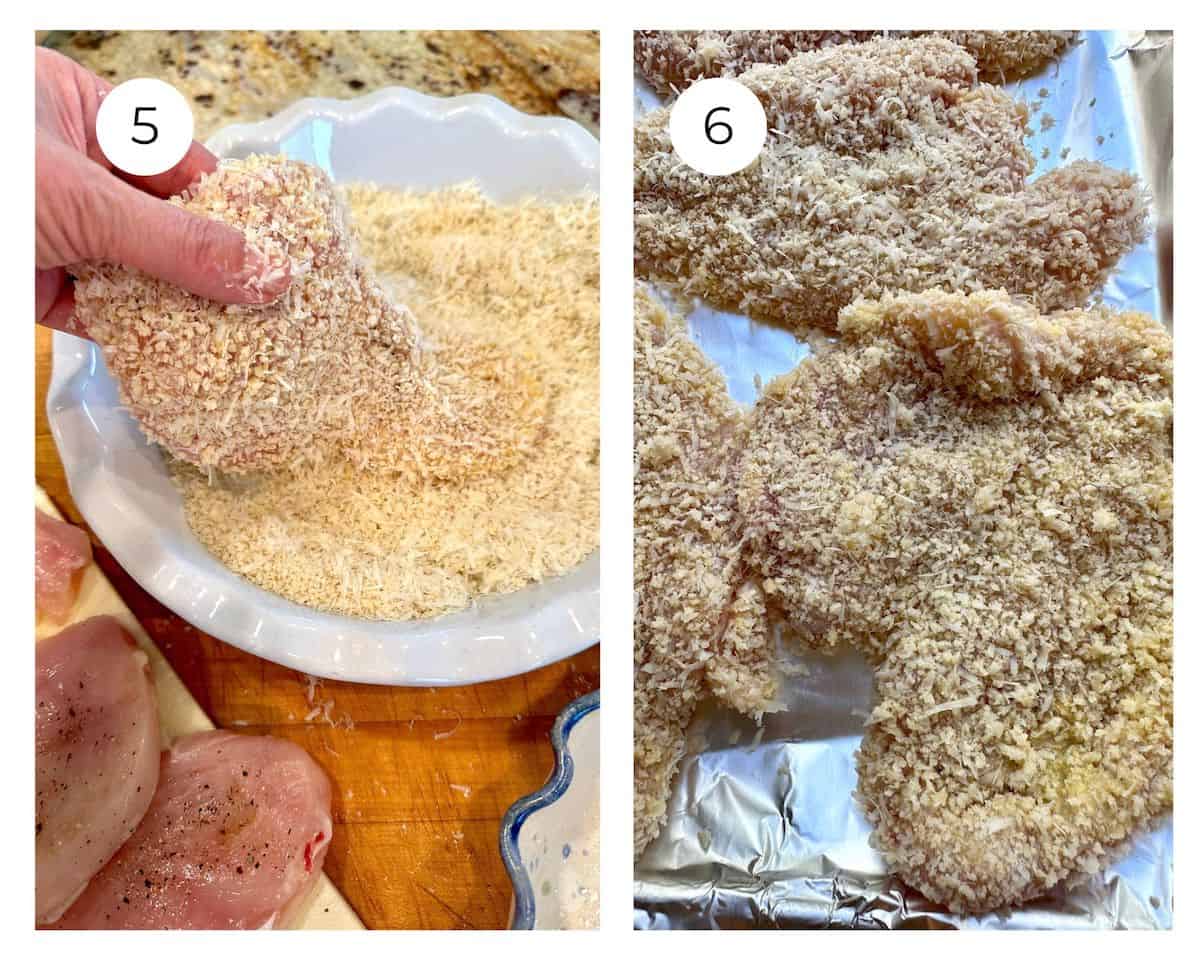 Step 5: Dip each chicken cutlet into the bread crumb and grated cheese mixture. Coat thoroughly. If needed, press the breadcrumbs gently onto the surface of the chicken. (Photo #5)
Step 6: Set the breaded chicken cutlets aside and let them rest for at least five minutes before frying. This gives the breading ingredients a little time to stick together and adhere properly to the cutlets. (Photo #6)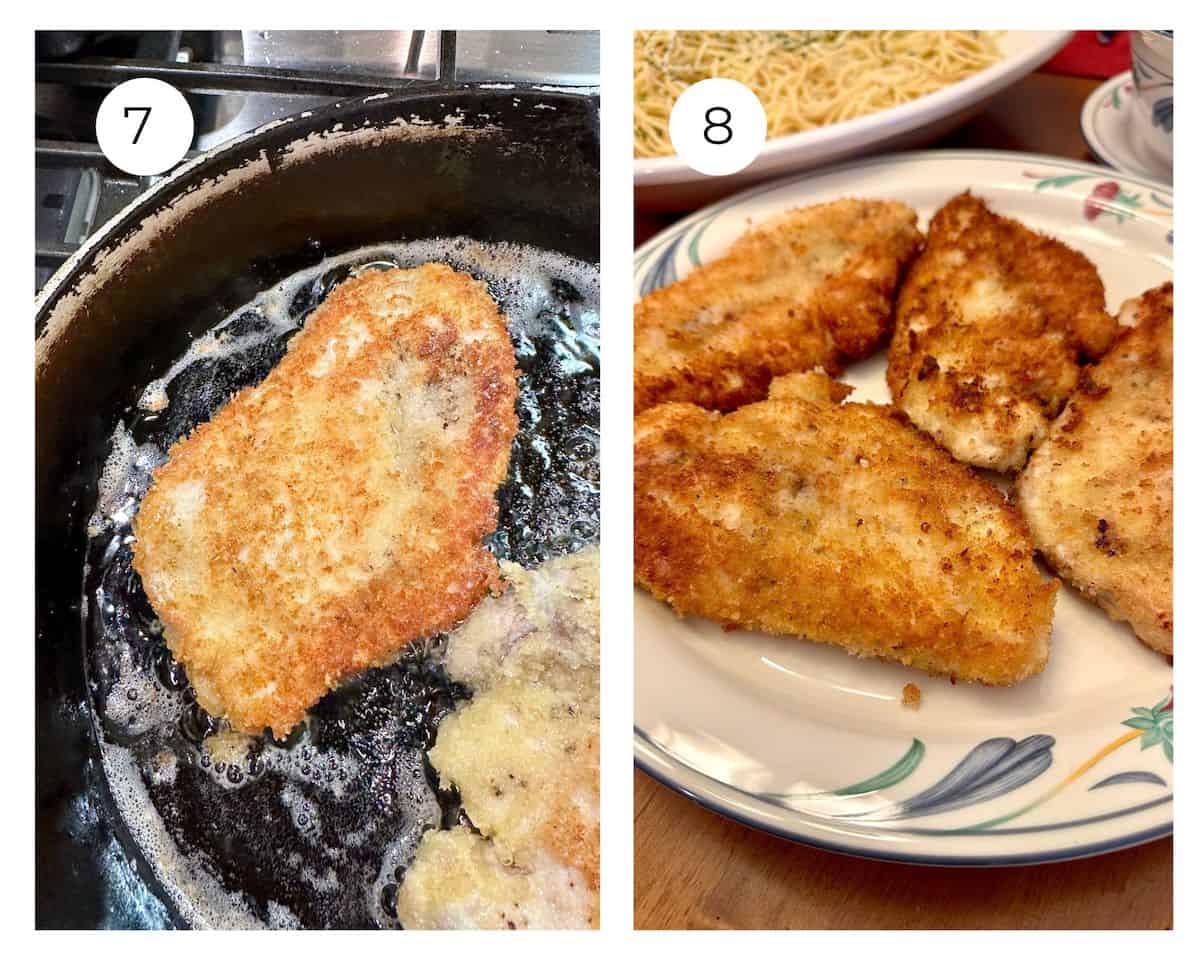 Step 7: Place the oil in a large skillet on the stove and heat the oil over medium-high heat until the oil starts to shimmer. Carefully place the breaded chicken cutlets into the hot oil. Cook on each side until golden brown, approximately 4-5 minutes per side. (Photo #7)
Step 8: Remove each cutlet from the skillet and place on a large serving plate. Cover the plate lightly with foil to keep the cutlets warm before serving. (Photo #8)
💭 Recipe FAQs
What sauce goes well with Crusted Chicken Romano?
Any sauce that you would normally serve on top of pasta will be delicious. Fresh Pesto or Tomato Cream Sauce are two great options.
What is the breading crust made of?
Two ingredients make this breading incredible: panko bread crumbs and freshly grated Romano cheese. Added bonus, both of these are easy ingredients to keep on hand!
Could I make this using chicken tenders?
Yes! That's a great option and since chicken tenders are a smaller portion size, it makes it easier for little ones to enjoy. I still recommend pounding them extra thin but note that the frying time will be less on each side.
🥗 What to Serve with Crusted Chicken Romano
This family-favorite recipe is a delicious entree to serve with so many sides. Here are a few that my family loves and I know you will too.
Pasta: The ultimate side for Crusted Chicken Romano! Options like spaghetti, fettuccine, or penne work great. Toss the pasta with a simple garlic and olive oil sauce, marinara sauce, or a red sauce like Sunday Gravy.
Vegetables: Roasted or steamed vegetables are a great choice. Try Roasted Balsamic Brussels Sprouts, asparagus, broccoli or a mix of your favorite oven-roasted vegetables. Elegant Green Bean Casserole is absolutely delicious as a side!
Salad: A fresh green salad with a light vinaigrette dressing is a refreshing option. So are other sides like Crunchy Cole Slaw and this easy-to-make Seven Bean Salad.
Potatoes: Nothing says comfort food like a meal with potatoes. As an Idaho food blogger potatoes are without a doubt my favorite side to any meal. Twice-Baked Mashed Potatoes, Blue Cheese and Rosemary Scalloped Potatoes, or even a classic Red Potato Salad are all savory and comforting and pair nicely with this chicken recipe.
Bread: No knead Potato Rolls are great with any meal and can easily be prepped ahead so you can serve freshly baked rolls at dinner time.
🍽 Leftovers and Storage
You can store leftover Crusted Chicken Romano in the refrigerator in an airtight or sealed container for up to 5 days.
Pro Tip: Be careful to arrange the leftover cooked chicken cutlets so they aren't stacked on top of each other, the breading may stick. Place a sheet of foil, waxed paper or parchment paper between any layers of the chicken cutlets.
To reheat leftovers from the refrigerator, place the chicken cutlets on a baking sheet lined with foil or parchment paper and bake at 375°F for 15 - 20 minutes or until fully heated and the breading is crispy.
For the best texture and flavor, I don't recommend freezing Crusted Chicken Romano.
🐓 Other Great Chicken Breast Recipes
Here are more easy chicken recipes that your family will love. If you are short on time but ready for great, savory meals. These are recipes you are sure to enjoy!
If you tried Crusted Chicken Romano or any other recipe on my website, please leave a 🌟 star rating and let me know how it goes in the 📝 comments below.
Recipe