Indulge in juicy, flavor-packed meatloaf with a tangy mustard glaze and no tomatoes. This carrot-infused, No Ketchup Meatloaf is the perfect harmony of savory and slightly sweet flavors. It's classic comfort food and it's ready for the oven in about 15 minutes.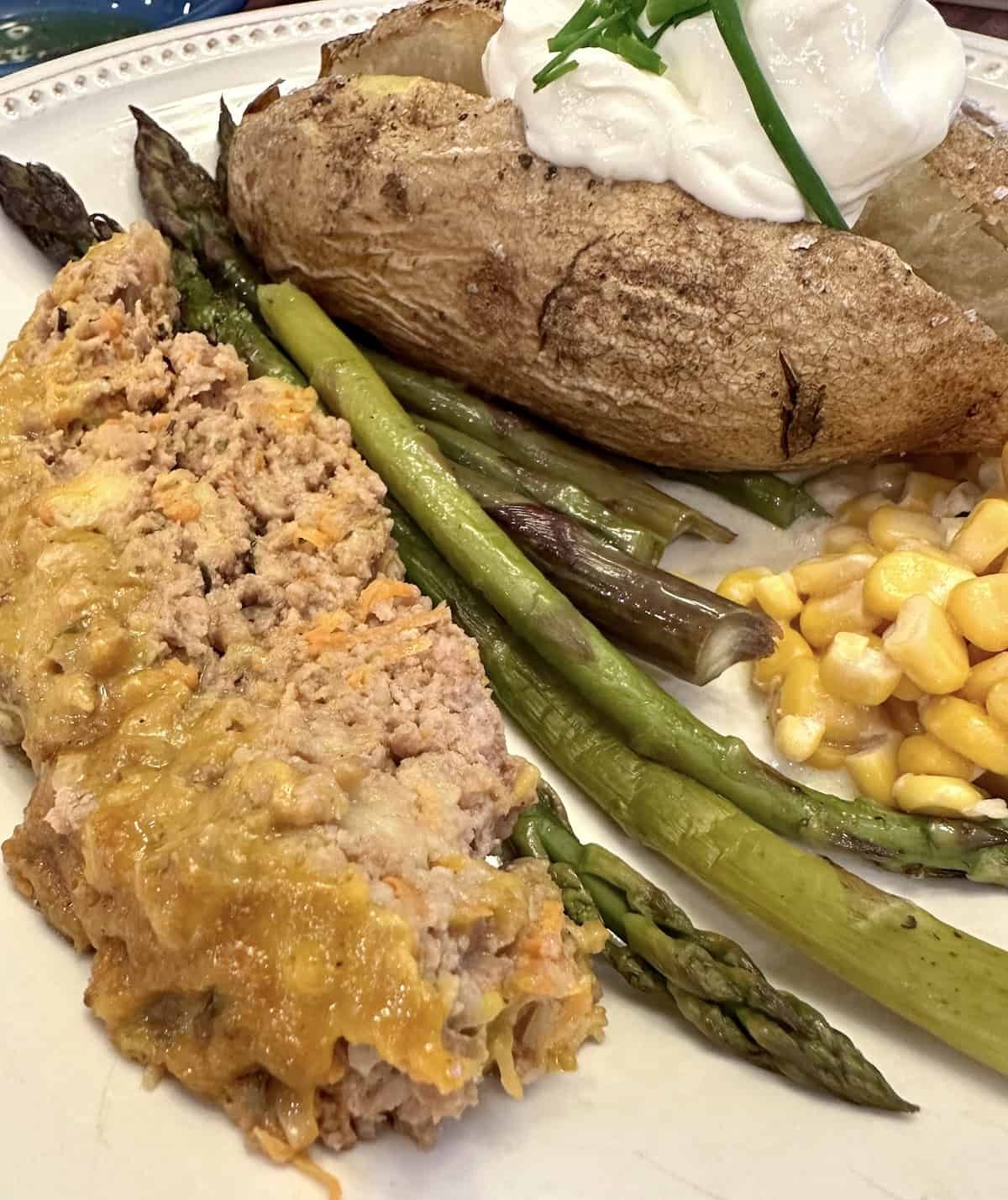 Jump to:
⭐ Why You'll Love This Meatloaf
Do you love comfort food, like Butternut Squash Mac and Cheese? Then you are in for a treat with No Ketchup Meatloaf. It's a nostalgic main dish made primarily with ground meat and blended with seasonings and the subtle sweetness of finely grated carrots.
While ketchup is a common ingredient used in many meatloaf recipes, you'll never miss it here. This meatloaf is topped off with a tangy mustard and brown sugar glaze instead of ketchup or tomato sauce.
If you and your family enjoy tasty, comforting dinners, I think you'll also want to check out my recipes for Chicken Spaghetti with Rotel or even a meatless version of a classic lasagna made with sweet potatoes and don't forget to include homemade, no-knead Potato Rolls on the side.
🥘 Ingredients to Have on Hand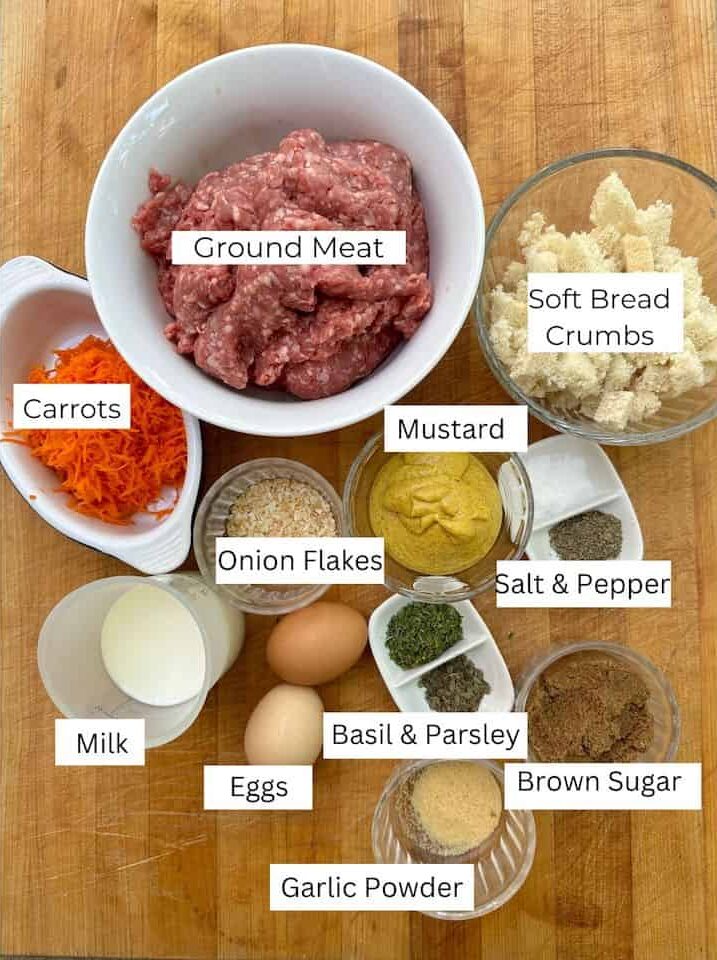 Ground Meat: Use any combination of ground meat you prefer. I use equal portions of ground beef, pork and veal, but there are many options.
Soft Bread Crumbs: Also known as sliced, cubed bread. Don't worry, you won't bite into a cube of bread in the meatloaf. The bread combines with the egg and milk to help bind the ground meat together.
Finely Grated Carrots: You will love the subtle sweetness that grated carrots add to your meatloaf!
Dried Basil and Parsley: You can use fresh herbs, but the overall texture of the meatloaf is more consistent if you use dried basil and parsley.
Mustard: The same mustard you spread on a sandwich works great in creating a tasty mustard glaze for your meatloaf.
Brown Sugar: Use light or dark brown sugar, but not white sugar and I don't recommend sugar substitutes.
See the recipe card below for a full list of ingredients and measurements.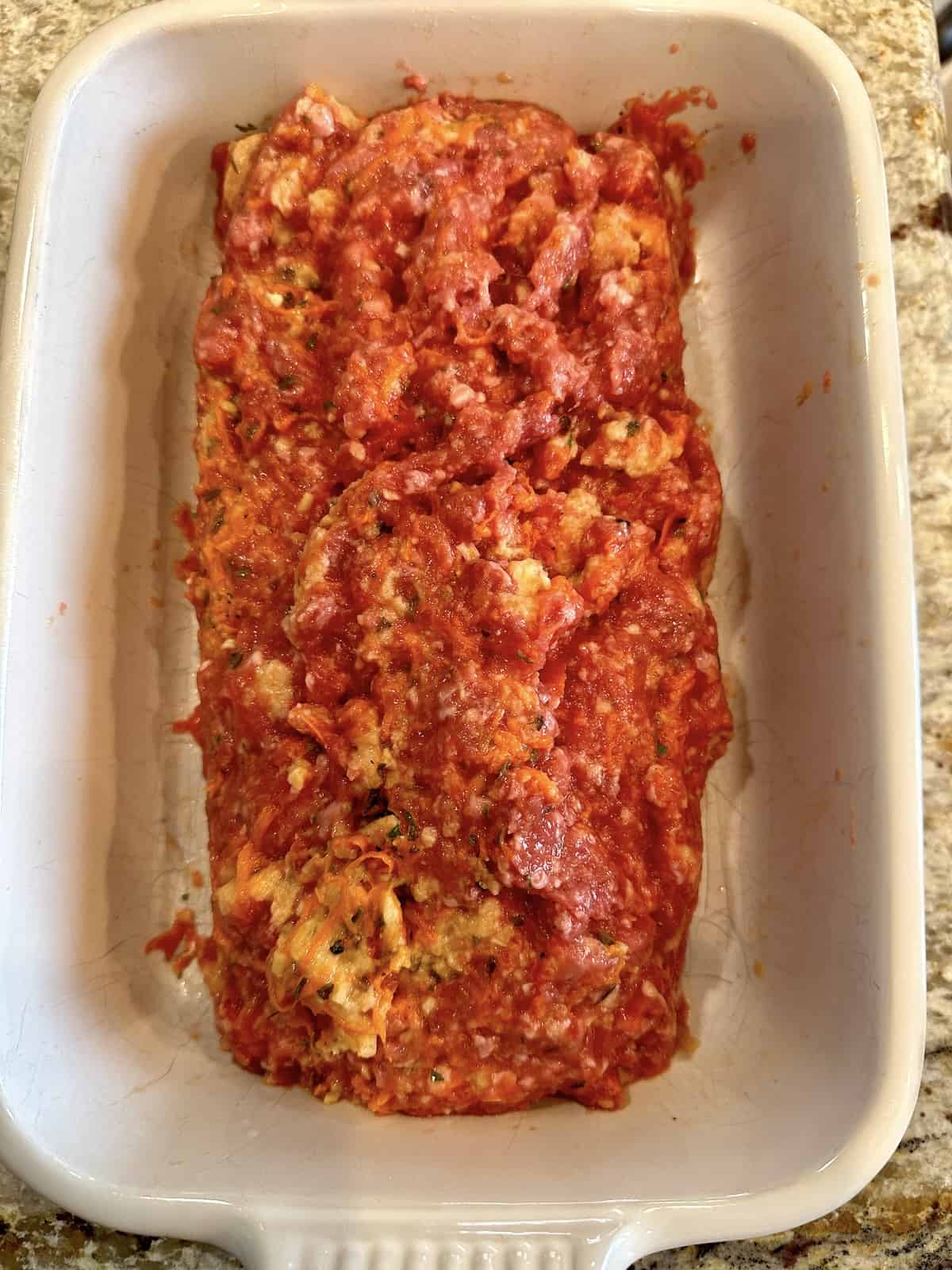 📖 Substitutions
Feel free to get creative and experiment with different ingredient substitutions to create a meatloaf that suits your family's taste buds.
Herbs and seasoning substitutions can help you work with the ingredients that you have on hand and you will still create a delicious and flavorful meatloaf.
You'll need two pounds of ground meat for No Ketchup Meatloaf, but the proportions and ratios of the meats can be adjusted according to your preferences.
Classic Beef and Pork: Ground beef and ground pork is a traditional and widely enjoyed choice. These two ground types of meat together provide a good balance of flavors, with beef offering richness and pork adding tenderness and moisture.
Beef, Veal and Pork: This is my favorite trio of meats for meatloaf. The combination creates a fantastic blend of flavors. Beef adds robustness, veal lends a delicate and tender quality, while pork adds juiciness. Delicious!
Turkey and Chicken: If you prefer poultry, combining ground turkey and ground chicken can create a lighter and healthier meatloaf option. Turkey provides a mild flavor, while chicken adds moisture and tenderness.
Dried basil can be swapped for dried thyme or Italian seasoning.
Dried onion flakes can be swapped for fresh onion, finely diced or try onion or even garlic powder.
Additional Optional Ingredients: Add a tablespoon of Worcestershire sauce, or equal parts soy sauce and apple cider vinegar or balsamic vinegar to the meatloaf. These ingredients act as a natural flavor enhancer and help amplify the savory taste of the other ingredients.
🥣 How to Make Your Meatloaf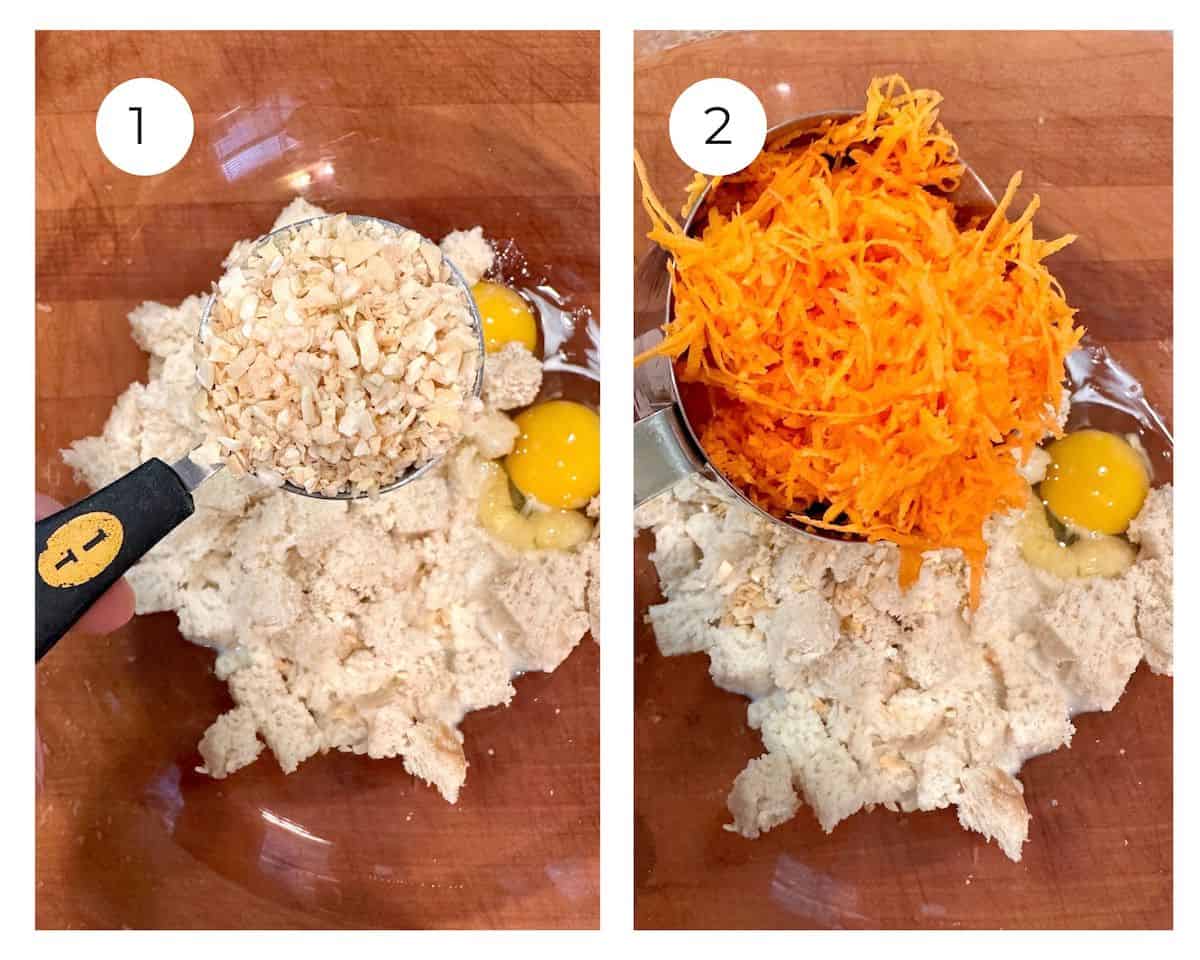 Step 1: In a large bowl, combine the soft bread crumbs with the eggs and milk, let them sit for a few minutes so the bread can absorb the milk, then stir in the dried onion flakes and spices. (Photo #1)
Step 2: Add the finely grated carrots, you'll want the carrots to have a very fine texture. Use the type of grater you would normally use for a hard cheese such as Parmesan. (Photo #2)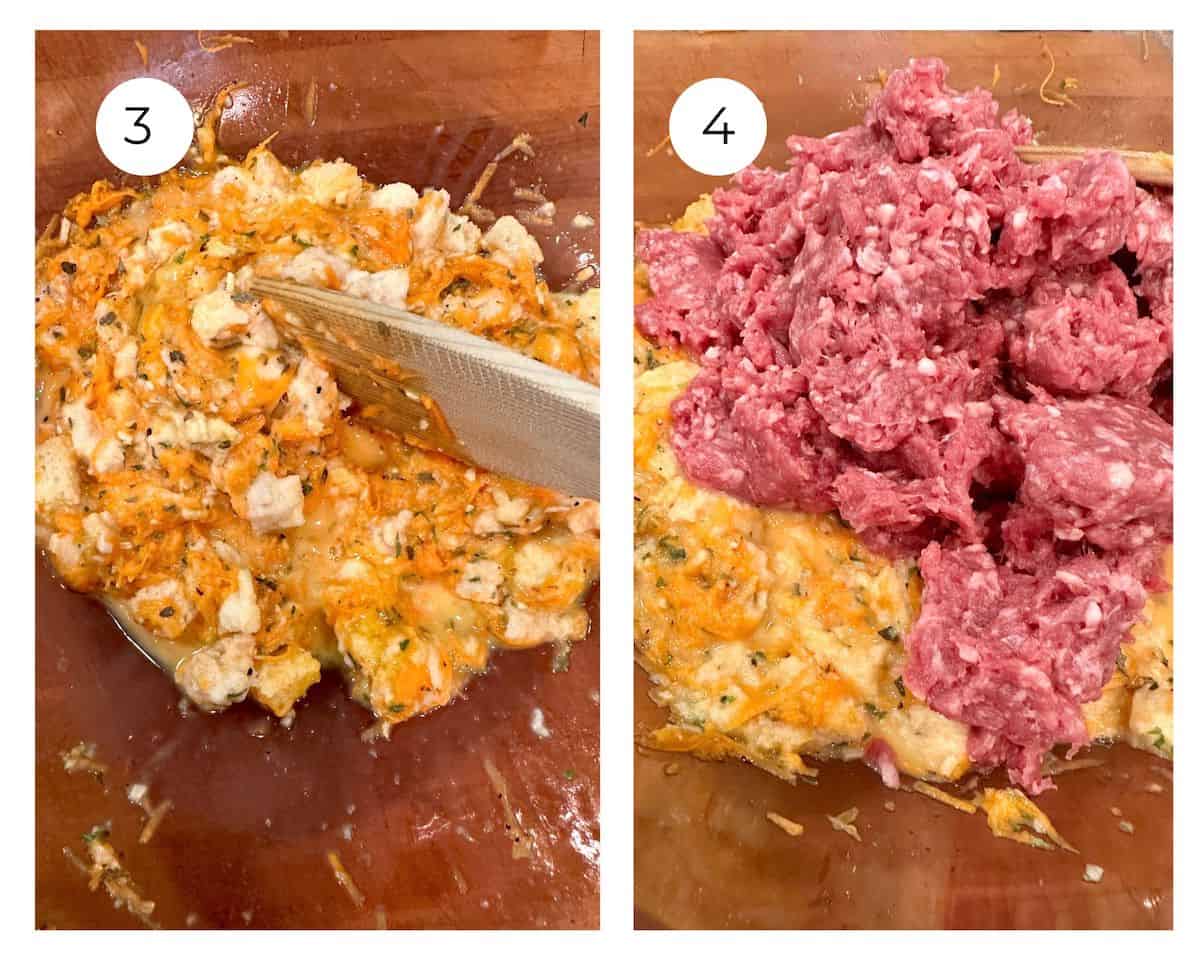 Step 3: Blend the grated carrots with the bread crumbs, remaining milk, eggs and spices. (Photo #3)
Step 4: Add your choice of ground meat mixture to the same bowl. (Photo #4)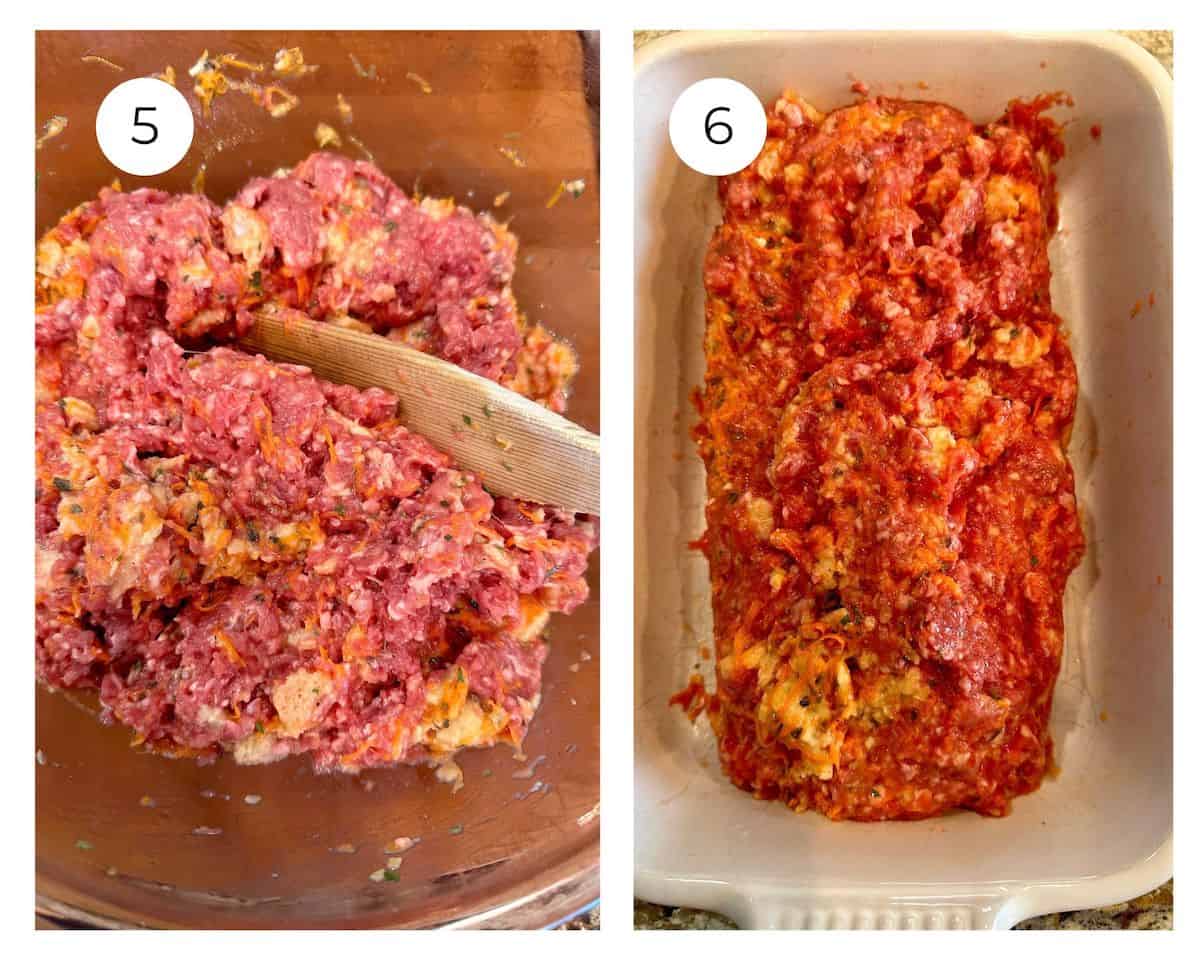 Step 5: Blend the ingredients to combine everything, but don't overmix it that can result in a dense, dry meatloaf. (Photo #5)
Step 6: Place the meatloaf into a baking dish and shape to create a loaf. I prefer a ceramic or glass baking dish to using a metal loaf pan because it allows plenty of space for the juices and tends to distribute the heat more slowly and evenly compared to a metal pan. All of which help create a juicier meatloaf. (Photo #6)
👩🏻‍🍳 How to Make the Mustard Glaze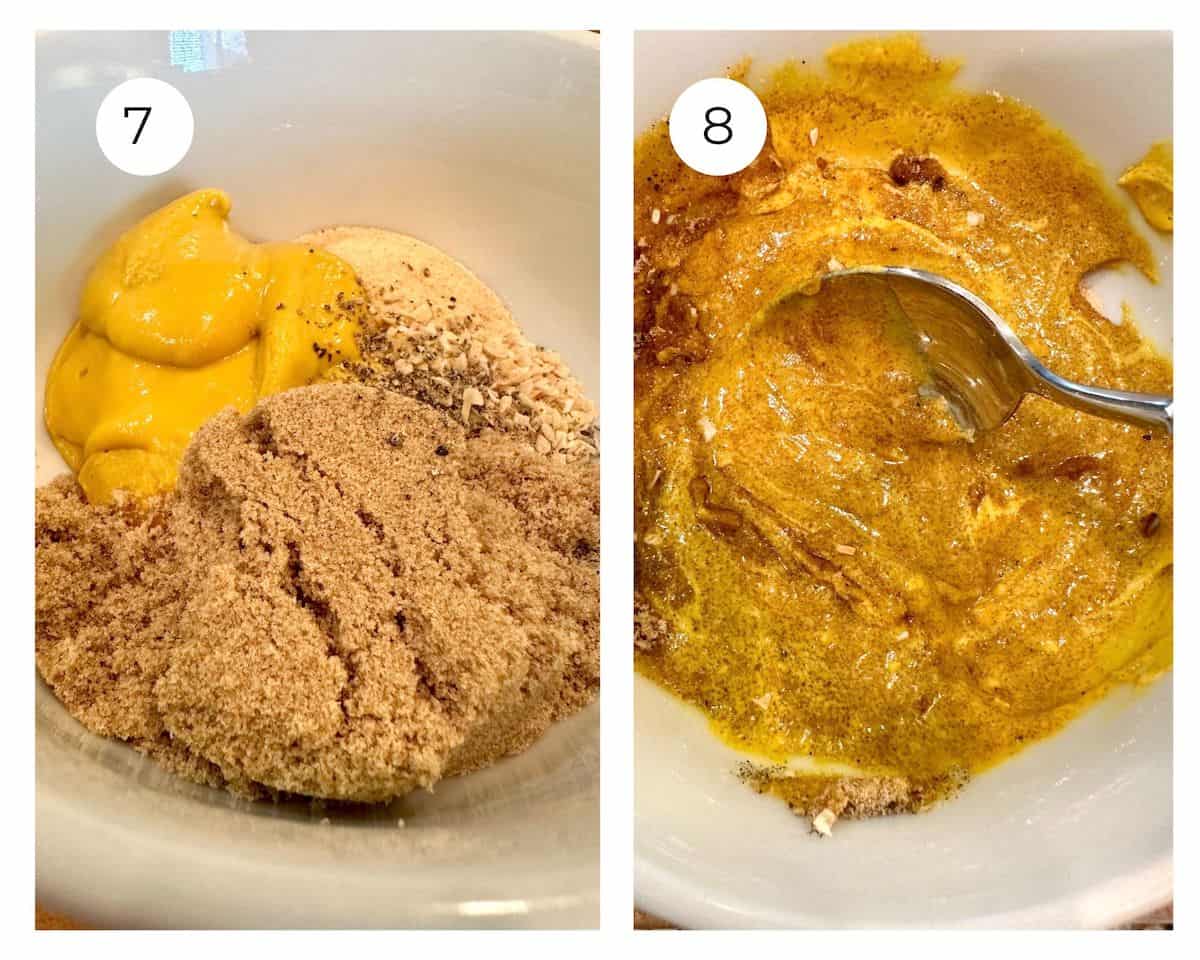 It's incredibly easy to make this delicious, tangy mustard glaze for the top of the meatloaf.
Experiment with your favorite style of mustard to make the glaze. If your family enjoys extra spicy mustard on sandwiches, then use that style of mustard for the glaze. Much like my spicy Chicken Spaghetti recipe, this is also a recipe that you can easily adapt to your family's preference.
Step 7: Place the brown sugar, mustard, garlic powder, dried onion and pepper in a small bowl. (Photo #7)
Step 8: Stir to combine and set the glaze aside until the meatloaf has baked for 45 minutes. There's no need to refrigerate the glaze ingredients while you wait for the meatloaf to cook. (Photo #8)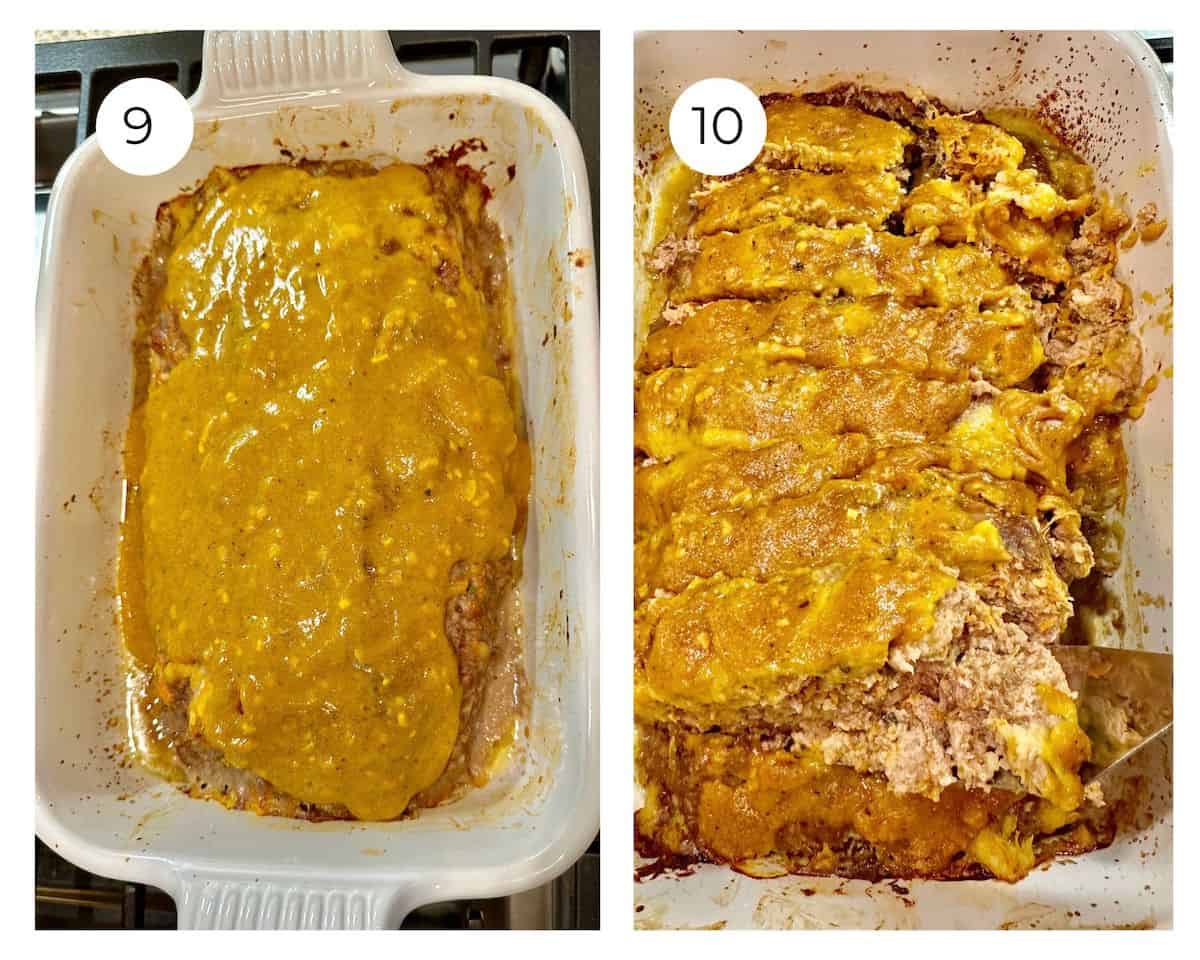 Step 3: After the meatloaf cooks for 45 minutes, remove the dish from the oven and spread the mustard glaze on top of the partially cooked meatloaf. (Photo #9)
Step 4: Return the meatloaf to the oven and bake for an additional 20-30 minutes or until a meat thermometer reads 160°F in the center of the meatloaf. Allow the meatloaf to sit for 10 minutes before slicing and serving. (Photo #10)
🍅 No Ketchup, No Tomatoes
This is a great meatloaf to serve when you are craving comfort food and you want to prepare something from scratch, that's easy to make.
While ketchup and tomato sauce have long been considered staples of meatloaf recipes, this recipe creates an entirely new flavor combination and a new spin on a family-favorite entree - you'll never miss the tomatoes.
This recipe is especially good for guests who may have tomato allergies.
🌡️ Storage and Freezer Instructions
Refrigerate: If you have leftovers, allow the meatloaf to cool completely after baking. Cover the meatloaf in plastic wrap or aluminum foil. Allow a little space between the top of the meatloaf and the covering so the mustard glaze doesn't come off. Place it in the refrigerator and enjoy it within 4 days.
Freeze: Wrap the fully cooked and cooled meatloaf in plastic wrap or foil and place it in a zipped top freezer bag or freezer safe container. As an option, you could also slice the cooked meatloaf into individual serving portions before freezing. Simply wrap each slice separately, then freeze. This is convenient because you can thaw and reheat each servings as needed.
Thawing: Once you are ready to enjoy the frozen meatloaf, I recommend defrosting it in the refrigerator overnight. This helps keep the texture of the meatloaf as perfect as the day you baked it. Place the defrosted meatloaf in a 350°F oven and reheat for about 30 minutes or until hot.
💭 Recipe FAQs
What's the secret to a moist, juicy meatloaf?
Soft bread crumbs soaked in milk help absorb and hold moisture in the meatloaf and keep it from getting dry.

The finely grated carrots are also moisture-rich and contribute to a juicy meatloaf.

After baking, allow the meatloaf to rest for a few minutes before slicing. This step helps the juices redistribute throughout the meatloaf.
Should I cook the meatloaf covered or uncovered while it's baking?
There's no need to cover the meatloaf while it cooks.
Is there a substitution for soft, cubed bread?
Soft bread crumbs are the best option. But you can also use ¾ cup uncooked quick cooking oats in place of bread if that's what you have on hand. Avoid using steel cut oats since they have a firm texture that won't dissolve in milk.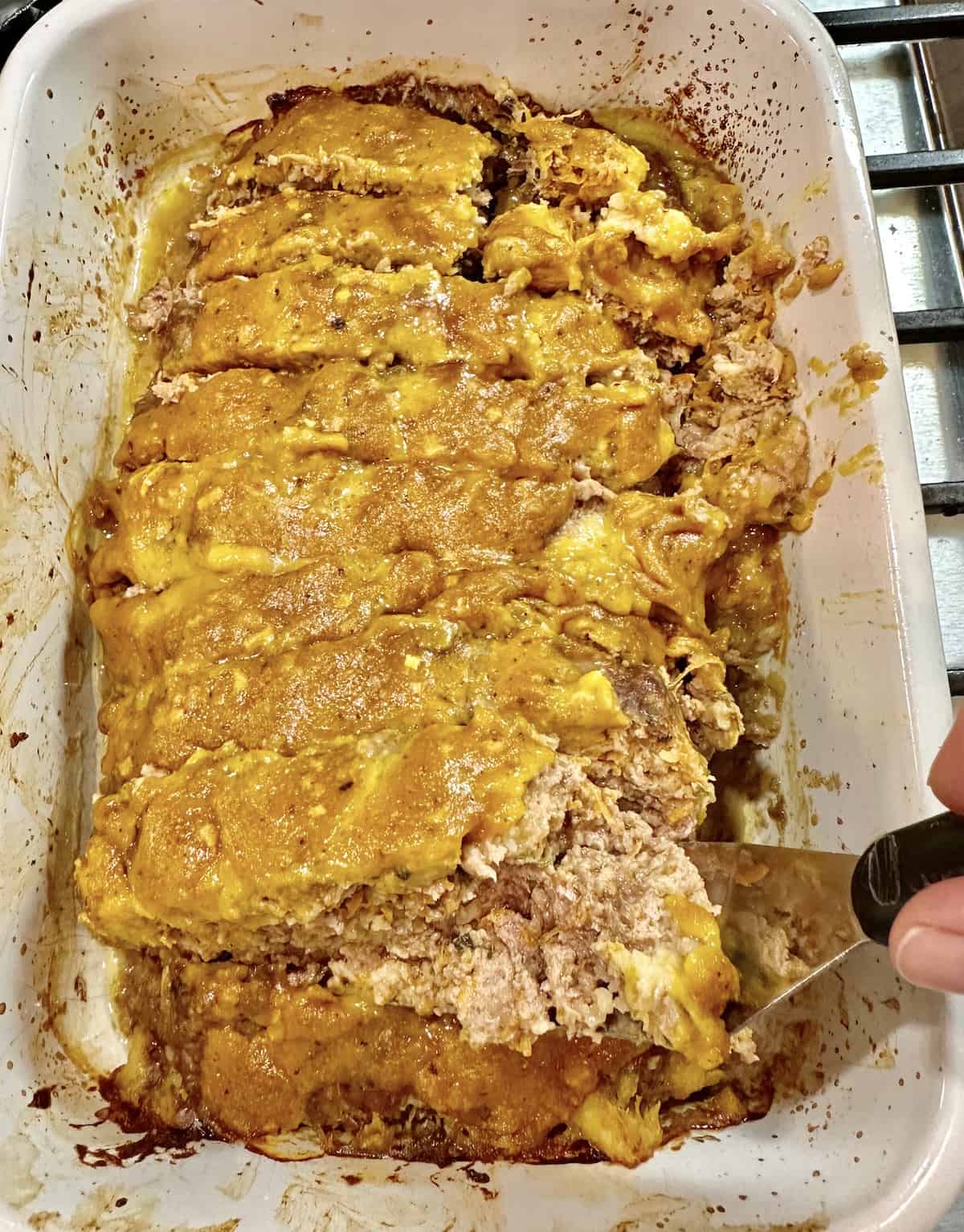 🥗 What to Serve with No-Ketchup Meatloaf
Here are a few sides that are absolutely delicious on the plate with meatloaf:
Potatoes, baked in the oven or even prepared as a fancy side dish like Blue Cheese and Rosemary Scalloped Potatoes are wonderful. There's probably nothing that goes better with meatloaf than potatoes.
Vegetables of your choice. Whatever is in season is the perfect complement to No Ketchup Meatloaf. Oven roasted veggies like asparagus are delicious or try Roasted Brussels Sprouts with a Balsamic Glaze.
Corn is also an excellent side to serve with meatloaf. I love creamed corn on the side or even try Sweet Corn Pasta Salad, which is a refreshing option that's especially good if you are serving meatloaf in the summer months.
📋 More Meaty Recipes
If you tried this No Ketchup Meatloaf or any other recipe on my website, please leave a 🌟 star rating and let me know how it goes in the 📝 comments below.
Recipe