Pinto Bean Chili is a one-pot wonder. It uses dried pinto beans slow-cooked to tender perfection along with a warm, smoky combination of Mexican spices in a comforting sauce. Added bonus, it's a great recipe to use leftover pork, pot roast or chicken. It's a family favorite recipe like Idaho Chili and Butternut Squash Mac and Cheese that never disappoints.
Jump to:
⭐ Why You'll Love Pinto Bean Chili
Pinto Bean Chili is a great recipe to use up leftovers such as cooked pork loin, pot roast or chicken and you only need a small amount of meat.
It cooks slow in the Crockpot or slow cooker all day with very little effort on our part.
This is an incredibly easy chili to make using dried pinto beans.
Pro Tip: Scroll to the Recipe FAQs for details on how to make Pinto Bean Chili using canned pinto beans or on the stovetop
Like Rotisserie Chicken and Stuffing Casserole or No Ketchup Meatloaf, Pinto Bean Chili is a crowd-pleasing main meal that seems to have a way of bringing folks together.
No Tomato Chili
This is a chili that does not need tomatoes. The sauce is flavorful and delicious minus the familiar red tomato sauce that so many chili recipes include.
Serve it with Classic Potato Rolls or Four Ingredient Basic Biscuits along with Homemade Honey Butter for a delicious comfort food combination.
🥘 Ingredients to Have on Hand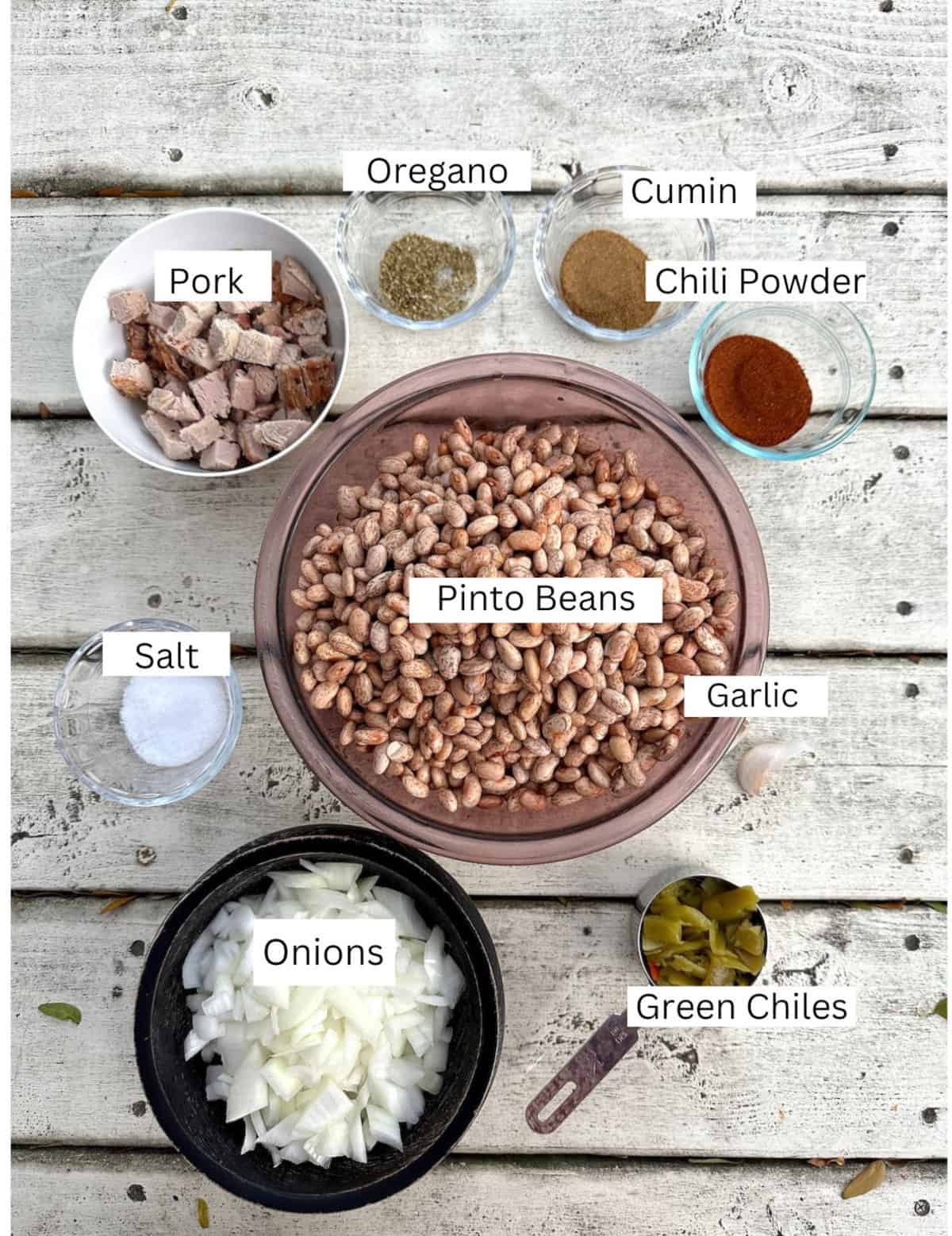 Whether you are enjoying a cozy evening at home, hosting a game day party with Baked Beef Burritos or gathering friends and family around a campfire, Pinto Bean Chili is a recipe that is perfect for feeding a hungry crowd.
Dried Pinto Beans: These are a game changer. If you've never cooked using dried beans let this recipe be your gateway to enjoying the delicious benefits. Soaking the dried beans overnight is easy, the water does all the work and the result is the most tender, flavorful pinto beans ever.
Leftover Meat: Pork loin is wonderful and the flavor and texture go great with the pinto beans. You don't need much just one or two cups of meat and the flavor will blend wonderfully with the beans and seasoning. Tamale Casserole is another recipe that uses leftover meat.
Chili Powder and Cumin: Two spices that are essential to any spice cabinet. The combination of chili powder and cumin is common in Mexican cuisine and it adds depth and warmth to whatever you're cooking, including Pinto Bean Chili.
Green Chilis: If you have the time, oven-roasted and chopped fresh green chiles are delicious in this recipe, but a small can of mild green chiles from the grocery store works great.
Scroll to the recipe card below for a full list of ingredients and measurements.
💬 Substitutions and Variations
Pinto Bean Chili is incredibly versatile. Use whatever leftover protein you have on hand. Pork loin is a family favorite in my house, but leftover pot roast, tri-tip or chicken are also delicious options.
You can easily make this a vegetarian chili. Leave out the meat and boost the amount of green chiles.
📋 Step-by-Step Instructions for Pinto Bean Chili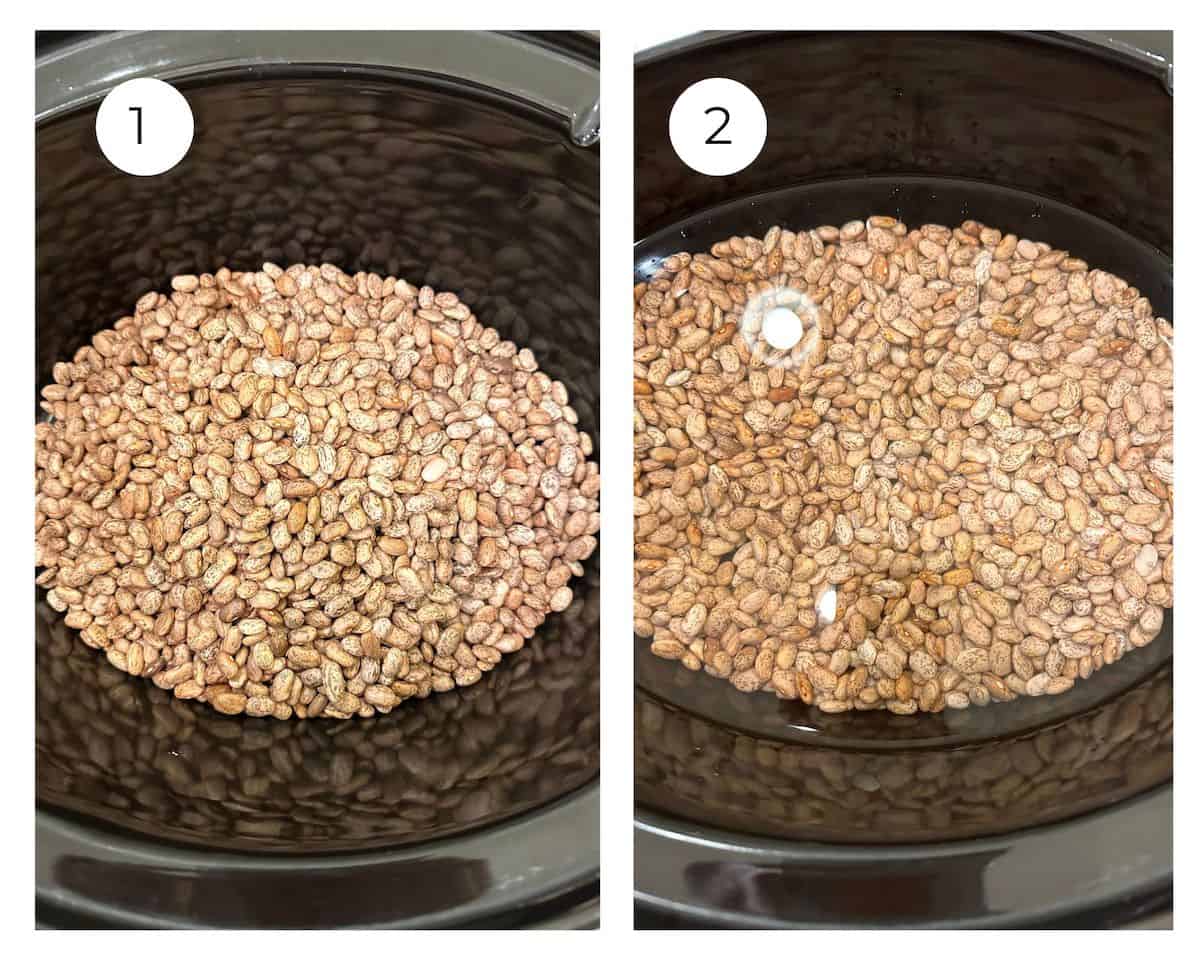 Step 1: The night before you plan to serve Pinto Bean Chili, place the dried pinto beans in a 7-quart slow cooker. (Photo #1)
Step 2: Fill the slow cooker with enough water to cover the beans by a couple of inches. (Photo #2)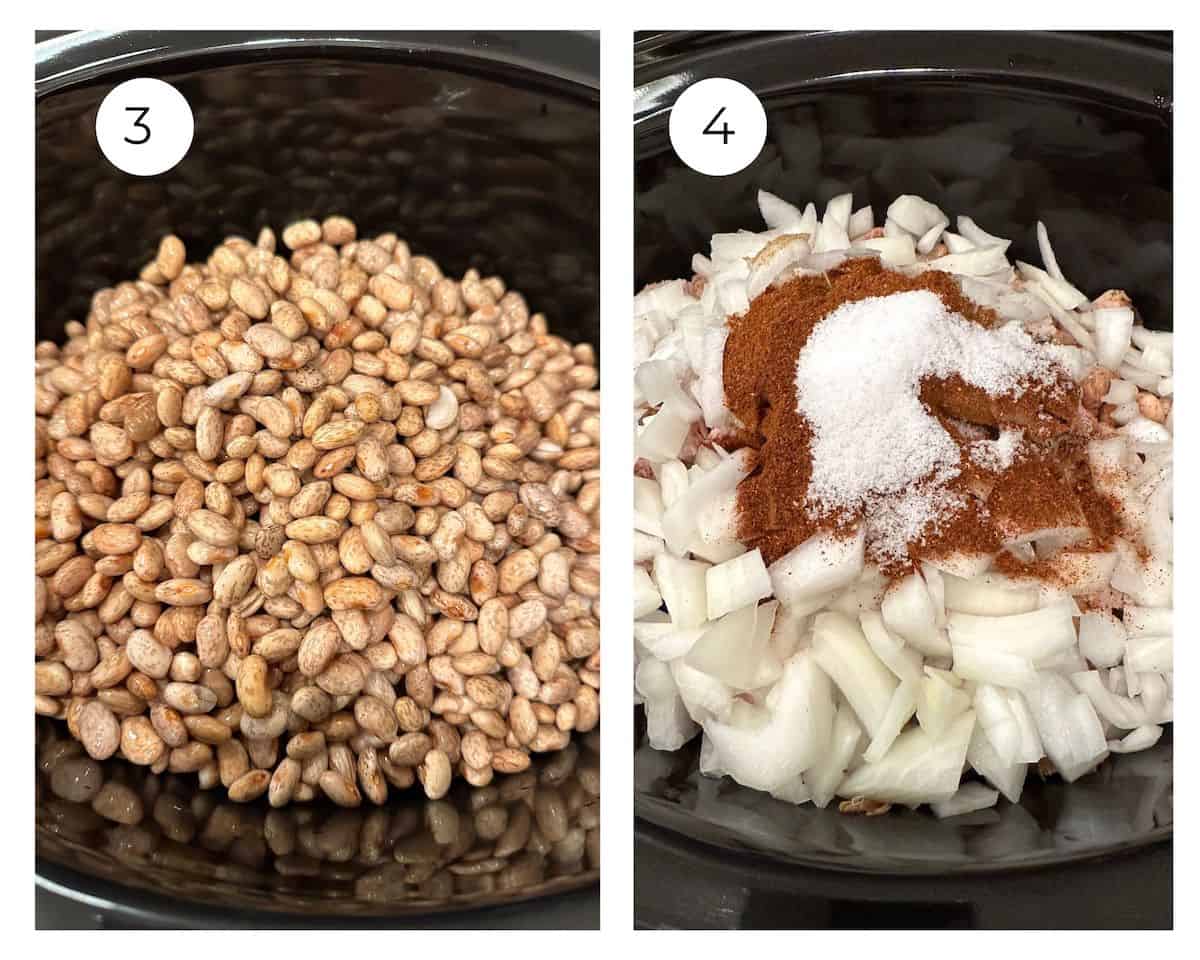 Step 3: Drain the pinto beans in a colander over the sink then place them in the slow cooker.(Photo #3)
Step 4: Chop the onion and cooked pork (or pot roast or chicken). Add the meat, onion and spices to the dried beans. (Photo #4)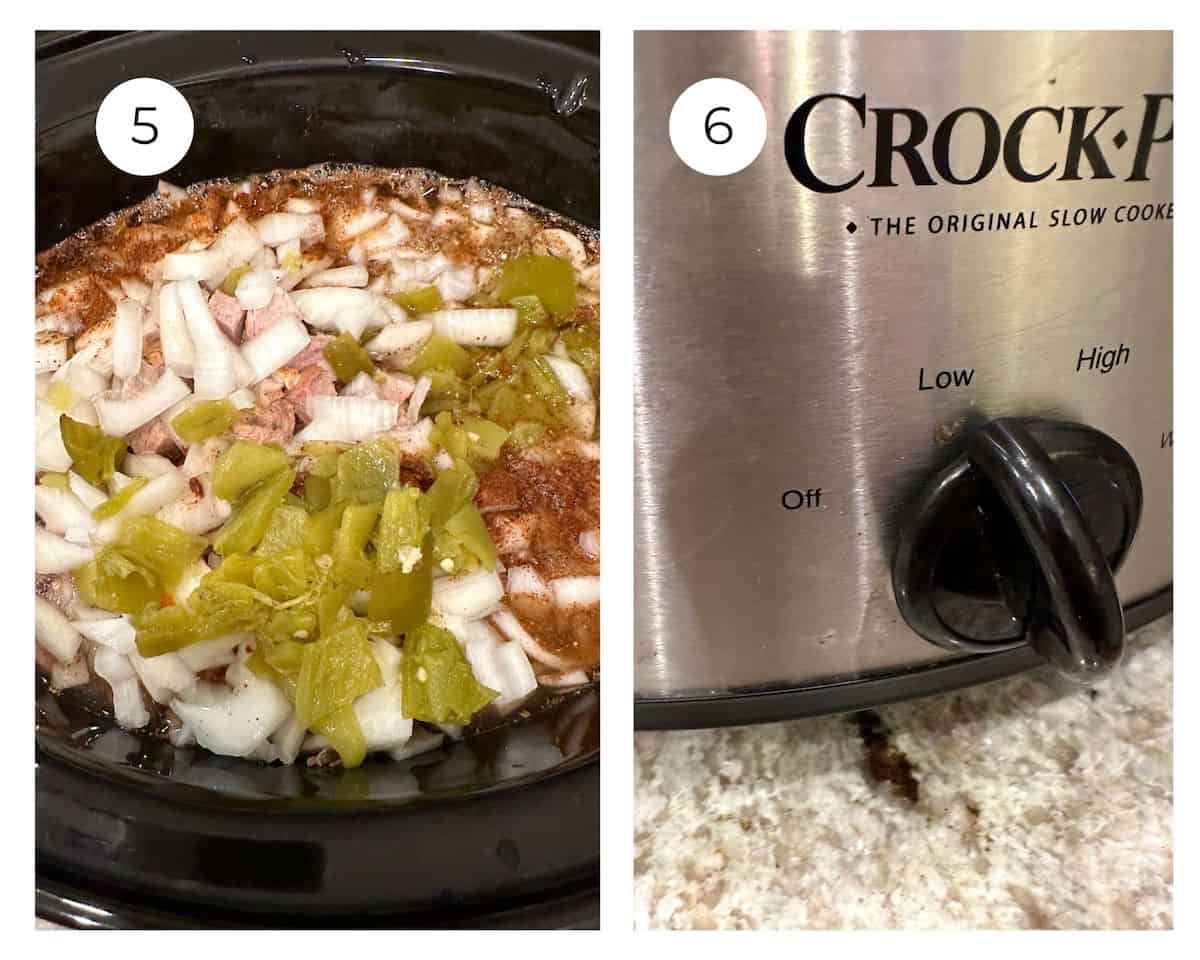 Step 5: Add the green chilis and garlic. Top with water and blend the ingredients. (Photo #5)
Step 6: Cover the slow cooker and switch to low. Cook for 8-10 hours. Your Crockpot does all the work!
Step 7: After 8-10 hours, lift the lid and stir to combine all the ingredients. (Photo #7)
Step 8: Prepare toppings (scroll down for the details) and serve. (Photo #8)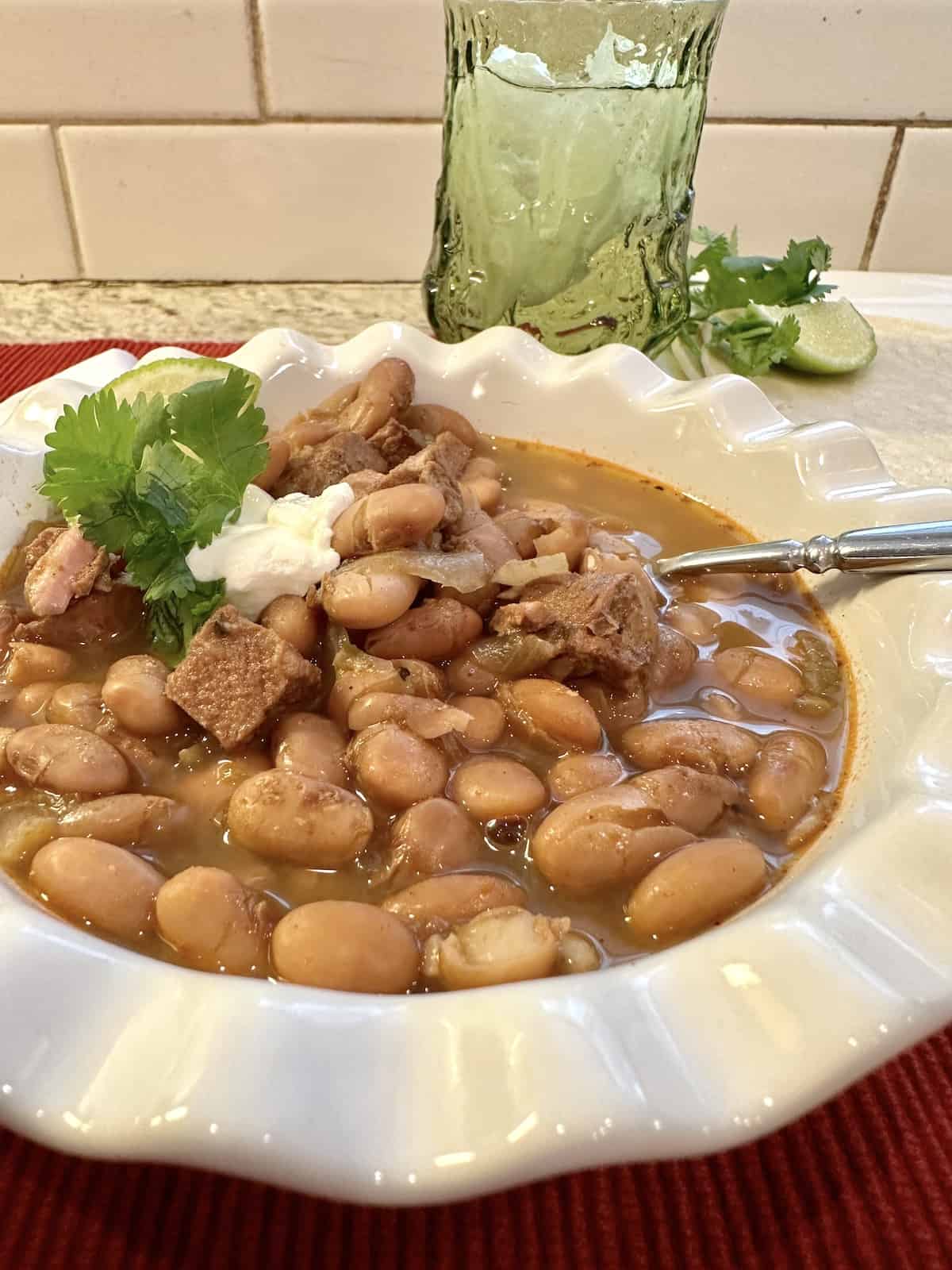 💭 Recipe FAQs
Can I use canned pinto beans instead of dried ones?
Yes, but the process to prepare the beans is very different than using dried pinto beans. If you use canned pinto beans there's no need to soak the beans overnight.

Use 4 - 5, 15-ounce cans of pinto beans, drain and rinse the beans then substitute chicken or vegetable broth for the water.

Since the canned beans won't absorb as much liquid as the dried beans during cooking, use just 2 cups of broth instead of 7 cups of water.
Can I cook this on the stovetop instead of the Crockpot?
Absolutely. After soaking the beans overnight, place them in a large stockpot (7-10 quart sized) on the stove with all the remaining ingredients from the recipe.

Bring the chili mixture to a boil, then reduce the heat to a low simmer.

Cover the pot and let it keep simmering for about 1 to 1.5 hours.

Check it now and then and stir. You'll want to keep cooking until the beans are tender and the flavors have blended together.
Pro Tip: For added flavor to the sauce in Pinto Bean Chili, rinse the dried beans before soaking them overnight. In the morning, reserve the remaining liquid. Use it along with additional water to equal the 7 cups of water in the recipe and add it to the chili ingredients.
🥗 Toppings and Sides for Pinto Bean Chili
Mix and match any combination of toppings and sides below. Each one adds a special touch to the chili.
Lime: A squeeze of fresh lime juice is a great way to add a citrusy splash to Pinto Bean Chili.
Guacamole: There are few things as delicious as a scoop of homemade guacamole with this chili recipe. Try my Homemade Guacamole, another no-tomato recipe and you'll see why.
Rice: Make a pot of homemade Mexican Fried Rice to serve alongside Pinto Bean Chili. It's a restaurant-style flavor combination.
Shredded Cheese: It's always a good idea to offer shredded or grated cheese alongside chili. Cheddar is popular but use whatever variety of cheese your family prefers.
Salsa: A spoonful of fresh salsa mixed into a bowl of Pinto Bean Chili is incredibly tasty. Use any tomato-based or green tomatillo salsa.
Cornbread: This is one of my family's favorite sides to serve with chili.
Tortillas: Warm a stack of flour or corn tortillas and serve alongside each bowl.
Jalapenos: If anyone at the table likes extra heat in their chili, a few scoops of diced jalapenos will give them just the kick they're looking for,
Diced Onion: Add chopped or diced sweet or red onion for a little juicy crunch to your serving of Pinto Bean Chili.
🥣 Leftovers and Storage
Refrigerate leftovers and if you're not planning to reheat and enjoy the Pinto Bean Chili within 3-4 days, you can extend its freshness by freezing it.
Pro Tip: Chili can be frozen for 2 - 3 months. Just be sure to use a freezer-safe container or zipped top bag and remove as much air as possible. That's a trick to help prevent freezer burn, which shows up as ice crystals on the surface of frozen food. Freezer burn is safe to eat, but it can dramatically impact the flavor of the food once defrosted.
⭐The Inspiration
This recipe was kindly shared by my wonderful friend Melissa Jensen, she's an amazing cook with incredible recipes and great ideas for succeeding in the kitchen.
Thank you for the wonderful recipe and the delicious inspiration, Melissa!
🍽 Other Soups, Stew and Chowder
There's nothing better than comforting food simmering on the stove or in the slow cooker. Here are cozy and delicious soup, stew and chowder recipes that I hope your family will love!
If you tried Pinto Bean Chili or any other recipe on my website, please leave a 🌟 star rating and let me know how it goes in the 📝 comments below.
Recipe