Blueberry Baked Oatmeal is a delicious and wholesome breakfast that combines the goodness of rolled oats with the sweetness of fresh blueberries, a touch of brown sugar and a light sprinkling of lemon zest. Much like Blueberry Rhubarb Muffins, this recipe is easy to prepare and it serves 6 which makes it an excellent breakfast option for sharing with family and friends.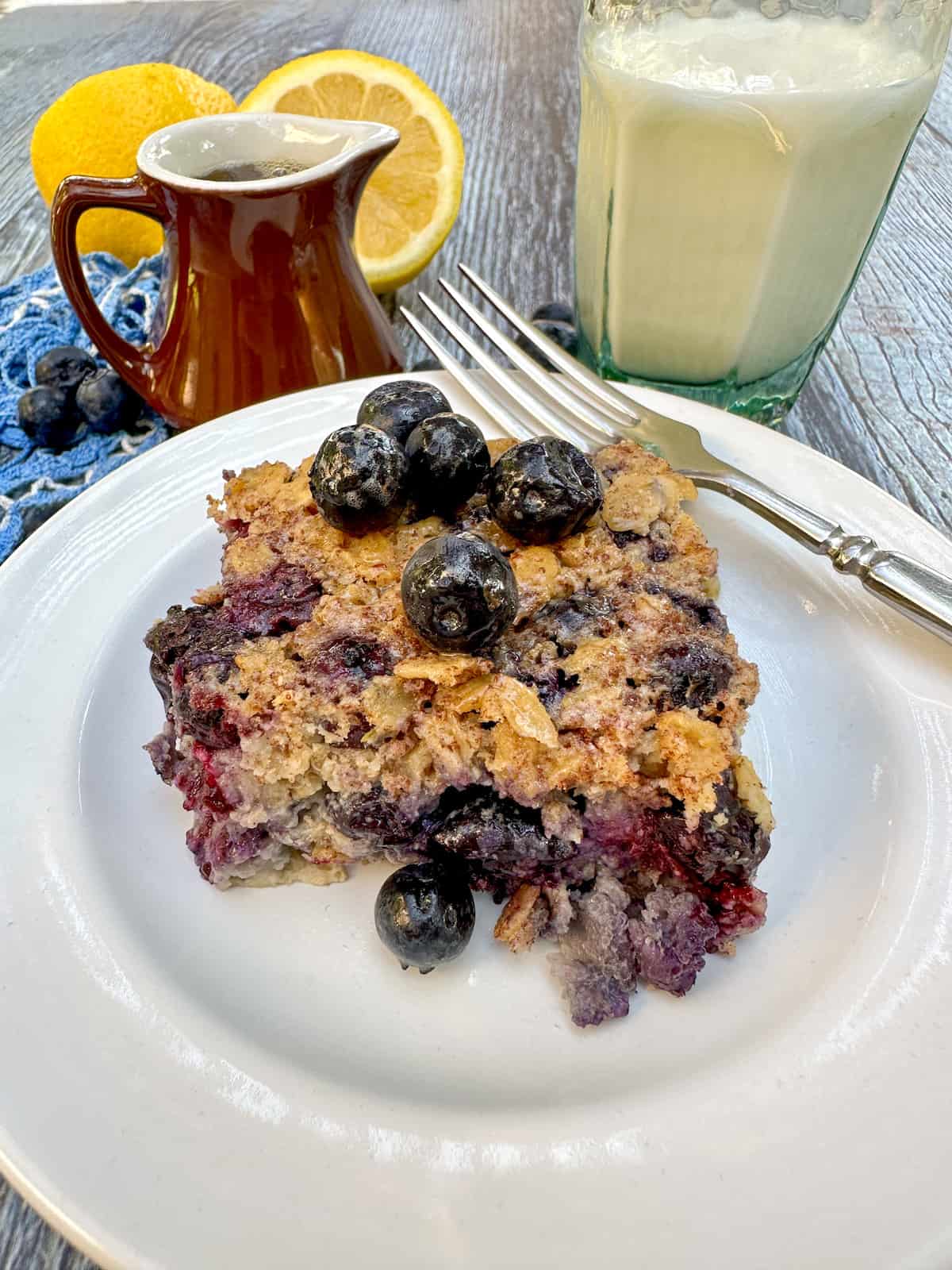 Jump to:
⭐Why You'll Love Baked Oatmeal
Here's an excellent way to start the day. Blueberry Baked Oatmeal is simple to make and a great change of pace from overnight oats or stovetop oatmeal.
If you love blueberries, fresh or frozen, this recipe will win you over! And if you are in the mood for blueberry recipes, be sure to check out Croissant Bread Pudding with fruit and my recipe for Fresh Fruit Tart which has a buttery, scratch-made shortbread crust.
Baked oatmeal with blueberries is delicious served warm, straight from the oven. It also reheats beautifully.
You can enjoy it as is, or top it with additional fresh blueberries, a spoonful of maple syrup or a splash of milk.
🥘 Ingredients to Have on Hand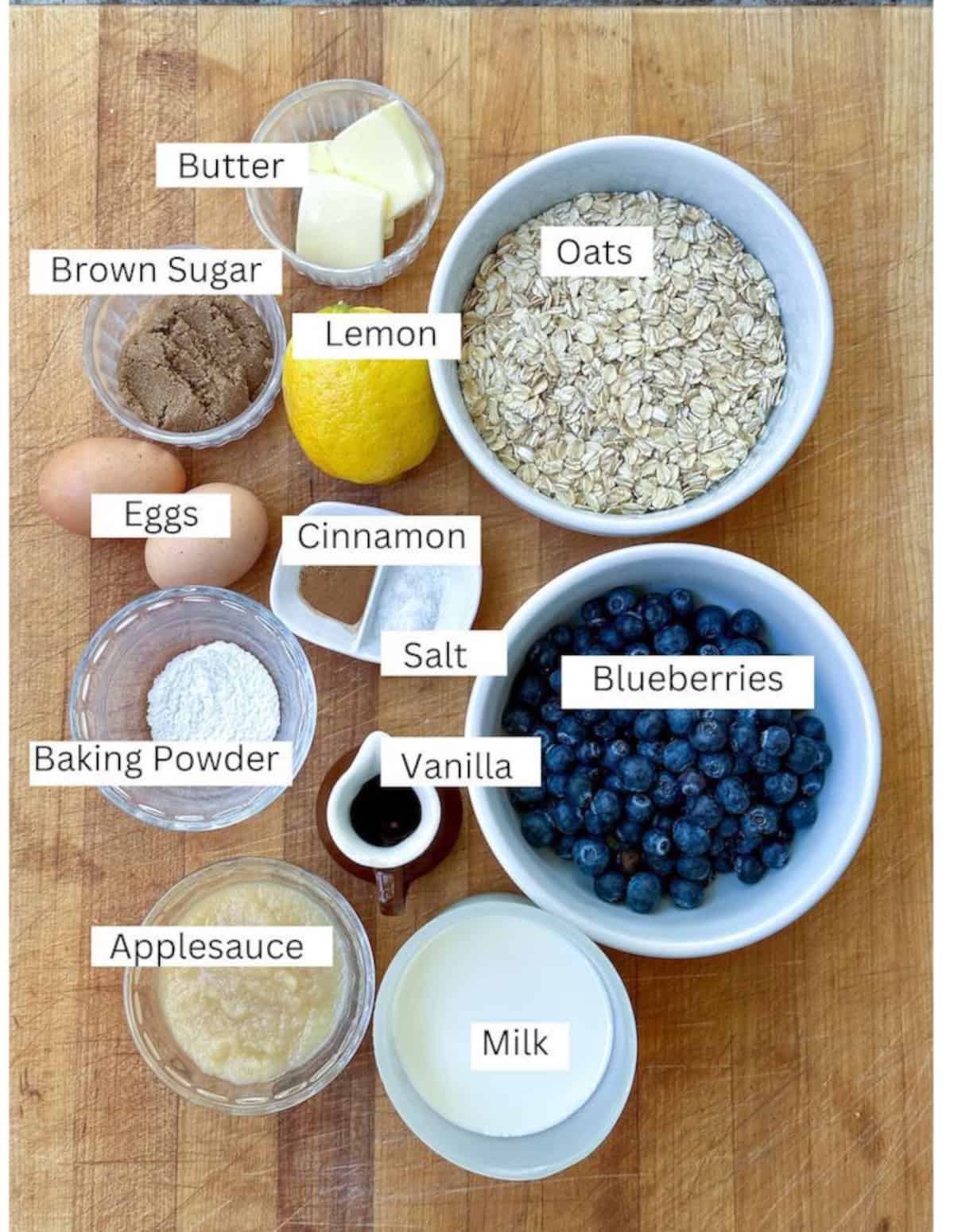 Blueberries: Fresh or frozen blueberries. If you opt for frozen blueberries, be assured you won't need to defrost them before baking.
Oats: Rolled oats or regular-cooking oats are the best for this recipe. Quick cooking will cook much faster and give the finished dish a different texture. Instant oats, the type in the pre-measured envelopes, are not a good option for this recipe.
Applesauce: Unsweetened applesauce is best, but if have sweetened applesauce on hand it will work fine.
Brown Sugar: Regular or dark brown sugar. But if you prefer to use regular white sugar or a sugar substitute equivalent to three tablespoons of sugar, you'll still have great results.
Lemon: We don't often add lemon to oatmeal. But the light tartness of the lemon zest brings out the very best flavor in fresh or frozen blueberries.
See the recipe card below for a full list of ingredients and measurements.
📖 Substitutions
There are plenty of options for boosting Blueberry Baked Oatmeal with even more flavors and textures. Here are tasty substitutions.
Sliced Bananas: Bananas are naturally sweet. A few slices of banana on top of each serving adds a nice balance of sweetness with the blueberries.
Raspberries or Blackberries: Either of these berries are great substitutions for blueberries, just keep in mind the texture and taste will be much different. But both berries blend well with the lemon zest.
Yogurt: A scoop of plain or vanilla yogurt is delicious on top of the baked oatmeal. It offers a creaminess that might remind you of when you poured milk in a bowl with oatmeal as a child.
Nuts: Stir in a ½ cup of chopped walnuts, pecans or almonds when you add the blueberries to the liquid ingredients in the baking dish. The nuts had some great crunch to the baked oatmeal.
Ice Cream: Not exactly a breakfast staple, but baked oatmeal has an almost cake-like quality so a scoop of vanilla ice cream actually goes great with it! It's tasty served on leftover baked oatmeal and helps make this a versatile dessert option.
📋 How to Make Baked Oatmeal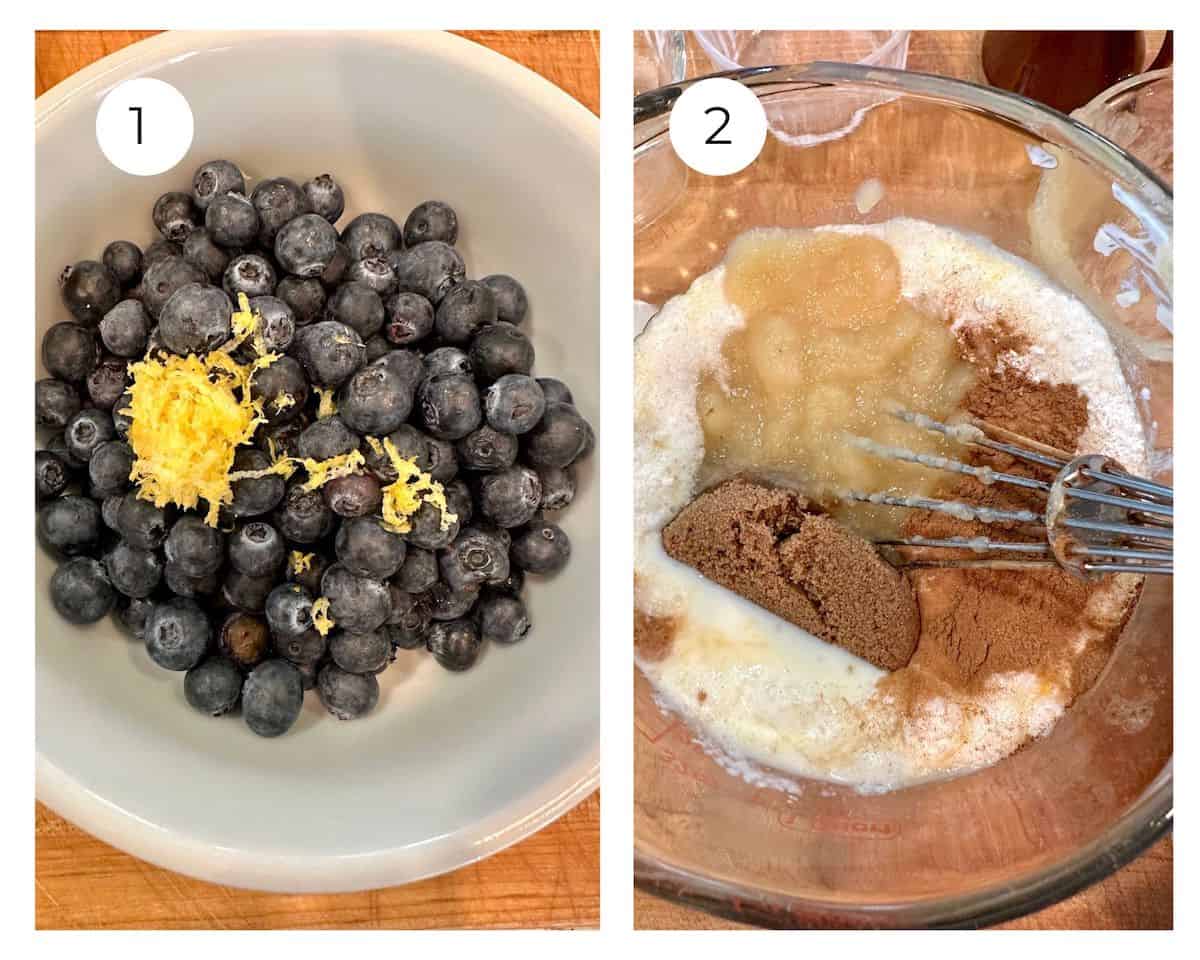 Step 1: Place the fresh blueberries in a strainer and rinse. Shake the strainer gently to remove excess water from the berries and place the berries in a small bowl. Zest enough lemon peel to create 1 teaspoon and combine the zest with the blueberries. (Photo #1)
Step 2: In a small bowl combine the oats, salt and baking powder and set aside.
In a medium-sized bowl or glass, 1-quart measuring cup combine the milk, eggs, melted butter, brown sugar, cinnamon, applesauce and vanilla extract. Whisk to blend thoroughly. (Photo #2)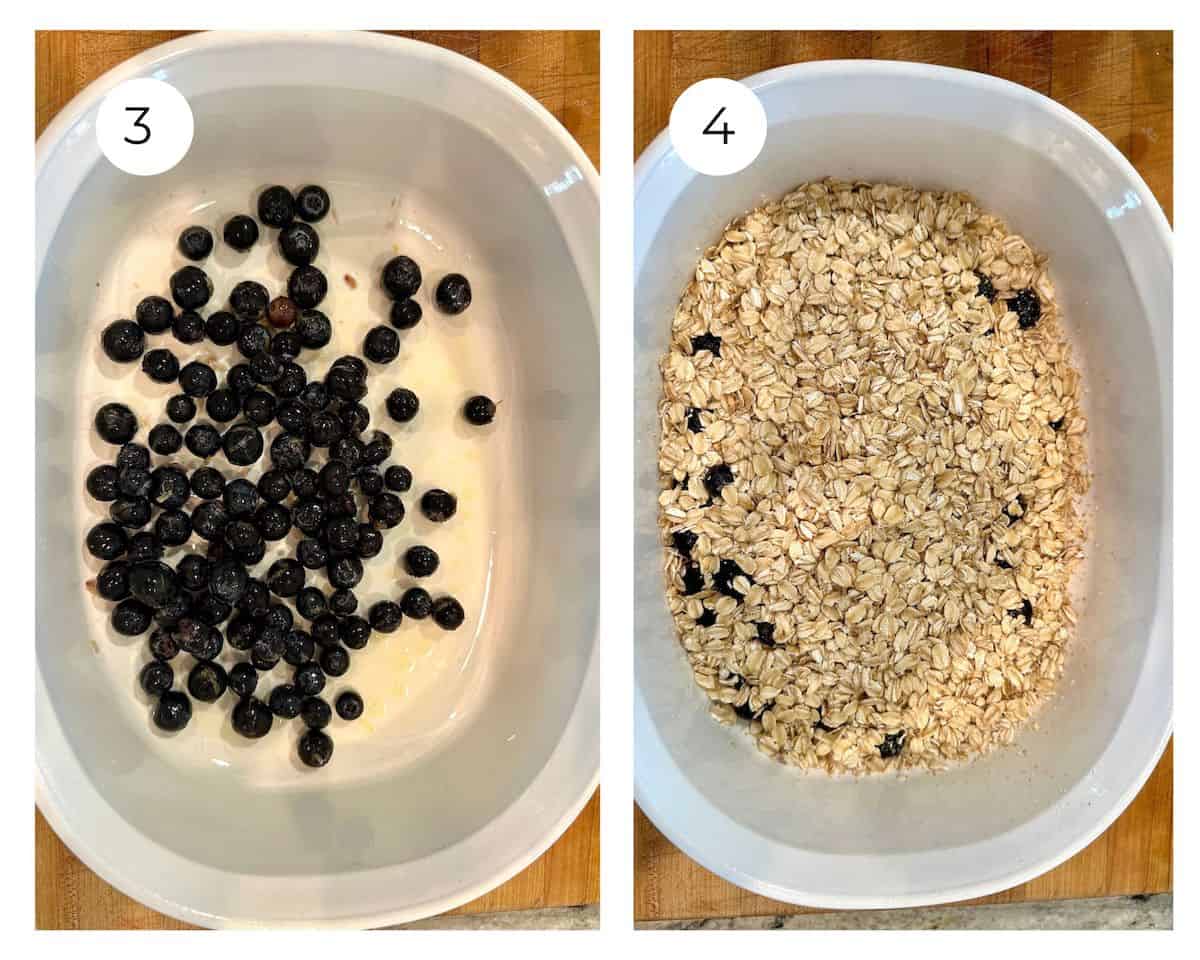 Step 3: Arrange half the blueberries in the bottom of the baking dish. (Photo #3)
Step 4: Top with the combined oats, salt and baking powder. (Photo #4)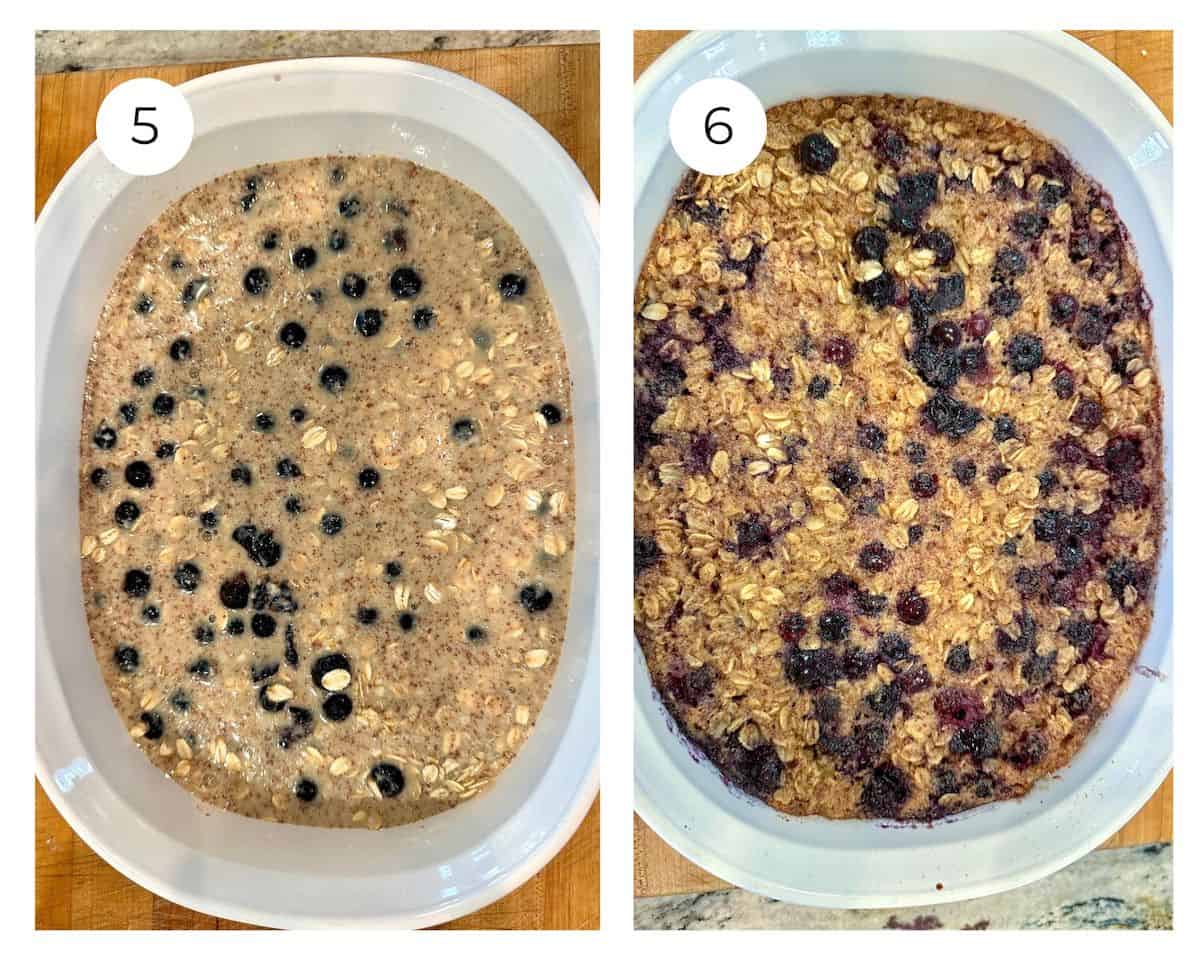 Step #5: Pour all the liquid ingredients over the blueberries and oats in the baking dish and top with the remaining blueberries. (Photo #5)
Step #6: Place in an oven heated to 350°F and bake for 40 minutes. (Photo #6)
🍋 How to Make Lemon Zest
Lemon zest adds a wonderful, bright touch of citrus to the blueberries in baked oatmeal. Creating lemon zest is very easy to do.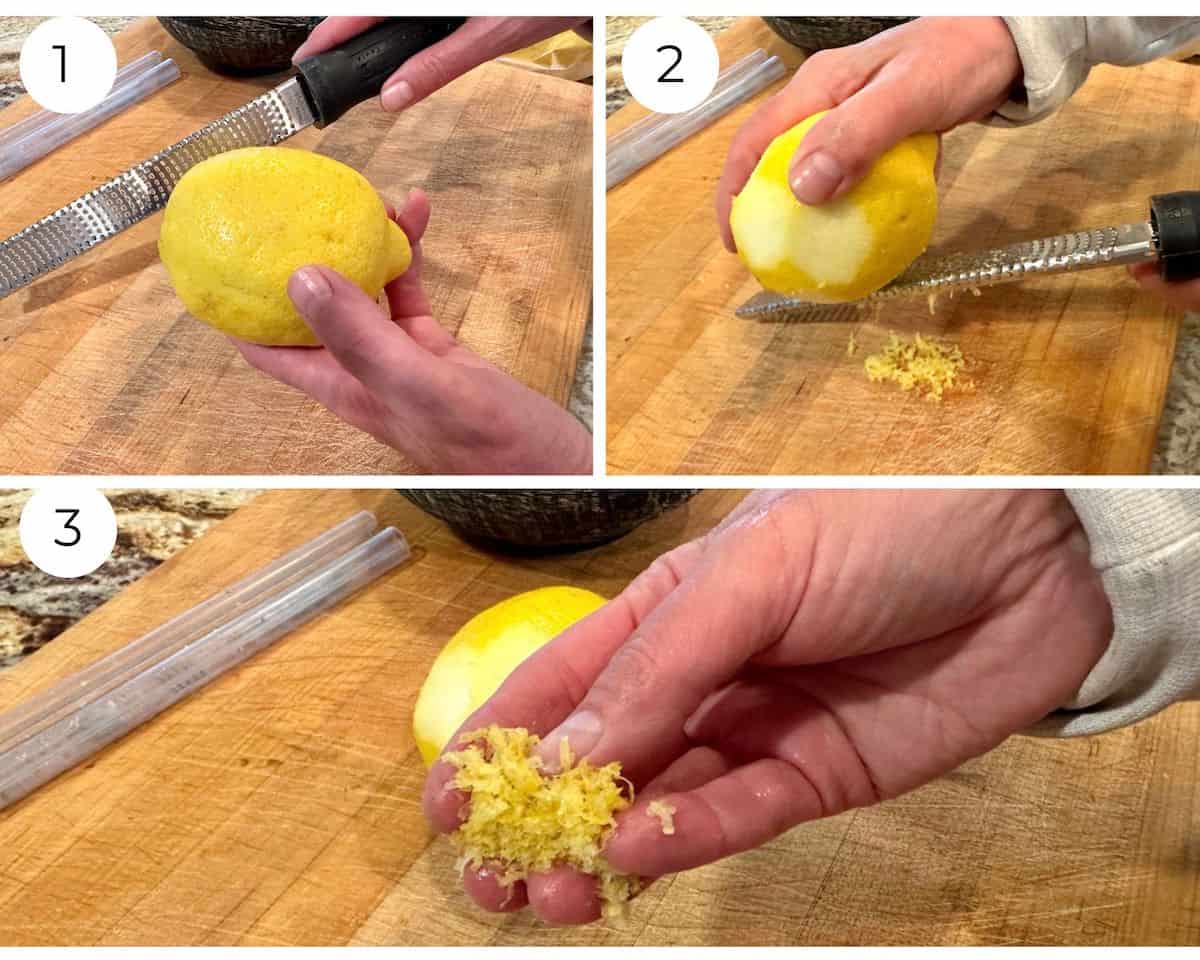 Step 1: Rinse the lemon and pat it dry. Remove any labels. (Photo #1)
Step 2: Hold the lemon firmly in one hand and the zester or grater in the other hand. Scrape the lemon across the grater with gentle pressure using short, quick strokes. Rotate the lemon as you grate it, so you zest evenly around the surface. (Photo #2)
Step 3: Only grate the lemon peel and not the white layer beneath the peel, which has a bitter taste.
SGather the zest (Photo #3) and place it in the bowl with blueberries.
Pro Tip: If you don't have a lemon zester or a grater, you can use a vegetable peeler to remove strips of the lemon peel. Use a knife to finely chop each strip of the peel to create very tiny pieces of zest.
If you have lemon leftover after zesting, wrap it in plastic wrap and store it in the refrigerator. Use the lemon and its juice to make Everything Bagel Cauliflower Hummus or slice it into wedges and serve with Ivar's Copycat Fried Cod.
💭 Recipe FAQs
Can I assemble the oatmeal the night before I plan to serve it?
The oats tend to soak up the liquid ingredients when stored in the refrigerator overnight, which isn't ideal.

For a shortcut in the morning, instead, I recommend preparing the blueberries and lemon zest, then cover and refrigerate. Combine the dry ingredients and store them in a small container. Blend the liquid ingredients, cover and store overnight in the refrigerator. In the morning you can quickly assemble the ingredients according to the recipe and bake.

Another option is to bake it in advance, cool then cover the baking dish and refrigerate overnight.

You can heat it up in the morning, either by warming up individual servings in the microwave or reheating the entire dish at 300°F for 20 minutes or until it reaches a warm serving temperature.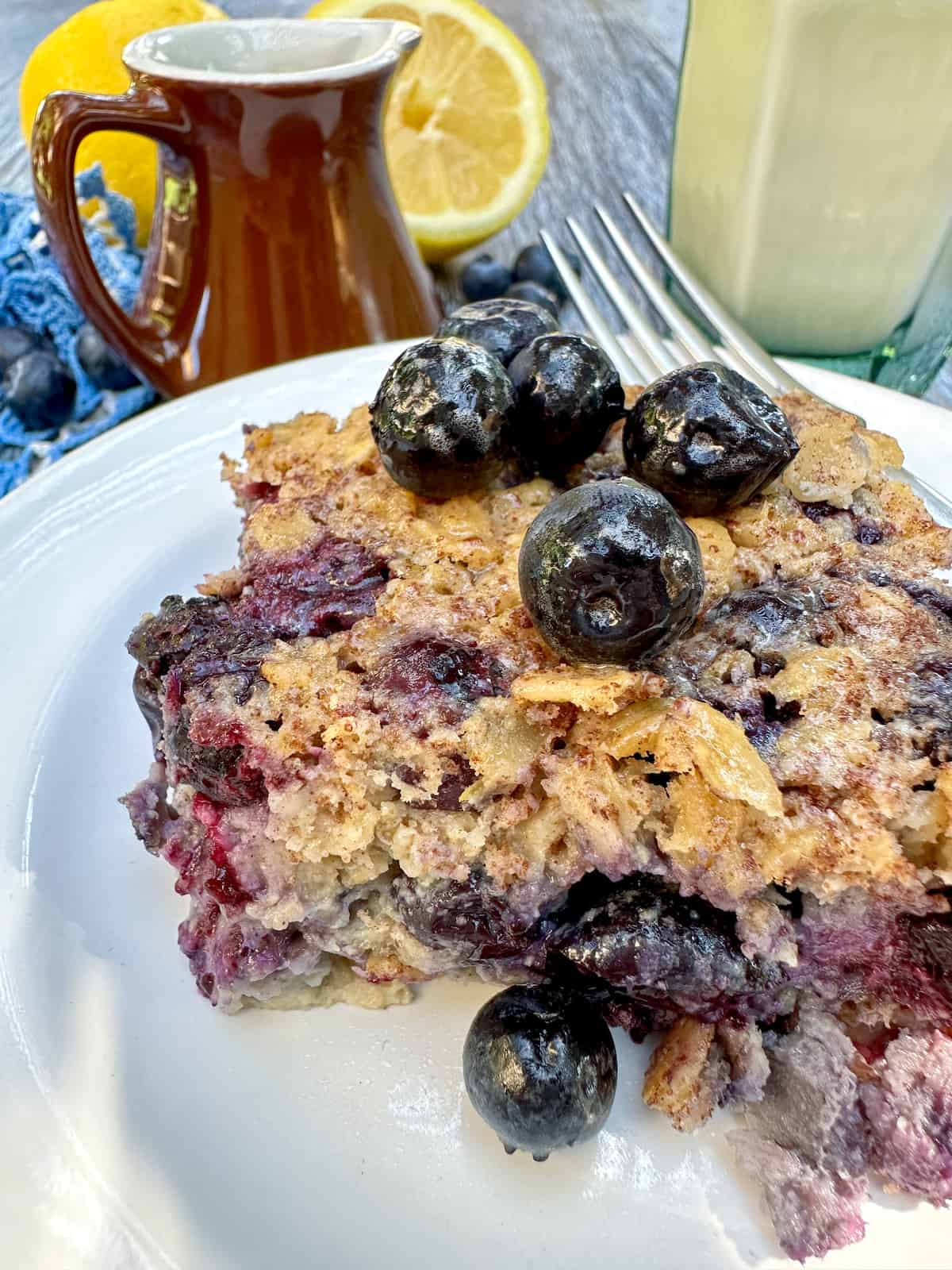 What's the best way to store the baked oatmeal?
Cover the baked oatmeal and store it in the refrigerator. Leftovers will stay fresh and delicious for 3-4 days.
Can I freeze the baked oatmeal?
For the best freshness and ideal oatmeal texture, it should be served fresh and enjoyed within a few days of baking.
I don't have a lemon on hand. Will the recipe still turn out?
The lemon zest helps enhance the blueberry flavor, but it's not a make-or-break ingredient and there's no need to make a run to the store if you are short on lemons.
🥗 What to Serve with Baked Oatmeal
The natural sweetness of blueberries and the comforting wholesomeness of oats combine to make Blueberry Baked Oatmeal a wonderful way to start the day. Here are a few recipes that go great when served alongside this recipe.
For added protein and even some cheese, there's nothing better than Starbucks Copycat Egg Bites which can easily be made a day in advance and warmed up while the oatmeal is baking. Or how about a cheesy casserole? Green Chile Egg Casserole comes together with pantry staples and some of your favorite varieties of cheese.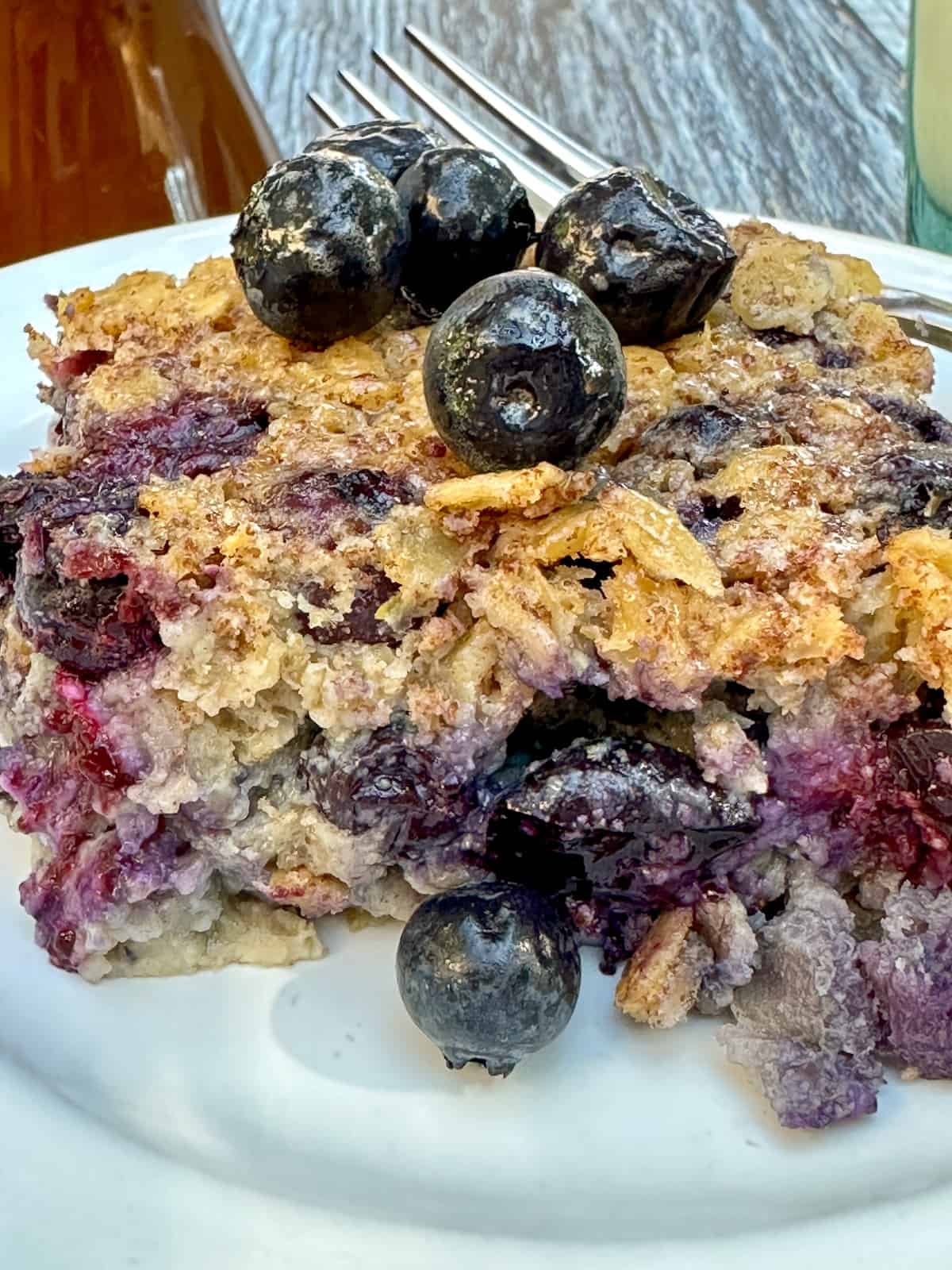 🍽 More Recipes
The Inspiration
I adapted this recipe from one designed for Dutch Oven camp cooking in the Dirty Gourmet Cookbook. If you enjoy cooking in the great outdoors, it's a cookbook I highly recommend!
If you tried this Blueberry Baked Oatmeal or any other recipe on my website, please leave a 🌟 star rating and let me know how it goes in the 📝 comments below.
Recipe