Blueberry Rhubarb Muffins are light, not overly sweet, and bursting with that distinctive tart taste of baked rhubarb along with sweet blueberries. Grab your favorite muffin pan and get ready to bake a delicious rhubarb muffin that goes perfectly on any breakfast or brunch menu - or as a snack any time of day. This is not your usual rhubarb muffin recipe, bake these today and you'll taste why.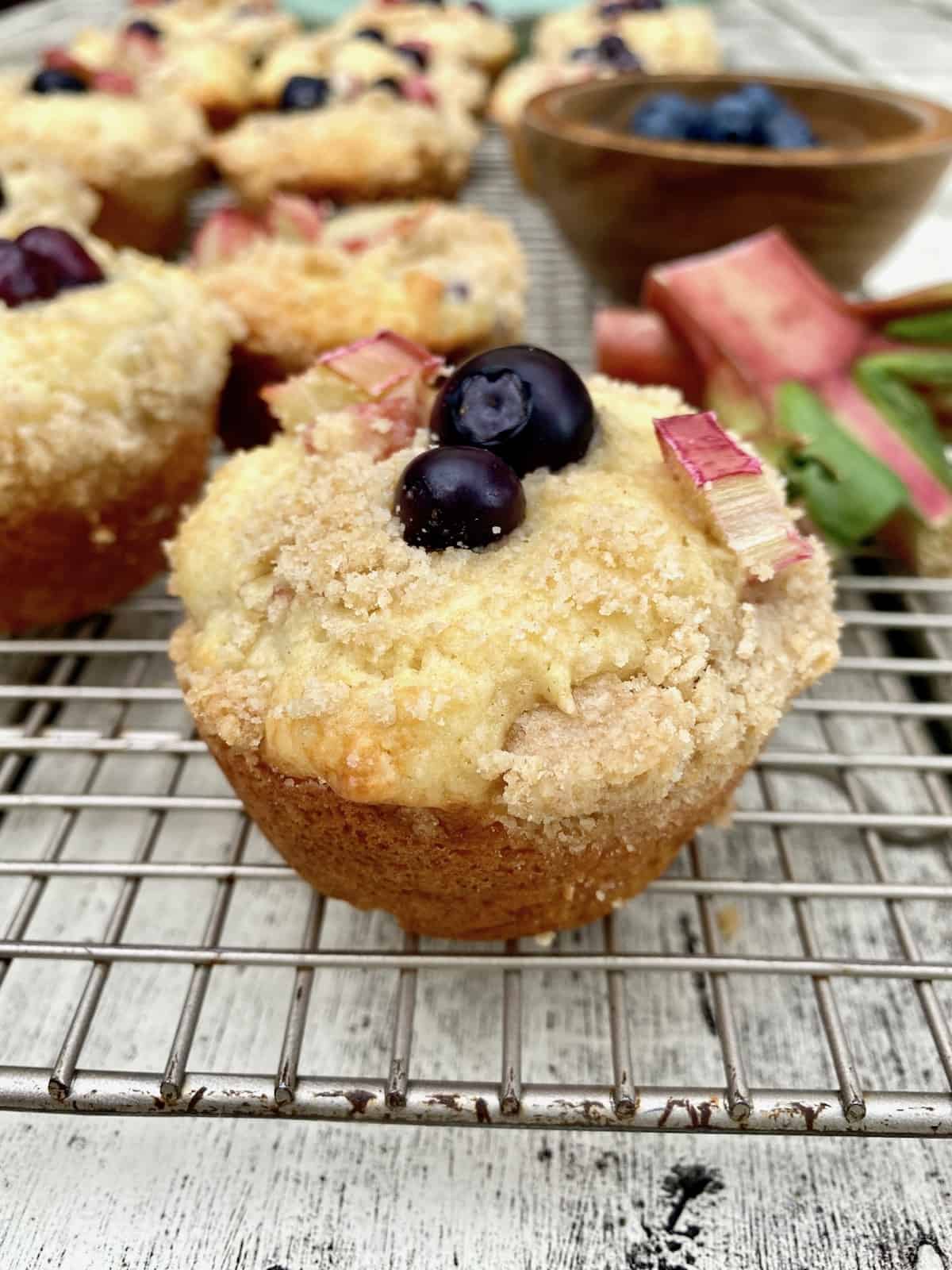 Jump to:
Ingredients to Have on Hand
Rhubarb
Blueberries
Flour
Plain Greek yogurt
Sugar and brown sugar
Eggs
Butter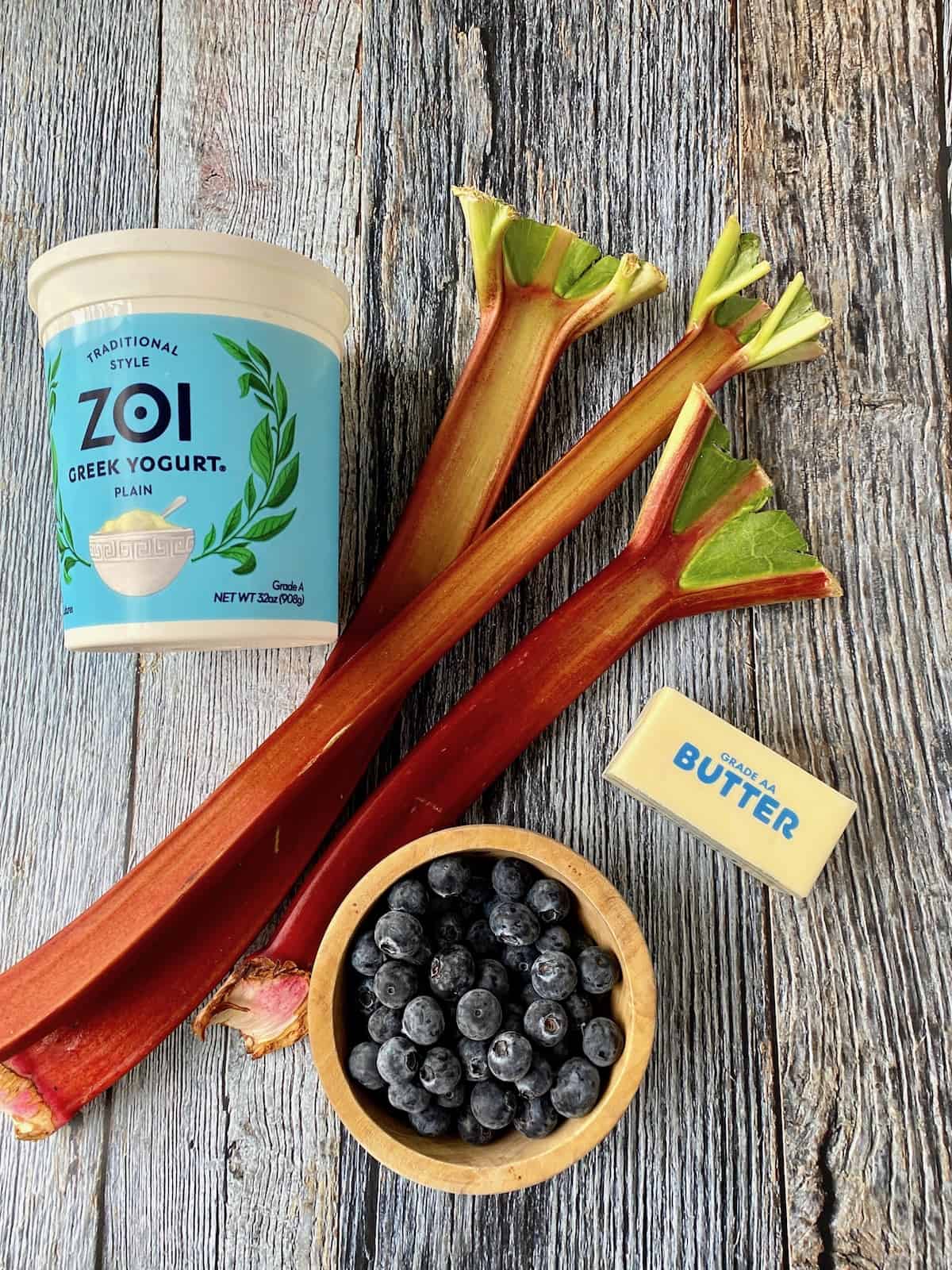 Prep Rhubarb and Blueberries
One of the great things about baking with fresh rhubarb is there is very little prep work to get the rhubarb ready to add to your other ingredients.
No pits to remove, no peeling, no boiling - just rinse and dice the rhubarb and you'll be set. Rhubarb season starts in the spring, but you can usually find it at a local farmers market or the grocery store for most of the summer months.
Rhubarb is so delicious in baking, it adds great moisture and a distinctive tangy flavor, especially to these muffins.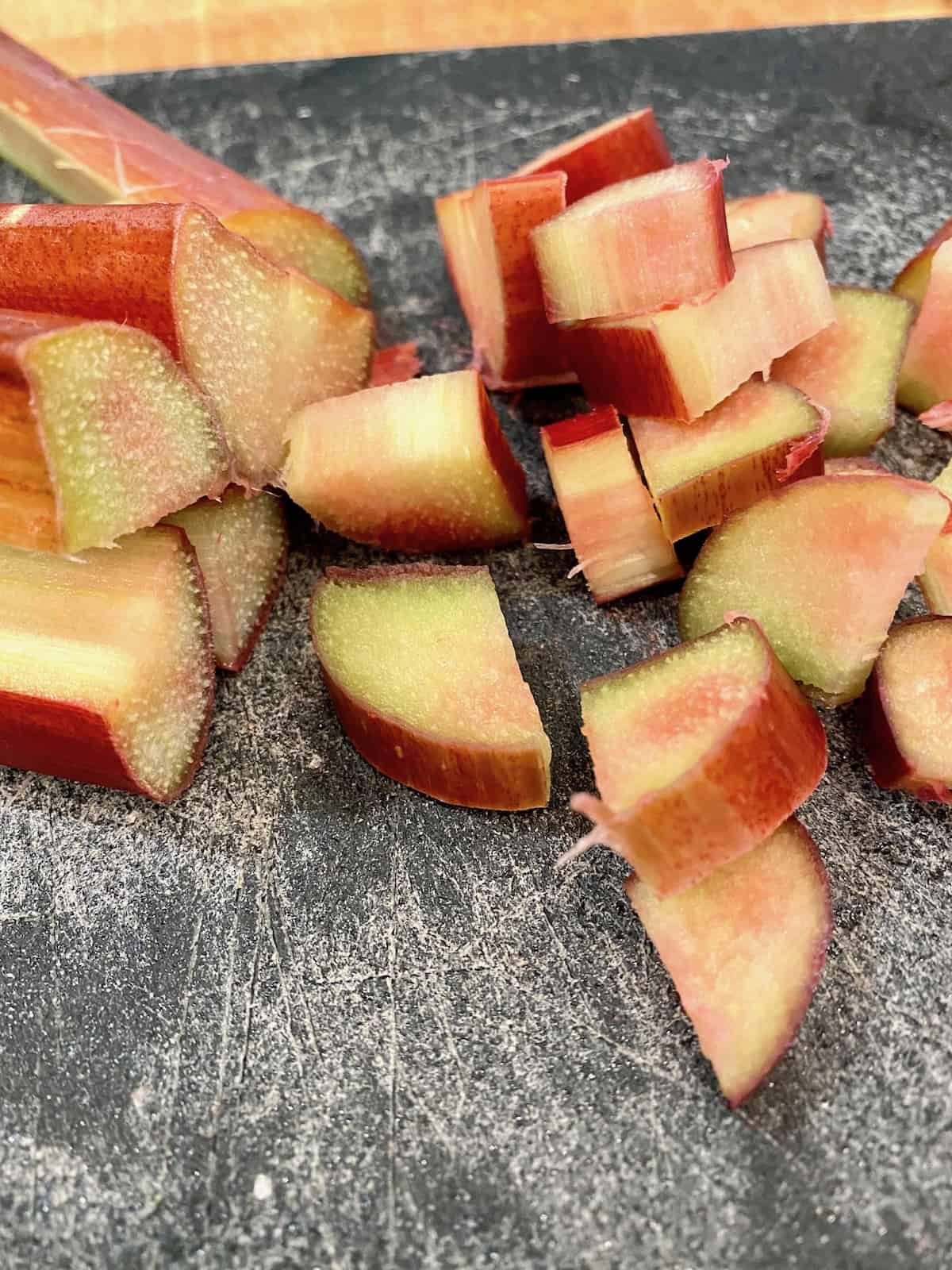 The same holds true for fresh blueberries. Place them in a small colander in the sink, spray with water, rinse and drain. Ready to bake.
Greek Yogurt or Sour Cream
Remember to add the melted butter to the plain yogurt, sugar and eggs. It's easy to forget that step because the melted butter is set aside and cooling in a small bowl.
As an option, you could swap the yogurt and use an equal amount of sour cream instead, it's just my personal preference to use plain Greek yogurt.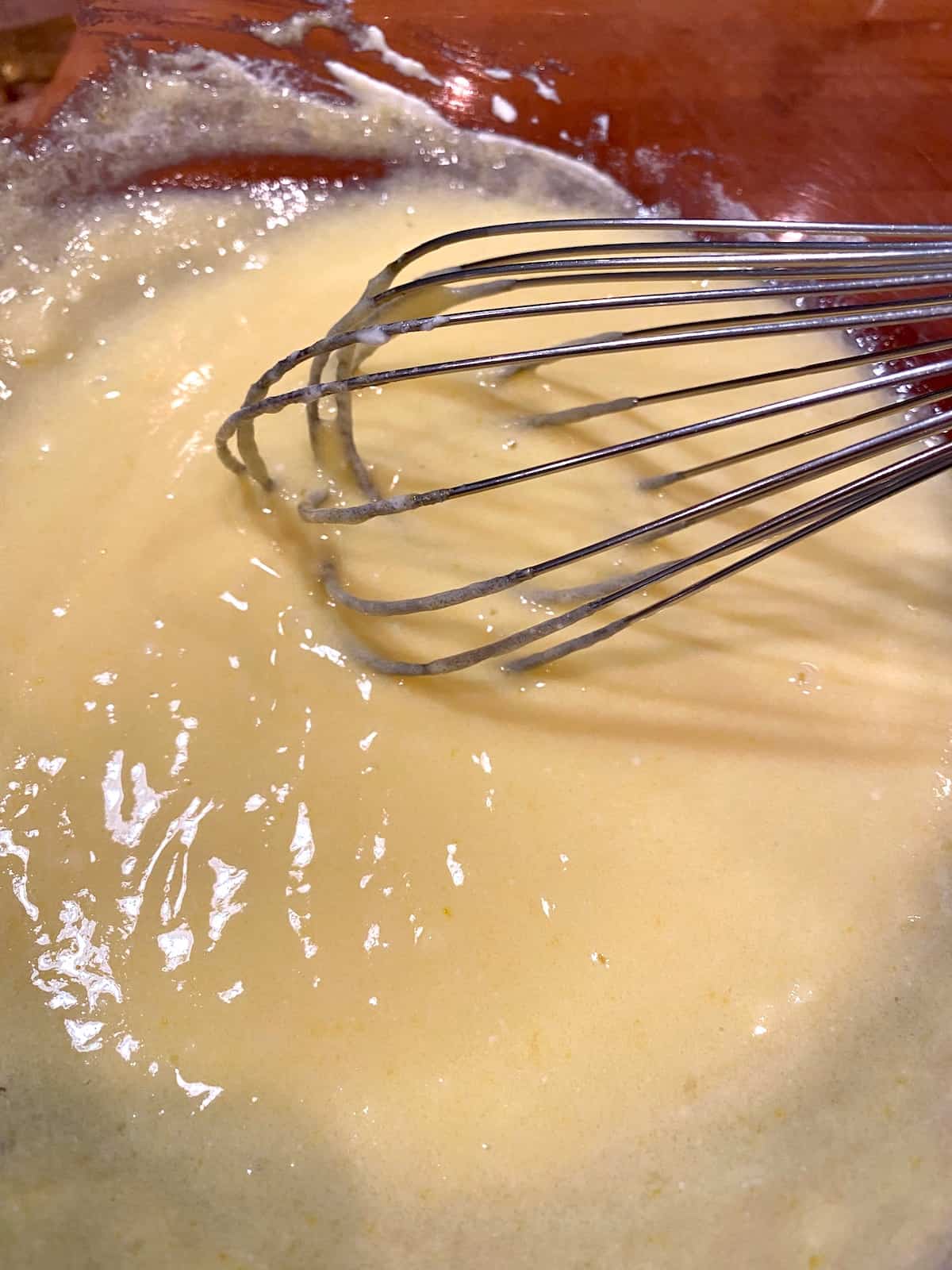 Blend the wet ingredients (yogurt, butter, sugar, eggs) then add the flour mixture in a large mixing bowl. Don't worry if the dough seems thick as you're stirring it.
This is a thick, sturdy rhubarb muffin batter.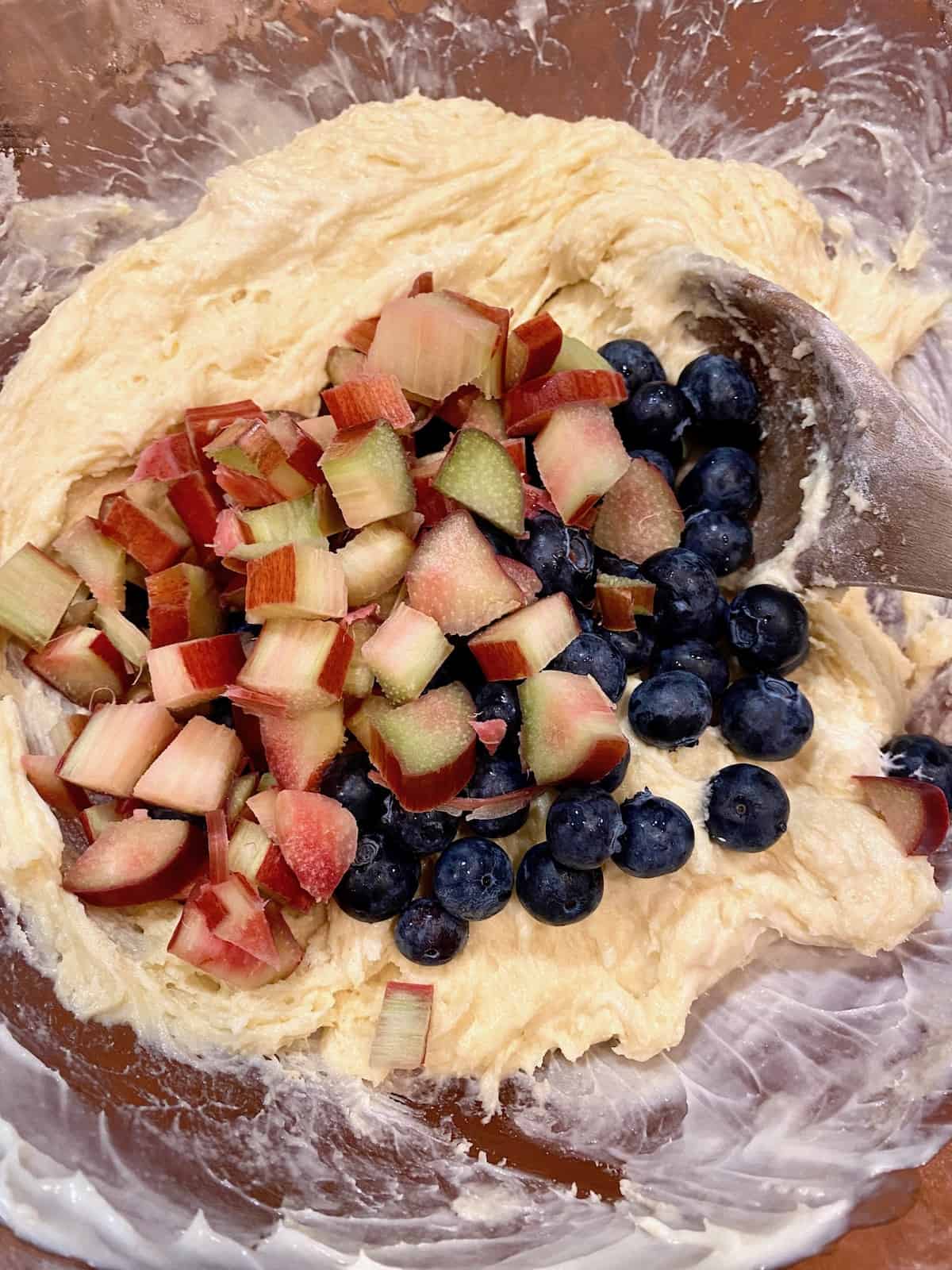 Next, spoon the muffin batter into each muffin section in a 12-cup muffin pan.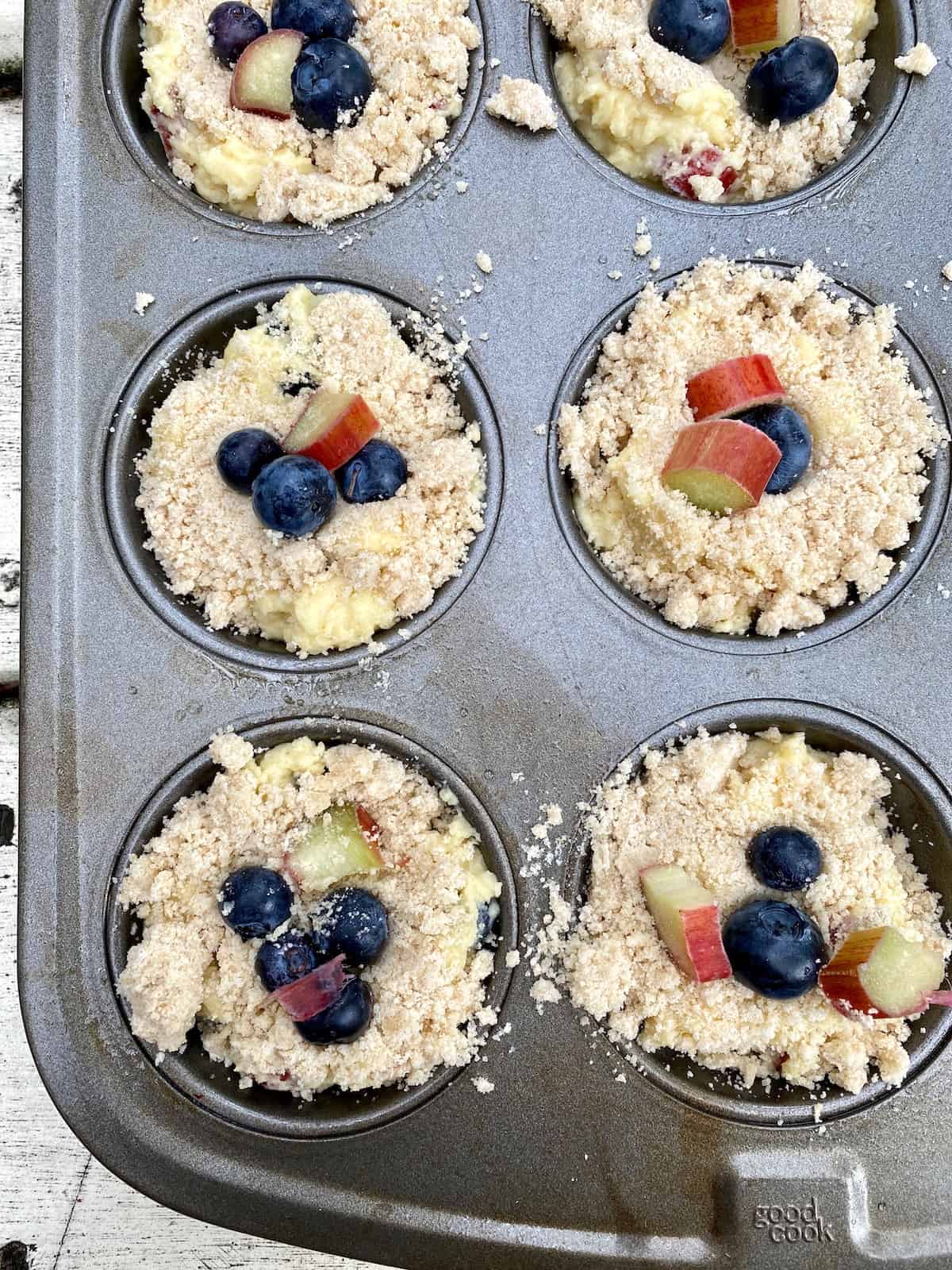 Be sure each muffin gets a few blueberries and a few pieces of rhubarb on top.
A mini-muffin pan works great too, but since the muffins are smaller you'll want to adjust the total cook time accordingly. I took about 10 minutes when I baked these. And given the smaller size of each muffin, just one blueberry on top is plenty.
Streusel Muffin Topping
The tops of these Blueberry Rhubarb muffins are such a treat! Add at least one but preferably two teaspoons of the streusel mixture on top of each muffin.
Like most rhubarb muffins, this recipe is not overly sweet, but the streusel topping and the fresh blueberries add the perfect amount of sweetness.
A sprinkling of streusel is the perfect topping for rhubarb muffins!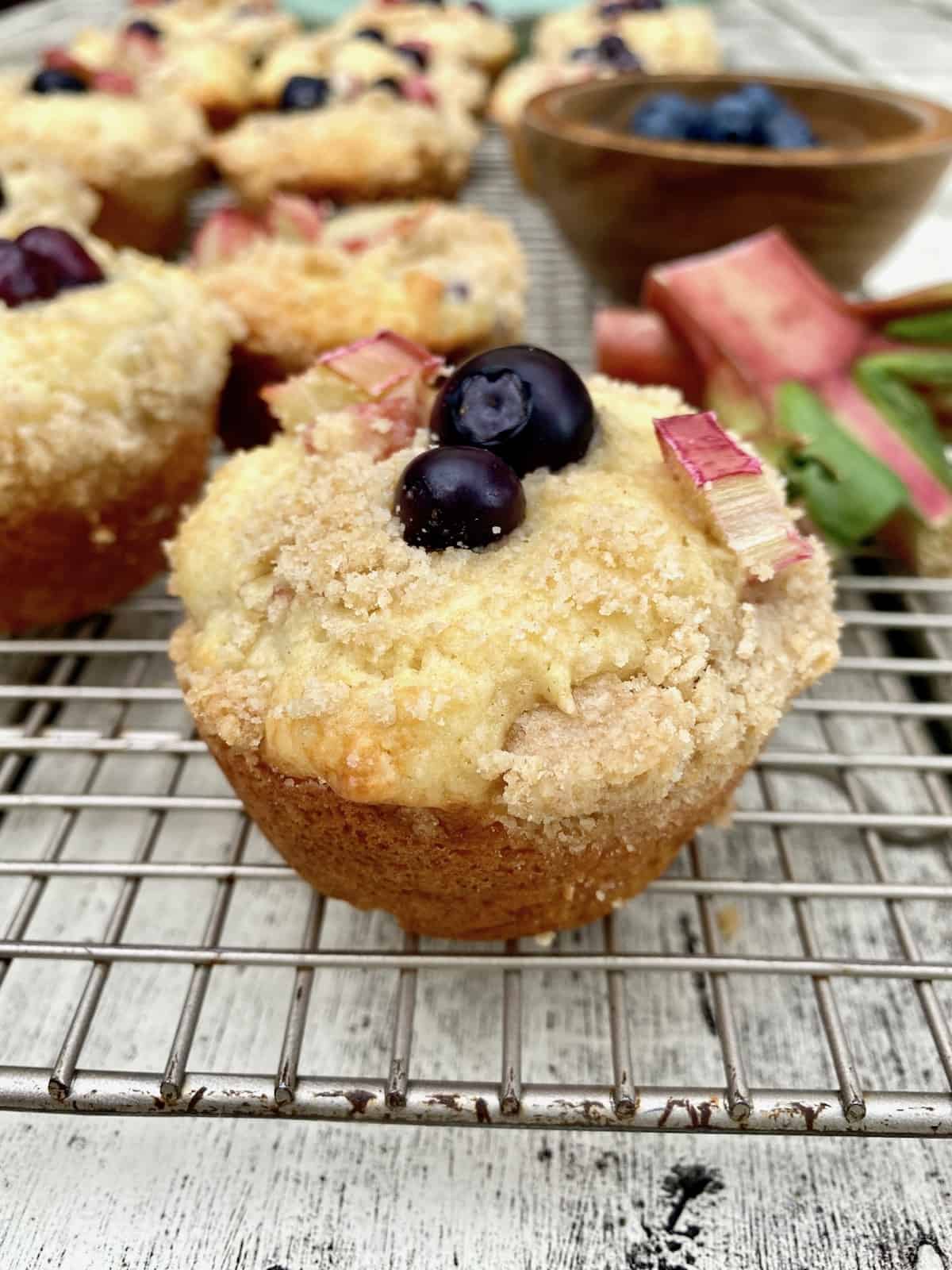 Remember, this is not an overly sweet blueberry rhubarb muffin, so that sweet, crunchy topping is the perfect complement.
It makes for a sweet muffin top.
Make the Streusel
It's easy to make a streusel for your rhubarb muffins. A small mixing bowl works great.
Use a fork to cream the room-temperature butter with the flour and sugar. Just like that, you've made a streusel topping!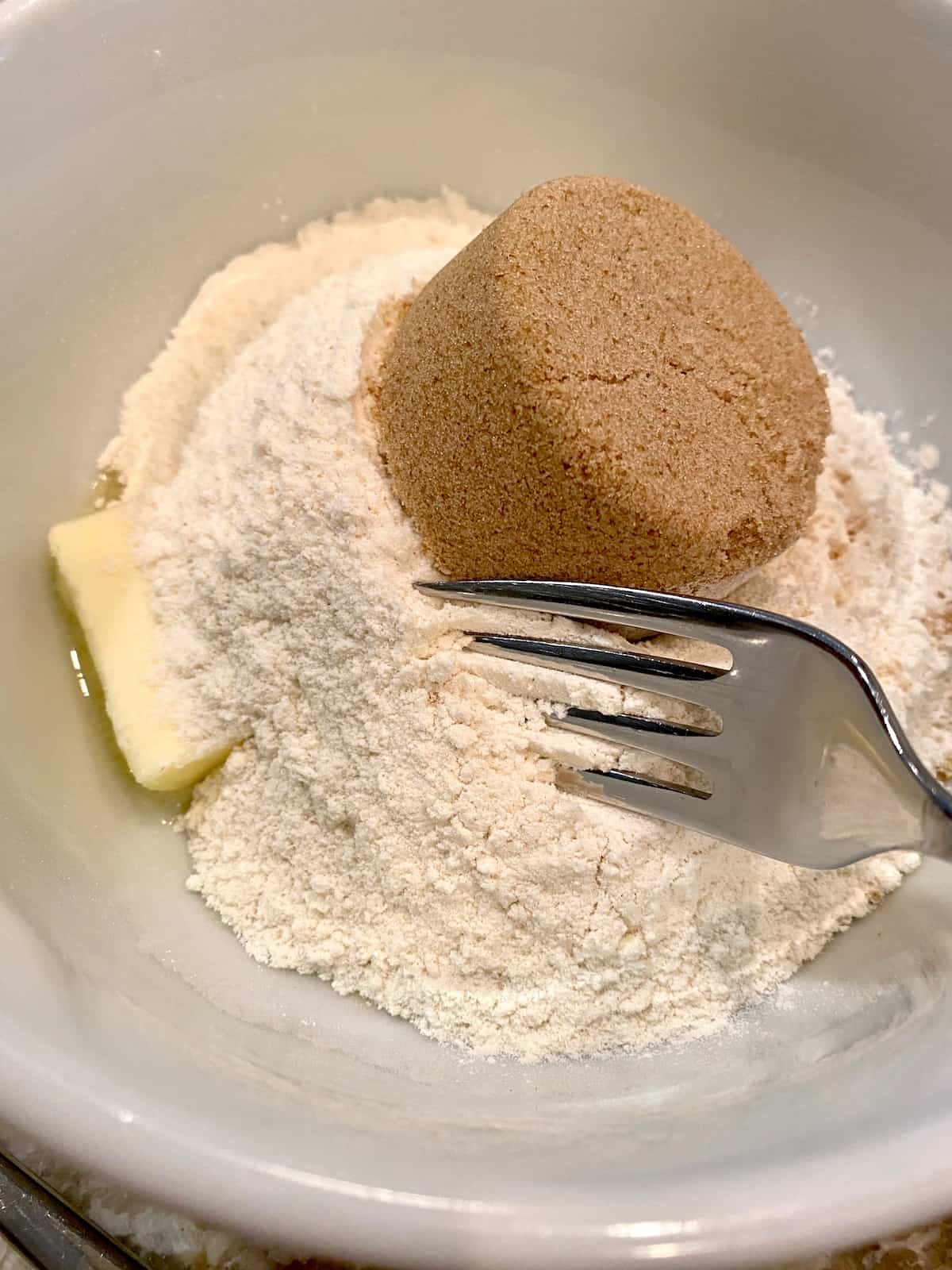 Place about two teaspoons of the streusel topping on top of each muffin.
Nestle a few berries and a bit of rhubarb into the streusel topping to create distinctive, sugary muffin tops.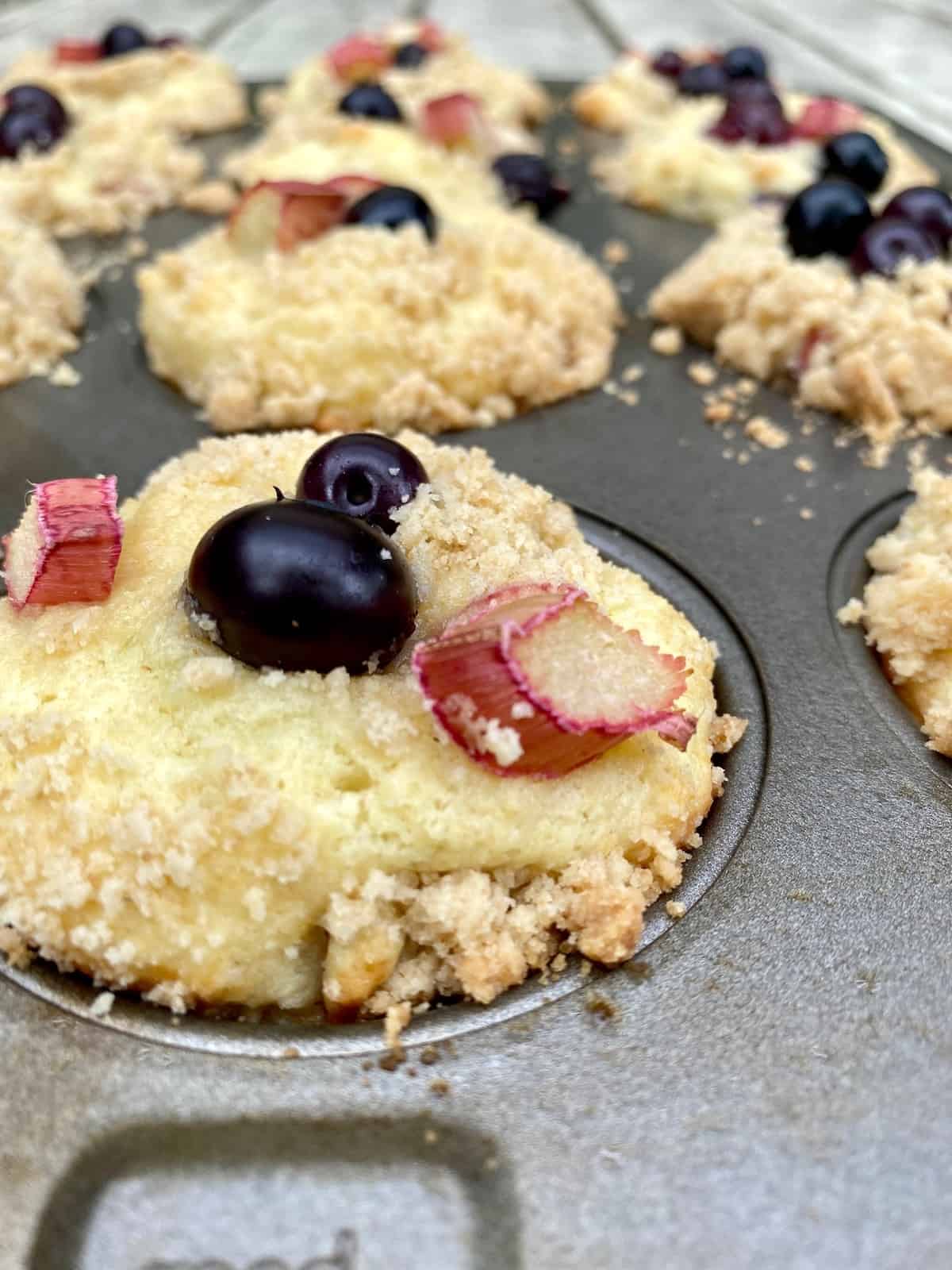 Top Tips and FAQ
How do I make sure the muffins will get a domed top and rise in the center?
Oven temperature plays a big role in that. Bake the muffins in the oven at 400° F. A hot oven ensures that the muffins will rise quickly and get that puffy "I'm done" look.

Also, fill each muffin cup so that it's nearly full, but not oozing over the edges. The topping should come to the edge of the top of the muffin pan.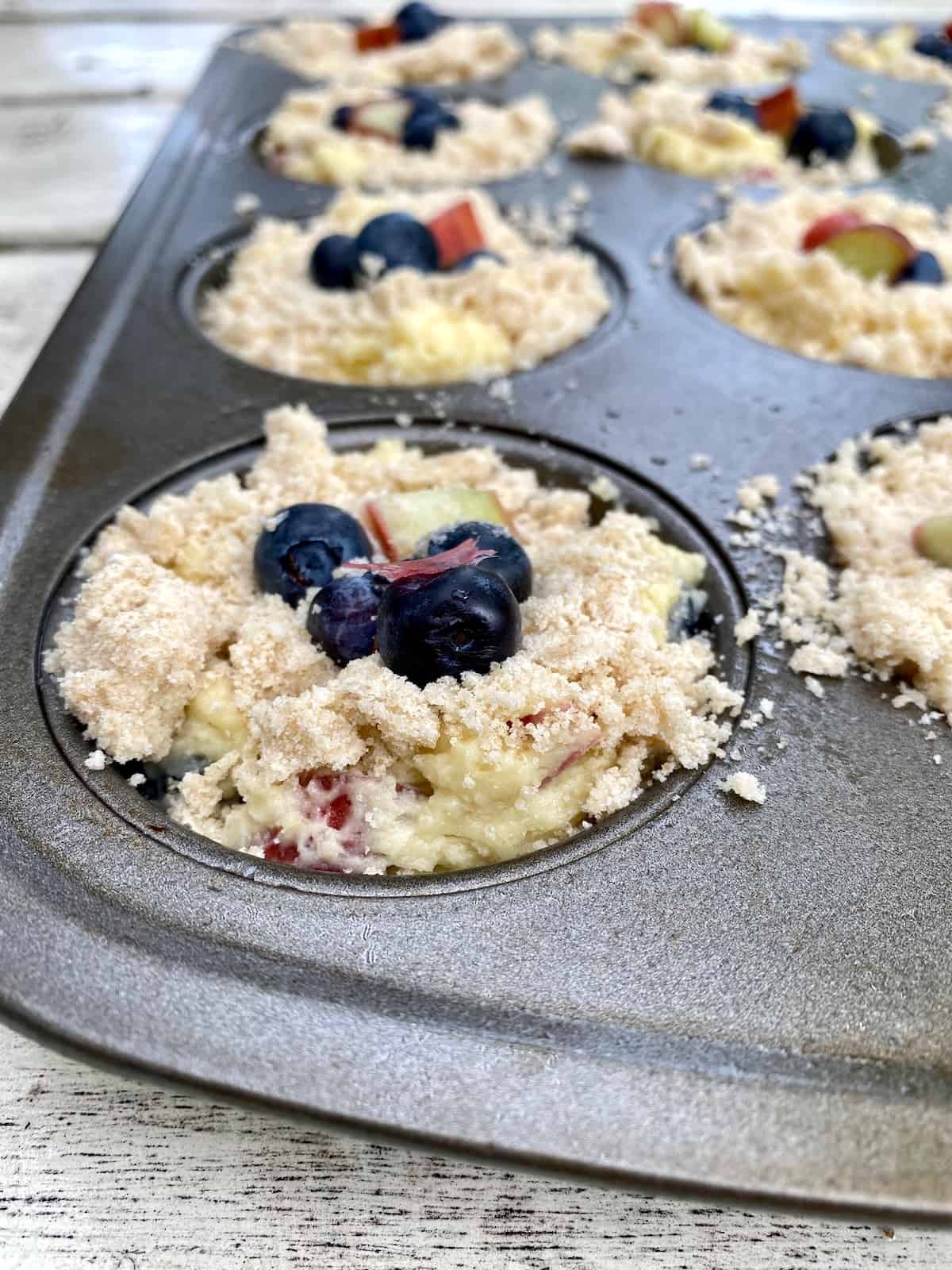 What is a substitution for plain Greek yogurt?
Sour cream is a great substitute. So is regular, plain yogurt. Either of those options will give you great results and a delicious, moist rhubarb muffin.
How do I remove these from the pan without ruining the muffin topping?
When the muffins are done baking, remove the muffin pan from the oven and place on a wire cooling rack.

Let the pan set or a minute or two, then use a fork to carefully loosen each muffin out.

Place the muffins on the cooling rack to finish cooling. There's no need to flip the pan over to remove the muffins.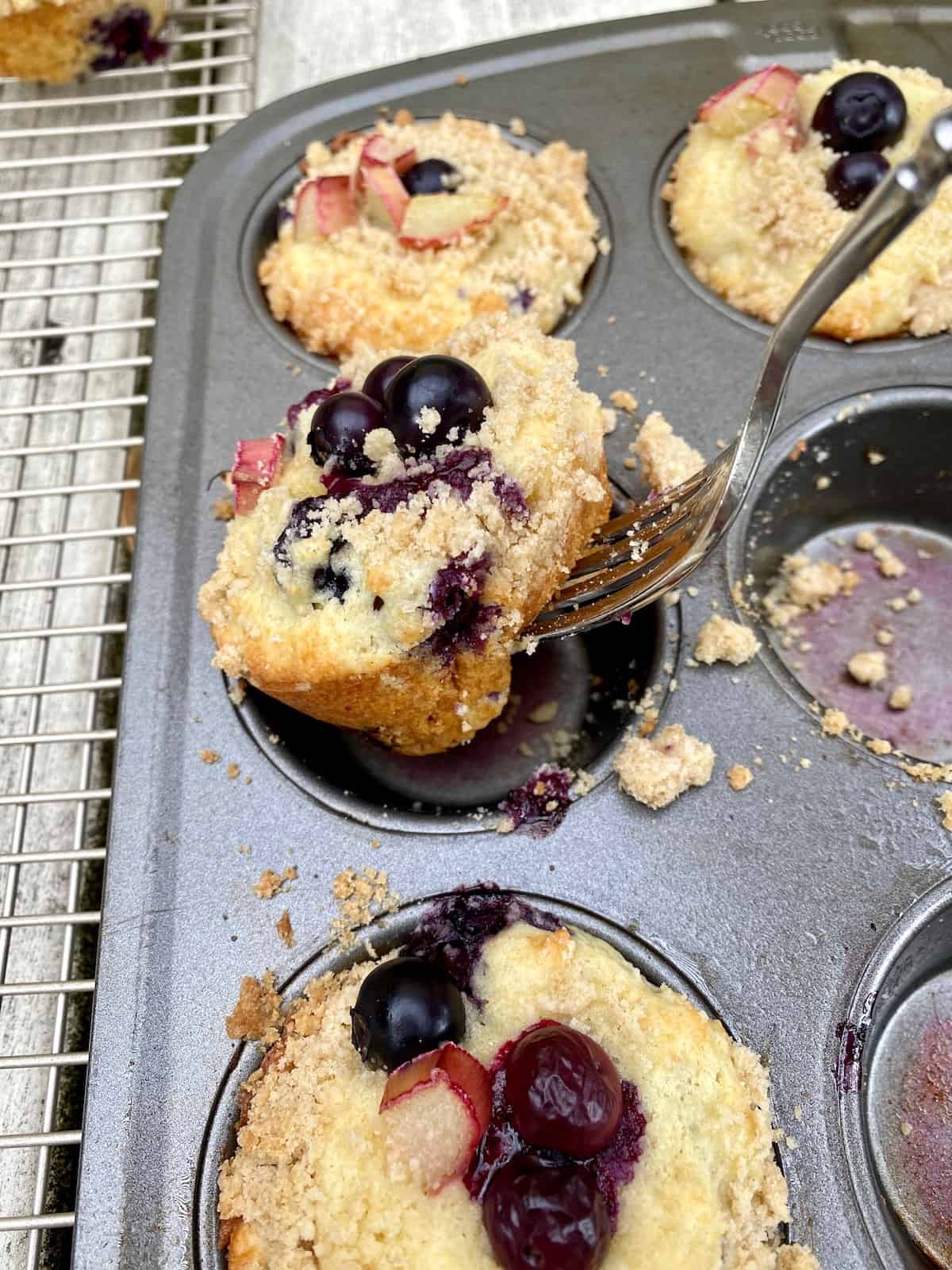 Storage
There's nothing better than a scratch-made muffin in the morning. But it's also nice to have these on hand any time that works for you.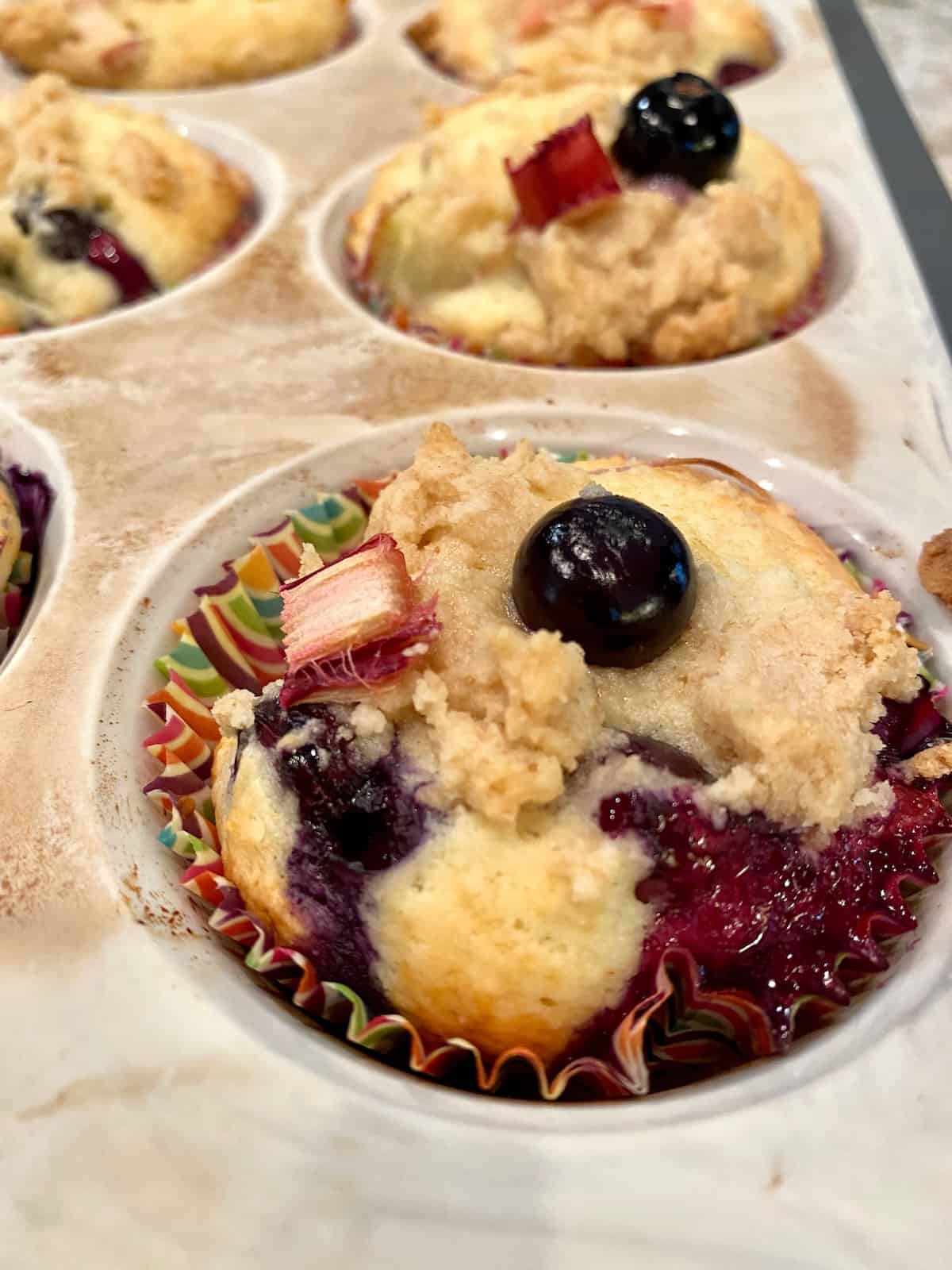 One of the reasons why I love this recipe so much is the muffins stay tender and fresh for about three days after baking, the streusel topping stays sweet and fresh so there's plenty of time to enjoy a homemade rhubarb muffin with your morning coffee.
Store the muffins at room temperature in a covered container or zip-top plastic storage bag.
Enjoy within three days for the best freshness.
Freezing and Defrosting Muffins
To freeze Blueberry Rhubarb Muffins, place them in a freezer-safe zip-top plastic bag or container. Remove from the freezer and defrost at room temperature.
To warm up a muffin that's been stored or defrosted, place the muffin on a microwave-safe plate or napkin and heat for 15-30 seconds, depending on the wattage of your microwave oven.
The Inspiration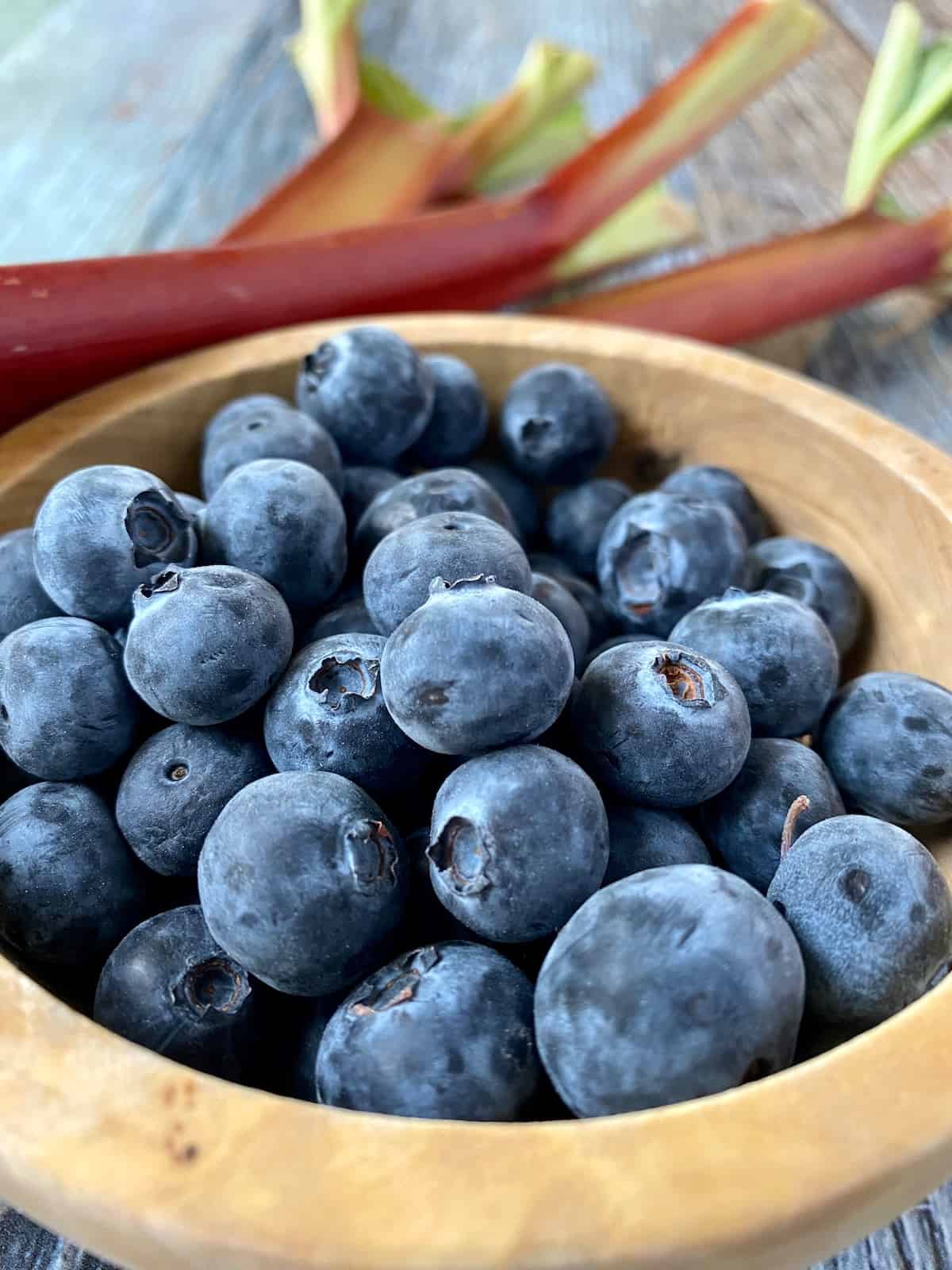 Who knew blueberries and rhubarb would go so great together?
Honestly, I hadn't even thought of pairing sweet berries with rhubarb until after my mom clipped a rhubarb muffin recipe from the newspaper and shared it with me.
There were no berries in sight in that recipe and it looked yummy enough, but I wanted to add a new twist of fresh fruit to this scratch-made rhubarb muffin recipe.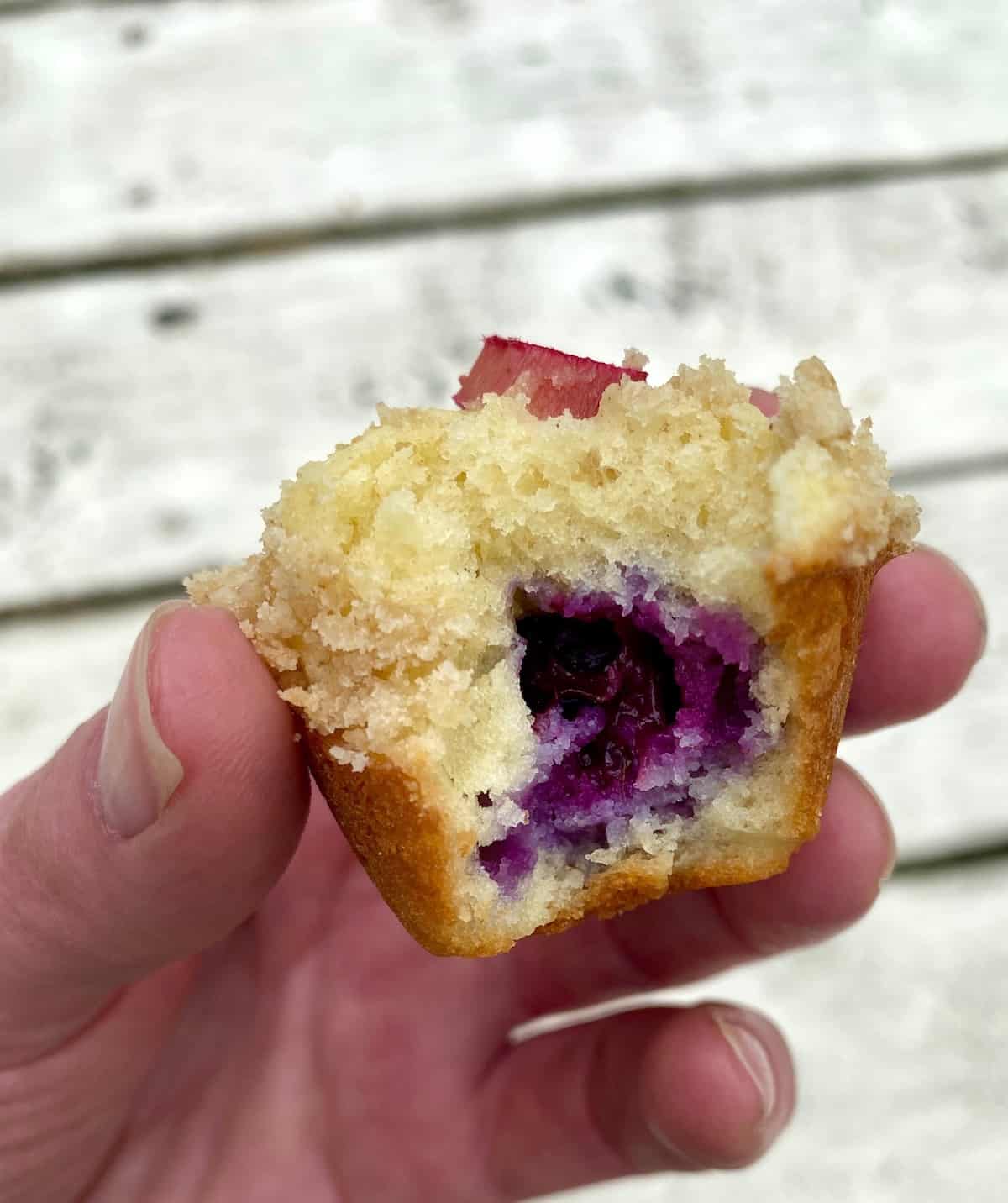 What Goes Great with Rhubarb?
We frequently think of strawberries as the perfect pairing for rhubarb, and if you haven't tried my Strawberry Rhubarb Pie recipe yet, I think you'll love it.
But for this recipe, I knew it needed something sweet and juicy.
The tartness of the rhubarb is unique so I knew this recipe would call for a fruit combo that would complement that distinctive rhubarb flavor.
I happened to spot a container of blueberries in my fridge and voila! Fresh blueberry rhubarb muffins were born.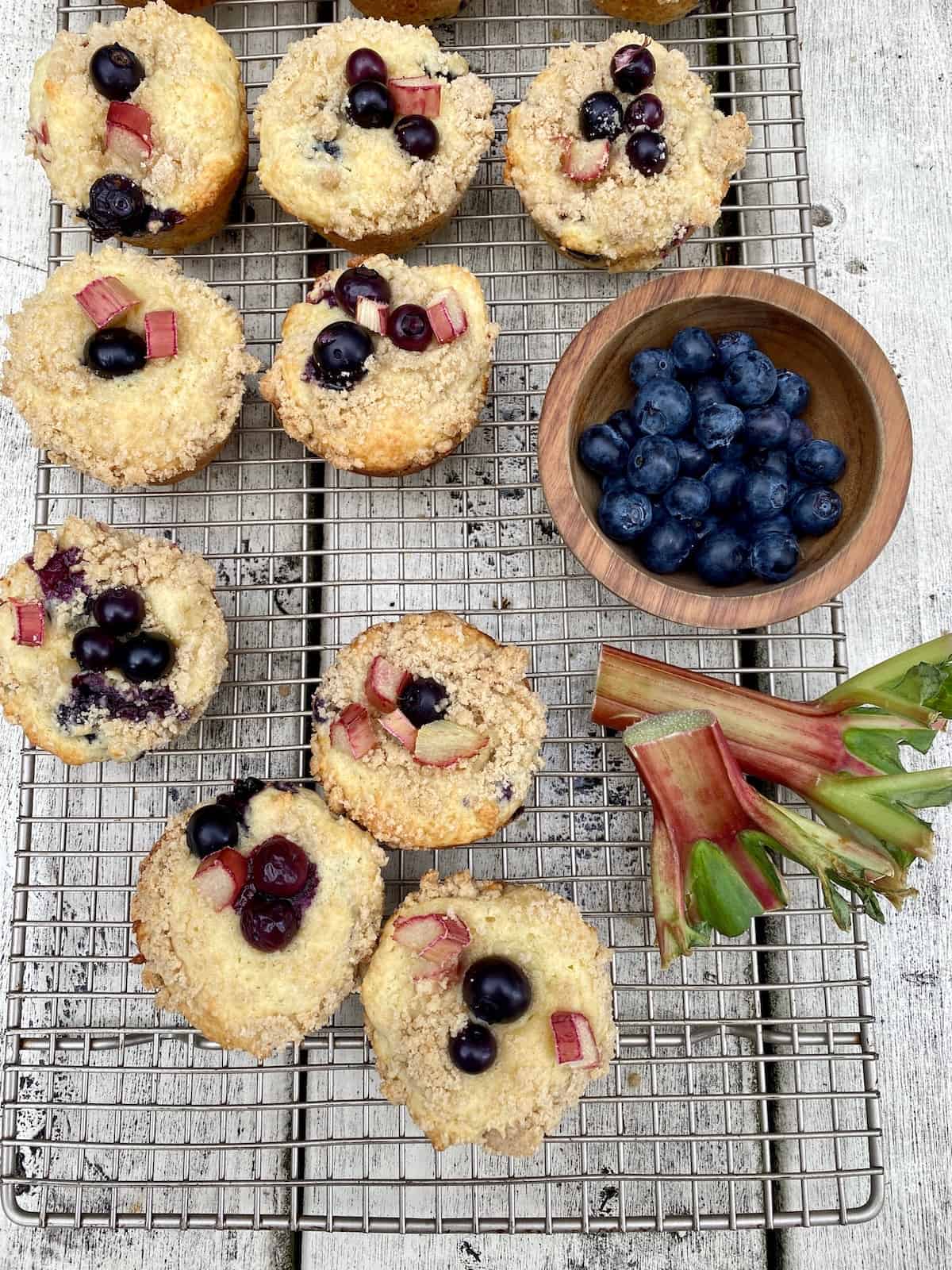 More Recipes
Blueberry Rhubarb Muffins are sure to be a game-changer for your next breakfast or brunch at home.
Here are a few more recipes that are among my very favorites for those gatherings.
Chili Relleno Casserole is a family favorite recipe, the green chilis are mild and the casserole is full of cheesy goodness. It's a great pairing with this muffin recipe!
Fresh Fruit Tart is a welcome, fruity treat at any family gathering. The shortbread crust is light and crunchy and there's a touch of lemon too.
Rate the Recipe
Be sure to give a star rating to the recipes you make from the Crinkled Cookbook. I always love hearing from you. Sharing is great too! Use the buttons after the recipe to text it with just one click or send it to family and friends on Pinterest and Facebook. Enjoy.
Recipe