Easy Skillet-Glazed salmon comes together with the help of two simple kitchen staples: honey and soy sauce and it's ready to eat in less than 15 minutes. That's all the time it takes to create a delicious and elegant salmon meal. This recipe turns regular salmon into mouthwatering salmon. Get ready for a perfectly cooked, seafood treat that the whole family will love.
Note: Links in the recipe are paid links, Amazon Associates. This means I make a small commission when you click and shop. Your cost is the same and I only link to and recommend things or ingredients that I use or love.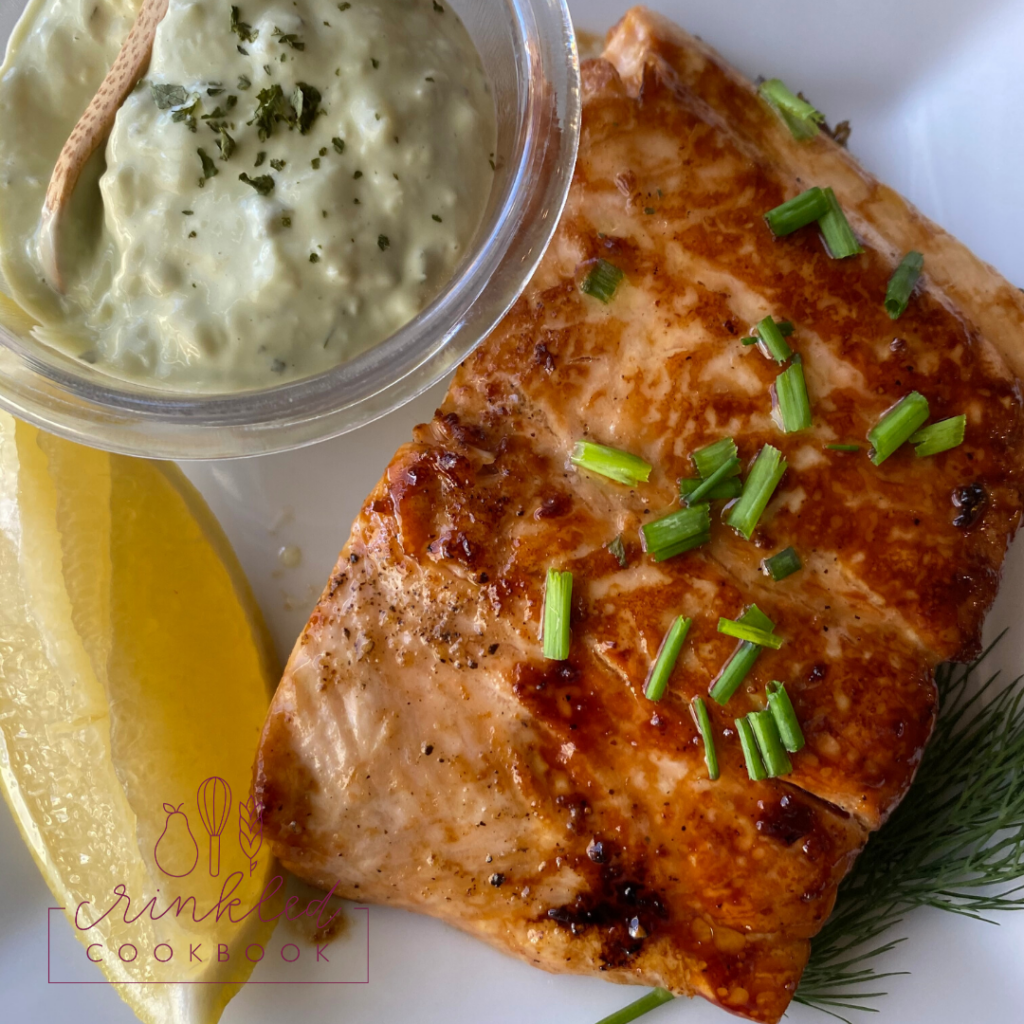 Ingredients to have on hand
fresh salmon
honey
soy sauce
olive oil
Grab your favorite skillet, I prefer cast iron, and enjoy a fancy meal that's super easy to prepare.
Simple way to prepare salmon
Elegant yet so, so easy. Your guests will be impressed with this seafood entree. This is a recipe that takes mere minutes to prepare so it's easy enough even for a work night meal.
From kitchen to dining table it's ready in less than 15 minutes, how's that for easy.
Top Tips and FAQ
What type of salmon should I buy for this recipe?
Any salmon will work great with this recipe, I made this using various types and have never been disappointed. Just be sure to buy fresh fillets.

Look for salmon that appears moist, not dried out or rubbery. The moisture content is a great indicator of freshness and how carefully the fish was handled.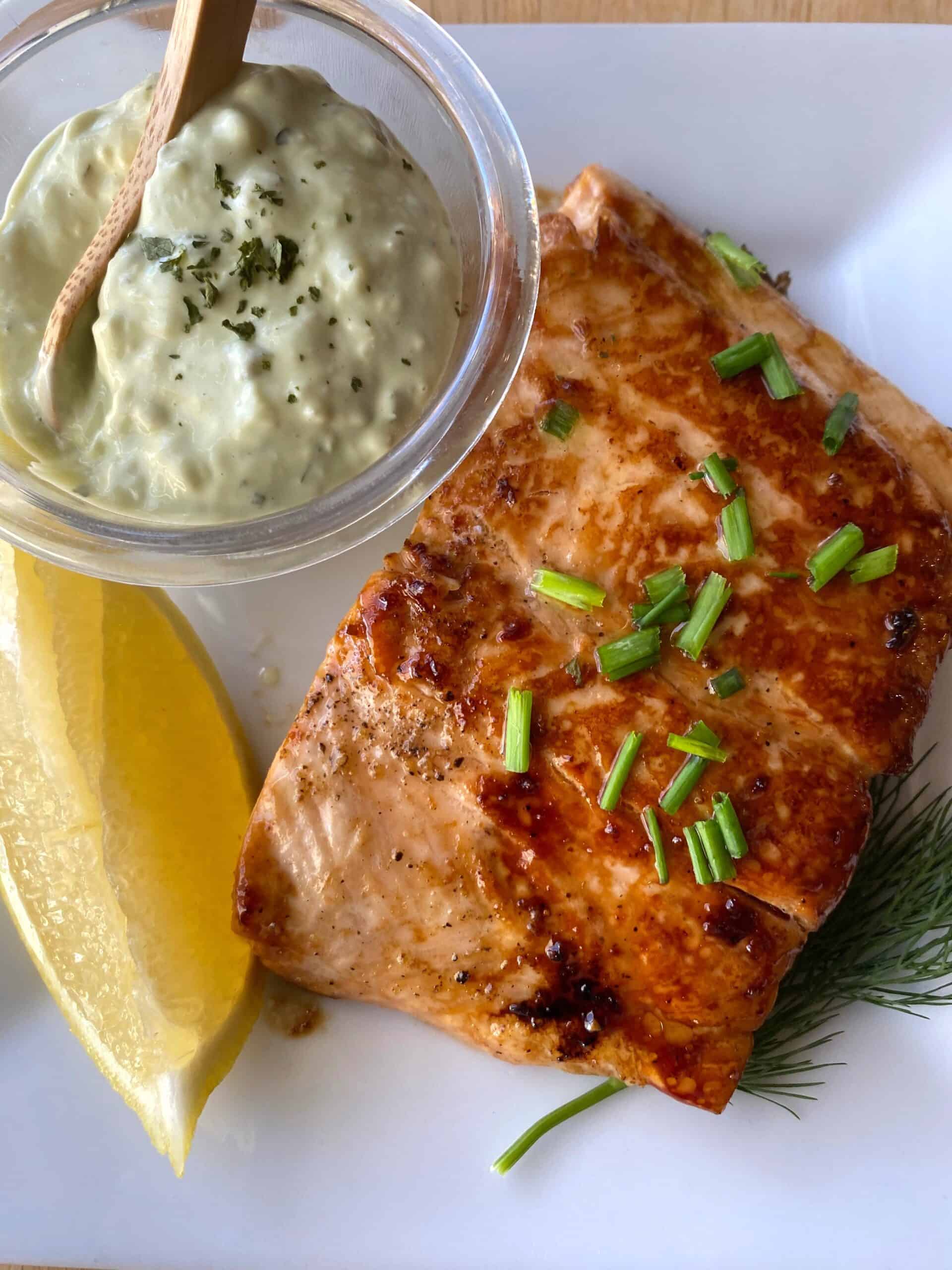 Could I bake the salmon instead of frying it in the skillet?
Yes, in fact that's how my Dad makes it. The only adjustment, you don't need to flip the fillet. Just place it skin side down on an non-stick baking sheet, or one lined with parchment paper. Bake in a 450° F oven for about 10 minutes. The glaze isn't quite as thick using this technique, but it is still delicious.
Should I rinse off the salmon before cooking it?
There's no need to do that. In fact, the USDA cautions: "Washing or rinsing meat or poultry increases the risk for cross-contamination in the kitchen, which can cause foodborne illness. It's time to leave this habit in the past."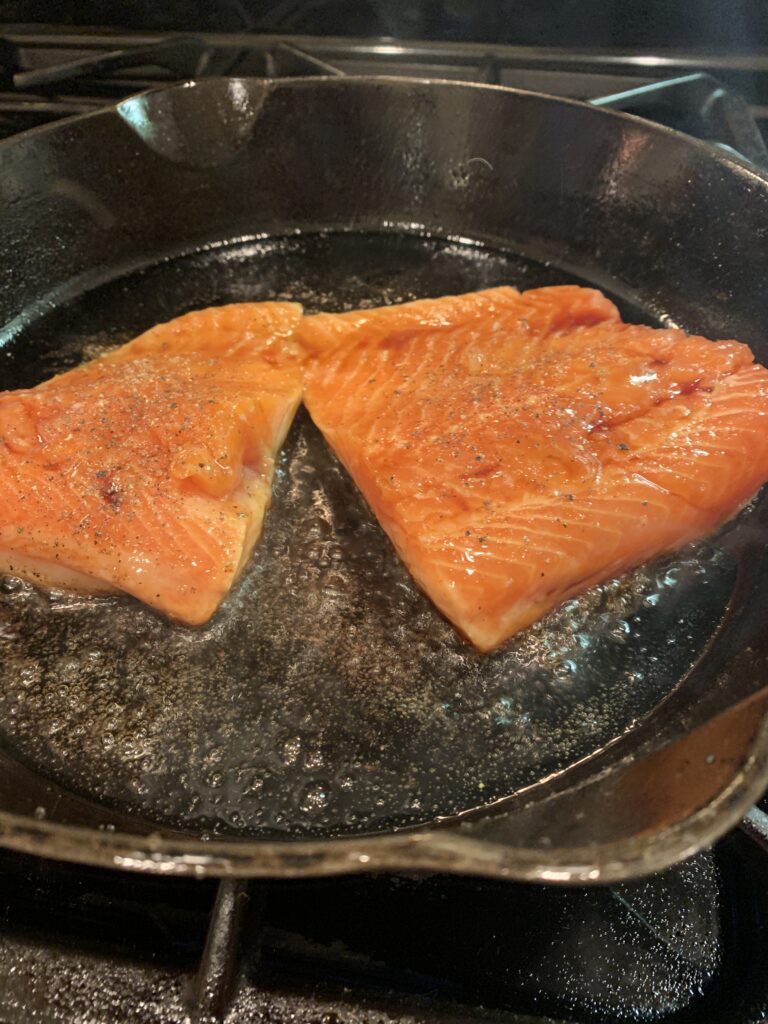 Cast Iron Cooking
You'll want the skillet to be piping hot. I prefer using a cast iron skillet but any type will work fine. I love the way a heavy cast iron skillet holds the heat.
Place the fillets skin side down in the hot olive oil and season the fillet with a little salt and pepper. Next, top each fillet with about 1 teaspoon each of soy sauce and honey.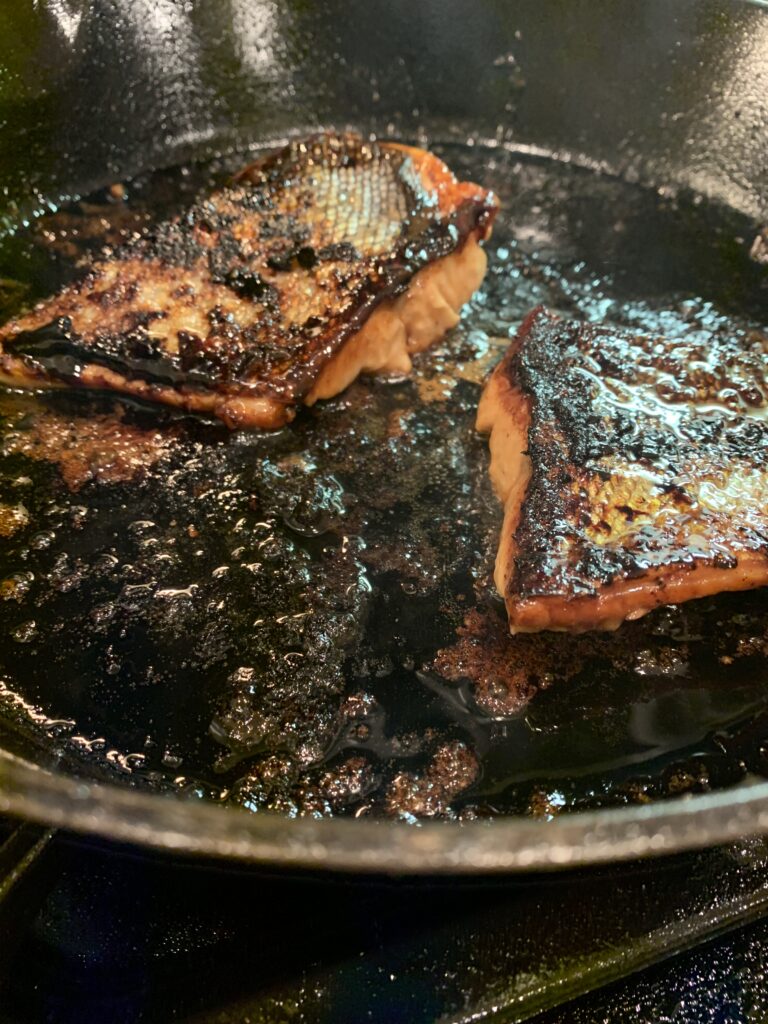 Prepare to Glaze the Fillet
Don't worry about the blackened skin after the first turn of the fish. I know it looks a little shocking, but don't worry. You didn't ruin anything. This is all a part of the glazing process. When you flip the fillets out of the pan they will be glazed and perfect.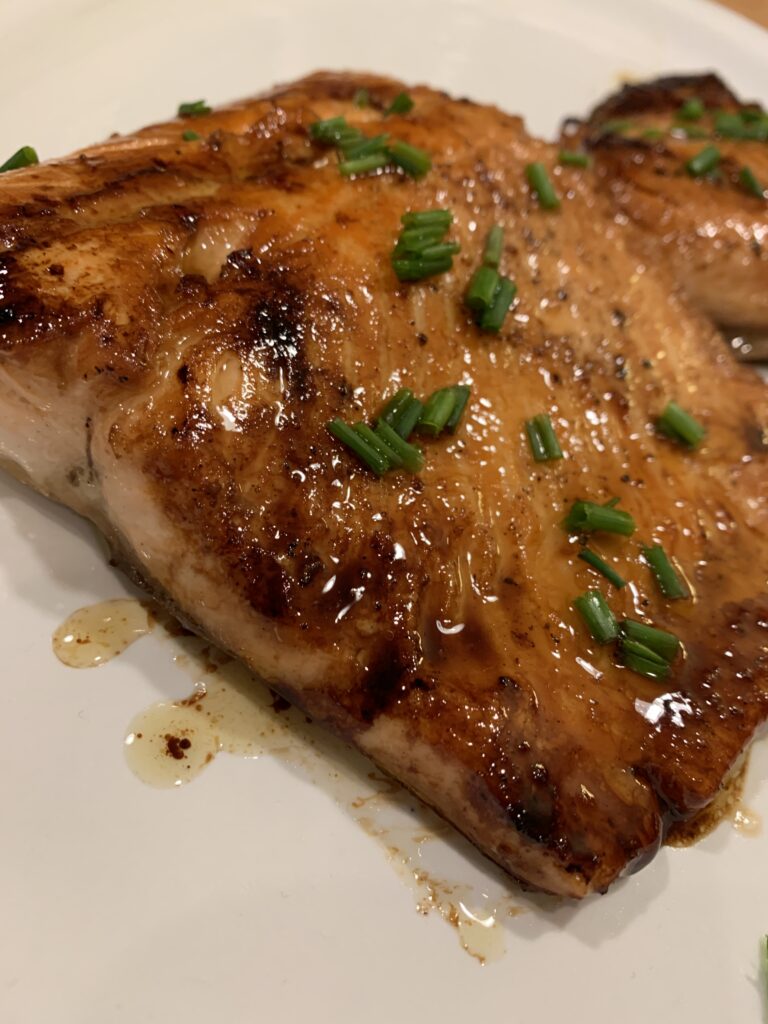 Cooking Options
After I made this for the first time my family asked "why haven't we always been cooking salmon this way?"
Adding soy sauce and honey is one of my Dad's ideas, though he usually likes to cook the salmon in the oven instead of skillet frying.
But I love to cook with cast iron and using a cast iron skillet with this recipe helps make it a winner every time.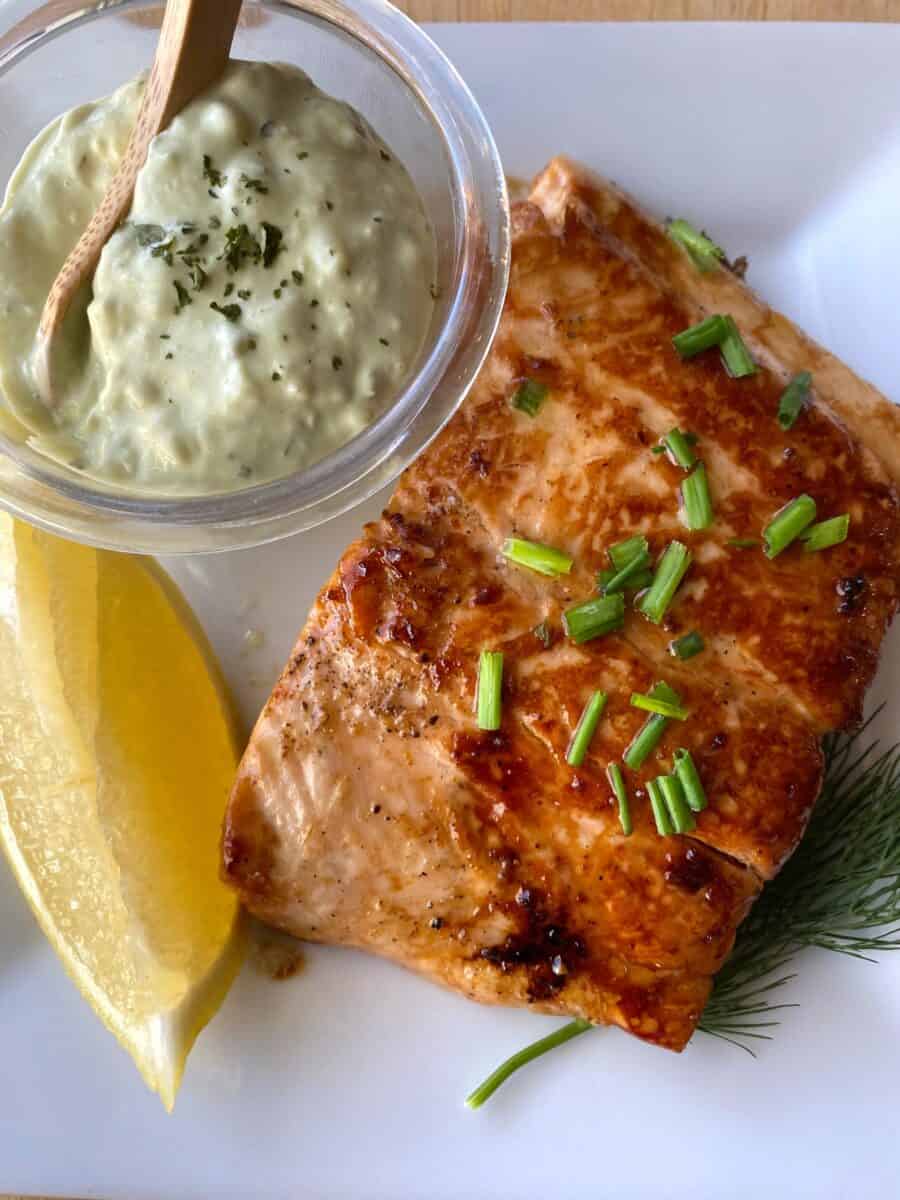 The next time you see salmon in the store, buy it and try this recipe. If your family is like mine, everyone and I mean everyone will ask you to make it again and again.
How to Serve Skillet-Glazed Salmon
Serve the salmon with two or three wedges of lemon or plenty of fresh tarter sauce. Just like that, you'll enjoy restaurant quality glazed salmon from the comfort of your own home. As an option, garnish with chopped, fresh chives and a sprig of fresh dill.
Other Recipes I think you'll Enjoy
Here are some side dishes that are delicious served with skilled-glazed salmon. I think your family will love these!
and for dessert
Keep Me Posted
Recipe