This Crockpot Banana Bread recipe is proof that our slower cookers are a perfectly good way to bake bread. We don't always think of our slow cookers, or Crockpots as the best place for baking, but I have good news. When it comes to banana bread, a slow baking process creates a delicious and perfectly moist, round loaf of banana bread. This is a great way to use overripe bananas.
Note: Some of the links on this page are paid links, Amazon Associates. This means I make a small commission when you click and shop. Your cost is always the same and I only link to and recommend products or ingredients that I use.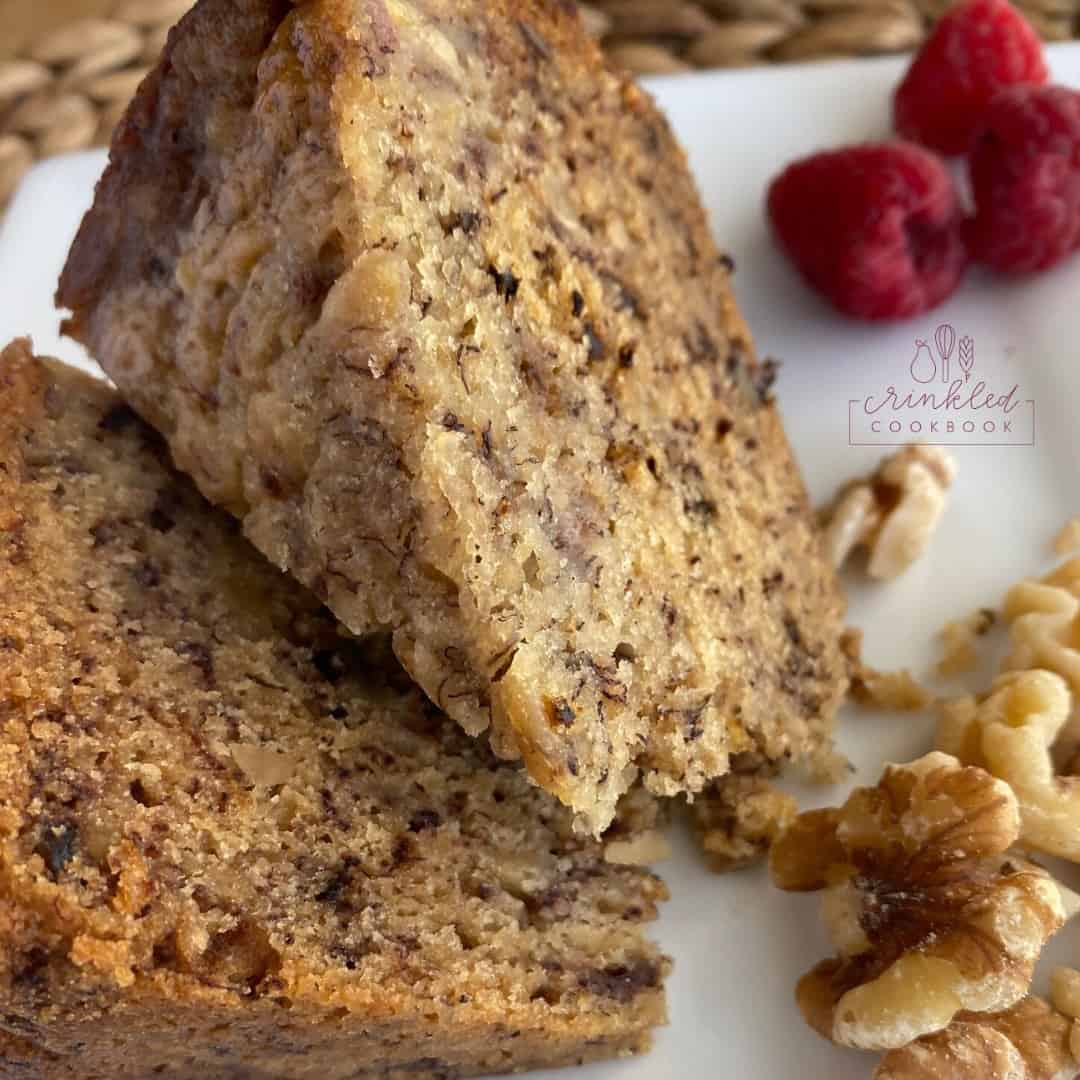 Ingredients to have on hand
Ripe bananas
Sugar
Flour
Walnuts
Butter
Bake with Ripe Bananas
To get the richest, sweetest taste and best texture in your slow cooker banana bread, use ripe bananas. How to tell if your bananas are ripe? Look for banana peels that have at least half the peel covered in brown spots.
A banana that hasn't ripened properly will be difficult to mash and will lack the lovely sweetness that is needed for your banana bread to taste especially delicious.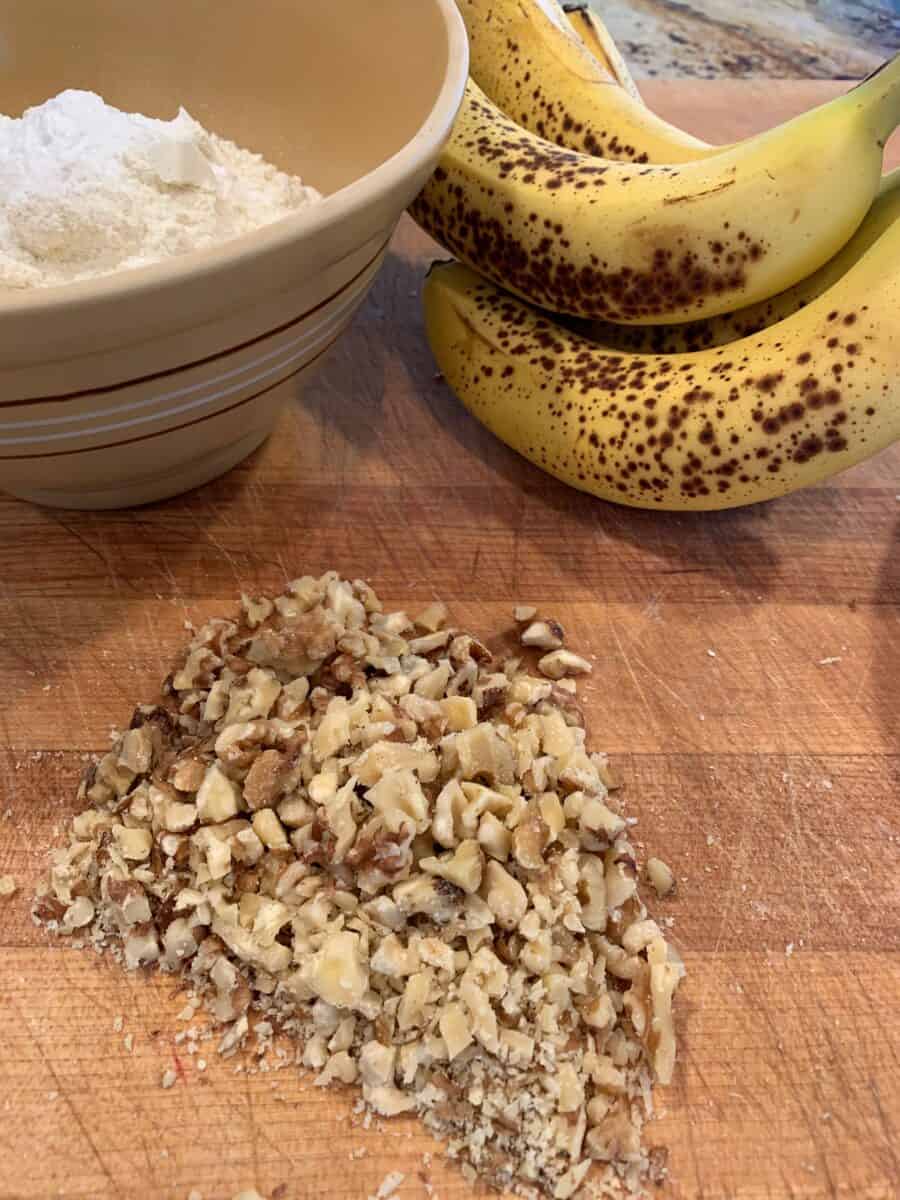 How to Ripen Bananas
There are a few tricks and tips for speeding up the ripening process on bananas. Taste of Home does a great job of mapping out our options for taking a banana from green to ripe.
Ethylene, a gas found in many fruits and vegetables, is responsible for the ripening process and it helps coax the starches in a banana into sugar.
Here's one way to speed up the process, if you add a ripe apple to a brown paper bag with your bananas the ethylene released from that apple will help speed the banana into sweet, ripe perfection.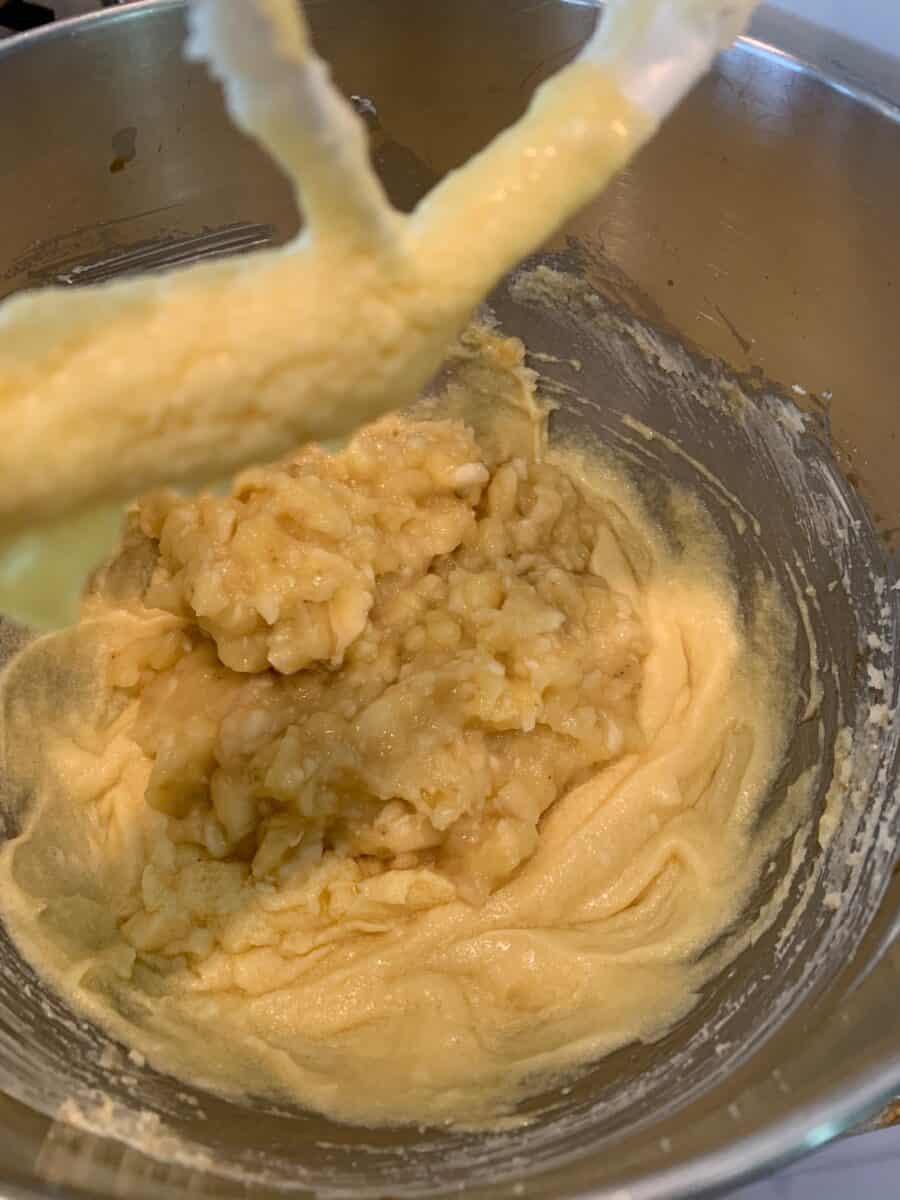 Storing Ripe Bananas
If your bananas are ripe and ready before you plan to make bread, just peel the bananas, place the fruit in a freezer-safe container like a zip bag or plastic wrap and store them in the freezer until you are ready to bake.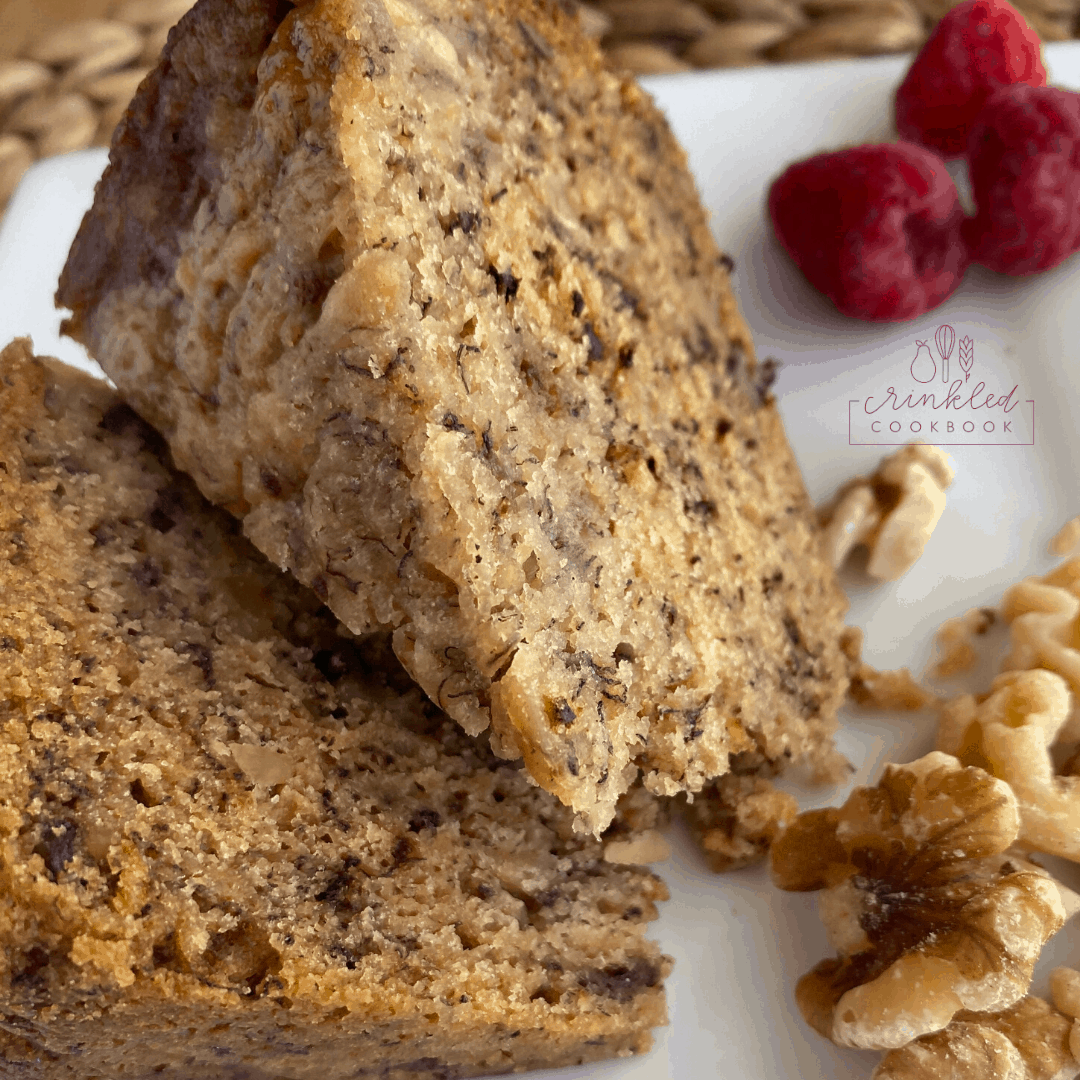 Nut or No Nut Options
I like to use walnuts in my slow cooker banana bread, but pecans are a nice alternative.
Keep in mind, the flavor will be slightly different. Pecans are a little softer than walnuts and have a sweeter taste.
If neither are on hand, you can still make delicious banana bread without any nuts.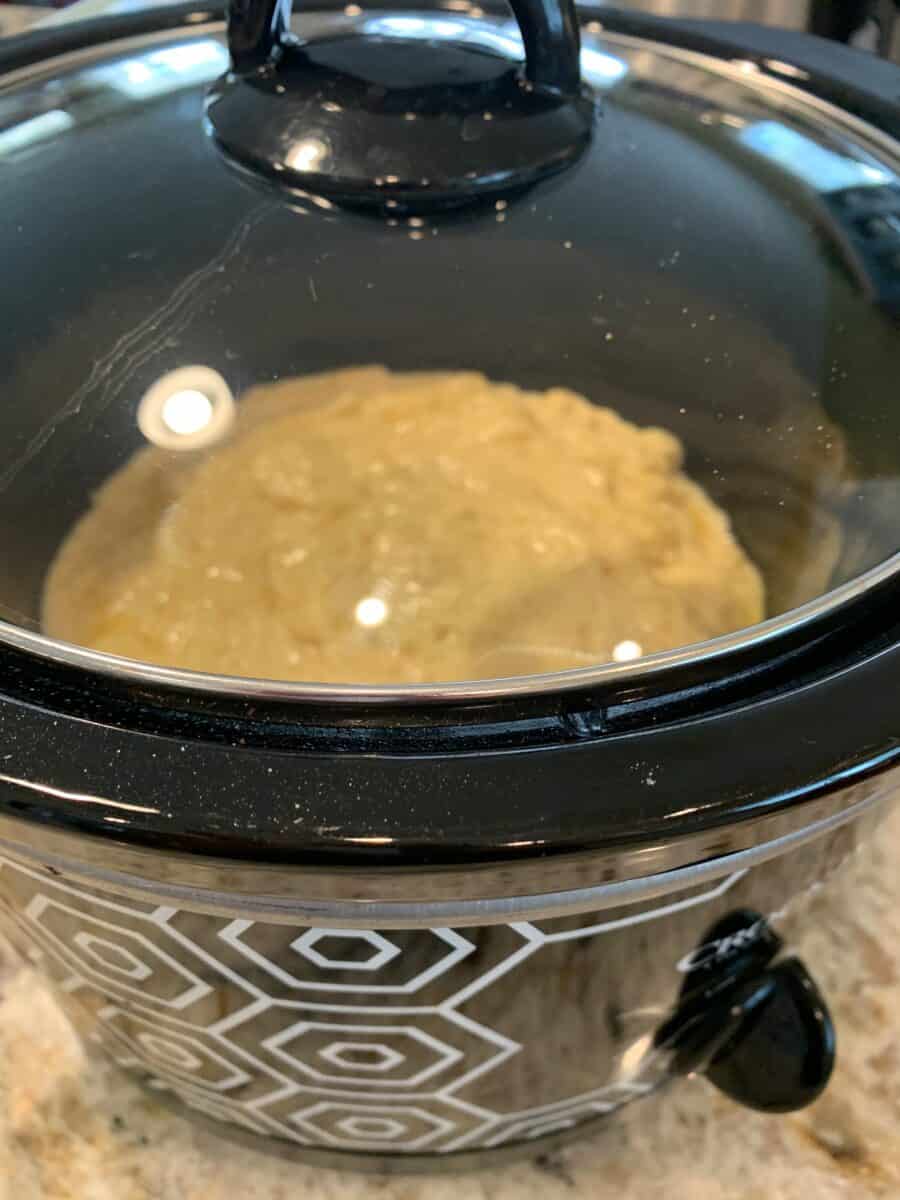 Check the Banana Bread
It usually takes about three hours to fully bake the banana bread in a slower cooker, but check it for doneness at about two and a half hours.
Life the lid off the Crockpot or slow cooker and insert a toothpick in the center of the bread. If it comes out with dough clinging to it, return the lid and bake for another 15 - 30 minutes. Your cooking time may vary a little.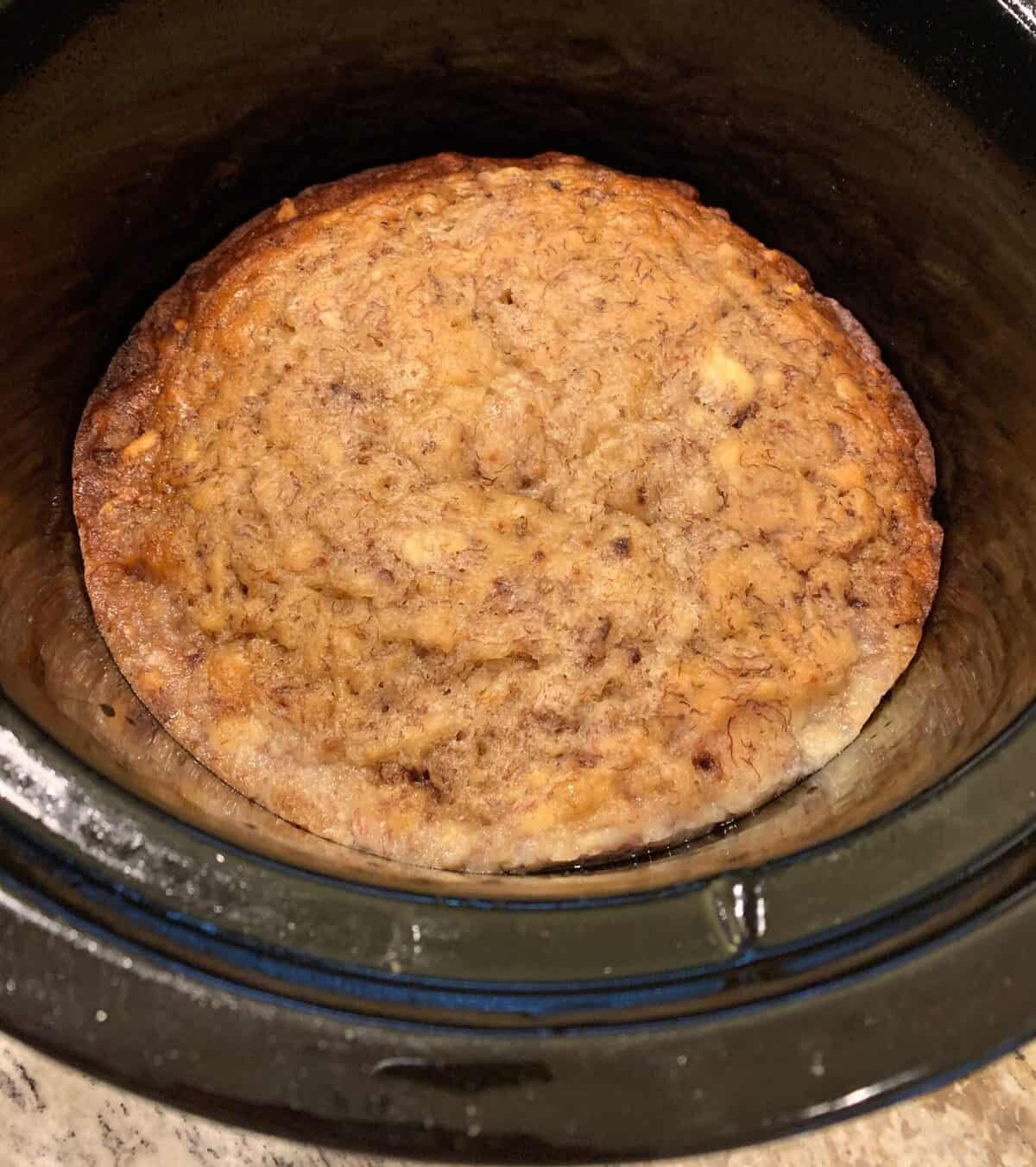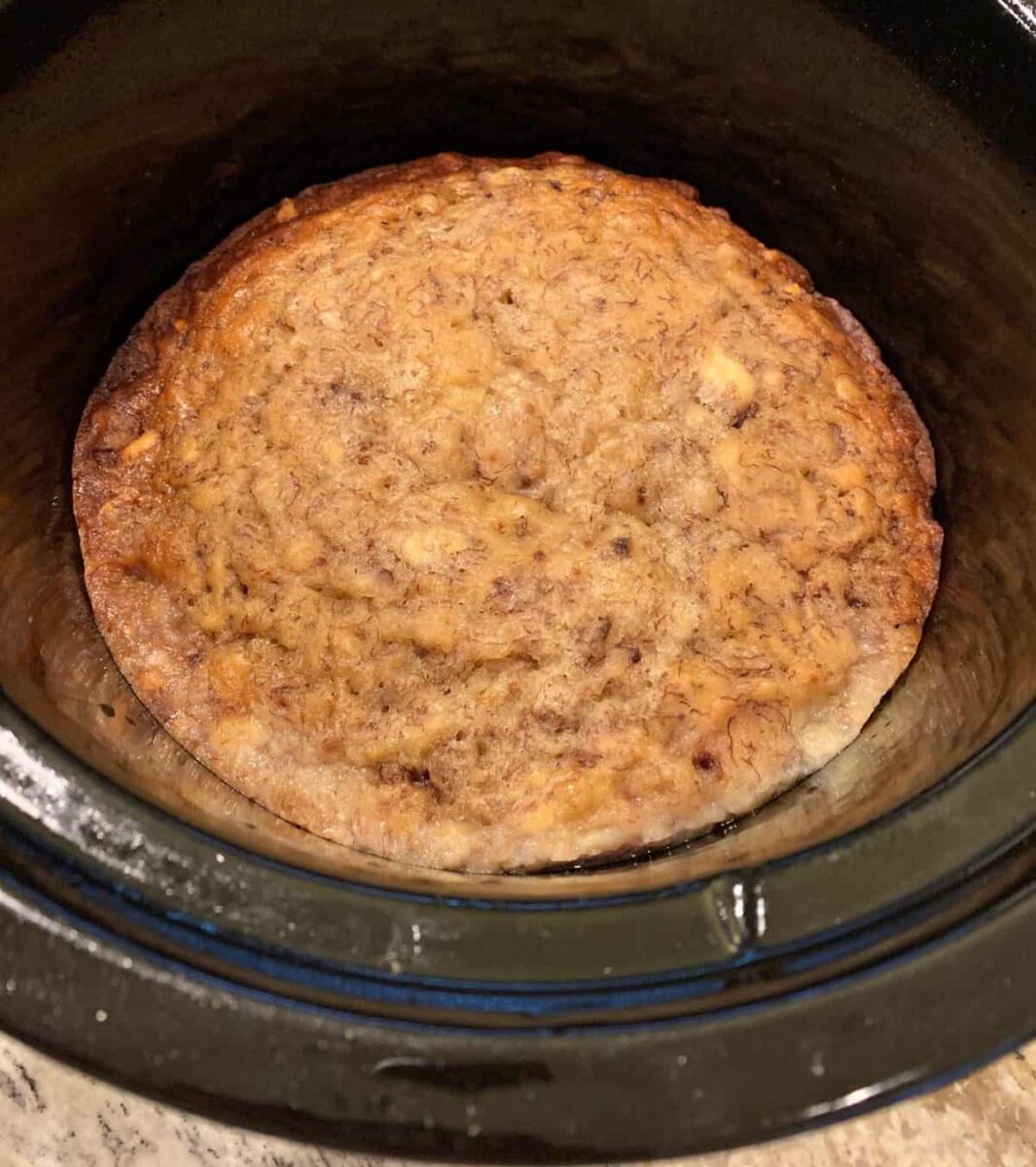 How to Remove the Bread
Removing the cooked banana bread out of the stone Crockpot liner isn't hard, but you'll want to be careful handling it.
After baking, I lift the slow cooker liner out of the Crockpot, run a knife around the edges of the bread to loosen it a little then place a cooking rack on top of the liner and carefully flip it over - using oven gloves (not pot holders) to protect my hands.
The key is to use one gloved hand to brace the top of the Crockpot as you flip it over.
Watch this video for all the details on how to remove your yummy banana bread. You'll also see the wrong way to do it using pot holders. 🙂 Practice it once or twice before you cook the banana bread and I promise you'll get the hang of it.
The bread should fall right out. Since the top of the bread has more a appealing texture than the bottom, I place another cooling rack on top of the bread that was removed and flip it over again.
Use Oven Gloves
The key is to use oven gloves so you can get the best grip possible, even when the Crockpot liner is hot. These are my favorite oven gloves (as you can tell by looking at the well-worn pair I'm wearing in that video), but this is another brand that my husband and I use all the time too, especially for outdoor cooking.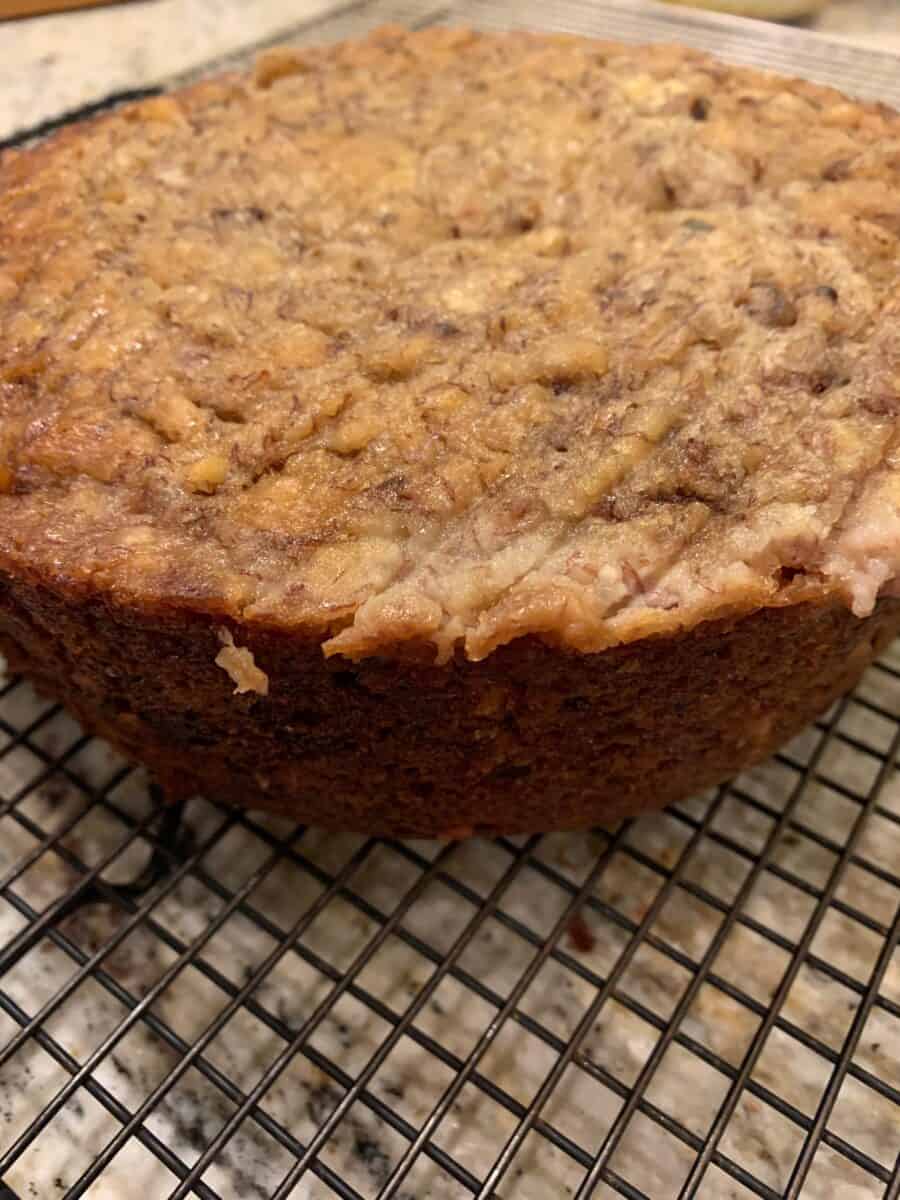 Storing Your Bread
Keeping your banana bread fresh is key to enjoying every single last wedge and leftover banana bread is always popular with a morning cup of coffee or hot chocolate.This will stay fresh and delicious for 3-4 days after baking in an airtight container or plastic storage bag.
After the first day, I cut the quick bread into wedges, wrap in waxed paper and store in the refrigerator. The bread is excellent warm or cold and is easily warmed up in the microwave. It's a little ironic that a classic quick bread is so beautifully baked in a slow cooker insert but I think you'll agree that this is a yummy way to enjoy a classic recipe.
FAQ and Top Tips
Does it matter what size slow cooker or Crockpot I use?
For best results, use a round 4.5 quart Crockpot or slow cooker. A larger or oblong version will cause the batter to spread out too thin in the stoneware.
Can I freeze Crockpot Banana Bread?
Yes, after the loaf cools, wrap it in waxed paper and place it in a freezer safe storage bag and seal tightly. When you are ready to enjoy it, remove from the freezer and let it defrost at room temperature.
Can I swap almond extract for vanilla extract?
Almond extract has a much stronger flavor than vanilla extract so keep that in mind if you make the swap and use only about half as much. A good option instead would be to use maple syrup in place of vanilla extract.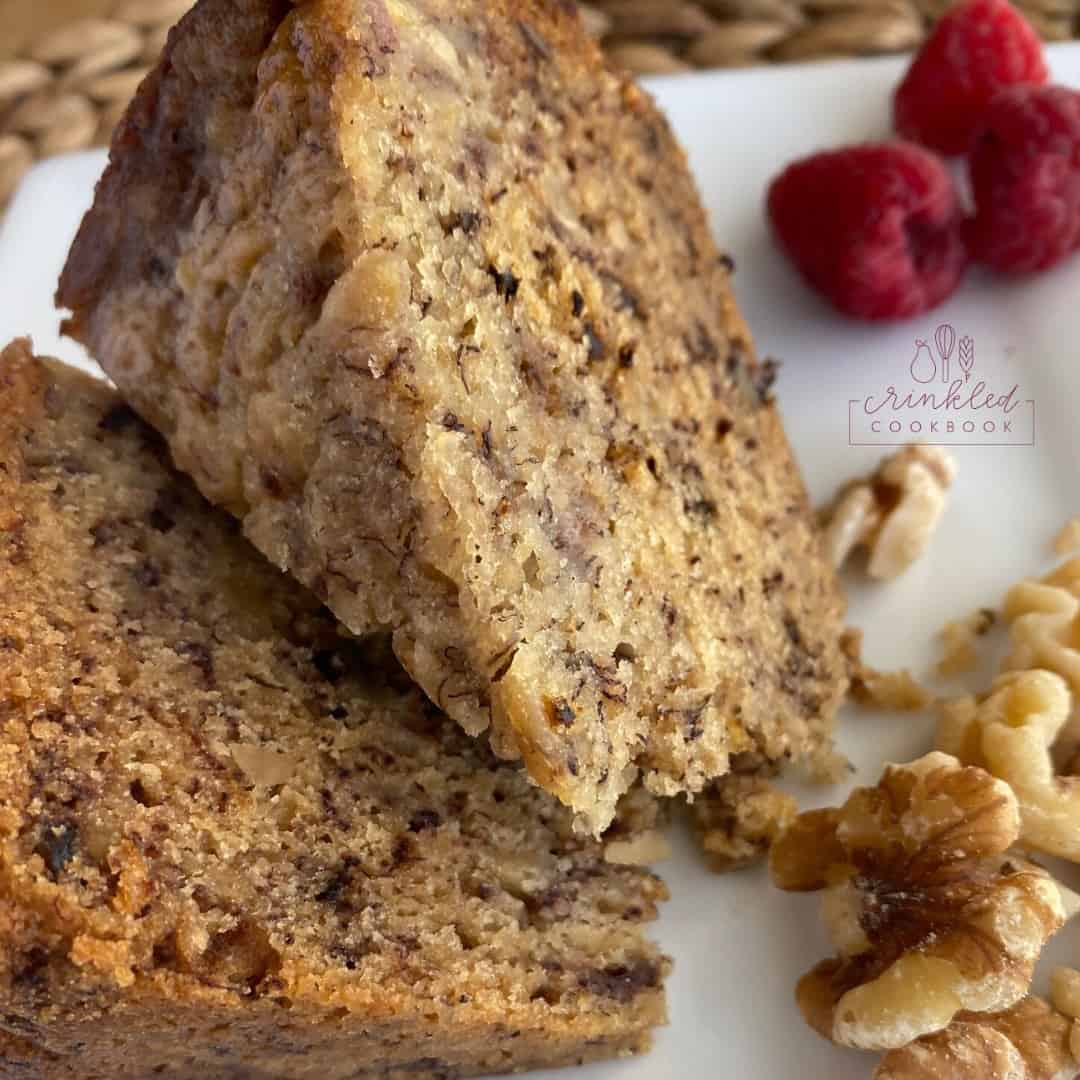 More Baking Recipes
Crockpot Banana Bread is a delicious, tender banana bread and it's fun to make since it's baked in a non-conventional oven, a slow cooker, for baking. But here are a few more recipes I think you'll love when you are the mood for baked goodies that include fruit!
Yummy Banana Muffins are another option for using up those ripe bananas. The Best Blueberry Cake is a sweet treat that is easy to make but impressive enough for a holiday or special occasion.
And of course No Peel Apple Cake, a fan favorite on the Crinkled Cookbook and one of the most popular recipes on the website since 2019.
Be sure to give a star rating to the recipes you make from the Crinkled Cookbook. I always love hearing from you. Sharing is great too! Use the buttons after the recipe to text it with just one click or send it to family and friends on Pinterest and Facebook. Enjoy.
Recipe