Crockpot Clam Chowder is a hearty and comforting soup. The slow cooking process lets the flavors blend together, resulting in an incredibly rich, creamy broth that's loaded with soft, bite-sized chunks of potatoes and tender clams. Every spoonful is a delicious balance that is savory, creamy and a little salty. Serve it with Cold Green Bean Salad and Classic Potato Rolls on the side. This is an easy, classic chowder sure to warm your soul and satisfy your tastebuds.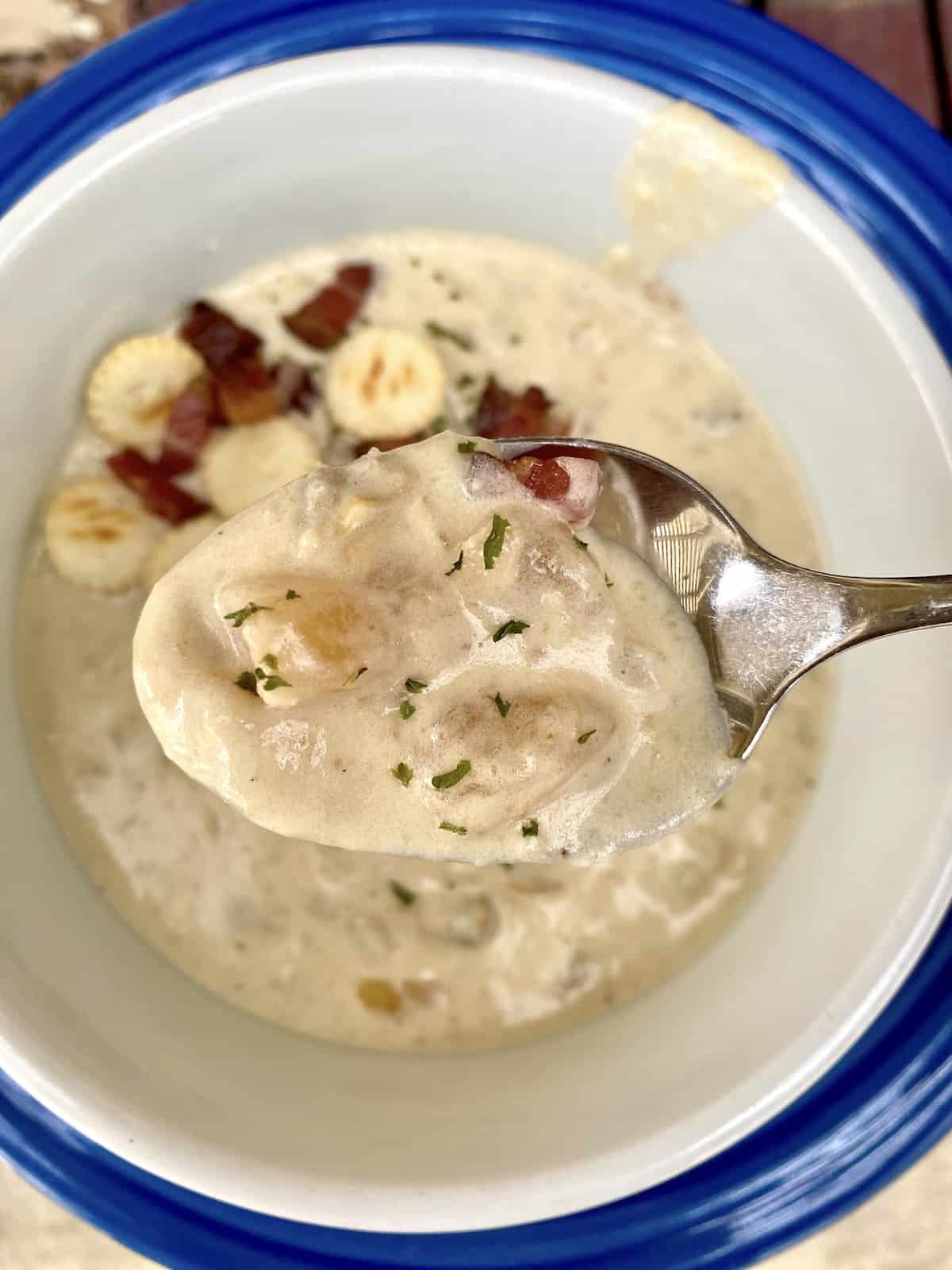 Jump to:
Ingredients to Have on Hand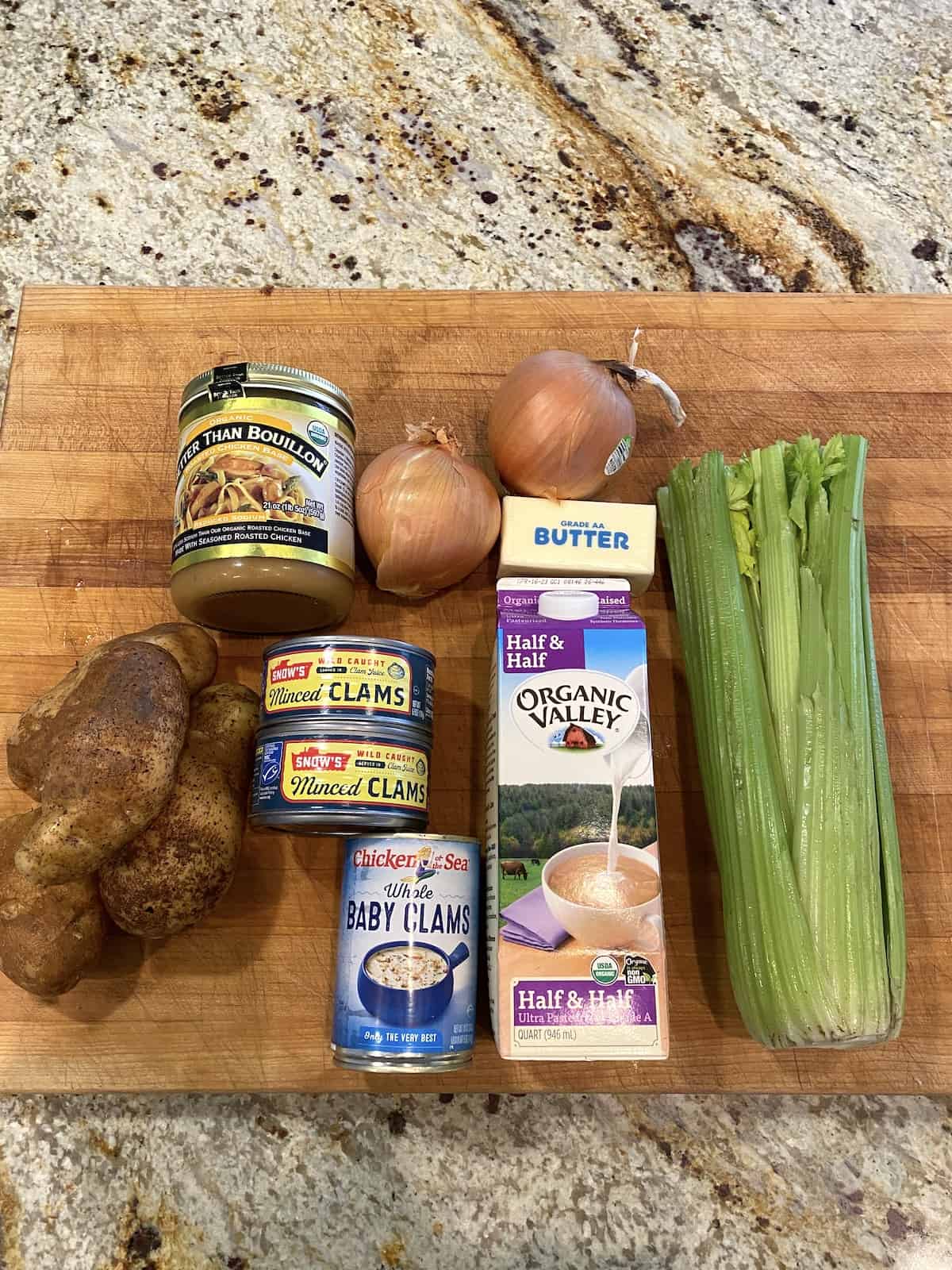 The ingredients are simple and the technique is easy, but the result is better than restaurant-quality clam chowder.
canned clams, minced and whole
potatoes
celery
onion
half and half
butter
flour
Scroll down for all the details on specific measurements and quantities for each ingredient needed to make clam chowder in the slow cooker.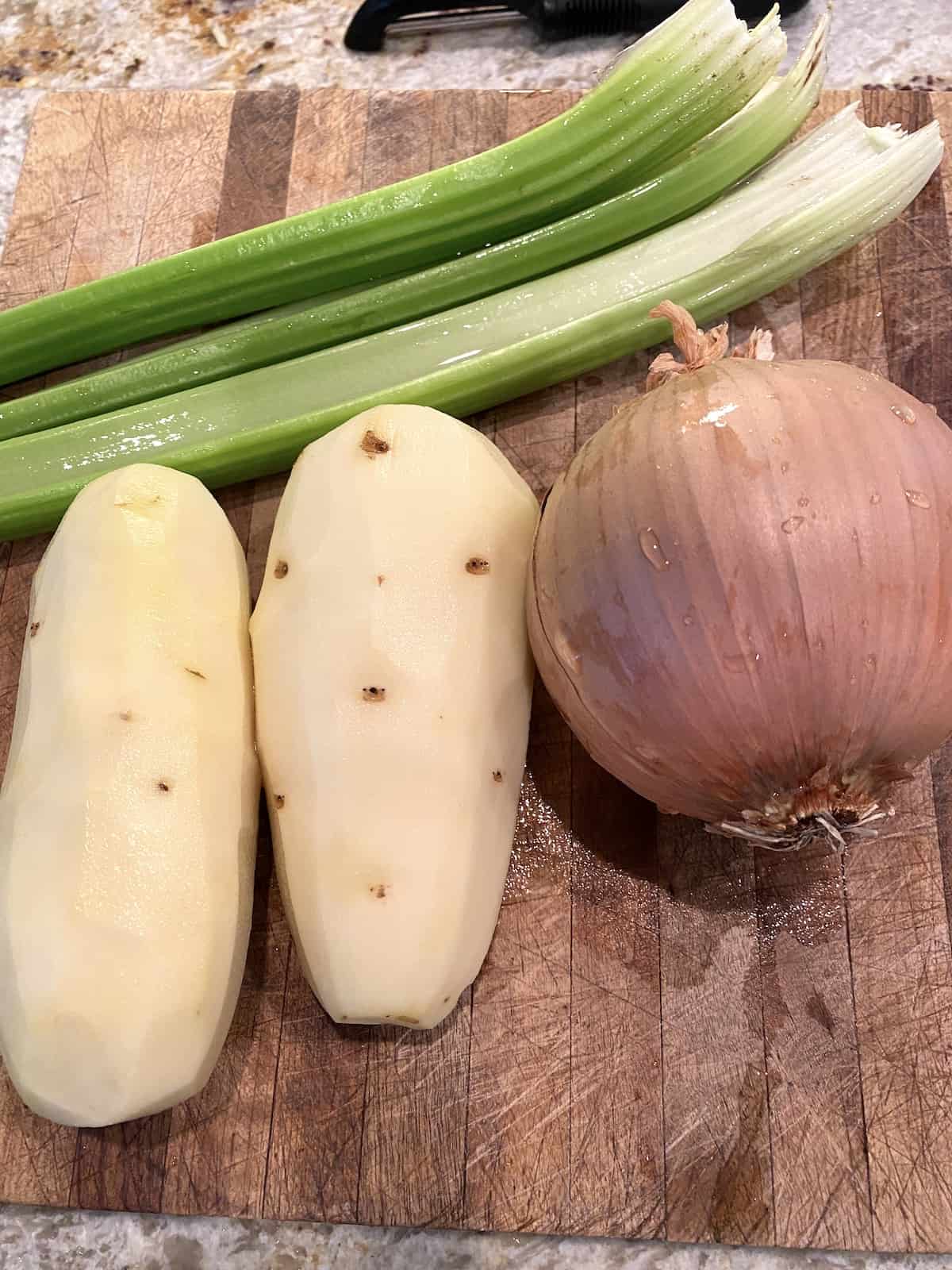 Step-by-Step Instructions for the Broth
Easy, scratch-made clam chowder is made with very little effort, thanks to our slow cooker which does all the work of cooking the base for the creamy broth for several hours.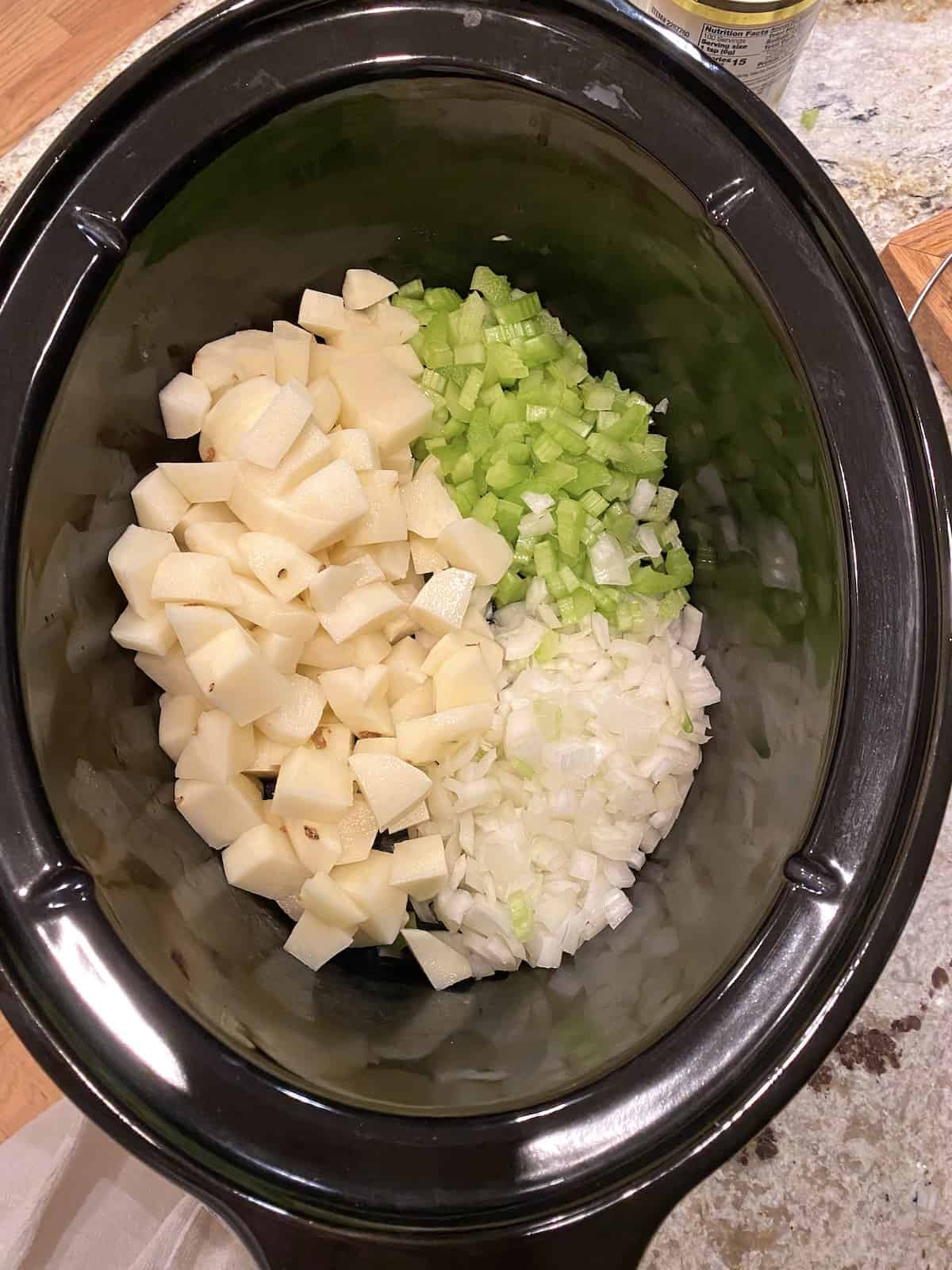 1. Rinse and peel enough potatoes to equal 2 cups of diced. If you are using Russet potatoes, that's usually 2 large or 3 small potatoes.
2: Rinse and chop one cup of fresh celery, about 4 stalks.
3. Dice enough onion to equal ¾ cup.
4. Drain the canned minced and whole clams and save the juice in a 2-cup glass measuring cup. You may need to add a few tablespoons of enough water to equal 2 cups of liquid.
5. Place the drained clams in a sealed container, and refrigerate until the final step in the cooking process. Canned clams don't need additional cooking. We'll add them later in the process when they can warm up gently in the white sauce before serving.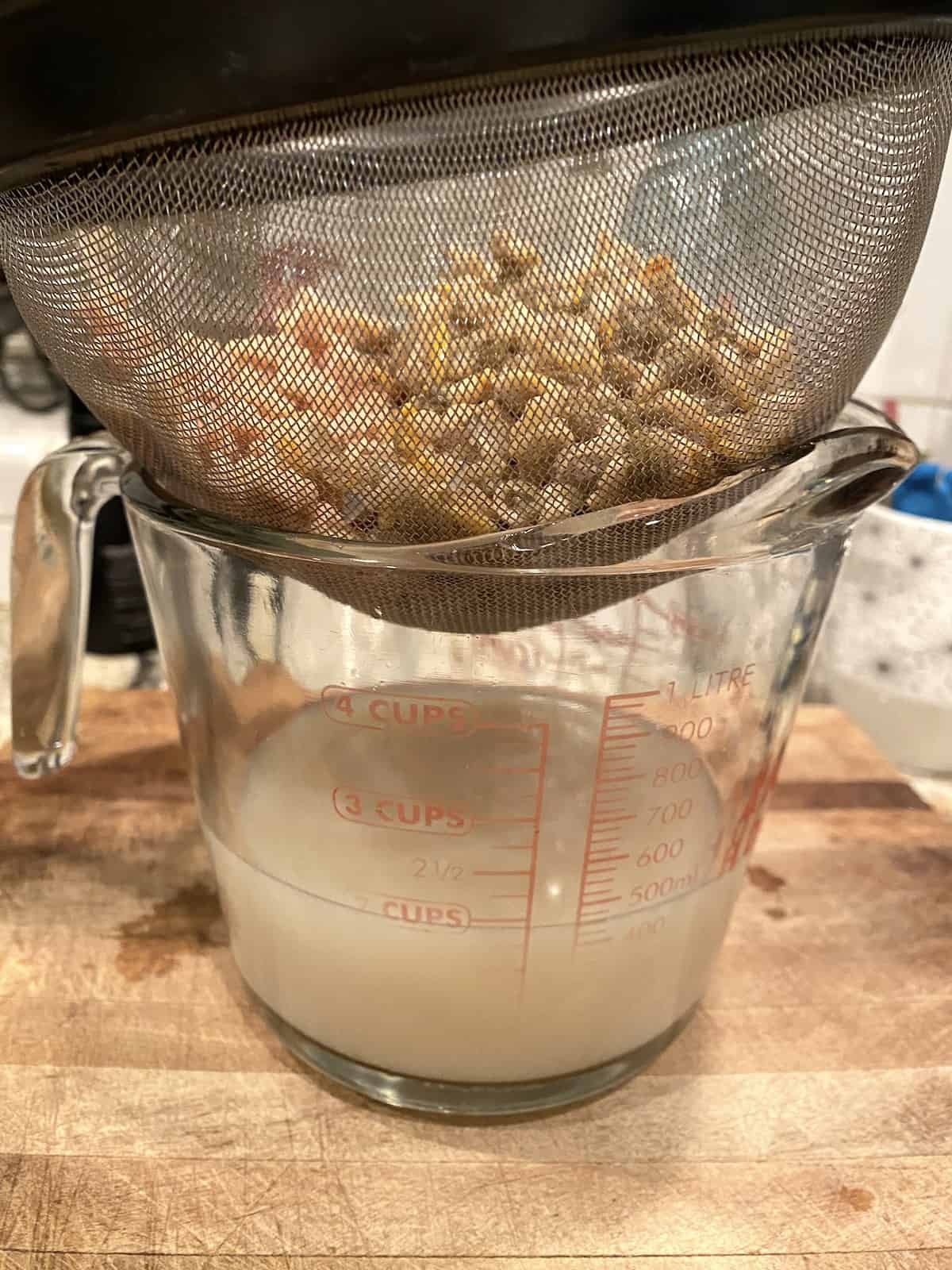 6. Place the chopped potatoes, celery and onion in the bottom of a Crockpot or slow cooker.
7. Add the chicken bullion and the 2 cups of clam juice reserved from the measuring cup.
8. Cover the Crockpot or slow cooker and heat on low for 4-6 hours.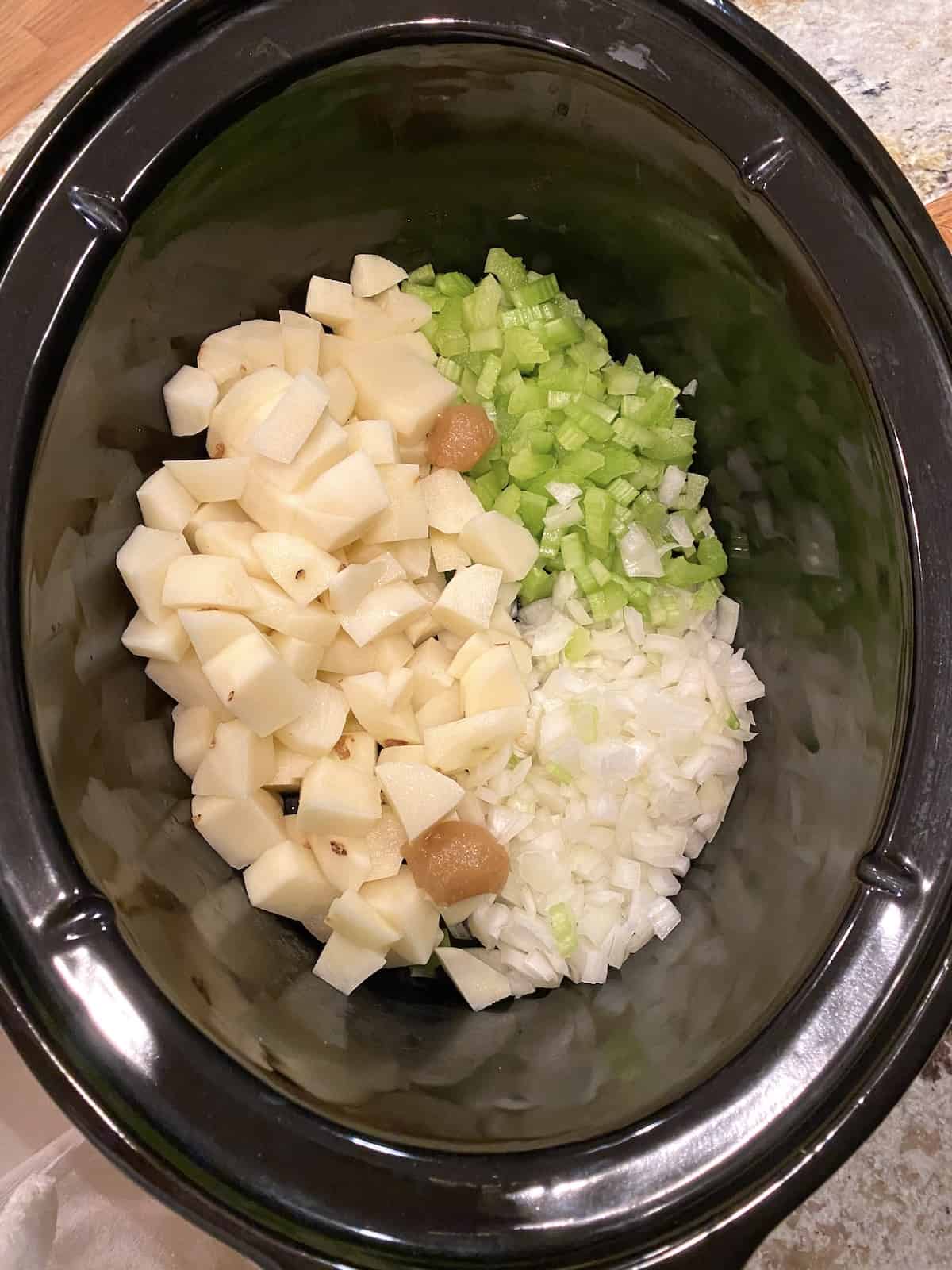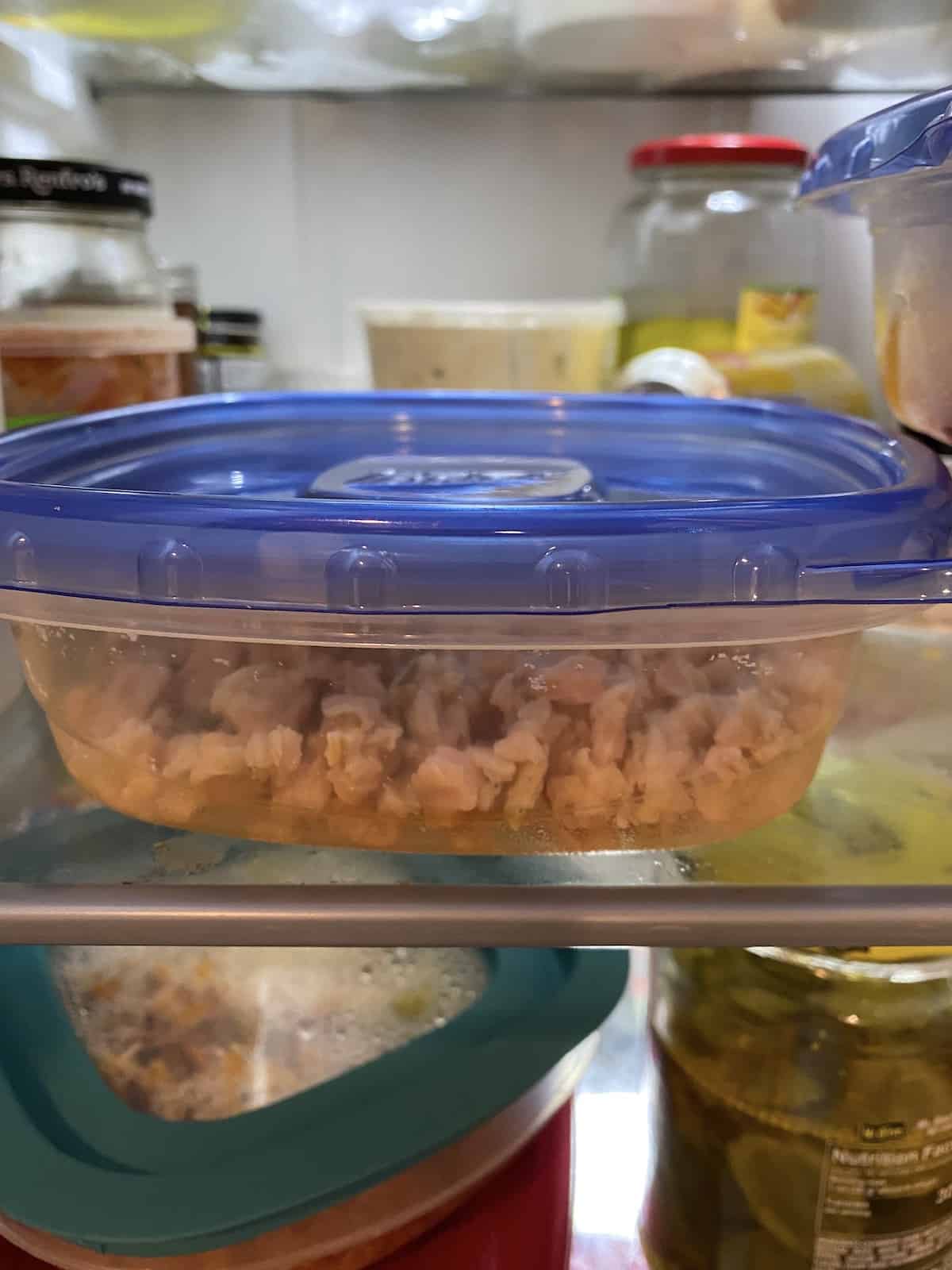 Two-Step Cooking Process
This clam chowder strikes the perfect balance of creaminess and saltiness and a two-step cooking process helps create that. But don't worry, it's easy!
Be assured. Our slow cookers do all the hard work.
In many Crockpot or slow cooker recipes, we flip the switch and return in 8 hours to a fully cooked meal. For this clam chowder recipe, the slow cooker cooks the broth, the base for the chowder, in 4 - 6 hours.
Be careful not to overcook because the potatoes will get very, very tender and may be slightly mushy if cooked beyond 6 hours on low.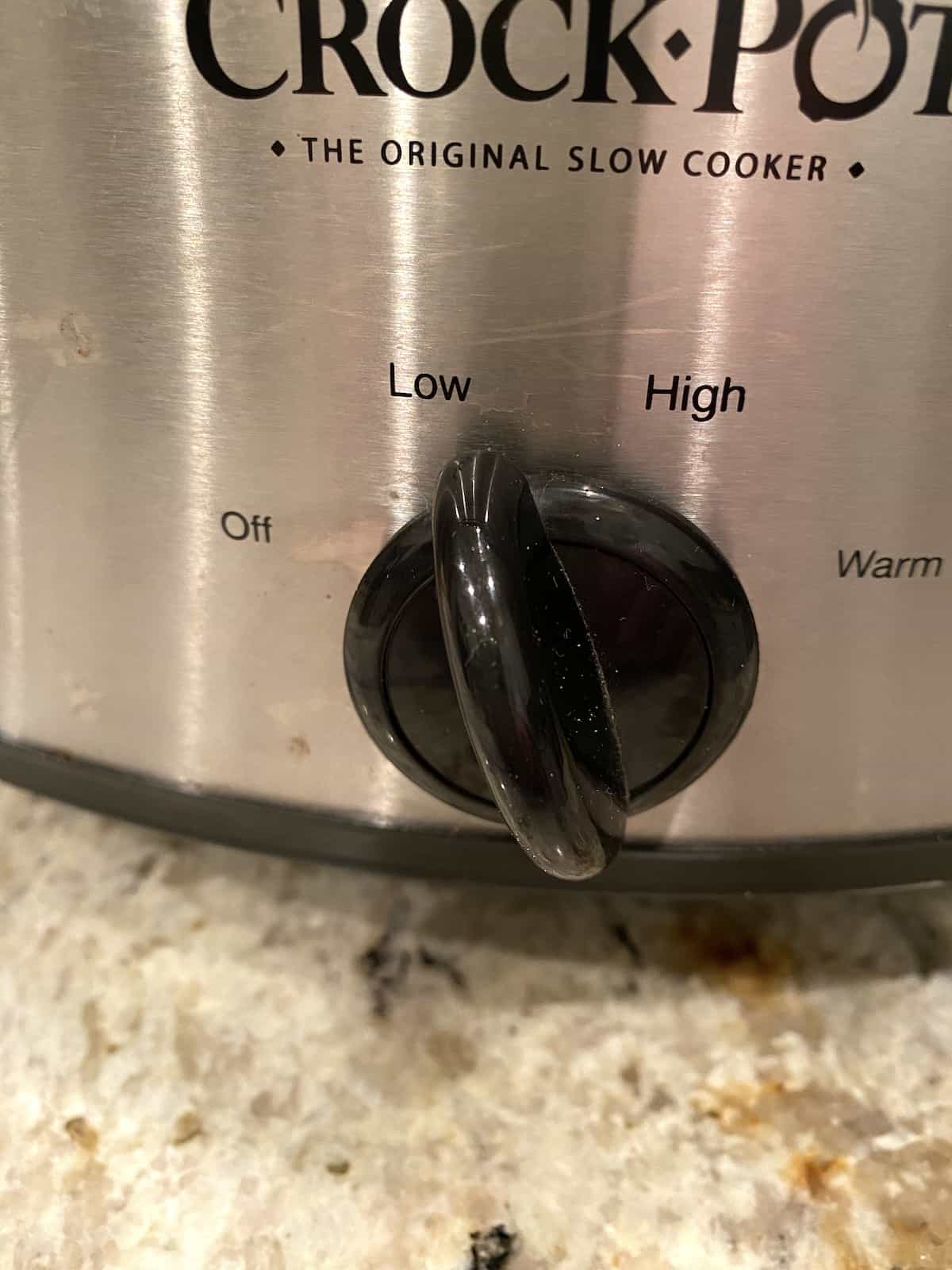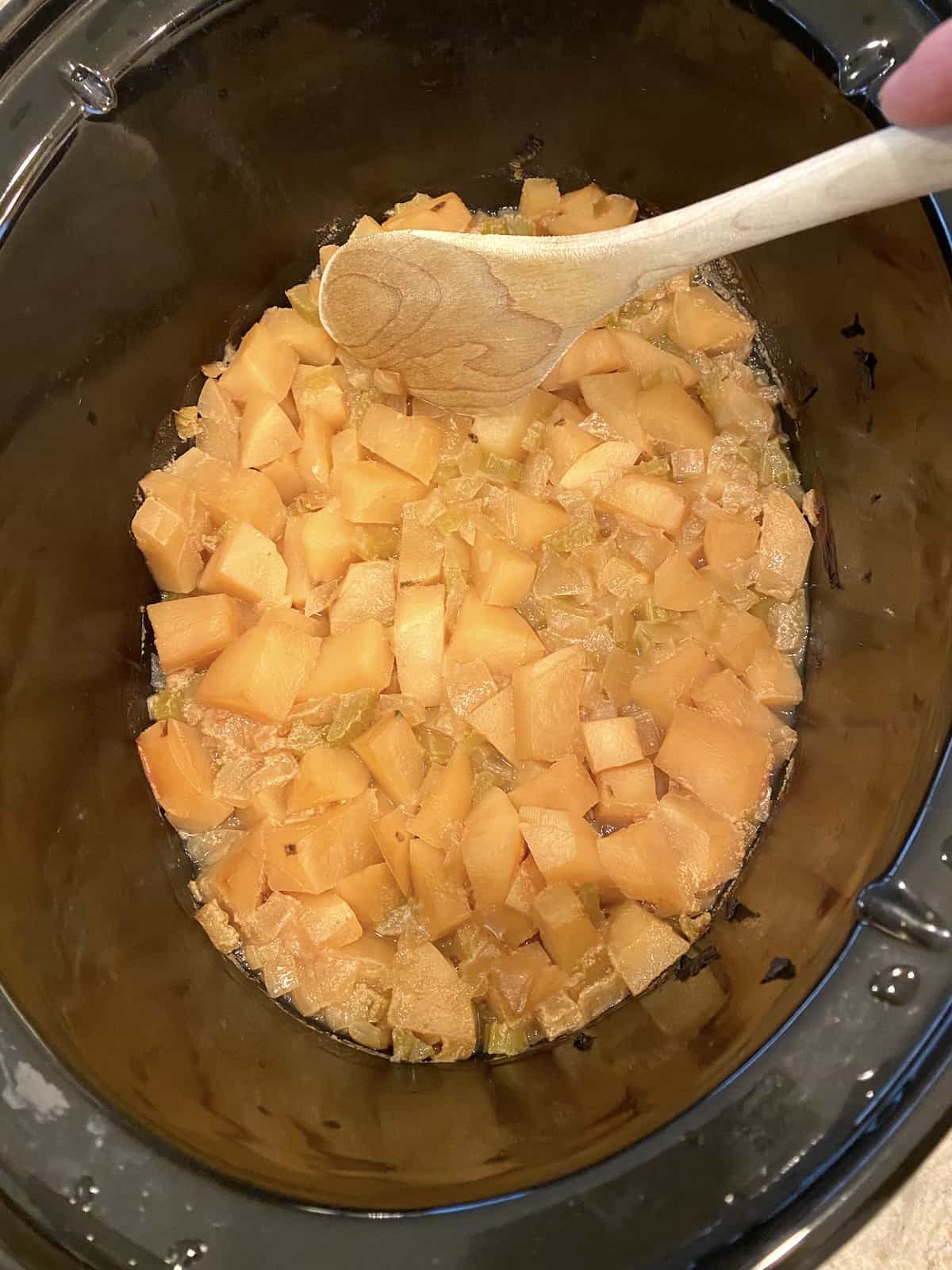 After the vegetables, clam juice and chicken bouillon have cooked, prepare the white sauce for the chowder. This only takes a few minutes.
How to Make the White Sauce
Once the Crockpot or slow cooker finishes cooking the vegetables and clam juice, switch it to warm and prepare the white sauce.
This comes together quickly on the stovetop. Here's a step-by-step:
Place ¼ cup butter in a medium-sized saucepan over medium heat. Once the butter melts and starts to sizzle, sprinkle ¼ cup flour over the butter and whisk the ingredients together.
Cook for about a minute, and continue whisking. Be careful not to burn butter and flour, and turn the heat to low if it appears to get too dark.
Add the half and half and continue whisking over medium heat until the mixture thickens and becomes very creamy.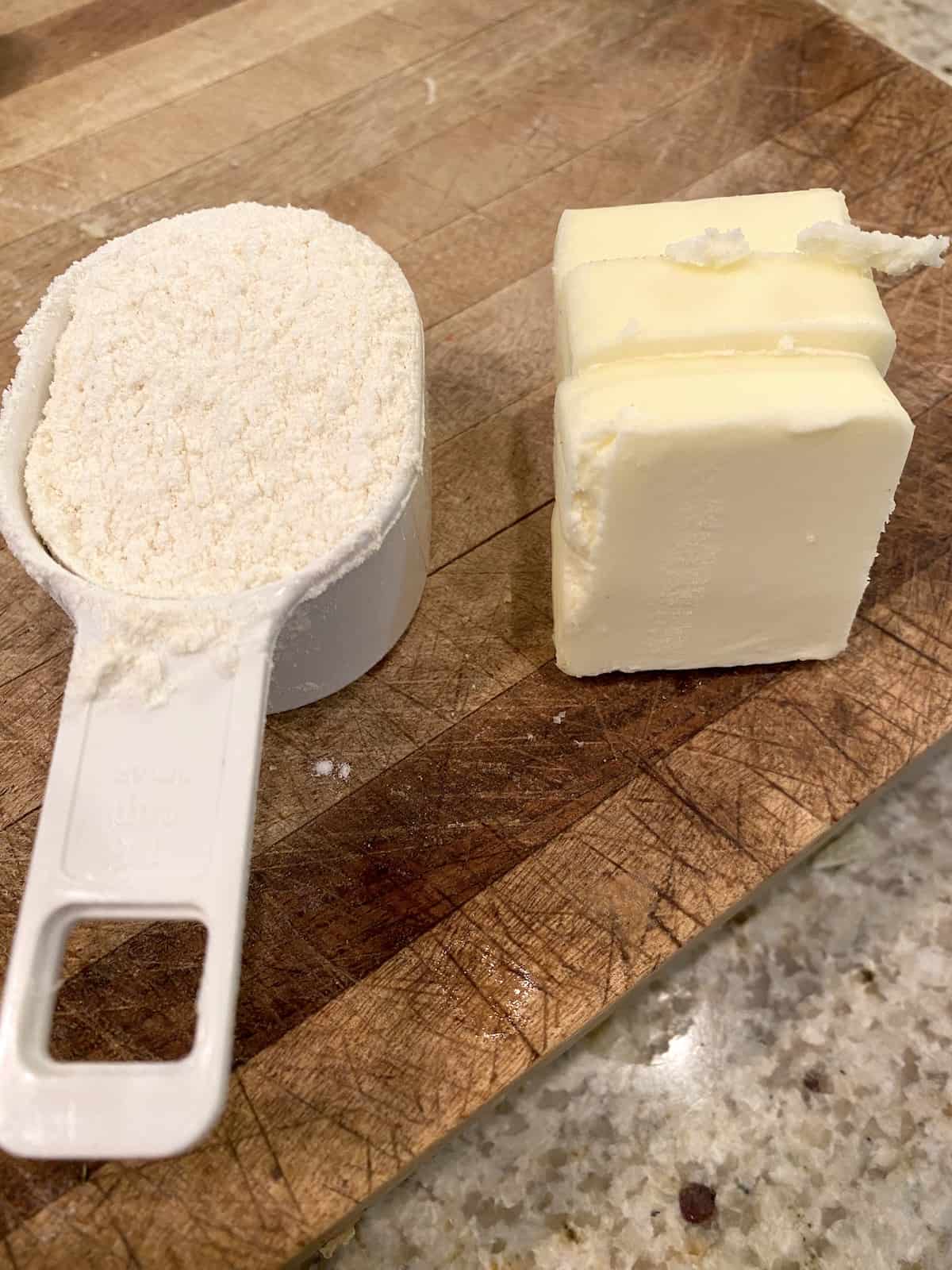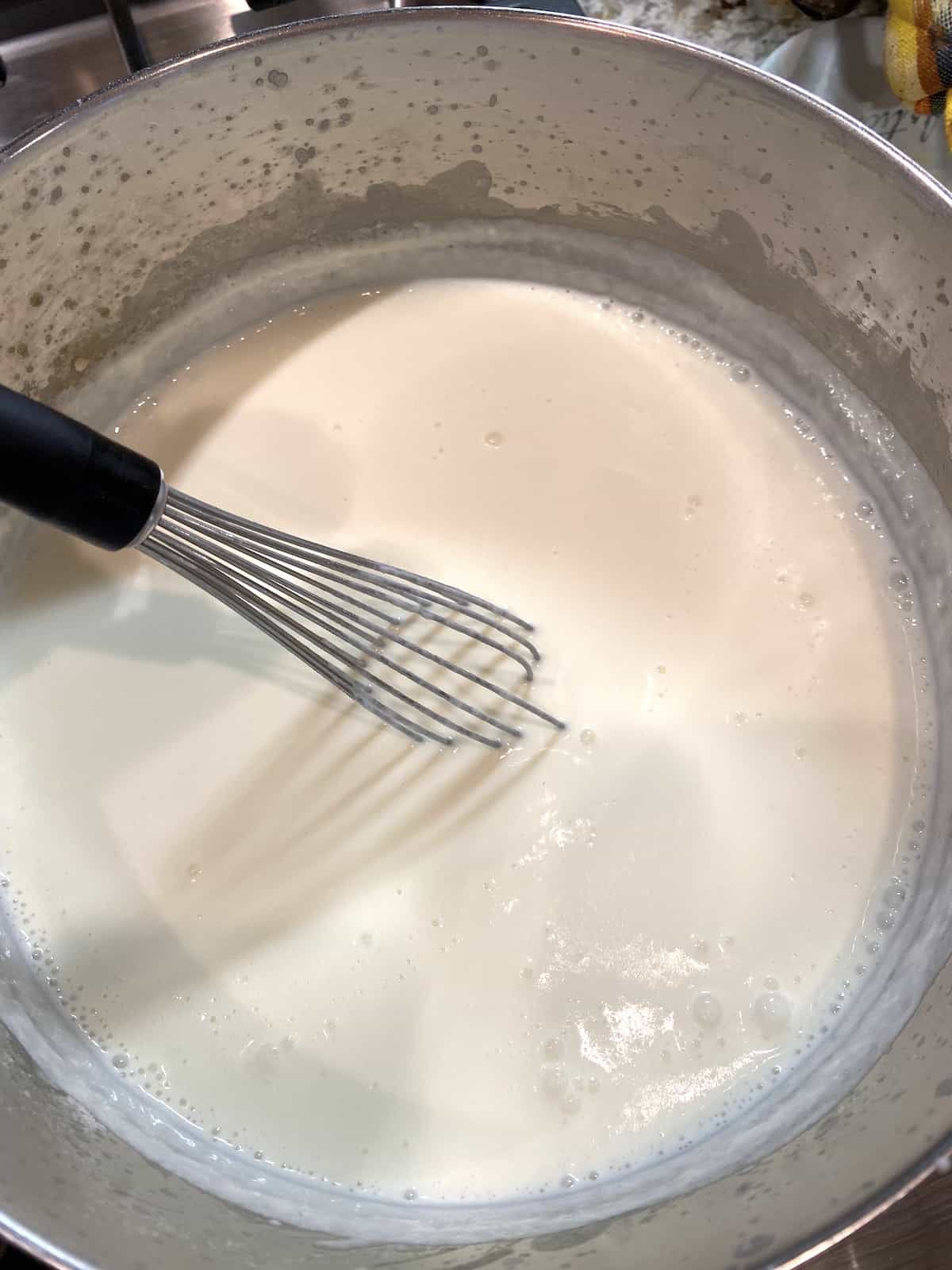 That's it! With those simple steps, you have created a scratch-made white sauce to add to the cooked ingredients that are in the Crockpot. Scroll down to the recipe for the details.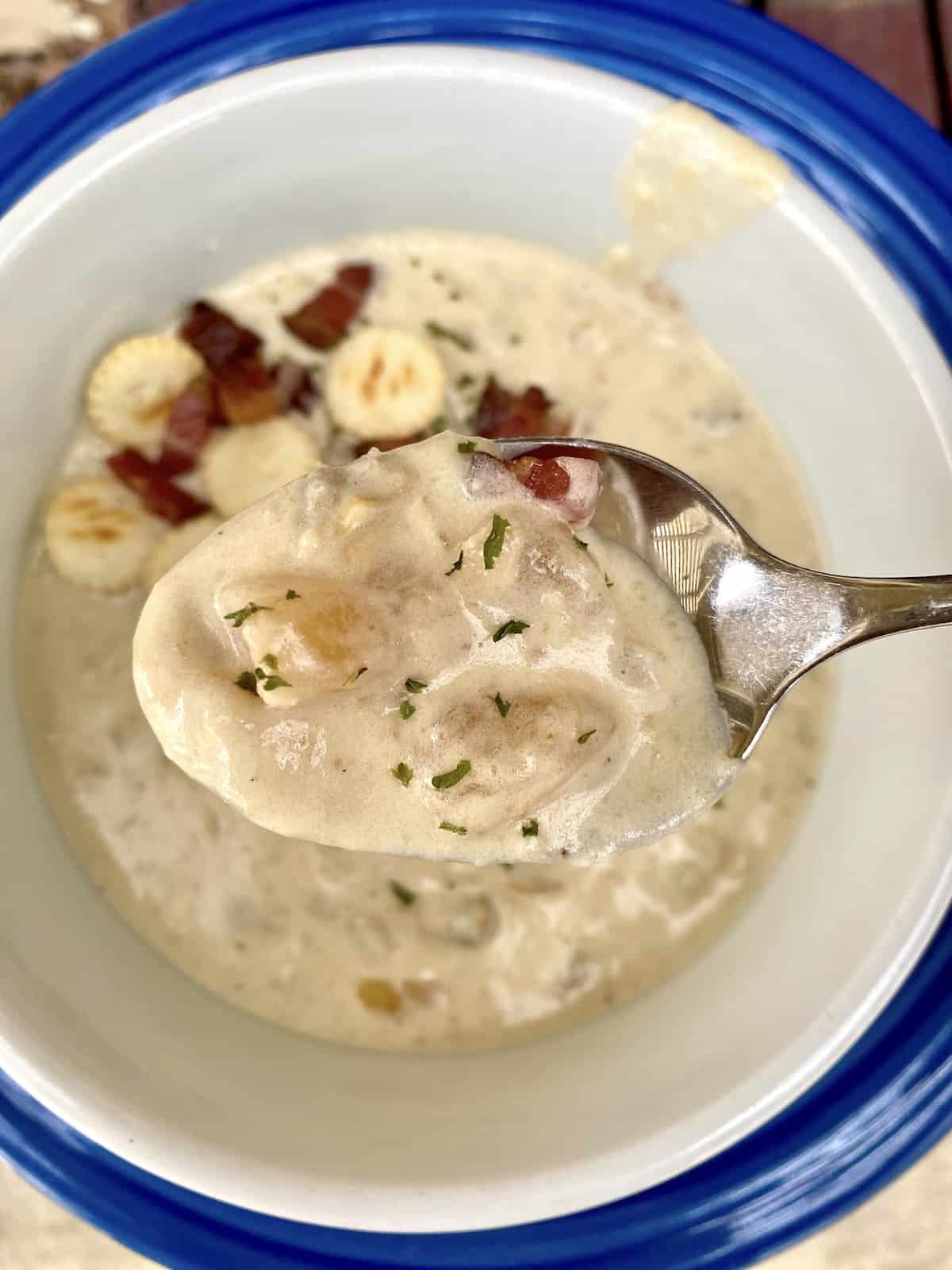 Stovetop Option
This slow cooker clam chowder recipe is easily adapted for the stovetop, in fact, that's how the recipe started.
The ingredients are simple and the technique is easy, but the result is better than restaurant-quality chowder with either cooking method and I think you'll agree it's the best clam chowder we can make at home.
Step-by-Step for Stovetop Cooking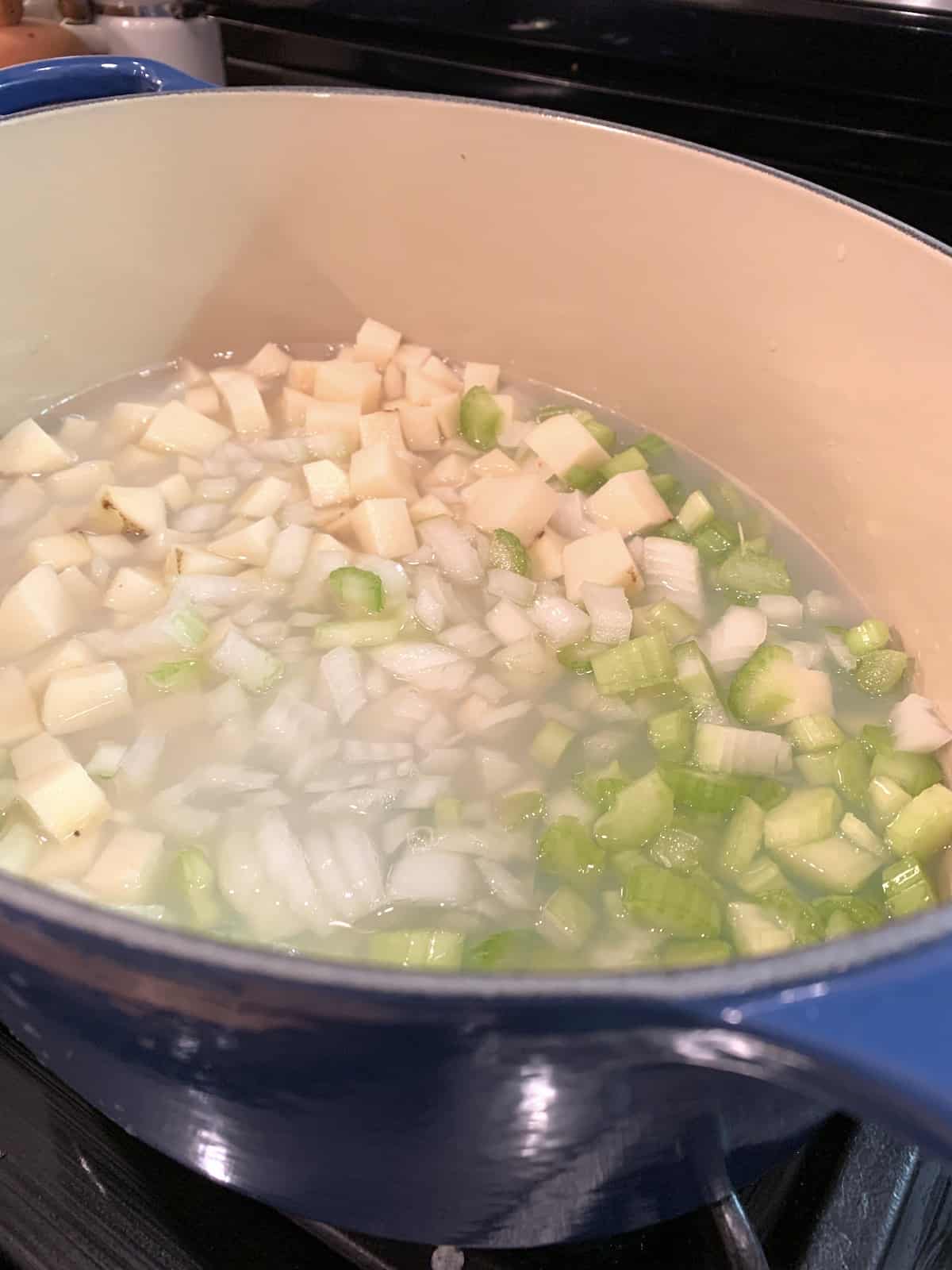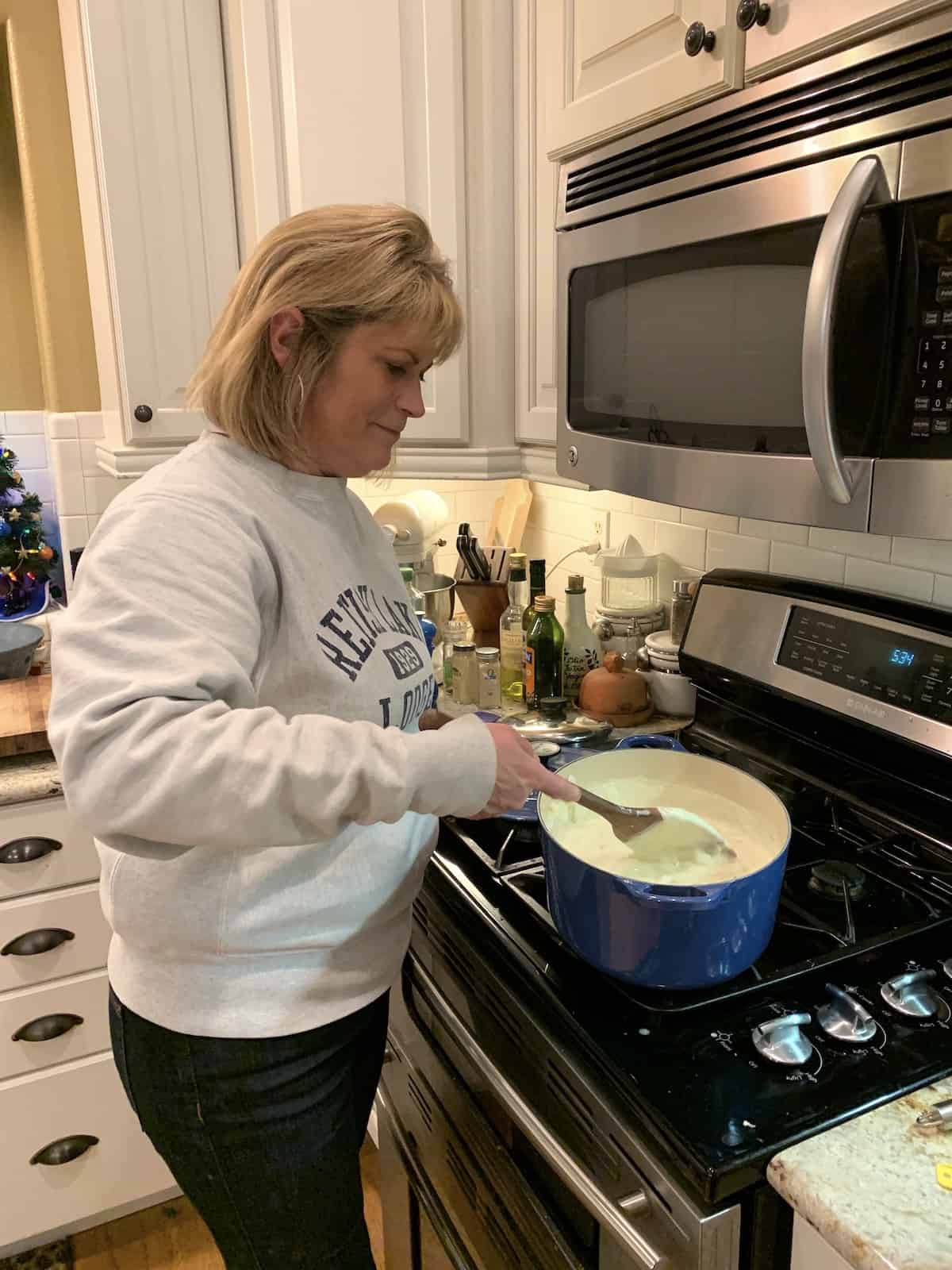 If you'd rather cook your clam chowder on the stove, it's easy to do and the chowder is ready in about an hour. Here's how:
Drain clam juice into a large saucepan, reserve the clams.
Add diced potatoes, onion, celery, chicken bouillon and just enough water to cover all of the ingredients.
Simmer for 20 minutes on the stove, until the potatoes and celery are softened.
In a second pan over medium heat on the stove, melt butter then add the flour and whisk together for about a minute, or until the mixture is hot and bubbling.
Pour half and half into the flour and butter mixture and continue to whisk constantly to create a white sauce.
Add salt and pepper to the white sauce.
Pour the white sauce into the large pan with the cooked potatoes, celery and onion. Stir to combine.
Add the reserved clams to the large saucepan and warm the chowder over medium-low heat for about 10 minutes before serving.
Size of the Slow Cooker
I use my large, 7-quart, oblong Crockpot for this recipe, I like how the potatoes, celery and onions spread out across the bottom and cook so quickly. But any slow cooker that holds at least 4 quarts will work just fine.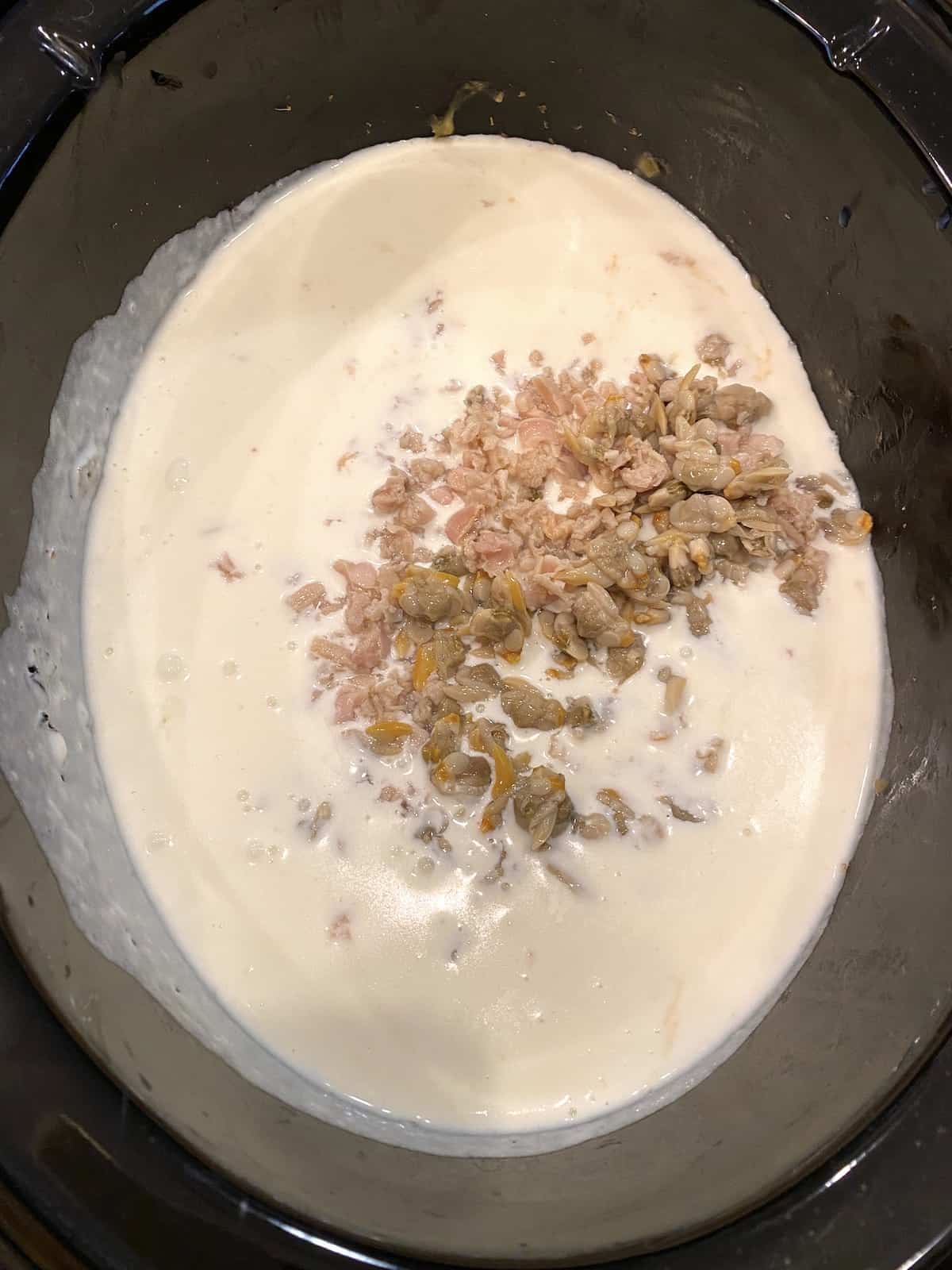 Boston Clam Chowder
There are two styles of clam chowder. This recipe is Boston Clam Chowder, also known as New England Clam Chowder, which means it's made with milk, heavy cream or in this case, half and half. The chowder is creamy and white.
But there's also Manhattan Clam Chowder, which is tomato based and has a much thinner broth and often a wider variety of vegetables. Some historians believe it was originally called Coney Island Clam Chowder.
Over the ages, there's been quite a dispute over chowder and its ingredients. Some folks believe the only true clam chowder is one made with a white sauce.
Whether you have a preference or not, this recipe in the style of Boston Clam Chowder is classic, creamy comfort food in a bowl.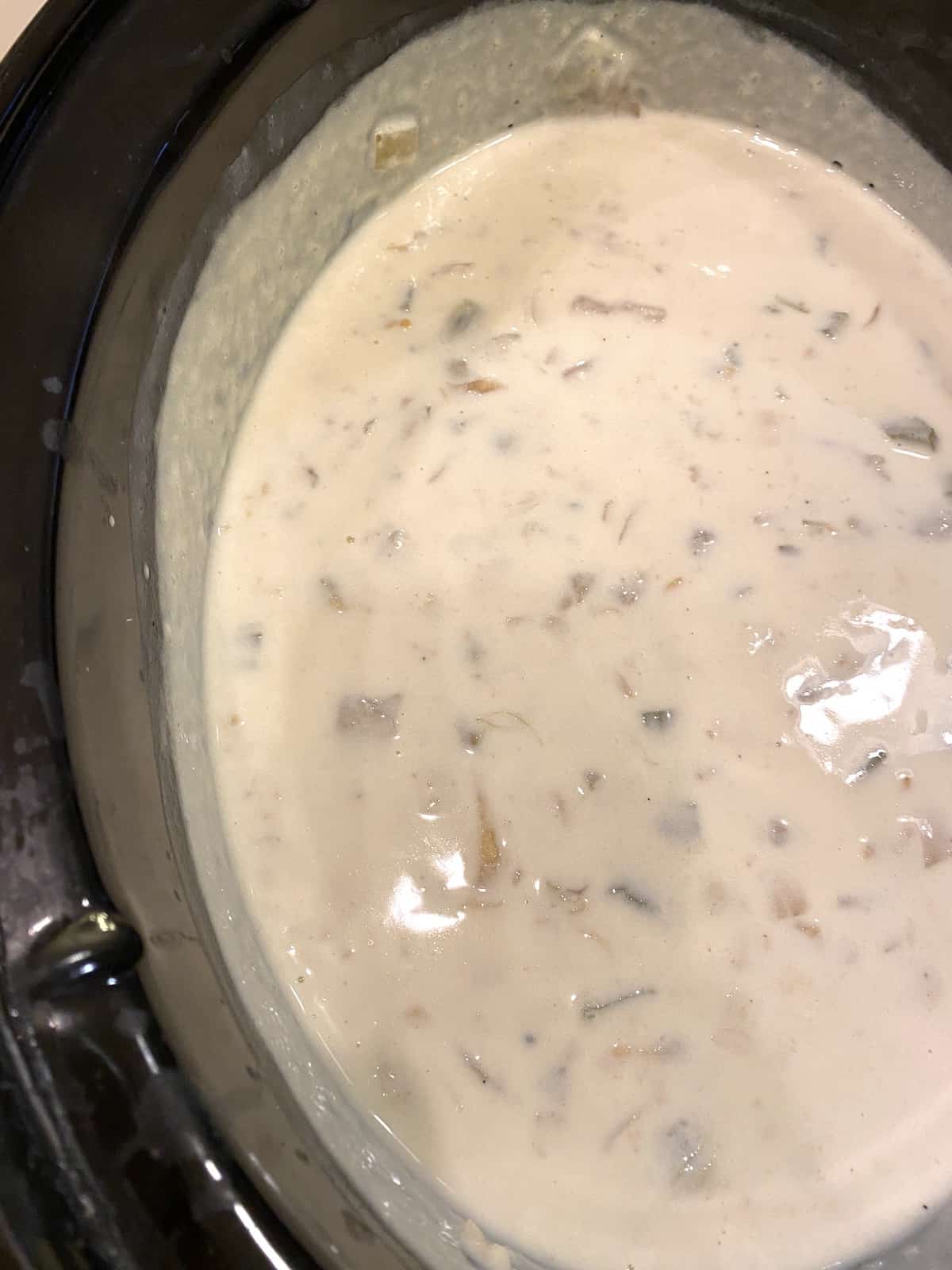 Why You'll Love This Recipe
The flavor that comes from having the diced potatoes, celery and onions slow cooking with the clam juice for four hours just can't be beaten.
The Crockpot is a master at combining those flavors and bringing out the best taste in a chowder with a satisfying, creamy texture. And best of all, the slow cooker does the work, making this an easy clam chowder recipe.
Speaking of our Crockpots, here's another recipe where the slow cooker saves the day. Make Crockpot Banana Bread the next time you have ripe bananas on hand.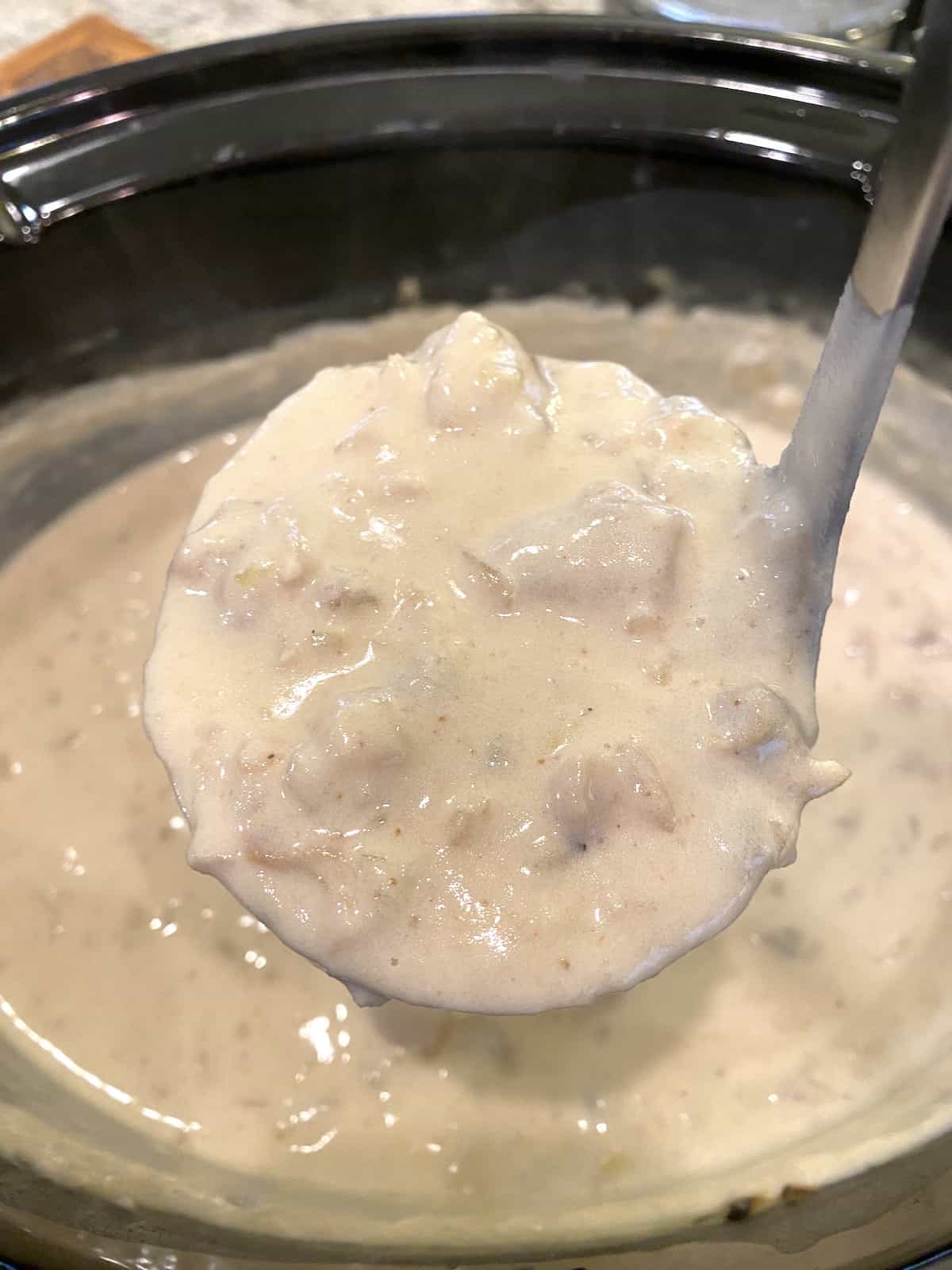 Clam Chowder Toppings
It's tasty to mix and match toppings, or a garnish, for homemade clam chowder. Choose one, two or none!
cooked, diced bacon
oyster crackers
saltine crackers
dried parsley
fresh parsley
diced green onion
The Inspiration
This recipe was kindly shared by a dear family friend Stephanie Brush. She's an amazing cook and her skill at preparing this clam chowder is legendary.
We've enjoyed this chowder at family gatherings and for holidays and it's a treat every time it's served.
Steph perfected the chowder on the stovetop I just adapted it a tiny bit to move part of the cooking process to the Crockpot. Thank you for the incredible recipe and the great inspiration Steph!
Storage
Store clam chowder in a covered container in the refrigerator. For the best flavor and freshness enjoy it within 3 days.
Top Tips and FAQ
Can I freeze clam chowder?
Yes, this clam chowder recipe freezes beautifully. Place the chowder in a freezer-safe, covered container. Plan to defrost and enjoy it within three months.

To defrost the frozen chowder, place the container in the refrigerator for one day then reheat it on low heat in a saucepan on the stove.

Clam chowder tends to thicken when it's reheated. You may want to add a few teaspoons of water or milk to help get a perfect consistency as it reheats.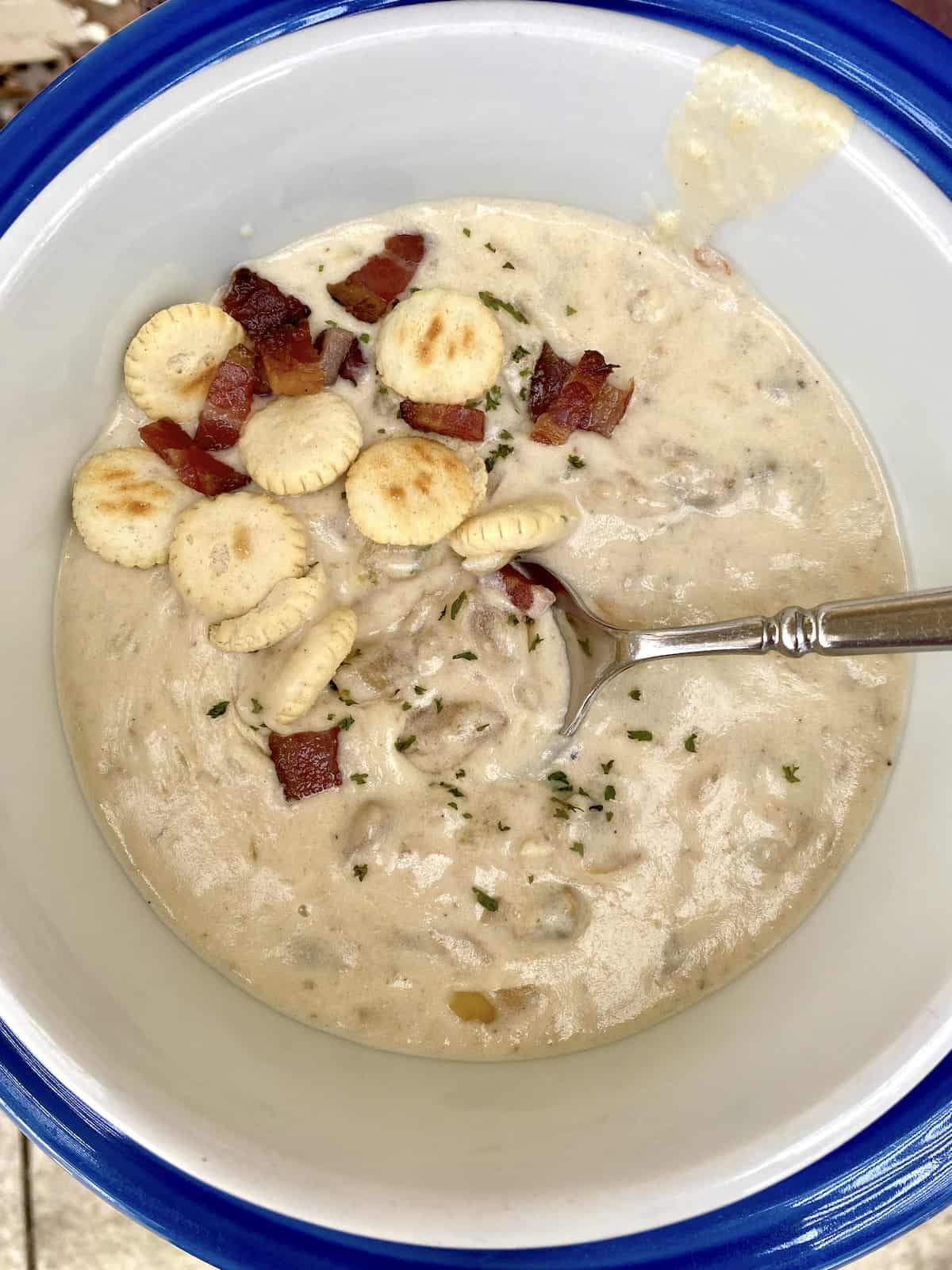 How can I make my clam chowder thicker?
If you know from the start that you want an extra thick clam chowder boost, the butter and flour in the white sauce to ½ cup each.

If you want to thicken the chowder after you've placed the white sauce in the Crockpot or slow cooker, blend 2 tablespoons of cornstarch with 2 tablespoons of water in a small bowl, stir until combined, then stir the cornstarch mixture into the chowder.
Can I use fresh clams?
Yes. Prepare the clams and cook them properly. Remove the clam meat from the shells. You'll want enough clam meat to equal about 1 and a half - 2 cups of fresh clams.

Although the size of fresh clams varies, generally speaking, one pound of fresh clams equals about 4 ounces of clam meat so you'll need approximately 2 and a half pounds of fresh clams.

Also, if using fresh clams, add two, 8-ounce jars of clam juice to the vegetables in the slow cooker.
Food safety
Here are a few tips to keep in mind to keep our kitchens and the food we serve safe:
Cook to a minimum temperature of 165 °F (74 °C)
Do not use the same utensils on cooked food, that previously touched raw meat
Don't leave food sitting out at room temperature for extended periods
Always have good ventilation when using a gas stove
See more guidelines at USDA.gov.
Stay in Touch
Be sure to give a star rating to the recipes you make from the Crinkled Cookbook. I always love hearing from you. Sharing is great too! Use the buttons after the recipe to text it with just one click or send it to family and friends on Pinterest and Facebook. Enjoy.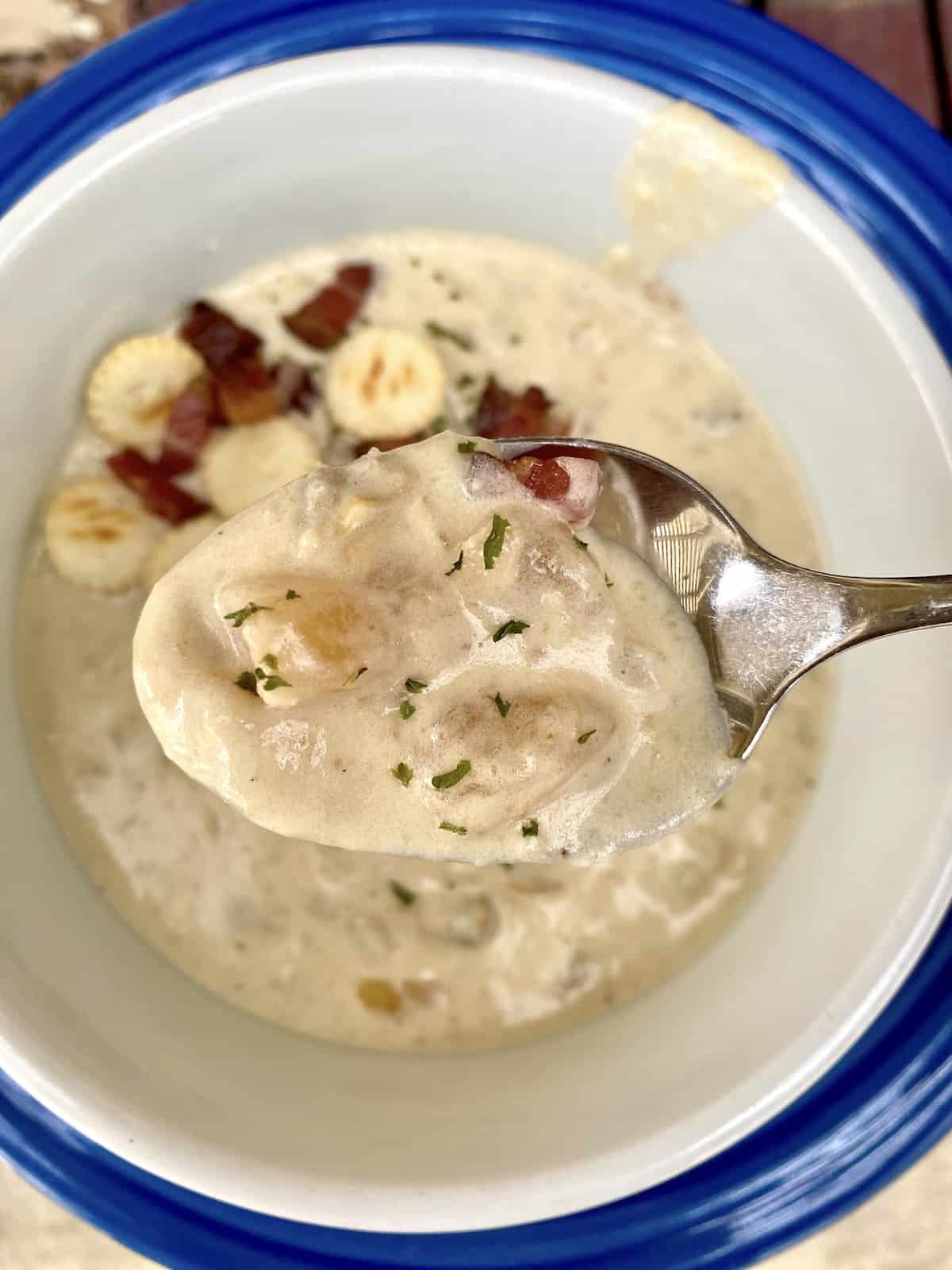 Recipes to Serve with Clam Chowder
Creamy, Crockpot Clam Chowder goes great with these recipes! And don't forget the dessert and Easy No-Bake Peanut Butter Pie is a family favorite.
Recipe