Elegant Green Bean Casserole has all the flavors we love with traditional green bean casserole, but we use fresh green beans that are first sautéd in olive oil infused with garlic, with a splash of white wine and soy sauce. The final result provides a new "elegant" perspective on a family favorite side dish. Serve with Twice-Baked Mashed Potatoes for a stellar side dish menu.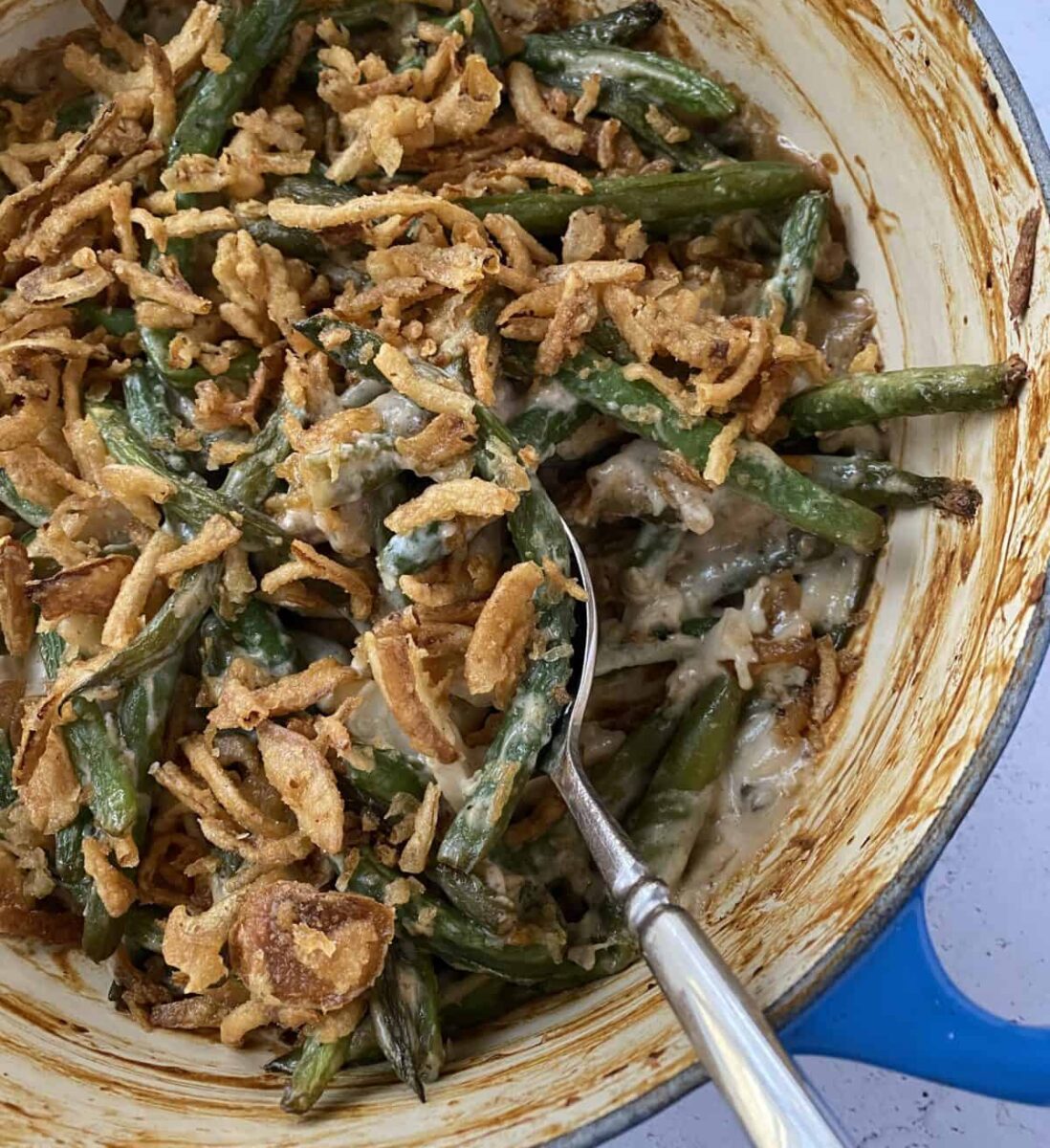 Jump to:
Why You'll Love this Green Bean Casserole
Elegant Green Bean Casserole is made with fresh green beans, which gives the classic casserole a vibrant, crisp flavor.
Some of my favorite main course recipes to serve with it are Rotisserie Chicken and Stuffing Casserole, No Ketchup Meatloaf or Baked Buttermilk Chicken Tenders.
But of course, green bean casserole is also a delicious side dish like Orange-Spiced Sweet Potato Casserole to serve at holiday meals.
Ingredients to Have on Hand
fresh green beans
canned water chestnuts
white wine, or a substitute
soy sauce
cream of mushroom soup
See the recipe card below for a full list of ingredients and measurements.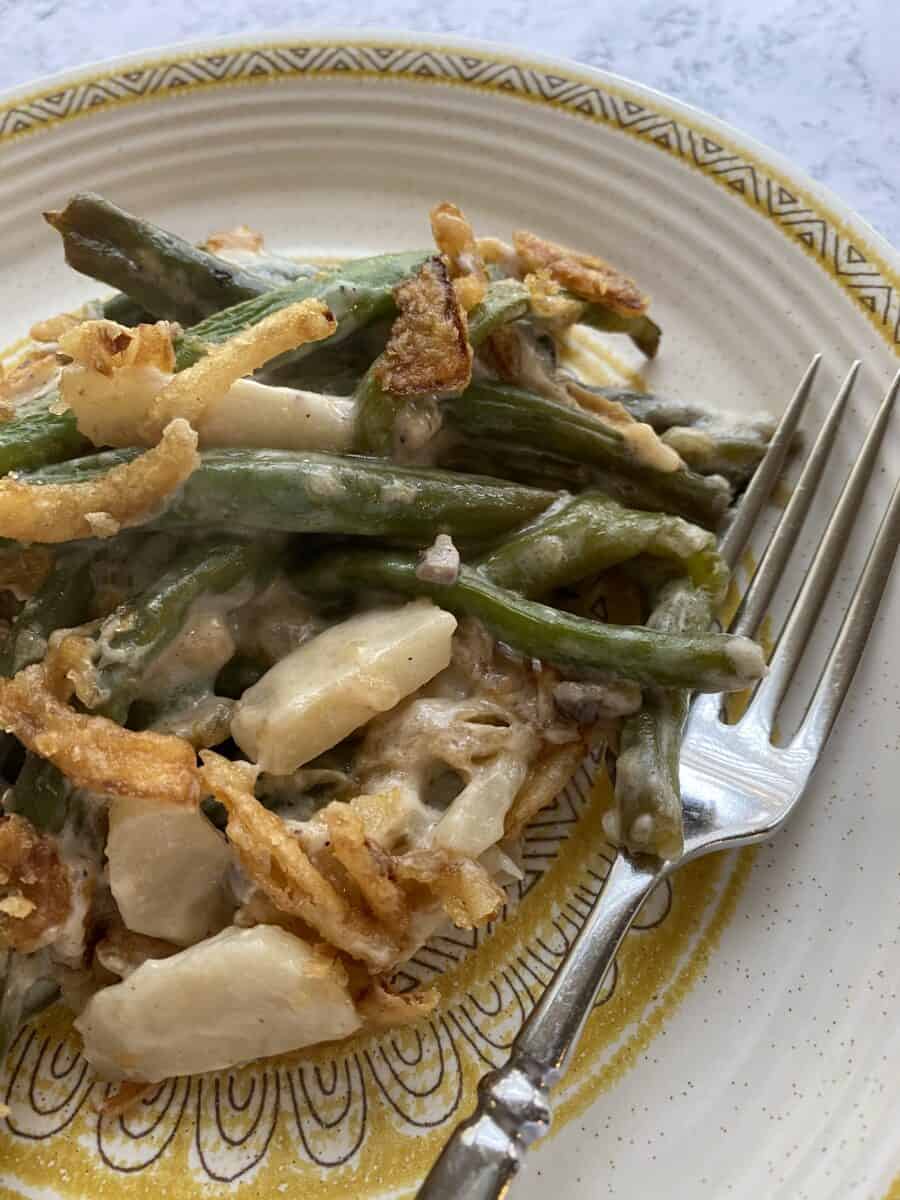 How to Prep the Fresh Green Beans
There's something impressive and elegant about having full-sized green beans on the plate.
I get it, sometimes the longer beans are a little tricky to work with while we are cooking. So here's what I do, when sautéing the beans in the first step of this recipe, it helps to use tongs to turn and coat the green beans in the olive oil.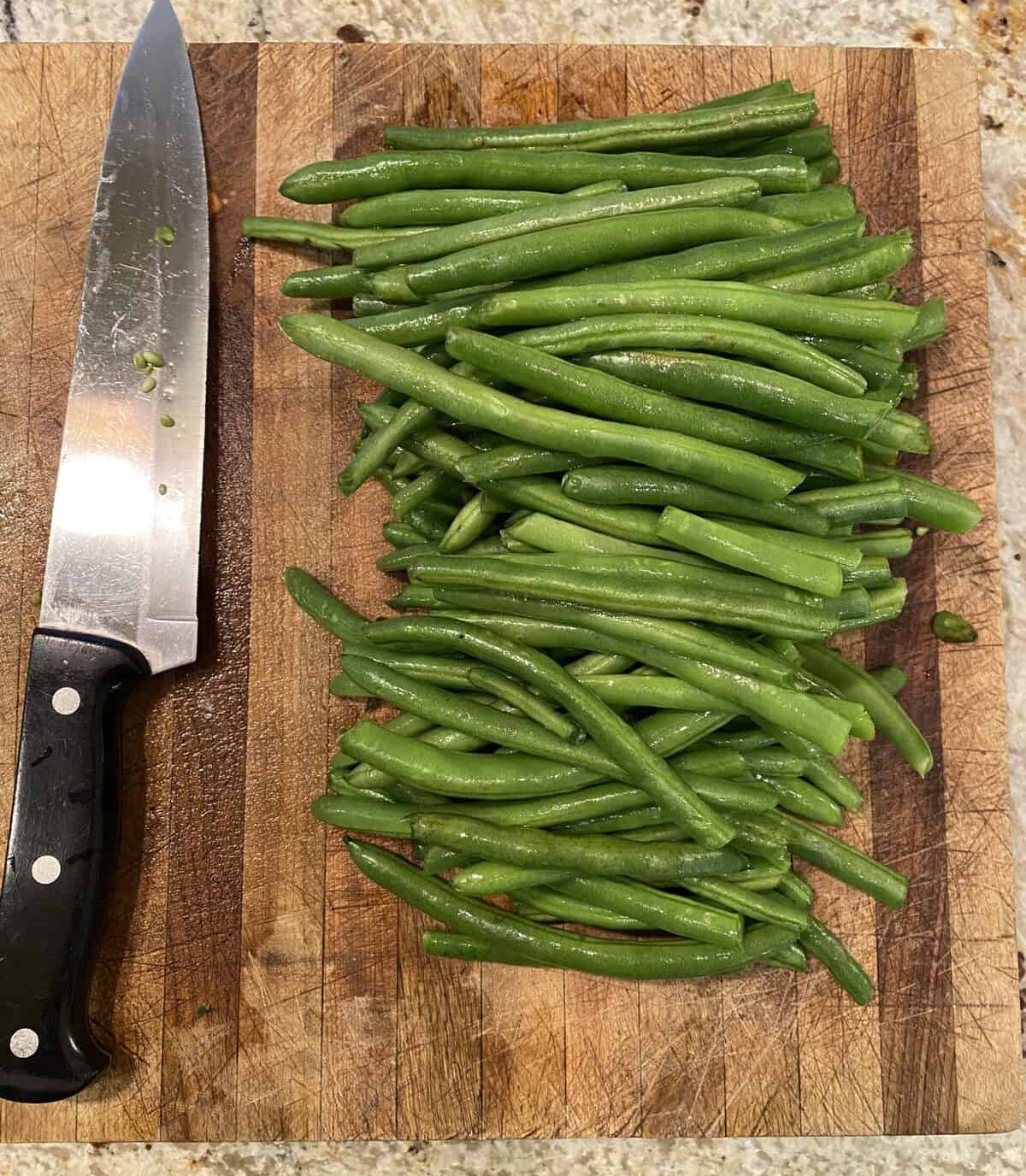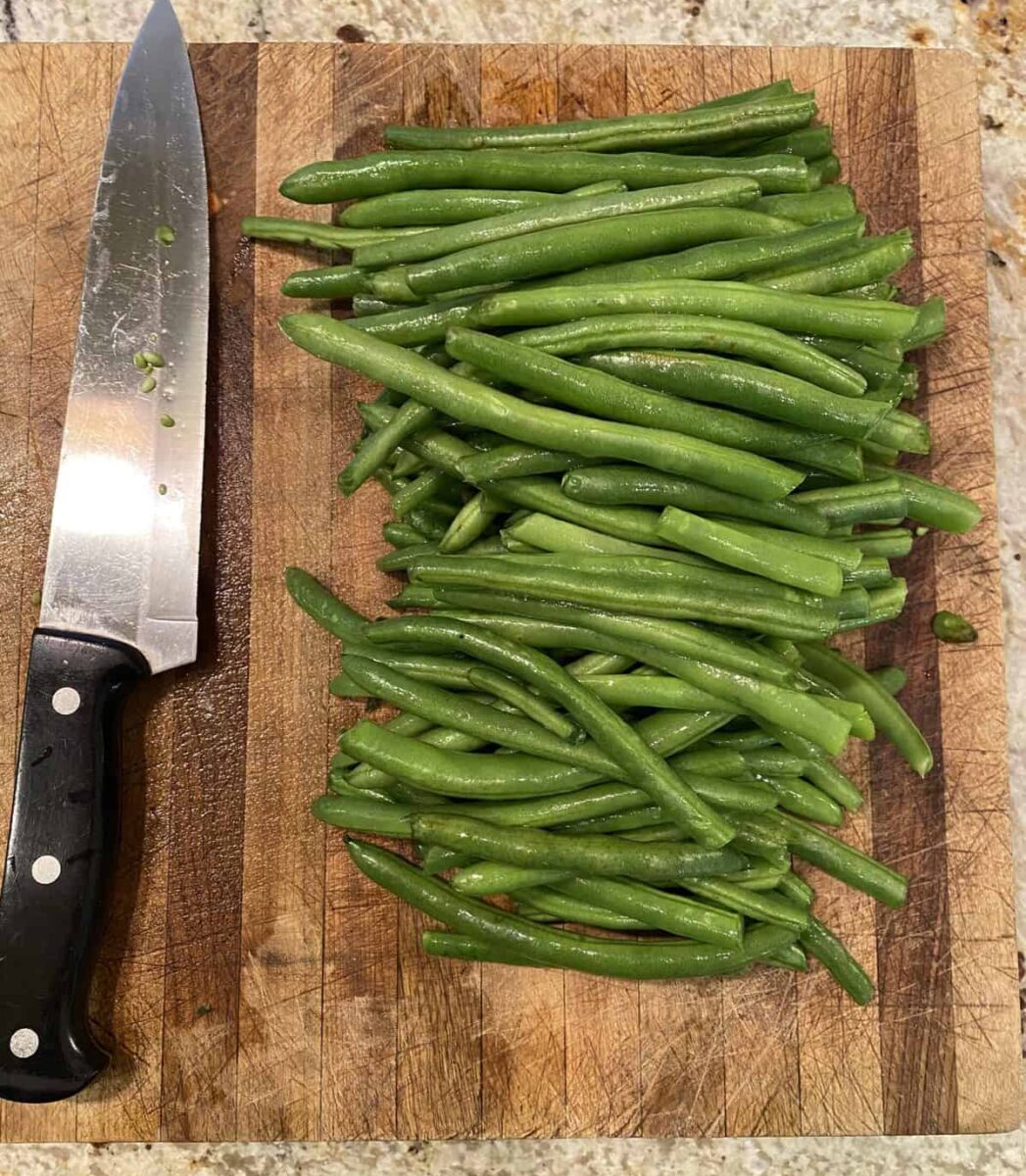 Note: Some of the links you find on this page are paid links, Amazon Associates. That means I make a small commission when you click and shop. Your cost is the same and I only link to products or ingredients that I use and enjoy.
First Sauté the Fresh Green Beans
It sounds like a super special way to cook, but to sauté something simply means to cook it quickly in hot oil or fat and that's exactly how this recipe starts. Heat a tablespoon of olive oil in a pan.
I love my Le Creuset pan for this recipe. It was a gift from my sister-in-law and it cooks ALL things beautifully! I highly recommend it.
Heat the oil until it starts to shimmer, then add a teaspoon of fresh garlic.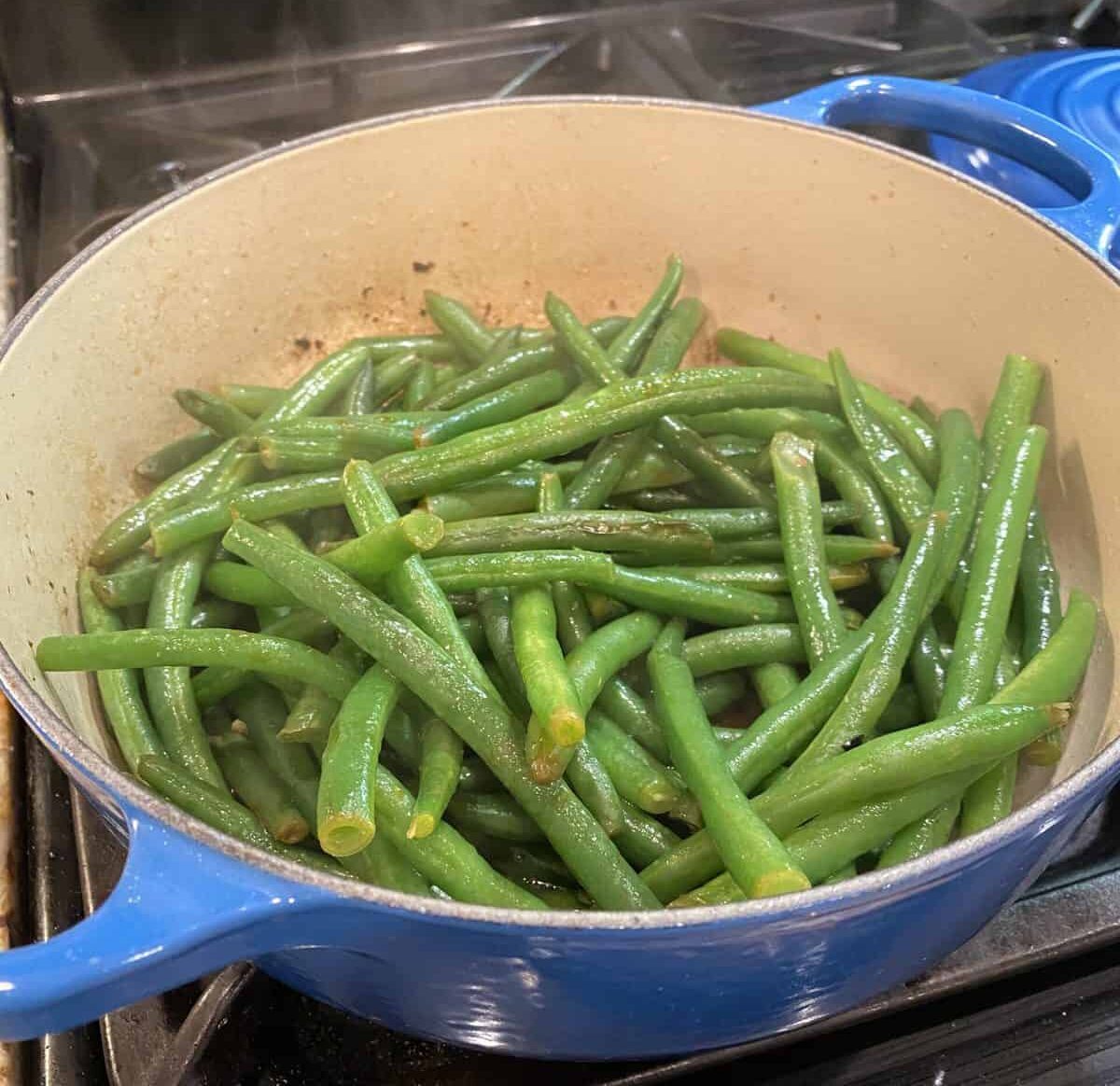 Pro Tip: Cook and stir the garlic for about a minute, then add the green beans and use tongs to turn them while they cook.
Recipe FAQs
Can I use canned or frozen green beans instead of fresh ones?

I don't recommend making the switch to canned green beans. The distinctive tenderness we find with canned green beans will give this recipe a much different presentation and the cooking time on the stove will be lessened.

Frozen green beans are likely a better substitute, but I haven't made this recipe using frozen green beans so can't vouch for that option. I prefer the freshness of the green beans we buy from the produce section of the grocery store or from our favorite farmers' market.
Can this be prepped a day ahead?
Yes, this can be assembled a day in advance and refrigerated until baking. Saute the green beans and combine the ingredients in the same order as listed in the recipe, then cover and refrigerate until you are ready to bake. Hold off on adding the top layer of crispy fried onions until you bake the casserole and increase the baking time by 10 additional minutes.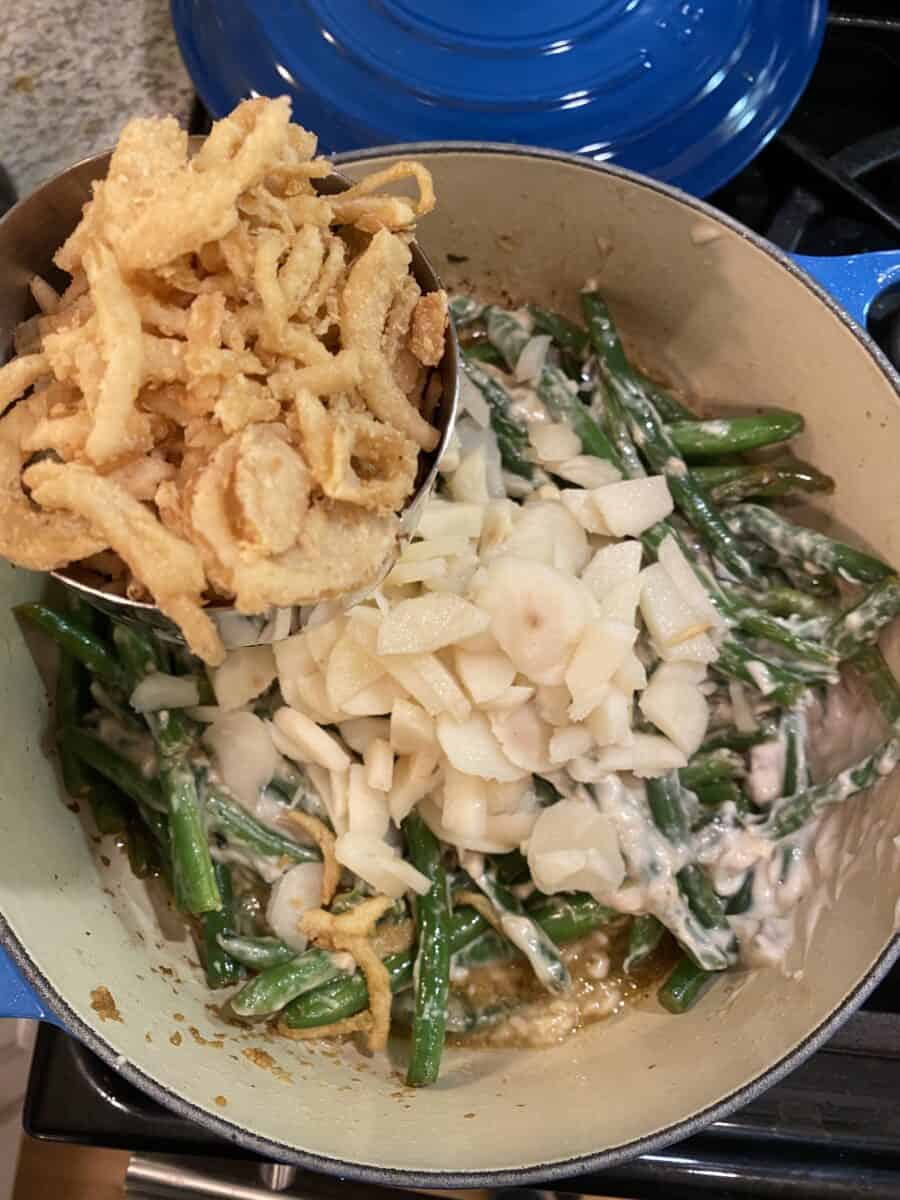 Variations and Substitutions
I usually have plenty of white wine in the house so the two tablespoons needed for this recipe, basically a splash of wine, are easy to come by.
But I totally understand that you may not want to buy an entire bottle of wine, just to use two tablespoons.
If that's the case, I like the substitutions mapped about by Kraft Heinz - as a general rule, chicken or vegetable broth makes a nice substitute for white wine in cooking.
Use One Can of Soup
All you need is a 10.5-ounce can of condensed cream of mushroom soup. Open it up and pour the contents over the sautéd green beans. No water or milk is needed.
The white wine and soy sauce both provide plenty of liquid and amazing flavor to this recipe.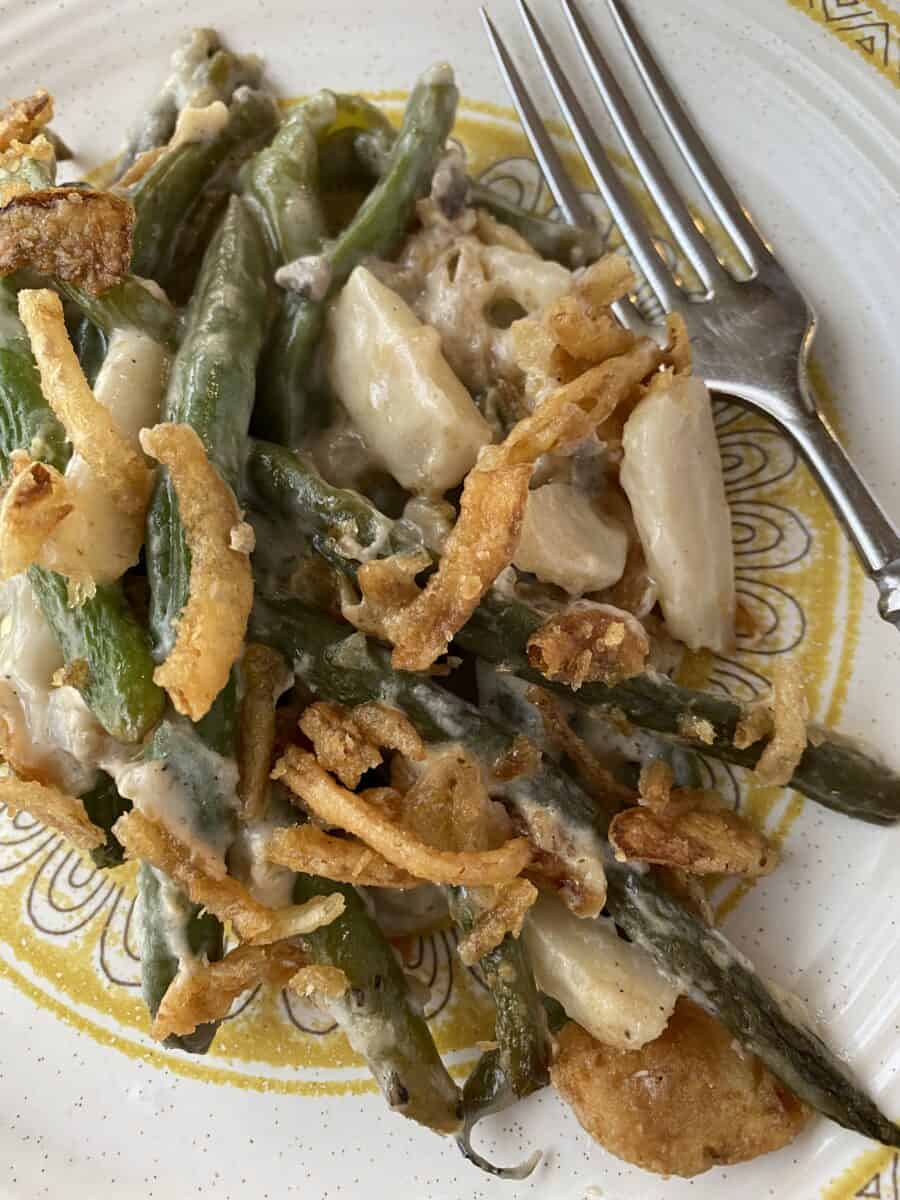 More Sides to Enjoy
Elegant Green Bean Casserole is made from scratch and is a family favorite. It's perfect for holidays, or any time you want an impressive side dish. Here are some of my other favorite sides.
Dinner Recipes
If you tried this Elegant Green Bean Casserole or any other recipe on my website, please leave a 🌟 star rating and let me know how it goes in the 📝 comments below.
Recipe