Pumpkin Pie with Condensed Milk is perfectly spiced, has a smooth and creamy texture and is a luscious version of pumpkin pie. If you love pumpkin desserts like Marbled Pumpkin Cheesecake Bars, and the comforting fall flavors of pumpkin spice, then this pumpkin pie is just what you've been searching for. Added bonus, it's ready for the oven in 15 minutes.
Jump to:
⭐ Why You'll Love Pumpkin Pie with Condensed Milk
Pumpkin Pie with Sweetened Condensed Milk is possibly the easiest way to make a delicous pumpkin pie from scratch.
Sweetened condensed milk is a great alternative to using evaporated milk.
There's less measuring, the sweetened condensed milk contains the perfect amount of sweetness, and the end result is the most delicious and creamy pumpkin pie ever!
If you love pumpkin pie but have been reluctant to make one yourself, this recipe is a wonderful way to make a pumpkin pie filling from scratch with no guesswork.
Like my mom's recipe for Old Fashioned Strawberry Rhubarb Pie, this pie recipe is super simple.
🥛 Ingredients to Have on Hand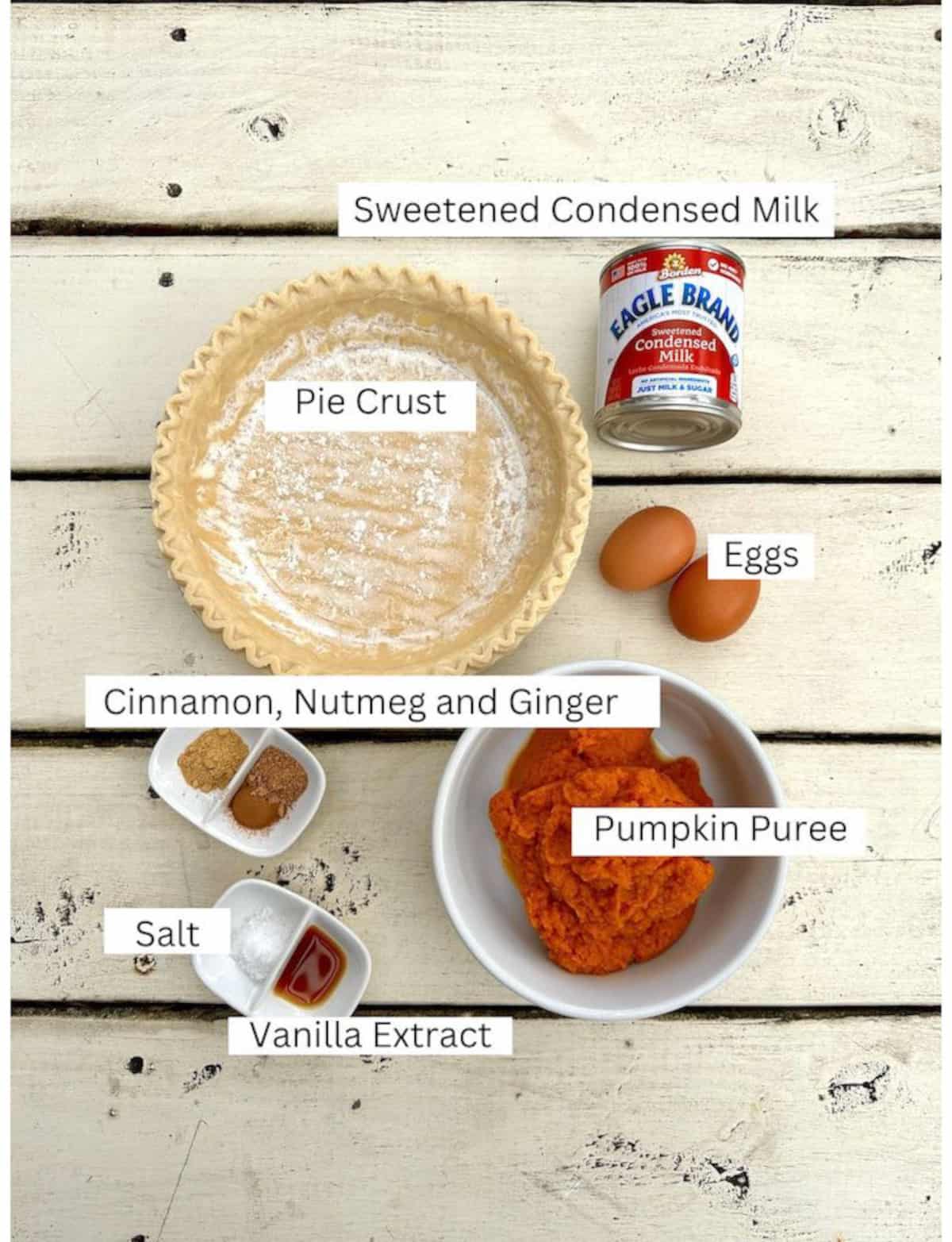 Pie Crust: One 9-inch pie crust, just the bottom layer is all you'll need for pumpkin pie.
Pro Tip: Make Perfect Pie Crust from scratch, use a refrigerated pie crust from the grocery store, or easier yet, buy a store-bought frozen pie crust. (My favorite option!)
Pumpkin: Start with plain pumpkin puree, not pumpkin pie filling. You'll want to add the spices to this pie filling, rather than relying on the combination that comes from the pre-mixed pie filling from the can.
Sweetened Condensed Milk: Pre-sweetened, silky, thick and rich. You'll never miss evaporated milk once you've tried pumpkin pie made with sweetened condensed milk.
Cinnamon, Ground Ginger and Nutmeg: The combination of ground spices in this pumpkin pie recipe is subtle. But if your family prefers a stronger, spicier pumpkin pie, add an extra ½ teaspoon of cinnamon or an additional pinch of ground ginger and nutmeg.
Vanilla Extract: A splash of vanilla (½ teaspoon) adds warmth and sweetness to the earthy, spiced flavors of pumpkin pie and is an addition I highly recommend!
Scroll to the recipe card below for a full list of ingredients and measurements.
📖 Pumpkin Pie Substitutions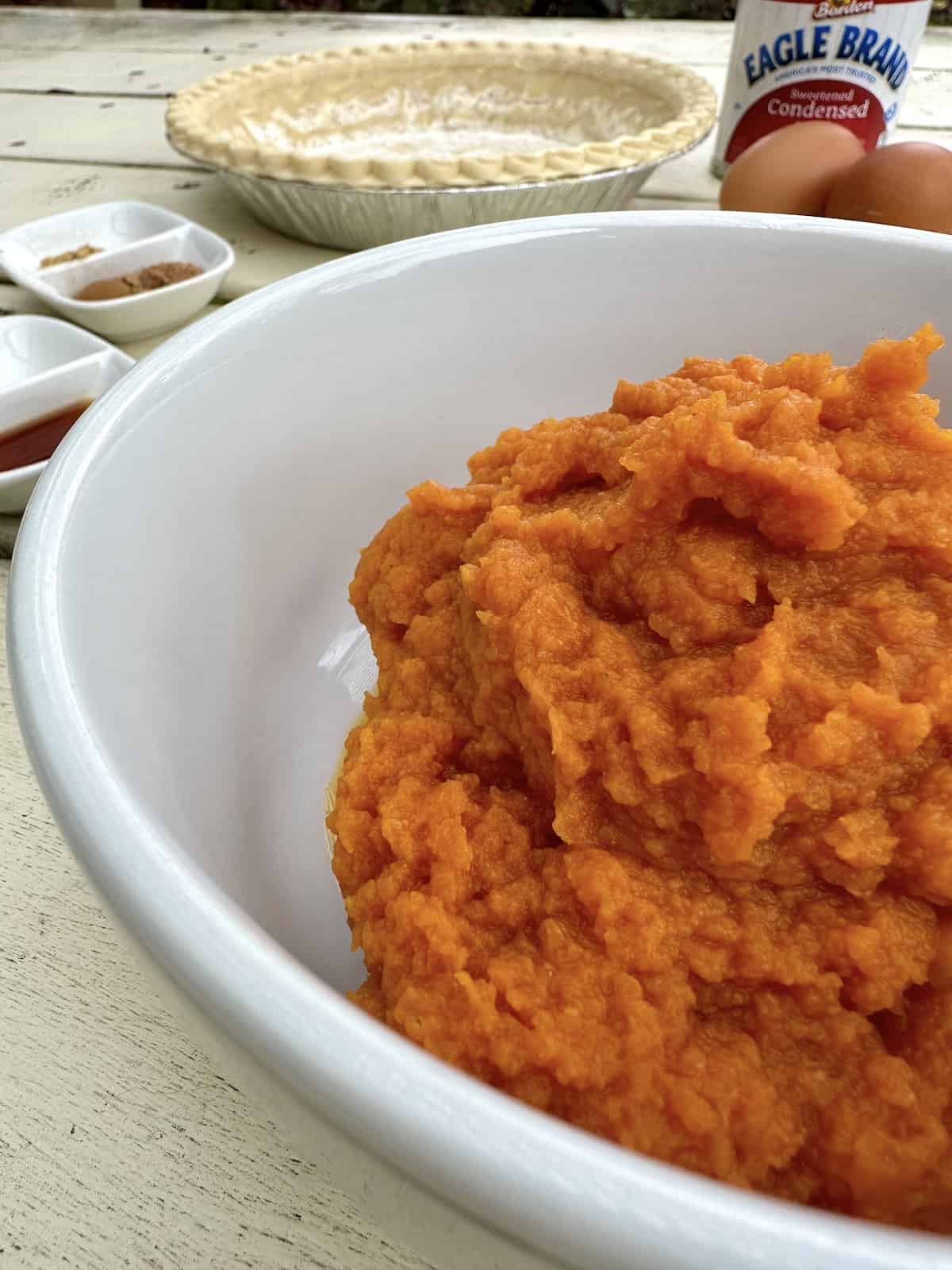 Pumpkin Pie Spice: If you'd rather use just one spice jar to make pumpkin pie, then pumpkin pie spice is a great alternative to using the spices listed in the recipe. Scroll down to the Recipe FAQs for details on how much pumpkin spice to use.
Fat-Free Sweetened Condensed Milk: Here's a substitution that will help cut down on a few calories, use Fat-Free Sweetened Condensed Milk in place of the regular variety. My Mom swears by this and often makes the substitution.
⏲️ Optional: Blind Baking the Pie Crust
Many folks swear by what's called "blind baking" the pie crust before adding the pumpkin pie filling, so it's certainly an option to prepare your pie crust.
Blind baking means partially baking the pie crust before filling it. I use this technique for no-bake pies and I always blind bake my crust when I make quiche.
Blind baking gives the pie crust a nice boost in the baking process.
I don't blind-bake pumpkin pie crust but it's an option I wanted you to know about, here's how to do it:
Either of these methods listed below will prepare the pie crust for a few minutes of baking before you add the pie filling:
1. Fork Method: Simply use the tines of a fork to poke a few holes across the unbaked crust.
2. Pie Weights: Line the crust with parchment paper or use a liner and spread pie weights across the bottom of the paper. The paper liner keeps the pie weights from sticking to the crust.
3. Dried Beans: Line the crust with parchment paper and add 2 - 3 cups of dried beans - such as pinto or kidney beans. The beans help keep the parchment paper in place which keeps the crust from getting puffy while baking.
Bake the Unfilled Pie Crust: Place the pie crust in a 425°F oven for 10 minutes, then remove it from the oven (remove the parchment paper, weights or beans) add the pie filling, and bake as directed in the recipe.
🥧 Step-by-Step Instructions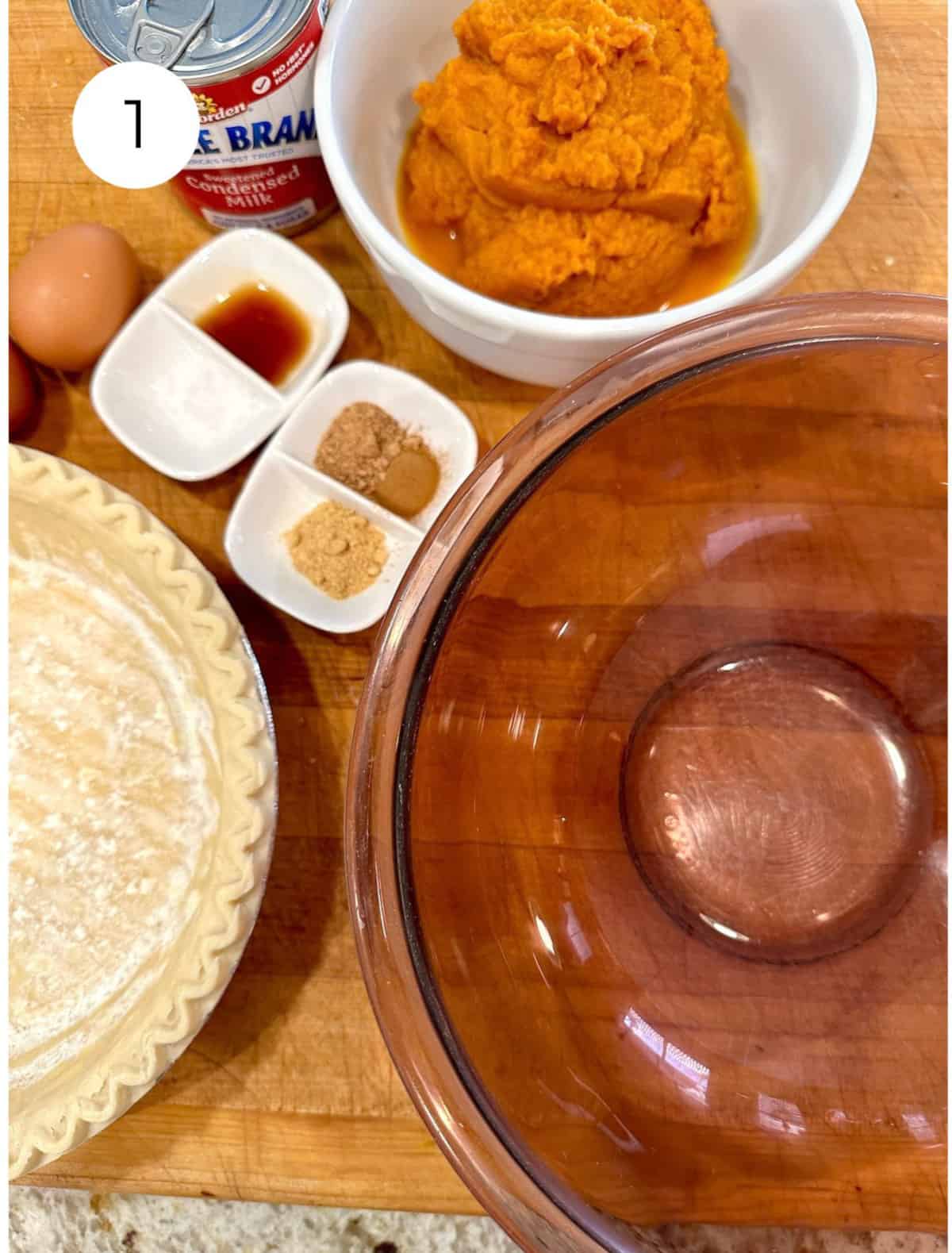 Step 1: Prepare a 9" single pie crust. Either make it from scratch or use a store-bought crust. I like to use frozen pie crust for this recipe. So easy, just defrost and it's ready. Gather a medium-sized mixing bowl, the spices, eggs, salt, vanilla, pumpkin puree and sweetened condensed milk. (Photo #1)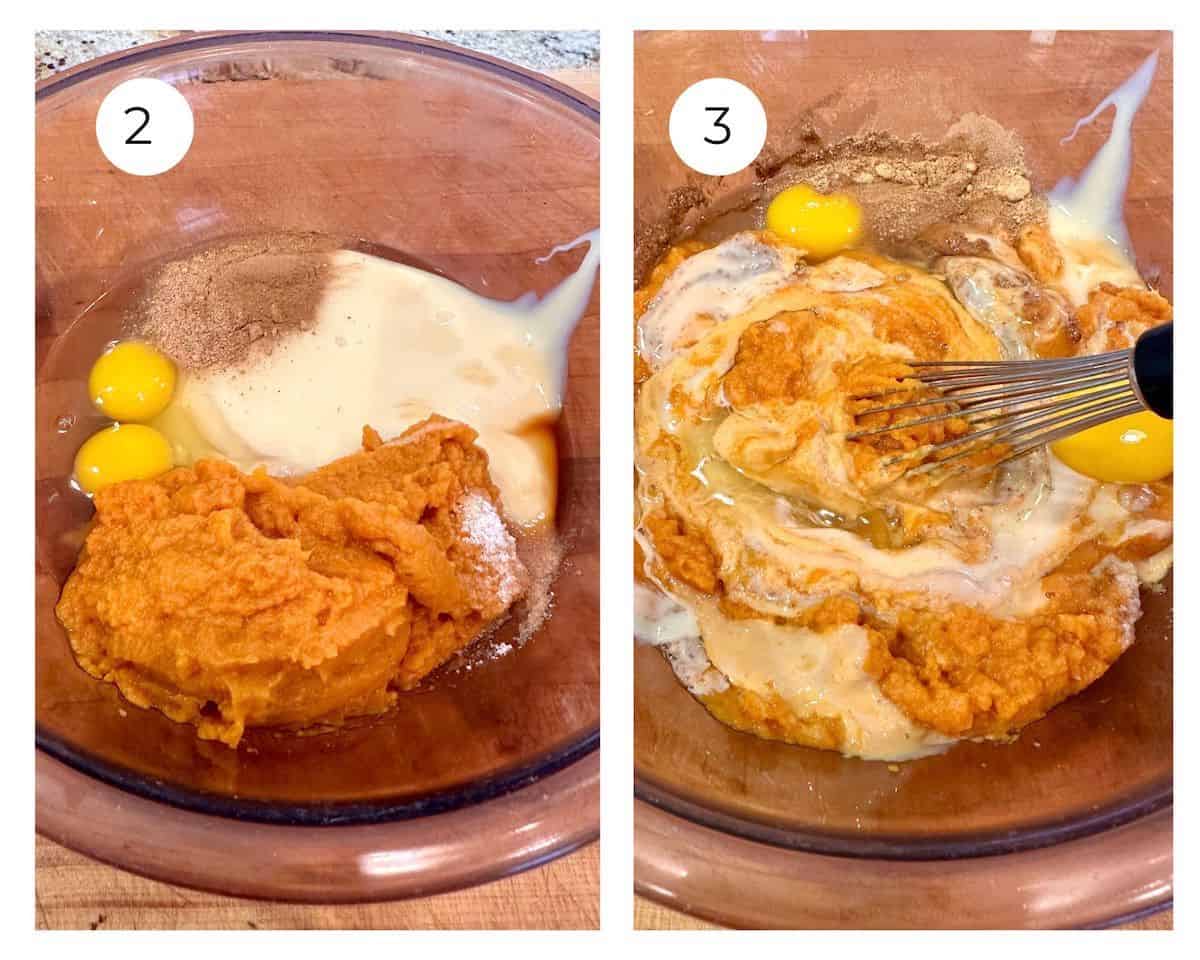 Step 2: Place all of the pie filling ingredients in the mixing bowl (Photo #2)
Step 3: Use a whisk or a spoon to blend all the ingredients. (Photo #3)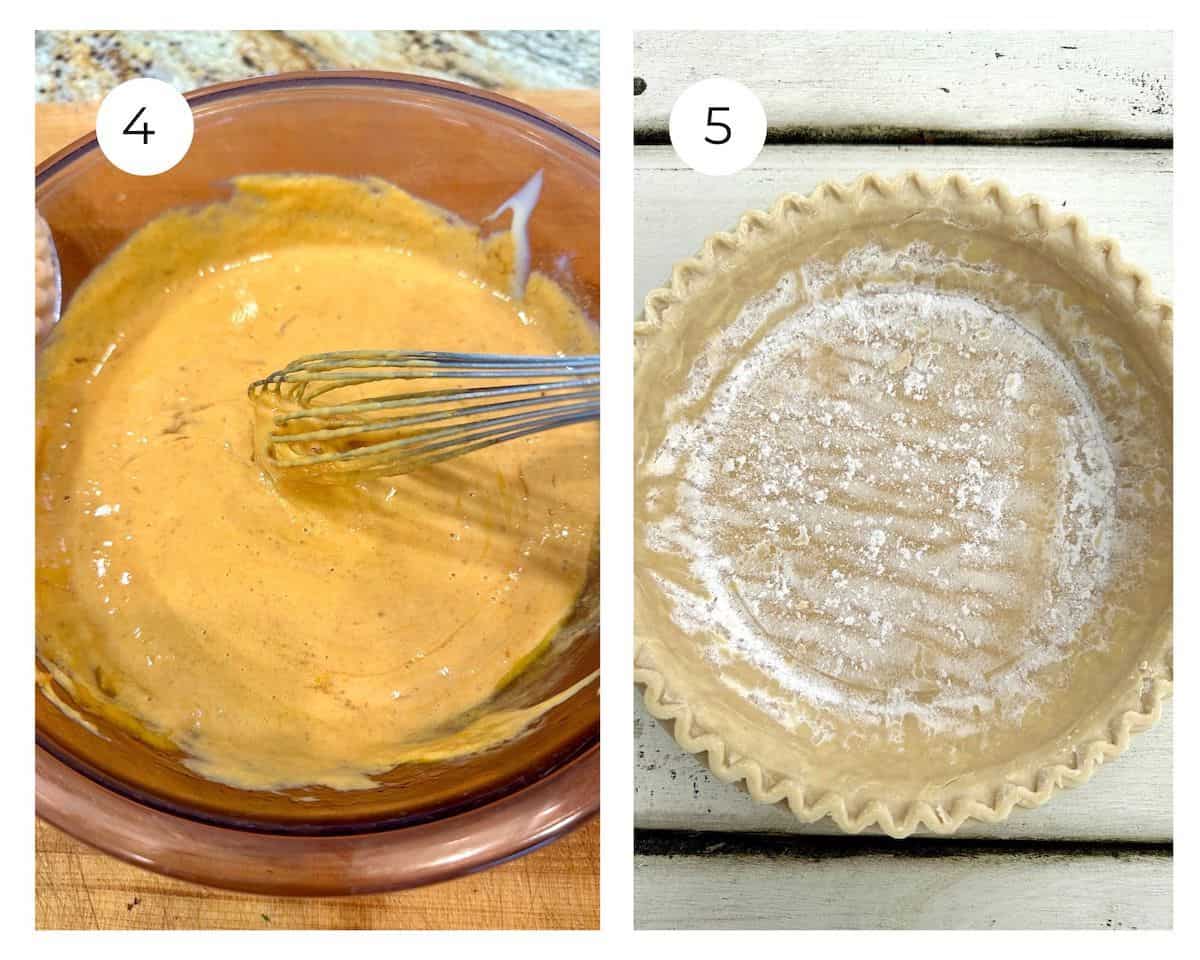 Step 4: Whisk until the ingredients are thoroughly combined. (Photo #4)
Step 5: Have your 9" pie crust in the pie plate and ready. (Photo #5)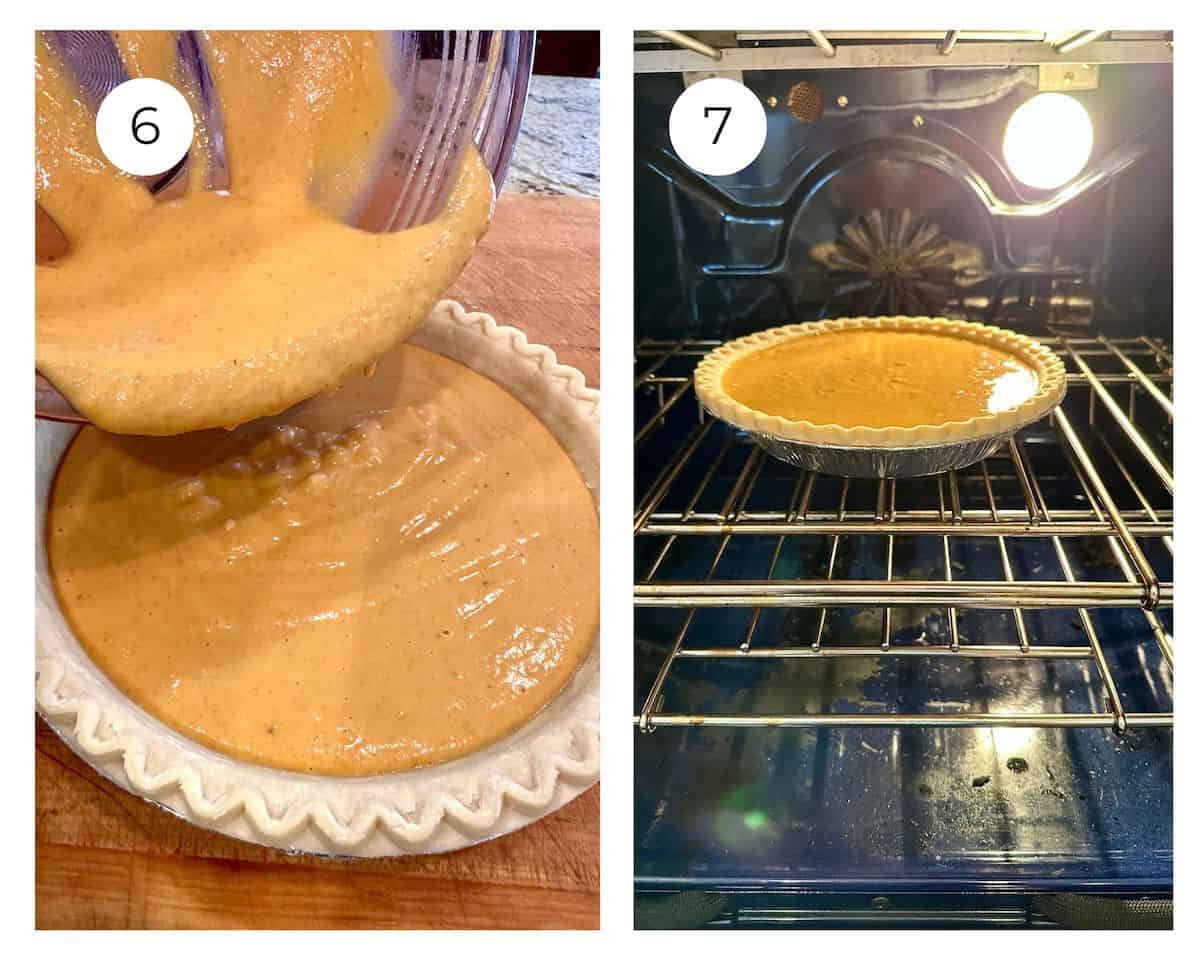 Step 6: Pour the blended pumpkin filling into the pie crust. (Photo #6)
Step 7: Place the pie in an oven heated to 425°F for 15 minutes. After 15 minutes, leave the pie in the oven. Reduce the temperature to 325°F and continue baking for 40 - 50 minutes. (Photo #7)
💭 How to Know if Your Pumpkin Pie is Done
There are several methods for checking whether a pumpkin pie is done.
Knife or Toothpick Test: Insert a toothpick or sharp knife near the center. If the toothpick or knife comes out clean, the pie is done. The downside, there's a gap or hole left in the pie.
Test for a Jiggle, Not a Wave: This is my favorite way to test if pumpkin pie is done. After at least 40 minutes of baking at 325°F, use pot holders and hold the pie plate by the edges. Gently move the pie back and forth.
If the edges of the pie are set and the center of the pie "jiggles like jello" remove it from the oven. The pie will continue cooking as it cools.
If there is movement in the center of the pie like a "wave" or if it looks liquid, then continue baking. Check the pie at 5-minute intervals.
Remember, our pumpkin pie will continue to cook as it cools, even after we remove it from the oven.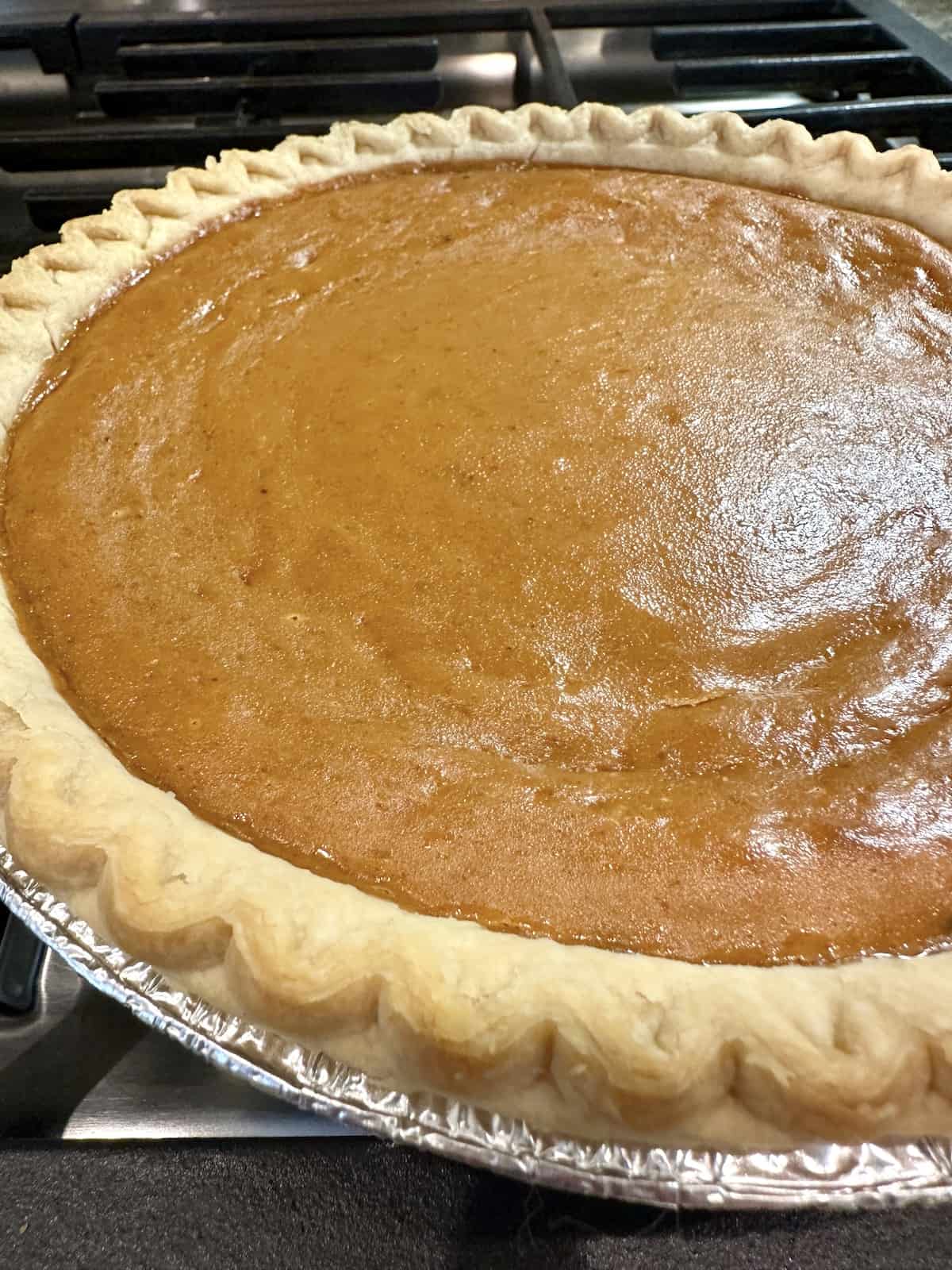 Pro Tip: Allow pumpkin pie plenty of time to cool and chill before slicing and serving. After baking, leave the pie at room temperature for 1 -2 hours. This gives the pie filling time to finish cooking and firm up. After 2 hours, refrigerate the pumpkin pie and serve it cold.
Note: This post contains affiliate links. As an Amazon Associate, I earn from qualifying purchases. Your cost for any linked item is always the same.
💭 Recipe FAQs
Should I pre-bake the pie crust for pumpkin pie?
You don't have to. In all my years of making pumpkin pies, I have never pre-baked the pie shell. (Also known as blind baking.) Pumpkin pie is in the oven long enough for the crust to bake just fine.
Do I need to refrigerate pumpkin pie?
It's an age-old debate. But yes, pumpkin pie should be stored in the refrigerator. It's considered an egg-rich pie and shouldn't be left at room temperature for longer than 2 hours.

Refrigerated pumpkin pie will stay fresh for up to four days.

Store-bought pumpkin pies often contain preservatives, which is why their storage options are different.
Can I use pumpkin pie spice instead of the spices listed in the recipe?
Sure! Use a spice combination that best suits your family.

Some folks prefer the spicyness found in pumpkin pie spice which usually includes cloves and sometimes allspice. In place of the cinnamon, nutmeg and ground ginger in the recipe, swap them for 1 ½ teaspoons of pumpkin pie spice.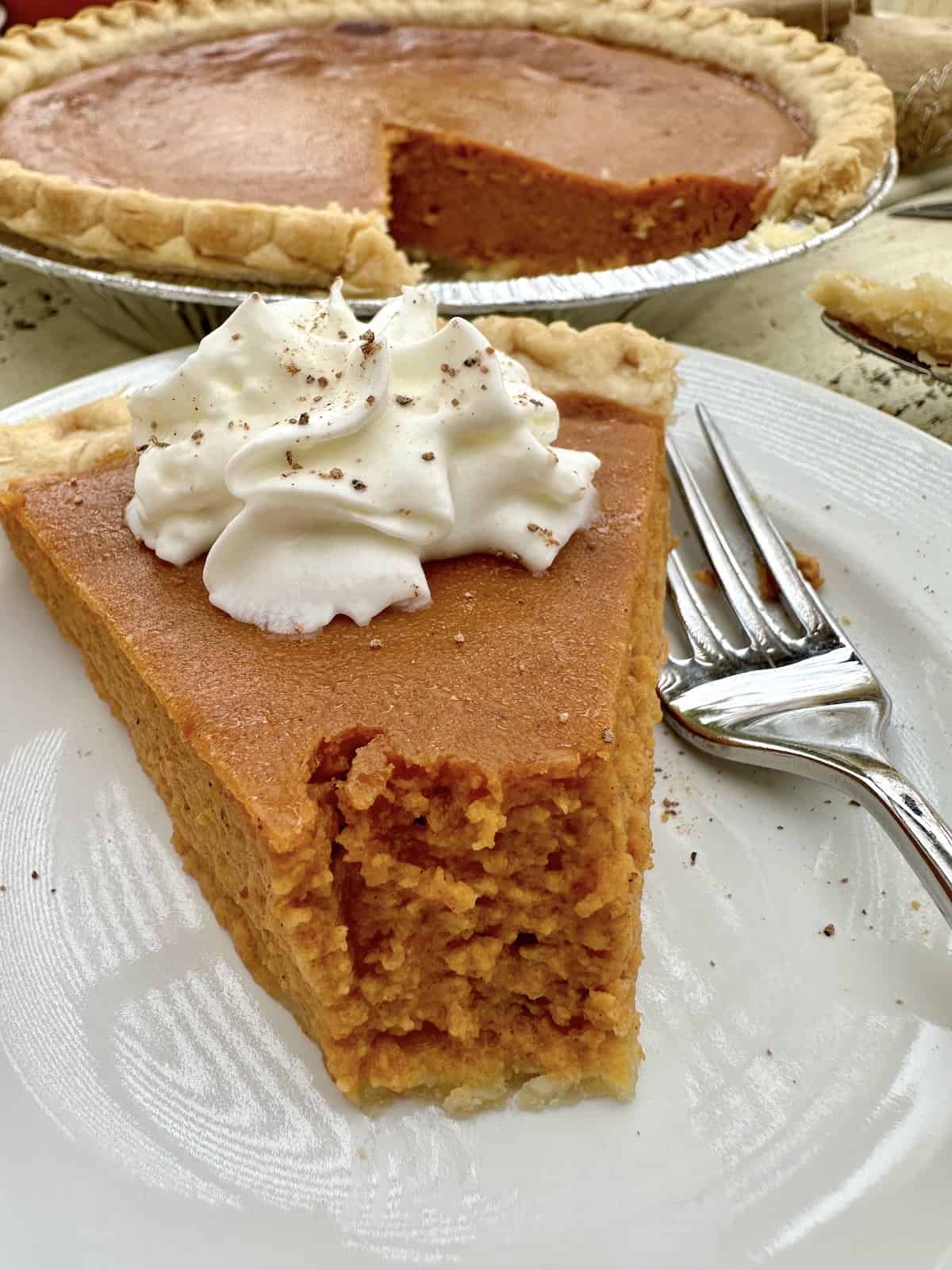 ⭐ What to Serve with Pumpkin Pie
Whipped Cream: The all-time classic choice to serve with pumpkin pie! The light and airy texture of whipped cream, homemade or store-bought, goes perfectly with the dense and creamy pumpkin filling.
Vanilla Ice Cream: The cold and creamy texture of vanilla ice cream is surprisingly delicious. Serve a scoop with a slice of spiced pumpkin pie.
Caramel Sauce: Warm up a jar of caramel sauce and drizzle a spoonful over a slice of pumpkin pie. You might wonder why you haven't been serving your pumpkin pie with caramel sauce all along. The caramel adds a sweet and buttery flavor to the pumpkin filling and is a delicious combination.
Cinnamon Sugar: Sprinkle a dusting of cinnamon sugar over the pie, the whipped cream or the vanilla ice cream. The cinnamon adds just a touch of color and the sugar adds a light dose of sweetness.
Nutmeg: Similar to cinnamon and sugar, a pinch of nutmeg on the whipped cream offers a pretty presentation. It also adds the subtle scent of nutmeg in each bite.
🍽 Other Desserts That Impress
Pumpkin Pie with Condensed Milk is a classic dessert. It's especially delicious during the holiday season. Here are a few other desserts from my kitchen that are tried and true!
If you tried Pumpkin Pie with Condensed Milk or any other recipe on my website, please leave a 🌟 star rating and let me know how it goes in the 📝 comments below.
Recipe