Rotisserie Chicken and Stuffing Casserole is 100% savory comfort food. It's a delicious combination of tender rotisserie chicken and your favorite store-bought seasoned stuffing. Everything is baked into a layered casserole that's big on classic holiday flavors. Serve with Twice Baked Mashed Potatoes and Orange-Spiced Sweet Potato Casserole then wrap up by serving Pumpkin Pie with Condensed Milk for a wonderful holiday-inspired meal any time of year.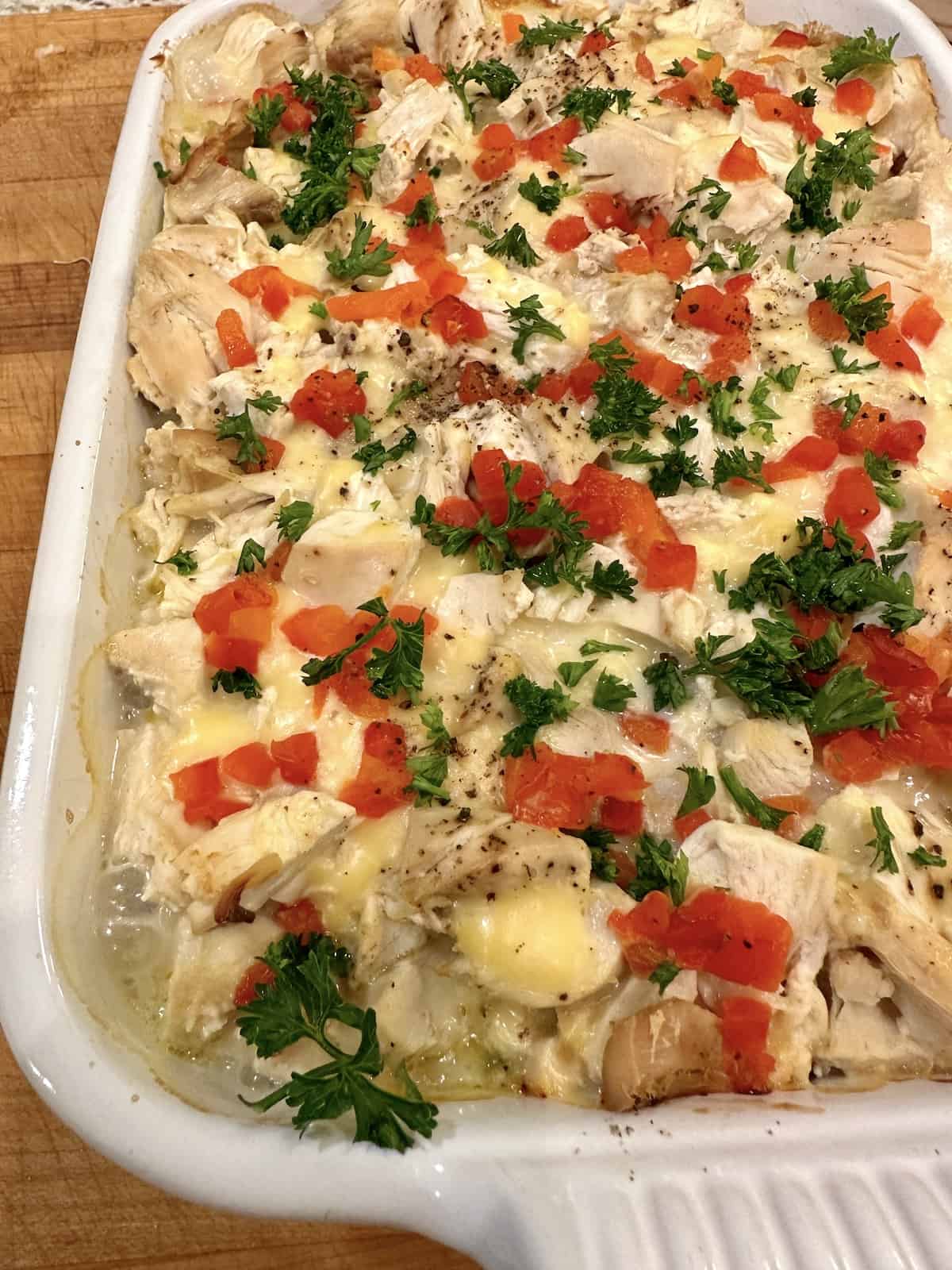 Jump to:
⭐ Why You'll Love Rotisserie Chicken and Stuffing Casserole
The stuffing is incredibly moist, so moist it's almost creamy. That's thanks to the broth and egg combined with the seasoned stuffing which bakes to perfection.
It might remind you of the texture stuffing gets when it's been cooked inside a turkey for several hours.
Like my recipe for Crusted Chicken Romano, Rotisserie Chicken and Stuffing Casserole is savory and delicious. It goes great with salads and sides such as Mixed Bean Salad or Crunchy Cole Slaw.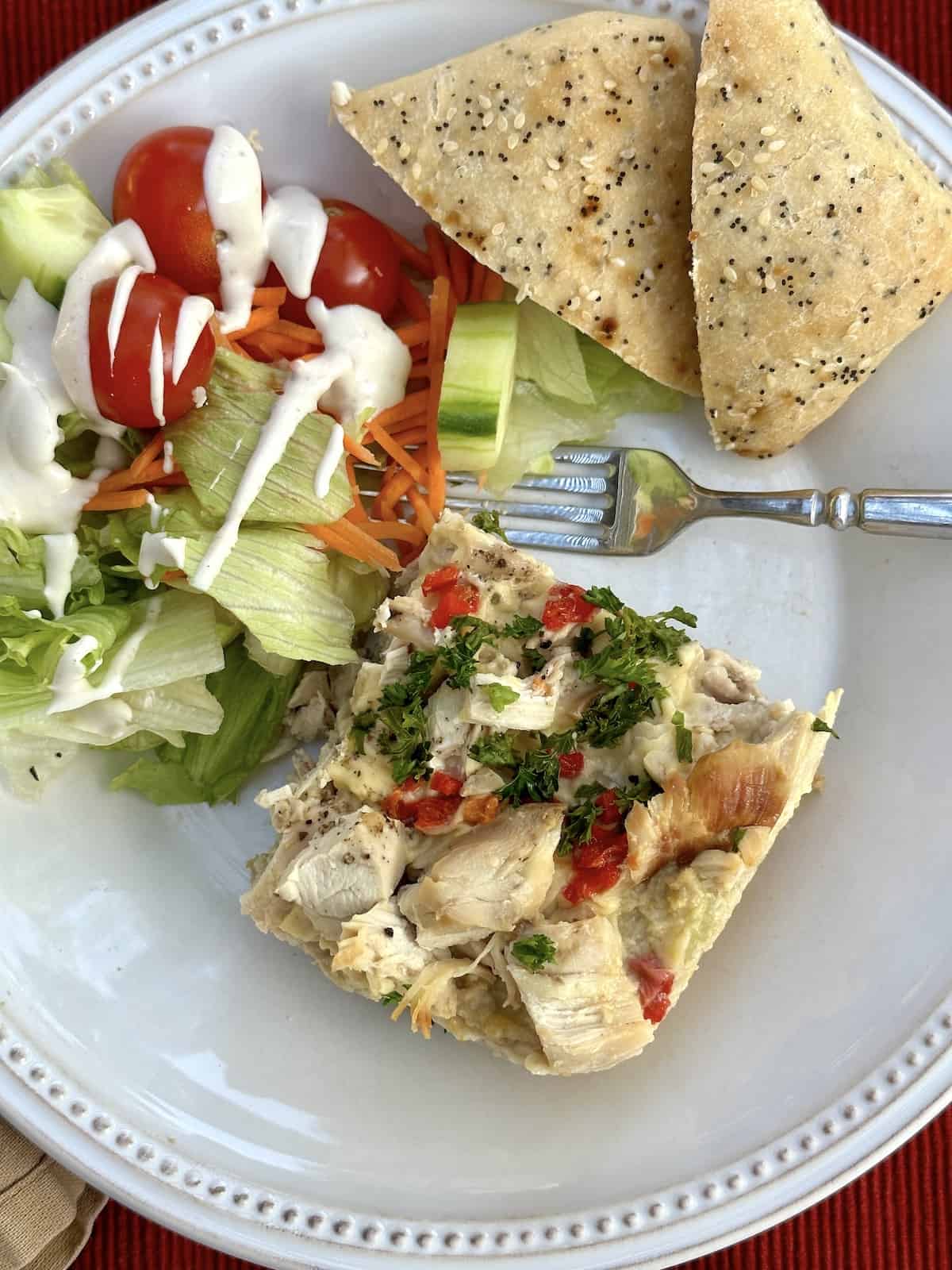 It's easy to prep this recipe ahead of time. Assemble all the ingredients the night before, cover and refrigerate, then bake when you get home from work. This recipe is delicious any time of year, especially in the chilly months when recipes like Creamy Pumpkin Pasta Sauce are always family favorites.
🥘 Ingredients to Have on Hand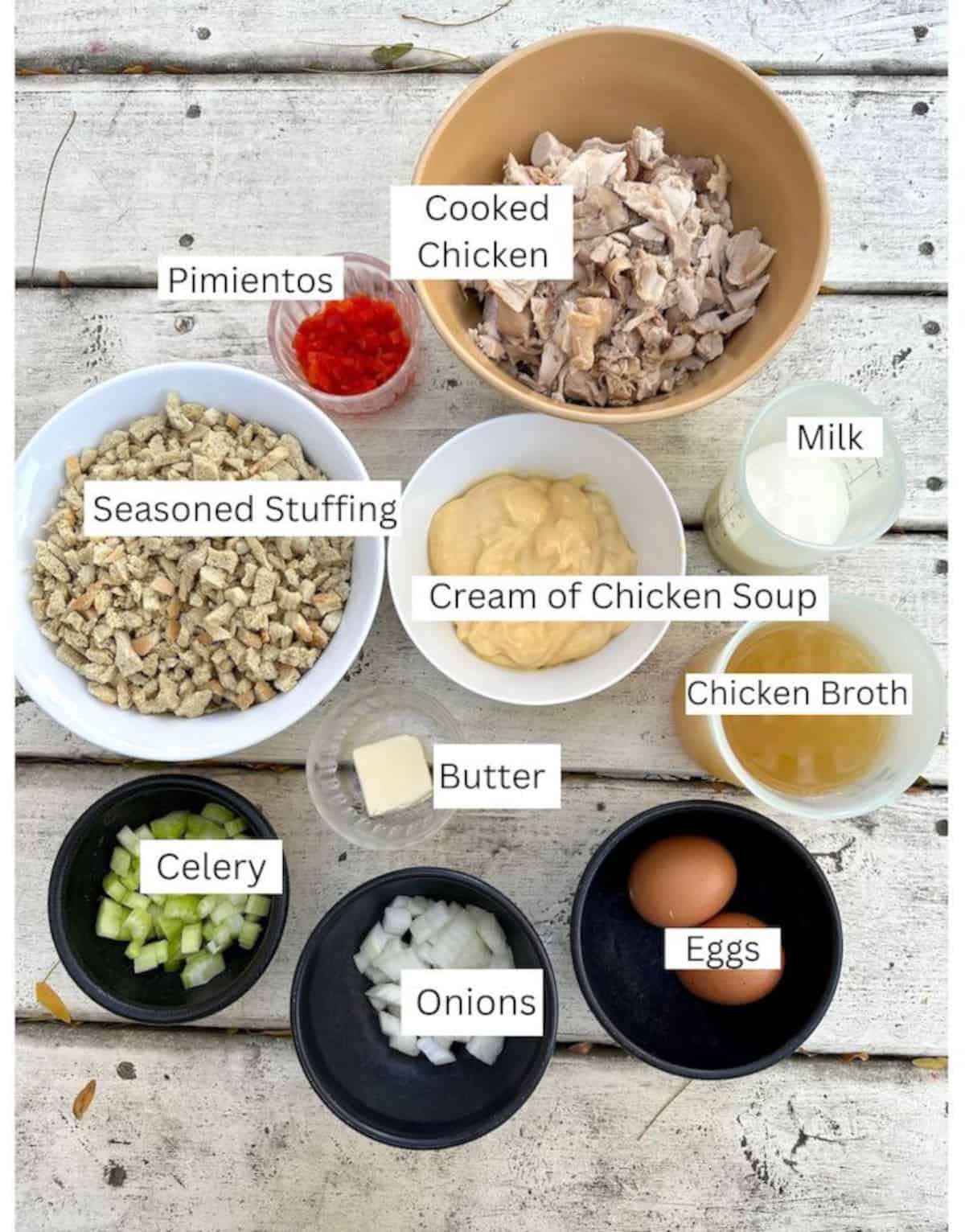 Rotisserie Chicken: Using a rotisserie chicken is a great shortcut. It's also a great time saver when you don't have time to cook a whole chicken from scratch. Chicken Spaghetti with Rotel and Velveeta and Chicken Curry Salad with Grapes are other recipes that use the "rotisserie chicken shortcut."
Rotisserie chickens are readily available at most grocery stores' deli counters.
You can swap the chicken for leftover turkey for equally delicious results. Scroll down for more details on how to use holiday leftovers in this recipe.
Seasoned Stuffing: There is a lot of flexibility with this ingredient, use any brand or any variety of dry, seasoned stuffing that your family enjoys.
Cream of Chicken Soup: Be sure to use the condensed soup straight from the can, don't dilute it with water. The broth and milk add plenty of liquid to the casserole.
Chicken Broth: Use any variety of chicken broth, or make your own using chicken bullion.
Scroll to the recipe card below for a full list of ingredients and measurements.
📖 Variations and Substitutions
Boost Flavor and Texture: Stir in 1 cup of any combination of the following ingredients to elevate the flavor and texture of the stuffing layer in this chicken stuffing casserole: diced carrots, peas, lima beans, green beans, etc.
Pro Tip: Any ingredient that you might normally add to your traditional stuffing recipe during the holidays, can be added to the stuffing in this casserole.
Experiment with flavor combinations. Add ½ cup of diced apples, dried cranberries, or raisins in addition to the vegetables listed above.
Adjust the Soup or Broth: Cream soups such as Cream of Mushroom or Cream of Celery can be used in this recipe in place of Cream of Chicken. Keep in mind, that the flavors are unique to each variety, but the texture is the same.
Chicken broth can be swapped for vegetable broth or even low-sodium chicken broth.
Pro Tip: If you opt to add additional ingredients, consider baking Rotisserie Chicken Stuffing Casserole in a 13" x 9" pan. It will spread out better with no risk of overflowing out of the smaller pan. The casserole will also cook faster in the larger baking dish.
🦃 A Delicious Way to Use Holiday Leftovers
If you have leftover turkey from Thanksgiving or Christmas dinner, this recipe is the perfect solution for enjoying those holiday flavors beyond the family dinner.
You'll need 2 ½ - 3 cups of diced, cooked turkey. Replace it instead of using chicken.
This recipe is very forgiving and you can certainly use more or less diced turkey.
Scroll down for details on how to freeze this stuffing casserole which will help enjoy holiday dinner flavors well beyond the holiday season.
🥗 Step-by-Step Instructions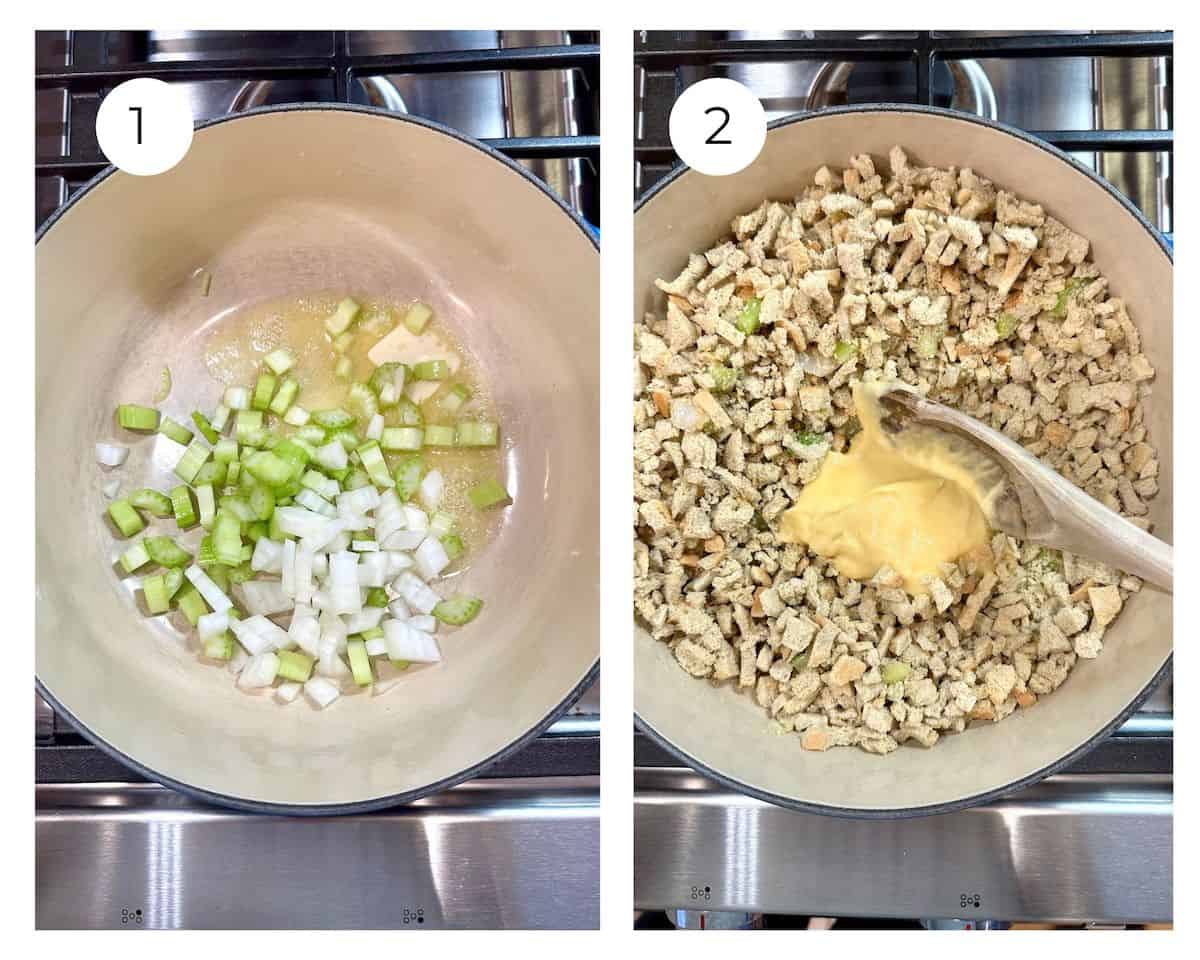 Step 1: In a large skillet on the stovetop, melt the butter on medium-high heat and add the diced celery and onion.(Photo #1)
Step 2: Reduce heat to low and stir in the seasoned stuffing mix. Add ½ of the contents from the canned cream of chicken soup. (Photo #2)
Step 3: Turn off the heat. Add the chicken broth and whisked eggs. (Photo #3)
Step 4: Stir to combine. If you are adding extra vegetables, dried cranberries or raisins, this is when you will blend those with the stuffing. (Photo #4)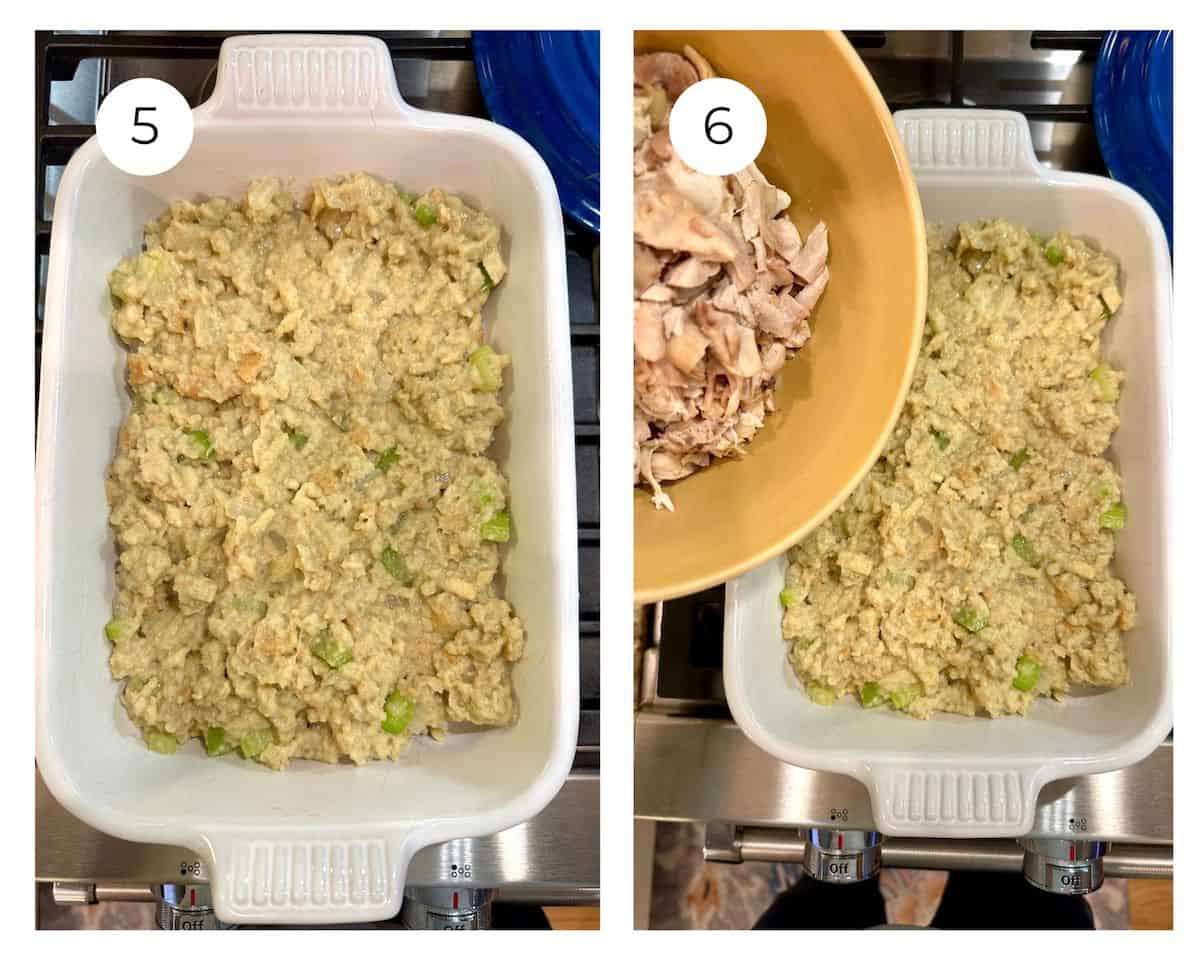 Step 5: Place the mixture from the skillet into the prepared baking dish (Photo #5)
Step 6 Top the stuffing with the cooked rotisserie chicken (or turkey). (Photo #6)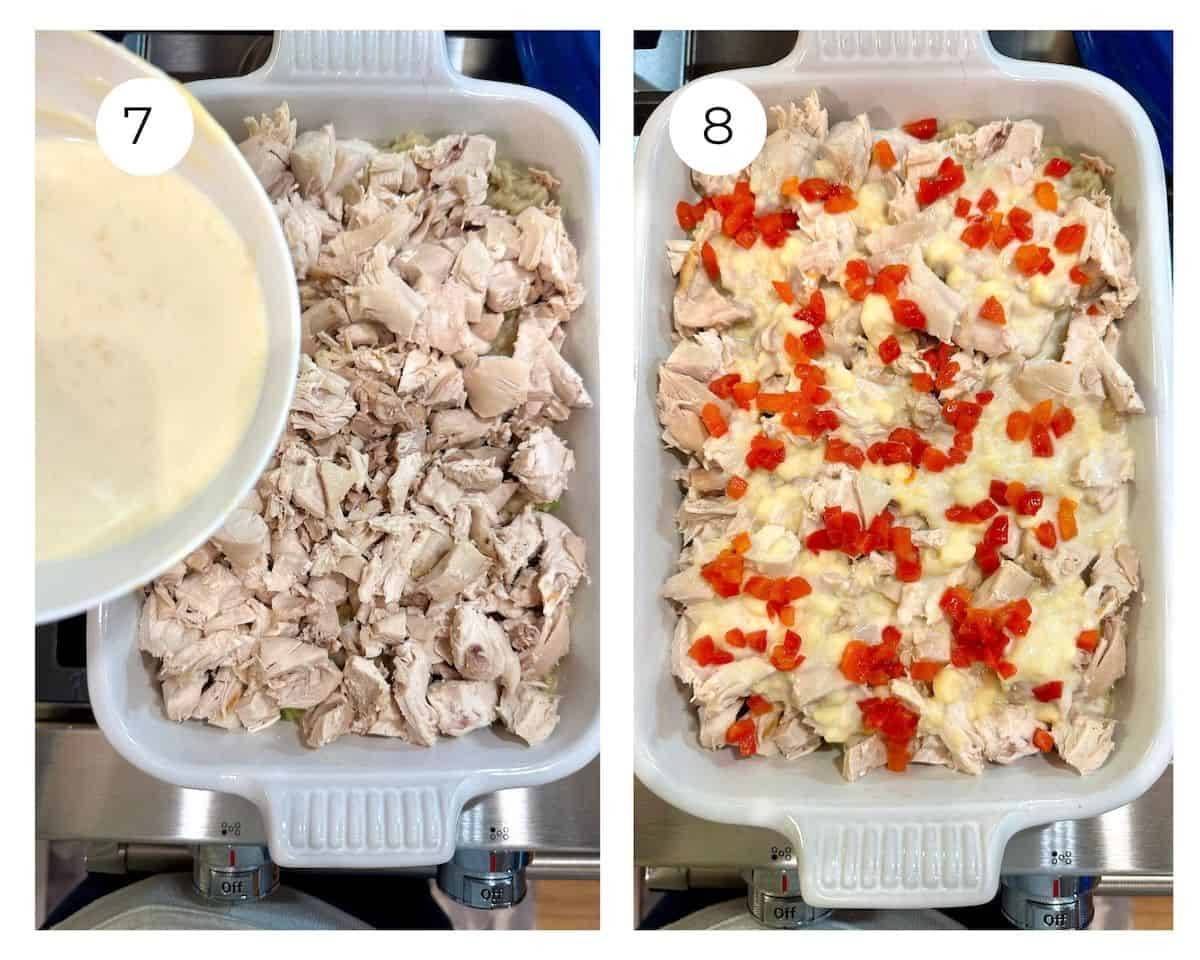 Step 7: Combine the remaining ½ can of soup with the milk. Pour the milk and soup over the chicken. (Photo #7)
Step 8: Sprinkle the pimientos on top of the casserole, cover and bake. (Photo #8)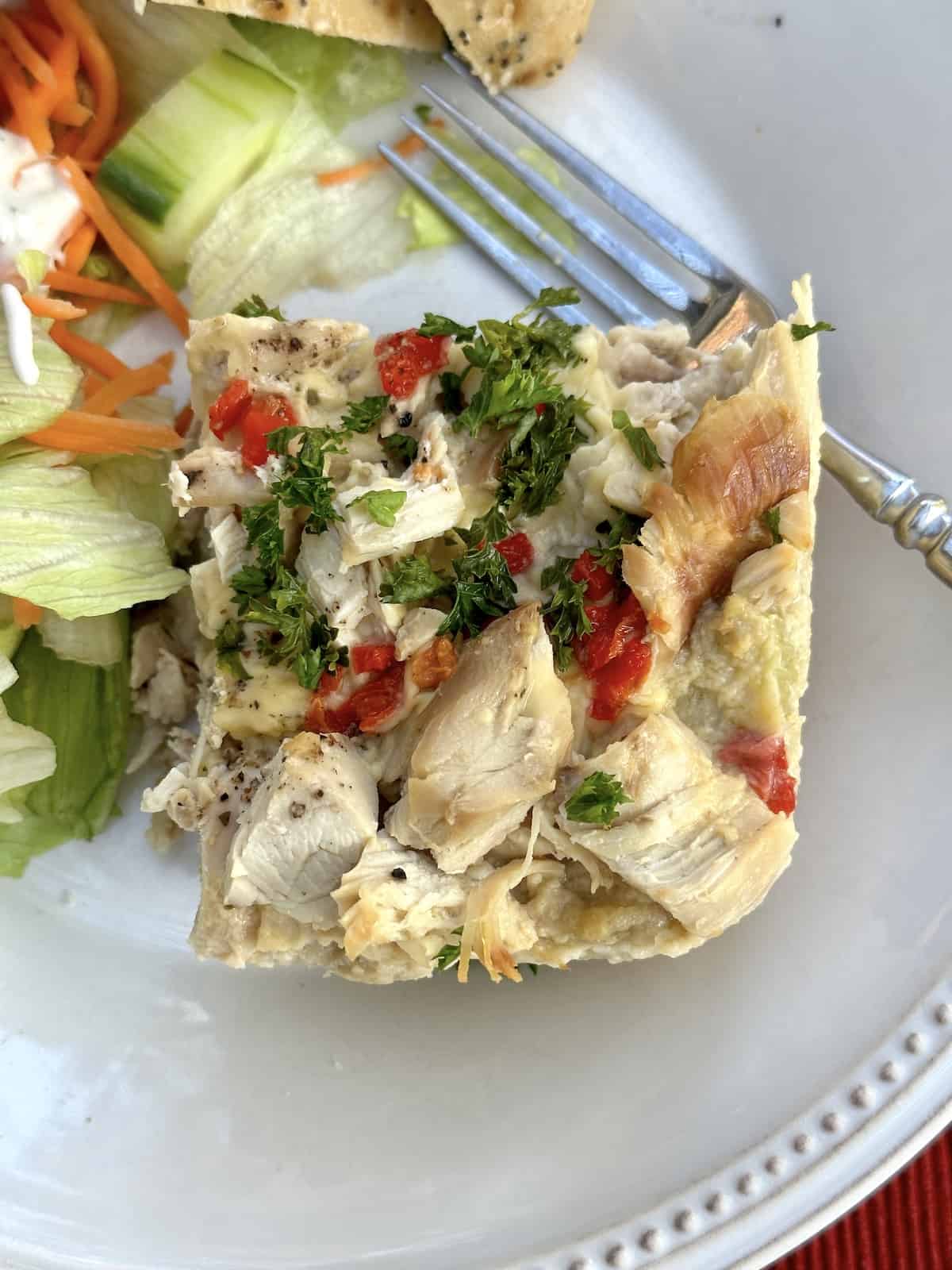 💭 Recipe FAQs
Can I use Stove Top brand stuffing?
Yes, use whichever brand of seasoned, dry stuffing you prefer. Stove Top has many seasoning varieties and is a family favorite.

Be sure the bread crumbs are pre-seasoned or add the seasoning packet that may be included.
Do I cook the stuffing before assembling the casserole?
There's no need to cook the stuffing according to the box directions. The stuffing will cook while this casserole bakes.
Do I have to use a rotisserie chicken?
You can use 2 ½ - 3 cups of any cooked, shredded and chopped chicken - or turkey. The chicken must be cooked before you assemble the casserole.
There's egg in this casserole, can I still freeze it?
You absolutely can. Eggs do just fine in the freezer, especially when they are combined with other ingredients, in this case; stuffing, onion, celery and chicken to name just a few.
🍽 What to Serve with Rotisserie Chicken and Stuffing Casserole
Serve your chicken stuffing casserole with a crisp salad and top the lettuce greens with homemade Blue Cheese Vinaigrette for a tangy, delicious side.
Homemade dinner rolls are always welcome with savory, comfort food. You'll enjoy Classic Potato Rolls, which bake tender and fluffy every time.
For side dishes, Elegant Green Bean Casserole, Mixed Bean Salad, or Roasted Balsamic Brussels Sprouts are excellent choices.
Don't forget dessert. Old Fashioned Strawberry Rhubarb Pie or even something as simple as Easy No Bake Peanut Butter Pie is a great way to wrap up the meal.
🥣 Leftovers, Storage and Freezing
Leftover Rotisserie Chicken and Stuffing Casserole can be stored for 3-5 days in the refrigerator. Cool it after baking, then store leftovers in a sealed, airtight container. Reheat leftovers in the microwave or cover in a 325°F oven for about 30 minutes.
You can freeze the casserole before or after baking.
Freezing the Stuffing Casserole Before Baking: After assembling the casserole and before baking, cover the freezer-safe dish with two layers of foil and seal tightly around the rim of the pan. Label and include the date. For the best flavor, defrost and enjoy within three months.
Freezing the Stuffing Casserole After Baking: After baking in the oven, let the casserole cool then follow the same freezer instructions as above.
How to Defrost the Frozen Stuffing Casserole: Thaw the casserole overnight in the refrigerator before baking. Plan to increase the baking time listed in the recipe by at least an additional 15 minutes.
Pro Tip: The frozen Rotisserie Chicken and Stuffing Casserole will be safe to eat even after three months in the freezer, but some of the moisture from the casserole will be lost in a lengthy freezing process and that can impact texture and flavor quality.
⭐ The Inspiration
This is one of my Mom's tried and true chicken recipes. (Thank you Mom!) It's a recipe she clipped from a newspaper back in the 1970s, long before rotisserie chickens were so conveniently found. As you can see, I've adapted it to suit some of the cooking conveniences we have today.
It was originally named "Chicken Dressing Bake" and called for making chicken broth from scratch and cooking the chicken before assembling the casserole. My Mom says it used to take her several hours to prepare.
This version of Rotisserie Chicken and Stuffing Casserole has a few 2023 shortcuts for us.
Whether cooking chicken and creating a main dish or using rotisserie chicken, here are some delicious family-favorite chicken recipes.
If you tried Rotisserie Chicken and Stuffing Casserole or any other recipe on my website, please leave a 🌟 star rating and let me know how it goes in the 📝 comments below.
Recipe