Oven-Roasted Brussels Sprouts with Balsamic Glaze make you feel good about what's on your plate. This easy recipe adds a sweet yet tangy coating to Brussels sprouts. All you need is olive oil, balsamic glaze, soy sauce and maple syrup. Added bonus, the sprouts look as good as they taste.
Note: The link in this recipe is a paid link, Amazon Associates. This means I make a small commission when you click and shop. Your cost is the same and I only link to products or ingredients that I use and love.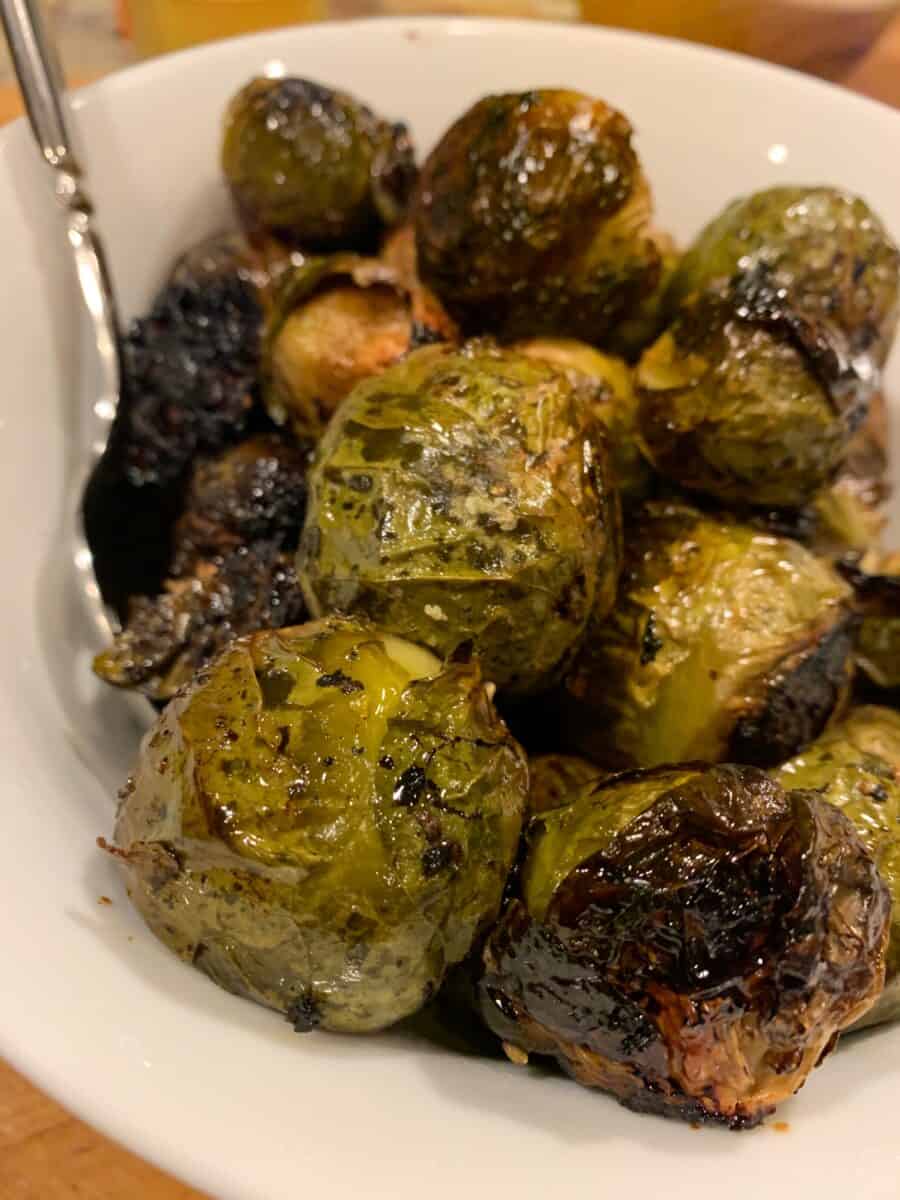 Jump to:
Ingredients to Have on Hand
Brussels sprouts, fresh
Balsamic glaze (not vinegar)
Soy sauce
Maple syrup
Use Balsamic Glaze
You may notice this recipe calls for a balsamic glaze, not vinegar.
What's the difference? For one, the consistency. Balsamic glaze is almost like syrup. It's a product made from delicious balsamic vinegar but has a slightly sweeter taste. Here's a glaze that I enjoy using.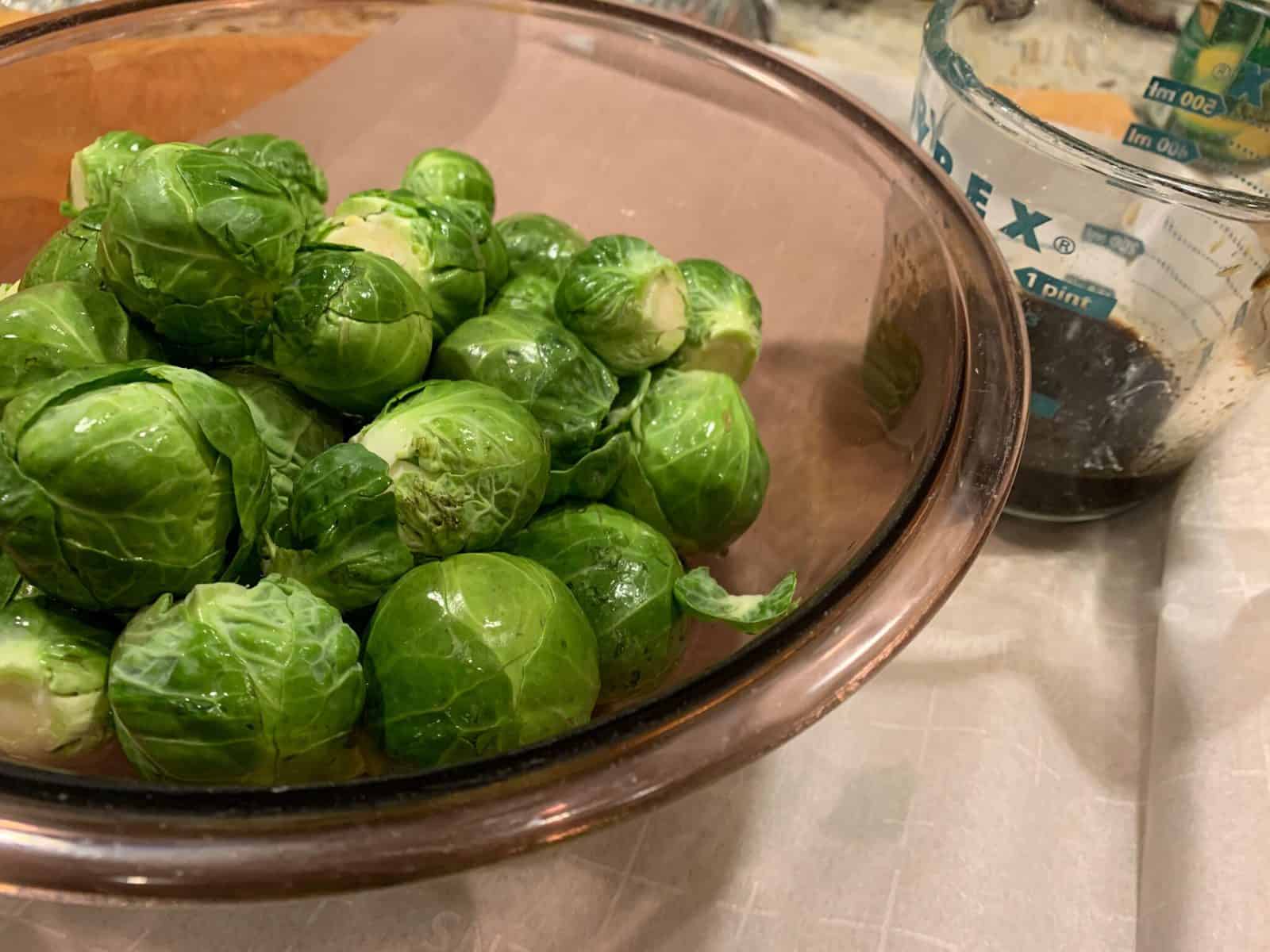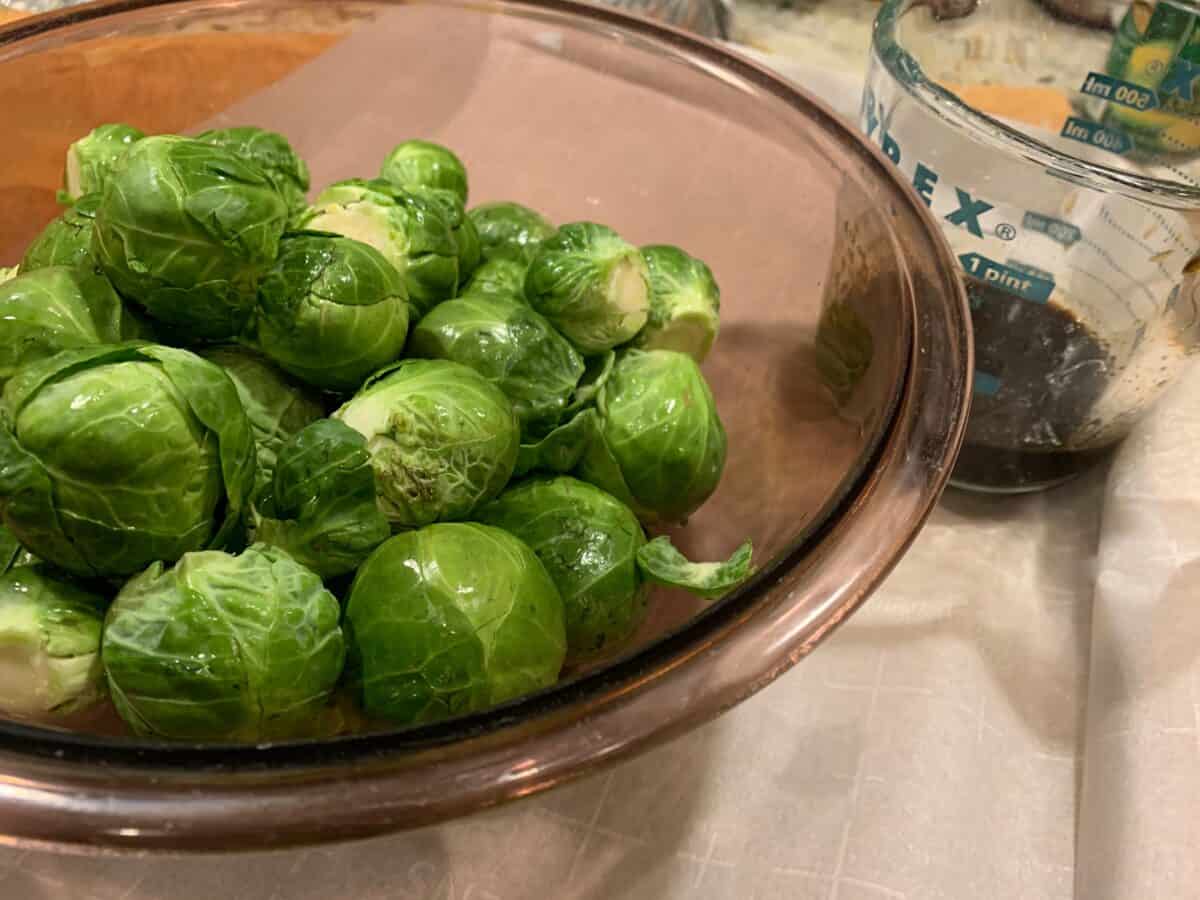 Serving Size
If you are wondering how many Brussels sprouts you should buy, a good rule of thumb is to allow about ½ pound of fresh brussels sprouts for each person.
Of course, some folks like to enjoy oven-roasted veggies as the main course, my daughter certainly does! When that's the case, plan on about one pound of sprouts per person.
Preparing Fresh Brussels Sprouts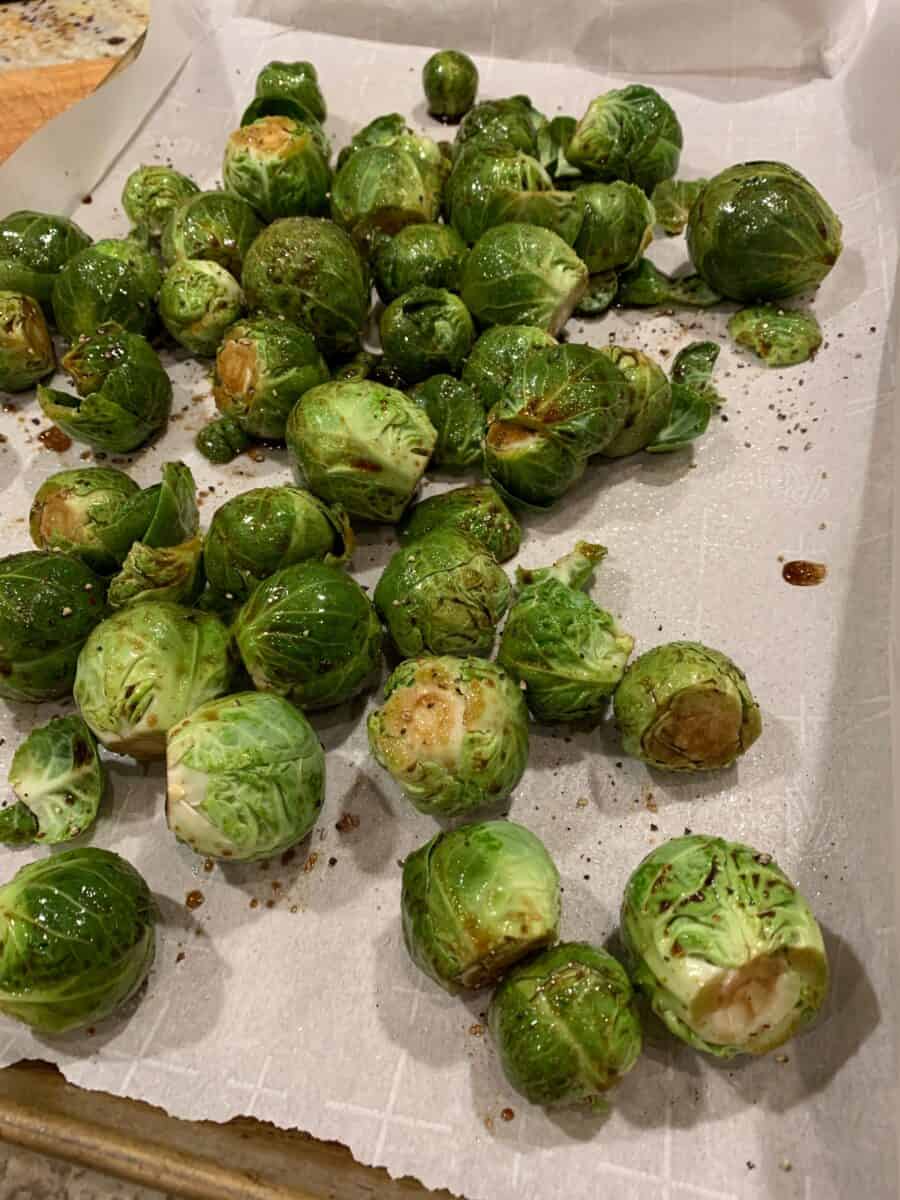 Brussels sprouts are a family-favorite vegetable in my house, in part thanks to this tasty recipe which elevates a leafy, green veggie to a restaurant-caliber vegetable side dish.
Best of all, fresh Brussels sprouts are very easy to prepare. Cut the base off of each sprout, place in a colander and rinse.
If the sprouts are especially large, larger than a walnut, it's a good idea to cut them in half. Otherwise, these will oven-roast beautifully even if baked whole.
Your Brussels sprouts are now ready to glaze and roast in the oven.
How to Make the Glaze
The secret to this balsamic glaze is the perfect balance between sweet and tangy.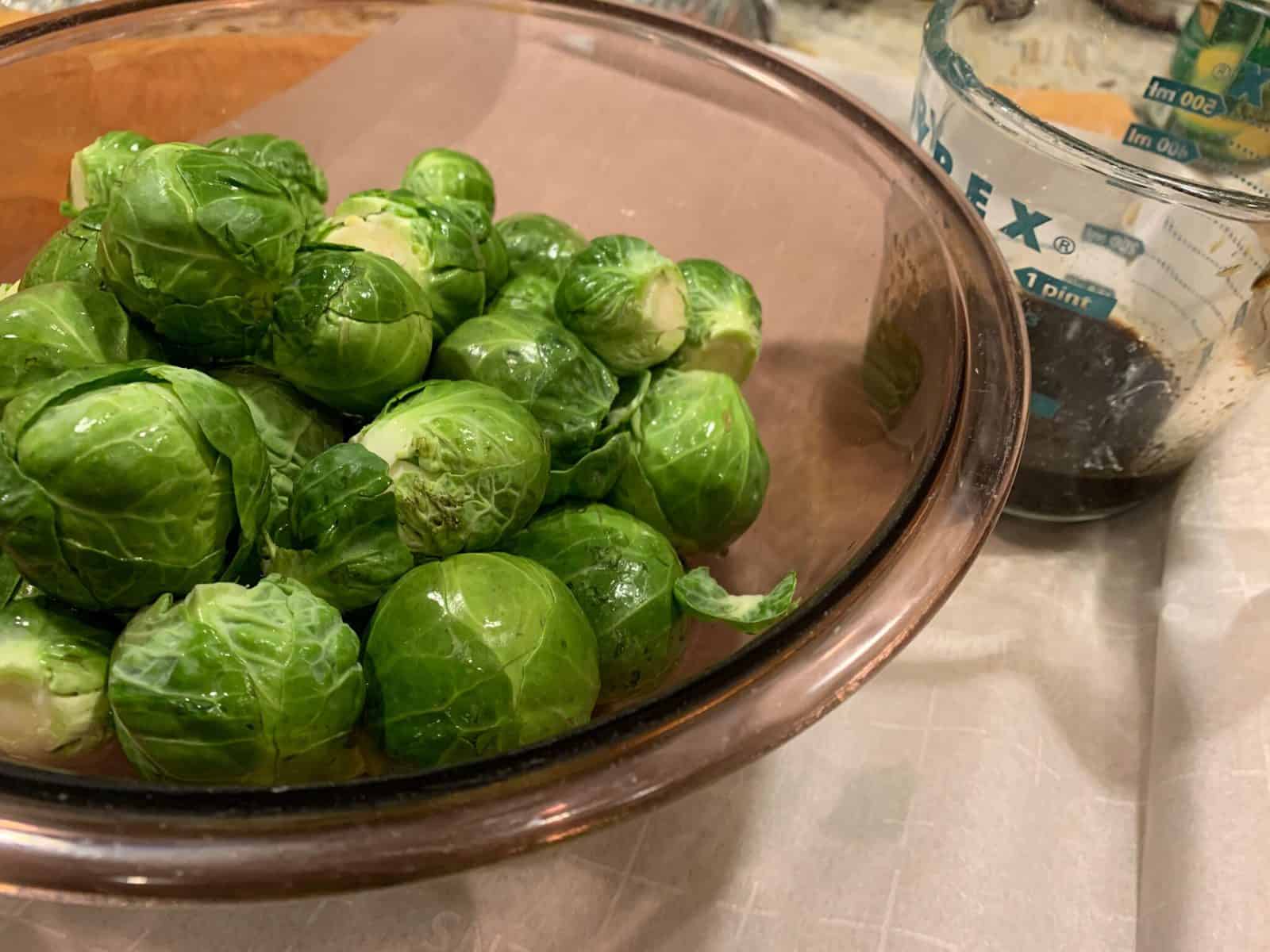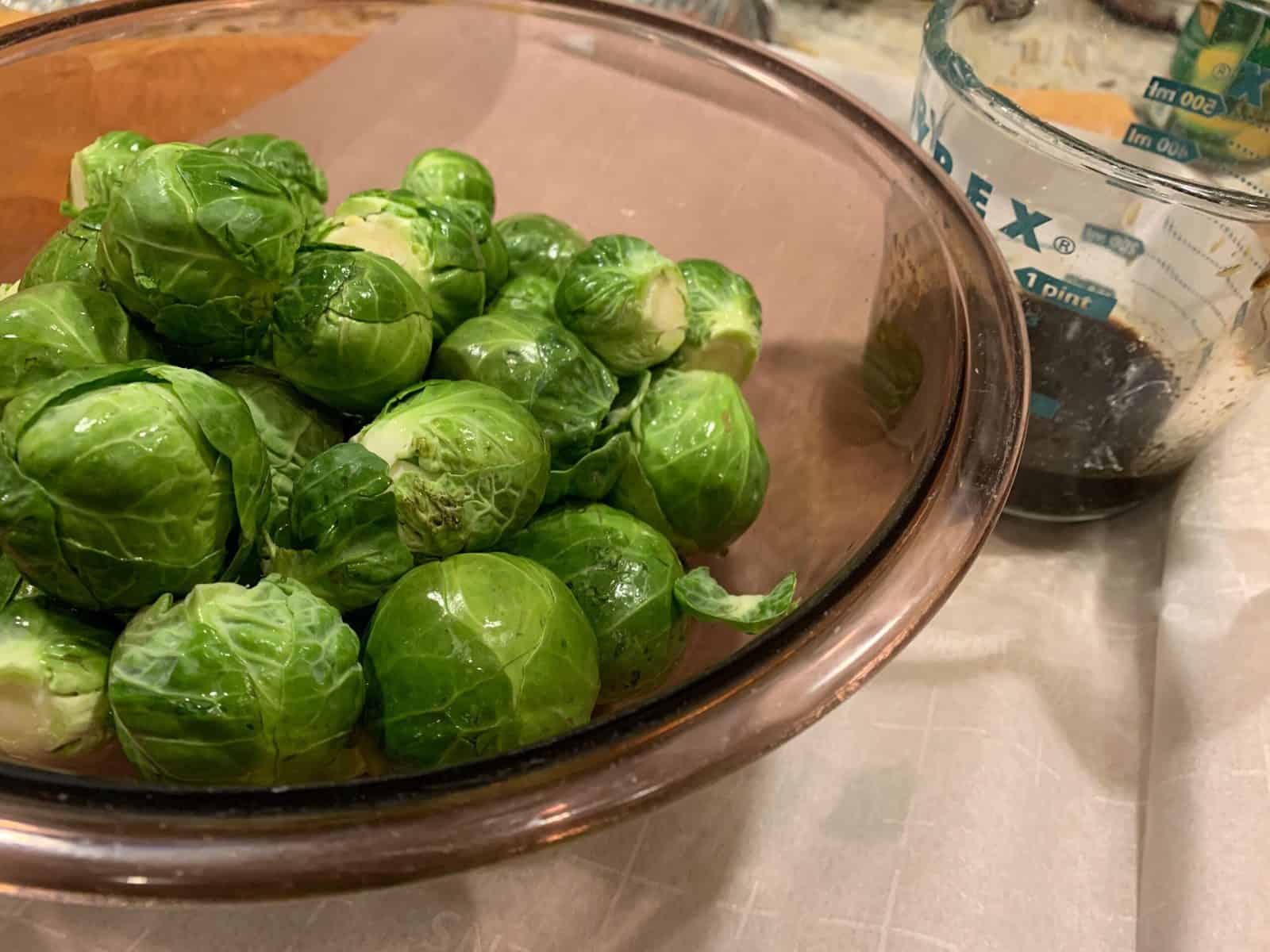 Soy sauce and maple syrup are game changers when it comes to oven-roasted Brussels sprouts tasting delicious.
Step 1: In a 2-cup glass measuring cup, measure olive oil, balsamic glaze, soy sauce and maple syrup.
Step 2: Whisk together and pour over the Brussels sprouts, toss gently then spread onto a baking sheet lined with parchment paper or foil and add salt and pepper.
Top Tips and FAQ
Should I cut the stem off the brussels sprout?
Yes. The stem should be leveled off with the base of the sprout, but there's no need to remove the core.
What if I cut them in half before roasting?
If the sprouts are large - about the size of a walnut, or larger - you'll want to slice them in half or even quarter them.

By doing that you'll help ensure even cooking and the best results.
Expect to lose a few leaves as you trim the sprouts, which is totally normal.
Can I use frozen Brussels sprouts?
In my experience, frozen Brussels sprouts are best prepared by boiling or microwaving. While you can toss the glaze on them after they are done cooking, you'll need to place them under the broiler for a few minutes to get the crispy, blackened result from oven-roasting the sprouts.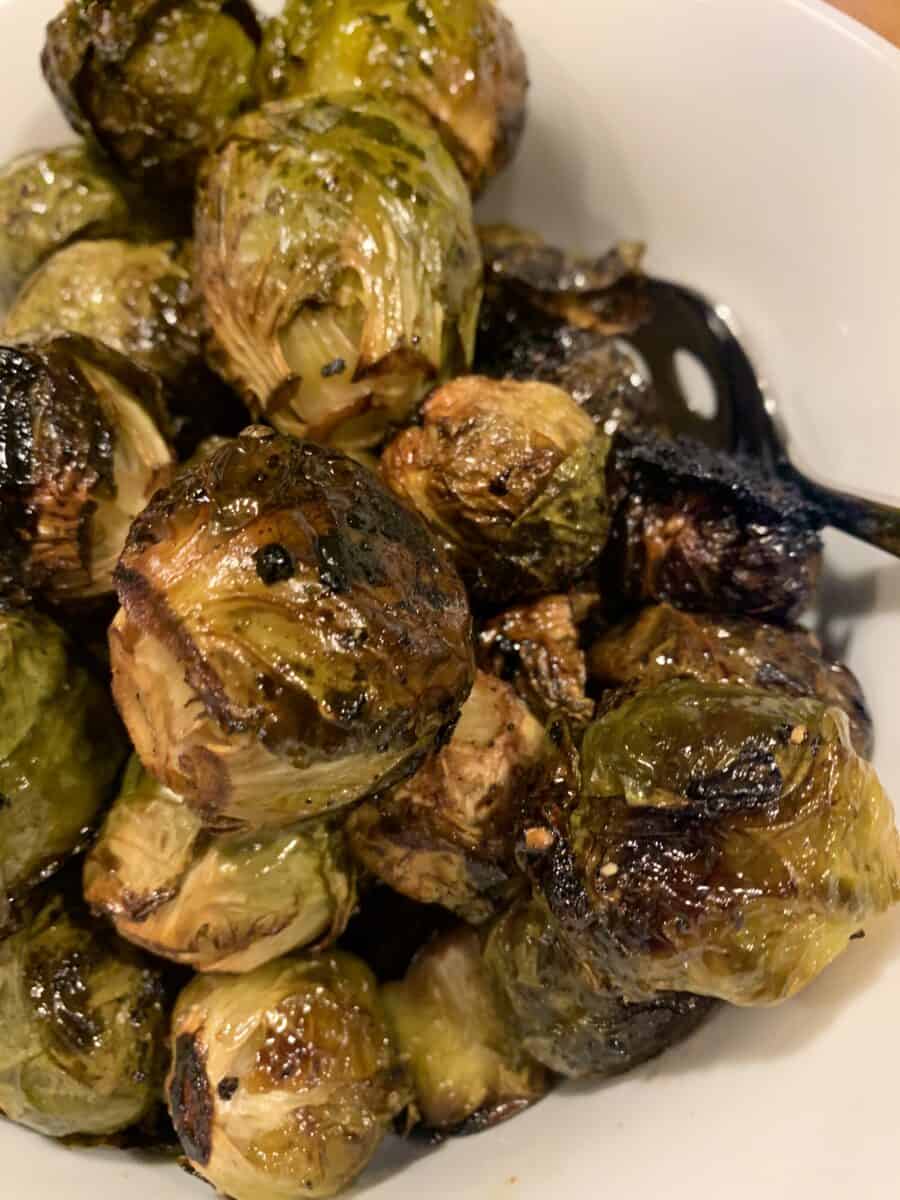 Roasting Brussels Sprouts
While these are roasting in the oven at 400°, some of the overflow from the glaze may blacken the parchment paper. That's OK. No one eats that.
Just toss it out after removing the sprouts from the baking pan. And be assured, those crispy and crunchy blackened leaves are delicious and also add gorgeous color when you serve the sprouts.
Other Meatless Options
Feeling in the mood for veggies? From an appetizer to a side dish and a main course, here are some other meatless options I think you might enjoy.
Vegetable Side Dishes
Here are some of my other favorite veggie-packed side dishes. What I love most about all of these is they are perfect to serve year around!
Stay in Touch
Be sure to give a star rating to the recipes you make from the Crinkled Cookbook. I always love hearing from you. Sharing is great too! Use the buttons after the recipe to text it with just one click or send it to family and friends on Pinterest and Facebook. Enjoy.
Recipe