Creamy Pumpkin Pasta Sauce is a delicious choice for any shape pasta, especially during fall when cozy comfort food is always welcome. Pumpkin puree adds a velvety and luxurious creaminess to this easy homemade pasta sauce that's ready to serve in 30 minutes. Serve with a green salad topped with Blue Cheese Vinaigrette and homemade, Classic Potato Rolls then Pumpkin Pie with Condensed Milk for dessert, for a satisfying meal.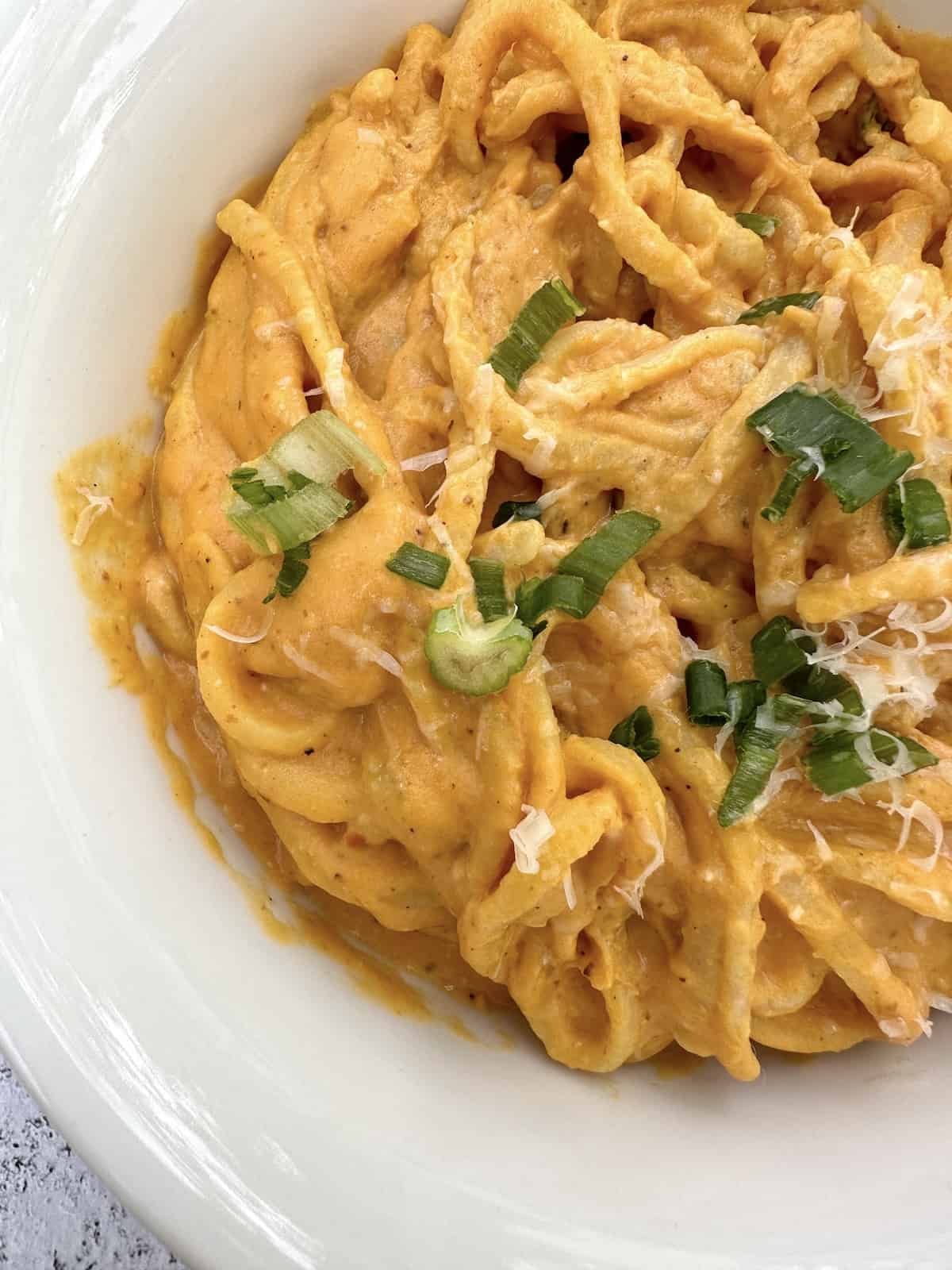 Jump to:
⭐ Why You'll Love Pumpkin Pasta Sauce
If you and your family love a creamy, rich Alfredo sauce or Garlic Parmesan Sauce, then you will surely love Pumpkin Pasta Sauce for its savory and slightly nutty taste.
This recipe is easy to make on the stovetop and is ready in less than 30 minutes.
There's no need to add fancy spices or flavorings, this delicious pumpkin cream sauce uses two cups of pumpkin puree, which is about the exact amount you'll get in a 15-ounce can.
The pumpkin flavor in this pasta sauce is distinctive and totally authentic.
🥘 Ingredients to Have on Hand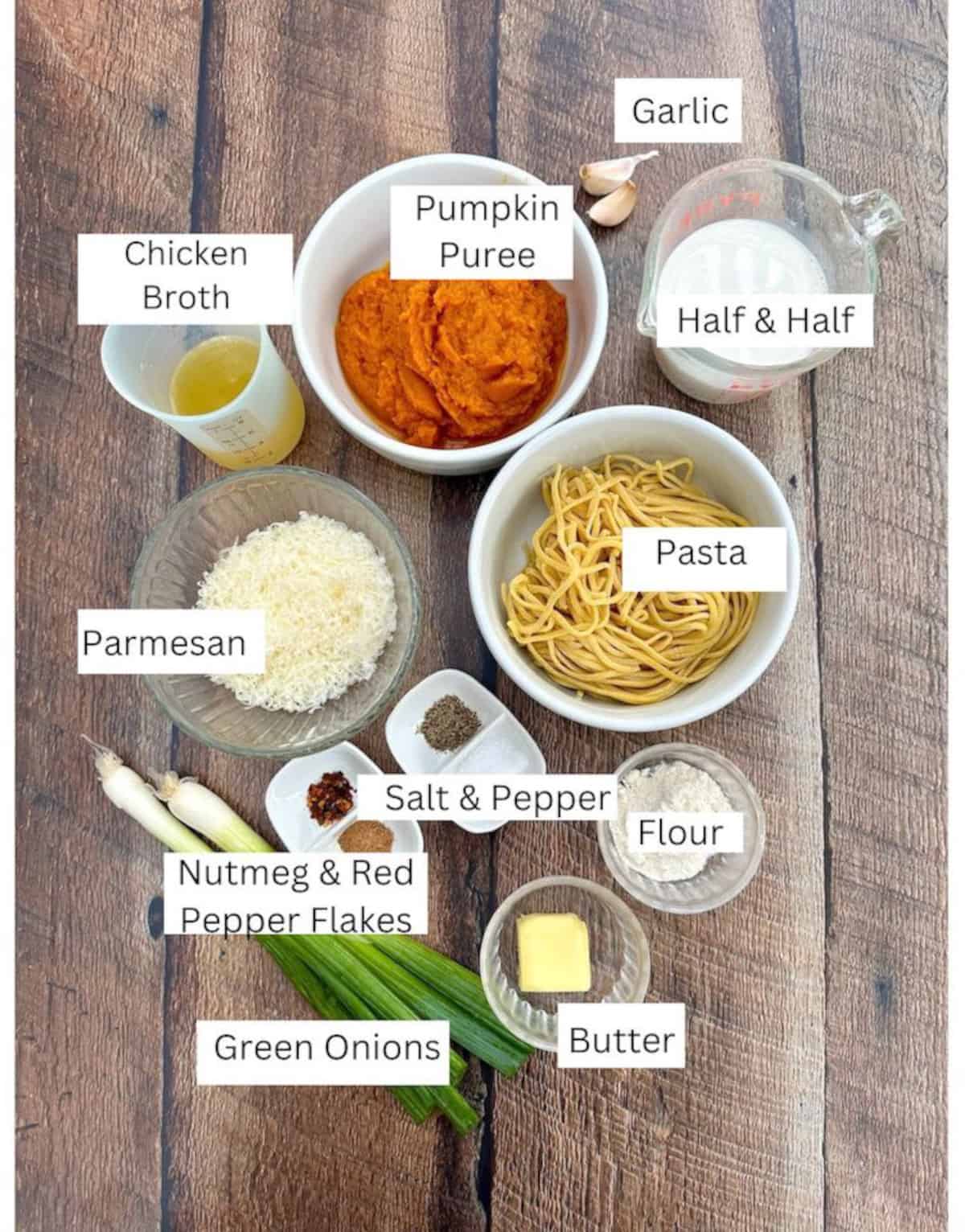 Pureed Pumpkin: Keep things simple and buy it in a can. Read the label carefully, pureed pumpkin is different than canned pumpkin pie filling which includes spices and other ingredients. You can use pumpkin pie filling for this recipe, but the sauce will taste more spicy, similar to a pumpkin pie.
Half and Half: So rich and silky, it blends with the pureed pumpkin to create the creamiest, decadent sauce. But you can also use whole milk or even 2% milk, save a few calories, and still have great results.
Parmesan Cheese: Use freshly grated Parmesan or Romano cheese. Both are salty cheeses with bold flavors that combine beautifully with pumpkin.
Minced Garlic: This is an optional ingredient, but it adds that distinctive, savory garlicky flavor that's delicious in pasta sauces.
Scroll to the recipe card below for a full list of ingredients and measurements.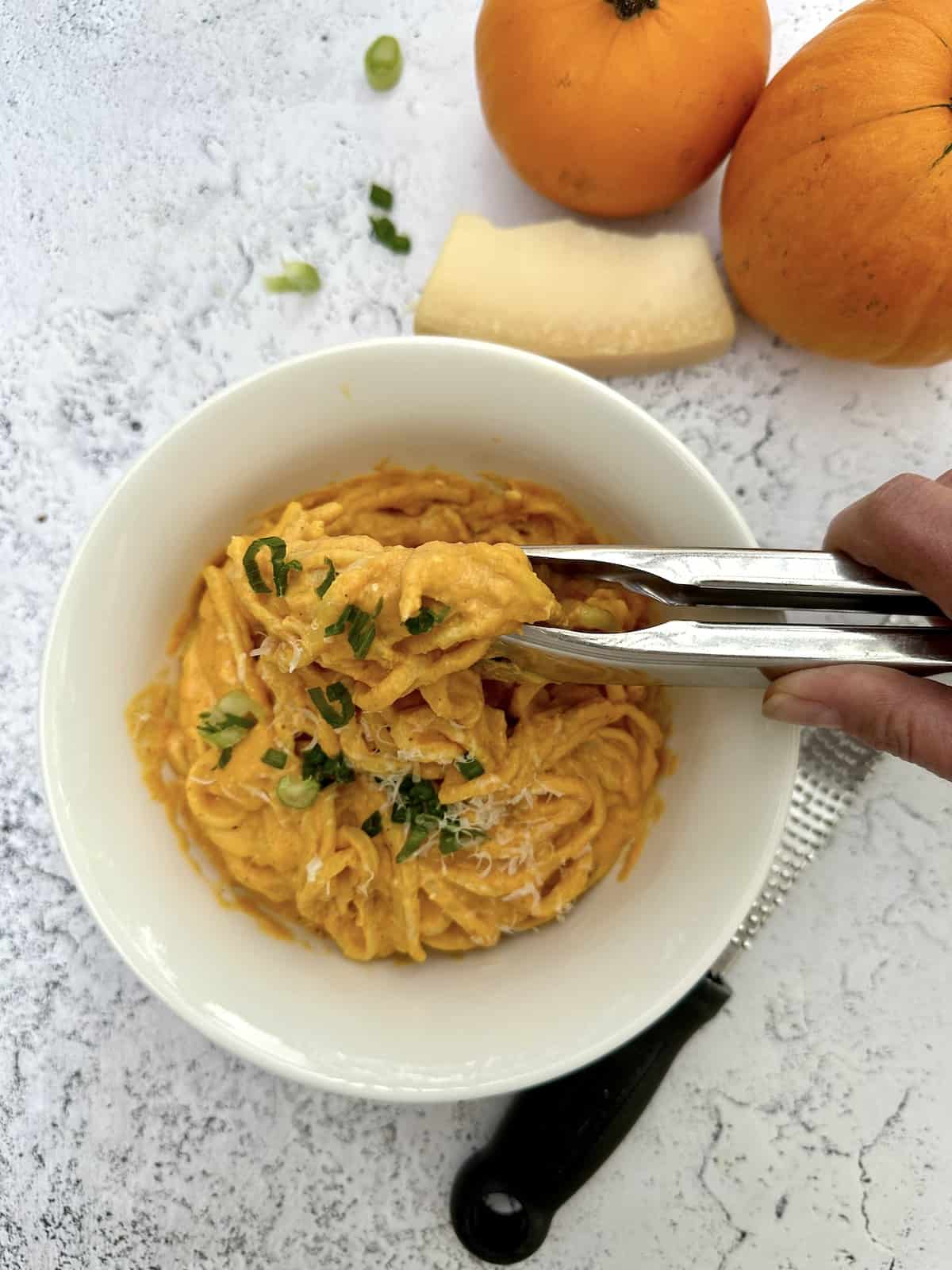 📋 Substitutions
There are plenty of ingredient options to make Creamy Pumpkin Pasta Sauce unique to your family's taste and preferences.
You can skip the Parmesan cheese altogether or swap it for Romano cheese. The cheese does add a boost of flavor and adds to that Alfredo sauce texture but pumpkin pasta sauce is delicious with or without it.
If you prefer not to have a little kick in your pumpkin sauce simply leave out the red pepper flakes. Like more heat? Then double the amount of red pepper flakes.
Substitute chicken or vegetable broth for pasta water to help get the perfect consistency for your pumpkin pasta sauce. Before draining your pasta after cooking, use a glass measuring cup to scoop out at least ½ cup of water. Be careful, the water will be very hot!
👩🏻‍🍳 Step-By-Step Instructions to the Make Pumpkin Pasta Sauce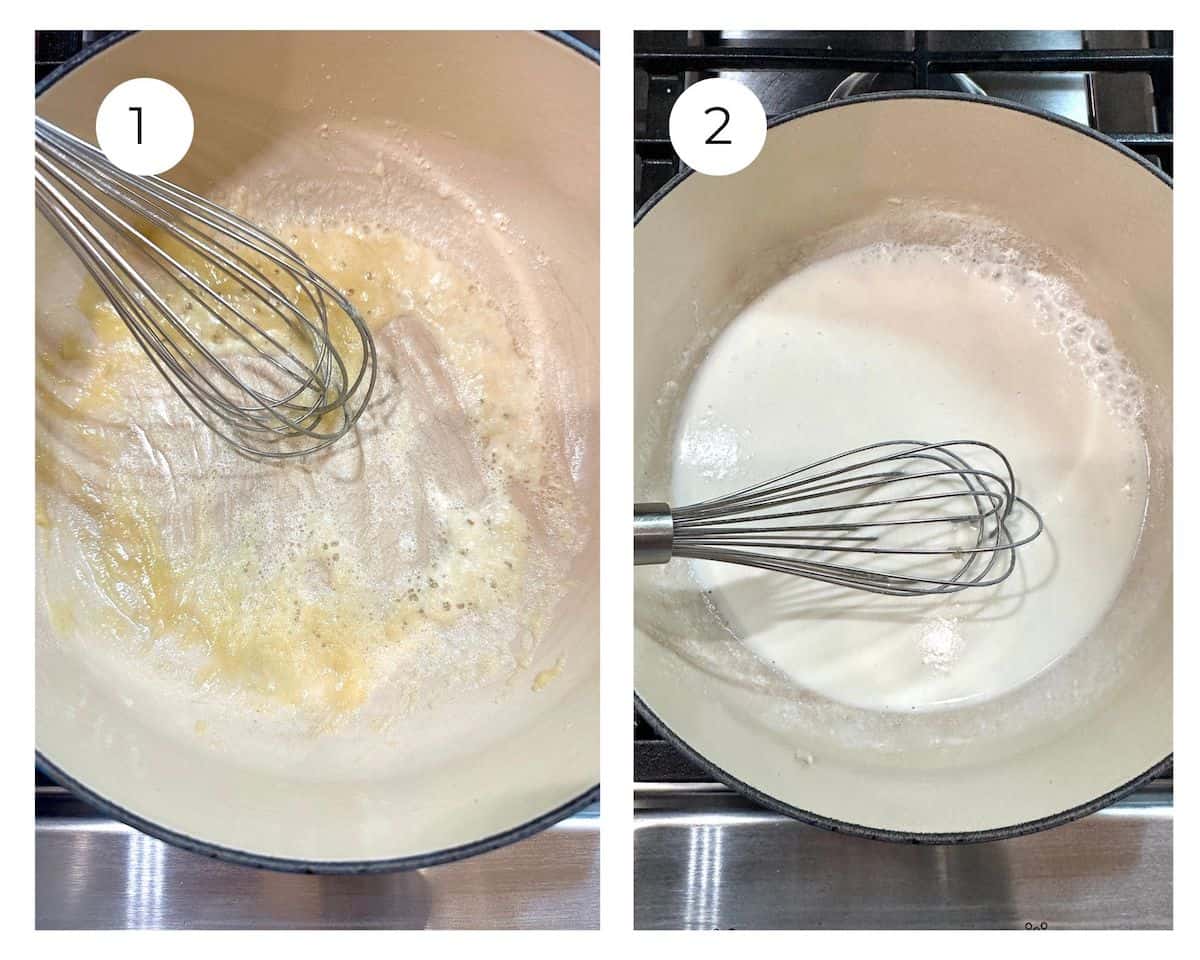 Step 1: Melt the butter in a medium-sized saucepan over medium heat. Whisk in the flour. Cook for one minute, being careful not to burn the butter. (Photo #1)
Step 2: Add the half and half and continue stirring until the sauce starts to thicken. (Photo #2)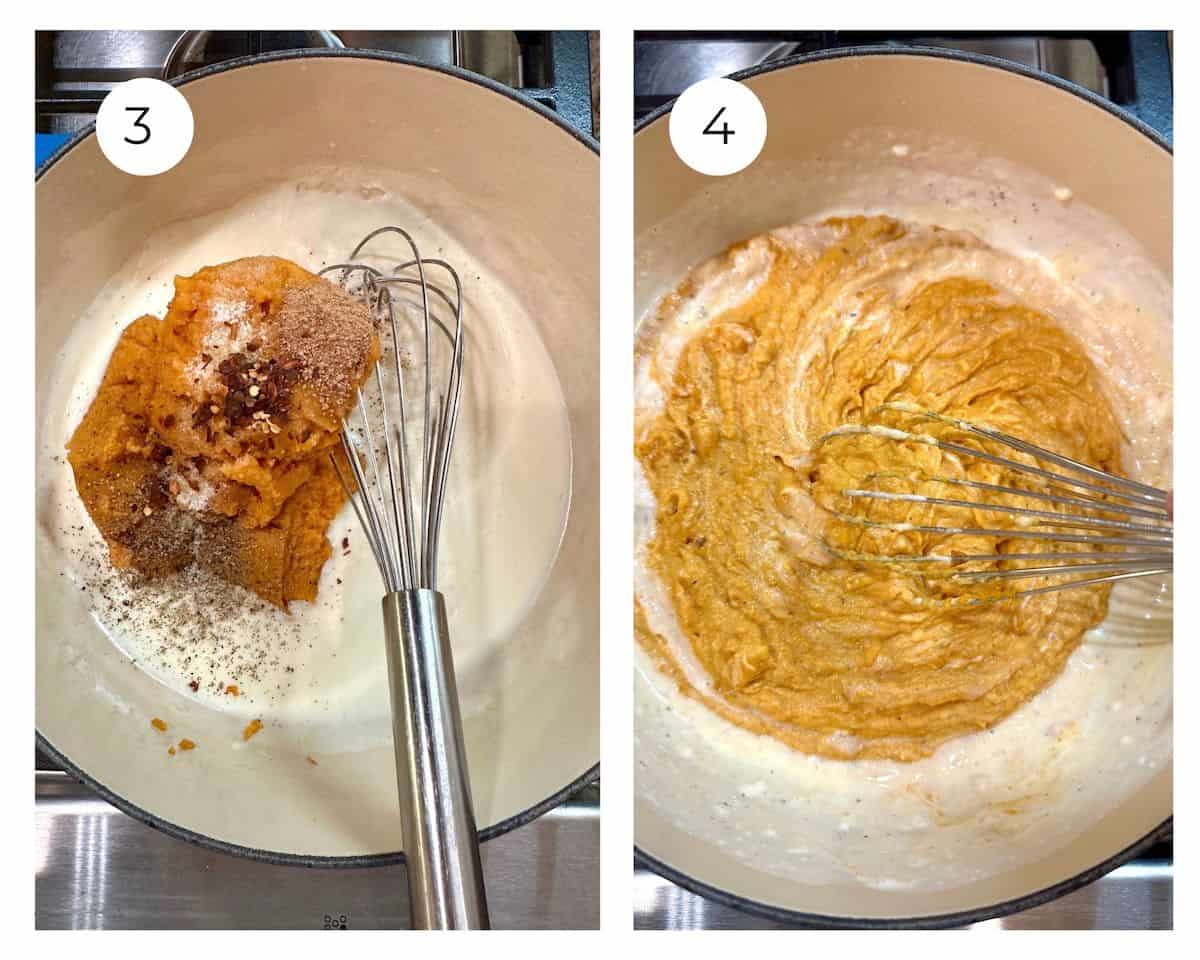 Step 3: Add the pumpkin puree, minced garlic, salt, pepper and nutmeg. Stir to combine. (Photo #3)
Step 4: Add grated Parmesan cheese and stir. (Photo #4)
Pro Tip: Reserve a cup of the water that the pasta is cooked in and use it to get the consistency you want in your pumpkin pasta sauce. Use the pasta water in place of chicken or vegetable broth.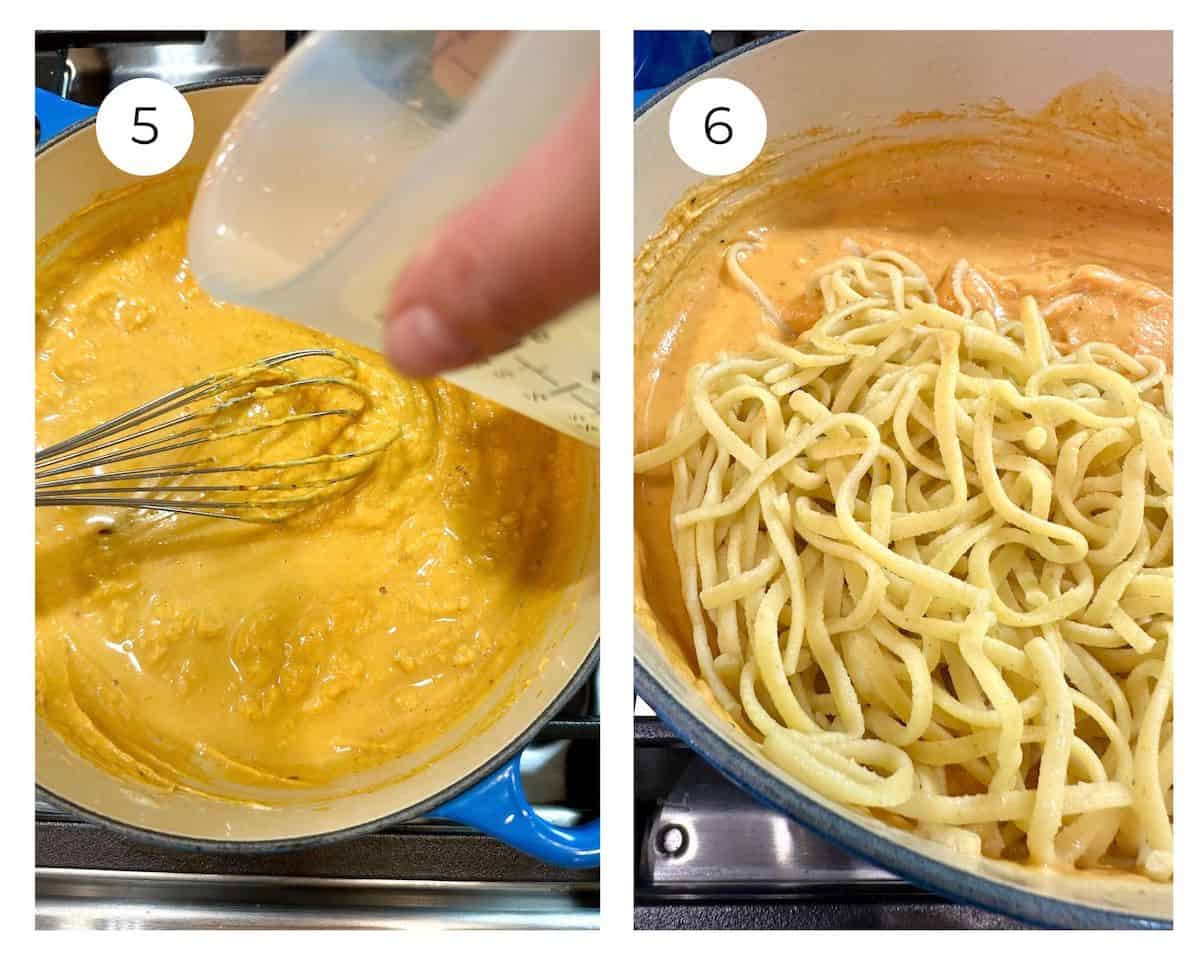 Step 5: Stir in ½ cup of broth or pasta water and continue stirring until you get the perfect consistency. (Photo #5)
Step 6: Add the cooked pasta to the pumpkin pasta sauce the stir to thoroughly coat all of the pasta with the sauce. (Photo #6)
Pro Tip: You'll want the pasta sauce to be thick so it coats every portion of the cooked pasta. Whisk the sauce as you add the broth or pasta water until the sauce is the consistency of pancake batter.
💭 Recipe FAQs
Is 100% canned pumpkin the same thing as pumpkin puree?
Yes. Canned pumpkin puree is the same thing as 100% canned pumpkin. It's just a different way to describe it on the label.
Can I freeze leftovers?
Pumpkin pasta sauce by itself can be frozen for 2 to 3 months. Defrost it in the refrigerator before reheating it over low heat on the stovetop. I don't recommend freezing once the pumpkin pasta sauce has been blended with the pasta.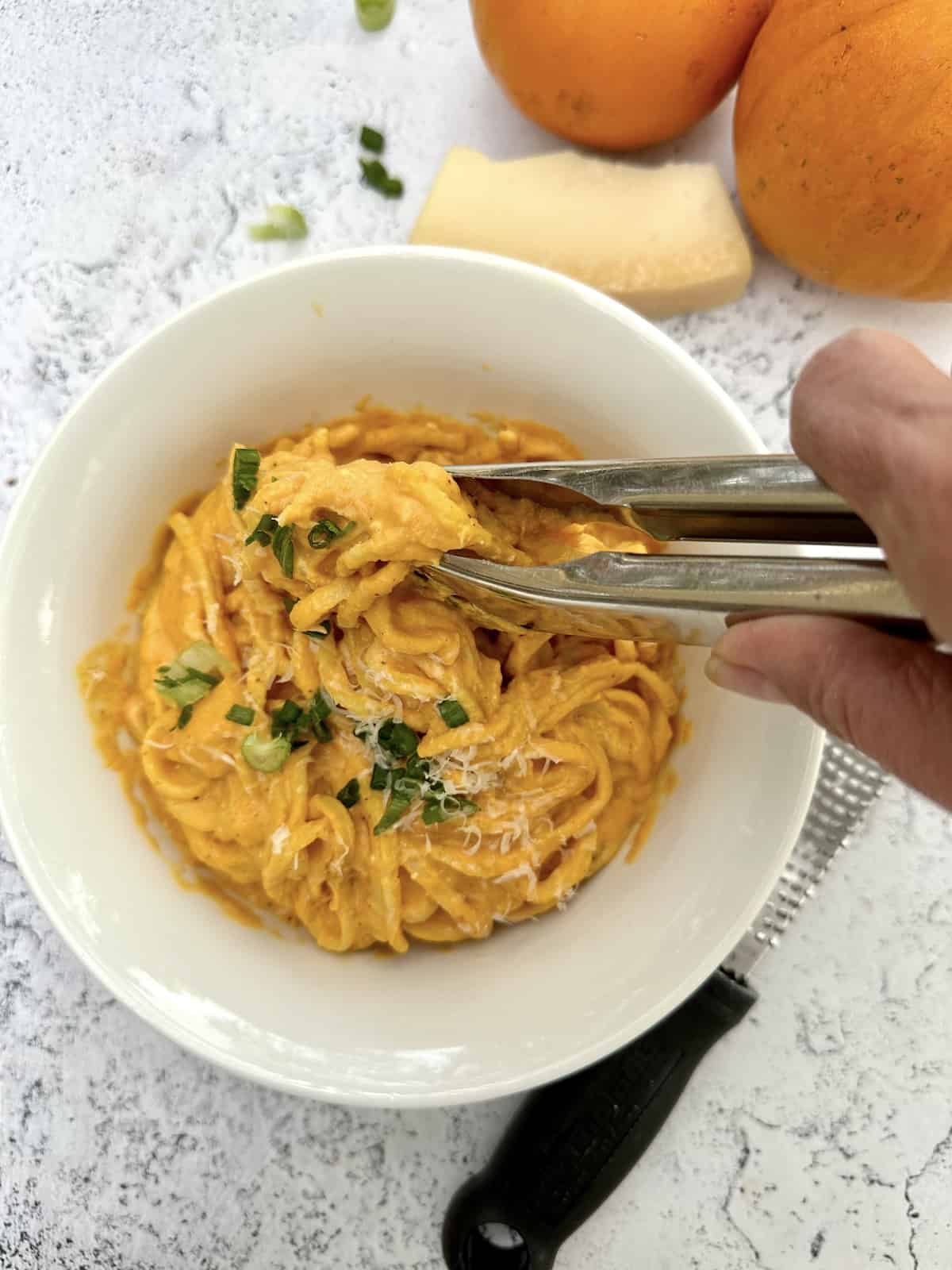 🥗 What to Serve with Pumpkin Pasta Sauce
Creamy Pumpkin Pasta Sauce goes great with any type of pasta or even ravioli. It also pairs great with a variety of sides to create a balanced and incredibly satisfying meal that your family will love. Here are some suggestions:
📋 More Pasta Sauce Recipes
From spicy to creamy, savory and fresh here are more topping ideas for your favorite pasta or even pizza.
If you tried Creamy Pumpkin Pasta Sauce or any other recipe on my website, please leave a 🌟 star rating and let me know how it goes in the 📝 comments below.
Recipe