If you love pasta, here's a unique recipe that includes a cheesy, creamy, spicy sauce with tender chicken. Chicken Spaghetti with Rotel and Velveeta is the ultimate comfort food. It's a crowd-pleasing, rich and satisfying pasta dish that's easy to make. The best part of all, you control how spicy it is depending on the variety of canned Rotel you use.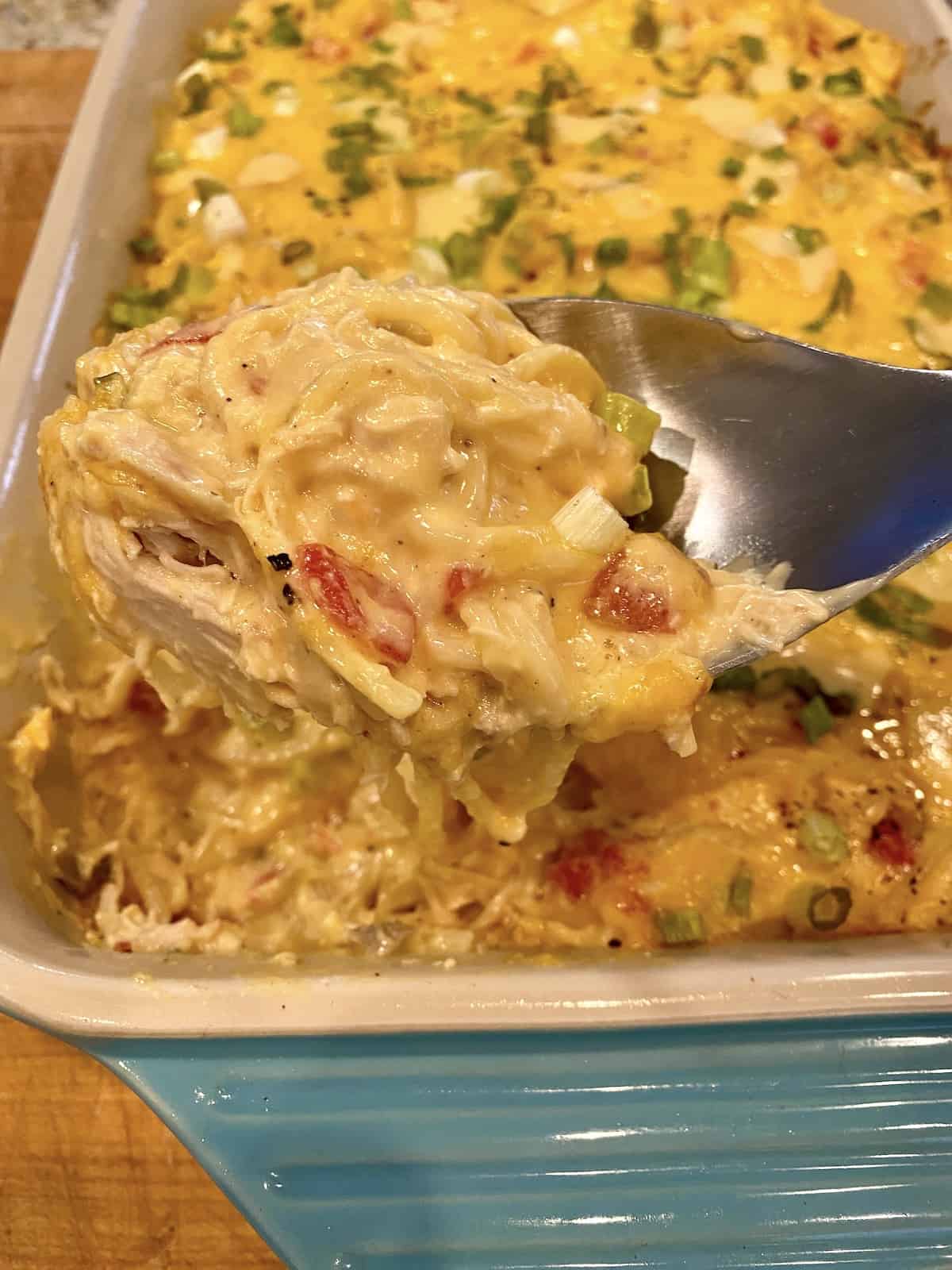 Jump to:
Why You'll Love This Recipe
Spaghetti and chicken are such a terrific combination. This recipe is easy to make, whether you serve it from the saucepan on the stove or from a baking dish after it bakes in the oven.
It's great to have a dinner recipe with options!
Speaking of options, you control the amount of heat or spiciness by choosing the variety of canned Rotel tomatoes that suits your family's preference for spicy heat.
Rotel Options
Rotel is a brand name for diced tomatoes with green chilies, or depending on the spicy factor, habanero chilies. Choose a variety of Rotel that will suit your family's preference for spice.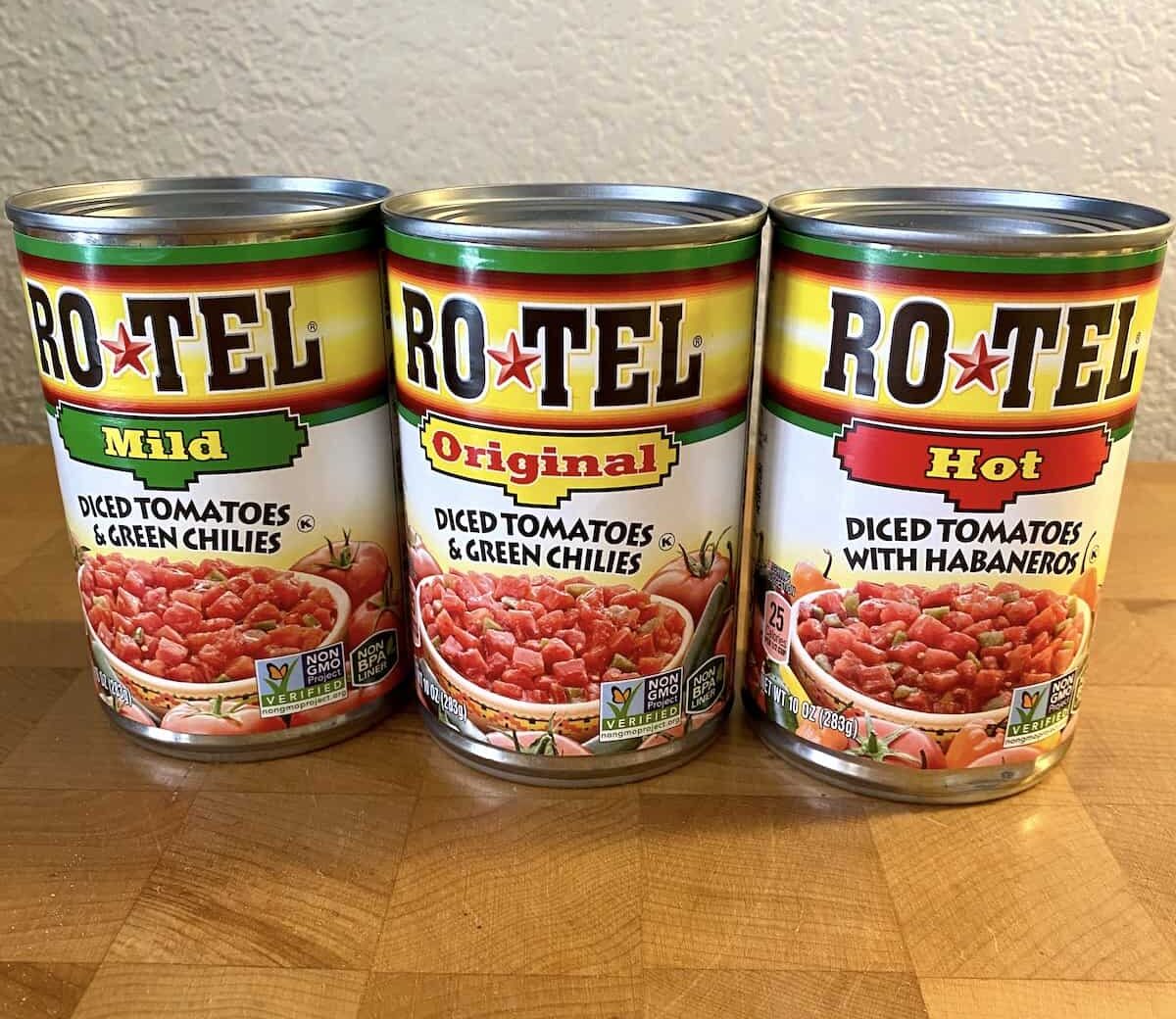 The first time I made Chicken Spaghetti with Rotel and Velveeta, I used the original variety of Rotel. It was very tasty, but my family likes a little more spice. So now I use the "hot" variety when I make this recipe. And hot means hot, there's a distinctive spicy kick to the cheese sauce when we use the hot variety of Rotel.
Here are the different varieties of Rotel canned tomatoes and my personal rating on the level of heat in each variety:
Ingredients to Have on Hand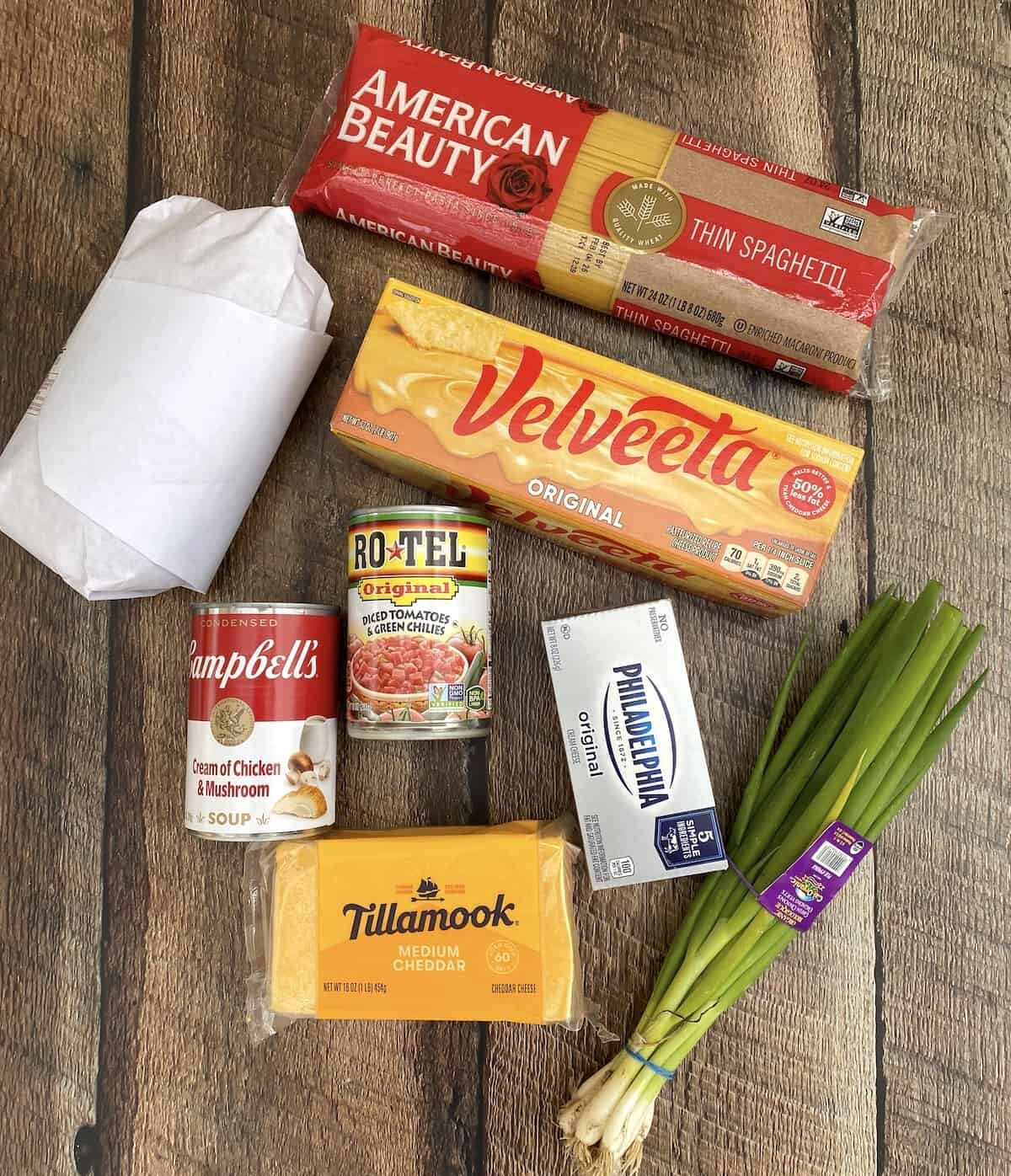 It's incredibly easy to make Chicken Spaghetti with Rotel and Velveeta. Here's what you need to have ready:
Spaghetti
Cooked chicken
Velveeta
Rotel, canned tomatoes with green chiles
Cream of Chicken or Cream of Mushroom Soup
Chicken broth
Cream cheese
Cheddar cheese, optional for topping
Green onions, optional for topping
See recipe card below for a full list of ingredients and measurements.
This is also an excellent recipe to make if you have about a half package of leftover, cooked spaghetti on hand. (Maybe leftover from a night after serving Sunday Gravy with homemade meatballs.)
The Convenience of Velveeta
I don't cook with Velveeta every day, in fact, there's just one other recipe here on the food blog, besides this one, that uses it - Cheesy Grits. But it's one of those ingredients that offers consistent, delicious flavor.
After opening Velvetta, it stays fresh in the refrigerator for up to 8 weeks. Simply wrap it with either plastic wrap or aluminum foil and place it in a sealed plastic bag to ensure it stays fresh. Having plenty of time to enjoy an entire 2-pound block of Velveeta makes it a great ingredient to have on hand between recipes.
When it comes to creating an ultra-smooth cheese sauce, I believe Velveeta creates a silky sauce like no other ingredient. Is it indulgent? Yes. Do I love it for this recipe? Yes, 100%.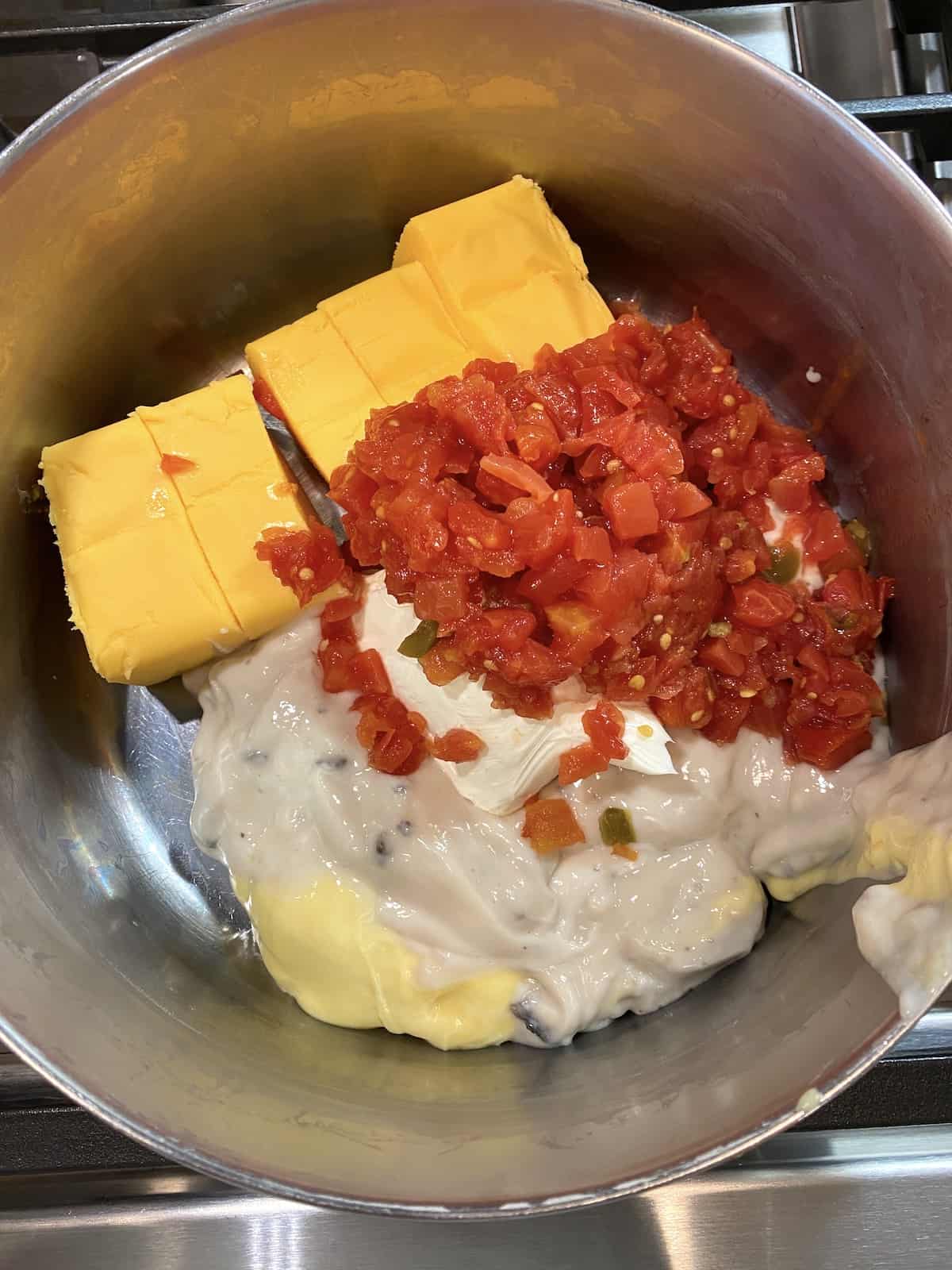 How to Make the Cheesy Sauce
The cheese sauce for this recipe is simple. Combine the following ingredients in a large saucepan on the stove. Turn the heat to medium-low and watch the magic happen as the ingredients melt together.
1 pound Velveeta cheese
1 can cream of chicken and mushroom soup - or use either cream of chicken or cream of mushroom soup
1 cup chicken broth
1 can of Rotel - you choose the variety for how spicy you like it
4 ounces of cream cheese
1 teaspoon pepper
You control the creaminess of the cheese sauce. If you like it extra creamy, add two cans of cream of chicken and mushroom soup.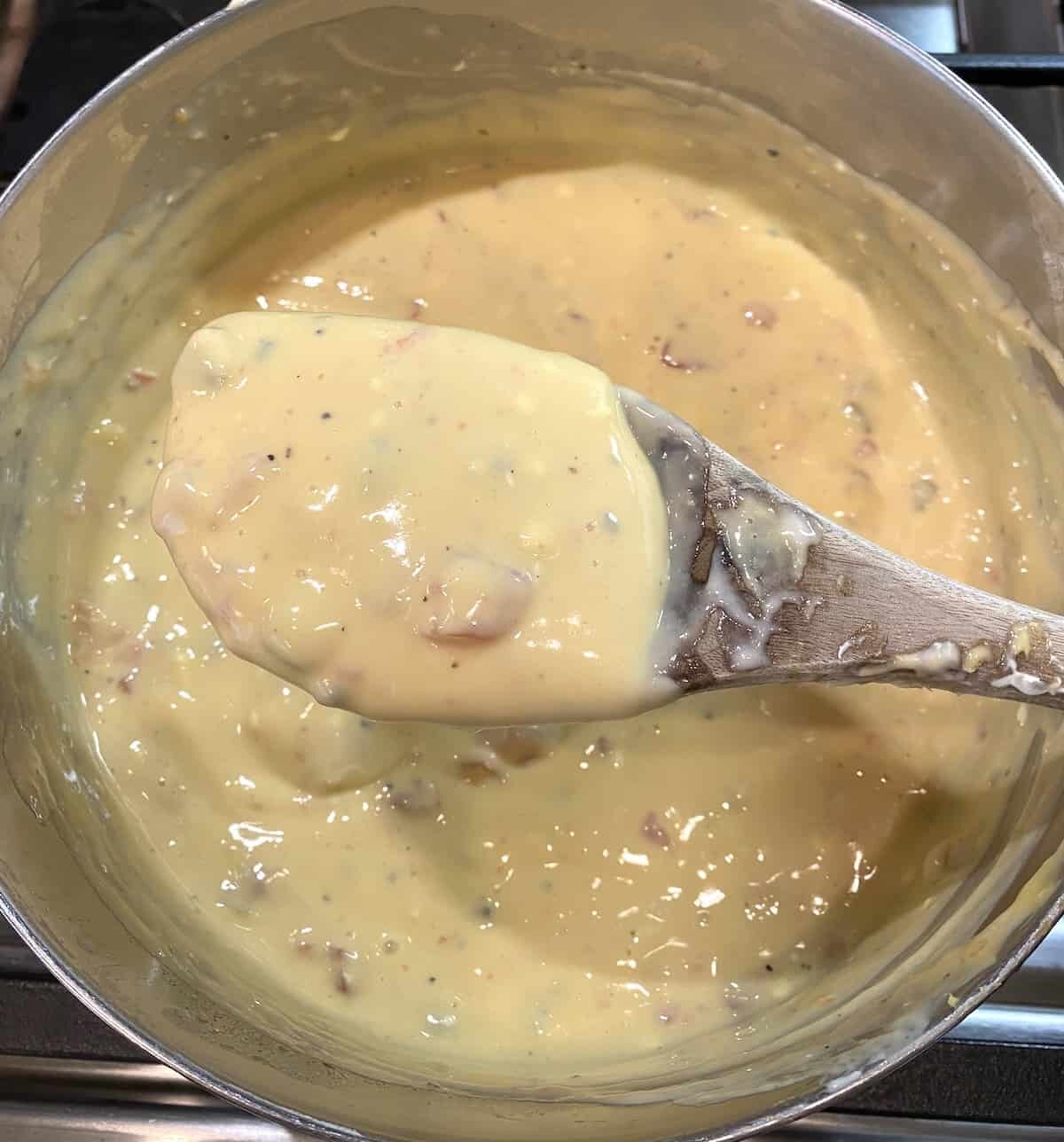 Nothing melts better than Velveeta cheese and it creates a luscious cheese sauce that complements the savory chicken and tender spaghetti pasta. If you prefer a Velveeta cheese sauce that's less rich, and less creamy, leave the cream cheese out of the recipe.
Stovetop or Oven Method
There are two great options for preparing this recipe. The stovetop method makes this a classic one-pot meal. The baking option gives Chicken Spaghetti with Rotel and Velveeta a wonderful "mac and cheese" style texture and flavor.
Stovetop Option: After the cheese sauce ingredients melt, stir in the cooked pasta and heat over medium-low heat until the pasta is hot and the cheese sauce is bubbly. Top with shredded cheese and diced onions before serving.
Baking Option: Preheat oven to 350° F. Spray a 13" x 9" baking dish with Pam, or grease with shortening. Spread the ingredients from the saucepan - the cheese sauce with the cooked spaghetti and chicken - into the dish and bake uncovered for 40 minutes.
Although the stovetop version gets dinner on the table a little faster, I love how the flavors combine and how the cheese sauce sticks to the spaghetti after baking it in the oven.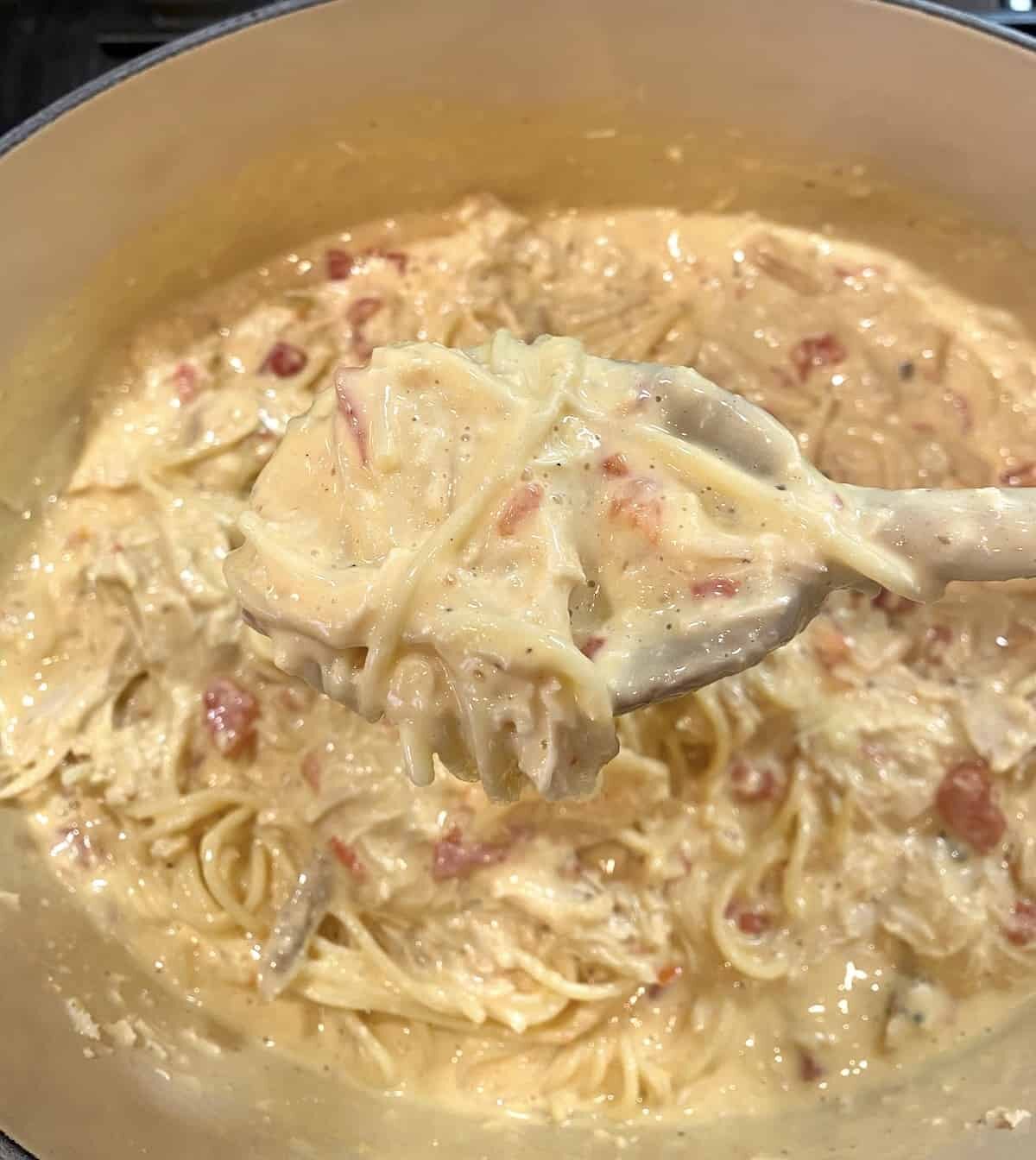 Recipe FAQs
Why Velveeta cheese?
Velveeta has a mild taste that enhances the creamed soup, the savory chicken, and the spicy Rotel. But it's the unparalleled melty texture in a Velveeta cheese sauce that makes this a must-have ingredient for Chicken Spaghetti.
Can I use a different shape of pasta?
Sure! Although, since this is called chicken spaghetti it might lead to some confusion at the dinner table. Regardless of the shape of the pasta you use, just be sure not to overcook it before blending it with the cheese sauce.
Tips for Cooking Pasta
The key to the pasta turning out perfect for Chicken Spaghetti is to use pasta that hasn't been overcooked, you want it to be "al dente" which means still slightly firm when you take a bite, but not hard and not overly chewy.
Heat a medium-sized saucepan full of water to a rolling boil. Add about a teaspoon of salt, then the uncooked spaghetti noodles.
Set the timer for 8-9 minutes. You want the pasta to be cooked, but not completely softened. Al dente.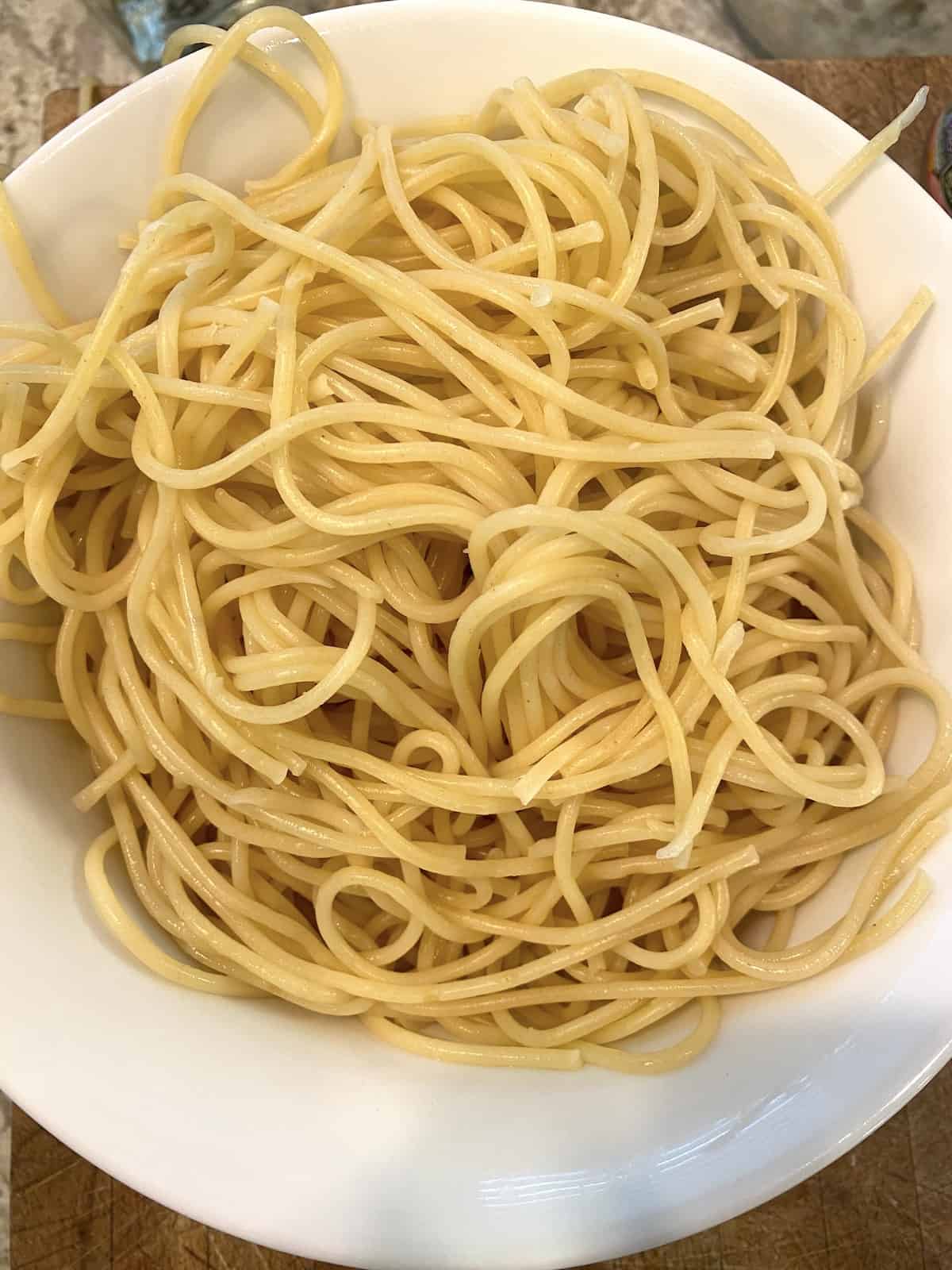 As an option, use leftover, cooked spaghetti for this recipe. That's my favorite way to use leftover pasta after serving spaghetti with sauce the night before or earlier in the week. Place unused, cooked spaghetti in an air-tight container or a sealed, plastic storage bag and refrigerate until you are ready to make Chicken Spaghetti with Rotel and Velveeta.
How to Adjust the Creaminess
You also control the creaminess of the cheese sauce. If you like it extra creamy, add two cans of cream of chicken or cream of mushroom soup.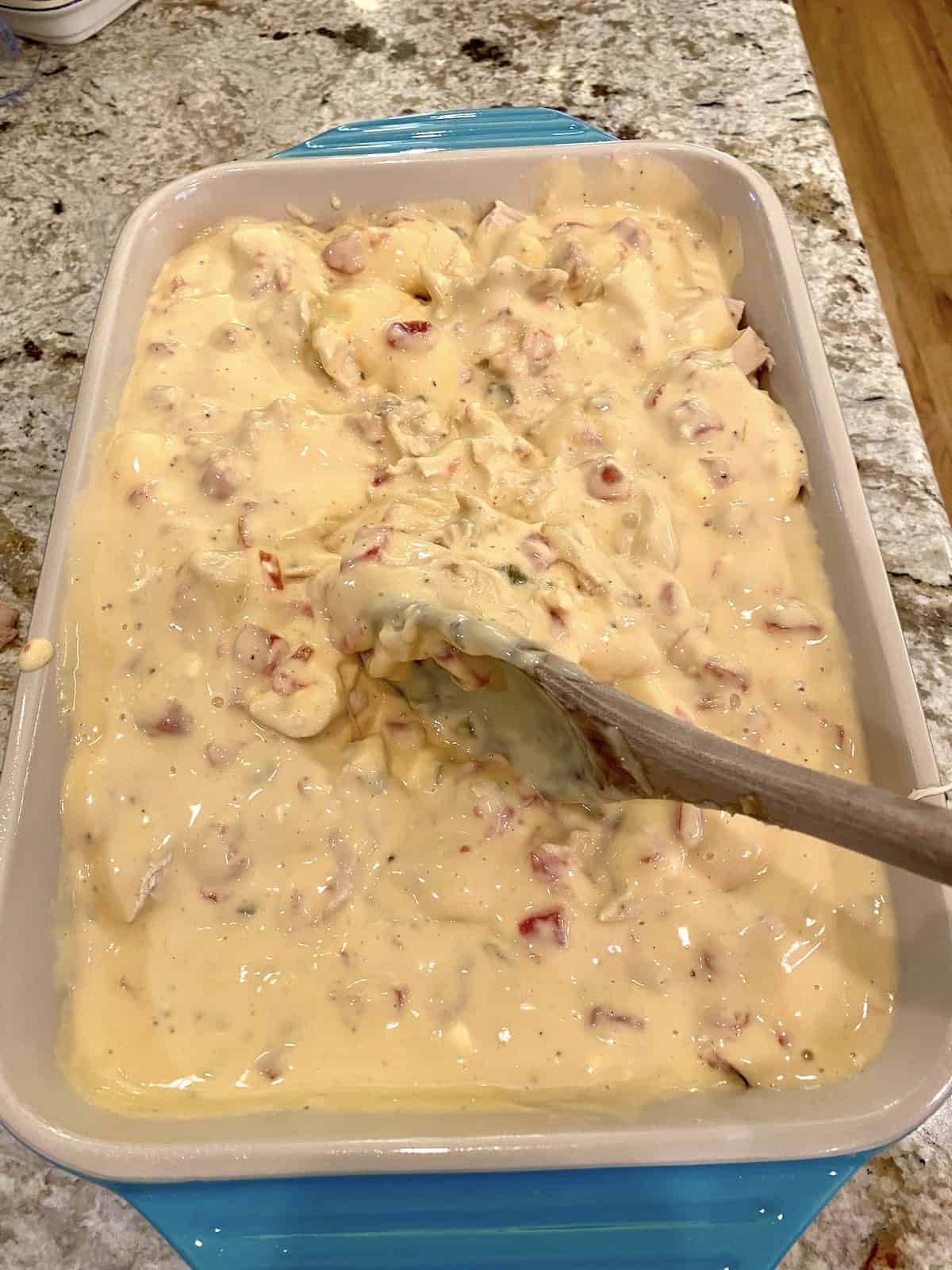 If you prefer a Velveeta cheese sauce that's less rich, use one can of cream of chicken or mushroom soup and leave the cream cheese out of the recipe.
Add-Ins for Chicken Spaghetti
It's easy to make Chicken Spaghetti with Rotel and Velveeta a one-pan meal. Choose one or two of the ingredients listed below and you're on your way to a well-rounded meal. To ensure the vegetables are cooked sufficiently, I recommend steaming or cooking them until they are about half cooked before stirring them into the cheesy sauce, spaghetti and chicken.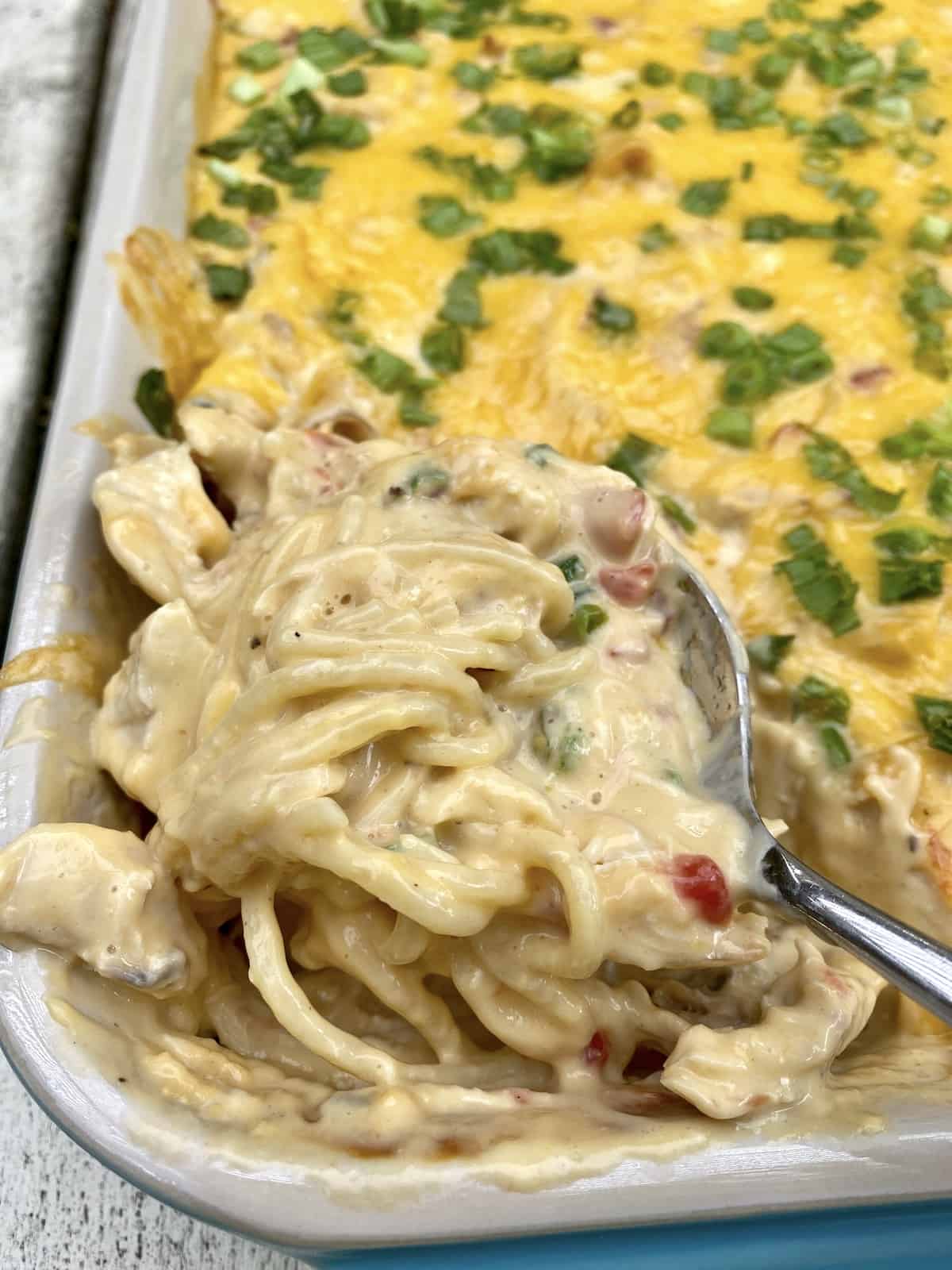 Stir in one cup of any combination of the following veggies either before baking the chicken spaghetti or before the final cooking time on the stove - if you are using that method:
Sliced, fresh mushrooms
Chopped broccoli steamed or cooked slightly to soften the stems
Diced asparagus, cooked for a few minutes to soften
Diced red or green peppers
Diced carrots, cooked for a few minutes before adding to the baking dish
Storage
Storing Leftovers: Chicken Spaghetti leftovers are a winner! I think this recipe even gets better with age. I love serving leftovers for lunch a day or two after baking it.
Here's how to keep it fresh. After baking, let the leftovers cool then cover the baking dish with foil, or scoop the leftovers into an air-tight container. Store in the refrigerator and enjoy within 3-4 days.
Freeze and Bake Later: This recipe can also be frozen and baked up to 2 months later. No need to bake it before freezing.
After combining all the ingredients, either spoon the chicken spaghetti into two or three freezer-safe dishes or disposable foil baking pans or place the entire amount into one freezer-safe dish.
Spread 1-2 cups of grated cheddar cheese on top of each dish, then cover with two layers of aluminum foil and place in the freezer. To defrost, remove the dish from the freezer and let sit in the refrigerator for 24 hours. Bake according to the recipe.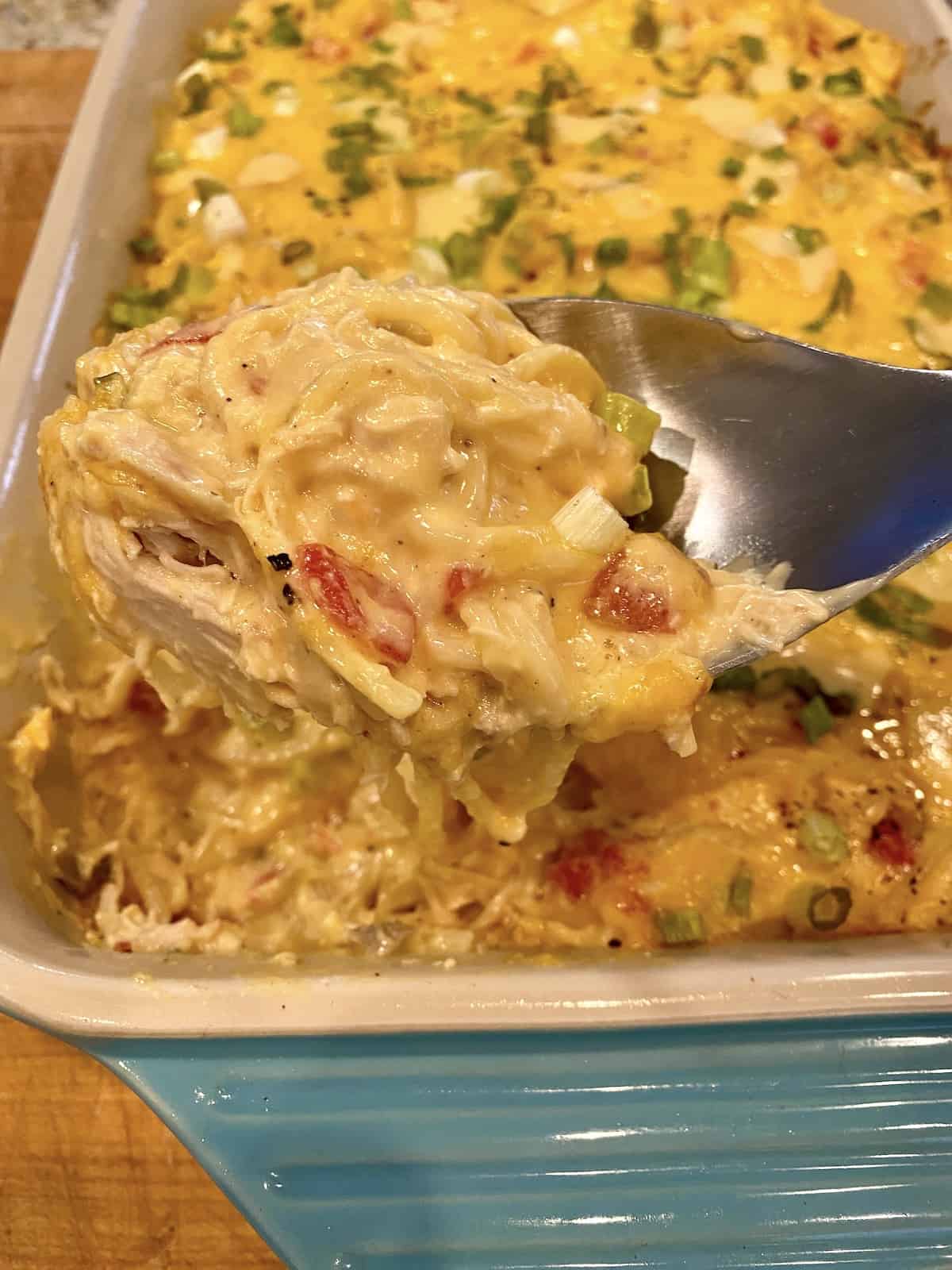 In the mood for more pasta recipes? Here are two family favorites. Butternut Squash Mac and Cheese is one of the most popular recipes on the Crinkled Cookbook and Spicy Chicken Alfredo was inspired by a tasty restaurant entree.
More Recipes for Dinner
If you tried this Chicken Spaghetti with Rotel and Velveeta Recipe or any other recipe on my website, please leave a 🌟 star rating and let me know how it goes in the 📝 comments below.
Recipe