Cold Green Bean Salad is a delightful side dish with canned beans, sweet onions and peppers, enhanced by a deliciously sweetened balsamic vinegar sauce. Perfect for potlucks and family gatherings alongside Red Potato Salad and Sweet Corn Pasta Salad.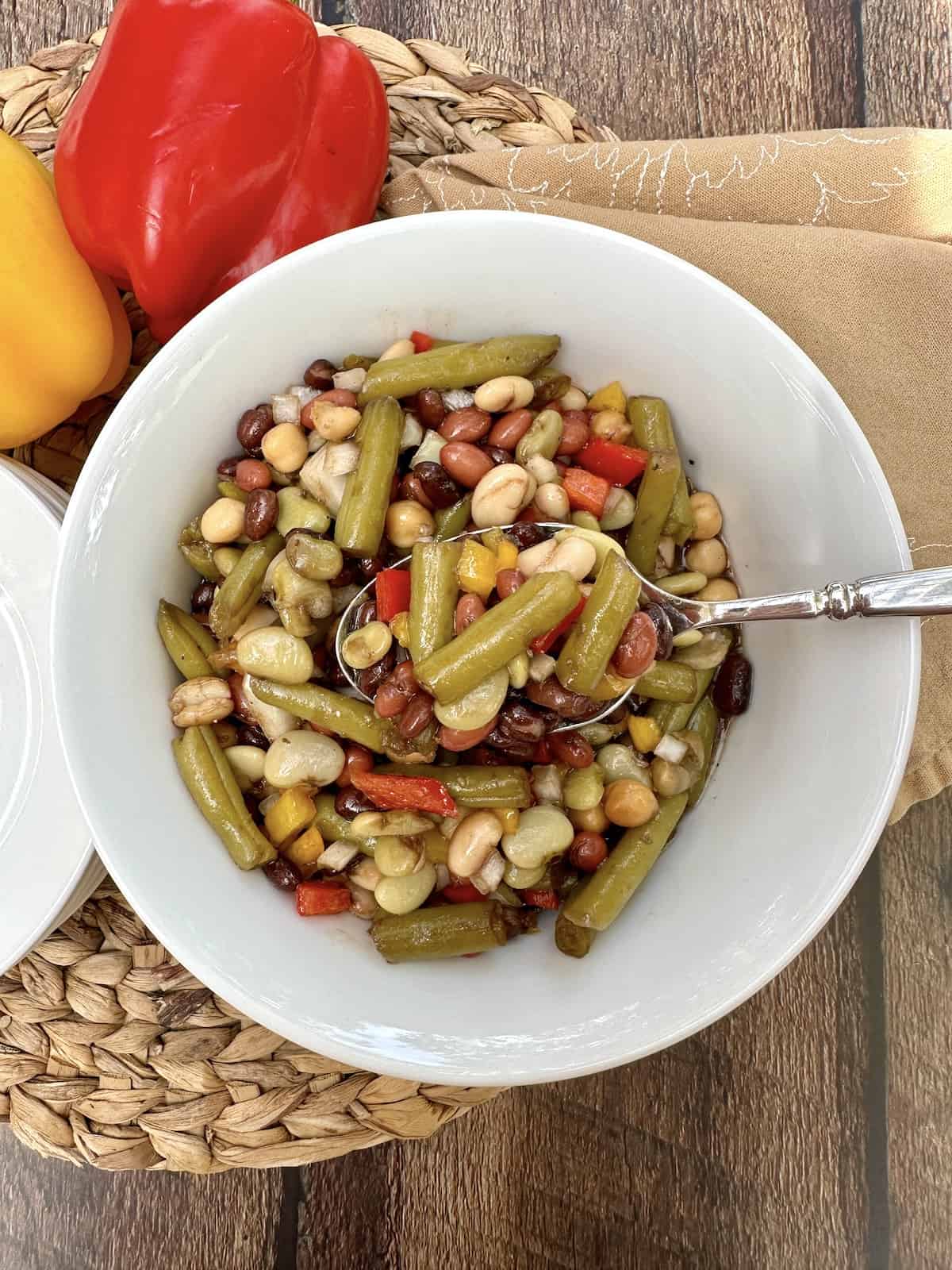 Jump to:
⭐ Why You'll Love This Salad
Cold Green Bean Salad might remind you of a classic seven-bean salad. It's a fantastic choice for a summer gathering, a picnic in the park or as a side dish for any occasion. This salad is also very easy to make.
I think it's especially tasty with No Ketchup Meatloaf, Skillet Glazed Salmon or Buttermilk Chicken Tenders
This salad is a nice change of pace from leafy greens, it's a visually appealing, cool and comforting side dish that folks just can't get enough of.
🥘 Ingredients to Have on Hand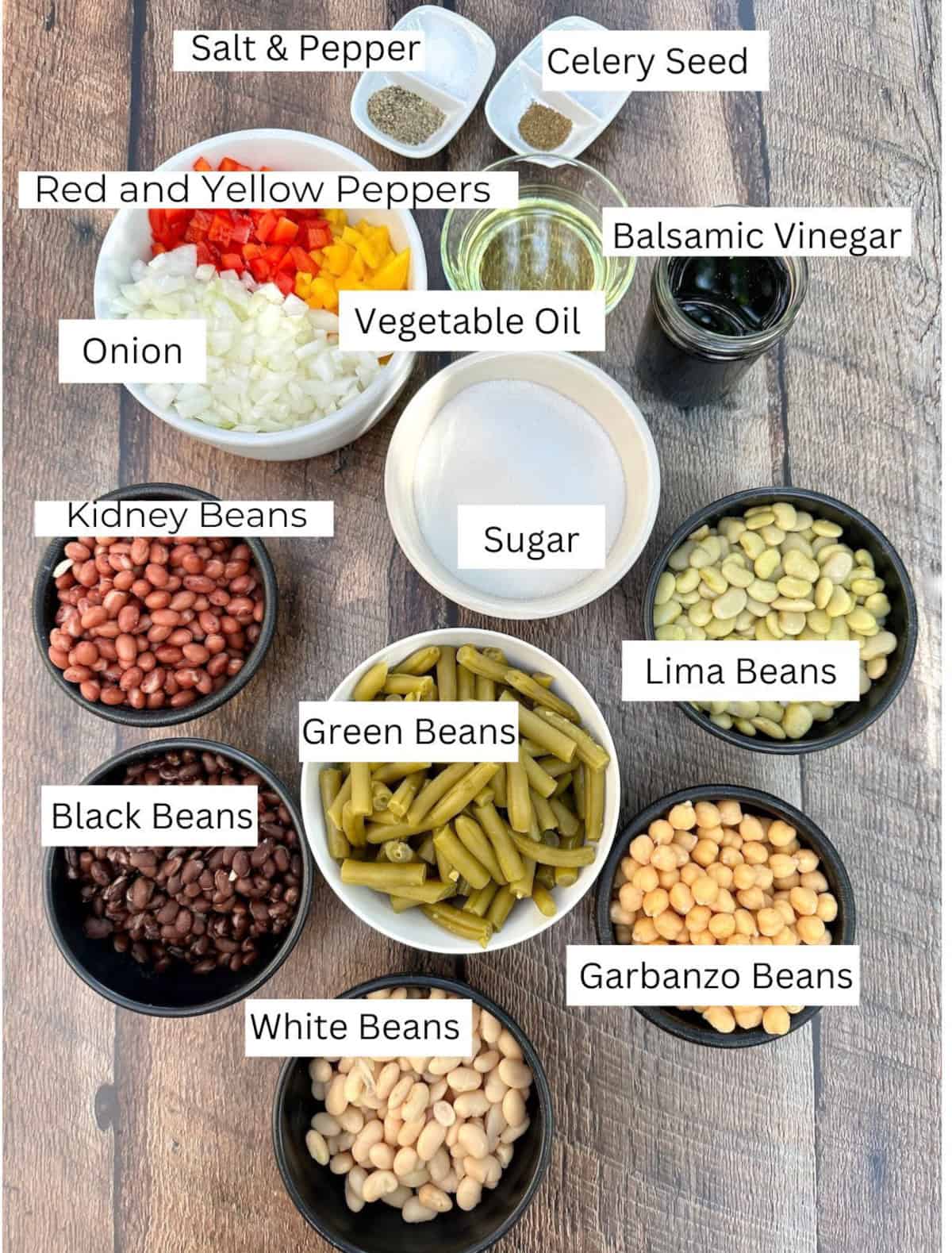 One of the best things about this salad recipe is it calls for a variety of canned beans, so you can keep all of the ingredients on hand.
Canned Green Beans: Use plain old, cut green beans in the can. Any brand. These don't need to be fancy. French-style green beans will work too, but they are sliced lengthwise, and the thinner shape will give your salad a different, less chewy texture.
Black Beans: These are a distinctive smaller size and mix great with the other beans and veggies in the salad. Plus, black beans are a nutritional powerhouse.
White Beans: Any variety of white beans will work. You can use Navy beans, Great Northern Beans or Cannellini Beans.
Garbanzo Beans: Also often called Chick Peas, this is a popular bean for salads. They add a firm "bite" and a nutty flavor.
Balsamic Vinegar: Be sure to use balsamic vinegar, not balsamic glaze.
Celery Seed: It's easy to mistake this for celery salt, but you'll want to use Celery Seed because much like regular celery, it adds excellent flavor. Celery salt will work as a substitute in a pinch but you will want to decrease the amount of regular salt you add.
See the recipe card below for a full list of ingredients and measurements.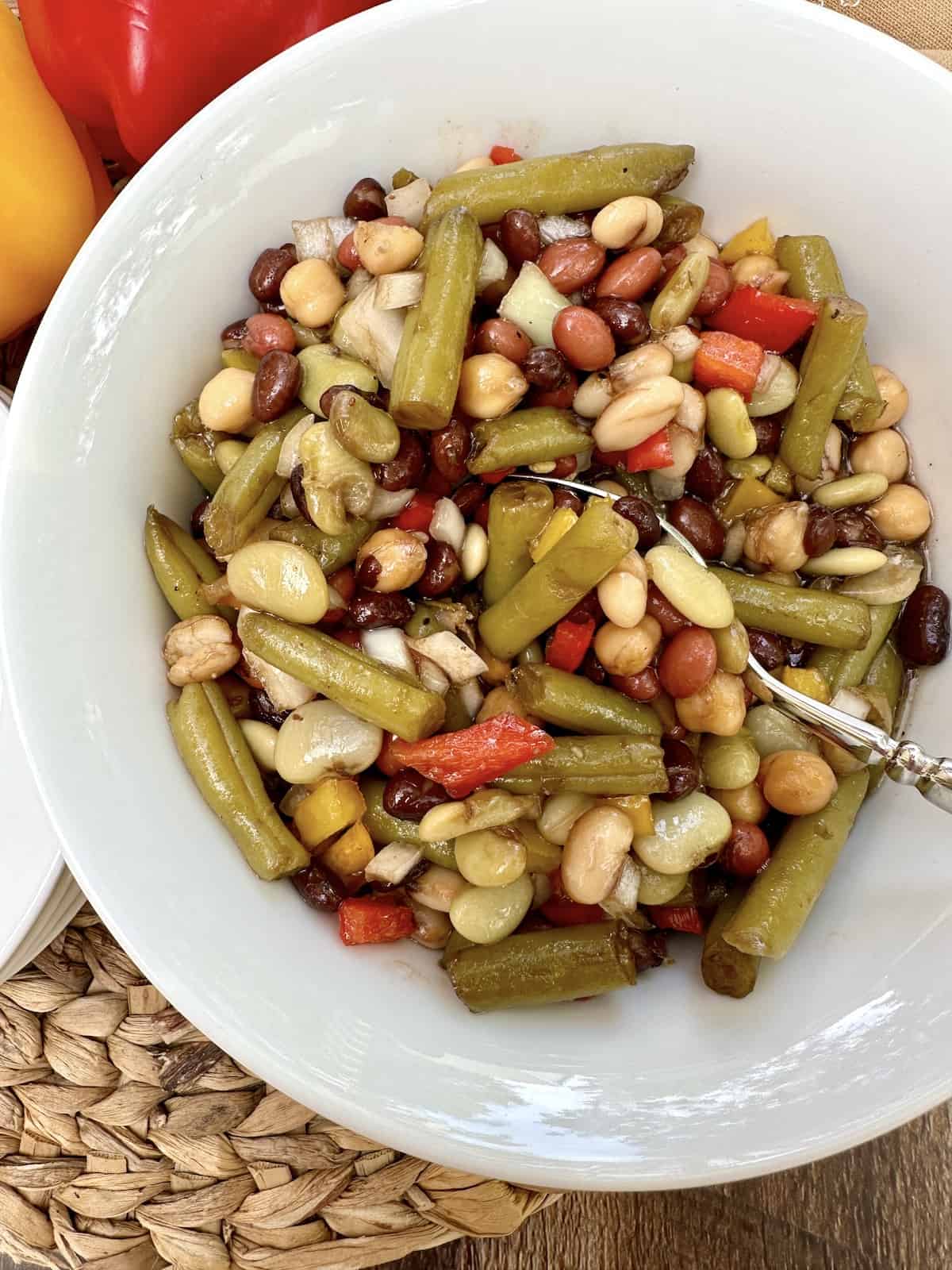 📖 Substitutions
There is so much versatility with Cold Green Bean Salad and the sweetened balsamic vinegar sauce adds a wonderful, tangy coating to each ingredient.
You can easily adapt the amount and variety of beans to create a classic five-bean or even three-bean salad.
Five Bean Salad: Combine two cans of cut green beans with four other varieties of canned beans in the recipe.
Three Bean Salad: Combine three cans of cut green beans with two cans of kidney beans and two cans of garbanzo beans
Pro tip: Use seven cans of beans, in any variety. Mix and match or double up on the variety of beans that your family enjoys the most.
Vinegar Options: Balsamic vinegar truly is in a league of its own with its signature depth of sweetness and distinctive flavor. But I've also made this bean salad using cider vinegar and red wine vinegar and both are delicious options.
Onion: Sweet onions add a delicate, crunchy bite to the salad, but a red, yellow or white onion will also work fine. Keep in mind, those varieties have a slightly stronger taste so you may want to use less.
Vegetable Oil: Normally I'm a big fan of olive oil when it comes to salads, but perhaps surprisingly I think regular vegetable oil from the pantry gives this salad the best flavor.
🥗 How to Make Bean Salad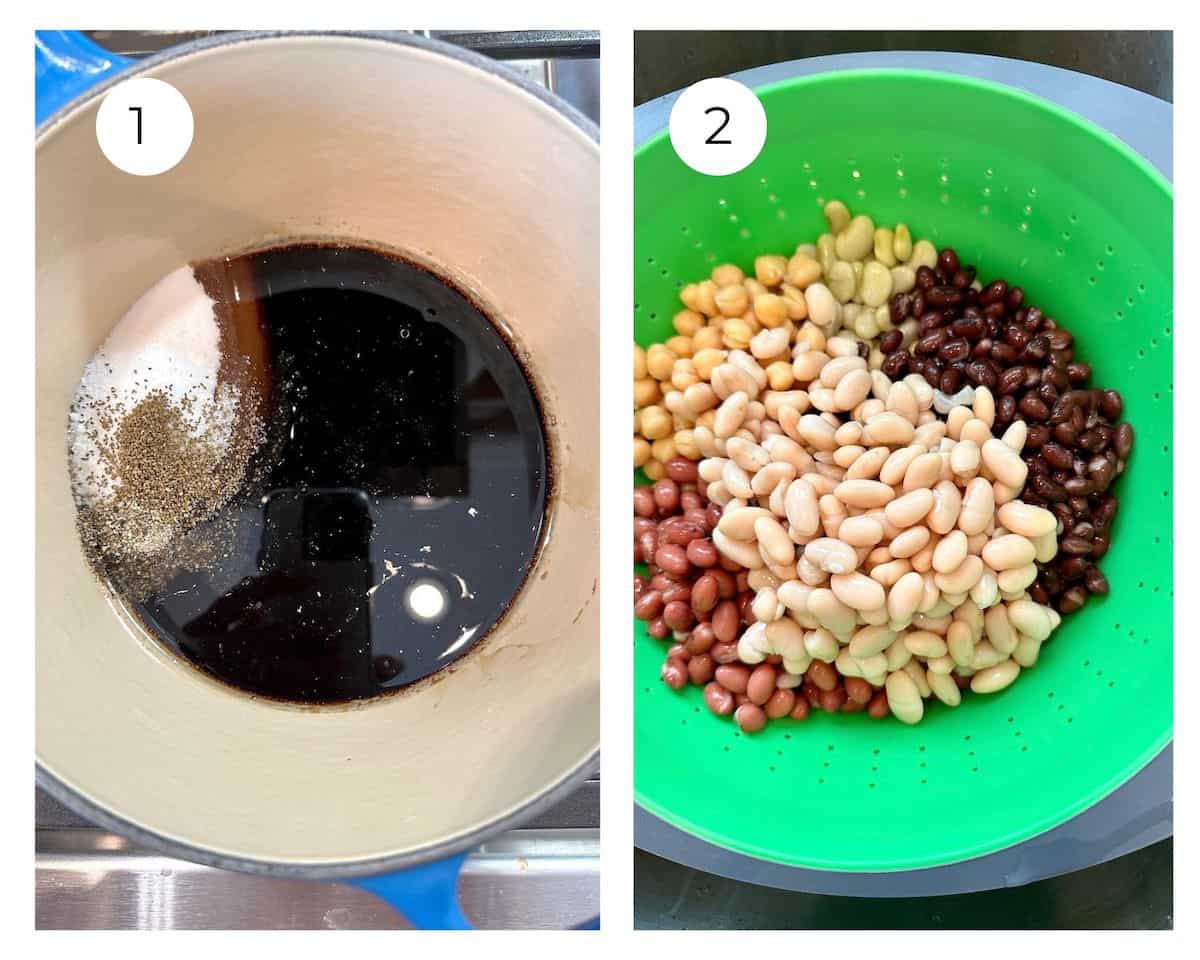 Step 1: Combine the Balsamic vinegar with the celery seed, sugar and vegetable oil in a medium-sized saucepan on the stove, and bring up the heat until it comes to a boil. (Photo #1)
Step 2: Open all of the canned beans and drain the beans in a colander or strainer over the sink. Rinse with cool water and drain off all the excess liquid. (Photo #2)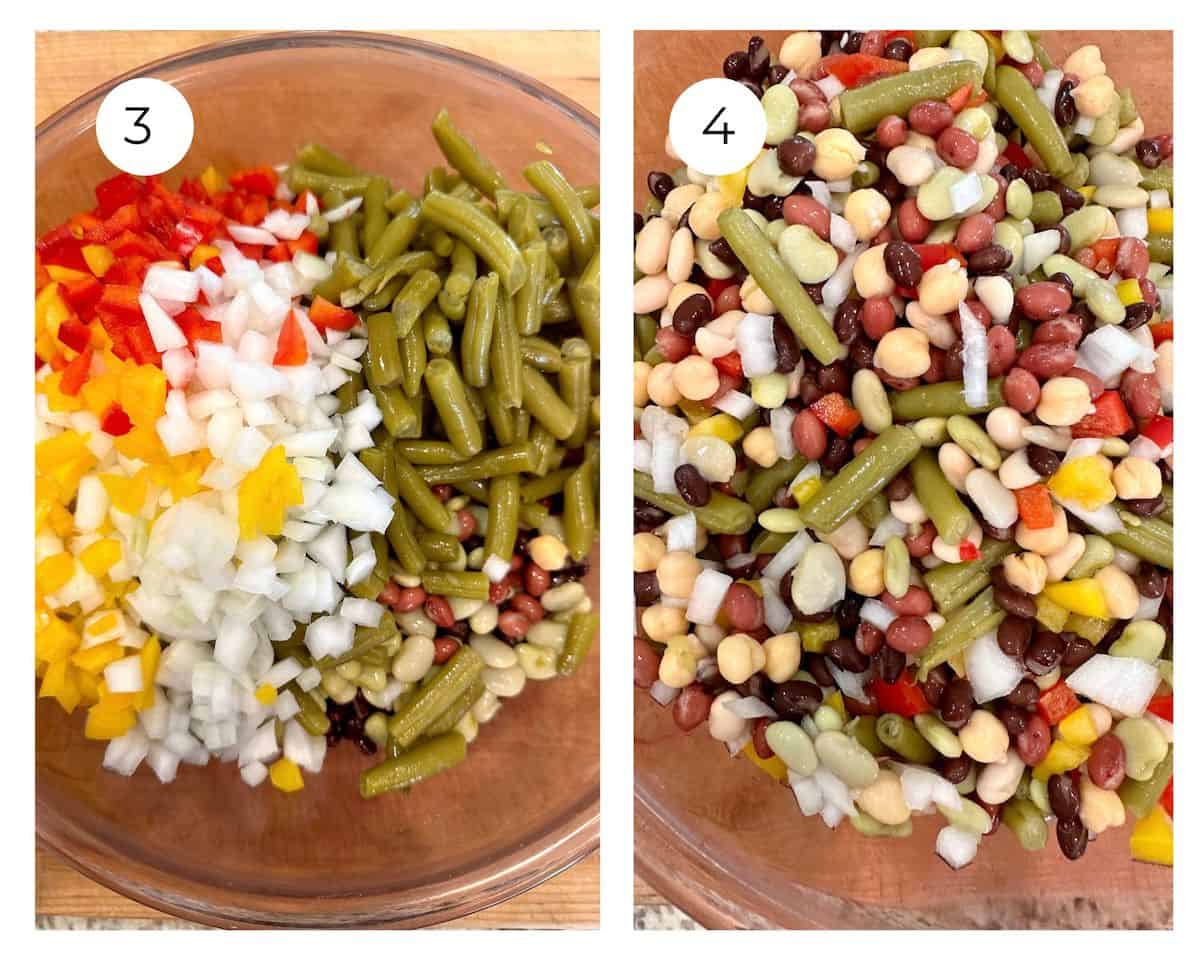 Step 3: Place the drained beans in a large bowl. Chop the onion and peppers and add them to the beans. (Photo #3)
Step 4: Stir to combine the beans with the onion and peppers. Set aside. (Photo #4)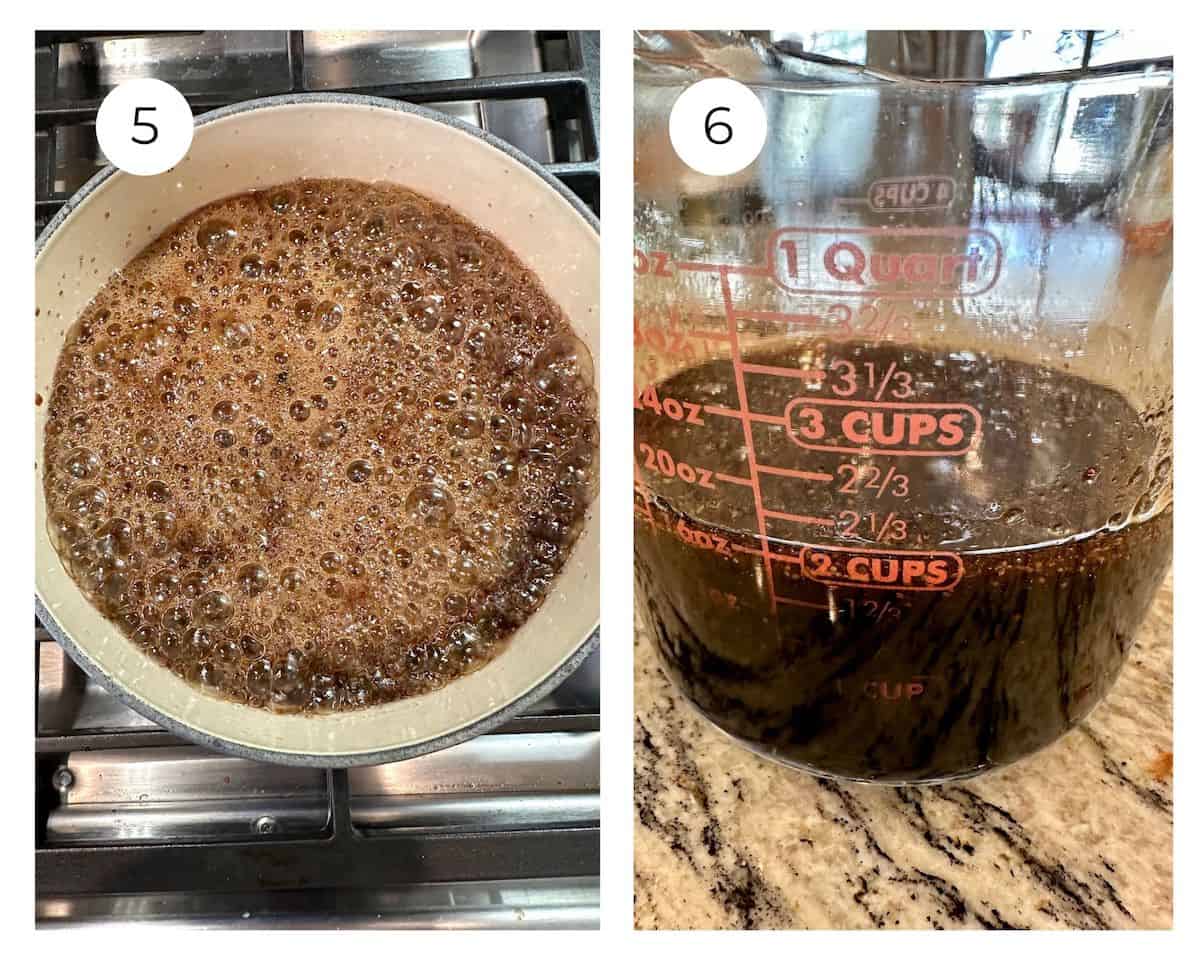 Step 5: Use a whisk to stir the Balsamic vinegar with the vegetable oil, sugar and celery seed until it starts to bubble and get slightly foamy on the top. You'll want it to come to a boil. Watch it close, once it starts boiling it can bubble over the edge of the pan very quickly. Turn off the heat and remove the saucepan from the stove. (Photo #5)
Step 6: Pour the hot vinegar sauce into a glass measuring cup, or any heat-safe bowl. Place the cup or bowl in the refrigerator until it's fully cooled. It doesn't need to be ice cold, but you'll want it chilled so it doesn't cook the beans when you combine the sauce with the ingredients in the bowl. (Photo #6)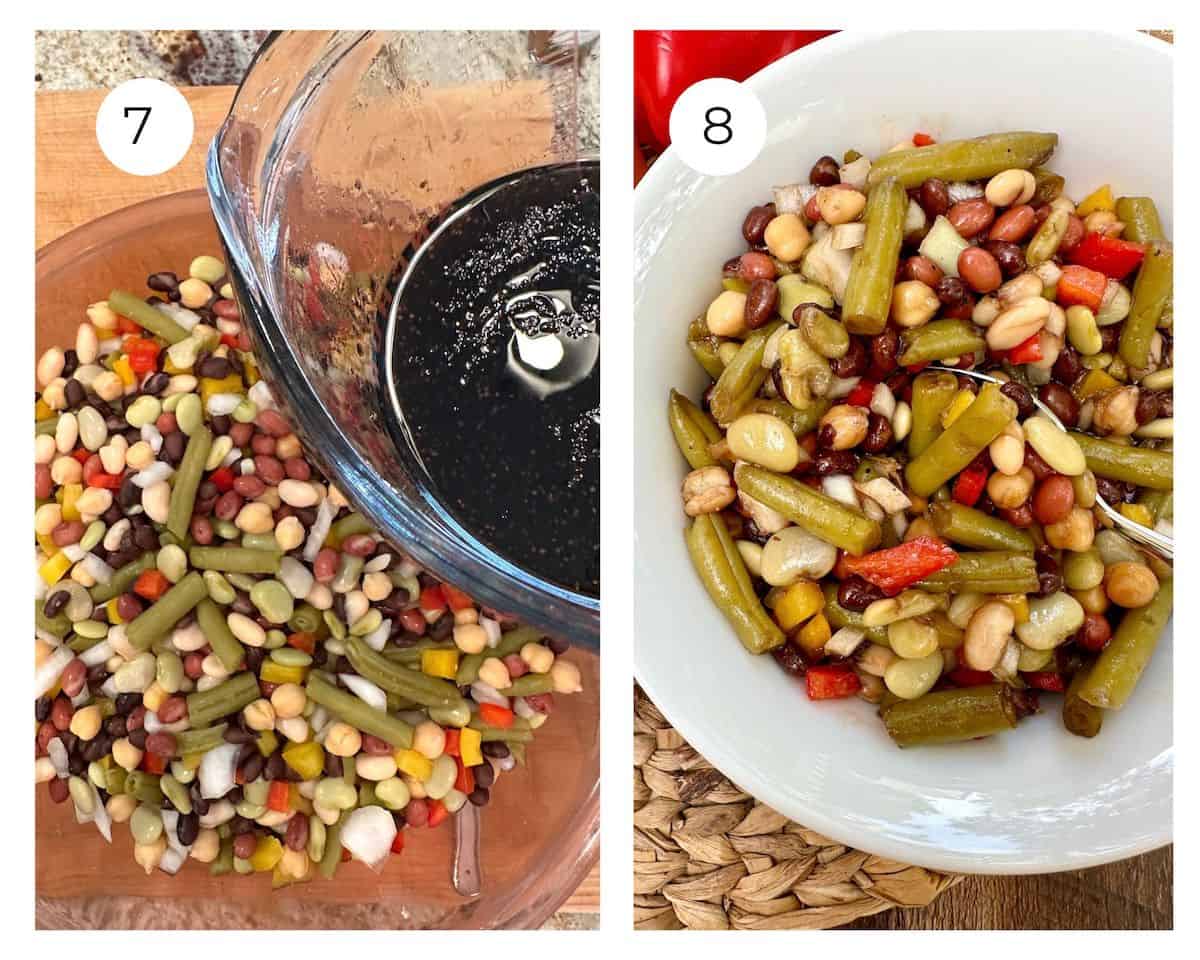 Step 7: Pour the chilled balsamic vinegar sauce over the ingredients in the large bowl. (Photo #7)
Step 8: Stir gently to blend the sauce and coat all of the beans, peppers and onions. Cover and chill for at least 5 hours or overnight before serving. Chilling the salad helps to bring out the crispness and freshness of the beans and vegetables and the flavor in the sauce becomes more vibrant. (Photo #8)
💭 Recipe FAQs
Are raw green beans good in the salad?
You can use fresh green beans, but they must be cooked or steamed first, then diced into 2-inch pieces before combining with the other ingredients. Raw, uncooked green beans will have a much different texture and won't absorb the balsamic sauce as well. Canned green beans are the easiest option in this recipe.
Do I need to cook the canned green beans?
Canned green beans are fully cooked and ready to enjoy directly from the can. There is no need to cook them before combining them with the other salad ingredients.
How long does Cold Green Bean Salad last in the fridge?
Store the salad in a covered bowl or other airtight container in the refrigerator and enjoy it within 5 days. Be sure to give it a stir each time before serving to help blend the balsamic vinegar sauce with all the ingredients again.
🍽 What to Serve with Cold Green Bean Salad
This salad goes well with a variety of dishes, complementing different flavors and textures. Here are some delicious options:
Grilled Meats: The light and refreshing salad provides an excellent contrast to the smoky and savory flavors of just about anything from the grill.
Burgers and Sandwiches: The tangy and slightly sweet balsamic sauce complements the savory and hearty flavors of burgers and sandwiches. Try it with Cheeseburger Pie or sandwiches made with Chicken Curry Salad.
Mexican Cuisine: The flavors in Cold Green Bean Salad make it an excellent accompaniment to Mexican dishes. Serve it as a side with Easy Mexican Fried Rice or with Tamale Casserole or Oven Baked Burritos.
🥬 More Salad Recipes
💭The Inspiration
This recipe was kindly shared by Rick McCurdy, a family member from Louisiana. He is an outstanding cook and connoisseur of great food.
Rick perfected the recipe by cutting down on the amount of oil and sugar found in the original version and it was his idea to use Balsamic vinegar. Such a great call! I only adapted the recipe very slightly based on the variety of canned beans I find in the grocery store here in Idaho.
Thank you Rick for sharing your incredible recipe!
If you tried Cold Green Bean Salad or any other recipe on my website, please leave a 🌟 star rating and let me know how it goes in the 📝 comments below.
Recipe