Chicken Curry Salad with Grapes combines the savory creaminess of chicken salad with the distinctive, warm flavor of curry and the sweetness of fresh, juicy grapes. Toss in crisp apples and green onions and dig into a chicken curry salad that everyone will love. It goes great with Classic Potato Rolls on the side or alongside Cold Green Bean Salad as a side dish for the buffet line.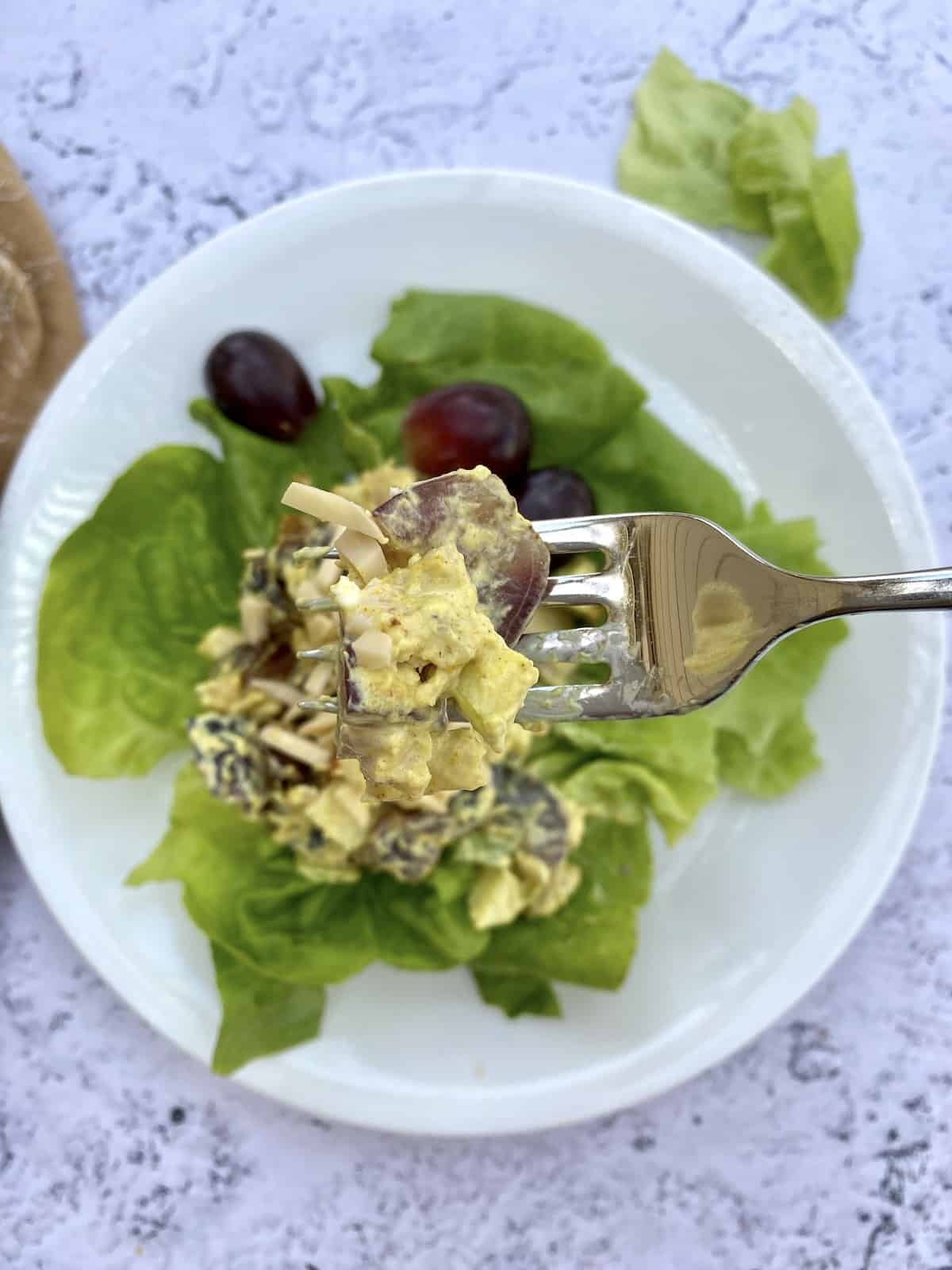 Jump to:
Ingredients to Have on Hand
Chicken Curry Salad with Grapes combines savory, slightly sweet flavors with the bold, warm spice of curry. Scroll down to the recipe card for details on the quantities for each ingredient.
It's a versatile dish with serving options that make it perfect to bring to a potluck or serve at a wedding or baby shower, picnic, or family gathering.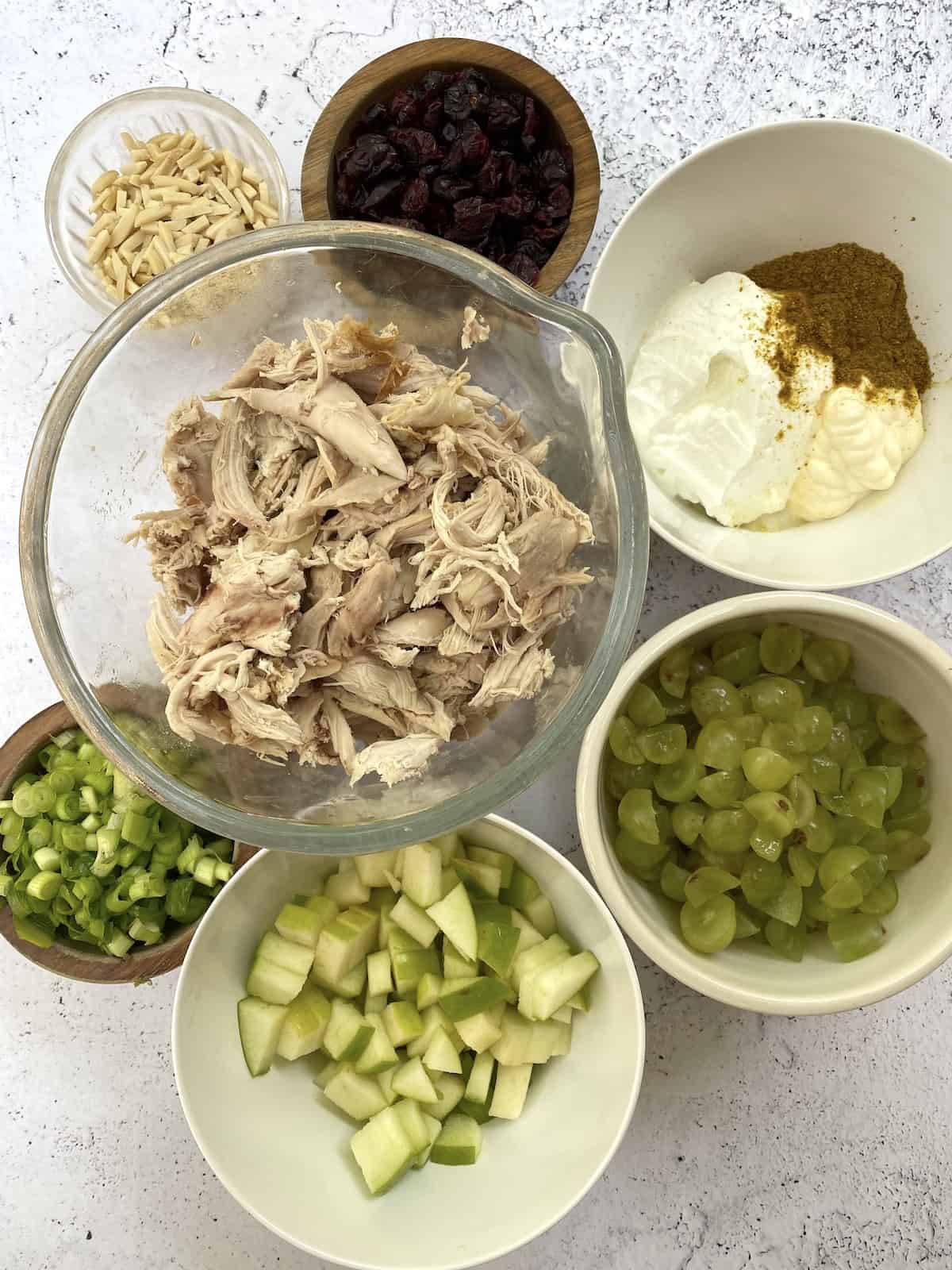 cooked chicken
fresh grapes
mayonnaise
non-fat Greek yogurt
curry powder
dried dates, raisins, or dried cranberries
apple
green onions
sliced almonds (optional)
lettuce greens (optional)
croissants (optional)
sliced sandwich bread (optional)
How to Make Chicken Curry Salad
Here's how to make a tasty chicken curry salad, step-by-step.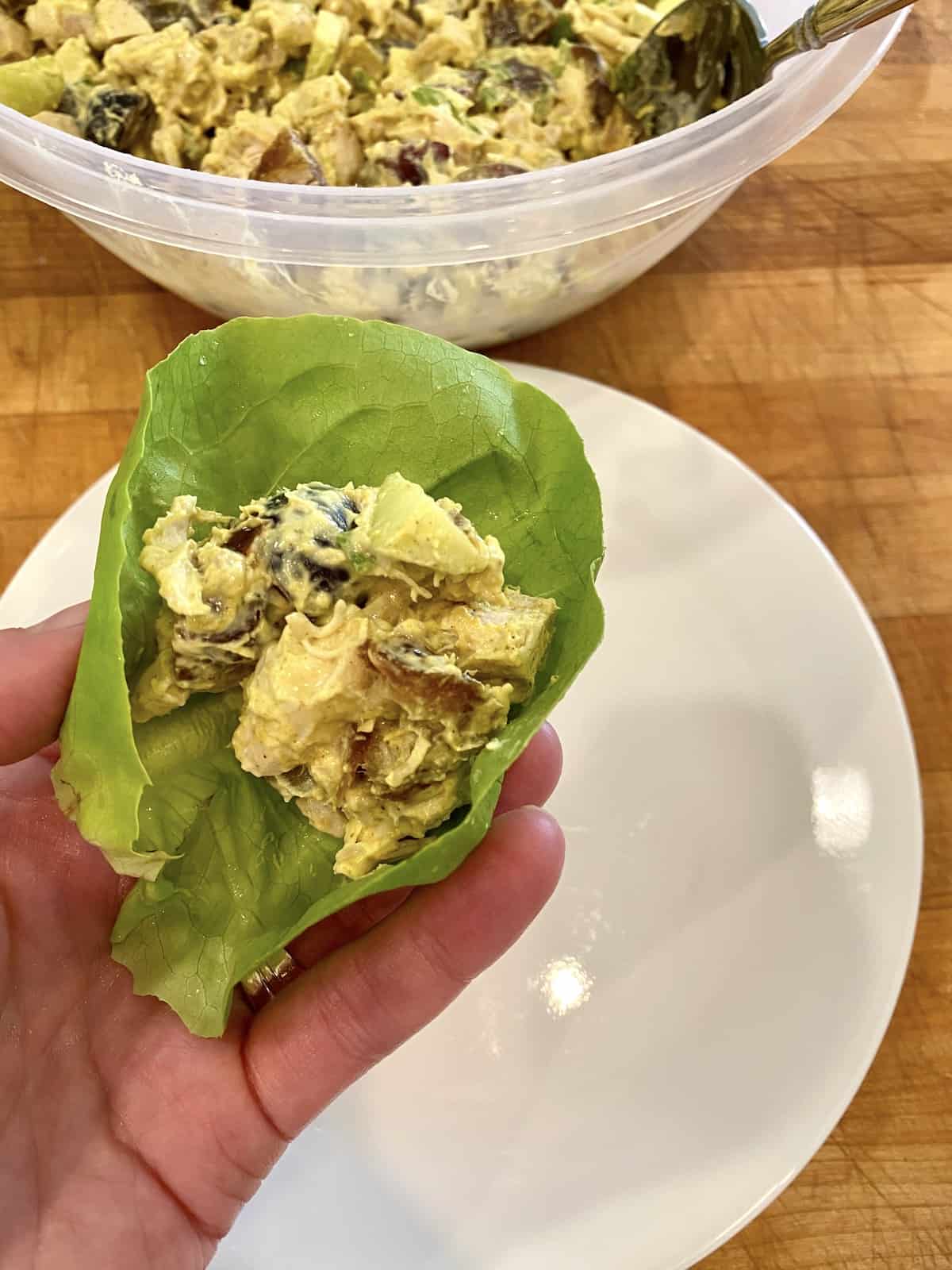 Cook the chicken, shred it, and place it in the refrigerator to cool while you combine and prepare the other ingredients.
In a small bowl or glass measuring cup, blend the mayonnaise, non-fat Greek yogurt, curry powder and salt. Set aside.
Rinse the grapes and cut each grape into four, small pieces or quarters.
Rinse and dry the apple, and dice it into small, bite-sized chunks.
Rinse the green onions and slice them into small pieces.
If using dates, chop them into small pieces, about the size of a raisin. Or, use raisins, dried cranberries, or another dried fruit of your choice.
Place all ingredients in a medium-sized bowl and stir gently to combine.
Cover and refrigerate until serving
Before serving, stir in the almonds (optional)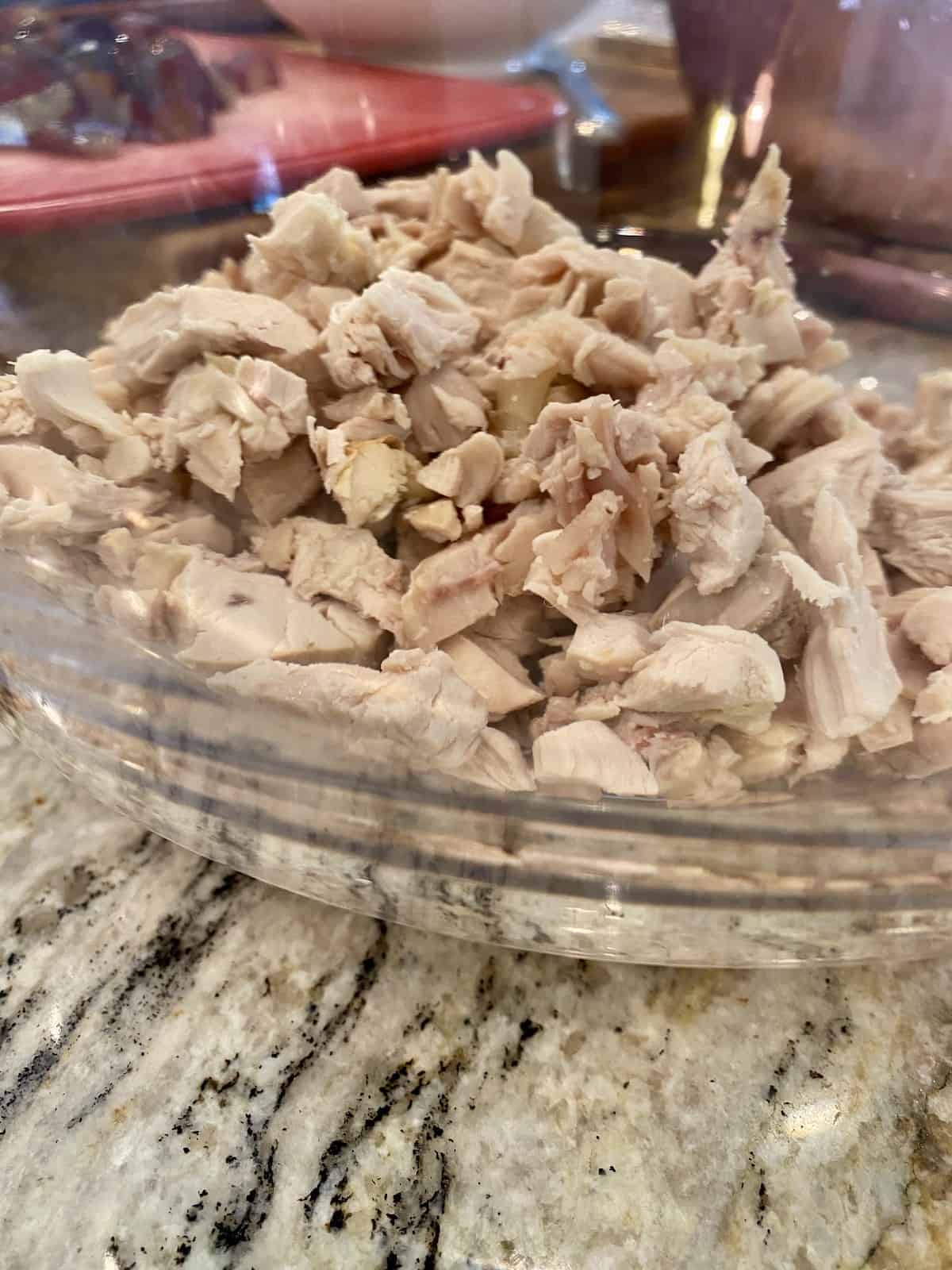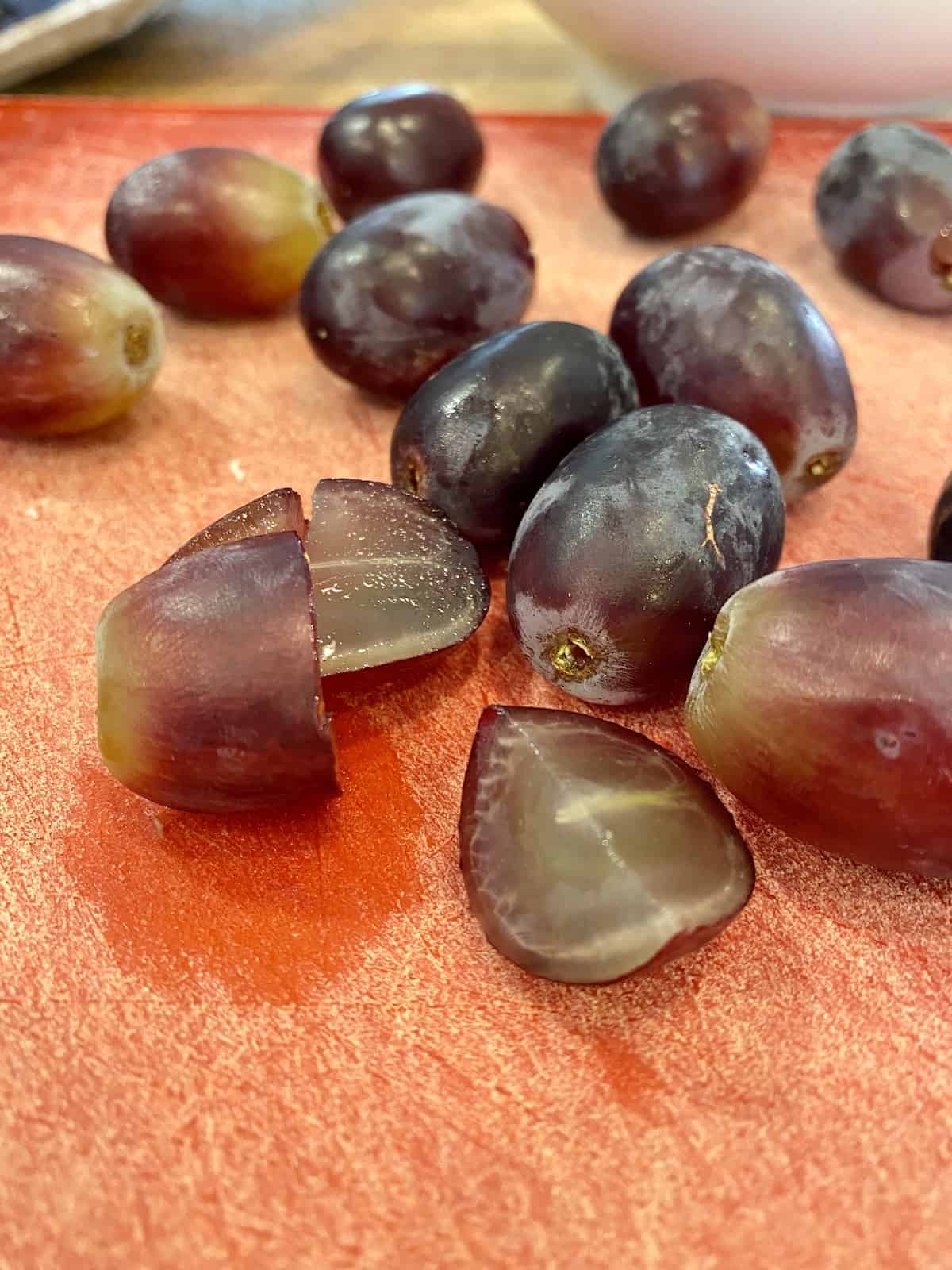 Plan to use roughly 4 cups of cooked, diced chicken meat. Or approximately 2 - 2 ½ pounds of chicken cooked any way you prefer.
There's no need to be precise though. If you end up with just 3 cups of cooked chicken meat, plan to toss in a few more chunks of diced apple or add a few more quartered grapes. This is a very forgiving recipe.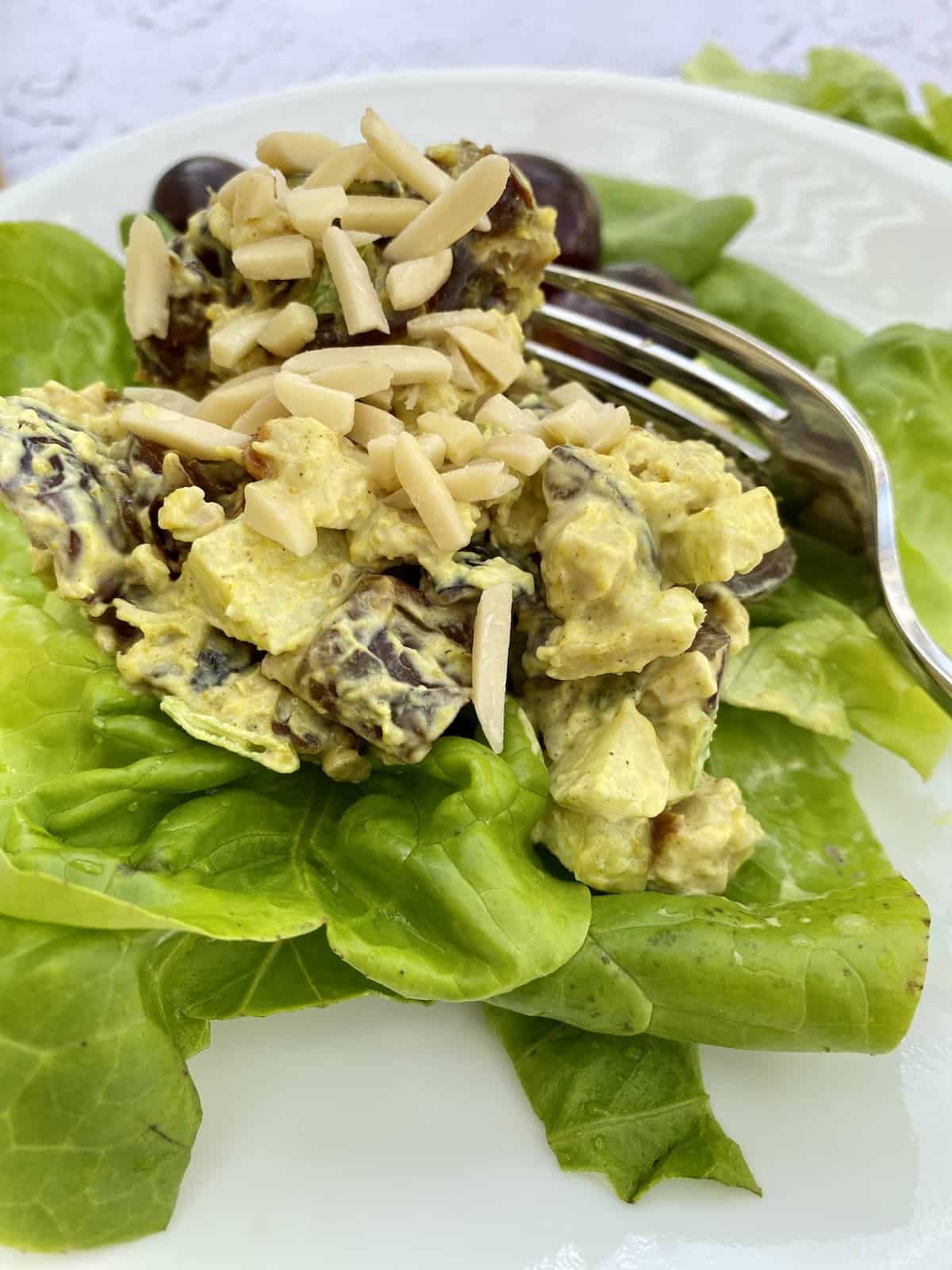 How to Cook the Chicken
A great, time-saving shortcut is to buy the chicken, fully cooked from the grocery store. The meat from one, small rotisserie chicken, skin and bones removed, is the perfect amount of chicken for this recipe. Since it's a whole chicken, that means it'll include both white and some dark meat which is tasty. Another great recipe for using a rotisserie chicken is Chicken Spaghetti with Rotel and Velveeta such comfort food!
If you prefer to cook the chicken at home. Here are two easy cooking methods.
Poach the Chicken: Place raw, skinless and boneless chicken pieces - ideally chicken breasts - in a medium-sized pot on the stove. Add enough water to cover the chicken. Add 1 teaspoon of salt and ½ teaspoon of pepper. Bring to a boil, reduce heat, cover and simmer for about 15 minutes or until the chicken is no longer pink and is fully cooked.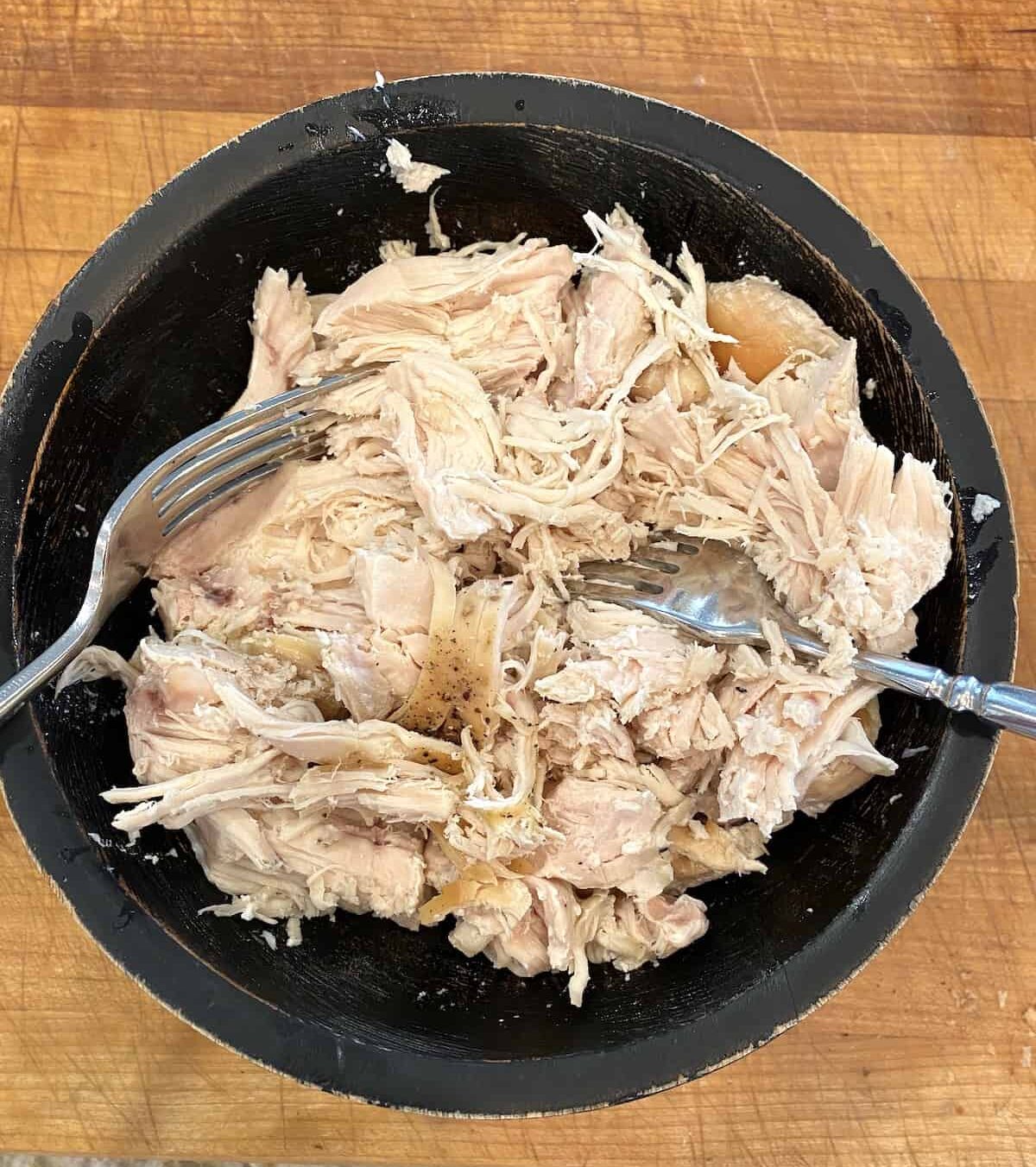 Use a Slow Cooker or CrockPot: Place ½ cup water, 1 teaspoon of salt and 3 or 4 raw chicken breasts in a slow cooker or Crock Pot, set to low, cover and cook for 3-4 hours or until the meat is fully cooked and shreds easily with a fork.
Regardless of the cooking method, allow the chicken meat to cool before combining the additional ingredients and mixing the salad.
Best Lettuce for Chicken Curry Salad
There are many lettuce options and all will be crunchy, fresh and delicious as a bed for either serving the chicken curry salad or for layering inside a croissant or slice of bread. I personally like to use butter lettuce, also known as Boston lettuce or Bibb lettuce. It's referred to as butter lettuce because of its delicate, soft, almost creamy texture.
But use whichever variety of lettuce or fresh greens you enjoy the most. Here are some to consider:
Iceberg lettuce
Leaf lettuce
Romaine
Spinach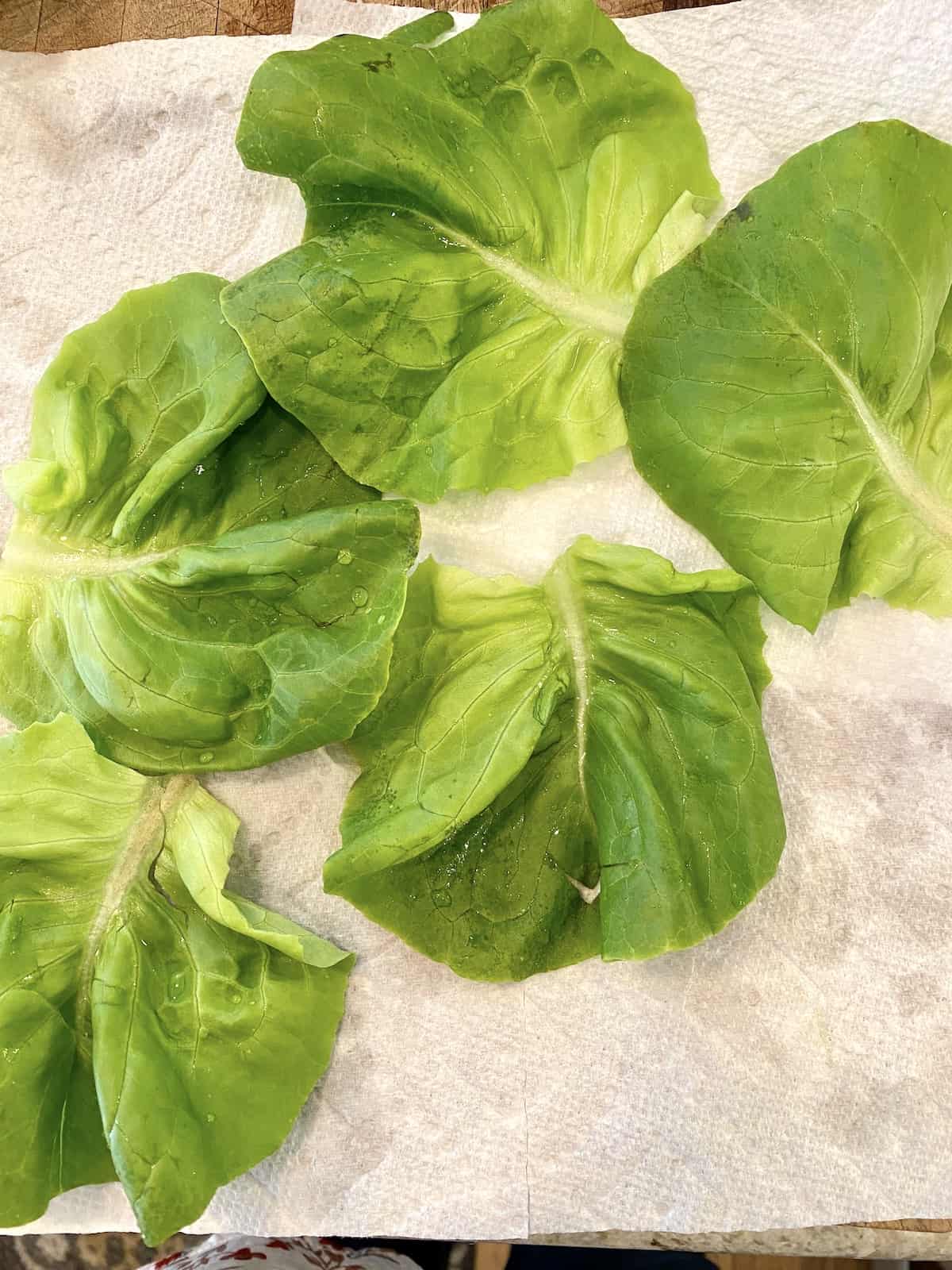 Croissant or Sandwich Filling
Chicken Curry Salad with Grapes is super versatile and can be served on top of fresh greens, as a standalone salad side dish, or even as a main dish. But one of my favorite ways to serve it is as a sandwich filling. And buttery, flaky croissants are perfect for that.
Slice the croissants in half and spread about one cup of the chicken salad on the bottom half of the croissant, layer a few leafs of lettuce on top of the filling then top with the other half of the croissant.
Pro tip: You can use either large or small croissants, but small croissants are the best when you are serving this with other sides or appetizers. It's an especially tasty way to serve chicken curry salad at an event such as a baby shower or a wedding shower.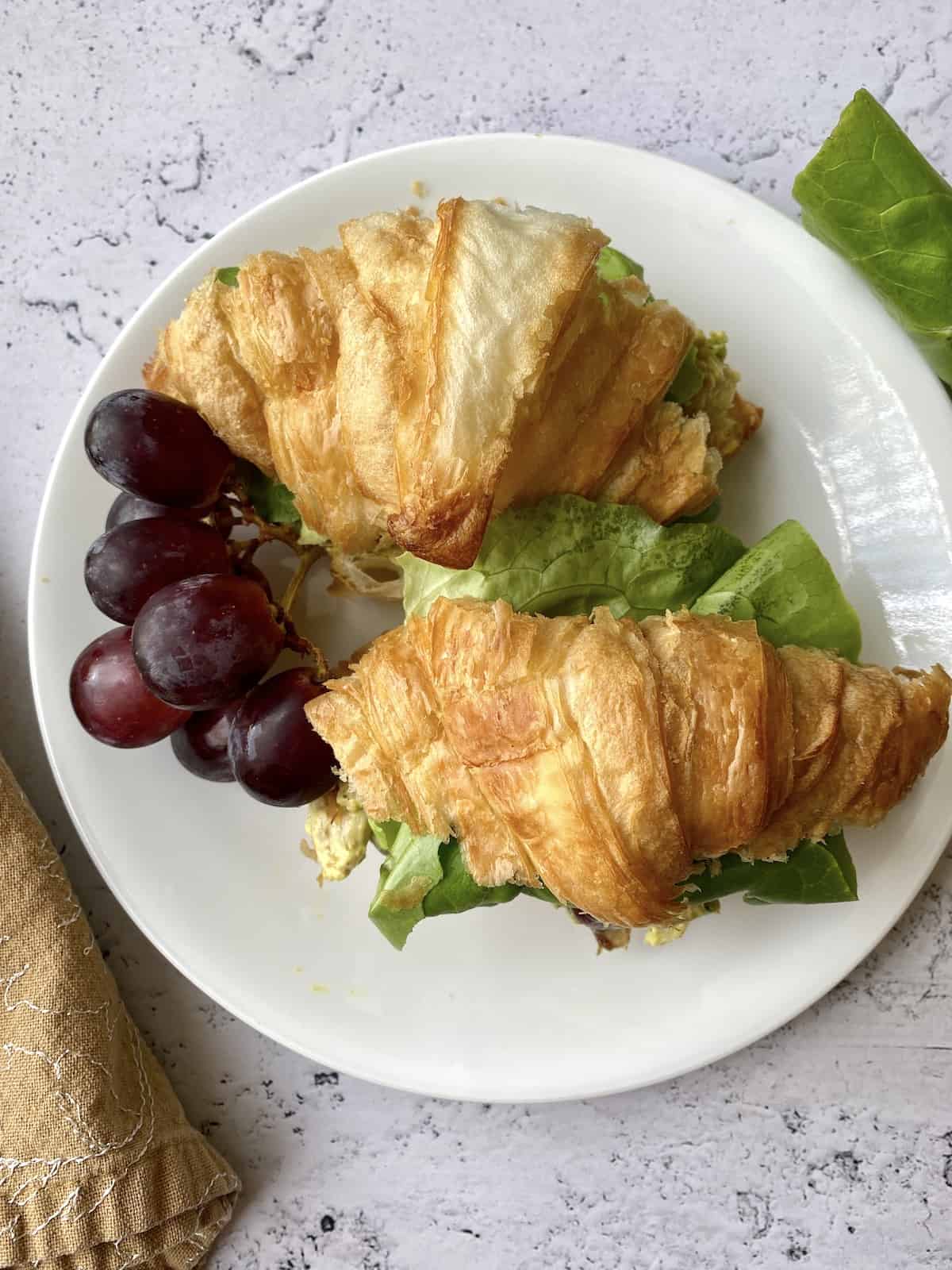 The croissants are easy to handle and are a nice protein boost amid other finger foods or appetizers on the plate.
Here are some other ways to serve chicken salad with bread: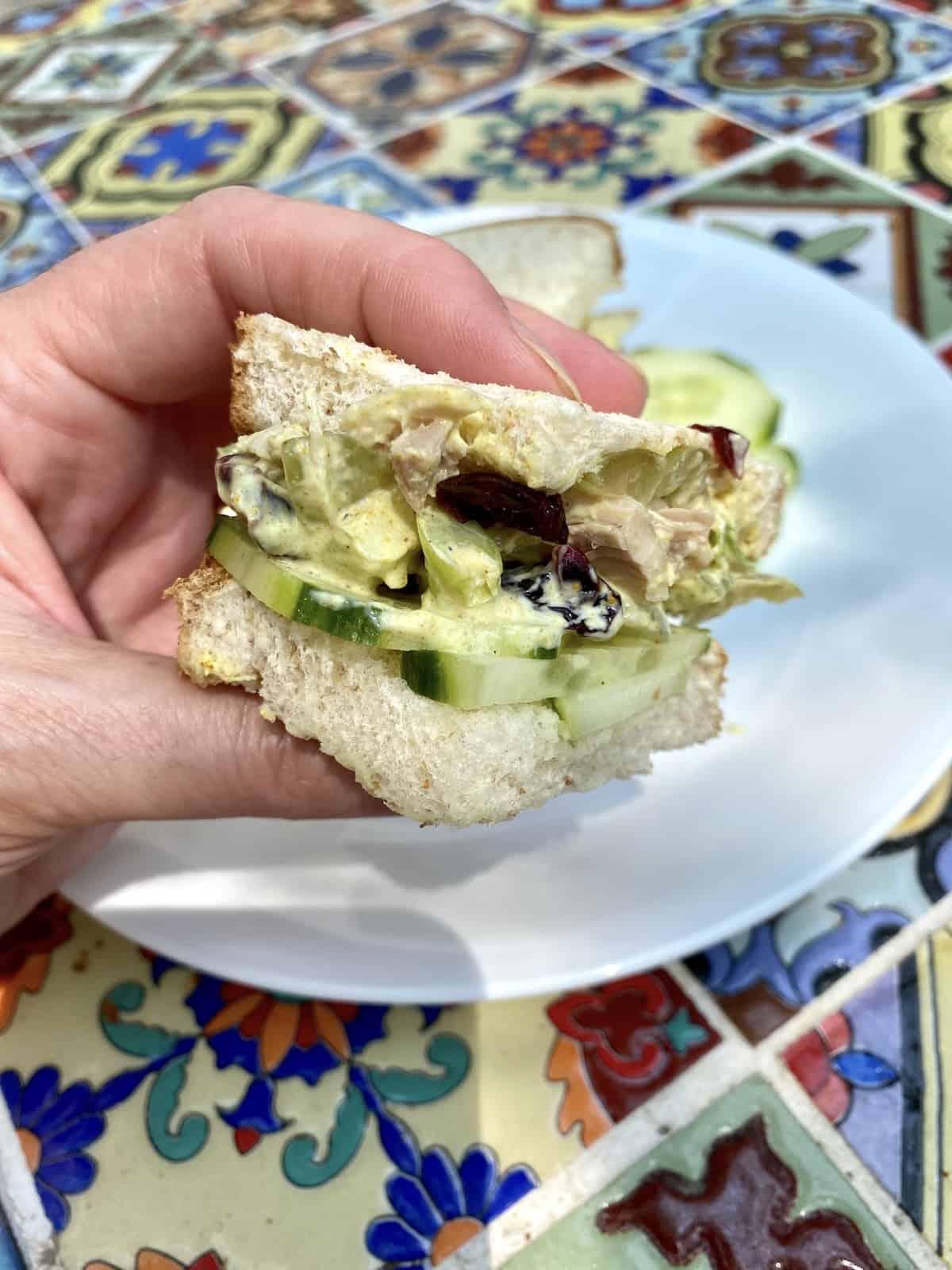 Lightly toast whole wheat bread and place the chicken salad between two slices, add thinly sliced cucumbers and lettuce. Cut into fourths for tiny, impressive bite-sized servings.
Use the same method as above, but don't toast the bread. (This is one of my favorite ways to serve chicken curry salad.)
Spread the chicken salad on fresh bagels.
Serve bruschetta-style and top toasted rounds of crusty French bread with a tablespoon of the chicken salad and top with a few pieces of diced celery
Dried Fruit Options
Not a fan of dates? No problem. This recipe includes plenty of options for dried fruit to add to your Chicken Curry Salad with Grapes.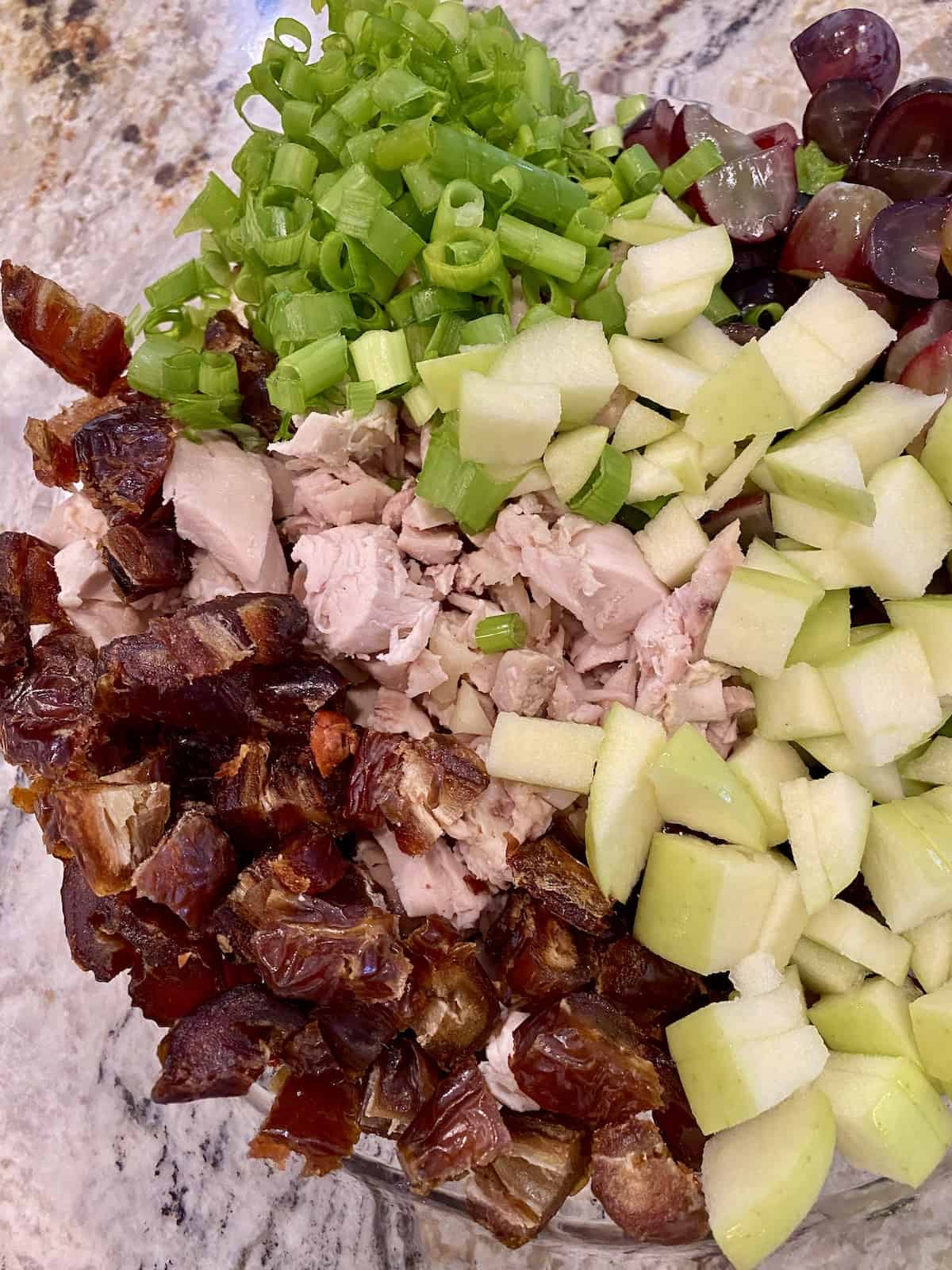 My personal favorite is dried cranberries or craisins, but golden raisins or even chopped, dried apricots are delicious options. You'll need one cup of dried fruit. Choose one of the following dried fruits, or even experiment and pick two and add ½ cup of each.
Dates
Dried cranberries
Raisins
Golden raisins
Dried apricots
Dried mangos
Dried cherries
Creamy Ingredients
The filling that binds the chicken with the green onions, dried fruit and apple is incredibly simple to make.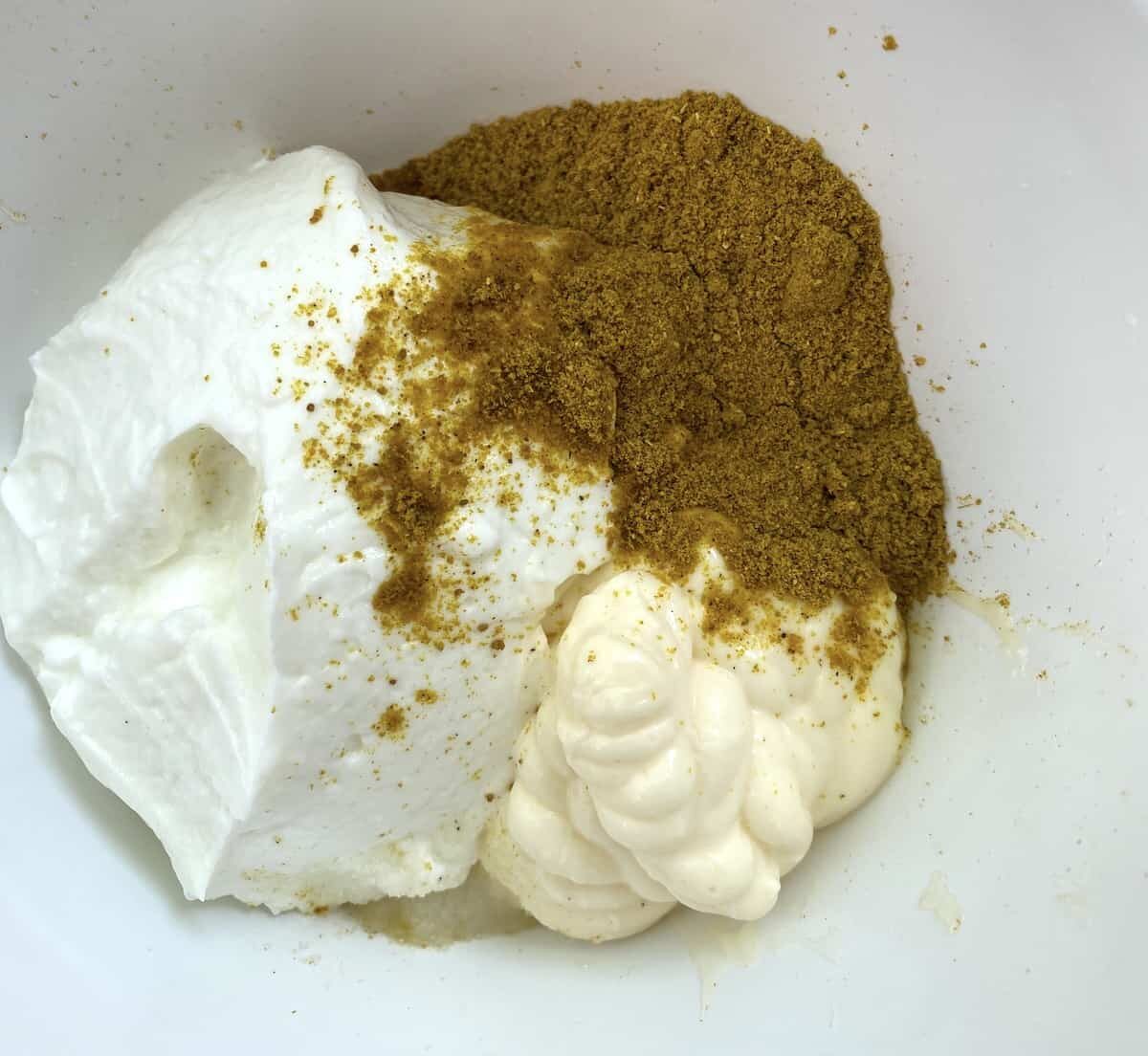 Bend ½ cup non-fat Greek yogurt with ¼ cup mayonnaise and add a tablespoon and a half of curry powder and a teaspoon of salt. That's it! The result is a smooth and deliciously seasoned curry-infused creamy sauce.
Substitution for Curry Powder
Curry Powder has a distinctive bold flavor, but it's actually a combination of spices. If you check out the label on the spice jar it comes in, I like to use McCormick Curry Powder you'll see the ingredients of curry powder are:
Coriander, Fenugreek, Turmeric, Cumin, Black Pepper, Bay Leaves, Celery Seed, Nutmeg, Clove, Onion, Ginger and Red Pepper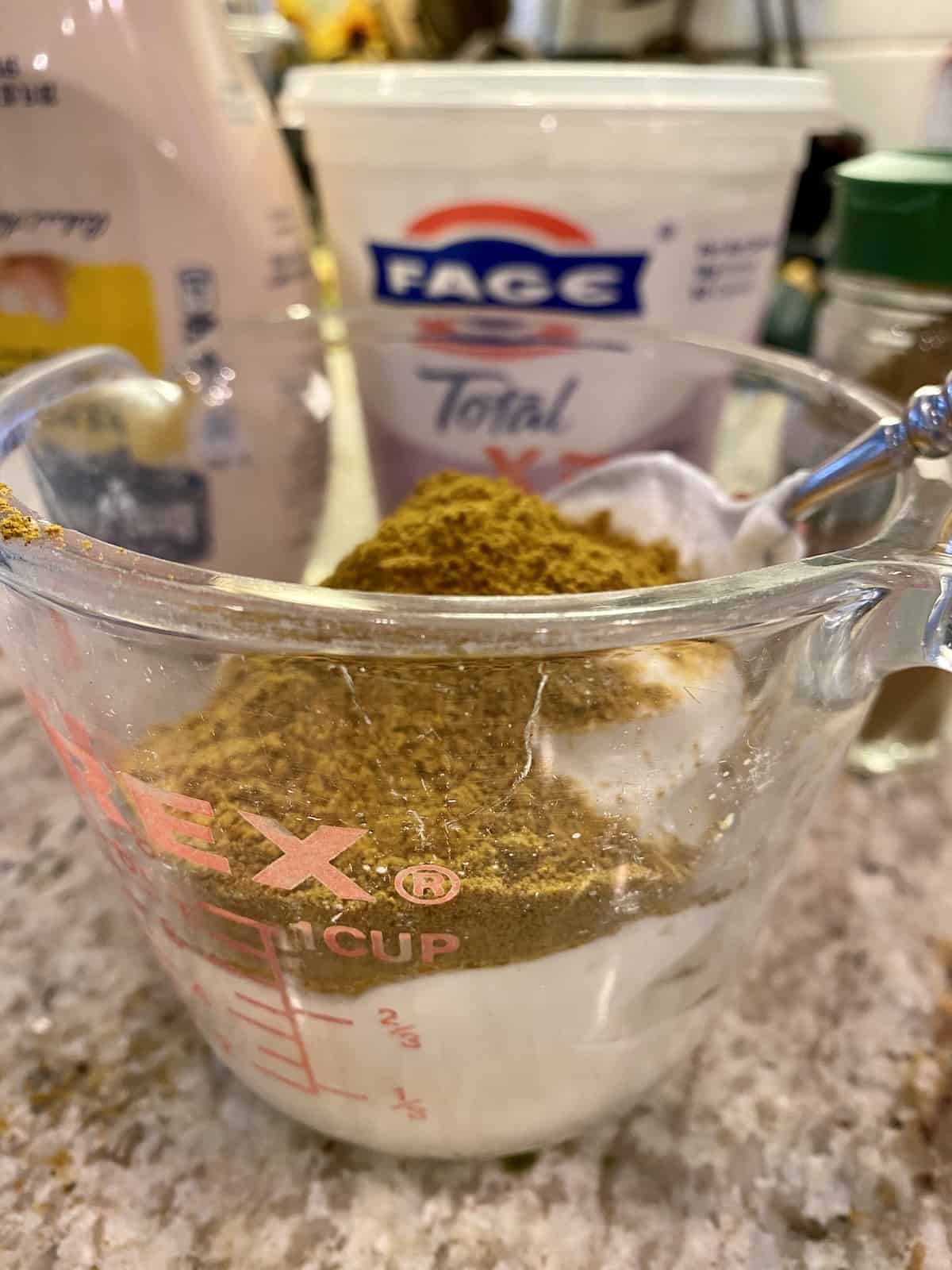 It would be difficult the replicate that spice combination with 100% accuracy using spices from our own spice cabinet.
But if you want to substitute curry powder in Chicken Curry Salad, here are a few options.
Equal amounts of turmeric and paprika - note, both are very different spices than curry but they will provide a distinctive, warm spice flavor
Forgo the strong spice and simply season the chicken salad with ½ teaspoon each of salt and pepper and ½ teaspoon of celery seed
Storage
Chicken Curry Salad with Grapes will stay fresh for up to 4 days, stored in an airtight container in the refrigerator. It's important to keep the salad refrigerated and to avoid leaving it at room temperature for extended periods of time while serving.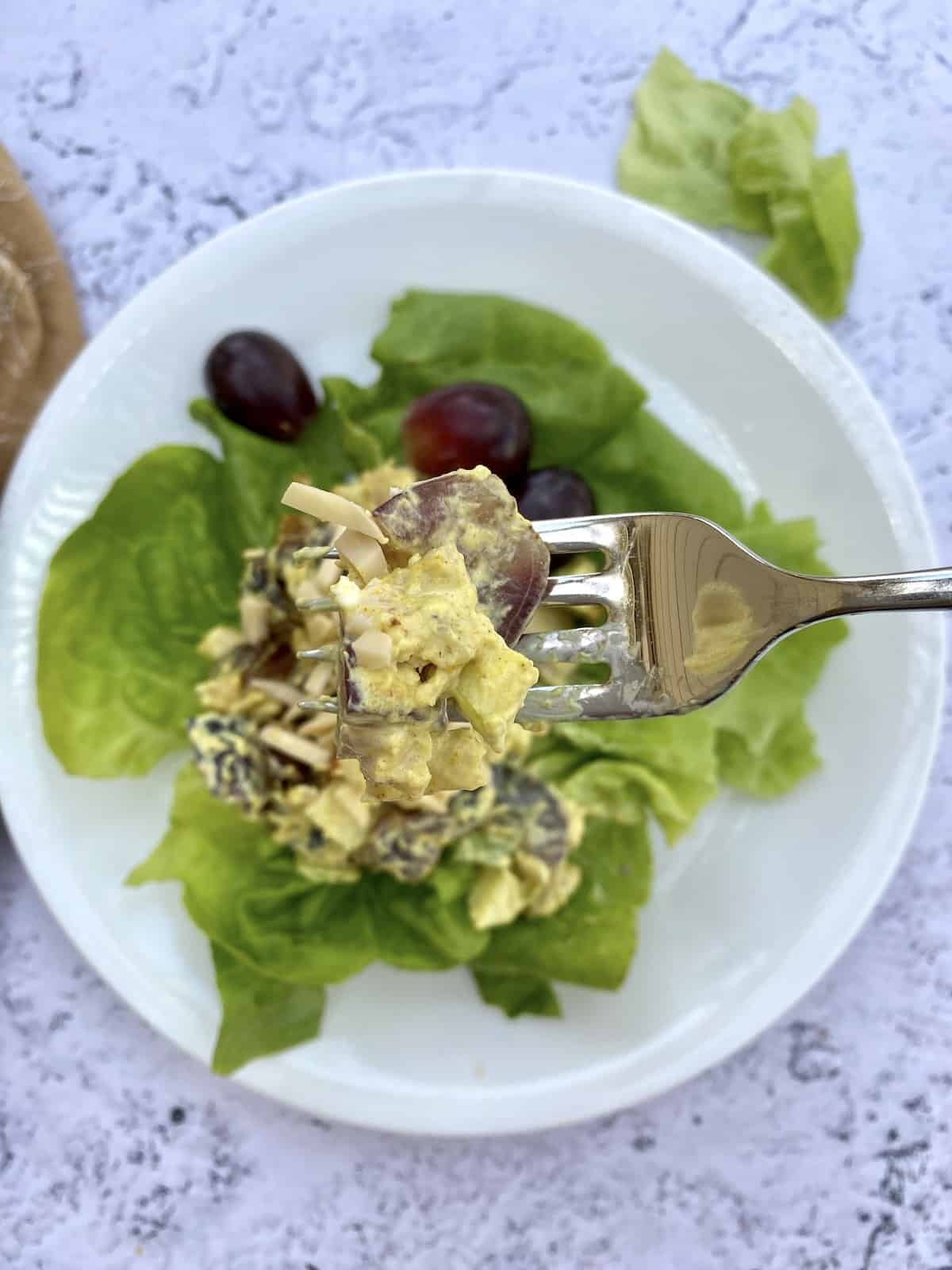 I don't recommend freezing this salad.
Although you can prepare it a day or two in advance of serving, be sure to keep it refrigerated.
For best results, enjoy it within four days of preparing it.
Top Tips and FAQ
What's a good substitute for the mayonnaise?
If you aren't a fan of mayo, boost the amount of Greek yogurt in the recipe.
Can this be made a day or two ahead of serving?
Yes, you can mix the ingredients together, cover and refrigerate before serving. For the very best taste and texture, stir in the diced apples and almonds right before serving.
What can I use in place of almonds?
Chopped cashews are a tasty option instead of almonds. Or you can leave the nuts out altogether. Consider adding ½ cup of diced celery instead to replace the crunchiness of nuts.
More Salad Recipes
Food Safety
Here are a few tips to keep in mind to keep our kitchens and the food we serve safe:
Cook to a minimum temperature of 165 °F (74 °C)
Do not use the same utensils on cooked food, that previously touched raw meat
Don't leave food sitting out at room temperature for extended periods
Always have good ventilation when using a gas stove
See more guidelines at USDA.gov.
If you tried Cold Green Bean Salad or any other recipe on my website, please leave a 🌟 star rating and let me know how it goes in the 📝 comments below.
Recipe