What could be better than a fluffy baked potato, mashed and combined with our favorite potato toppings? Twice-Baked Mashed Potatoes are cheesy and rich and the ultimate side dish or a satisfying main entree. Serve this with No Ketchup Meatloaf, Ivar's Copycat Fried Cod, or alongside Cold Green Bean Salad for a winning, family dinner menu.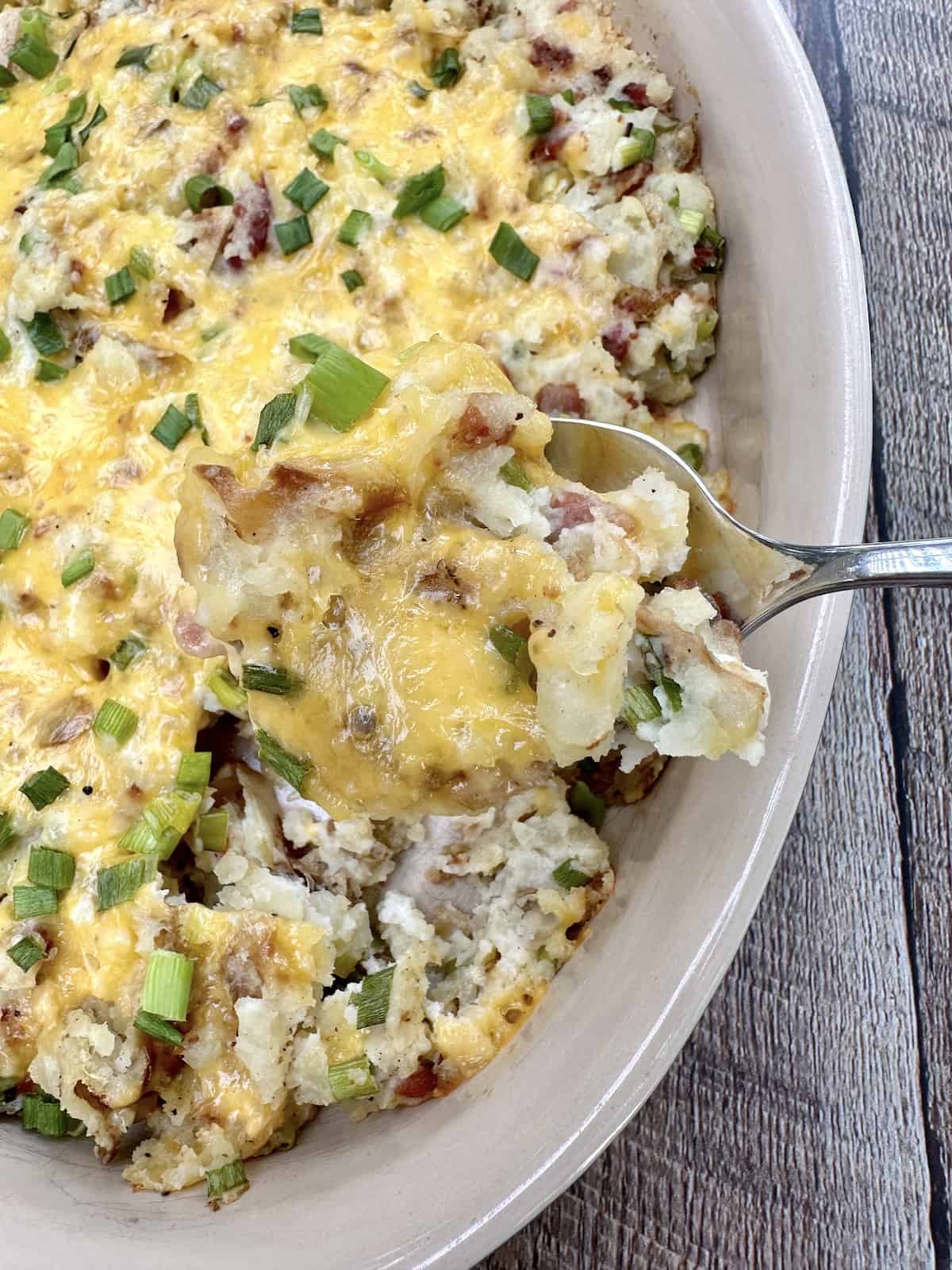 Jump to:
⭐ Why You'll Love This Recipe
Twice-Baked Mashed Potatoes bring together all the tasty flavors from a baked potato bar with delicious potato toppings like crumbled bacon, sour cream, butter and cheese. The best part, we combine everything in one baking dish.
Everyone at the dinner table gets to decide for themselves how large a portion to scoop up and leftovers are easy to save and reheat. It's classic comfort food that goes great with Elegant Green Bean Casserole or Roasted Brussels Sprouts with Balsamic Glaze.
There's no hassle with Twice-Baked Mashed Potatoes because you don't need to save an intact potato peel to stuff with mashed potatoes or other ingredients.
🥘 Ingredients to Have on Hand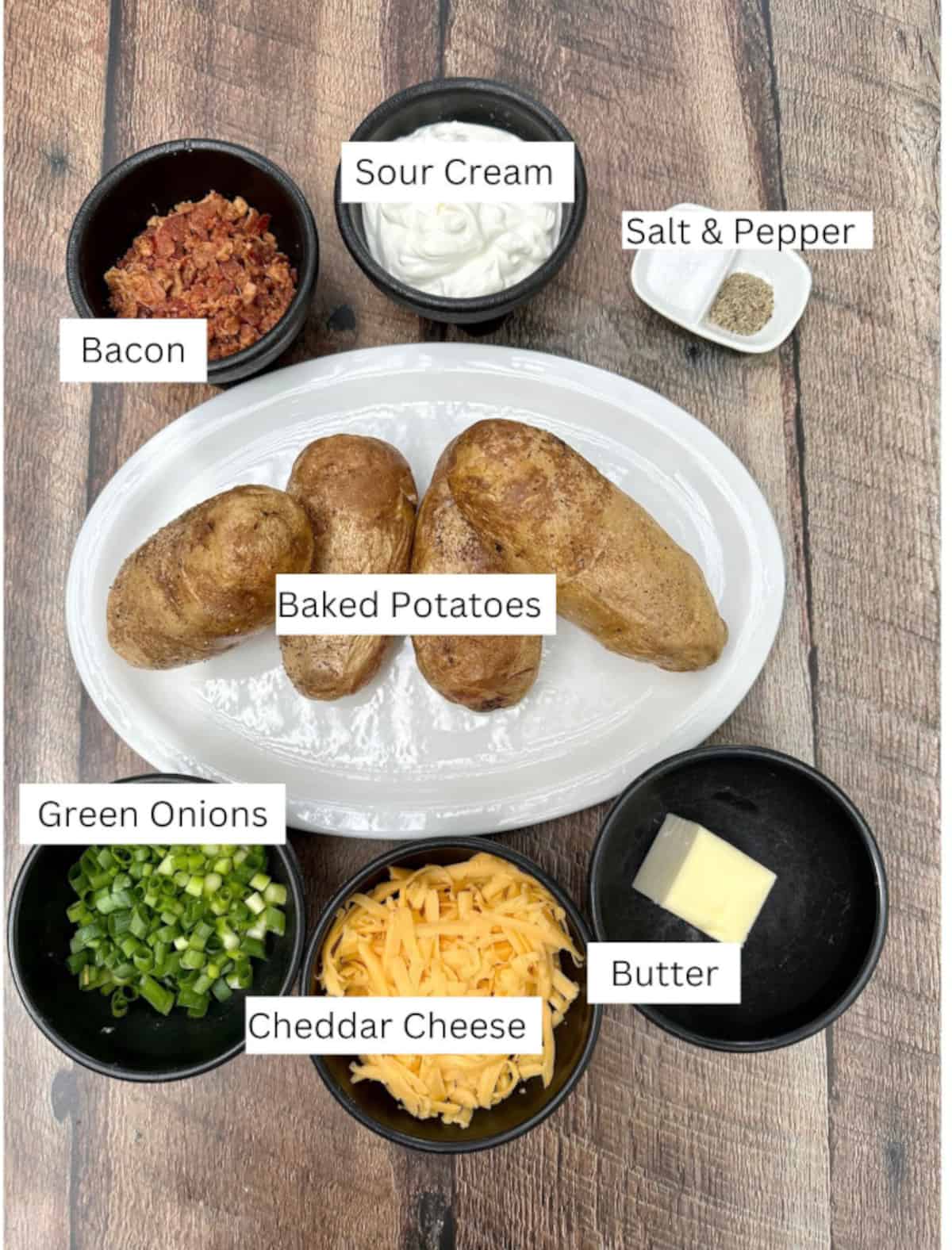 Baked Potatoes: As you may know, I'm a food blogger in Idaho. So naturally potatoes are a favorite ingredient of mine and I highly recommend using Russet potatoes for this recipe. They bake beautifully and result in a fluffy, soft potato.
Bacon: Cooked, crumbled bacon adds distinctive flavor to Twice-Baked Mashed Potatoes because honestly, I believe bacon makes just about everything taste better. Short on time? Use crumbled bacon pieces, already cooked.
Cheddar Cheese: Sharp or mild cheddar cheese are equally delicious. Although Mozzarella cheese is wonderful in most cooking and baking, the stretchy quality of that cheese doesn't lend itself as well to the baked, mashed potatoes.
This recipe is incredibly versatile. You can adjust ingredients depending on what you plan to serve with Twice-Baked Mashed Potatoes. For instance, if you are serving this with a pot roast and gravy, you could leave out the bacon and cheese.
See the recipe card below for a full list of ingredients and measurements.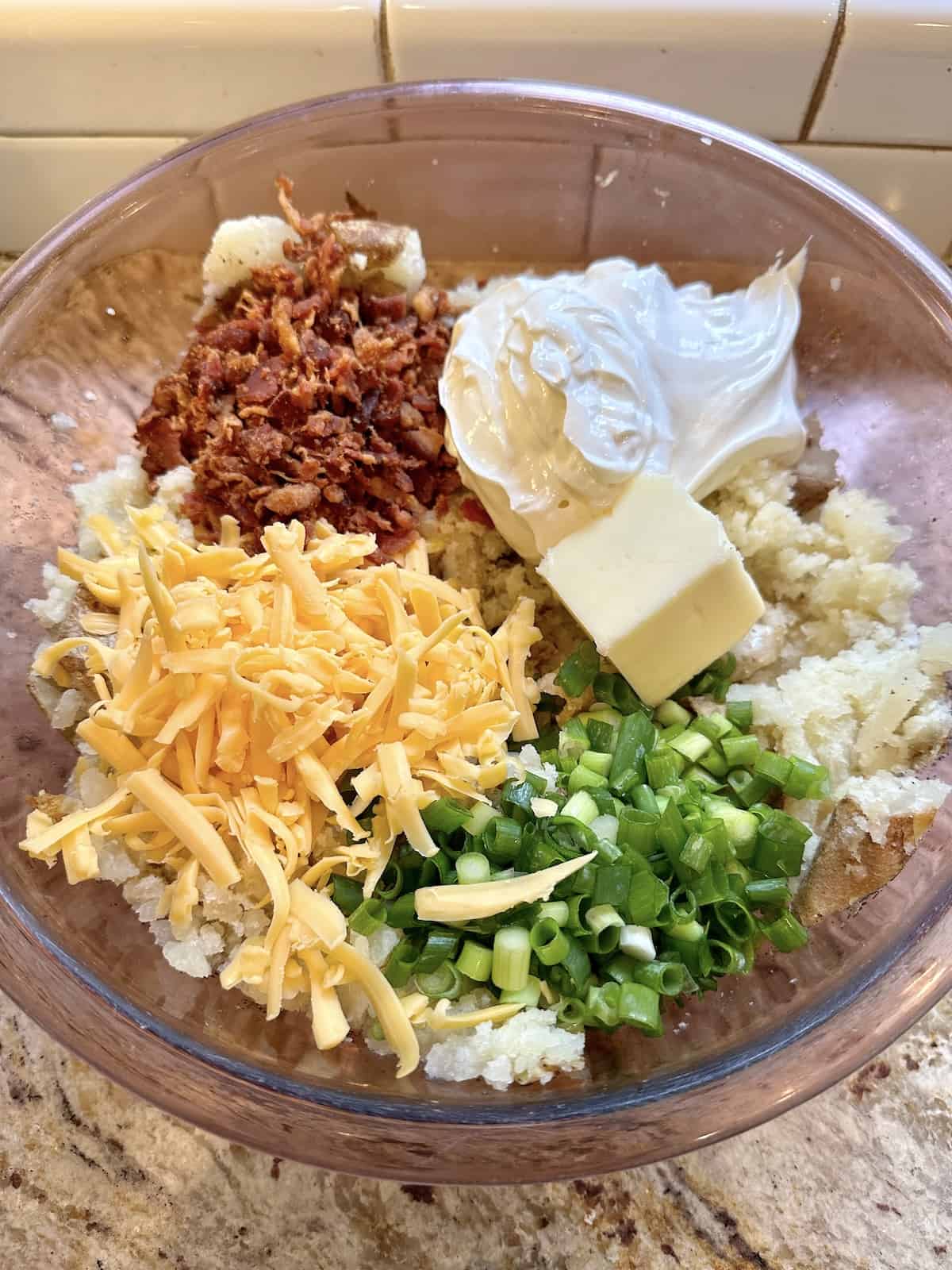 📖 Substitutions
There are countless ways to make this recipe your own and style it to your family's favorite flavors.
Potatoes are incredibly versatile. Anything you might top a baked potato with can easily be added to this recipe.
Cream Cheese: Add a few tablespoons of cream cheese to add that distinctive tangy flavor and a little extra creaminess to the mashed potatoes.
Chives: Diced, fresh chives are a delicious alternative to green onions.
No Bacon: If you are serving this as a side dish with a main entree that includes gravy, you can leave out the bacon.
Leftover Mashed Potatoes: Twice-Baked Mashed Potatoes is a great way to use up leftover mashed potatoes, especially after a holiday meal. Simply swap the four baked Russets in the recipe with 4-5 cups of leftover mashed potatoes. The result will be a much softer, fluffier version of the dish, but definitely delicious.
Other Potato Varieties: I highly recommend using Russet potatoes for this recipe, but red potatoes or Yukon gold are both good substitutions. For either of those varieties, I suggest boiling approximately 2 pounds of either type of potato in a large stockpot on the stove with about 2 quarts of water. Cook until the potatoes are fork-tender, then drain and mash.
Rosemary or Other Herbs: A teaspoon or two of finely chopped fresh rosemary is delicious in this recipe, or experiment using the fresh herbs your family enjoys the most.
Greek Yogurt: Substitute the sour cream for plain Greek yogurt.
🔪 Step-by-Step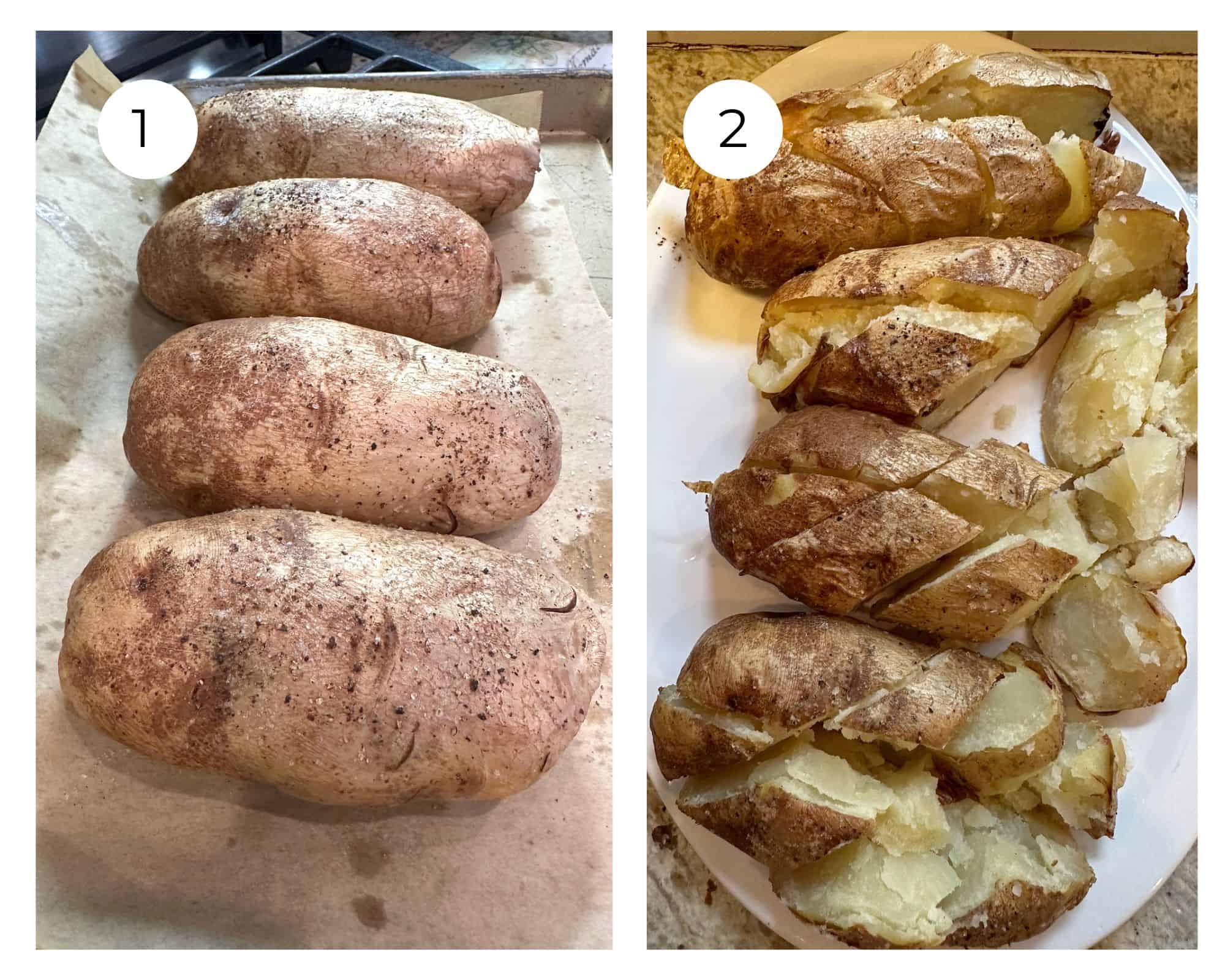 Step 1: Scrub and rinse 4 large Russet potatoes and use paper towels to pat each one dry. Place the potatoes on a baking sheet lined with parchment paper. Using a pastry brush, spread each with olive oil then sprinkle with a few dashes of salt and pepper. (Photo #1) Bake in a 425°F oven for about an hour.
Pro Tip: Using a meat thermometer, you can test a baked potato for doneness. Once the potato reaches 210°F it's ready. Can you smell the baked potatoes while they are in the oven? Russets give off a delicious aroma when they get close to reaching 210°F. (Thank you to the Idaho Potato Commission for this great tip!)
Step 2: Once the potatoes are baked, remove them from the oven and let them cool for a few minutes or until you can handle them. Place the potatoes on a cutting board and use a knife to slice them into large chunks or wedges. This helps to get the potato peels cut into bite-sized sections. (Photo #2)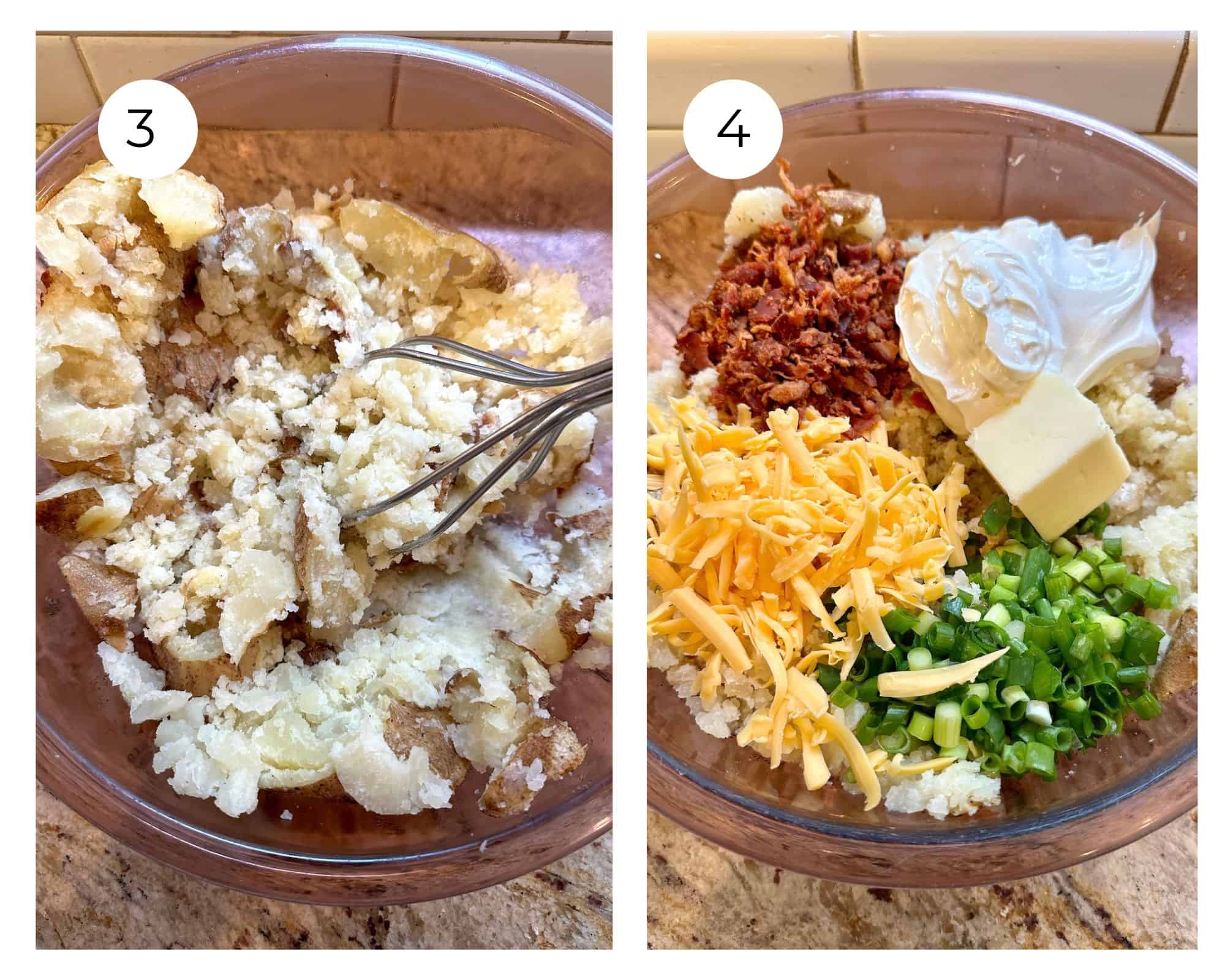 Step 3: Place the potato chunks into a large bowl and use a potato masher to blend and smash all four of the potatoes. (Photo #3)
Step 4: Reserve ½ cup of grated cheese and ¼ cup of diced green onions. Add all the remaining ingredients to the large bowl. (Photo #4)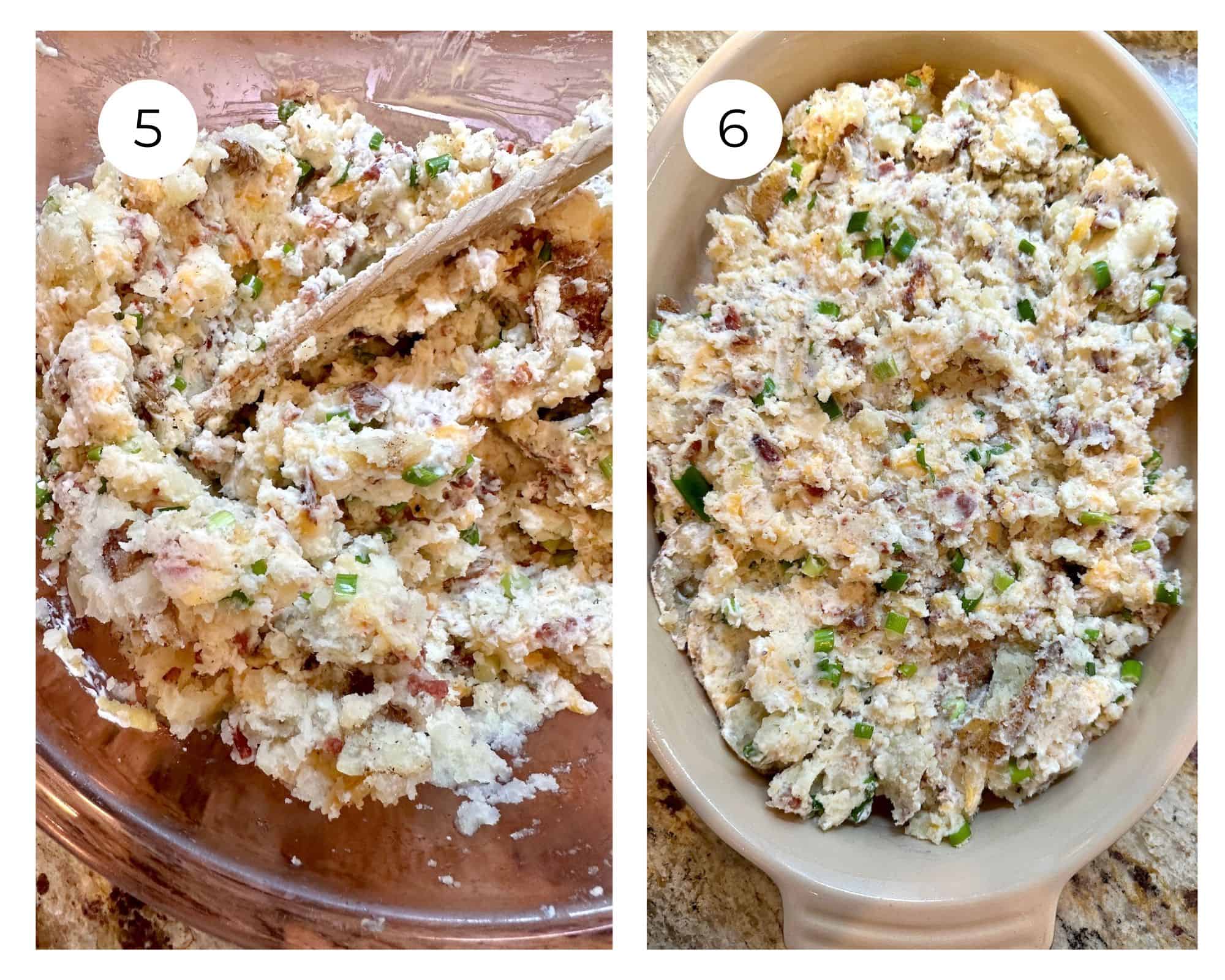 Step 5: Stir well to combine all the ingredients. (Photo #5)
Step 6: Spread the potato mixture into a baking dish. (Photo #6)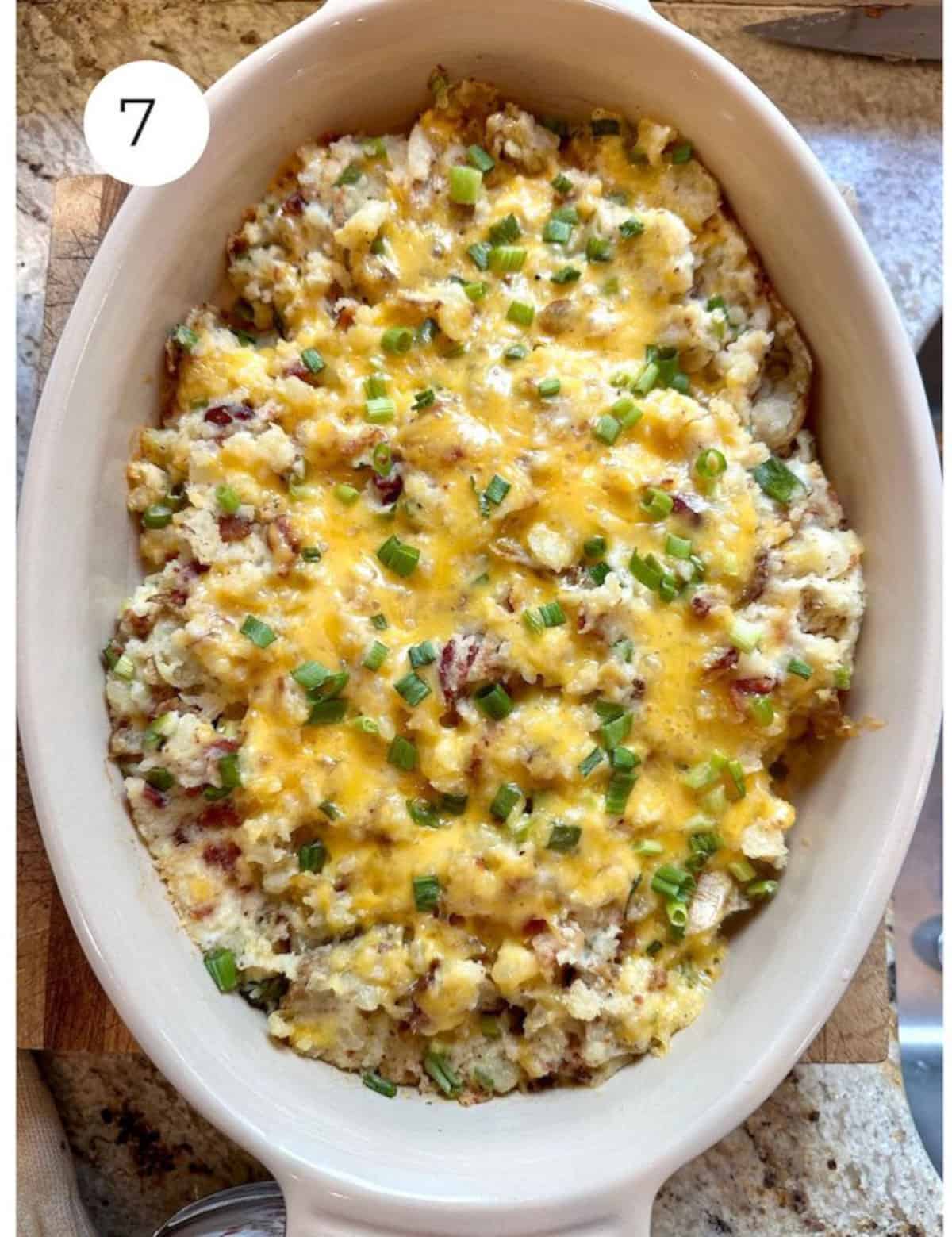 Step 7: Bake covered at 350°F for 30 minutes, then top with the reserved grated cheese and diced green onion and return to the oven, uncovered and bake for another 20 minutes or until the cheese is melted and there is a bubbling around the edges. (Photo #7)
💭 Recipe FAQs
Could I use leftover mashed potatoes?
Yes! While the result will be a creamier version of Twice-Baked Mashed Potatoes, it's a great way to put mashed potato leftovers to good use.
Will instant potatoes work?
While instant potatoes are tasty and a nice shortcut from time to time, I don't recommend using instant potatoes in this recipe because it relies on the texture of fresh spuds that are oven-baked and then mashed.
What's the best way to bake the potatoes?
Baking in either a conventional or convection oven is best. Plan on it taking an hour at 425°F in a conventional oven or at 400°F if using convection. If time is short, microwaving the potatoes is also an option. Follow the potato baking time recommended on your microwave.
How do I reheat leftovers?
One of the best things about Twice-Baked Mashed Potatoes is they are just as good reheated. Store any leftovers covered and in the refrigerator for up to 5 days. To reheat, sprinkle a few drops of water across the top - about 1 teaspoon of water - cover with foil, and bake at 325°F for 45 minutes. The added water helps create moisture that will revitalize the chilled ingredients.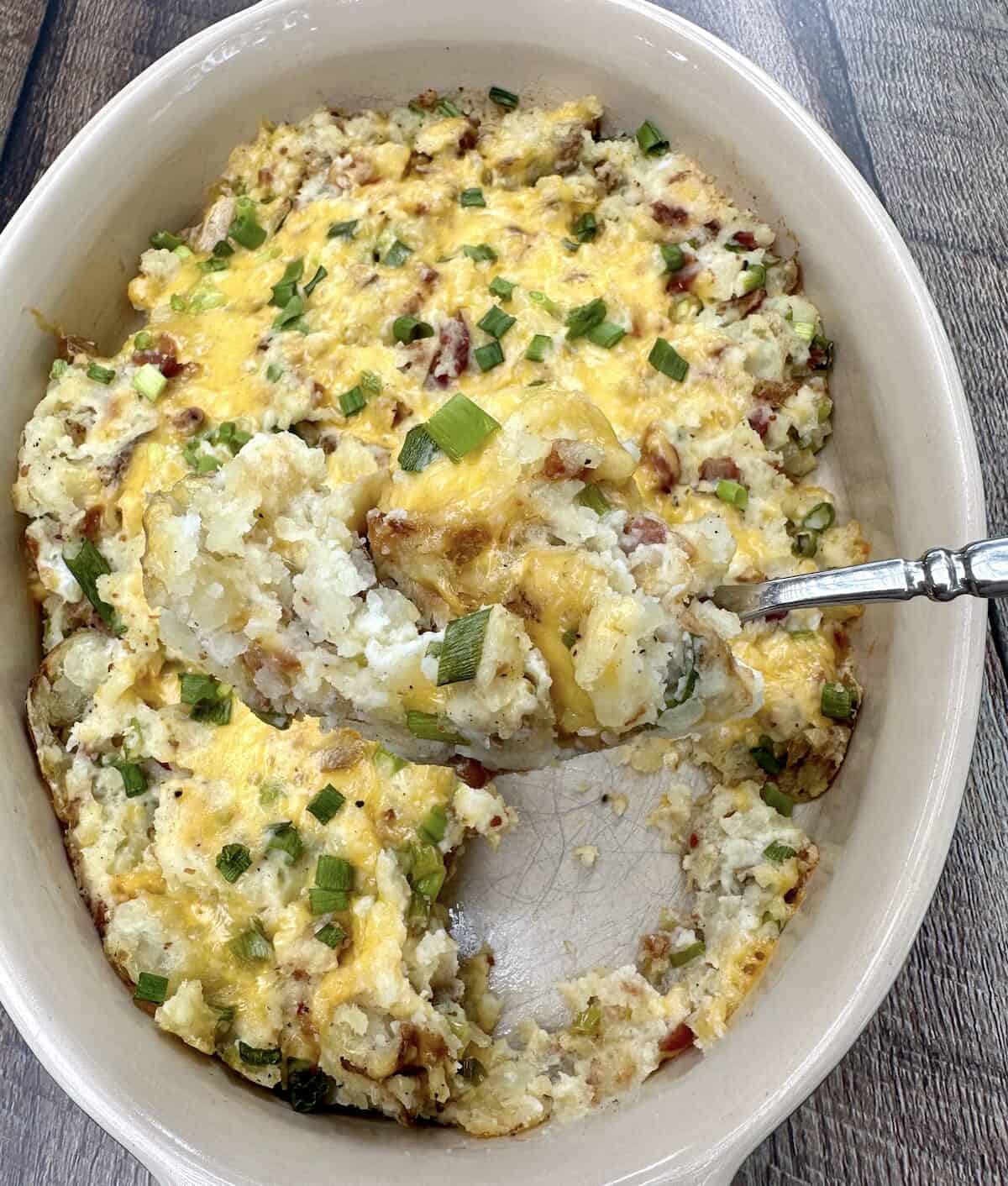 🥗 What to Serve with Twice-Baked Mashed Potatoes
The options for what to serve with this dish are almost endless, and you can pair this with your favorite proteins, fresh vegetables or salads.
Grilled or Roasted Meats: Anything that you might serve with regular baked potatoes will go great alongside this dish. The baked, fluffy potatoes along with the bacon and cheese go far to complement the savory flavors of grilled or roasted meats like steak, chicken or pork chops.
Baked or Oven Fried Chicken: Buttermilk Chicken Tenders or Dutch Oven Chicken are wonderful chicken options to serve with this recipe.
Salads: Once you've picked out your protein, add a few salads on the side and you'll have the entire menu good to go. Both Old Fashioned Pea Salad and Crunchy Cole Slaw are delicious together with Twice-Baked Mashed Potatoes.
🥔 More Recipes with Potatoes
I love sharing recipes that use potatoes and here are a few that are especially popular, whether potatoes are the main ingredient or an additional add-in. Give these recipes a try and you'll taste why potatoes are one of Idaho's most famous exports.
If you tried Twice-Baked Mashed Potatoes or any other recipe on my website, please leave a 🌟 star rating and let me know how it goes in the 📝 comments below.
Recipe