Here's a plant-based spin on a Chinese restaurant-style entree. Crispy, Easy Baked Orange Tofu is a tasty way to enjoy a healthier version of Chinese Orange Chicken. You'll love oven-baked, crispy tofu smothered in a delicate orange sauce it's a delicious combination of sweet, tangy and savory flavors. Try it with Pork Wonton Stars or Crunchy Cole Slaw.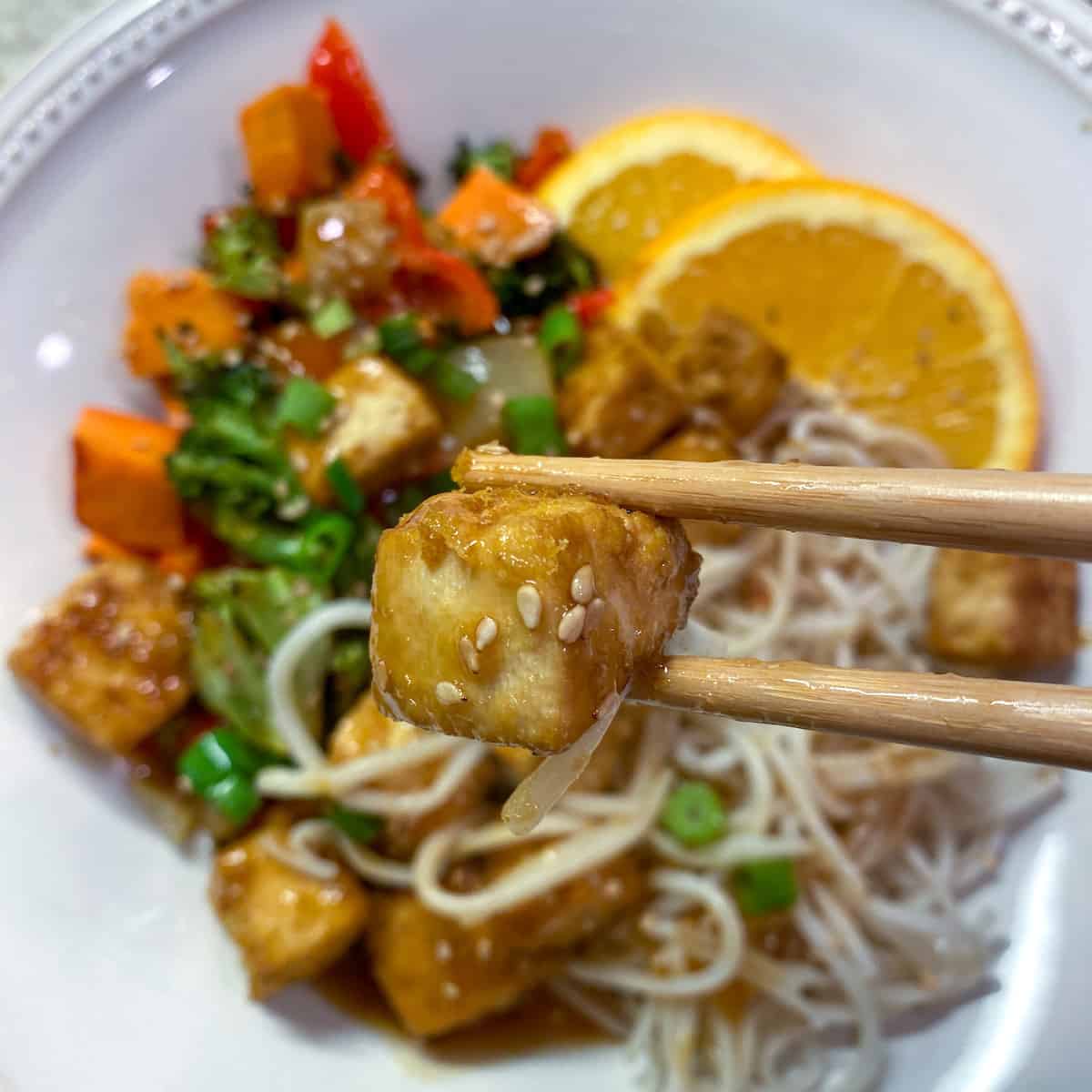 Jump to:
🥘 Ingredients to Have on Hand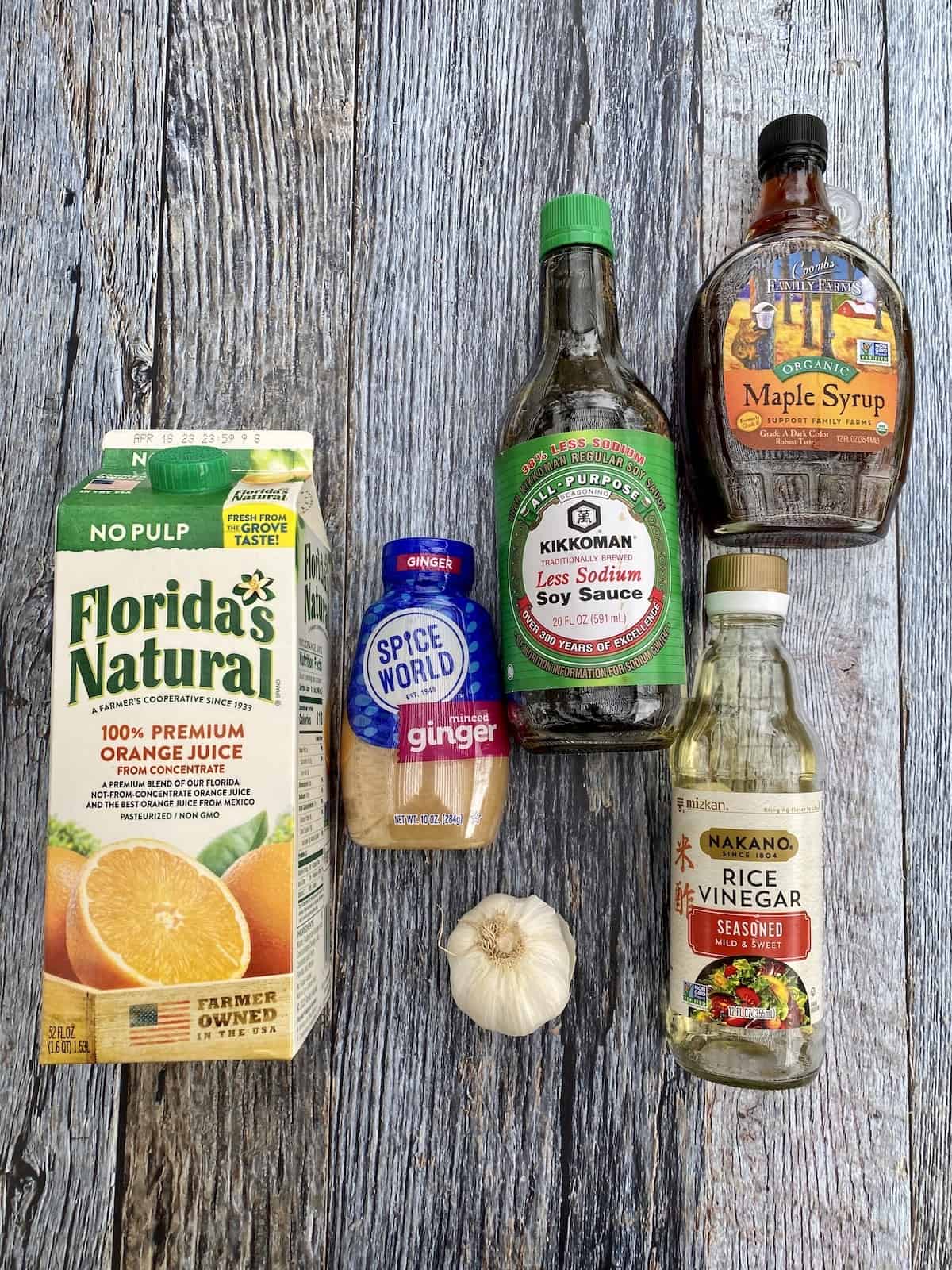 Most of the ingredients for Easy Baked Orange Tofu are staples, ingredients we are likely to have on hand, which makes this an easy recipe to prepare.
If you've never cooked with tofu before, this is a wonderful way to start and enjoy plant-based eating. This recipe is so tasty, even your meat and potatoes eaters will enjoy it.
Never cooked with nutritional yeast? (I hadn't either before creating this recipe.)
It creates a yummy, high-protein breading for the tofu and it's easy to find in most grocery stores.
Look for nutritional yeast in the spice aisle or where dry ingredients for baking are displayed.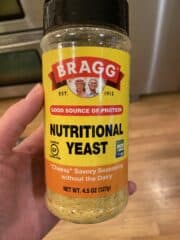 Nutritional yeast is usually packaged in a plastic jar, but I've also found it in the bulk foods section.
⭐Why You'll Love This Recipe
The tangy, slightly sticky orange sauce reminds me of the sauce on an Orange Chicken entree from a Chinese restaurant.
Are you taking a break from pot roast or pork loin? Are you looking for a new flavor combination at the dinner table? Do you love the taste of Orange Chicken from your favorite Chinese restaurant, but want a plant-based option?
If you answered yes to any of those questions then this recipe is for you!
💭 Use Extra Firm Tofu
You'll notice in the grocery store, there are several variations of tofu. You'll want to buy the extra firm style for this recipe.
Extra firm tofu is compact, easy to slice, and will hold its shape well during baking and serving.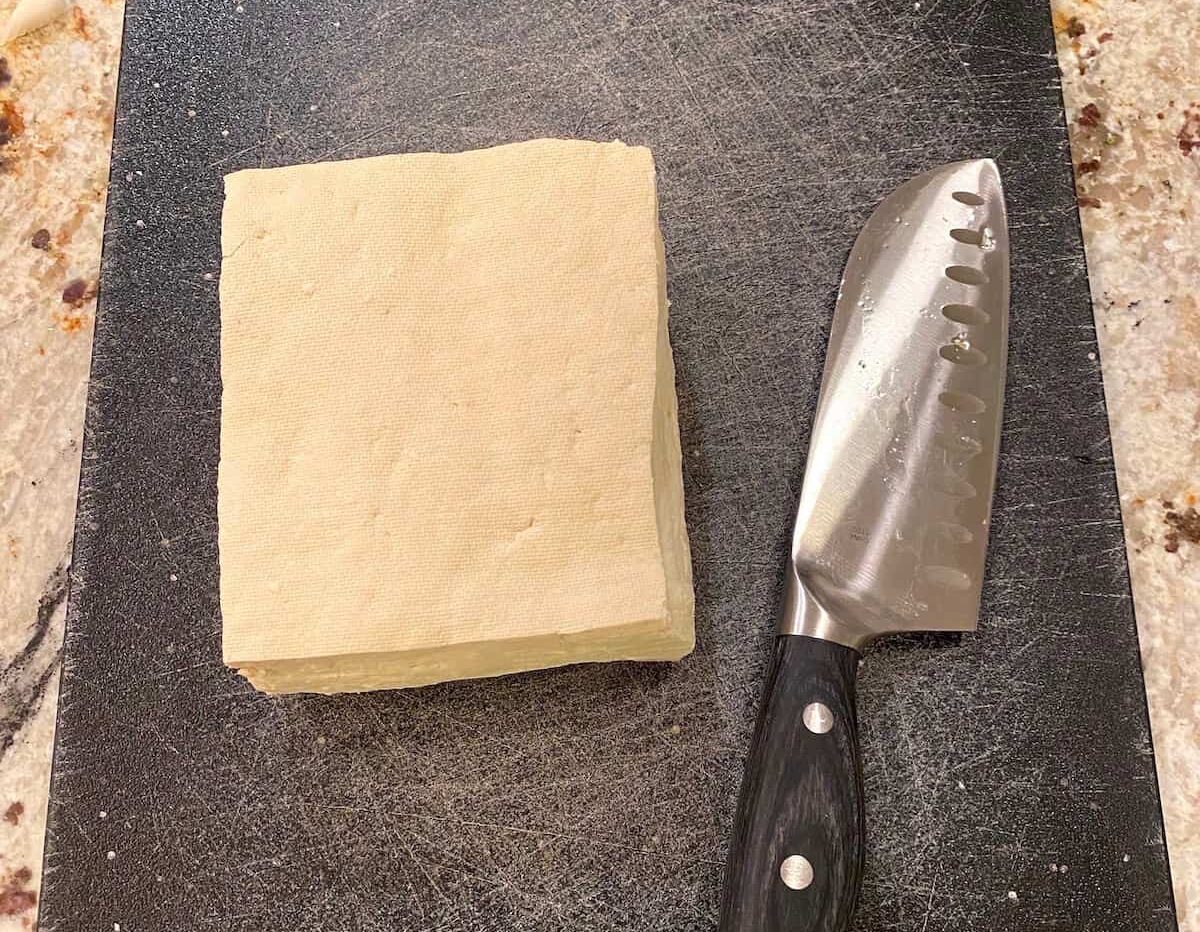 Of all the recipes on my food blog, this is the one and only that calls for tofu, but over the years it's become a favorite, especially for my kids. They love this recipe!
Tofu is a versatile ingredient that can be cooked in many different ways. If you've never cooked with tofu before, or if anyone in the family is slightly skeptical about it, this tofu recipe will very likely win them over.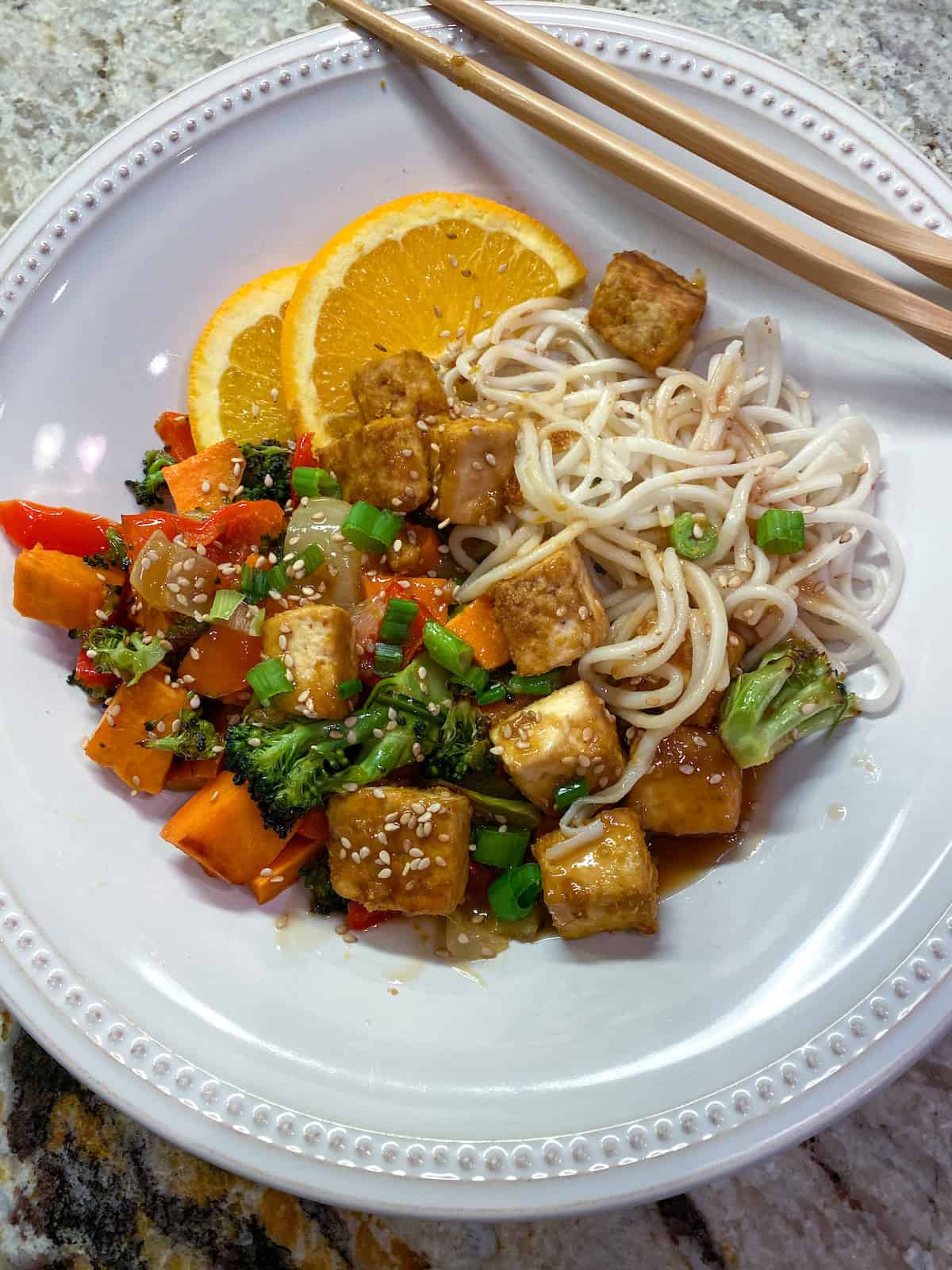 The crispy exterior and tender interior of the tofu combined with the sweet and tangy orange sauce make for an irresistible dish that is sure to impress.
📋 How to Press Tofu
Tofu needs to be well-drained before you bake it. Removing the excess water helps the tofu soak up all the wonderful flavor of the orange sauce in this recipe.
Open the tofu container and drain the water in the packaging then press the tofu to get all of the excess water removed.
Pro Tip: Wrap the block of tofu with several sheets of paper towels or a clean dish towel and place it on a cutting board. Top with a heavy pot or skillet and let it sit for at least 20 minutes, but ideally 30 minutes (or even longer).
Unwrap the pressed tofu.
It's now ready to slice and dice.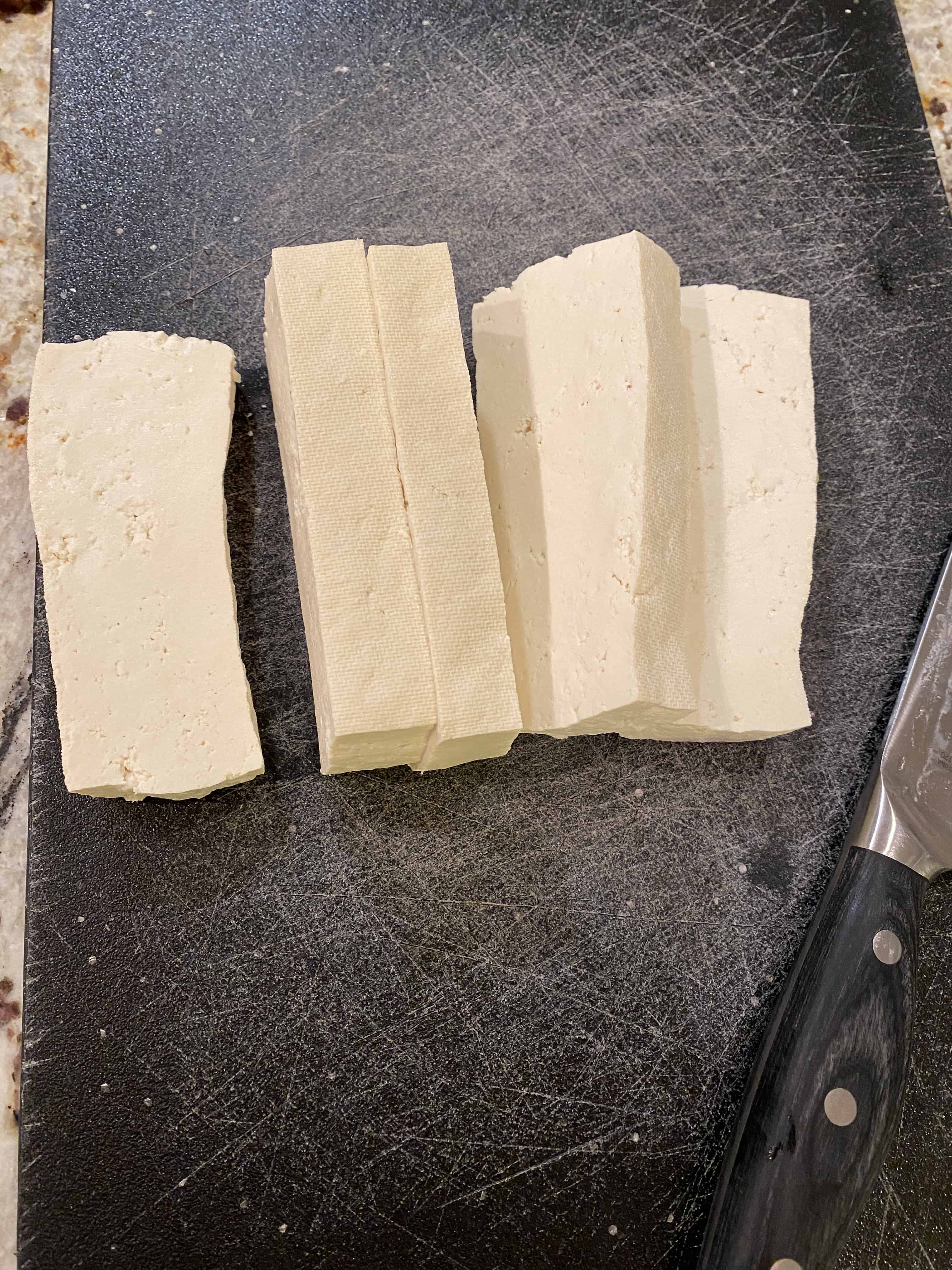 Slice the tofu lengthwise into 5 large strips.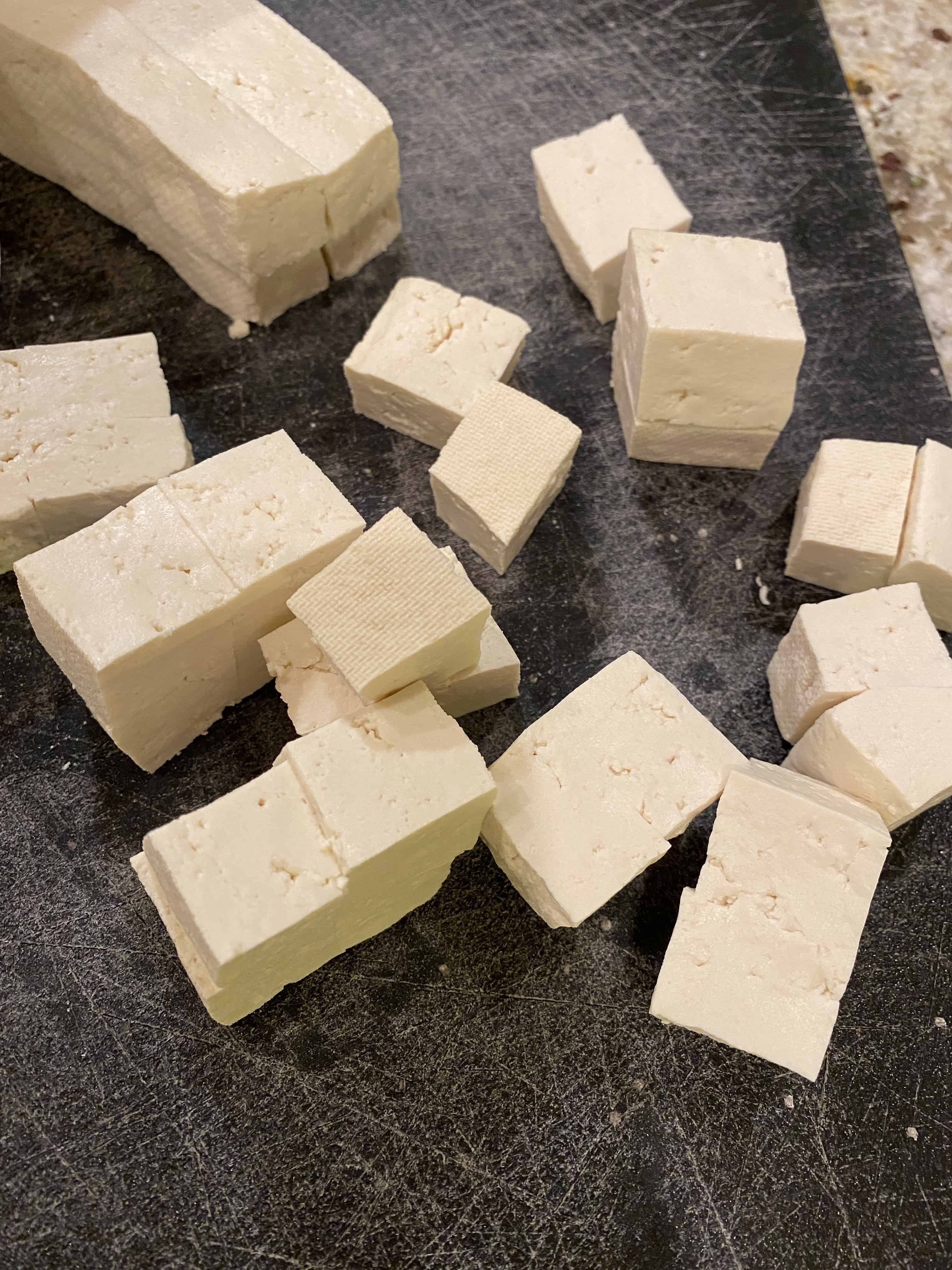 Dice each strip into a 1-inch chunk.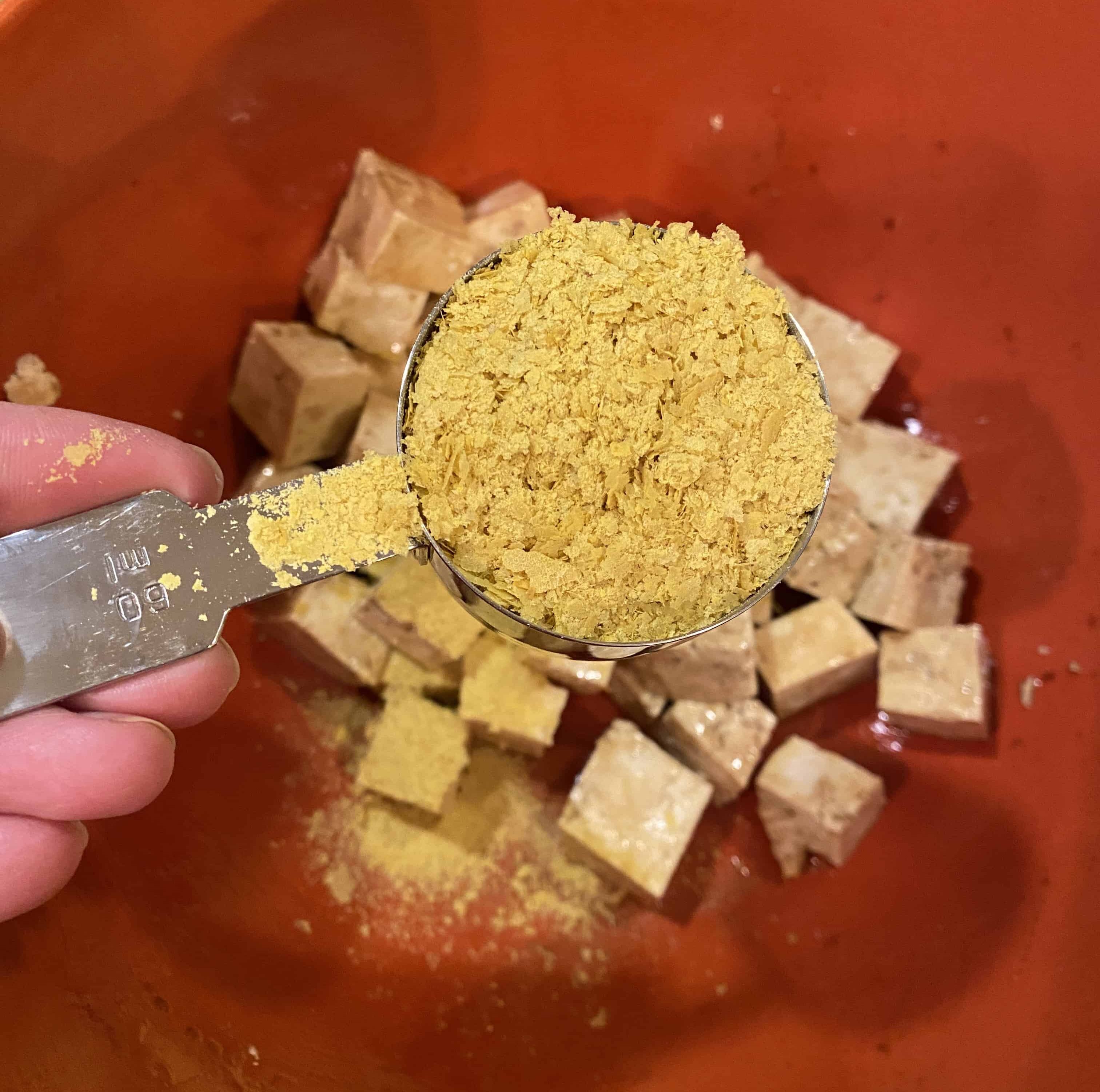 Toss the diced tofu with soy sauce and olive oil, then sprinkle with the nutritional yeast.
Arrange the tofu on a baking sheet lined with parchment paper.
🍊Orange Sauce for Tofu
The best part about Easy Baked Orange Tofu is most definitely the orange sauce. It's the perfect balance of tangy, slightly sweet and a little sticky.
The sauce is truly what makes this one of the best-tasting tofu recipes ever.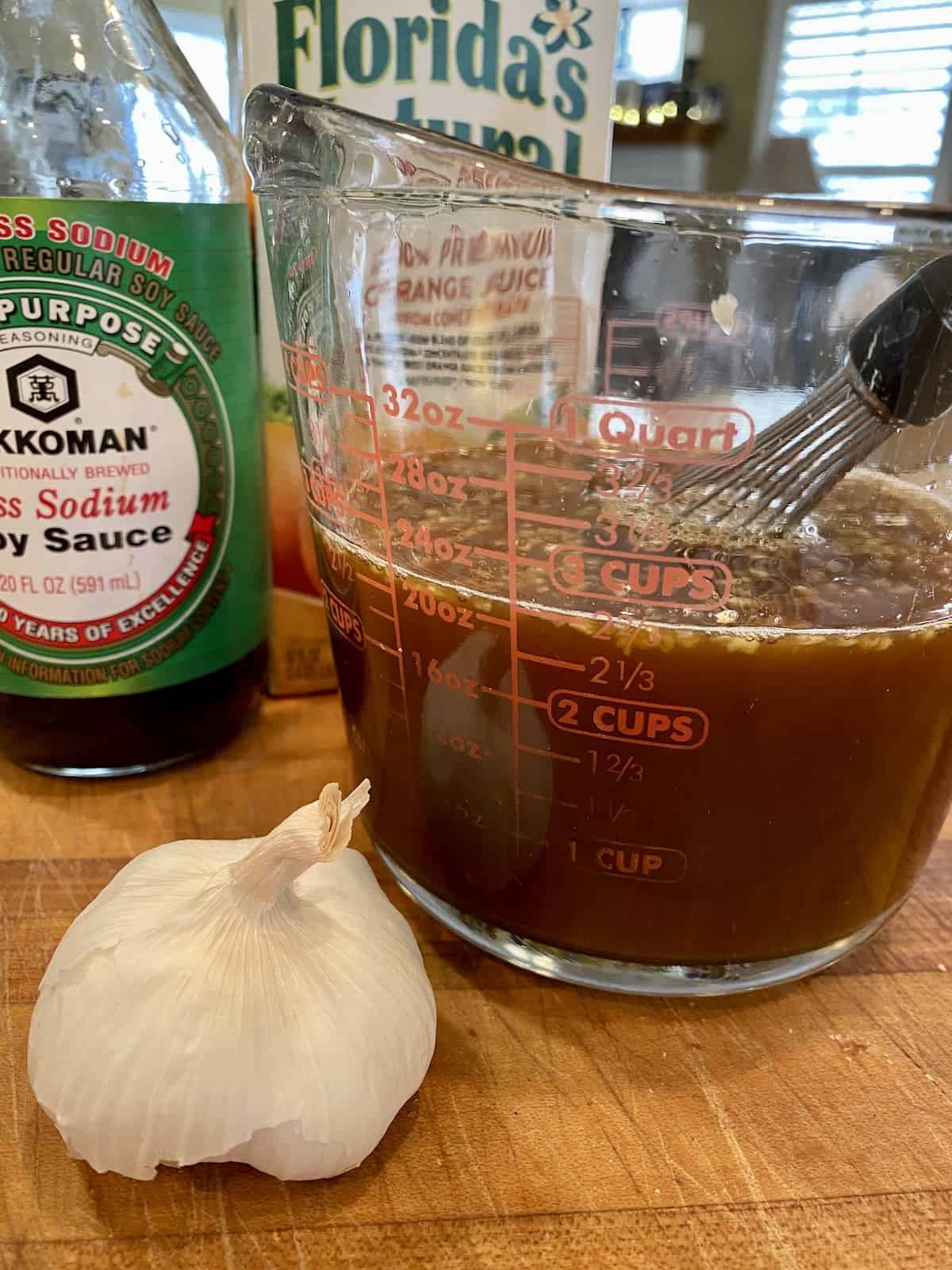 🥣 Step-by-Step for Making Orange Sauce
It's easy to make too. Measure the liquid ingredients into a 4-cup glass measuring cup, then whisk in the crushed garlic and ginger.
Place the orange sauce ingredients in a medium-sized saucepan on the stove and bring to a boil.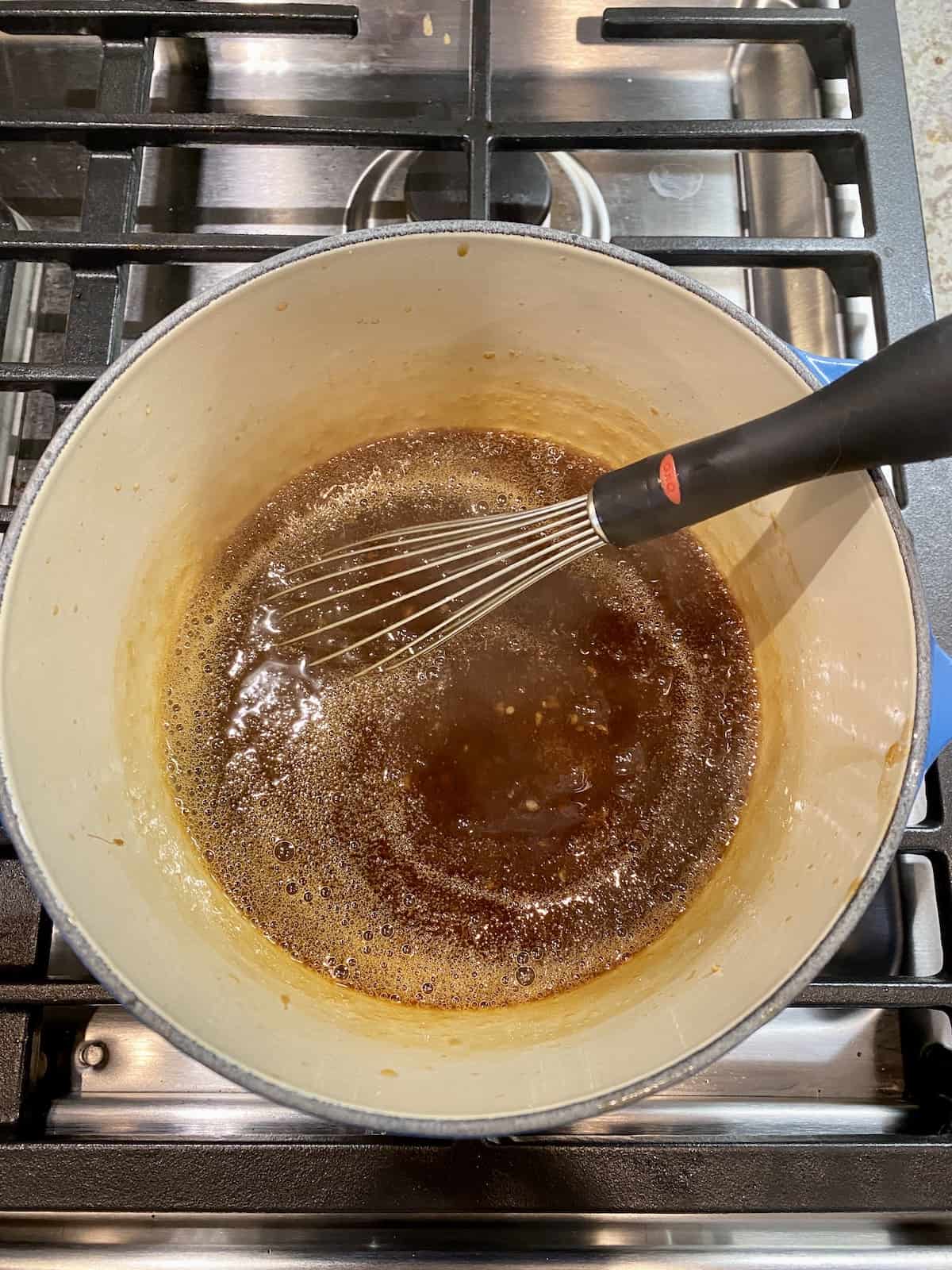 Simmer for about 10 minutes.
Pro Tip: It's important to give the sauce plenty of time to simmer, this helps mellow the flavors.
After the orange sauce simmers, blend the cornstarch and water in a small, separate container. Whisk the blended cornstarch mixture with the hot orange sauce in the pan and cook for an additional 3-5 minutes.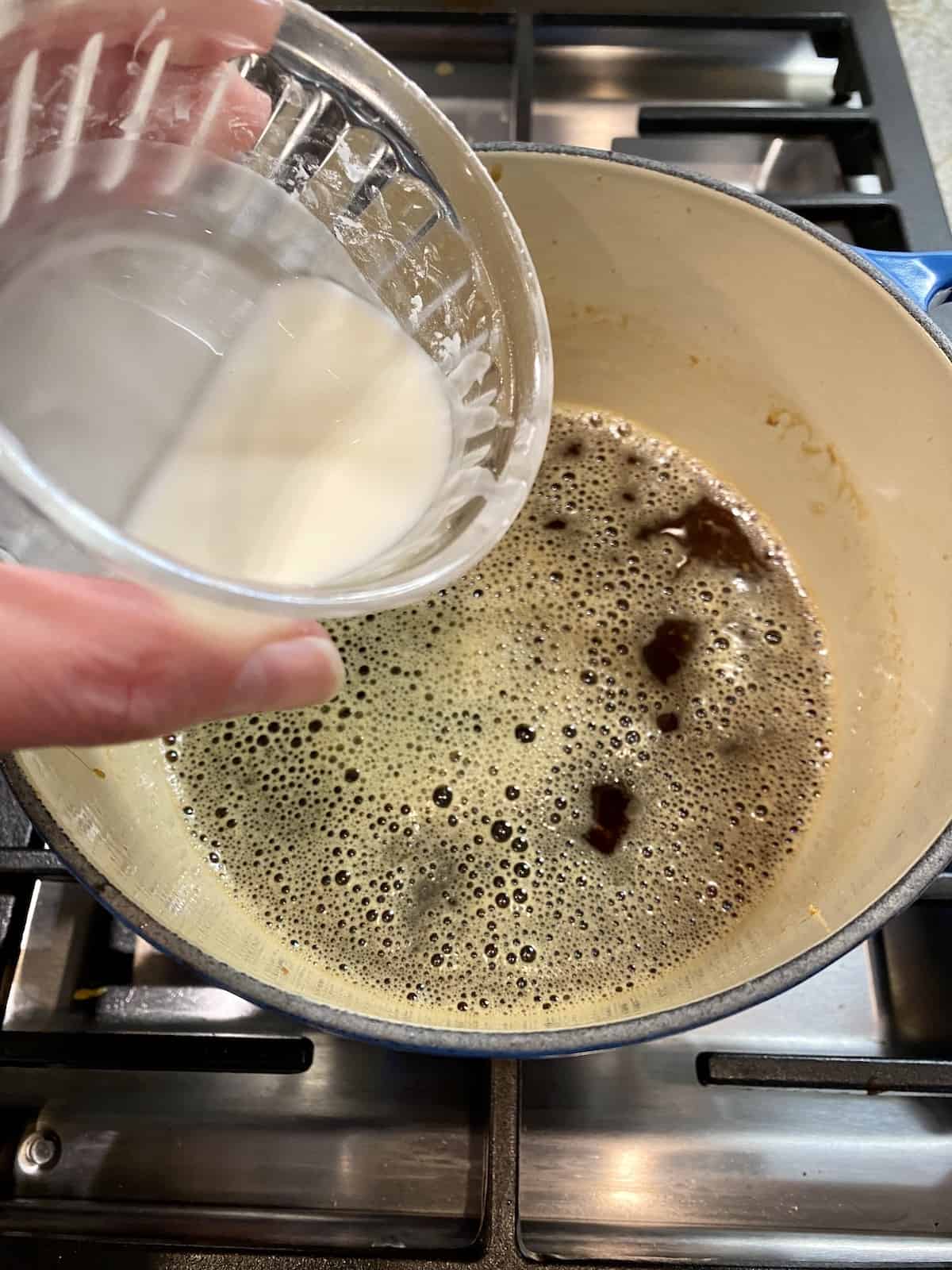 📖 Substitutions
This recipe is not only delicious but also healthy, and a plant-based main dish that's a perfect choice if you are serving folks who are vegans or vegetarians.
Is someone at the dinner table not a fan of tofu? You still have options!
The orange sauce is equally delicious paired with other proteins and you can easily kick up the spice and heat.
Spoon the sauce over Buttermilk Crispy Chicken Strips for a delicious sweet and savory combination.
If you have leftover cooked pork loin or roast beef, slice it into thin strips and toss the strips with the orange sauce instead of using tofu.
Do you like orange sauce with a little more spice? Add a dash of red pepper flakes or a teaspoon of sriracha sauce.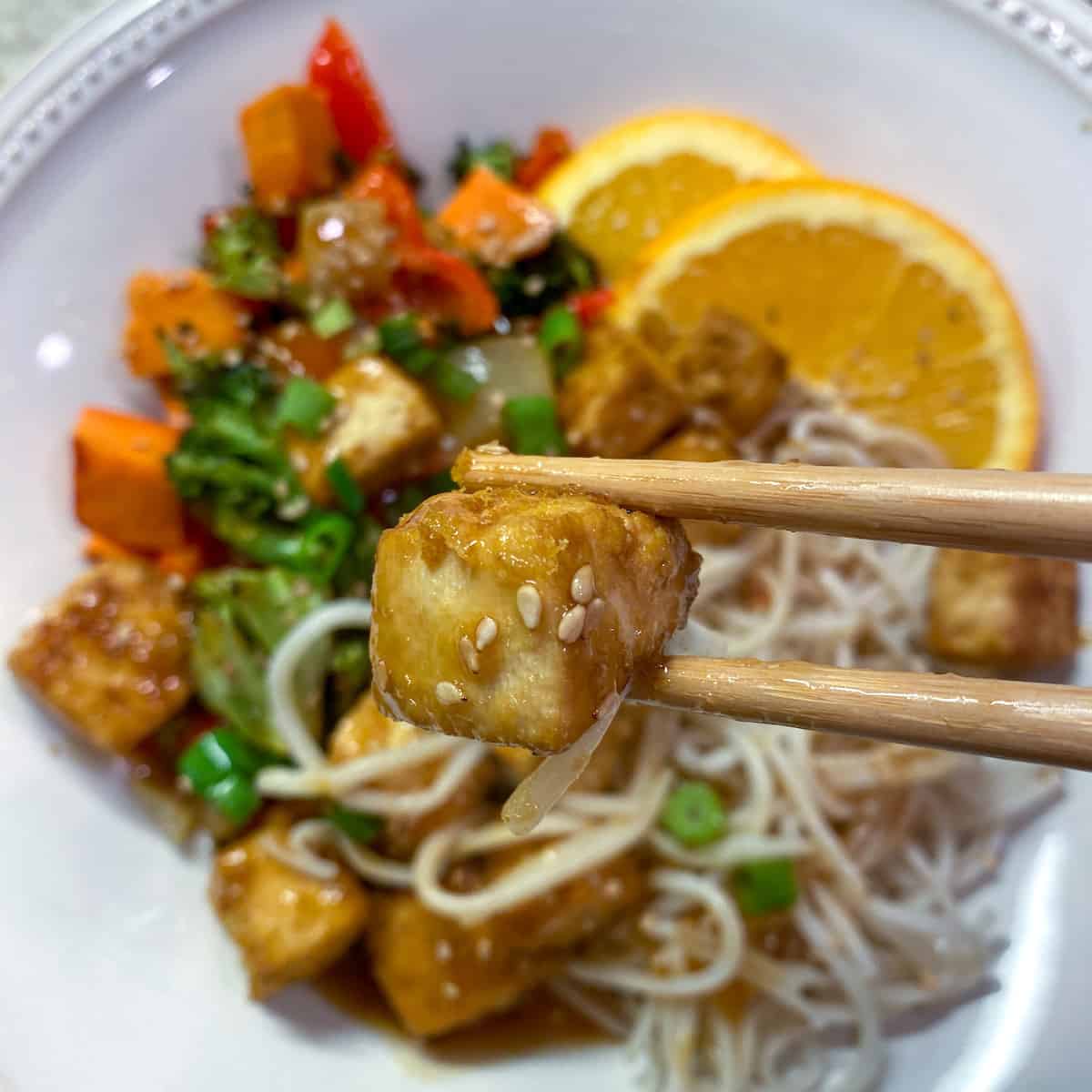 ⏲️ Convection Oven Option
Over the years, I've baked this easy orange tofu recipe using a standard oven and a convection oven, and both work great.
Many kitchen ovens today include a convection option, which I have found is a wonderful way to bake tofu.
Air fryers are a popular cooking option too. I don't own an air fryer - no space to store it - but I know many folks use them so I did a little research to map out the difference between an air fryer and convection ovens.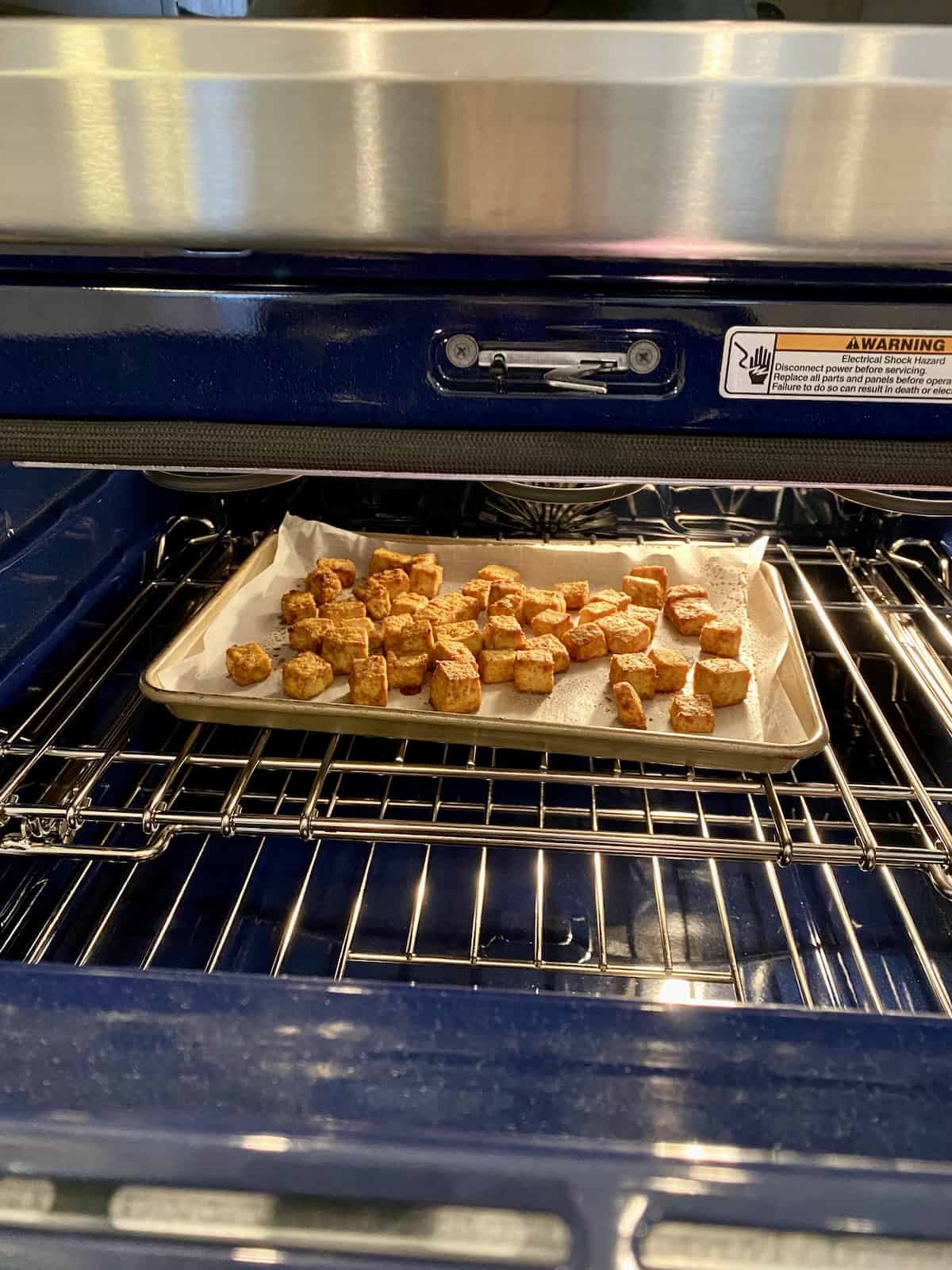 A convection oven uses a fan to circulate hot air for cooking. It's very similar to an air fryer, but if you opt to use your air fryer for this recipe, know that there is a difference between the two:
Size: Air fryers are typically smaller than convection ovens.
Cooking method: Air fryers use rapid air technology to circulate hot air around the food. Convection ovens also use a fan but have additional heating elements.
Cooking temperature: Air fryers typically operate at a higher temperature than convection ovens.
Cooking time: Air fryers cook food faster than convection ovens due to their higher temperature and rapid air circulation, so you'll use less time than I list in the recipe card to cook your tofu.
Versatility: While air fryers are specifically designed for frying and can also be used for baking, grilling, and roasting, convection ovens have a wider range of functions.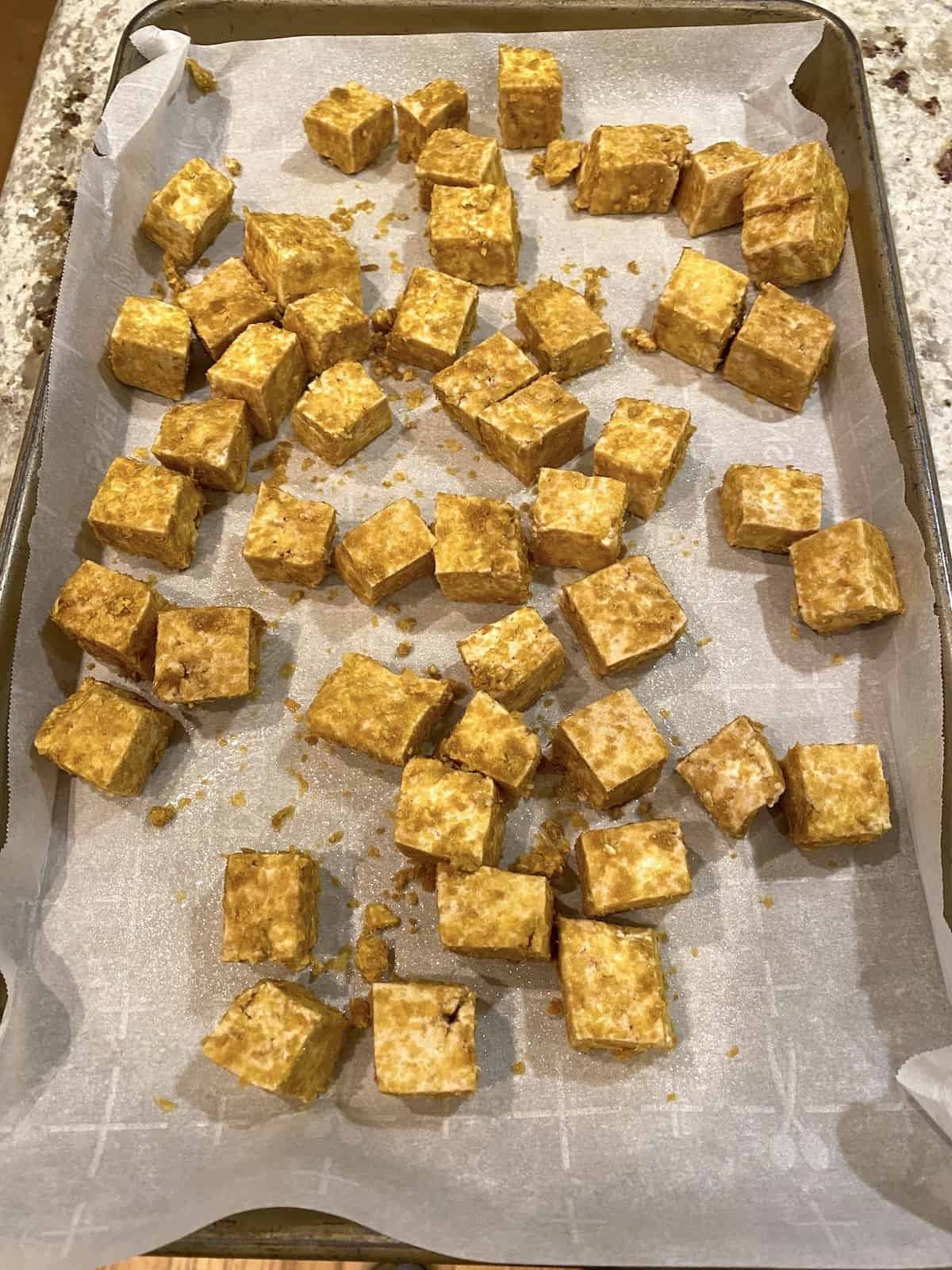 🥡 Storage
This recipe is best enjoyed on the day we make it, but leftover tofu will stay fresh for up to 3-4 days, covered and stored in the refrigerator.
Store the leftover orange sauce and the baked tofu separately, the orange sauce should also be refrigerated in a sealed container and enjoyed within 3-4 days.
💭 Recipe FAQs
What's the difference between soft, firm, and extra-firm tofu?
For the most part, water and texture. Extra firm tofu is sturdier than the other varieties of tofu. It's compact, easy to slice, and will hold its shape during baking and serving.
Can I use pancake syrup instead of maple syrup?
Most pancake syrups are made with corn syrup and artificial maple flavoring so we won't get the same result by making that swap.

If you are out of maple syrup I recommend using ⅓ cup of brown sugar instead.
Do you have to drain and press the tofu before baking?
Yes. Tofu is packed in water and each block is full of water. We need to get the water out so the delicious flavor can be absorbed and so the tofu can bake to crispy perfection.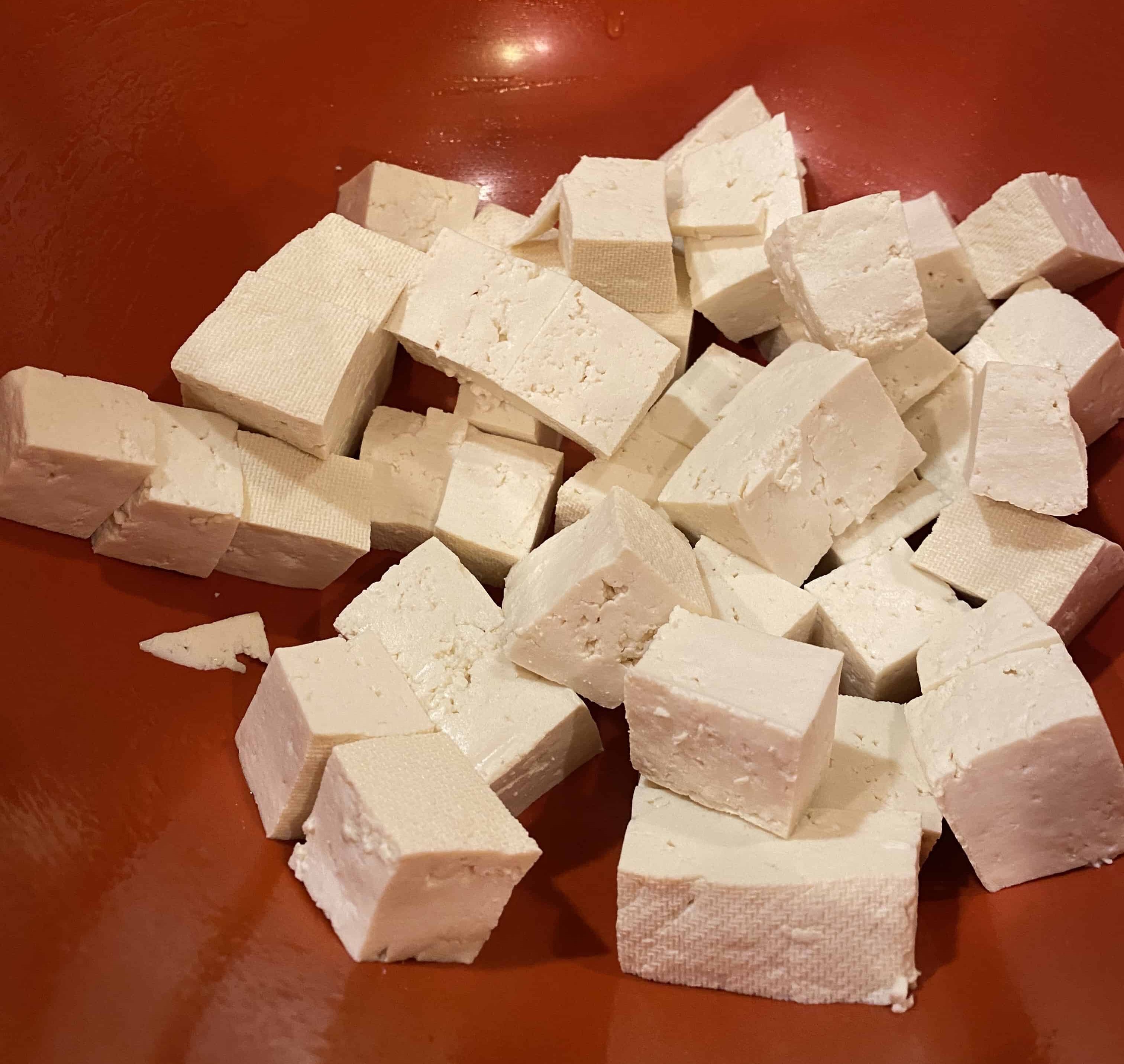 🥗 Sides to Serve with Orange Tofu
Orange tofu is delicious over steamed veggies, plain white rice or cooked noodles. I usually combine noodles with broccoli and carrots and top both with tofu and orange sauce.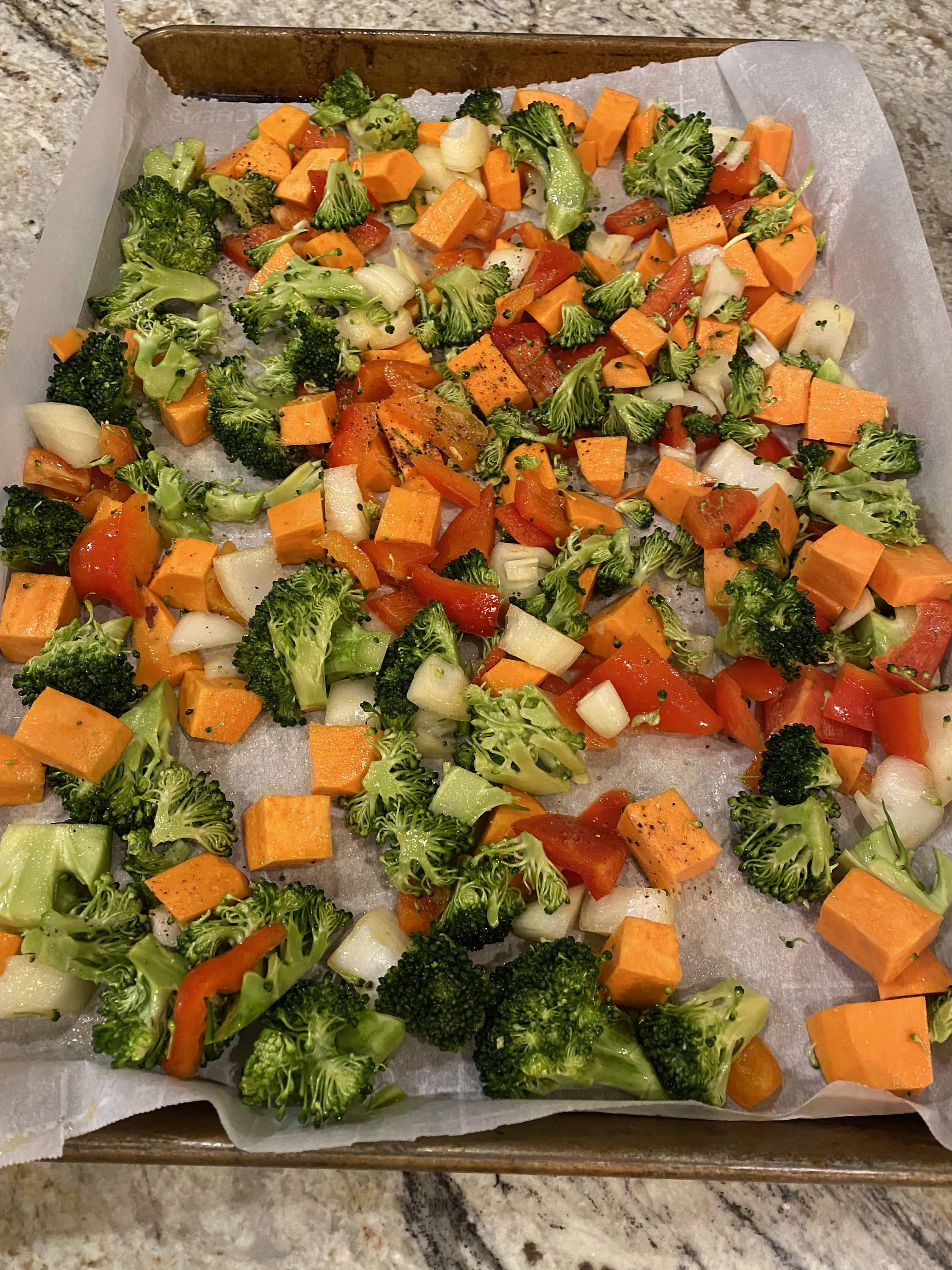 These side dishes are a few more alternatives that are tasty when paired with crispy orange tofu.
If you tried Easy Baked Orange Tofu or any other recipe on my website, please leave a 🌟 star rating and let me know how it goes in the 📝 comments below.
Recipe