Sweet, tart, tangy and tucked into the perfect pie crust, Old-Fashioned Strawberry Rhubarb Pie is a dessert everyone loves. Serve it with a scoop of vanilla ice cream or frozen yogurt and you've got a meal-ending treat folks will be talking about for a long time. Thanks to my Mom for sharing this wonderful recipe!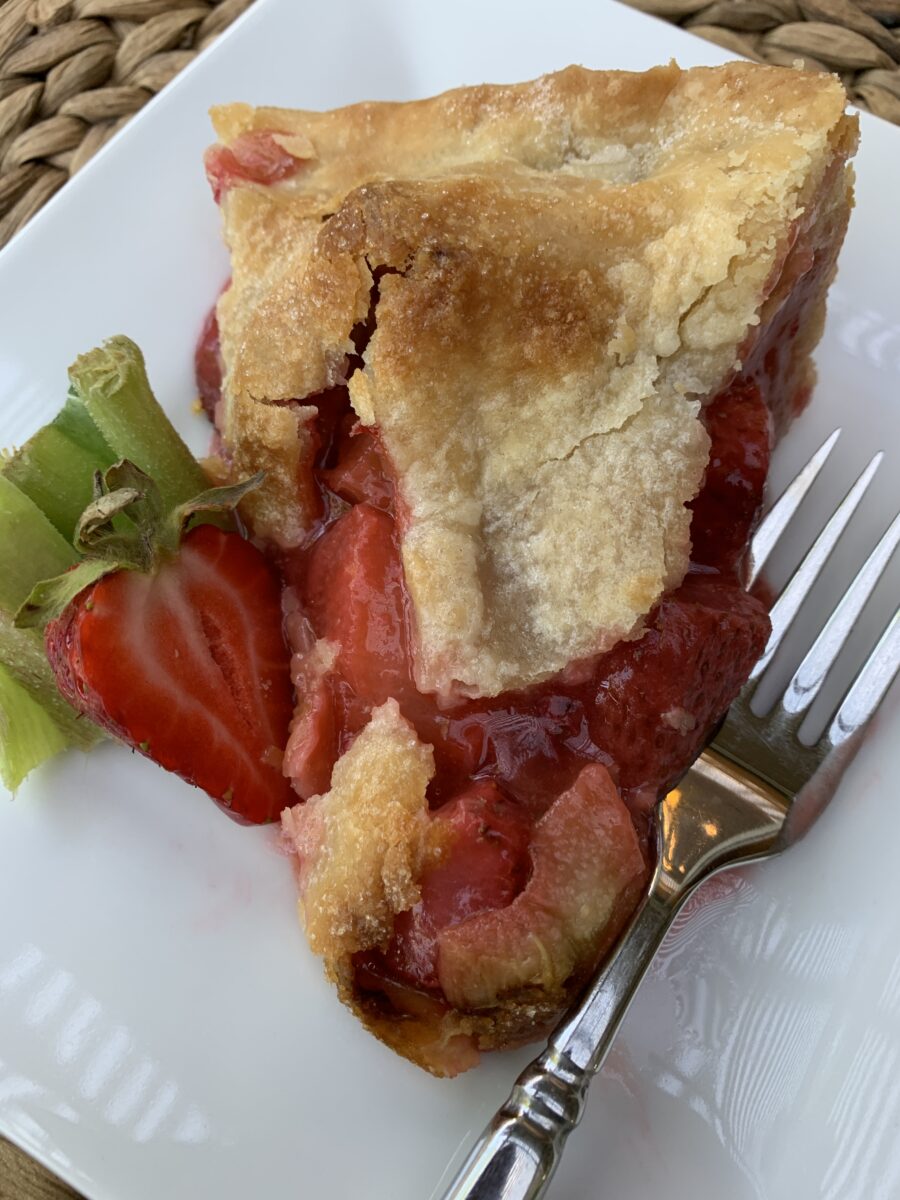 Jump to:
Ingredients to Have on Hand
There's nothing better than homemade pie and Strawberry Rhubarb pie is the easiest pie to make. No peeling any fruit!
Scroll down to the recipe card for details on the quantities of each ingredient.
fresh rhubarb
fresh strawberries
flour and sugar
pie crust - homemade or store-bought
How to Bake with Rhubarb
Rhubarb is one of the easiest ingredients to cook with and in baking it provides the perfect tart, tangy addition to sweet fruit such as strawberries, although many folks love pie that's just straight-up rhubarb.
There's no additional prep when you are using rhubarb in your baking. No peeling, steaming or shredding.
Just rinse and chop the rhubarb into bite-sized pieces and it's ready to mix with your dry ingredients or additional fruit.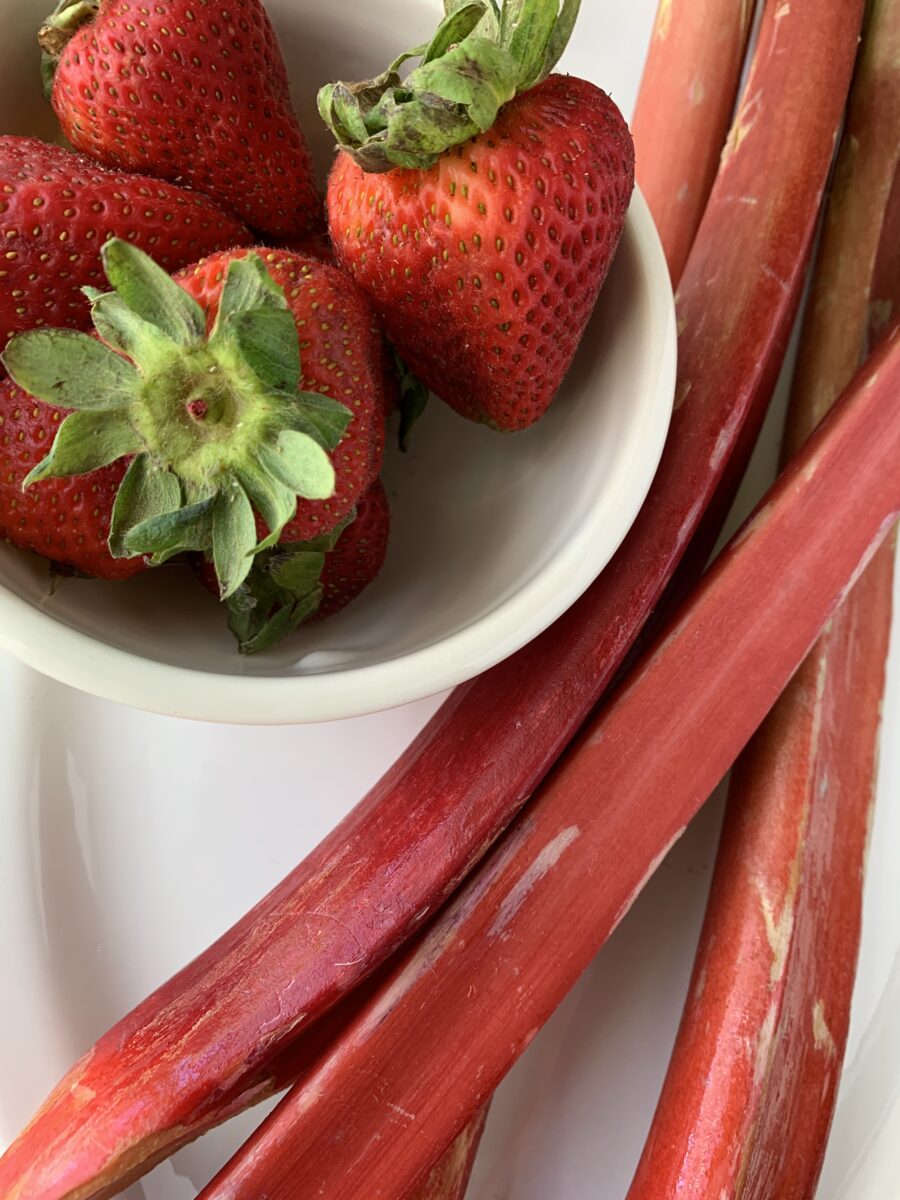 Prep the Pie Filling Ingredients
Here's the easiest and perhaps the best part about making strawberry rhubarb pie - there's no peeling the fruit. All you need to do is rinse off the strawberries and rhubarb, then dice them into bite-sized portions. Voila! Done.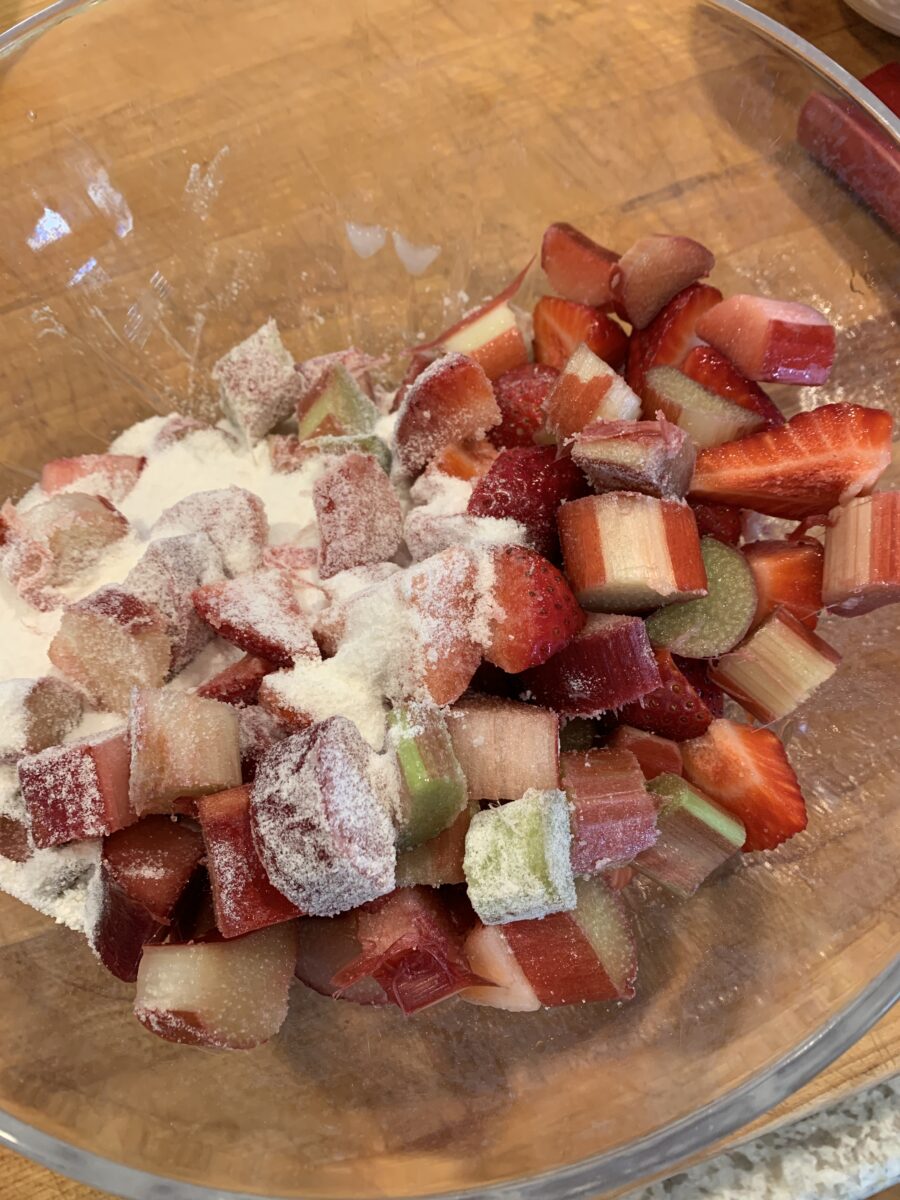 Strawberry Rhubarb Pie Filling
It's super easy to create the pie filling for this recipe.
Simply combine the flour and sugar and toss it with the diced strawberries and rhubarb.
Let everything sit in a bowl for 30 minutes.
The flour and sugar begin as dusting on the berries and rhubarb, but after sitting for 30 minutes, that sweet dusting becomes a beautiful glaze.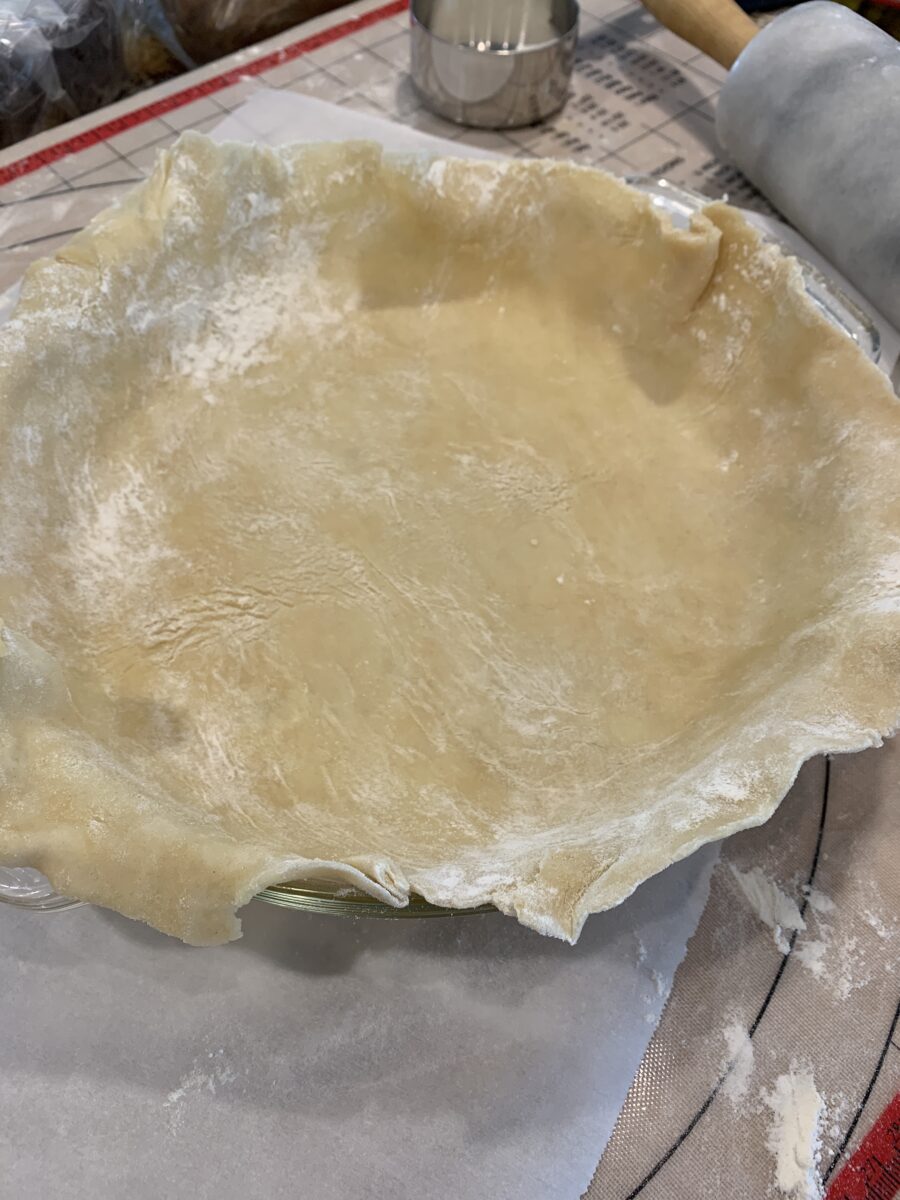 Use Your Favorite Pie Crust
You'll need two pie crusts for this recipe. One for the bottom, the other to top your strawberry rhubarb pie.
I like to use a homemade pie crust, but there's no harm in buying your crust at the grocery store.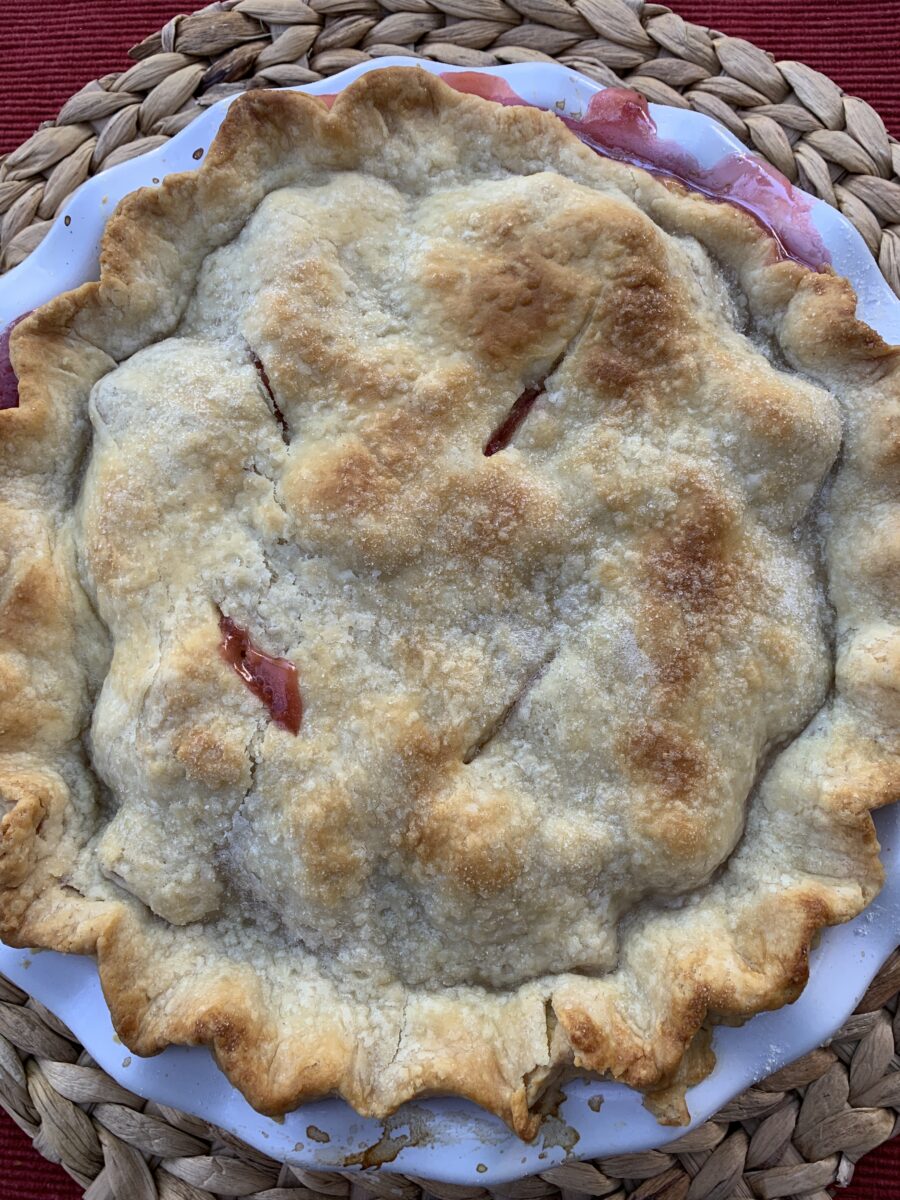 How to Store Fresh Pie
There's nothing better than pie served warm out of the oven, but sometimes (rarely) pie sticks around for a few days in my house.
When that's the case, I usually leave it on the counter for the first day, covered lightly with waxed paper.
Much past one full day and I store the pie in the fridge until the last slice is gobbled up.
The exception to this rule is when we are enjoying cream pies, those need to be stored in the fridge to keep them fresh.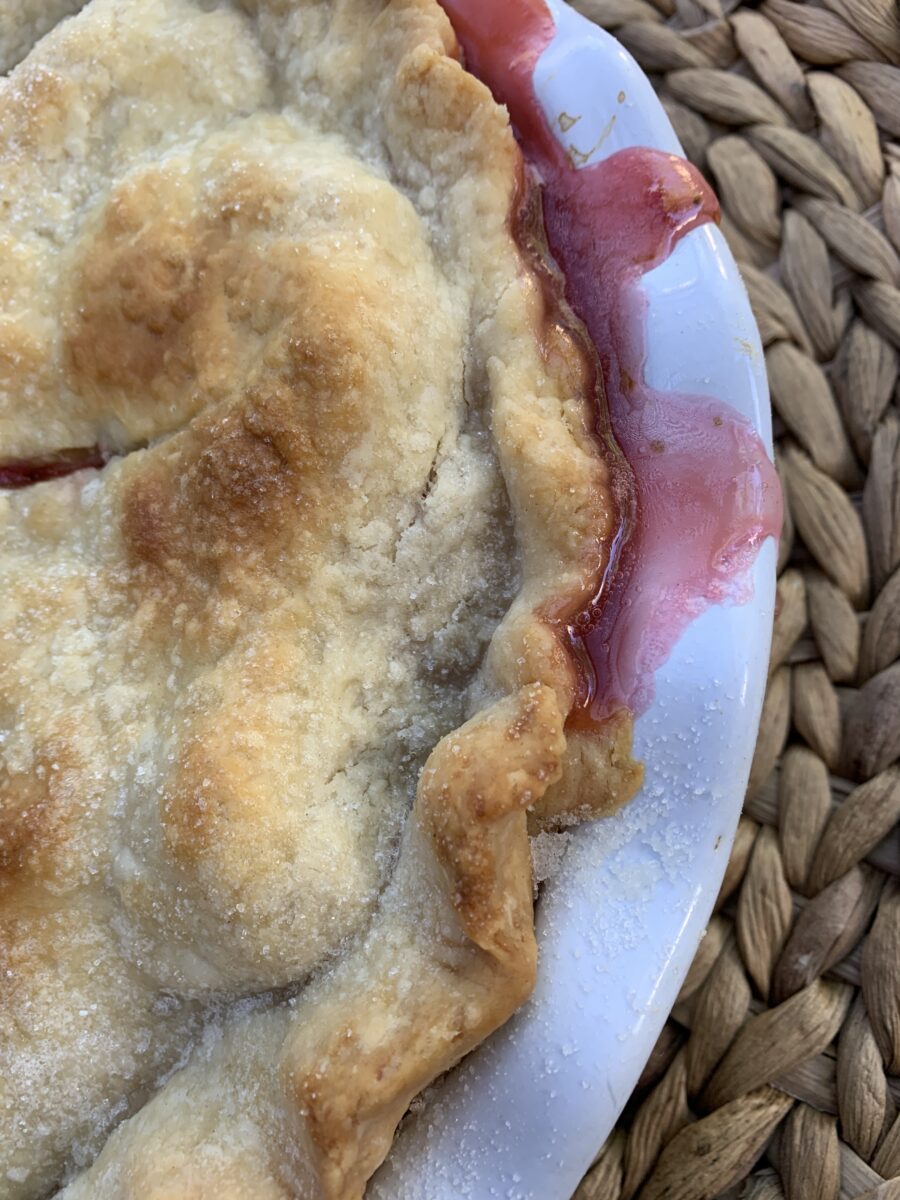 Top Tips and FAQ
How do I keep strawberry rhubarb pie from being runny?
Don't forget to add the flour. It's really important to include a thickening ingredient in this recipe. I know some folks prefer to use cornstarch or even tapioca starch, but I find the best consistency with ½ cup of all-purpose flour.
How do I store rhubarb?
Wrap it in plastic, unwashed, and store it in the crisper in the refrigerator. The rhubarb will stay fresh for about a week. Be sure to wash it before using it.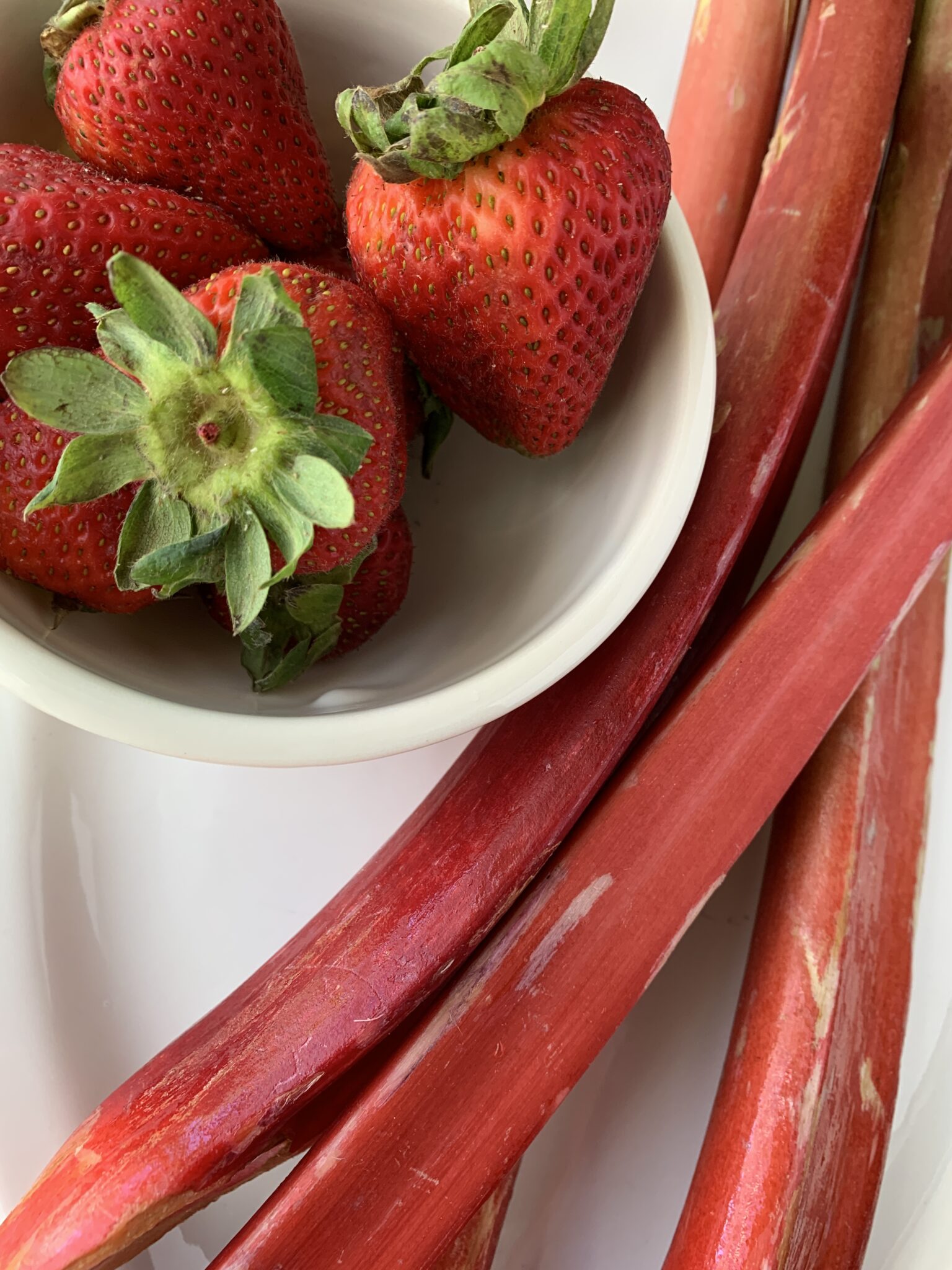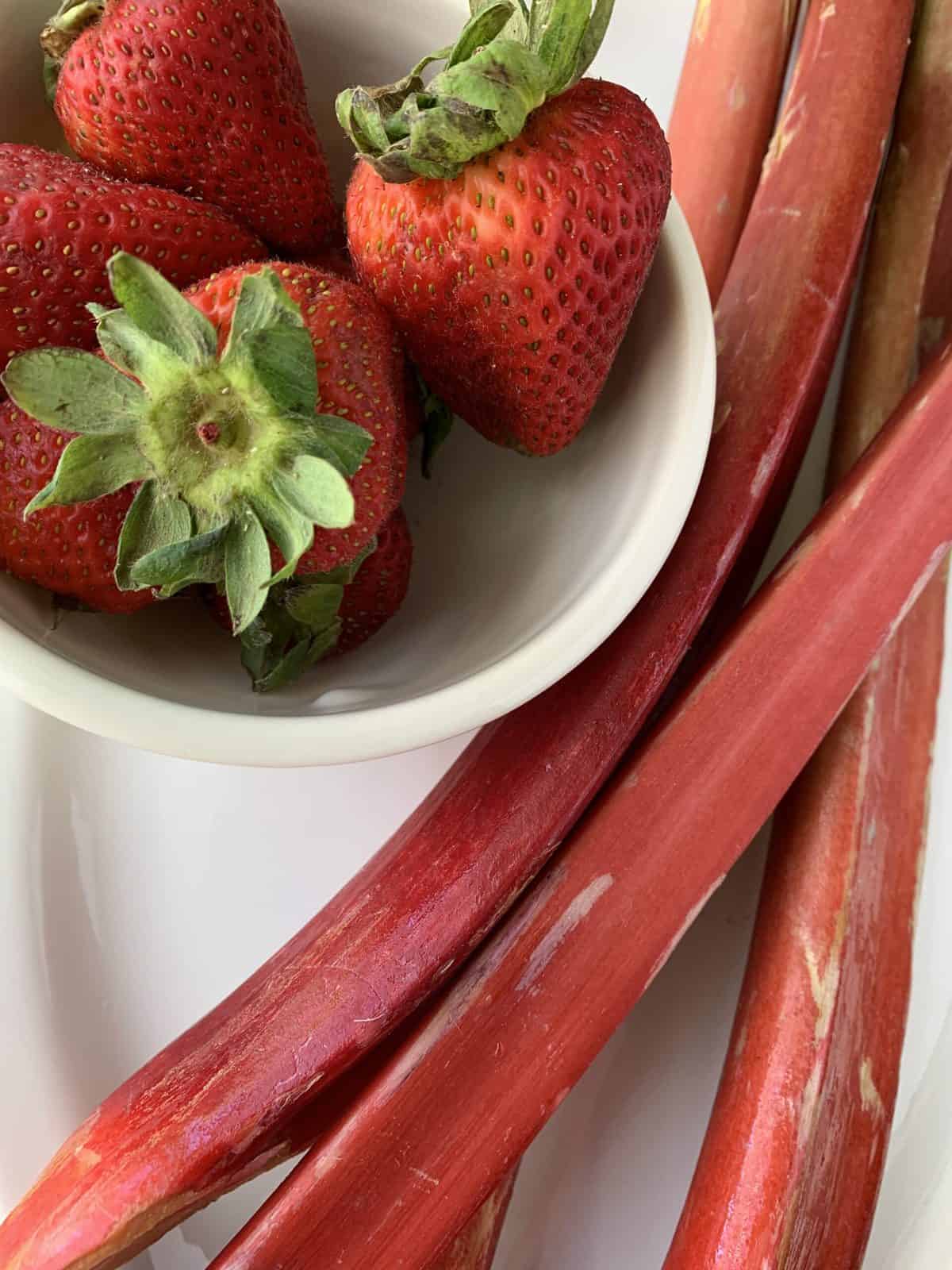 Can I use frozen berries or frozen rhubarb?
I've never made this recipe using frozen ingredients, but generally speaking, most recipes do adapt pretty well with that substitution. Just be sure you don't thaw the berries or rhubarb before baking.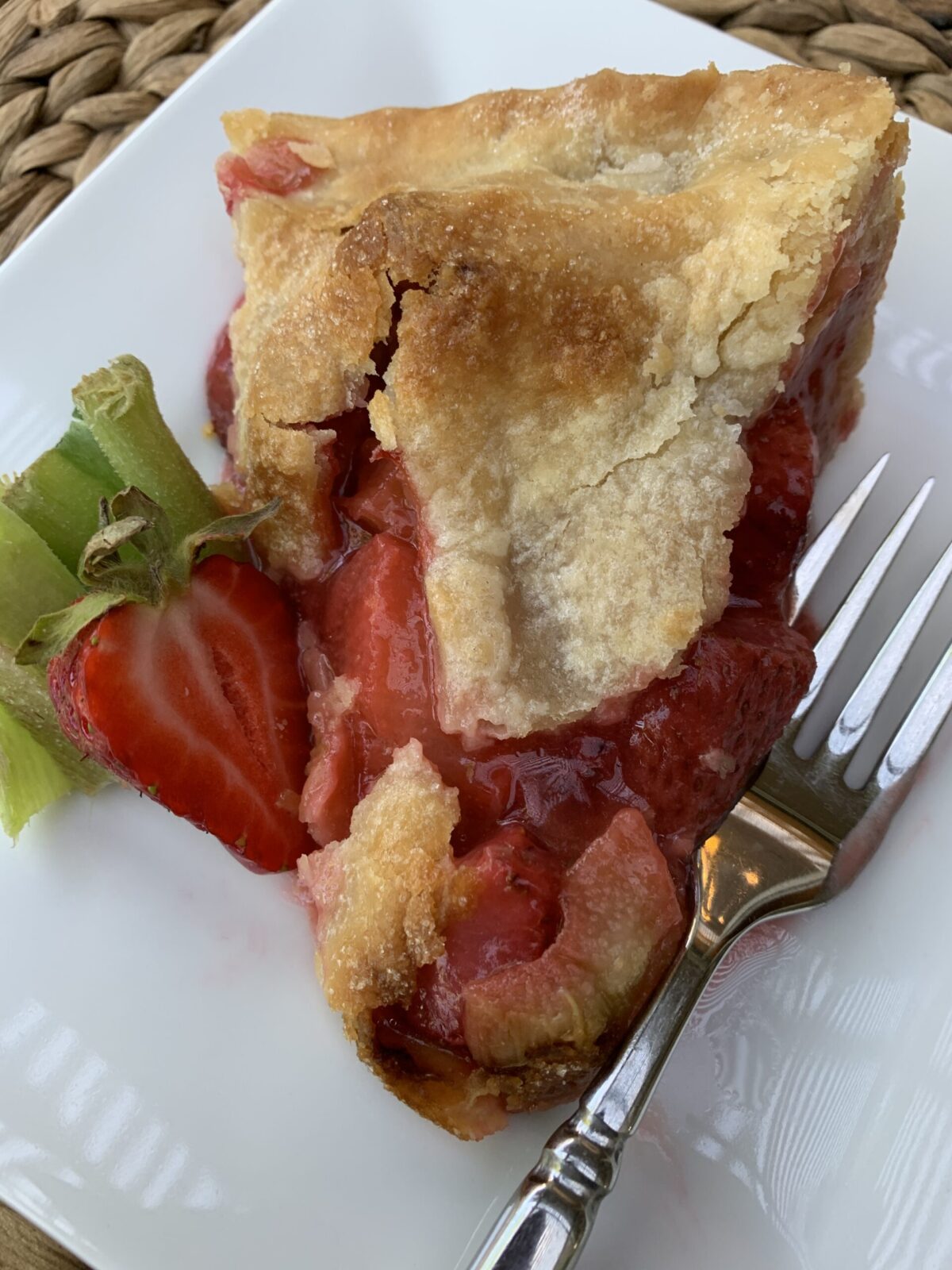 More Dessert Recipes with Fruit
Strawberry Rhubarb Pie is one of the easiest pie recipes you could make! Here are a few other dessert ideas, that also include fresh fruit, I think you'll love.
No-Peel Apple Cake, talk about easy. There's no need to peel the apples, but they bake tender and delicious in a pie plate. This is a beautiful cake.
Chocolate Strawberry Pies are another way to enjoy strawberries at dessert. Covered in chocolate on a bed of a sweet creamy pie filling. These little pies are wonderful to share!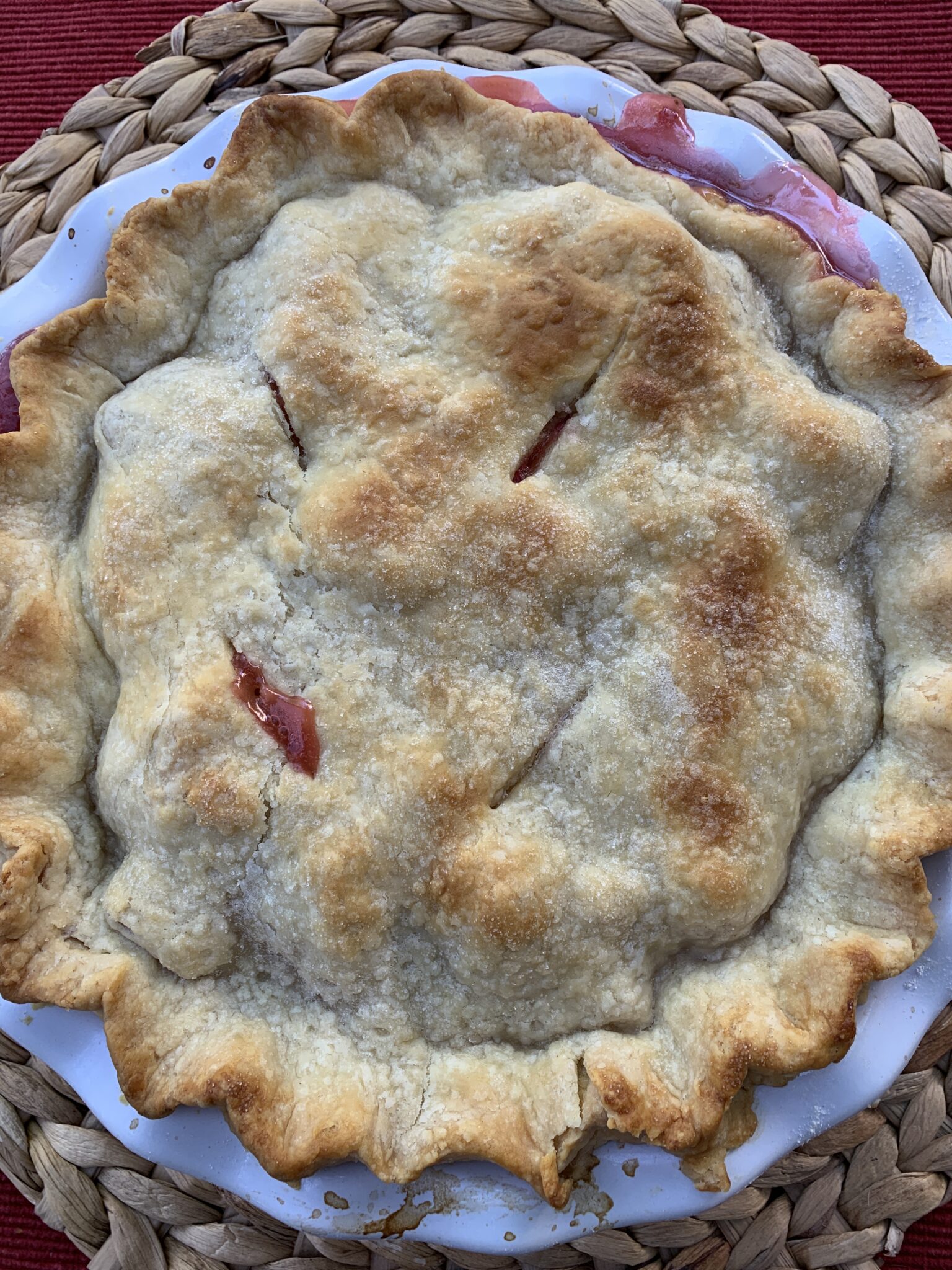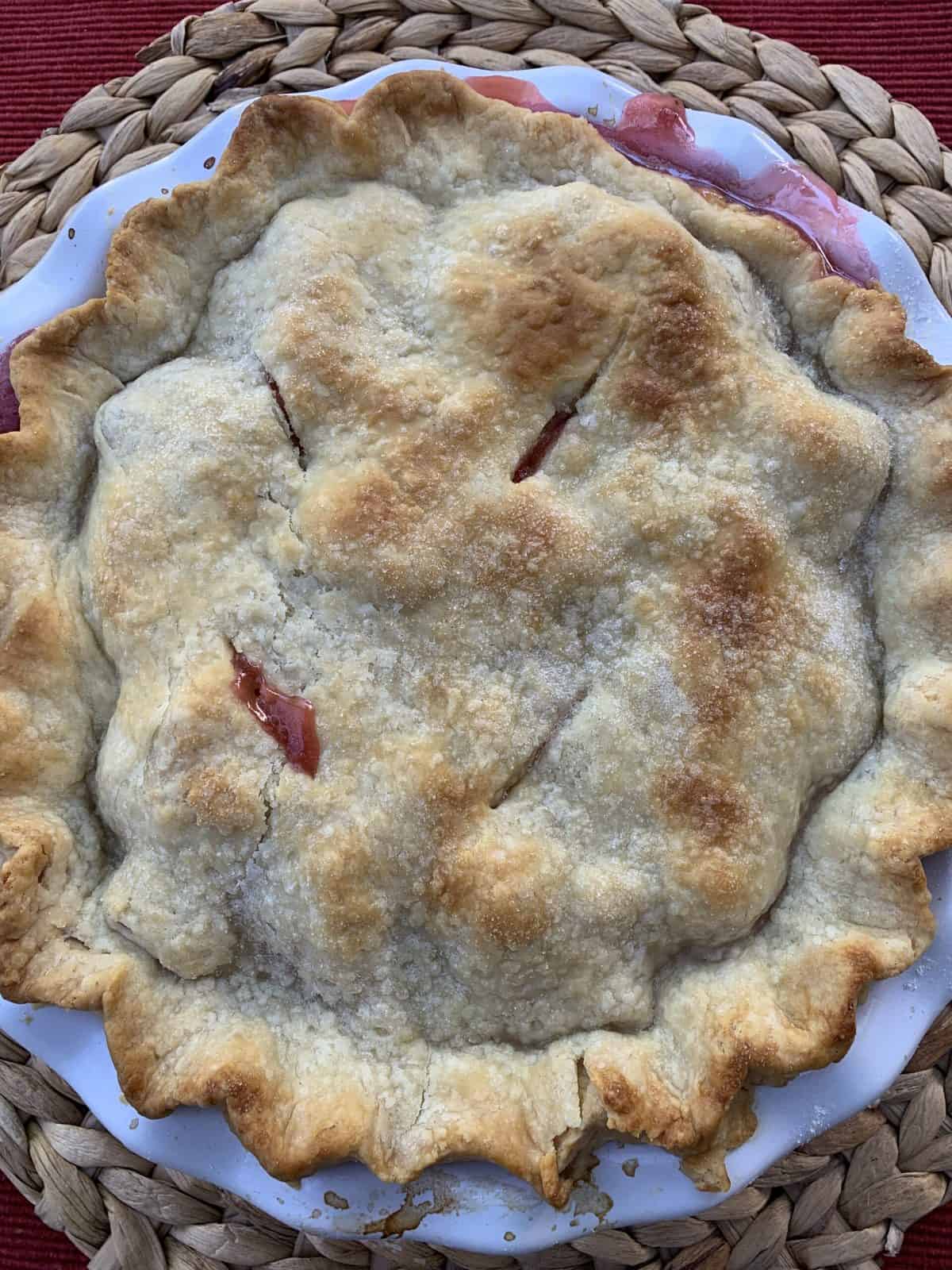 More Dessert Recipes
Rate the Recipe
Be sure to give a star rating to the recipes you make from the Crinkled Cookbook. I always love hearing from you. Sharing is great too! Use the buttons after the recipe to text it with just one click or send it to family and friends on Pinterest and Facebook. Enjoy.
Recipe