Ready to eat in about 30 minutes. Easy Creamy Chicken Stroganoff is classic comfort food that combines simple ingredients from the pantry and fridge to create a silky simmering sauce that's full of flavor. Chicken, mushrooms, cream of mushroom soup, instant onion soup mix and sour cream are all you need for this easy weeknight favorite.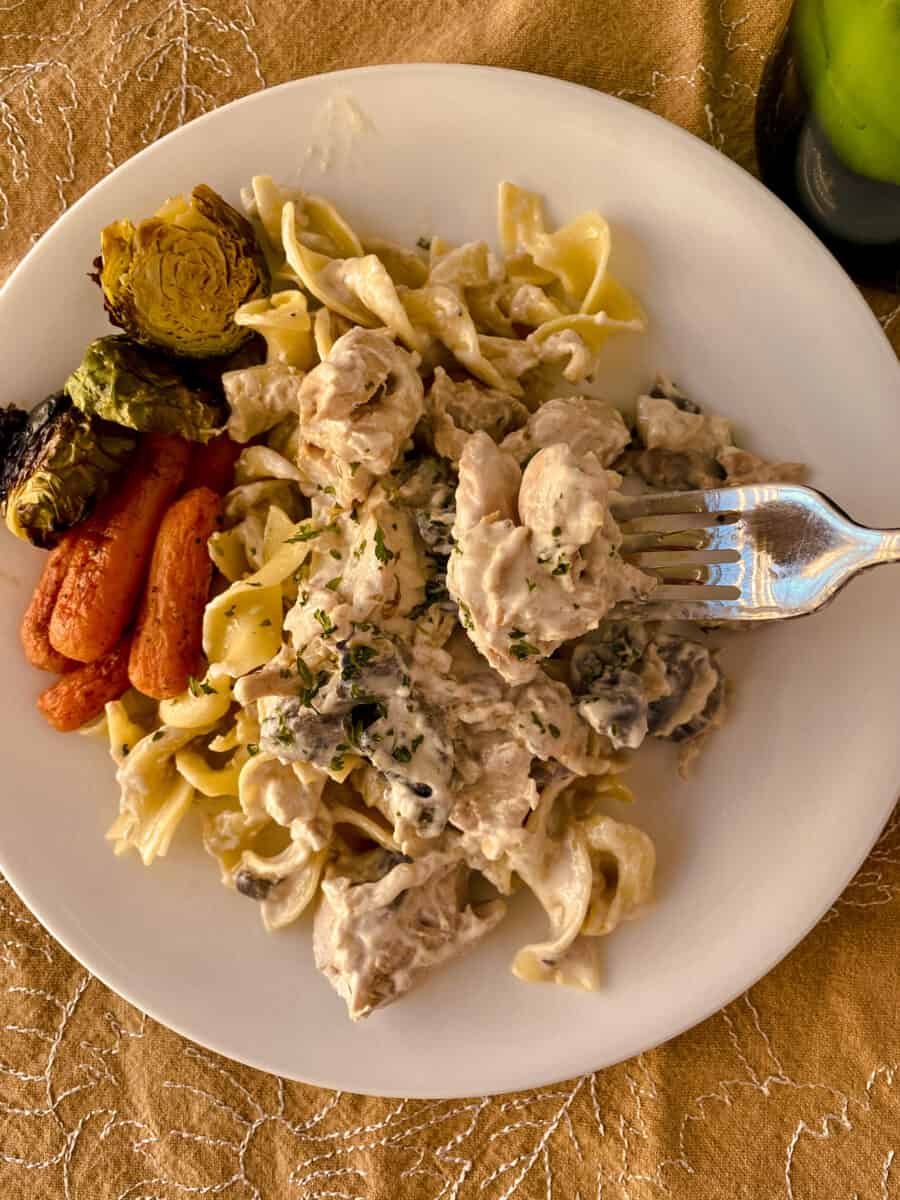 Ingredients to have on hand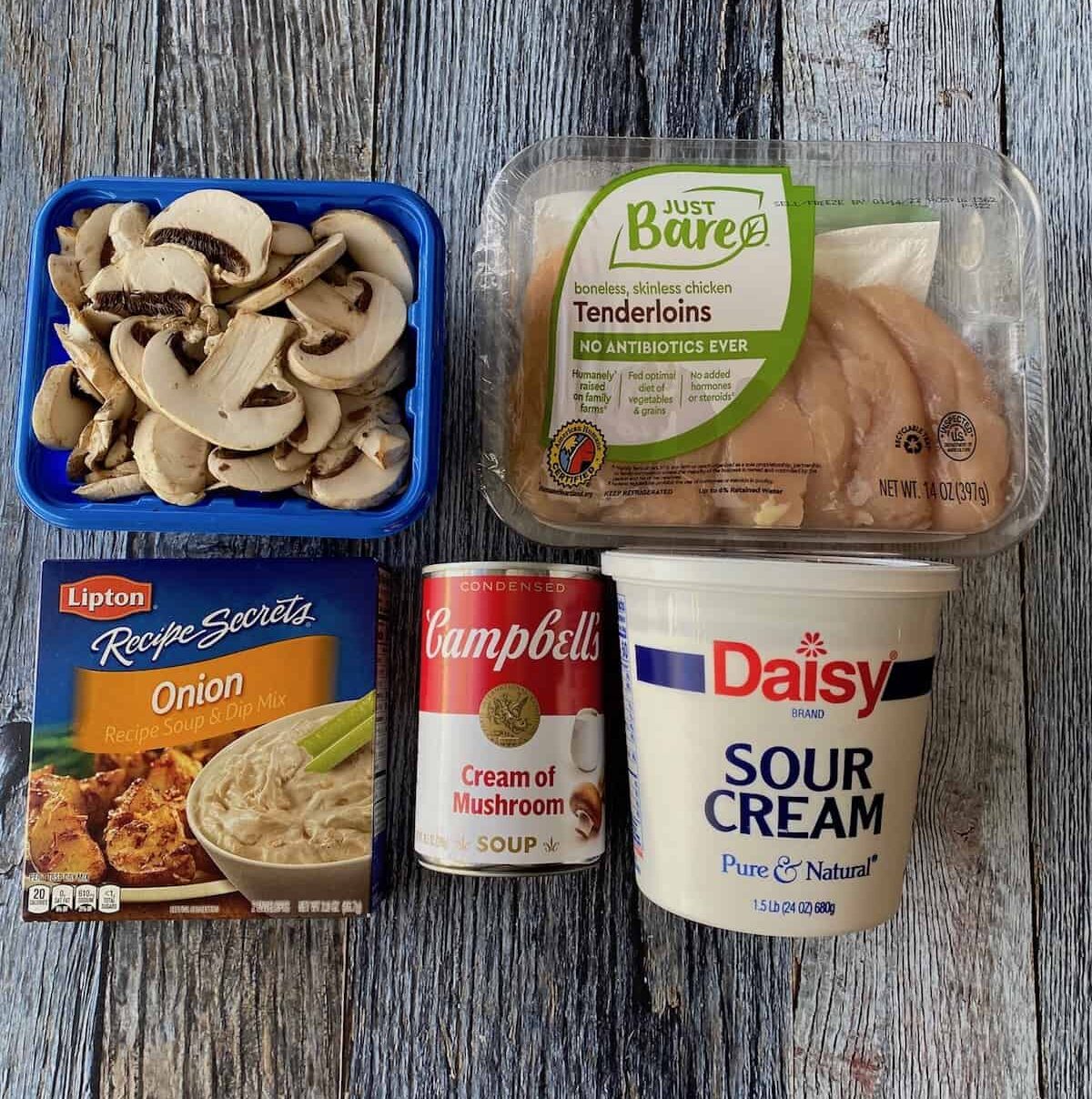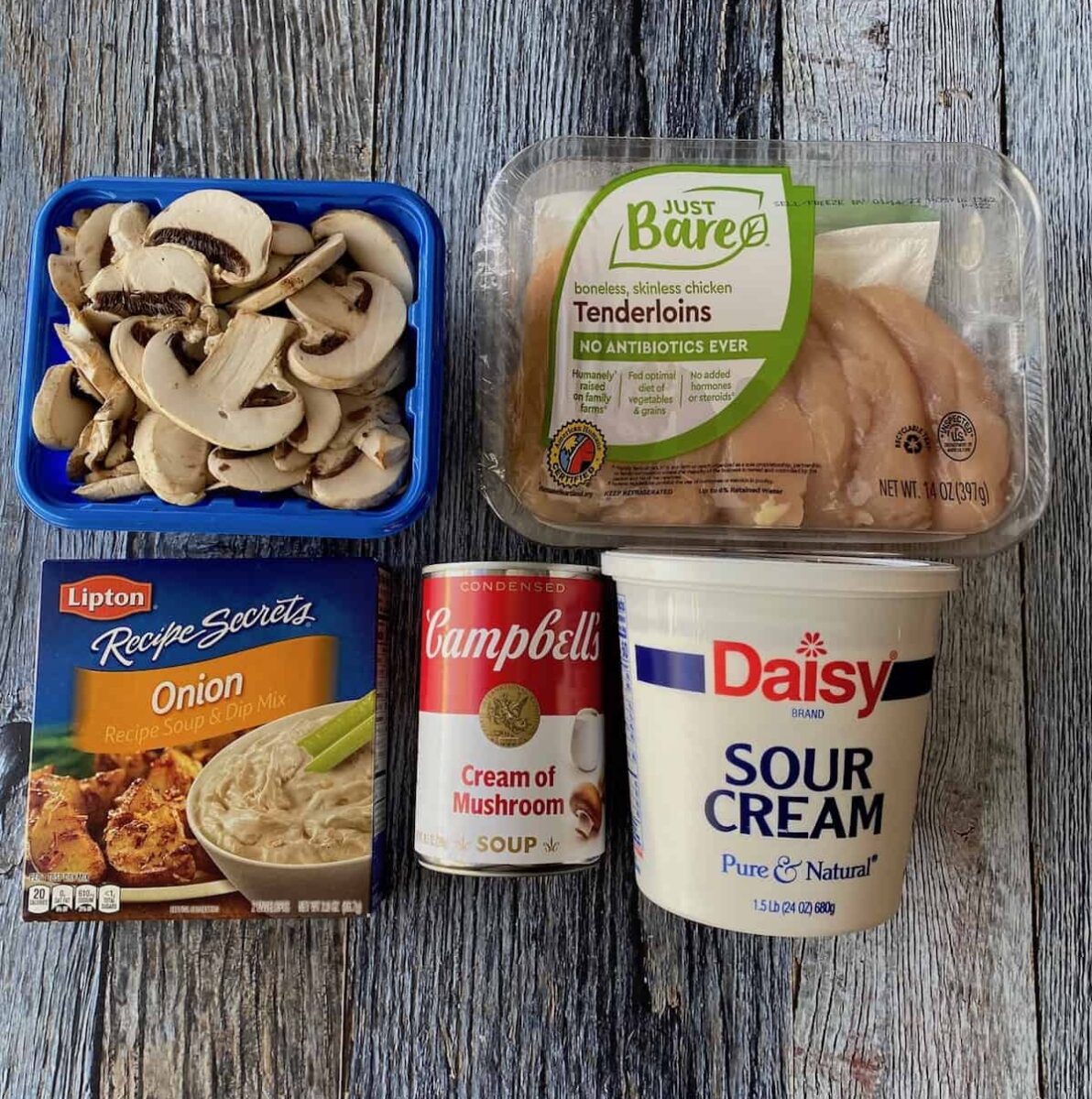 In addition to using just five ingredients - not counting salt, pepper and olive oil, here's another way this recipe is helpful on a busy night: You don't need to dice the chicken tenders before cooking.
A wonderful side salad to serve with this recipe is leafy greens topped with homemade Blue Cheese Vinaigrette, it's delicious.
1 ½ - 2 pounds of chicken tenders or skinless chicken breast
cream of mushroom soup
onion soup mix
sour cream
fresh mushrooms
Easy to Make
Easy Creamy Chicken Stroganoff lives up to its name.
Once the chicken is cooked, the strips of chicken break apart easily in the skillet using a spoon or spatula.
The recipe is ridiculously easy to prepare and is a quick meal to make after getting home from work.
But here's the best part, it tastes like a sauce that's been simmering on the stove for hours.
A Weeknight Favorite
This is the recipe for a busy night! Easy Creamy Chicken Stroganoff is simple to cook at home right after work, it comes together quickly and doesn't require fancy spices or ingredients.
Want to start with an appetizer? The flavors in Simple Artichoke Dip are a great first round and fun to serve with crackers while the stroganoff is simmering.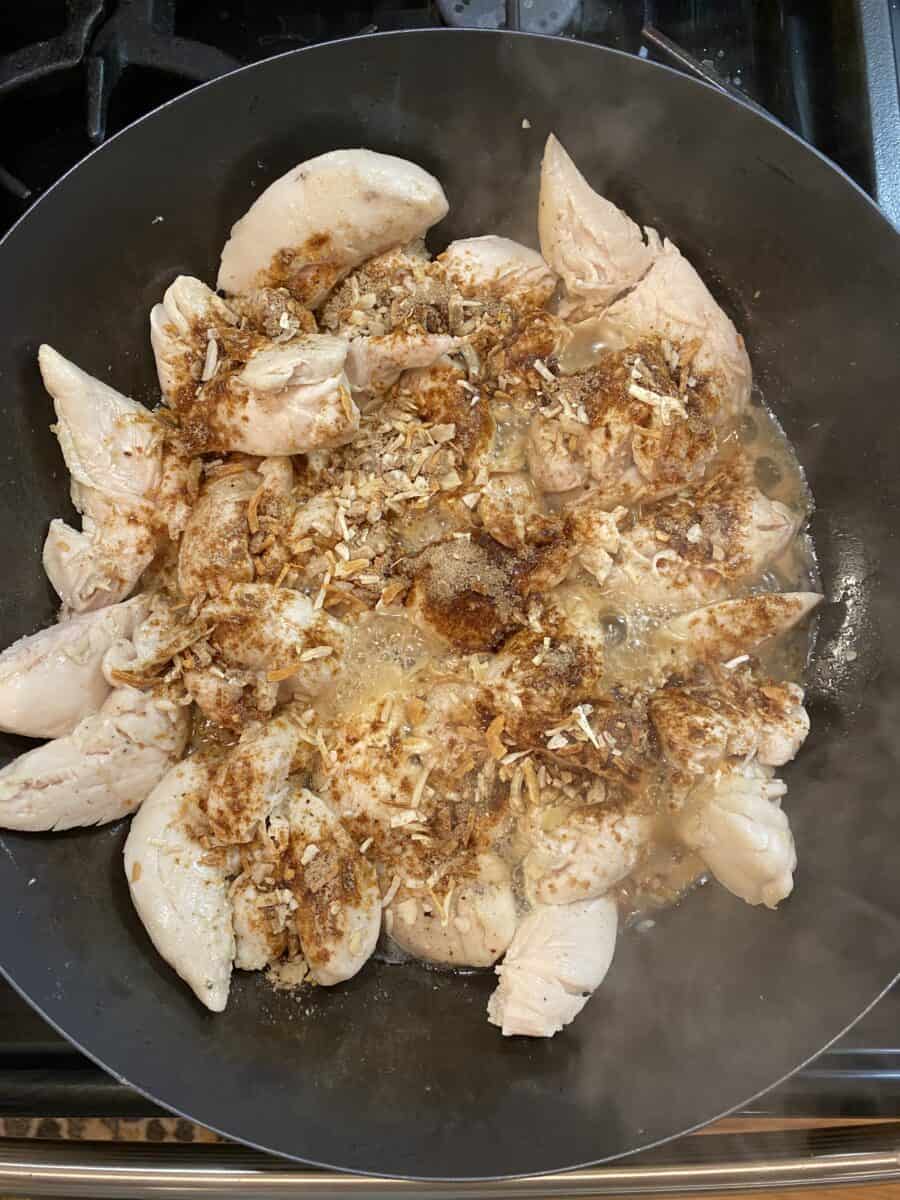 One envelope of Lipton Onion Soup Mix is all you need. This recipe combines cozy, comforting flavors that we love, but at a fraction of the work of most comfort food recipes.
Recipe FAQs
Is there a substitute for the Lipton Onion Soup Mix? Maybe with less sodium?
As an option, combine ¼ cup dried onion flakes, ½ teaspoon of pepper and salt - to taste, and 1- 2 teaspoons of low sodium soy sauce. This should replicate the flavor, though the packaged onion soup mix also includes a thickening agent, so you may need to add a little cornstarch to achieve the same consistency.
Could I use plain yogurt instead of sour cream?
Yes, I recommend using whole milk Greek yogurt as a substitute because it is the closest to sour cream in flavor and texture. In general, yogurt has less fat than sour cream which makes it more likely to curdle over high heat. So watch the temperature as you stir it in and bring it to a piping hot, but not boiling serving temperature.
What is stroganoff?
There are many variations of stroganoff but the flavor combination dates back to the 1800s and has a link to Russian history. Generally speaking, a stroganoff means meat is sautéed with onion and cooked in a sauce of sour cream, seasonings, and usually includes mushrooms. This recipe takes a few shortcuts by using dried onions from the soup mix and a can of soup to create the sauce.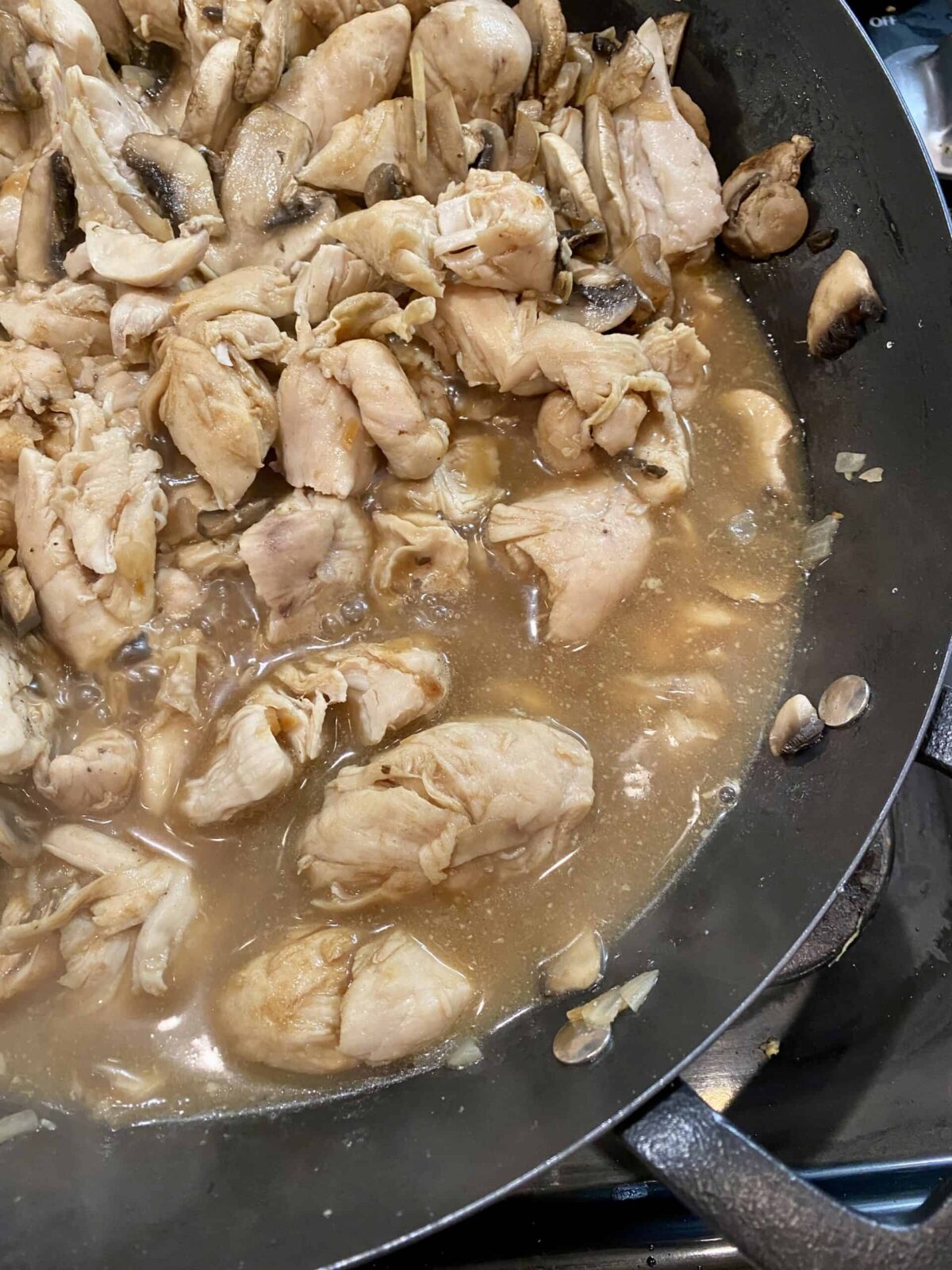 One Can of Soup
This recipe calls for one can of cream of mushroom soup. Use the whole can, undiluted, don't add any water. We are creating the sauce and want it to be thick and creamy, not watery. I like to use cream of mushroom soup for this recipe, but cream of chicken is a tasty substitute.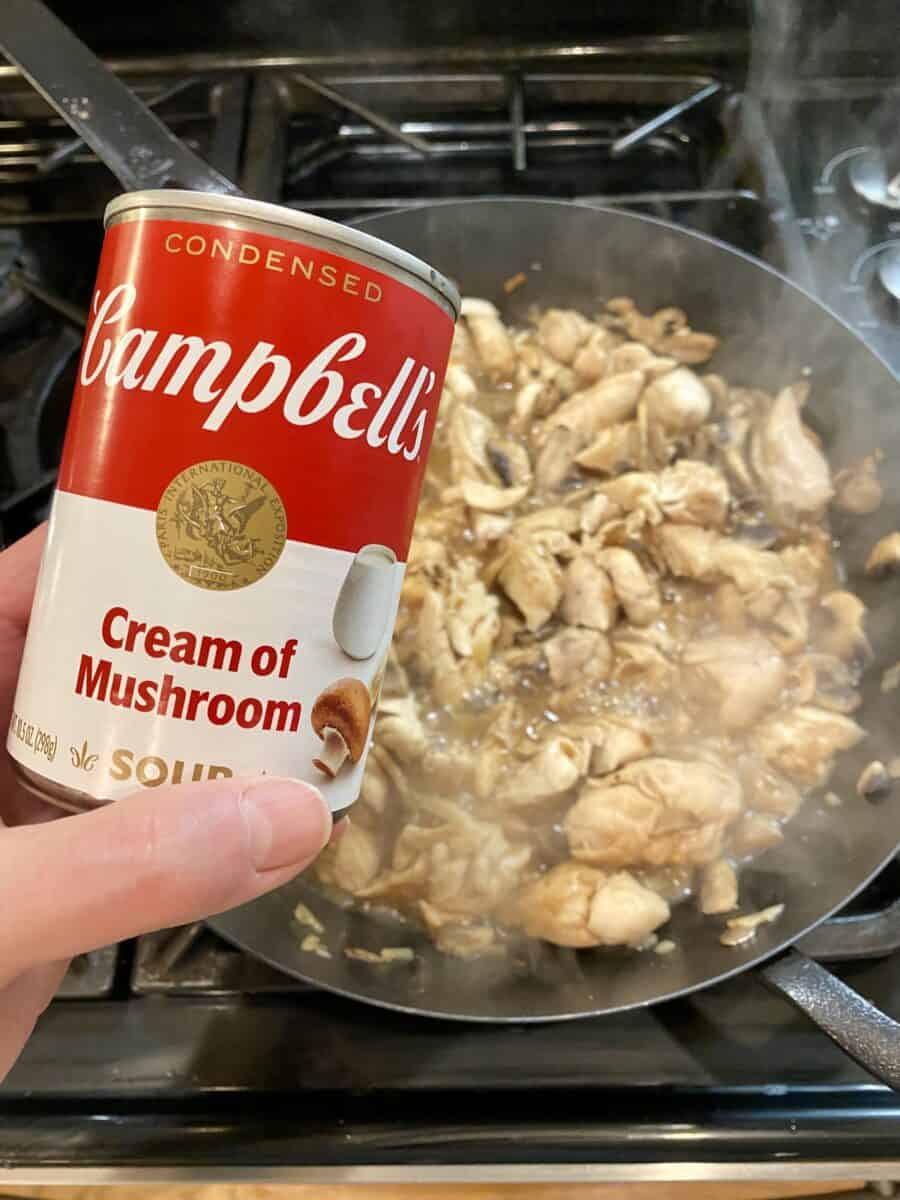 Slow Cooker Option
Creamy Chicken Stroganoff is easily adapted to the slow cooker. Place the raw chicken tenders, the onion soup mix, fresh mushrooms and a can of cream of mushroom soup in a 4 or 4.5-quart slow cooker.
Set for low and cook for about 6 hours. Lift the lid, stir to combine everything and use a large spoon to create bite-sized pieces of the cooked chicken.
Add sour cream, stir and replace the lid. Cook on low for another 20-30 minutes or until the sauce is hot.
Creamy or Extra Creamy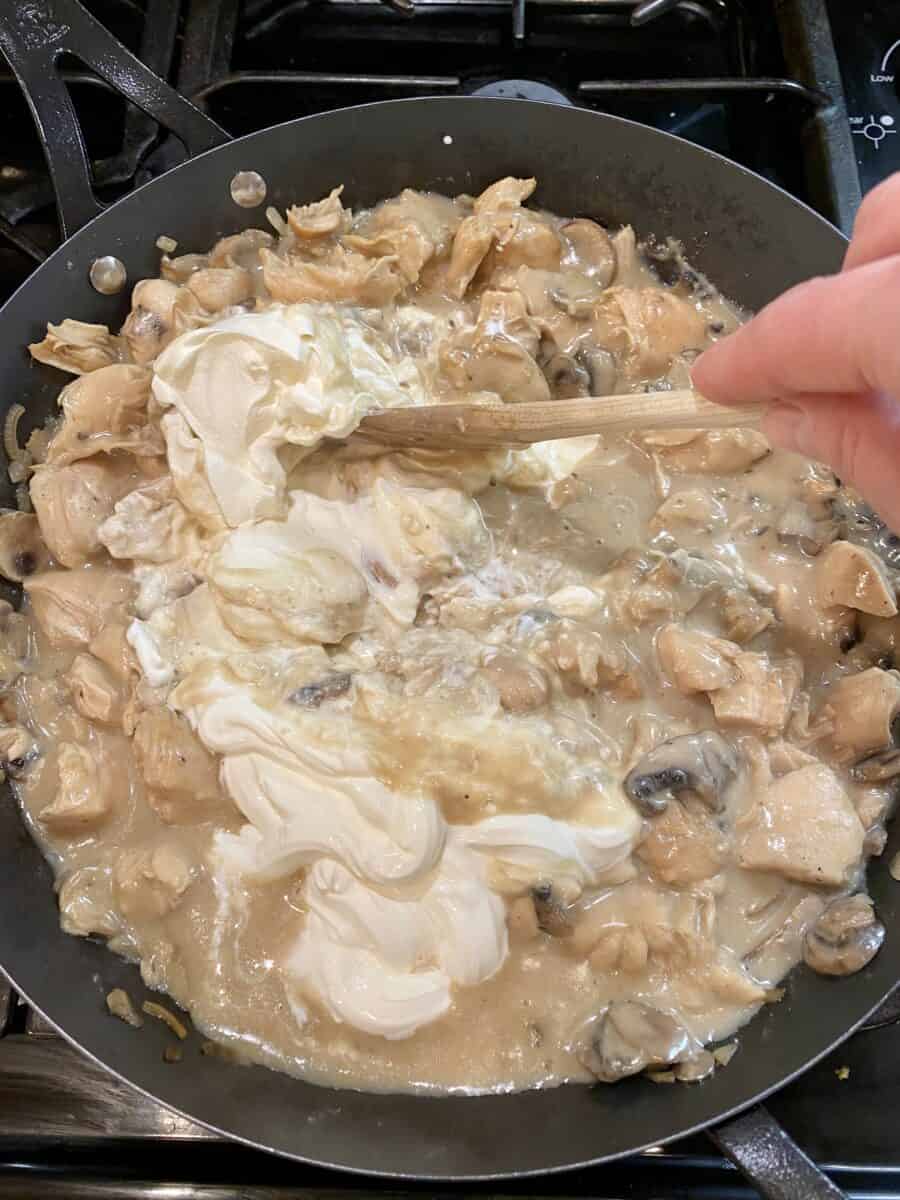 It's easy to enjoy chicken stroganoff with double cream, and that's one of the reasons why I love this recipe. If your family prefers an extra creamy sauce, simply add an extra scoop of two of sour cream. For a more robust sauce, add less sour cream.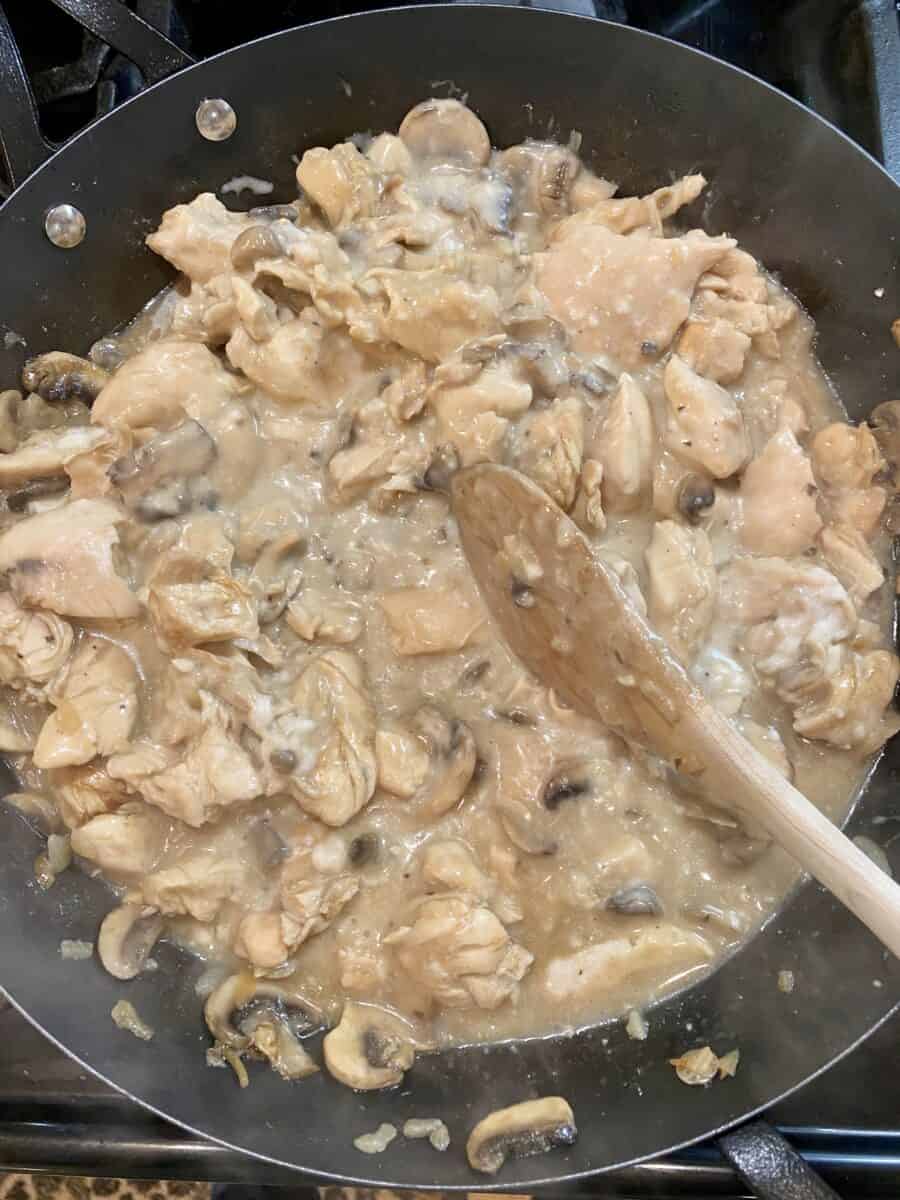 How to Serve
Serve your easy creamy chicken stroganoff by spooning it over pasta, cooked rice, mashed potatoes, toast or over roasted veggies.
Toast is a great option for a busy night.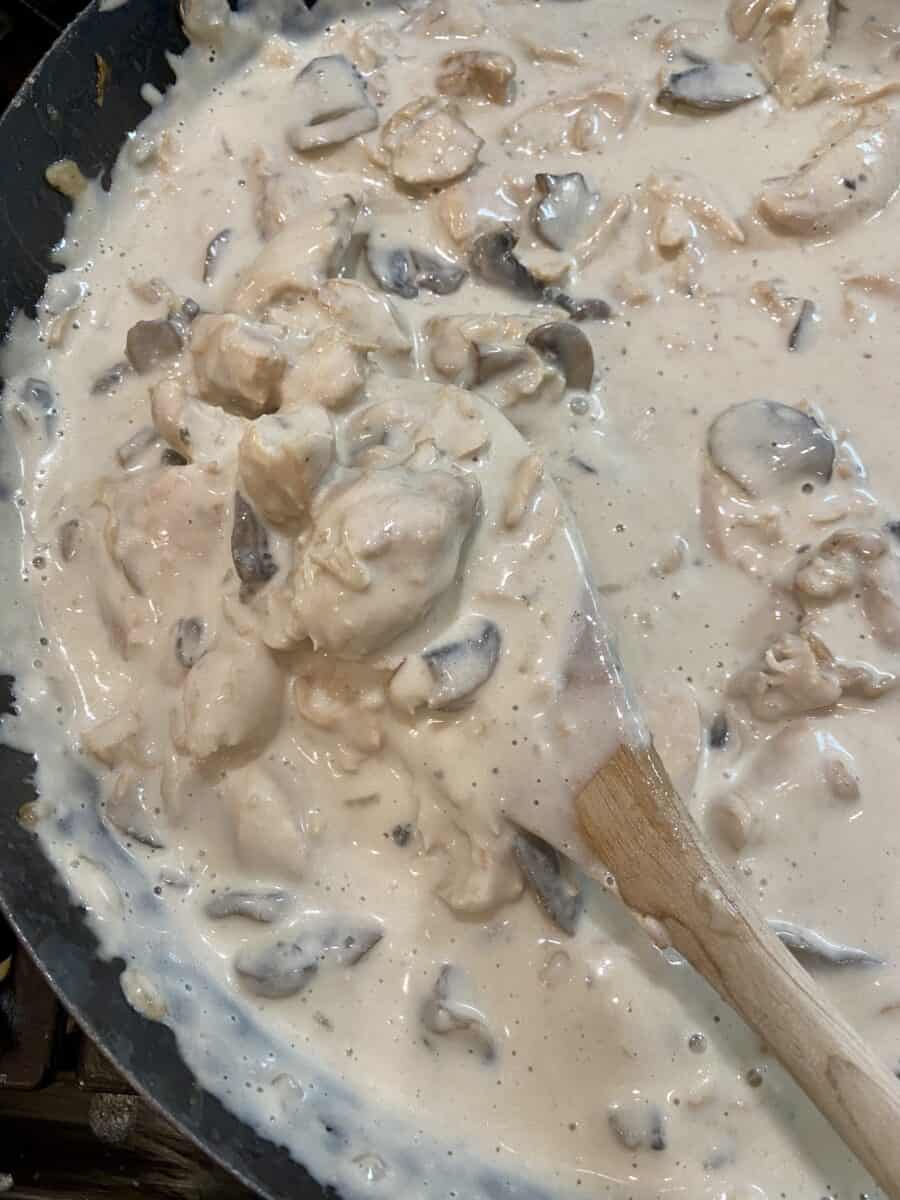 Choosing the Mushrooms
Here's one more way this recipe is super easy. It doesn't matter which variety of mushrooms you use. As long as the mushrooms are fresh, not canned, you'll have great results. I like using sliced, white mushrooms in this recipe, but crimini mushrooms or baby portabellos are also delicious options.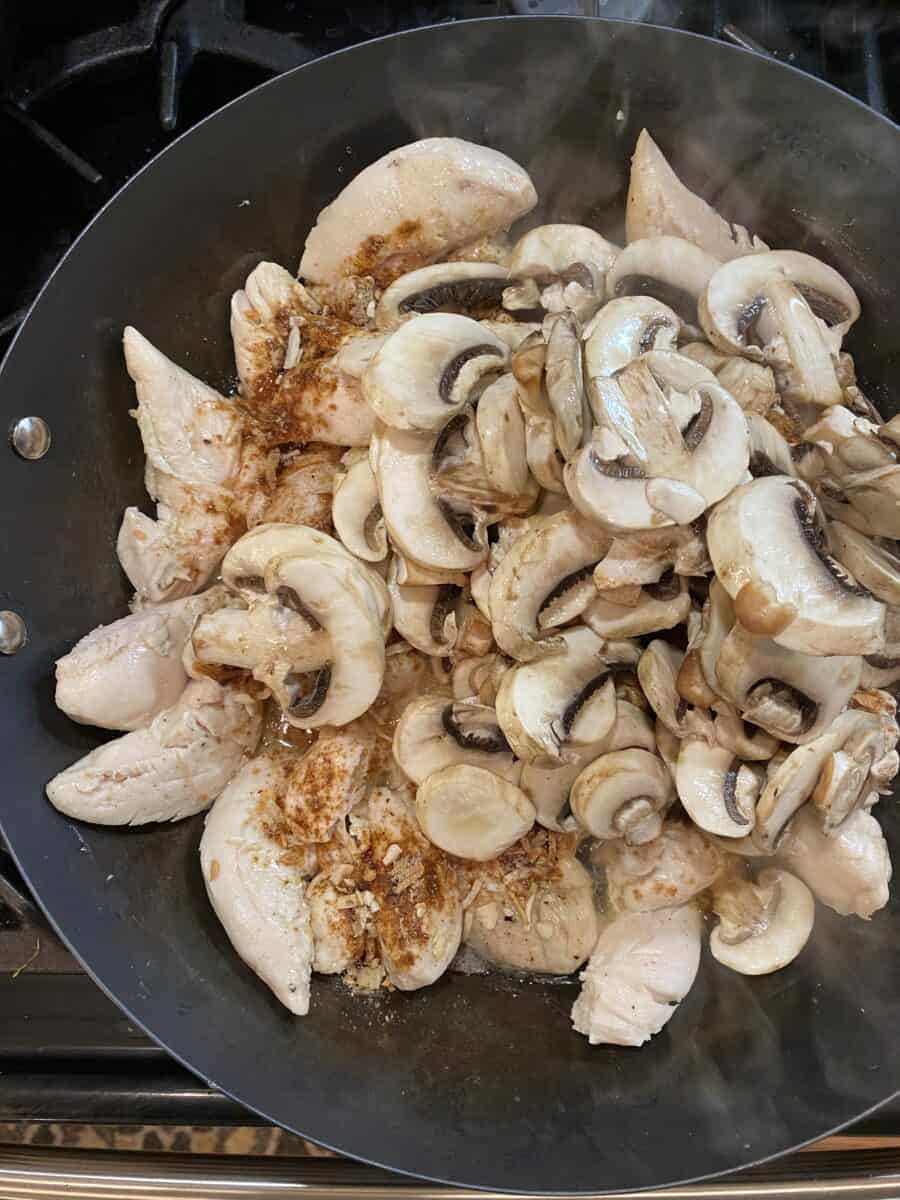 How to Store Leftovers
Store leftovers covered in the refrigerator and enjoy them within 3-5 days. Reheat leftover chicken stroganoff by placing it in a covered, heat-proof baking dish in the oven at 275° F for about 40 minutes. Or, heat in the microwave on a covered plate.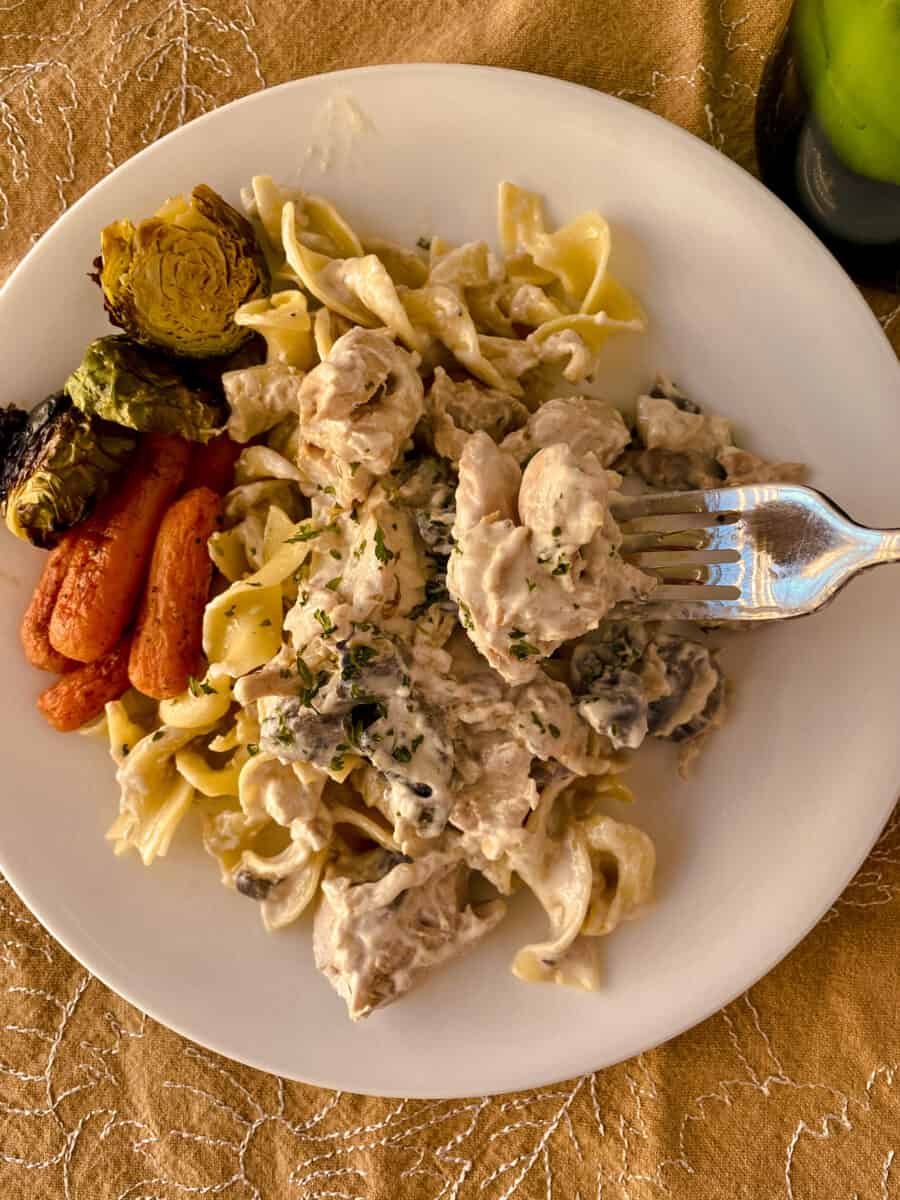 More Chicken Recipes
Chicken is a favorite ingredient for so many meals for my family. I love how adaptable chicken is and each recipe has such a unique flavor. Here are a few recipes that I think you'll love:
If you tried this Easy Creamy Chicken Stroganoff or any other recipe on my website, please leave a 🌟 star rating and let me know how it goes in the 📝 comments below.
Recipe