Garlic Parmesan Pizza Sauce is the ultimate, garlicky white pizza sauce. The creamy, cheesy topping is an excellent alternative to red sauce on pizza. It's super easy to make from scratch and is ready in about 10 minutes. It is especially delicious on a veggie pizza, chicken or even turkey pizza. Once you've enjoyed this creamy garlic parmesan sauce, you may never go back to your regular pizza routine.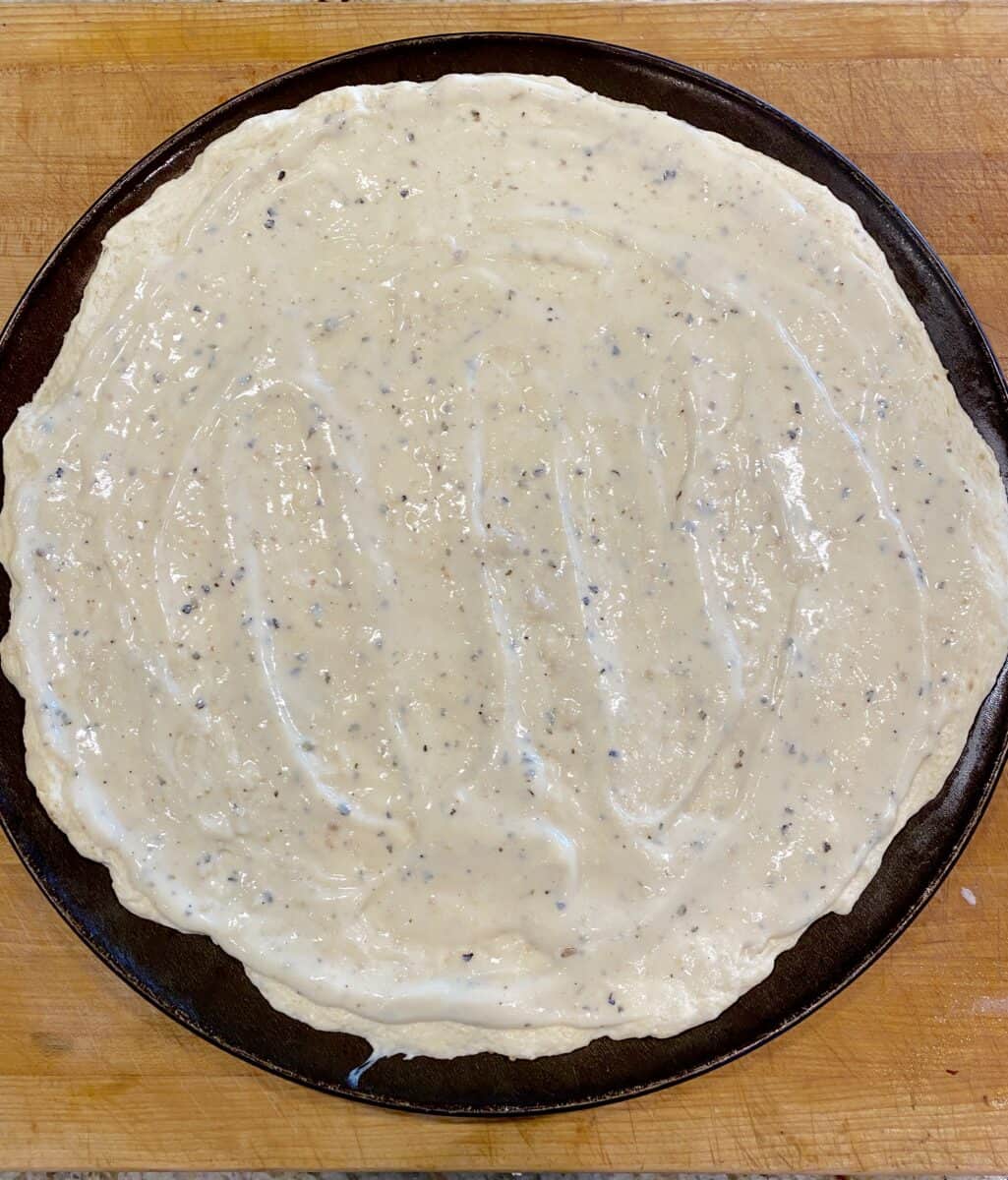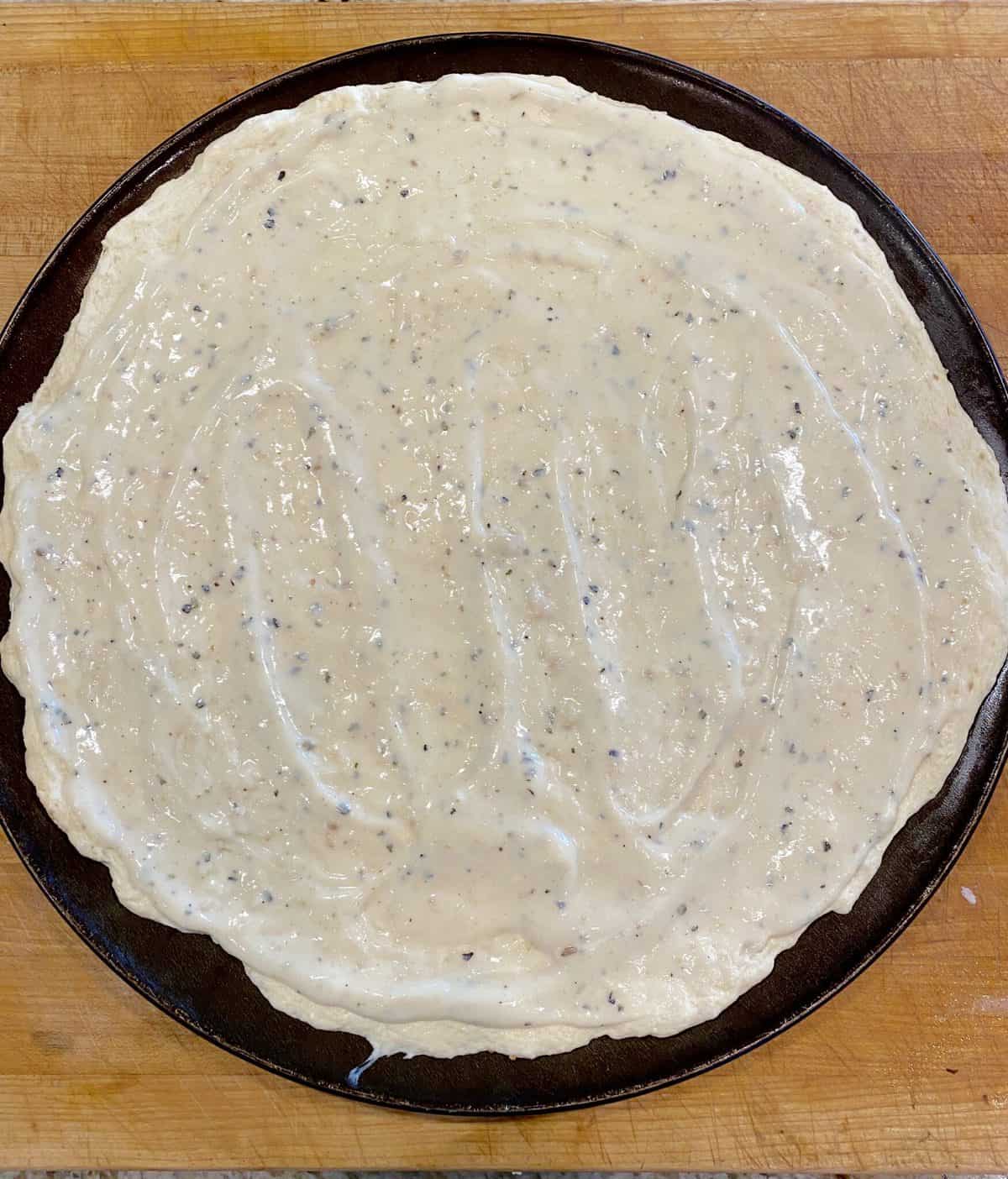 Jump to:
🥘 Ingredients to Have on Hand
unsalted butter
flour
milk
garlic
parmesan cheese
dried oregano
It just takes a few kitchen staples to create this garlicky, creamy white pizza sauce. You'll also need a little salt and pepper. If you enjoy this recipe, I think you'll also enjoy Cheesy Baked Ziti and Spicy Chicken Alfredo Sauce.
See the recipe card below for a full list of ingredients and measurements.
💭The Benefits of Garlic Parmesan Sauce
Garlic Parmesan Pizza Sauce is fast to fix and is a delicious white sauce topping for your next pizza.
This recipe makes enough creamy garlic parmesan sauce to cover a family-sized large pizza, so you can make the white sauce fresh any time and right before you assemble the pizza. Even on a busy work night.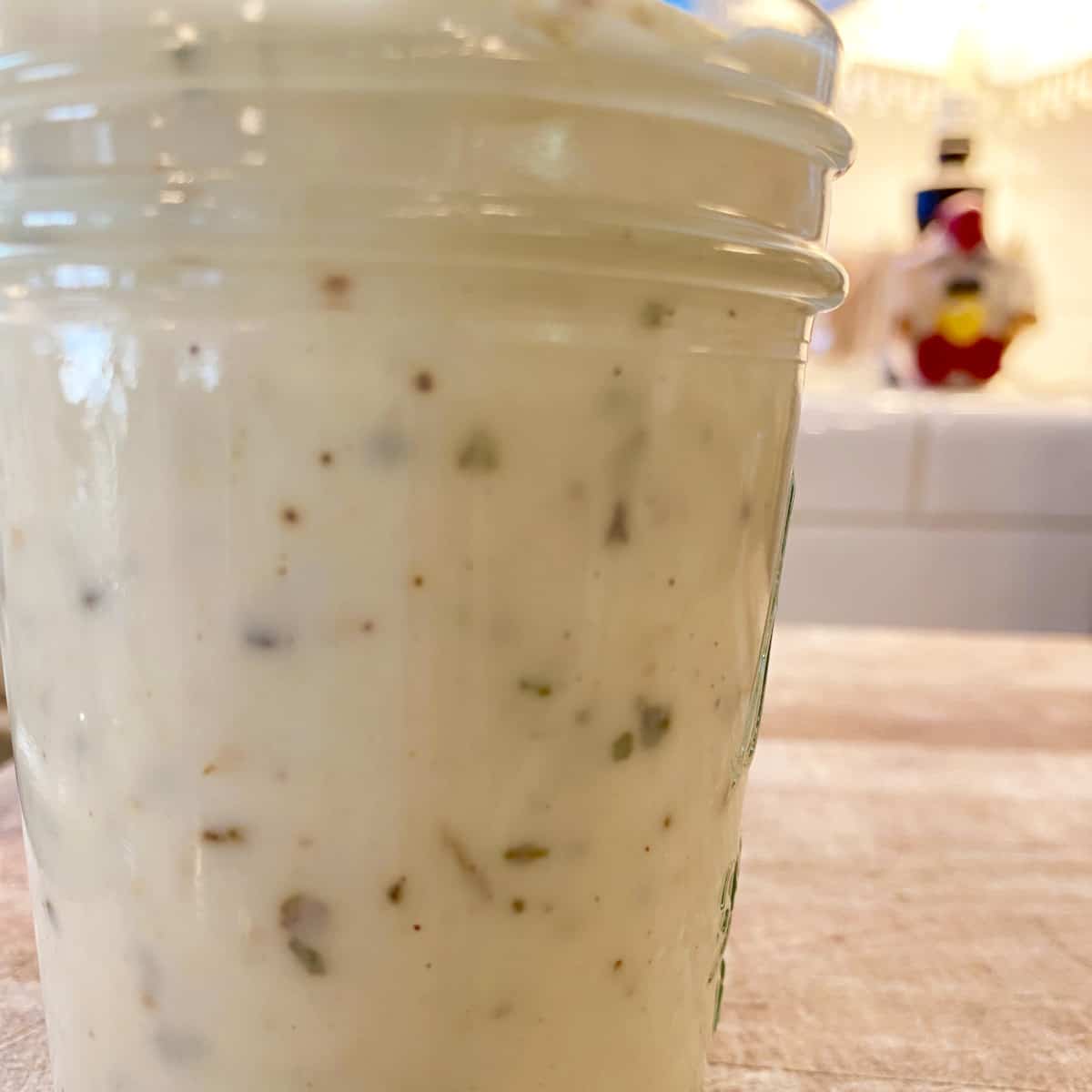 📋 How to Make a Roux
Garlic Parmesan Pizza Sauce starts in a medium-sized saucepan on the stove, you'll being by making a roux.
Never feel intimidated by a recipe that calls for a roux. (It's pronounced, "ROO.") You can do this.
A roux is simply flour and fat cooked together - usually whisked, and then used to thicken a cream sauce. In this case, our creamy, cheesy, white pizza sauce.
A roux is the starting point for so many great made-from-scratch recipes. It is the base of most white sauces, many gravies and chowders, to name a few and it's step one in making this wonderful creamy garlic parmesan sauce.
👩🏻‍🍳Step-by-Step Instructions
This creamy garlic parmesan white sauce starts on the stove. But it doesn't spend much time there. In about 10 minutes your white sauce will be ready to spread on the pizza crust.
Over medium heat, melt the butter in a medium-sized pan on the stove.
Add garlic and cook in the hot butter for about 30 seconds.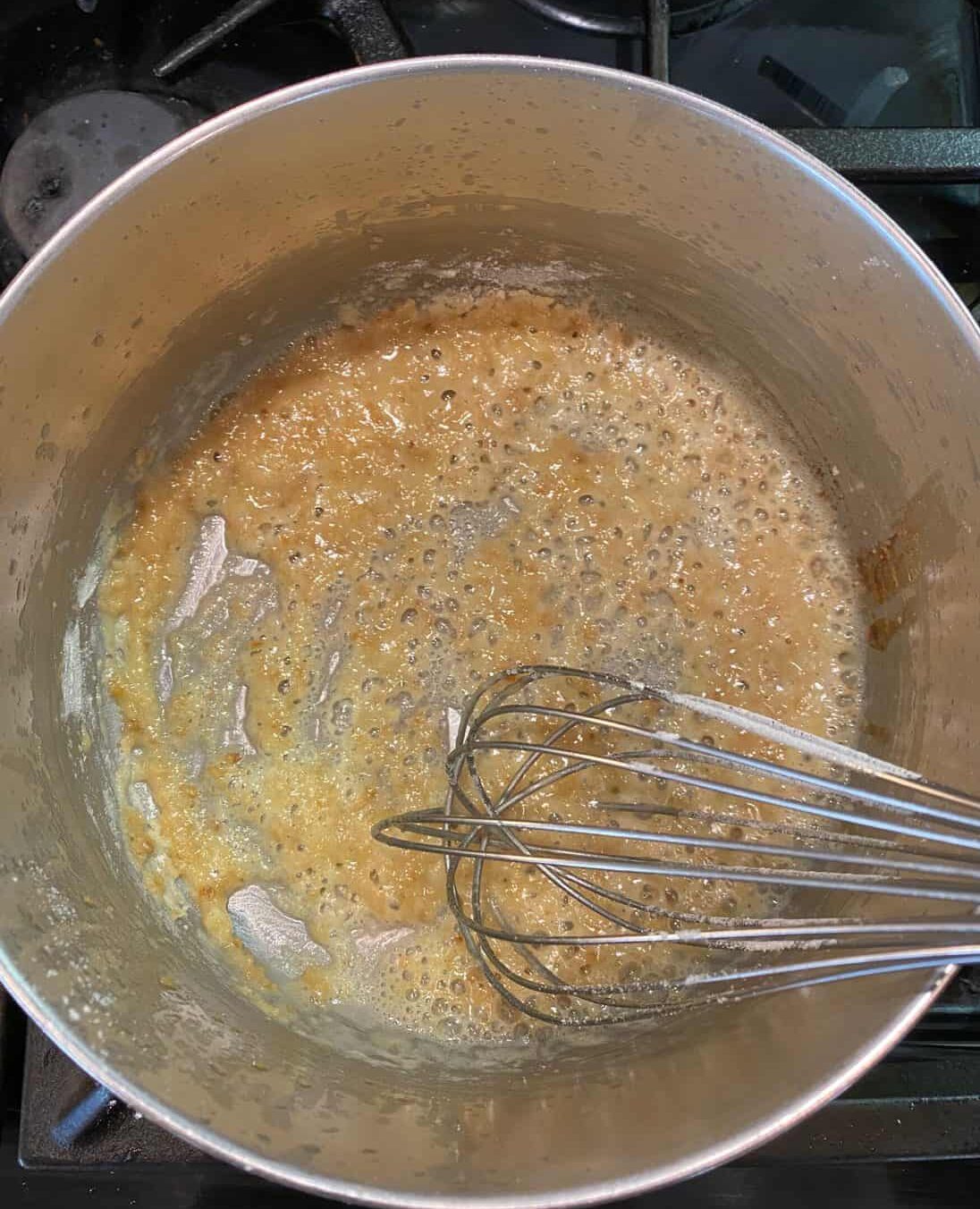 Add the flour and whisk until the flour is combined with the butter and garlic.
Continue whisking for about a minute, be careful not to brown the butter.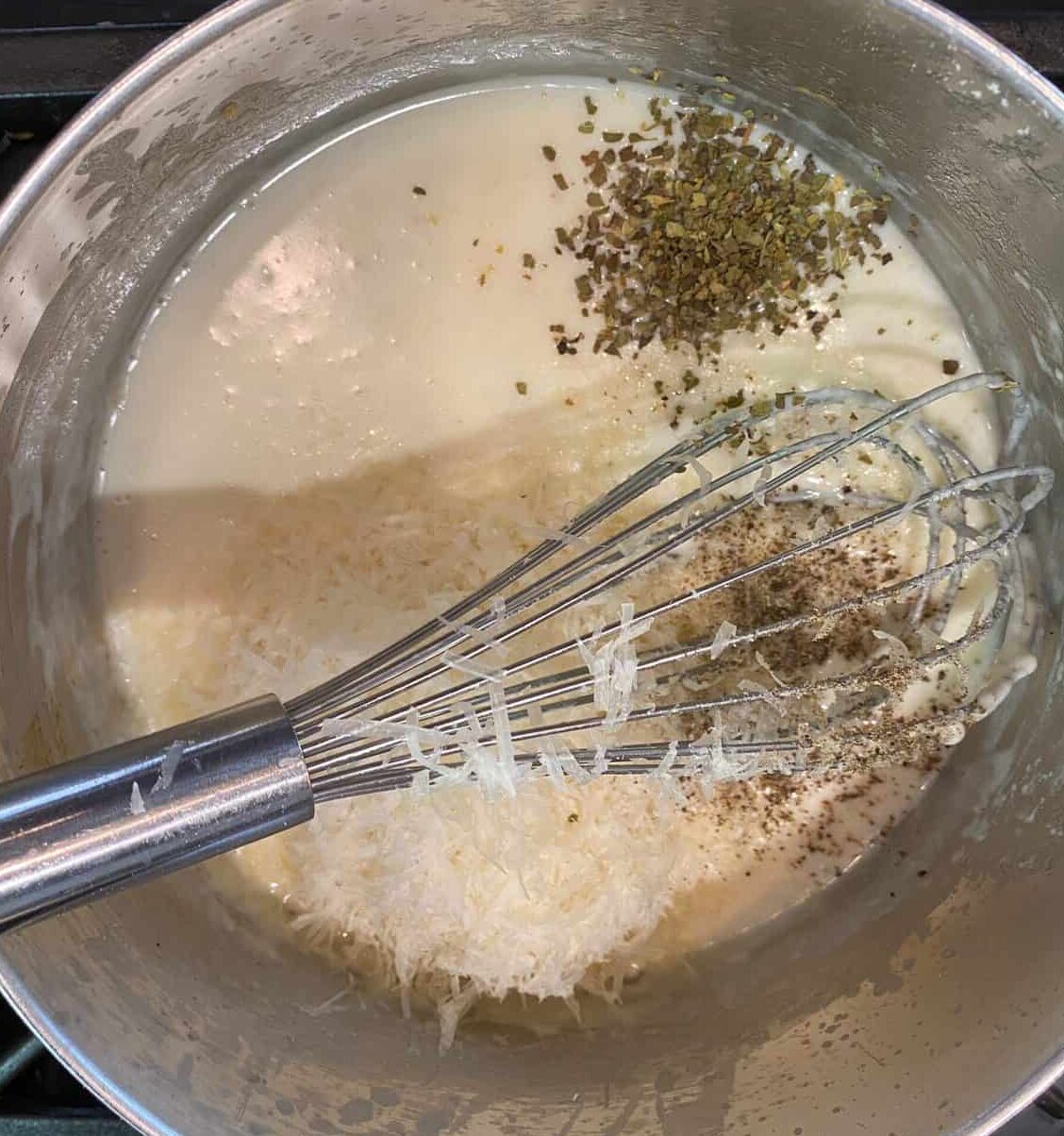 Add milk and continue whisking until the sauce starts to thicken.
Add oregano, salt, pepper and cheese.
Stir until all the ingredients are combined.
Spoon the sauce over the pizza crust, and bake according to the directions for your pizza.
🍕Top Toppings for White Pizza
If you and your family enjoy the flavors of buttery garlic and parmesan then this white pizza sauce is for you.
We often think of a creamy, garlic parmesan sauce as a topping for pasta, and it's delicious served that way. But many pizza toppings are outstanding complements to this garlic cream sauce.
Experiment to find a combination that's perfect for your family, here are some combos I recommend, just mix and match.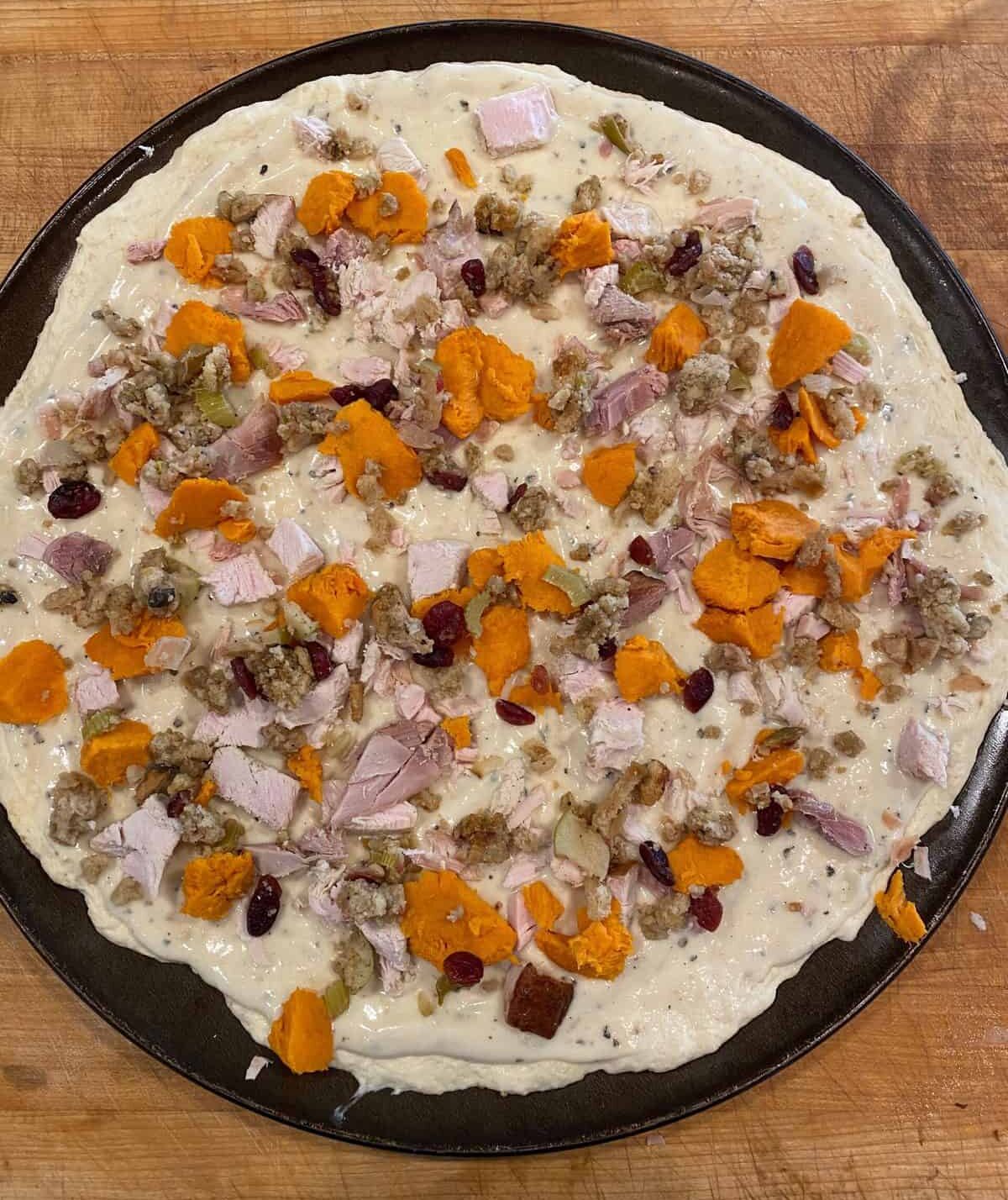 Once you've selected three or four toppings (or more) you'll be good to go:
sliced olives
thin slices of green pepper
thin slices of red pepper
thin slices of red onion
diced green onion
chopped broccoli florets
diced, cooked chicken
diced, cooked turkey (leftover from a holiday meal)
chopped, cooked bacon
sliced, fresh mushrooms
chopped, fresh spinach
chopped, fresh tomatoes
sun-dried tomatoes
thin slices of fresh zucchini
mozzarella cheese
ricotta cheese
parmesan cheese
If you love a homemade pizza crust, make this Homemade Pizza Crust as the base for your favorite white pizza sauce recipes.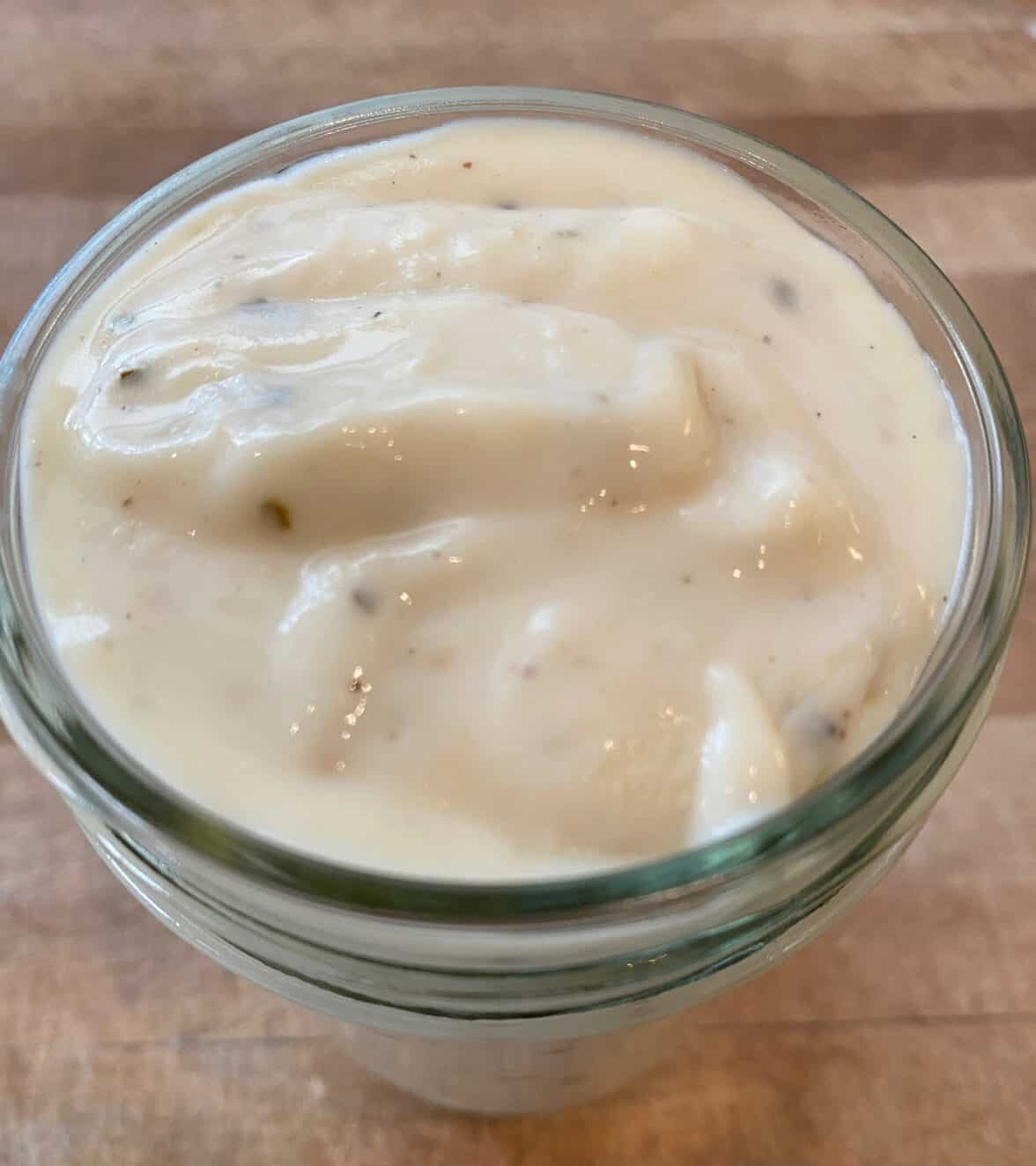 💭Recipe FAQs
What type of milk should I use?
I highly recommend using either 2% or whole milk. You will still get good results using skim or 1% milk, but there's a creaminess that really can't be beaten by using milk with a slightly higher fat content.
Is white pizza sauce the same as Alfredo sauce?
In this case, it's very close, yes. Garlic Parmesan Pizza Sauce is super close to being an Alfredo sauce. The only difference is, I've adjusted the ratio of milk to the flour and butter so the sauce will be thicker and more creamy than what we usually use to top our pasta.
What exactly is a garlic parmesan sauce?
This sauce is a spin on a classic Alfredo sauce, it's made with just a few ingredients and the herb flavoring isn't overdone. That way the garlic and cheese flavors come through. There's no mistaking what's flavoring this white pizza sauce: garlic and parmesan cheese. 

🥗More Recipes
Here are a few additional options for preparing with your Garlic Parmesan Pizza Sauce. From a homemade crust to a few side salads, this combination of flavors goes great together.
Or if you are in the mood for pasta instead of pizza, try Tomato Cream Sauce or Fresh Pesto as the perfect topping to any pasta recipe.
If you tried Garlic Parmesan Pizza Sauce or any other recipe on my website, please leave a 🌟 star rating and let me know how it goes in the 📝 comments below.
Recipe