Here's the perfect summer side dish, Red Potato Salad. It combines the tender texture of boiled red potatoes with a tangy and savory dressing. Best of all, there's no need to peel the potatoes. If you enjoy classic summer sides like Crunchy Cole Slaw or Sweet Corn Pasta Salad, this potato salad recipe is for you!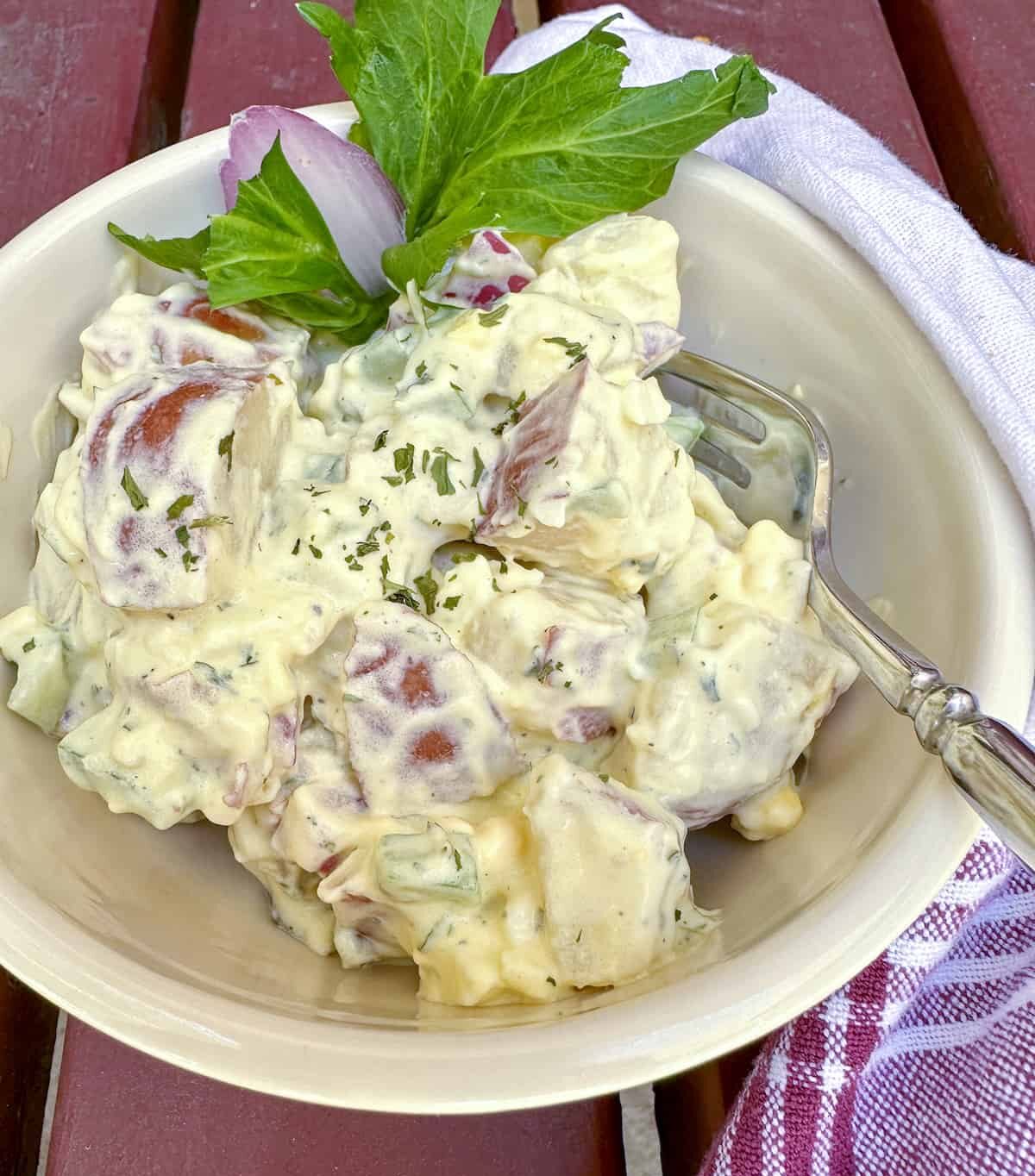 Jump to:
Why You'll Love This Recipe
Red Potato Salad is a new spin on the classic and beloved recipe of potato salad. It's popular for several reasons, it's a classic side dish that's often served at picnics, barbecues, and family gatherings. It goes great with No Ketchup Meatloaf and Dutch Oven Chicken.
Many of us have fond memories associated with potato salad, which adds to its nostalgic appeal.
The combination of the tender, boiled red potatoes - with the skins on - and the creamy dressing with plenty of chopped, spicy dill pickles helps creates a satisfying and memorable summer side dish.
Ingredients to Have on Hand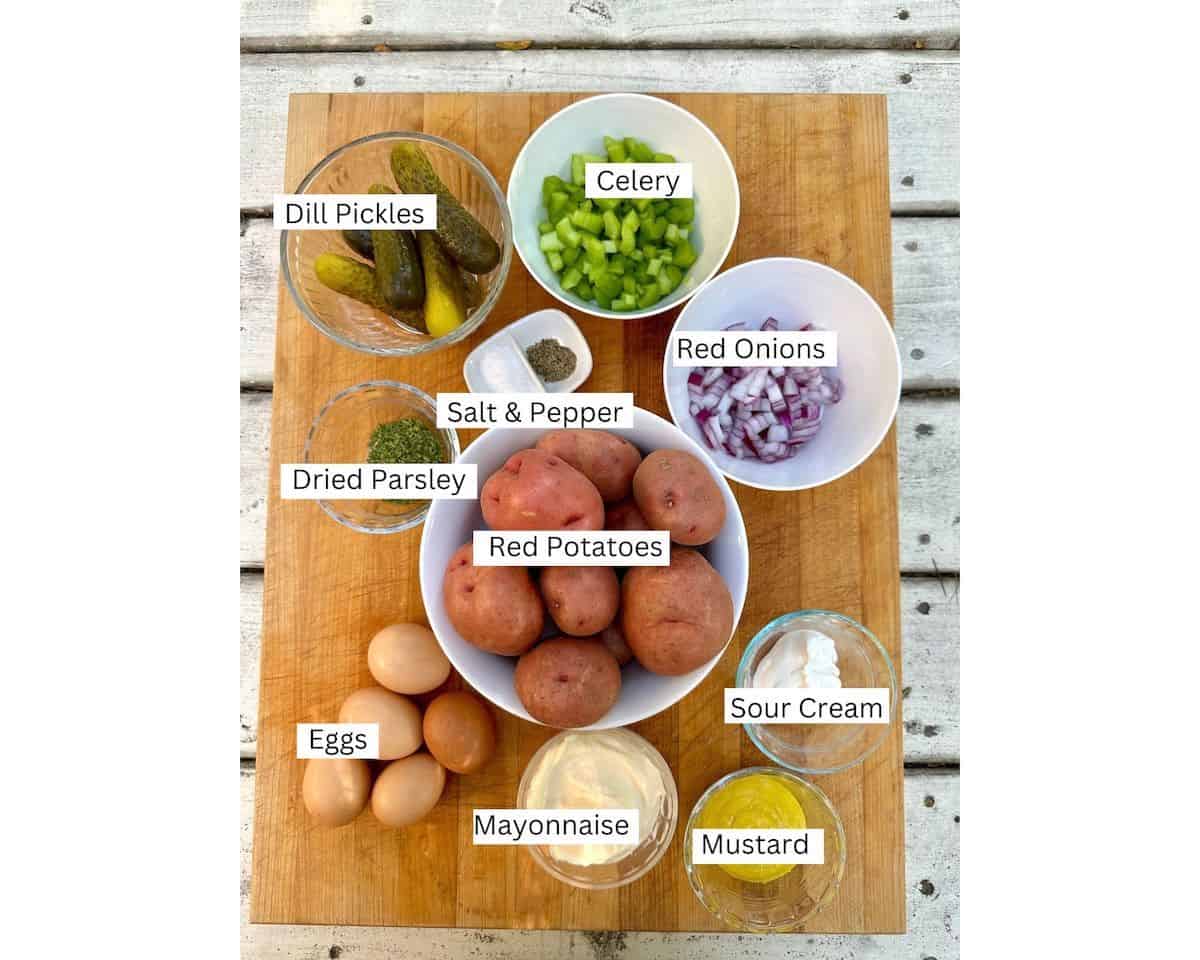 Red potatoes: While you can make a delicious potato salad with different varieties of potatoes, the benefit of using red potatoes is you can leave the peels on.
Red onion: Add just a touch of additional color along with the slight crunch of fresh onion. There's a slight sweetness to a red onion that can't be beaten.
Celery: This adds a wonderful texture to potato salad and the flavor is subtle but distinctive.
Mayonnaise: We can't beat the creaminess of classic mayonnaise in a potato salad. Use whichever brand of mayonnaise your family prefers.
Mustard: I use classic yellow mustard.
Dill pickles: Spicy, Russian style is a delicious type of dill pickle to use in red potato salad, but use whatever type of dill pickle you have on hand.
See the recipe card below for a full list of ingredients and measurements.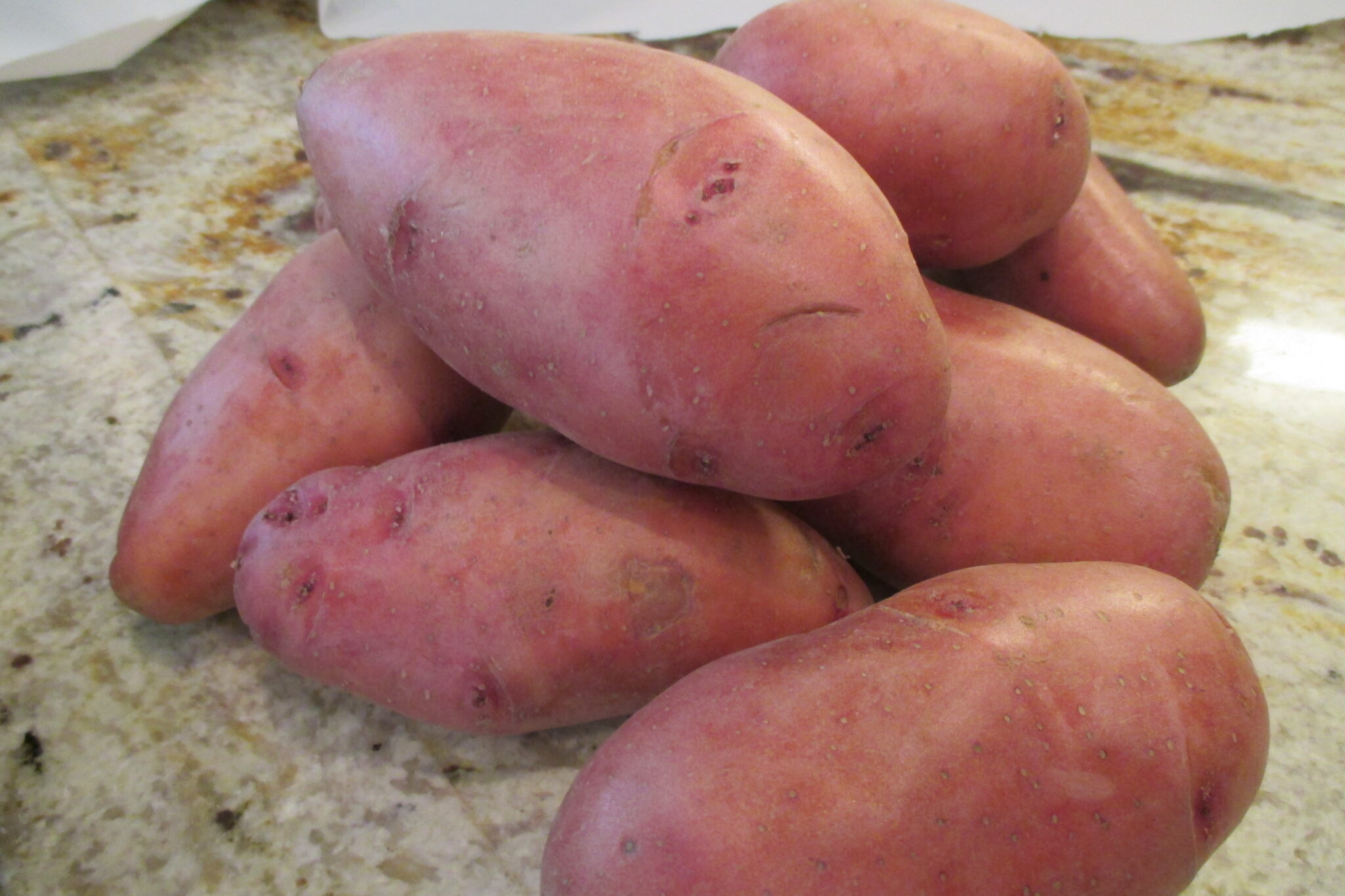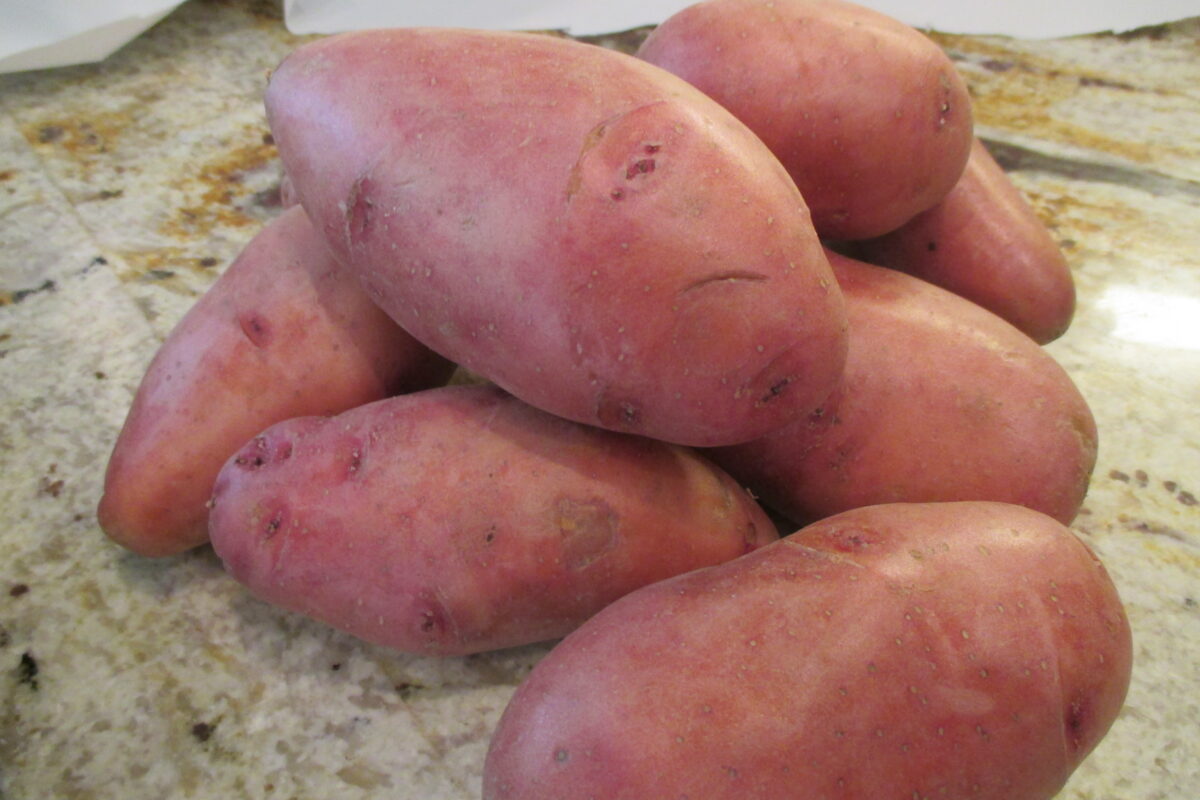 Substitutions
There's plenty of room for substitutions with Red Potato Salad, you can even opt for a different variety of potatoes if you prefer. Here are a few recommendations.
Russet Potatoes: I love potato salad made with Russet potatoes! It's generally best to peel them before boiling. The peels on Russets are much thicker than red potatoes.
Yukon Gold Potatoes: These are a great option and will give your potato salad a somewhat buttery flavor. Yukon Gold potatoes also have a thin peel, so you can leave the peels on when making potato salad with this variety of potatoes.
Green Onions: Diced green onions are delicious in this recipe, just swap them out for the diced red onion.
Bacon: Is there a recipe that bacon doesn't make better? Cooked and crumbled bacon is simply delicious when added to potato salad.
Fresh Herbs: Fresh parsley, chives or fresh dill are tasty in this recipe. Add them in place of the dried parsley.
Olives: Sliced olives are wonderful in potato salad, either black olives or green onions are a tasty addition.
How to Make Potato Salad
I like to start by boiling the eggs and when time allows, it's helpful to get this step done a day in advance. That way the eggs will be cooked, peeled and cooled when you are ready to assemble the ingredients.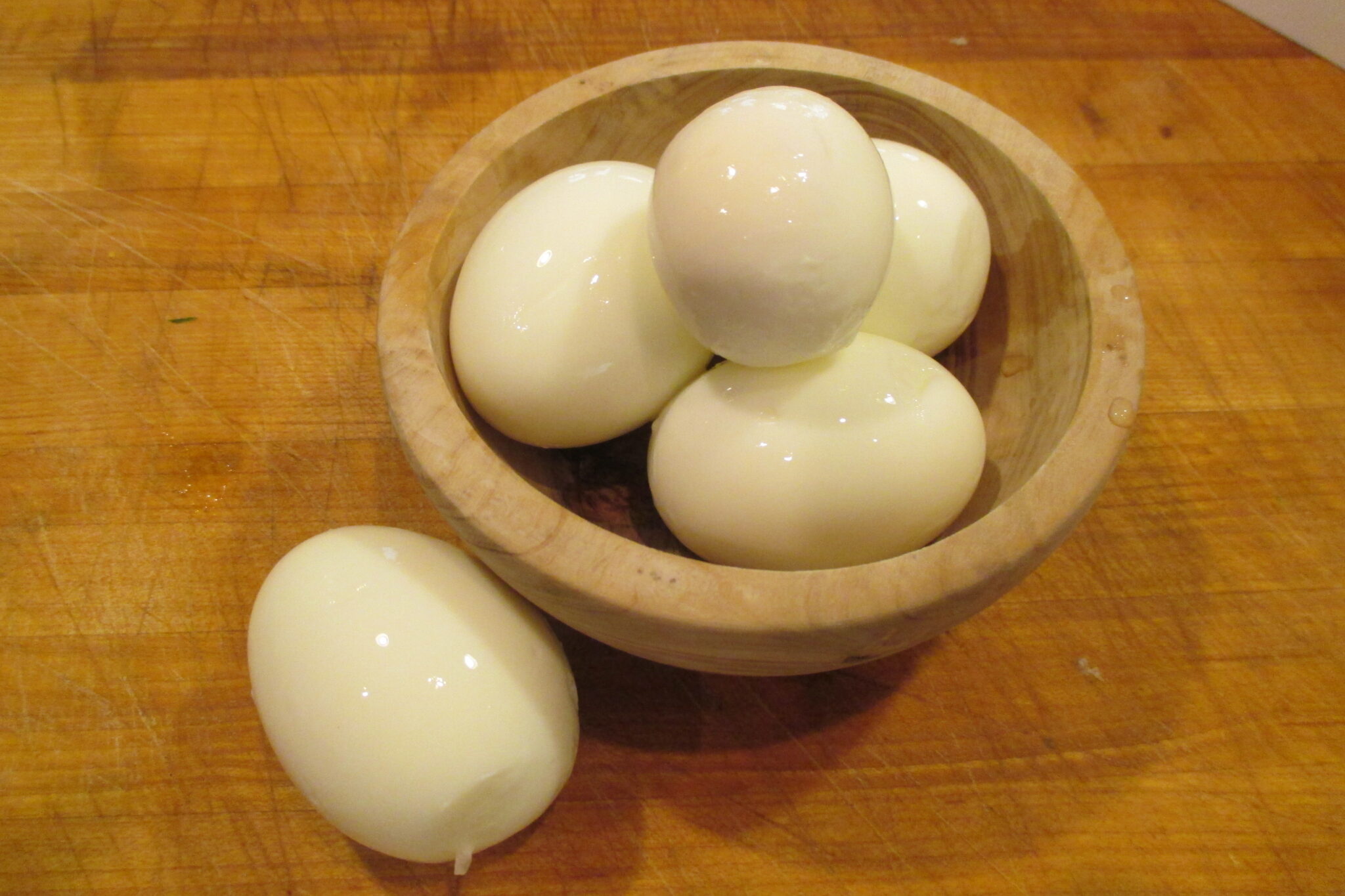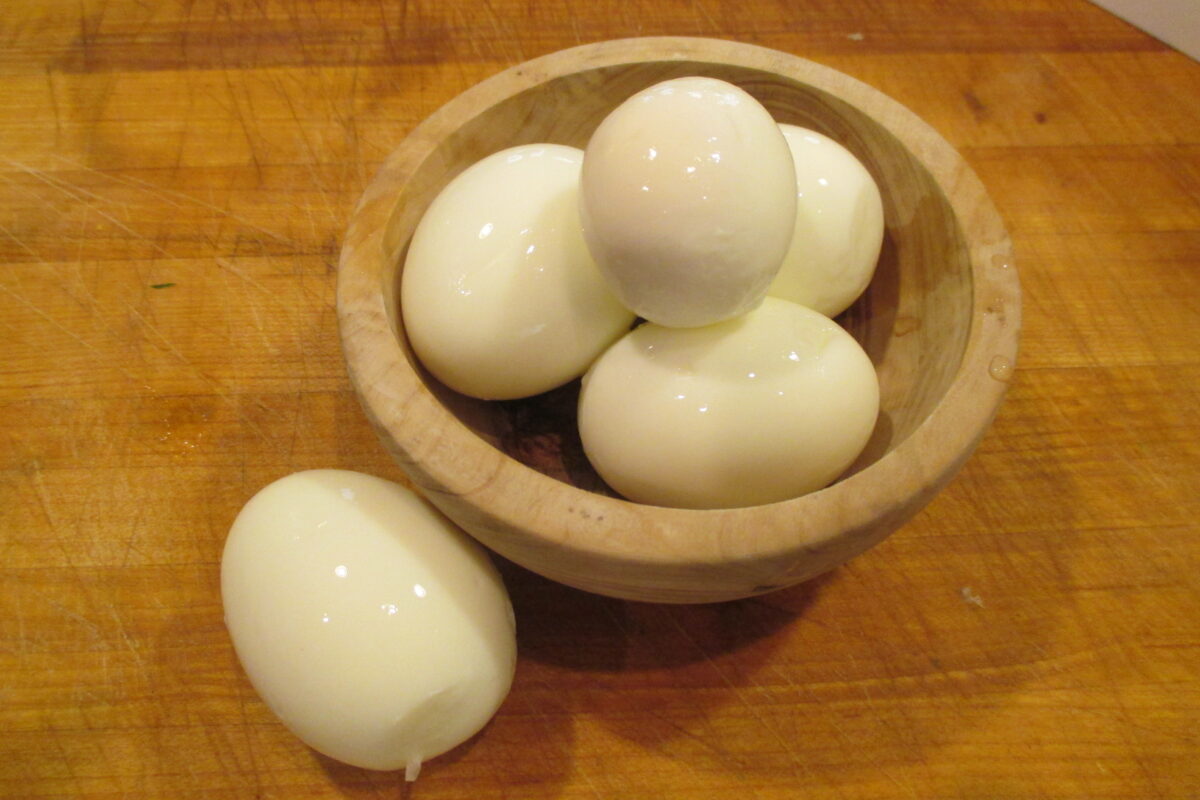 Step #1 Boil the Eggs:
Boiling eggs is a snap. Just place the eggs in a pan and add enough water to cover the eggs completely.
Bring to a boil and allow to simmer for about a minute.
Turn off the heat and cover the pan. Allow the eggs to continue cooking in the hot water for about 15-20 minutes. Next, drain the water and add ice cubes to the pan.
Once the ice is melted, the eggs should peel easily.
Step #2 Boil the Red Potatoes:
Rinse and scrub the potatoes, leave the skins on, and dice the potatoes into bite-sized pieces. This makes it much easier to assemble the salad, plus it cuts down on the cooking time.
Place the diced red potatoes in a large pot with plenty of water on the stove and add 2 teaspoons of salt.
Boil until barely fork tender, check them after 8 minutes.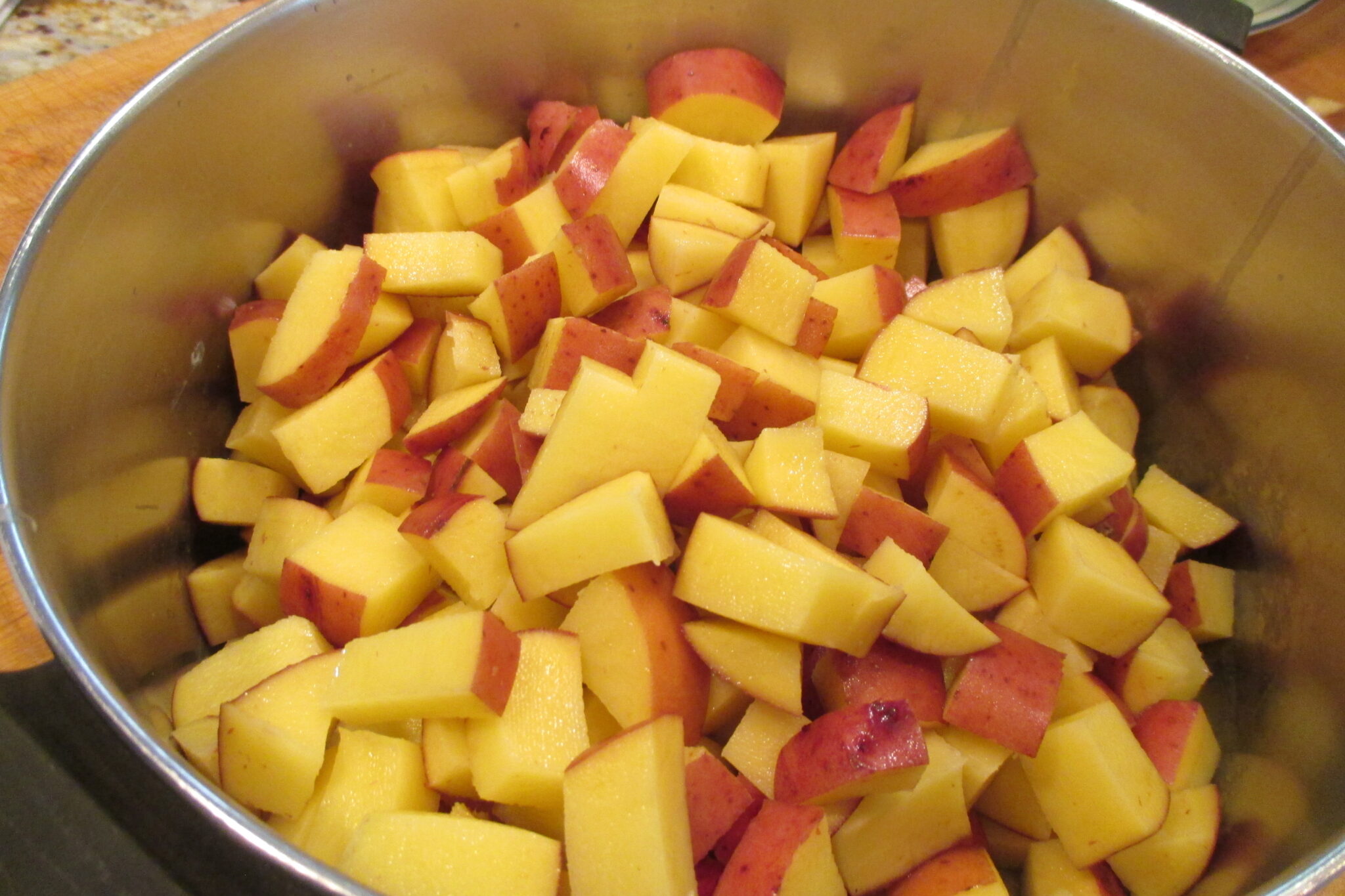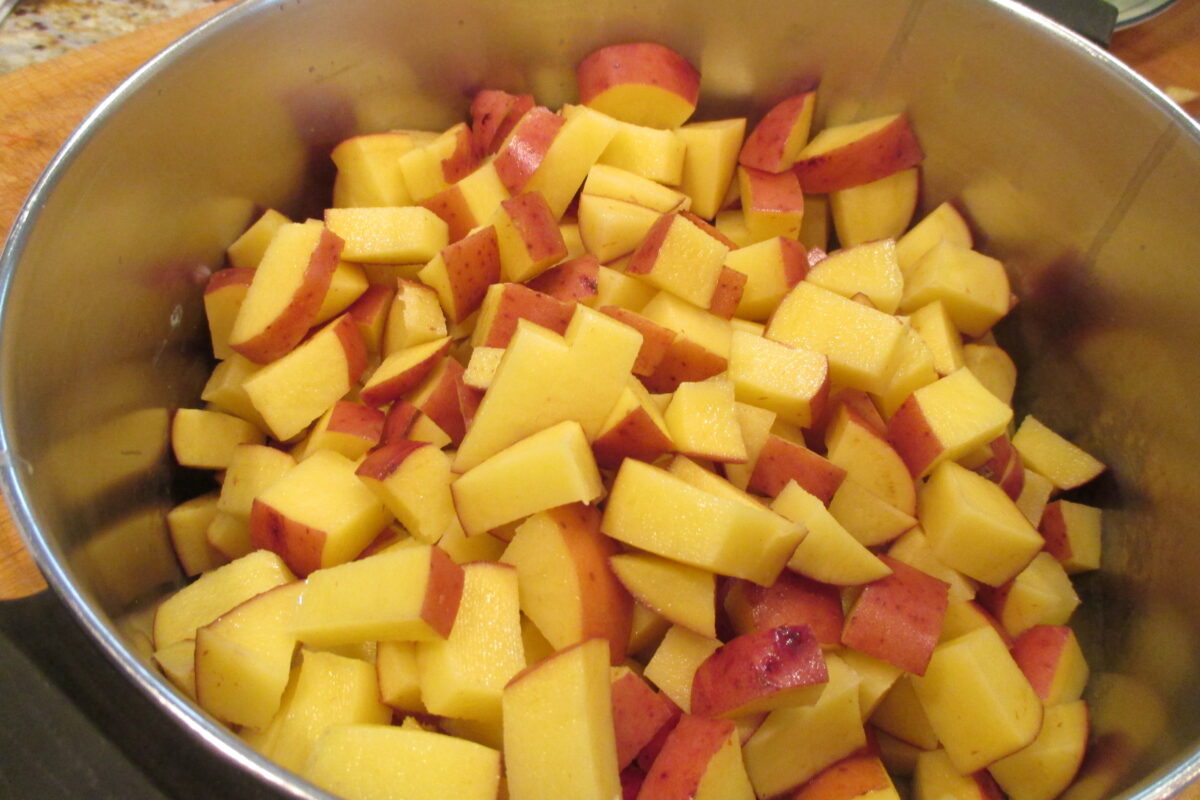 Drain the water from the potatoes then let them cool.
Pro Tip: Return the drained potatoes to the pot and place the pot on ice in the sink to help speed the chilling process. As an option, if ice isn't handy, place the drained potatoes in the refrigerator for 20 minutes.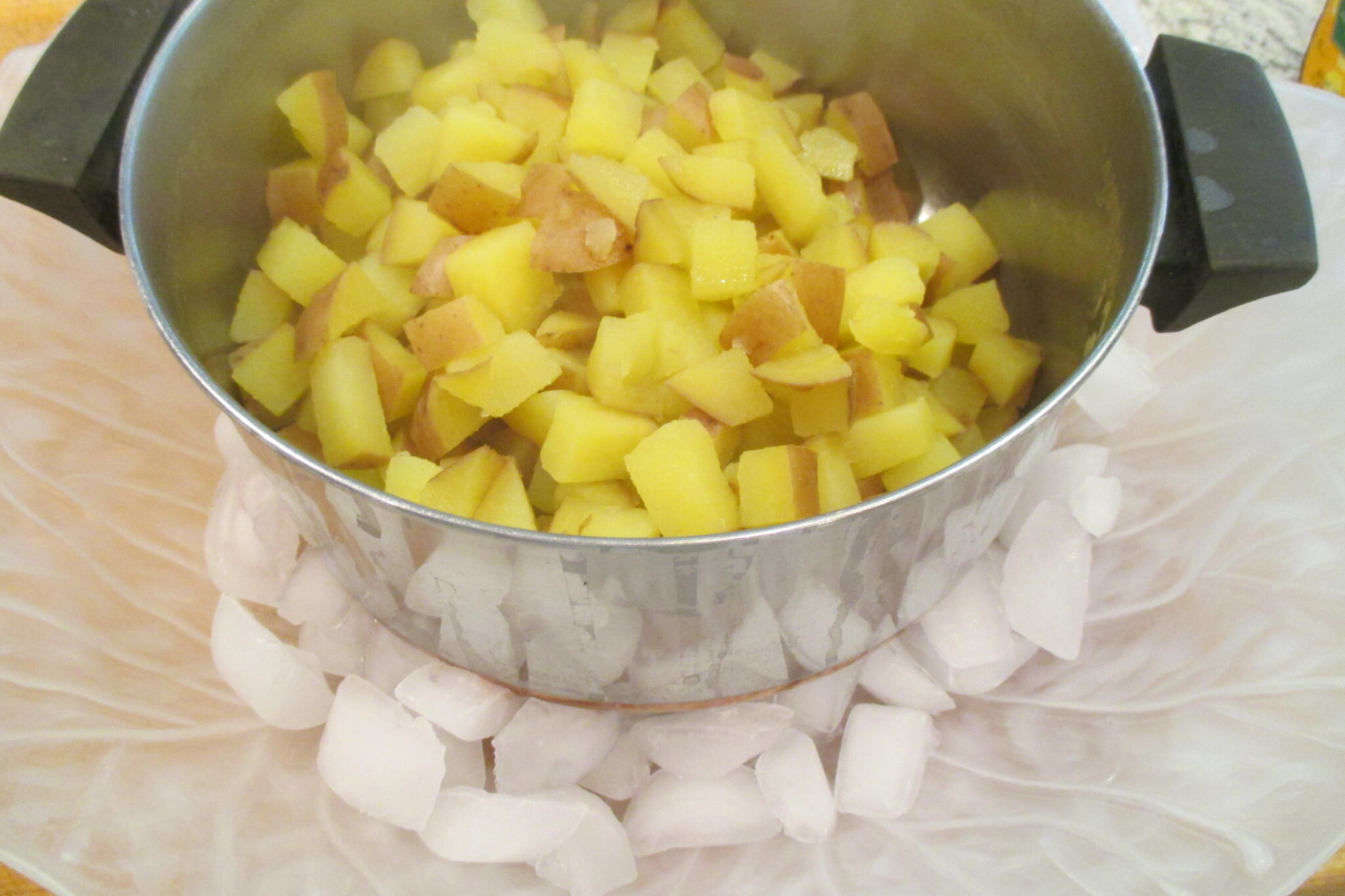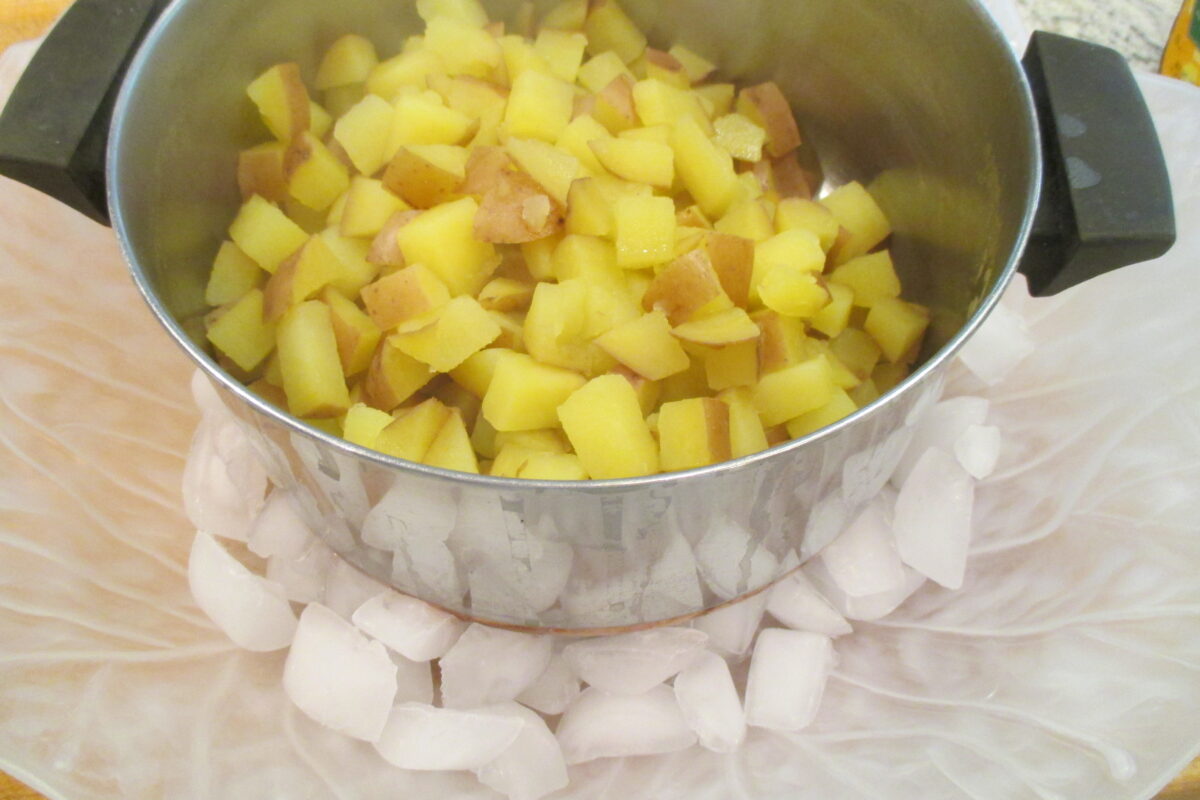 The potatoes don't need to be ice cold, but you don't want them hot. The heat will affect the mayonnaise and other ingredients when you assemble the salad.
Once chilled, place the potatoes in a large bowl.
Step 3: Dice the celery, red onion, and dill pickles. Chop the boiled eggs. Add the ingredients to the large bowl with the potatoes.
Step 4: In a small bowl or glass 4-cup measuring cup, combine the mayonnaise, mustard, sour cream, dill pickle juice, dried parsley and pepper. Whisk to blend thoroughly.
Step 5: Add the creamy ingredients to the cooked potatoes and the remaining ingredients in the large bowl. Stir gently to combine.
Step 6: Cover and refrigerator for at least a few hours. For the very best flavor, serve your Red Potato Salad the next day.
Recipe FAQs
Will another variety of potatoes such as Russets work OK?
Yes, pretty much any type of fresh potato will work great. I prefer red potatoes for this particular recipe because I like to leave the peels on and the red variety has a thin, light peel.

I've made this with Russets and it's delicious. But I recommend peeling the potatoes before boiling them if you use that variety.
I can't find Russian Dill Pickles, are they a "must have" for this recipe?
Russian dills have a spicy bite and are jarred with garlic, so that variety of pickles adds a bit of zest to the potato salad. But this recipe is terrific with any type of dill pickle.
How do I keep from overcooking the potatoes?
Once the water comes to a boil, it shouldn't take more than 8-10 minutes to cook the potatoes to perfection. Check the potatoes frequently, once they are just barely fork tender they'll be the perfect texture for potato salad.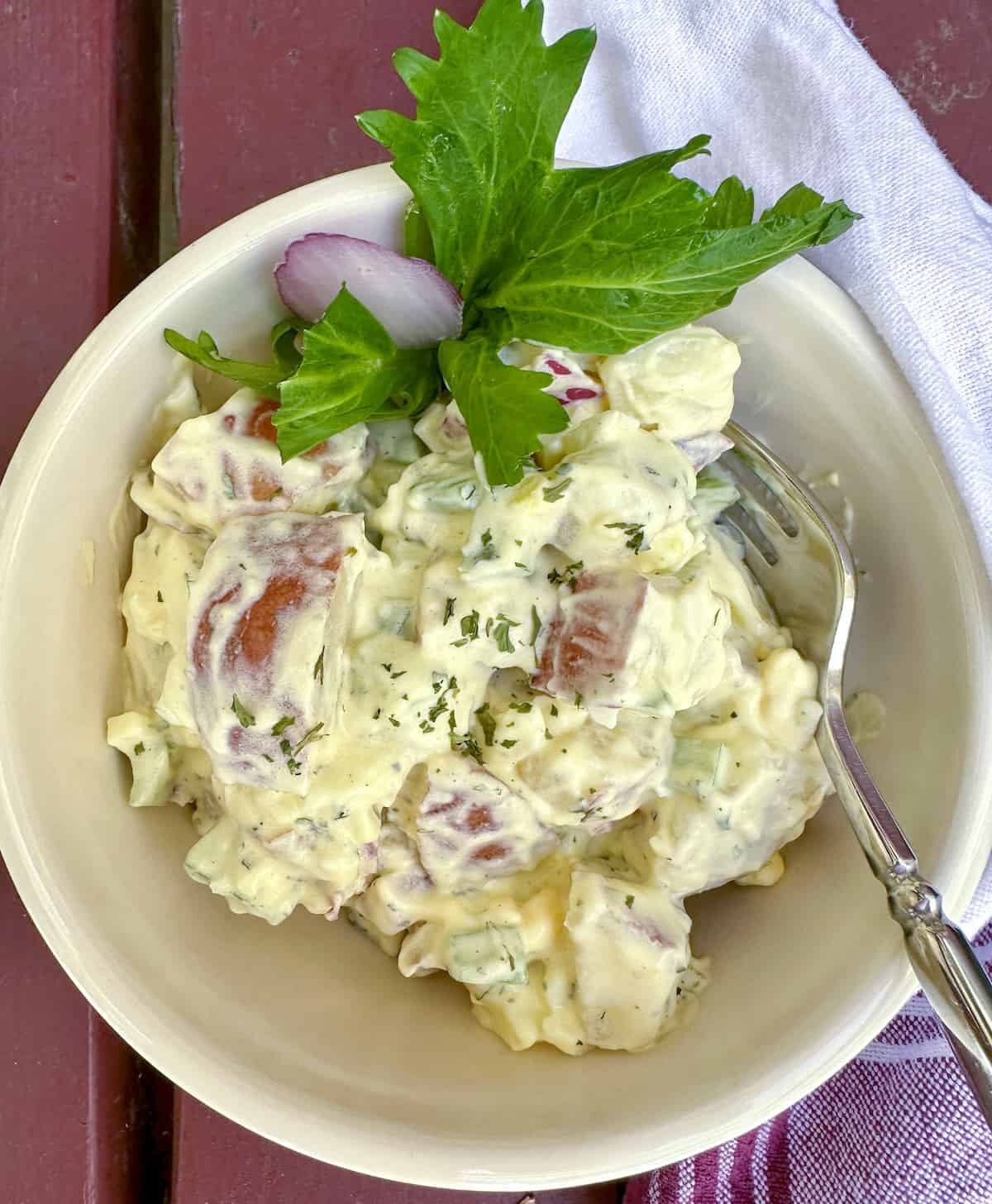 More Summer Recipes
Check out my collection of summer recipes for more inspiration and great sides to serve with Red Potato Salad. Some of my favorites include Chicken Curry Salad with Grapes, Four P Salad which is made with fresh pesto and Creamed Corn, it's always a family favorite.
If you tried Red Potato Salad or any other recipe on my website, please leave a 🌟 star rating and let me know how it goes in the 📝 comments below.
Recipe