A balance of tangy Mediterranean flavors come together in this super easy edamame salad recipe. No need to travel to the Mediterranean to enjoy a healthy, super simple salad that starts with frozen, shelled edamame, a jar of whole Kalamata olives, feta cheese and your favorite salad dressing. This edamame salad is simply tangy and delicious.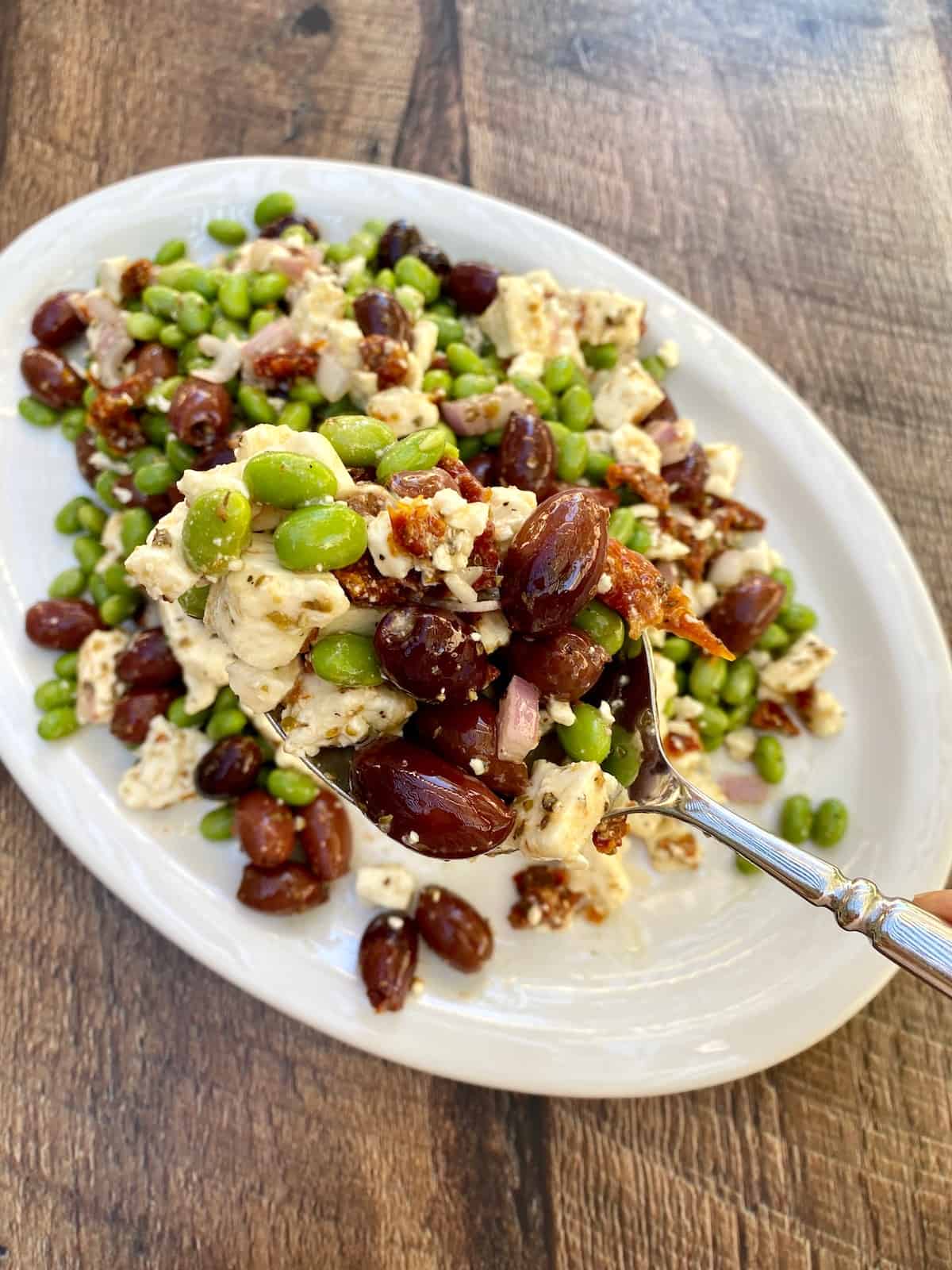 Note: Some of the links on this page are paid links, Amazon Associates. This means I make a small commission when you click and shop. Your cost is always the same and I only link to and recommend products or ingredients that I use.
Jump to:
It's so easy to make edamame salad, it's quite literally tossed together in less than 10 minutes.
Added bonus, edamame has plenty of health benefits. The flavor combination might remind you of classic Greek salad, with plenty of feta cheese and Kalamata olives.
Ingredients to Have on Hand
Nearly all of these ingredients can be stored in the pantry until you are ready to prepare your salad. Keep a bag of frozen edamame in the freezer and you'll be ready to prepare this recipe in minutes, any time.
1, 16-ounce bag of frozen edamame, defrosted
1, 8-ounce block of feta cheese
Sun-dried tomatoes, in oil, julienne cut
6.5-ounce jar pitted, whole Kalamata olives
1 shallot
1 bottle, oil and vinegar salad dressing or vinaigrette of your choice
dried oregano
Scroll down for all the details on quantities for each ingredient.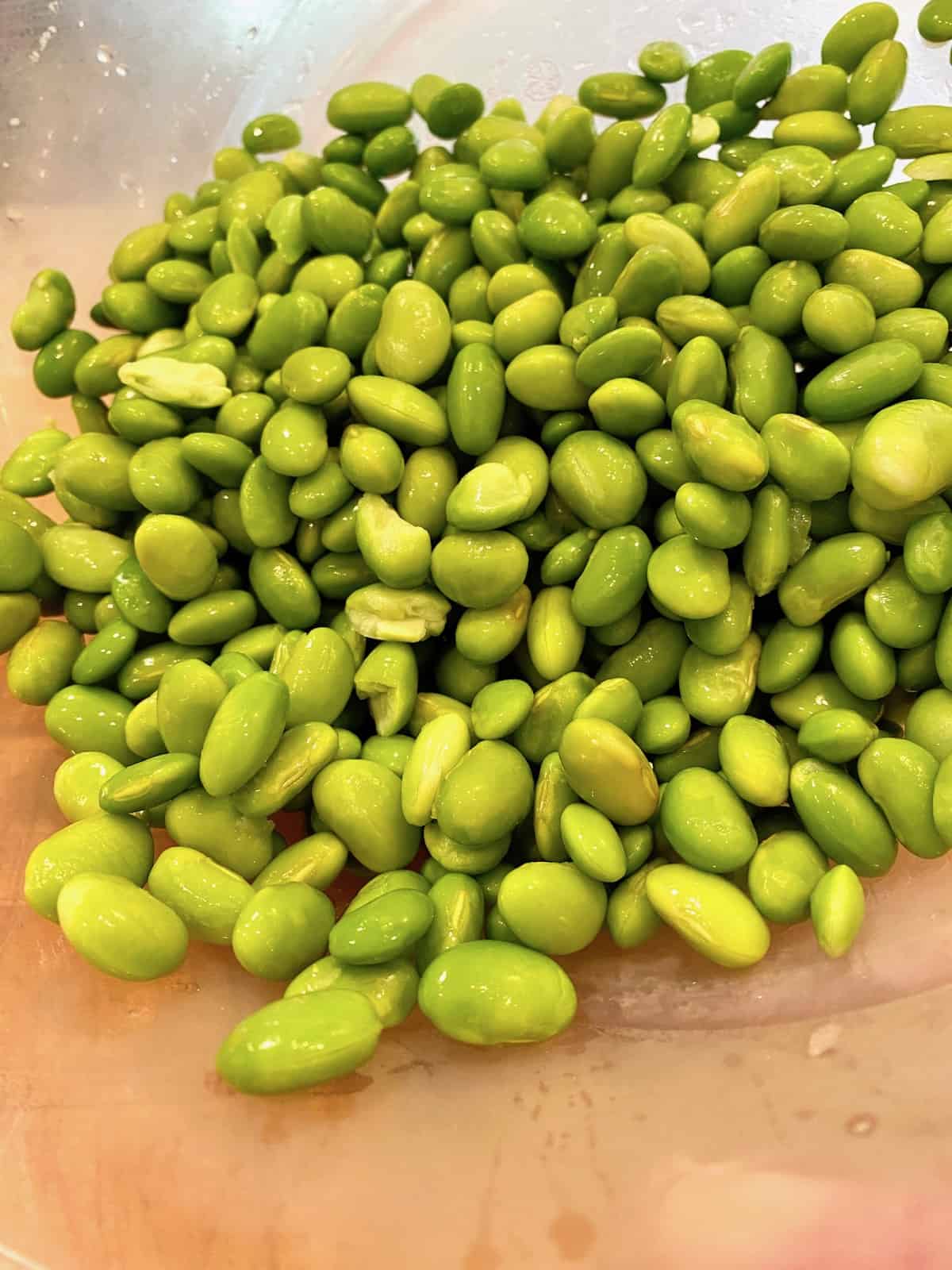 How to Make This Salad
If you are looking for a versatile, epic salad to serve with your next pot roast, pork loin, hamburgers, or even a holiday meal - this is it!
Toss the ingredients in a large bowl with feta cheese, a diced shallot, dried oregano and sun-dried tomatoes and you've got the makings of a Mediterranean-inspired side dish that everyone is sure to love.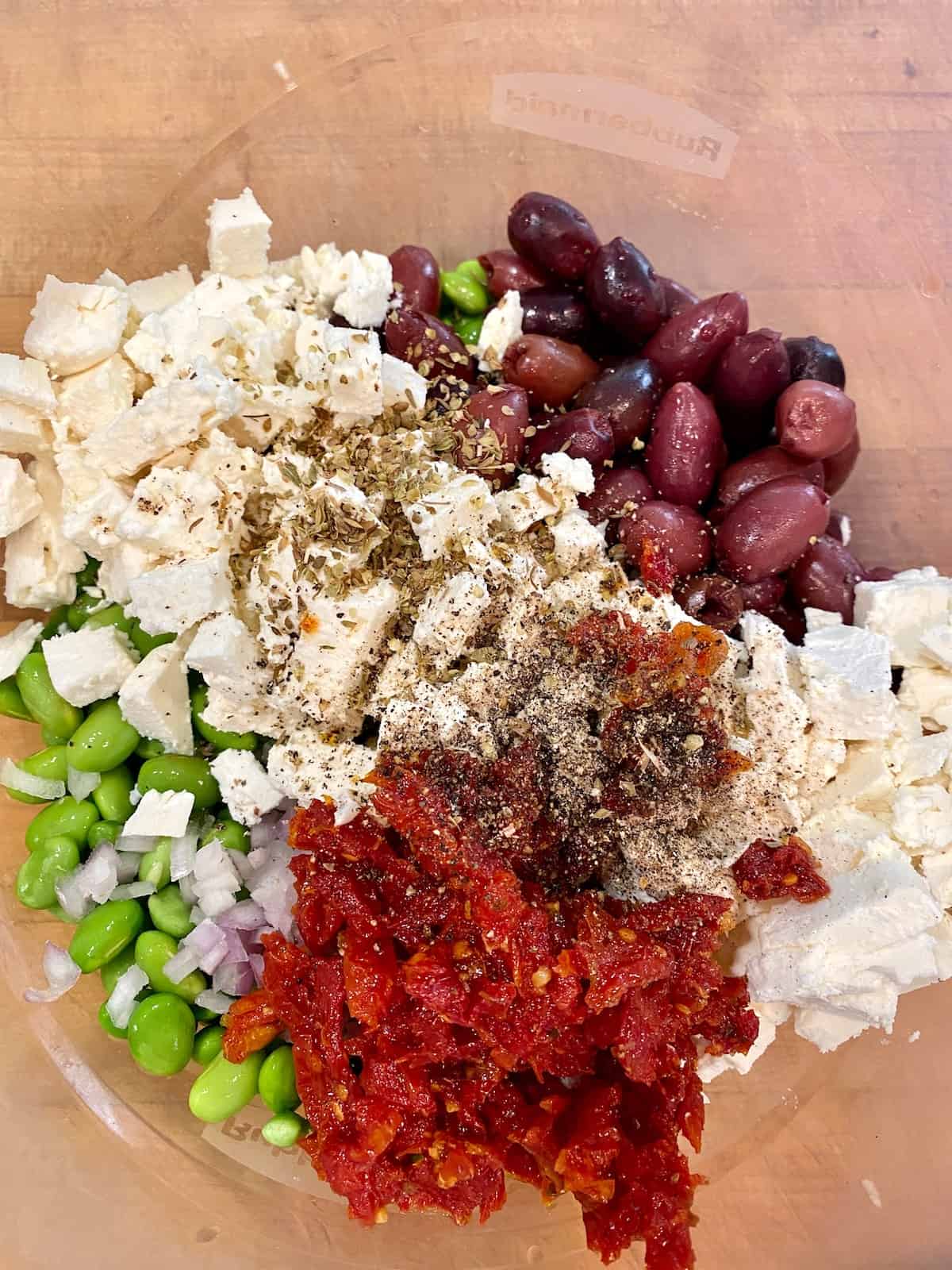 Great for a Party or Potluck
One of the best things about this edamame salad is how portable it is! Simply pour the ingredients into a large bowl with a lid and you can bring this salad anywhere - to a potluck, tailgate or BBQ with ease.
Single Serving Salad
Speaking of taking this salad along to a gathering, a great way to serve it is to bring a stack of small disposable drinking cups as serving bowls.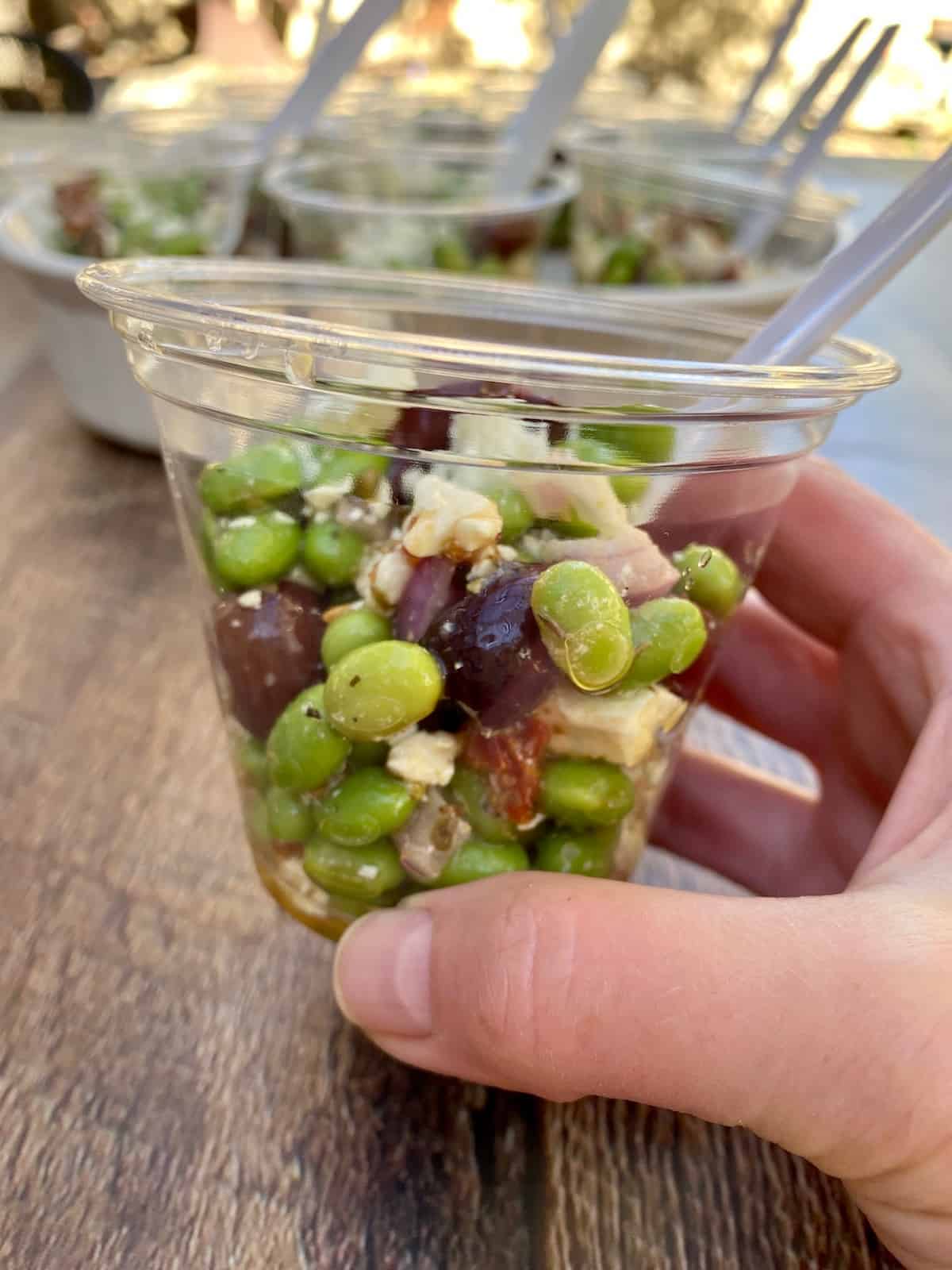 They stack easily and make it super easy to enjoy this salad on the go, or while socializing at an event or tailgate.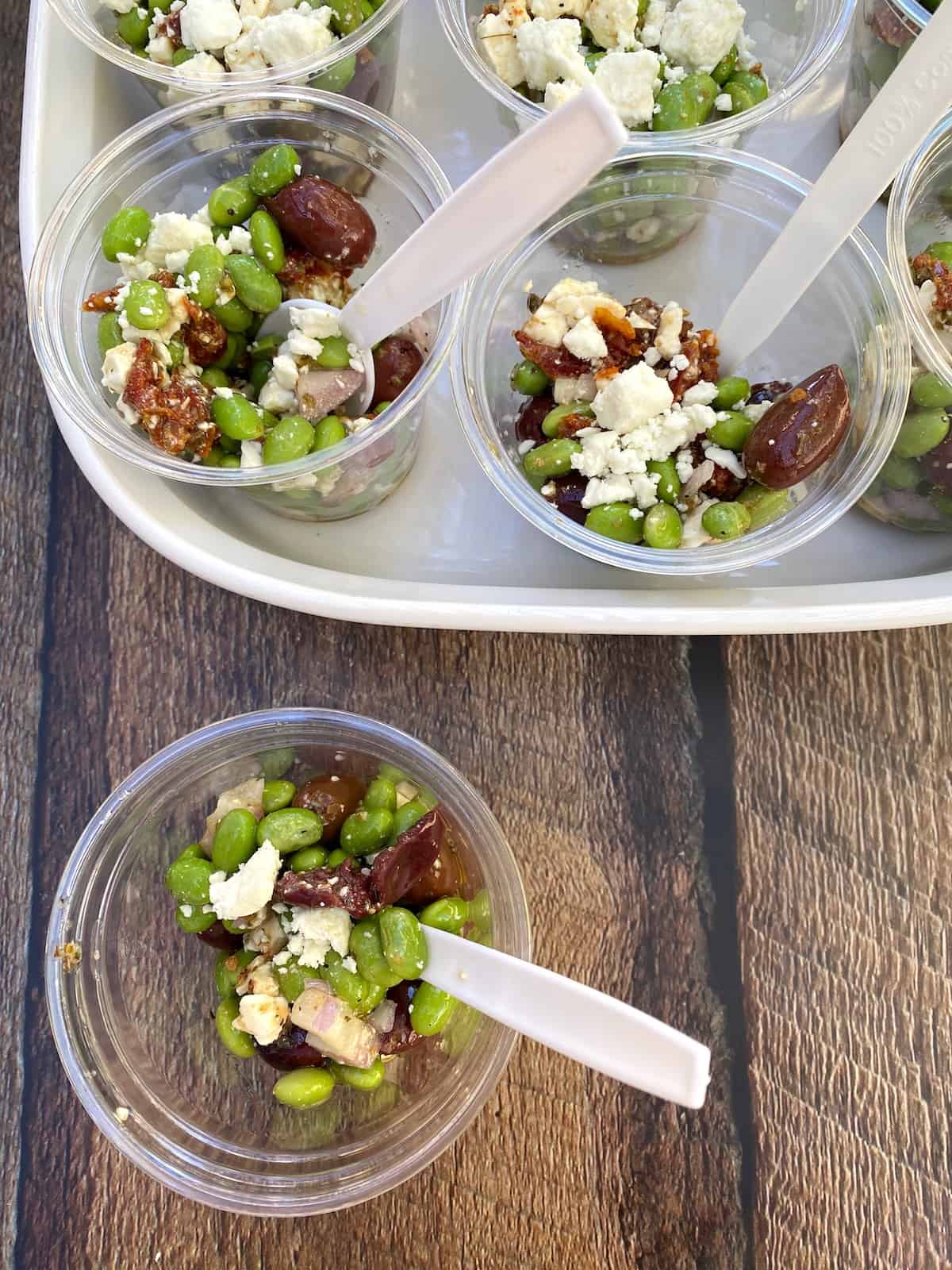 Scoop a serving of the edamame salad into each cup, top with a few crumbles of feta and arrange on a large serving tray.
Salad Dressing Options
One of the things that I love most about this recipe - aside from how easy it is to prepare - is how versatile this edamame salad is. Use whichever type of oil and vinegar Italian salad dressing or vinaigrette that you prefer, toss with the ingredients and you're done.
Here are salad dressings use for this recipe:
Ken's Steakhouse Simply Vinaigrette, Greek
Ken's Steakhouse Balsamic Vinaigrette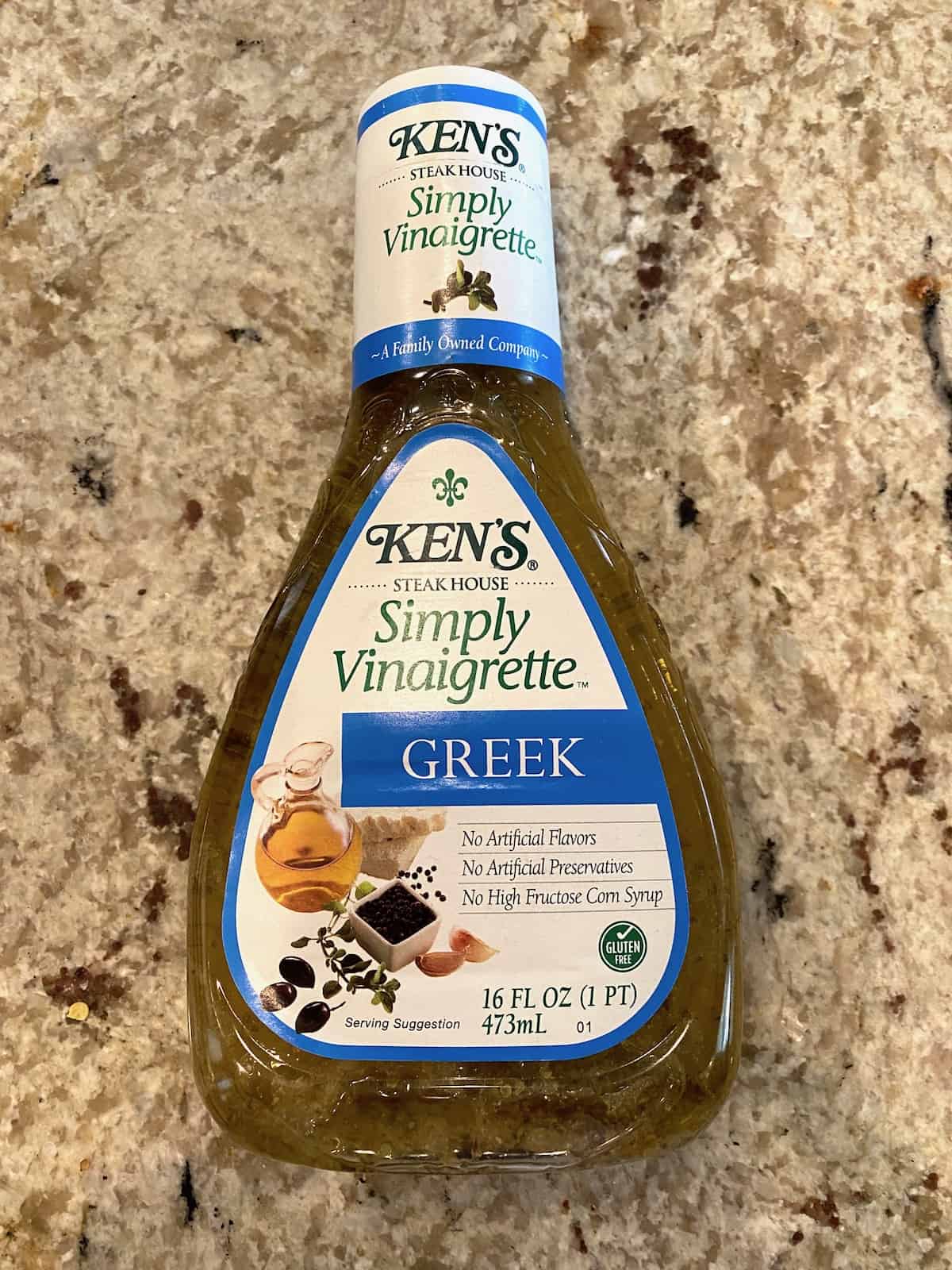 I've made this many times with a balsamic vinaigrette, with a French vinaigrette dressing and with and Italian oil and vinegar dressing. All were outstanding.
If you use a balsamic dressing, the feta cheese does take on a darker color from the balsamic vinegar in the dressing. But that balsamic flavor blends beautifully with the edamame and Kalamata olives.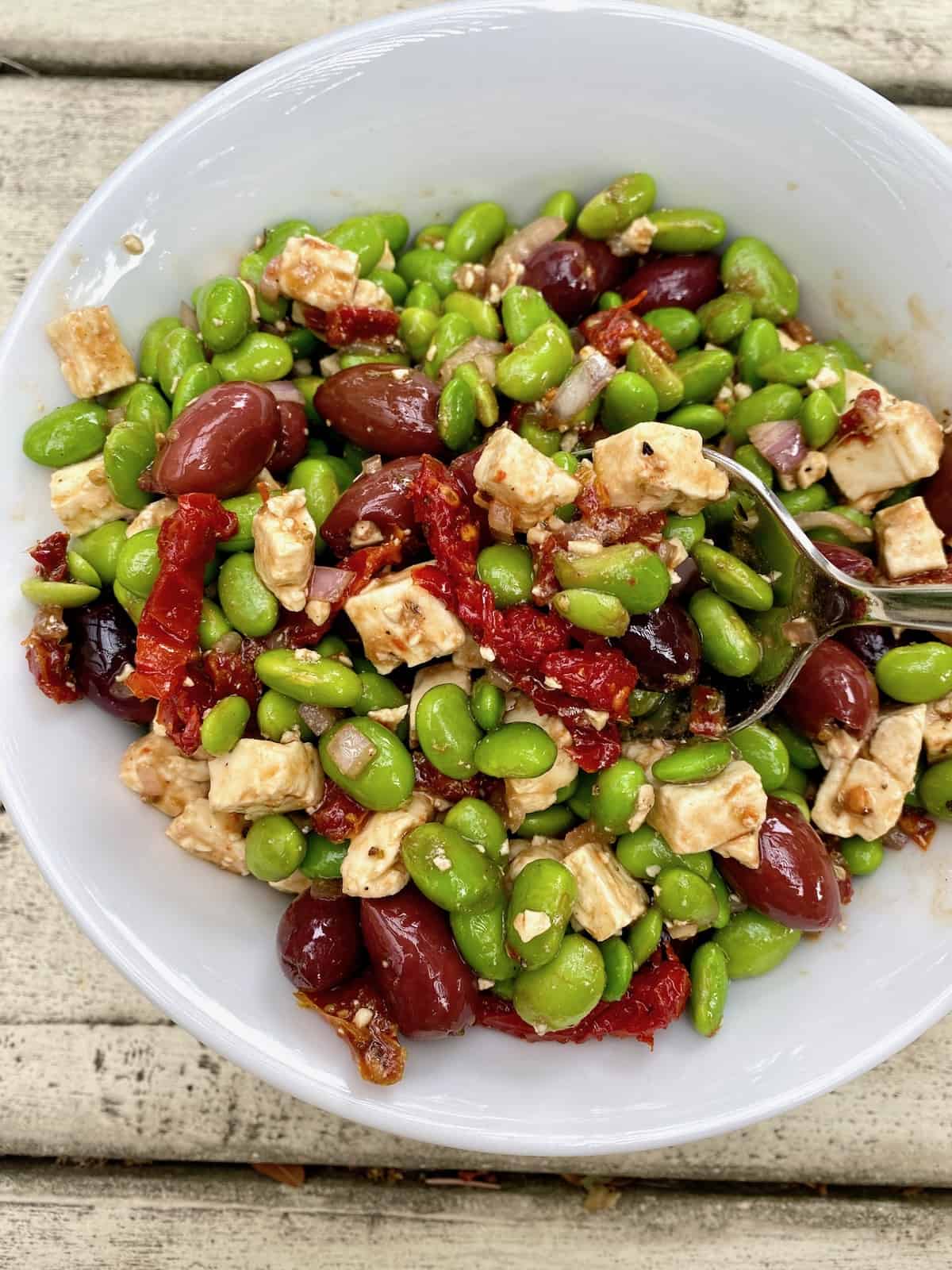 I do recommend avoiding a salad dressing that contains cheese in it, the additional cheese in the dressing blended with the feta cheese in the salad creates a sort of gummy texture that wasn't ideal.
Add Dried Oregano
No matter how much herby flavor comes with the salad dressing that you choose to add for this recipe, I've found this edamame salad really comes to life with an added teaspoon of dried oregano and a half a teaspoon of pepper. It's just a little addition that helps spark great flavor in every bite.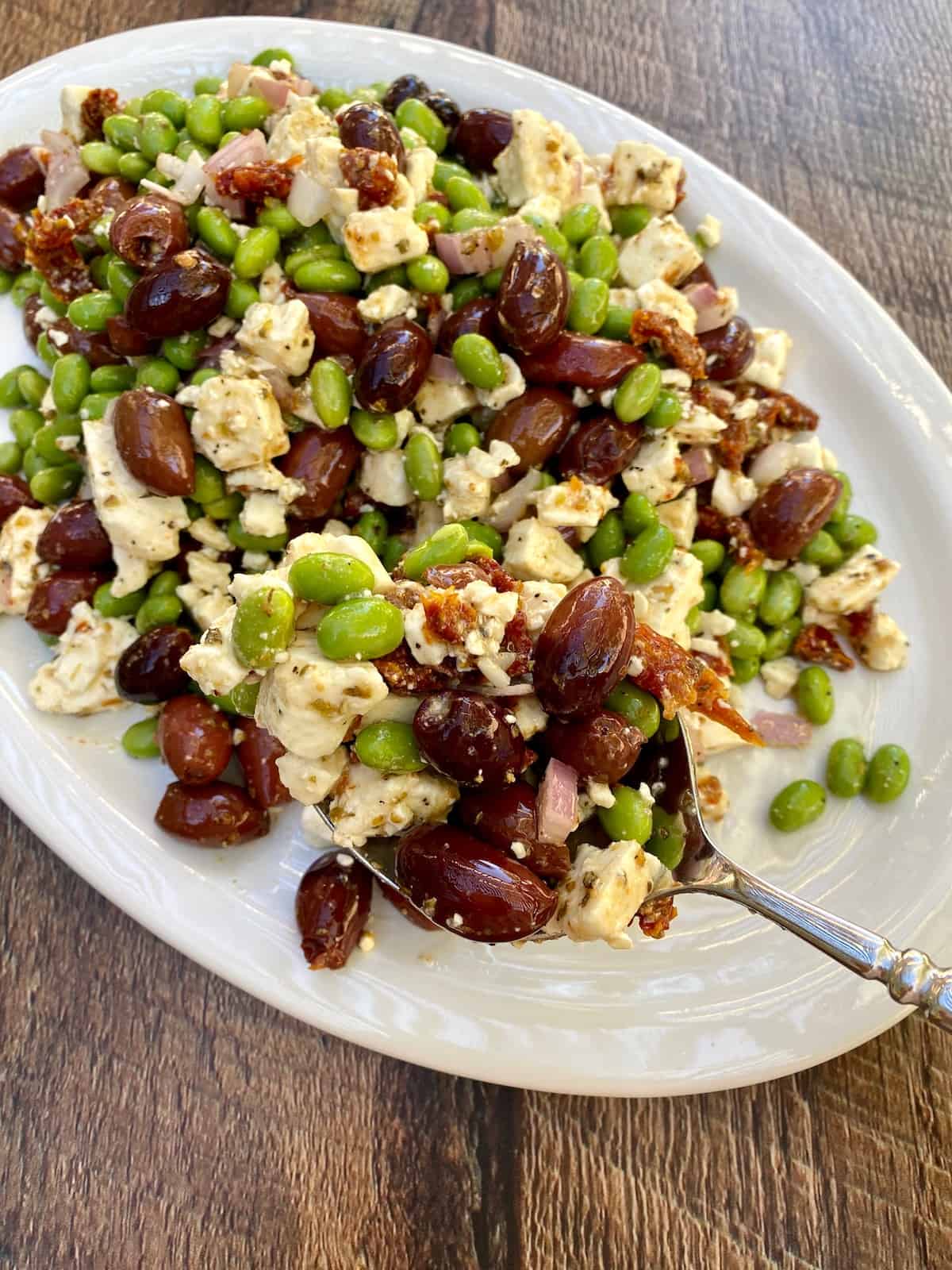 Veggie and Other Options
Feel free to mix and match some of your favorite veggies or other Mediterranean-inspired ingredients with this recipe.
Try adding chickpeas, diced cucumbers, smoky roasted red peppers or even a spicy, peppery arugula as a leafy green.
Use a Block of Feta Cheese
Be sure to use a block of feta cheese for this recipe, not crumbled feta. Use a sharp knife to cut the feta into bite-sized chunks.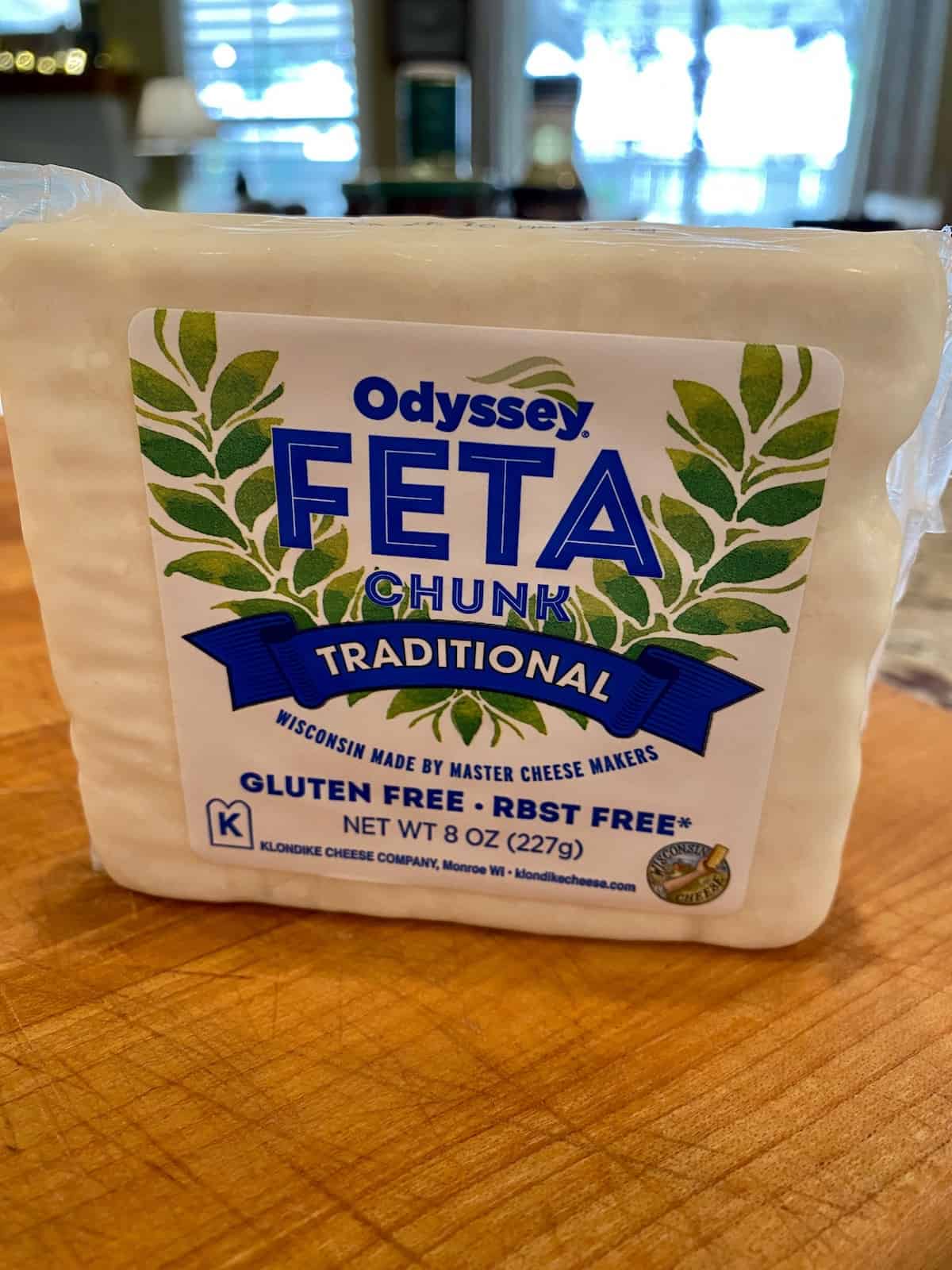 I've tried using crumbled feta cheese in this salad, but found that it breaks apart too easily when the salad is tossed together. Cubed feta from a block is a little more sturdy.
Shelled Edamame
Look for shelled edamame in the frozen food section of the grocery store.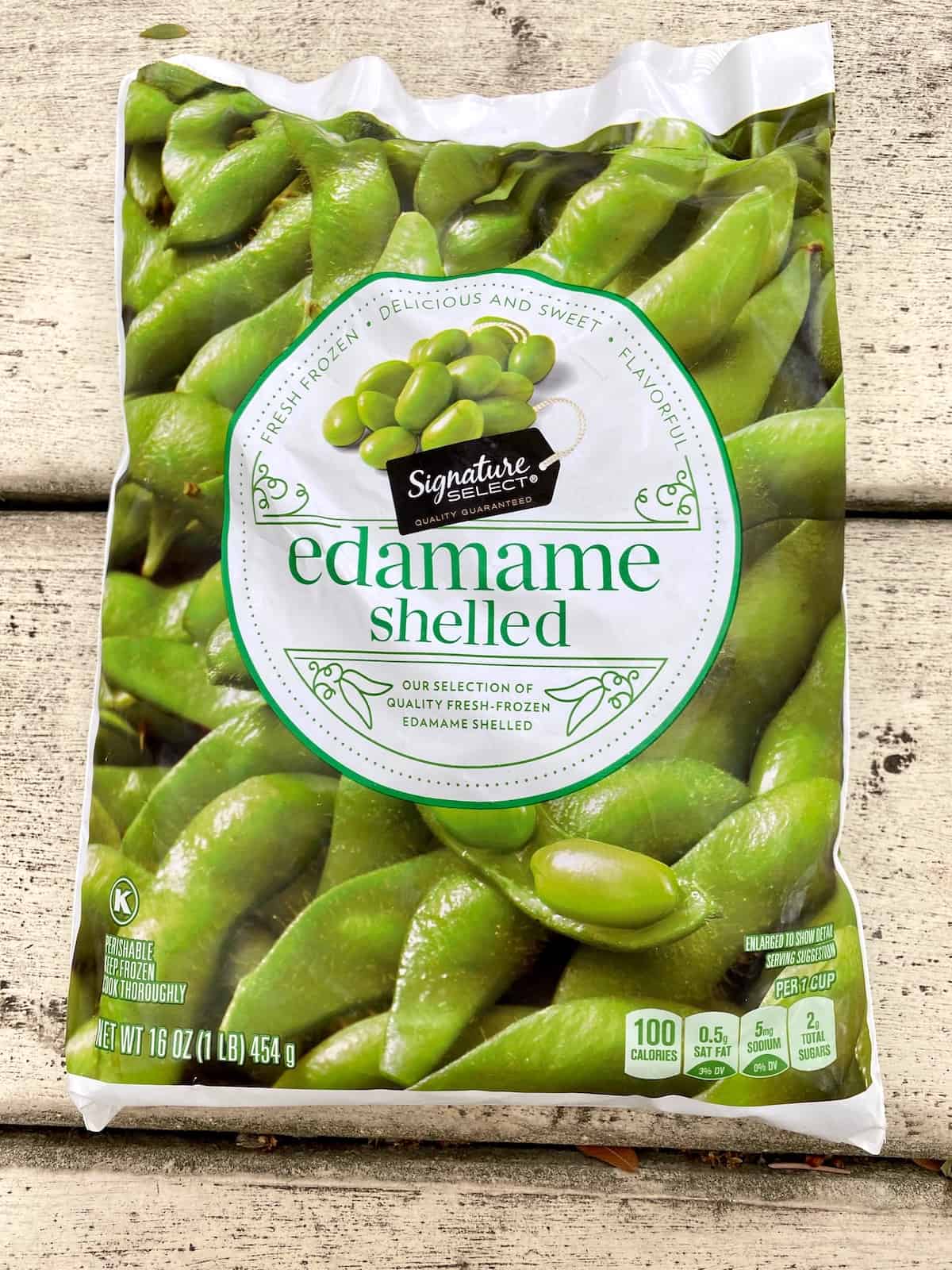 Storage
Easy Mediterranean Edamame Salad holds up well in the refrigerator. Simply keep it covered in a storage bowl and it will stay fresh for 3 - 4 days.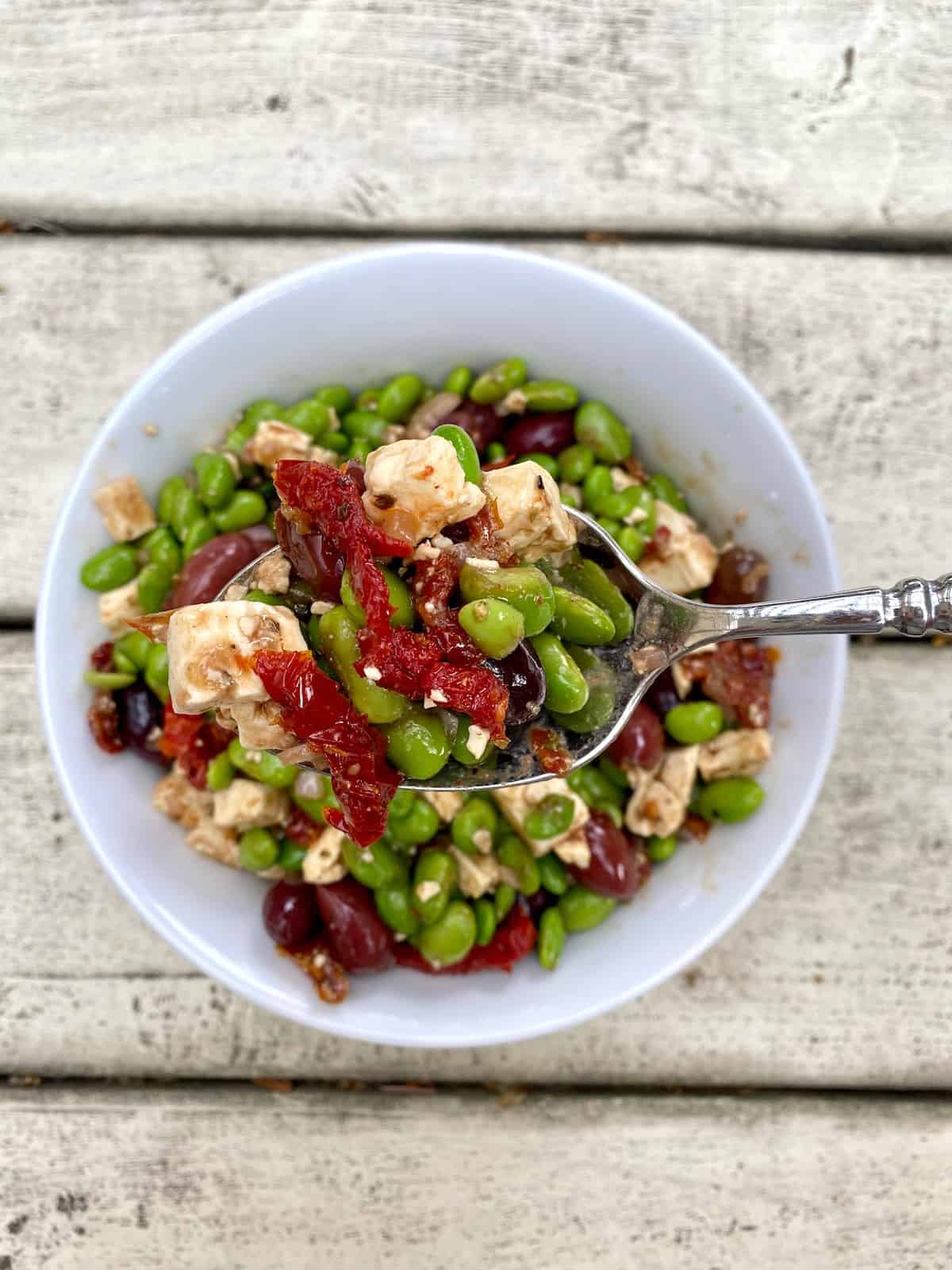 Top Tips and FAQ
Is frozen edamame already cooked?
Frozen edamame is like most frozen vegetables we buy in the frozen-food section of the grocery store, like peas or carrots for instance - already blanched or flash-cooked when you buy it frozen, so for many recipes all you need to do is warm it up or reheat it.

For this recipe you can simply defrost the edamame.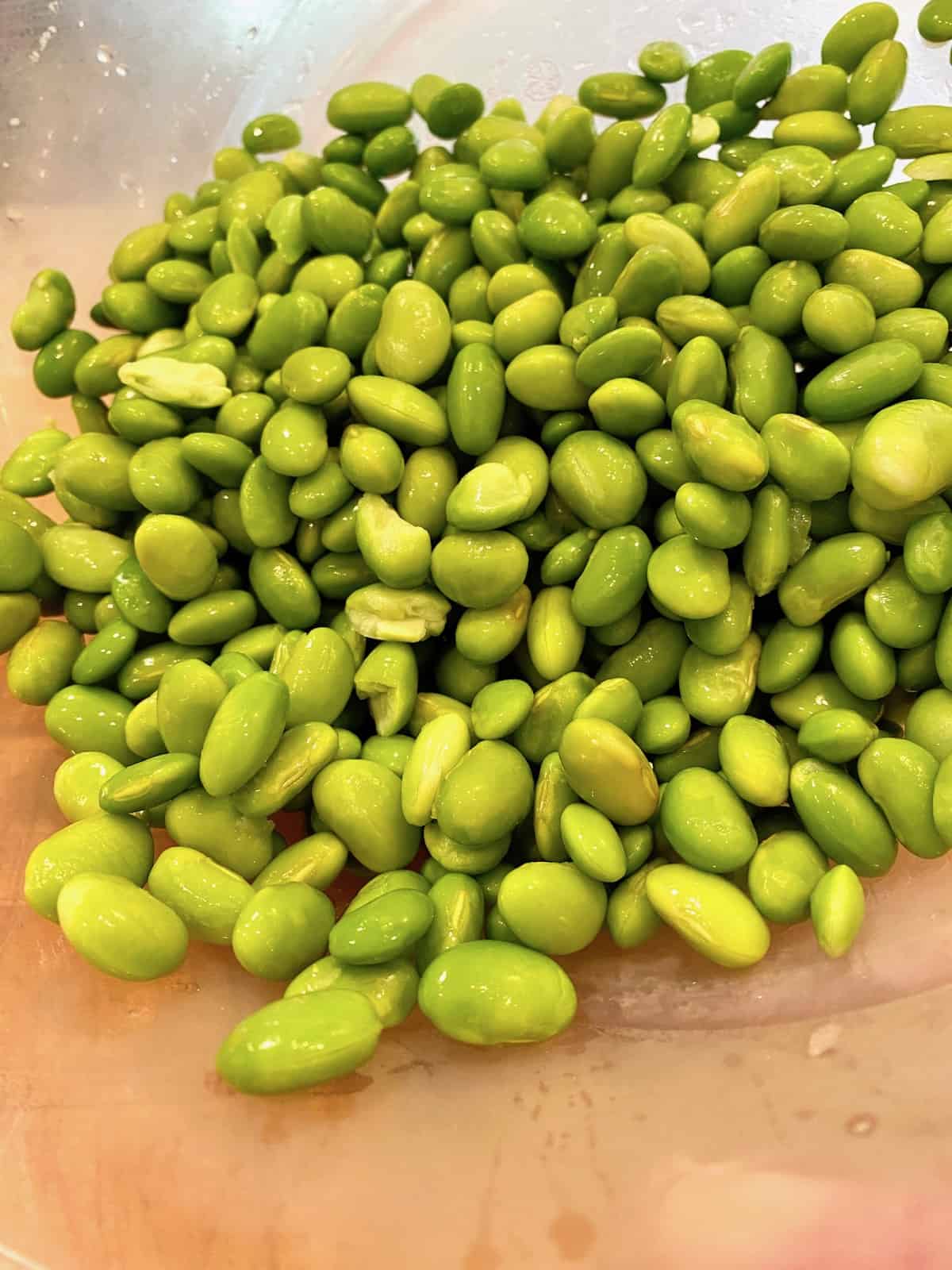 Can I swap out the feta for another type of cheese?
Yes, if you don't love feta try using crumbled goat cheese, gorgonzola, blue cheese or even parmesan or mozzarella. Or, make this a vegan salad and don't add any cheese or substitute a favorite variety of vegan cheese.
Do the sun-dried tomatoes need to be packaged in oil?
You can use store-bought, sun-dried tomatoes that come in a plastic package with no oil, The flavor is about the same, but the tomatoes are much drier that way and are extra chewy in this salad. My family prefers the tenderness of sun-dried tomatoes that are packaged in oil.
What exactly is edamame?
It's a green soybean and it's often sold in the pod. You may have enjoyed them as an appetizer at your favorite sushi restaurant! But the pods aren't really edible, which is why I recommend buying the bag of the frozen, shelled edamame.

Edamame is an excellent source of plant-based protein, calcium and iron. It also offers quite a few promising health benefits.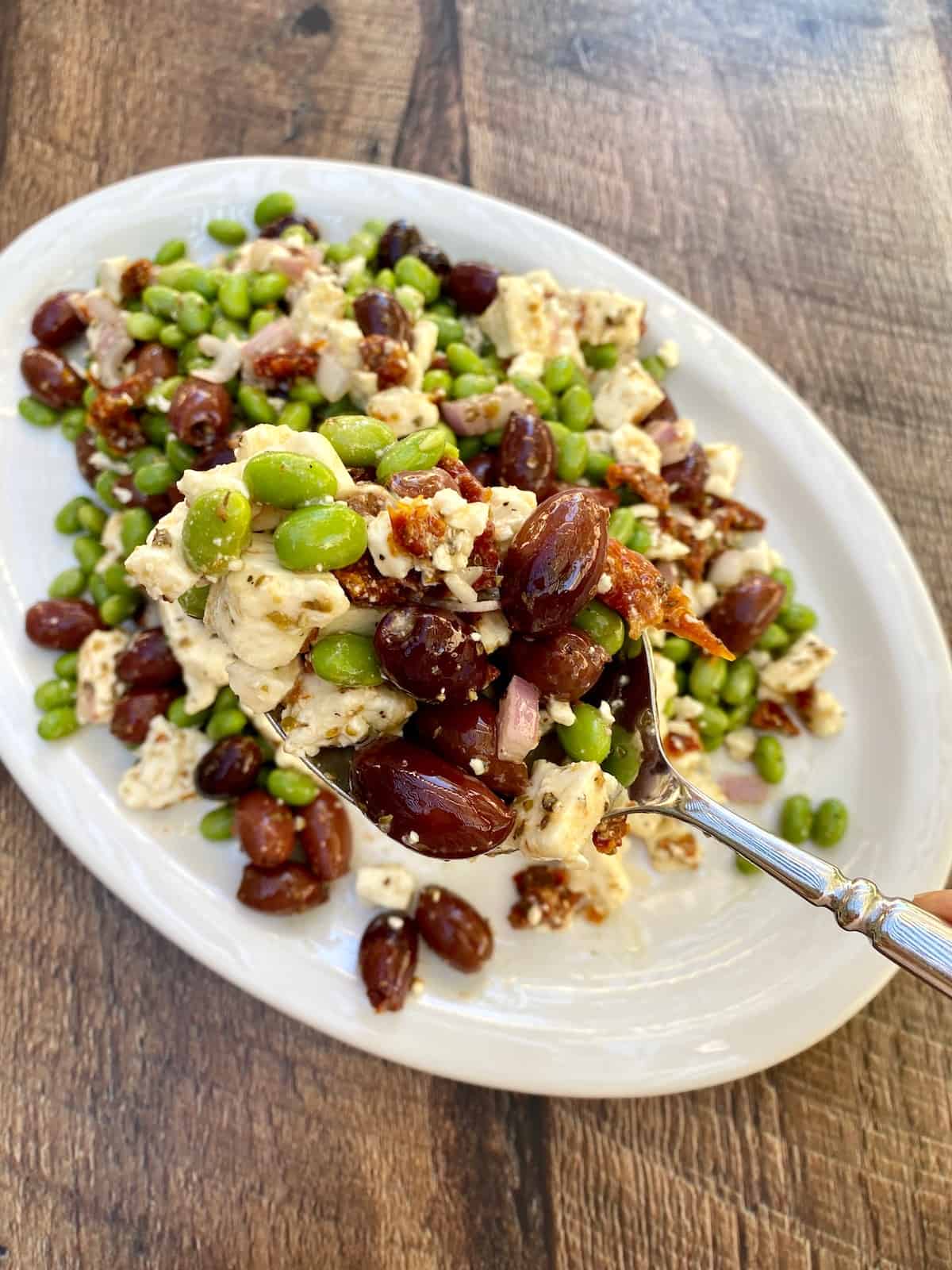 Other Salads to Enjoy
Love edamame but also looking for more salad options? Here are a few more tasty salads.
Four P Salad is a vibrant salad bursting with flavors from fresh basil and parmesan cheese. It's easy to make too!
And if you are a fan of fresh, crunchy green salad I think you'll love Lucky Black Eyed Pea Salad. It combines the flavor of what's known as "Cowboy Caviar" and blends it with fresh, leafy lettuce greens.
More Meatless Eating
Who needs meat when there are so many ways to enjoy salads and main dishes that are plant-based? Here are more recipes I think you'll enjoy.
I Love to Hear from You
Be sure to give a star rating to the recipes you make from the Crinkled Cookbook. I always love hearing from you. Sharing is great too! Use the buttons after the recipe to text it with just one click or send it to family and friends on Pinterest and Facebook. Enjoy.
Recipe