St. Patrick's Day Stew is a hearty beef stew with an amazing rich and delicious broth made with Guinness Extra Stout beer and red wine. The tender stew meat along with Idaho potatoes, parsnips and carrots combine for a special and comforting meal. My family enjoys it all year but especially on or around March 17.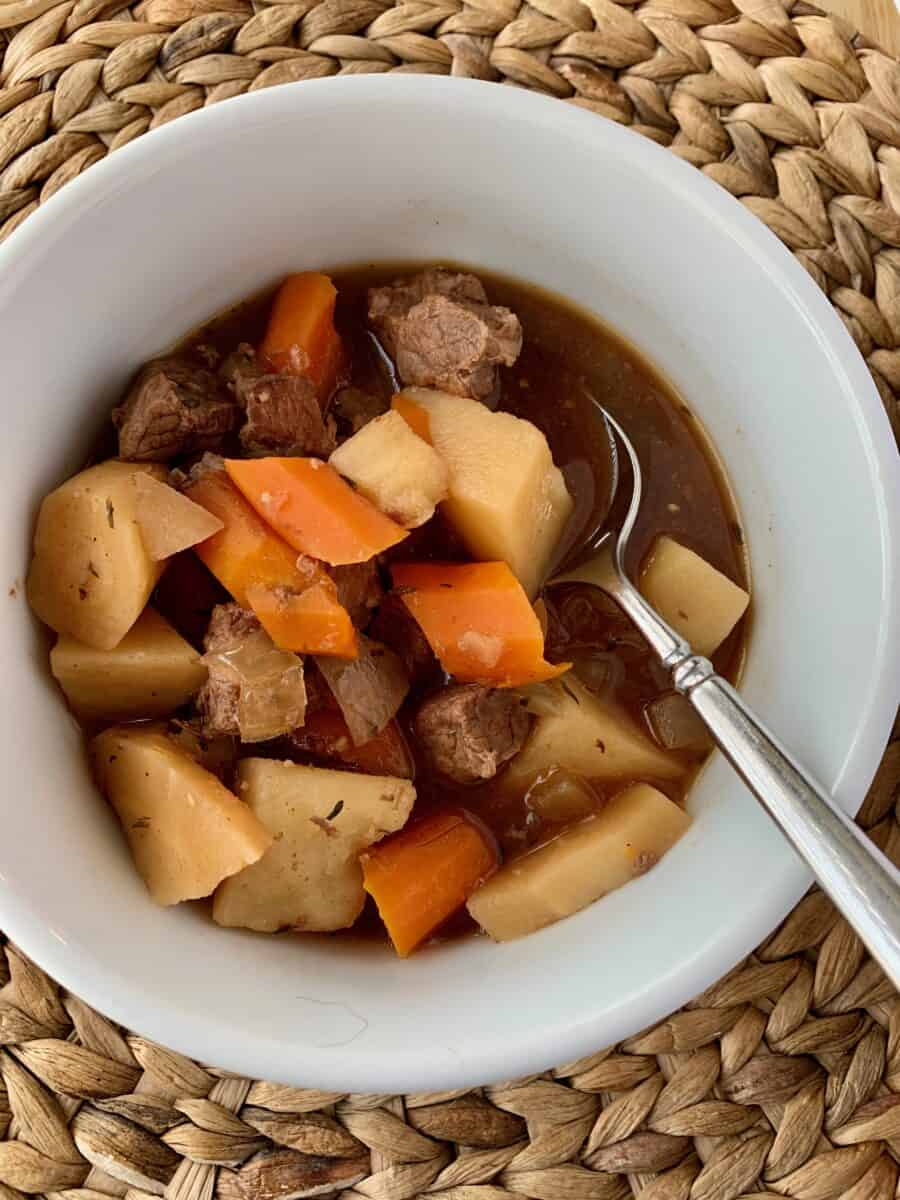 Ingredients to have on hand
stew meat (I use chuck roast)
carrots, parsnips and russet potatoes (Idaho!)
Guinness Extra Stout beer, or any dark beer
red wine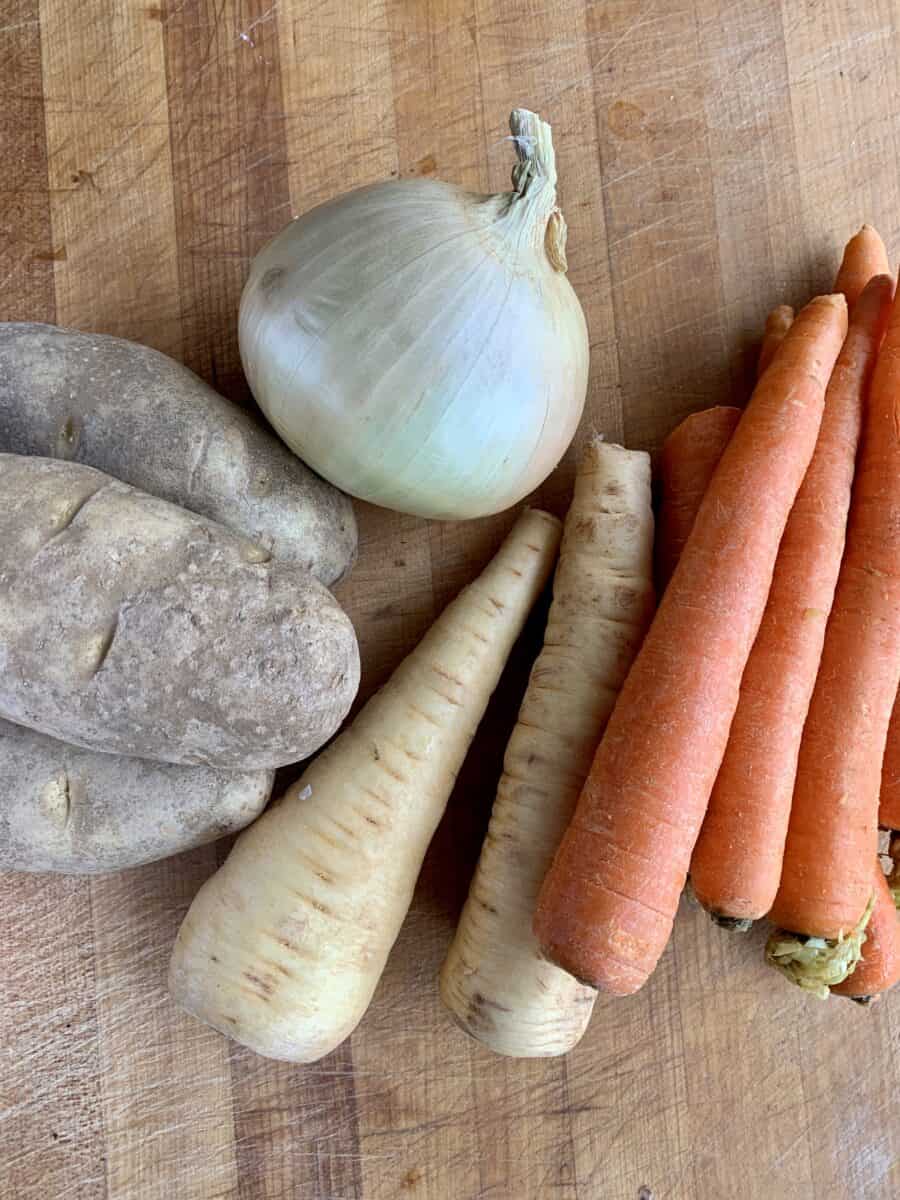 I've made this hearty stew on both the stovetop in a large pot, and in a 7 quart Crockpot, or slow cooker. Both ways work great and the result is a rich broth with tender stew meat.
I love how easy is it to prepare this stew in a Crockpot since everything cooks together all day.
But there's something special about the texture of the vegetables after cooking this on the stovetop.
Here are two pictures so you can see the difference between the cooking methods, but the bottom line is, both ways of preparing this St. Patrick's Day, or Irish stew are equally delicious!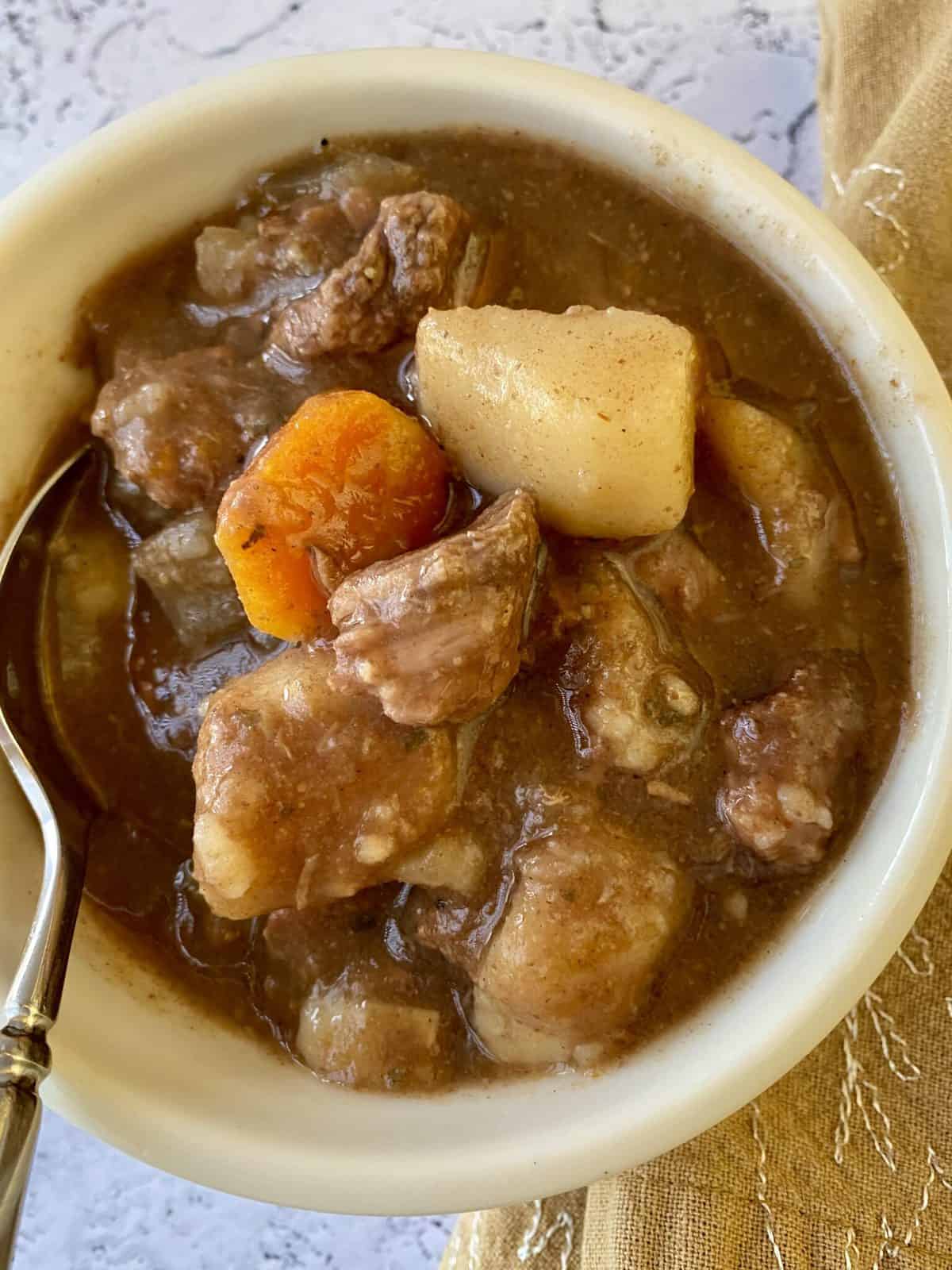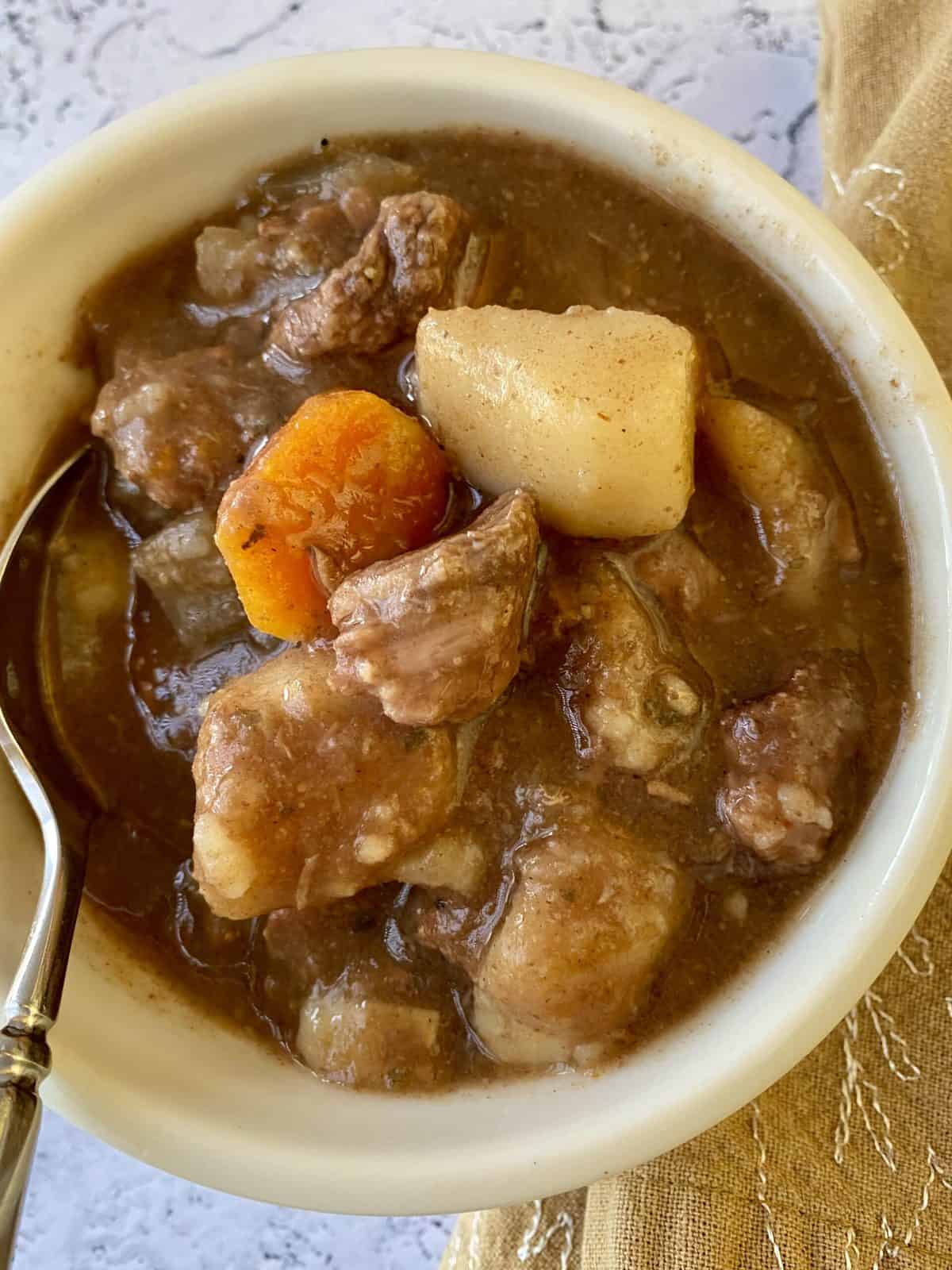 It all depends on how much time you have and whether you'd prefer to simply switch the slow cooker (Crockpot) to low and have the stew cook all day, or whether you'd like to be on hand in the kitchen.
The stovetop version includes instructions to add the veggies and potatoes at intervals during the cooking process, after the broth and beef have simmered on their own for about 45 minutes.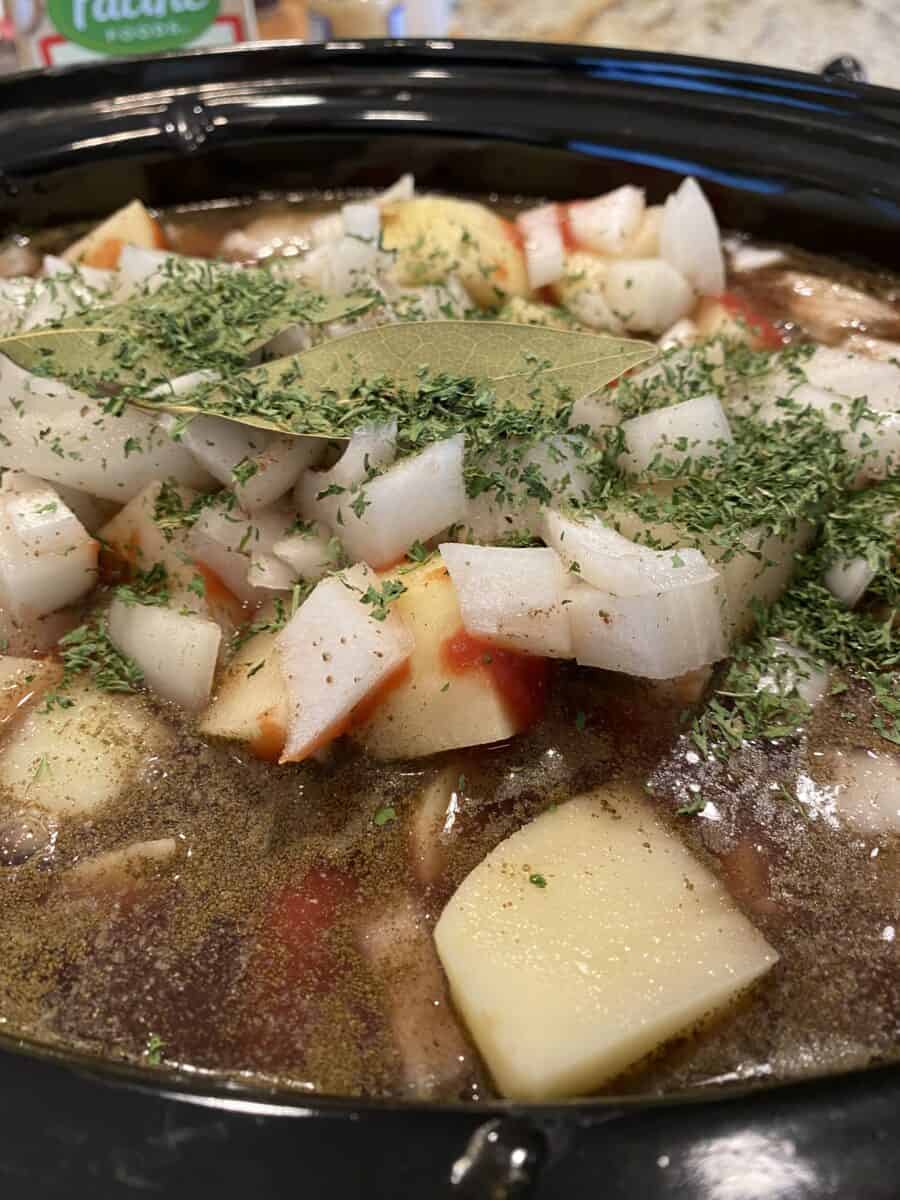 Stew on the Stovetop
If you opt to cook this beef stew on the stovetop, I recommend browning the stew meat first in about two tablespoons on olive oil in a large stockpot, then adding the garlic and all of the liquid ingredients, tomato sauce and spices.
The stew will cook in about 90 minutes.
About half way through that cooking time, partially cook the carrots, parsnips and onion in a little olive oil in a skillet. You'll want them to be about half-cooked or just barely fork-tender. This ensures the veggies don't get overcooked after you combine them with the rest of the simmering stew.
Add the partially cooked veggies to the broth and meat mixture and continue to simmer.
Add the diced potatoes for the final 30 minutes.
Discard the bay leaf before serving.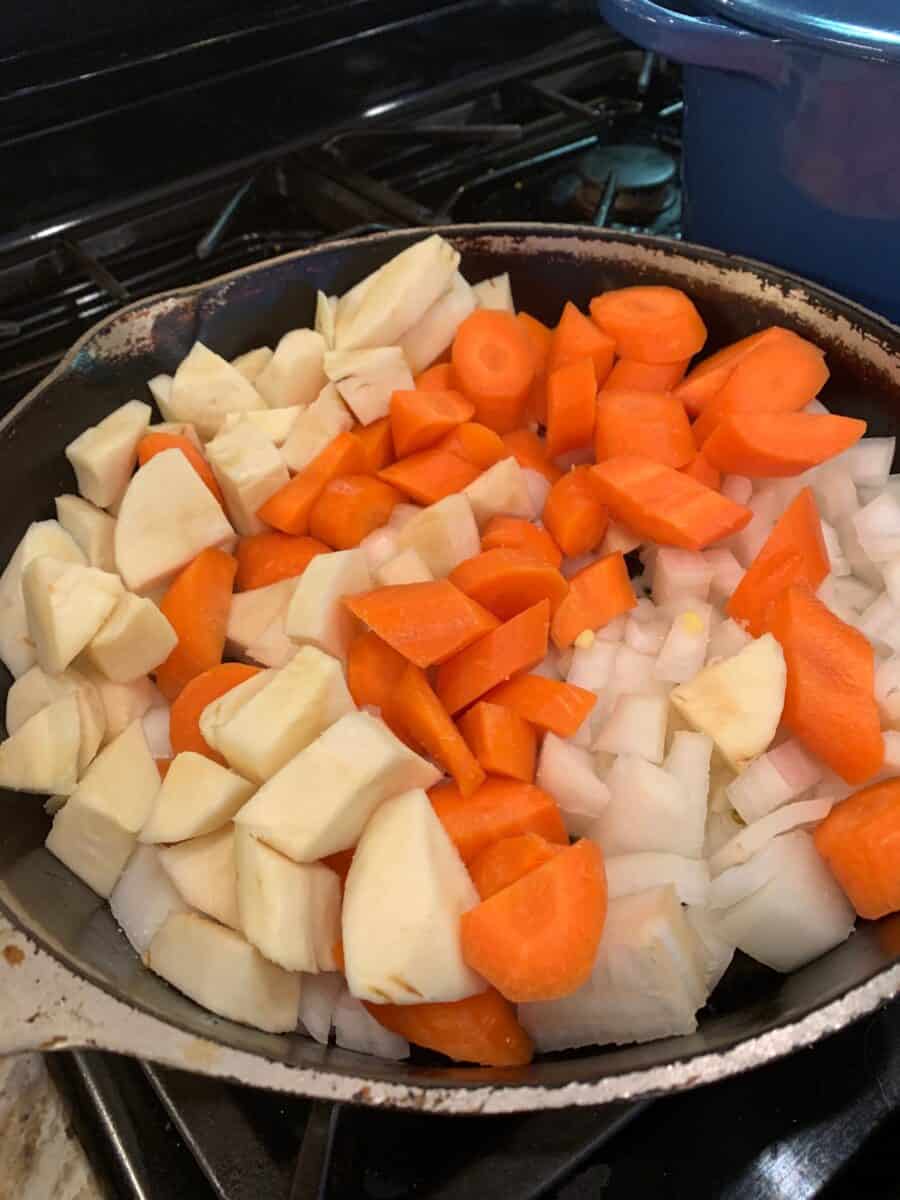 Substitutes for Wine or Beer
If you prefer not to use beer or wine in your stew, just swap both ingredients with the same amount of beef broth and increase the amount of Worcestershire sauce to two tablespoons instead of one.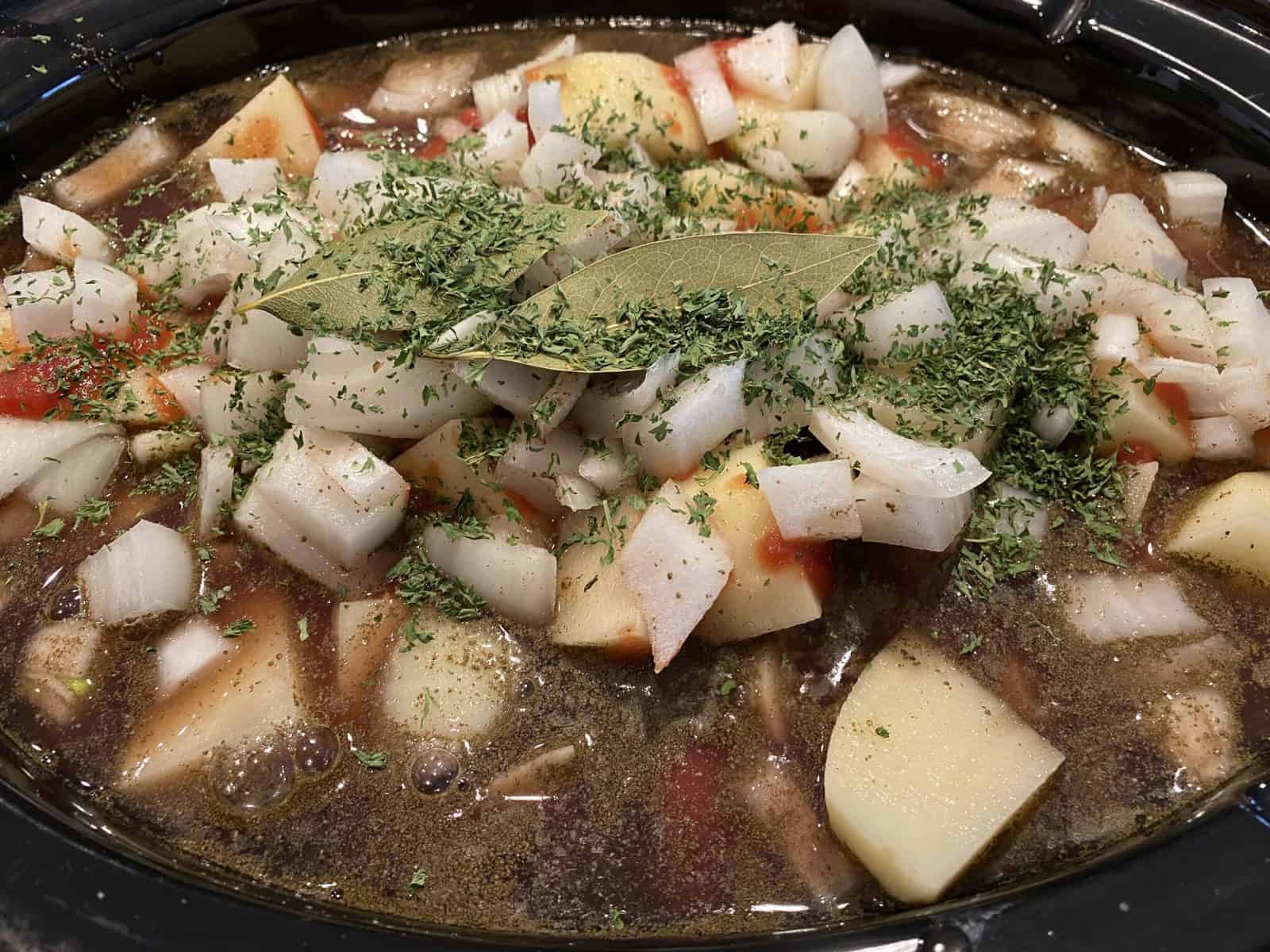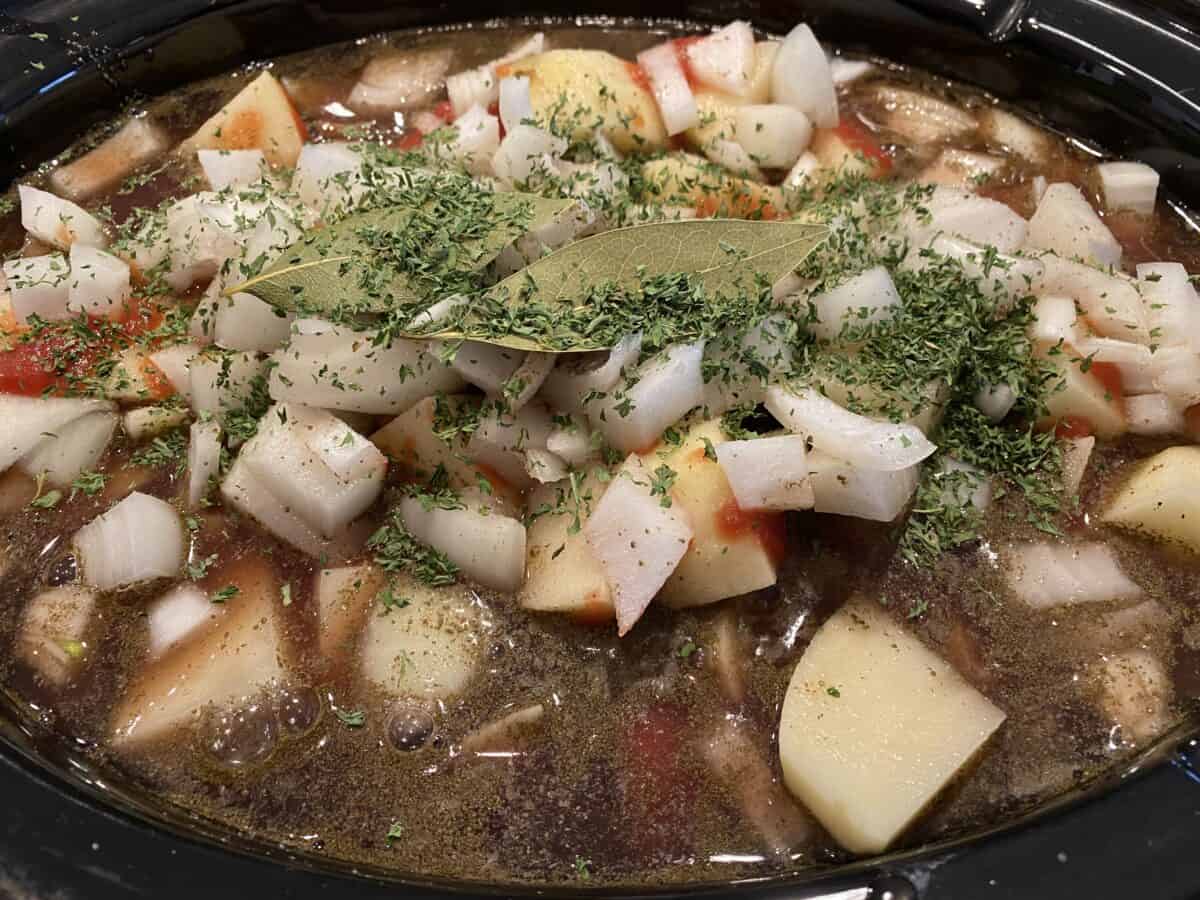 Layer the Ingredients
The key to everything cooking perfectly is to layer the ingredients in the following order in the Crockpot, starting with the stew meat as the bottom layer:
stew meat and garlic
carrots
parsnips
potatoes
tomato sauce
onion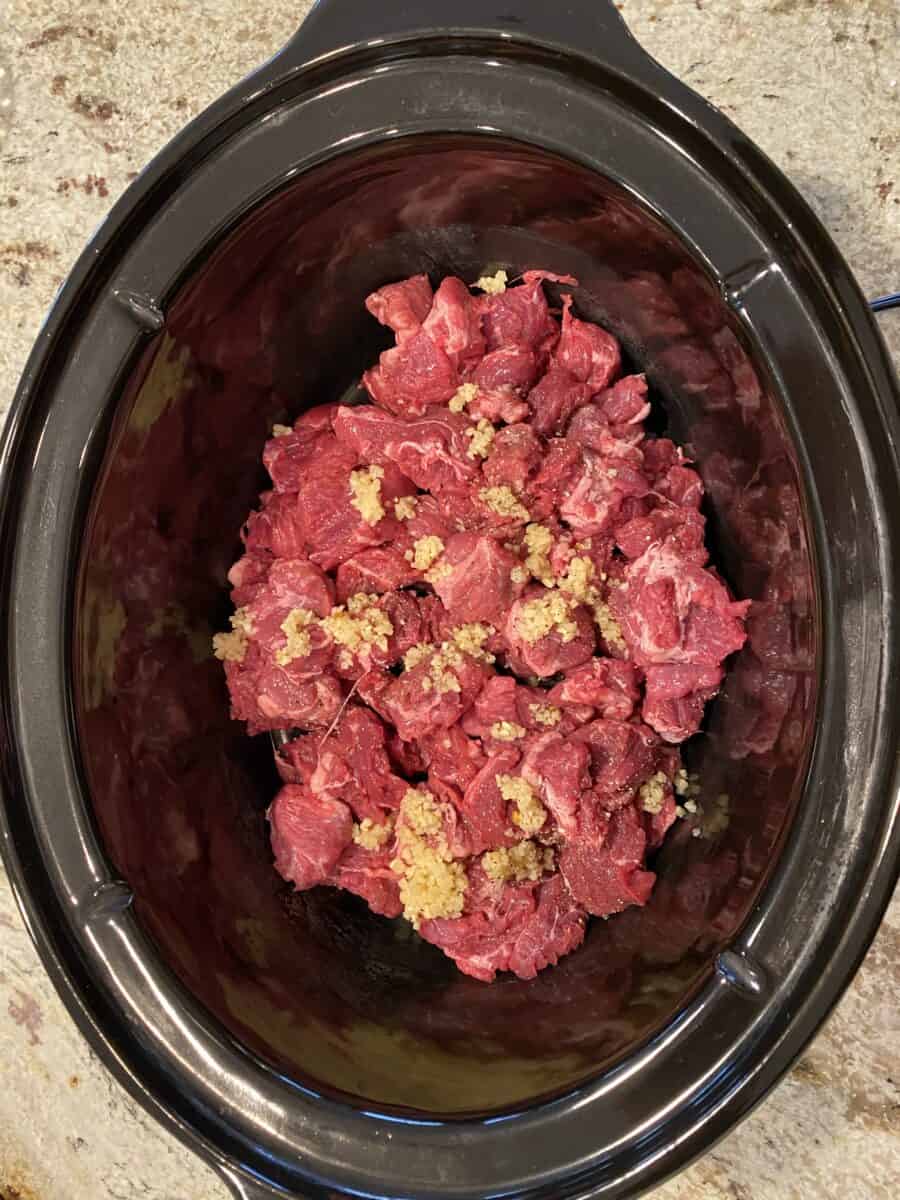 Top Tips and FAQ
What are parsnips?
It's a root veggie. Although I don't cook with them as frequently as carrots, they are very similar and they're almost always available in the grocery store's produce section.
What's the biggest difference between carrots and parsnips?
Both carrots and parsnips are somewhat sweet but parsnips have a slightly spicy flavor. They're so good! I love to use them in this beef stew or any time I want a sturdy veggie added to a soup, and they're delicious in a pan of oven-roasted veggies.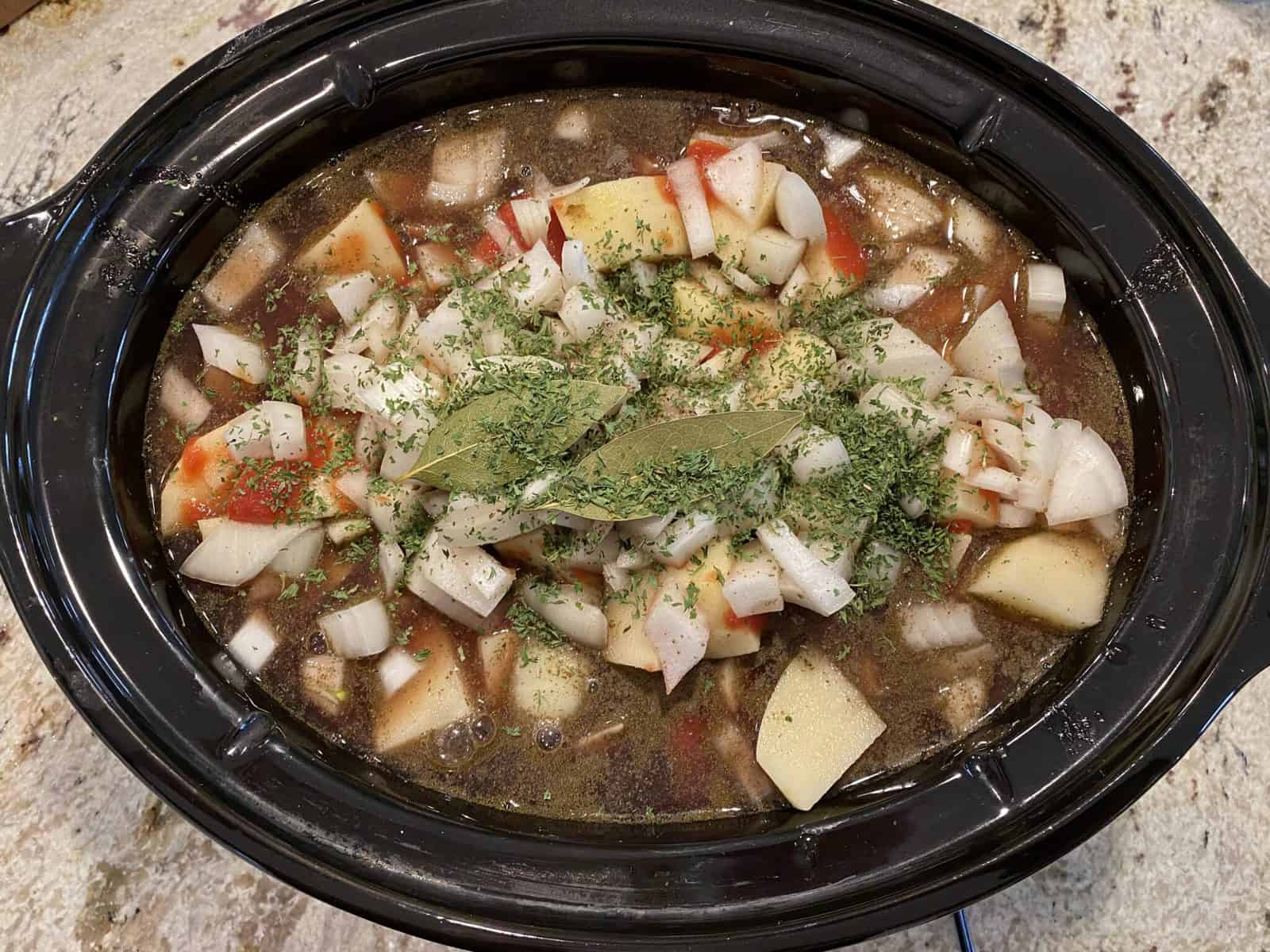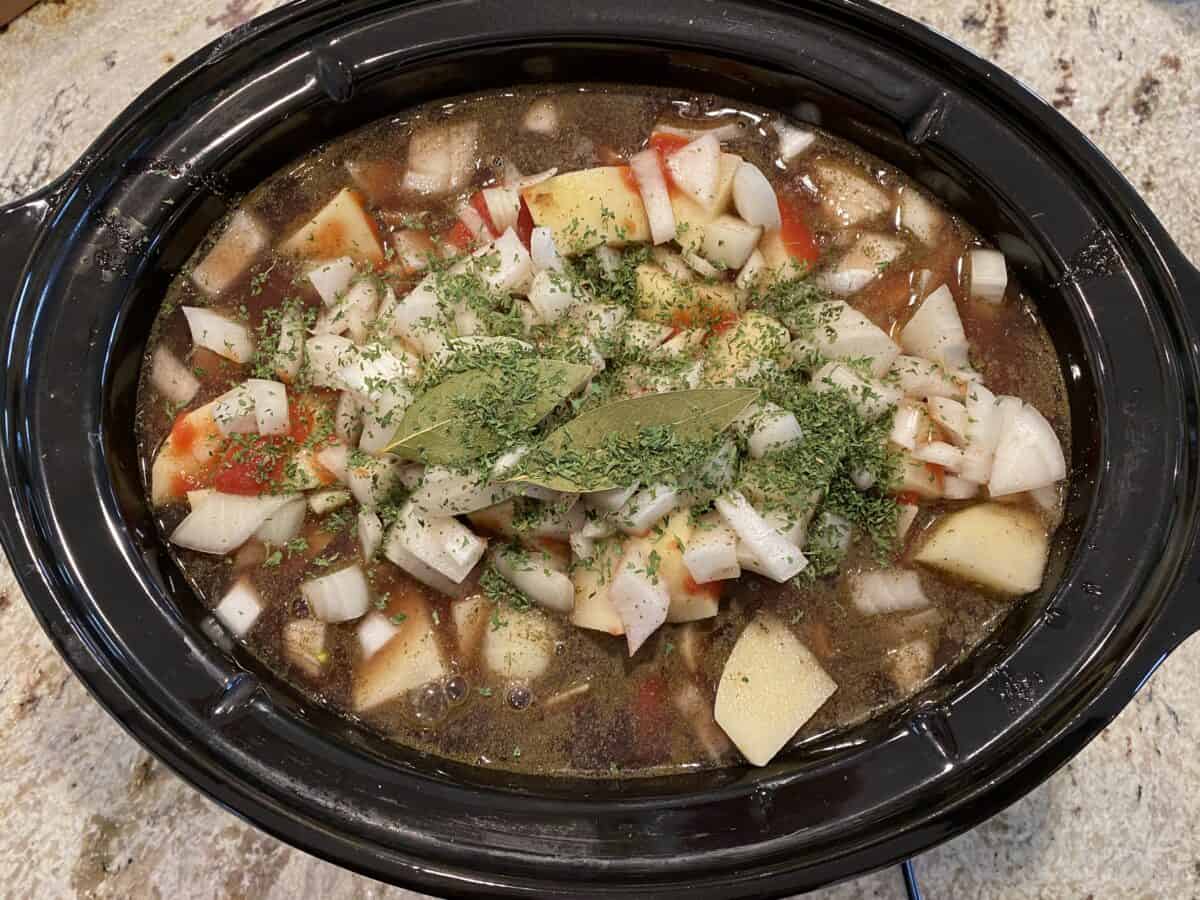 Thickened Broth Option
If you and your family prefer a slightly thicker broth for your St. Patrick's Day Stew, that's easy! In a very small bowl, combine two tablespoons cornstarch with two tablespoons cold water and whisk together until it creates a thin slurry - a concentrated liquid that thickens broth, sauces or gravy. Pour the mixture into the stew and stir well to blend thoroughly. You'll watch the broth thicken right away.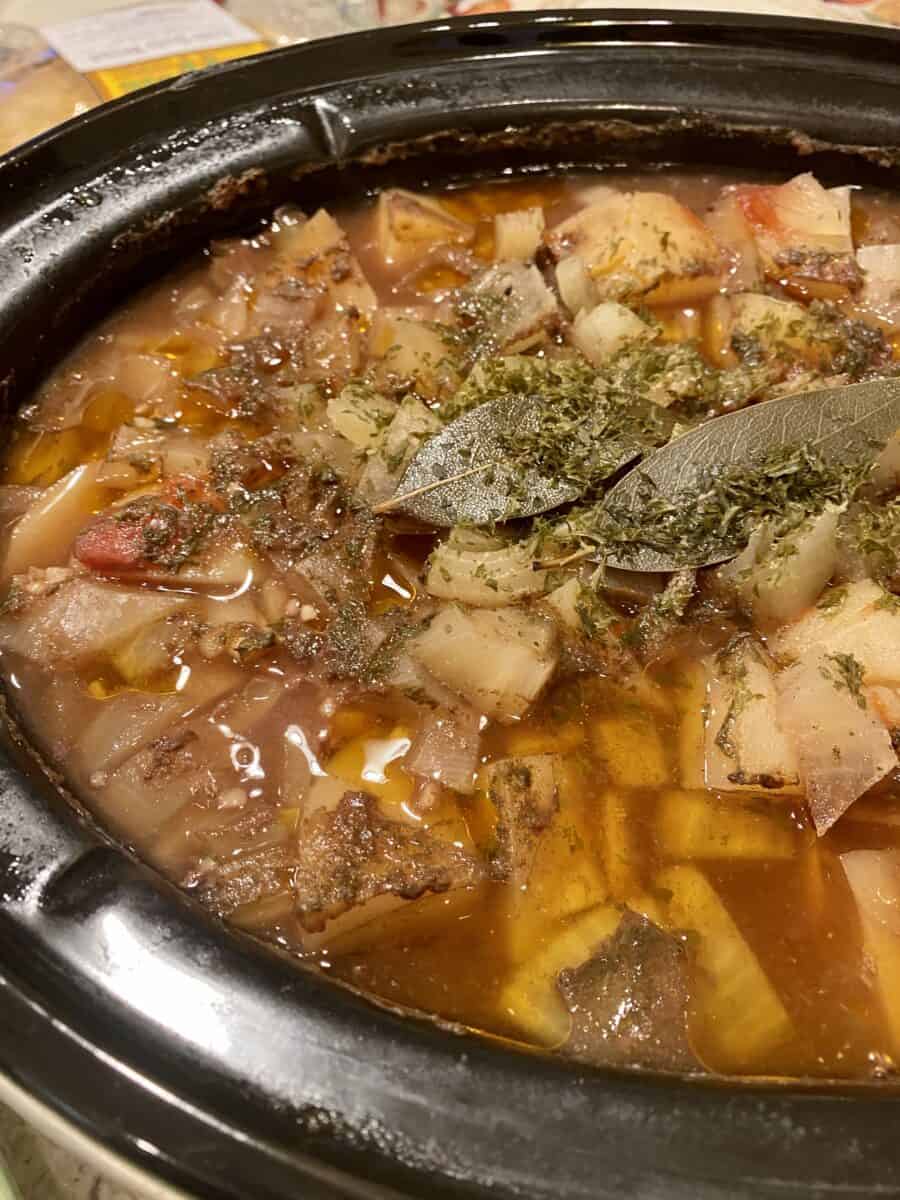 Other Ideas
There are many celebrations of Irish culture related to St. Patrick's Day. Enjoying all things green - and wearing green - are certainly two of them. Many folks enjoy corned beef and cabbage on March 17, which is wonderful. But this St. Patrick's Day beef stew is a terrific option.
Here are a few more recipes that I think you'll enjoy with your stew on St. Patrick's Day, but all of these are delicious any time of year!
Be sure to give a star rating to the recipes you make from the Crinkled Cookbook. I always love hearing from you. Sharing is great too! Use the buttons after the recipe to text it with just one click or send it to family and friends on Pinterest and Facebook. Enjoy.
Recipe