Easy Mexican Fried Rice is a flavorful and delicious way to combine traditional Mexican flavors with a classic fried rice cooking technique. The result is restaurant-style rice that's cooked to perfection and a tasty side dish for your favorite Mexican-inspired entrees. Added bonus, it's easy to make!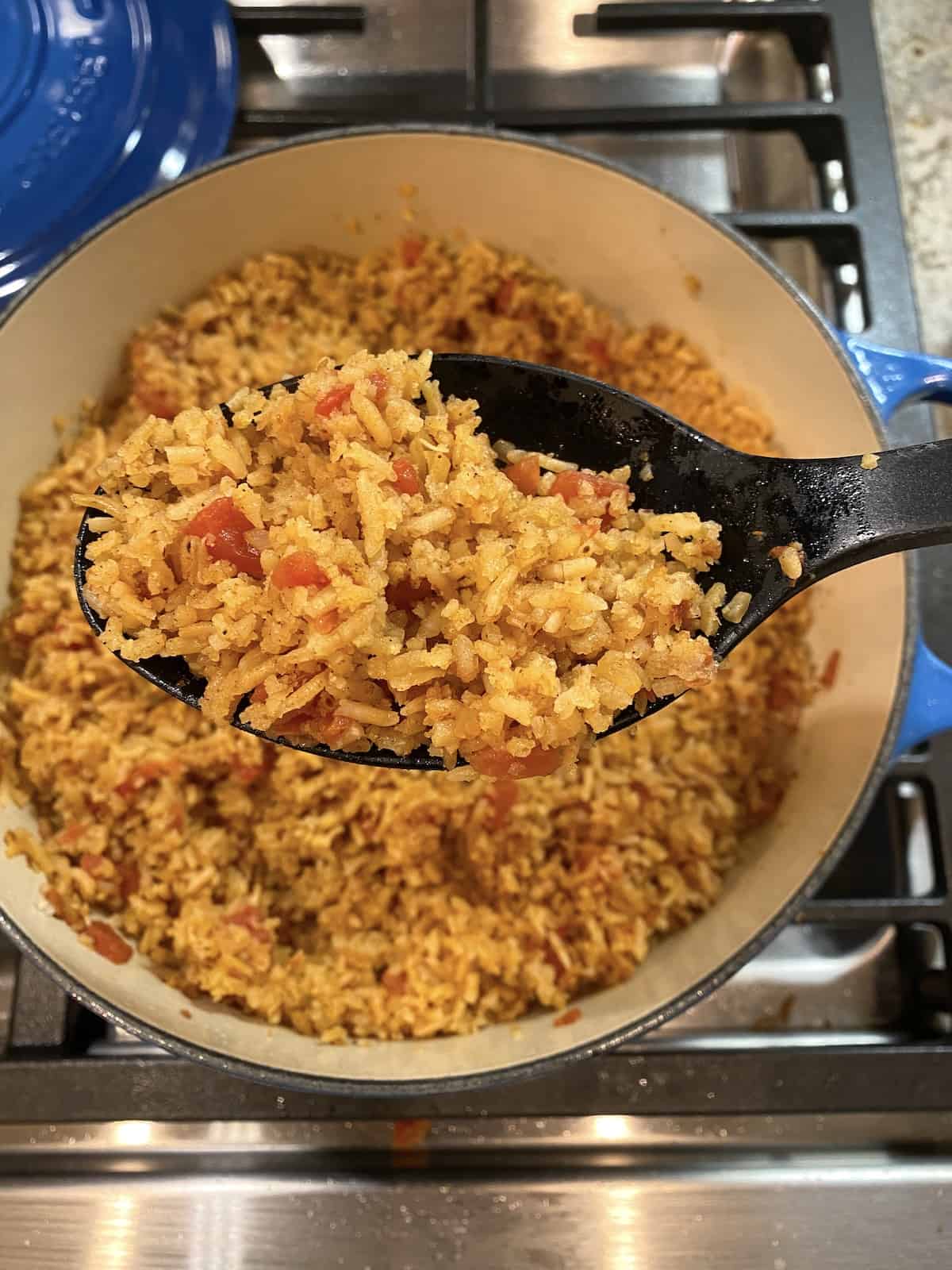 Note: Some of the links on this page are paid links, Amazon Associates. That means I make a small commission when you click and shop. Your cost is always the same and I only link to products or ingredients I use and enjoy.
Jump to:
Ingredients to Have on Hand
Pantry staples unite for this delicious Mexican Fried Rice recipe.
vegetable oil
canned diced tomatoes with green chiles (such as Rotel)
chili powder
garlic salt
dried onion flakes
Scroll down to the recipe for the details on how much of each ingredient to use.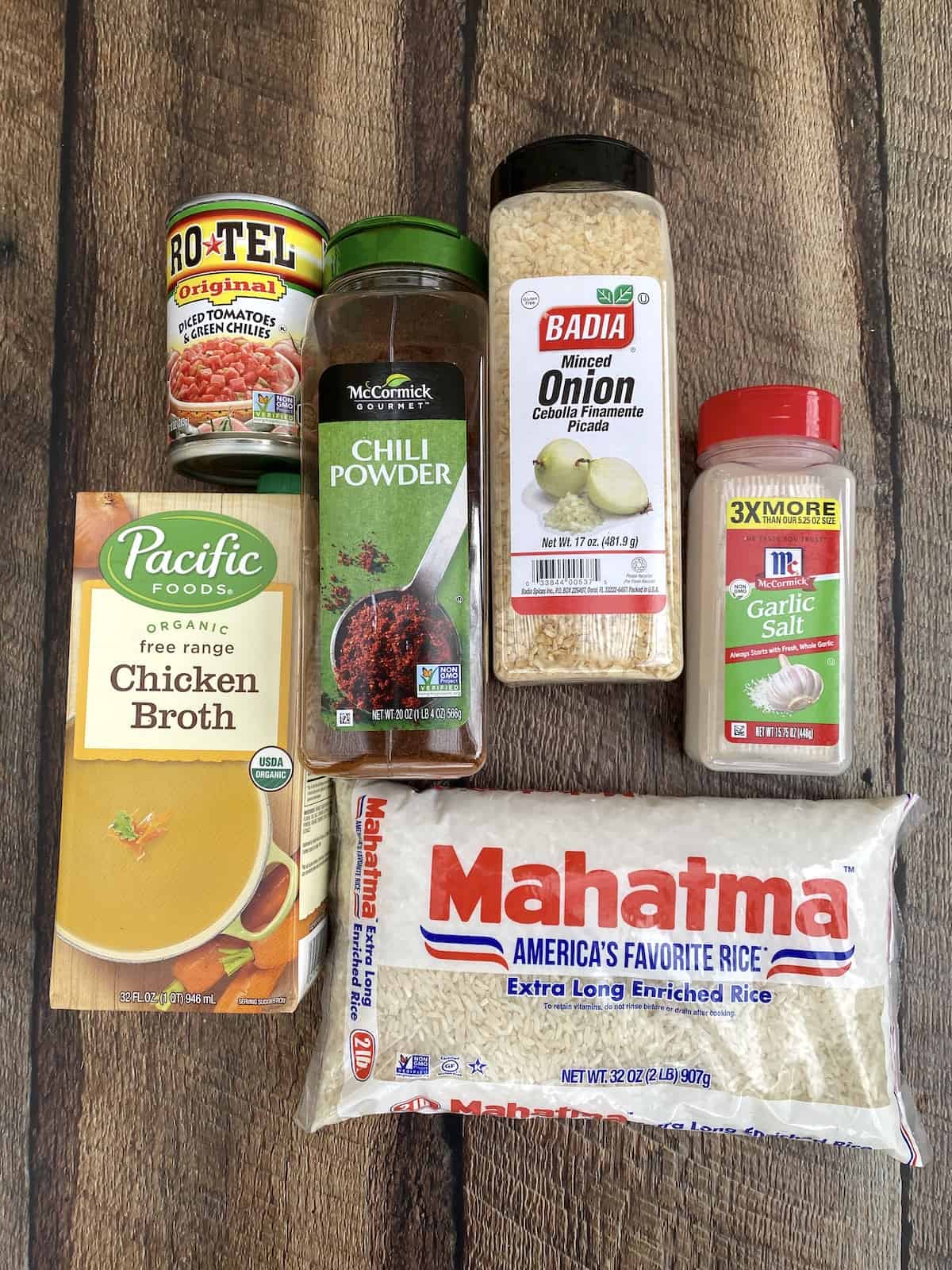 The Secret to Restaurant-Style Fried Rice
Two things make Mexican Fried Rice the perfect side dish: its fluffy texture, and subtle seasoning. It tastes great with so many entrees and it is delicious with add-ins, or simply served plain.
Here are the steps that help ensure our rice is just as good as what we'll get at your favorite restaurant.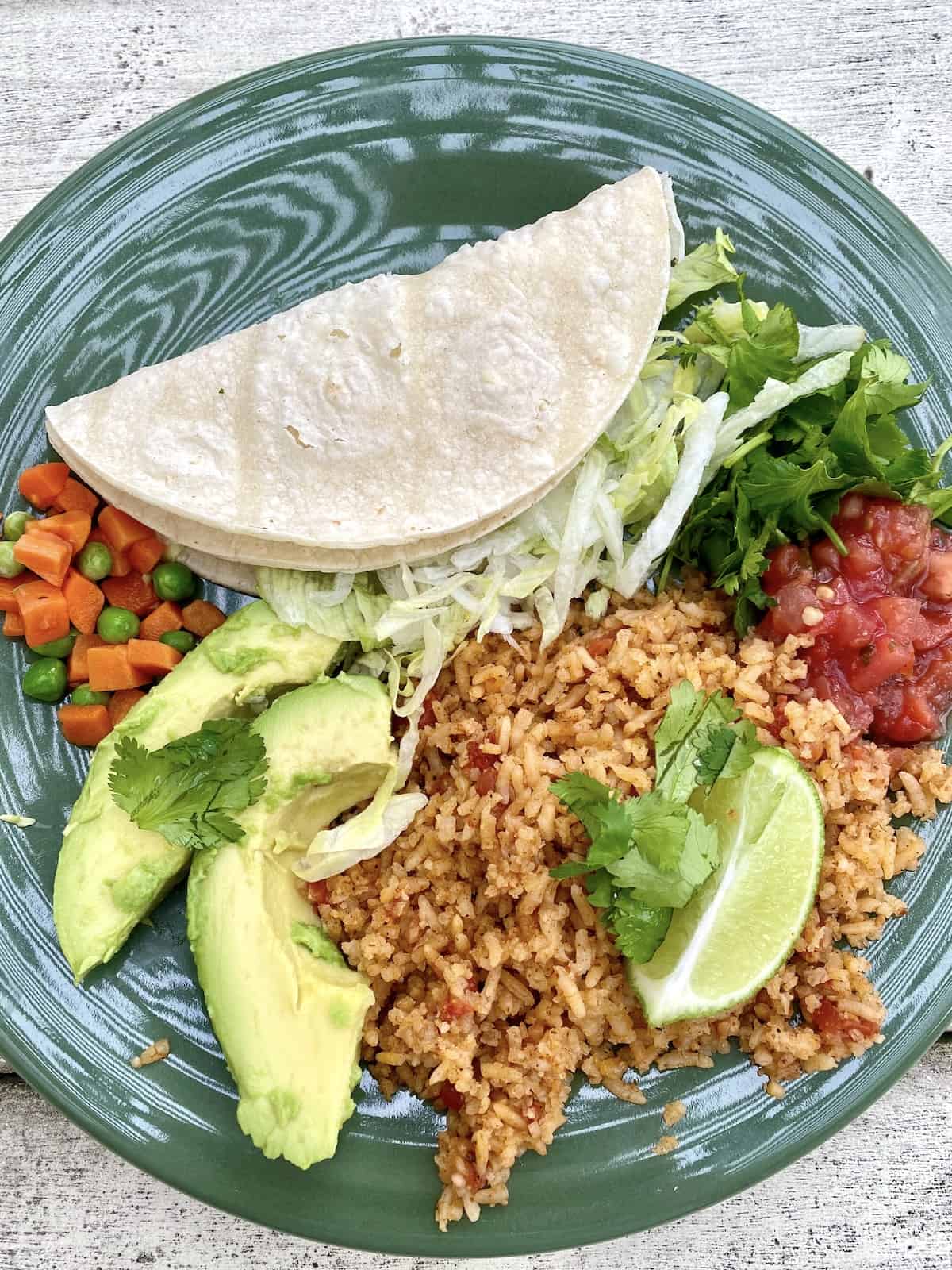 Spice and Seasoning
Mexican fried rice gets a boost of distinctive flavor with a blend of spice and seasoning and a cooking technique that ensures the rice will be fluffy, not sticky.
The spice combination here is simple: chili powder, garlic salt and dried onions.
Rotel, canned tomatoes with green chilis, adds flavor, and a little heat. Rotel is spicy. I use the original version, but there is also a mild option and a hot option.
Use whichever level of heat your family enjoys.
Spice Substitution
You may have noticed there is no cumin in this recipe.
Cumin is an aromatic spice that offers a distinctive, nutty flavor. It's a popular spice and it's commonly used in Mexican Rice recipes. But I use chili powder in this recipe because many of the entrees we serve with the rice include cumin and I like to have a balance of flavors on the plate.
If you enjoy cooking with cumin and want to add a teaspoon to this recipe, the result will be delicious.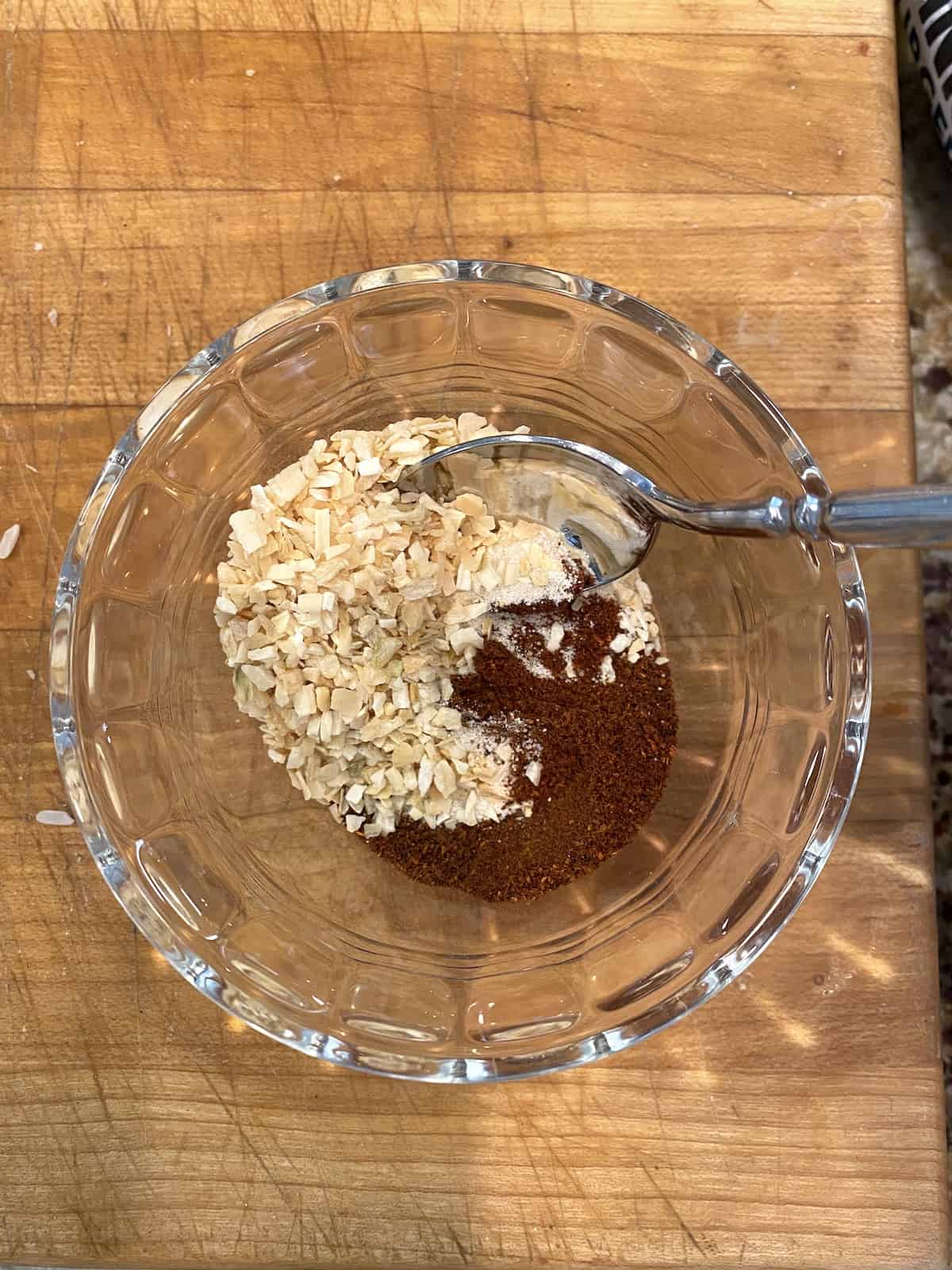 Prep the Rice
Rinse the rice by placing it in a glass measuring cup, or bowl, and covering it with plenty of water.
There's no need to soak the rice for more than a minute or two. Stir it gently to swirl the water around each grain of rice.
Rinsing rice helps to remove some of the starch, among other things, which keeps the rice from becoming sticky as it cooks. Rinsing helps give the cooked rice a fluffy texture, which is a must-have for Mexican rice.
Drain the water off the rice by pouring the contents from the glass measuring cup into a strainer over the kitchen sink.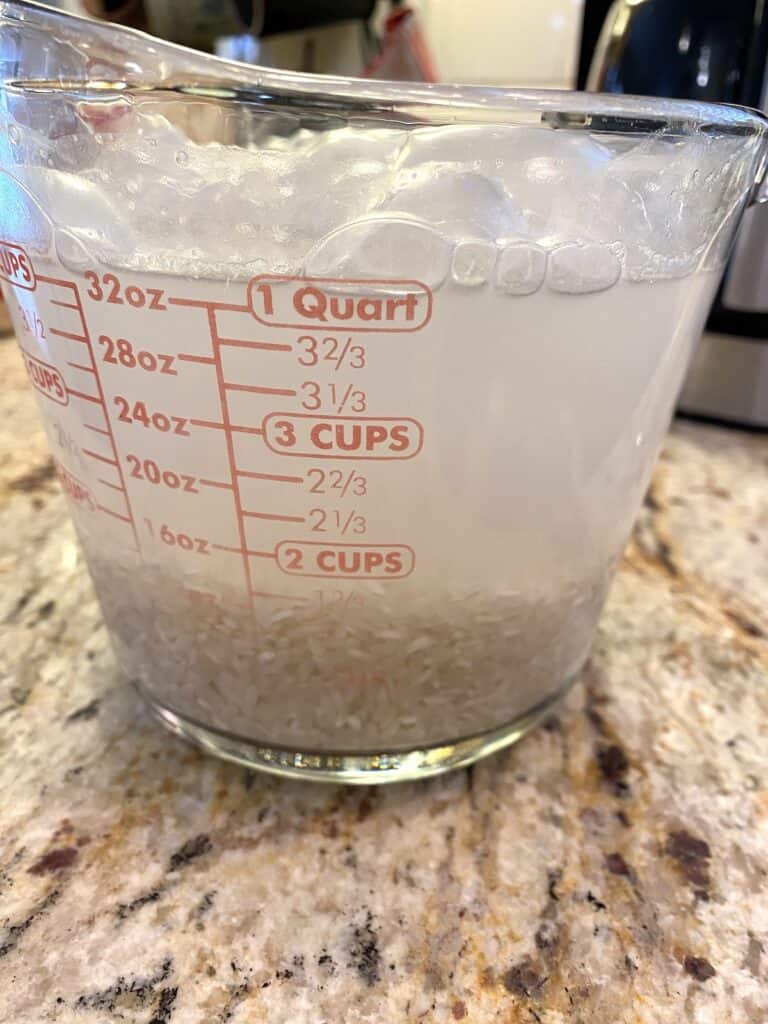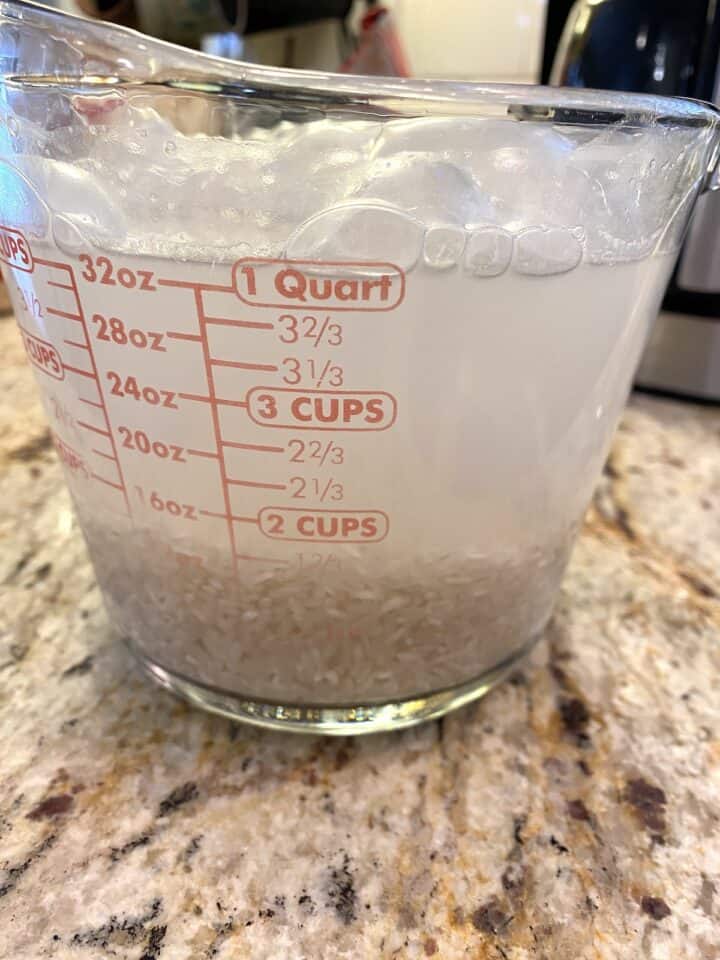 Since we'll add the rice to hot oil on the stove, I take it one step further and spread the drained rice out on paper towels, to ensure nearly all the water is gone.
Cooking Technique
The rice is fried and browned in hot oil before adding the chicken broth. Frying and browning the rice adds a crispy texture and savory taste.
It takes about 10 minutes over medium-high heat to get the rice perfectly browned.
Watch the rice closely and stir it frequently, the time needed to get the rice browned may vary depending on the type of pan you use and the heat of the stove.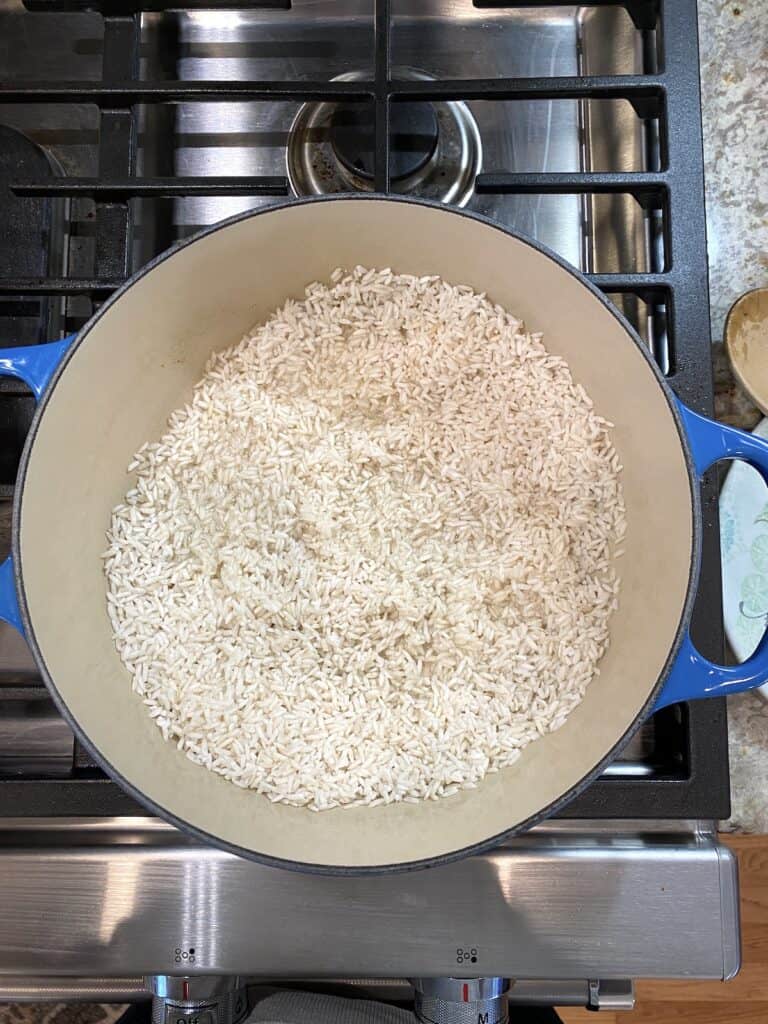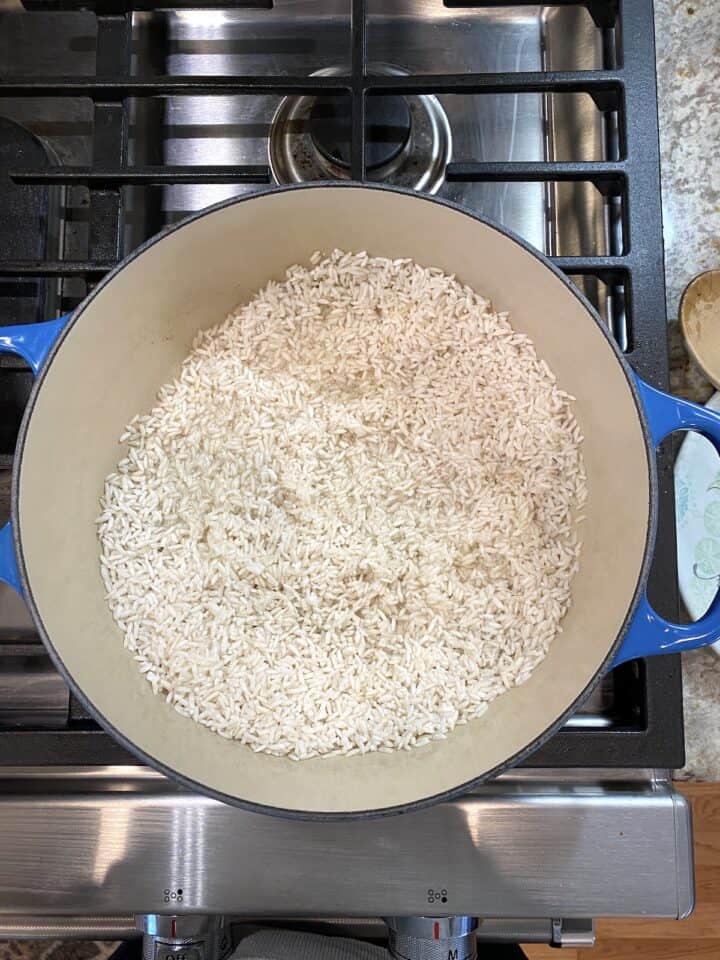 Here's how to brown the rice, step-by-step:
Place a large pan or large skillet on the stove, add the vegetable oil and heat it over medium heat until the oil starts to shimmer.
Add the rinsed and dried long grain, white rice to the pan.
Heat and stir until the rice is lightly browned. It should take about 10 minutes. If the rice starts to get too dark turn down the heat.
Stir frequently.
Step-by-Step
This Mexican fried rice recipe is easy to make and all of the ingredients are things we are likely to have on hand.
After browning the rice in the hot oil, turn down the heat to low and add the chicken broth, canned Rotel and spices. Stir everything so it's well combined.
Keep the heat on low, cover the pan and leave the rice to simmer for 30 minutes.
After cooking, leave the lid on the pan, turn the heat off and set the timer for 10 minutes.
When the timer goes off, remove the lid and stir the ingredients. The rice will be cooked to perfection.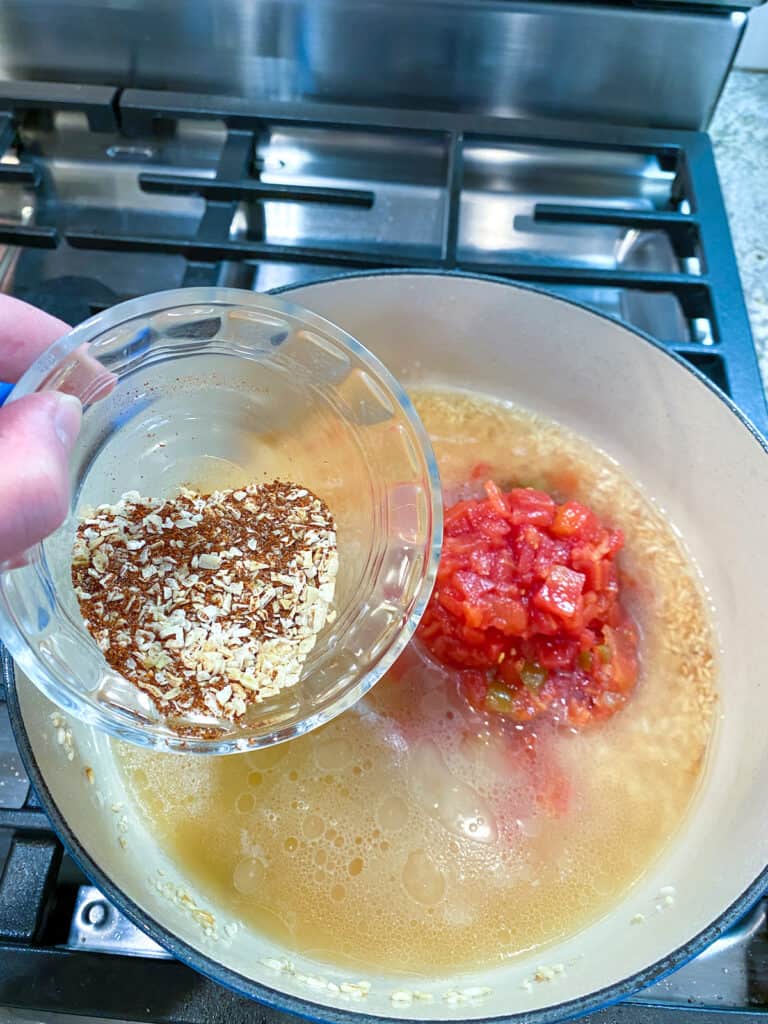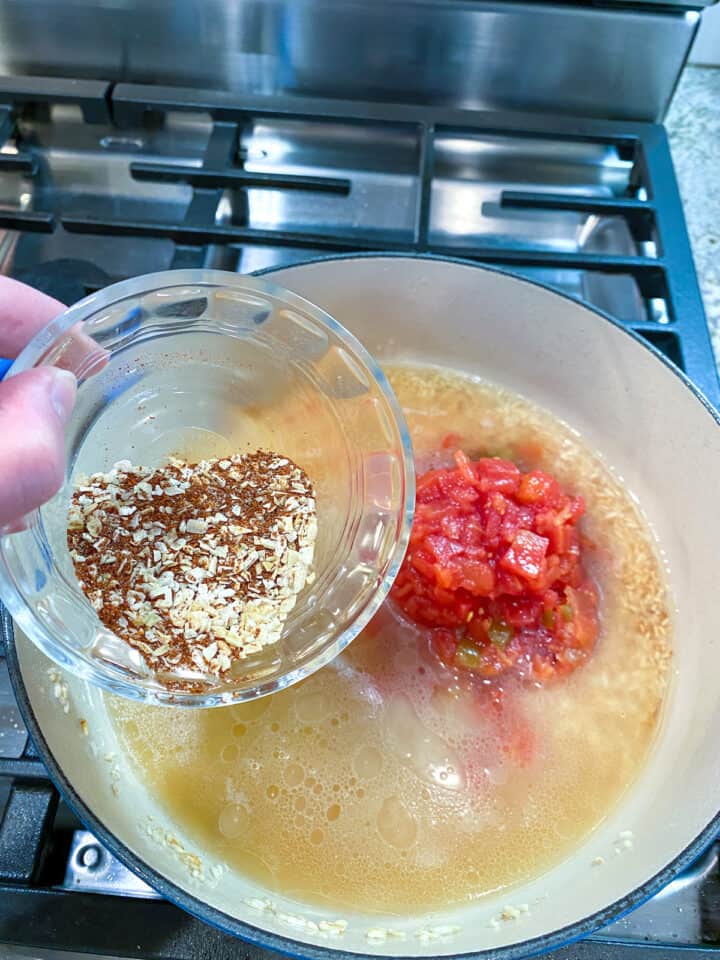 So bottom line, is there are two "secrets" that ensure the rice will be perfect every time.
Rinse the rice before cooking it's one of the secrets to serving the best, fluffiest rice you've ever had.
After the rice cooks turn the heat off and leave the lid on for 10 additional minutes. This gives the rice, chicken broth, tomatoes and spices a few minutes to rest with no heat at the bottom of the pan. The result is perfect rice every time and no sticking to the bottom of the pan.
Watch the Final Result
After the rice cooks don't lift the lid - I know it's tempting - but leave the lid on the pan and turn off the burner. Leave the pan on the stove. This gives the rice a chance to steam.
Set the timer for 10 minutes, then remove the lid and stir the rice. It will be fluffy and perfect. Watch this video for a look at the big reveal!
Options to Add to Mexican Rice
Stirring in a variety of colorful vegetables, lime juice or cheese to your Mexican rice can make it even more delicious while adding textures and additional flavors.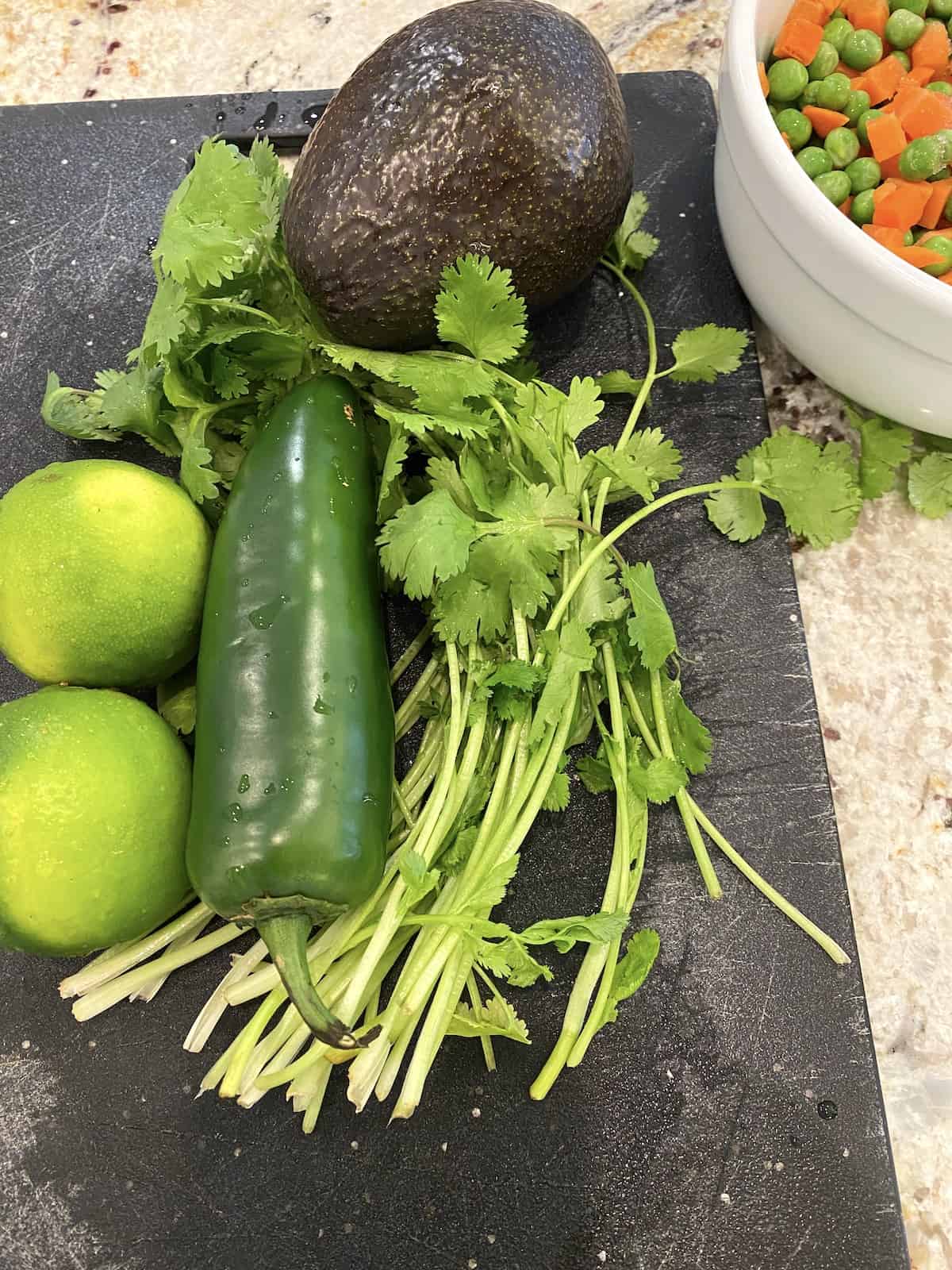 Choose one, two, three or more of these additional add-ins to your rice. Stir in after the rice is cooked and after the final 10 minutes of steaming.
Bell peppers (red, green, yellow)
Diced tomatoes
Corn, drained from the can
Onions, diced
Garlic
Peas
Carrots
Zucchini, sliced very thin and diced
Black beans, drained from the can
Pinto beans, drained from the can
Jalapeno, fresh or pickled, sliced
Avacado, sliced and diced
Green chiles
Lime, juiced
Cilantro, fresh
Cotija cheese, crumbled
Protein Options
If you'd like to make this a main dish, it's easy to do by adding your favorite protein. Mexican fried rice can be made hearty and filling by adding cooked and shredded chicken, grilled or broiled shrimp, cooked beef or even baked tofu.
For the best flavor, season the protein with the same spice combination found in the rice: chili powder and garlic salt.
Stir in the protein of your choice after the rice has steamed and enjoy!
Top Tips and FAQ
Can I use brown rice instead of white rice?
Extra long-grain white rice produces the best results because long-grain rice contains less starch. That helps the rice cook fluffy and with a drier texture.
What's a good substitution for canned Rotel?
About two-thirds of a 14-ounce can of petite diced tomatoes drained and a small can of diced green chilies is a good substitute.
Can I make it ahead and reheat it?
Easily! After the rice cools, place it in a covered container and refrigerate. To reheat, place a few sprinkles of water on top of the rice - to add just a touch of moisture - and heat in either the microwave until warm or place in an oven-safe dish, covered with foil and reheat at 300° F for 20 - 30 minutes.
Will vegetable broth work instead of chicken broth?
Yes, but this is an excellent substitution to make this recipe vegetarian.
Is it Mexican or Spanish Rice?
Spanish Rice and Mexican Rice are both very popular in their respective cuisines but depending on where you live, they often are a reference to the same thing, which for many folks is simply the rice we enjoy at our favorite local Mexican restaurant.
But there are some distinctions.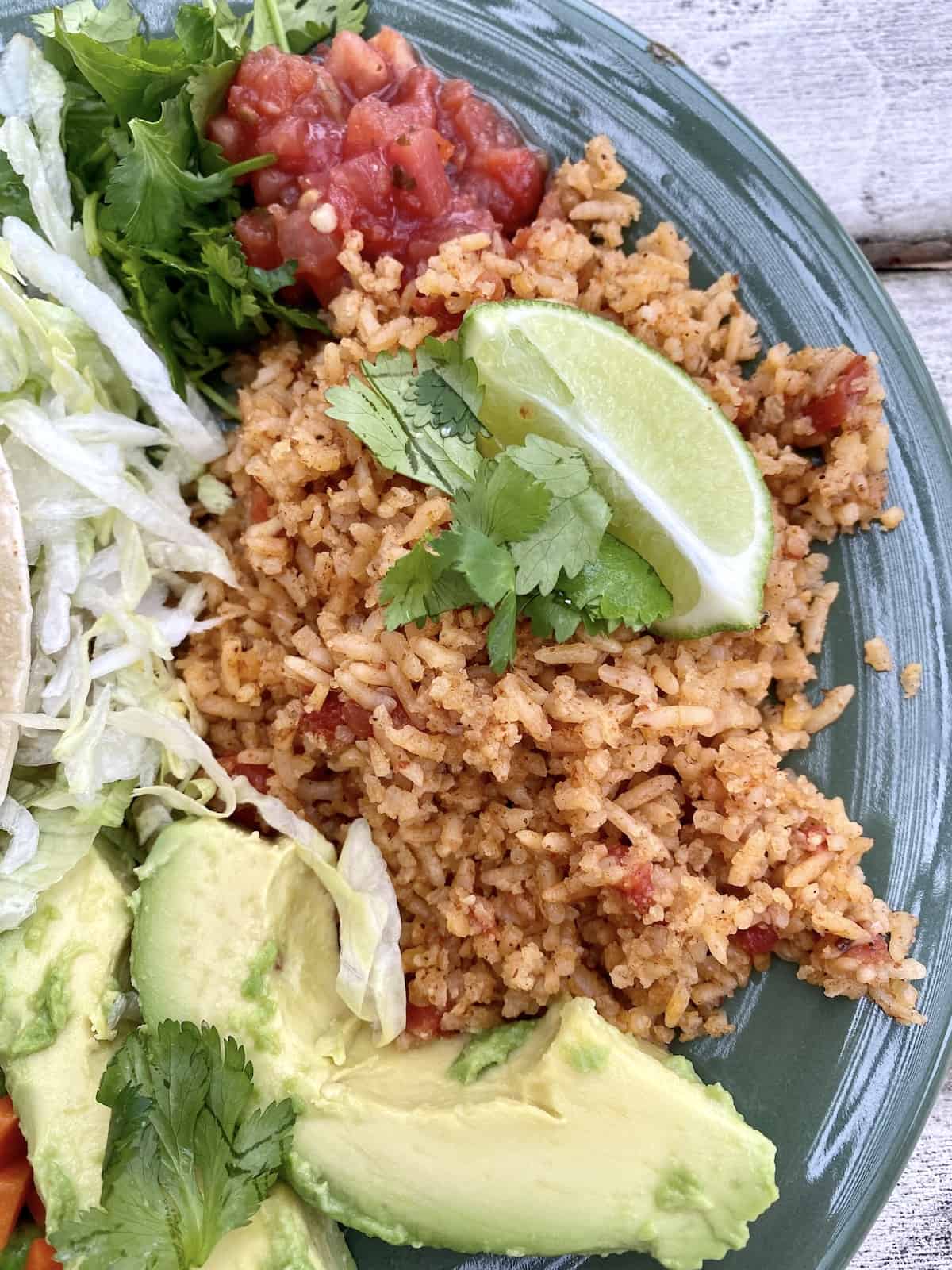 Mexican rice is tomato-based and flavored with spices - such as chili powder in this recipe - and is typically made with long-grain white rice that is sautéed in oil and then simmered with diced tomatoes and chicken broth until the rice is cooked and fluffy. It's often garnished with fresh cilantro and lime, one of my favorite things about it!
Spanish rice is a traditional rice dish from Spain. It's made with short-grain rice and flavored with saffron. The rice (paella) is usually cooked with a combination of meats, seafood and vegetables in a large, shallow pan. The dish is often enjoyed as a main course and is considered a staple of Spanish cuisine. I'll be sharing my recipe for this dish soon.
Storage
Store cooled rice leftovers covered, in an airtight container in the refrigerator and plan to reheat and enjoy it within 3-4 days.
What to Serve with Mexican Rice
A Mexican-inspired menu is delicious with this rice. Here are a few recipes that I think you'll enjoy. I also love the tangy taste of Sweet Corn Pasta Salad as another side dish with Mexican Fried Rice.
Food Safety
Here are a few tips to remember to keep our kitchens and our food safe:
Cook to a minimum temperature of 165 °F
Do not use the same utensils on cooked food, that previously touched raw meat
Don't leave food sitting out at room temperature for extended periods
Never leave cooking food unattended
Always have good ventilation when using a gas stove
See more guidelines at USDA.gov.
Stay in Touch
Be sure to give a star rating to the recipes you make from the Crinkled Cookbook. I always love hearing from you. Sharing is great too! Use the buttons after the recipe to text it with just one click or send it to family and friends on Pinterest and Facebook. Enjoy.
Recipe