No-Peel Apple Cake is VERY easy to make, there's no need to peel the apples and the aroma while it's baking is absolutely divine. This is a moist cake and it's delicious served warm from the oven. But I keep leftovers in the fridge and its equally good served cold. As an option, serve with whipped cream or a scoop of vanilla ice cream for some added wow factor. So yummy!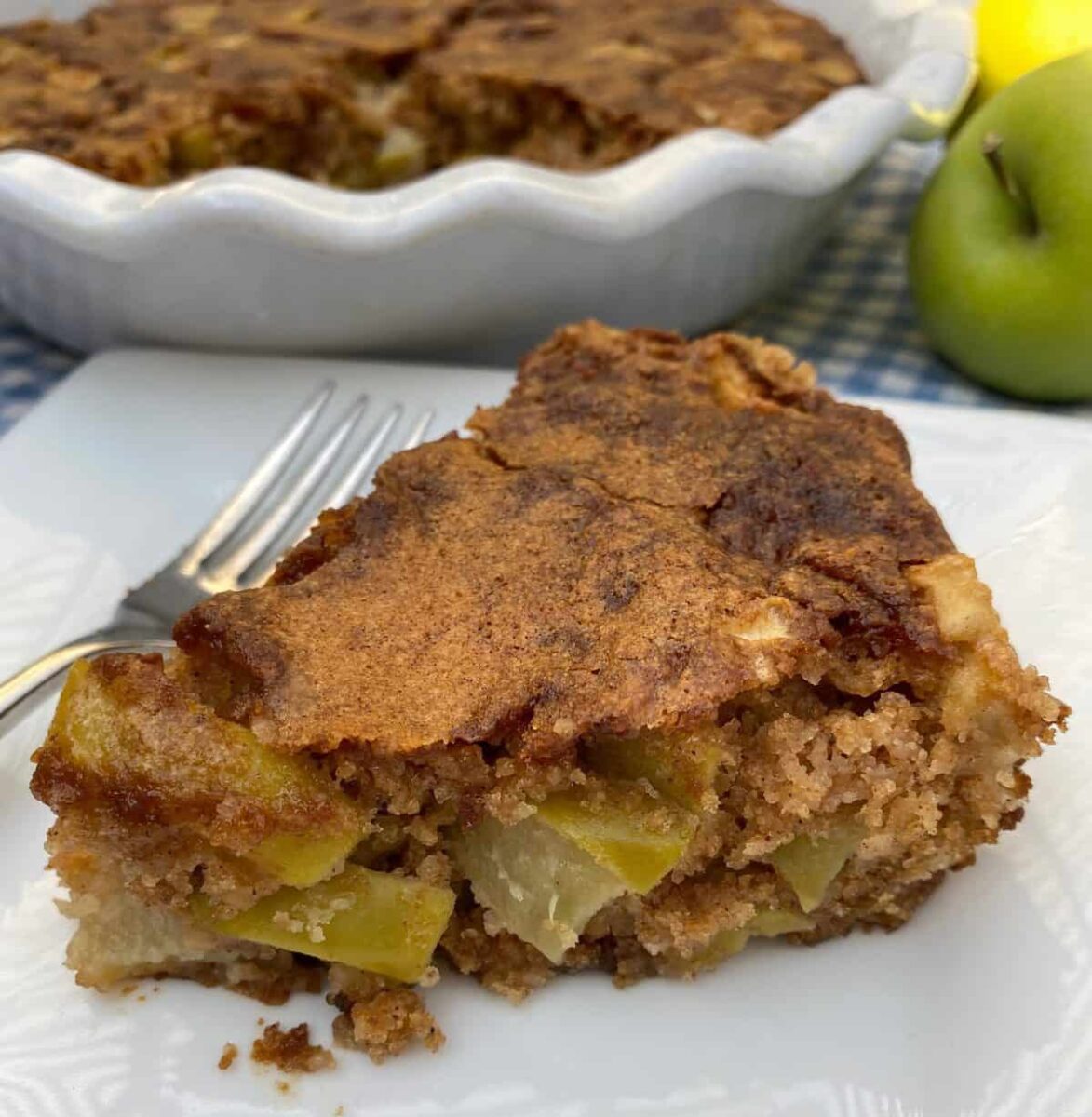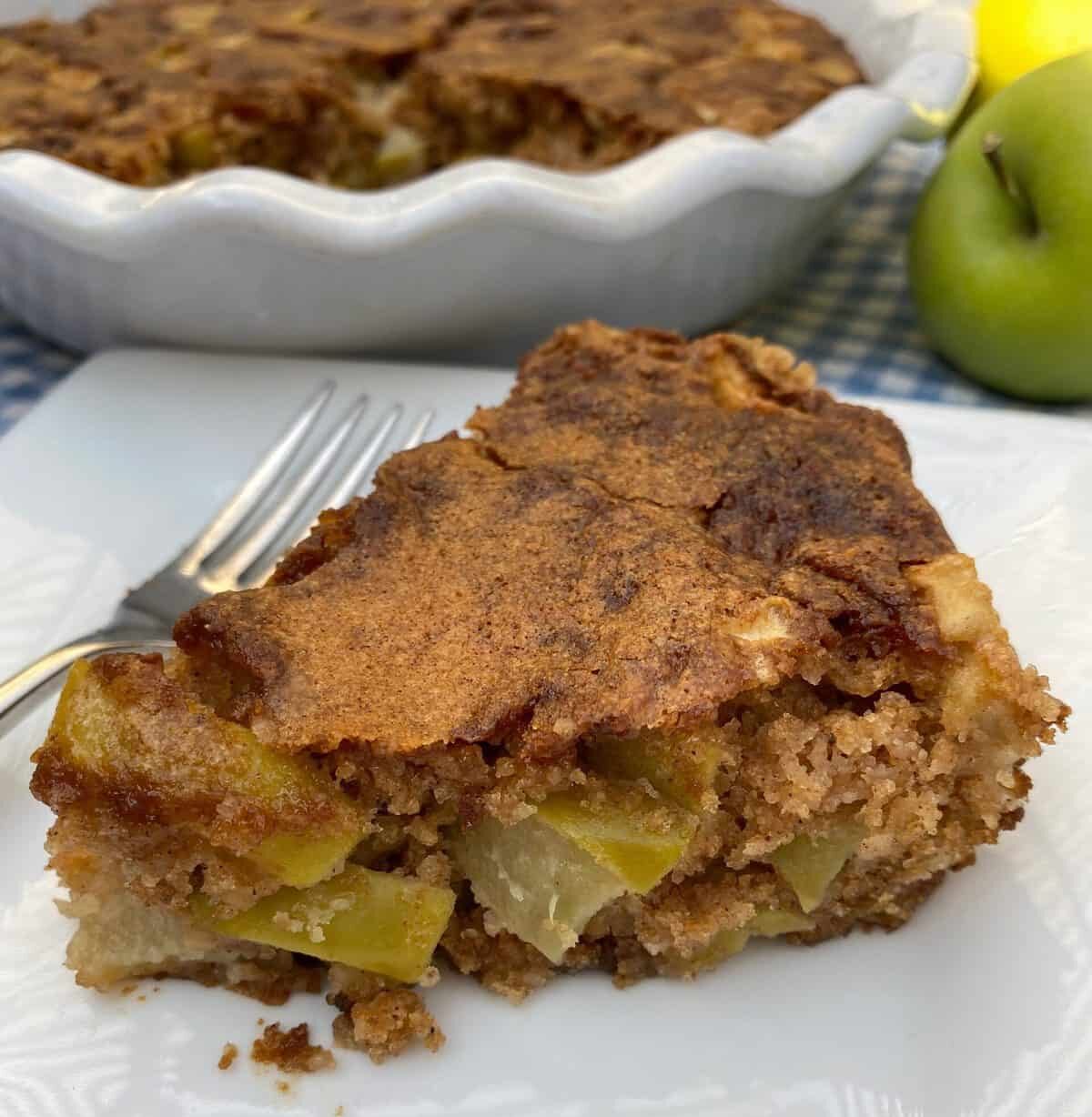 Ingredients to Have on Hand
The ingredients for this cake are basic pantry staples, just buy or pick a few delicious, fresh baking apples and you are set. Otherwise, here's your grocery list:
3 - 4 baking apples
sugar
brown sugar
vanilla extract
butter
1 egg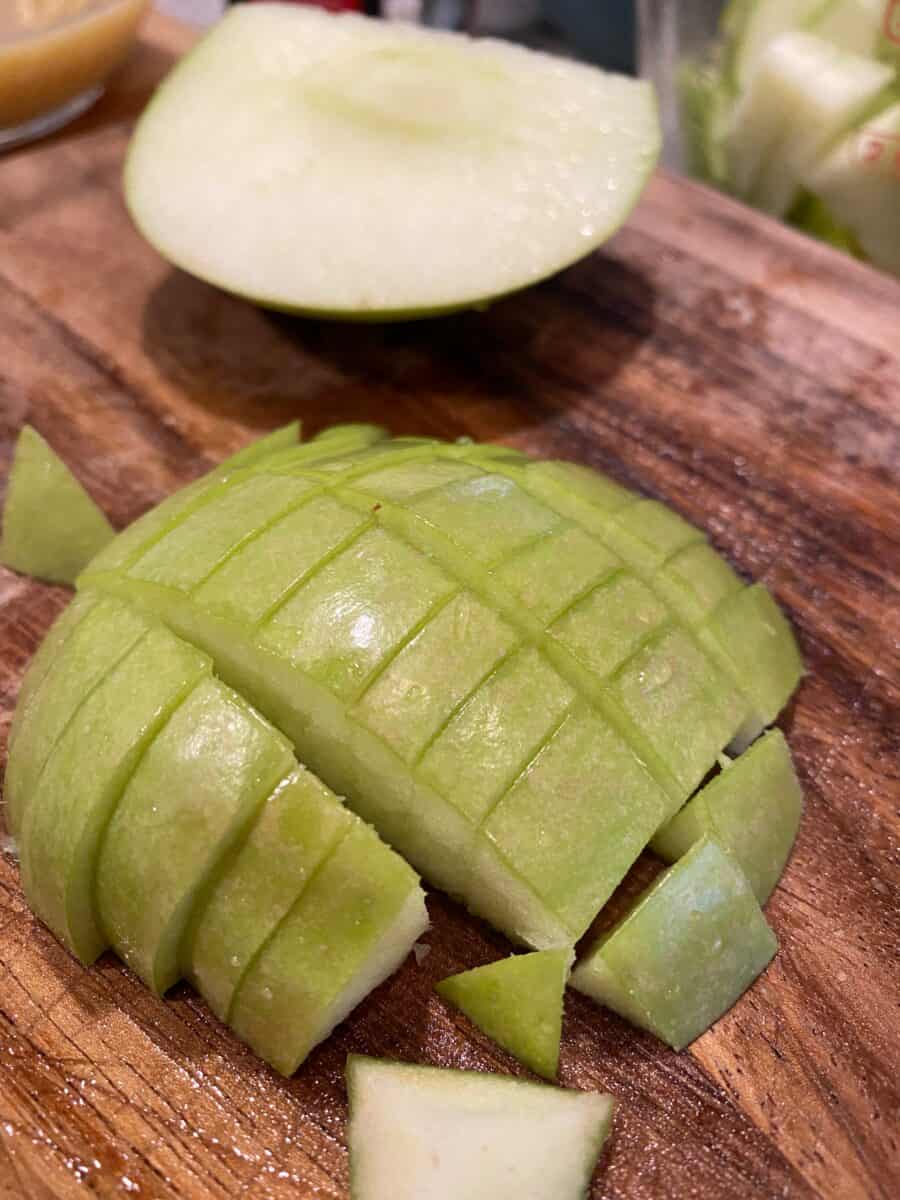 Apples for Baking
I grew up in eastern Washington and believe me, apples are a big, big deal in the Great Northwest. But not every apple variety is created equal.
For this recipe you'll want to choose an apple that will maintain it's shape after being diced, but that will also be tender and sweet with that distinctive and cozy fresh apple flavor.
According to the Washington Apple Commission, there are a wide variety of apples that are delicious for baking and some varieties are better in pies. But since this recipe is for a baked cake, here are the types of apples I use and recommend:
Golden Delicious
Granny Smith
Honeycrisp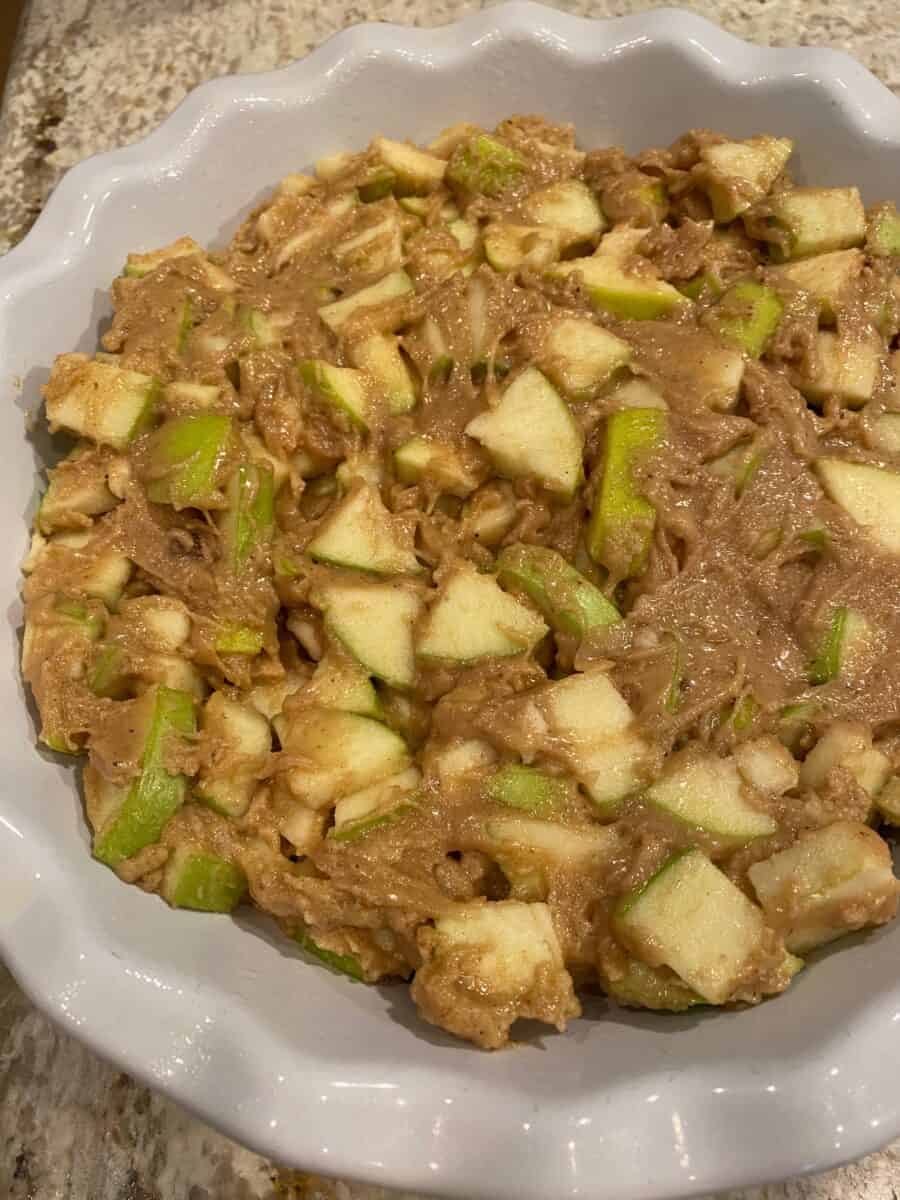 Baking Dish Options
No-Peel Apple Cake bakes beautifully in any shape baking dish as long as it's large enough to hold about 5 cups of the apple cake batter and it's small enough for the batter to spread to about 2 inches in height across the dish.
I prefer to use a 9" pie dish with fluted edges since it's the perfect size and it creates a beautiful presentation at serving time.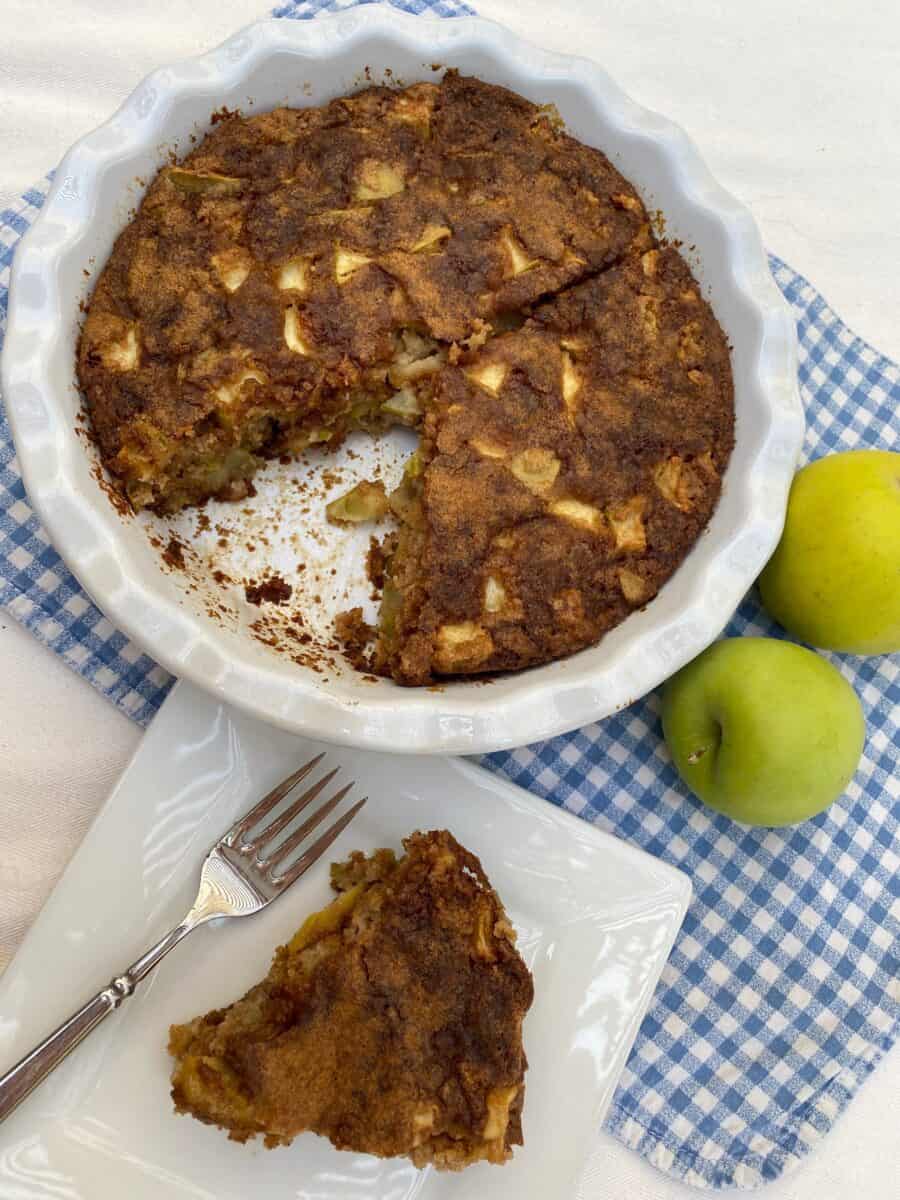 What I Love Most About This Recipe
It's so easy. This recipe is the best apple cake ever! It's an all in one apple cake that's a delicious way to enjoy a dessert that's scratch-made using fresh apples.
The apple cake is incredibly moist and the sugars combine with the butter to create a top "crust" that is just slightly crunchy when it's hot out of the oven.
This is my go-to apple dessert, especially when I'm short on time.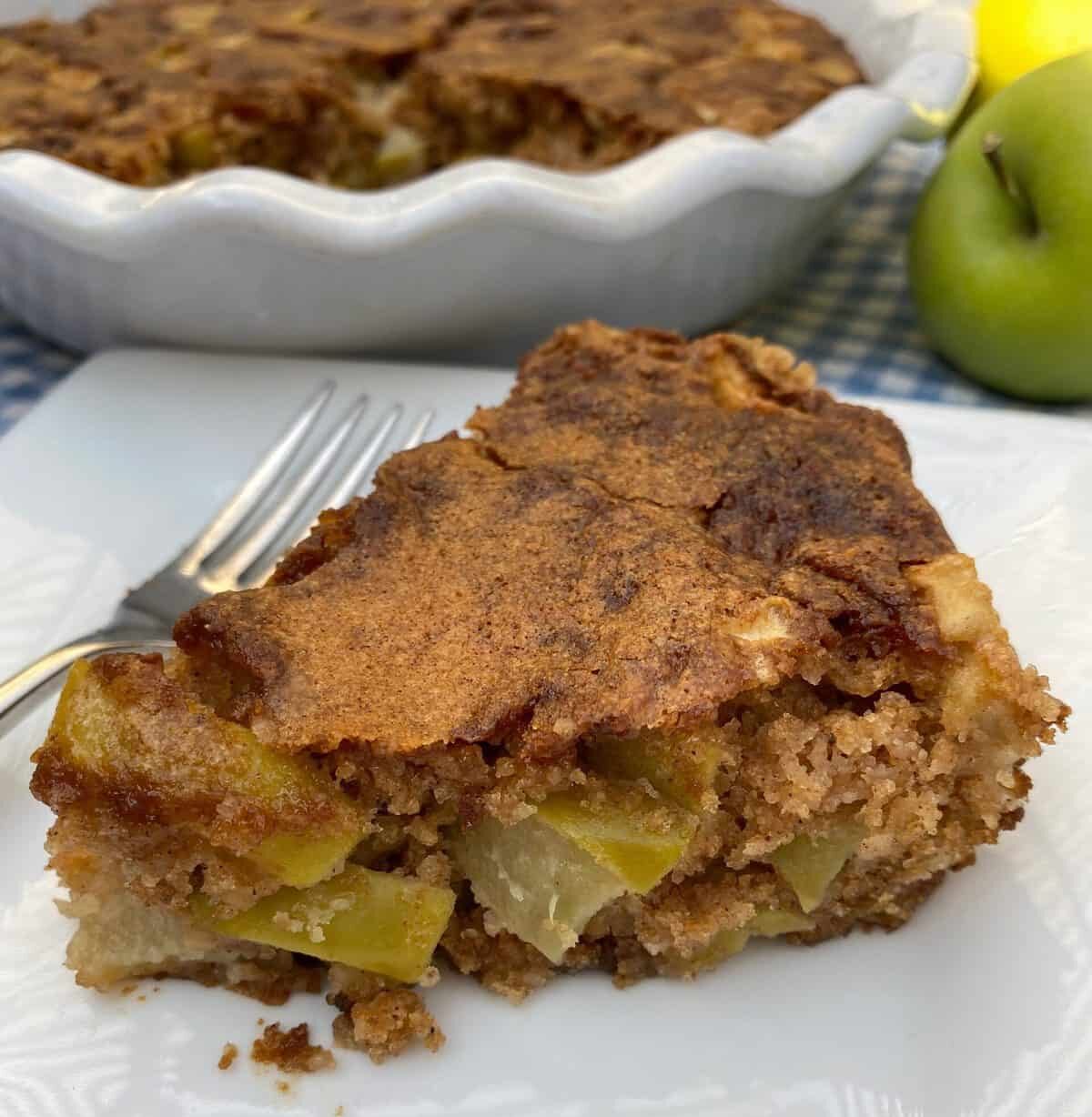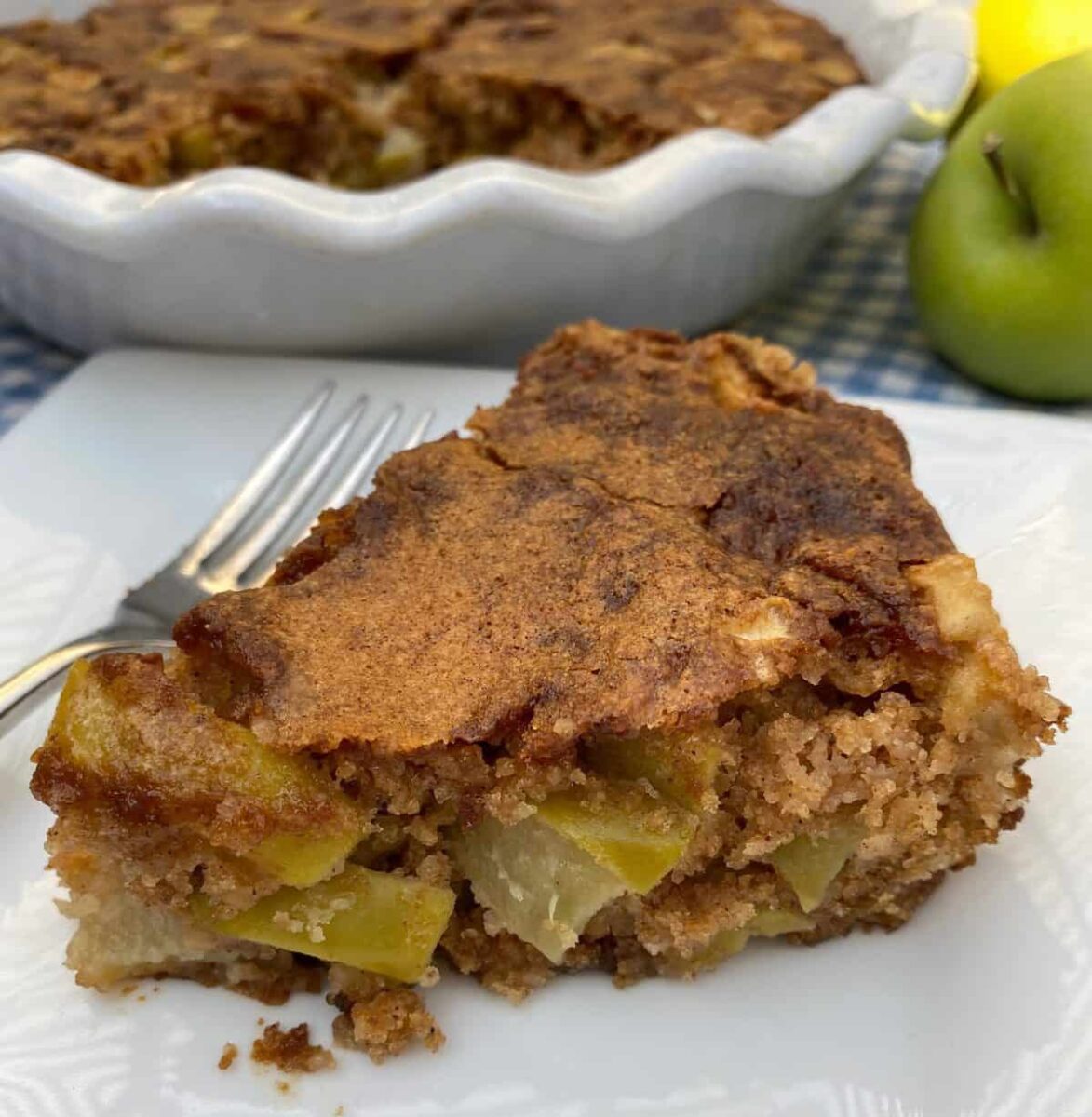 Harvest Meal Idea
This dessert recipe is wonderful any time of year, but especially during summer and fall when the apple harvest is underway. It's an easy apple cake recipe with just a few ingredients.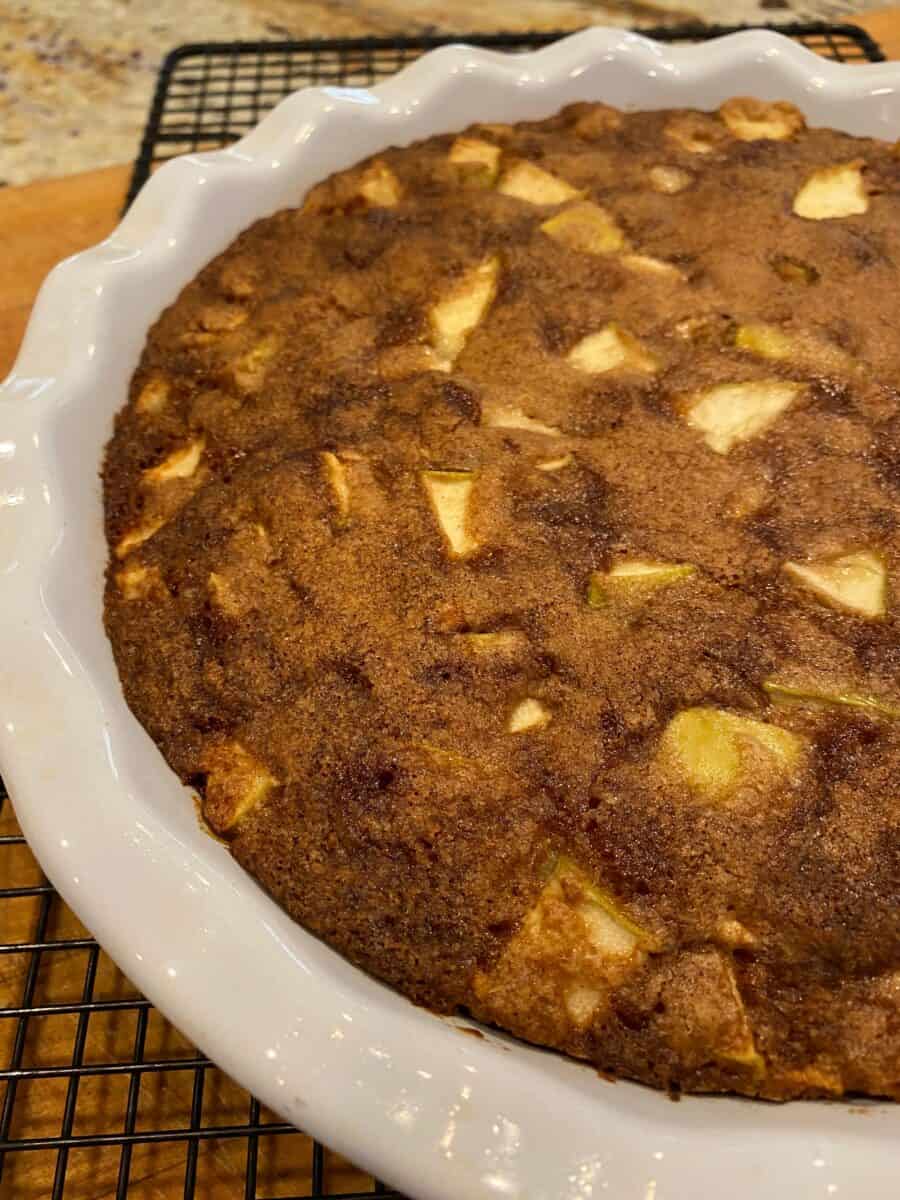 Optional Toppings
This moist apple cakes doesn't require a topping to be delicious, but if you prefer to have an extra layer of sweetness there are some terrific options.
I think you'll enjoy adding a teaspoon of warmed caramel sauce, a scoop of vanilla ice cream or a dollop of whipped cream on each serving.
If you want to serve each slice warm, place each wedge of apple cake on a microwave safe plate and warm in the microwave for about 45 seconds on half power.
Top Tips and FAQ
Does the baked apple cake need to be refrigerated?
This cake will be fine at room temperature for the first day after baking, but after that I recommend covering the cake with plastic wrap and storing it in the refrigerator.

This is a very moist cake and it's full of fresh apples so it needs to be stored in the refrigerator and enjoyed within four days.
Can I freeze my no-peel apple cake?
Absolutely. After baking, cool the cake in it's baking dish then cover the dish tightly with foil or plastic wrap and place it in the freezer.

Enjoy the cake within three months.

Defrost on the counter and serve it once it reaches room temperature.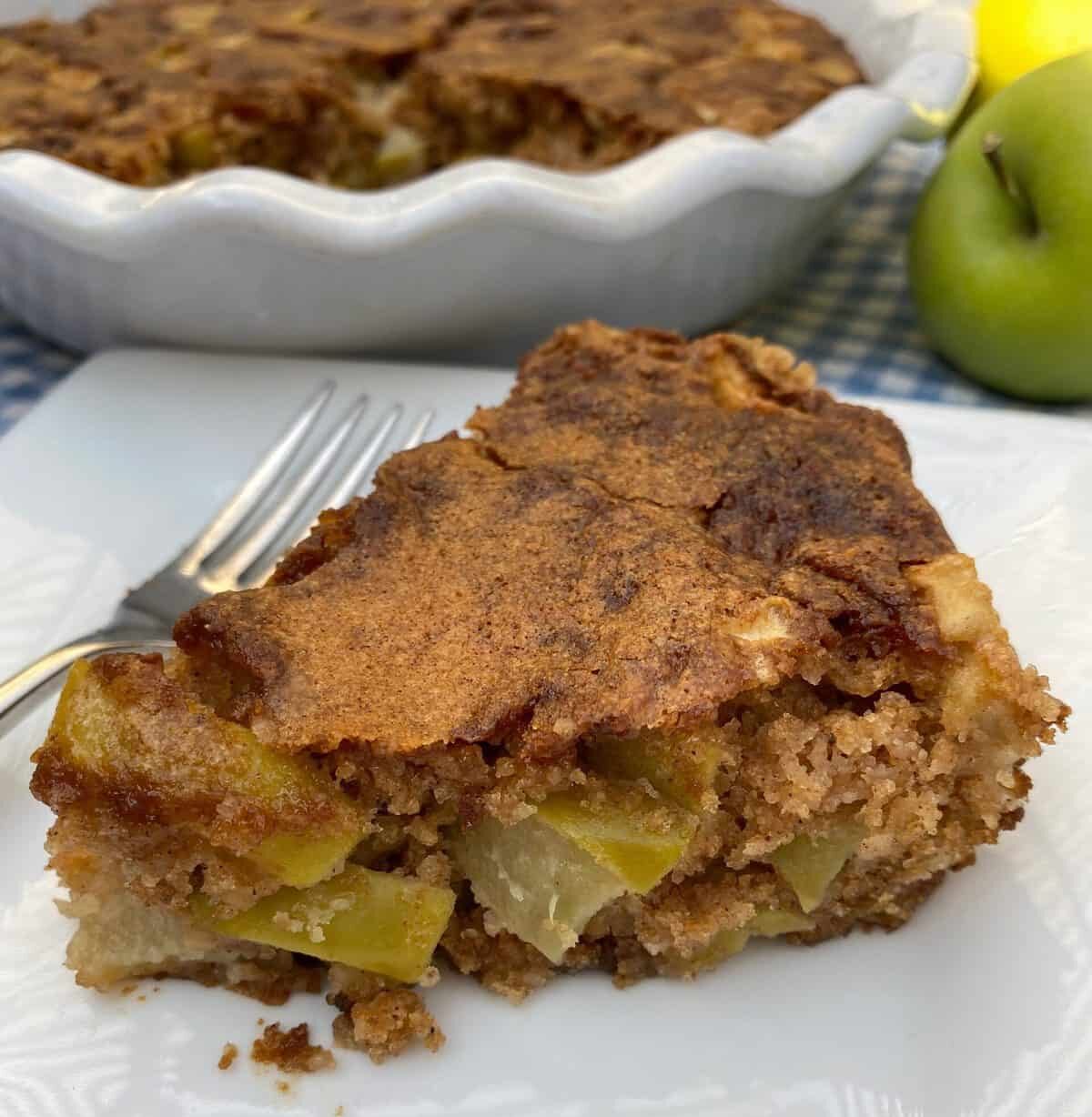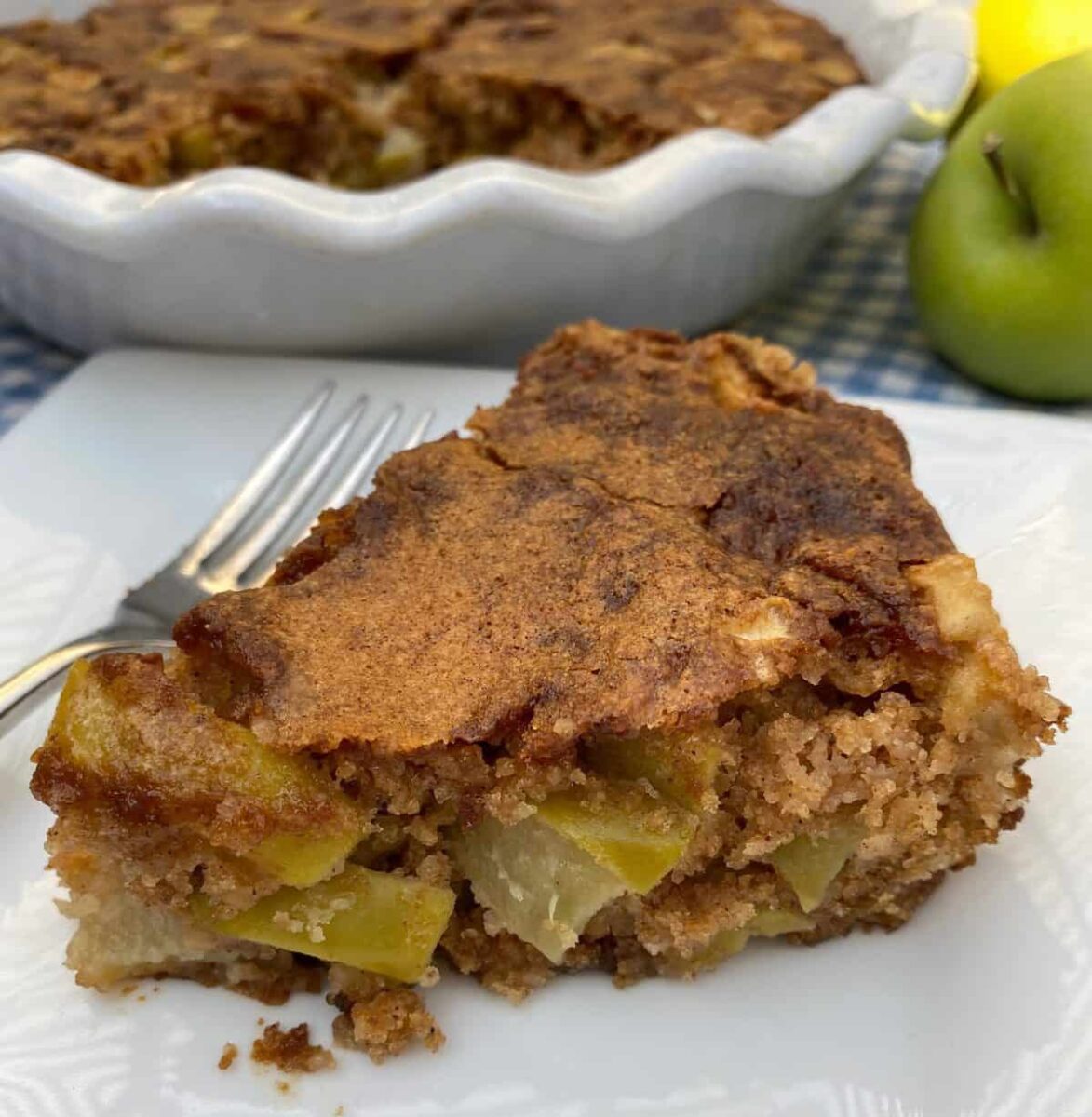 Other Recipes to Try
Speaking of harvest, here are other recipes that are perfect for using up all the produce from a robust garden or after a big shopping trip to the Farmer's Market.
Do you have any extra cucumbers? I think you'll love my recipe for Refrigerator Pickles. How about all those extra fresh tomatoes? I highly recommend Tomato Basil Soup, it's delicious! But if it's chocolate cake you are craving then I highly recommend Old Fashioned Chocolate Pound Cake it's about as rich and decadent a chocolate cake that you'll find anywhere. Enjoy.
Be sure to give a star rating to the recipes you make from the Crinkled Cookbook. I always love hearing from you. Sharing is great too! Use the buttons after the recipe to text it with just one click or send it to family and friends on Pinterest and Facebook. Enjoy.