Peanut Butter Pies are a creamy combination of smooth peanut butter filling along with your choice of a blend-in sweet ingredient. Use your favorite fruit jam or Reese's peanut butter candy to create a crowd pleasing, no bake dessert.
Note: Links in the recipe are paid links, Amazon Associates. This means I make a small commission when you click and shop. Your cost is always the same and I only link to and recommend ingredients that I use.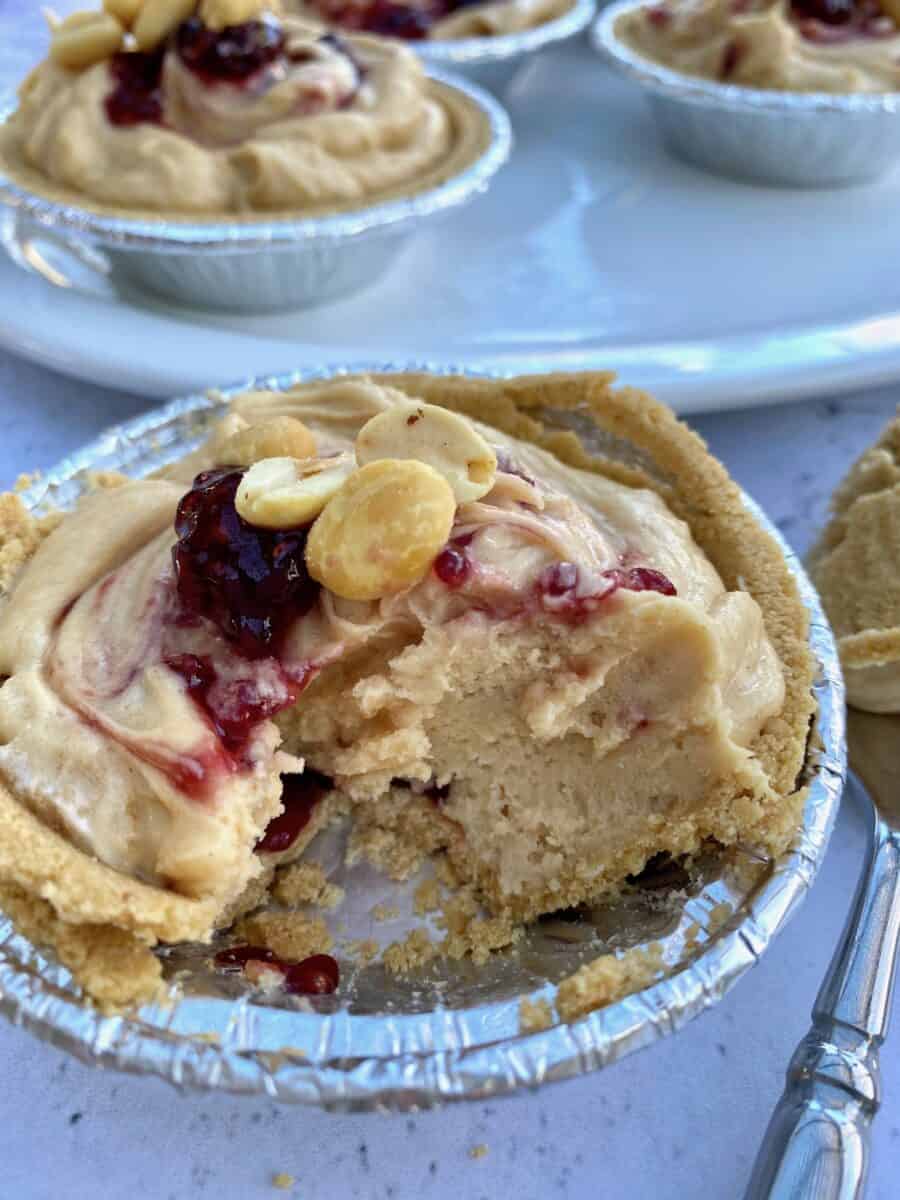 Reese's Version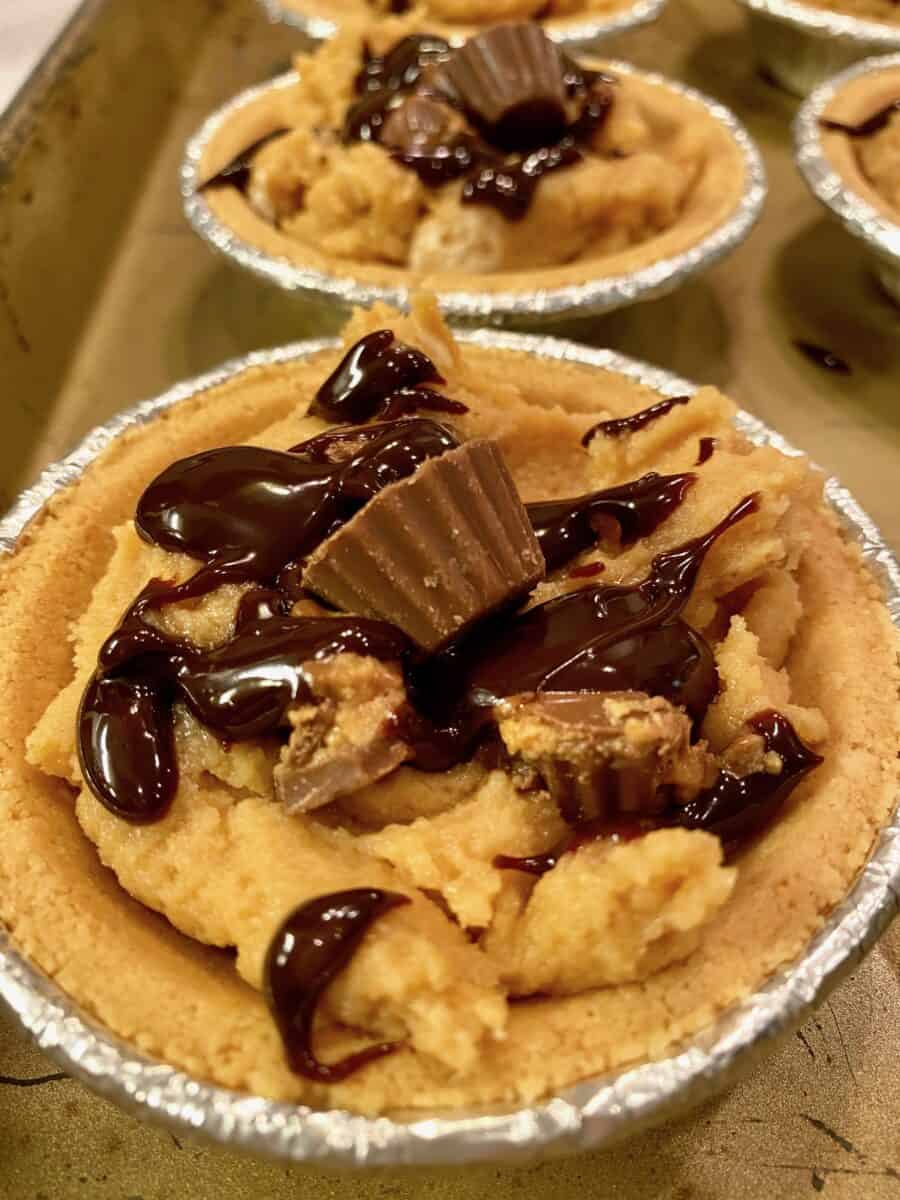 These taste just like a Reese's peanut butter cup, but in a cute mini pie dish that's impressive enough for serving even after a holiday meal.
Jam Version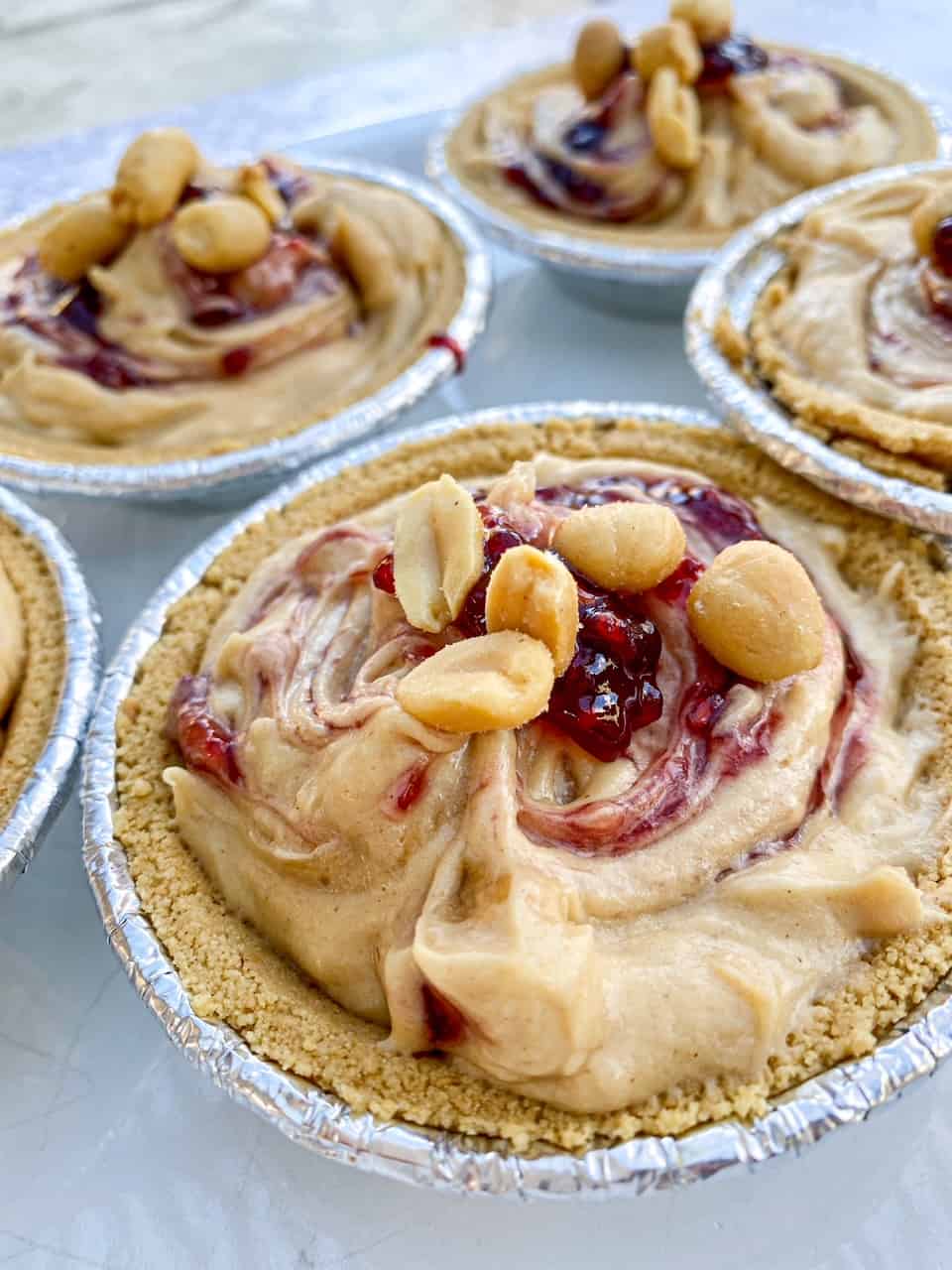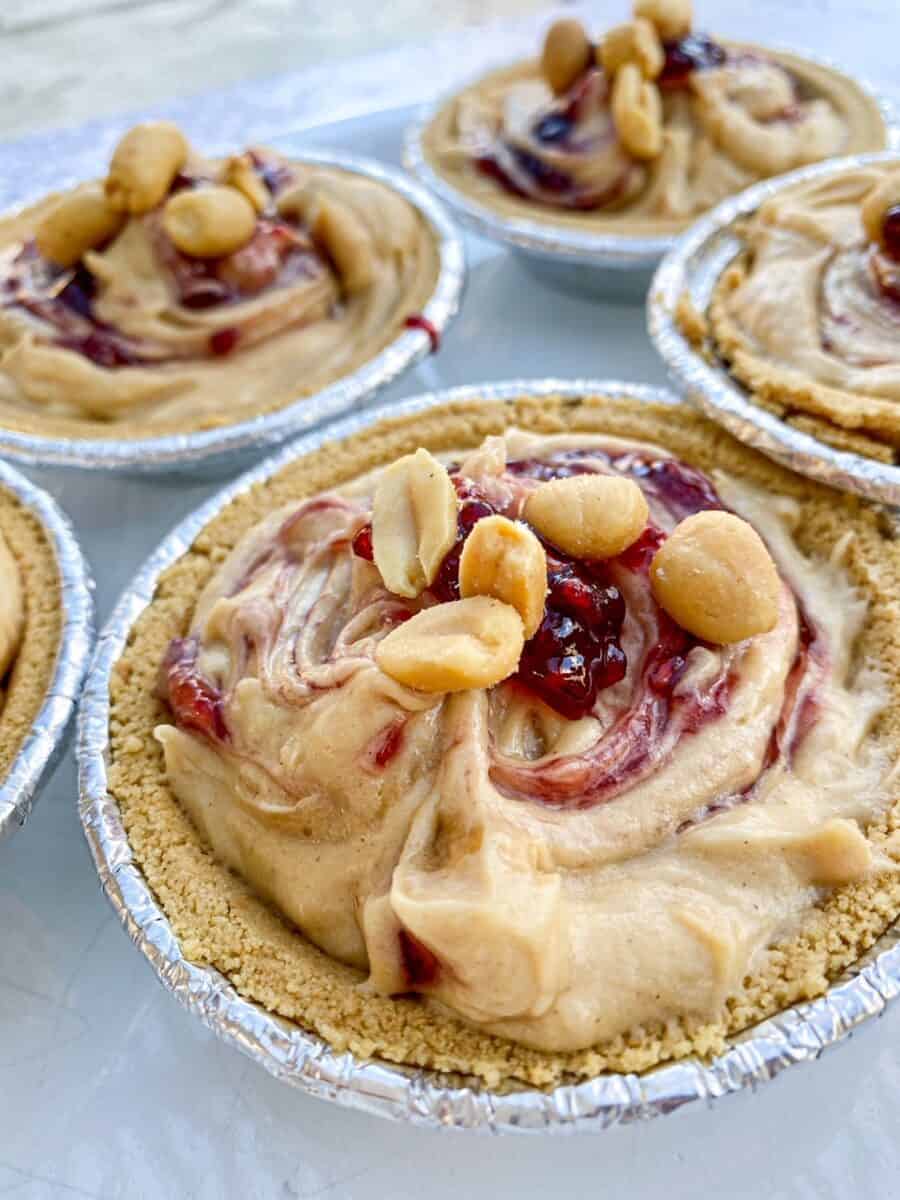 These might remind you a classic lunchtime favorite, a peanut butter and jelly sandwich. But wow, these cute little pies elevate those flavors and make an impressive dessert. Kids and grown-ups love these.
Ingredients to have on hand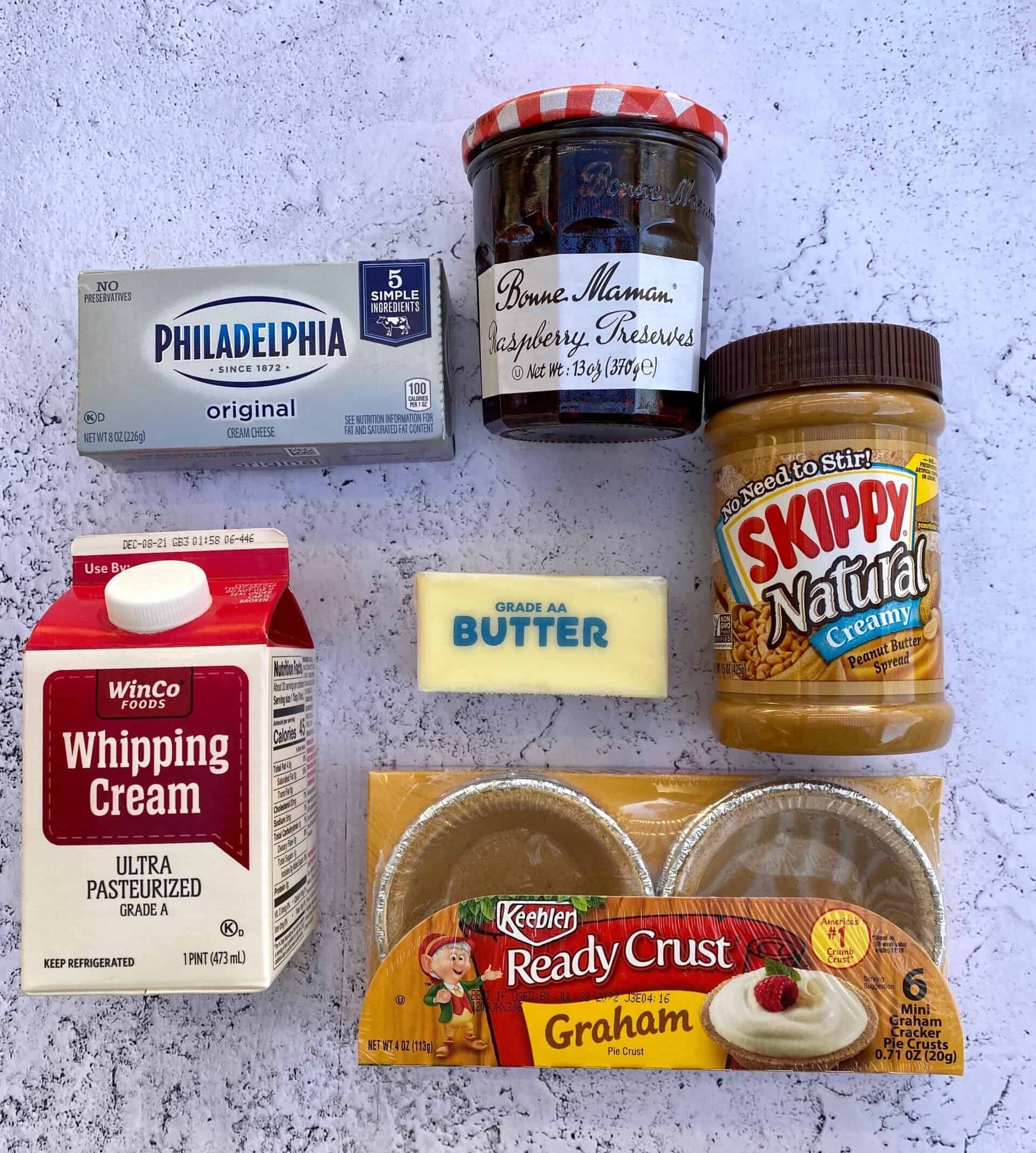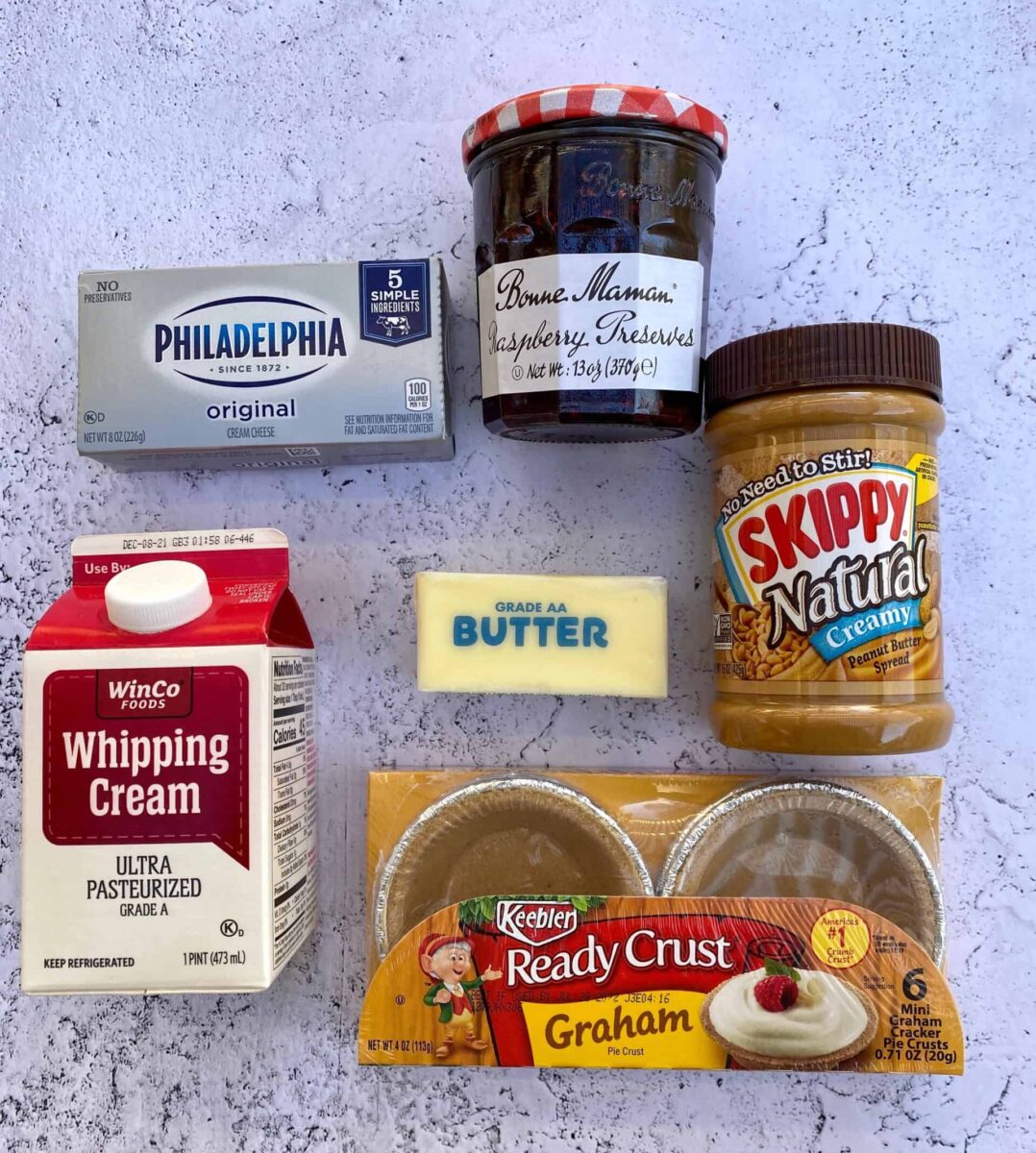 To make the Reese's version, simply swap out the jam for the mini, unwrapped peanut butter cups.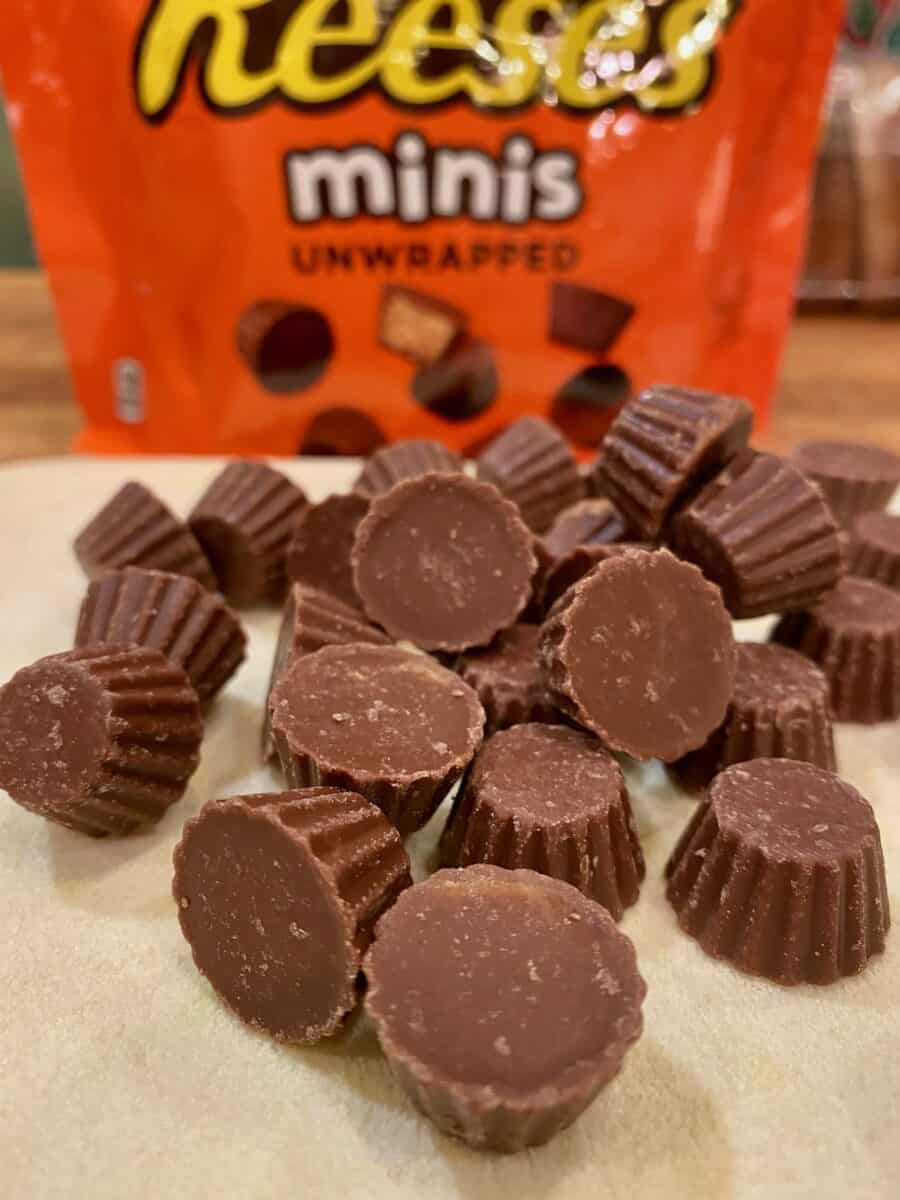 Combine Ingredients
Regardless of whether you are using jam or the Reese's candy as the blend-in treat, our first step is to blend the peanut butter with the cream cheese, sugar and butter. Then mix in the whipped, whipping cream and blend until everything is combined.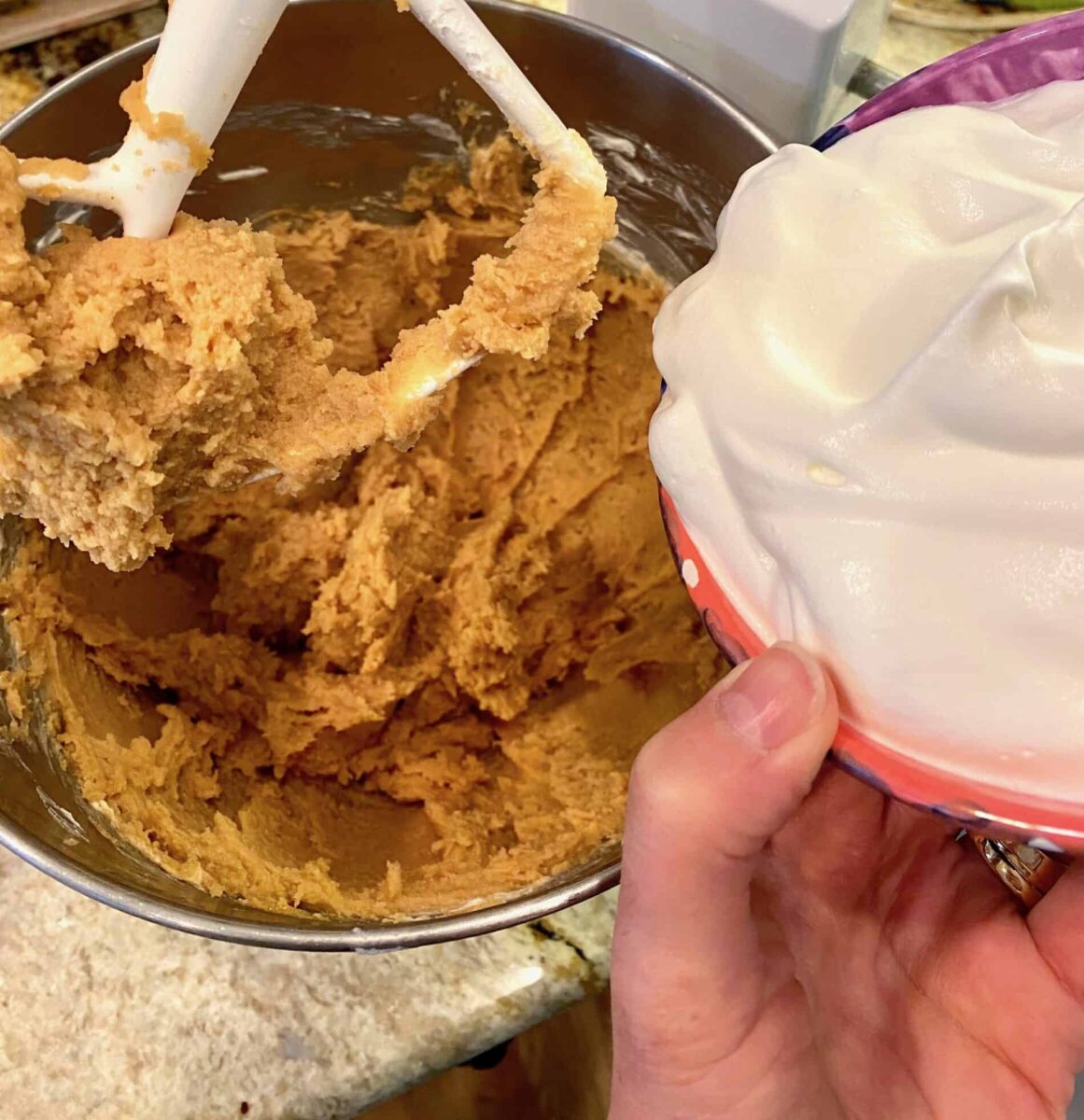 The color and texture of the peanut butter filling is much lighter than peanut butter thanks to the cream cheese and the whipping cream.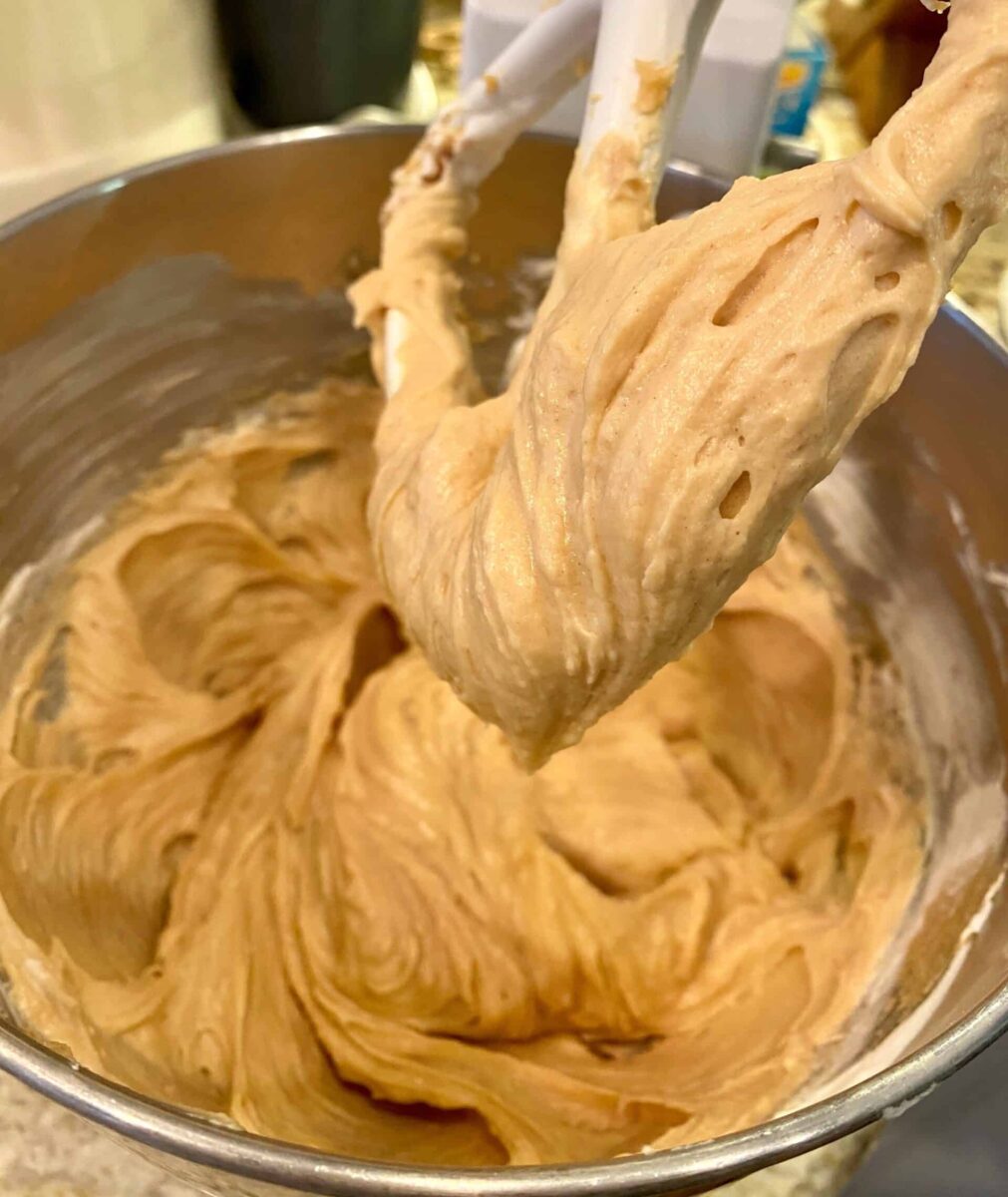 Top Tips and FAQ
Can I use Cool Whip topping instead of whipping cream?
Yes, but the pie filling will have a slightly different texture. In my experience with the recipe, the pies have a creamier texture with whipping cream instead of the imitation whipped topping.
Will this work with a traditional, flaky pie crust?
It sure will. Just be sure to bake and cool the pie crust before adding the peanut butter pie filling.
Do I have to use raspberry jam?
Lots of options here. Use your favorite fruit jam. I'm just a big fan of raspberry. But any variety of jam will work great!
Can I use chunky peanut butter for the filling instead of creamy?
I've never made it using chunky peanut butter so can't say with certainty how it would turn out. Please let me know if you try it that way in the comments below.
Whip the Whipping Cream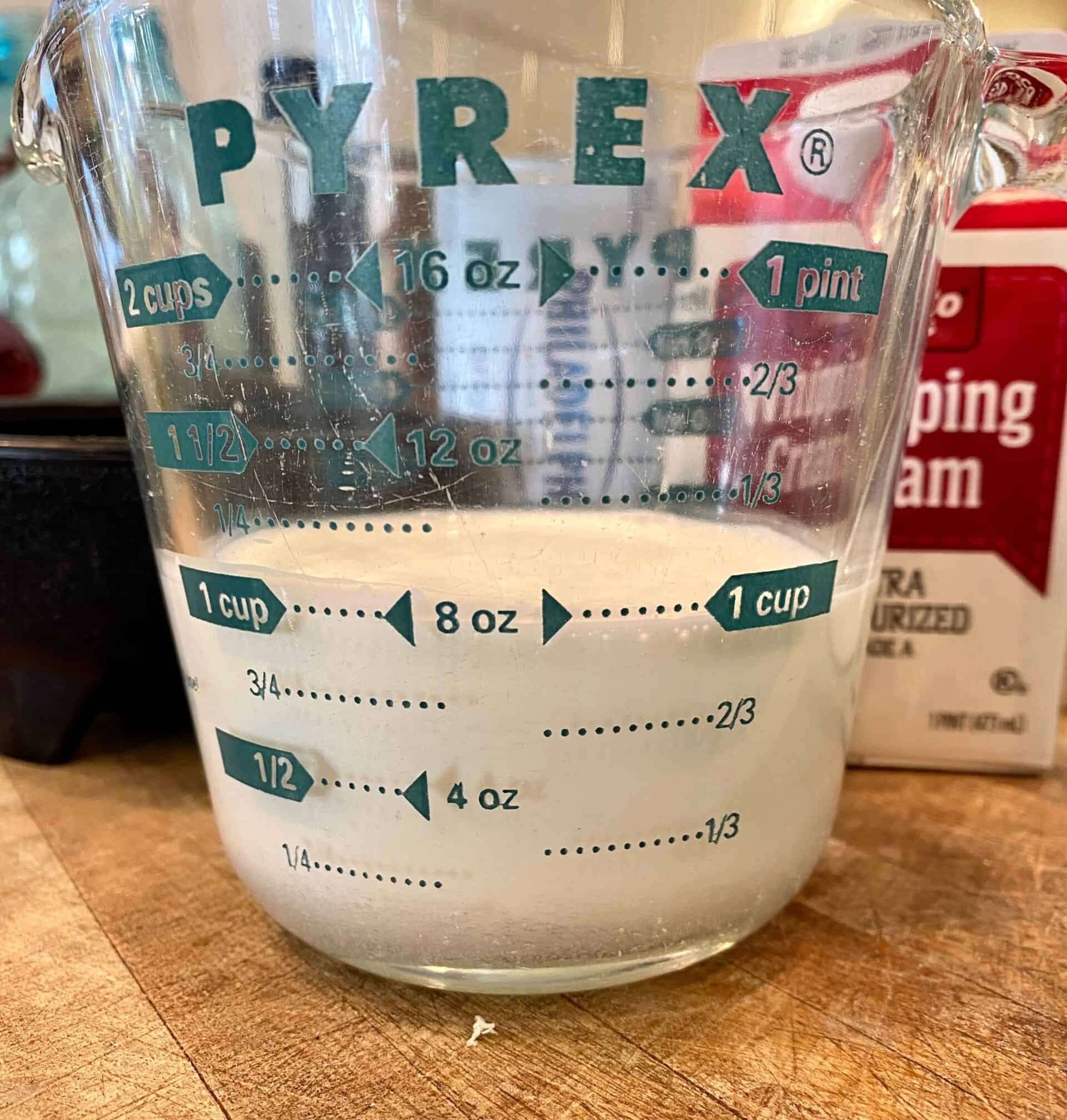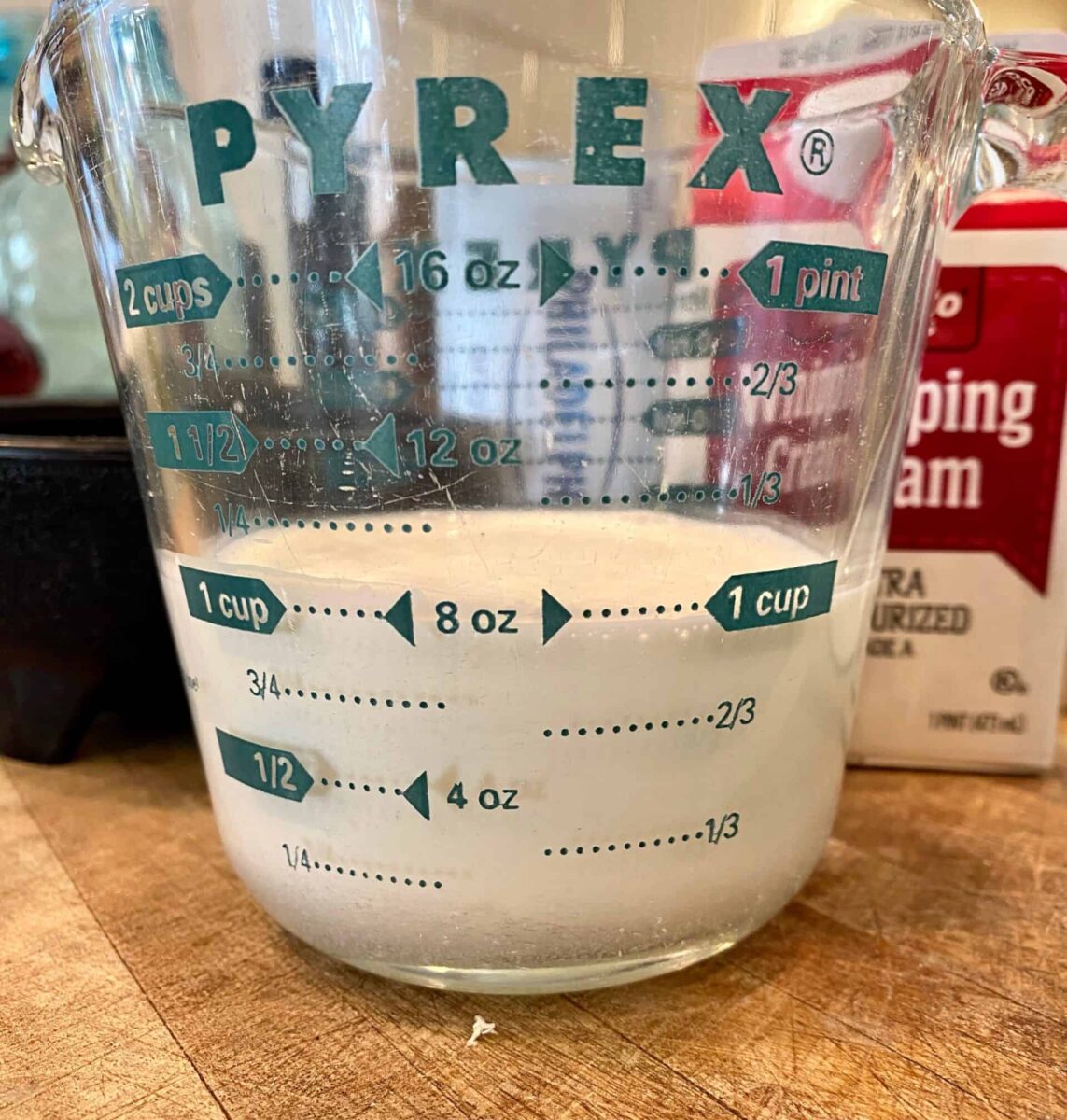 It's easy to do, and there's nothing better than freshly made whipped cream. You can find whipping cream in the dairy section of the grocery store. Place the whipping cream in a bowl and use either your mixer or a whisk to whip until it creates a soft, fluffy texture.
If you have the time, it helps to chill both the bowl and the beaters or whisk before whipping. That's a time-honored tip that helps create the fluffy, puffiness in the whipped cream.
Reese's Peanut Butter Pies
Chocolate and peanut butter are a decadent combination and this version of peanut butter pies is perfectly suitable for even the most elaborate of dessert occasions.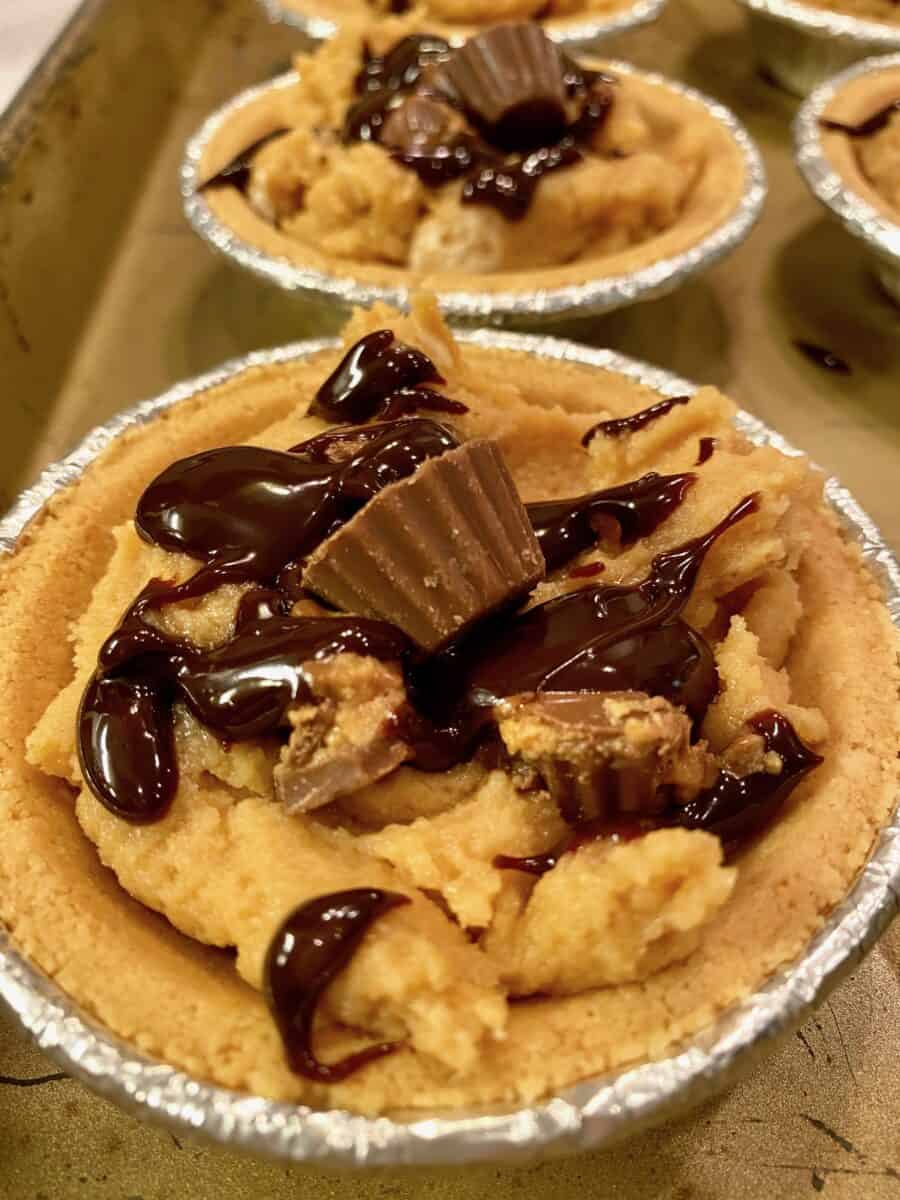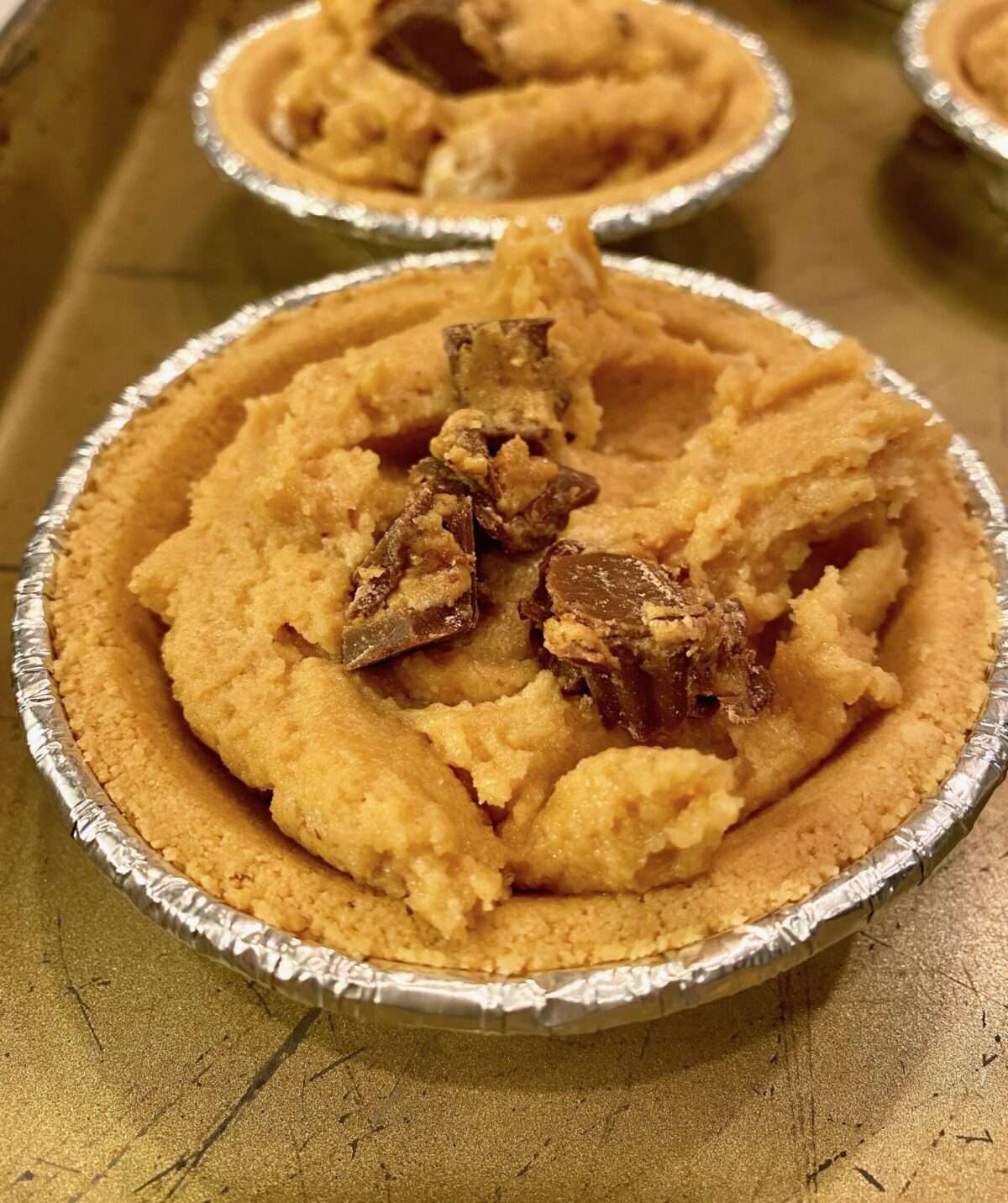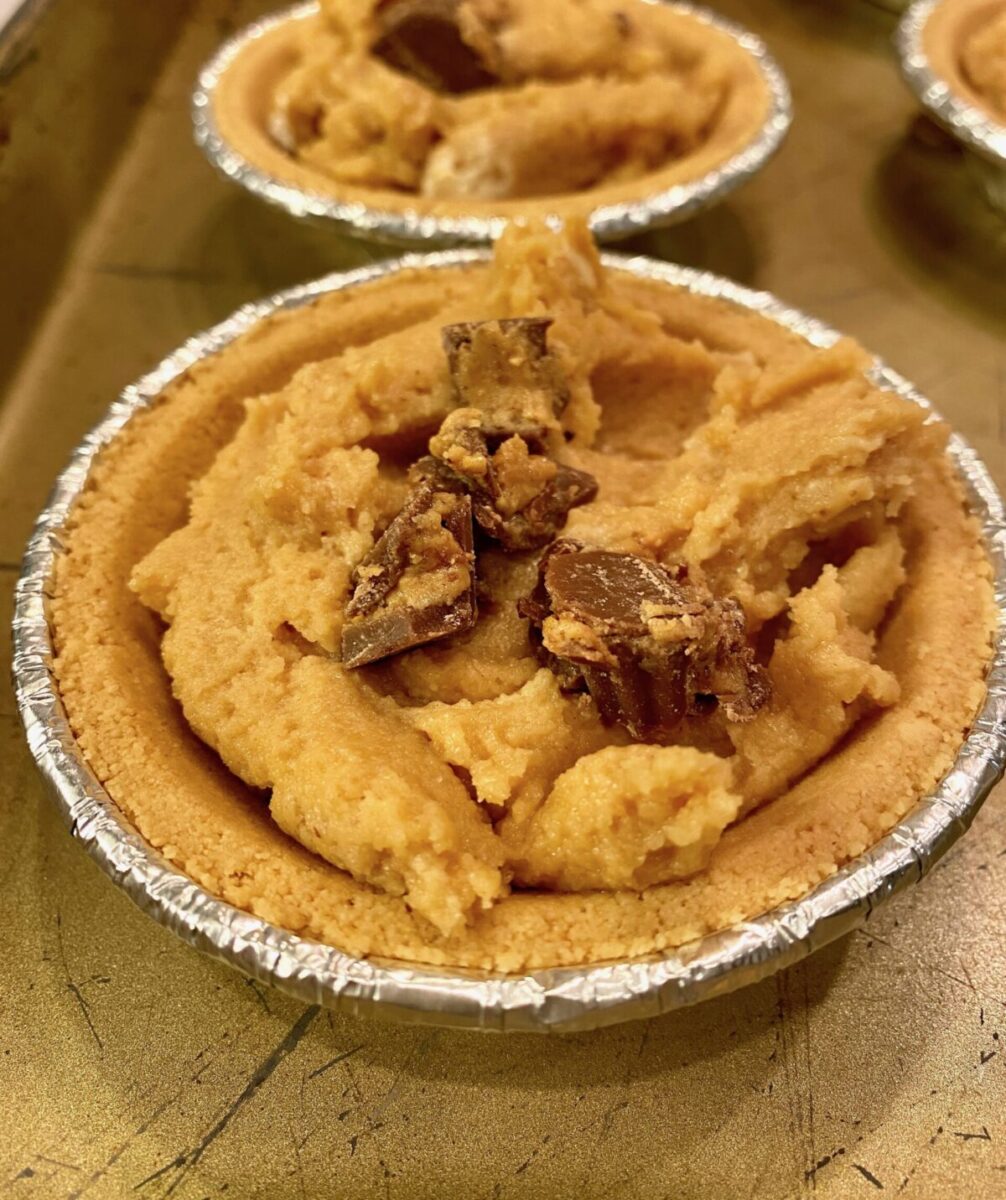 If you are making Reese's peanut butter pies, follow the same instructions in the recipe but swap out Reese's minis for the jam.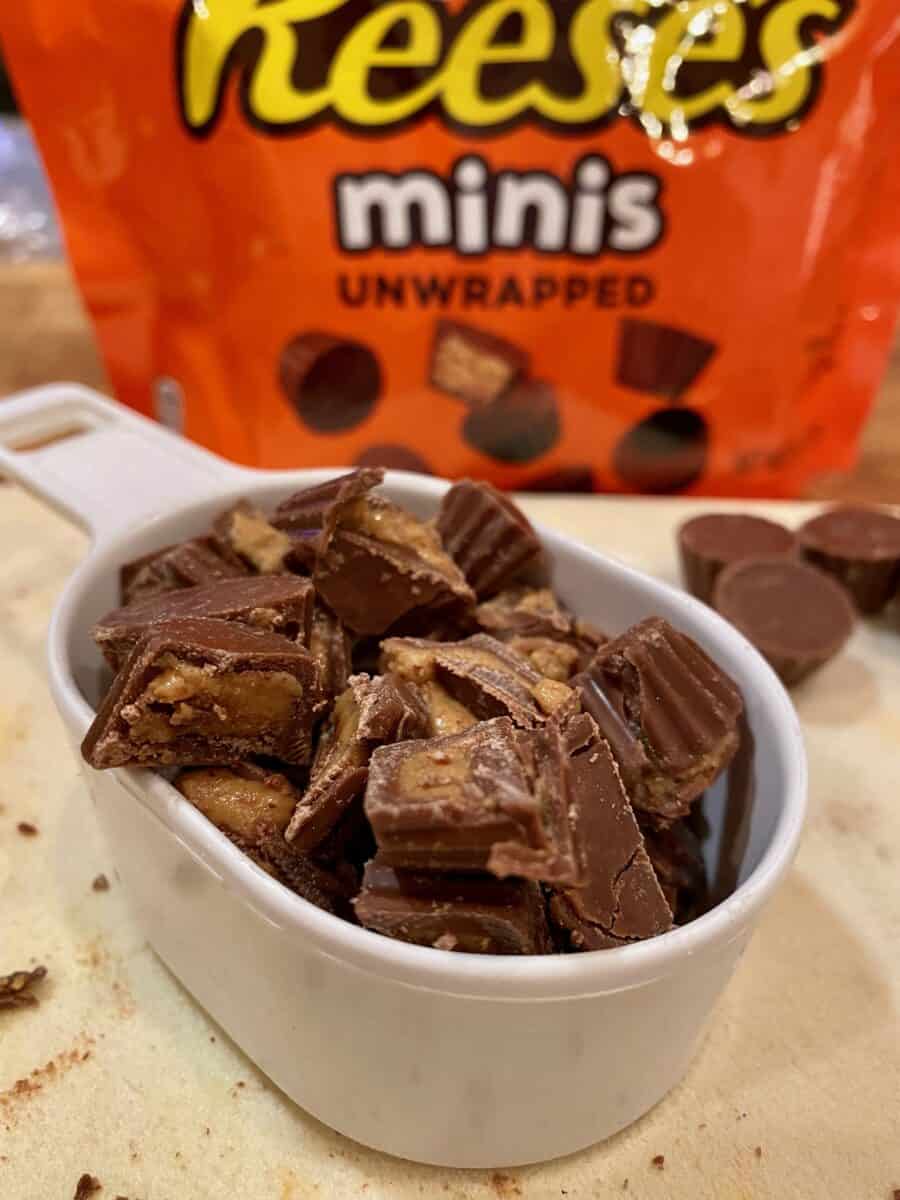 Slice the mini Reese's peanut butter cups into two or three pieces then place a whole mini on the top of each pie.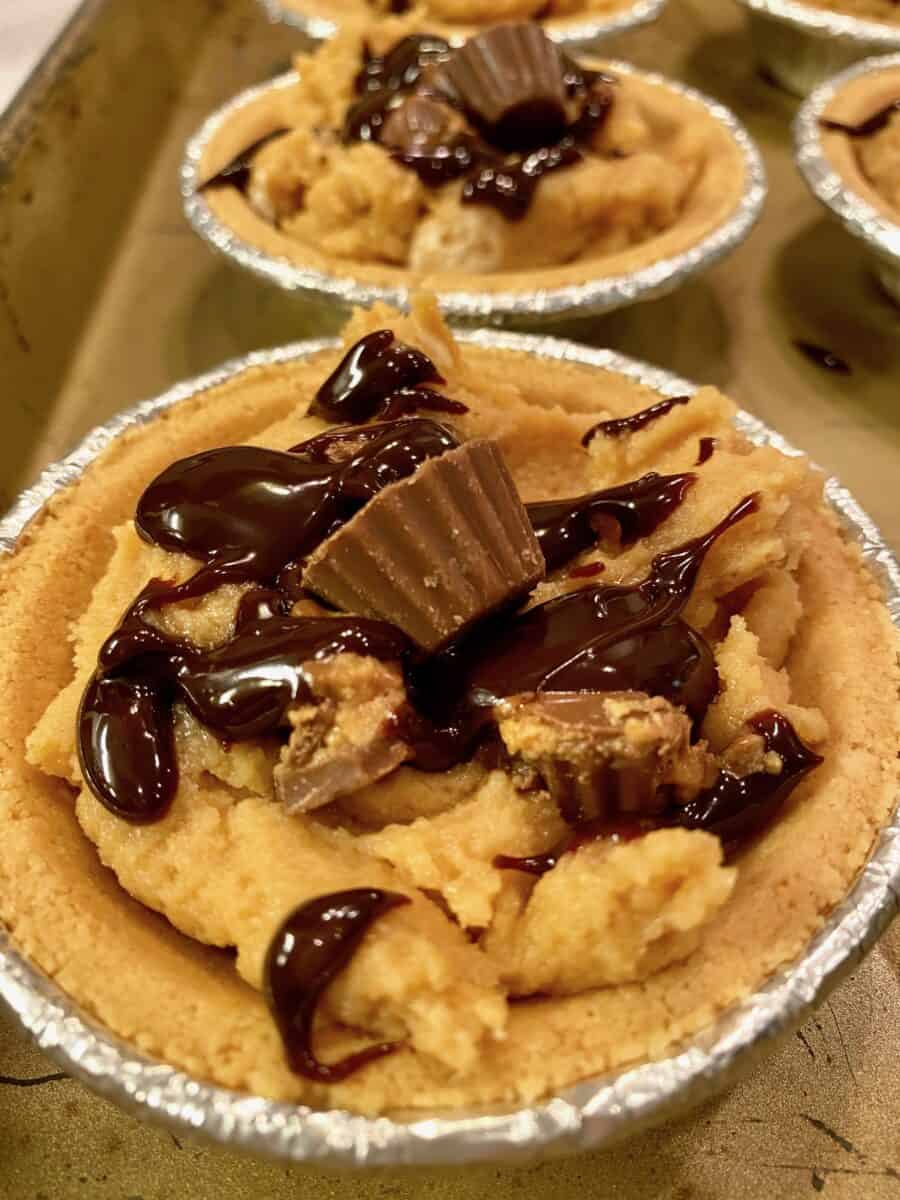 A teaspoon or so of hot fudge sauce is a delicious topping and helps each little pie taste almost exactly like a Reese's peanut butter cup.
Peanut Butter and Jam Pie
The instructions are the same for either version of these pies. All that's different is the sweet treat that you decide to mix in. Either jam or Reese's candy.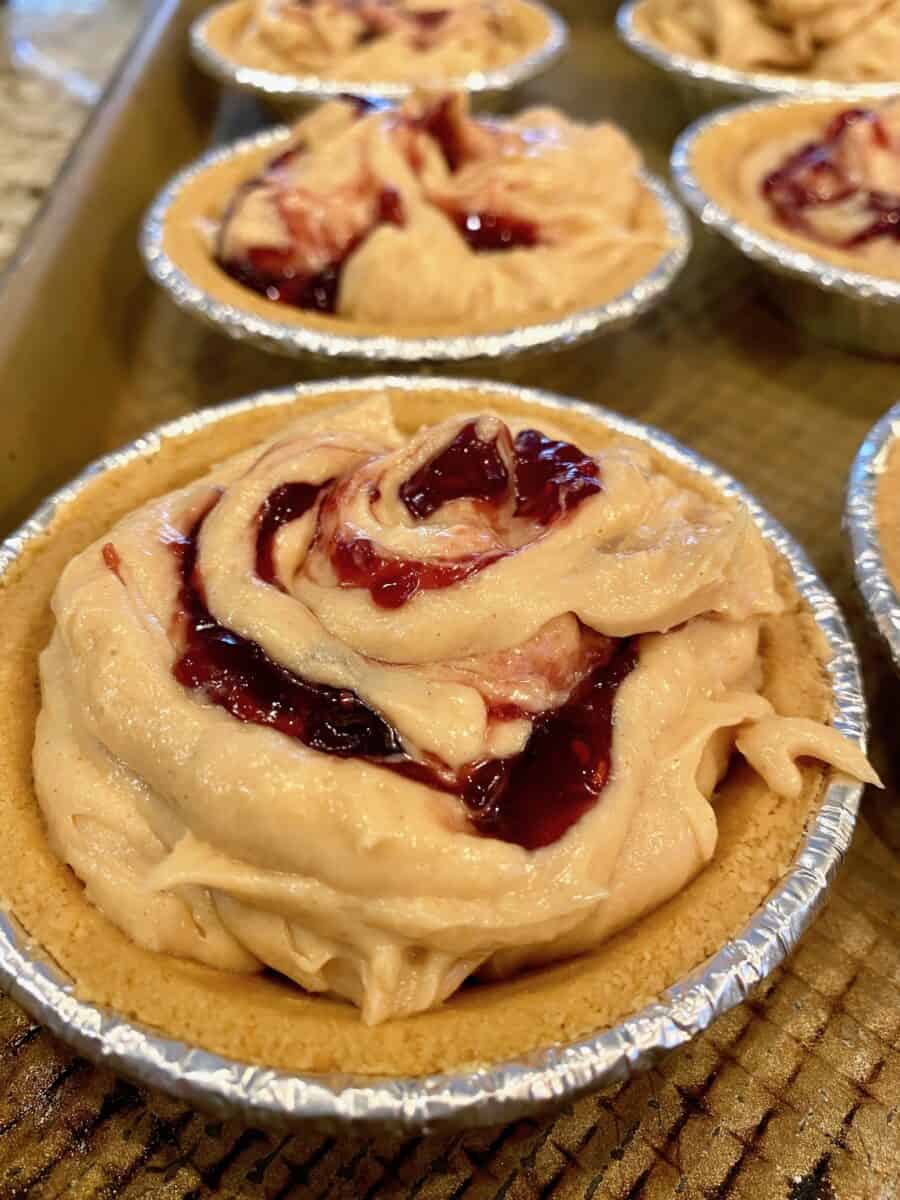 The mini pies are the perfect-sized dessert.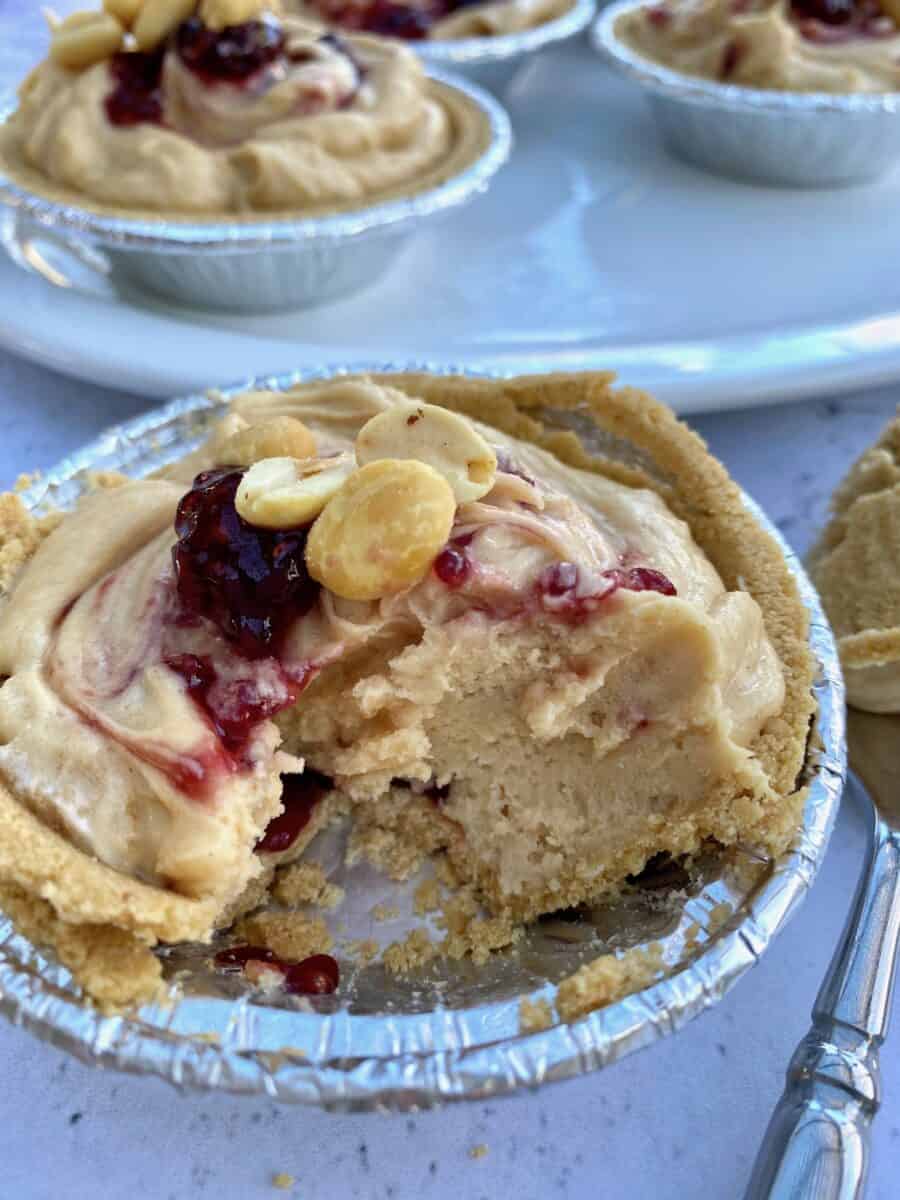 Mini Pies or a 9" Pie
The mini pies are fun to serve, but if you're rather use a pre-baked 9" pie crust or 9" graham cracker crust this recipe will fill up the pie dish perfectly.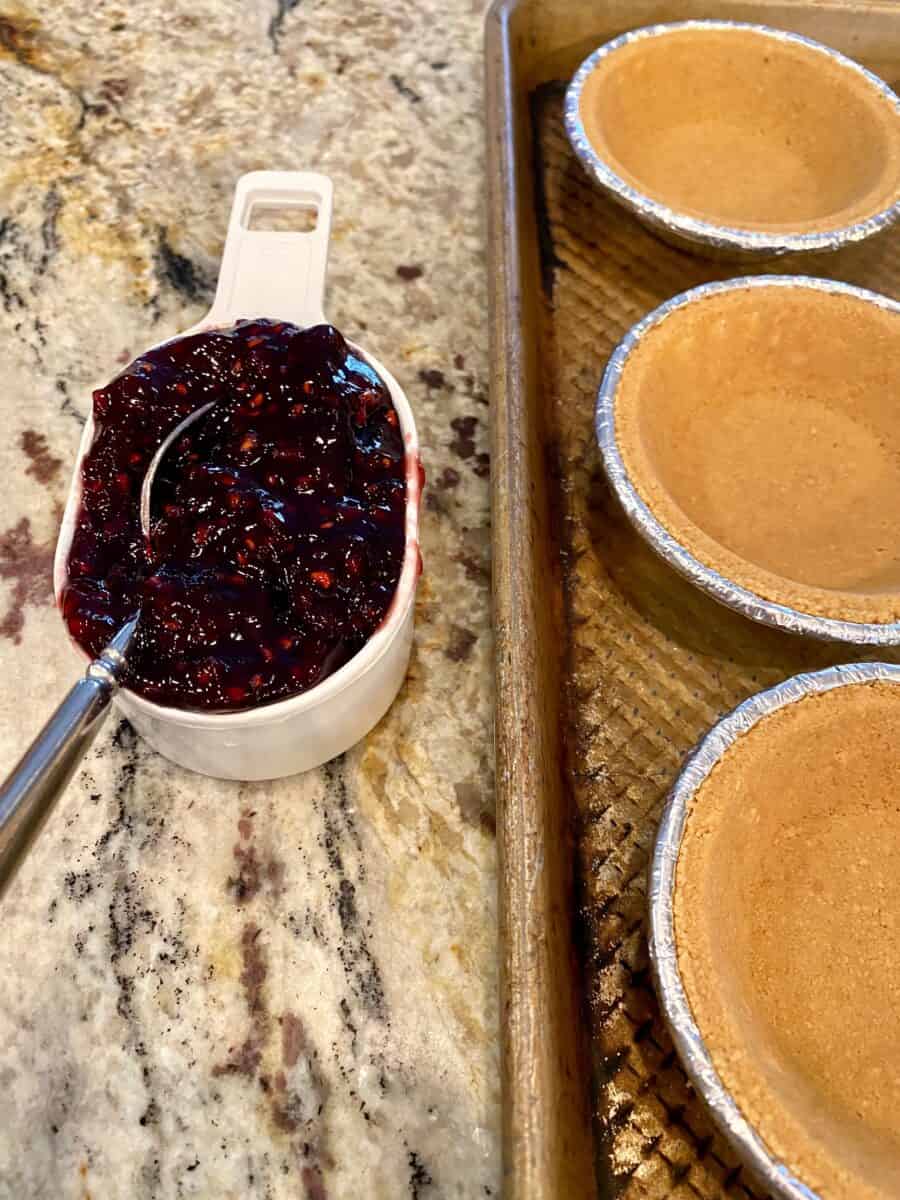 Crust Options
This is a no-bake dessert, so you could use a pre-made graham cracker crust from the grocery store or a flaky pastry crust that you've made from scratch. Just be sure to bake and fully prepare the crust before adding the peanut butter filling.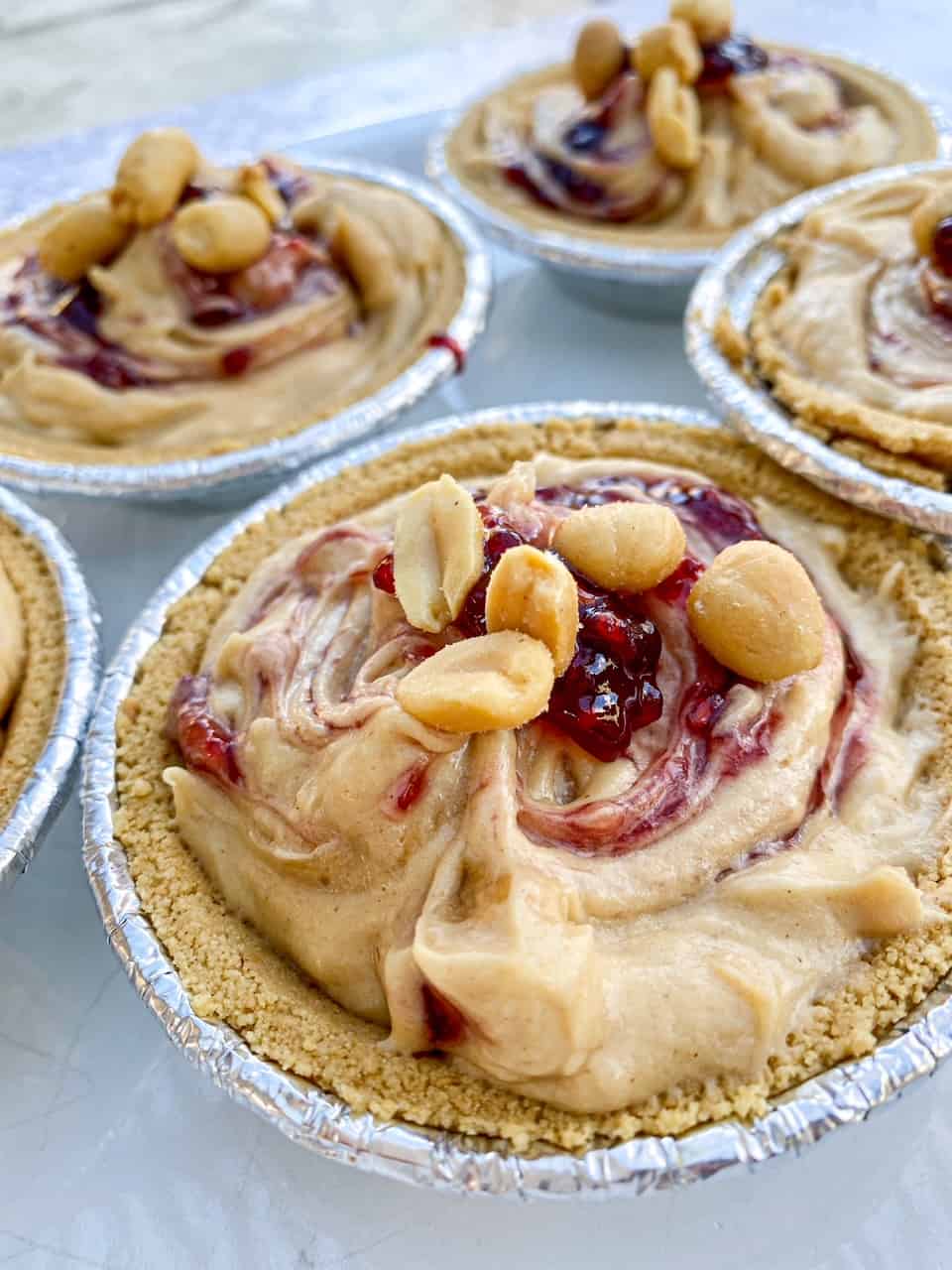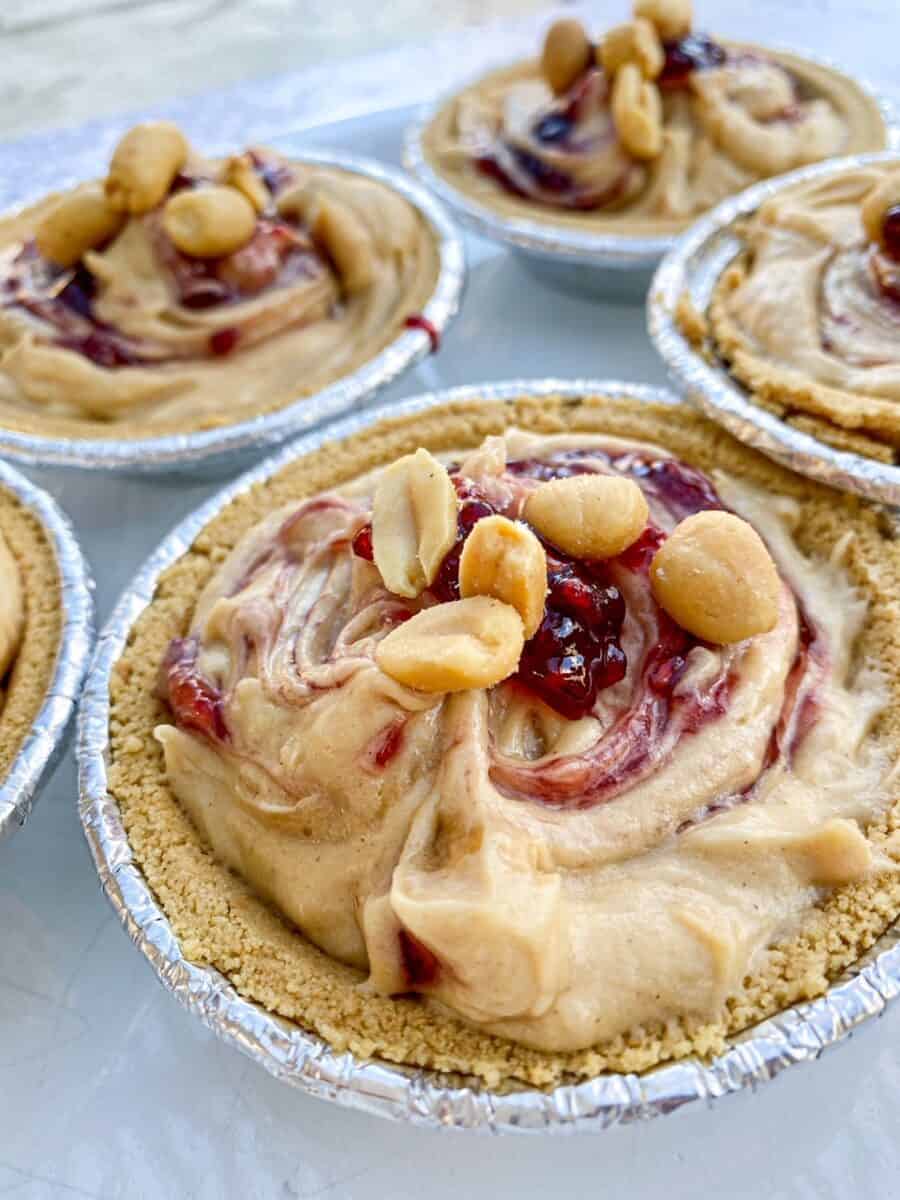 The jam option of this recipe is reminiscent of the classic flavor in a PB and J sandwich.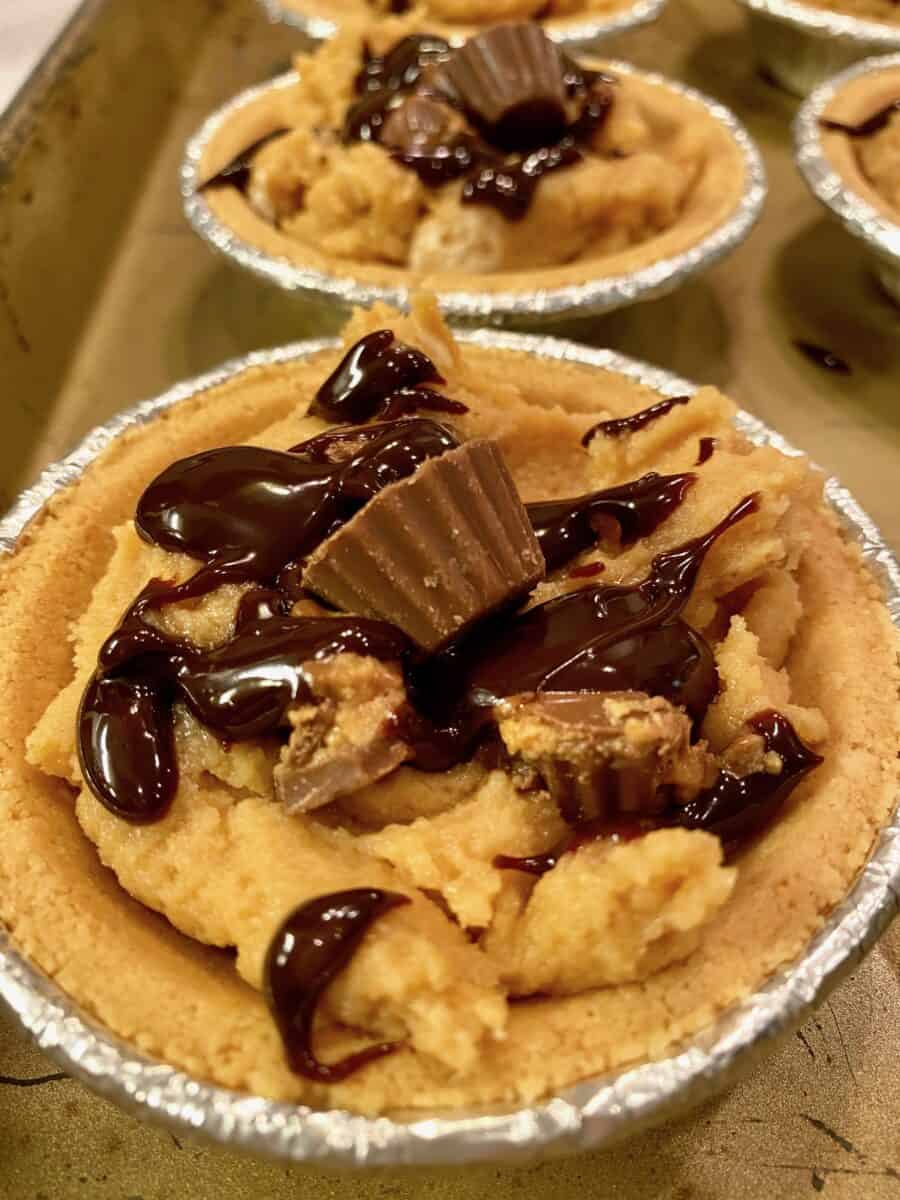 The Reese's option simply combines two great flavors into one delicious and impressive sweet treat.
Storage
Store the peanut butter pies covered lightly with plastic wrap in the refrigerator and enjoy them within 5-7 days. You can prepare them ahead of time and freeze. Place them in a zip top freezer bag and defrost for one day in the refrigerator before eating.
More Pie Recipes
Pies are a delicious dessert any time of year and as a part of any holiday year around. Here are a few more pie recipes that I think you'll enjoy!