Easy No Bake Peanut Butter Pie is a creamy combination of smooth peanut butter filling along with your choice of a blend-in sweet ingredient. Use your favorite fruit jam or Reese's peanut butter candy to create a crowd-pleasing, no-bake peanut butter dessert.
Note: Links in the recipe are paid links, Amazon Associates. This means I make a small commission when you click and shop. Your cost is always the same and I only link to and recommend ingredients that I use.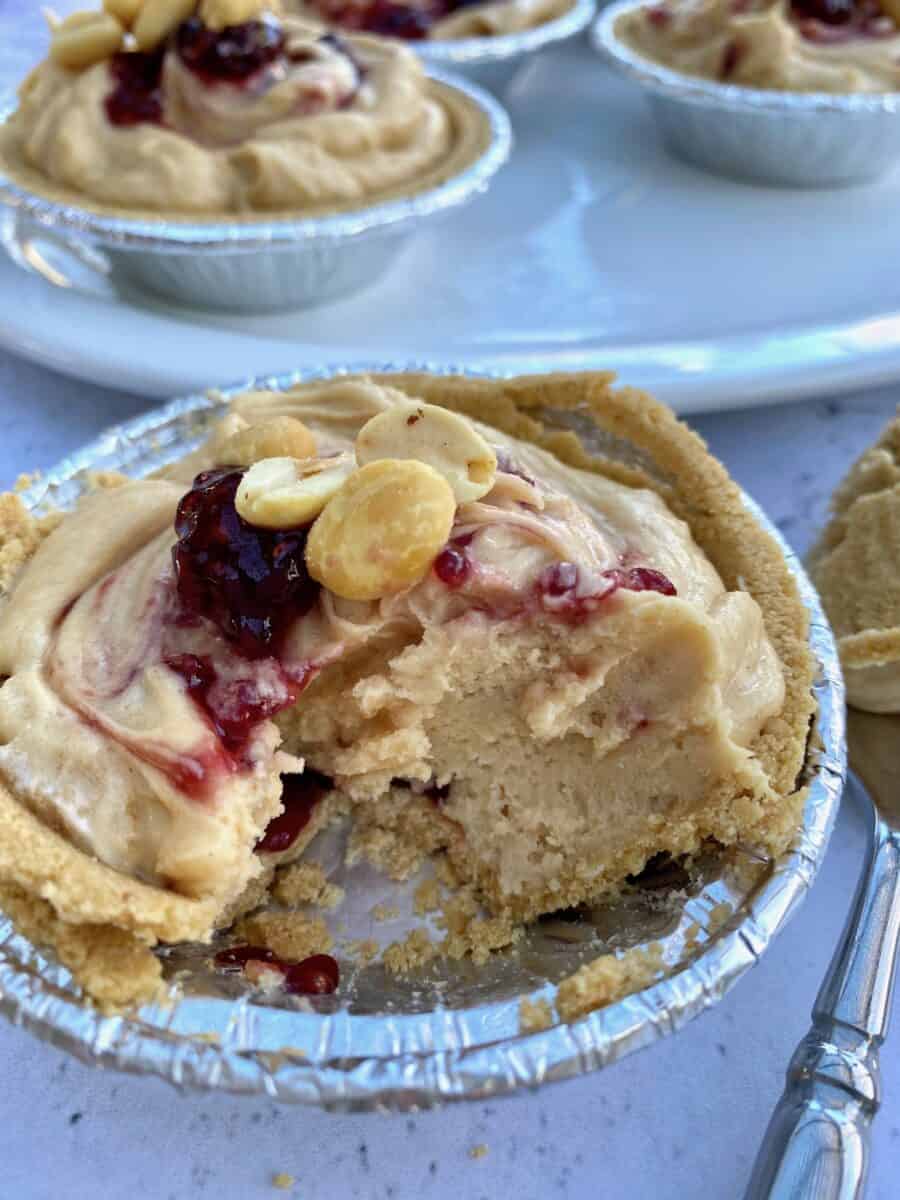 Jump to:
Ingredients to Have on Hand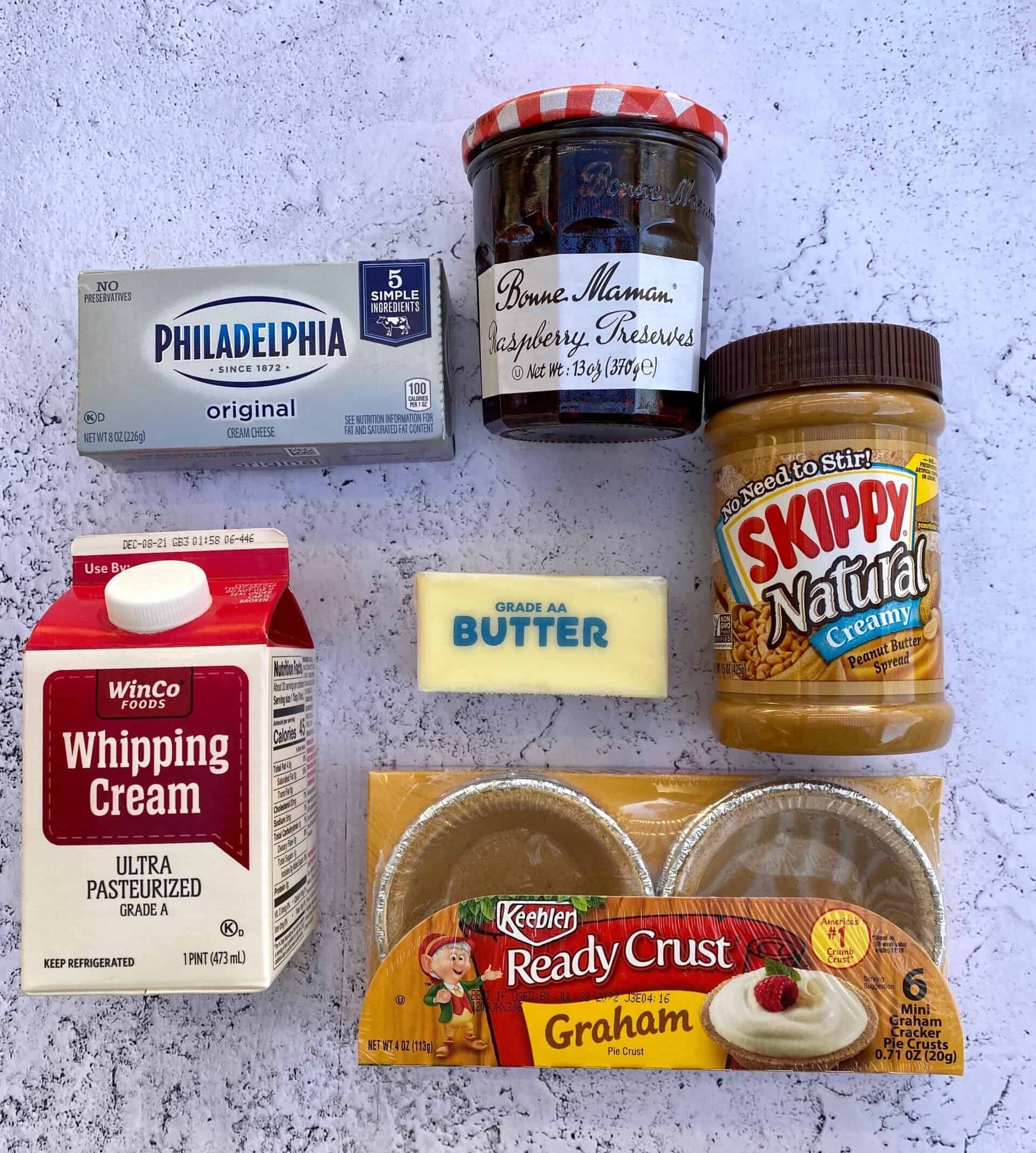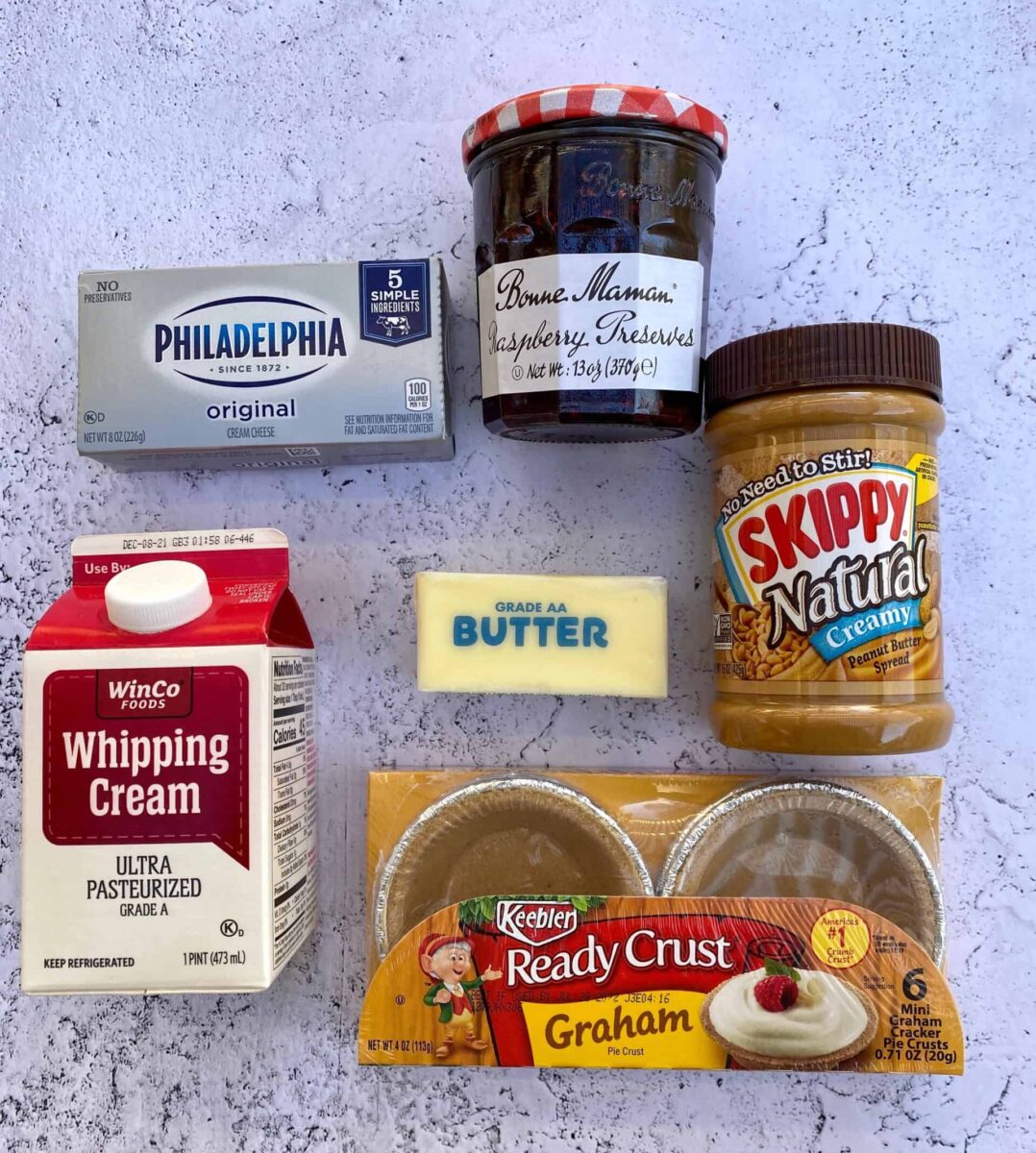 Pie Filling Variations
Peanut butter pie is known for its decadent texture and intense peanut butter flavor, making it a popular dessert for peanut butter lovers of all ages.
It can be a perfect treat for any occasion, whether it's a family gathering, holiday feast, or a simple weeknight dessert.
We have so many variations to choose from when we make these peanut butter pies, whether you blend it with your favorite flavor of jam, chocolate chips or diced mini-Reese's peanut butter cups.
These peanut butter pies are winners every time!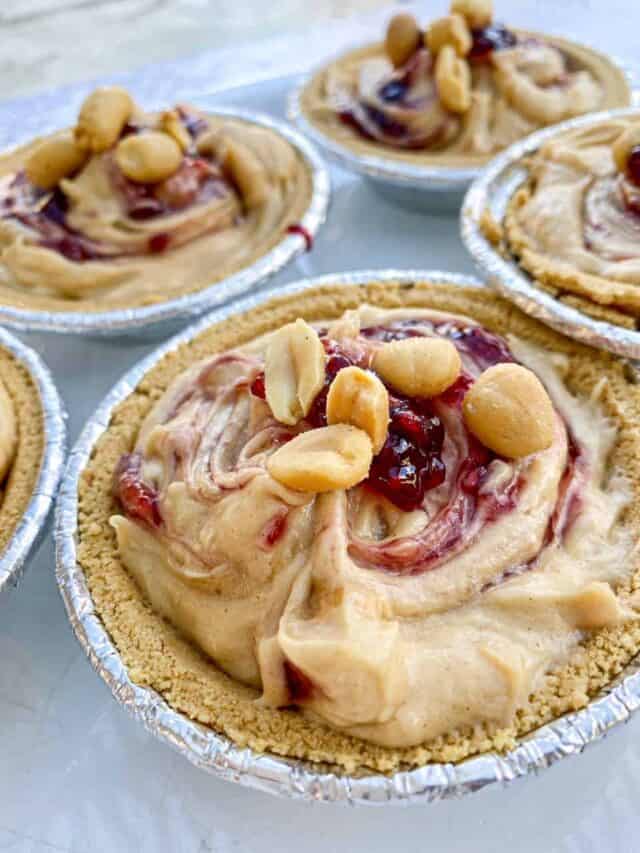 Choose Your Filling
Easy No Bake Peanut Butter Pie is usually served chilled and there are several great options for garnishing and blending in delicious flavor.
This pie lives up to its name too, there's no need to use the oven to make this wonderful dessert. Use a store-bought graham cracker crust.
Blend into the pie filling whichever of these options sounds tasty for your family:
Chopped peanuts
Jam
Jelly
Chocolate chips
White chocolate chips
Reese's Peanut Butter cups, chopped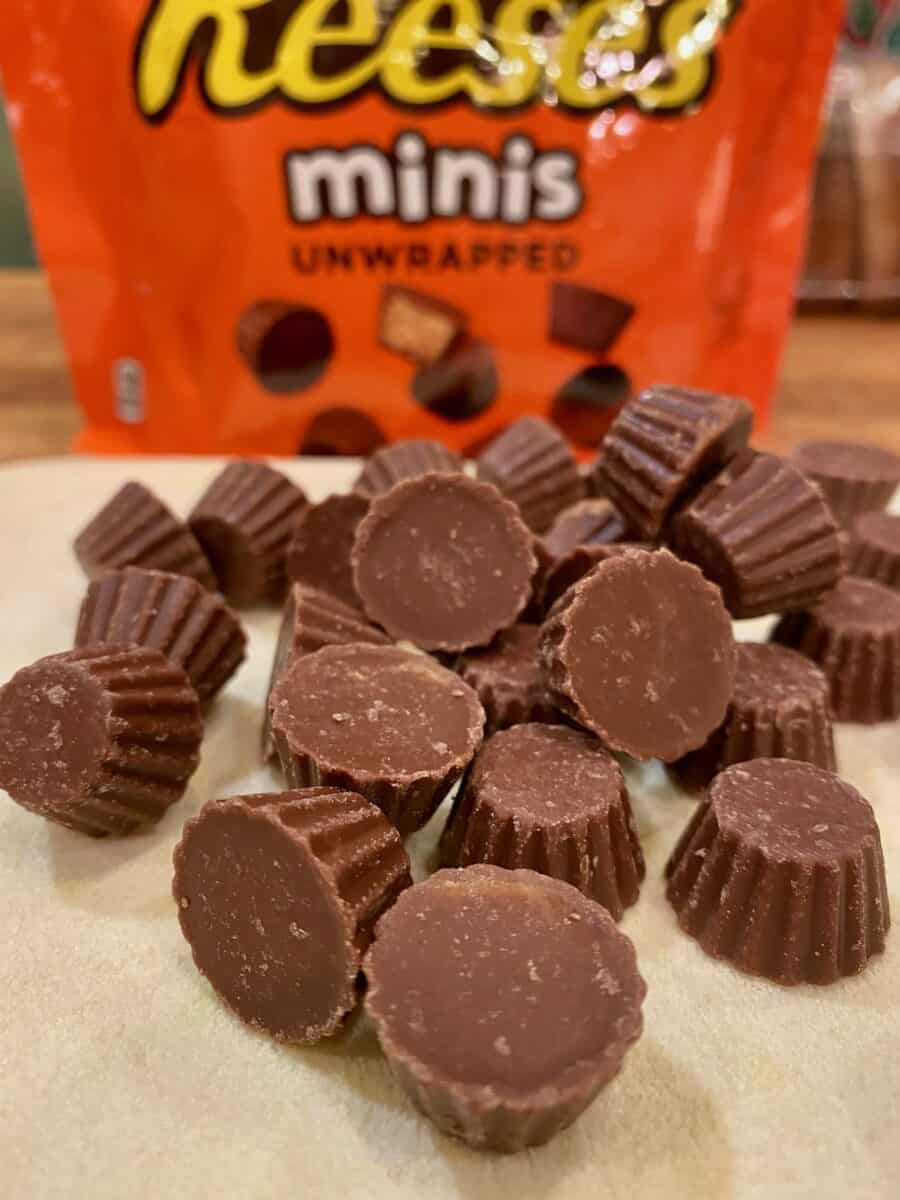 Garnishes on top of the pies add even extra flair when we serve them, here are topping options for peanut butter pies. Mix and match depending on which ingredients you blend with the pie filling:
Whipped cream
Chopped peanuts
A drizzle of chocolate sauce
How to Make the Pie Filling
Regardless of which ingredients you blend in with your pie filling, our first step is to make the filling. Start by preparing the whipping cream.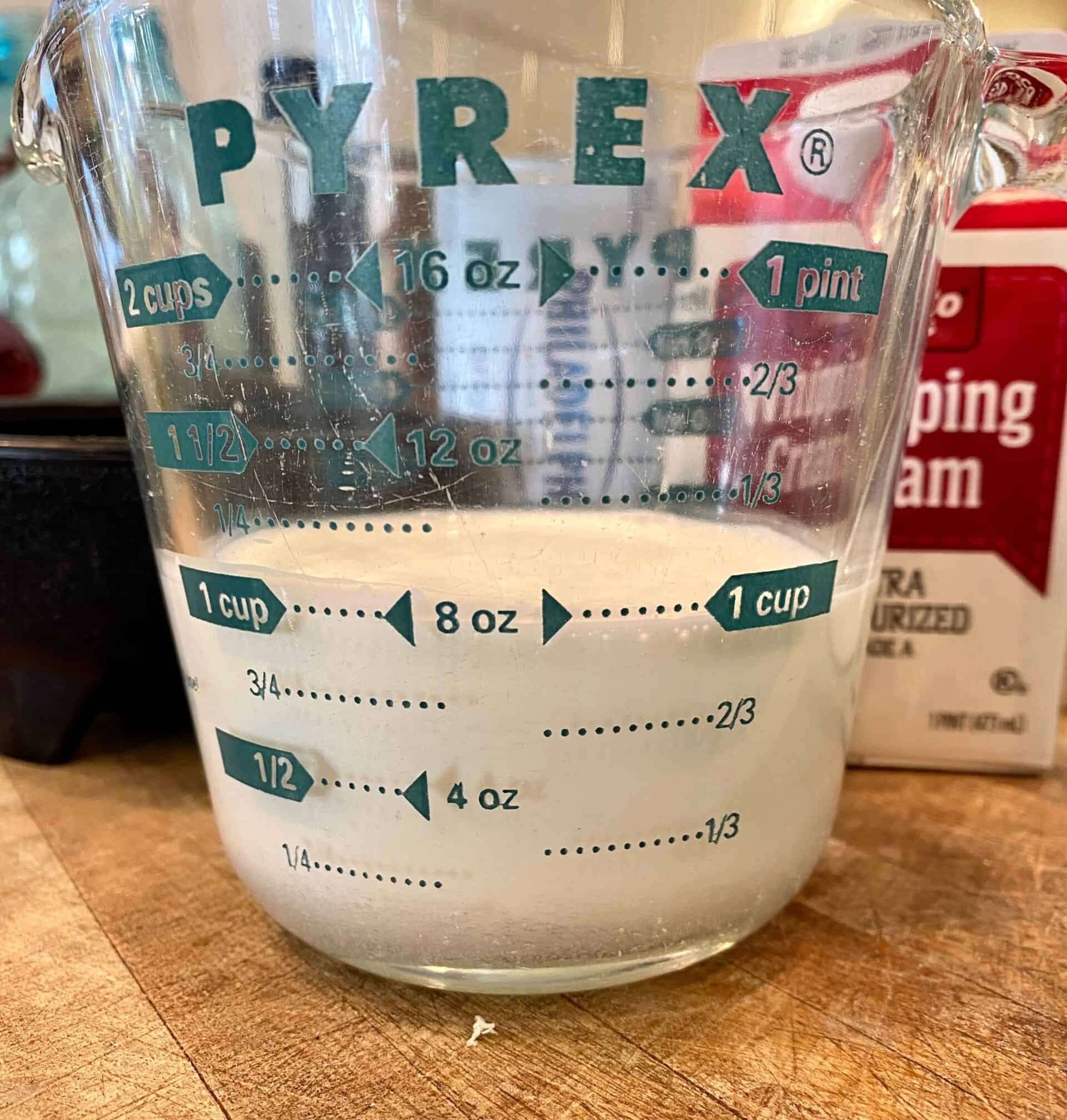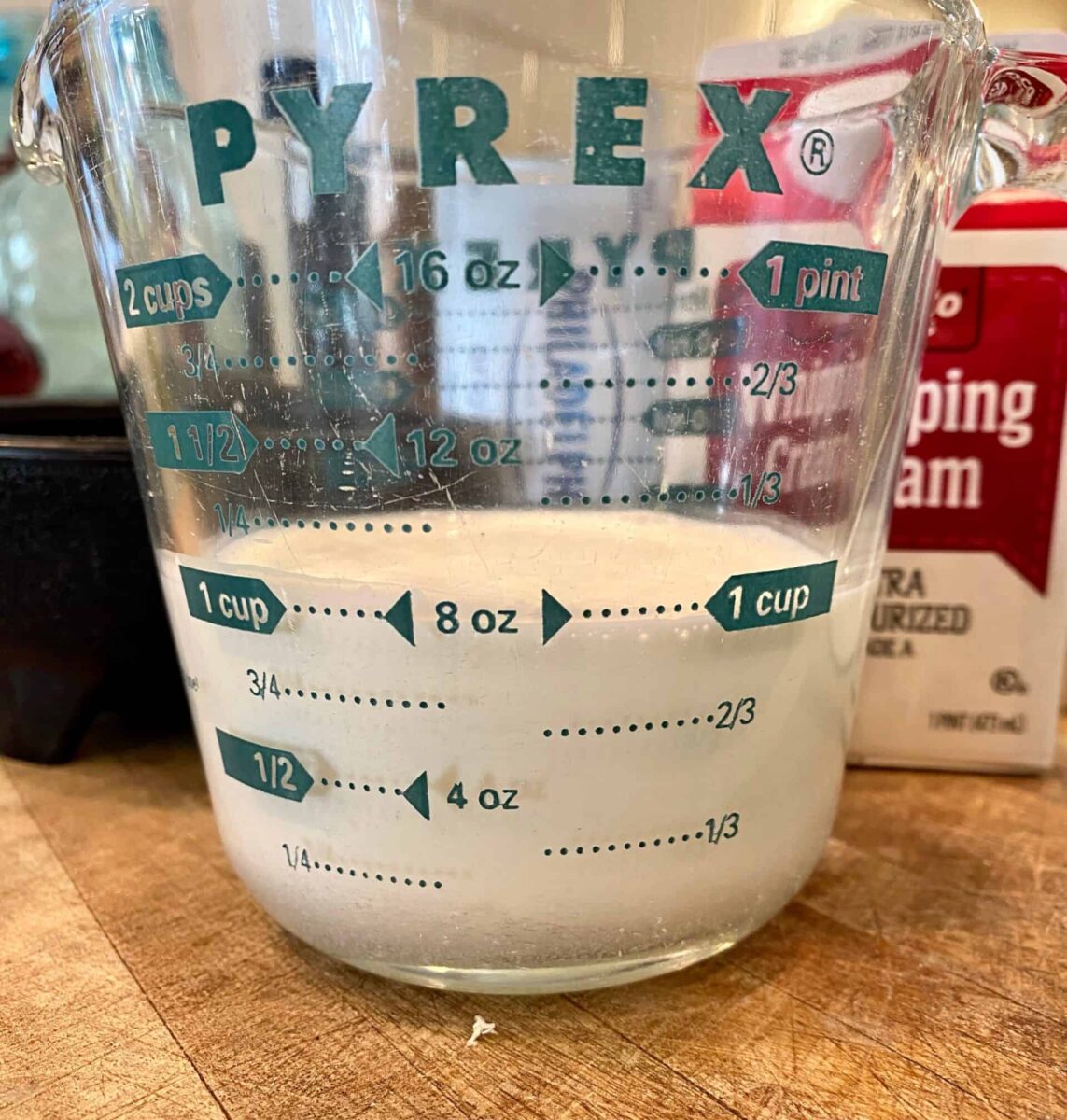 It's easy to make, and there's nothing better than freshly made whipped cream in this peanut butter pie filling. It's so silky and creamy!
If you have the time, it helps to chill both the bowl and the beaters or whisk before whipping. That's a time-honored tip that helps create the fluffy, puffiness in the whipped cream.
Step One: Place the whipping cream in a bowl and use either your mixer or a whisk to whip the liquid until it creates a soft, fluffy texture. Set aside.
Step Two: In a mixing bowl, blend the peanut butter with the cream cheese, sugar and butter.
Step Three: Gently mix in the whipped, whipping cream.
Step Four: Blend until everything is combined.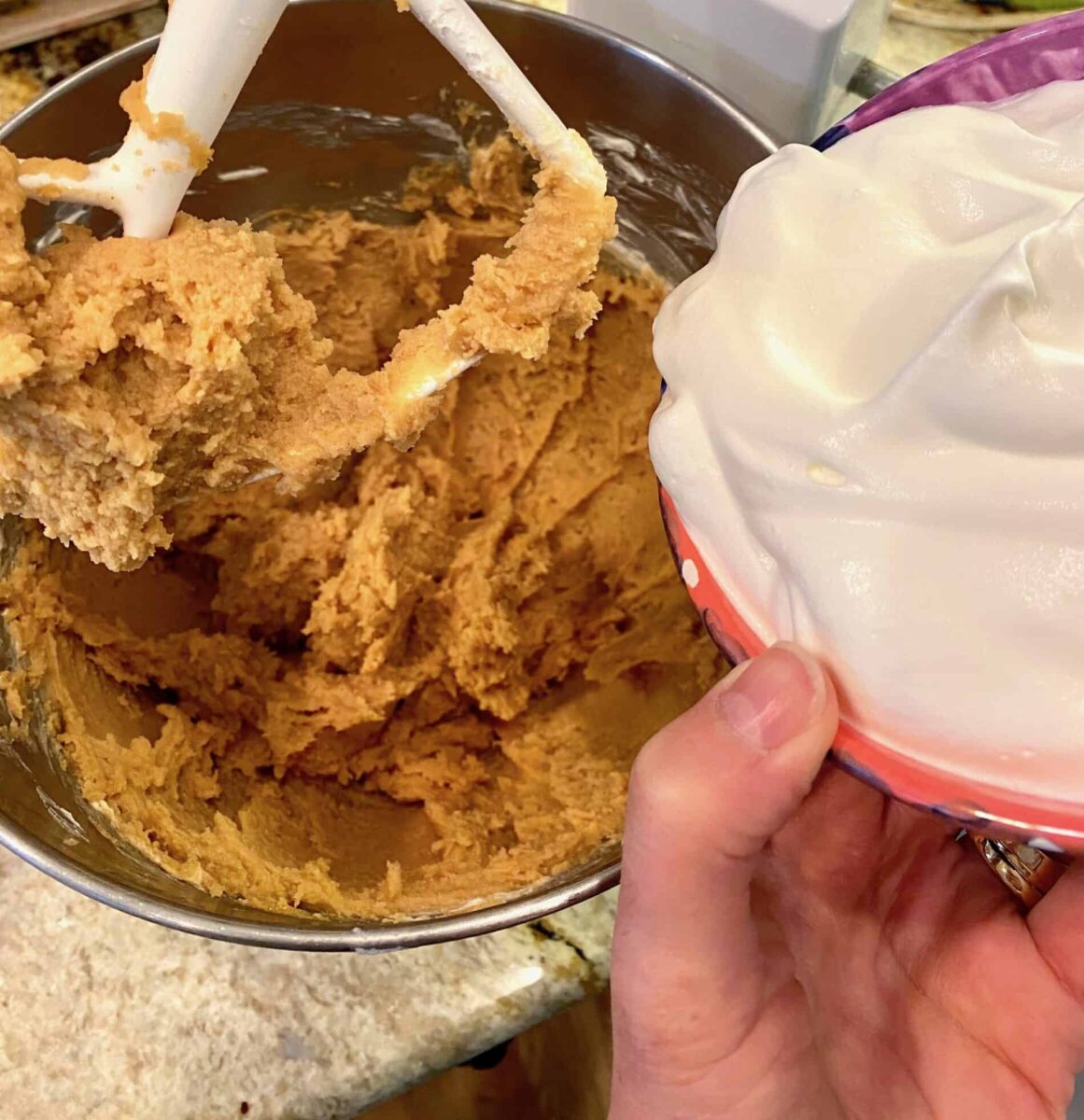 You'll notice the color and texture of the peanut butter pie filling is much lighter than peanut butter from the jar, thanks to the cream cheese and the whipping cream.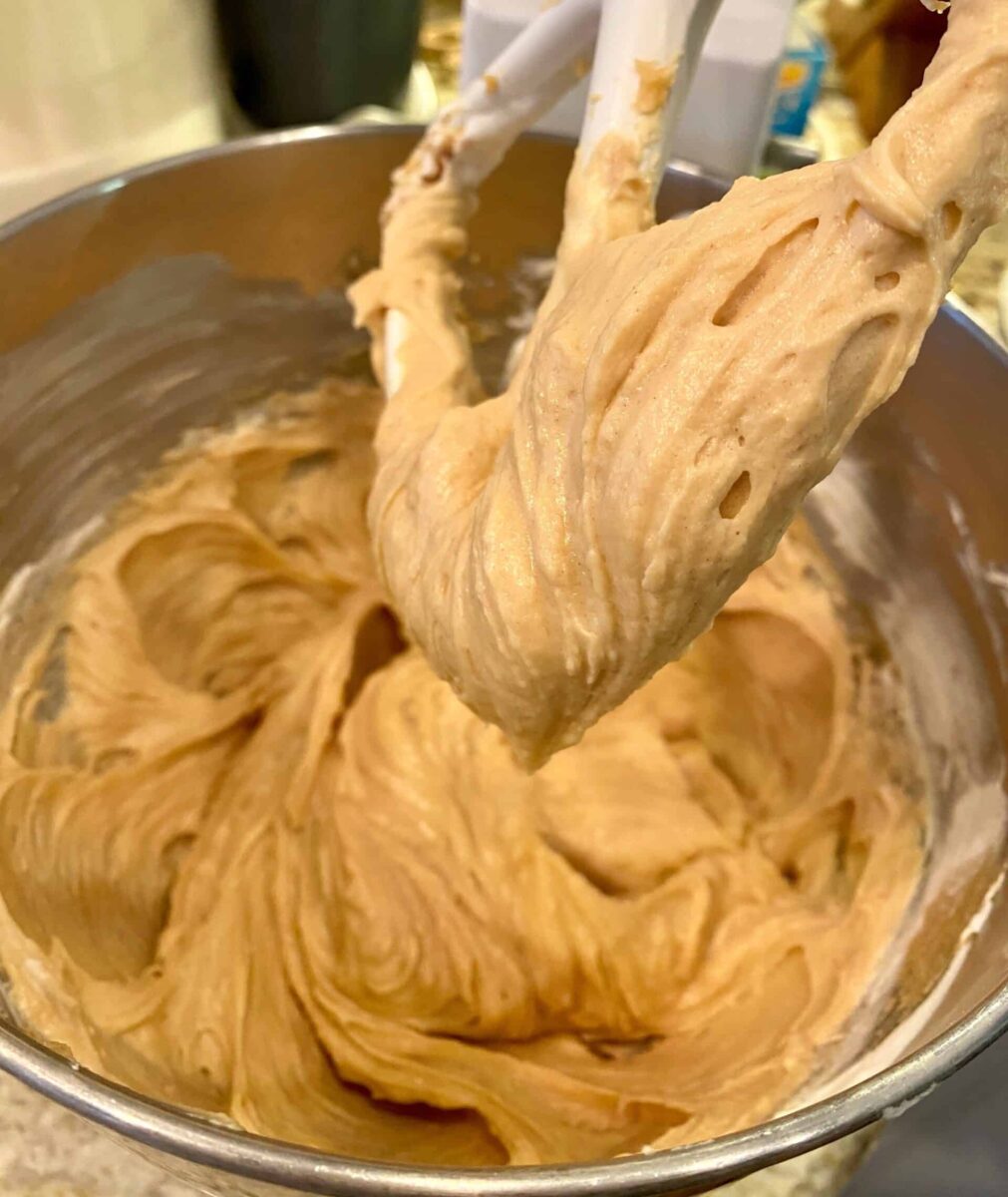 How to Make a Peanut Butter and Jam Pie
One of the best things about peanut butter pie is that it's so versatile. You can keep is simple with no additional ingredients blended into the filling or add jam and enjoy the comforting flavor combination reminicent of a peanut butter and jelly sandwhich.
Here's how to make a No Bake Peanut Butter Pie with Jam step by step.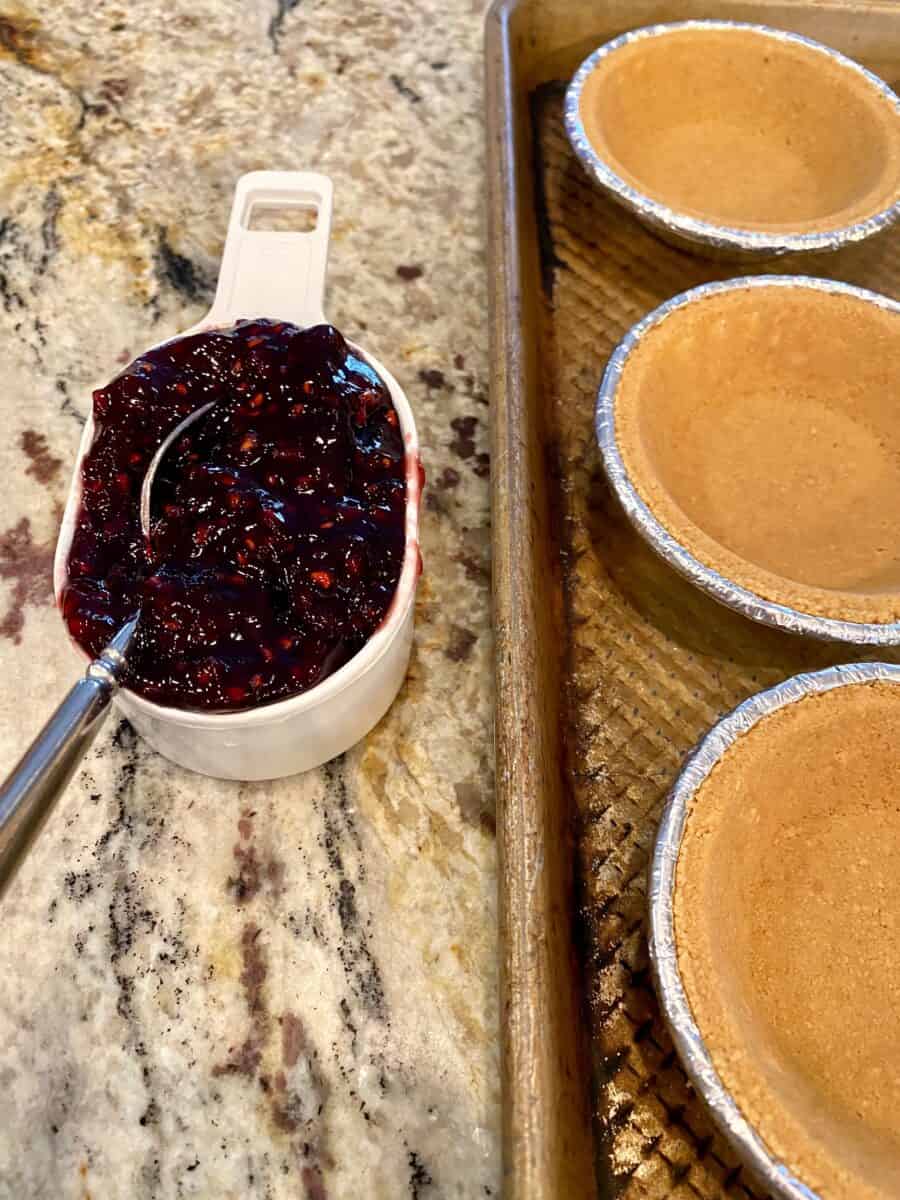 Step One: Place the pre-baked or store bought graham cracker crusts on a baking sheet. Place about a teaspoon of jam on each crust.
Step Two: Spoon about three tablespoons of peanut butter pie filling mixture on top of the jam. Use a sharp knife to gently swirl the jam and peanut butter mixture.
Step Three: Top with another teaspoon of jam on each pie and a few peanuts for garnish.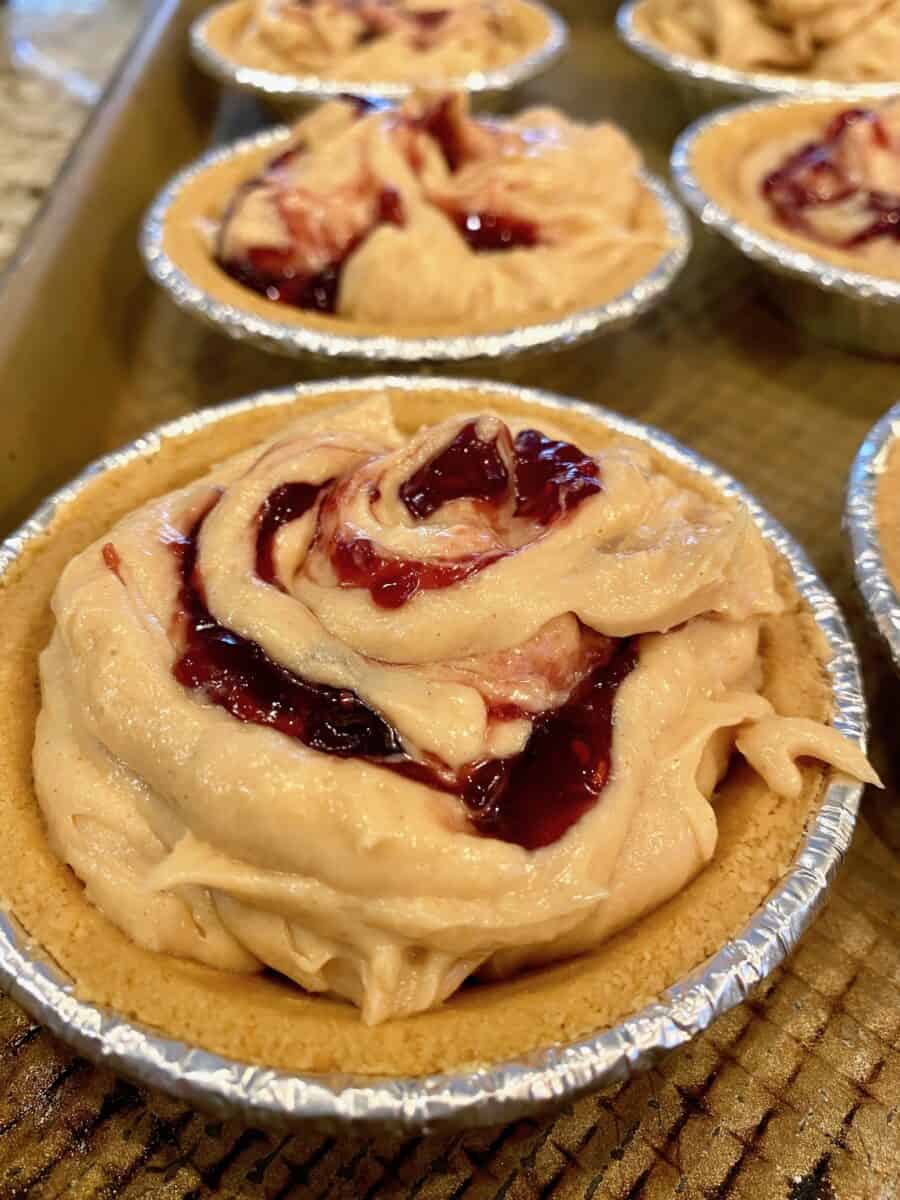 Place the baking sheet with the mini pies in the refrigerator, uncovered. Chill until firm, about an hour.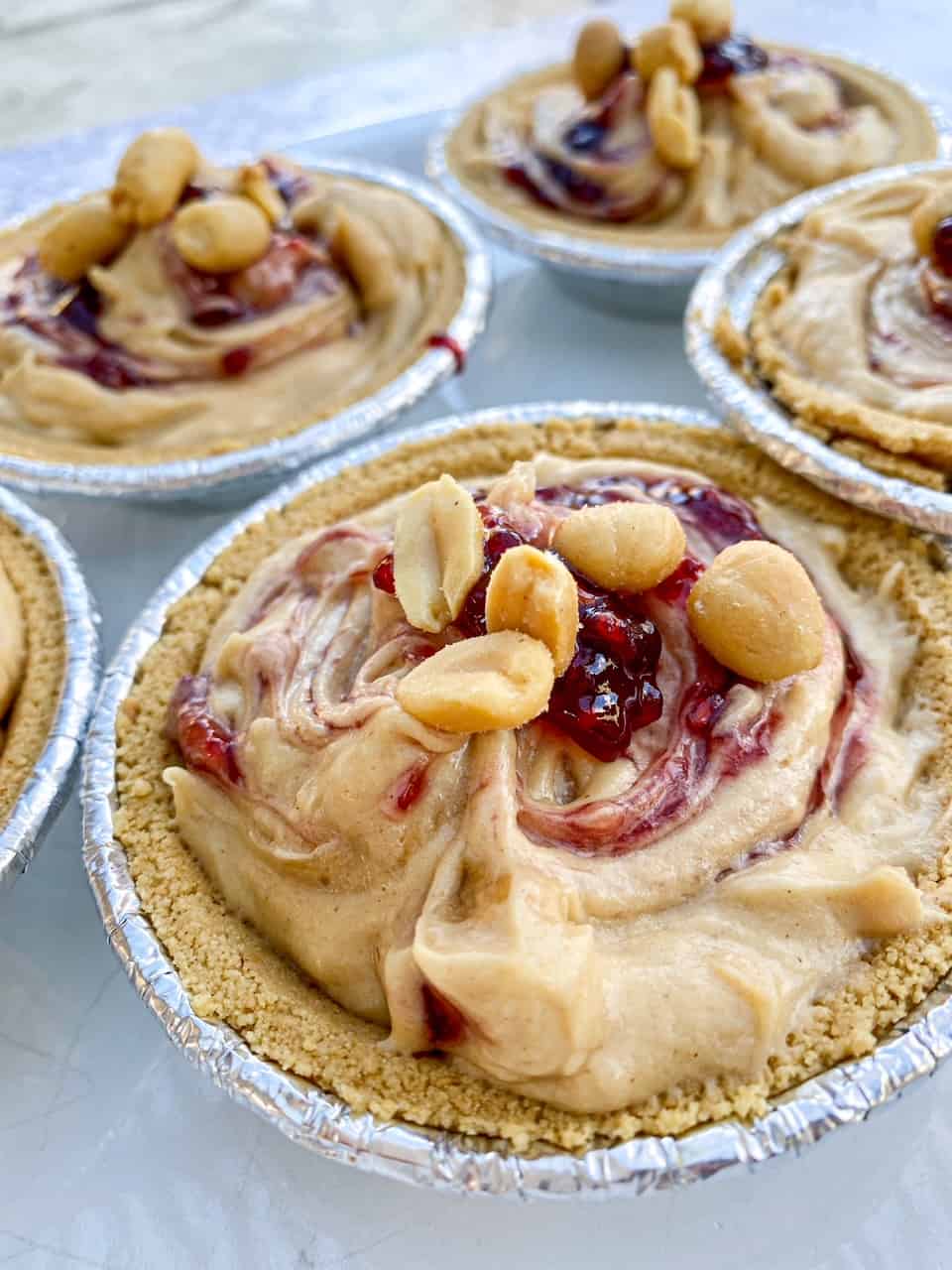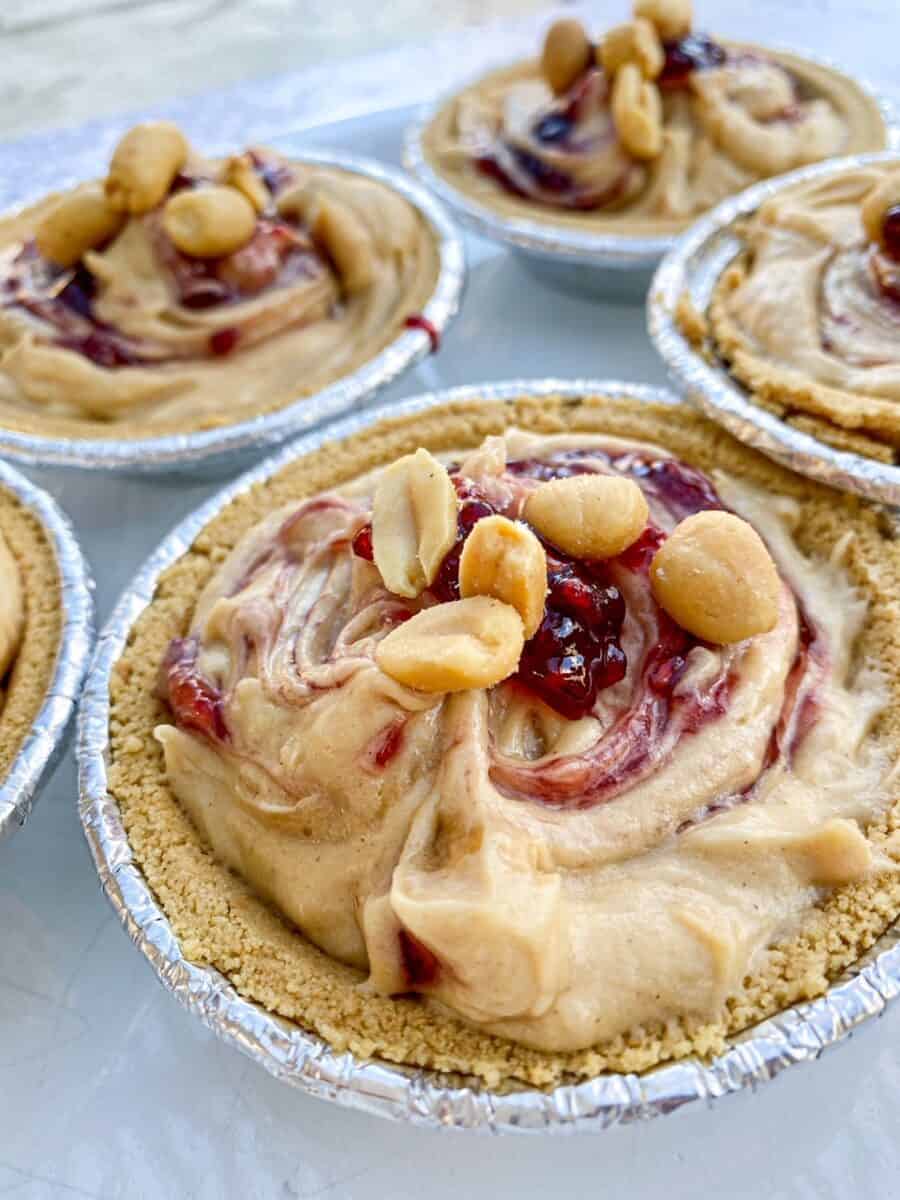 How to Make a Peanut Butter and Reese's Pie
These taste just like a Reese's peanut butter cup, but in a cute mini pie dish that's impressive enough for serving even after a holiday meal.
Prepare the pie fillling as directed above and in the recipe card.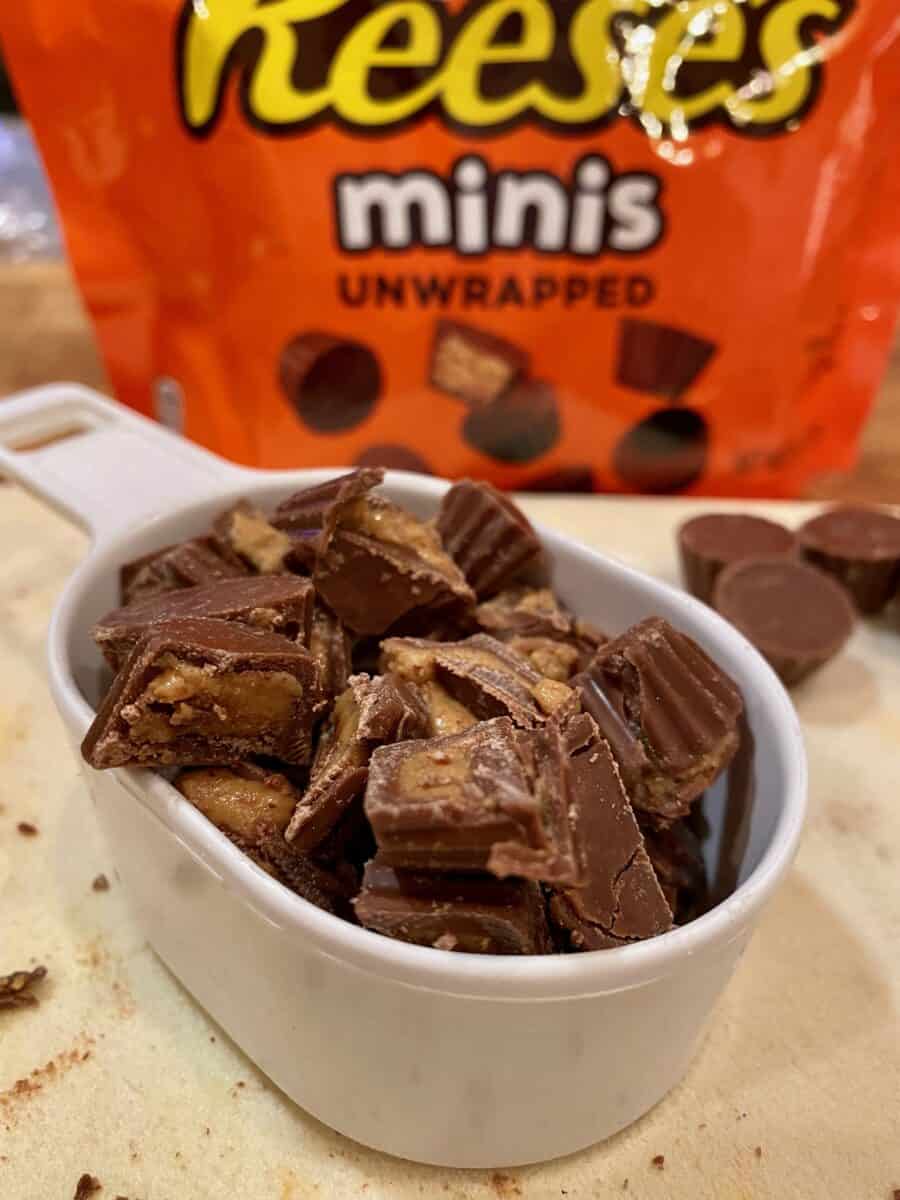 Step One: Slice the Reese's minis into two or three small pieces. Add a few portions of sliced Reese's minis on each pie crust.
Step Two: Spoon about three tablespoons of peanut butter mixture on top of the candy, then top with a few additional sections of the sliced candy.
Step Three: Top with about a teaspoon of hot fudge topping as an optional garnish and place a whole Reese's mini on top.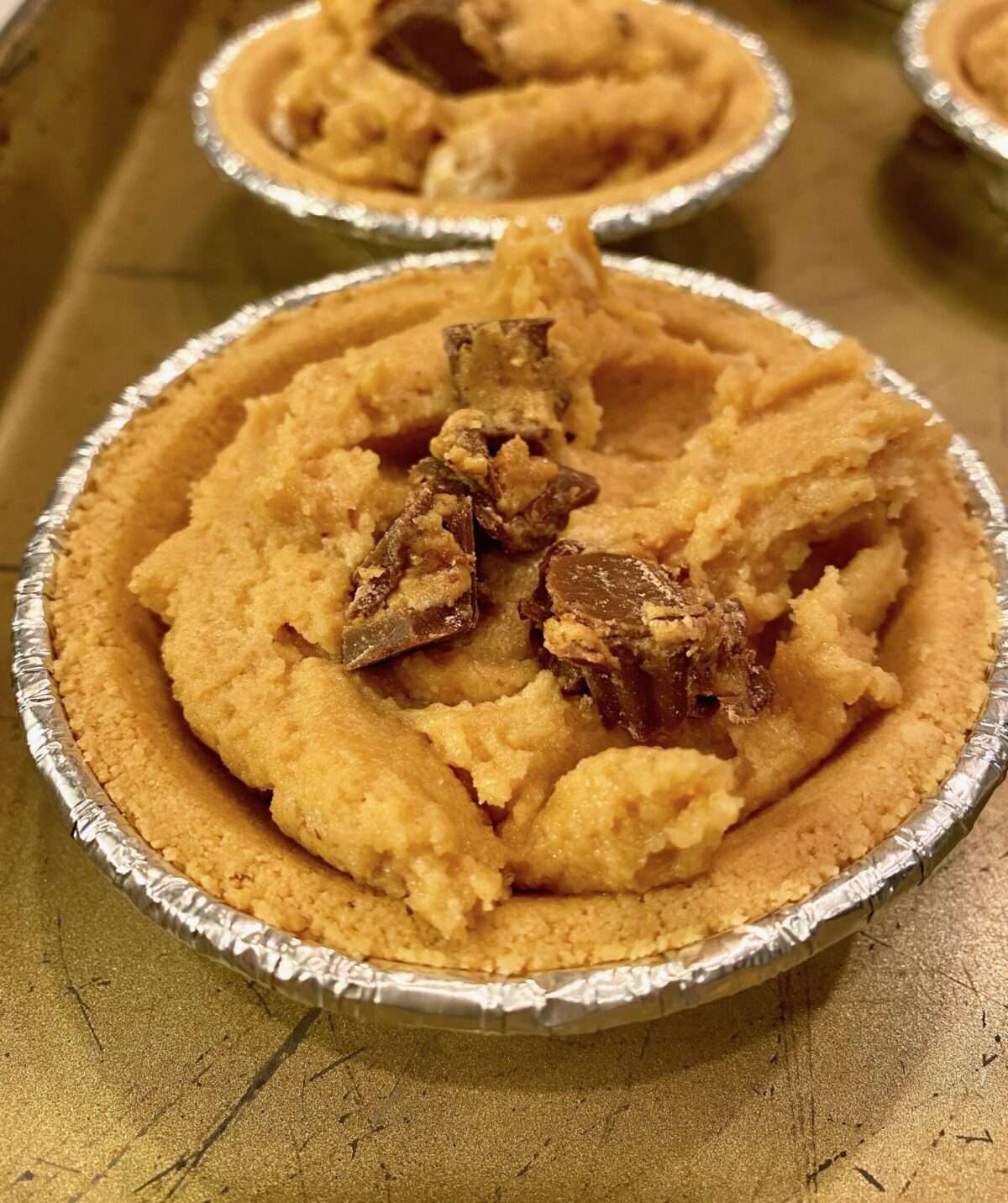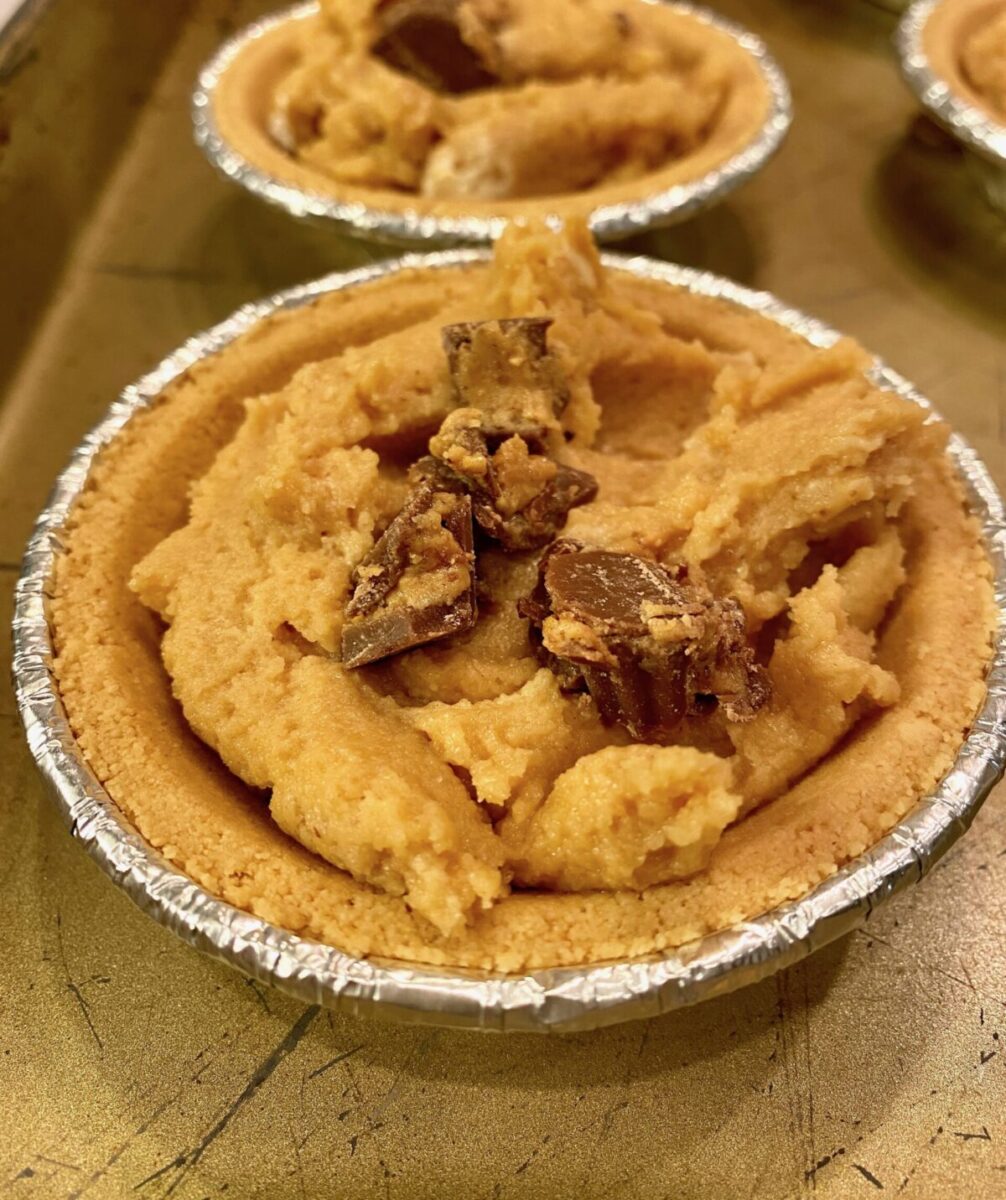 A teaspoon or so of hot fudge sauce is a delicious topping and helps each little peanut butter pie taste almost exactly like a Reese's peanut butter cup.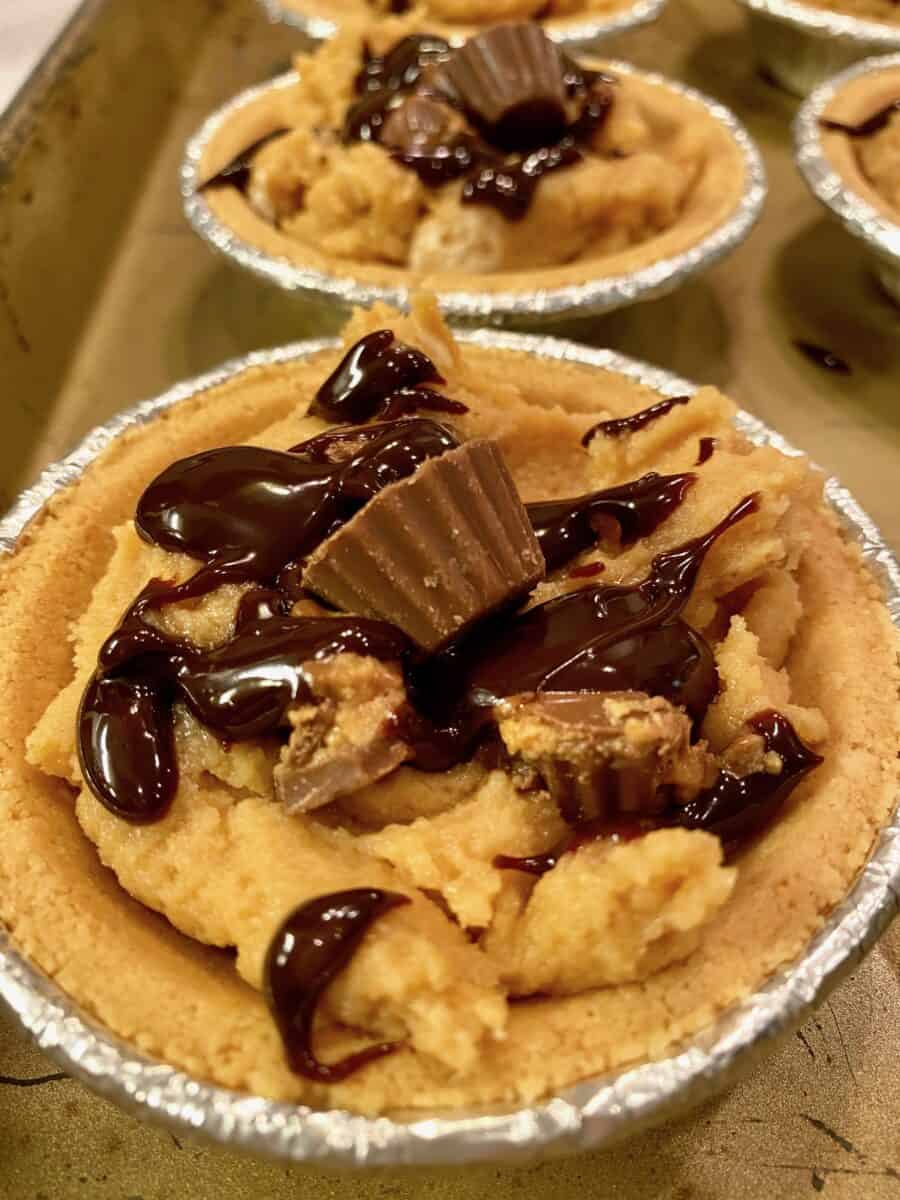 Top Tips and FAQ
Can I use Cool Whip topping instead of whipping cream?
Yes, but the pie filling will have a slightly different texture. In my experience with the recipe, the pies have a creamier texture with whipping cream instead of the imitation whipped topping.
Will this work with a traditional, flaky pie crust?
It sure will. Just be sure to bake and cool the pie crust before adding the peanut butter pie filling.
Do I have to use raspberry jam?
Lots of options here. Use your favorite fruit jam. I'm just a big fan of raspberry. But any variety of jam will work great!
Can I use chunky peanut butter for the filling instead of creamy?
Yes! No Bake Peanut Butter Pie is delicous with chunky peanut butter. My family just prefers the smooth texture of creamy peanut butter so that's why I list it as the ingredient.
Pie Crust Options
The mini pies are fun to serve, but if you'd rather use a pre-baked 9" pie crust or 9" graham cracker crust this recipe will fill up the pie dish perfectly.
This is a no-bake peanut butter dessert, so you could use a pre-made graham cracker crust from the grocery store or a flaky pastry crust that you've made from scratch.
Just be sure to bake and fully prepare the pastry crust before adding the peanut butter filling.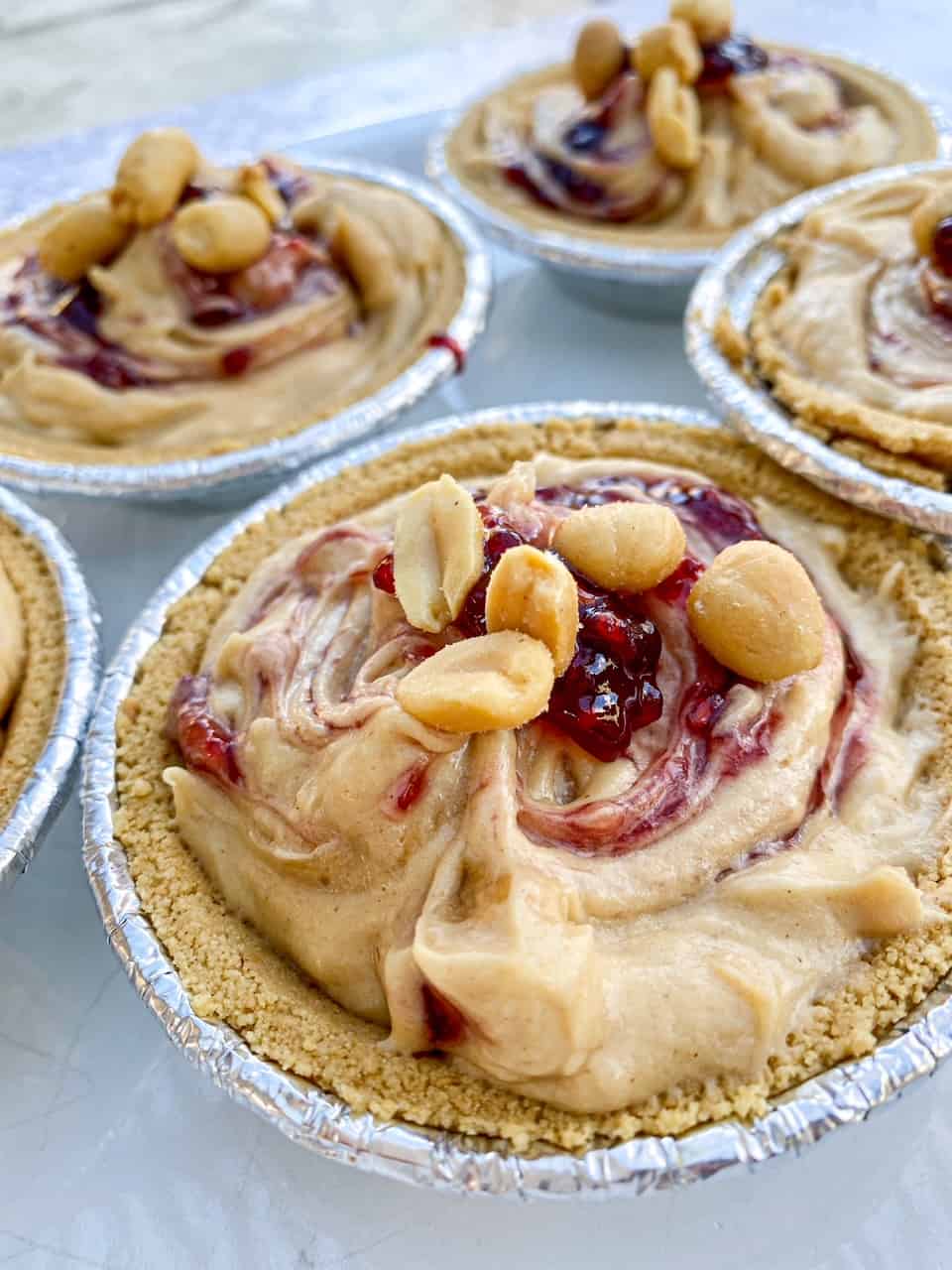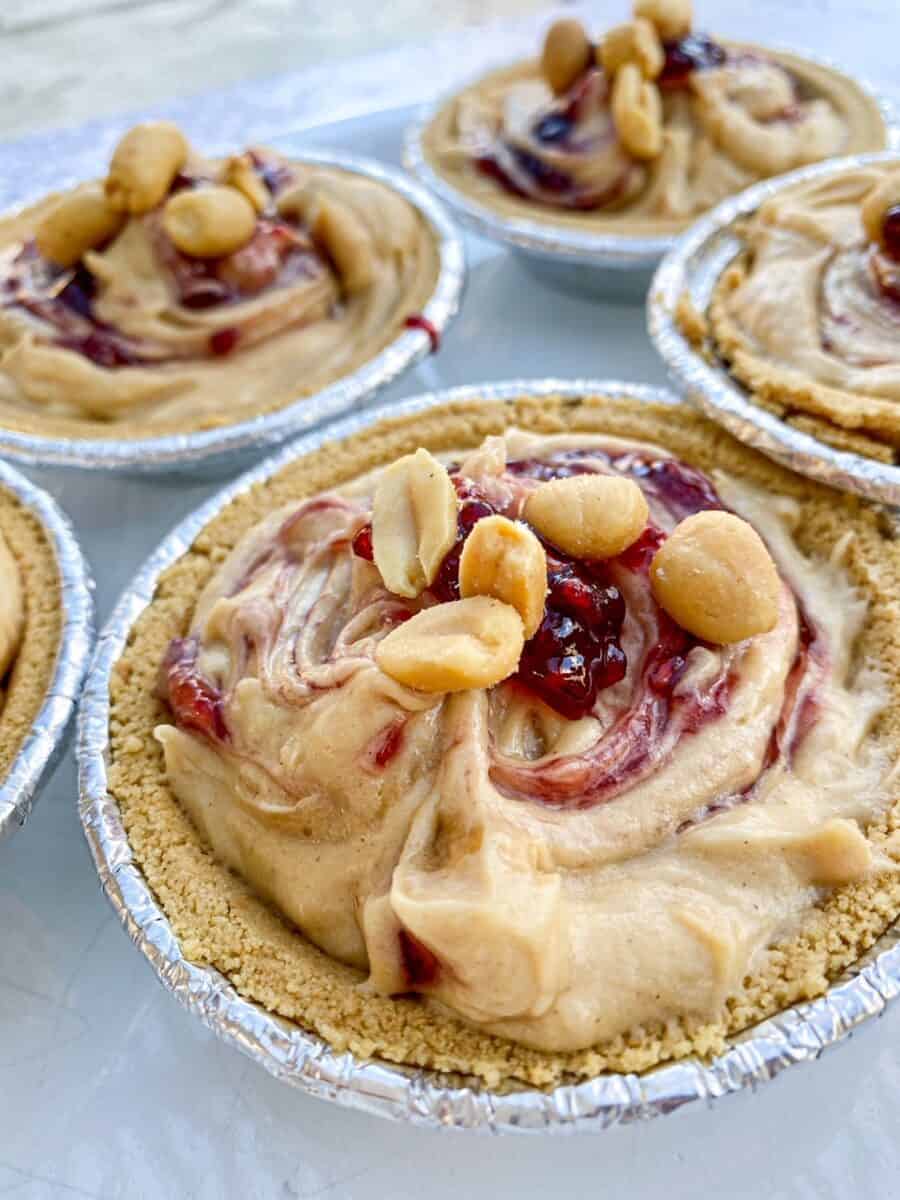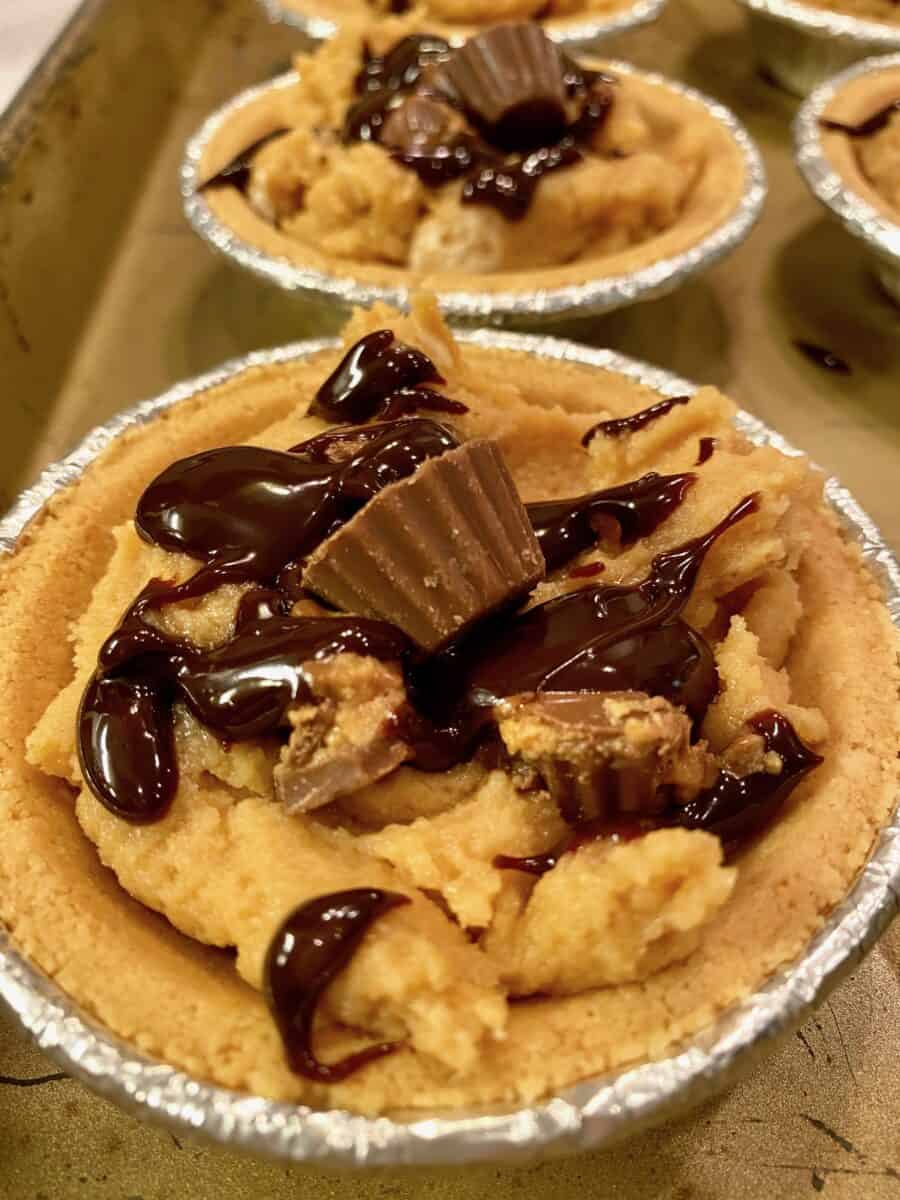 Storage
Store the peanut butter pies covered lightly with plastic wrap in the refrigerator and enjoy them within 5-7 days.
You can prepare them ahead of time and freeze. Place them in a zip top freezer bag and defrost for one day in the refrigerator before serving.
More Recipes
Whether bake or no bake. Pies are a delicious dessert any time of year and as a part of any holiday year around. Here are a few more pie recipes that I think you'll enjoy!
And from cookies to brownies and muffins, these are several of my all-time favorite baking recipes.
Recipe Rating
Recipe