Orange-Spiced Sweet Potato Casserole is an easy side dish that's delicious with a holiday meal, or any meal all year long. It combines naturally sweet mashed sweet potatoes with orange zest, butter, brown sugar and a touch of nutmeg and cinnamon. But it's the pillowy peppered marshmallows and crunchy pecans on top that just might steal the show.
Note: Some of the links on this page are paid links, Amazon Associates. This means I make a small commission when you click and shop. Your cost is always the same and I only link to and recommend products or ingredients that I use.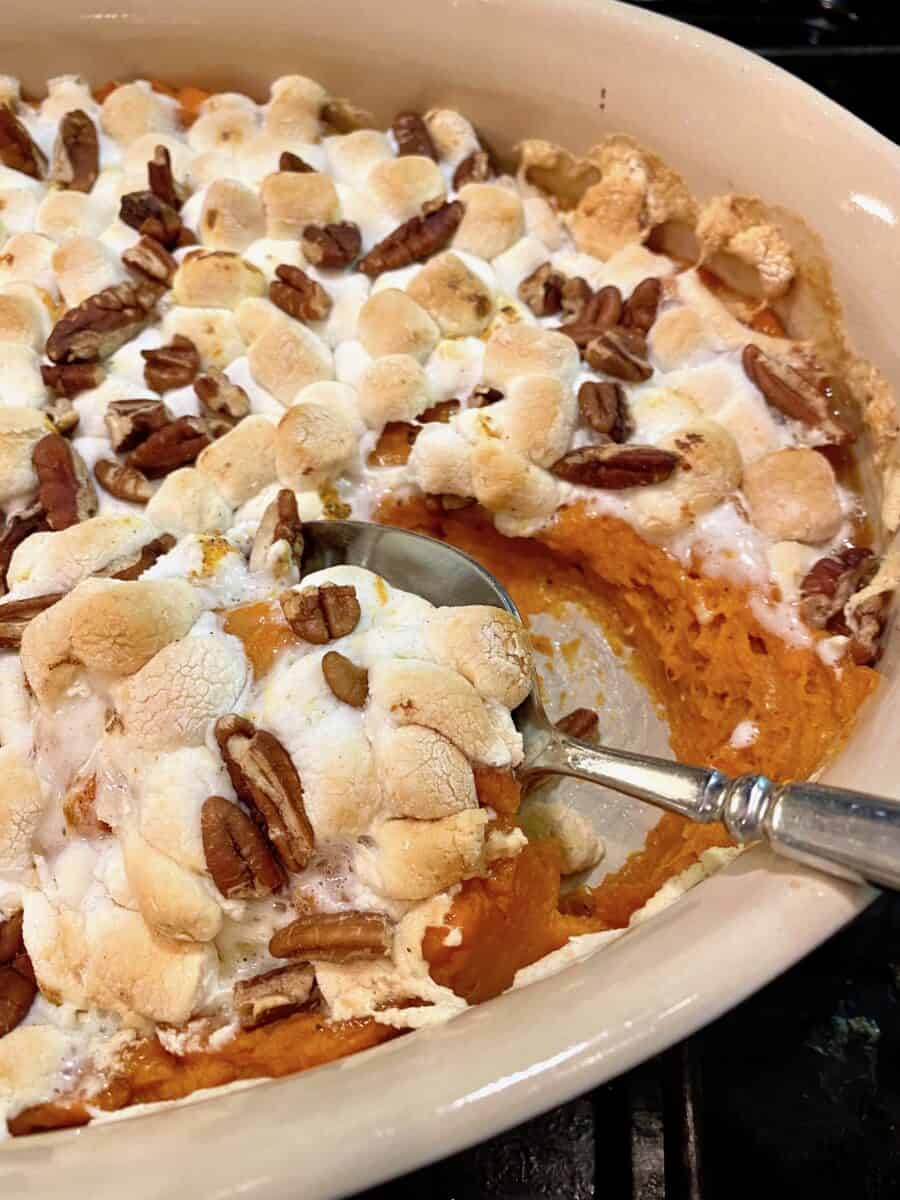 Ingredients to have on hand
Sweet potatoes
Oranges
Miniature marshmallows
Pecans
Brown sugar, cinnamon, nutmeg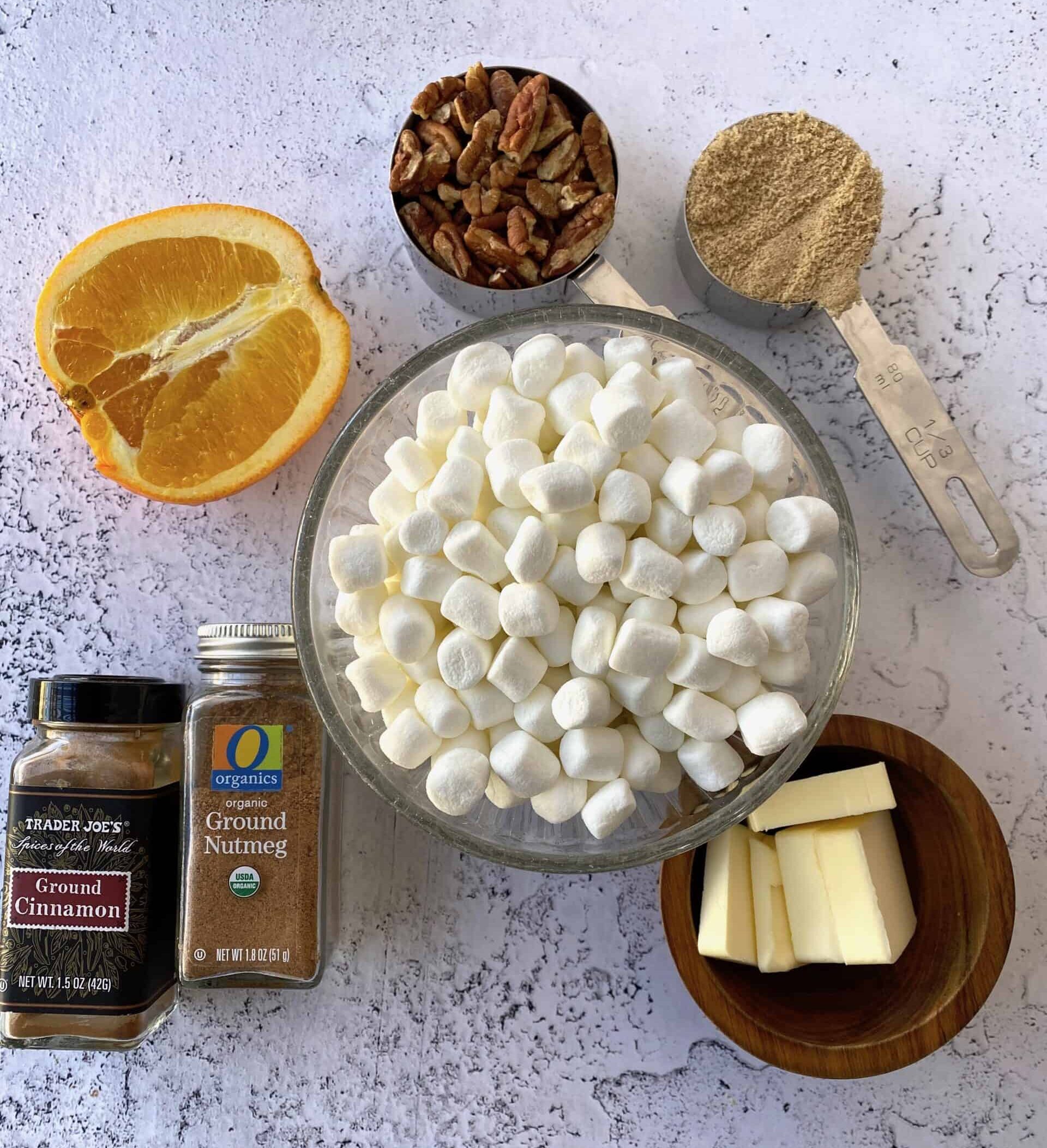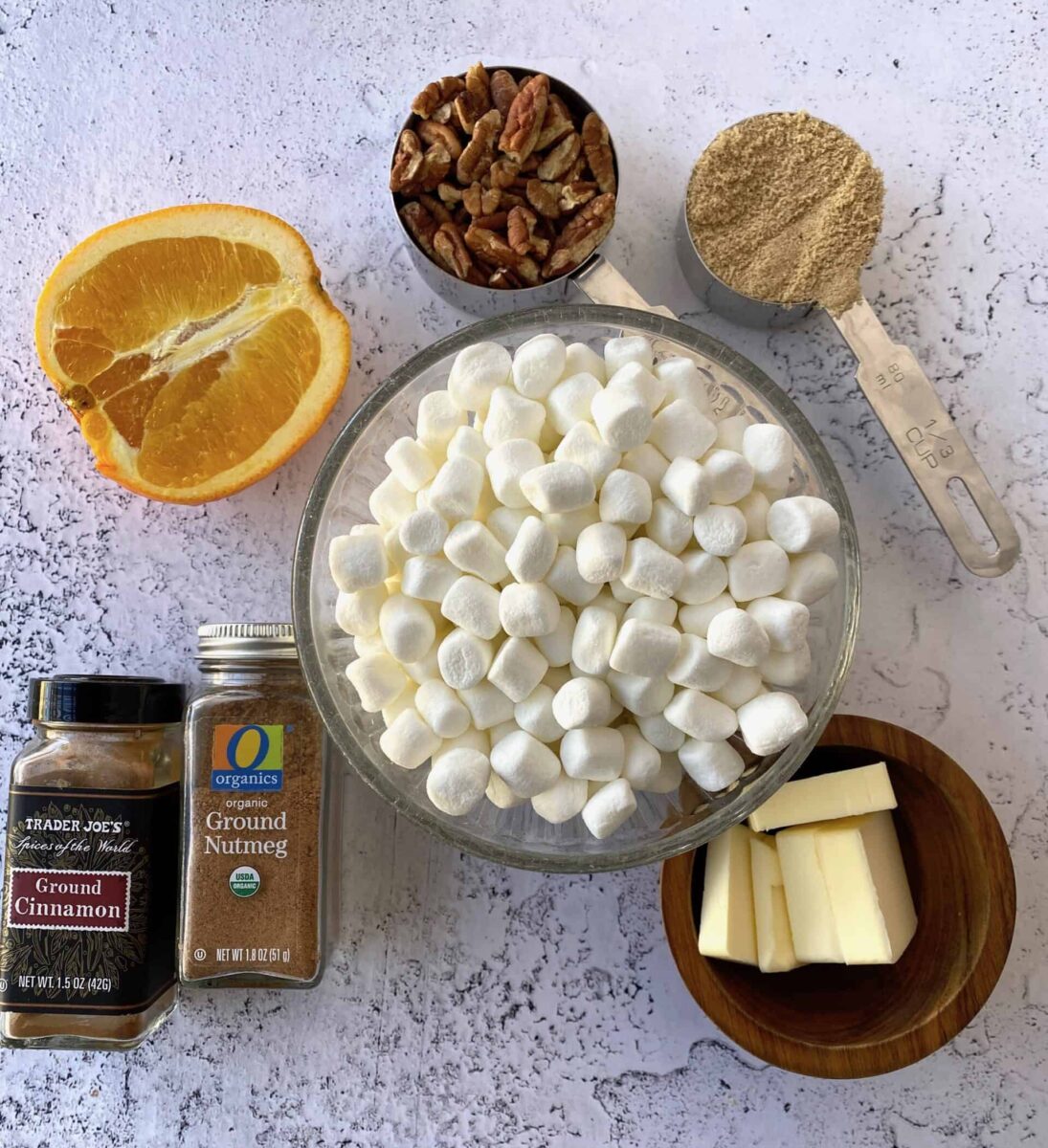 Choosing Sweet Potatoes
You'll need about three pounds of sweet potatoes for this recipe, and since the size of each potato varies that may mean three large ones or 4-5 smaller, slender sweet potatoes. Use a scale in the produce section of your grocery store to be sure you buy enough.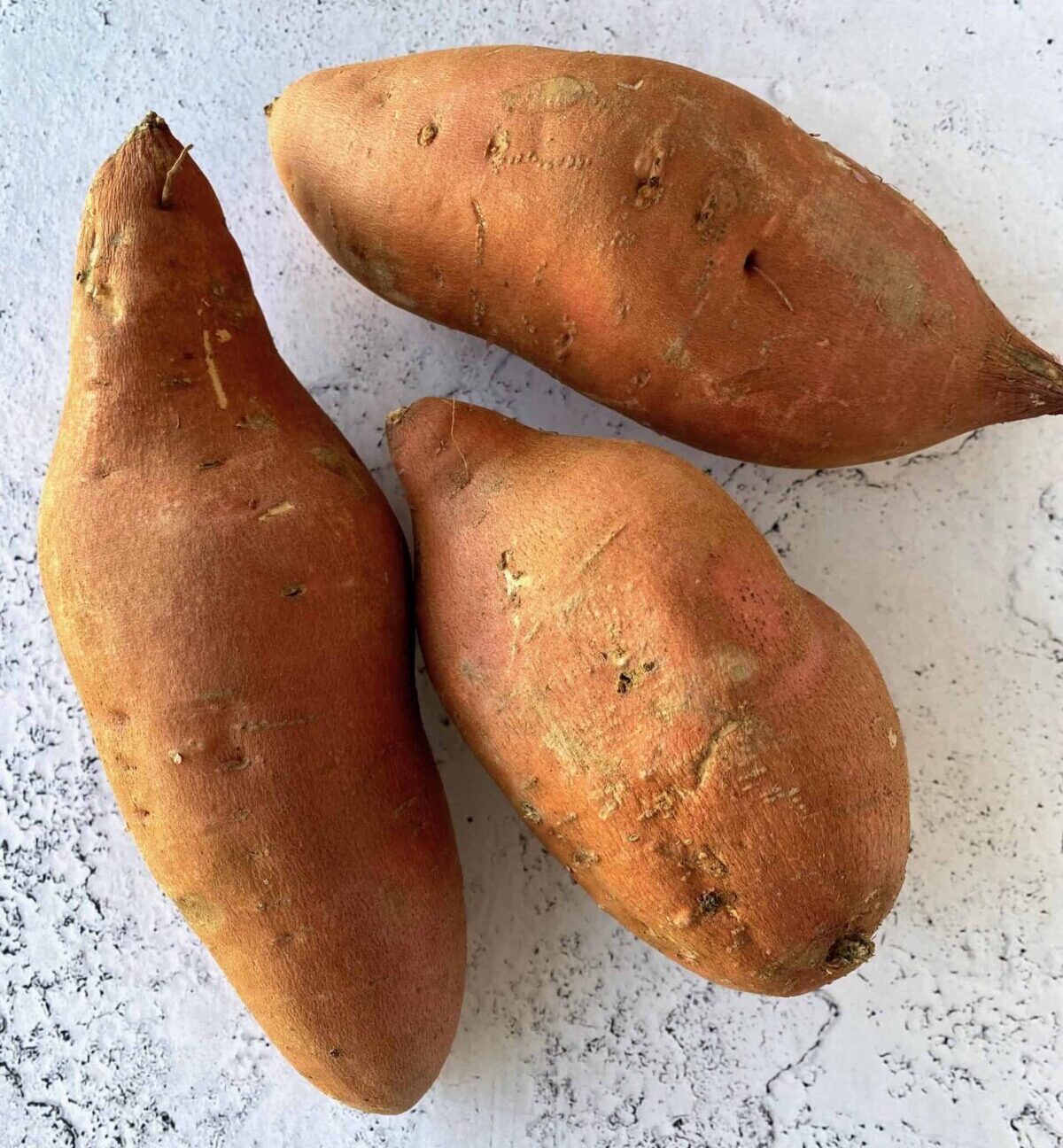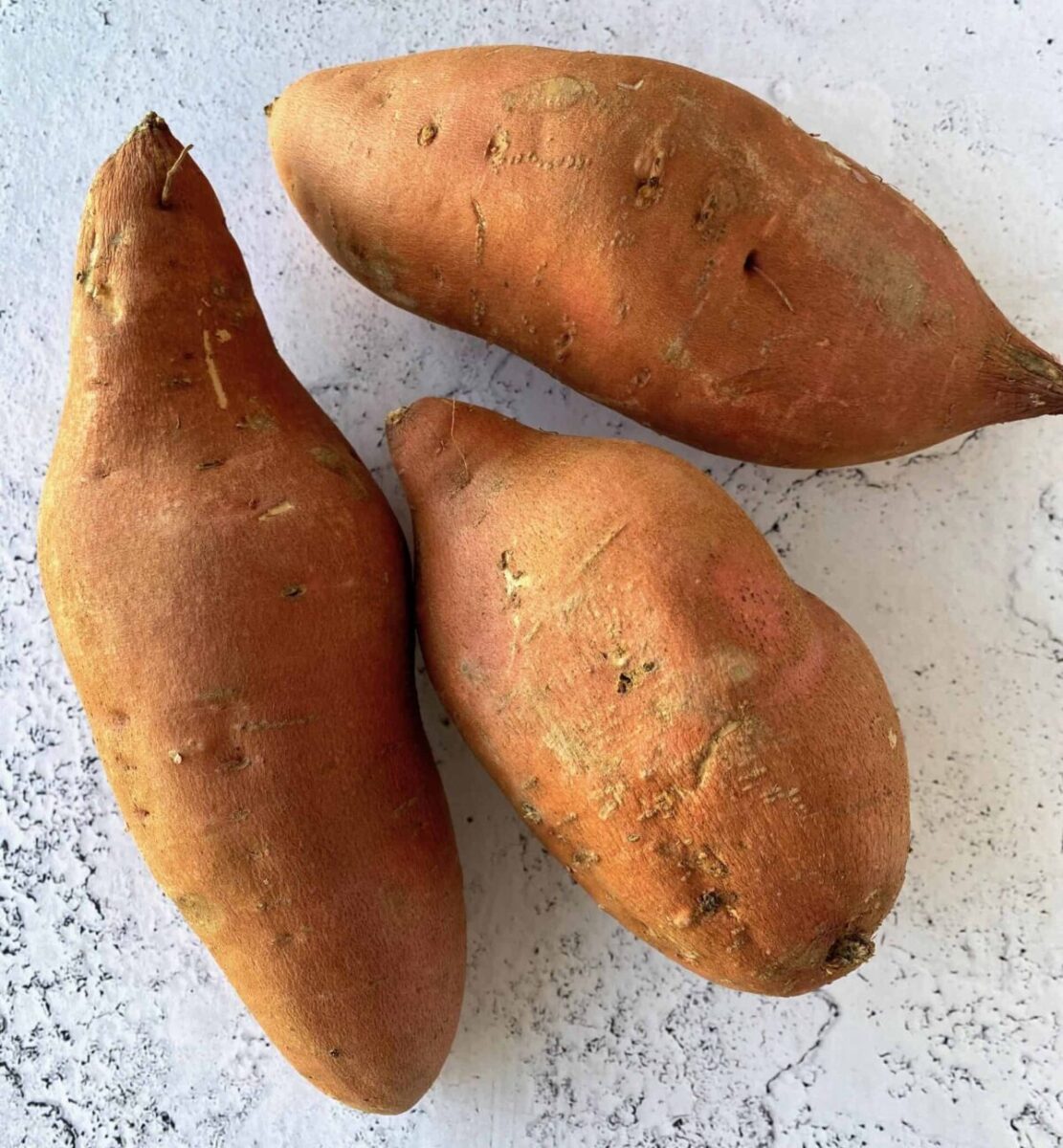 Prepping the Sweet Potatoes
Oven roasting or baking helps to caramelize the natural sugars in sweet potatoes and it helps bring out the ultimate sweetness in this casserole.
In a pinch, you could also microwave the sweet potatoes until tender, just use the potato cooking option on your microwave oven.
You can tell the sweet potatoes are cooked once a fork easily slides into the potato. It will need to be tender and soft.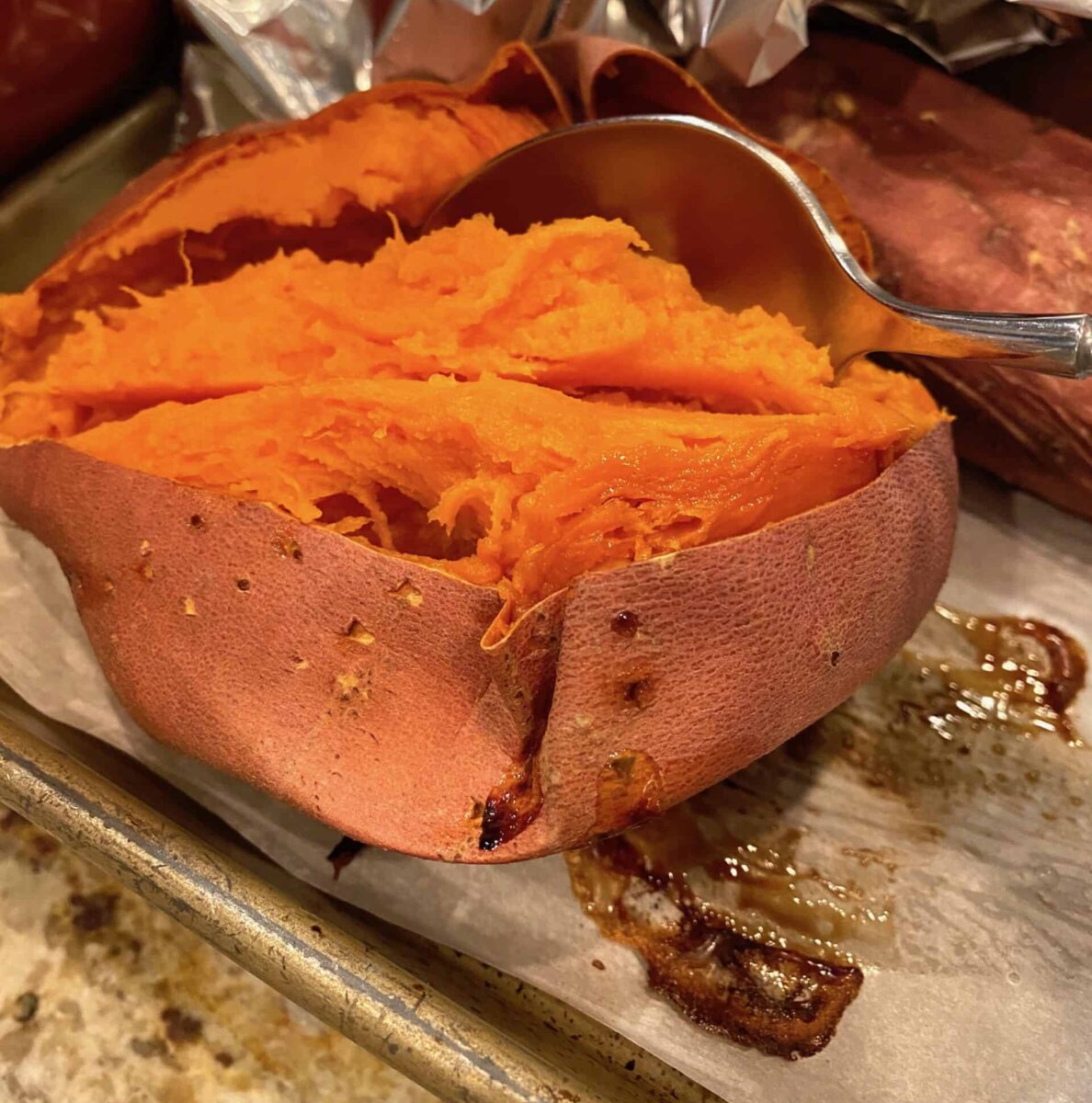 After baking, slice the sweet potato in half and scoop out the inside.
Top Tips and FAQ
Can I use yams instead of sweet potatoes?
Yes. Although there is often confusion about the two, the yams that we buy in a standard U.S. grocery story are almost always just a different variety of sweet potato and yes, they will work great in this recipe.

Scroll down for more details on the difference between yams and sweet potatoes.
What about using canned yams?
I've not made this recipe using canned yams, but if time is short I imagine that would be OK to substitute. You'll need about 6 cups of mashed, canned sweet potatoes or yams.
Can this be frozen ahead and prepared later?
Yes, simply leave the marshmallows and pecans off and freeze the sweet potato mixture in a freezer-safe dish. Defrost, then bake according to the recipe below.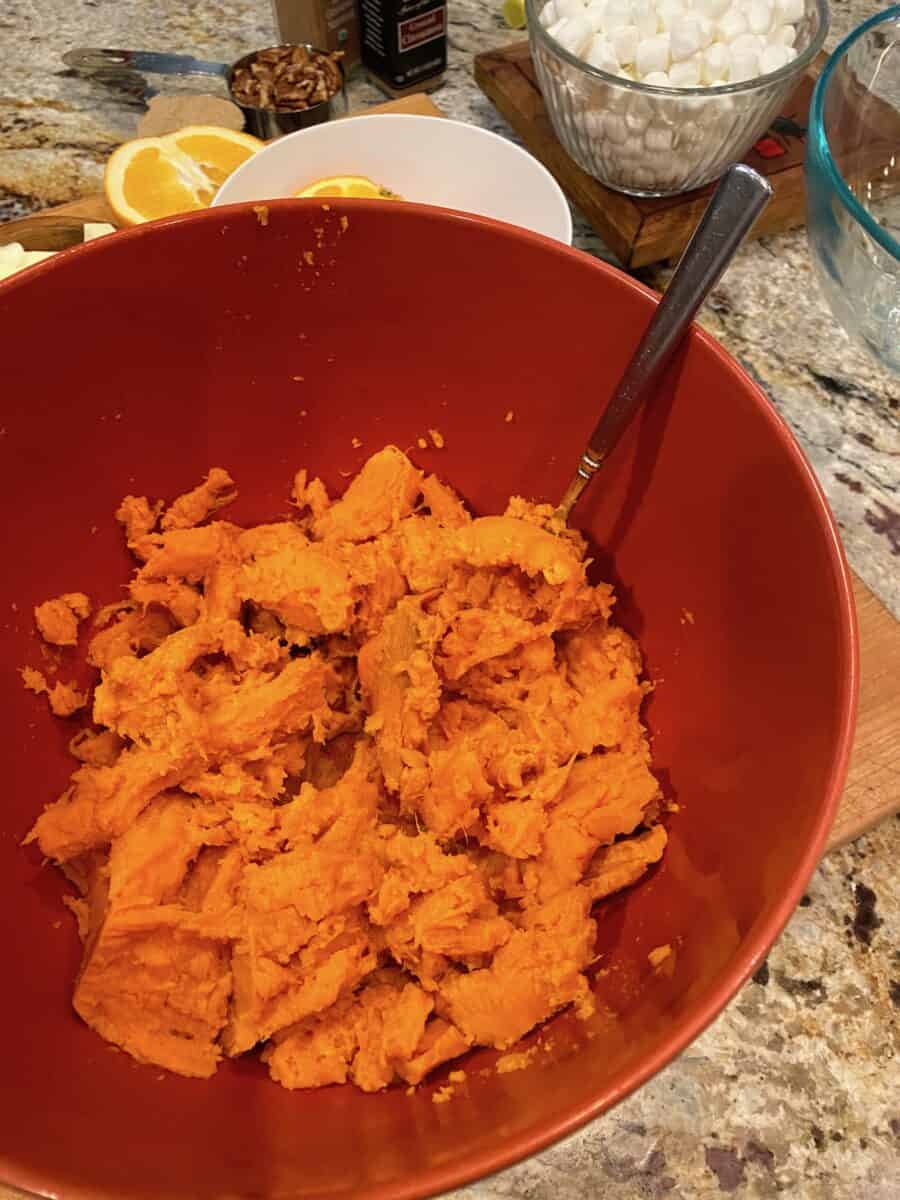 Mash or Smash
Place the baked sweet potato filling in a large mixing bowl. I like to smash the sweet potatoes by hand using a potato masher and leave a few chunks of sweet potato in the filling. I like it a little lumpy.
But my family prefers the filling to be fluffy and more like mashed potatoes.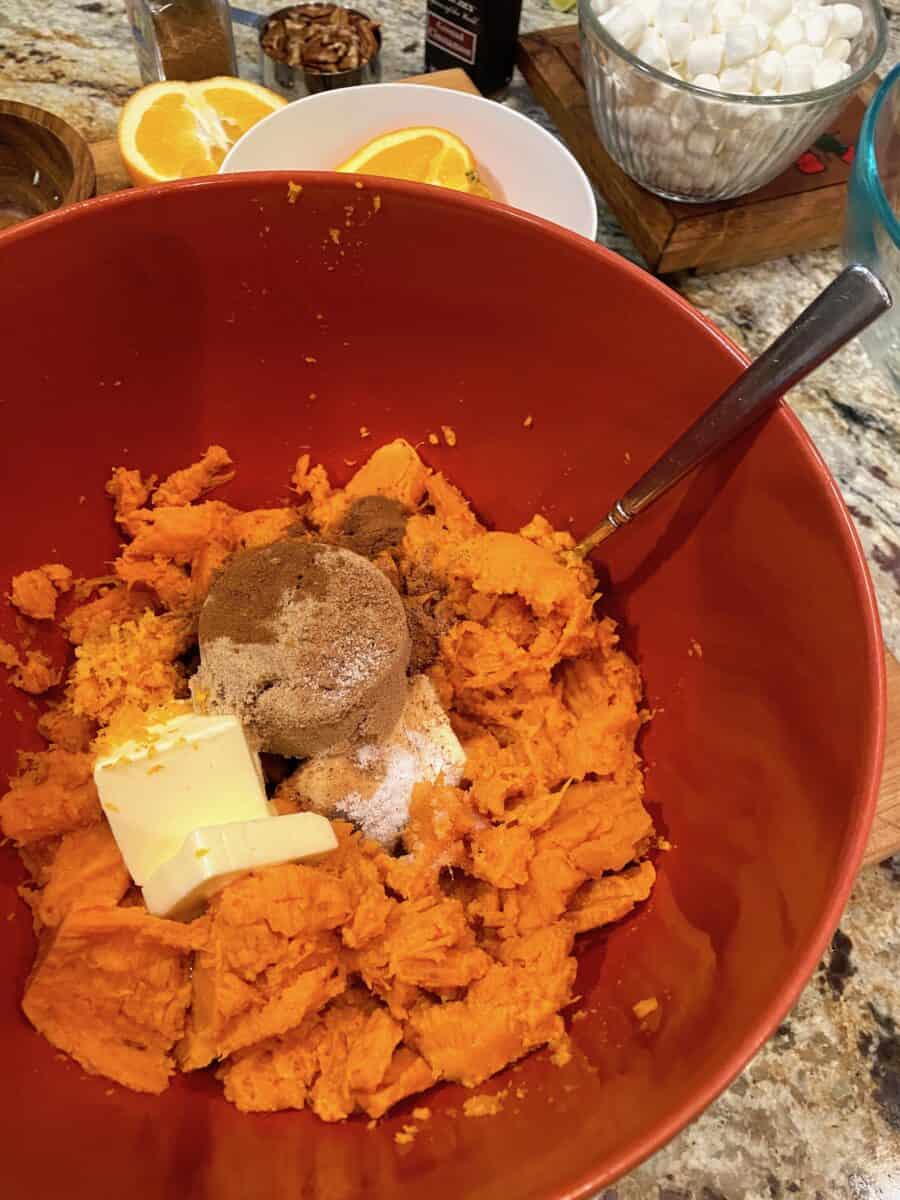 Add the remaining ingredients, except the marshmallows and pecans.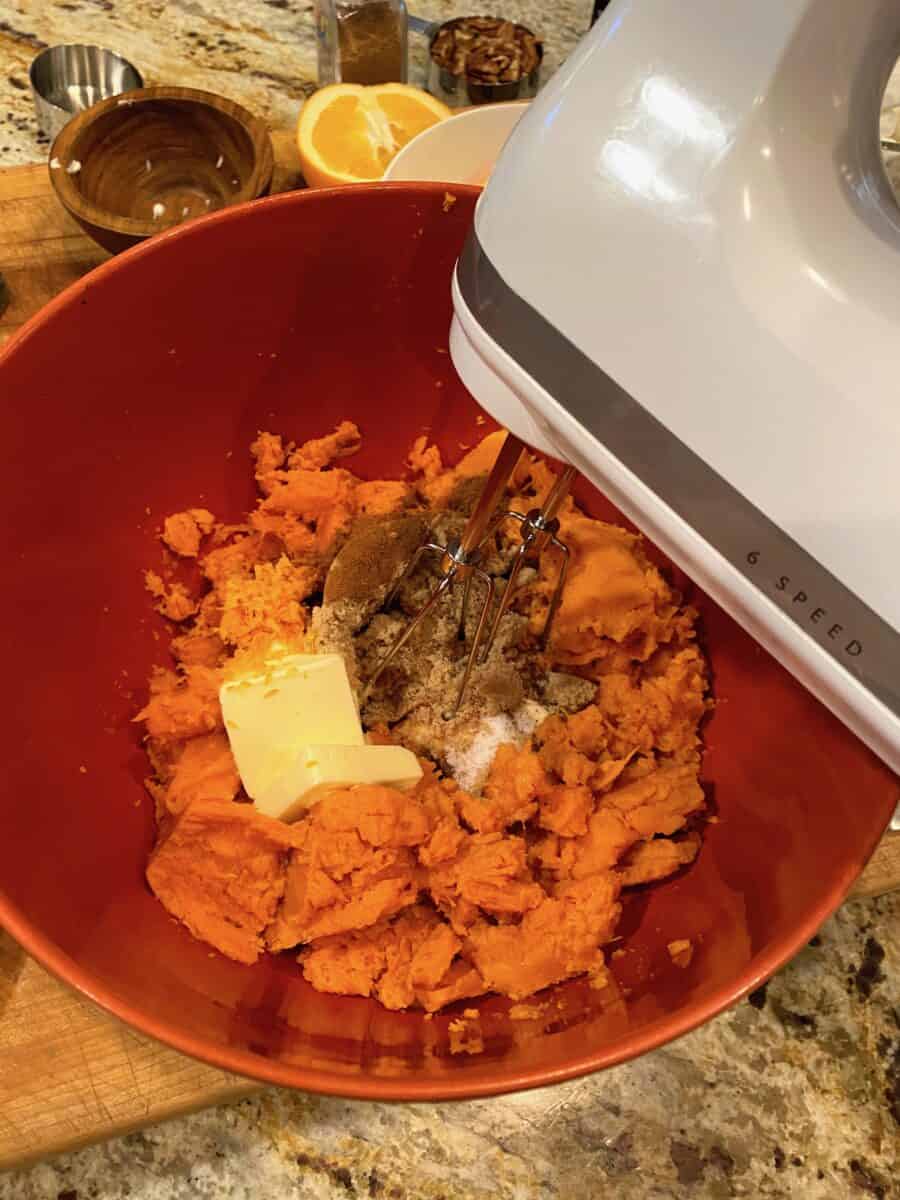 If you like a soft, fluffy casserole - similar to the consistency of mashed potatoes - then use a hand mixer to blend the ingredients until you get the texture you like.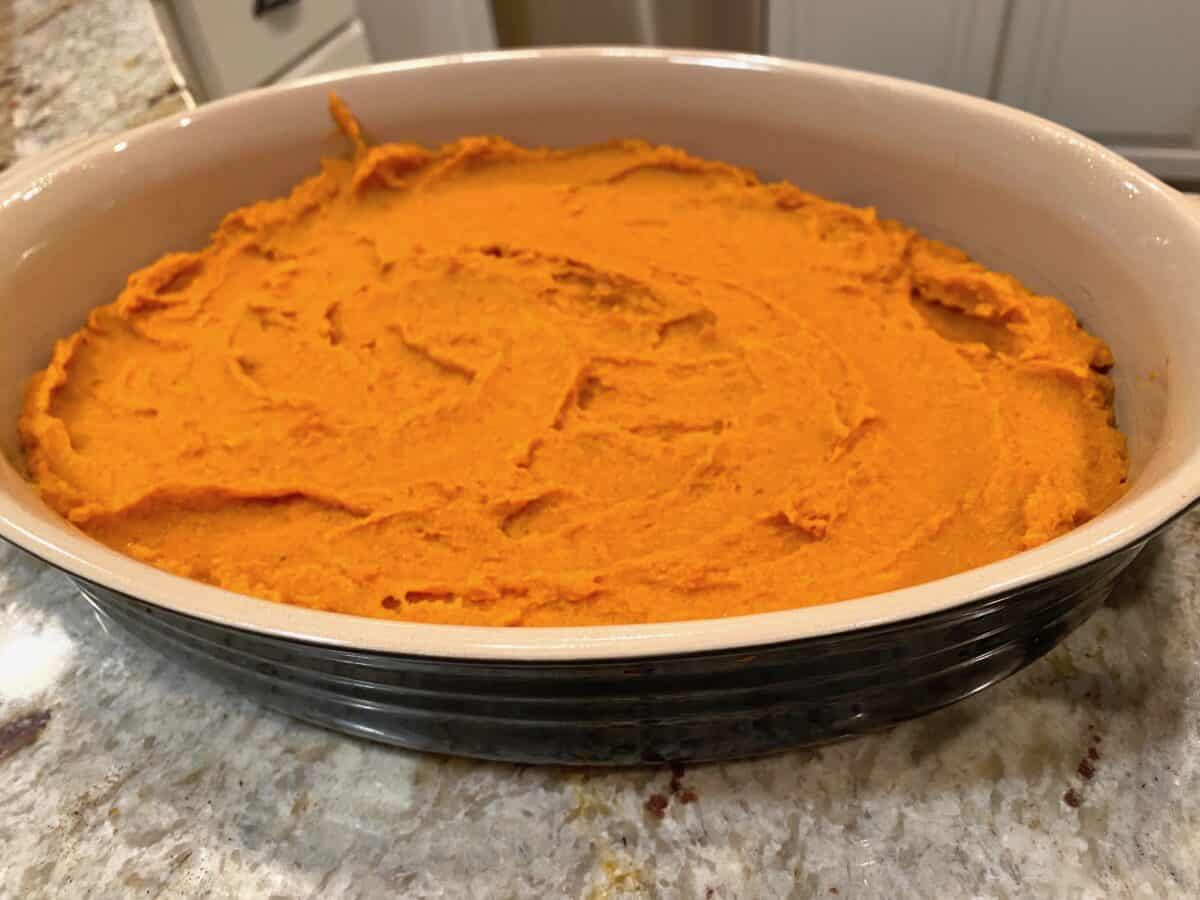 I think this recipe is equally delicious when the ingredients are combined using a potato masher. It depends how you and your family prefer it.
Either way, spread the sweet potato mixture evenly in a 13" x 9" glass baking dish or any oblong, 3 quart baking dish.
Peppered Marshmallows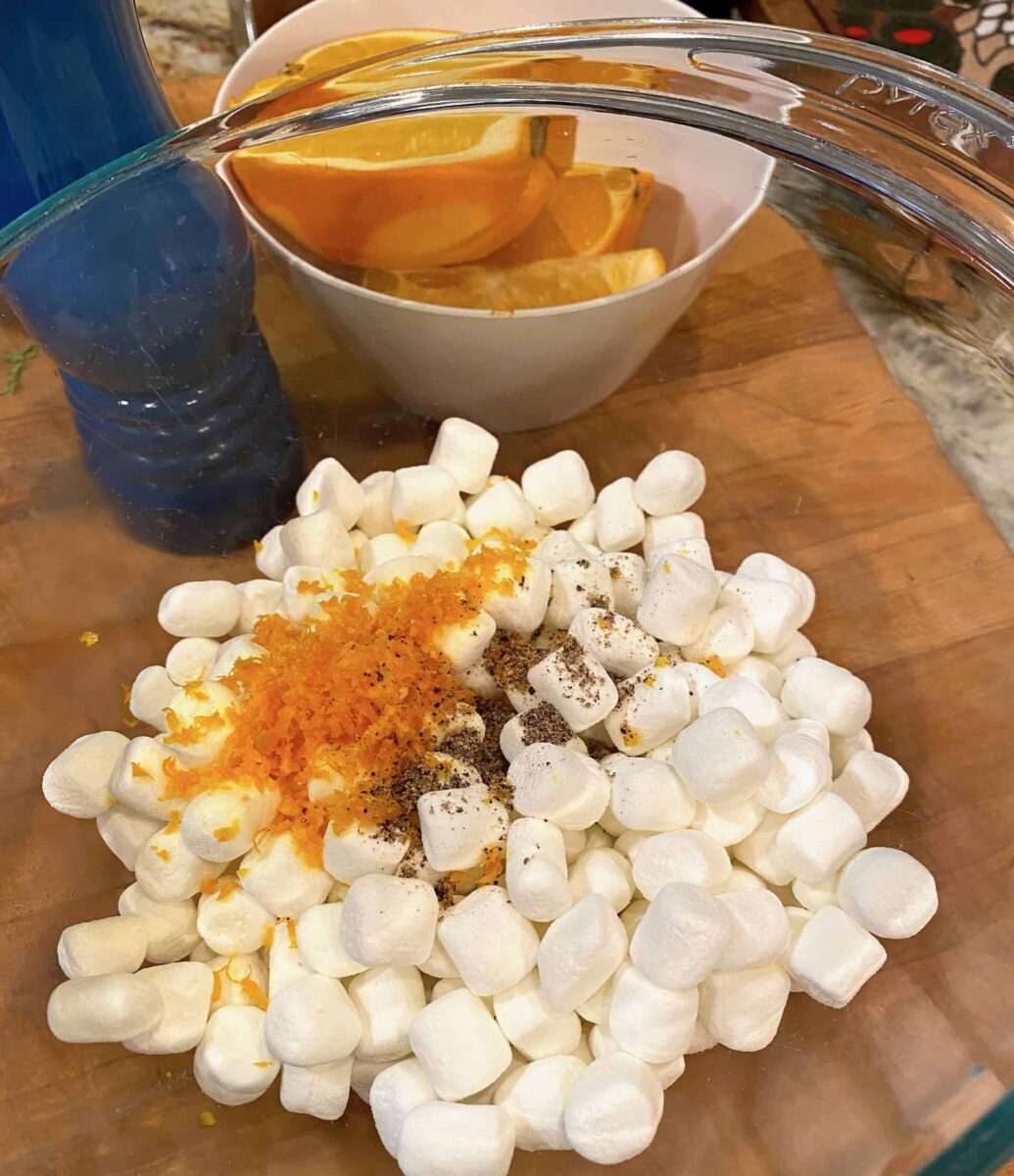 Here's the secret to making your sweet potato casserole stand out in the crowd of holiday side dishes. Add pepper to the mini marshmallows then toss them with one teaspoon of orange zest.
Each little pillowy marshmallow gets a light dusting of pepper and a touch or zest.
It's a technique that gives candy-like marshmallows a savory touch.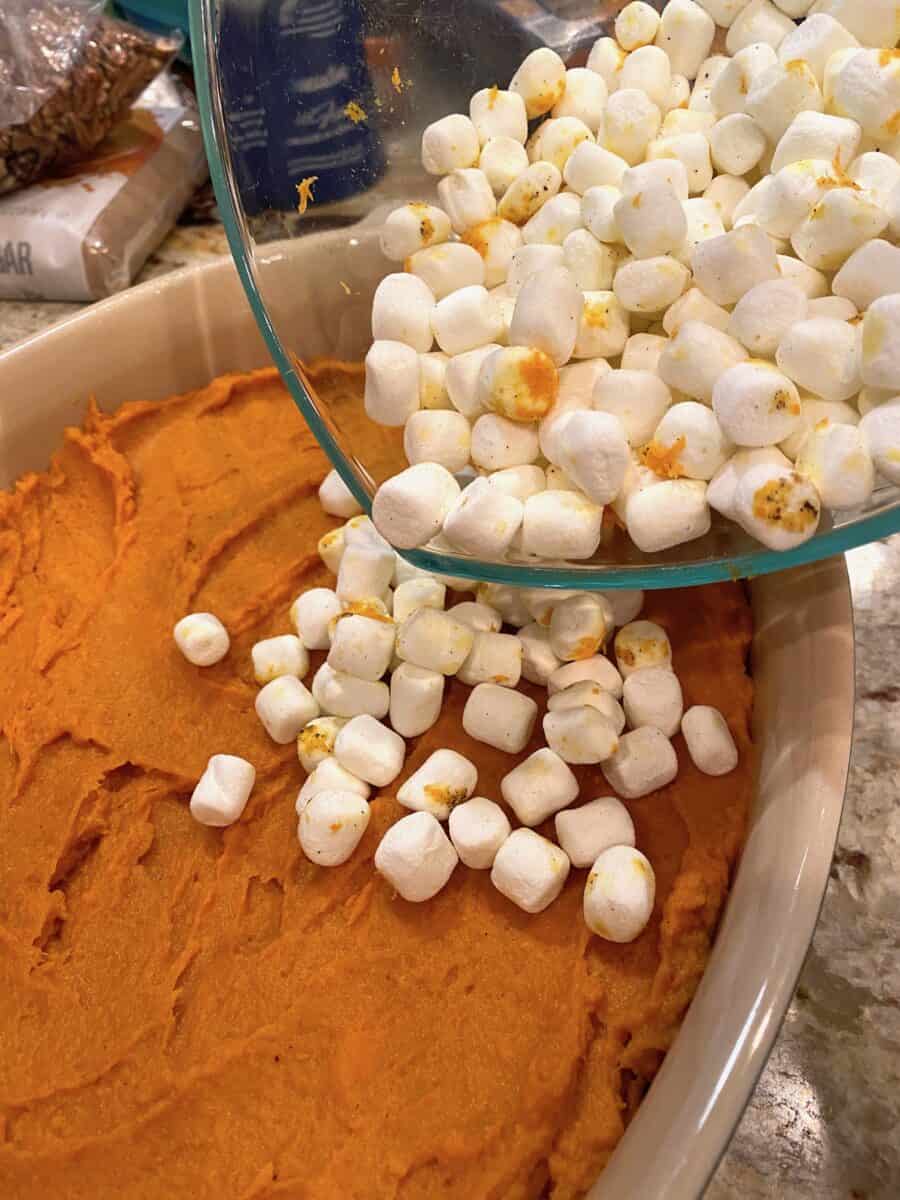 Spread the peppered marshmallows evenly across the top of the mashed sweet potatoes.
A great side dish any time of year
We often think of sweet potato casserole as a Thanksgiving or Christmas side dish, but since this recipe includes a touch of citrus and light spices it's delicious any time of year.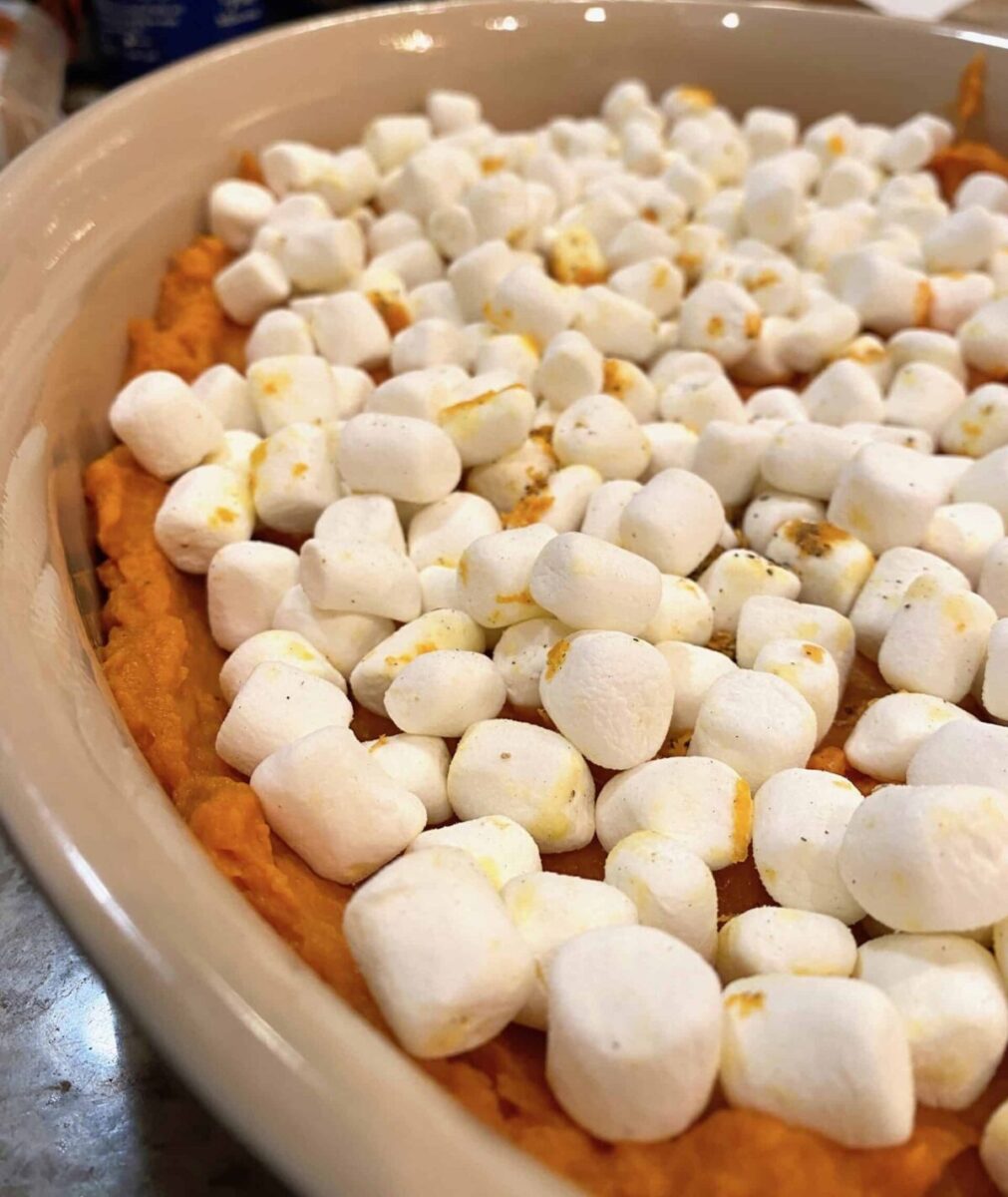 Serving Suggestions
Serve your Orange-Spiced Sweet Potato Casserole with turkey, prime rib, roast beef, ham or pork chops.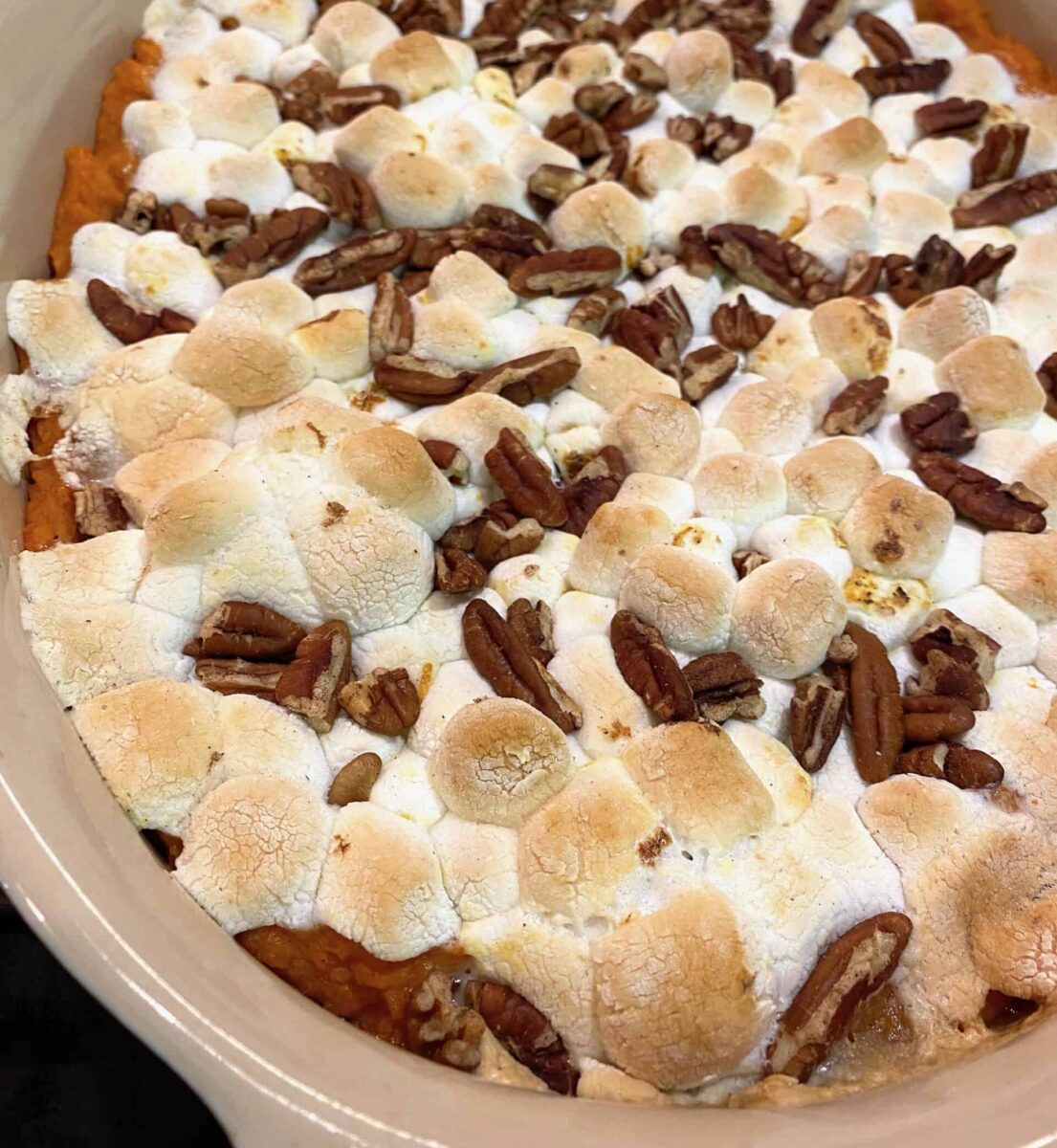 The Difference Between Yams and Sweet Potatoes
If you buy sweet potatoes from a standard U.S. grocery store, the odds are incredibly good that you will bring home a variety of sweet potato that will work beautifully in this recipe.
Don't worry if you see them labeled as yams. The word yam is sometimes used to differentiate the soft variety of sweet potato from the firm variety.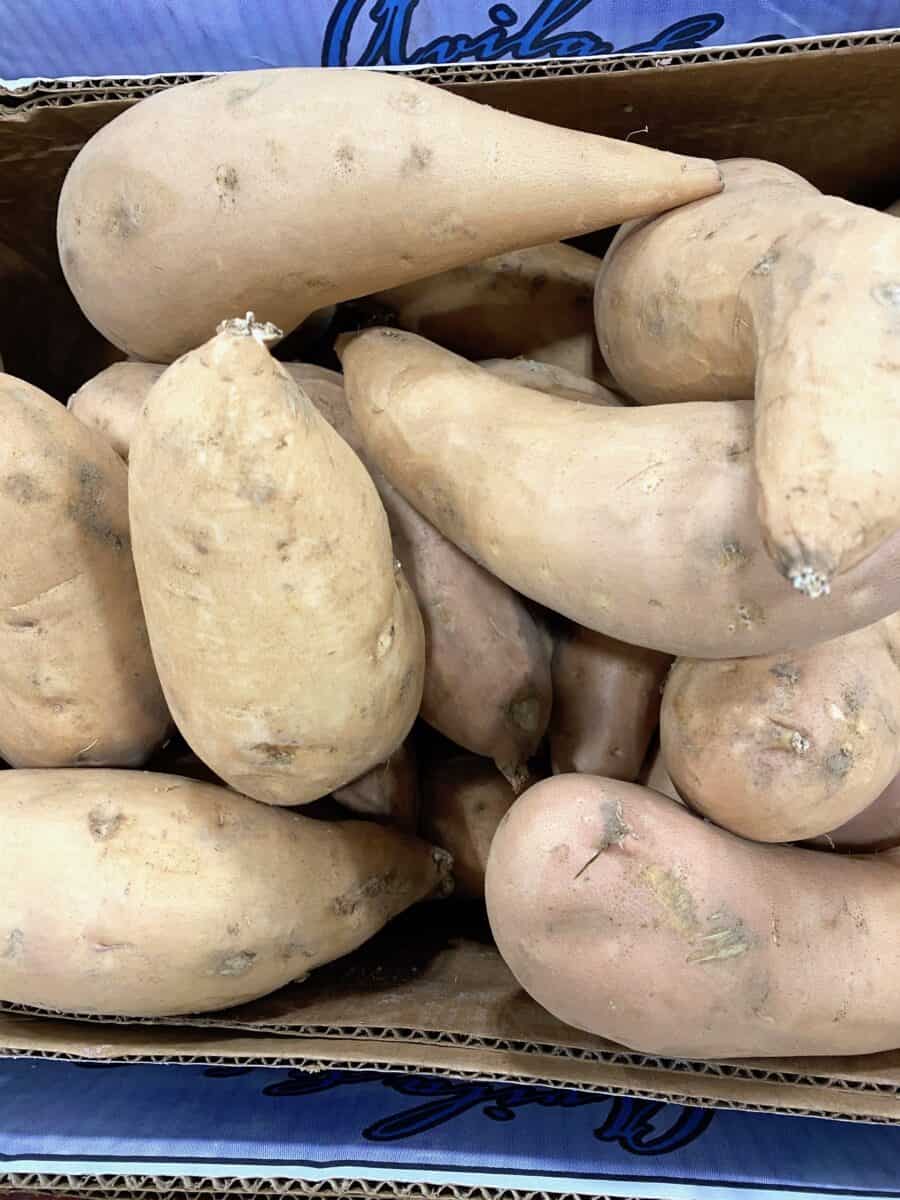 But it gets confusing. Even canned yams are simply a different variety of sweet potatoes. But they are labeled as yams.
To try and lessen the confusion, the U.S. Department of Agriculture requires labels with the term 'yam' to be accompanied by the term 'sweet potato.'
But true yams are native to Africa and Asia and have rough brown peels, almost like tree bark, (photo below) they have white flesh and a neutral flavor. They also won't work as a substitute for a recipe calling for sweet potatoes. These yams are often sold sliced, wrapped in plastic wrap and refrigerated.
Unless you specifically search for true African "yams," which are usually found in an international market, rest assured, you are probably buying and eating sweet potatoes!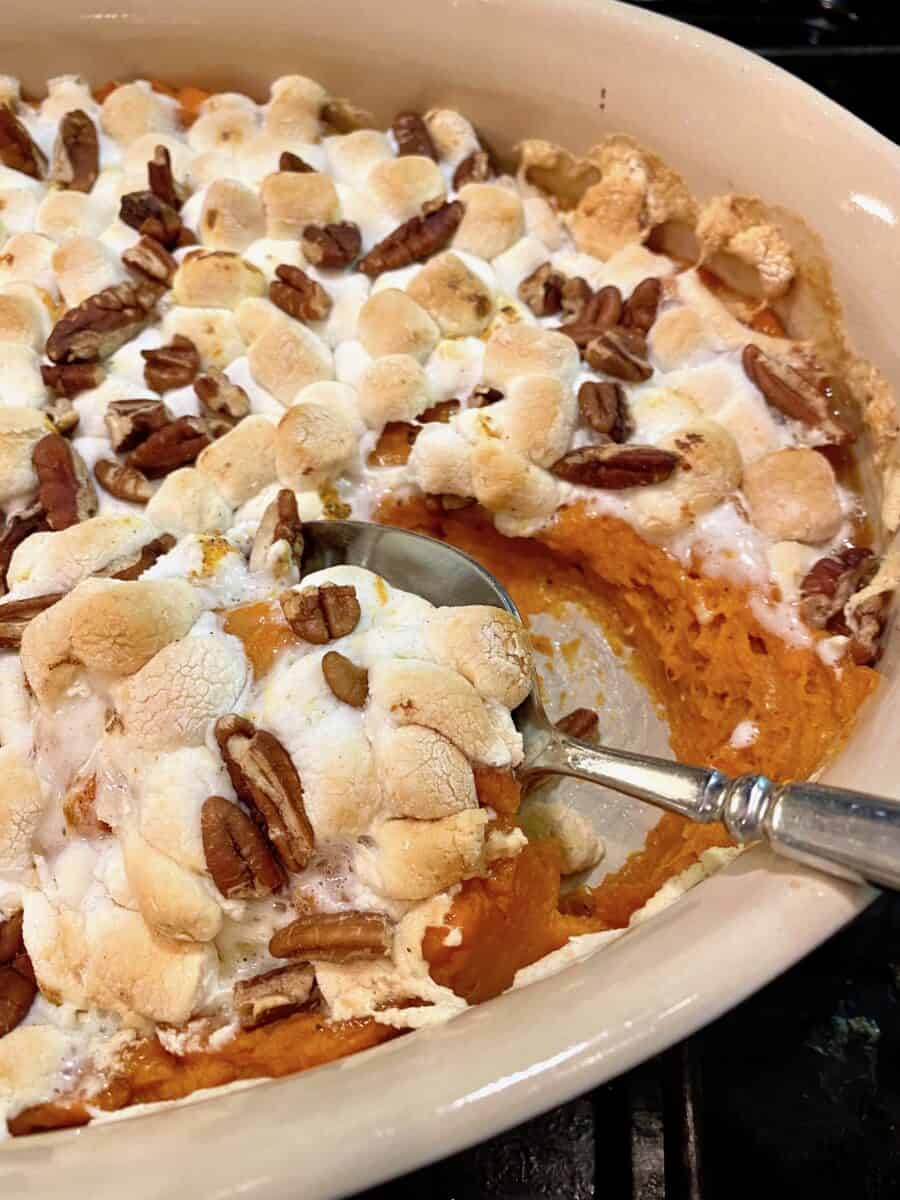 Idaho Sweet Potatoes?
The Crinkled Cookbook is based in Idaho and yes, our state is oh so famous for potatoes. But do sweet potatoes grow here? Nope. Not so much.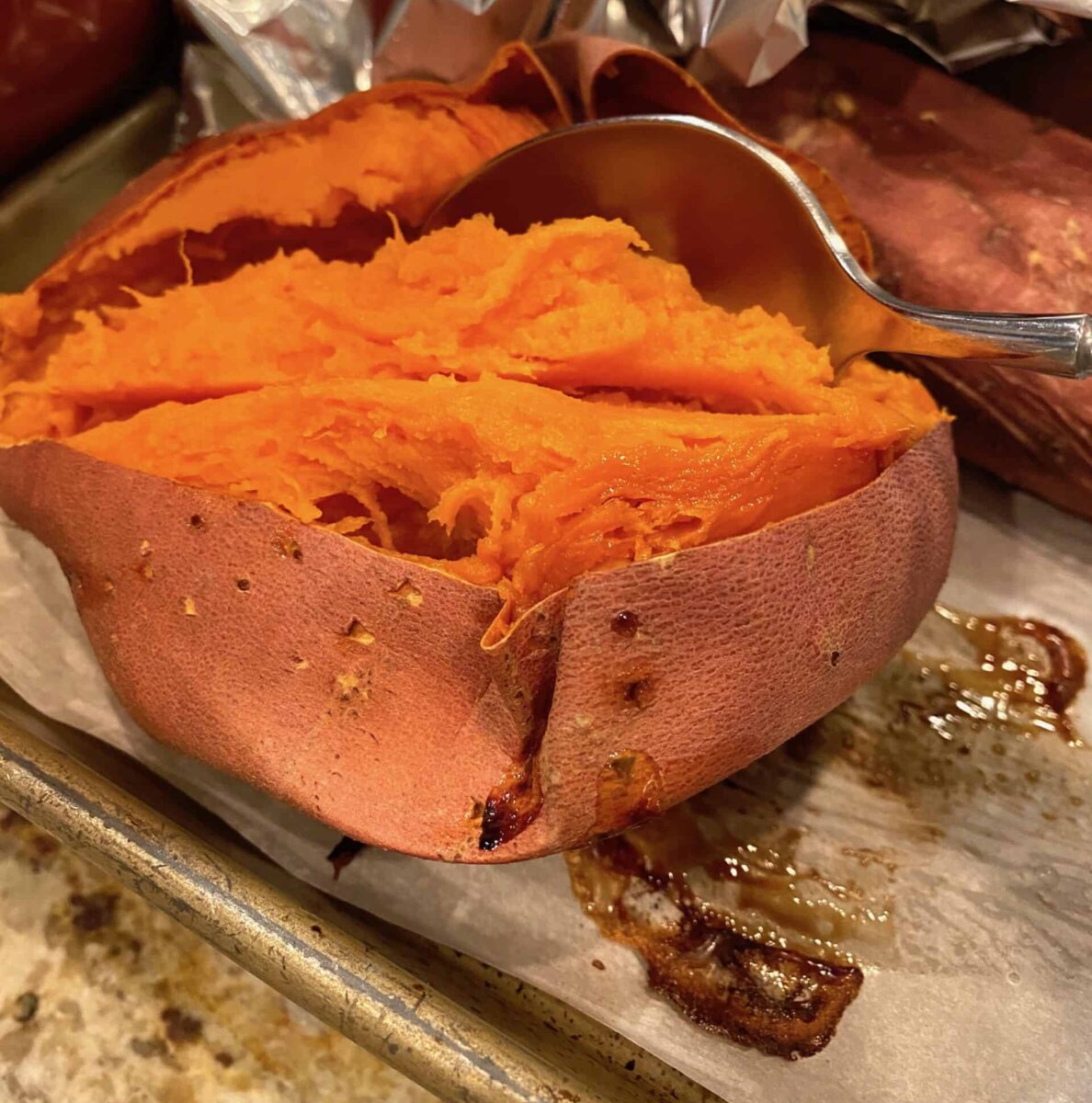 Sweet potatoes are actually more closely related to the carrot than potatoes and they don't do grow well in Idaho because it takes about 150 frost-free days to grow sweet potatoes. It's pretty hard for Idaho weather to meet those conditions.
The majority of U.S. sweet potatoes are grown in the southern states. Thank you North Carolina!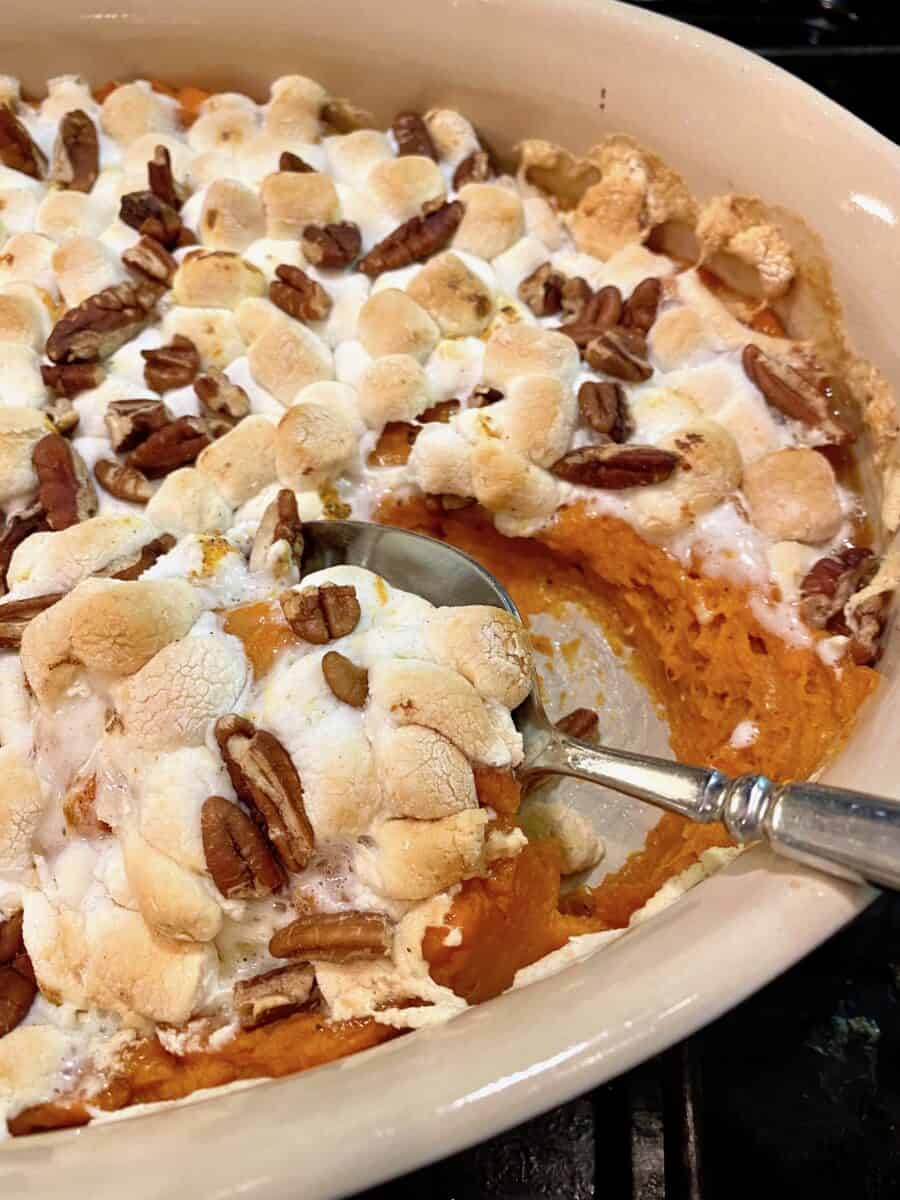 More Side Dishes
Here are a few more sides that I think you'll enjoy.
Stay in touch
Be sure to give a star rating to the recipes you make from the Crinkled Cookbook. I always love hearing from you. Sharing is great too! Use the buttons after the recipe to text it with just one click or send it to family and friends on Pinterest and Facebook. Enjoy.
Recipe