Spicy Chicken Alfredo is a smooth homemade Alfredo sauce and the perfect base for crisp, tangy slices of spicy pepperoncinis, carmelized onions, simmered mushrooms and tender, diced chicken. The sauce is like something you'd enjoy in a fancy restaurant. Spoon over your favorite pasta with plenty of freshly grated parmesan cheese and enjoy.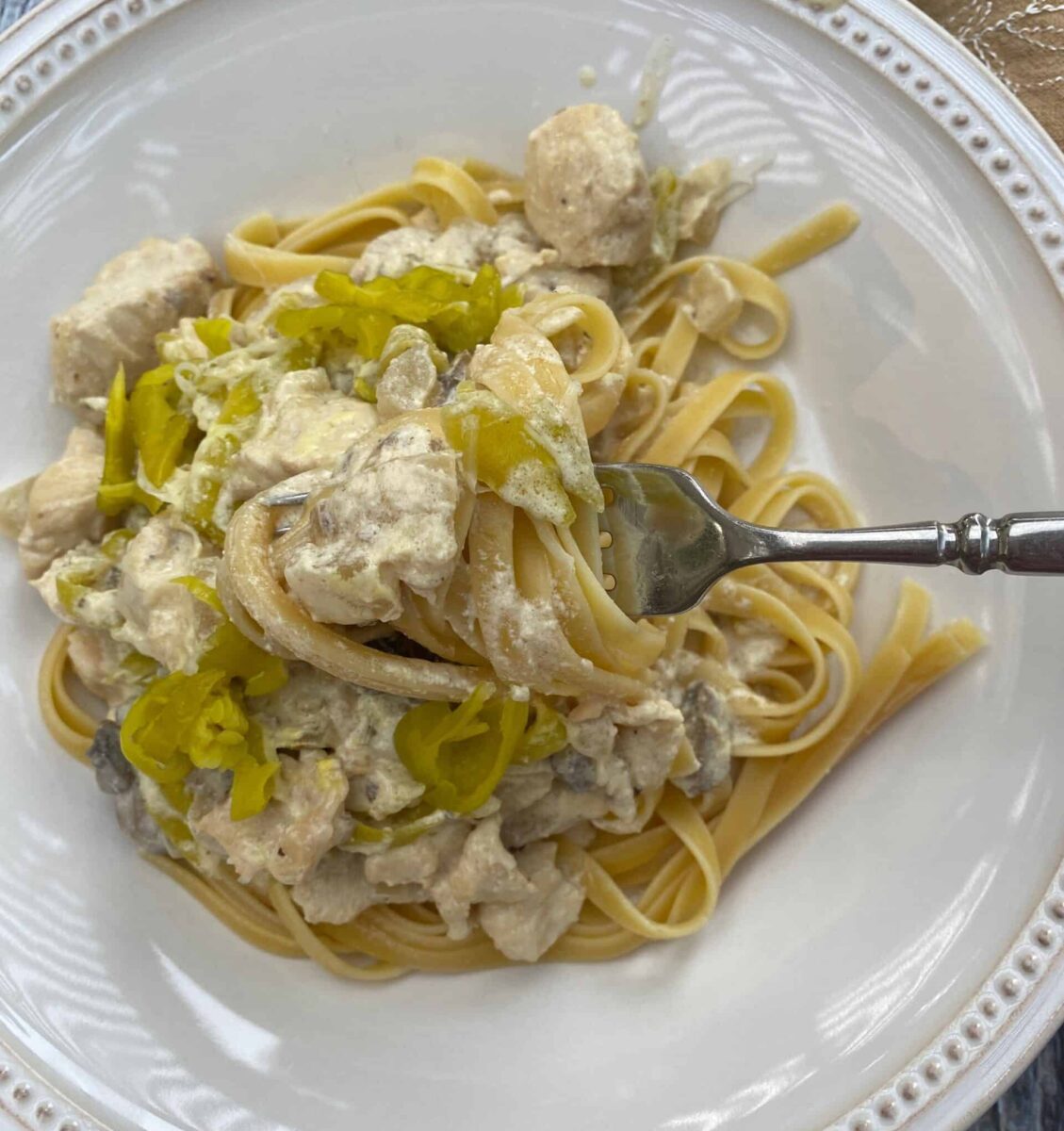 Note: Some of the links on this page are paid links, Amazon Associates. This means I make a small commission when you click and shop. Your cost is always the same and I only link to and recommend products or ingredients that I use.
Ingredients to Have on Hand
Chicken breasts
Half and half
Mushrooms
Pepperoncinis
Parmesan cheese
Butter
Cream cheese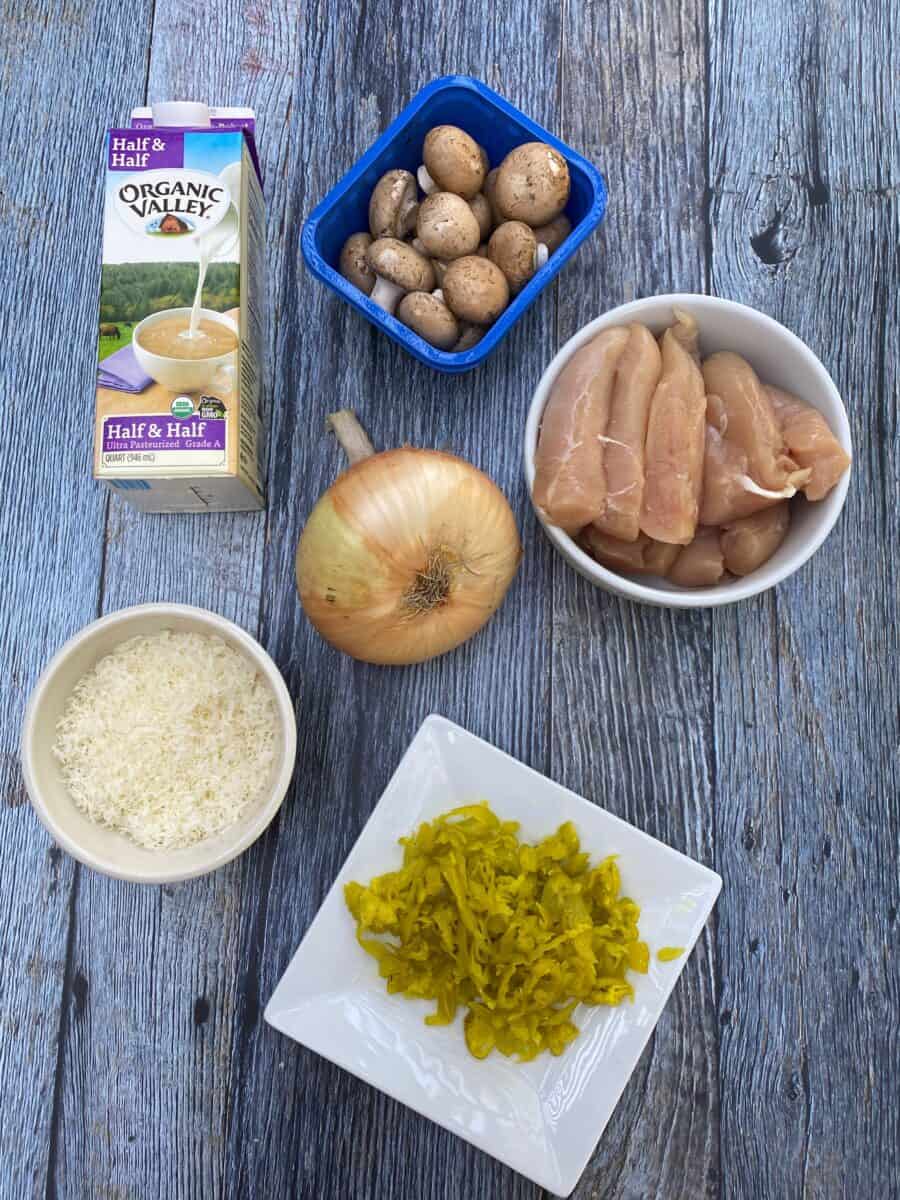 You Control the Spiciness
This spicy Alfredo sauce can be less, or more spicy depending on how many pepperoncinis pepper slices you add. One cup of sliced pepperoncinis gives the sauce a tangy "bite" but the sauce is so creamy, thanks to butter and cream cheese, it's still mild enough even for kids. My family loves a spicy Alfredo sauce so we add extra slices of those juicy pepperoncinis on each serving.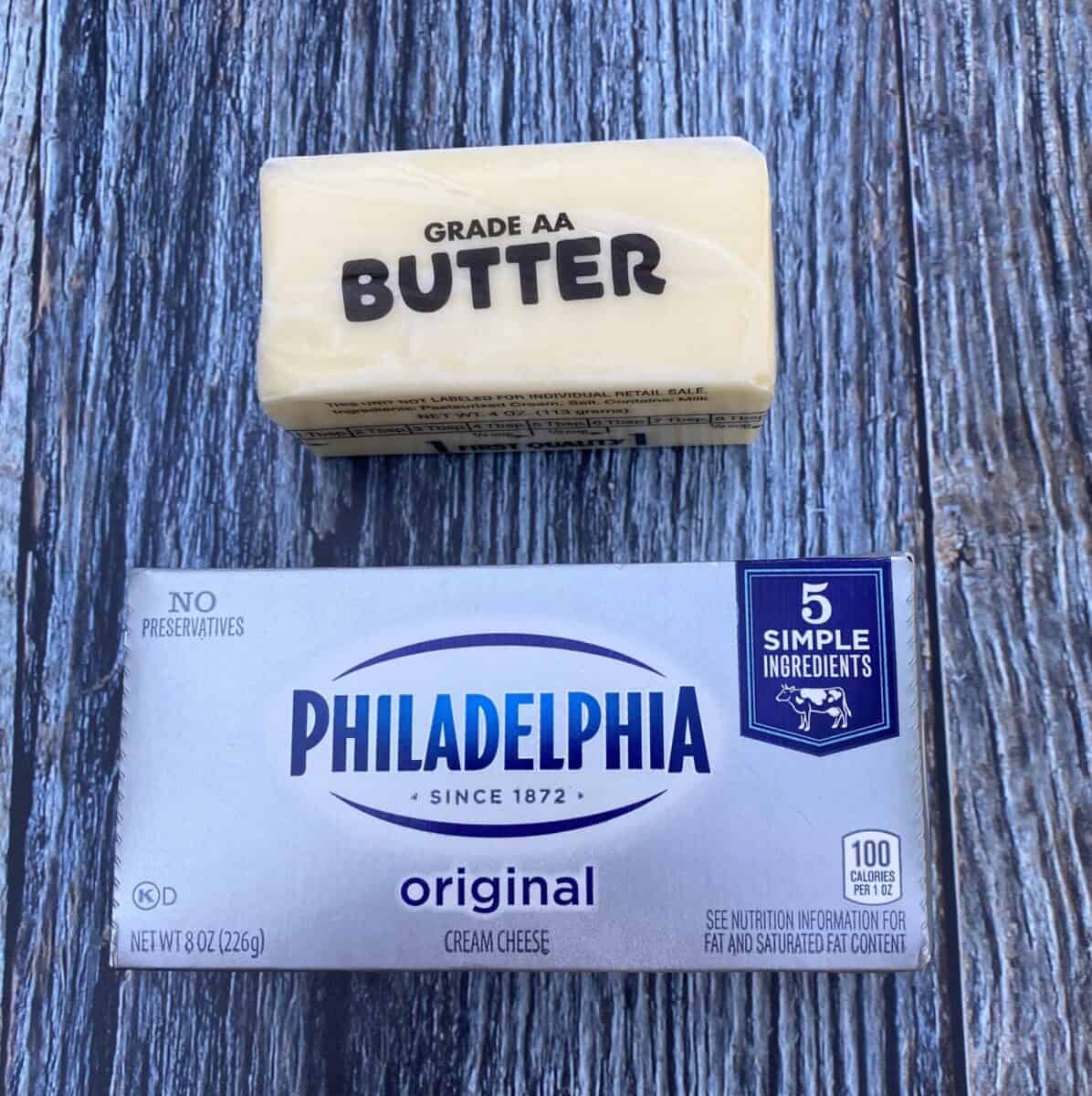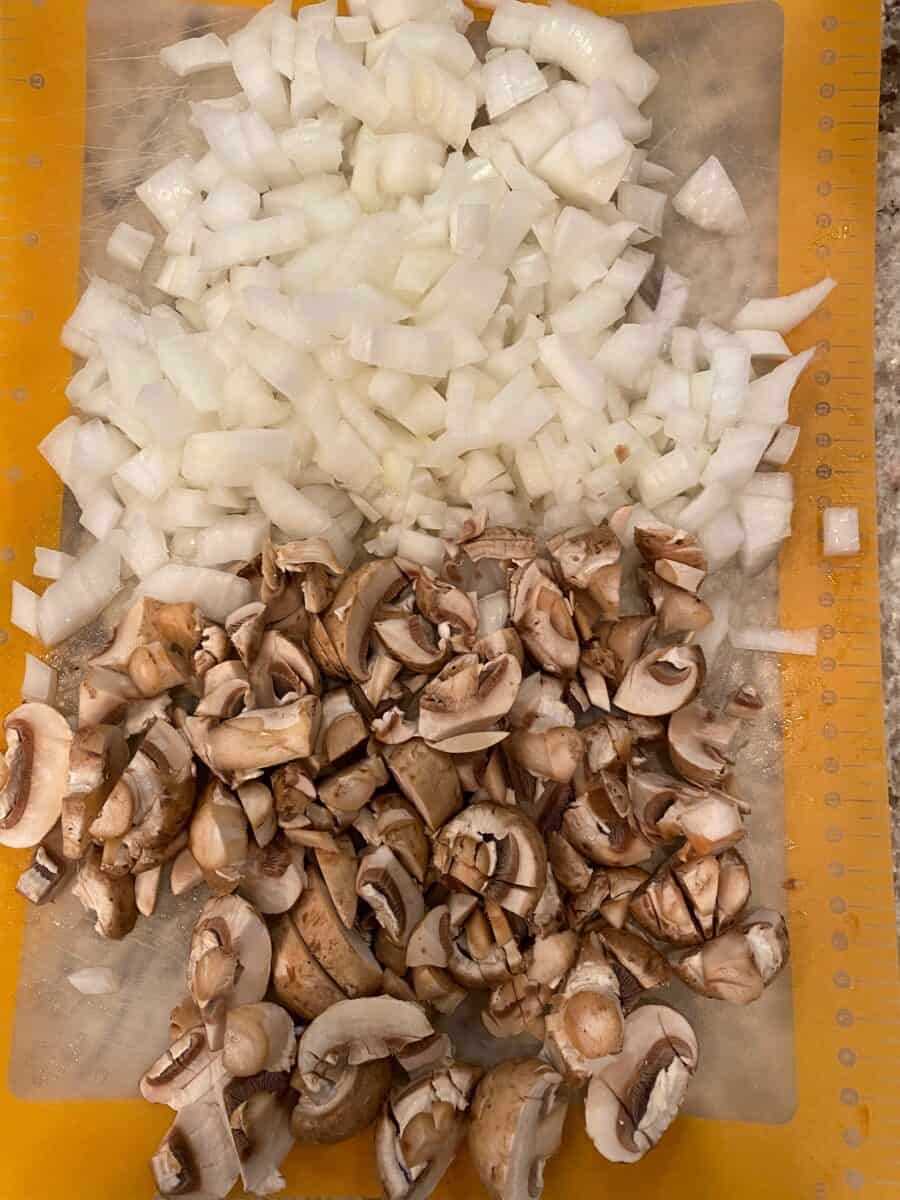 Easy to Make, Ready in About an Hour
Although the end result is impressive and full of flavor, and may remind you of a tasty Alfredo sauce from a restaurant - this is an easy recipe to make.
I dice the onions and mushrooms, then toss them in the pan with the hot olive oil. While the diced ingredients are cooking and carmelizing in the oil, I dice the uncooked chicken and shred the Parmesan cheese. From start to finish, your delicious spicy Alfredo sauce is ready in about an hour.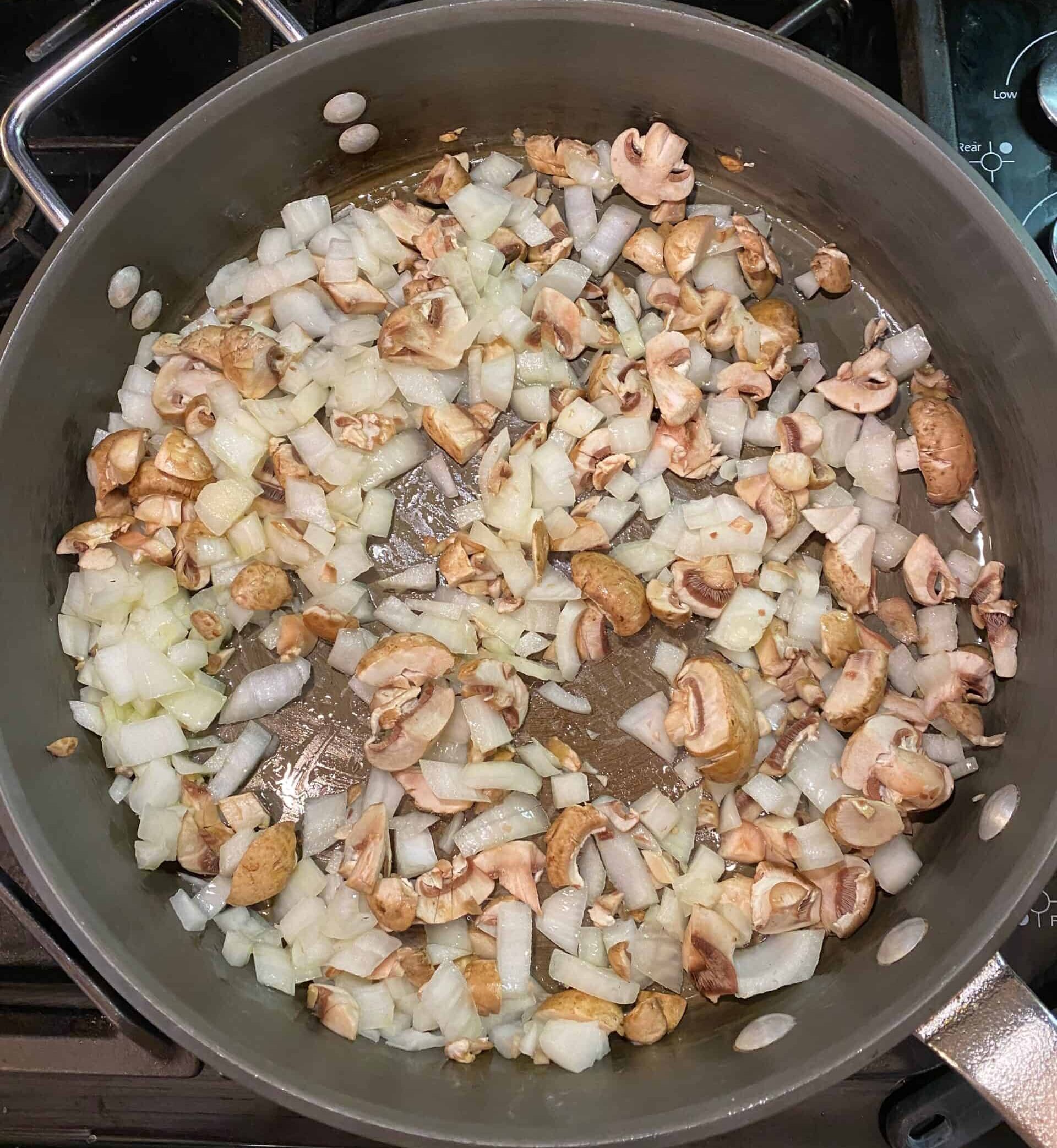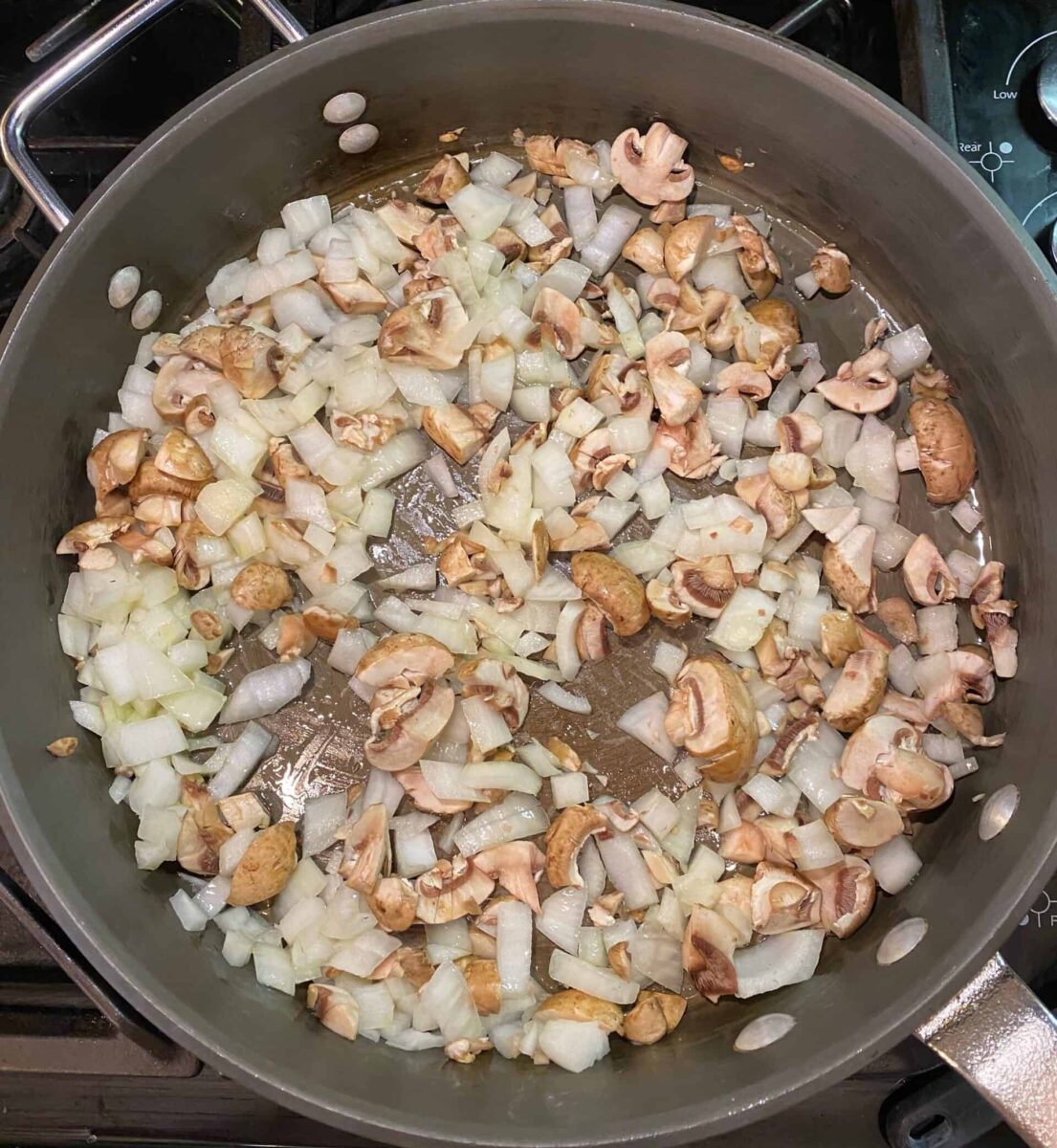 One Large Pan, Pot or Skillet
Everything for Spicy Chicken Alfredo cooks in the same pan. Well, almost everything. The pasta will need to cook in a large stock pot of boiling water of course. But each step of this recipe uses just one large pan, pot or skillet.
I cook it in the biggest skillet I own because the sauce and ingredients need plenty of room to simmer together. But a Dutch Oven such as Le Creuset will work great too.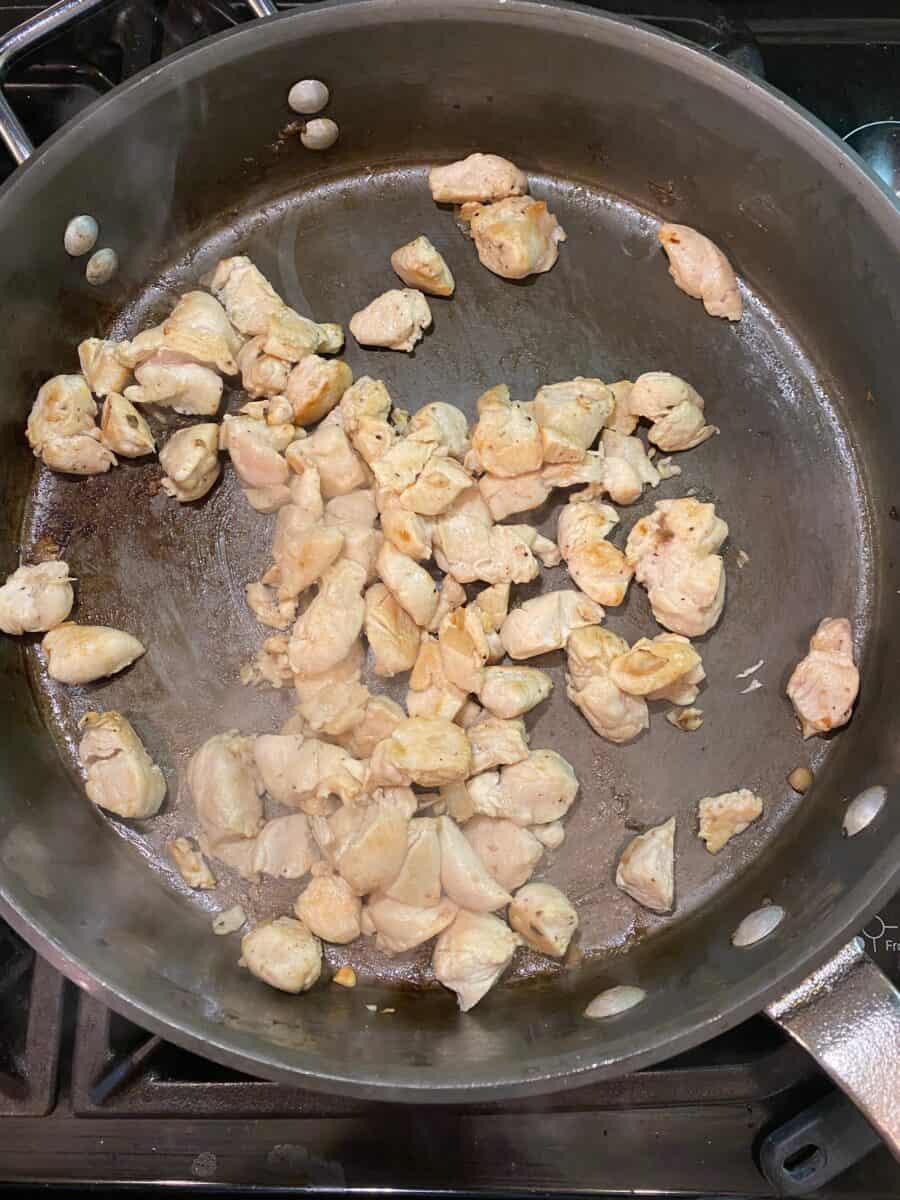 FAQ and Tips
Can I use milk instead of half and half?
You can, and it will taste fine but the Alfredo sauce will not be nearly as creamy. I totally understand the desire to cut down on calories or fat which is why I use half and half instead of heavy cream, which most Alfredo sauces call for.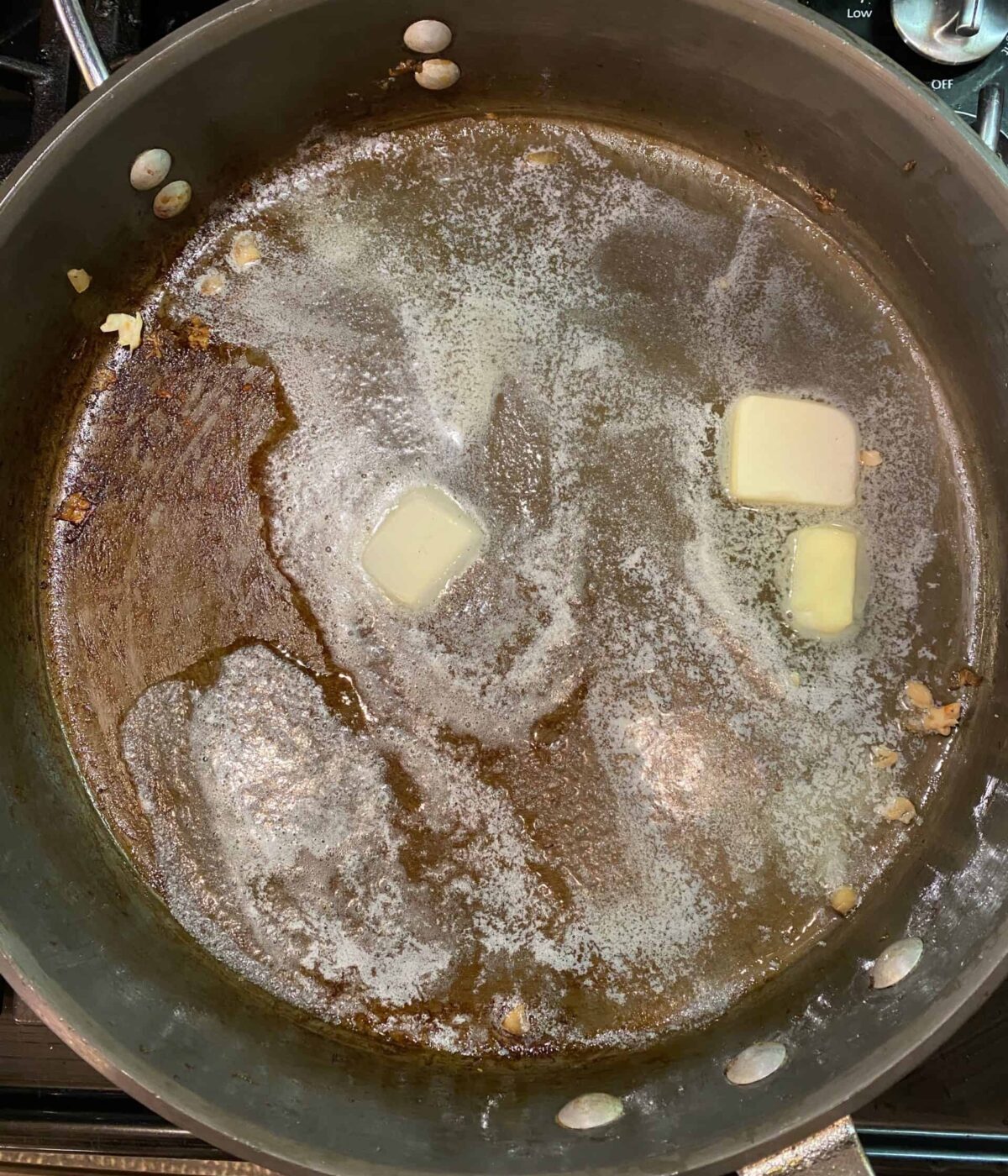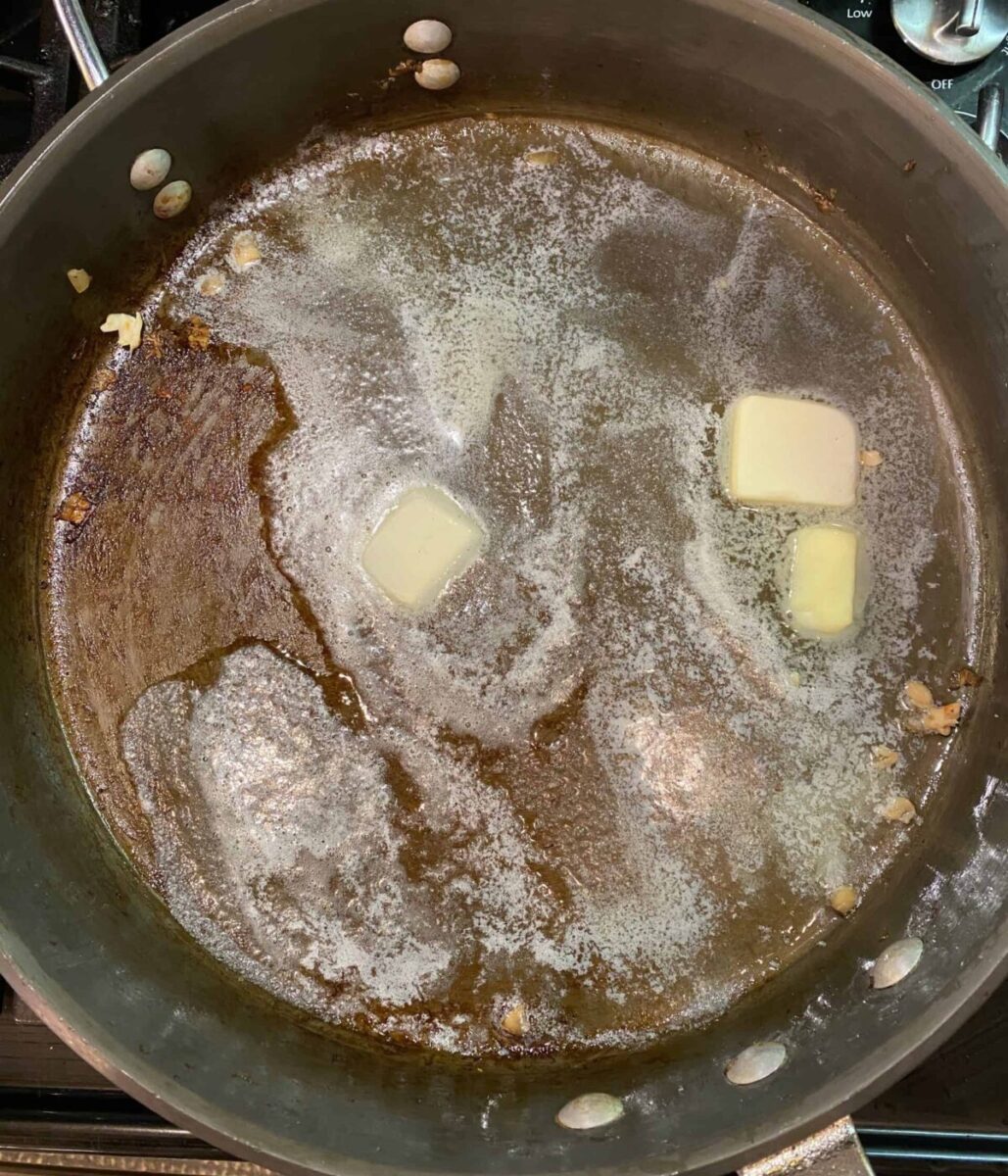 Pasta Options
Any shape pasta will work great with this recipe, but fettuccine is the most common pasta variety to serve with an Alfredo sauce and that's what I like to use.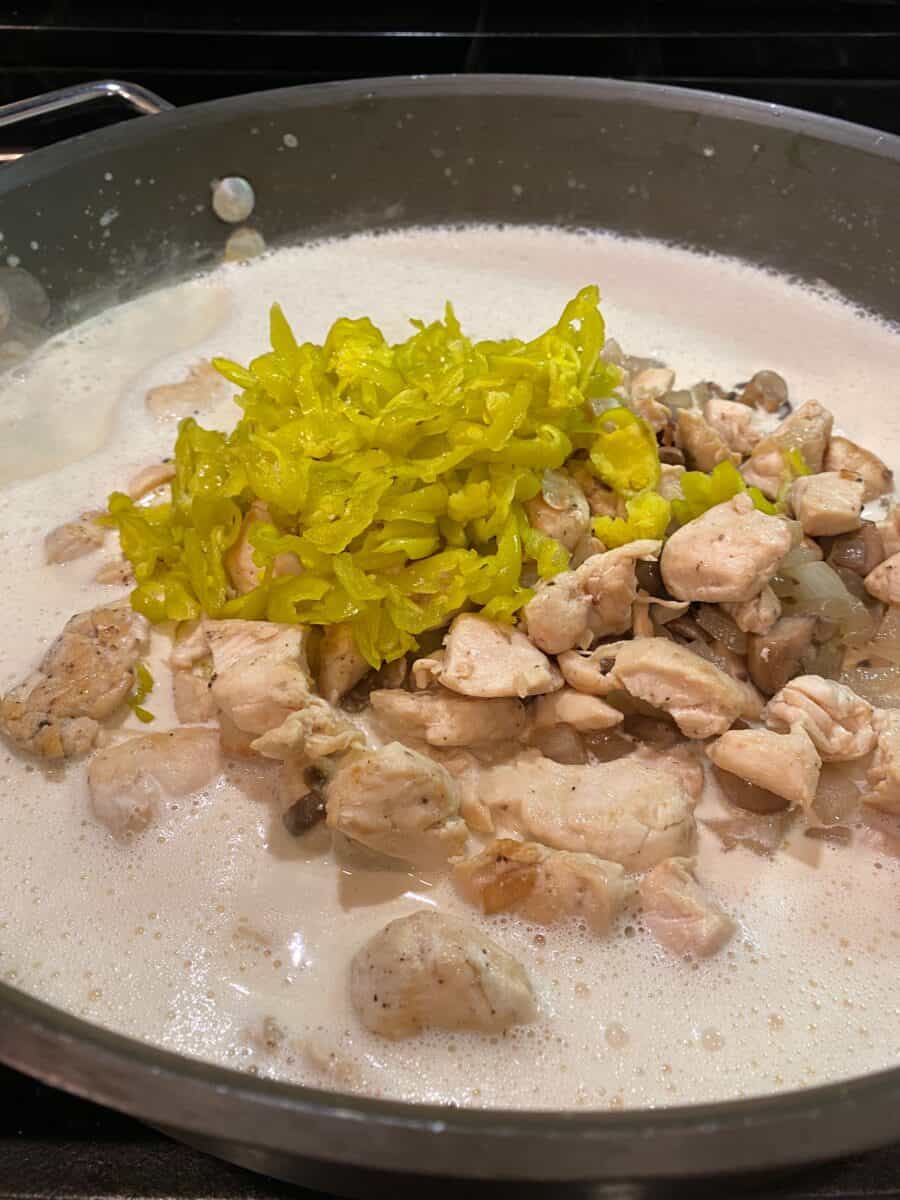 Stir and Thicken the Sauce
The spicy Alfredo sauce thickens as it cooks so don't worry if the sauce seems a little too thin at first. Watch the video below to see how thick my sauce was right after I mixed in the chicken and pepperoncinis. After simmering for about 15 minutes the sauce will be creamy and perfect.
How to Serve and Store
Serve your Spicy Chicken Alfredo in pasta bowls, I love the ones I bought at Sur la Table and I use them all the time. Store leftovers in a covered bowl in the refrigerator, the sauce sometimes thickens a little after being refrigerated so just add a little milk when you warm it to create the consistency of when it's served hot from the stove.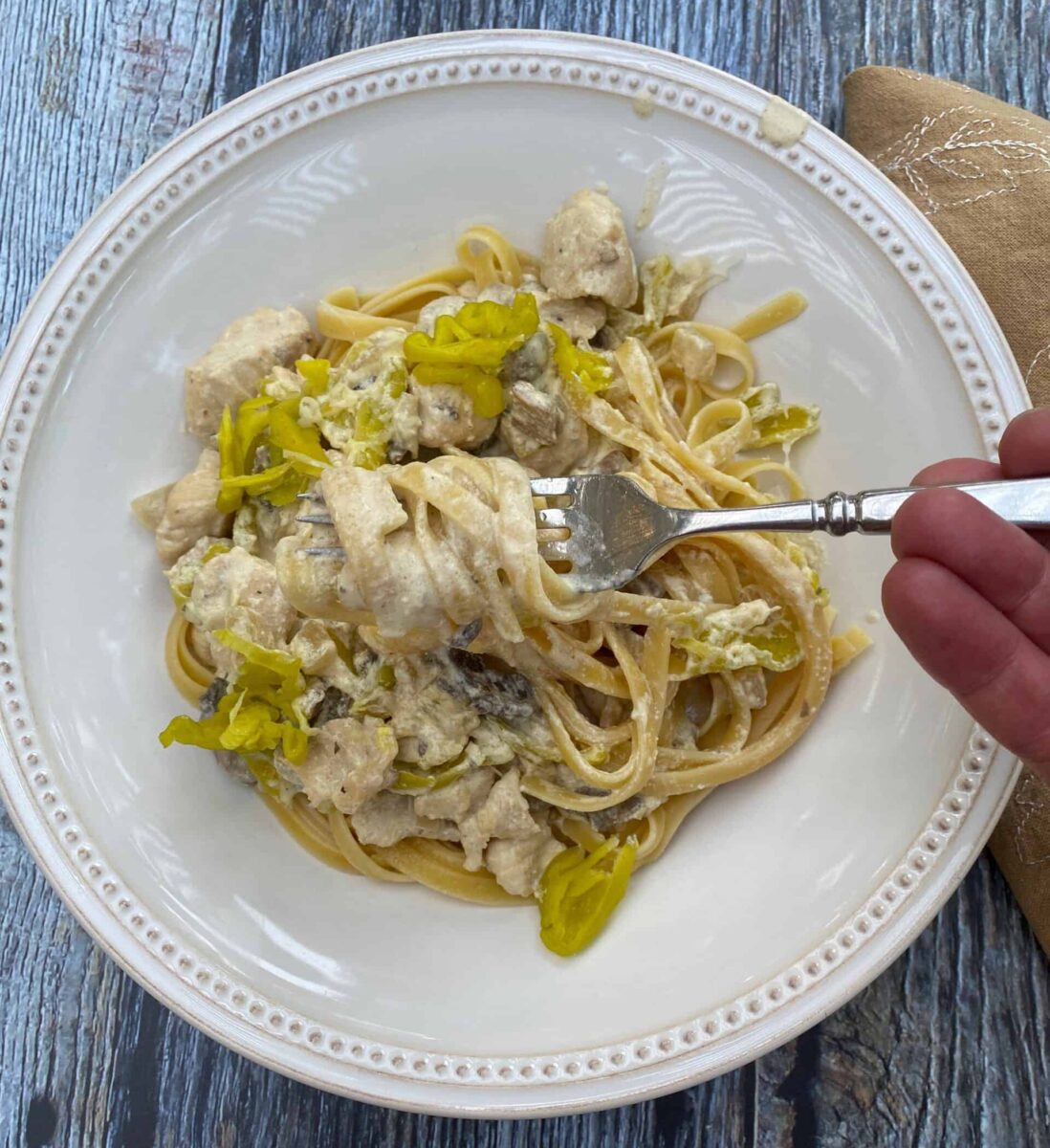 More Pasta Recipes and Toppings
Be sure to give a star rating to the recipes you make from the Crinkled Cookbook. I always love hearing from you. Sharing is great too! Use the buttons after the recipe to text it with just one click or send it to family and friends on Pinterest and Facebook. Enjoy.