Skillet Chicken Tacos, are a delicious dinner recipe that's ready to eat in under an hour. The chicken is simmered in a skillet and all you need to add are a few pantry staples. The chicken is seasoned with familiar Mexican spices along with crunchy cabbage, fresh cilantro and a squeeze of lime juice. These are so good!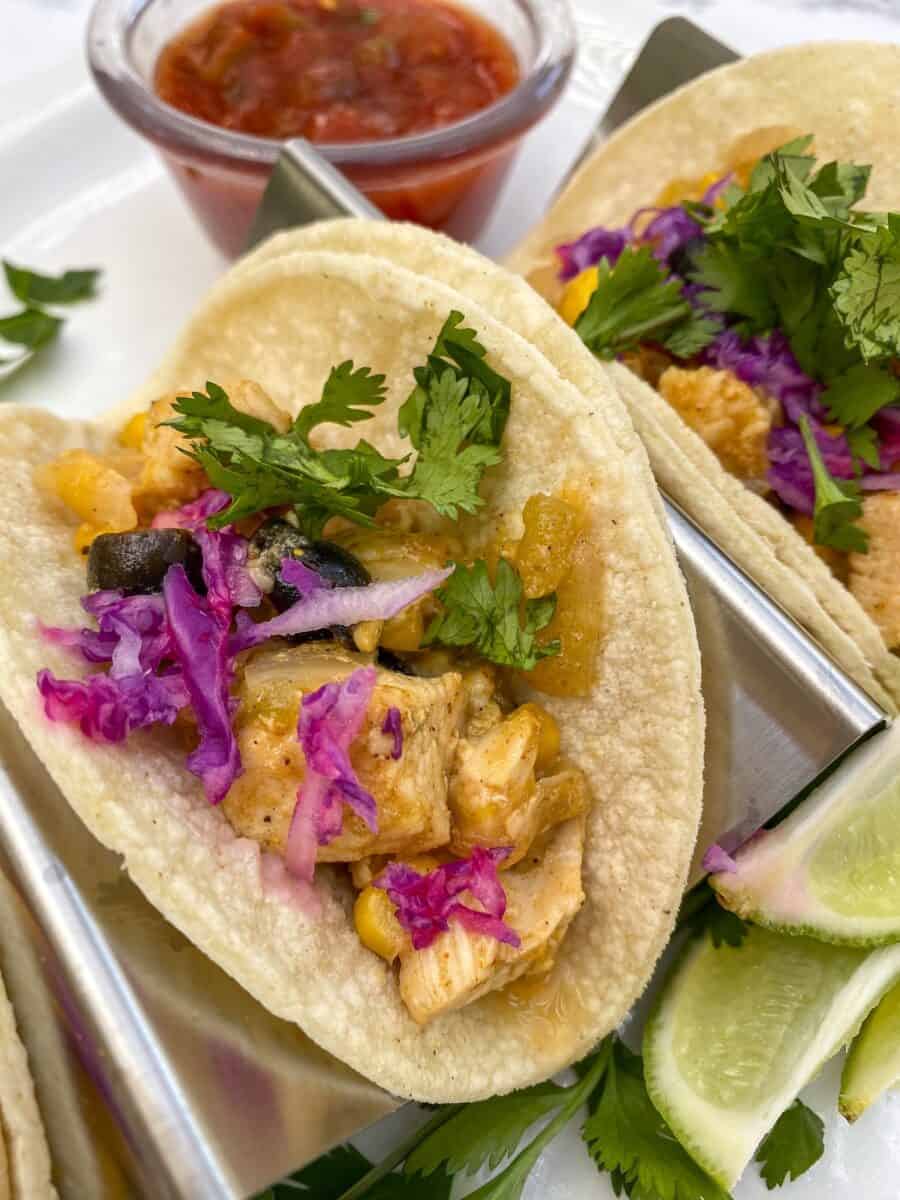 Ingredients to have on hand
chicken breasts
canned whole kernel corn
small call of sliced olives
small can of diced green chilies
cumin
chili powder
cheddar cheese
red cabbage
cilantro
limes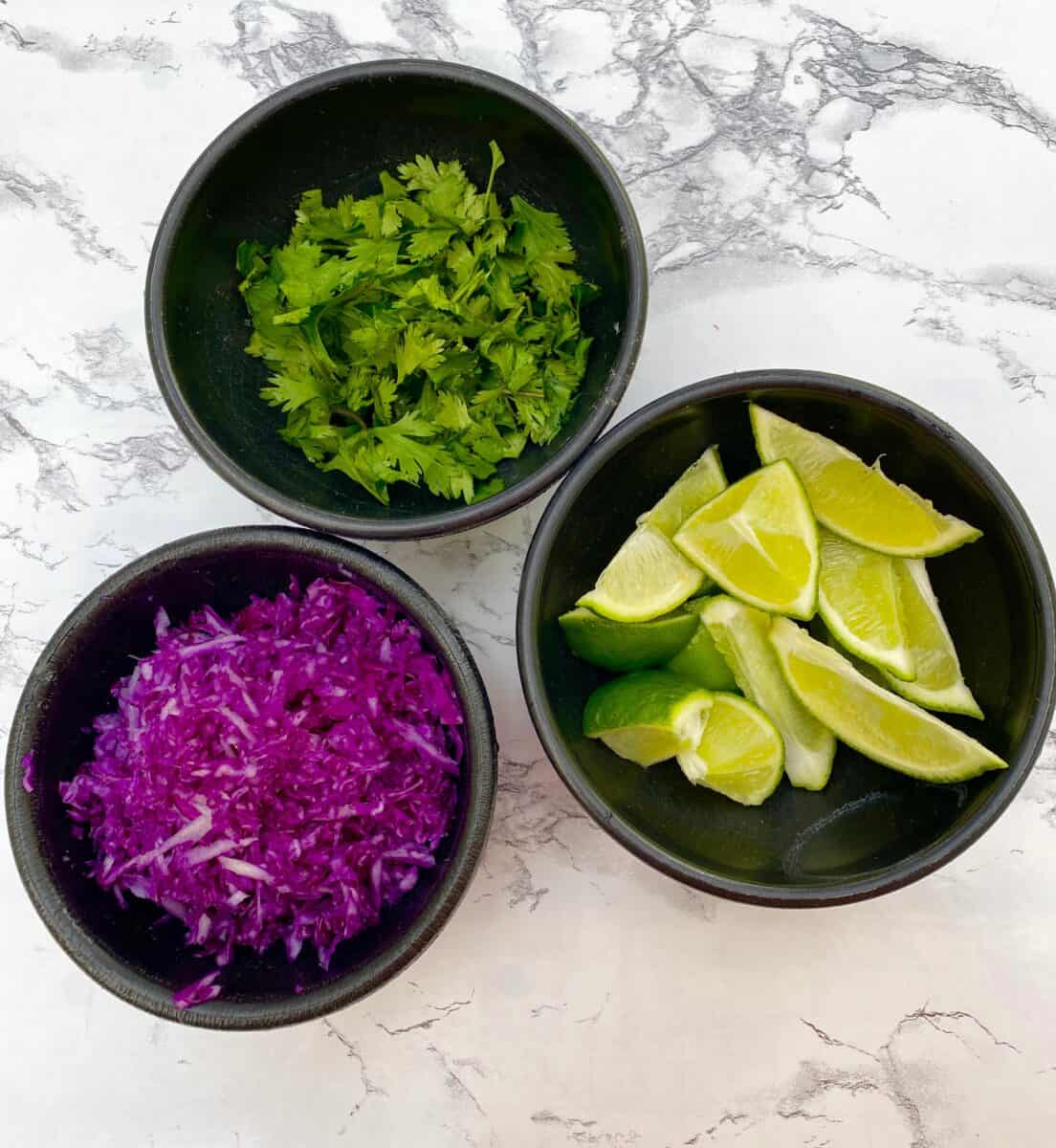 Recipe Shortcut
This recipe comes together quickly, which is why it's one of my favorites! Tacos can be a lot of work, but since most all of the ingredients - even the cheese - are stirred together in the skillet, there's less prep work involved. If you are making this on a work night, rinse and chop the cilantro and red cabbage in the morning, cover and store in the refrigerator until you get home.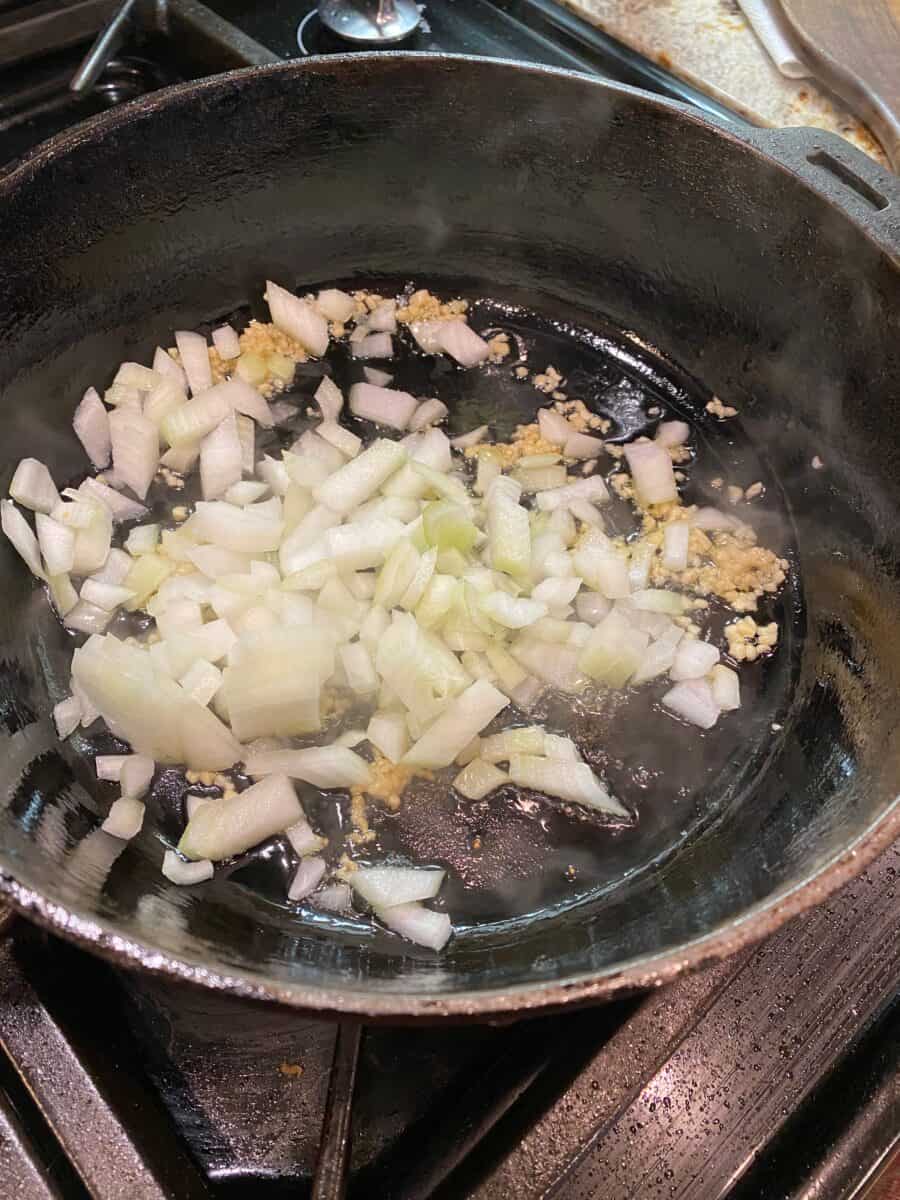 Serving Options
This is a versatile and delicious filling for anything from street tacos to a topping for fresh salad greens. You can even create a unique entree-style nachos using this recipe! Scroll to the recipe below for all the details on how to serve Skillet Chicken Tacos beyond tortillas.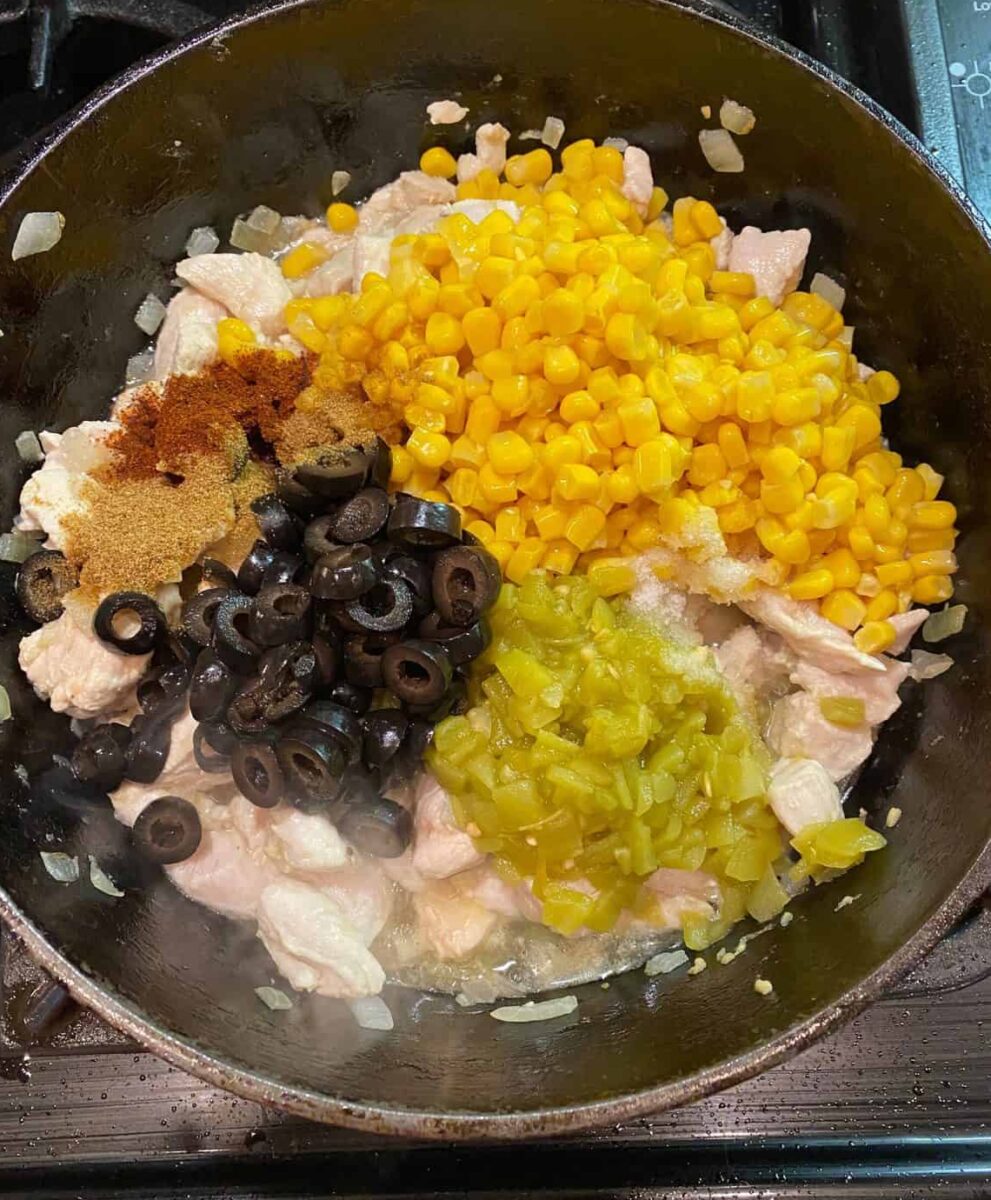 Step by Step Instructions
Time needed: 50 minutes.
With three easy steps this chicken dinner recipe goes from the stovetop to the dinner table.
Stovetop

Add olive oil. Heat over medium high until the oil starts to shimmer. Add diced chicken, chopped garlic and diced onion. Cook until the chicken is nearly done and the onions and garlic are fragrant and begin to soften.

Add ingredients

Add olives, green chilis, corn, cumin, chili powder, salt and pepper and stir to combine. Don't cover the skillet, you'll want most of the moisture to evaporate.

Simmer

Let the mixture simmer for about 15-20 minutes with no lid, or until most of the moisture is gone. (A little moisture is OK.) Remove from heat, stir in cheddar cheese, cover and keep warm until you are ready to serve.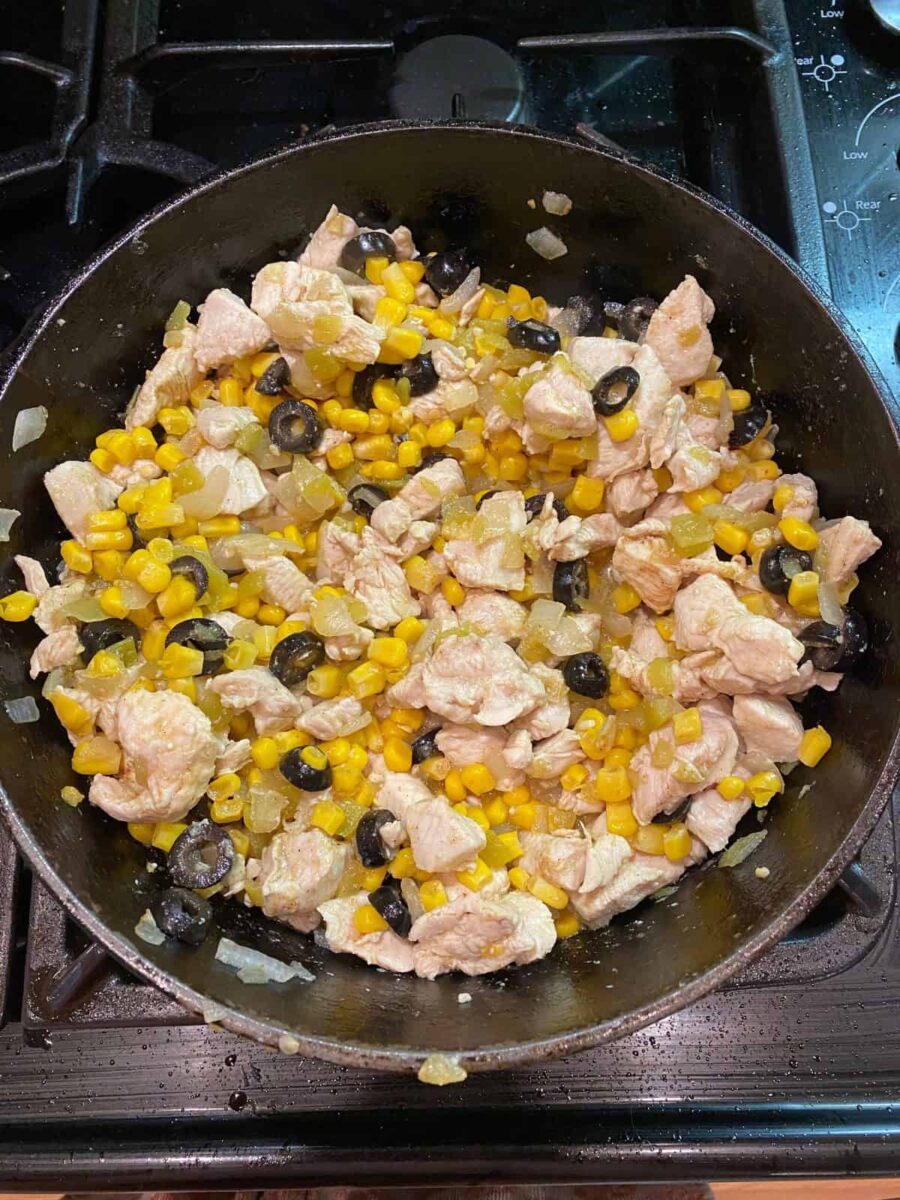 Can I substitute another meat for the chicken?
Yes, ground turkey or lean ground beef are equally delicious. But avoid using a ground chuck which tends to have a higher fat content and will add a little too much fat to this recipe, in my opinion.
Taco Holder
When it comes to serving these tacos, I love to use a taco holder. Many restaurants serve tacos this way and for a good reason, a taco holder helps keep all the delicious ingredients stacked up together, instead of spilling out onto the plate. Plus, with a taco holder, everything looks great on the plate!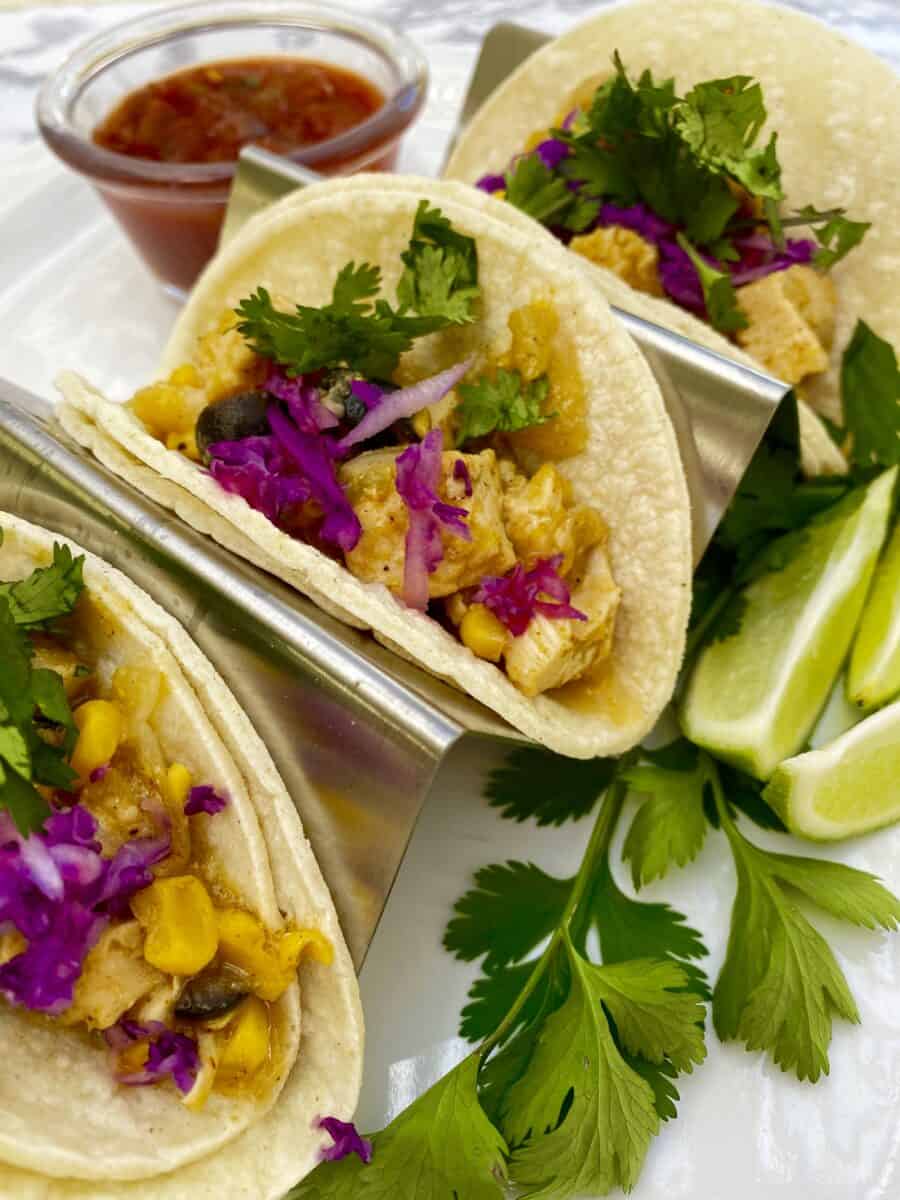 Related Recipes
Whether it's tacos or any recipe that includes our favorite Mexican flavors and spices, you can't beat having a side of homemade guacamole. I think you will love this simple and delicious recipe for the Best Guacamole. For another main dish option, try Tamale Casserole. It's filling and delicious and my family thinks it tastes exactly like homemade tamales wrapped in corn husks. But Tamale Casserole is much easier to make.