Chicken Street Tacos make a delicious taco night dinner that's ready to eat in under an hour. The tender chicken is simmered in a skillet on the stove and seasoned with familiar Mexican spices then topped with crunchy cabbage, fresh cilantro and a squeeze of lime juice. Serve using small street taco-sized tortillas for an easy grab-and-go meal!
Note: Some links in the recipe are paid links, Amazon Associates. This means I make a small commission when you click and shop. Your cost is always the same and I only link to and recommend ingredients that I use.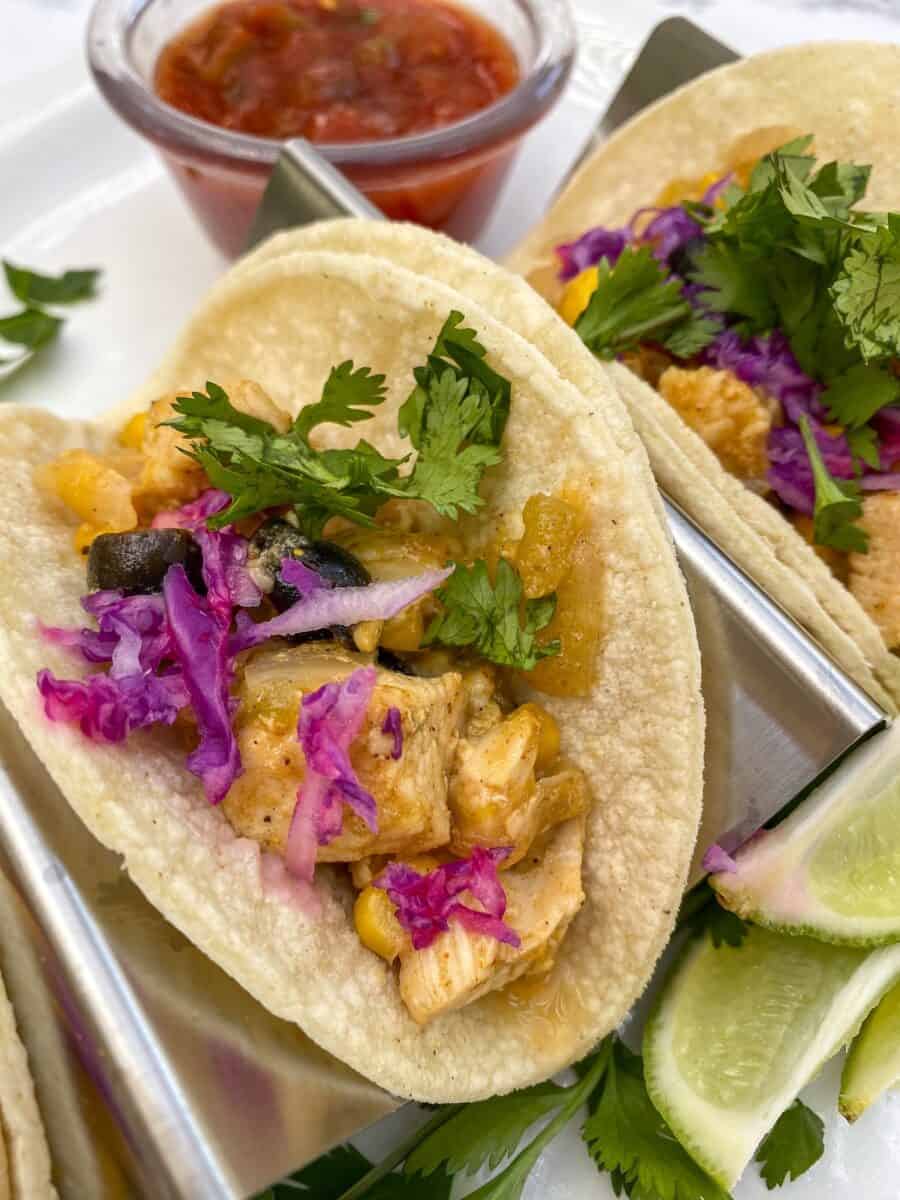 Jump to:
Ingredients to Have on Hand
Chicken Street Tacos are easy to make and include many ingredients that are easy to keep on hand in the pantry.
chicken breasts
canned whole-kernel corn
small can of sliced olives
small can of diced green chilies
cumin
chili powder
Cheddar cheese or Cotija cheese (optional)
red cabbage
cilantro
limes
Scroll down to the recipe card for details on quantities for each ingredient.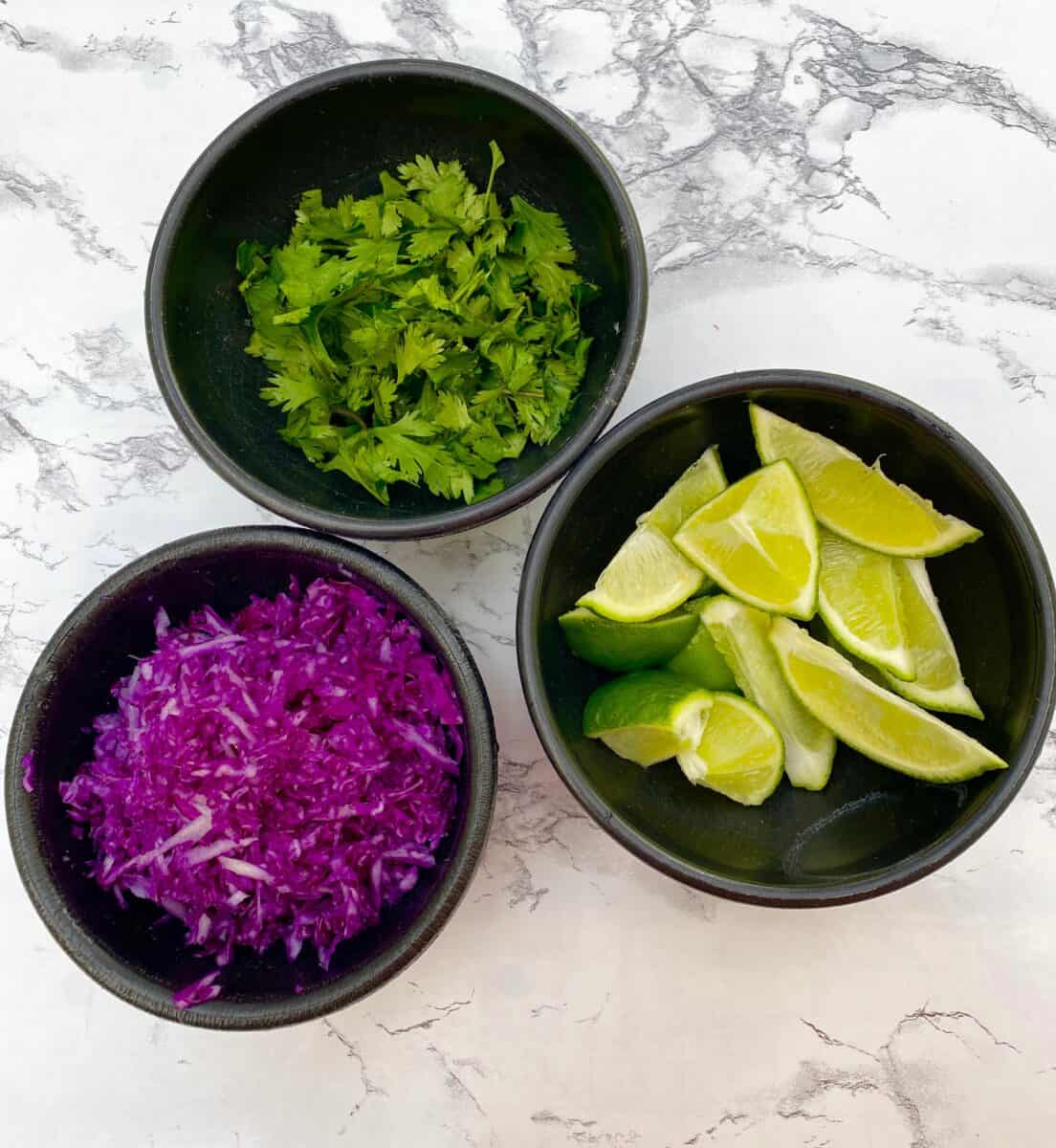 Cook in a Skillet on the Stove
Chicken Street Tacos come together quickly, which is why this is one of my favorite recipes. Tacos can be a lot of work, all the chopping of the ingredients takes time.
But since most all of the ingredients in this recipe are stirred together in the skillet, and several ingredients come from a can, there's much less prep work involved.
Hint: If you are making this on a work night, rinse and chop the cilantro and red cabbage in the morning, cover and store in the refrigerator until you get home.
Step-by-Step: Chicken Street Tacos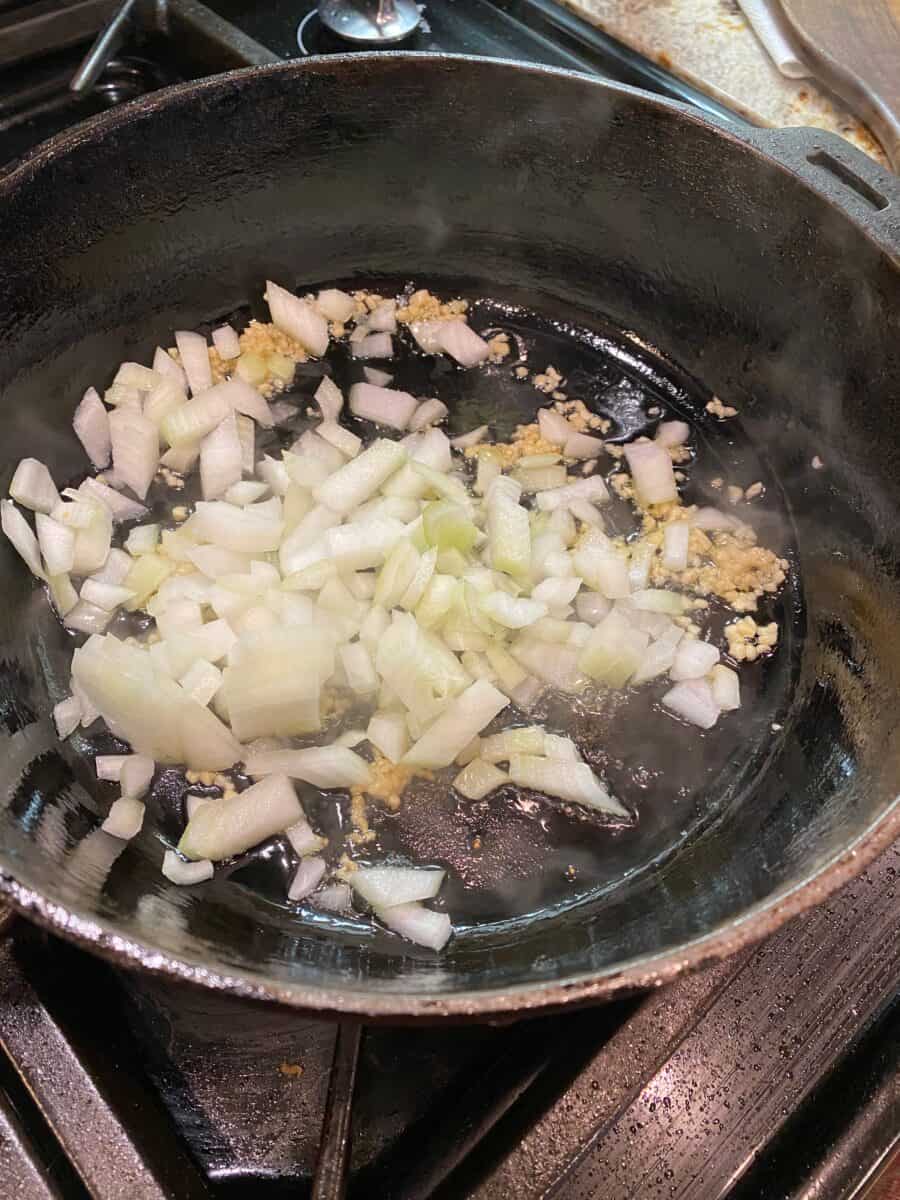 Time needed: 30 minutes
With three easy steps, this chicken dinner recipe goes from the stovetop to the dinner table. Perfect for a busy work night!

Stovetop

Add olive oil to a medium-sized skilled. Heat over medium-high heat until the oil starts to shimmer. Add diced chicken, chopped garlic and diced onion. Cook until the chicken is nearly done and the onions and garlic are fragrant and begin to soften.

Add Ingredients

Add canned and drained sliced olives, green chilis, drained corn, cumin, chili powder, salt and pepper and stir to combine. Don't cover the skillet, you'll want most of the moisture to evaporate.

Simmer

Let the mixture simmer for about 15-20 minutes with no lid, or until most of the moisture is gone. (A little moisture is OK.) Remove from heat, as an option, stir in cheddar cheese, cover and keep warm until you are ready to serve.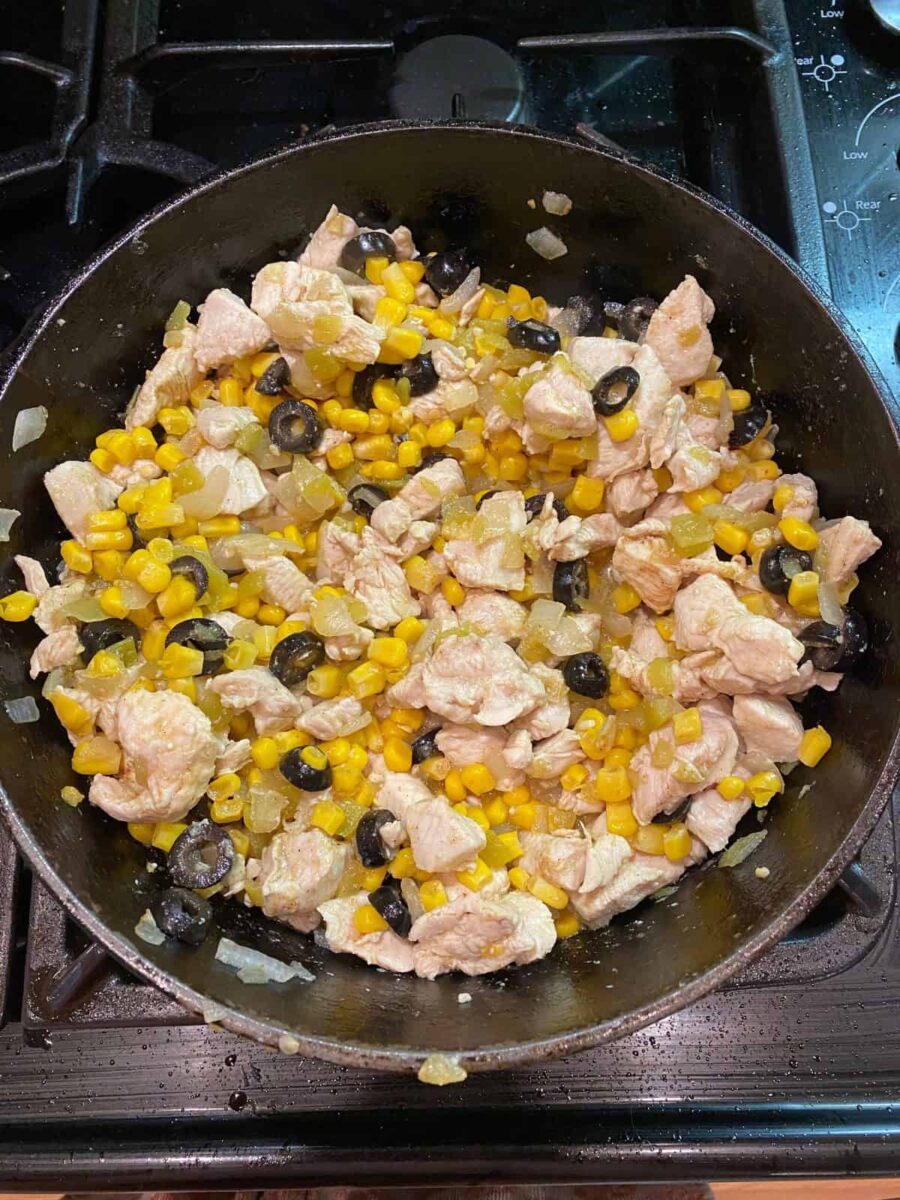 Serving Options for the Taco Filling
This is a versatile chicken taco filling and it's delicious in more than simply street taco tortillas.
For chicken street tacos: Allow for about three street tacos per person, and plan to double up the tortillas for each taco. Fill each tortilla with the skillet chicken taco mixture and top with shredded cabbage, lime juice and cilantro.
For chicken taco salad: Arrange your favorite salad greens on a serving plate, top with 1 cup of chicken street taco mixture per person. Add shredded cabbage on top, a squeeze of lime juice and cilantro, and a few street taco tortillas on the side.
For chicken nachos: Spread contents from 1, 16-ounce bag of corn tortilla chips on a large baking sheet and place in a 375° oven for 10 minutes or until the chips are warm. Top with chicken taco mixture, shredded cabbage, a squeeze of lime juice and cilantro. This is a hearty and delicious way to serve nachos for dinner.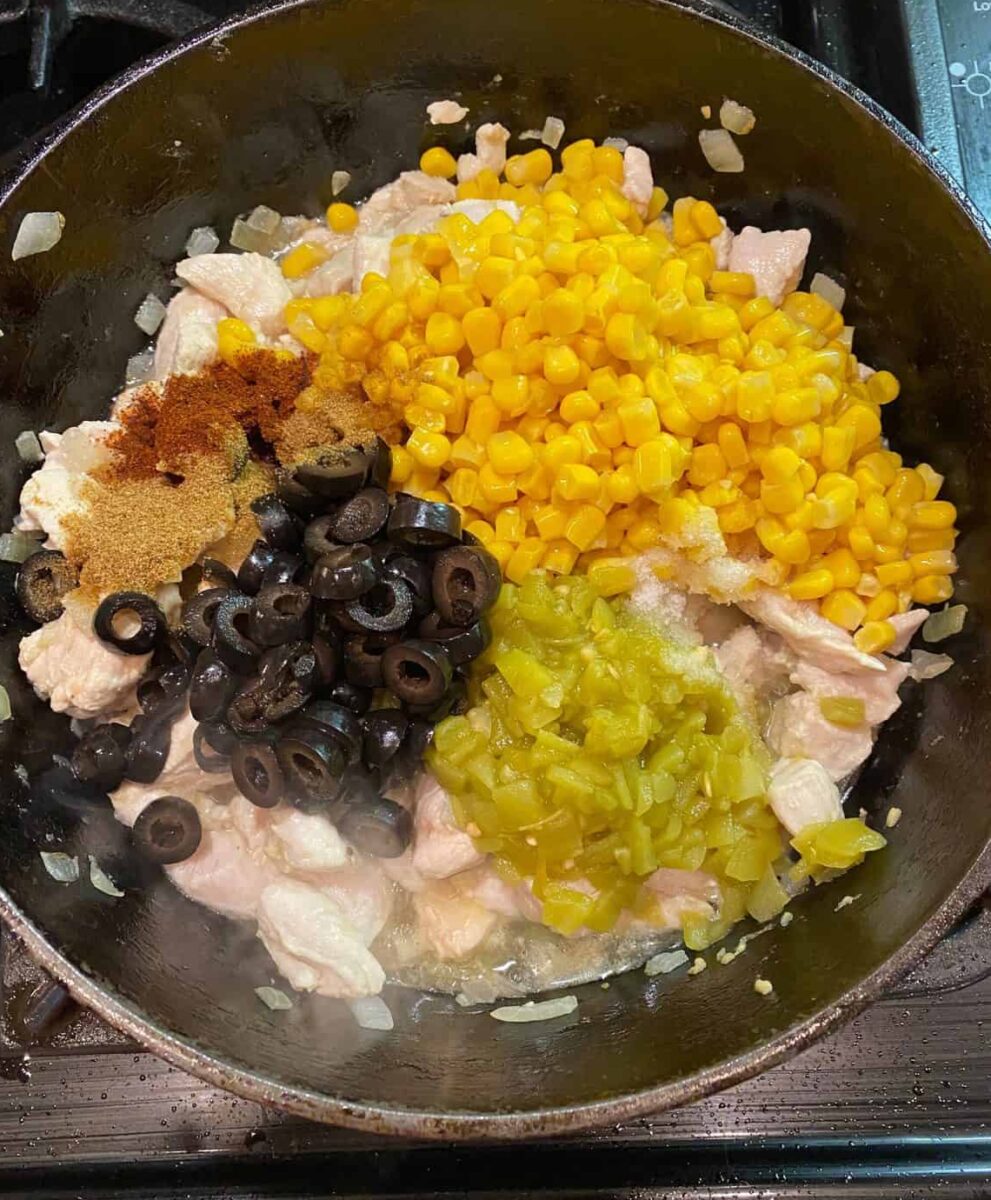 Chicken Taco Seasoning
Any taco recipe is enhanced with spicy seasoning. Here's all you need to create a perfectly balanced seasoning for chicken street tacos:
2 teaspoons cumin
½ teaspoon chili powder
1 teaspoon salt
¼ teaspoon ground pepper
Top Tips and FAQ
Can I substitute another meat for the chicken?
Ground turkey or lean ground beef are equally delicious.
What's the difference between a taco and a street taco?
Street tacos are smaller, about the size of the palm of our hand. Street taco corn (and flour) tortillas are sold in almost all grocery stores.
Serving Street Tacos
Historically, street tacos by design are meant to be served and eaten in a casual setting, perhaps served by a street vendor and enjoyed curbside. They are meant to be casual, not fussy or complicated.
When it comes to serving street tacos, I highly using a taco holder. Many restaurants serve tacos this way and for good reason, it helps keep all the delicious ingredients stacked up together, instead of spilling out onto the plate or on our hands.
Plus, with a taco holder, everything looks great on the plate.
When using street taco-sized tortillas, it's best to serve two per taco, per person. This ensures there's an extra tortilla at the ready if any of the filling ingredients spill out and helps provide a sturdy "holder" for each taco.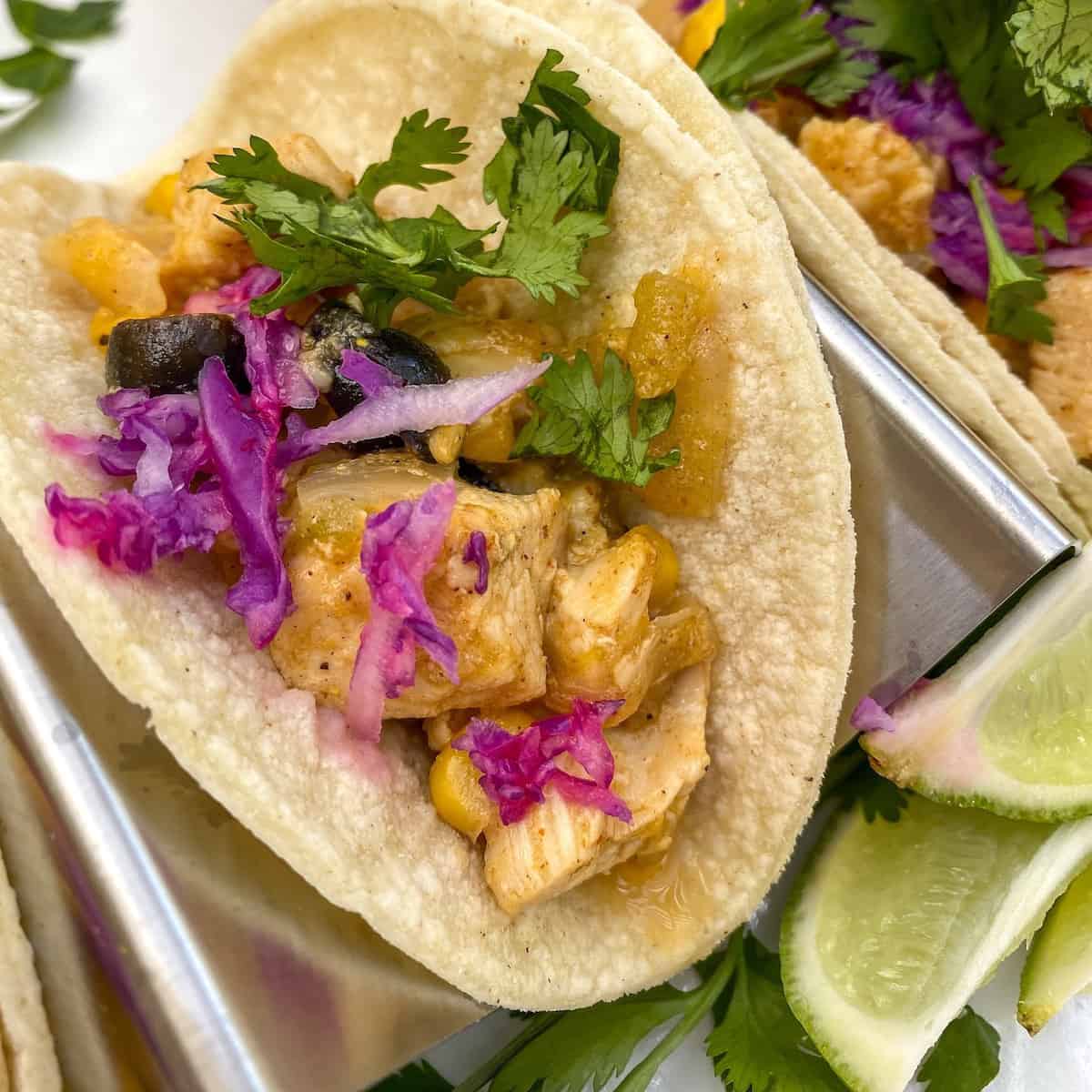 More Mexican-Inspired Recipes
Whether it's tacos or any recipe that includes our favorite Mexican flavors and spices, you can't beat having a side of homemade guacamole or Mexican Fried Rice. For another main dish option, try Tamale Casserole. It's filling and delicious and my family thinks it tastes exactly like homemade tamales wrapped in corn husks.
More Chicken Recipes
Rate the Recipe
Be sure to give a star rating to the recipes you make from the Crinkled Cookbook. I always love hearing from you. Sharing is great too! Use the buttons after the recipe to text it with just one click or send it to family and friends on Pinterest and Facebook. Enjoy.
Recipe