Idaho Chili is not complicated, it's just hearty, thick and meaty. Make this your go-to, scratch-made family chili recipe! It's the perfect combination of meat, beans and a sauce that's seasoned with just the right amount of spice. Make it on the stovetop or in the Crockpot. Serve Idaho Chili with tortillas, cornbread or Four Ingredient Basic Biscuits.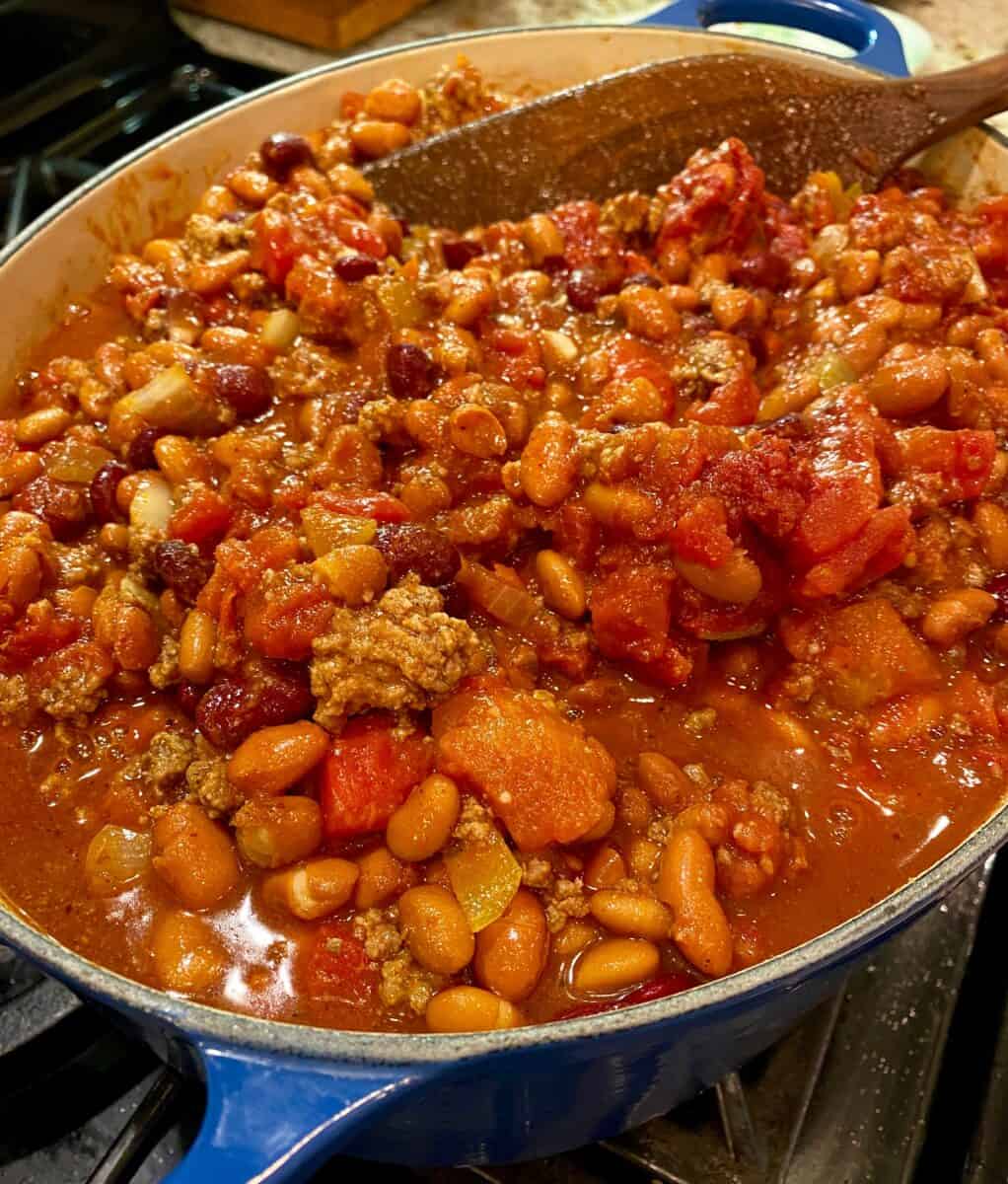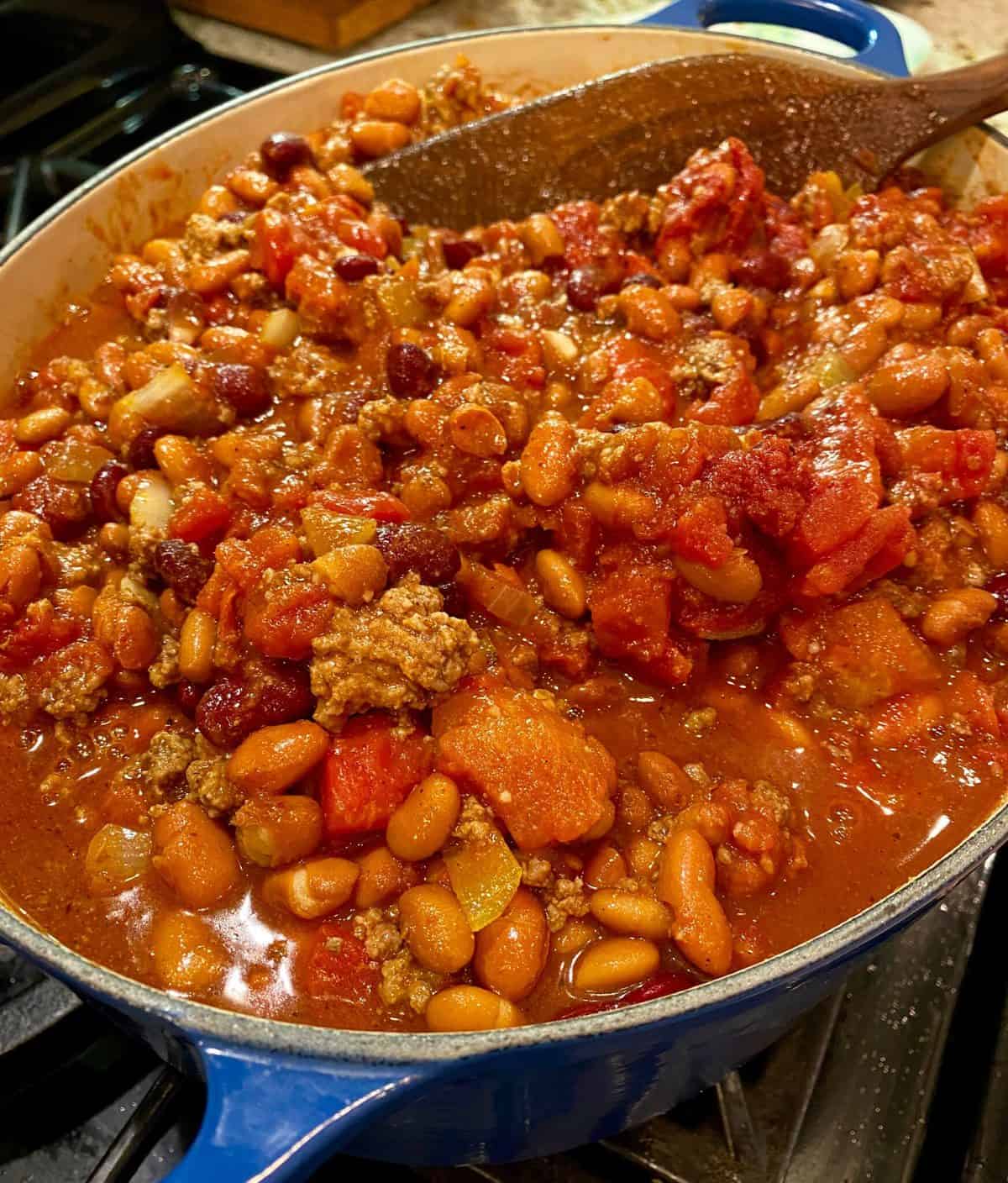 Jump to:
Ingredients to Have on Hand
ground beef
onion
canned diced tomatoes
four varieties of canned beans (use your favorites!)
Canned Rotel diced tomatoes are a great staple to keep on hand in your pantry. The spicy canned tomatoes make Chicken Spaghetti with Rotel and Velveeta, a classic comfort food main dish.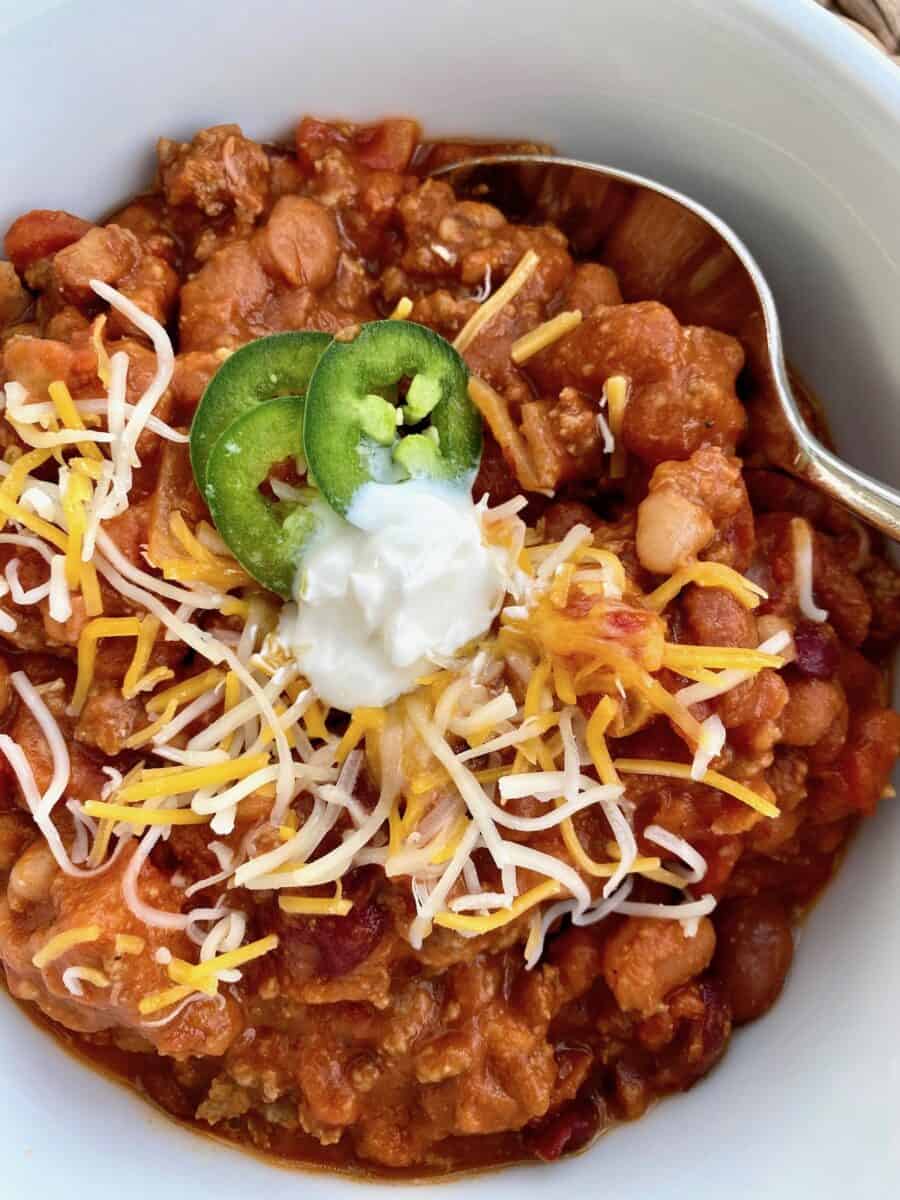 Spices for the Best Idaho Chili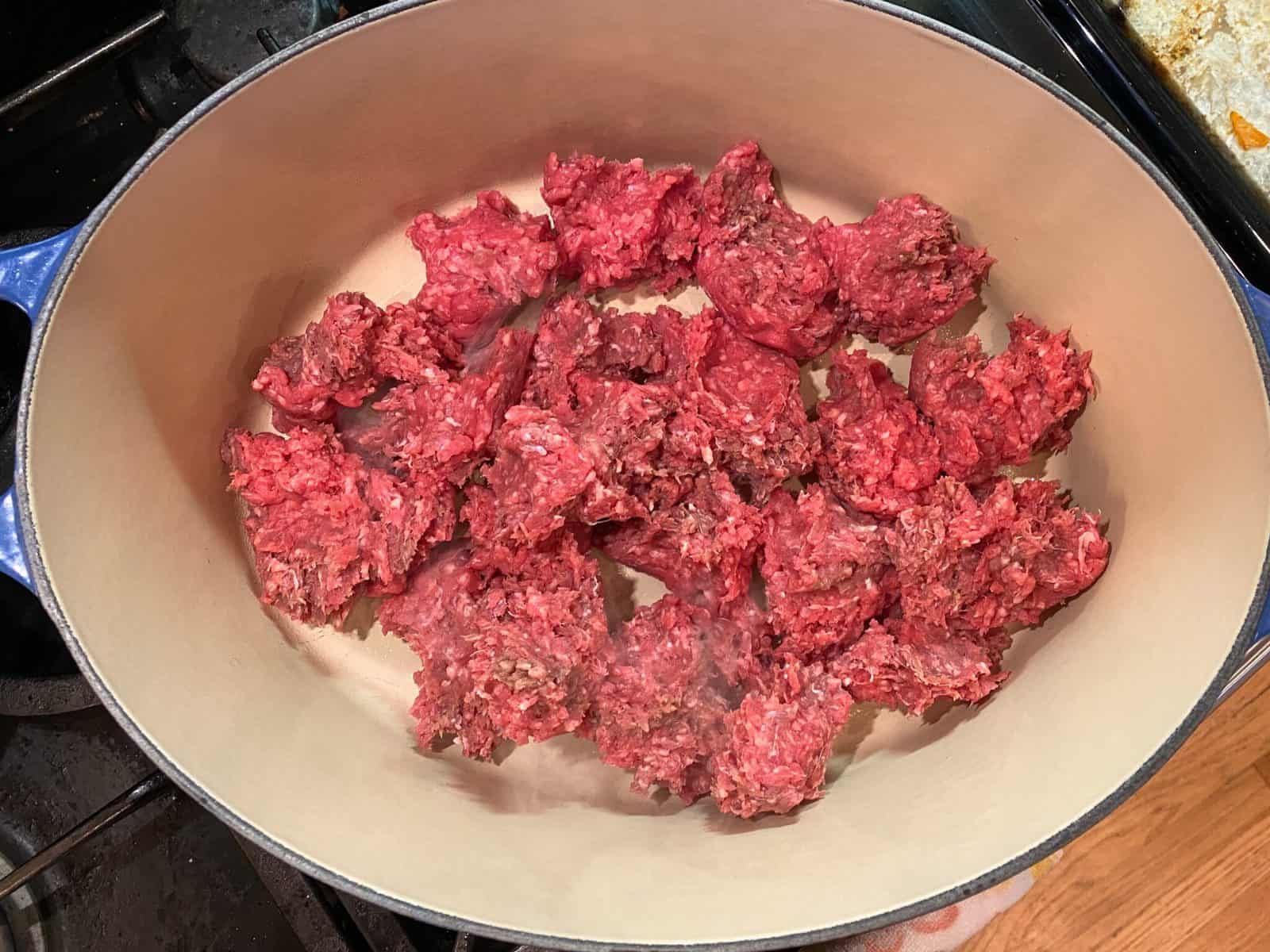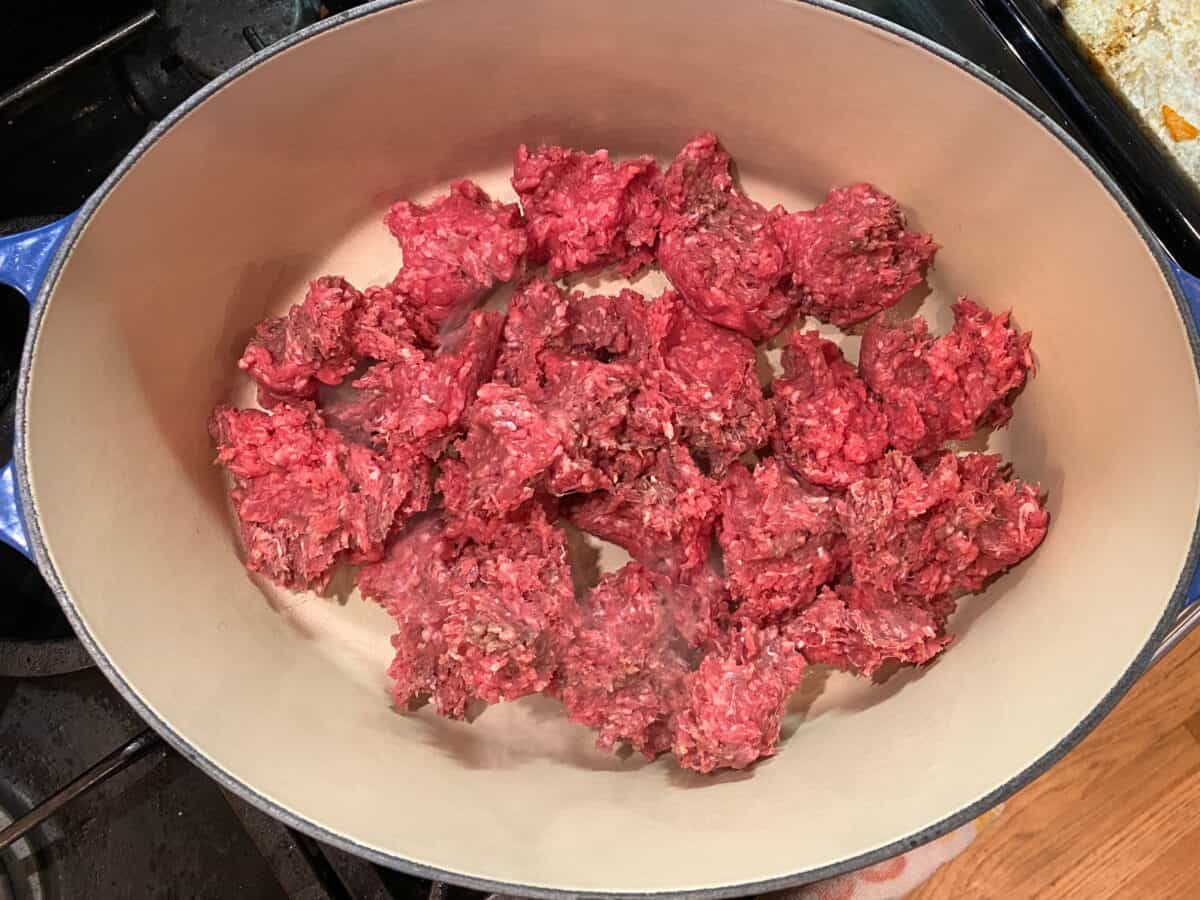 Recipe FAQs
Are there options for using canned diced tomatoes?

Whole, canned tomatoes work just fine. You'll need to break them apart in the pot to create that sauce though. That's why I like to use diced tomatoes, they break down quickly and pretty much every chunk of tomato is the same size.
Can I use fresh tomatoes?
I recommend using at least half the amount of canned tomatoes called for in this recipe, it helps to create that familiar "chili sauciness."

Honestly, though, there's really no way to mess up chili when it comes to the type of tomatoes you choose. So feel free to be adventurous.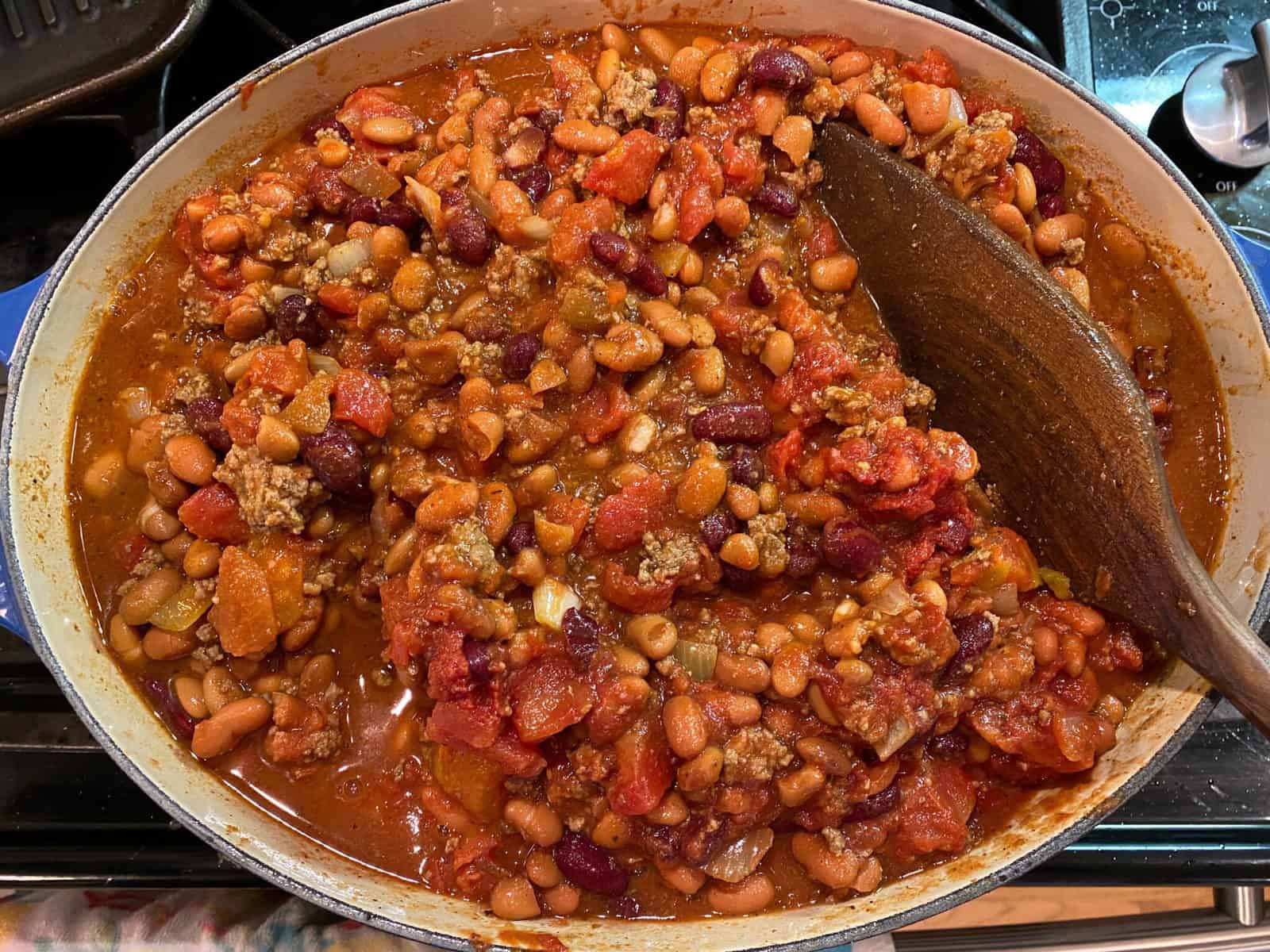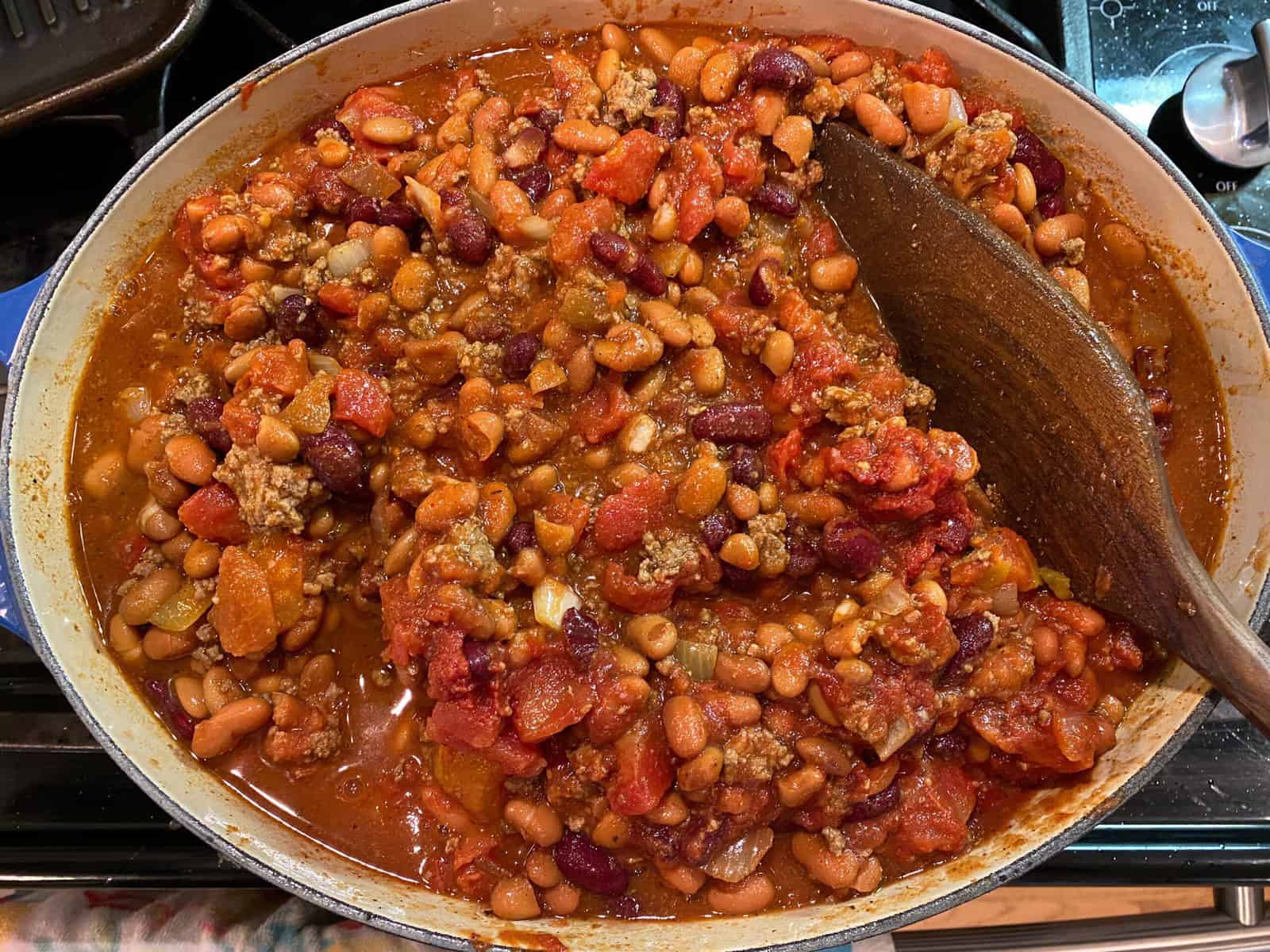 I thought "real" chili doesn't include beans.
Ah yes, the age-old debate! If your chili recipe includes beans, is it truly chili? The answer depends a little on where you live.

I'm told a lot of folks in Texas feel strongly that the answer is no. True chili does NOT include beans.

Those from other areas of the country lean more toward a "maybe" reply. I live in Idaho, and here - or at least in my family, beans are a yes. That's why I call this recipe Idaho Chili.

No matter what your preference is in the "bean debate," the truth is chili is easy to make and one of the heartiest and most crowd pleasing meals you can serve.
How To Season the Meat for Chili
This is such an easy chili to make, right on the stove. Don't let the list of spices discourage you. They are easy spices to keep on hand and you'll use them again and again.
Pro Tip: Here's a little trick to bring out the most of the spicy seasoning - add the spices after the meat is browned and before you add the tomatoes and beans.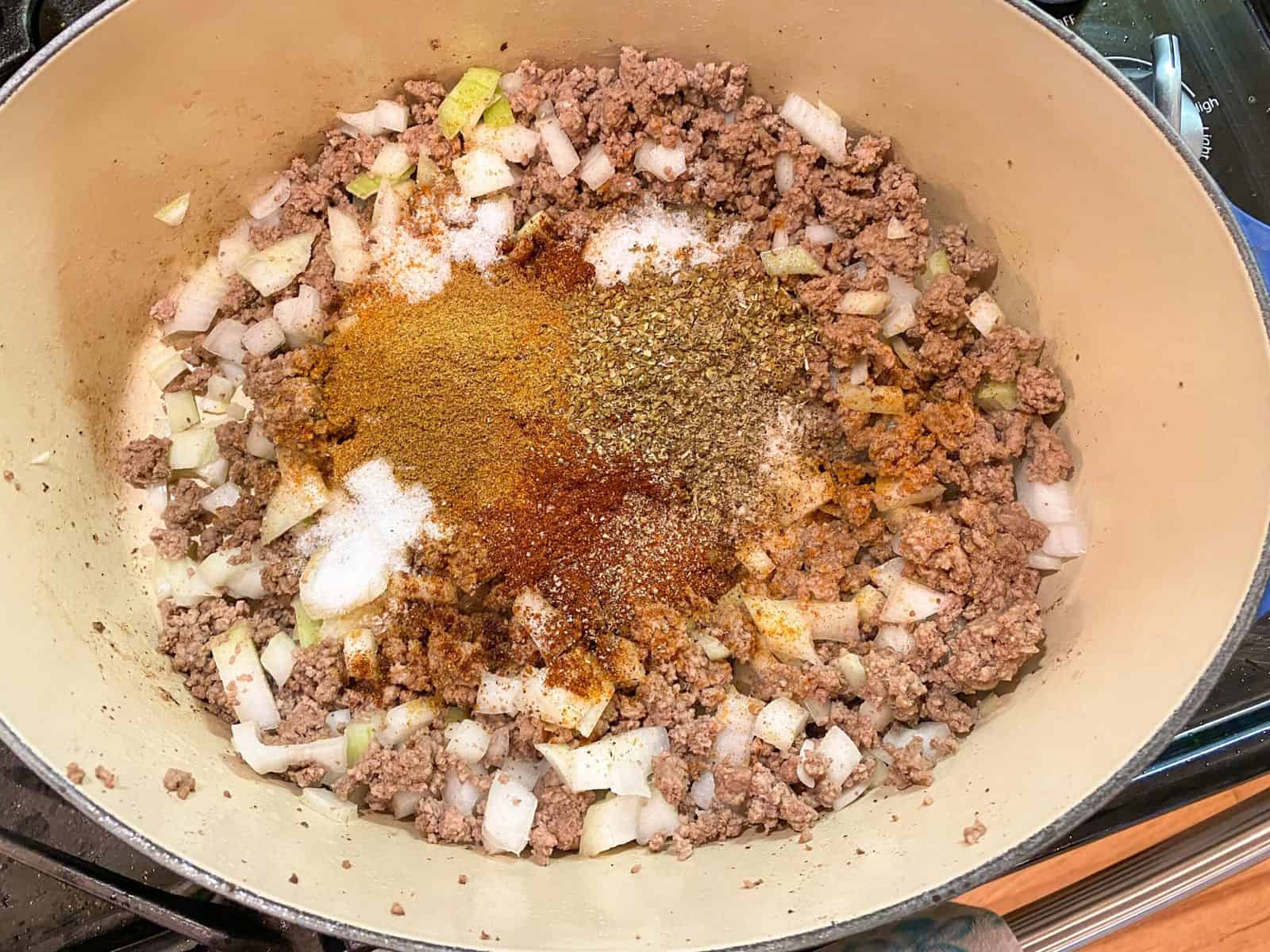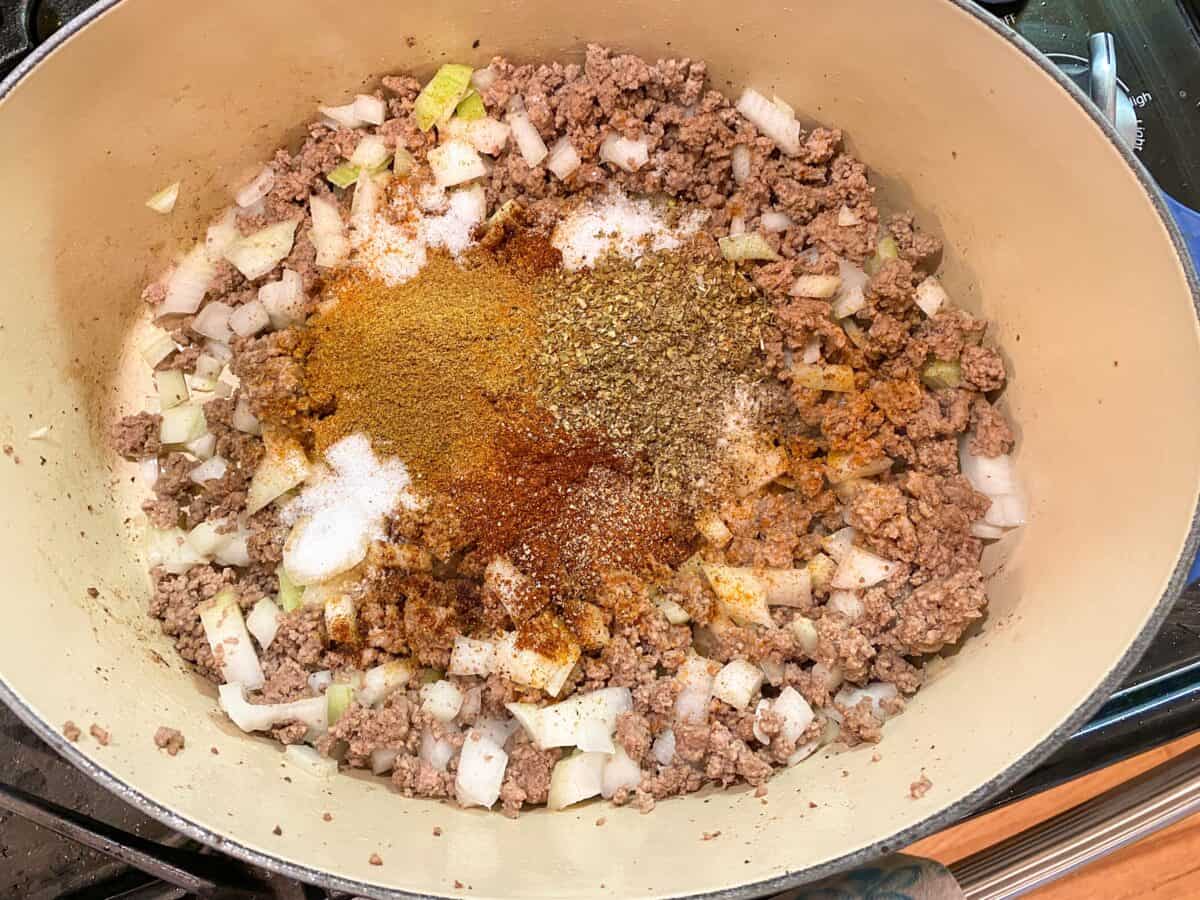 Allow a few minutes for the spices to steam with the meat and onions before adding the beans and the rest of the ingredients.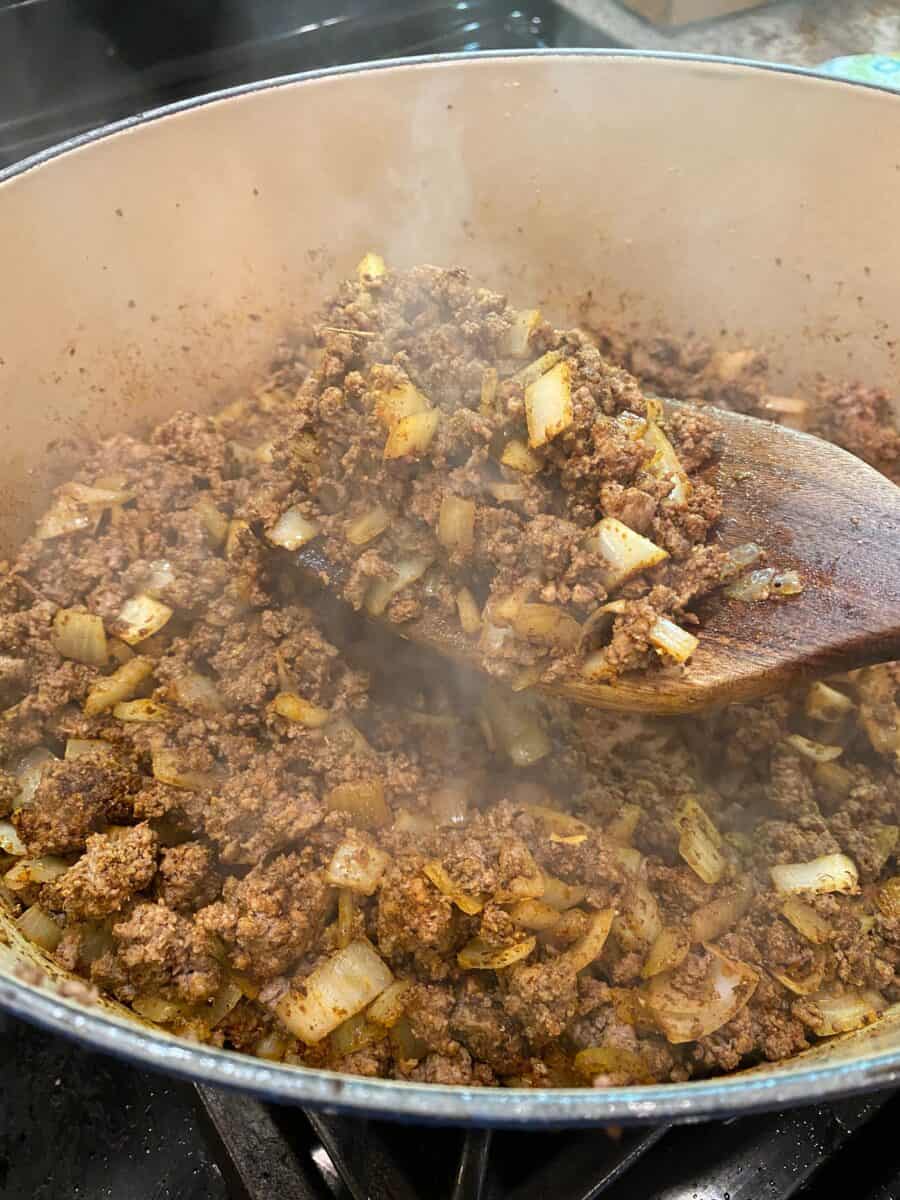 Use a Variety of Beans
One of my favorite things about Idaho chili is you can use whatever combination of canned beans you have in the pantry. Beans are so versatile.
According to the Idaho Bean Commission, you can substitute one type of bean for most other beans in any recipe. 
The only exception is a variety like black beans which may add a slightly different taste and color. I've used many varieties of beans when I make my chili, but I think kidney beans, chili beans, great northern and pinto beans create the best balance of flavor.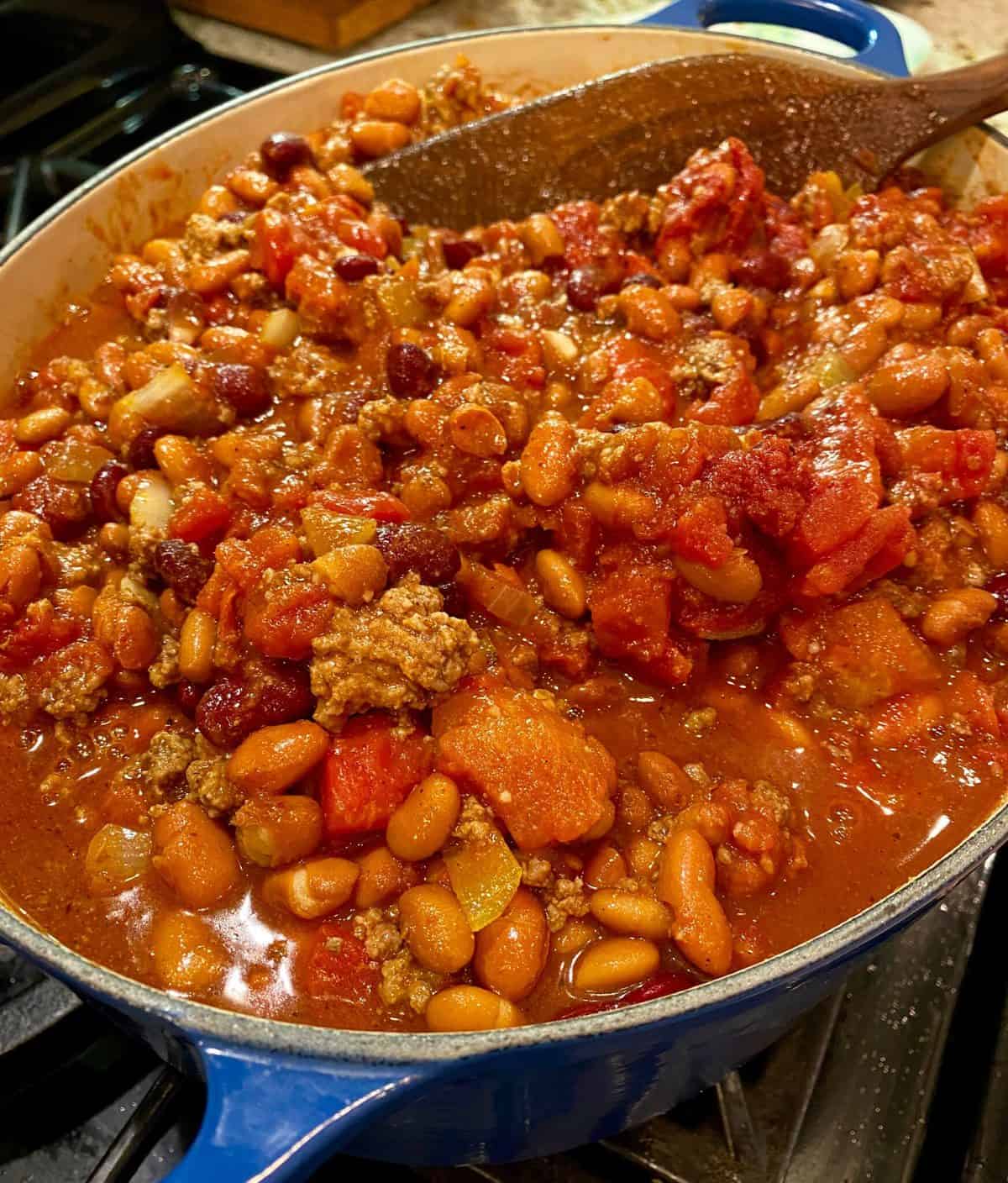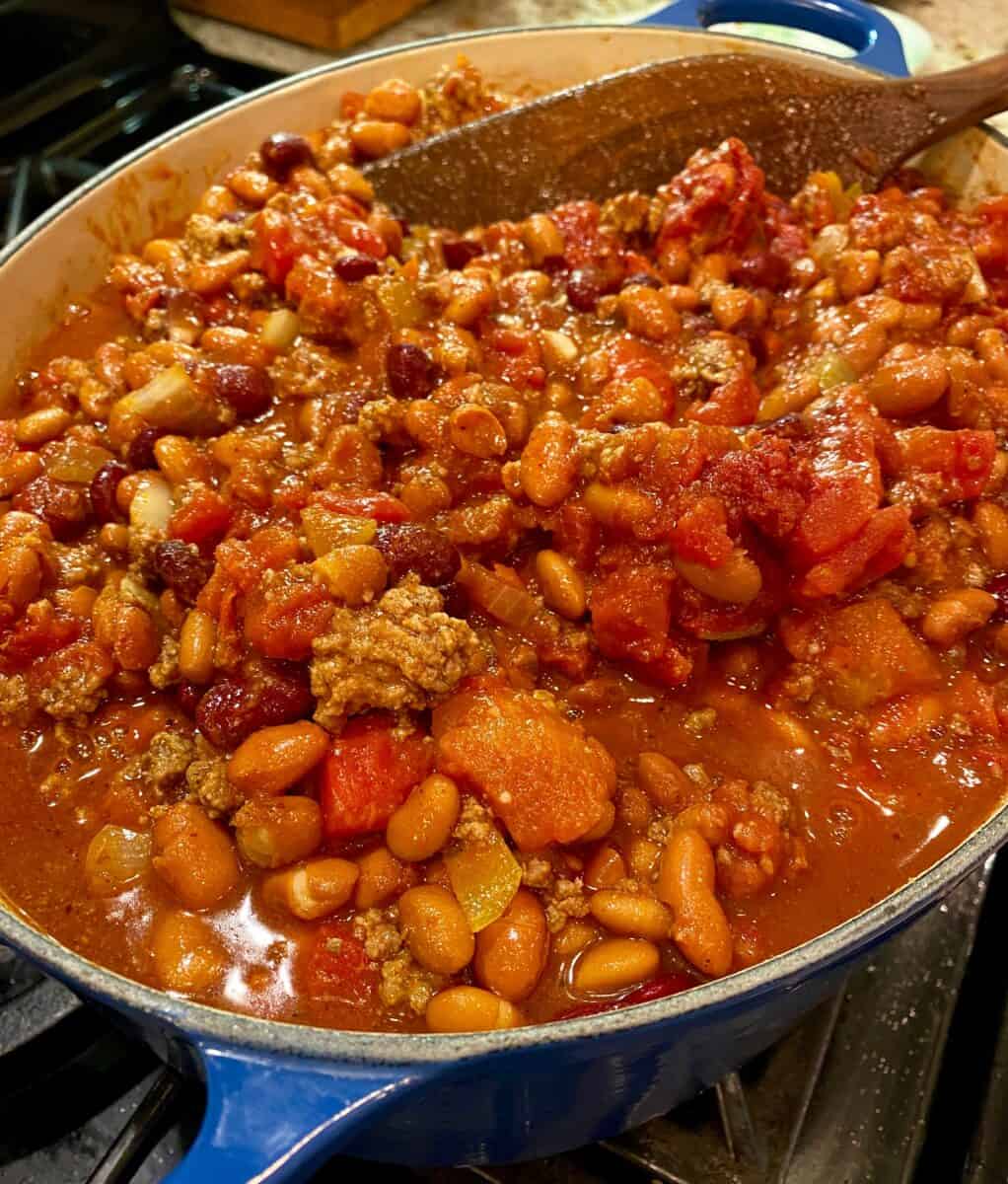 How to Serve Idaho Chili
I am a big fan of always serving chili in big bowls. Presentation does matter, even with something as simple as chili. A big bowl allows for plenty of space for a generous helping, plus lots of room for toppings.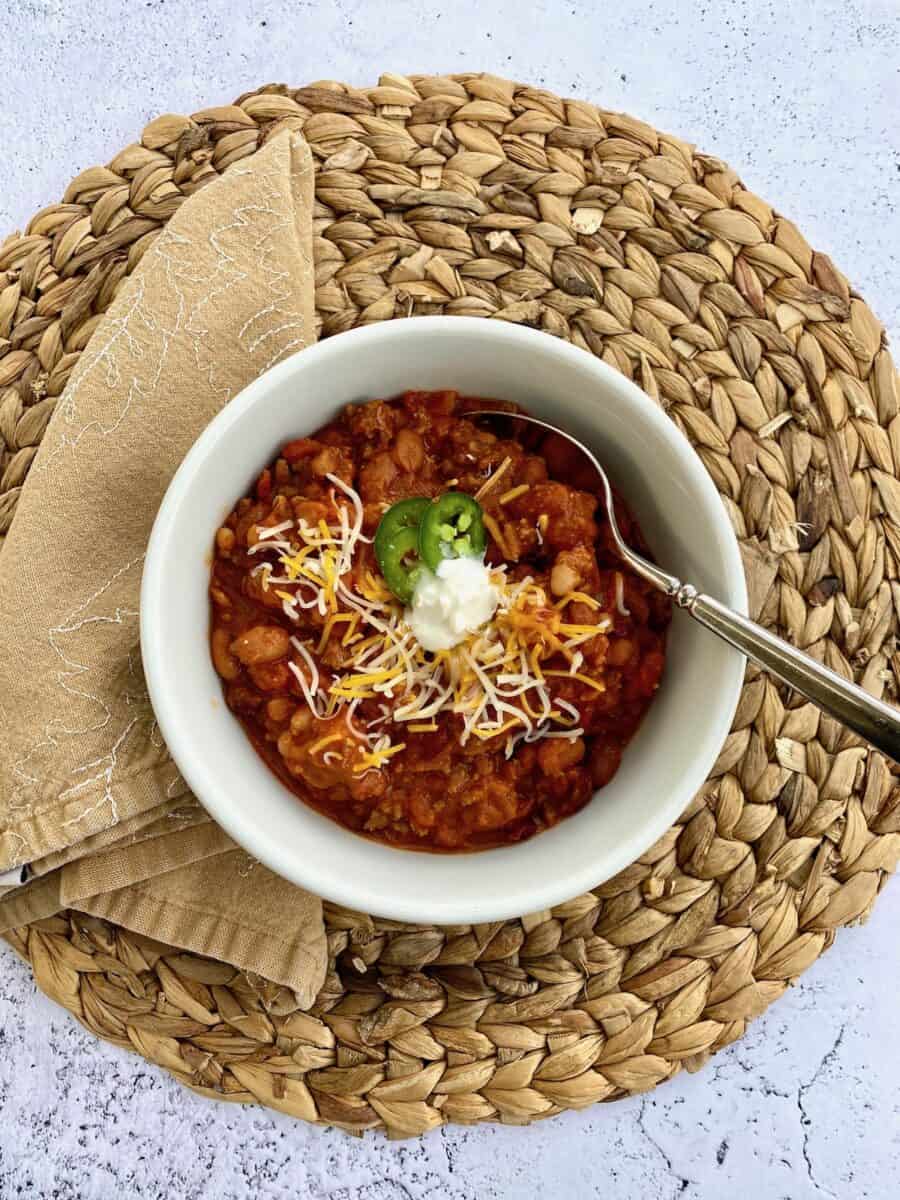 I've looked and looked but can't find the exact chili bowls that I use, probably since I've had them for so many years. But I found these online and they are very similar to mine. The bowls come in handy for lots of things besides chili. I use them for soup, stew, or any one-dish dinner entree.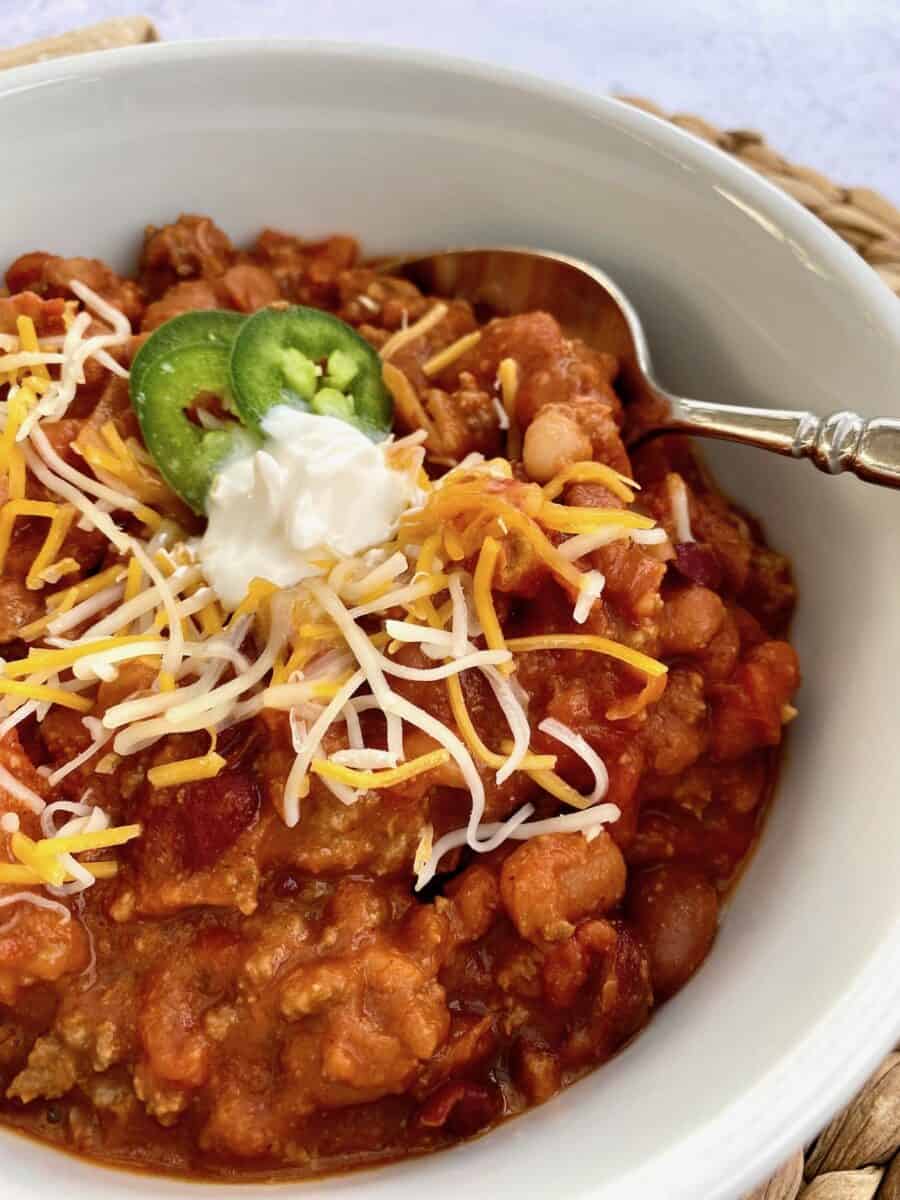 Toppings for Chili
There are so many choices! Here are toppings popular in my family:
shredded cheese
diced onion
saltine crackers
diced jalapeno peppers
fresh salsa
diced fresh tomato
sour cream
non-fat greek yogurt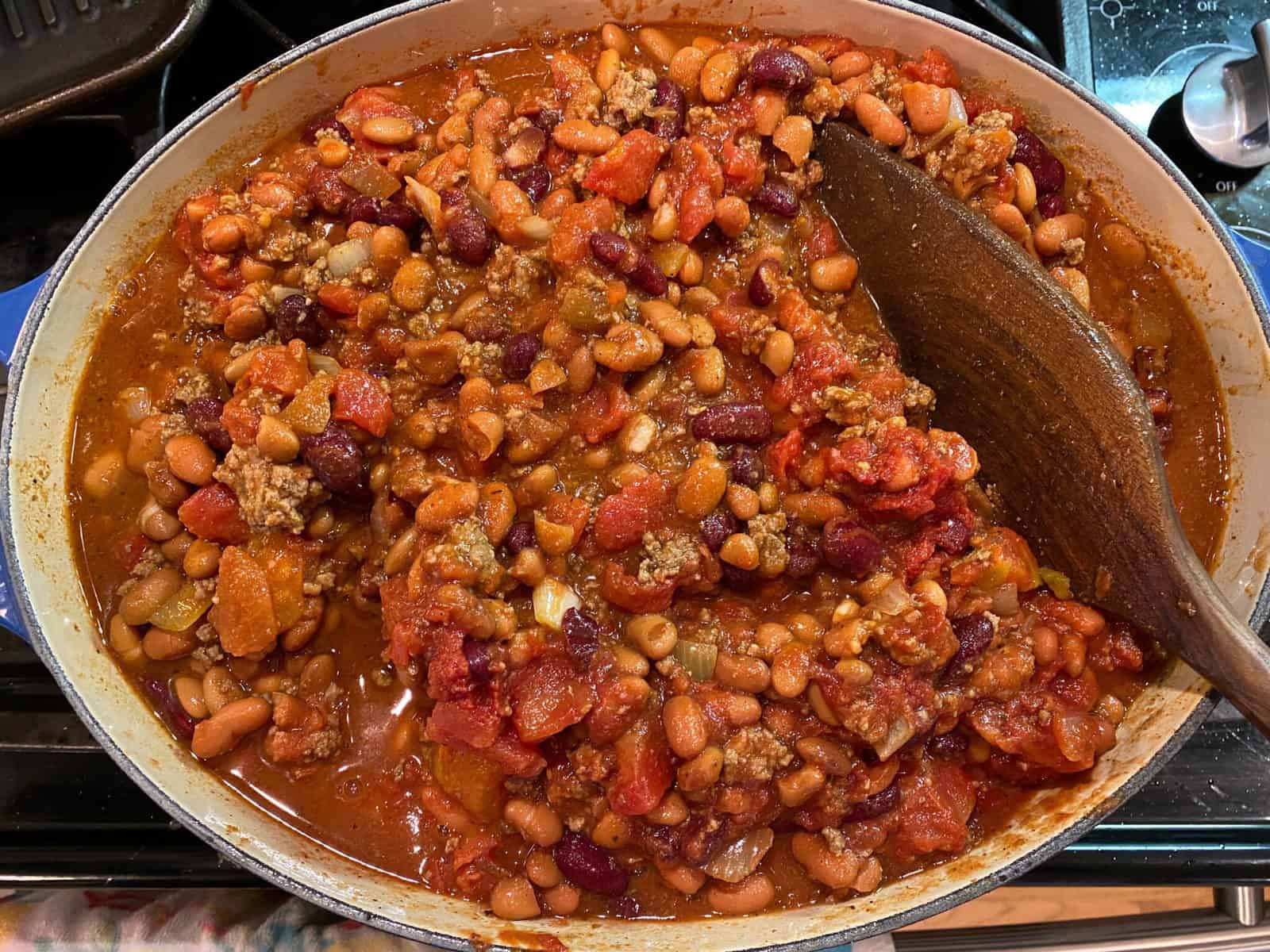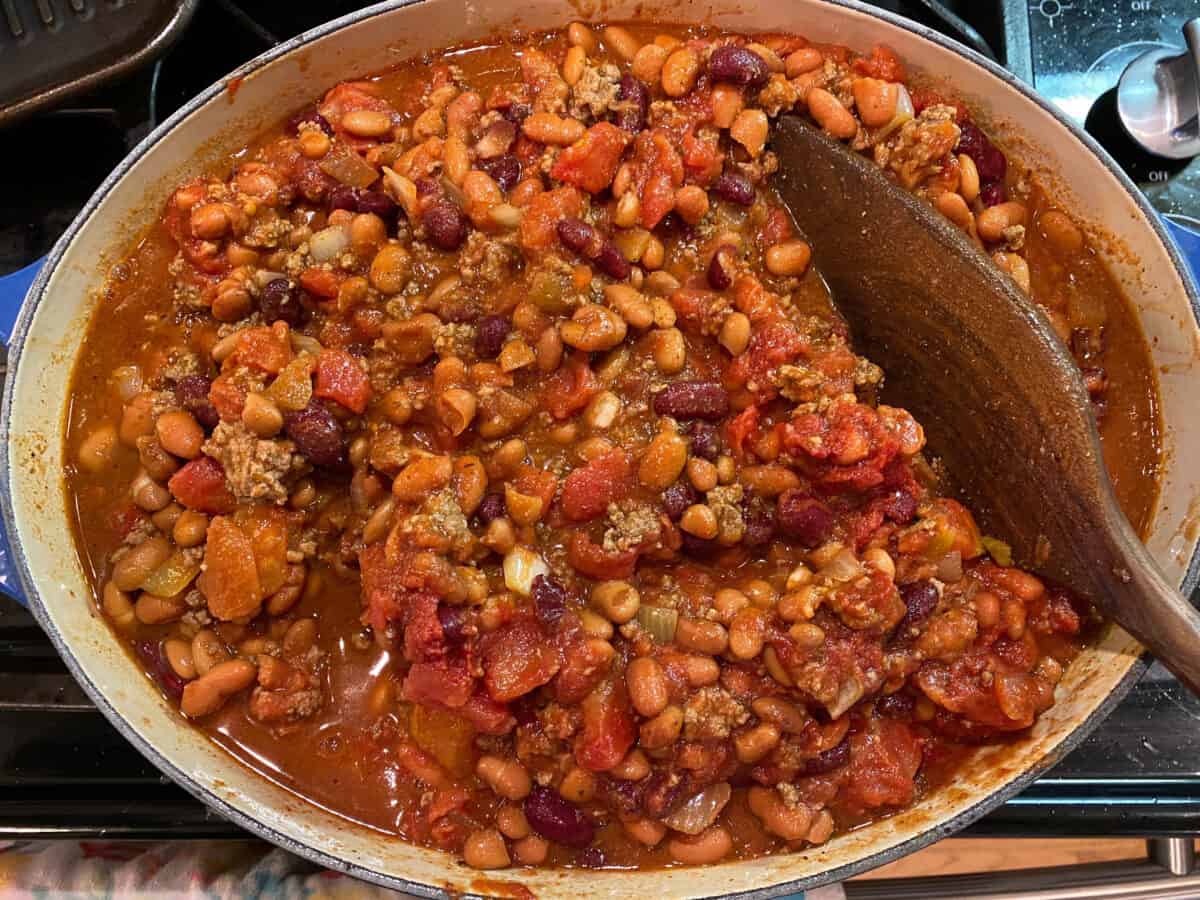 More Hearty Meal Ideas
Idaho Chili a hearty chili recipe and making it might get you in the mood for other main meals that have a way of inspiring a cozy feeling at dinner time.
I just love Baked Beef Burritos and like chili, there are always plenty of leftovers.
My kids and husband often request Quick Cheeseburger Pie. It has a pat-in-the-pan crust that is fun to make and the pie really does taste like a cheeseburger.
If you are in the mood for pasta, my Tomato-Cream Sauce is the perfect topping. It's a made-from-scratch red sauce that's easy enough to make even on a work night.
If you tried Idaho Chili or any other recipe on my website, please leave a 🌟 star rating and let me know how it goes in the 📝 comments below.
Recipe