Four Ingredient Basic Biscuits are tender and buttery. The inside of each homemade biscuit is soft while the exterior is light and crispy. These biscuits are easy to make and ready to enjoy in 30 minutes. Serve for breakfast with Cougar Gold Cheese Quiche or at dinner with No Ketchup Meatloaf.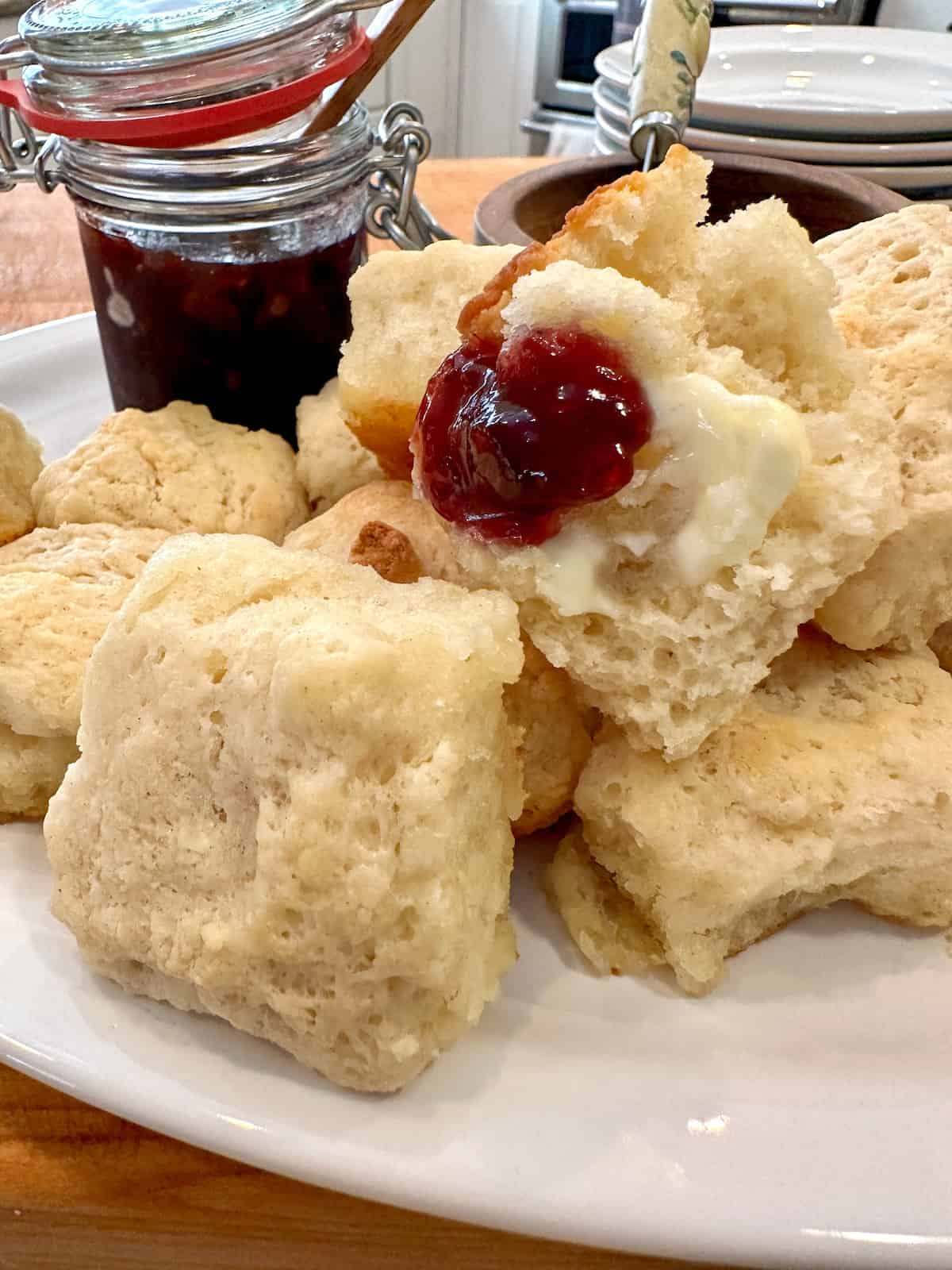 Jump to:
⭐ Why You'll Love This Recipe
These biscuits come together fast! Four Ingredient Basic Biscuits is a classic buttermilk biscuit recipe and includes a great shortcut by using a baking mix such as Bisquick. There's no need to cut butter or measure shortening.
Serve with Homemade Honey Butter and your favorite jam or jelly for a cozy, comforting warm biscuit right out of the oven.
Cut the biscuits into the shape that will best suit the meal you plan to serve them with. Round, square, small or large shapes.
With just four simple ingredients these homemade biscuits are ready to bake in mere minutes.
🥘 Ingredients to Have on Hand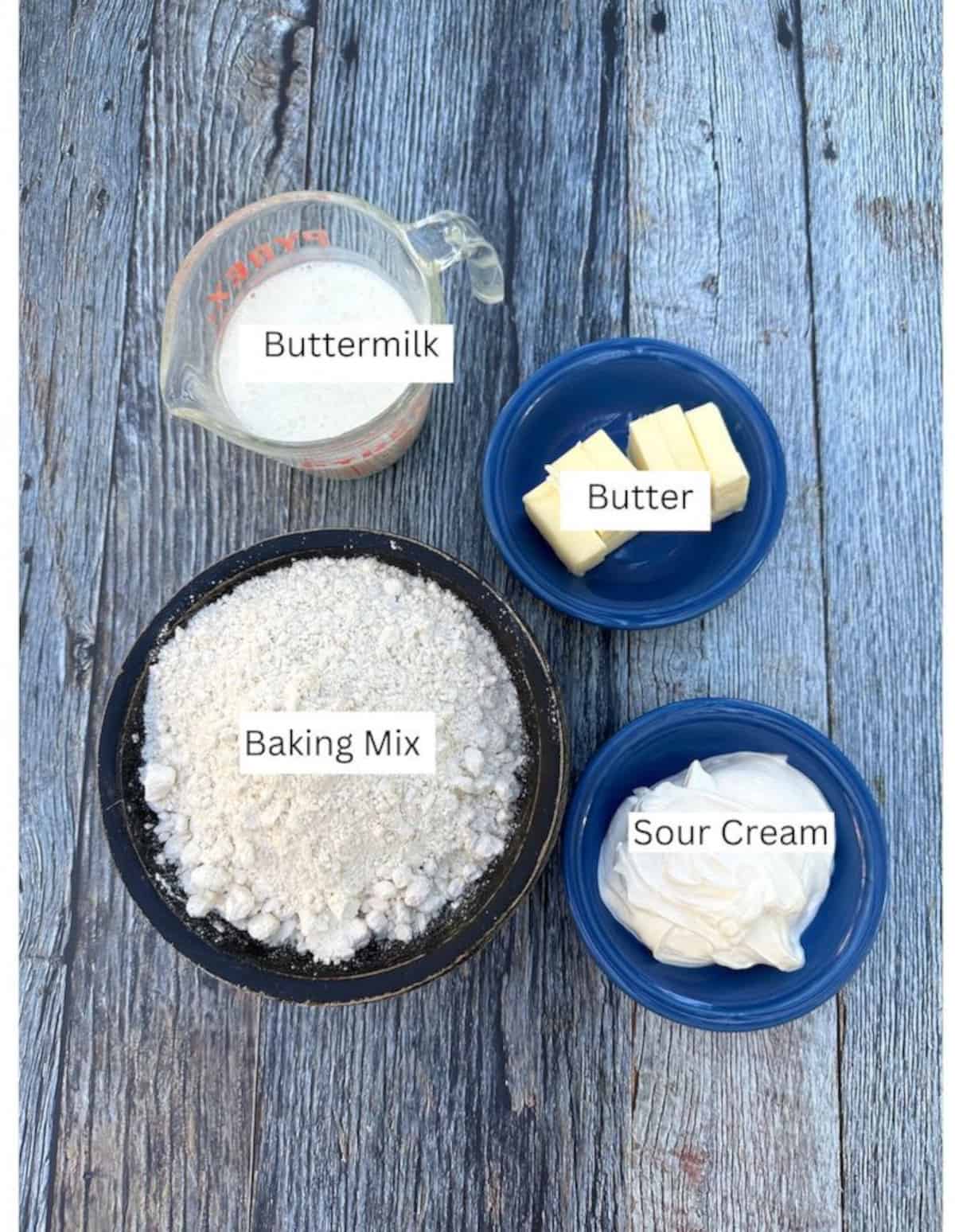 These are classic, basic buttermilk biscuits, but they are truly foolproof thanks in part to the very few ingredients we need to keep on hand.
Pre-Mixed Baking Mix: Bisquick includes all the dry ingredients needed, including the baking powder that helps these basic biscuits rise.
Buttermilk: It also helps the biscuits rise nice and tall and improves their fluffiness. Buttermilk also adds a slightly tangy flavor.
Sour Cream: This adds extra moisture and fat to our biscuits, which helps make them tender and soft on the inside.
Scroll to the recipe card below for a full list of ingredients and measurements.
📖 Substitutions
Bisquick: Any brand of pre-mixed baking mix such as Jiffy or Krusteaz will work. You can also use pancake mix, but it will create a slightly sweeter biscuit.
Buttermilk: If you don't have buttermilk on hand, an easy substitution is to pour one tablespoon of either vinegar or lemon juice into a liquid measuring cup and add enough milk to reach the one-cup line on the measuring cup.
Pro Tip: When making the buttermilk substitute, let the milk mixture set for 10 minutes before blending with the other biscuit ingredients.
Lemon-Lime Soda Pop: I know it might sound odd, but biscuits made with 7up are delicious! Swap the buttermilk for the same amount (1 cup) of lemon-lime soda. It also gives the biscuits a slightly sweet flavor.
Sour Cream: No sour cream fans in the house? Substitute for a full-fat, plain yogurt.
Additions: Here's how to create something beyond the basic biscuit. Mix, match and choose any of these ingredients to fold into the dough as you lightly knead it:
Dried Fruit: ¾ cup dried cranberries or raisins
Chives: 2 tablespoons finely chopped chives
Cheese: 1 cup shredded cheddar cheese
Bacon: 1 cup cooked and crumbled bacon
Garlic: 1 tablespoon crushed garlic or 1 teaspoon of garlic powder
📋 Step-by-Step Instructions
Here's how to make buttery and tender Four Ingredient Basic Biscuits.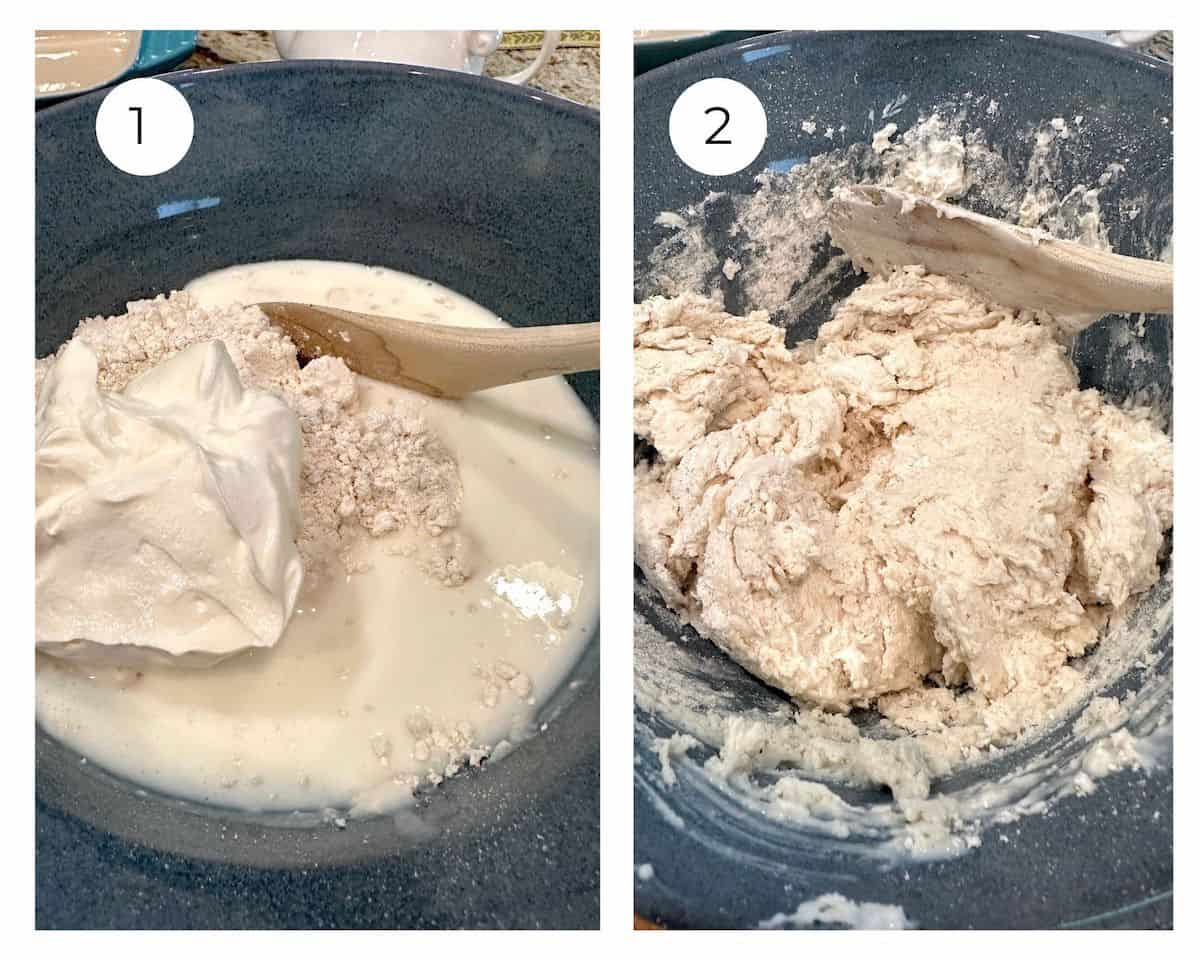 Step 1: In a large mixing bowl, use a sturdy spoon to combine the Bisquick baking mix (or baking mix of your choice) with the sour cream and buttermilk. (Photo #1)
Step 2: The dough will be thick. Be careful not to overmix it. This is the step when we develop the gluten in the biscuits, if we mix the ingredients too thoroughly, the biscuits will bake tough and chewy. Combine the ingredients just until they are blended. (Photo #2)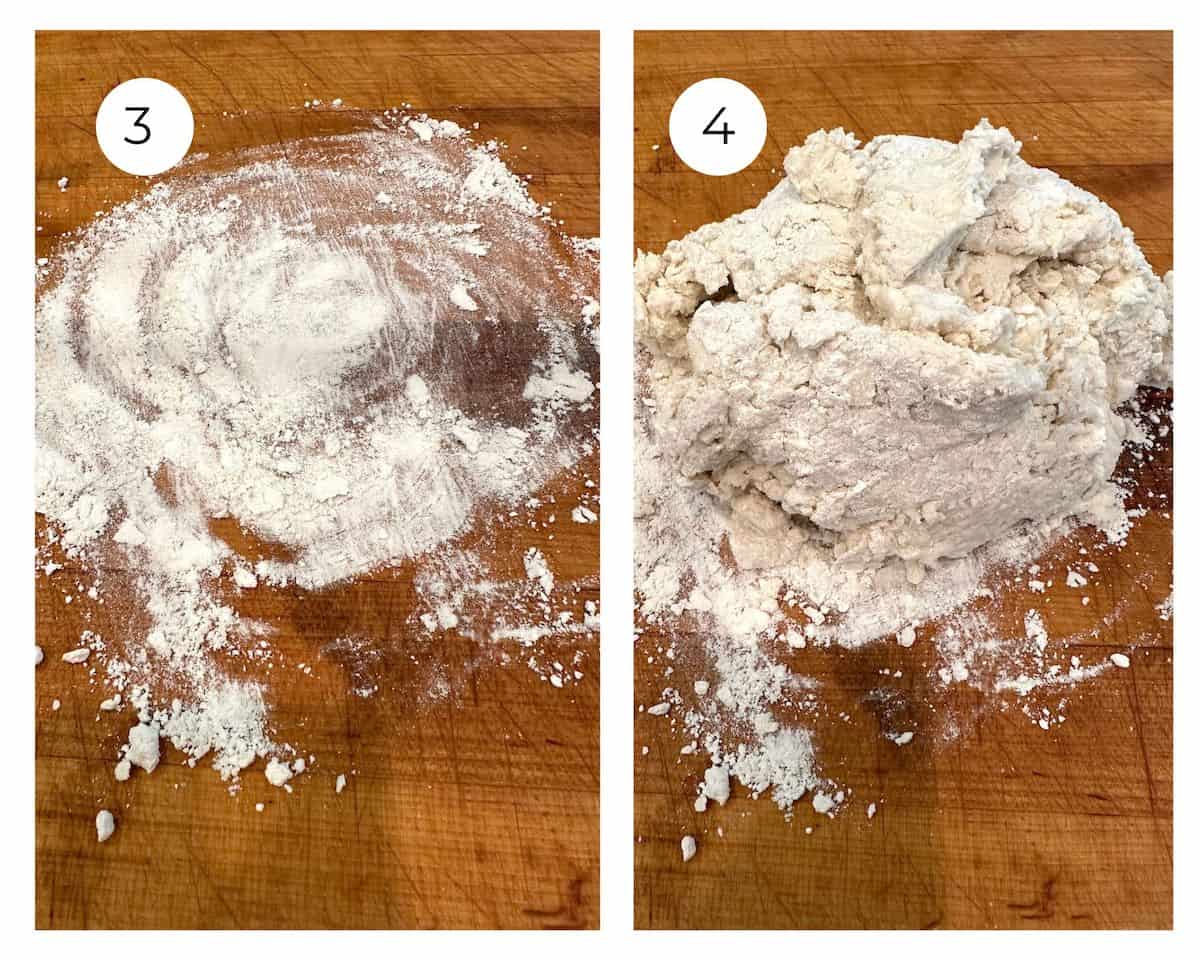 Step 3: Spread one or two tablespoons of additional baking mix on a cutting board or counter. (Photo #3)
Step 4: Place the dough from the bowl onto the cutting board or counter coated with baking mix. (Photo #4)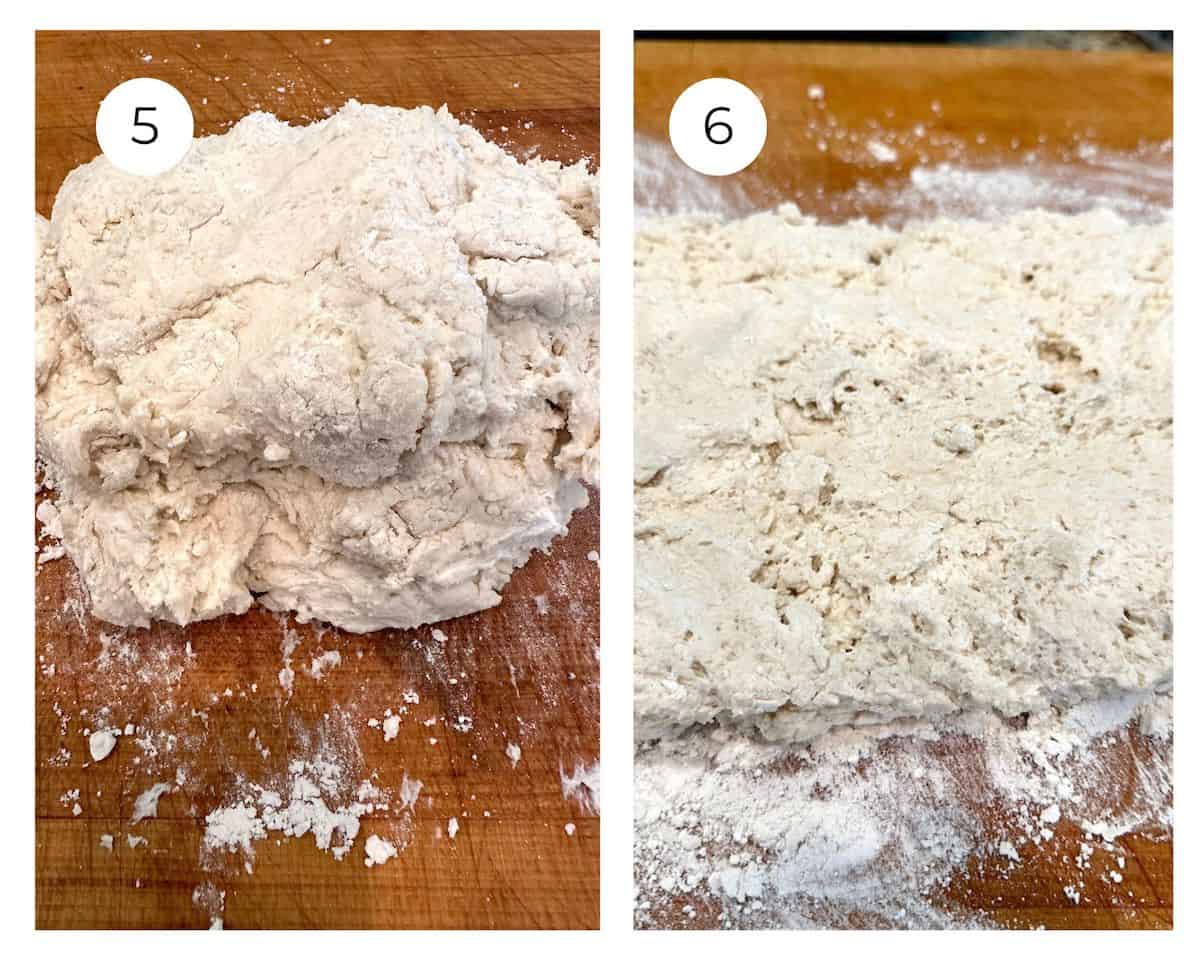 Step 5: Fold the dough in half and gently knead it 4 or 5 times until most all of the dry baking mix has been absorbed and the dough is firm. (Photo #5) If you are adding any ingredients such as grated cheese or chives, this is the step where you will sprinkle in the ingredients as you knead the dough.
Step 6: On the same cutting board, use your fingers to pat the dough into a rectangle that's about 10" x 7" in size and about one inch thick. Remember to handle the dough as little as possible. (Photo #6)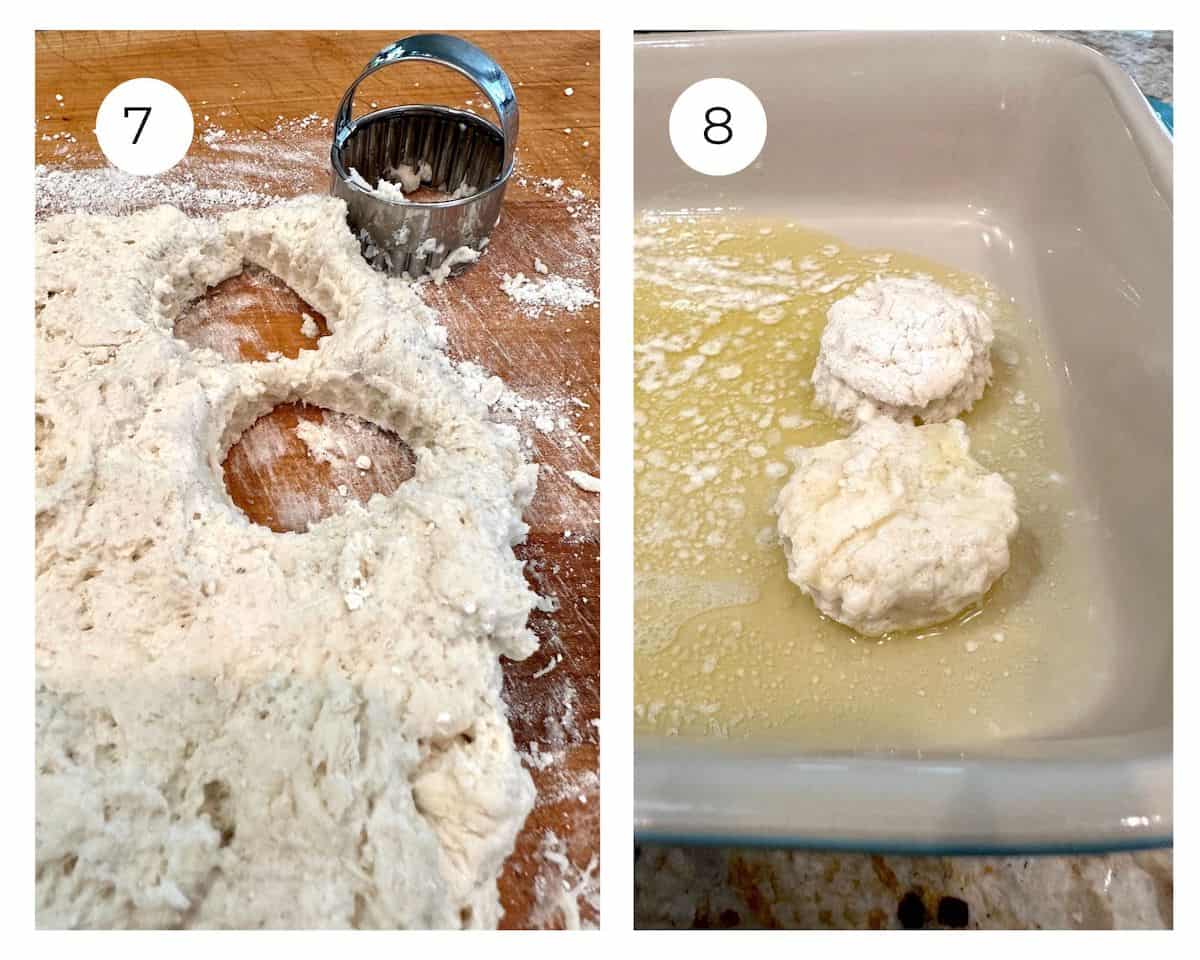 Step 7: Use a round cookie cutter (or the rim of a large glass) to cut the dough into whatever size rounds you'd like. (Photo #7) Or, depending on how you plan to serve the biscuits, use a knife to cut the dough into squares.
Pro Tip: Cutting the dough into squares with a knife ensures you will use every bit of the dough, with none of the scraps left behind after using a rounded cutter.
Step 8: Place the biscuits in the melted butter in the baking dish then flip each biscuit over. This ensures both the top and bottom of the biscuit get a nice "butter bath." (Photo #8)
Step 9: Place the biscuits side by side in the baking dish, so the edges are touching. (Photo #9)
Step 10: Let the biscuits sit in the baking dish, in the refrigerator for 10 minutes before baking. (Up to 30 minutes is even better.)The gluten will relax and the butter will harden up a bit. This helps ensure the most tender biscuits possible. (Photo #10)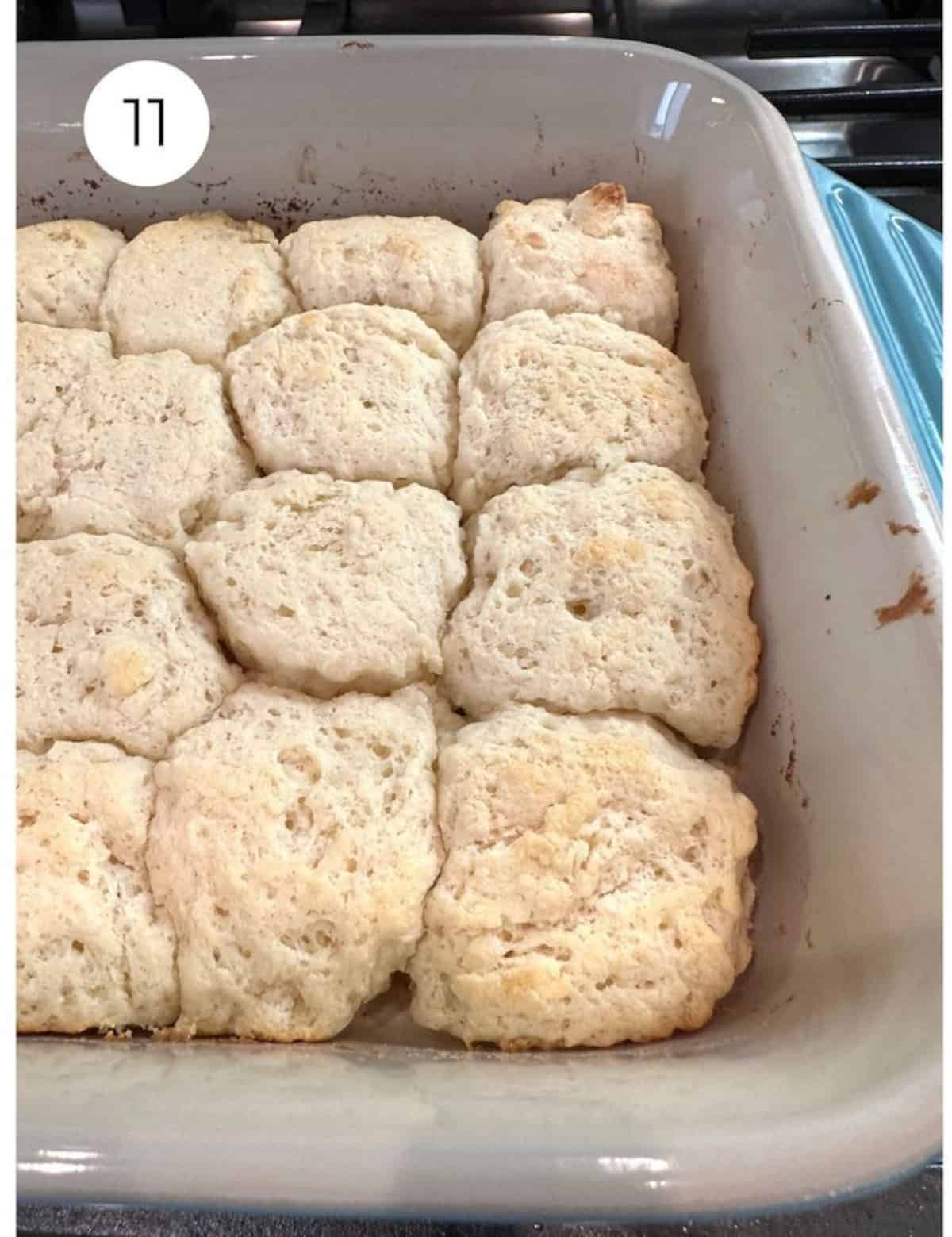 Step 11: Place the baking dish in the oven and bake for 15 - 20 minutes, the biscuits are fully baked once the top is lightly browned and the biscuits are puffy. Baking time will vary depending on how long the biscuits chilled in the refrigerator and the size of the biscuits. (Photo #11)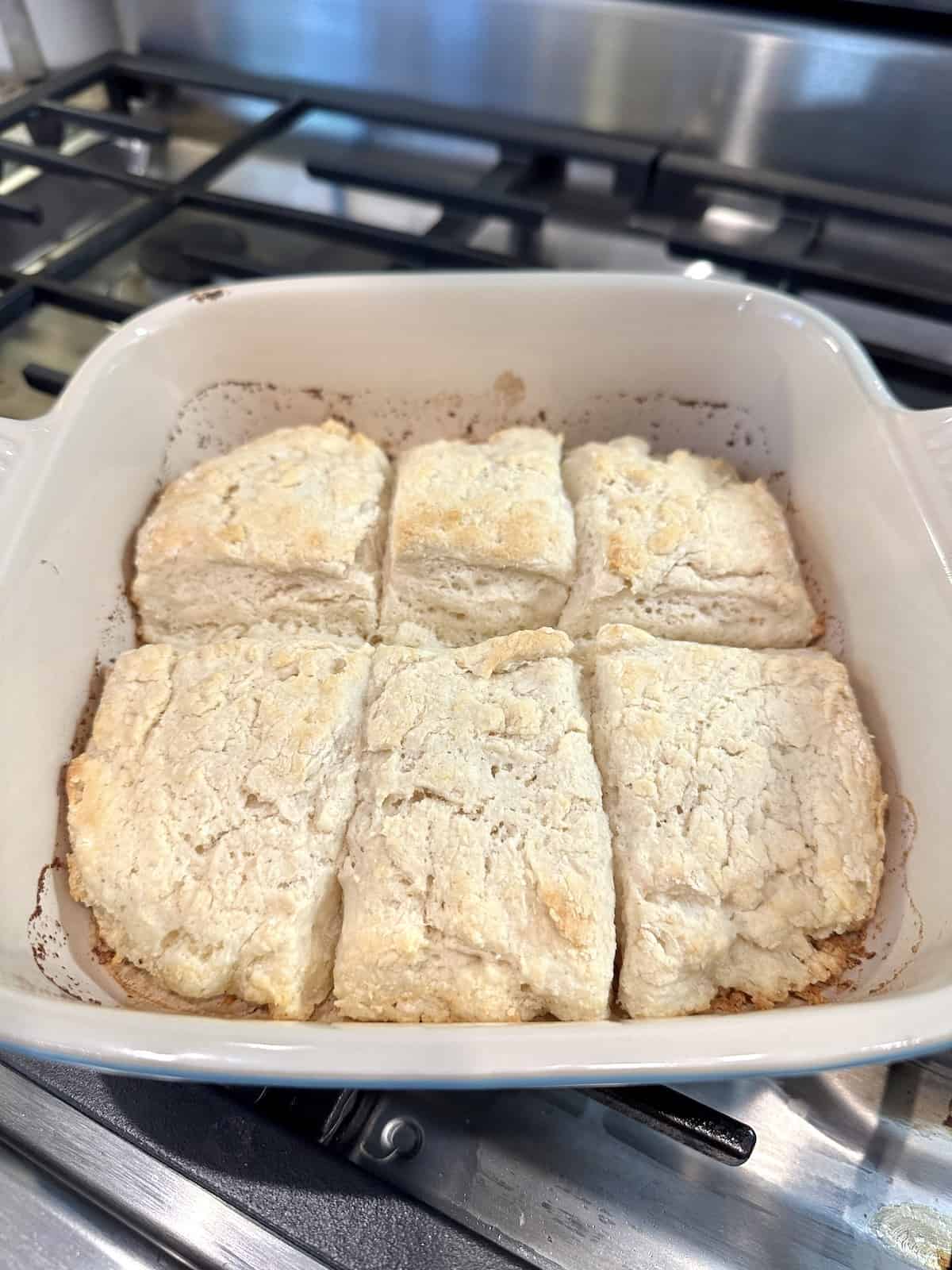 💭 Recipe FAQs
Do the edges of the biscuits need to be touching in the pan?
Place the biscuits side by side and close together in the pan. We want each biscuit to grow tall and rise, not spread out.
What is pre-mixed baking mix?
It's an all-purpose flour with added ingredients that include shortening, salt, sugar, and baking powder. It's pre-packaged that way and generally found in the baking aisle at the grocery store.
Can I use margarine instead of butter?
Absolutely, margarine is a good substitute for butter in most baking and this recipe is no exception. Be sure to use stick margarine and not the spreadable type found in tubs.
Why should I chill the biscuits before baking?
The cool temperature in the fridge gives the gluten in the biscuits a chance to "relax" and the melted butter cools and hardens up a bit.

Once you place the biscuits in the oven, the butter releases moisture as it melts. This helps the biscuits rise high, keep their shape and develop a deliciously crispy and buttery bottom crust.

🍽 What to Serve With Four Ingredient Biscuits
Here are great ways to enjoy your homemade, buttermilk biscuits.
Jam and Butter: Spread warm biscuits with butter and your favorite jam or jelly.
Honey or Syrup: Drizzle a teaspoon of honey or maple syrup on warm biscuits. Add a little butter for an extra delicious flavor combination.
Fried Chicken: Cut the biscuits in large rounds, the size of a hamburger bun. Make a classic Southern-style meal by serving your homemade biscuits fresh from the oven with crispy oven-fried chicken.
Eggs: Biscuits make a fantastic base for breakfast sandwiches. Slice in half and fill them with scrambled eggs, cooked bacon or sausage and cheese.
Chili and Stew: Instead of bread or dinner rolls, biscuits are a terrific side dish for soups and stews. They're great for sopping up the sauce with Idaho Chili or a hearty beef stew.
Whipped Cream and Berries: Turn your basic biscuits into a wonderful dessert by topping them with whipped cream and fresh strawberries, raspberries or blueberries. Biscuits are a great alternative to angel food cake!
💭 Leftovers and Storage
Leftovers: Any leftover biscuits can be stored at room temperature for 2 days in an airtight container or a zip-top bag.
For longer storage, place the container of leftover biscuits in the refrigerator for up to 7 days.
Reheating Leftovers: Basic biscuits reheat well in the microwave on low power for about one minute. Or wrap them in foil and place them in a 325°F oven for 15 minutes.
Freezer Storage: Completely cool the baked biscuits then wrap and seal them tightly with foil or place in zip-top freezer bags. For the best flavor, plan to reheat and enjoy the biscuits within three months.
To reheat previously baked biscuits, place the frozen biscuits on a baking sheet lined with parchment paper and bake in a 350° F oven for 15-20 minutes. They're ready when they're warm to the touch, puffy and soft.
Pro Tip: Place a sheet of foil on top of the frozen biscuits while they reheat in the oven. This keeps them from getting too brown on top.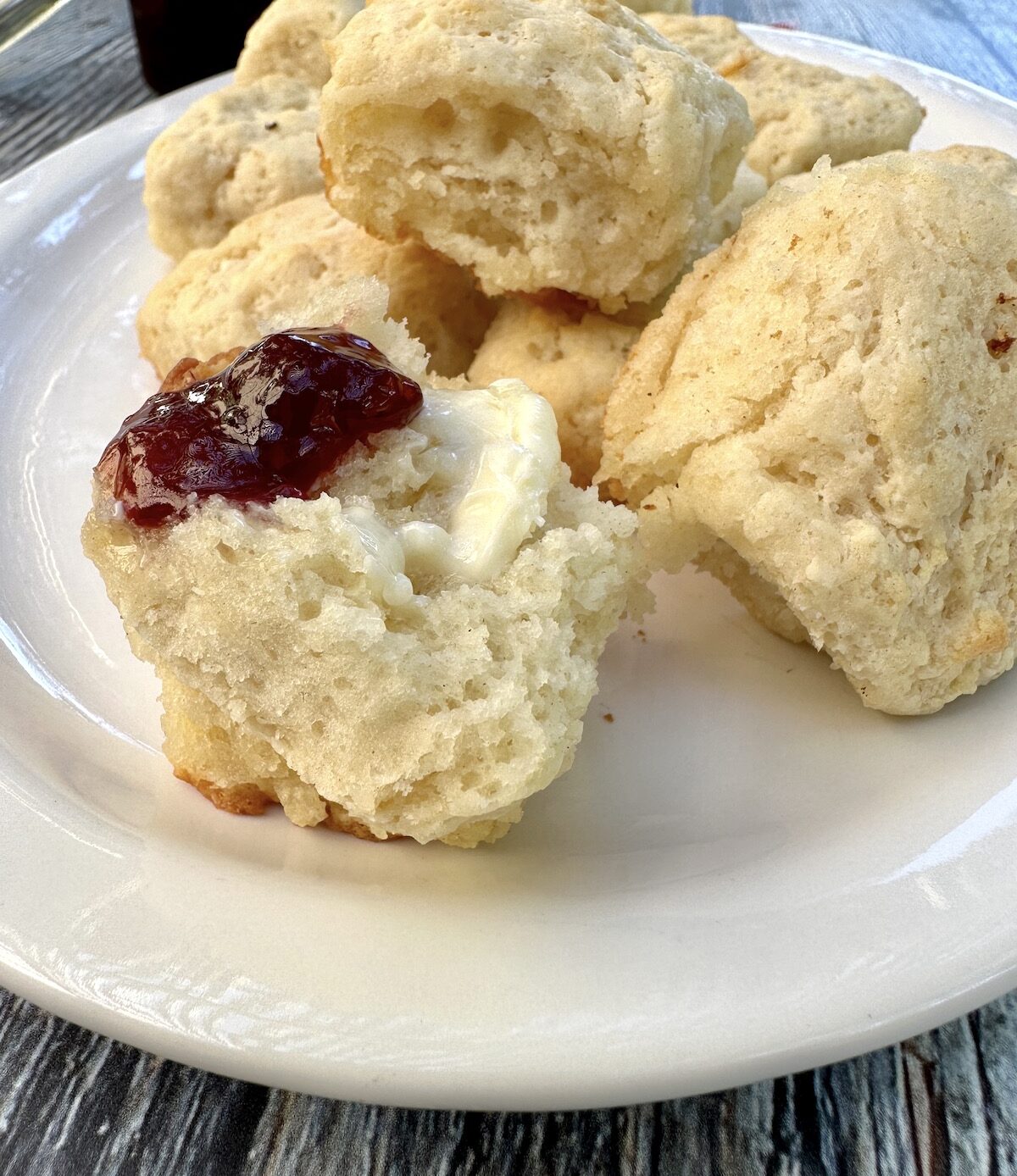 🥘 More Recipes
Biscuits are a wonderful addition to many main dishes and entrees. Here are some family-friendly dinner recipes that I think you will enjoy with freshly baked biscuits.
If you tried Four Ingredient Basic Biscuits or any other recipe on my website, please leave a 🌟 star rating and let me know how it goes in the 📝 comments below.
Recipe