Don't let the name fool you, each kernel of sweet fresh corn and pasta is coated with a fresh, scratch-made tangy dressing made with fresh garlic, olive oil, lime juice and spices. Sweet Corn Pasta Salad is a crunchy, tangy salad full of fresh veggies and plenty of savory, garlicky flavor.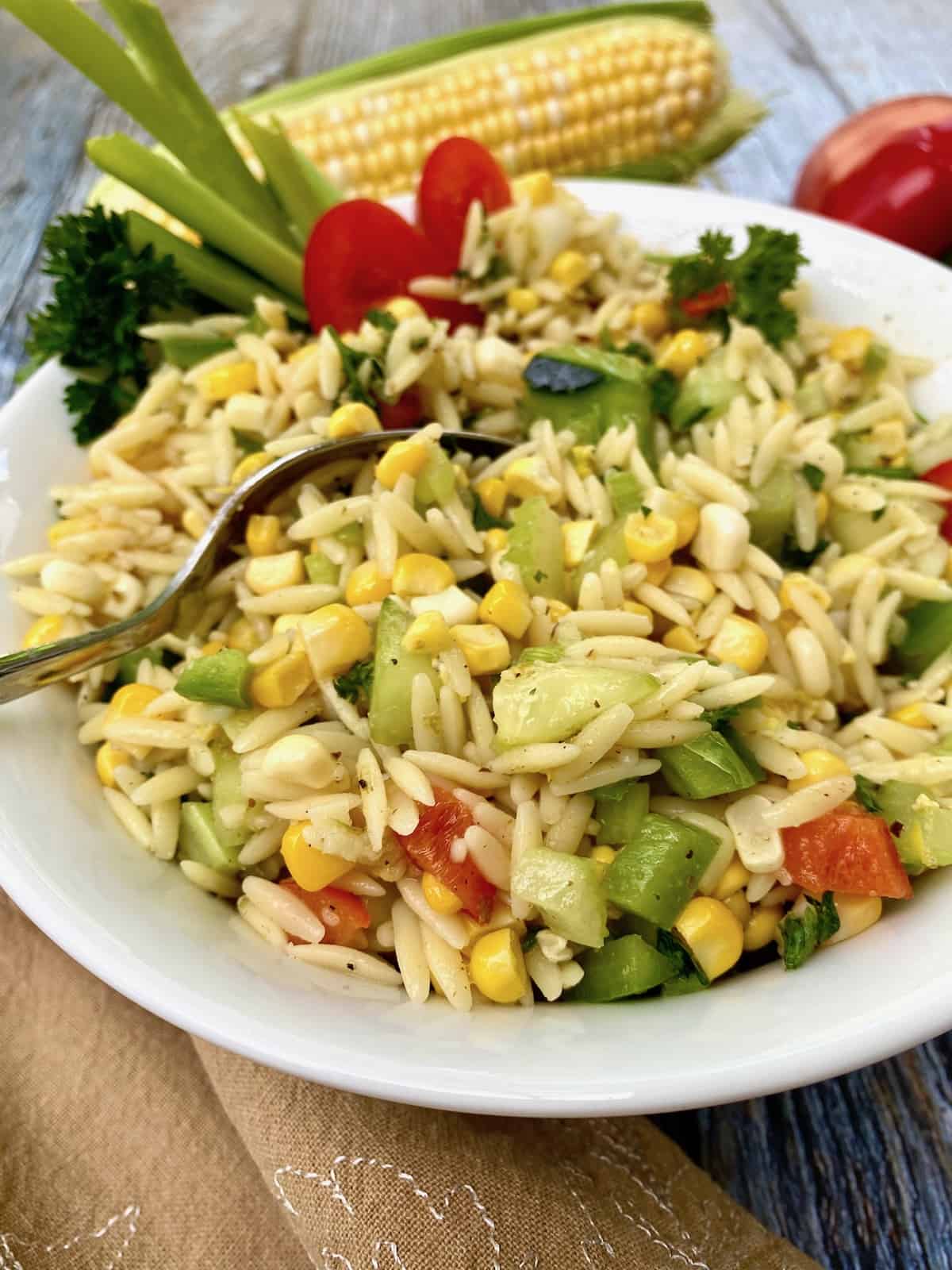 Why You'll Love This Recipe
If you love a fresh veggie salad and a tangy pasta salad, you are sure to enjoy this recipe which combines the best of both worlds. Not your traditional pasta salad, this is a summery pasta dish that's good enough to serve all year long. It goes great with anything from BBQ grill and it's wonderful served with No Ketchup Meatloaf or Rotisserie Chicken and Stuffing Casserole any time of year.
Jump to: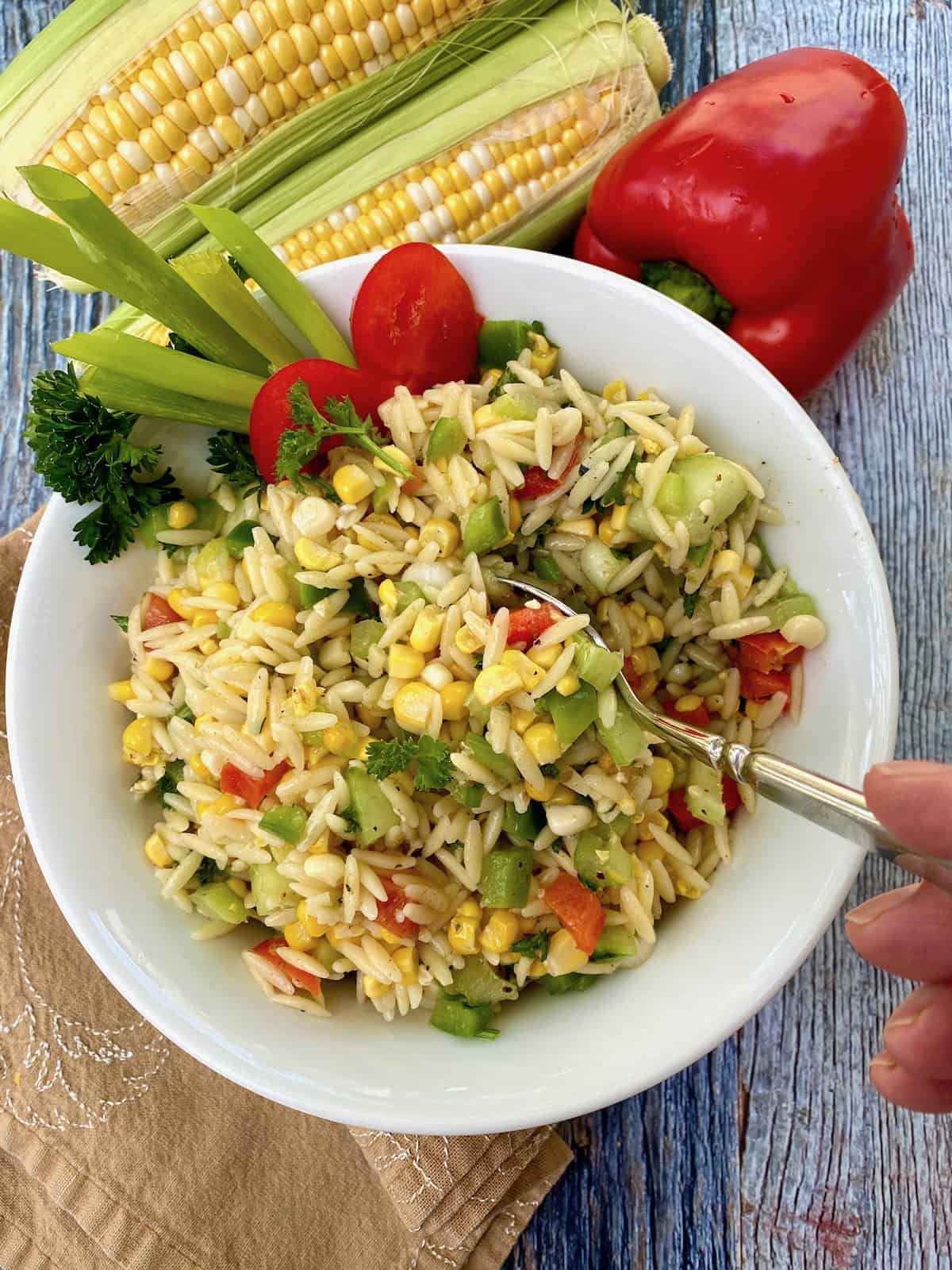 Ingredients to Have on Hand
Many of the ingredients for Sweet Corn Pasta Salad might be in your pantry today, the rest are easily available on a quick grocery store run.
Even better, if you are lucky enough to have a garden spot with fresh veggies, this is a great recipe to help enjoy the harvest.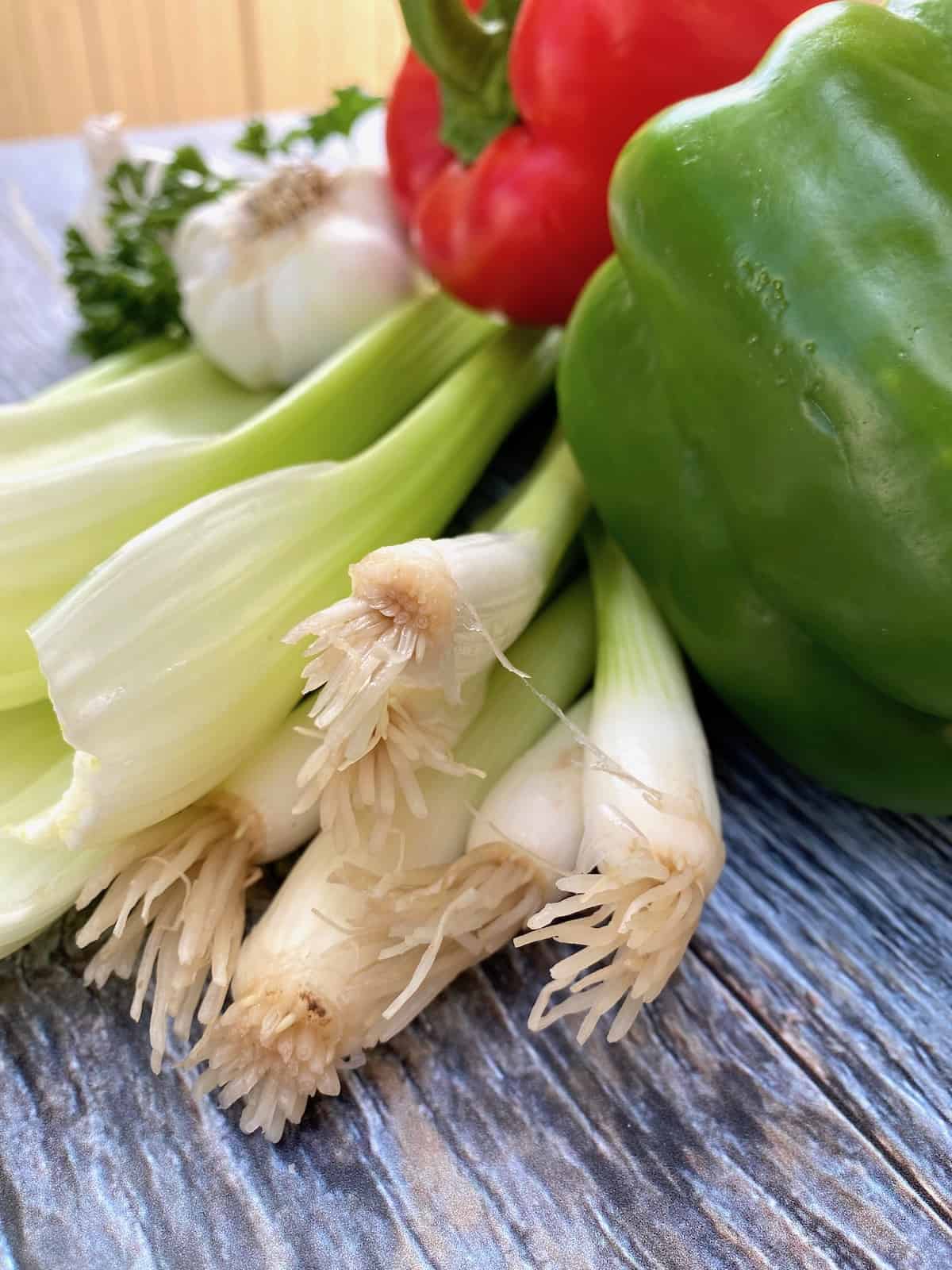 Sweet corn, 5 - 6 fresh ears or two 15-ounce cans
Cucumber
Green onions
Green pepper
Red pepper
Celery
Fresh parsley
Garlic
Light olive oil
Limes
Dried oregano
Cumin
Cayenne pepper
Salt and Pepper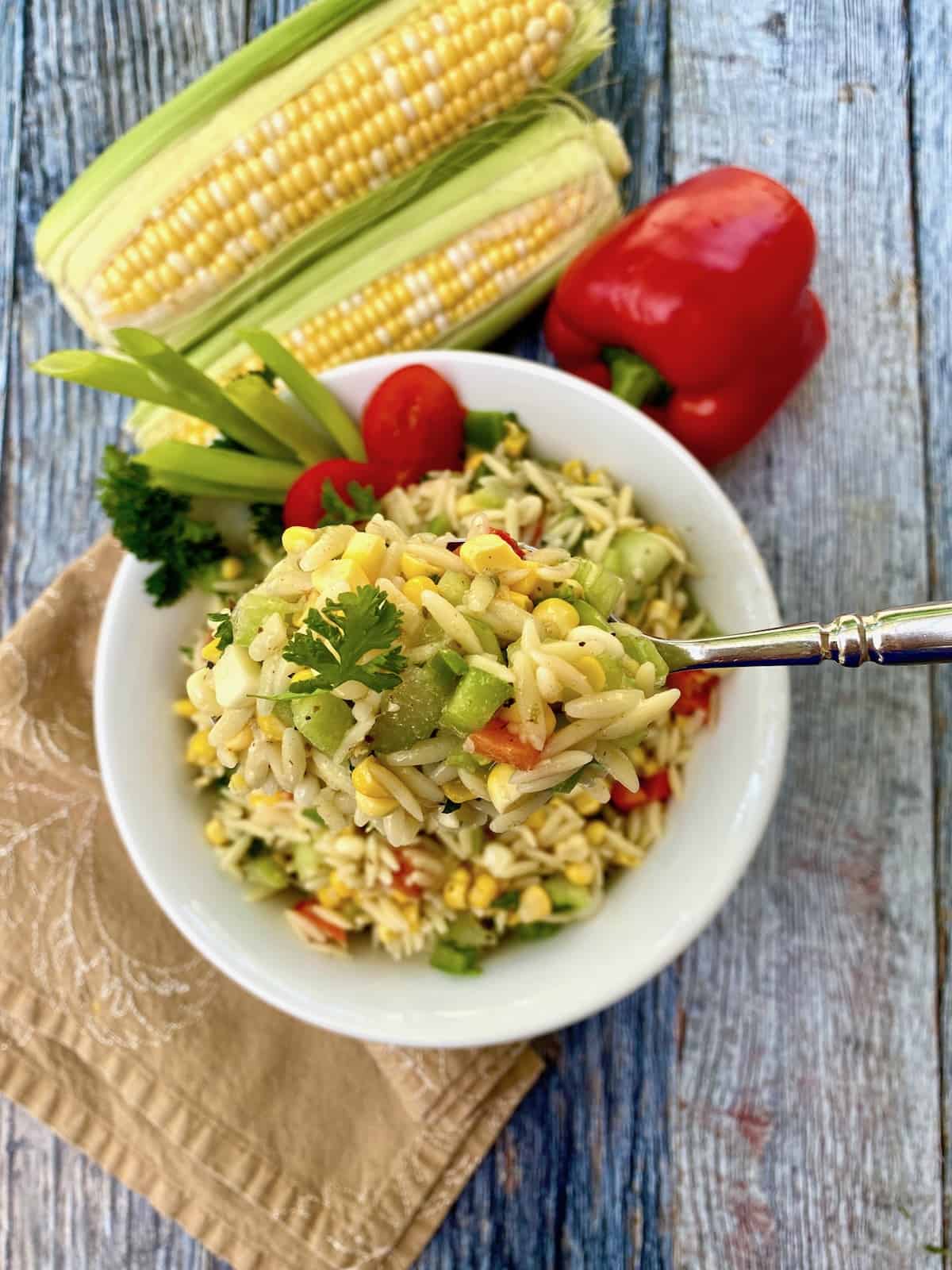 Types of Corn to Use
This is a great recipe for summer sweet corn. But any type of fresh corn purchased any time of year, will work beautifully in this salad recipe.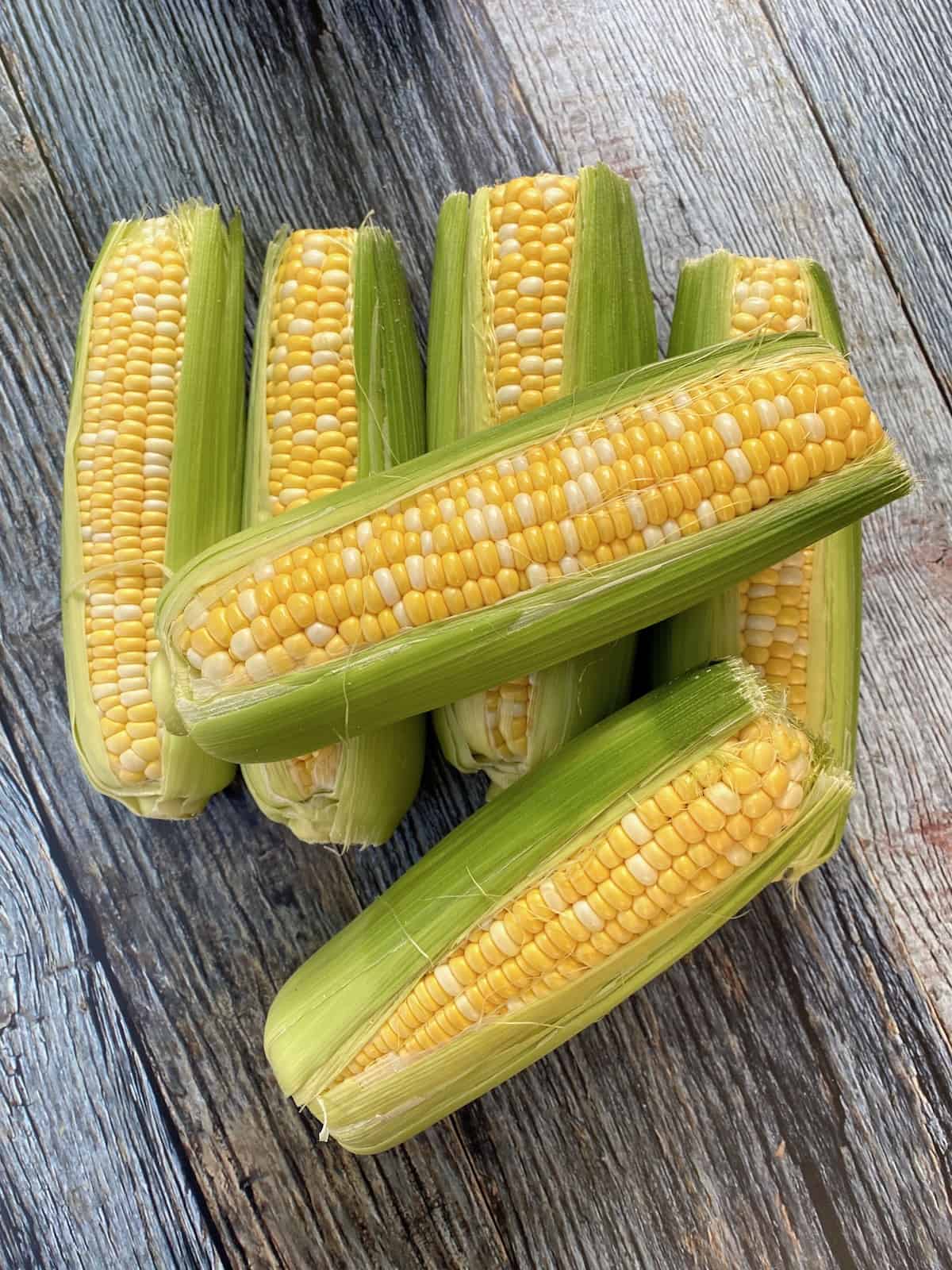 Unlike many salad recipes that include corn, there's no need to oven-roast the corn. A quick steam in the microwave with a few tablespoons of water is all you need to soften fresh corn from the cob for this pasta salad.
If you are using canned corn - which is a super easy alternative - open two 15-ounce cans of sweet corn, drain the liquid, and you're good to go.
One of the things that makes using whole kernel corn from a can a breeze is all you need to do is drain off the liquid and it's ready to add to the other ingredients.
You can also use frozen corn for this recipe, but the corn should be cooked according to the package instructions, then chilled.
Remove the Corn Kernels
If you have fresh corn on the cob, allow a few extra minutes of preparation time to remove the cobs from the husks, then the kernels from each cob. It's actually a very easy process.
All you need is a sharp knife and a shallow bowl.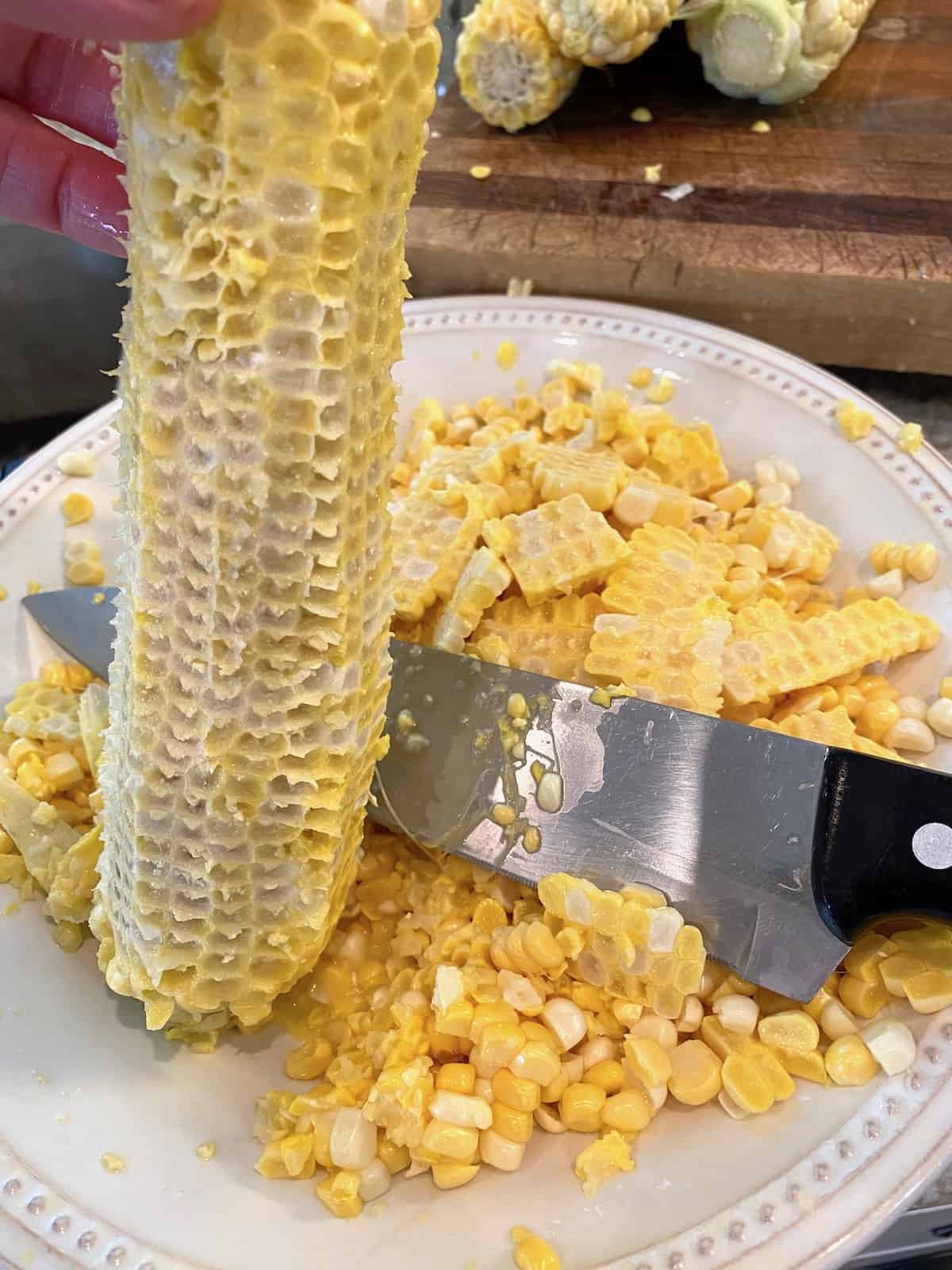 I hold the ear of corn upright with my left hand on a plate, pie plate or very shallow bowl. Using a sharp knife with my right hand, I simply slice the kernels off the cob. The fresh kernels will fall from the cob and onto the plate.
Pasta Options
Any type of very small pasta will work well in this recipe. The smaller the shape, the better - which is why I highly recommend Orzo pasta.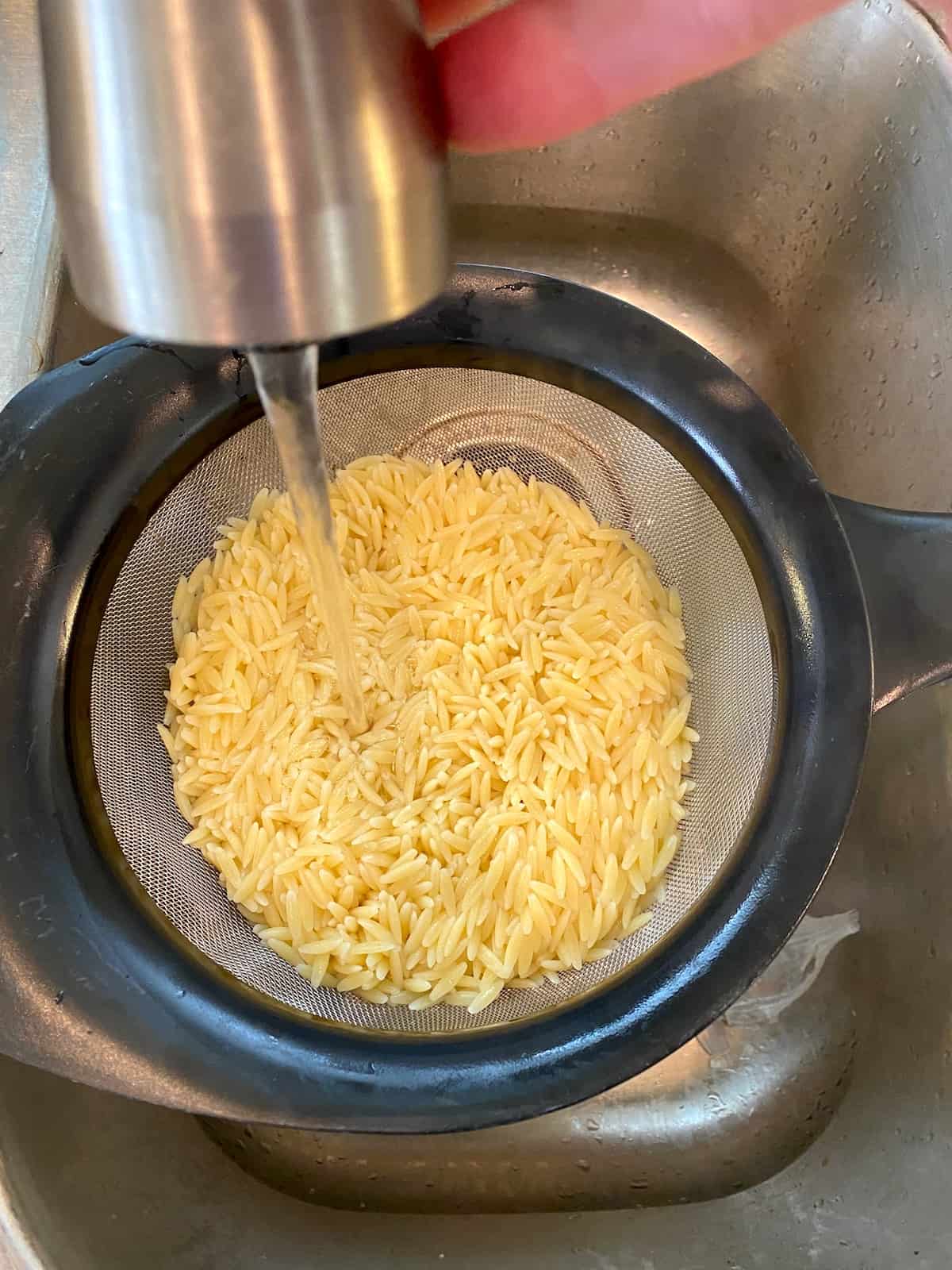 Using a larger variety of pasta will impact the texture of the finished salad. If you can't find Orzo pasta, look for the smallest shape possible of another variety.
Just be sure to cook the pasta to the al dente stage, which means there's still a sturdiness to it when you take a bite. Follow the pasta package directions for details.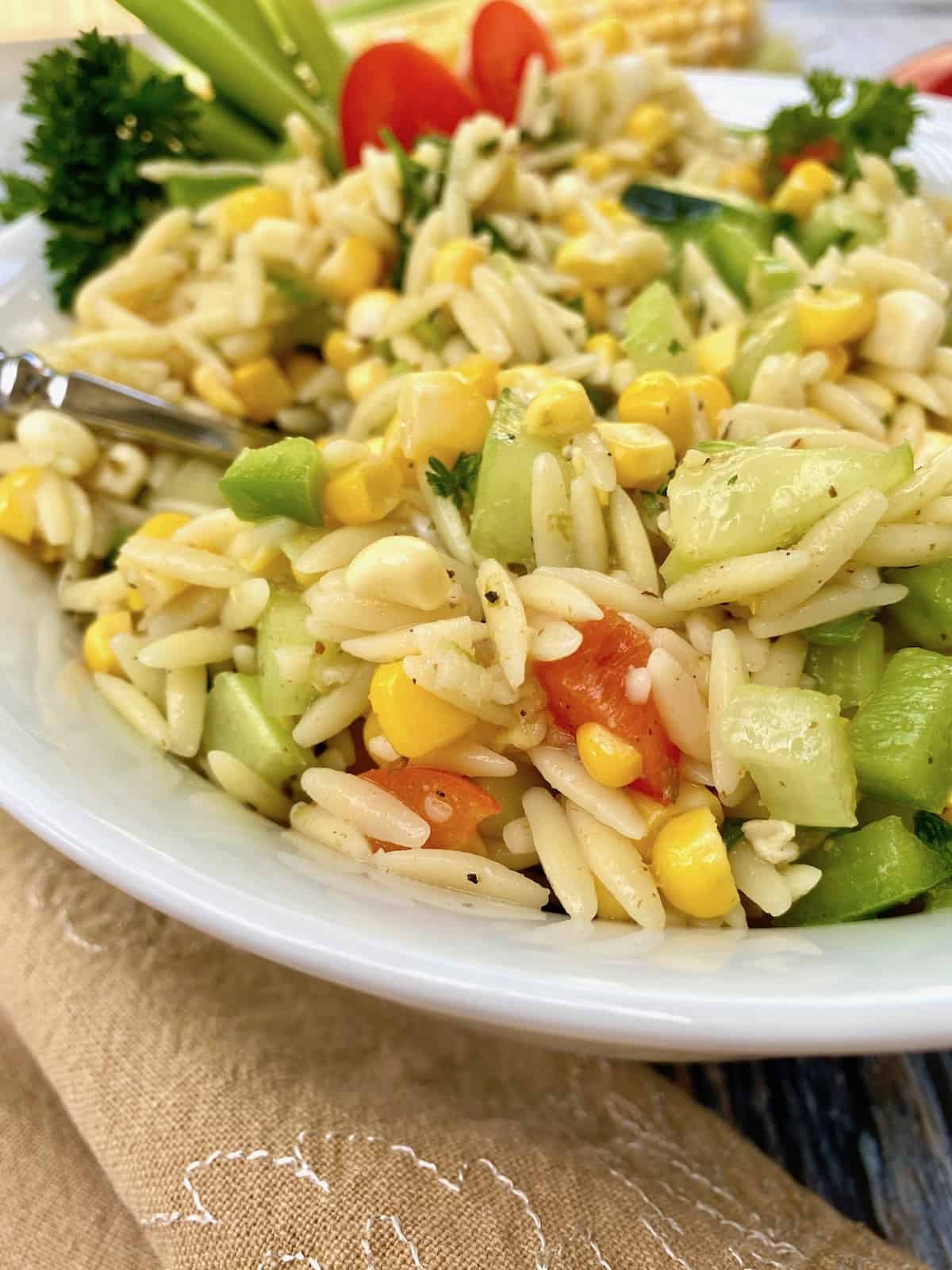 Orzo pasta is roughly the size of a grain of rice and is commonly used in homemade soups. It's perfect for this pasta salad because it provides just the right balance of chewiness in a salad that is also full of fresh, crunchy veggies.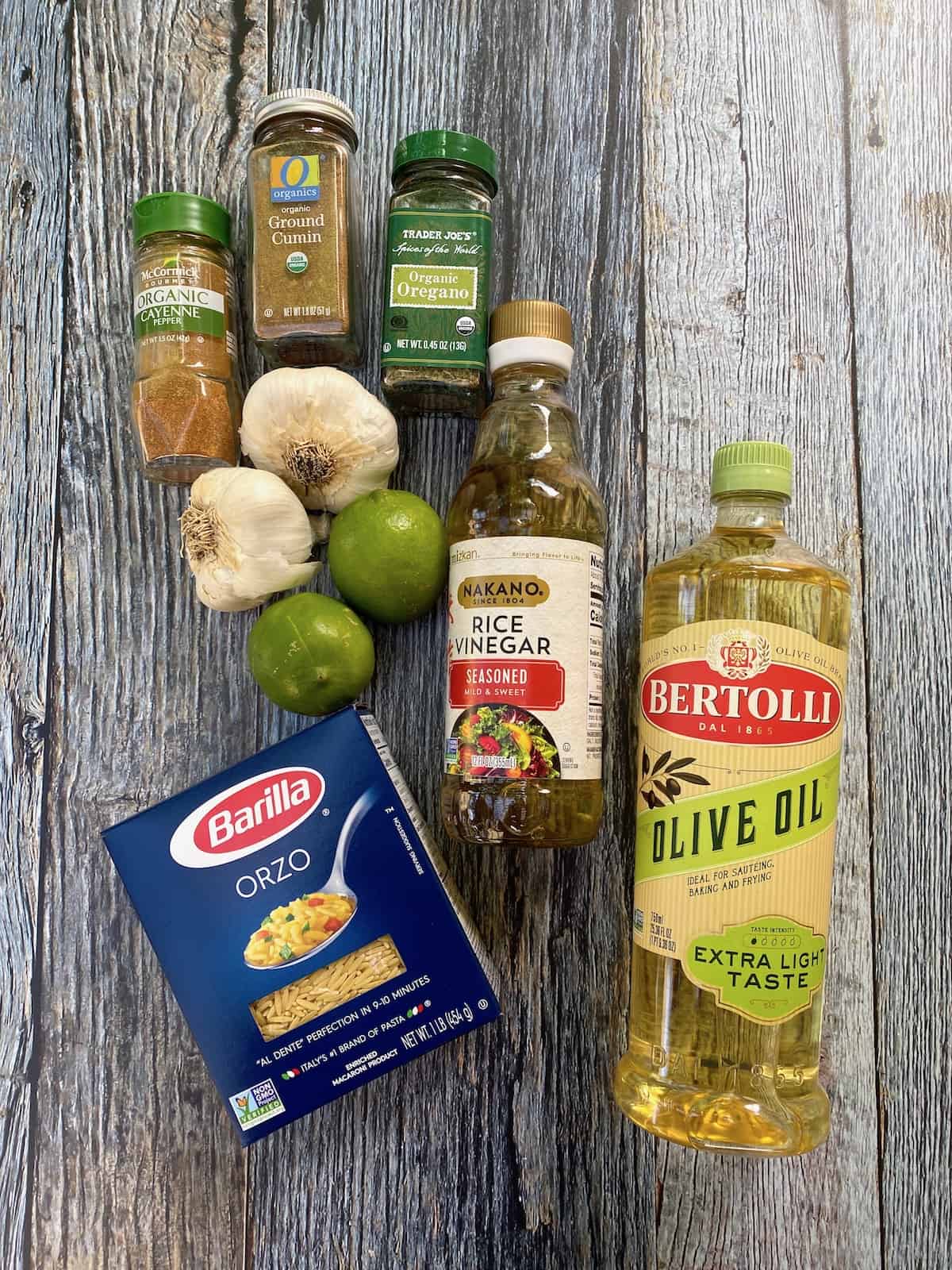 The Dressing
The dressing in this recipe is made from scratch and brimming with olive oil, seasoned rice wine vinegar, spices and oh yes - plenty of fresh garlic.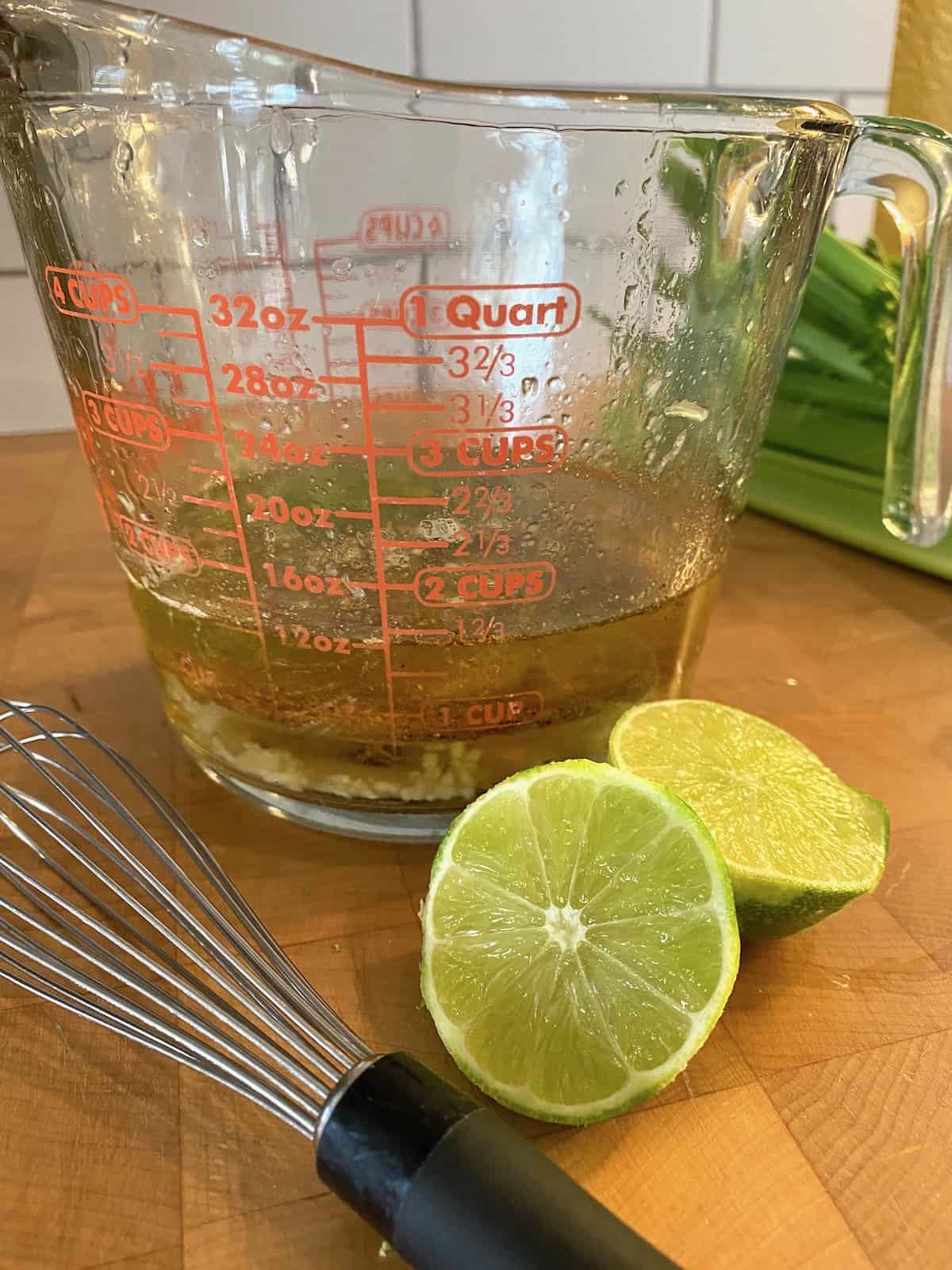 There's no sour cream or mayonnaise in this corn and pasta dressing, which is one of the many things that sets it apart from a lot of other summer corn salad recipes that combine corn, veggies and pasta. Instead of a heavy, creamy dressing, this pasta salad has a spicy, savory dressing that's bursting with tangy, fresh flavor.
I highly recommend light olive oil in this dressing recipe. It has a light, neutral taste that helps to enhance all the spices from the other dressing ingredients.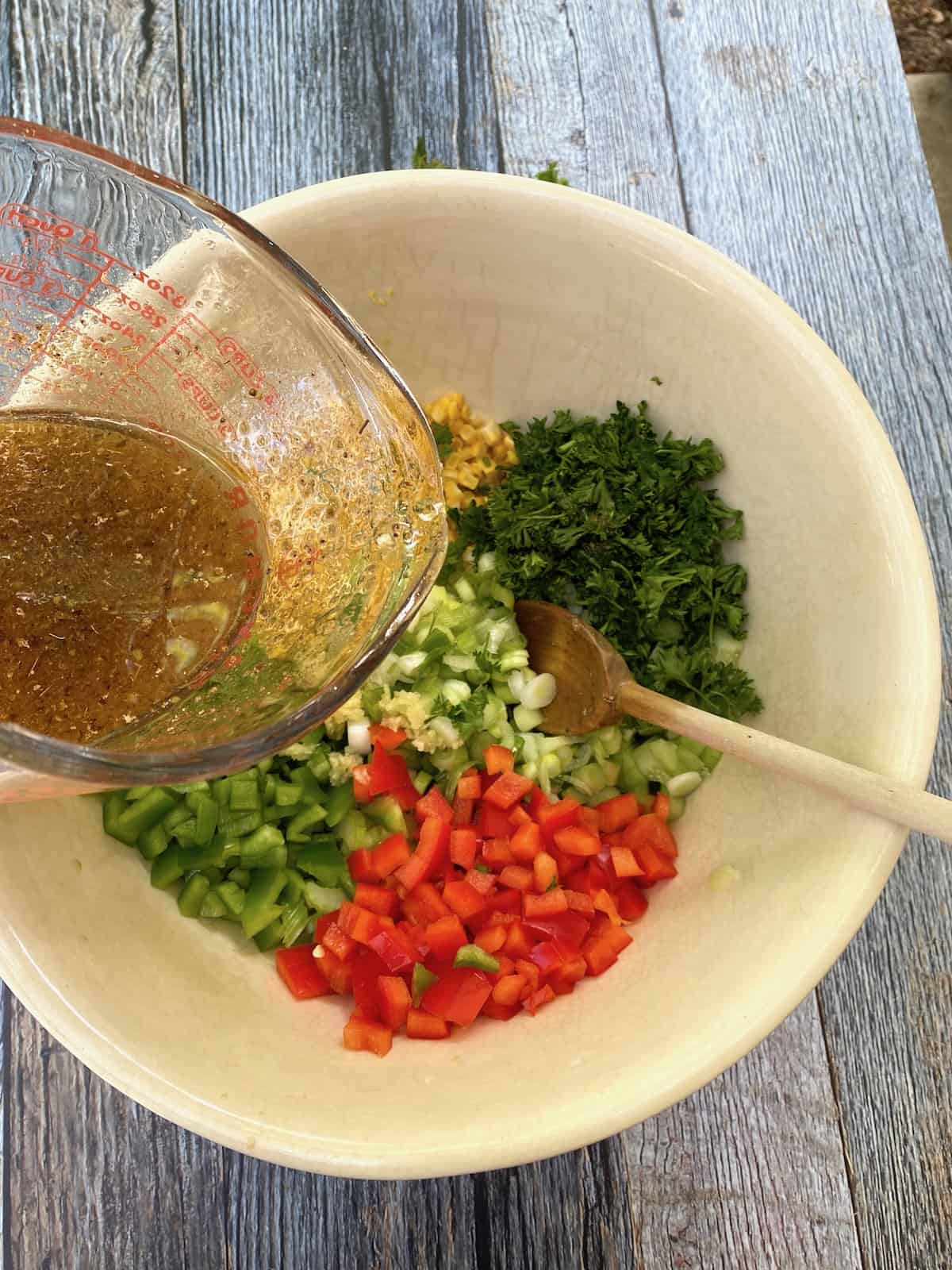 A different variety of extra virgin olive oil will impact how the dressing tastes.
Light olive oil is just that, very light in taste. Other possible substitutions include any other oil that is similarly neutral in flavor: canola, safflower, and sunflower oils are all good options to consider.
Use Fresh Garlic
Fresh garlic adds a big boost and a distinctive garlic presence to the pasta salad. There are roughly six cloves of garlic in this recipe.
Three crushed cloves are added to the corn and fresh veggies and three more cloves are added to the dressing with olive oil, seasoned rice vinegar, lime juice, lime zest and spices.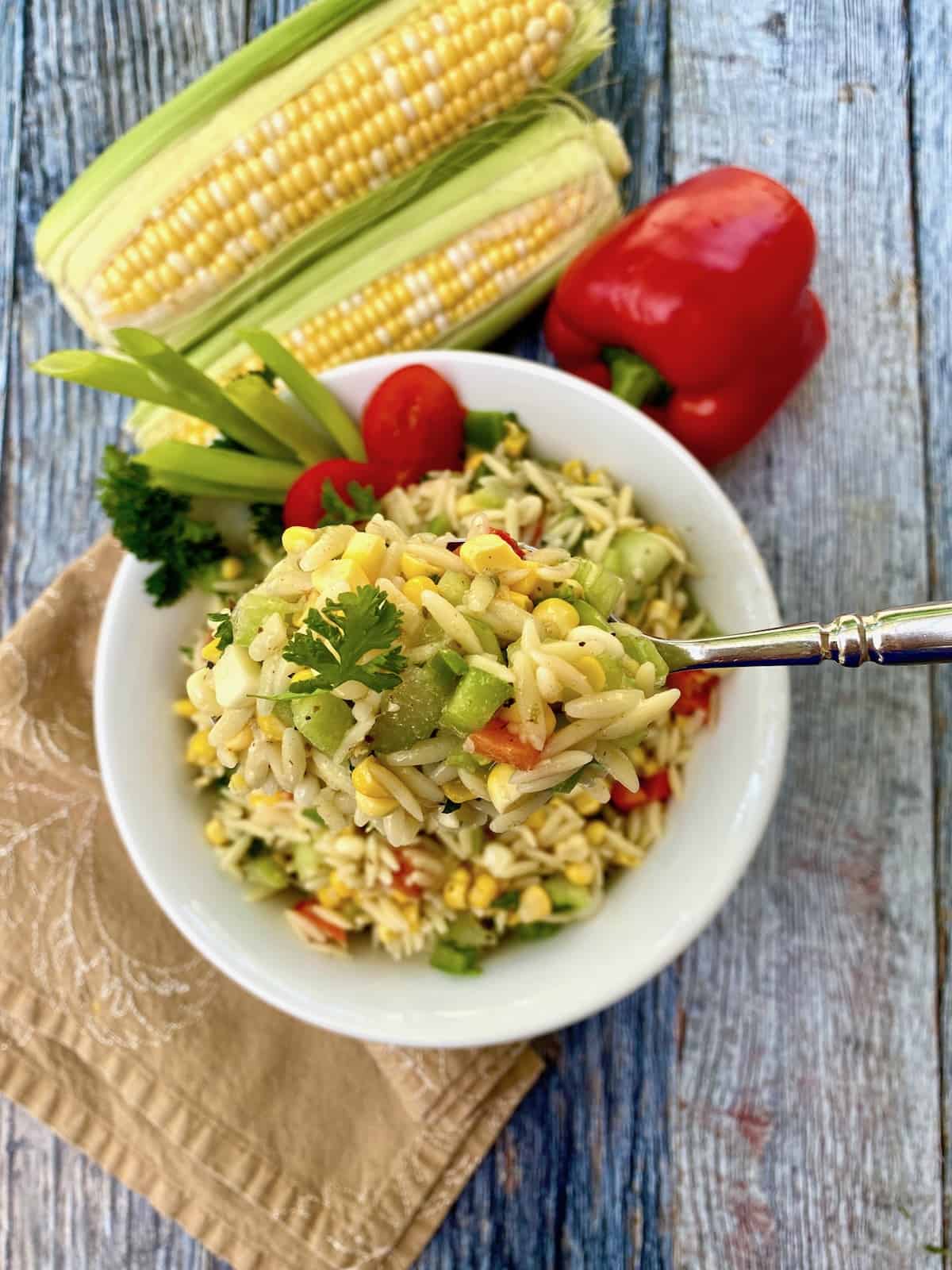 If fresh garlic isn't available, garlic powder can be substituted. Use about ¼ teaspoon of garlic powder for each clove of garlic.
If garlic isn't your favorite flavor, adjust the amount of garlic in this recipe to suit your family's taste.
Other Veggies to Include
There are many veggie options with Sweet Corn Pasta Salad. If you are lucky enough to have a garden full of fresh produce, by all means, use whichever vegetables are available or mix and match depending on what veggies look good at the farmer's market or grocery store.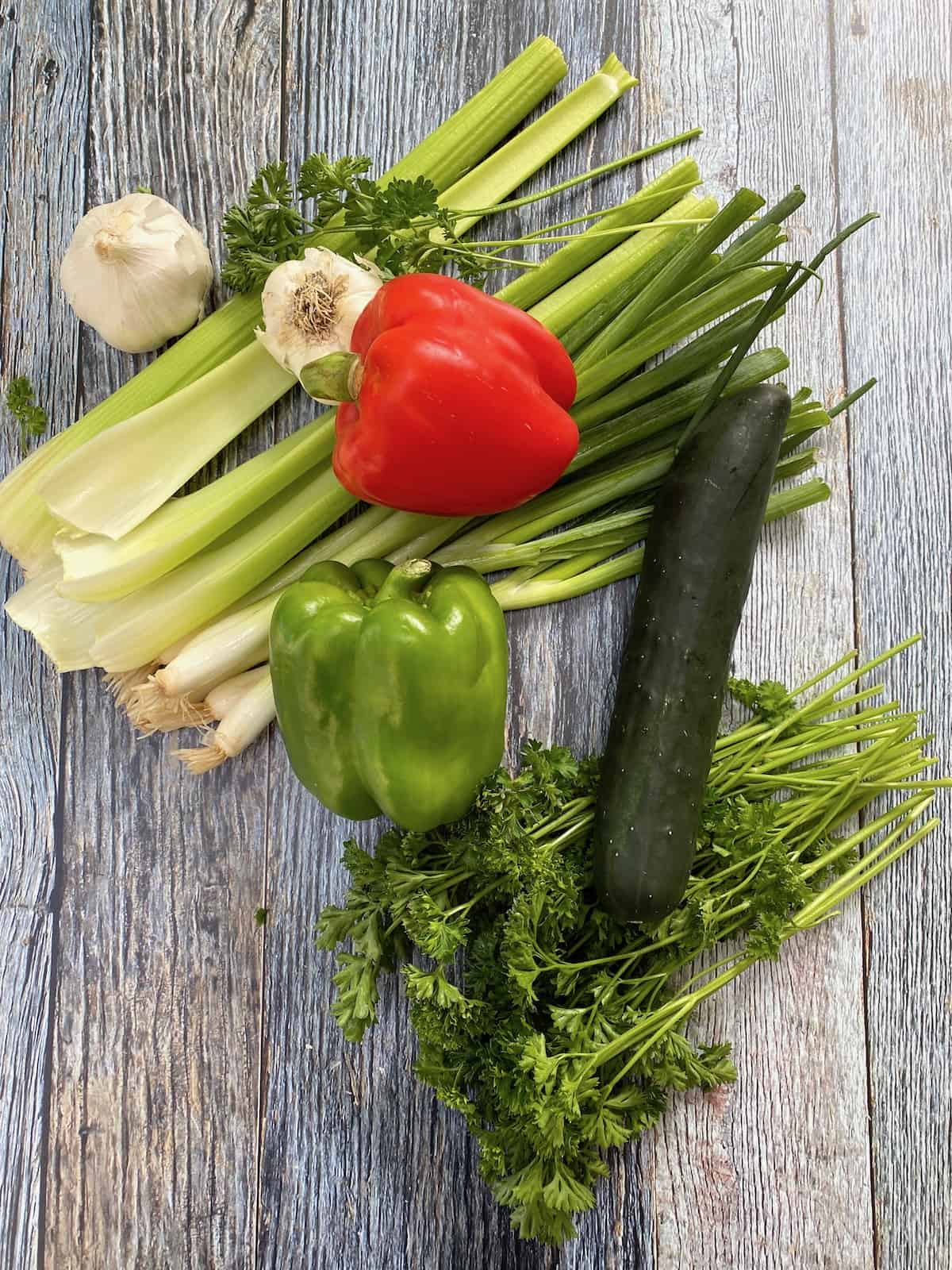 Cucumber is especially refreshing in this recipe and either an English cucumber or a regular garden variety of cucumber will work great. I usually remove most but not quite all of the peel from a cucumber. I like to include a few thin stripes of green peel for extra crunch and color in salads.
Veggie Substitutions
Fresh radishes, diced zucchini, sweet peas and even shelled edamame beans would be delicious additions or substitutions.
A Family-Favorite Recipe
Sweet Corn Pasta Salad has a delicious flavor and is a great recipe to share all those fresh garden vegetables.
The combination of fresh sweet corn, red pepper, green pepper, cucumber, crunchy celery, green onion and several garlic cloves means there's plenty of fresh flavor in every bite.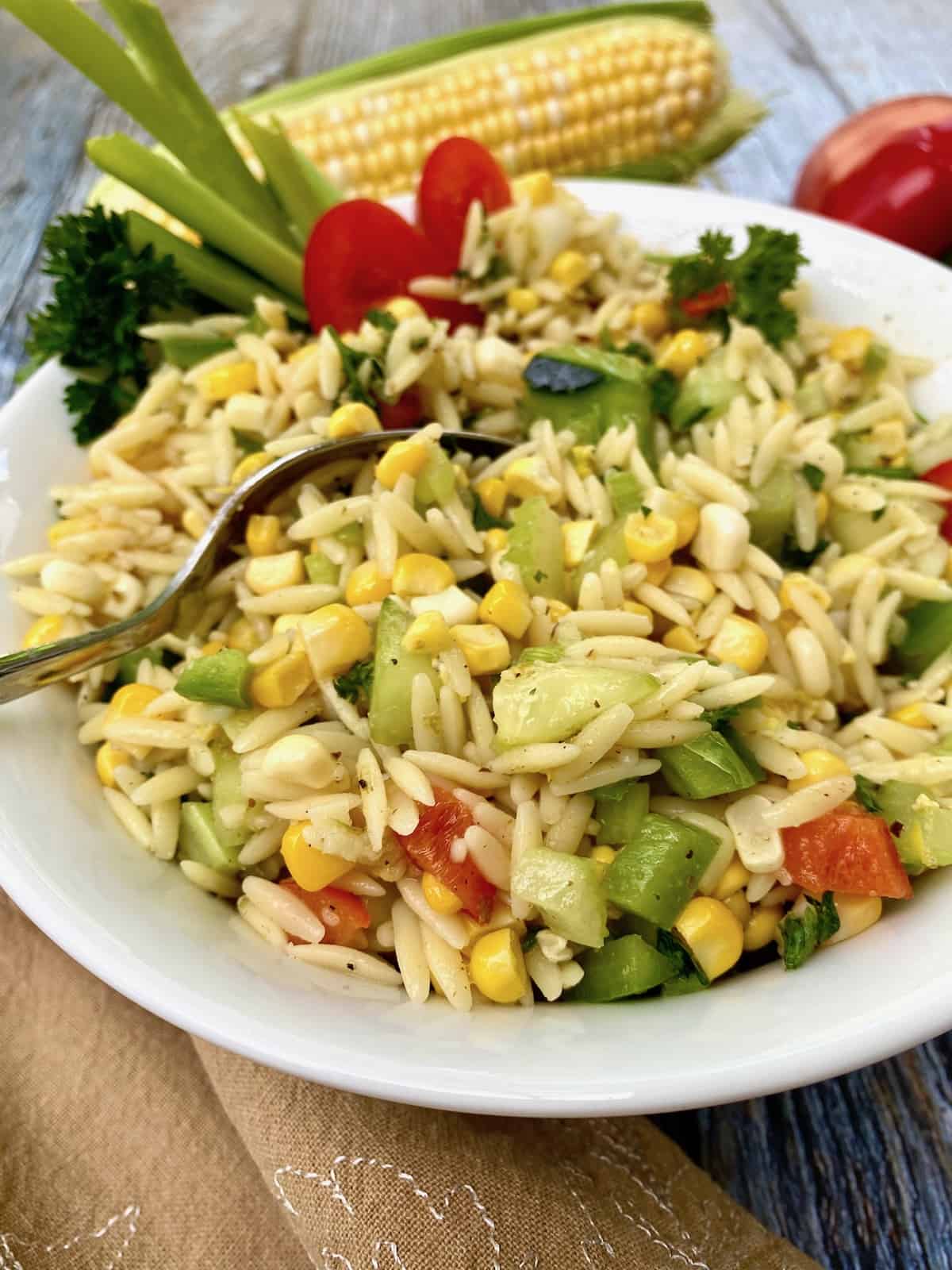 It's wonderful served as a light lunch, or at a summer picnic, potluck or BBQ. I think you'll find this is a recipe worth keeping on hand.
It's a great side dish and a delicious change of pace from a simple pasta salad. It also goes great with nearly any main course and your friends and family are certain to give you rave reviews.
What to Serve With Pasta Salad
This pasta salad is equally impressive to make and share any time of year and as a perfect side dish for everything from a pot roast or bratwurst to rotisserie chicken, Dutch Oven Chicken, Idaho Beef or Tamale Casserole to name a few.
Storing the Salad
Store this pasta salad covered in a large bowl in the refrigerator and serve it chilled or at room temperature - it's fine for this to set out on a buffet line for a few hours.
The flavor improves after 24 hours in the refrigerator.
For the best flavor, give the salad that extra day to chill before serving, if possible. Although you can serve it right away as well.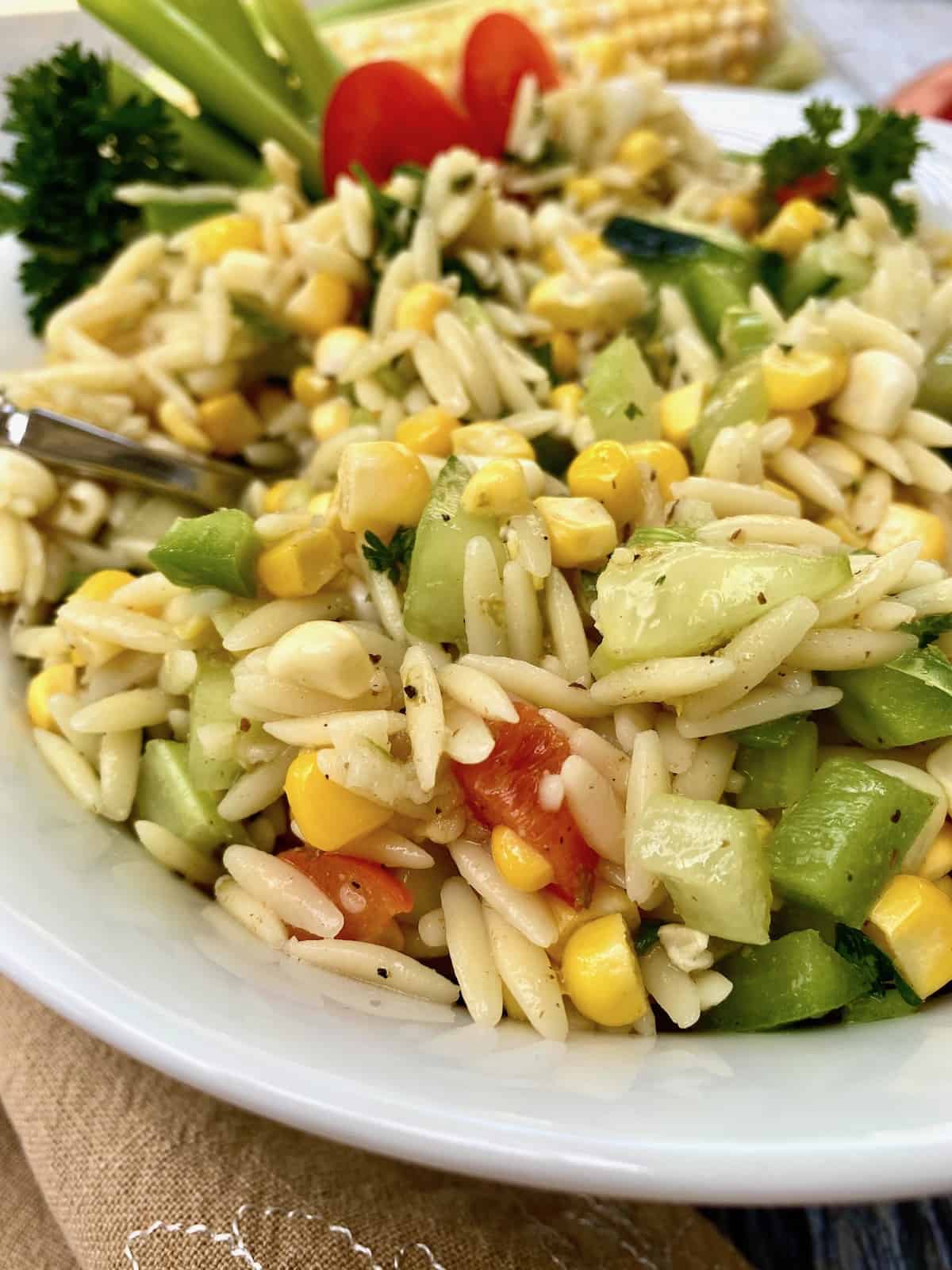 This pasta salad tastes fresh and delicious for 3-5 days.
If you are planning to take this pasta salad to a potluck, backyard cookout or party, this is a perfect salad to make a day ahead in your kitchen.
For best taste and freshness, enjoy Sweet Corn Pasta Salad within five days. Store in an air-tight container in the refrigerator.
Top Tips and FAQ
How many ears of corn equal three cups of corn?
It depends on how large the ear of corn is, but an average-sized ear of fresh corn will equal about ½ cup of corn.

This recipe calls for 3 cups of corn, so you'll need 5 - 6 ears of fresh corn.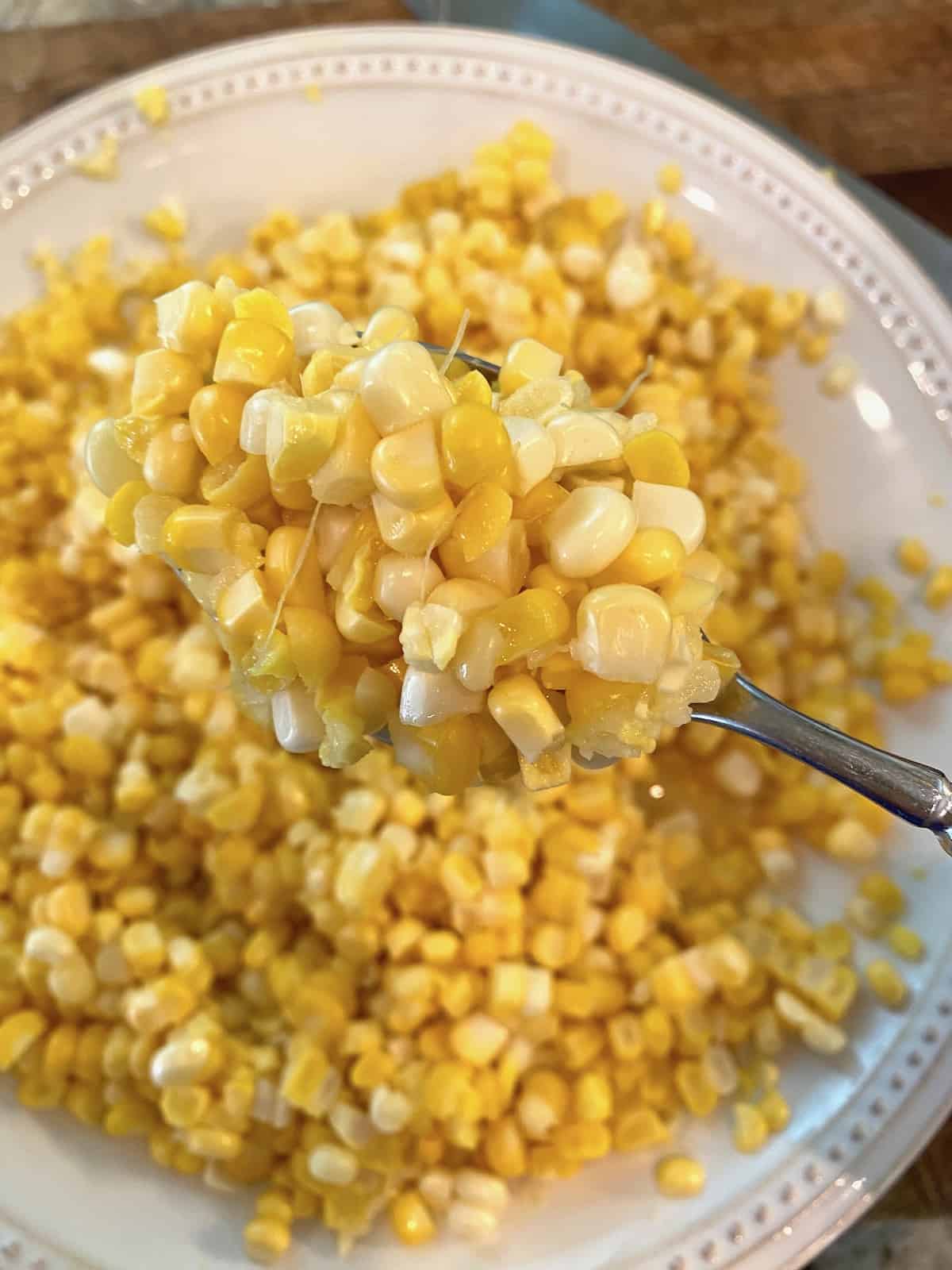 Six cloves is a lot of garlic! Can I use less?
Yes, and it will taste delicious. Either leave the fresh garlic out when you combine the corn and fresh veggies or leave the garlic out of the salad dressing ingredients. That way you cut the garlic in half but still get plenty of that distinctive garlicky taste.
Can I swap out the parsley and use cilantro instead?
Yes. Cilantro is in the same herb family as parsley and adds a unique flavor that blends very well with the ground cumin in this recipe.

The reason I use parsley is it's a fresh herb with a peppery taste that enhances the flavor of the other vegetables and the savory flavor of the fresh salad dressing.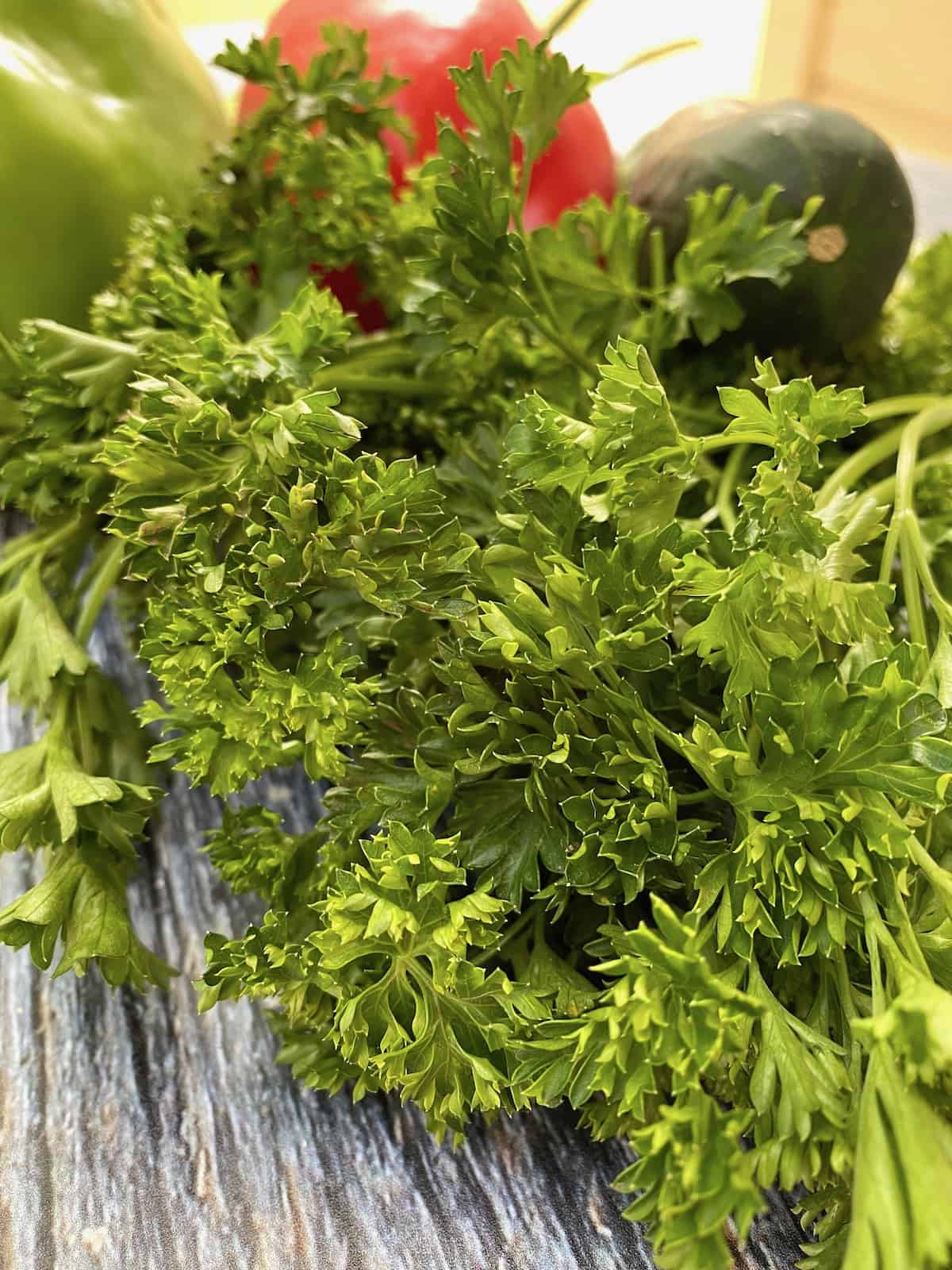 Do I need to cook or steam the canned corn?
No, corn from the can is already cooked. Simply drain off the liquid and it's ready to add to the other Sweet Corn Pasta Salad ingredients.
What is seasoned rice vinegar? Can I use plain rice vinegar instead?
Seasoned rice vinegar has added sugar and salt.

It's often used in recipes like this one where the flavoring is added after cooking - such as after we cook the Orzo pasta. Seasoned rice vinegar does a great job of boosting the flavor in this scratch-made dressing since it includes a touch of sugar and salt.

Although seasoned rice vinegar and rice vinegar are usually found next to each other on the grocery store shelf, and they have similar names, they can't be substituted one for the other in recipes.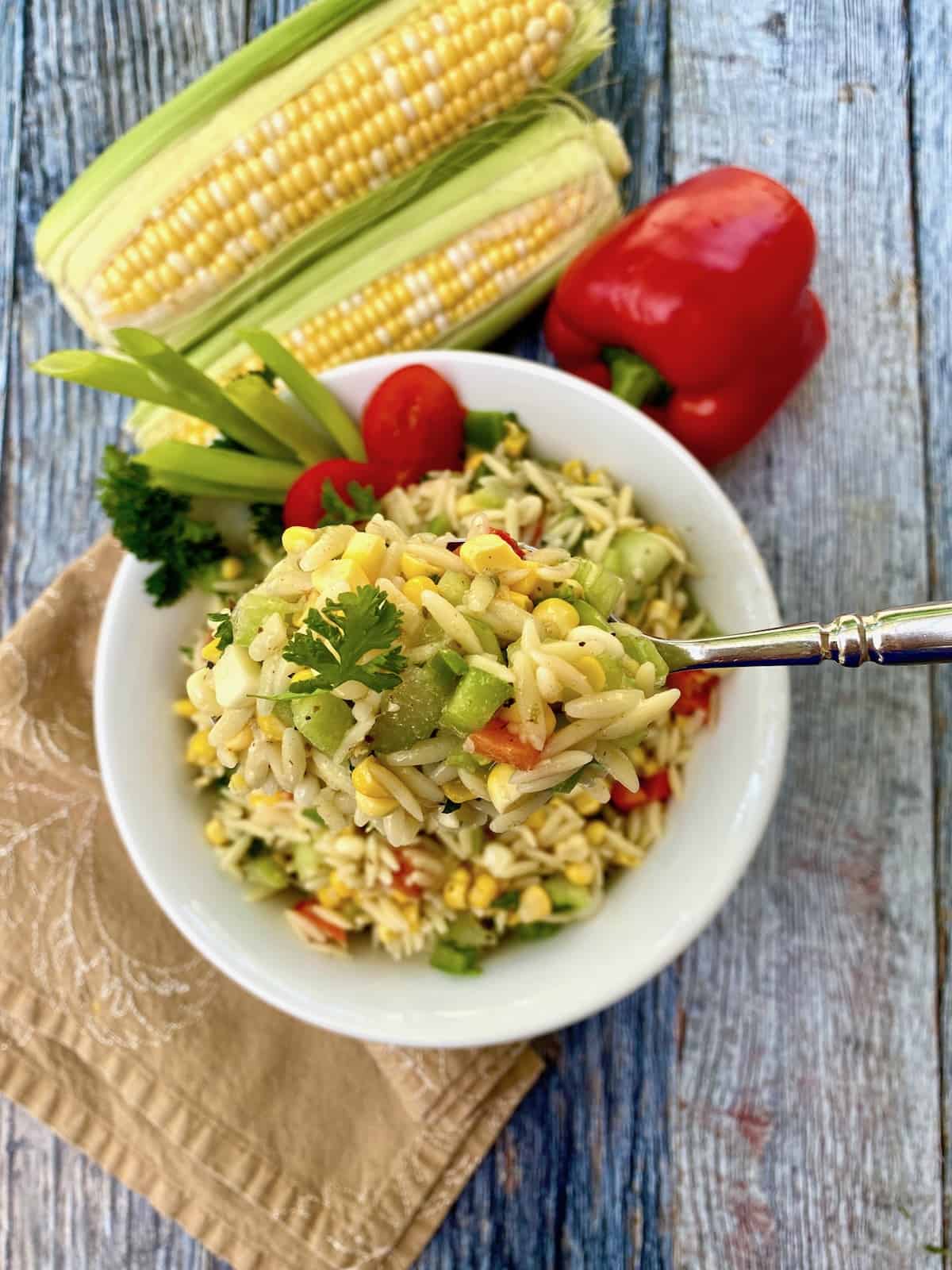 More Side Dish Ideas
Here are a few more side dish recipes I think you and your family will love. Crunchy Cole Slaw is a favorite side dish for hamburgers or pulled pork sandwiches. Classic Potato Salad is a great sidekick to Crunchy Cole Slaw and it's one of my favorite things to share. This potato salad is made with red potatoes, and here's the best part: you don't have to peel the potatoes.
Then there's Four P Salad, this is one of the easiest ways to serve pasta salad and there are just four ingredients and all begin with the letter P.
More Recipes to Enjoy
I hope you enjoy Sweet Corn Pasta Salad, here are a few other recipes that are popular among readers of the Crinkled Cookbook. Each one offers up a way to make great food at home!
Old Fashioned Chocolate Pound Cake
Butternut Squash Mac and Cheese
If you tried this Sweet Corn Pasta Salad or any other recipe on my website, please leave a 🌟 star rating and let me know how it goes in the 📝 comments below.
Recipe