Baked Beef Burritos are a delicious, hearty meal. The ingredients are tucked into a large flour tortilla and oven-baked to crispy, cheesy perfection. Be generous with the fresh lime juice because that's the secret ingredient in these stuffed burritos.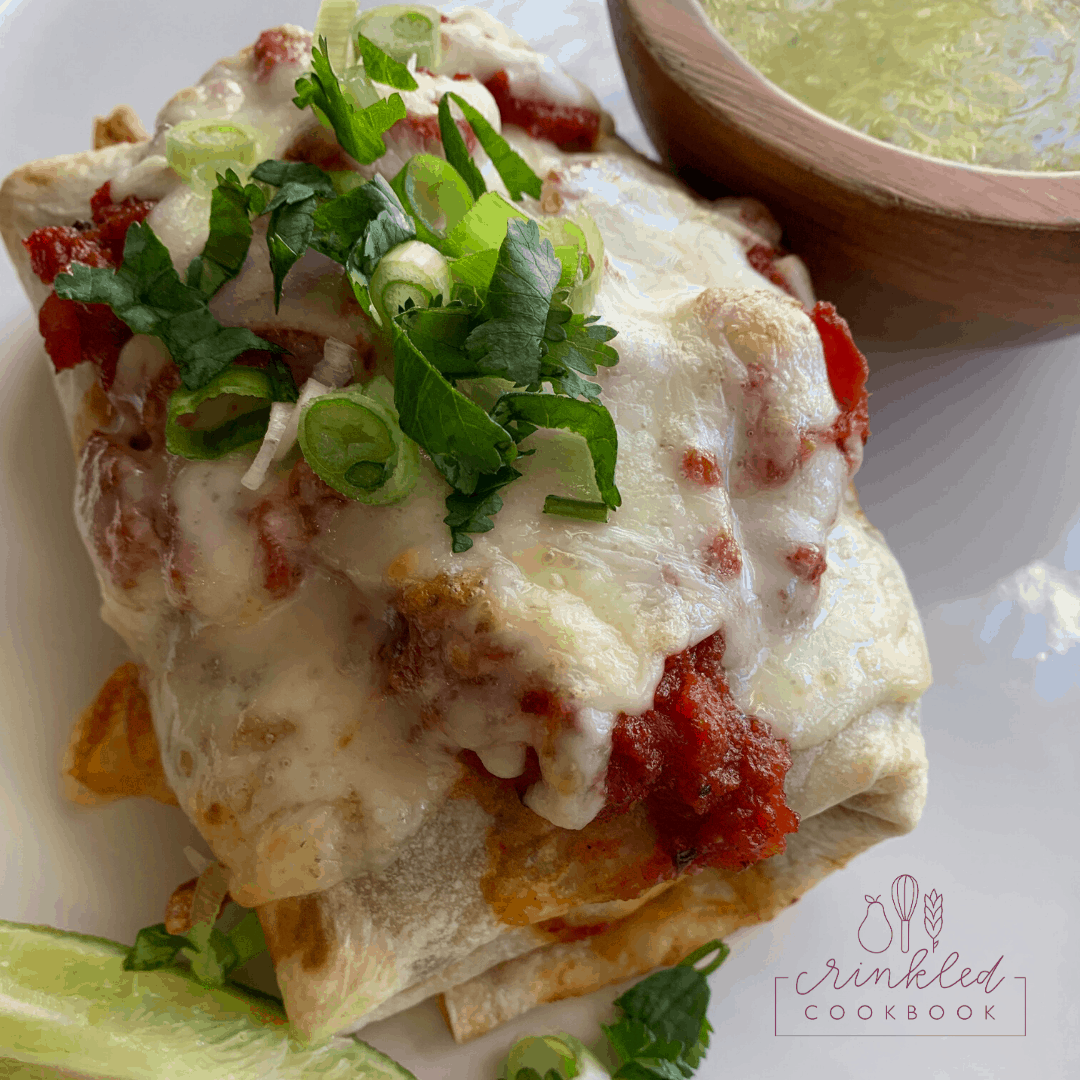 Ingredients to Have on Hand
ground sirloin
black beans
canned green chilis
spinach, limes, green onions
canned, fire roasted tomatoes
Monterey Jack cheese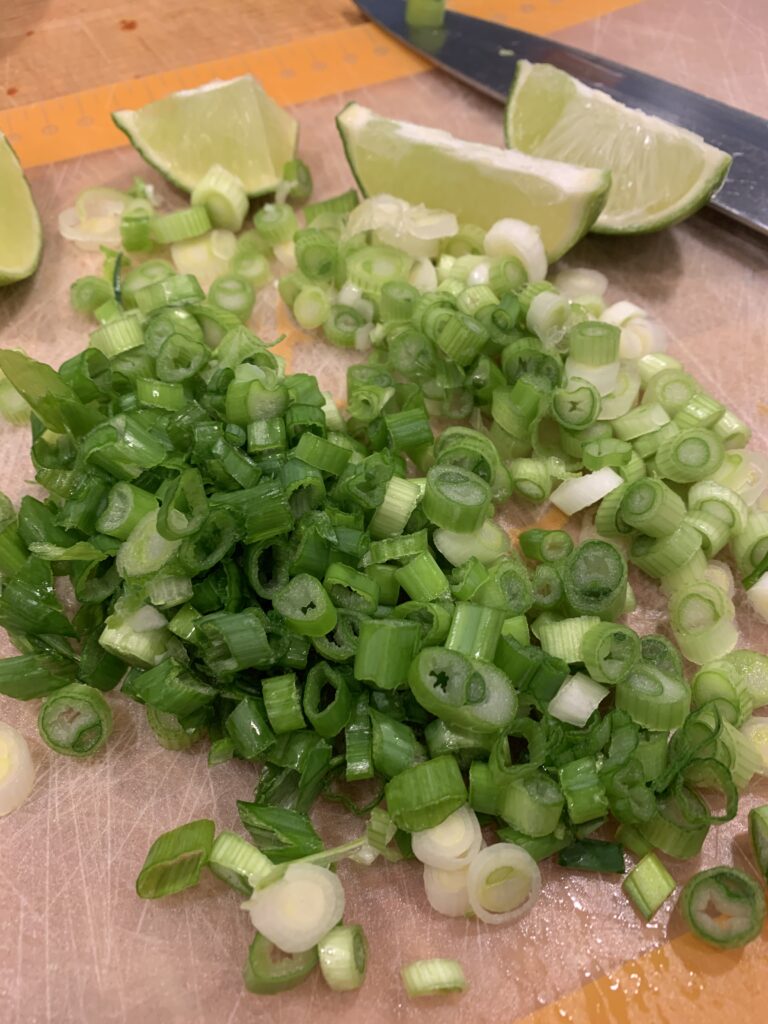 Packed with Goodness
This burrito recipe is full of all our favorite burrito flavors, but what makes these a meal in one, is the fact each burrito also include plenty of black beans and fresh, cooked spinach greens.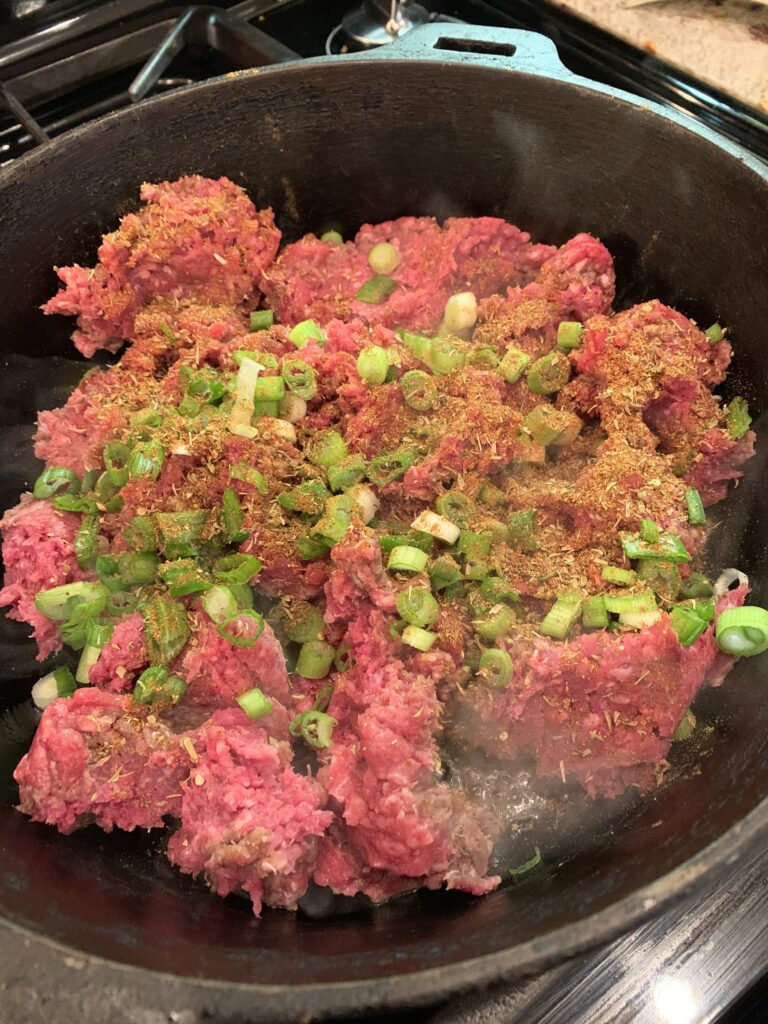 Meal in a Tortilla
One of the best things about these burritos is they are packed full of just about everything you need for a meal: meat, beans, veggies, cheese - all tucked neatly into a big flour tortilla.
Leftovers keep for days in the fridge too which is another big plus.
I recommend serving with a fresh green salad, Crunchy Cole Slaw, Sweet Corn Pasta Salad and with plenty of fresh Homemade Guacamole.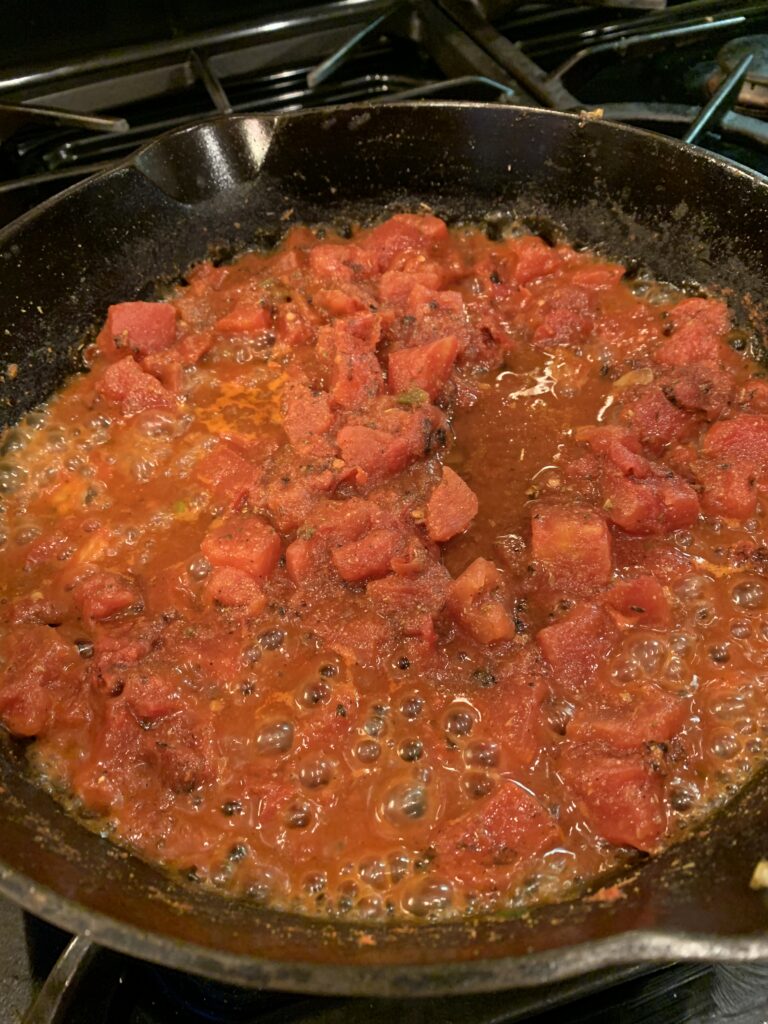 Prep and Serve Options
If you are in a hurry, Baked Beef Burritos are easy to prep a day ahead. Just assemble the burritos, cover and refrigerate overnight.
When you are ready to serve pop them in the oven and bake for 20 minutes.
Slice limes, chop cilantro and dice a few green onions to sprinkle on top and you've got yourself a fresh, tasty meal ready to go.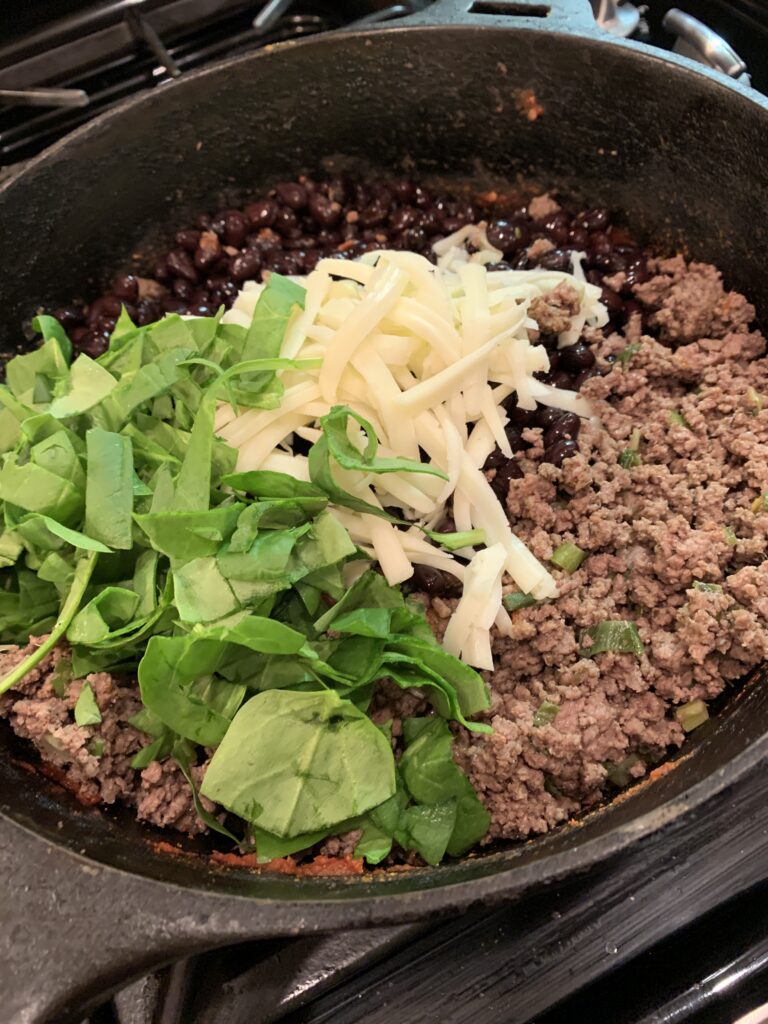 Use Flour Tortillas
Perhaps you've seen those big, BIG flour tortillas in the grocery store that are so cleverly labeled "Burrito Size."
Although they may look extra large on the grocery store shelf, and maybe even too big for a single serving, they are in fact the absolute perfect size for this recipe.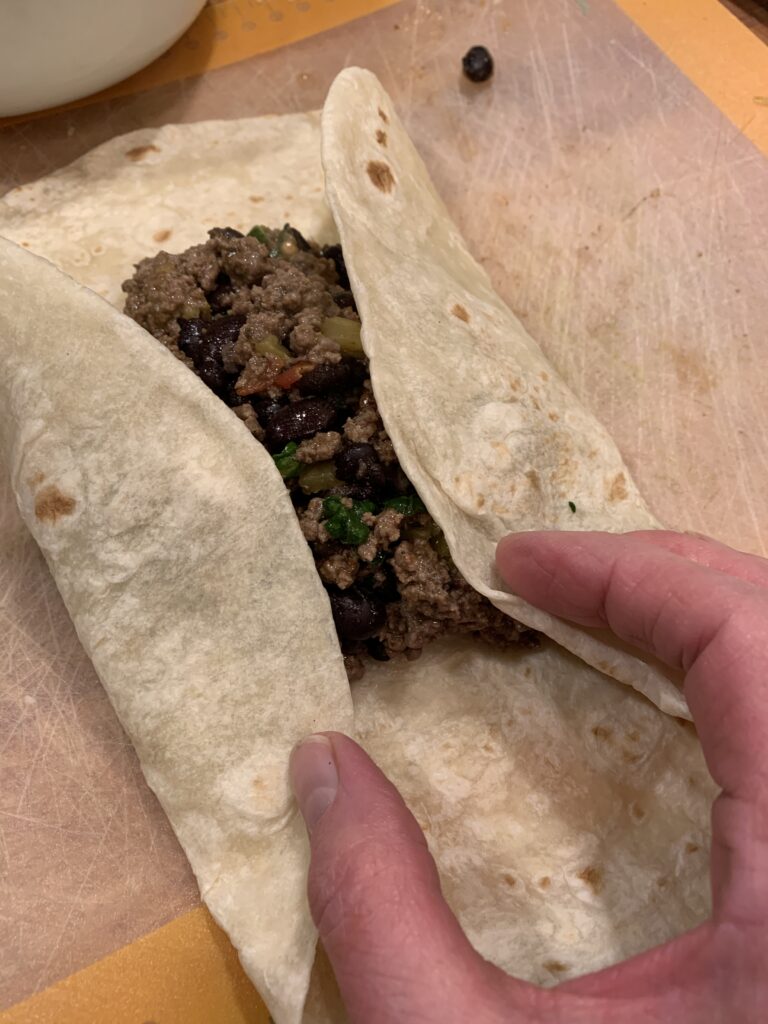 Top Tips and FAQ
Does it matter what size tortilla shell I use?
You will want the big, big burrito-sized tortillas. I know they seem oversized, but given all the ingredients that are tucked into these burritos you'll use every square inch of that flour tortilla for the hearty filling.
How do you keep the burritos from drying out in the oven?
Here's where the spicy tomato topping and a few squeezes of lime juice come in handy. Both liquid ingredients on top of each burrito give the tortilla just the right amount of moisture to stay crispy, crunchy and fresh. Not dry at all.
Should I wrap the burritos in foil?
There's no need to. I know that's how often we are served burritos, especially in fast-food settings, but you won't need foil with these baked burritos.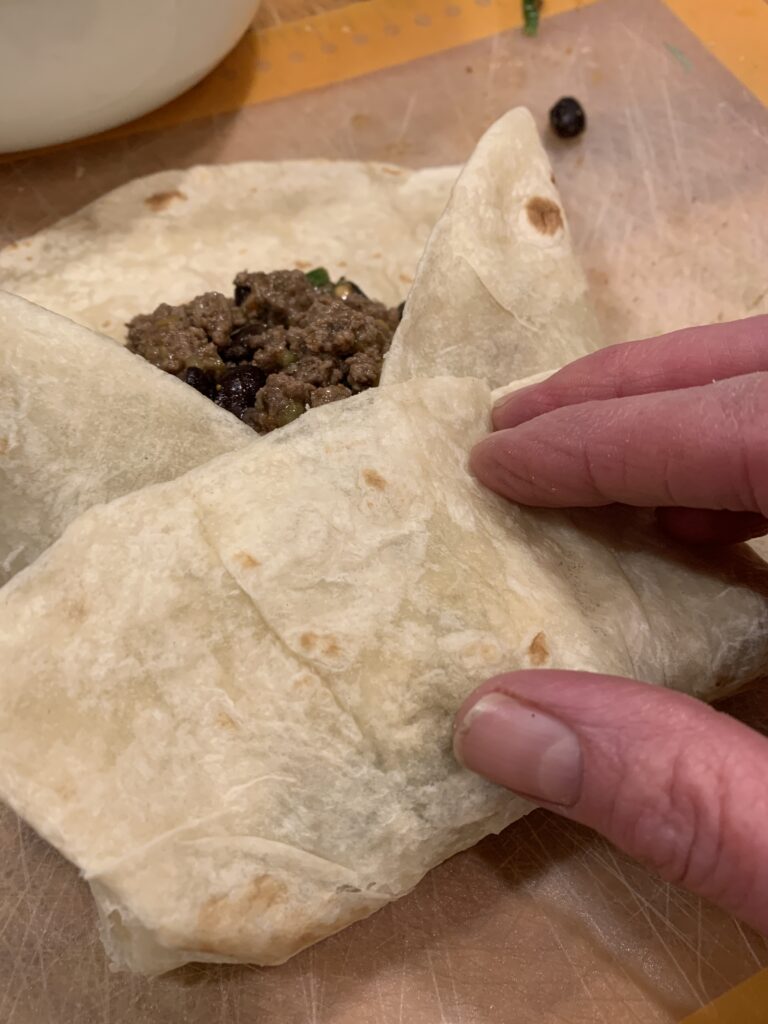 Warm the Tortillas Before Wrapping
Be sure to place the burrito-sized, flour tortillas in the microwave for 30 seconds or so before wrapping adding the ingredients.
This softens the tortilla and makes is easy to wrap around all those filling ingredients without tearing.
Layer the tortillas on a microwave safe plate and heat for about 30 seconds, Depending on the wattage of your microwave, you may need to add a few more seconds.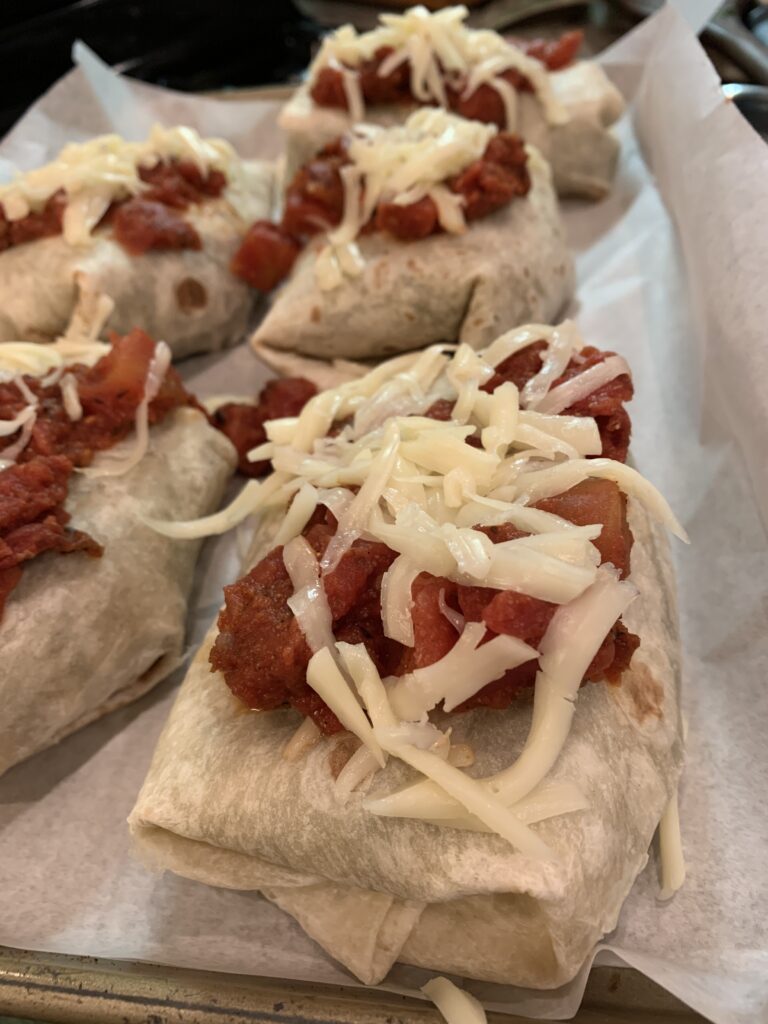 Freezer Friendly
Once the tortillas are filled and topped with the spicy tomato sauce, lime juice and cheese, place the burritos in an airtight container and freeze.
When you are ready to bake, place the frozen burritos on a baking sheet lined with parchment paper and bake at 375° F degrees for about 45 minutes, or until the burritos are slightly browned and piping hot.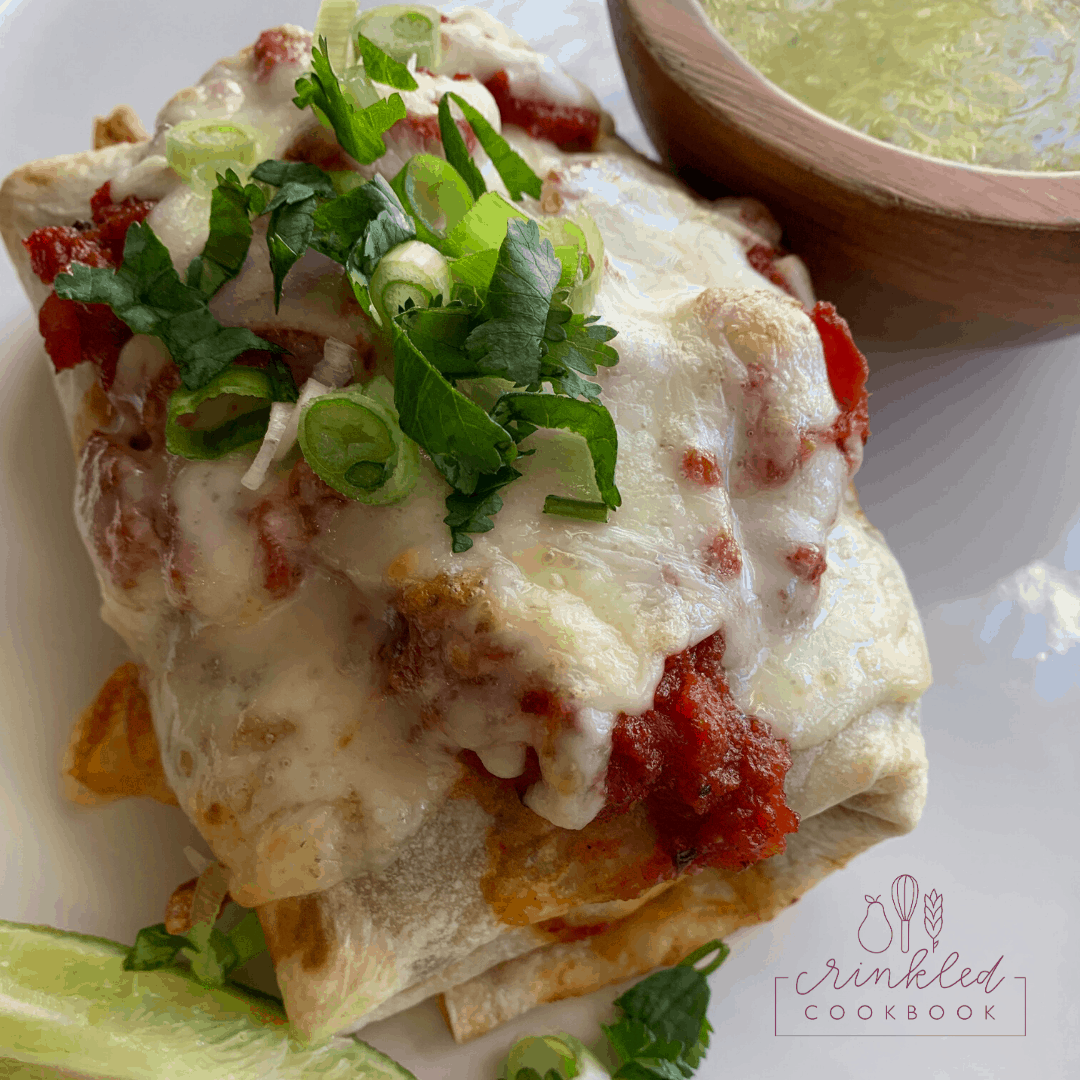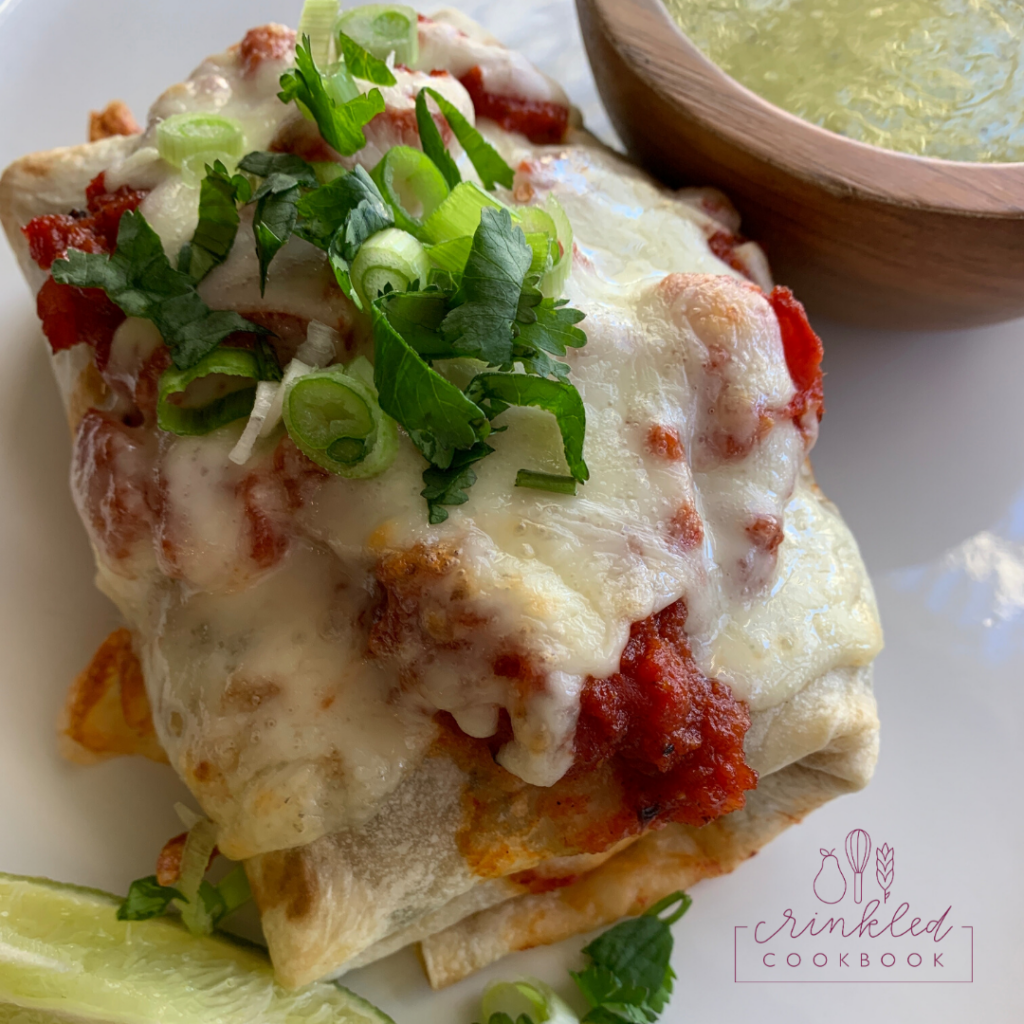 More Dinner Ideas
Beef Baked Burritos are a family favorite in my house, and often requested for birthdays or special occasions, but I make these for weeknight dinners too. Here are a few more recipes that I think you'll enjoy as much as we do.
Stay in Touch
Be sure to give a star rating to the recipes you make from the Crinkled Cookbook. I always love hearing from you. Sharing is great too! Use the buttons after the recipe to text it with just one click or send it to family and friends on Pinterest and Facebook. Enjoy.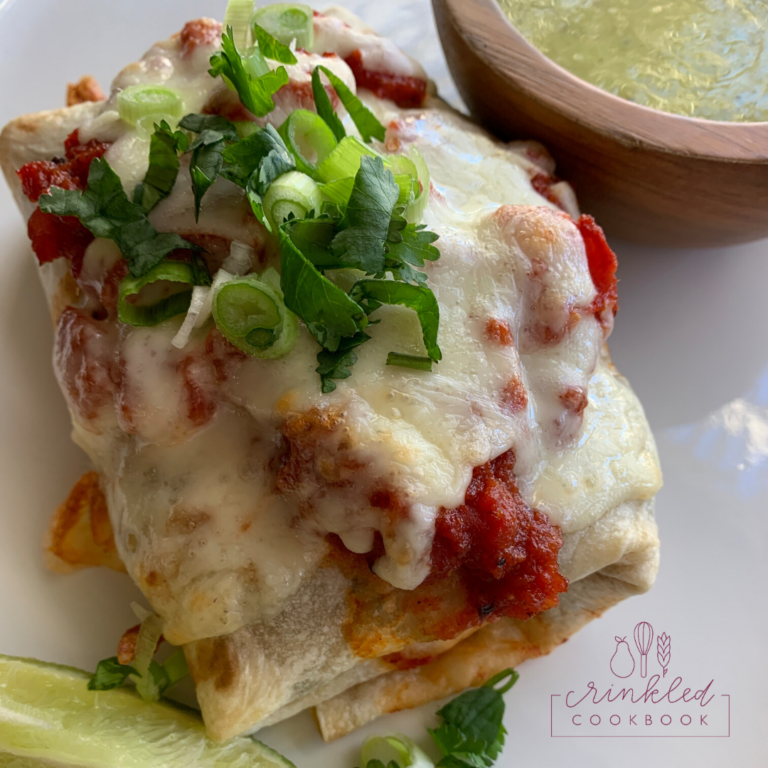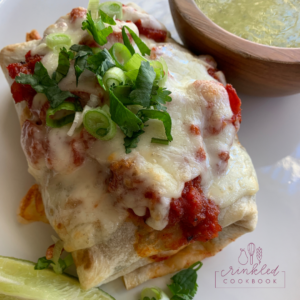 Baked Beef Burrtios
Fresh lime juice is the secret ingredient in these stuffed burritos. Slice limes and dice a few green onions to sprinkle on top and you've got yourself a fresh, delicious meal ready to go.
Print
Rate
Pin Recipe
Ingredients
1.5

pounds

ground sirloin

1, 26.5

ounces

can black beans

rinsed and drained, or use two 15 ounce cans

1

small can green chilis

1

cup

fresh spinach

chopped

3

green onions

sliced thin

2-3

limes

cut into wedges

1

cup

shredded Monterey Jack cheese

salt and pepper to taste

cilantro for garnish
Spicy Tomato Sauce
1, 14.5

ounce

can fire roasted diced tomatoes

¼

cup

water

lime juice

from 1 or 2 lime wedges

1

teaspoon

salt

pepper to taste
Spice Mix
1

teaspoon

chili powder

2

teaspoons

ground cumin

2

teaspoons

ground oregano
Tortillas
7

large, burrito-sized flour tortillas
Instructions
Preheat Oven, Mix Spices
Preheat oven to 375° and line a large baking sheet with parchment paper.

Combine spice mix ingredients in a small dish and set aside.
Cook Beef and Tomato Sauce
Heat about 3 tablespoon olive oil in a large skillet on the stovetop. Add beef, half the green onions and about ½ the spice mix. Cook until meat is no longer pink. Season with salt and pepper and remove cooked beef from the pan. Place it in a medium-sized bowl and set aside.

In the same skillet, add all of the Spicy Tomato Sauce ingredients, the remaining spice mix and cook over high heat until bubbling and most of the water has evaporated.

Spoon about half the cooked tomato sauce into a small bowl and set aside.
Combine Ingredients
Over low heat, return the cooked beef to the skillet with the tomato sauce and add the black beans, green chilis, spinach and about ½ cup of the Monterey Jack cheese.

Stir until spinach begins to soften and the cheese has melted.
Assemble and Bake Burritos
Layer the tortillas on a microwave safe plate and soften for about 30 seconds. One at a time, place flat on a large cutting board.

Spoon about one cup of filling on each tortilla.

Fold in the sides, then roll up the bottom edge to the top to seal and place the burritos seam-side down on the baking sheet.

(If preparing in advance - place the wrapped burritos in the fridge at this point, but hold off on topping with the sauce and cheese until you are ready to bake.)

Spoon remaining tomato sauce on top of each burrito and sprinkle with remaining cheese. Squeeze the juice from a few wedges of lime and top with green onion slices and chopped cilantro.

Bake for 20-25 minutes.

To serve, squeeze the juice from a wedge of lime on top of each burrito and top with green onion slices and chopped cilantro.
Notes
Serve with a few wedges of lime (be sure to squeeze plenty of juice on top of the cooked burritos) and top with green onion slices and chopped cilantro. So good!
Nutrition
Calories:
578
kcal
Carbohydrates:
56
g
Protein:
35
g
Fat:
24
g
Saturated Fat:
10
g
Trans Fat:
1
g
Cholesterol:
80
mg
Sodium:
1430
mg
Potassium:
815
mg
Fiber:
11
g
Sugar:
5
g
Vitamin A:
944
IU
Vitamin C:
12
mg
Calcium:
287
mg
Iron:
8
mg
Please note, the nutrition details are estimated using a food database and are offered here only as a guideline for informational purposes.