Easy Homemade Honey Butter is the best topping for freshly baked bread, basic biscuits, scones or muffins. The creamy, lightly sweetened buttery spread is ready in 10 minutes. Serve it on Crockpot Banana Bread at breakfast or Classic Potato Rolls at dinner. Taste how a little honey and a touch of cinnamon can elevate the familiar and comforting flavor of whipped butter.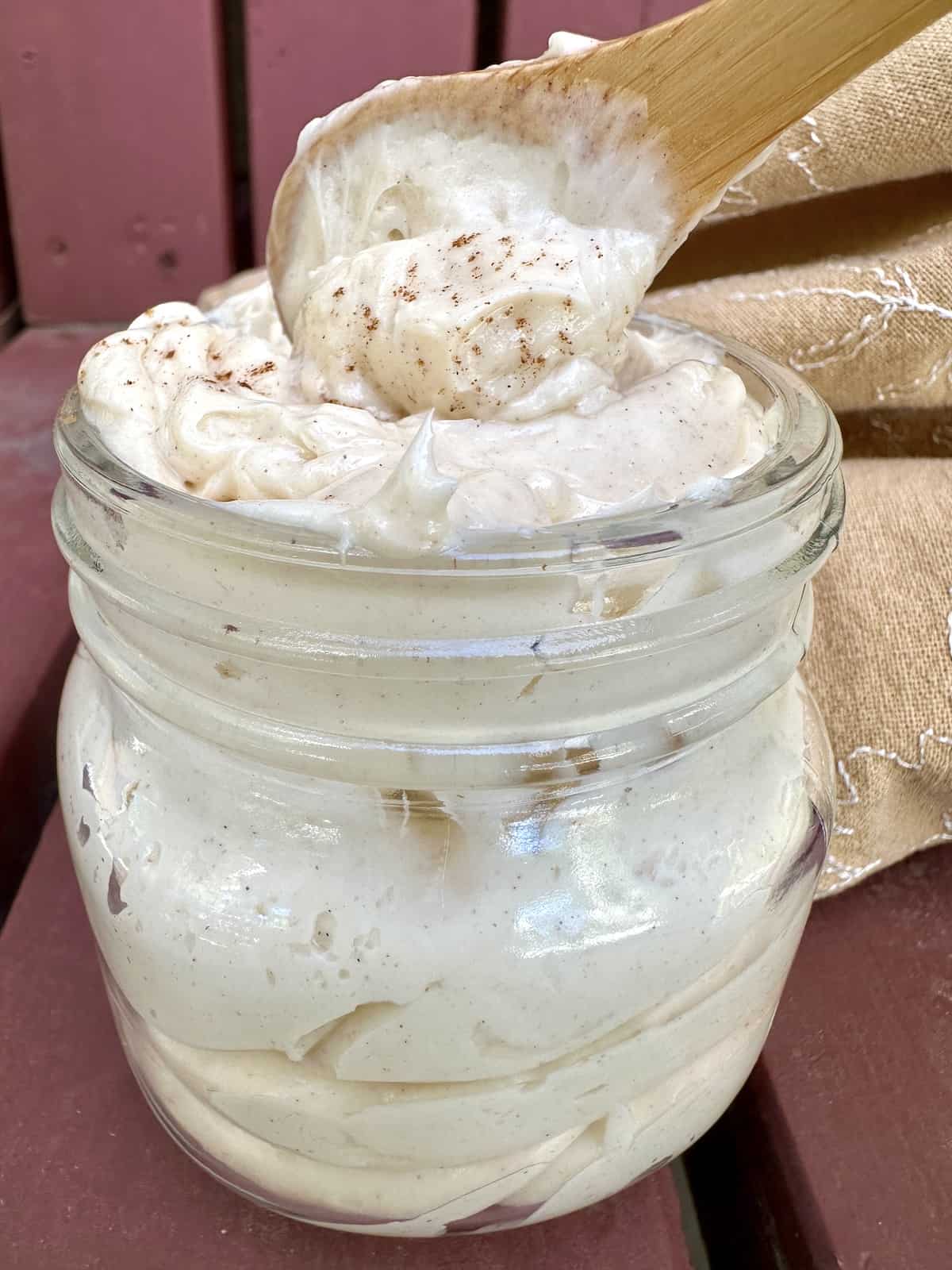 Jump to:
⭐ Why You'll Love This Recipe
You don't need any fancy kitchen gadgets to make delicious Homemade Honey Butter. It's hassle-free and ready in 10 minutes or less!
It combines the rich, creamy texture of whipped butter with the natural sweetness of honey. Try it on a simple slice of toast for a delicious alternative to cinnamon toast or spread it on freshly baked Carrot and Banana Muffins or Blueberry Rhubarb Muffins.
Homemade Honey Butter is a delicious sweet and salty spread that might remind you of the famous butter they serve at the Texas Roadhouse restaurants.
🍯 Ingredients to Have on Hand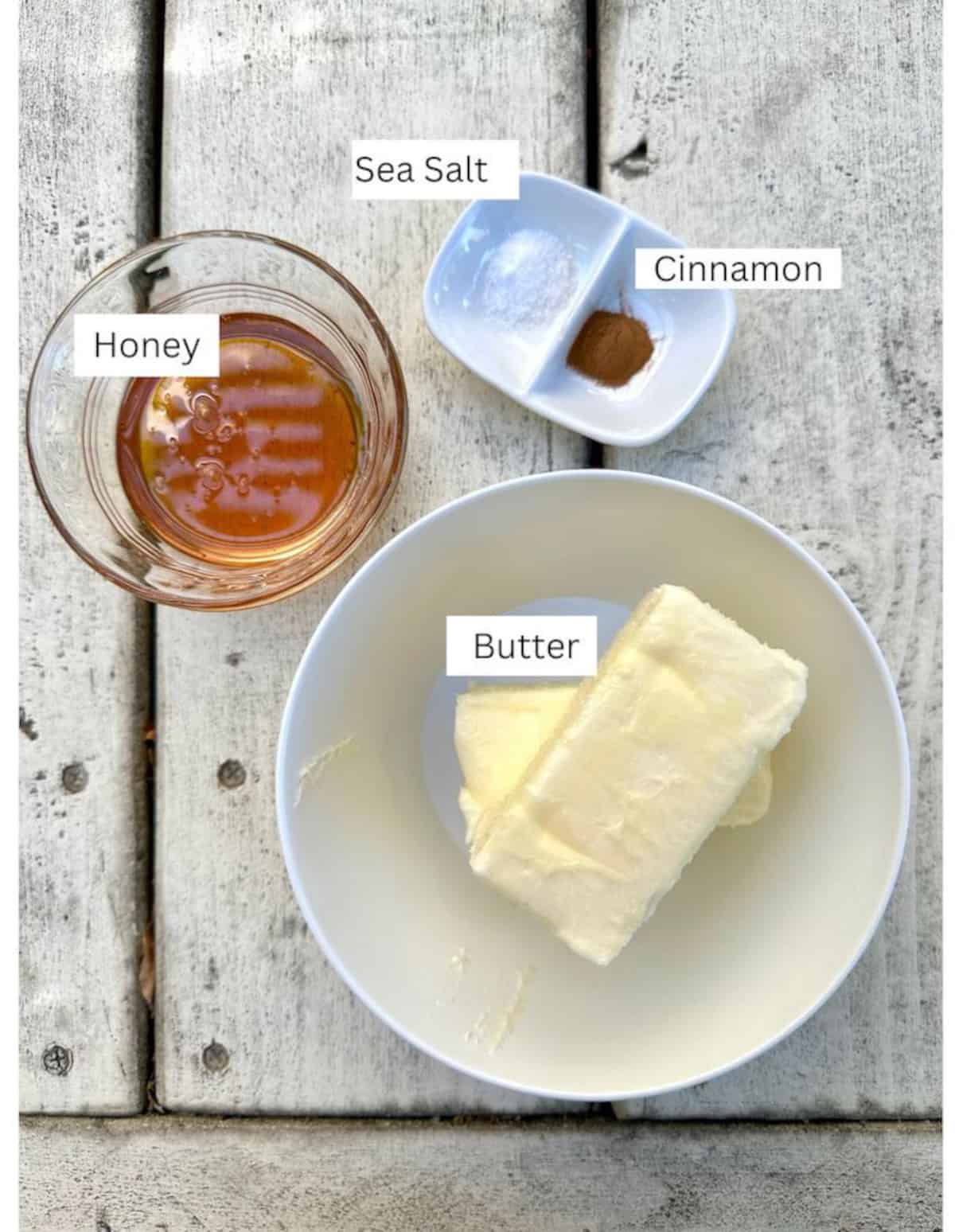 The ingredients are easy to keep on hand, especially honey which has an incredibly long shelf life and really never expires.
Honey: Look for the word "pure" on the label, which ensures that there are no added ingredients like corn syrup.
Butter: I like to use unsalted butter and control the amount of salt in the recipe by adding ¼ teaspoon. But it's fine to use salted butter. Just be sure to taste it to know if you might need to add a little more salt.
Sea Salt: Use fine sea salt crystals if you have those on hand, but regular table salt will also work.
See the recipe card below for a full list of ingredients and measurements.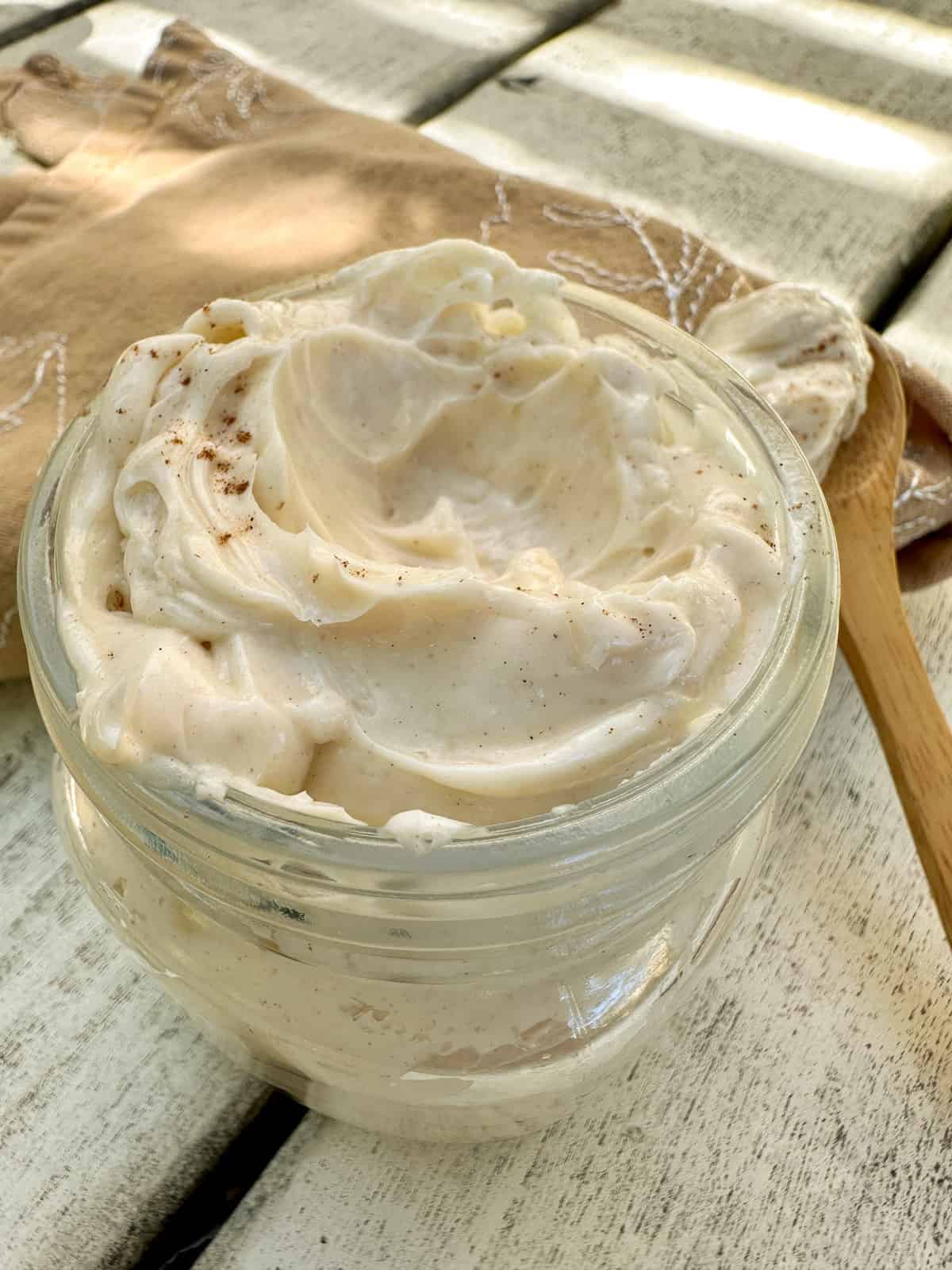 📖 Substitutions
There are many ways to add flavors, freshness or even a little spicey kick to whipped honey butter. Substitutions ensure a new spin each time you make it.
Jalapeno Honey Butter: Turn up the heat on the traditional sweetness by adding a teaspoon of diced, pickled jalapenos. This is especially delicious on fresh cornbread.
Want heat but without jalapenos? Add ¼ teaspoon of red pepper flakes or a dash of cayenne powder instead.
Orange Honey Butter: Blend in a teaspoon of orange zest to add a bright, fresh citrus taste. This is especially delicious with waffles or pancakes for breakfast.
Pro Tip: For the best flavor and freshness, store Orange Honey Butter or Jalapeno Honey Butter in the refrigerator but warm to room temperature before serving.
Use Pumpkin Pie Spice: Swap the ¼ teaspoon of cinnamon with ¼ teaspoon of pumpkin pie spice for a cozy whipped butter perfect for pairing with fall recipes.
Add Vanilla Extract: Include a ¼ teaspoon of vanilla extract to create an irresistible buttery, vanilla flavor combination.
Add Powdered Sugar: Boost the sweetness of your homemade honey butter by adding a tablespoon of powdered sugar.
🥘 Step-By-Step
Step 1: Place softened butter in a medium-sized bowl. (Photo #1)
Step 2: Use a hand mixer or sturdy spoon to blend the butter and create a creamy, whipped texture. (Photo #2)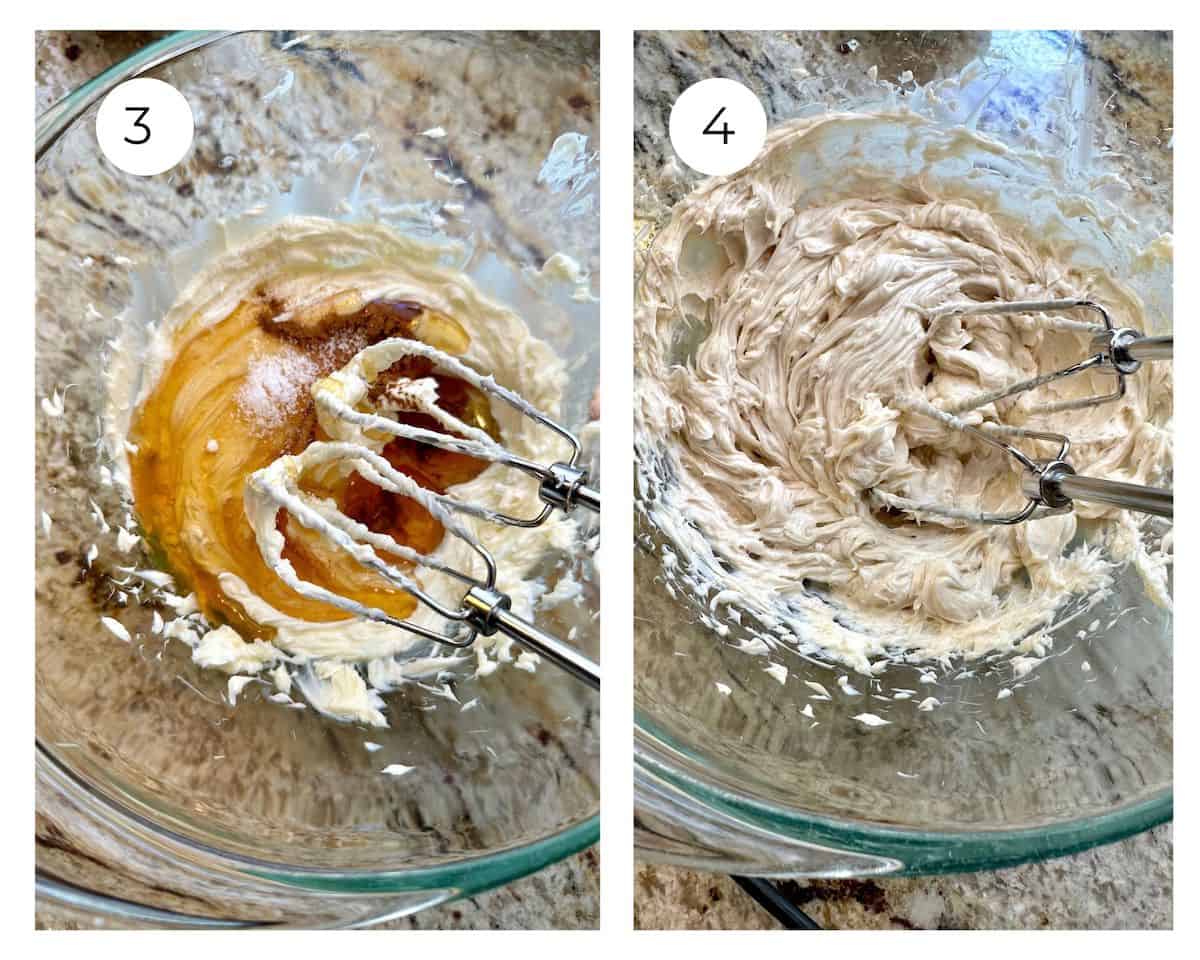 Step 3: Add the honey, cinnamon and salt. (Photo #3)
Step 4: Continue blending until all the ingredients are evenly distributed throughout the butter. (Photo #4)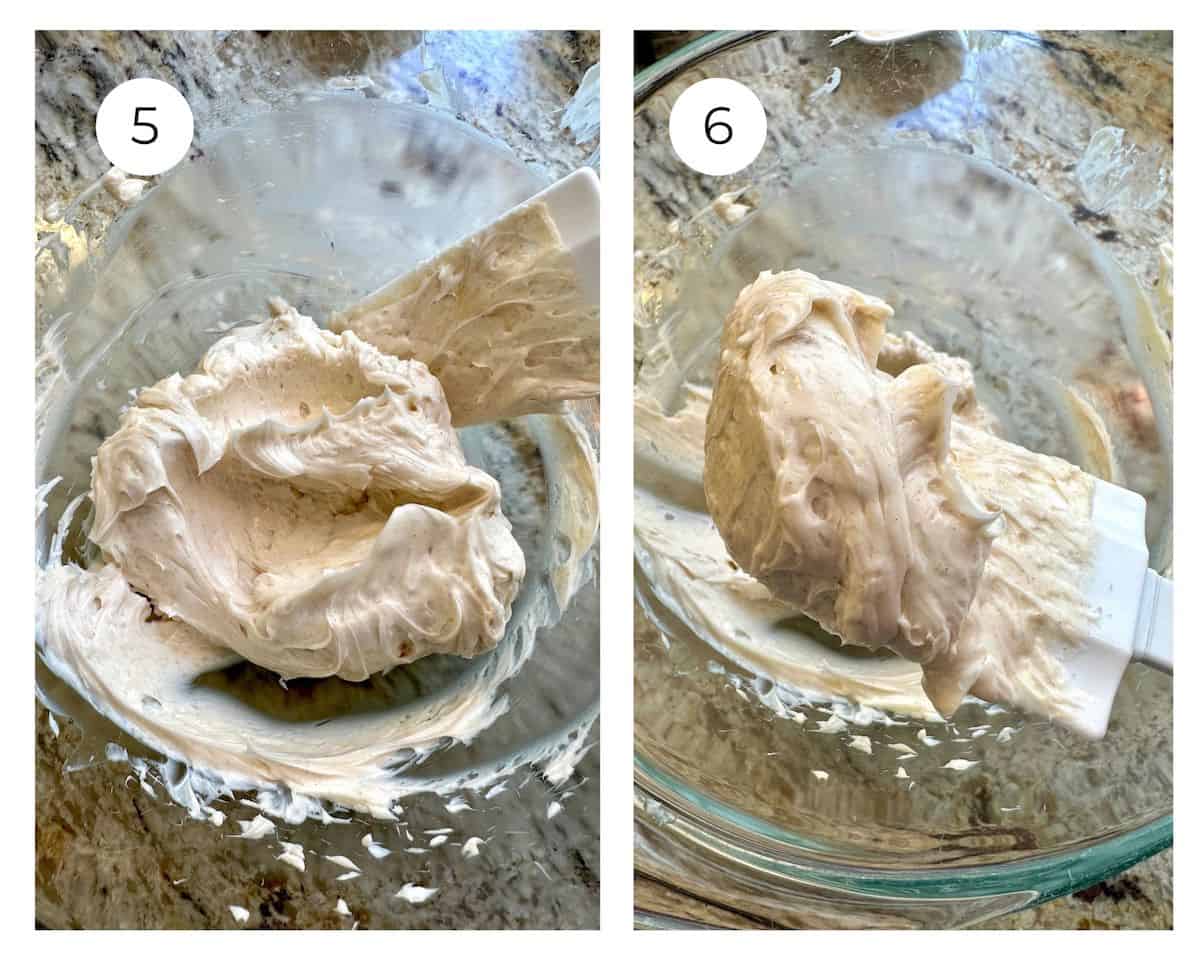 Step 5: Use a rubber spatula to scrape the sides of the bowl and blend. (Step #5)
Step 6: Your honey butter is now ready to enjoy! Spread it on a plate or in a small serving bowl to accompany your favorite baked goods in place of regular butter.
As an option, if you'd like to serve it from a little jar, here's a quick tip to fill the jar. Use the spatula to scoop the butter and honey mixture from the mixing bowl. (Photo #6)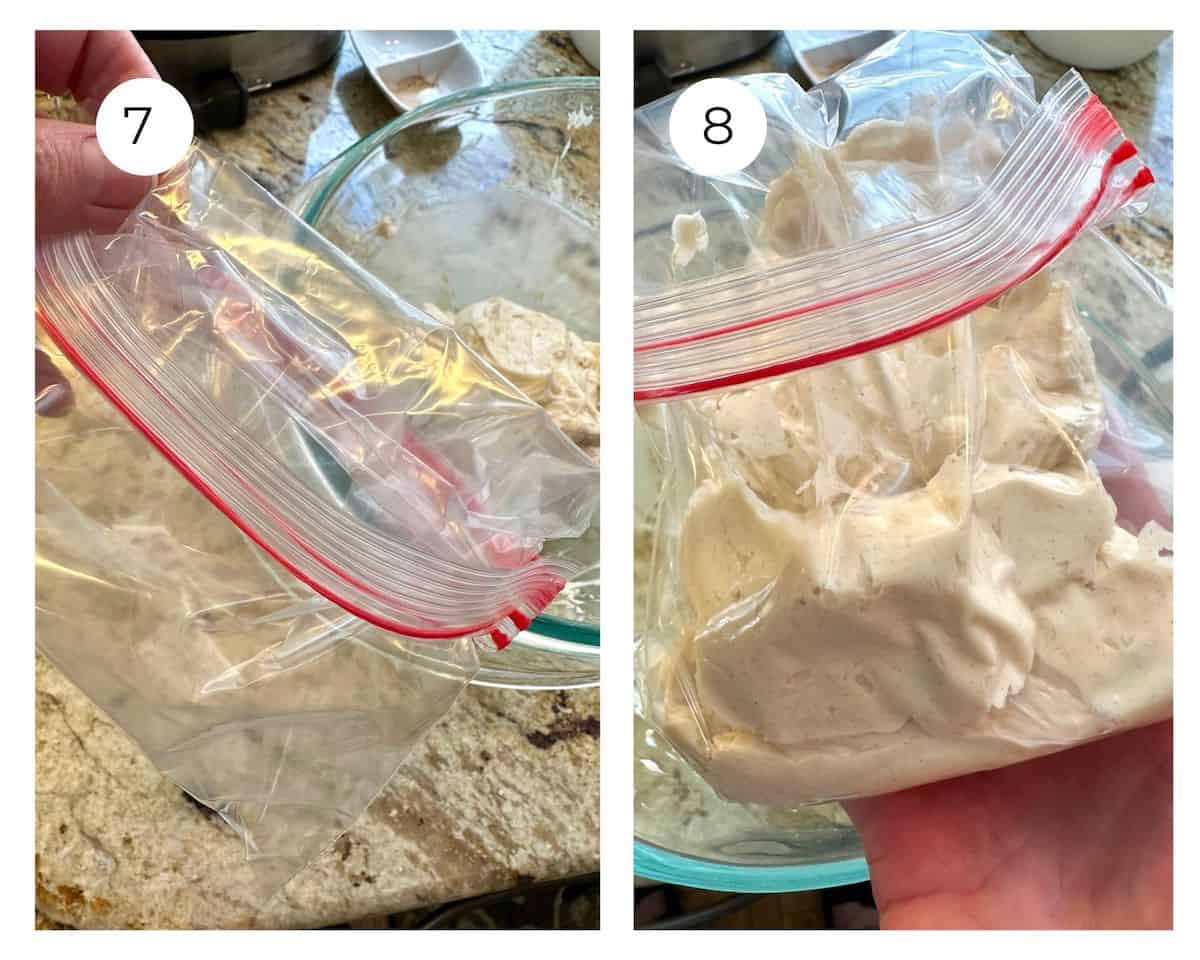 Step 7: Use a quart-sized zip-top baggie and fold down the top edges. (Photo #7)
Step 8: Use the spatula to fill the baggie with the honey butter. (Photo #8)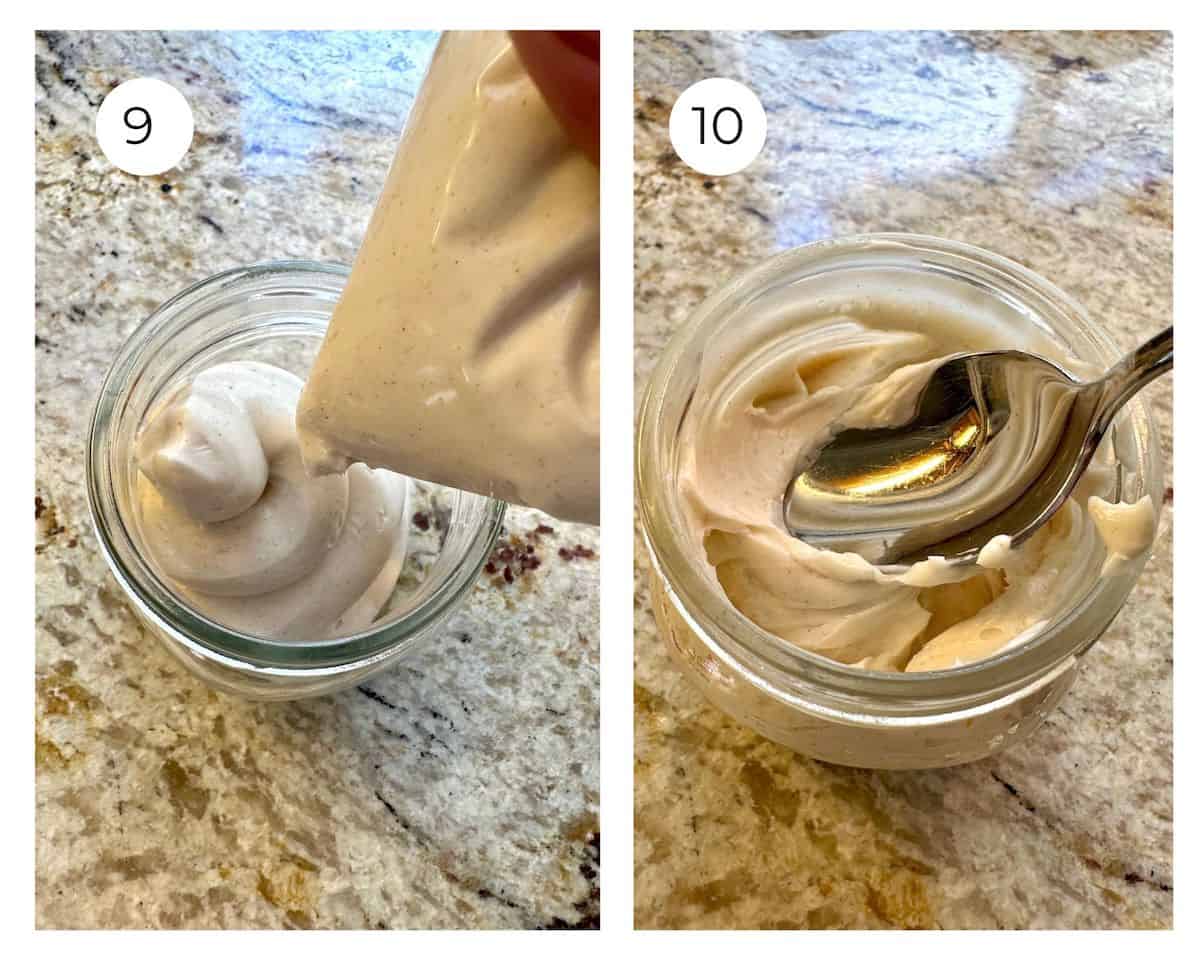 Step 9: Close the zip-top bag and use scissors to snip off one of the corners from the bottom of the plastic bag. Create an opening about one inch in size.
Point the trimmed, open corner of the plastic baggie into the clean, dry jar. Gently squeeze all of the honey butter from the baggie toward the open corner of the bag. (Photo #9)
Pro Tip: This technique ensures that the honey butter fills the jar with no mess.
Step 10: After filling the jar use the rounded, backside of a spoon to push down on the top of the butter and help distribute it evenly throughout the jar. (Photo #10)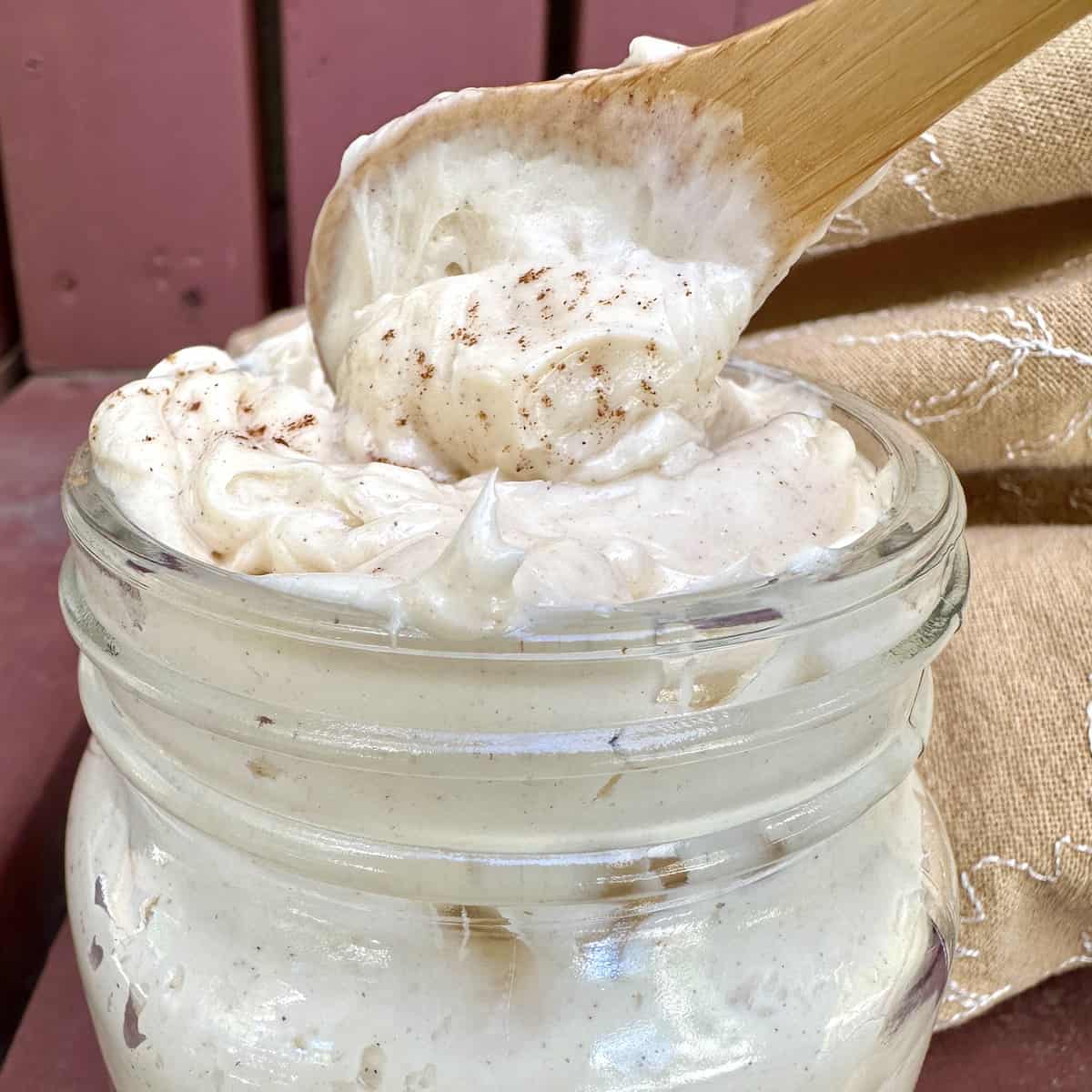 💭 Recipe FAQs
Does it matter what variety of honey I use?
I like to use pure clover honey, but if there's a particular blend of honey that you enjoy then definitely use it for your honey butter.

There are many, many varieties of honey from raw to unfiltered so be sure to read the label and use the variety that will suit your preferences.
Can I freeze honey butter?
Yes! It freezes and defrosts beautifully and is a great way to store honey butter long-term.
Is margarine a substitute for butter in this recipe?
I don't recommend using margarine. While it has a similar texture and is often used as a substitute for butter in baking, it's made with a blend of oils. Butter is made with cream and combined with honey creates this distinctive, "buttery" spread.
🍽 What to Serve with Honey Butter
Bread: A plain piece of toast is absolutely scrumptious when covered with honey butter, the same goes for bagels, English muffins, croissants, fresh biscuits, scones or dinner rolls. It's especially good with homemade potato rolls.
Fruit: Serve with sliced bananas, apples and pears alongside slices of your favorite cheese. A delicious sweet option on a charcuterie board.
Fried Chicken Sandwiches: Spread homemade honey butter on toasted hamburger buns and layer with fried chicken strips to make crispy chicken sandwiches that would rival any takeout. The savory seasoning in buttermilk chicken tenders is ideal with honey butter.
Breakfast: Spread it on warm French toast, crepes, pancakes or waffles.
Vegetables: Delicious on cooked carrots, oven-roasted sweet potatoes or parsnips, corn on the cob, butternut or acorn squash. Try it on baked potatoes too!
Snacks: Warm it up and drizzle it on freshly popped popcorn. Spread it on crackers and serve it with sliced cheese.
👪 Great for Gifts
Whether for sharing during the holidays or as a housewarming or hostess gift, Homemade Honey Butter is a gift that will always be appreciated.
Be sure to offer recommendations (see above "What to Serve with Honey Butter") for all the tasty ways your gift recipients can enjoy their tasty gift.
Pro Tip: Use any 8-ounce jar, ideally one with a lid. I like to use 8-ounce canning jars, which are dishwasher-safe and convenient to reuse.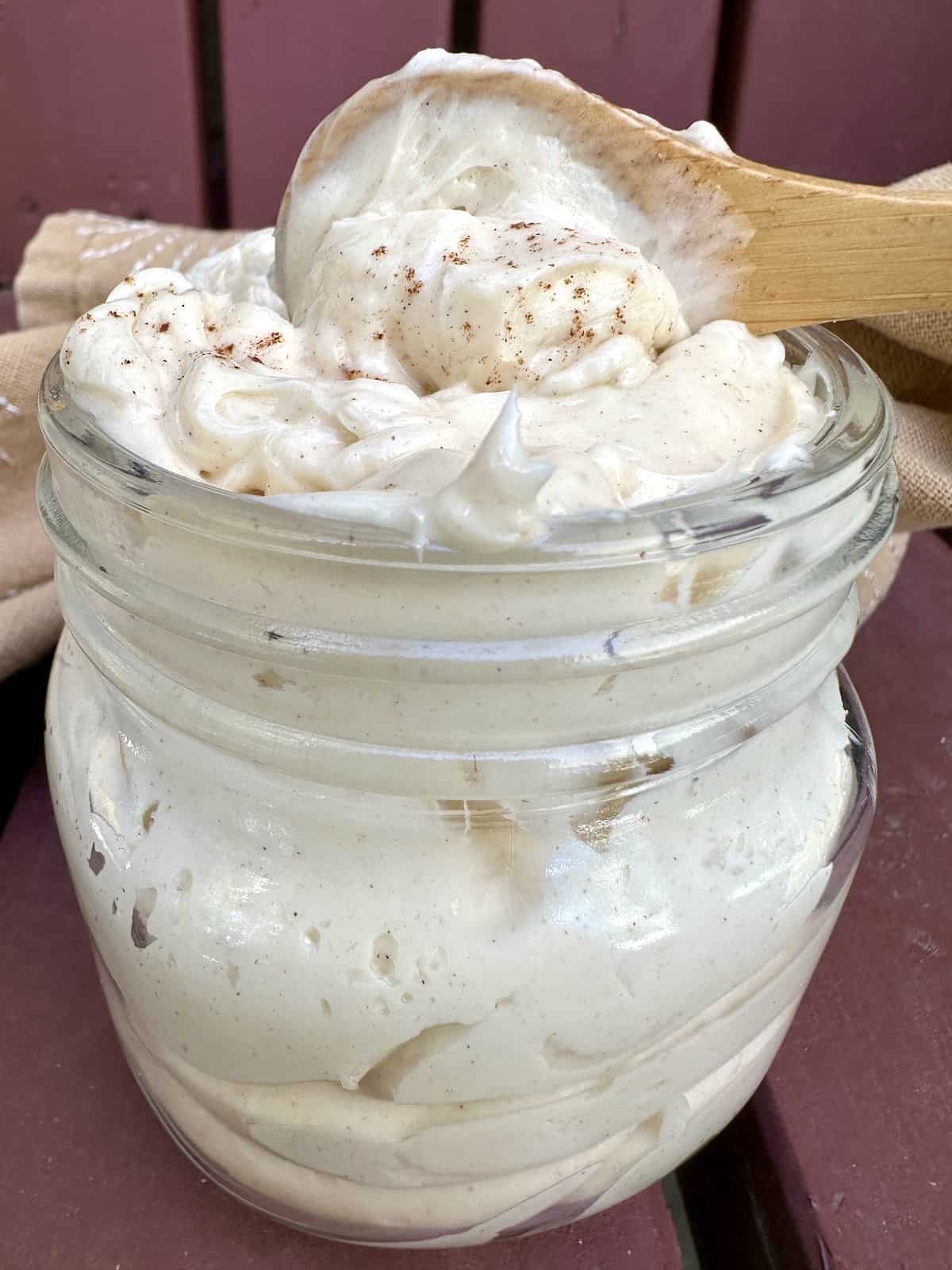 Label each jar with the words Homemade Honey Butter and include a notecard with storage instructions (see below).
👩🏻‍🍳 Storage and Freezer Instructions
How to Enjoy: Homemade Honey Butter can be left at room temperature for 2 days, after that, store it covered in the refrigerator and enjoy it within 2 weeks. Once refrigerated, bring the honey butter to room temperature before serving.
You can also freeze honey butter, use any airtight, freezer-safe container. For the best quality and flavor, plan to defrost it and enjoy it within 2 months.
🍞 Sweet Baking Recipes
A homemade whipped buttery topping goes great with so many baked goodies. Check out all my favorite muffin, bread and cake recipes!
If you made Easy Homemade Honey Butter or any other recipe on my website, please leave a 🌟 star rating and let me know how it goes in the 📝 comments below.
Recipe