Homemade Tomato Basil Soup is thick and full of rich, fresh flavor thanks to oven-roasted tomatoes, garlic and onions. Soup that's made from scratch is the best and this recipe is proof. Any variety of fresh tomatoes will work, but Roma tomatoes help create a thick, rich soup. Like a more creamy option? Simply blend it for a few extra minutes and you'll have a delicious Tomato Basil Bisque. Make it tonight and enjoy every spoonful.
Note: The links you find on this page are paid links, Amazon Associates. That means I make a small commission when you click and shop. Your cost is the same and I only link to products or ingredients that I use and love.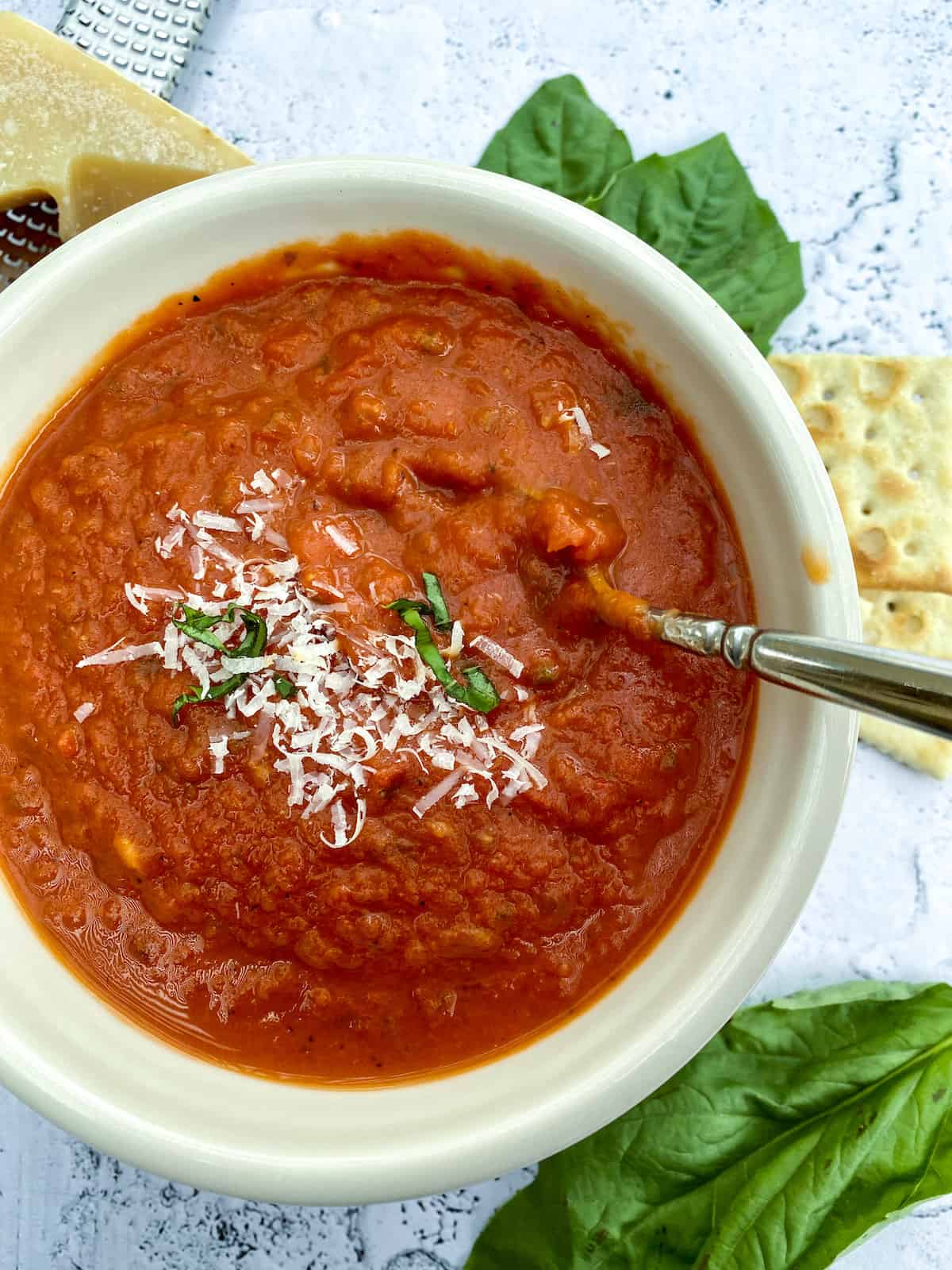 Jump to:
Ingredients for Tomato Basil Soup
Roma tomatoes 
Garlic
Onion 
Olive oil
2, 28-ounce cans of crushed tomatoes with basil 
1, 32-ounce carton of organic vegetable broth
Fresh basil 
Cayenne pepper 
Heavy whipping cream
How to Oven Roast
The big secret to the fantastic flavor is to oven-roast the tomatoes, garlic and onions.
Line a baking sheet with parchment paper, and arrange the tomatoes, onions and garlic across the paper.
Brush with olive oil then sprinkle with salt and pepper.
Place the baking sheet in the oven and roast at 450° F for about an hour.
One of the best parts about making this soup at home is the aroma that will fill your kitchen while the tomatoes, onions and garlic are roasting in the oven.
The delicious scents might remind you of your favorite Italian restaurant. Nothing short of divine.
Is This Soup or Bisque
Generally speaking, bisque refers to the smooth texture of the soup and the addition of cream. If your tomato basil soup is thoroughly blended and silky smooth, it's bisque.
If you leave chunks of tomato, basil or onion you have created tomato basil soup.
I've made this recipe both ways. My personal favorite is when it's extra smooth and creamy and bisque-like.
Equipment
As for equipment, it does help a lot if you have an immersion blender.
There's no better way to blend ingredients for soup, than with a hand-held blender.
Other than that, all you'll need is a baking sheet and a large stock pot.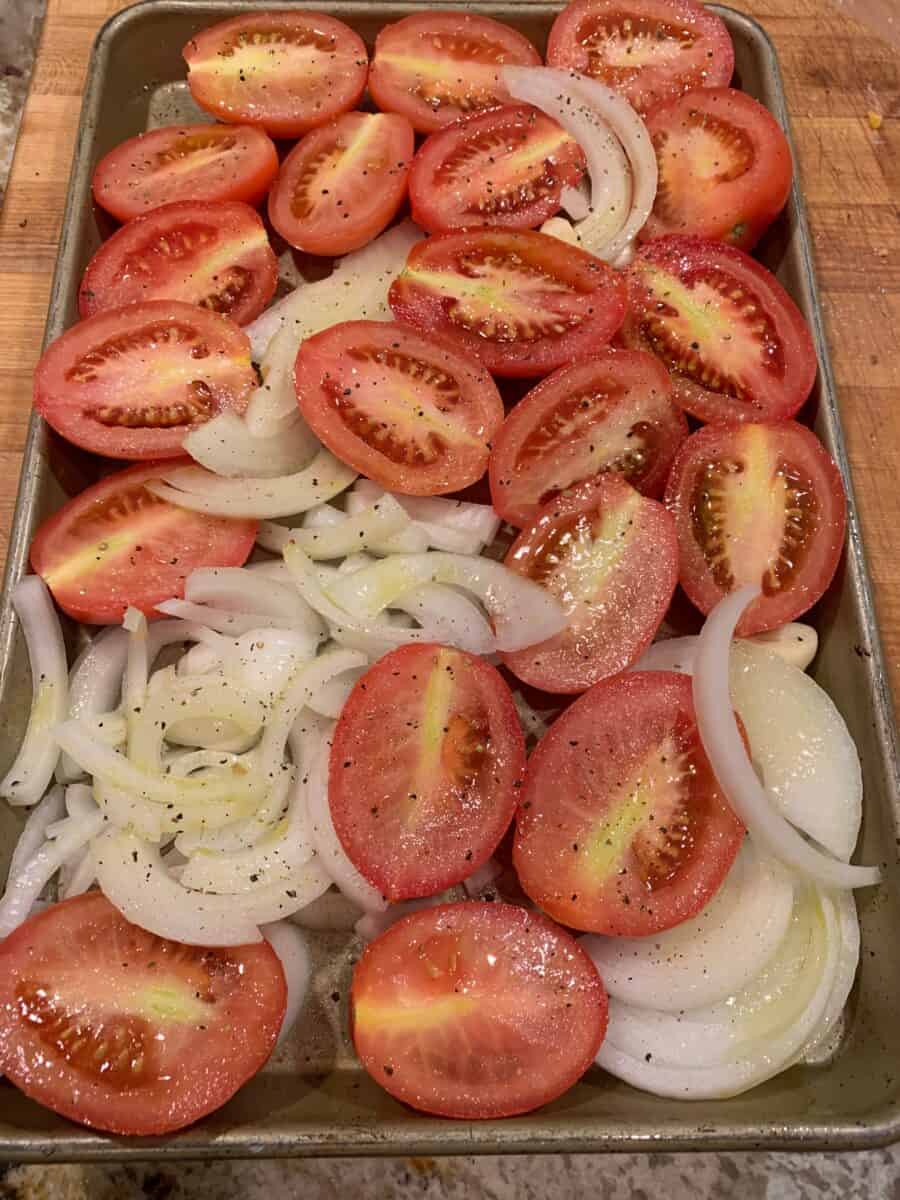 It's easy to think that a made-from-scratch soup is too much work, or would take too much time. That is not the case at all. This recipe is easy to make!
If you enjoy a cozy, warm homemade soup, then you must try this recipe.
Stovetop Directions
Once the tomatoes, onions and garlic are roasted, place them in a large stockpot and add the remaining ingredients - except for the whipping cream, you'll add that later.
Use an immersion blender and combine the ingredients until the soup is smooth and creamy.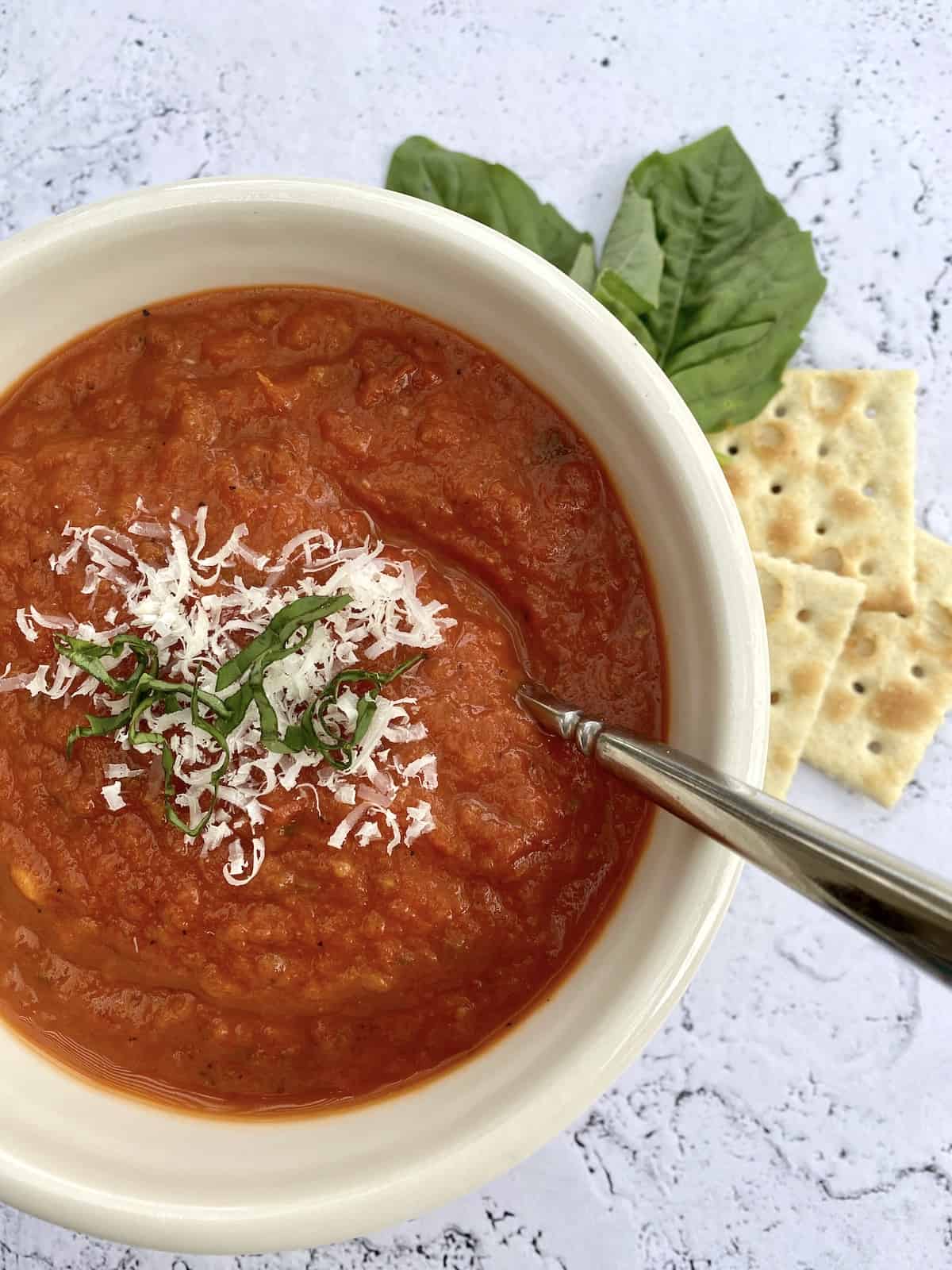 If you like a Tomato Basil Soup that's a little chunky, all good! You'll control the texture.
If you like your soup to be smooth and creamy and more like a silky bisque, just use the immersion blender until you get a perfectly smooth consistency.
Simmer the ingredients for about 30 minutes.
Add whipping cream, heat the soup gently (don't boil) then serve.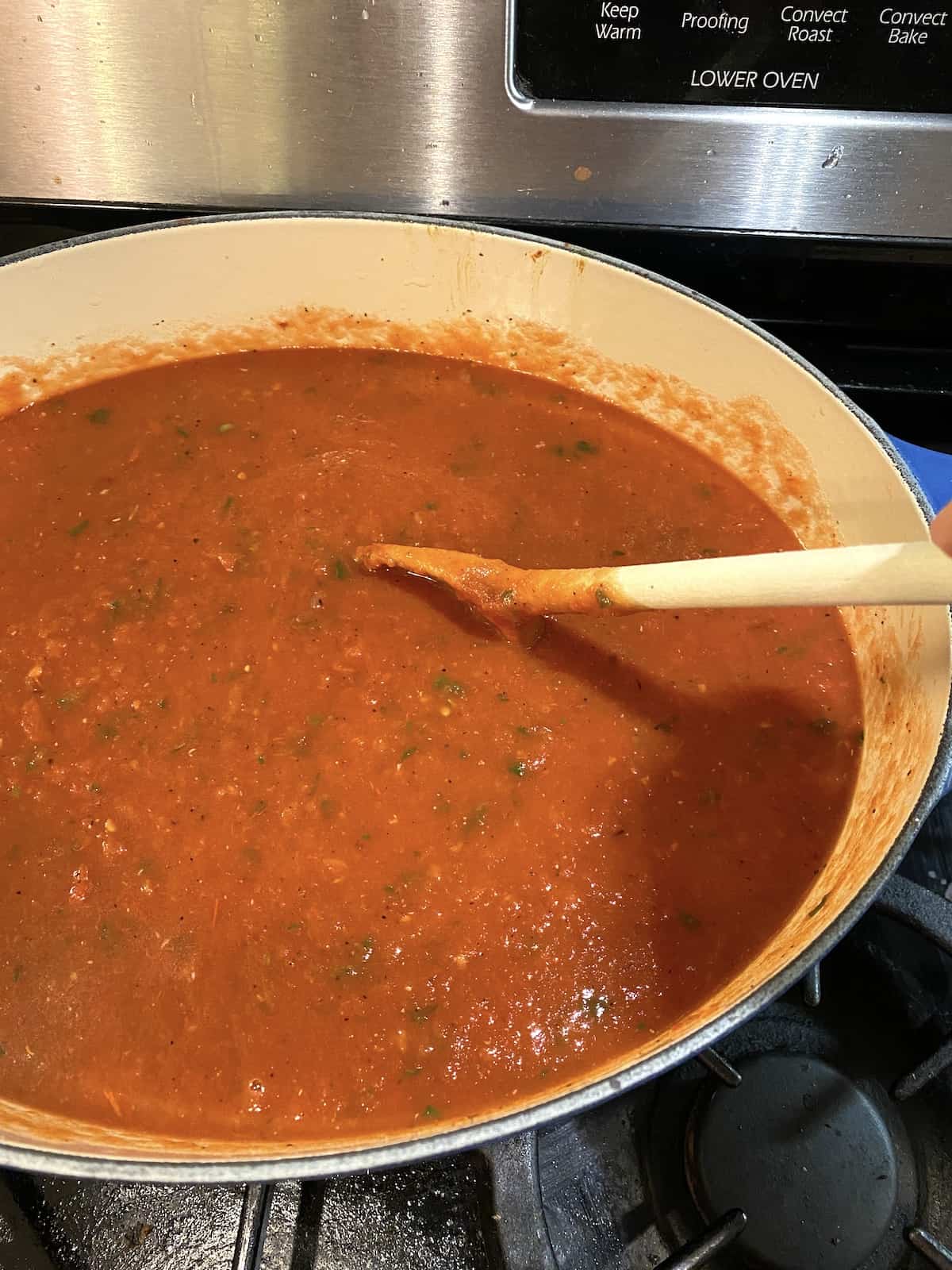 Top Tips and FAQ
Can I freeze the soup to enjoy later?
Absolutely. In fact, you'll thank yourself for months to come if you have a few quarts of the soup on hand in the freezer. I recommend allowing the soup to cool slightly, then pour it into a quart-sized, freezer-safe container.

Be sure to allow an inch or so between the top of the soup of the top of the container, to allow for some expansion when the soup freezes.
I have TONS of tomatoes in my garden, can I substitute the canned tomatoes and use all fresh in this recipe?
My hunch is you sure can. But, I've never been lucky enough to have that many fresh tomatoes on hand all at once. If you have success with that please let me know in the comments. :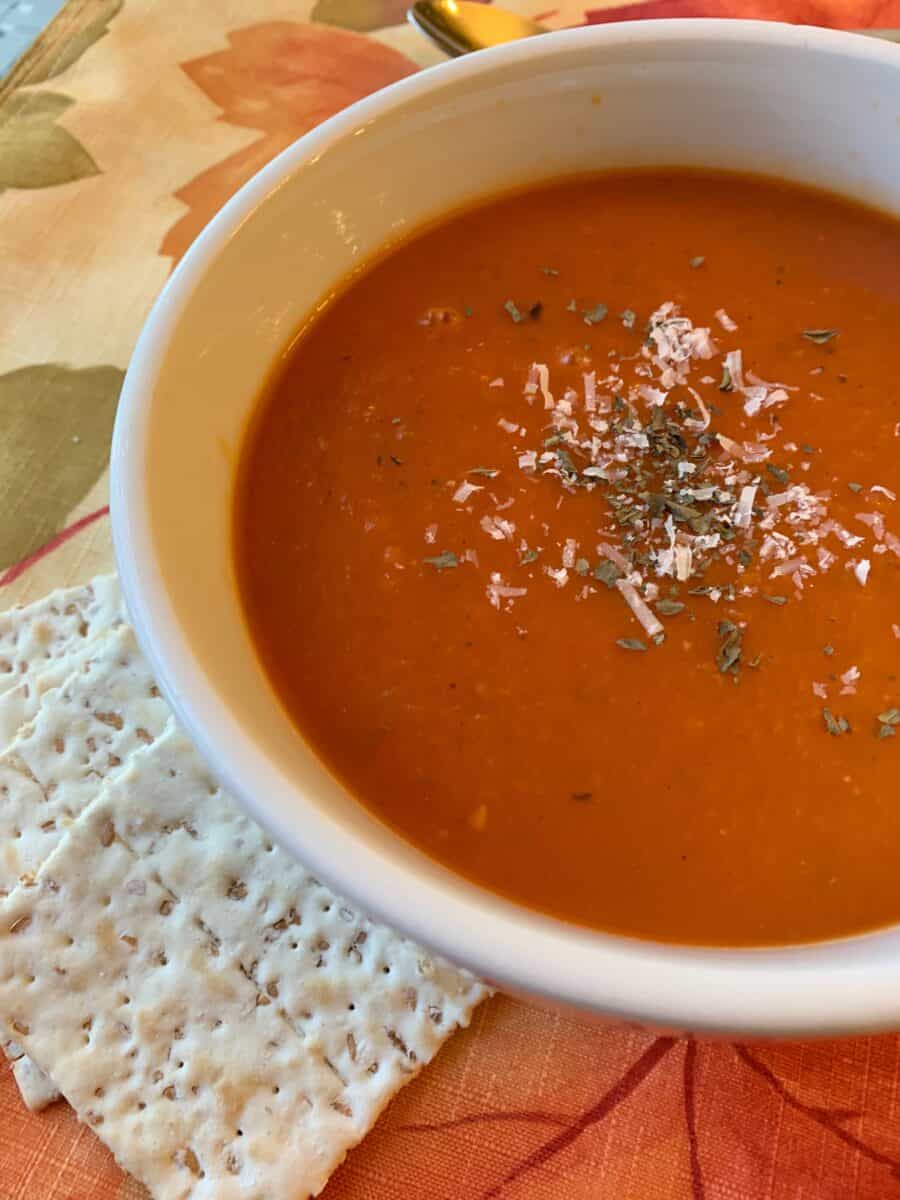 What to Serve with Tomato Basil Soup
Serve with saltine crackers, crusty bread or garlic bread, grilled cheese sandwiches, or a fresh salad. Some delicious side salad options to serve with your soup are:
My family is a big fan of serving grilled cheese sandwiches with this creamy comfort food soup.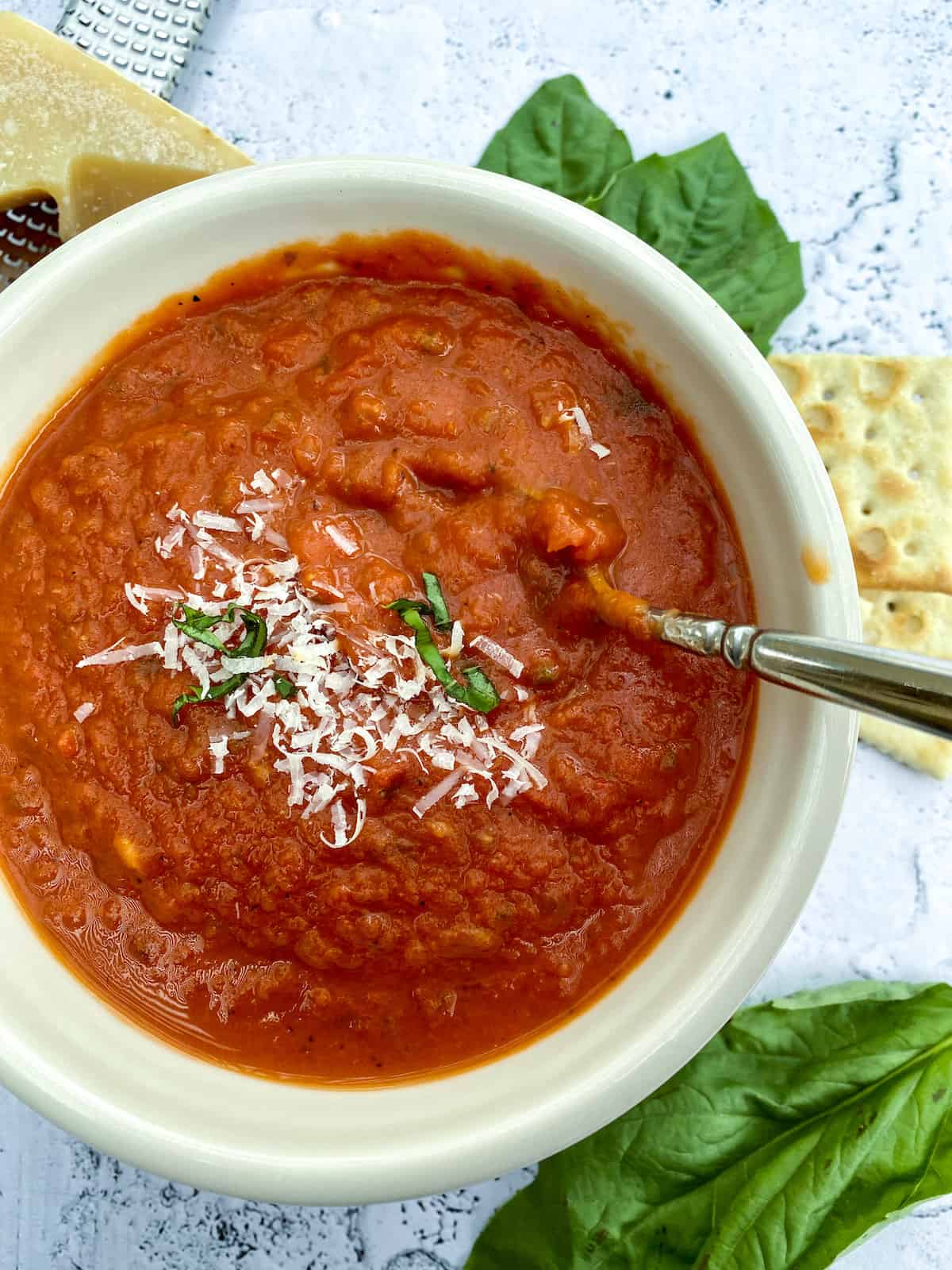 Other Recipes Using Tomatoes
Whether canned or fresh, tomatoes are often the centerpiece of classic family favorite recipes. Here are a few that are very popular around my dinner table.
Tomato-Cream Sauce is a simple way to create a homemade tomato sauce any time you need a saucy topping for pasta.
Baked Beef Burritos, this is a recipe that my family requests time and time again, the canned tomatoes are spiced up with a homemade spice mix, plus there's even fresh spinach and black beans. This recipe is a keeper!
Idaho Chili calls for plenty of diced tomatoes and tomato sauce. I also include beans in my chili recipe, it's delicious every time.
Stay in Touch
Be sure to give a star rating to the recipes you make from the Crinkled Cookbook. I always love hearing from you. Sharing is great too! Use the buttons after the recipe to text it with just one click or send it to family and friends on Pinterest and Facebook. Enjoy.
Recipe