What could be better than little smokies or kielbasa plus sauerkraut and caramelized onions nestled in a freshly baked dinner roll? That's the flavor combination found in Grown Up Pigs in a Blanket, a new twist on a childhood favorite - but this time with grown-up ingredients and flavors. Serve with Cranberry Jalapeno Meatballs for a delicious appetizer round!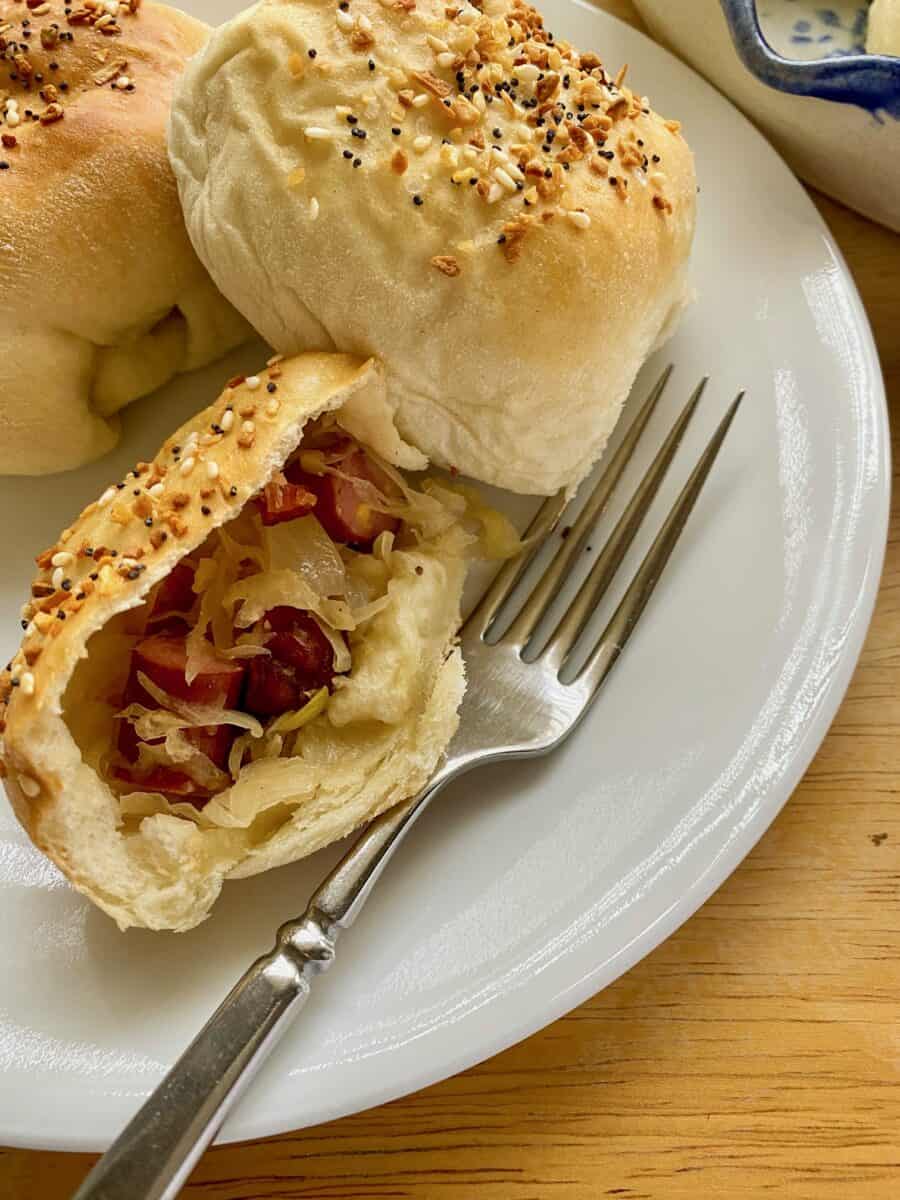 Jump to:
Ingredients to Have on Hand
frozen dinners rolls defrosted - I recommend Rhodes brand (not sponsored)
bacon
little smokies, or smoked kielbasa
sauerkraut
Everything Bagel Seasoning (optional)
This recipe uses simple ingredients, but the flavor you find inside these "gourmet" pigs in a blanket is special enough to serve as a main meal.
You could say this is a dressed-up version of Pigs in a Blanket because the diced smoked sausage is tucked in a freshly baked dinner roll with a dusting of Everything Bagel Seasoning on top.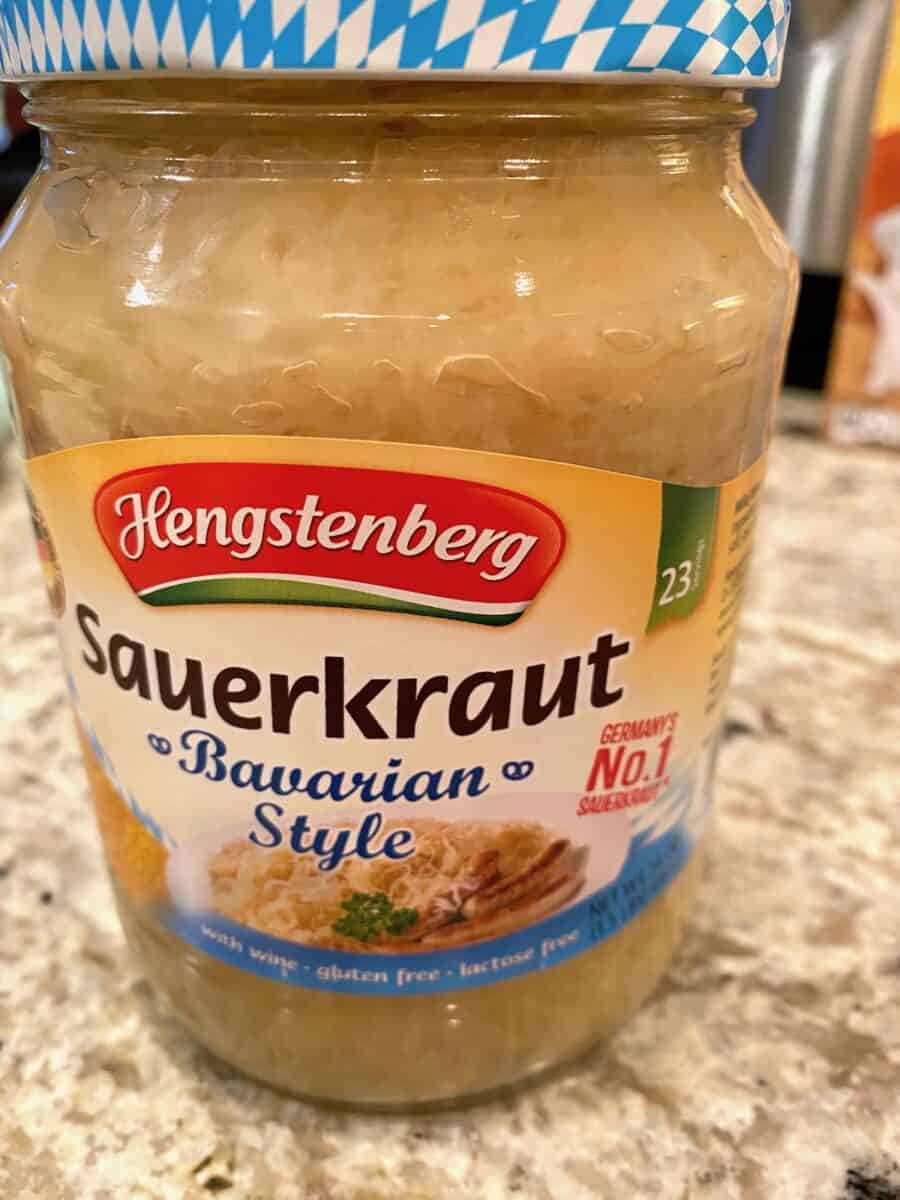 Defrost the Frozen Rolls
Grown Up Pigs in a Blanket veer away from traditional pigs in a blanket by replacing crescent rolls, with dinner rolls and hotdogs with smoked sausage and sauerkraut.
Crescent rolls are great and are the typical go-to choice for wrapping up a hot dog in that sentimental version of pigs in a blanket that the kids love, but this grown-up version is just a tad more dressed up.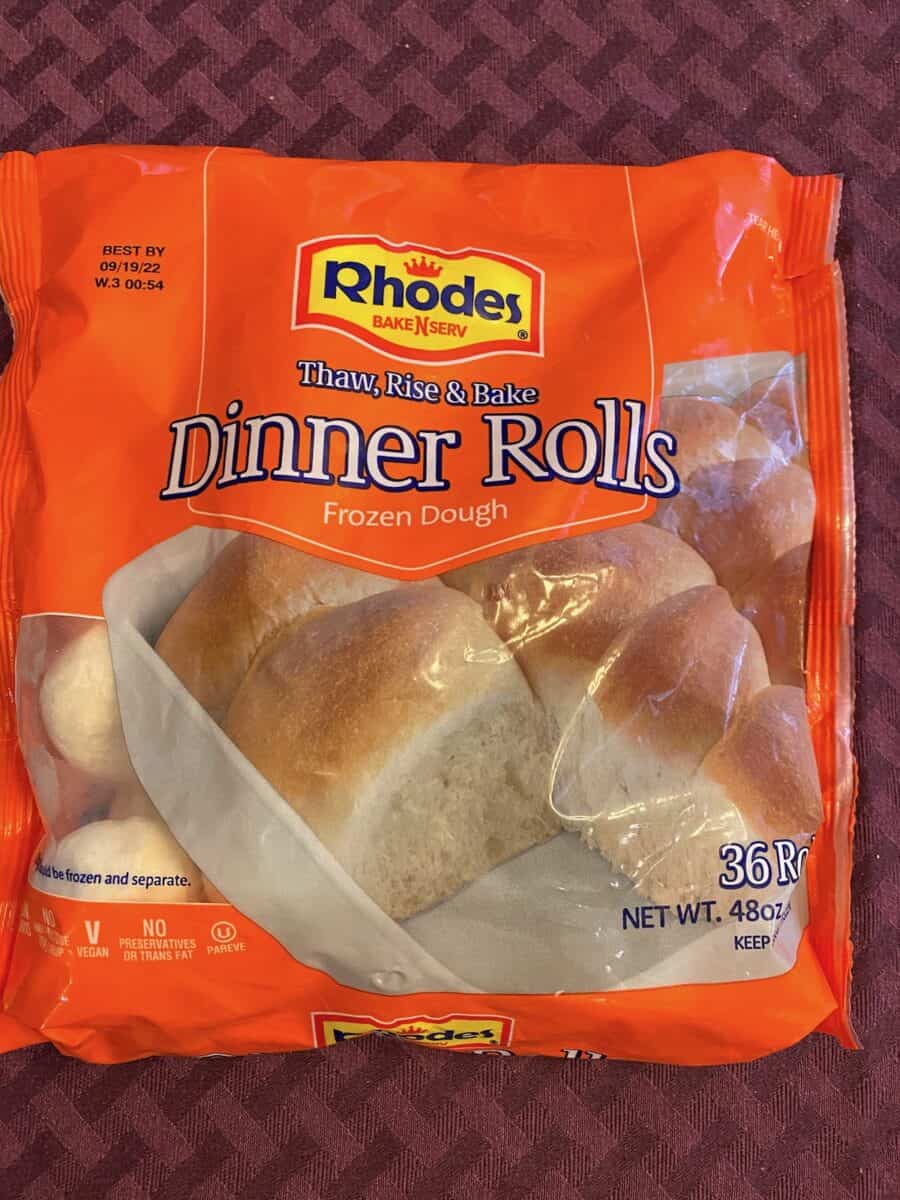 Just because we are using dinner rolls, instead of crescent rolls doesn't mean this will be complicated.
This part is super easy! While it takes a few hours to defrost frozen dinner rolls, I like the Rhodes brand, there's a lot we can do during that time to speed up the prep for this new twist on pigs in a blanket.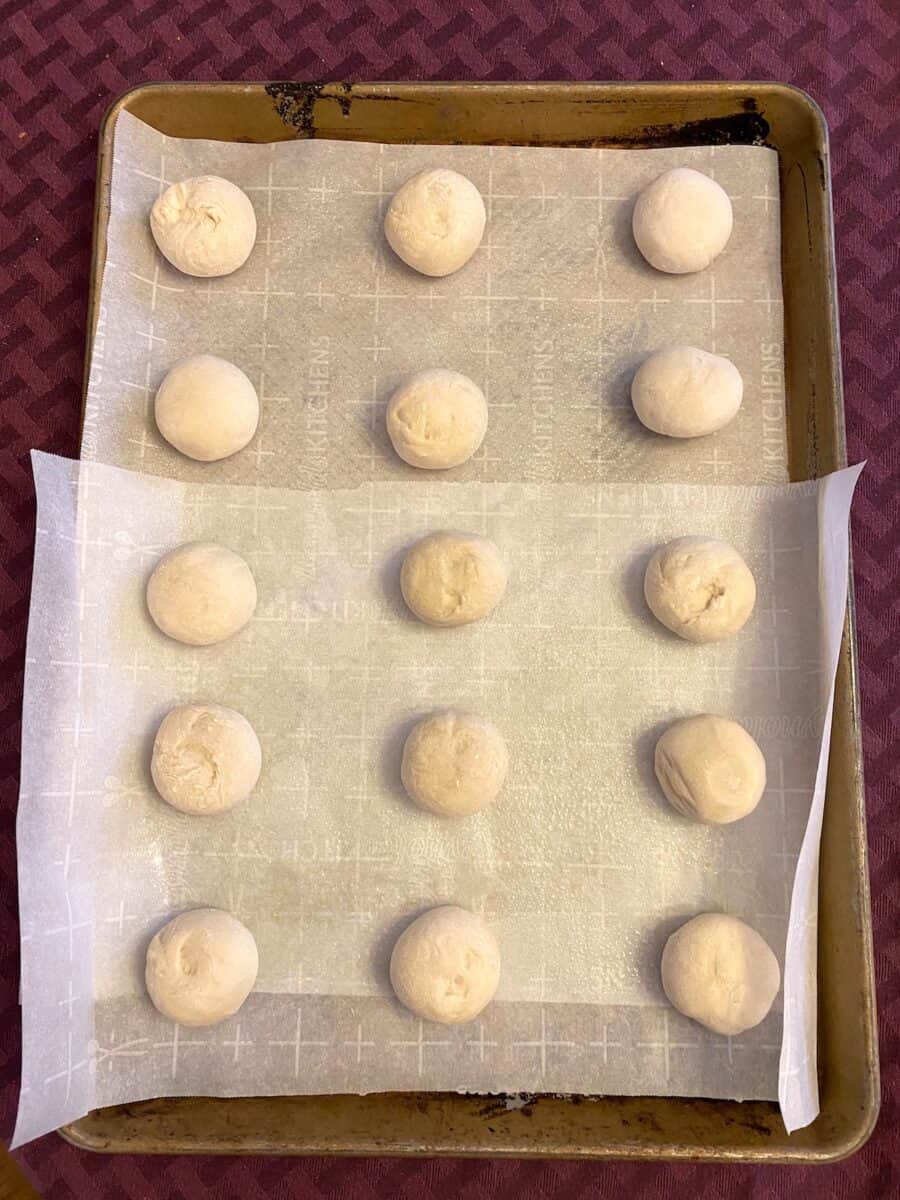 You'll find dinner roll dough in a frozen foods section of the grocery store.
Place the frozen dinner rolls on a baking sheet lined with parchment paper.
2. Spray a sheet of plastic wrap with Pam or other cooking spray and gently place it on top of the rolls.
3. Set the timer for about three hours to allow the frozen dough to defrost and become easy to roll into small circles.
Begin Prep Work
While the rolls are defrosting, I like to start the prep work by first cooking the bacon.
You'll need between 4 and 6 slices of bacon to equal ¾ cup of chopped, cooked bacon. It all depends on how thick the bacon slices are.
Either fry the bacon in your skillet, drain, cool and chop. Or, if you prefer to oven bake the bacon, spread the slices out on parchment paper on a baking sheet and bake in a 425°F oven for about 10 minutes on each side.
Bake until the bacon is crispy, then drain cool and chop.
Prep While the Rolls Defrost
Don't be daunted by the four hours prep time you see in the recipe card, most of that time allows for the bread to defrost, then rise after the rolls are stuffed and assembled.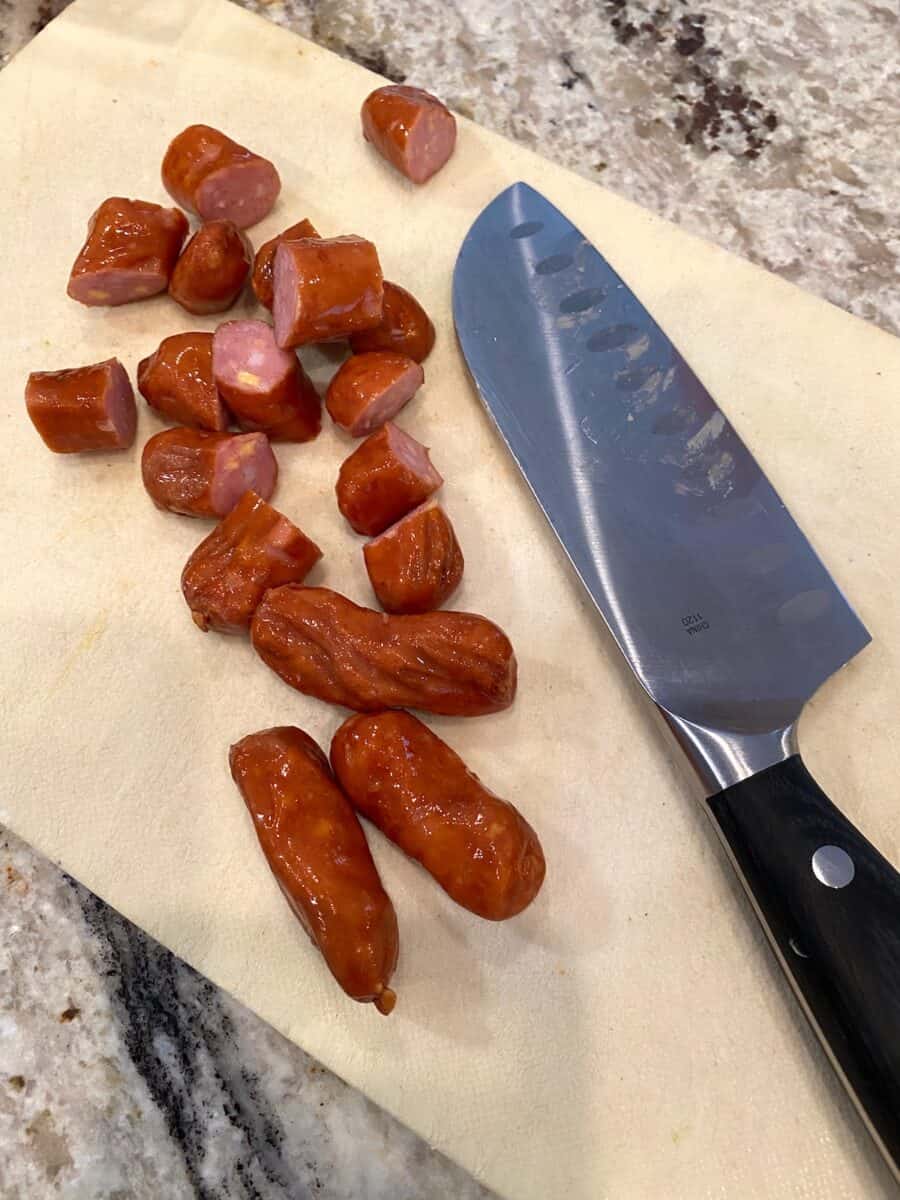 Much of the prep work for this recipe can be done while the bread is defrosting, including chopping the smoked sausage and dicing the onion.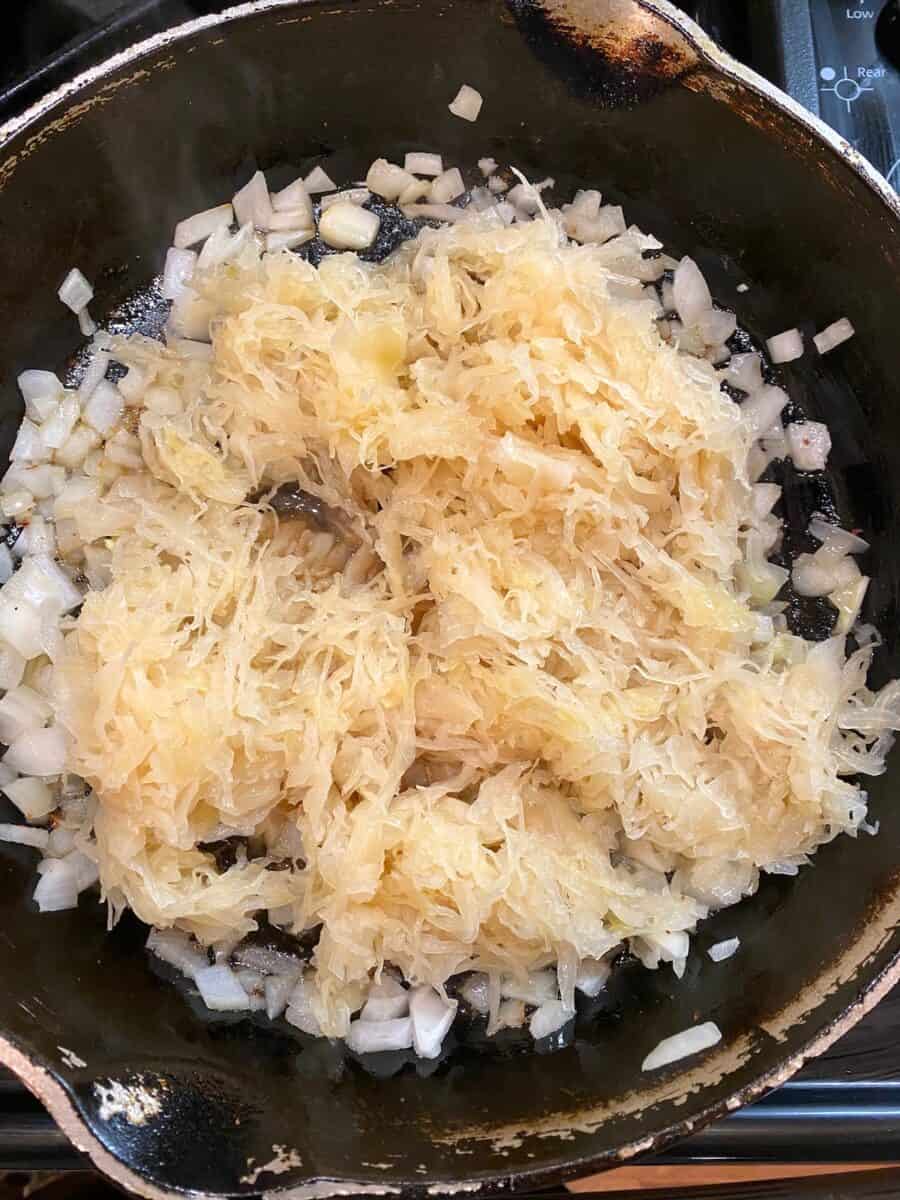 Place the diced onion in a hot skillet with the sauerkraut and stir until the onions start to soften and caramelize and kraut starts to soften.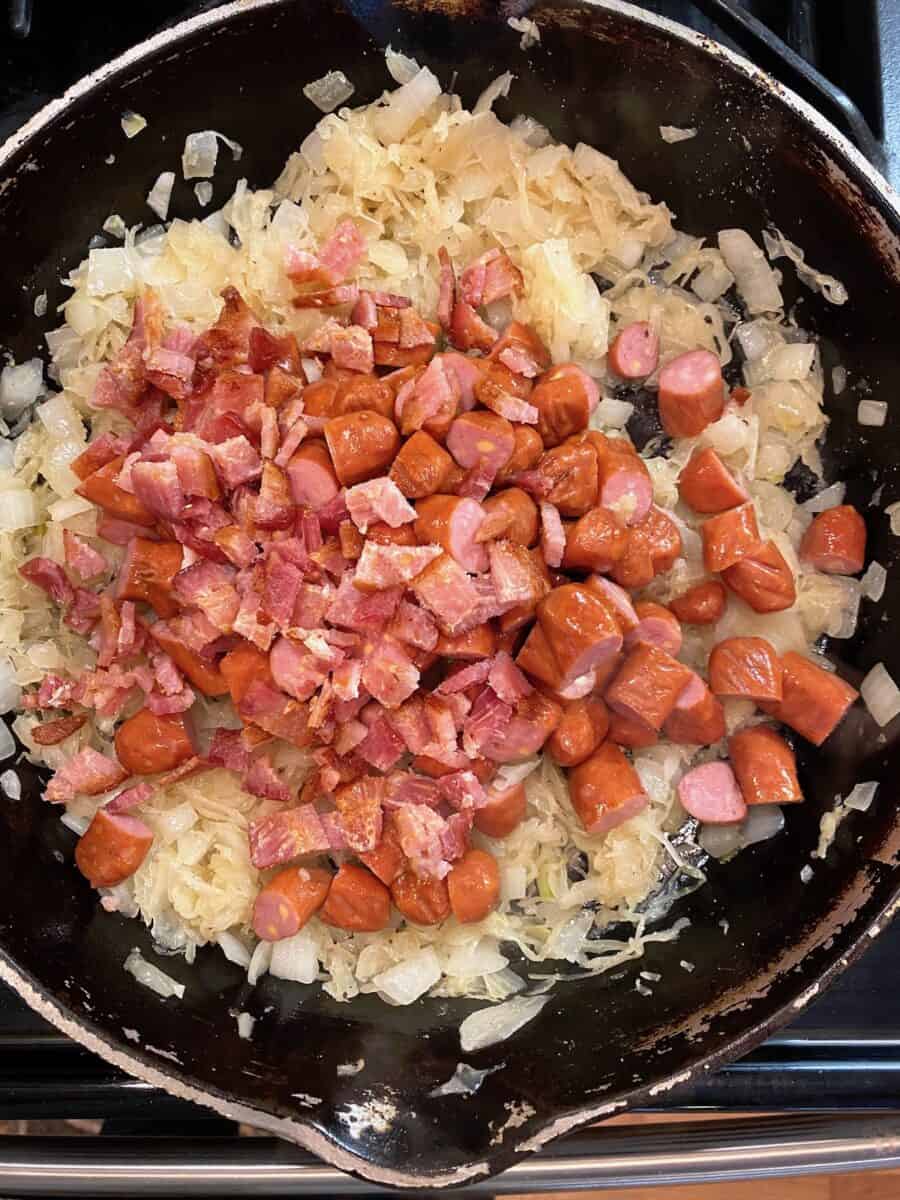 Next, top with the diced bacon and smoked sausages and stir to combine. Here's where the flavors really rub off on each other.
Add ½ teaspoon of garlic powder and stir.
If you are preparing these to serve today, just set this aside until the rolls are defrosted and ready to assemble. To ensure safe food handling, be sure to refrigerate the filling ingredients if there's more than 30 minutes or so to wait before the rolls defrost.
Prep the Day Ahead
But if you'd rather not be busy at all during the defrosting time, here's what to do the day ahead:
Fry the bacon, drain and chop
Dice the smoked sausage (Little Smokies, kielbasa, hot dogs, etc.)
Chop the onion
Combine the above ingredients in a hot skillet, add ½ teaspoon garlic powder
Follow the recipe for cooking the filling. Remove the filling ingredients from the skillet and place in a covered dish, refrigerate until you are ready to assemble and bake the Grown Up Pigs in a Blanket.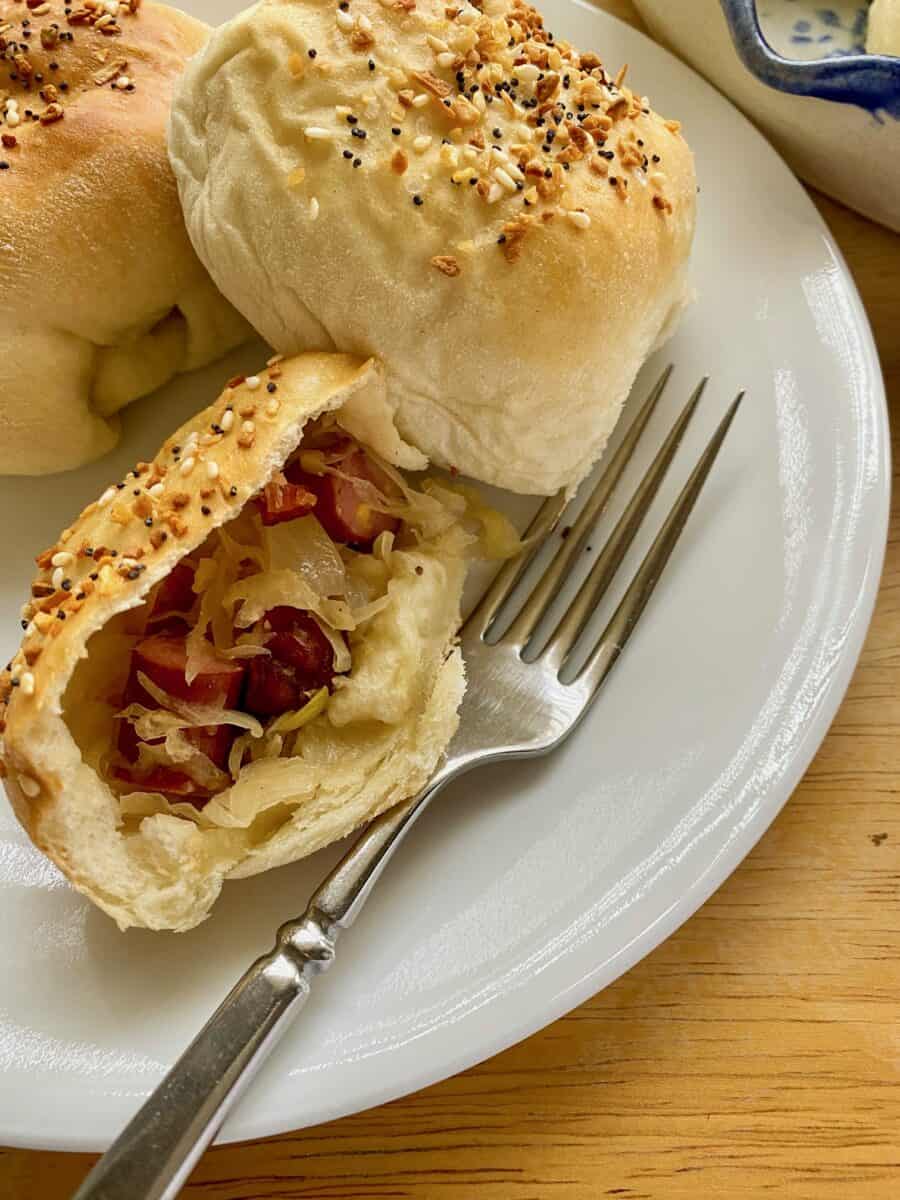 Plan on serving two to three rolls per person if serving as a main meal, or one to two rolls as an appetizer. This recipe makes 20 rolls.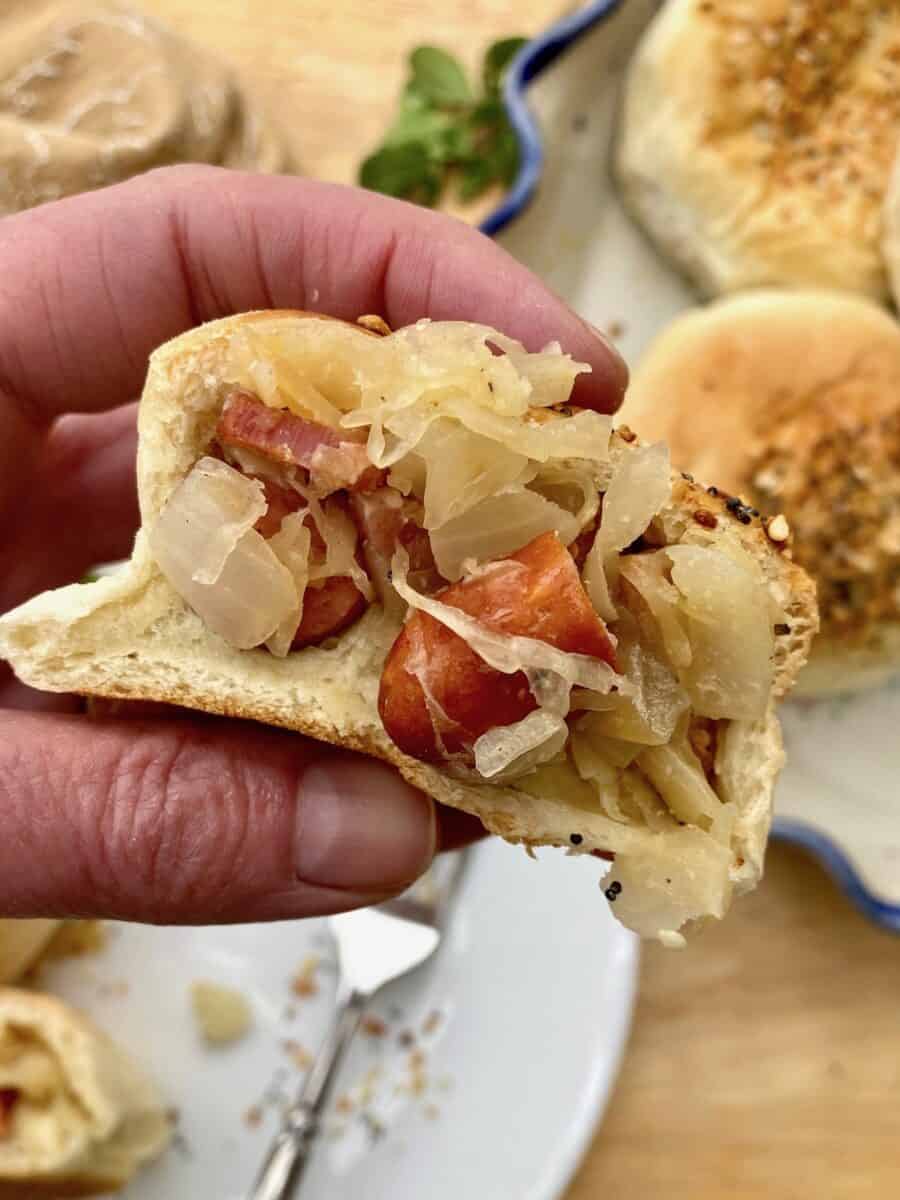 Meat Variations
You can use any variety of smoked sausage with this recipe.
Use whichever variety your family enjoys. I've made this using all different types of smoked sausage and have had yummy results every single time.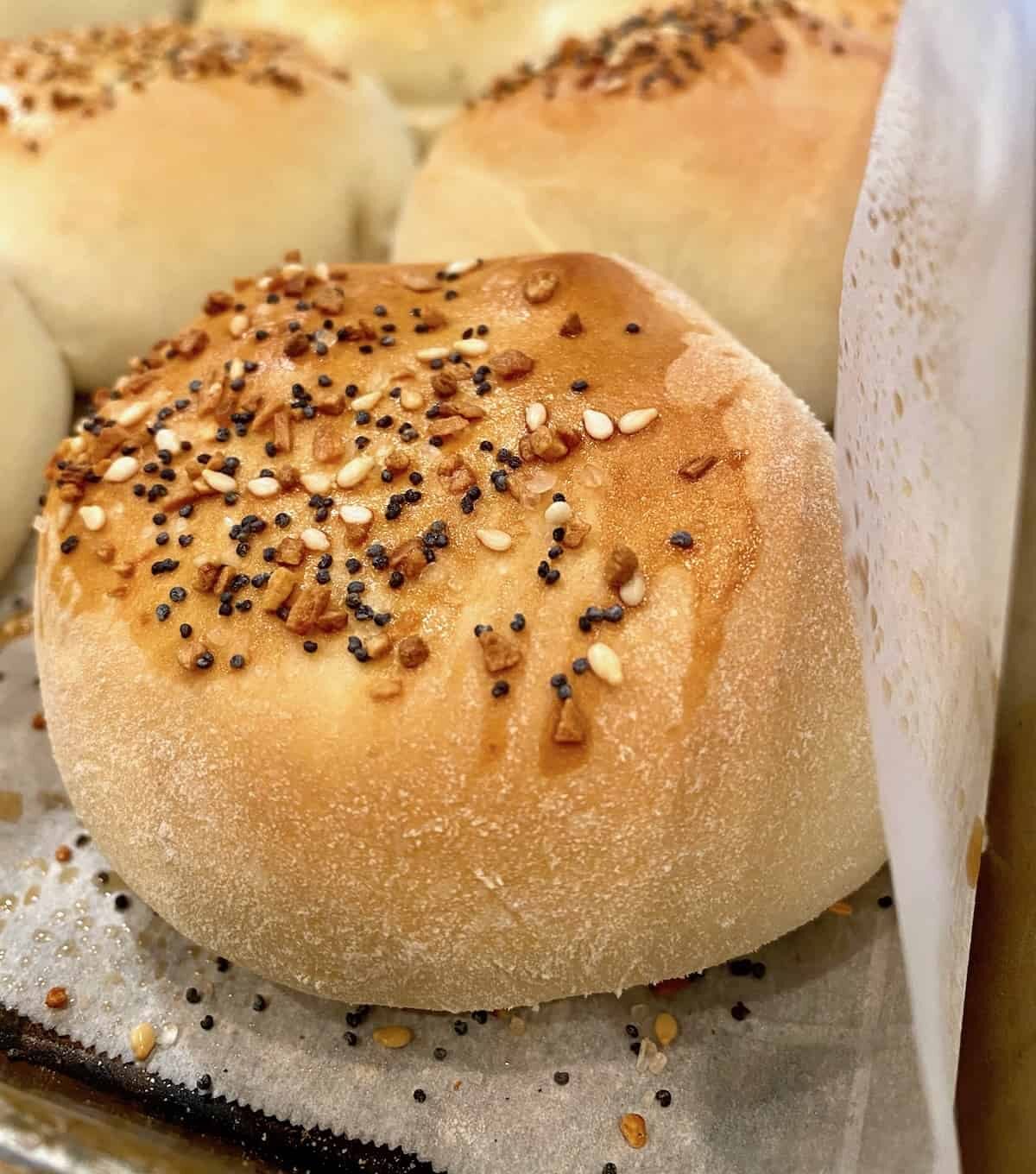 Fancy, Grown Up or Gourmet
This recipe is a whole new approach to wrapping up yummy smoked sausage with delicious a delicious flavor combination of onion and kraut in tender, freshly baked dinner rolls.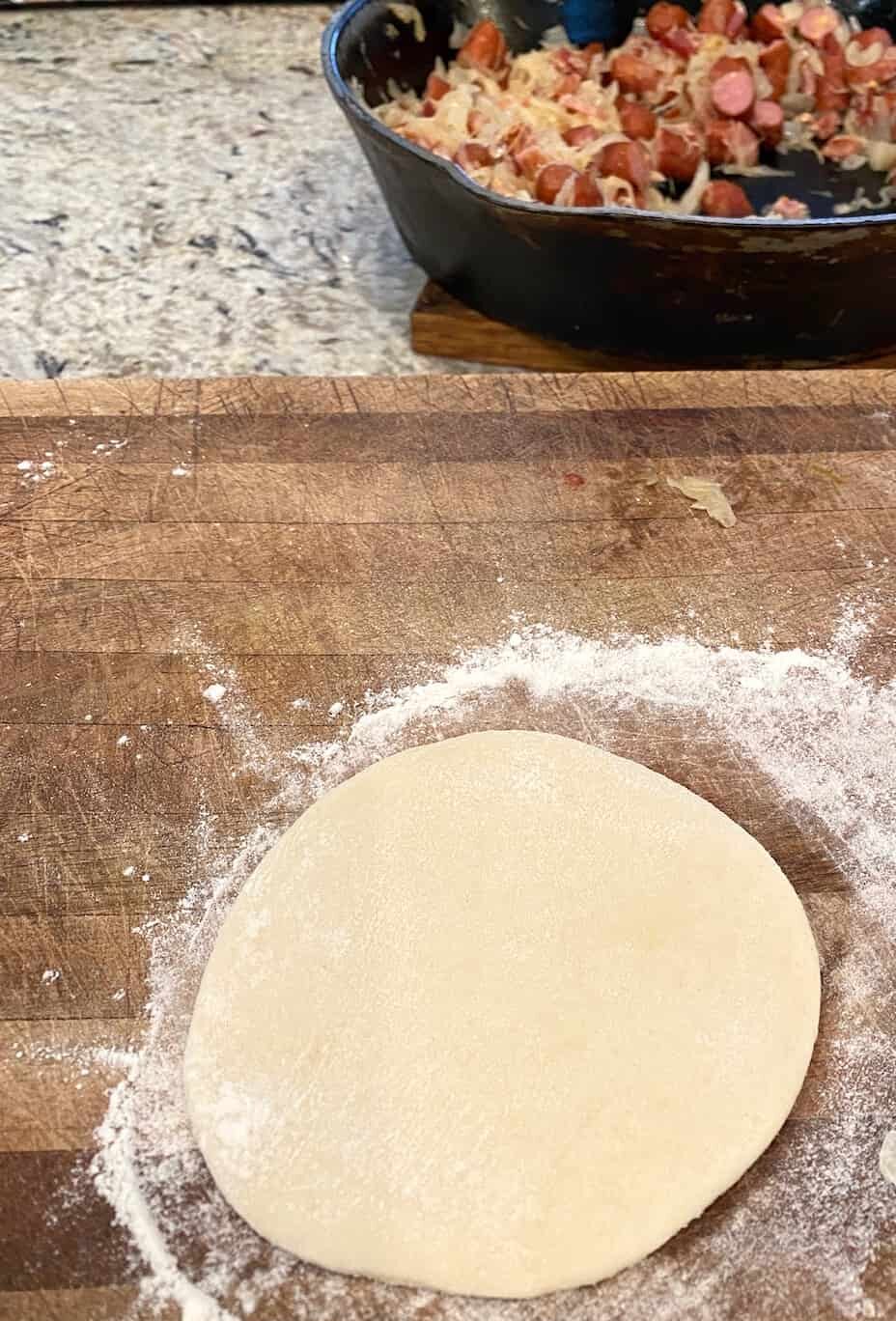 Assemble the Pigs in a Blanket
Once the dinner roll dough is defrosted, on a floured surface or cutting board, roll out each piece of dough into a 4-inch. circle. After defrosting, the rolls will be perfectly soft and ready for this step.
Top each flat round with about ¼ cup filling.
2. Fold the dough around the filling, forming a ball then pinch the edges together to create a seal.
3. Place the seam side down on a baking sheet covered in parchment paper.
4. Cover the rolls loosely with plastic wrap that has been coated with Pam or cooking spray.
Let rise in a warm place for 15 minutes.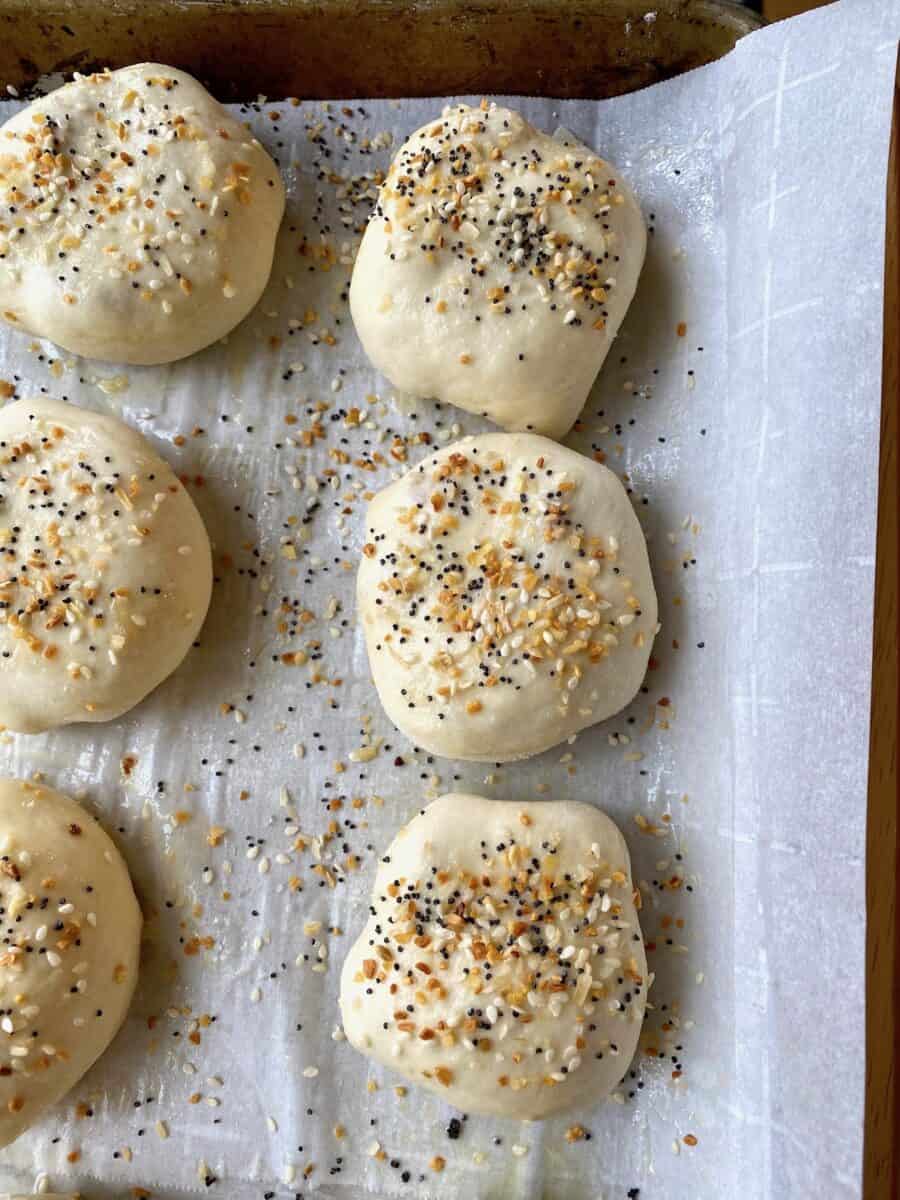 Toppings or No Toppings
After 15 minutes of rising. Whisk the egg and use a pastry brush to coat each roll with the egg, then sprinkle either Everything Bagel Seasoning or poppy seeds on the top of each roll.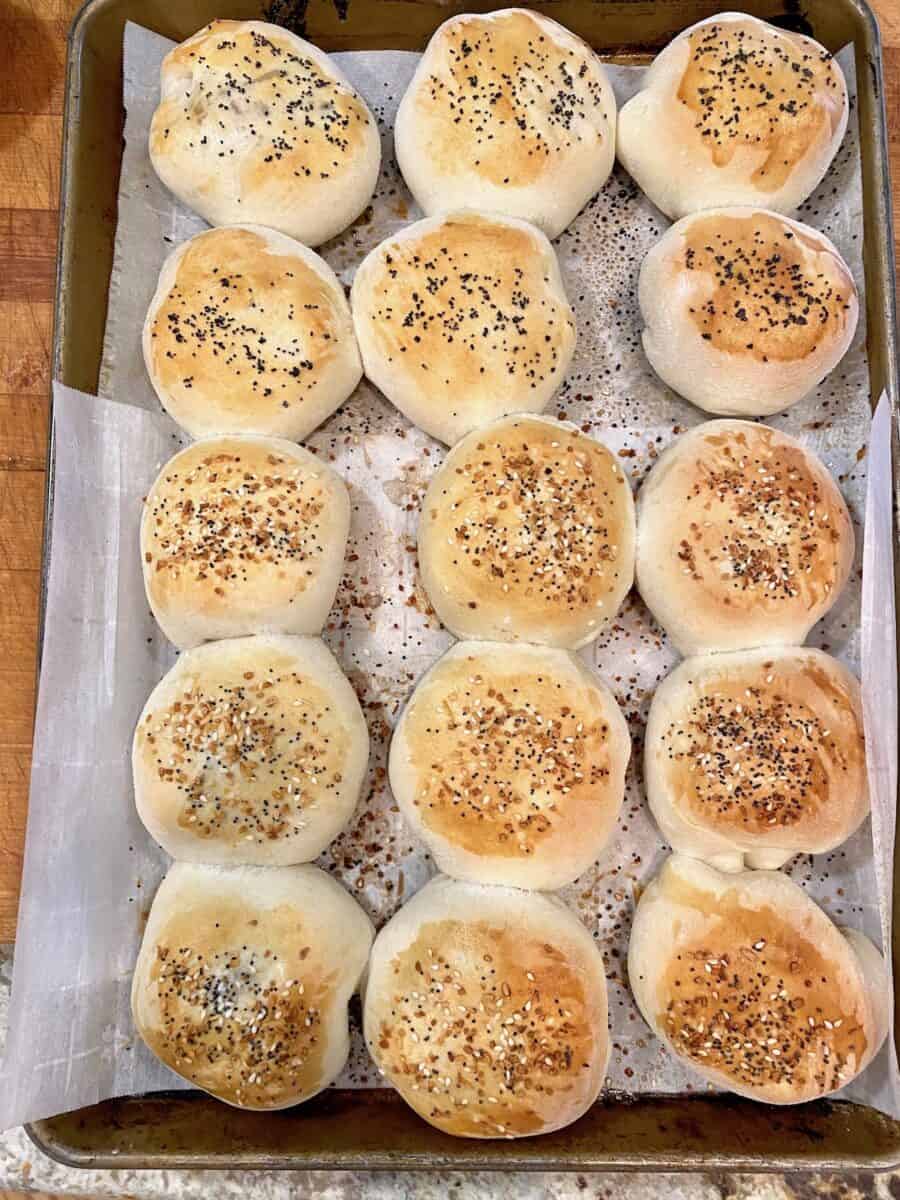 The Everything Bagel Seasoning packs great flavor addition to each roll, but if your family prefers something a little more subtle I highly recommend using poppy seeds instead.
You can also skip the topping completely - just brush with the egg wash and bake. There's plenty of flavors housed in these rolls.
Bake for about 15 minutes in a 350° F oven until the tops of the rolls are lightly browned.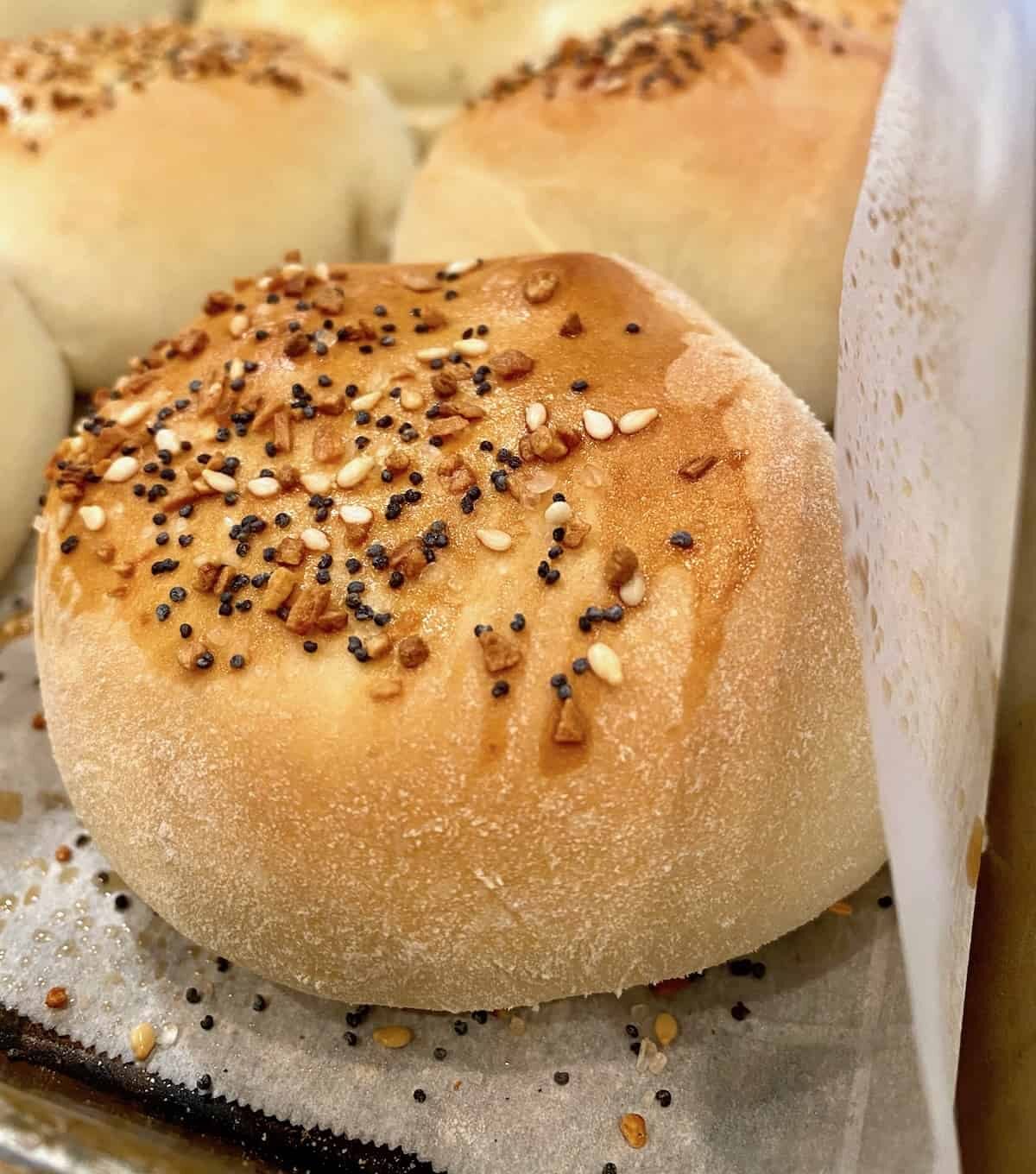 Recipe FAQs
Can these be frozen and served later?
Yes. This is a terrific make-ahead recipe. Prepare and bake as directed in the recipe, then freeze the cooled rolls in a freezer-safe zipped bag or container.

Be sure to separate the layers with waxed paper.

To serve, reheat the rolls on a baking sheet lined with parchment paper, or greased, in a 325° F oven until heated through, about 20 minutes. The rolls will have a toasty and crunchy texture when reheated this way.
How long can I keep leftover Grown Up Pigs in a Blanket in the fridge?
These are delicious to eat cold from the refrigerator.

But like any leftover food, for the best freshness, plan to gobble them up before three days pass.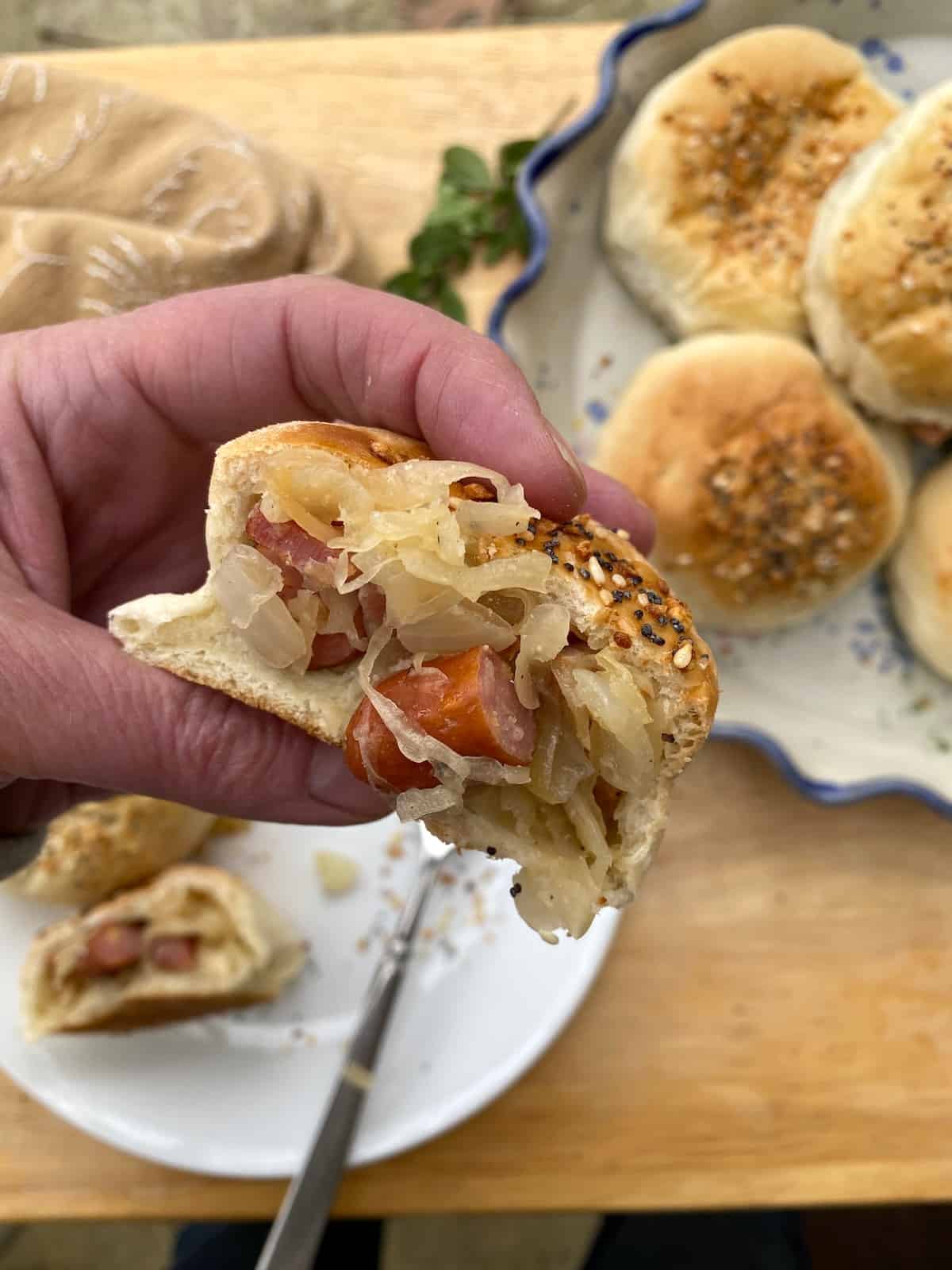 Can I use homemade bread dough for the rolls, instead of frozen?
First of all, bravo for making bread dough from scratch! I've never made this recipe using homemade dough, but if you have good results preparing this grown-up version of pigs in a blanket that way please share the details in the comments below.
How to Serve Grown Up Pigs in a Blanket
These rolls are fantastic when they're warm from the oven, and let me just add that the smell of the freshly baked rolls along with the sausage and kraut inside is pure heaven. You won't need ketchup and mustard but both are a nice option for folks to add to their plates. Maybe kick it up a bit and in keeping with the "grown-up" aspect of these, serve them alongside some specialty or extra spicy mustards.
I've served these as an appetizer and many times as a main meal with a salad.
The Inspiration
I first stumbled onto a recipe similar to this in a Taste of Home magazine back in the mid-90s. My family loved it! So over the years, I adapted it, made it a little easier - no kneading bread dough, and adjusted the spices. I can't wait to hear what you think of Grown Up Pigs in a Blanket.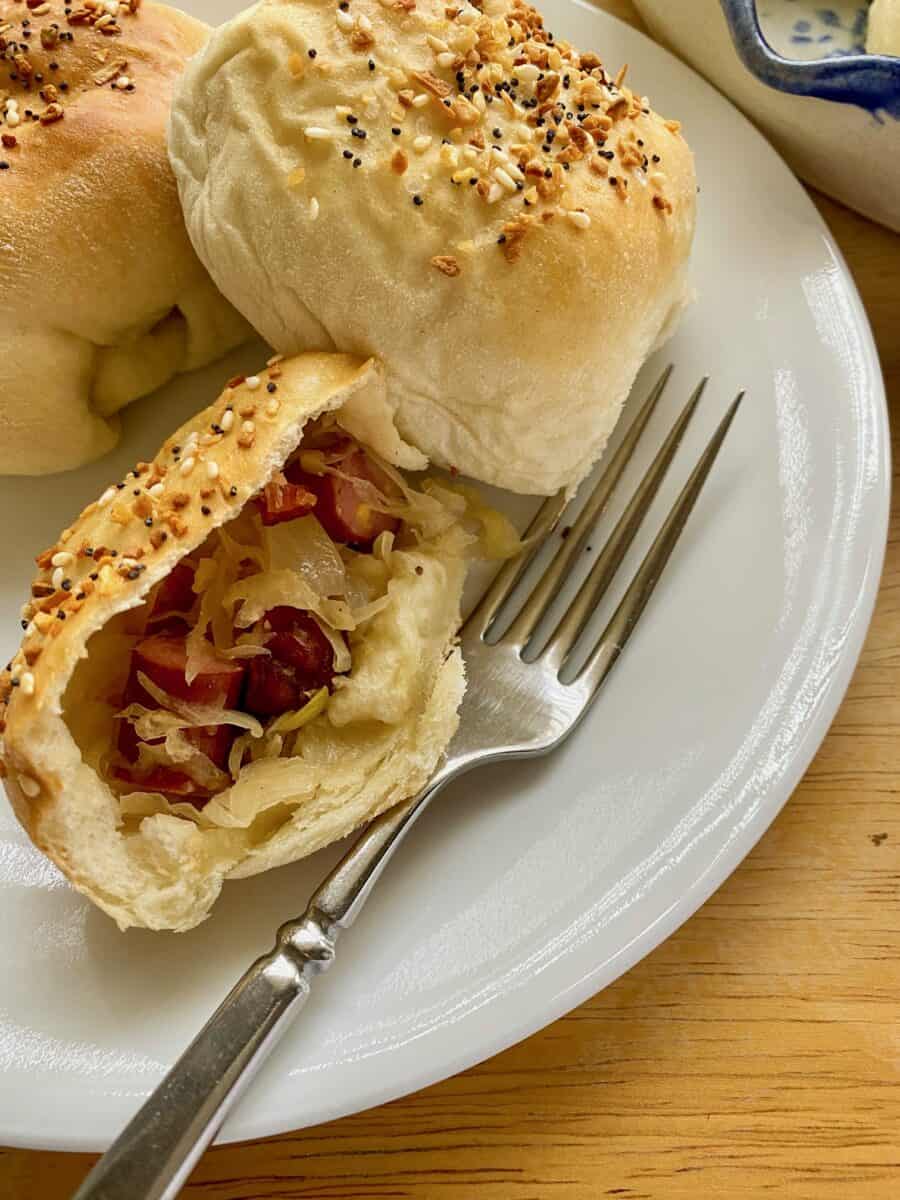 Other Hearty Appetizers
This recipe is a wonderful, hearty appetizer or a main meal served with a salad. But sometimes it's nice to serve appetizers that could become part of a meal. Here are a few others that fit the bill.
And just because every great meal or event you host should be wrapped up with the sweetest of treats. Here are a few dessert options that I think your guests or family will love.
Sides to Serve with Pigs in a Blanket
If you tried Grown Up Pigs in a Blanket or any other recipe on my website, please leave a 🌟 star rating and let me know how it goes in the 📝 comments below.
Recipe