Get ready to indulge in the most velvety smooth hot artichoke dip you've ever tasted. Simple Artichoke Dip is ready in just 10 minutes, you can serve a creamy, hot appetizer that's microwave-friendly and easy to prepare. Even though it's quick to fix, the dip is sophisticated and goes great with everything from Cranberry Jalapeno Meatballs to toasted baguette slices, crunchy vegetables or crisp potato chips. It's perfect for any gathering or party.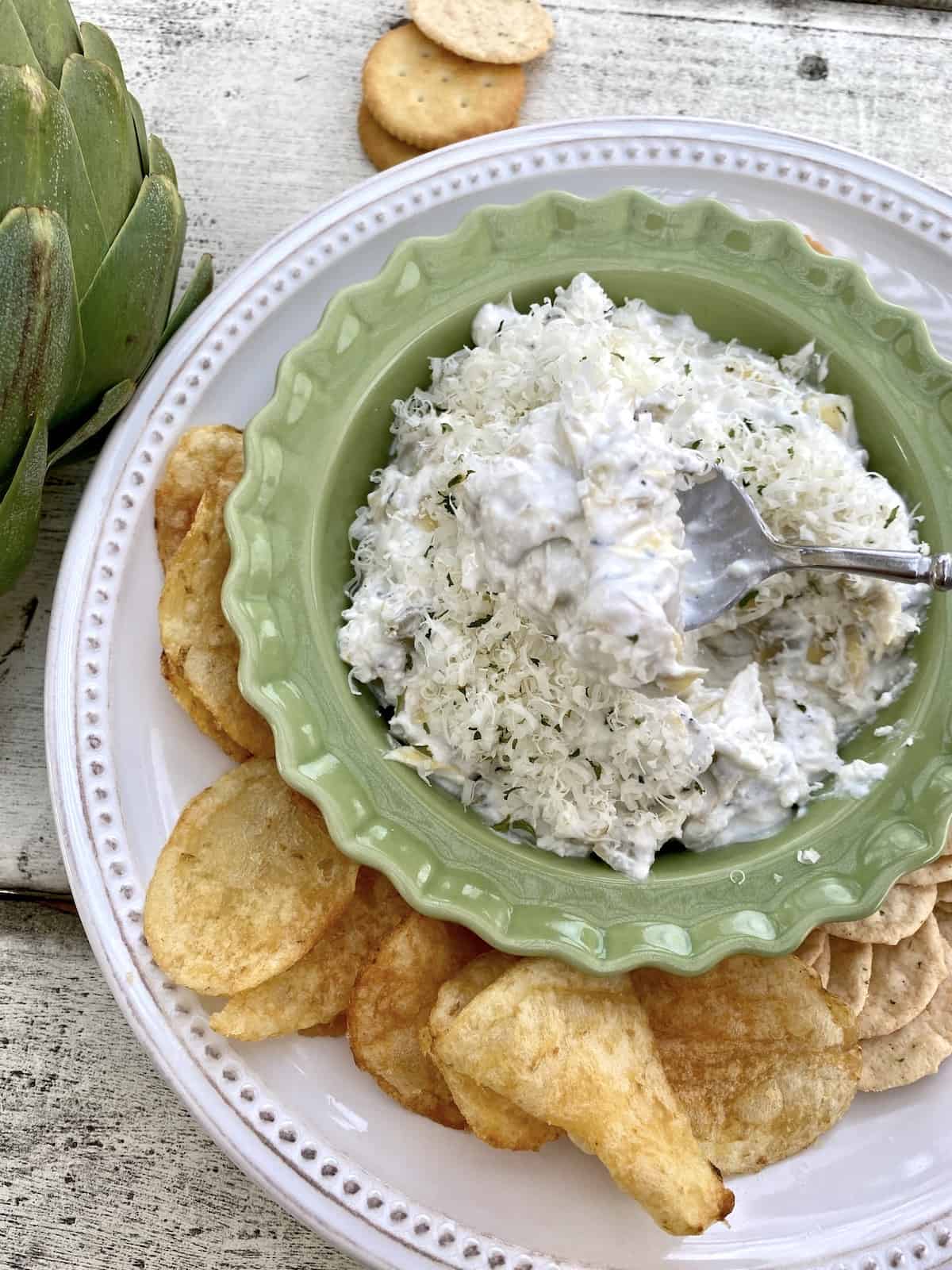 Note: Some of the links on this page are paid links, Amazon Associates. That means I make a small commission when you click and shop. Your cost is always the same and I only link to products or ingredients I use and enjoy.
Jump to:
Ingredients to Have on Hand
Parmesan cheese
Plain Greek yogurt
Sour cream
Mayonaise
Garlic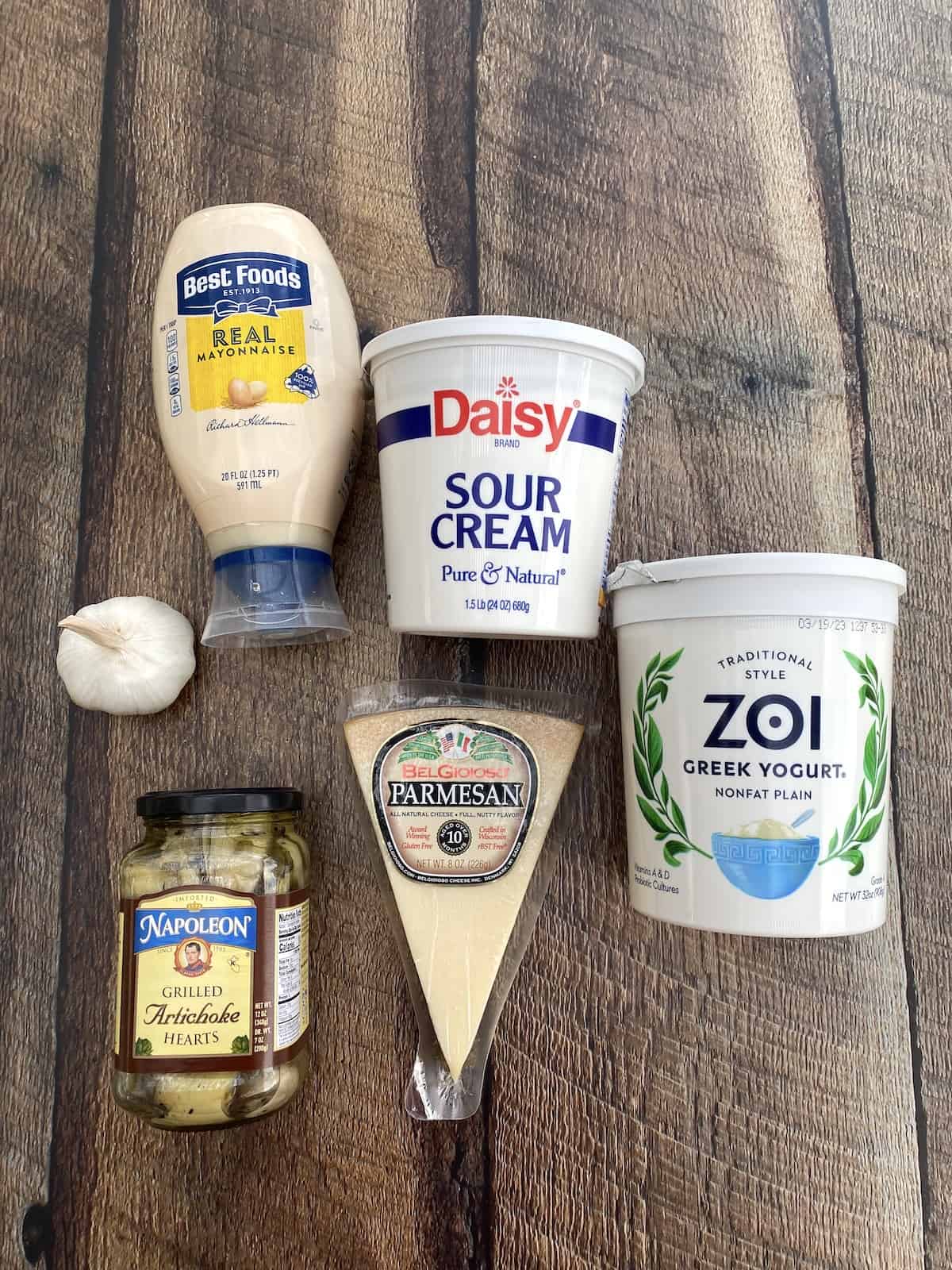 This recipe is so easy to make! You won't need a mixer, blender or any fancy kitchen equipment; just a mixing bowl, a knife to chop the artichoke hearts, a serving bowl and a spoon. That's it!
Technically, the recipe calls for measuring the shredded parmesan cheese, Greek yogurt, sour cream and mayonnaise, but this recipe is very forgiving. I've made it many times simply by eye-balling the quantities.
You can also add extra parmesan cheese to boost the cheesiness of this dip.
Why You'll Love This Recipe
I've been making and serving Simple Artichoke Dip for more than 20 years and every time I make it, someone will ask for this recipe. It's a crowd-pleaser and is so simple to make.
Need an appetizer or dip to share at a baby shower, summer BBQ or holiday gathering? This recipe is the one you'll want to share. It's great every time.
You can also easily assemble it a day or two before heating it, which offers another time-saving bonus. 
No Cream Cheese, No Spinach
Two things make this hot artichoke dip recipe especially unique: unlike many creamy dips, this recipe skips the cream cheese and while many hot artichoke dips include spinach, this one is spinach-free.
Although you could certainly add chopped spinach to this recipe as an option.
Microwave-Friendly
If you're in a rush and need a quick and easy appetizer, this recipe is your go-to! The best part? It's microwave-friendly, so you can have a deliciously creamy and hot artichoke dip in mere minutes. There's no need to preheat the oven or wait for it to bake.
I prefer to make this hot, creamy dip in the microwave because it's a speedy and easy way to get the dip to the perfect temperature.
Step-by-Step Microwave Instructions
Step One: Mix all the ingredients together, place in a microwave-safe dish
Step Two: Place the dish in the microwave and cook for 2 - 3 minutes, stirring after the first minute. Keep checking at one-minute intervals and continue cooking until the artichoke dip is hot and bubbling.
Step Three: Voila! Stir gently and serve a delicious, hot creamy artichoke dip with crackers or a crunchy assortment of fresh veggies.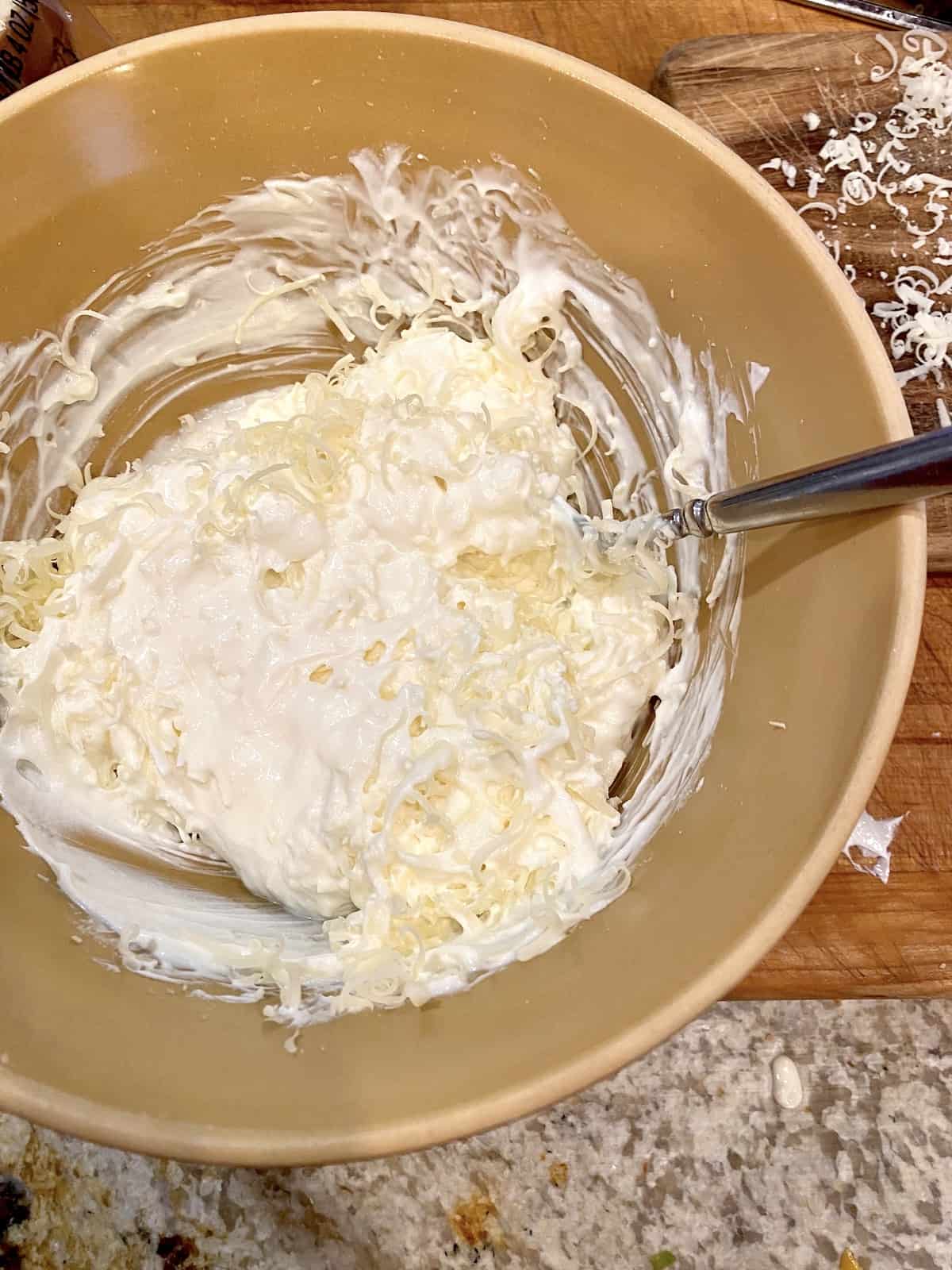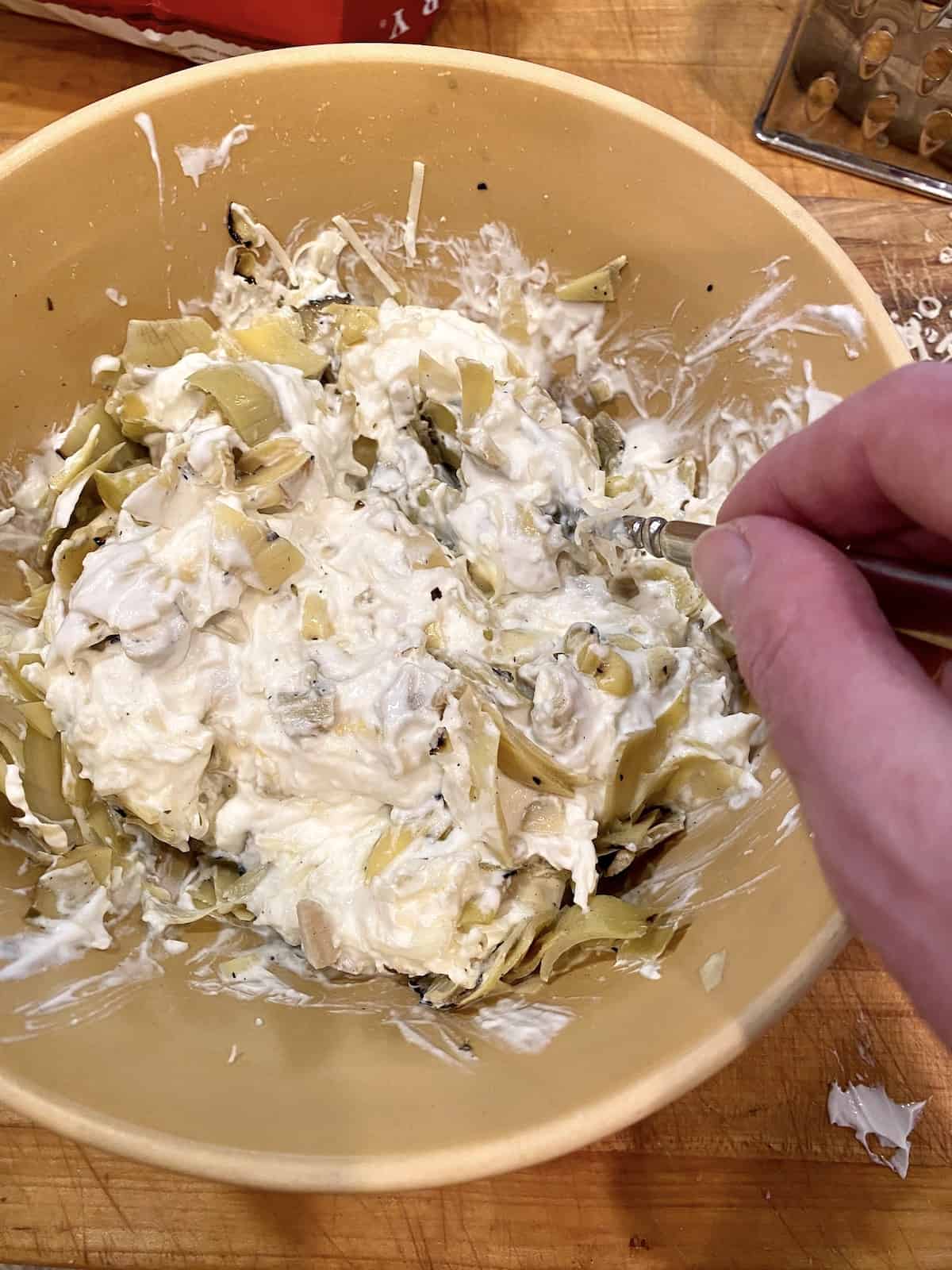 Conventional Oven Option
As an option, if you'd prefer to use a conventional oven that's also an easy way to prepare this hot artichoke dip.
Step-by-Step Conventional Oven Instructions
Preheat the oven to 350° F
Assemble the artichoke dip ingredients
Place in a greased baking dish or pie plate
Bake for 20-30 minutes or until bubbling around the edges and piping hot
With either baking method, the dip may come out of the oven with a slightly loose consistency. Don't worry. The dip will thicken slightly as it cools and will be the perfect texture for serving with either a spoon or scooping up a portion with a thin cracker or potato chip.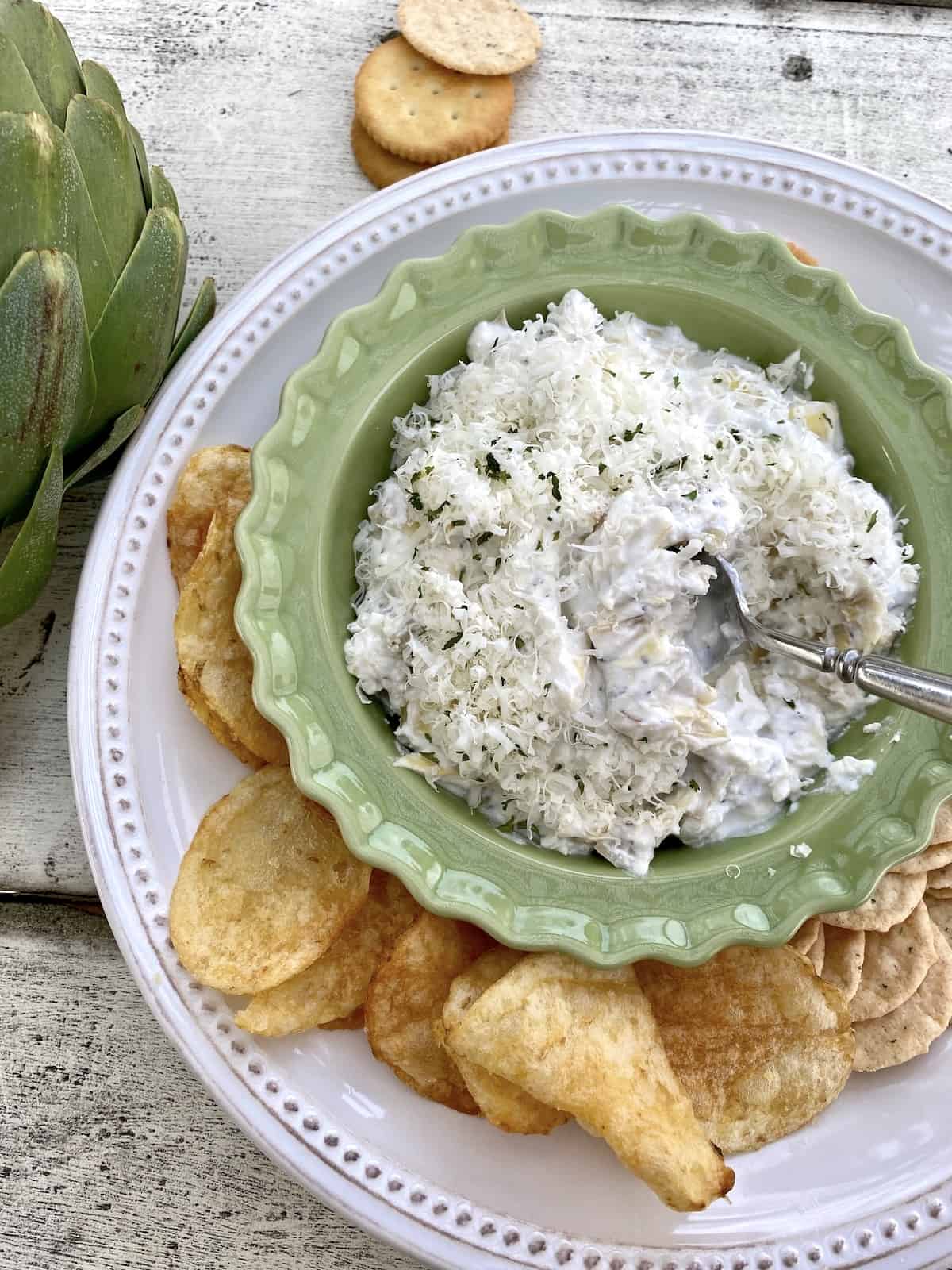 Recipe FAQs
What are the best crackers to serve with Simple Artichoke Dip?
Serve an assortment of crisp and crunchy crackers, pita chips or potato chips so your guests can enjoy a variety of textures with the creamy dip.
How do I warm up leftover artichoke dip?
Place the leftover artichoke dip in a microwave-safe bowl and sprinkle with a few drops of water on top. The water helps to create a little steam which helps loosen up the chilled ingredients.

Cover and cook at half power for 2-3 minutes, checking at one-minute intervals. Once it's hot and bubbly, it's ready to enjoy. Stir and serve.
Can I use canned artichoke hearts?
Yes, water-packed canned artichoke hearts are also delicious in this recipe.
Can I use marinated artichoke hearts that aren't grilled?
Any variety of marinated artichoke hearts is wonderful in this hot, creamy dip.

The flavor from marinated artichoke hearts is beyond compare and I think the grilled variety adds a level of distinctive flavor that blends especially well with the creamy ingredients.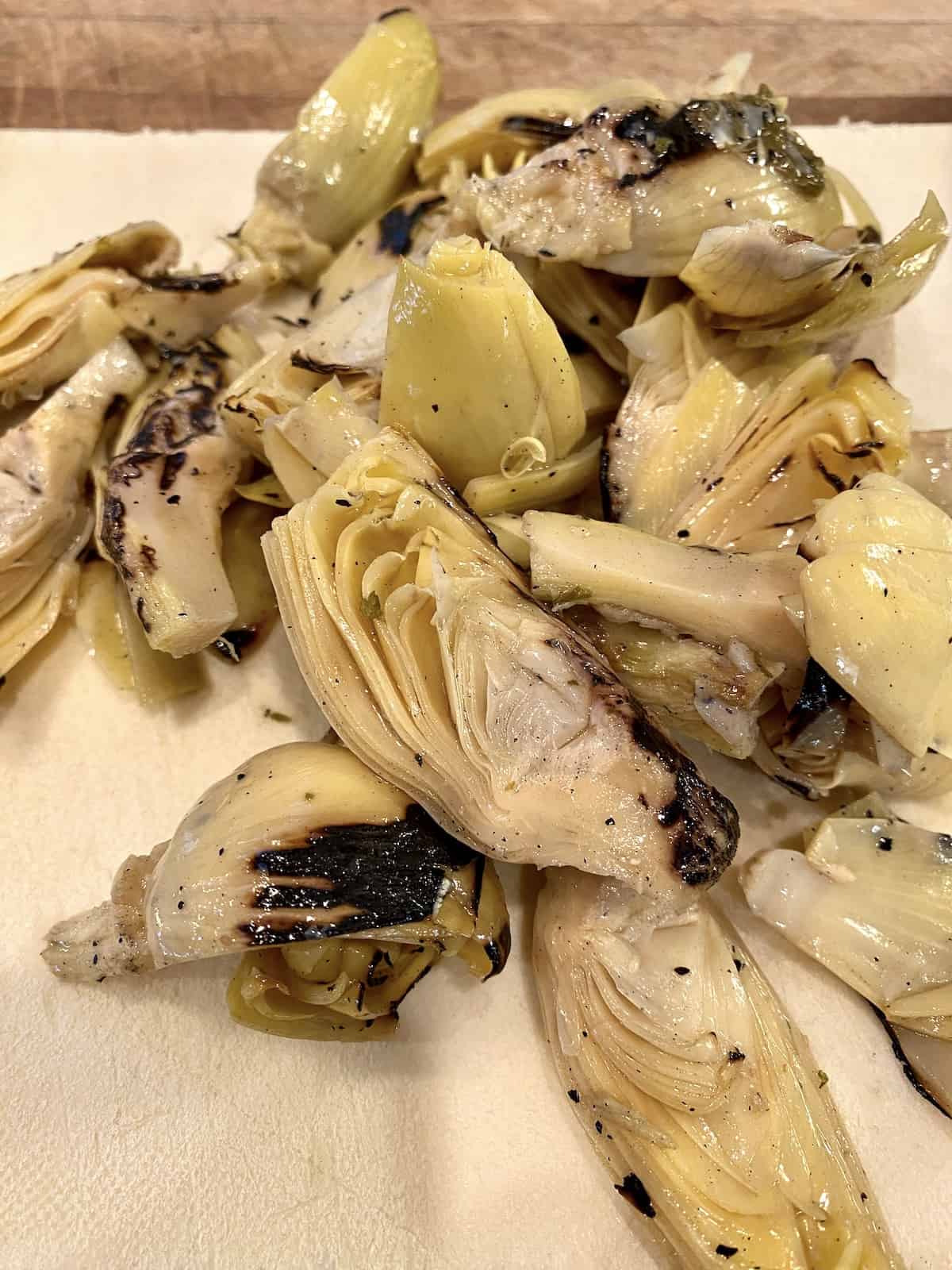 Substitutions
You might be wondering how this recipe is so creamy while still not including cream cheese. We can thank a luscious blend of Greek yogurt, sour cream and a touch of mayonnaise for achieving the perfect creamy consistency. 
I like the silky texture that we get by combining both sour cream and non-fat Greek yogurt in this artichoke heart dip, but you can easily swap out either one and double up on whichever ingredient you prefer.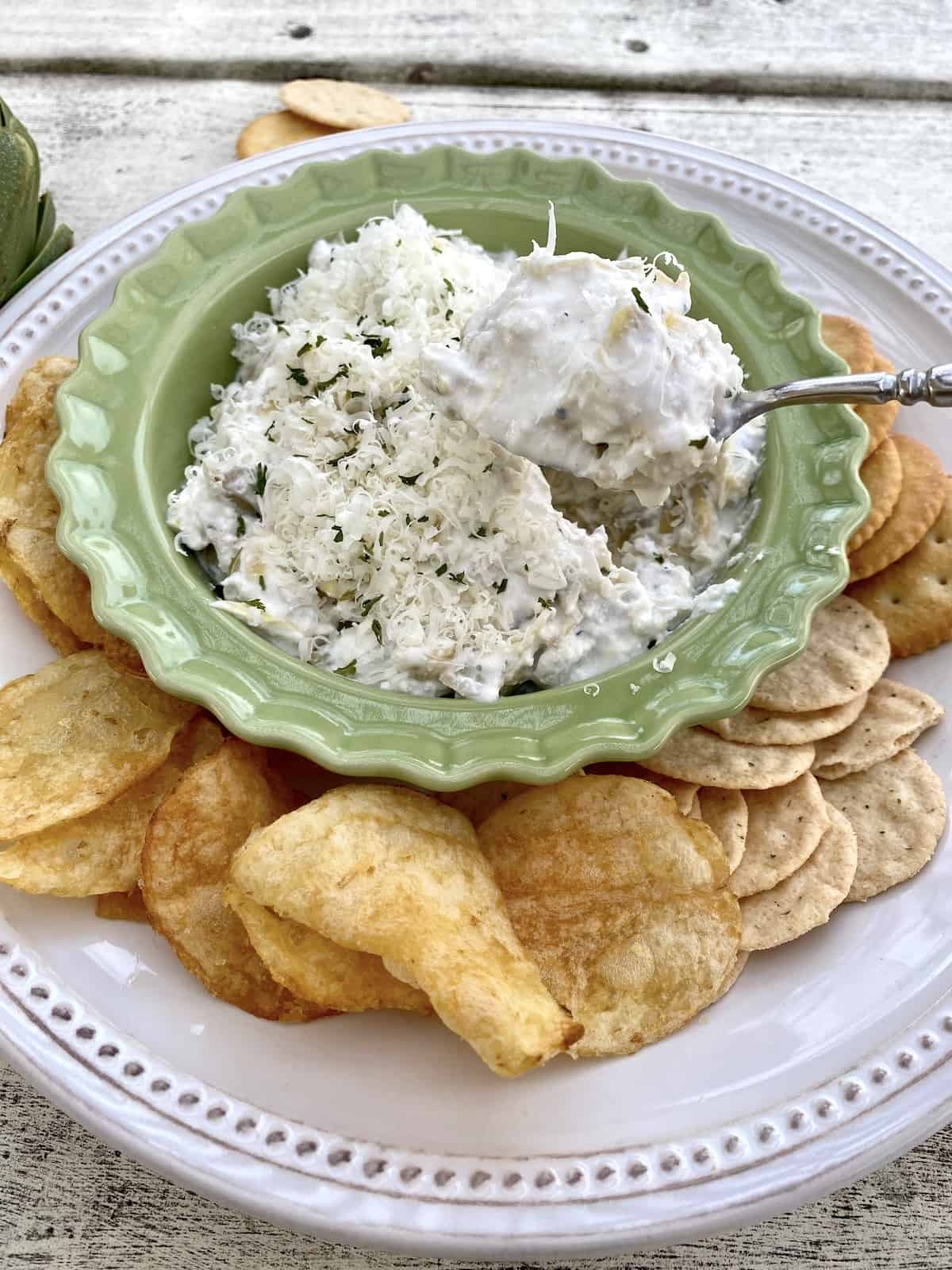 Blend-In Options
This hot, cheesy artichoke dip is perfectly tasty as-is, but it's also wonderful with a few additions. Here are some blend-in options you might enjoy. Stir one or two of these ingredients in before cooking the dip:
½ cup cooked bacon, crumbled
2 tablespoons sliced green onions
one small can of water chestnuts, drained and chopped
Dried dill, about one teaspoon
1 package frozen spinach, thawed and squeezed to remove the water
Storage
In the unlikely event that you have leftovers, place any remaining artichoke dip in a covered container and store it in the refrigerator. The dip will stay fresh for 3-5 days.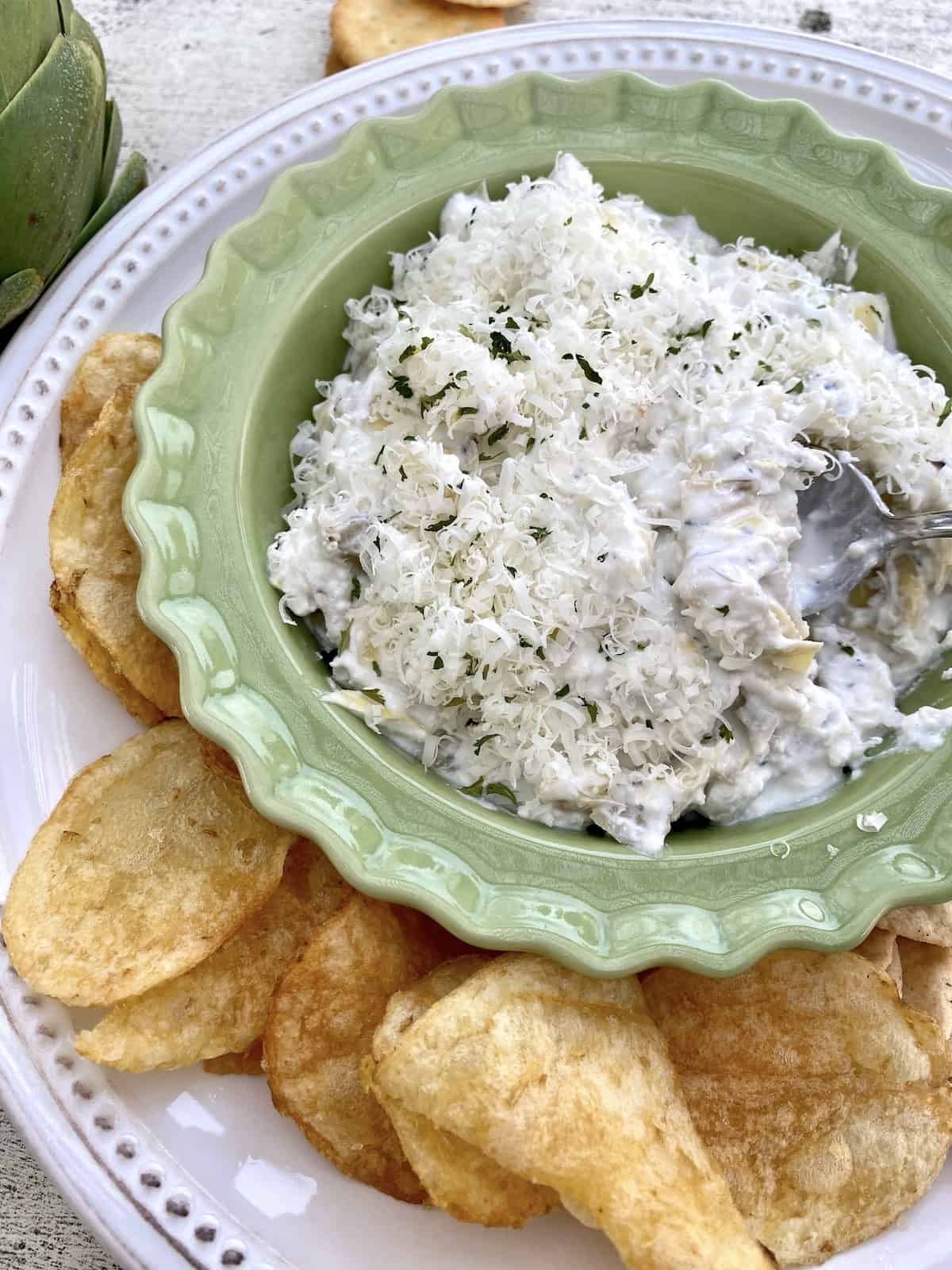 Pro Tip: Warm up leftovers in a microwave-safe bowl but sprinkle with a few drops of water on top before placing it in the microwave. The water helps to create a little steam which helps loosen up the chilled dip.
Cover and heat at half power for 2-3 minutes, checking at about halfway through the cooking time. Stir and serve.
The Inspiration
I've made this dip so many times over the years, I can't possibly count how often I've served it.
I've made a few adjustments to the recipe but to give credit where it's due, this recipe was inspired by one I found in the Healthy Homestyle Cooking cookbook back in 1994.
More Appetizers
Safe Food Handling
Don't leave food sitting out at room temperature for extended periods
Never leave cooking food unattended
See more guidelines at USDA.gov.
If you tried Simple Artichoke Dip or any other recipe on my website, please leave a 🌟 star rating and let me know how it goes in the 📝 comments below.
Recipe