Everything Bagel Cauliflower Hummus blends all the flavor of our favorite bagel topping with a low-carb, garlicky and creamy hummus. Oven-roasted cauliflower replaces chick peas to create a dip that's a perfect pairing for a tray of fresh veggies and warm pita bread or chips.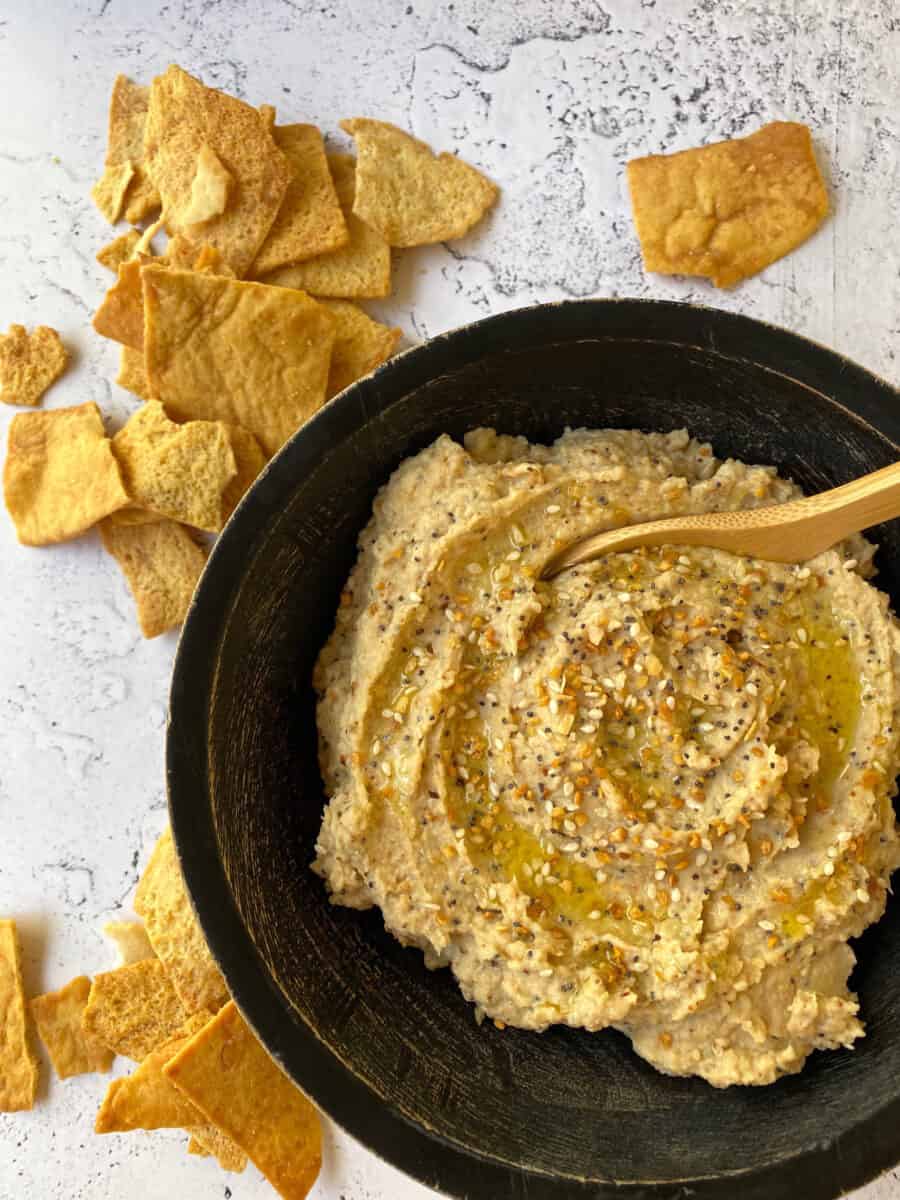 Note: Some of the links on this page are paid links, Amazon Associates. This means I make a small commission when you click and shop. Your cost is always the same and I only link to and recommend products or ingredients that I use.
Ingredients to have on hand
Cauliflower
Garlic
Olive Oil
Lemon juice is optional, but it adds a splash of citrus to the cauliflower hummus and it helps keep it fresh and tasty even after it's been refrigerated for a few days.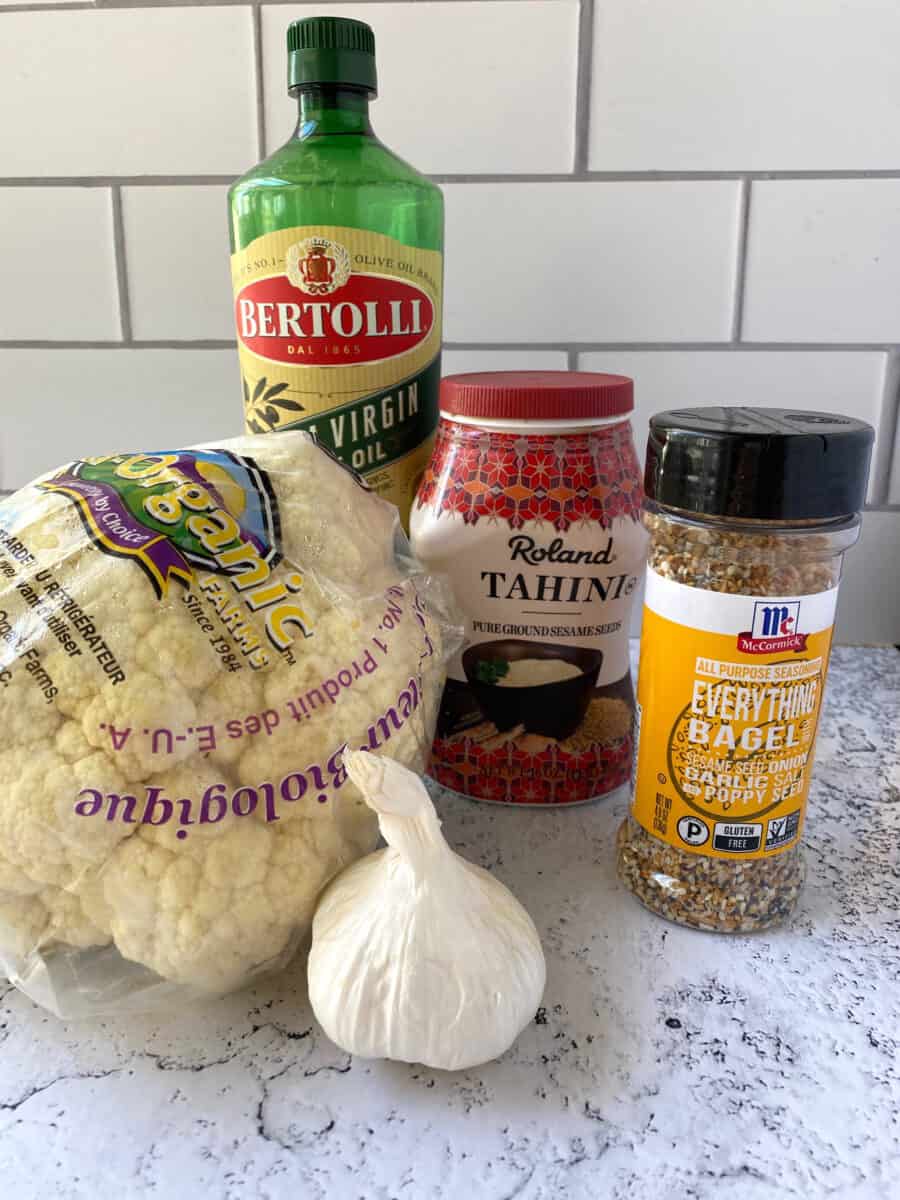 Equipment and Tools
I hesitate to say there's much in the way of kitchen equipment or tools required to make Everything Bagel Cauliflower Hummus, but here are a few items that I use.
1. Food processor, granted, this is a spendy kitchen appliance but it's invaluable to have and for this recipe it creates that creamy, smooth consistently.
2. I like using a pastry brush for adding the olive oil to the cauliflower. This means we can avoid tossing the cauliflower with the olive oil in a large bowl. The result, one less bowl to wash.
3. A garlic press, this comes in handy practically on a daily basis in my kitchen and I'm a big fan of using fresh garlic, as opposed to the pre-diced garlic from a jar.
Oven Roast the Cauliflower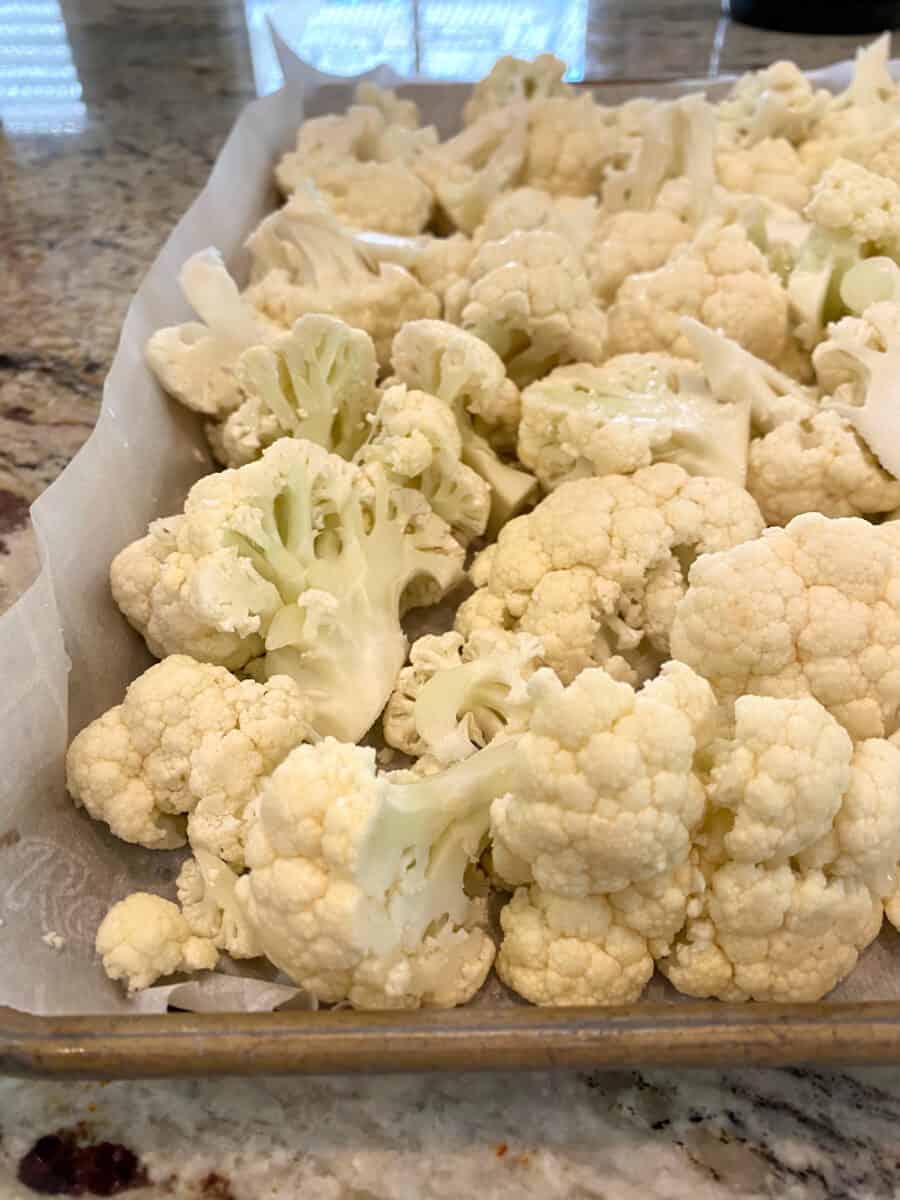 Choosing Your Cauliflower
Cauliflower is such a versatile vegetable and this recipe proves it! It's also described as a nutritional "powerhouse" that's low in calories.
You'll need about four pounds of fresh cauliflower for this recipe which is usually about two medium-sized heads. But don't worry, this cauliflower hummus is very forgiving if use slightly more or less.
Look for cauliflower heads that are firm with no dark or soft spots and the florets should be held tightly together. Cauliflower is perishable so keep it wrapped in the crisper drawer of your refrigerator and try to buy it within a day or so of when you want to make your hummus. Here's an article from the Los Angeles Times that describes in greater detail how to choose and store cauliflower.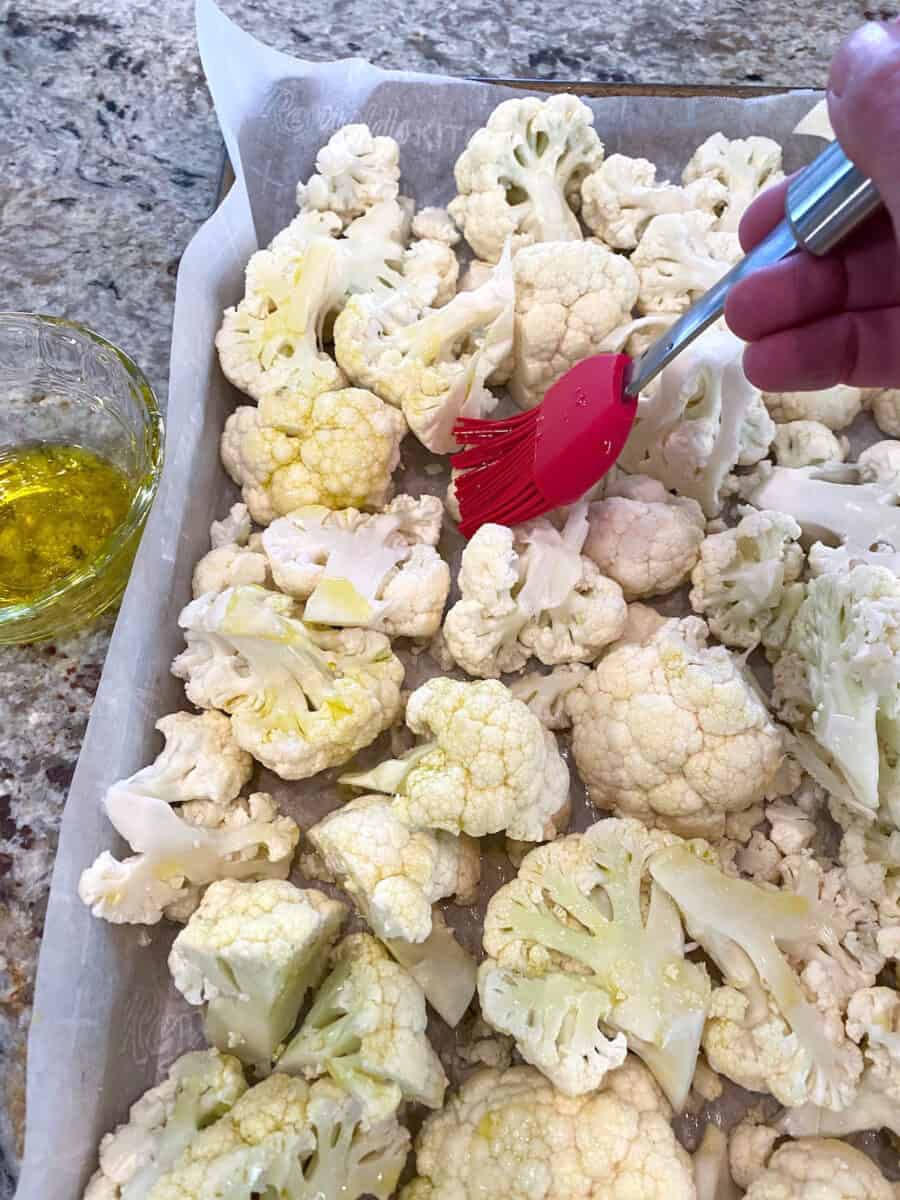 The Inspiration
I first discovered Everything Bagel Hummus by accident at the grocery store where I spotted a Boars Head product, which quickly got me thinking about a recipe I had for Cauliflower Hummus and how by simply adding Everything Bagel Seasoning I just might have a yummy new recipe to share with you.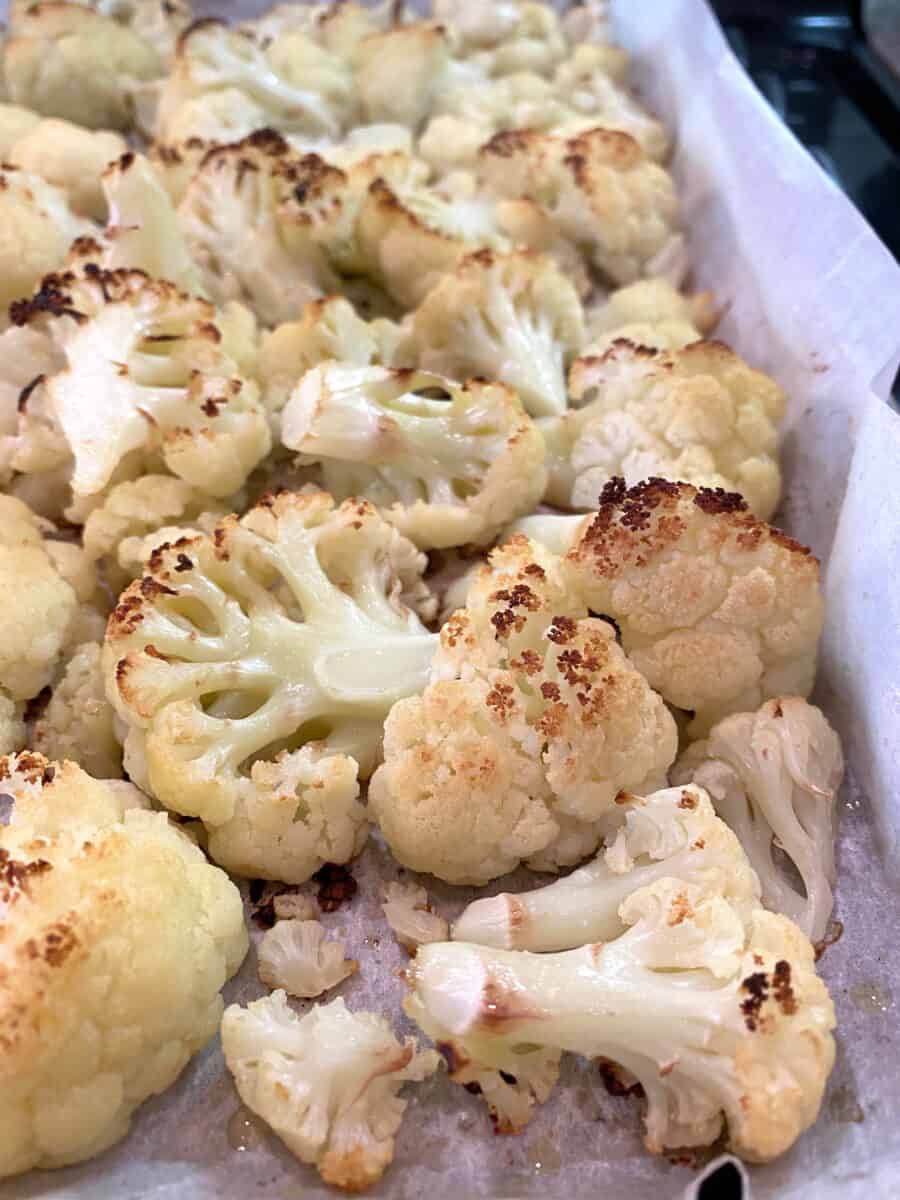 Tips and FAQ
Can I boil the cauliflower instead of oven-roasting?
The cauliflower would certainly be soft enough to blend into a hummus after boiling, but oven-roasting adds a distinctive flavor to the hummus that can't be replicated when cooking in water.
Do I need to use a food processor?
It certainly helps to create the creamy texture and blend all the spices and other ingredients.

The cauliflower will be very soft when it comes out of the oven, so using a fork or potato masher would probably work OK, as long as you mashed and stirred it a lot. But for the very best and smoothest results, this is one of those recipes that will blend best using a food processor.
Can I use frozen cauliflower?
I've only used fresh cauliflower to make this hummus recipe. In theory, the frozen version could be an option, but by using frozen and cooking it by the package directions, we'd still miss out on the oven-roasting step. With all that in mind, I can't vouch for it. If you do make this recipe using frozen cauliflower please leave a comment and let me know how it turned out.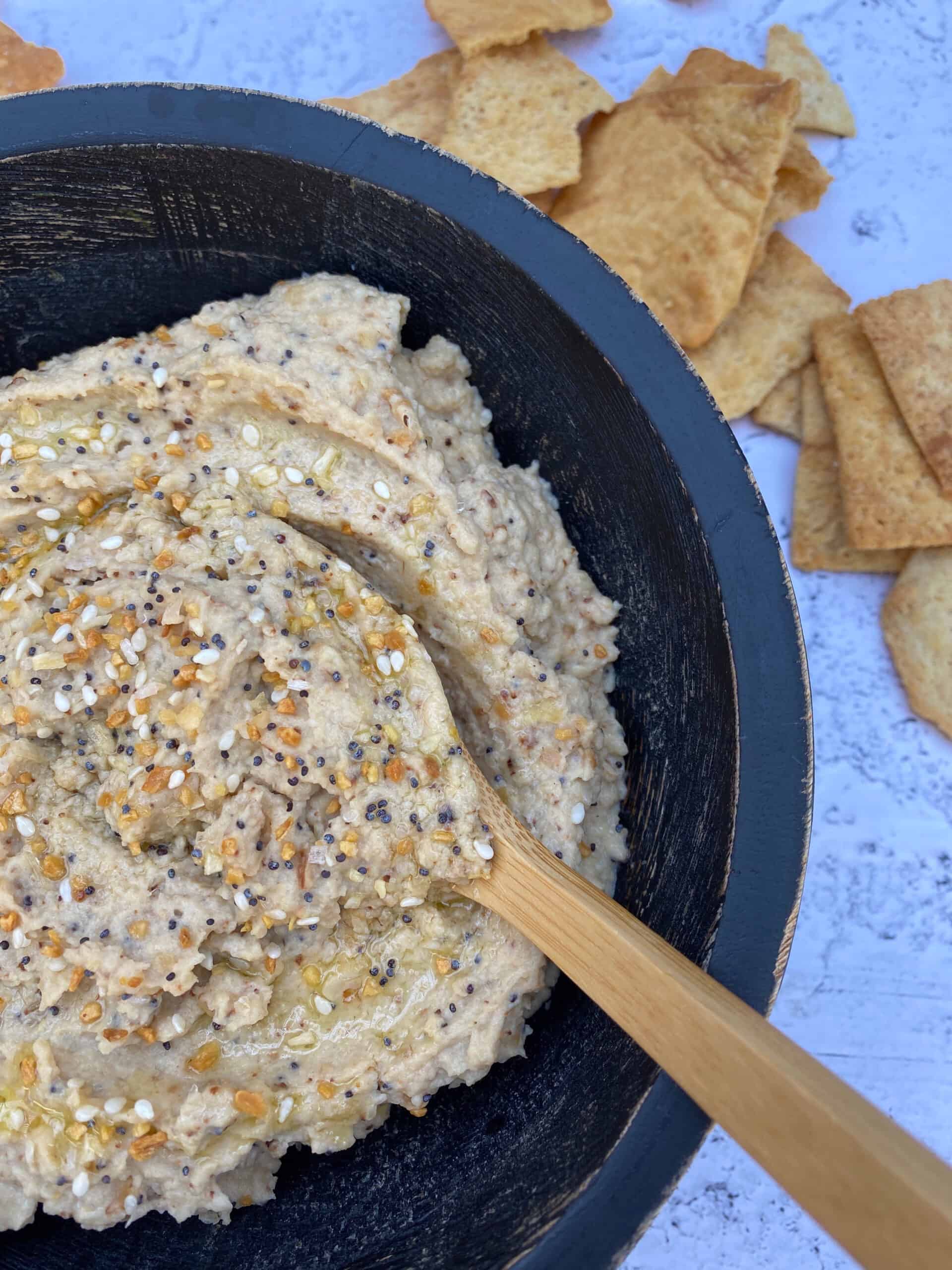 Combine All Ingredients Then Blend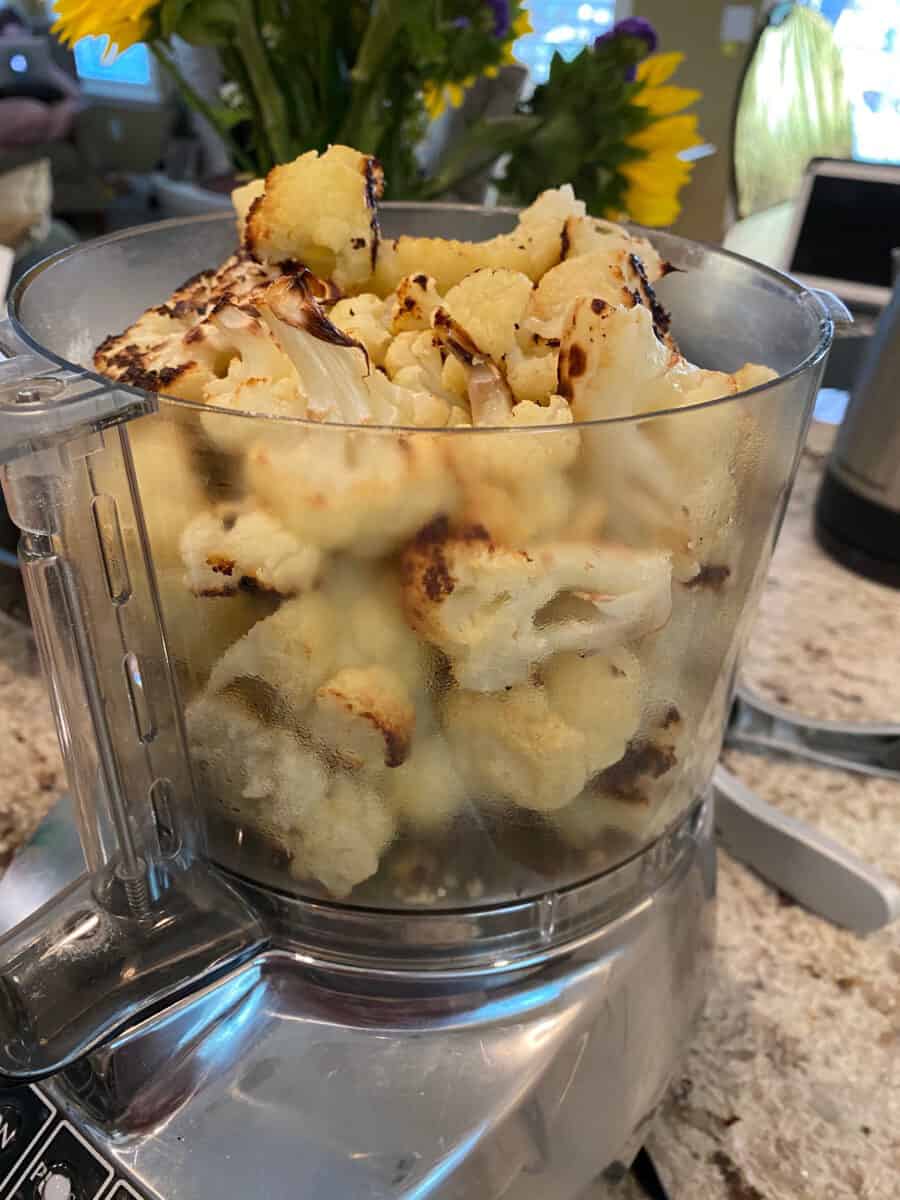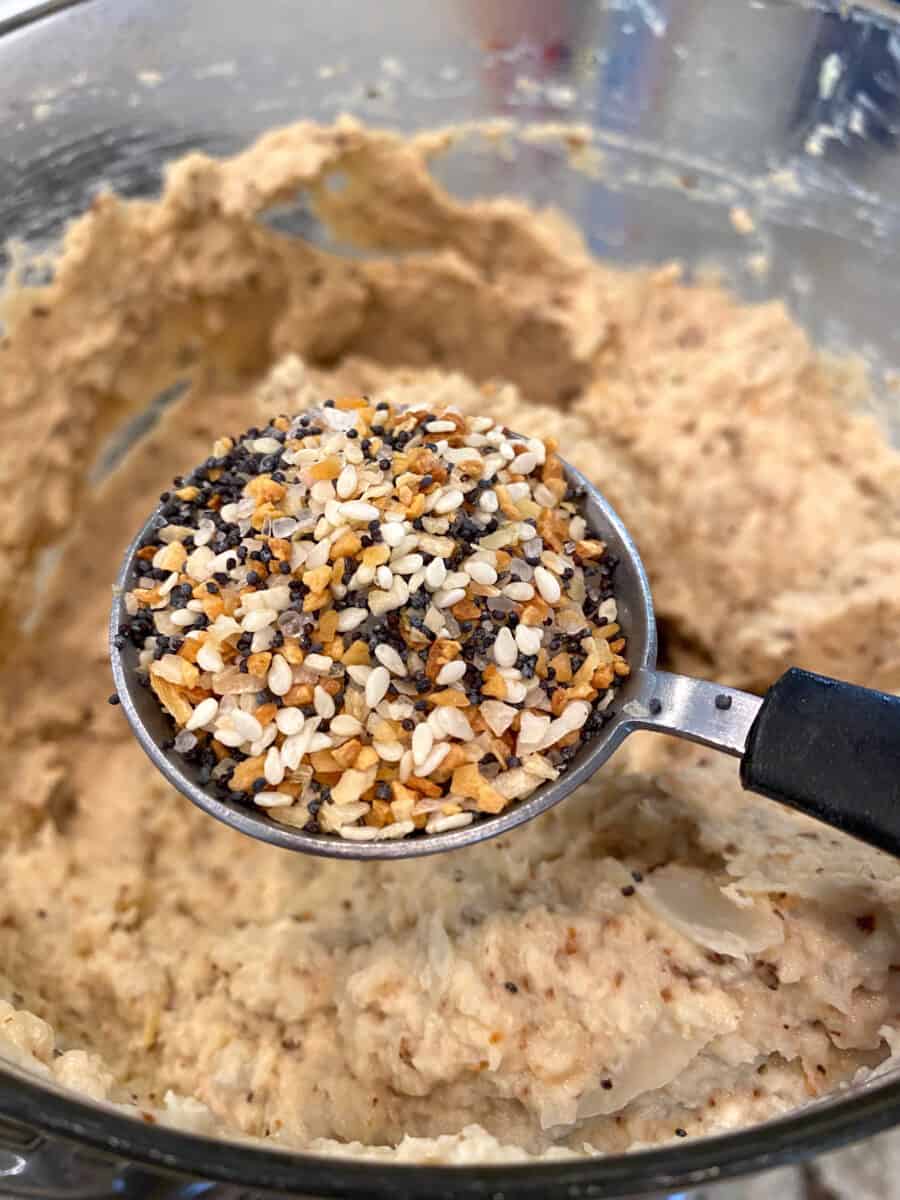 A Seasoning for More than Just Bagels
Everything Bagel Seasoning is a simple combination of sesame seeds, poppy seeds, dried garlic and onion and salt blended together. The seasoning blend changed how folks enjoyed bagels when it first came to use a few decades ago.
There's uncertainty about when it all started and there's a bit of a controversy about who came up with the seasoning concoction. Taste magazine explains how a sizable number of people claim to have invented the seasoning blend - so the history is complicated.
It's delicious on bagels for sure and as Taste explains, it revolutionized the bagel industry. But as far as I'm concerned, it's found a new culinary home blended into a scratch made, cauliflower hummus.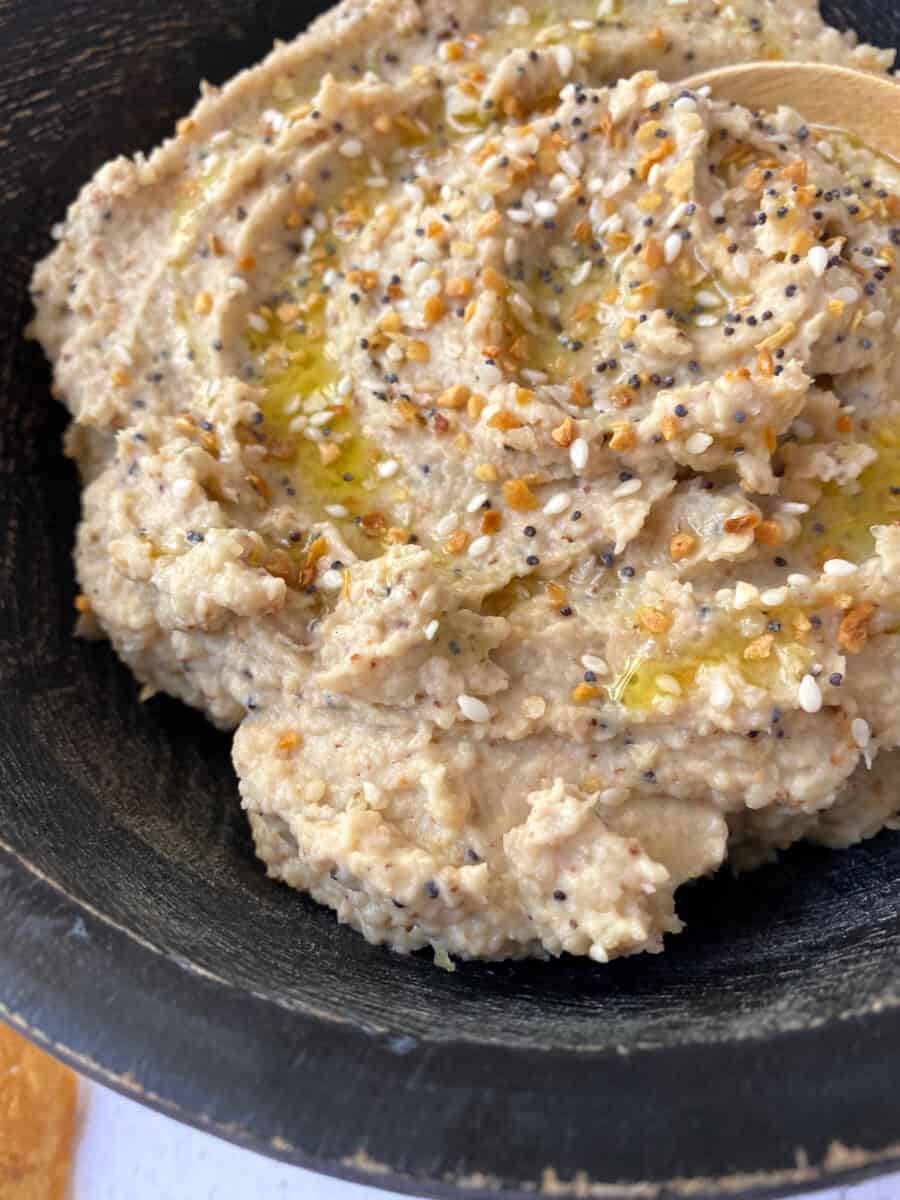 How to Serve and Store
Everything Bagel Cauliflower Hummus is delicious served warm on the day you make it. Serve with pita chips, warm pita bread or sliced veggies.
It's equally good served cold, which is the more traditional way to serve hummus.
This recipe makes about three cups of hummus, which is more than enough to serve 6-8 folks as an appetizer.
Serve a large scoop of hummus in a shallow bowl or pie plate and be sure to swirl a little olive oil on the top and add a few dashes of the Everything Bagel Seasoning.
Store in a covered bowl in the refrigerator. The hummus should stay fresh for about five days.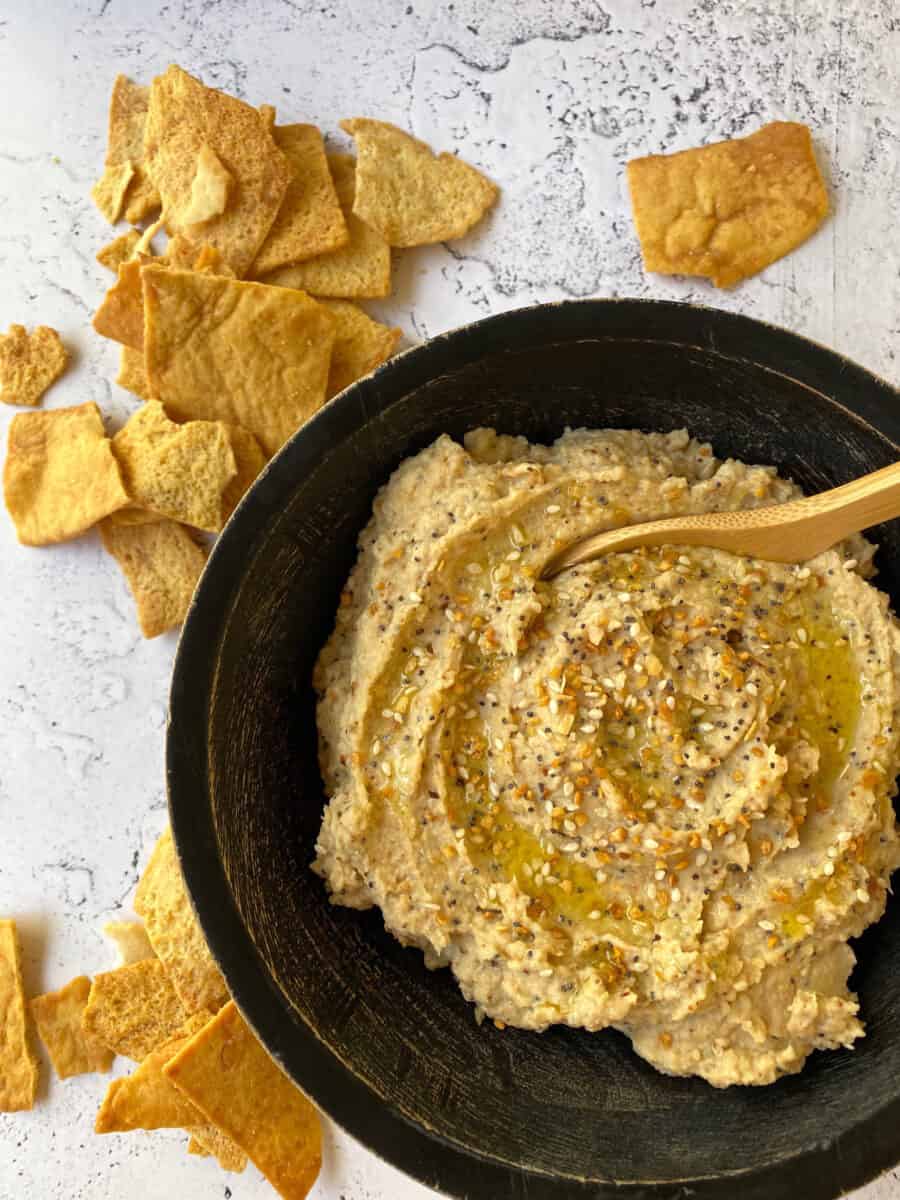 Other Dips, Sauces and Appetizers
Recipe