Pork Wonton Stars are a great way to use leftover ham, this is an appetizer or even a main dish that blends some of our favorite takeout flavors and nestles them all together in a crunchy, oven-baked wonton. These baked wontons are delicious served piping hot from the oven or at room temperature. Be sure to make plenty because they go fast.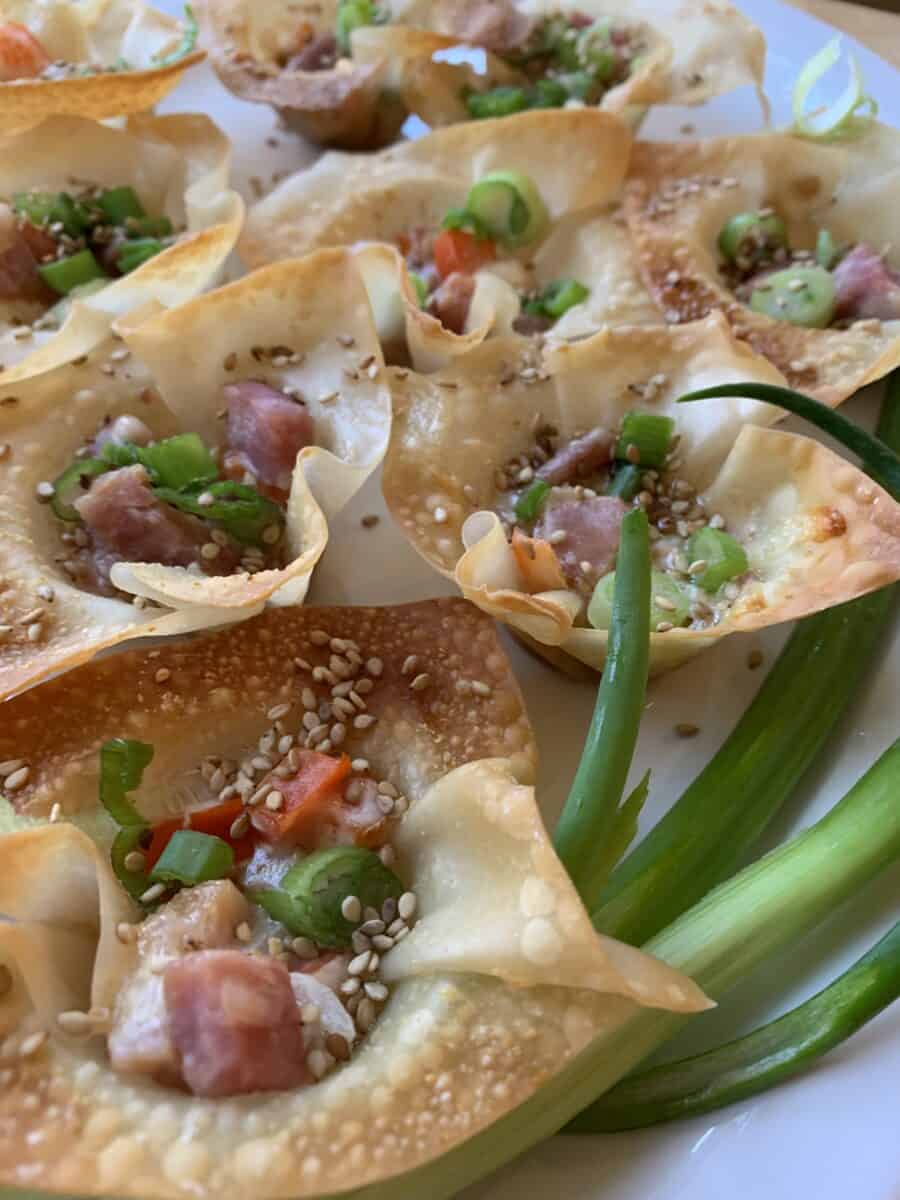 Ingredients to Have on Hand
Cooked ham, diced - about one pound
Red pepper
Swiss cheese
Sour cream
Chinese mustard
Wonton wrappers
Butter
Garlic powder
Soy sauce
Green onions
Sesame seeds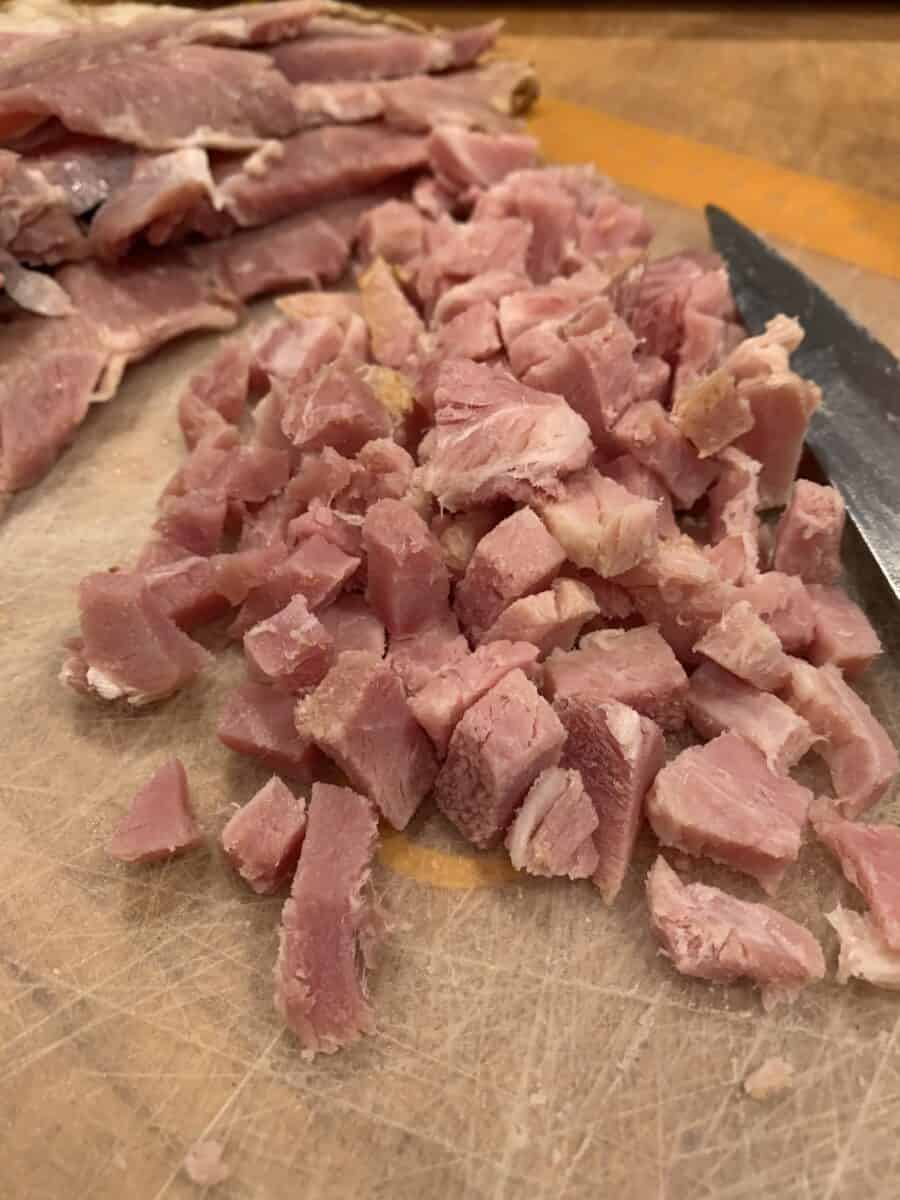 A Recipe to Use Leftover Ham
There are so many things about Pork Wonton Stars that make them a family favorite. Kids love them because there's a lot of flavor that reminds them of takeout, and we all know how much kids, especially teenagers love that.
But be assured, adults gobble them these up quickly too.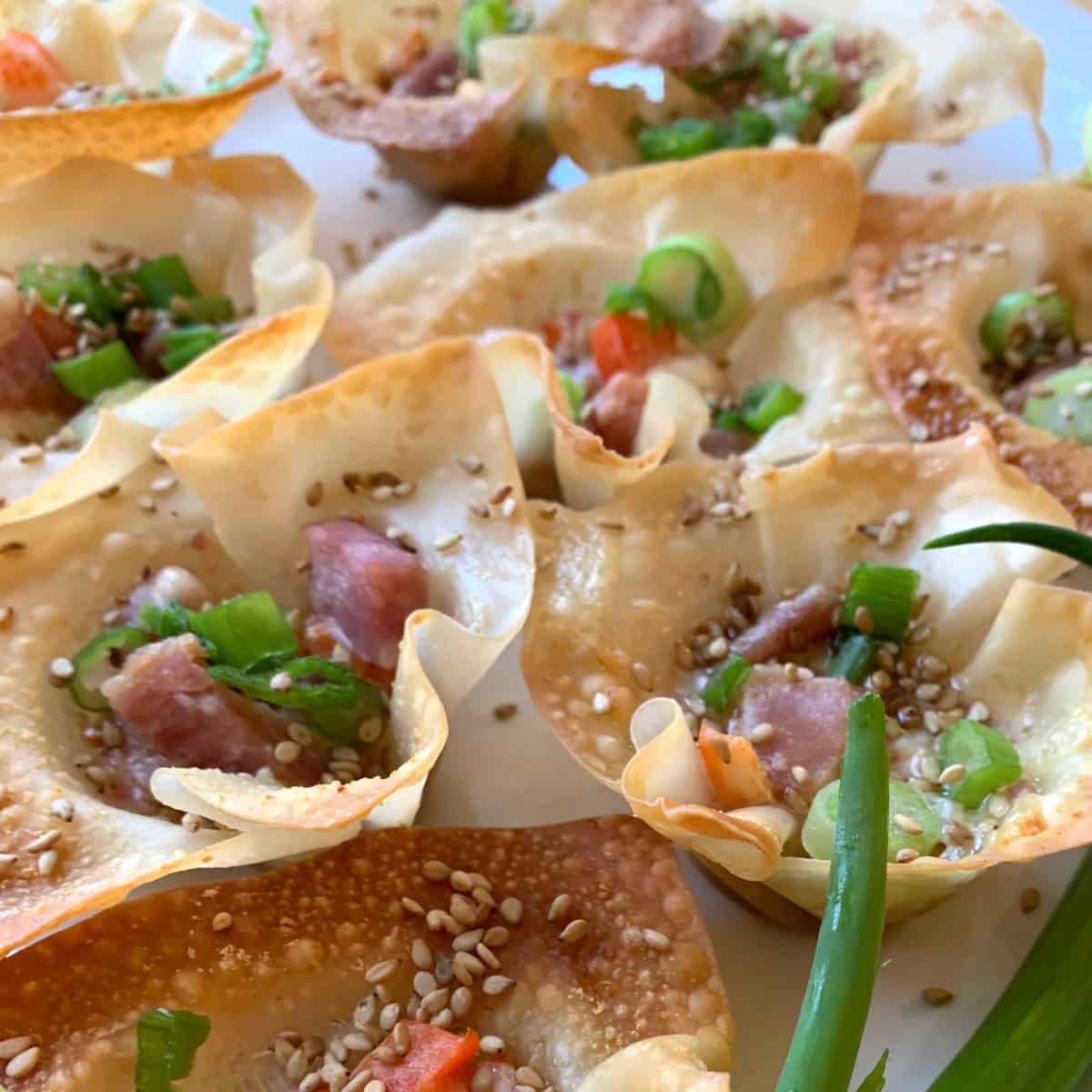 Pork Wonton Stars use about one pound of diced, leftover ham (about 2 - 3 cups) and the flavors are a great way use up leftover ham from the holidays.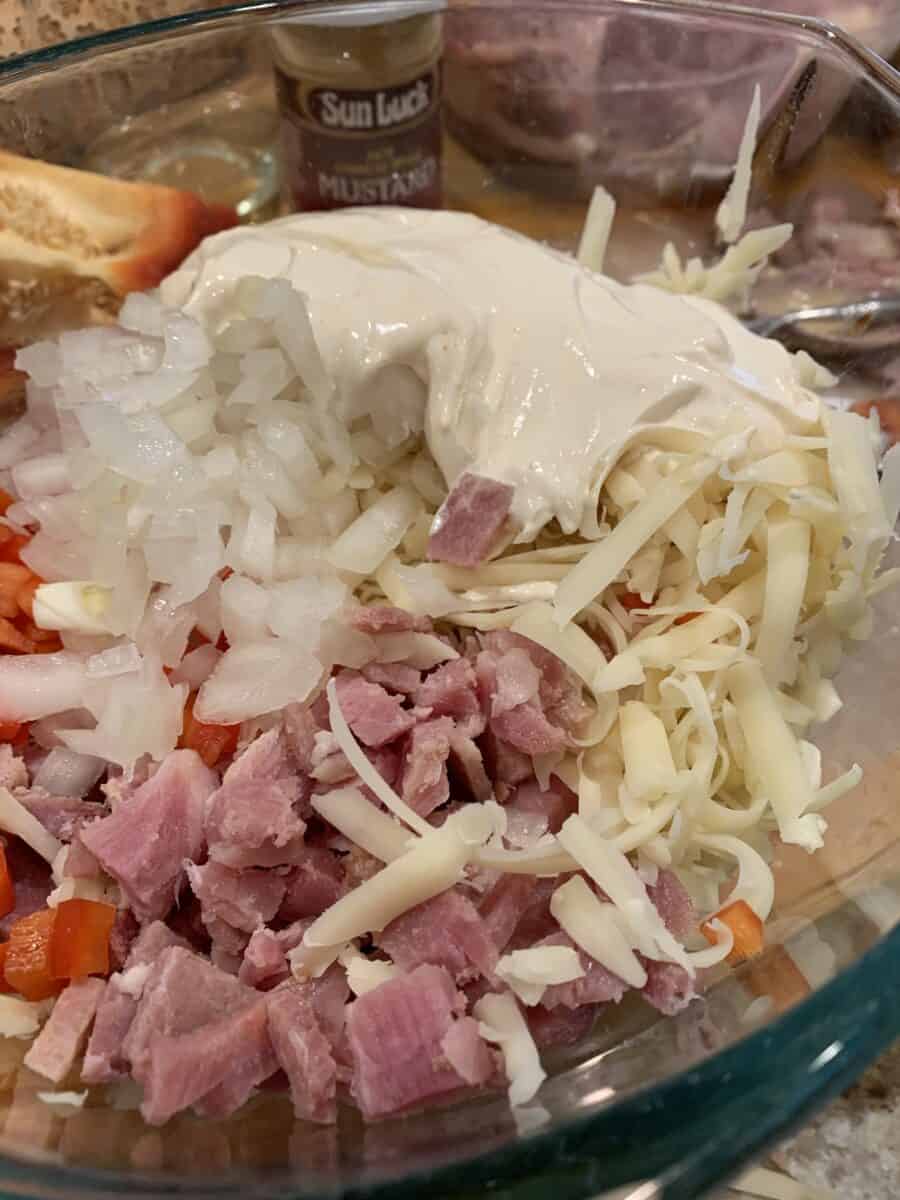 A New Spin on Serving Wontons
When we think of wontons, we often think of fried food. But Pork Wonton Stars are oven-baked, not fried. Each bite is a delicious, crunchy change of pace from the regular wonton routine.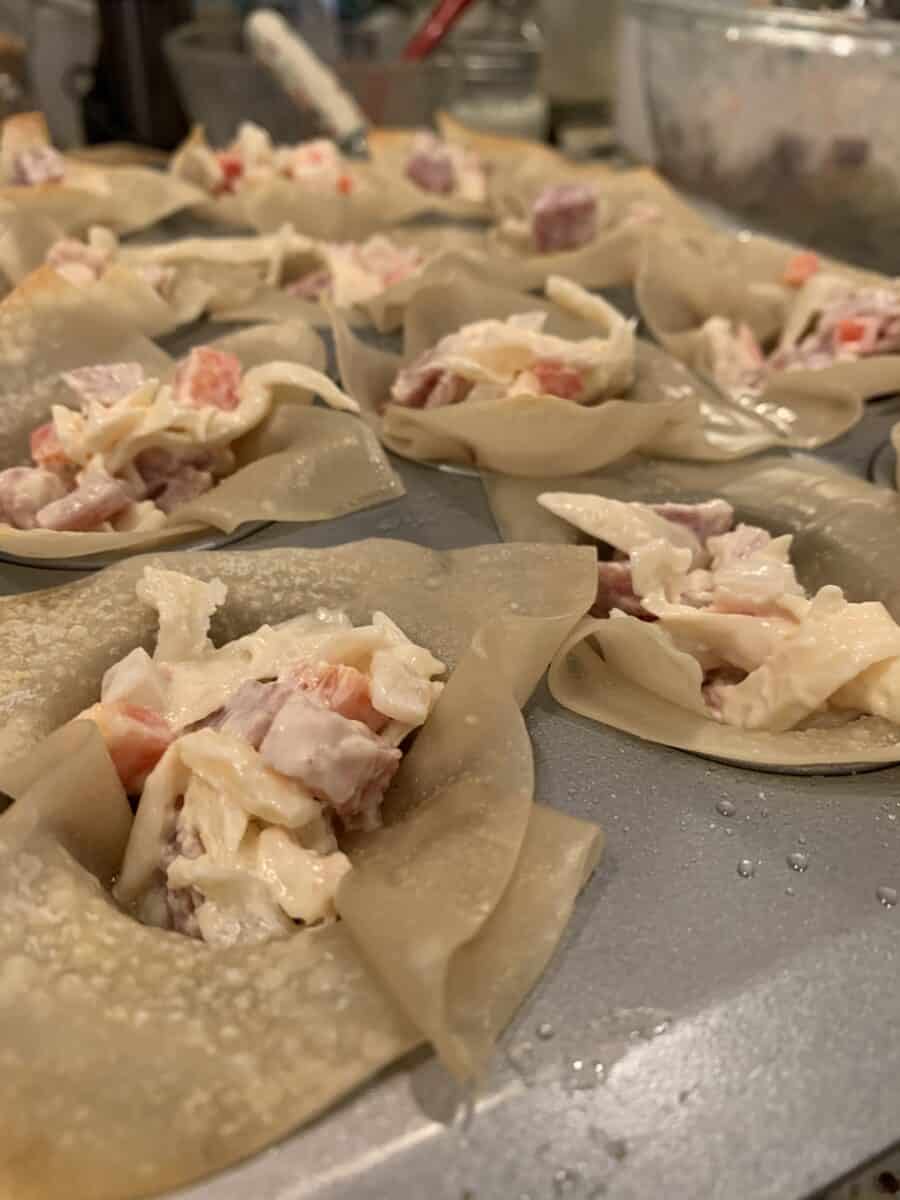 Dice the Ham and Red Pepper
Be sure to diced the ham and red pepper into very, very small pieces. You'll want to stuff each wonton as full as you can and with small pieces you ensure that every bite and every wonton is packed with all of the ingredients.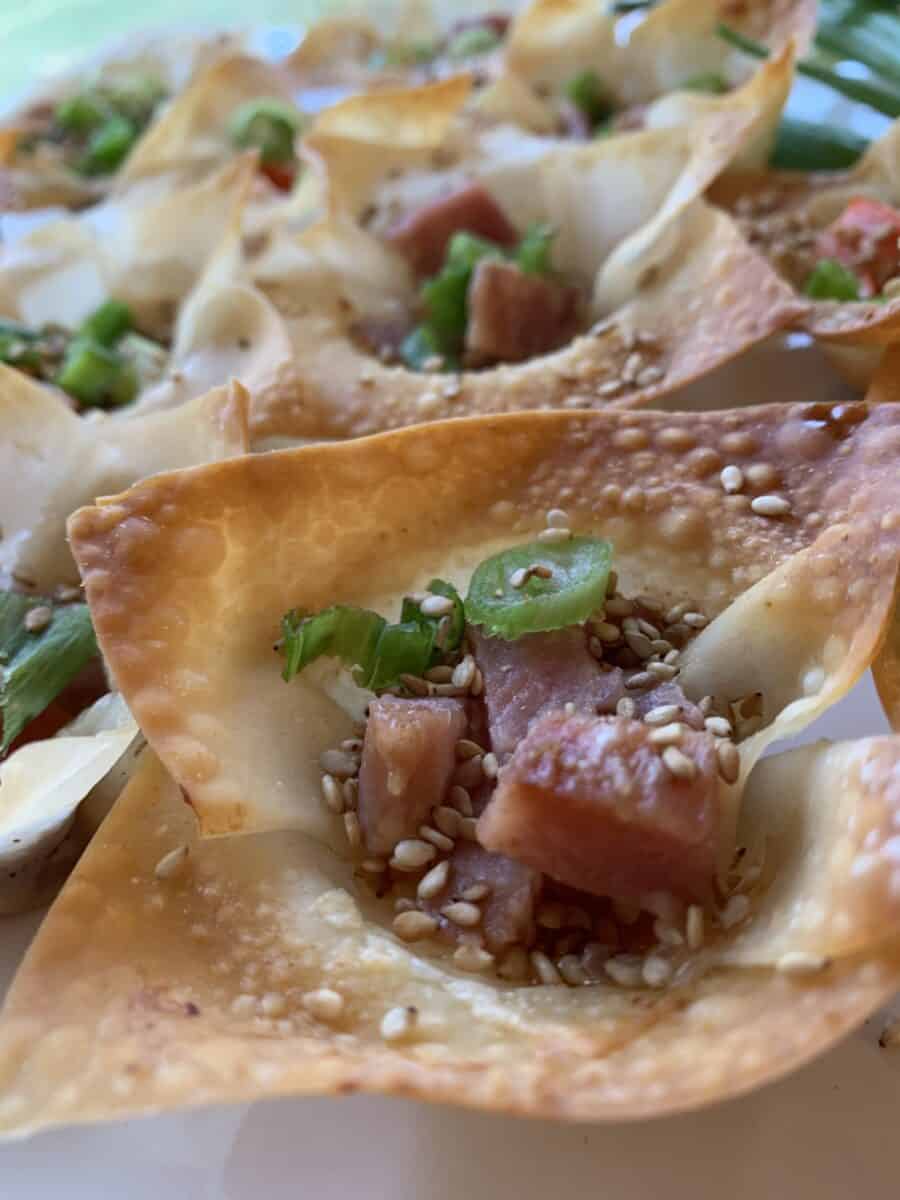 Top Tips and FAQ
Where do I buy wonton wrappers?
Most any grocery store will sell them. Look in the refrigerated section, usually in the area where you'll find tofu.
How can I tell if the wontons are fully cooked?
They bake fast in the oven and since the ham is already fully cooked, you'll just want to watch for the wonton wrappers to brown around the edges.
Can use a different meat instead of ham?
Yes, these are delicious with cooked sausage or diced pork loin.
Storage
The wontons will stay fresh and delicious for 3-4 days after baking.
Place each wonton in an even layer in a flat, covered container. If you need to stack them, place a sheet of waxed paper between the layers.
Serve as an Appetizer or Main Course
Pork Wonton Stars make a terrific appetizer. But if you are feeding just a few folks, this could easily be served as a main course, with a side salad.
Whether as a starter or the main entree, the next time you have leftover ham on hand, be sure to give these a try.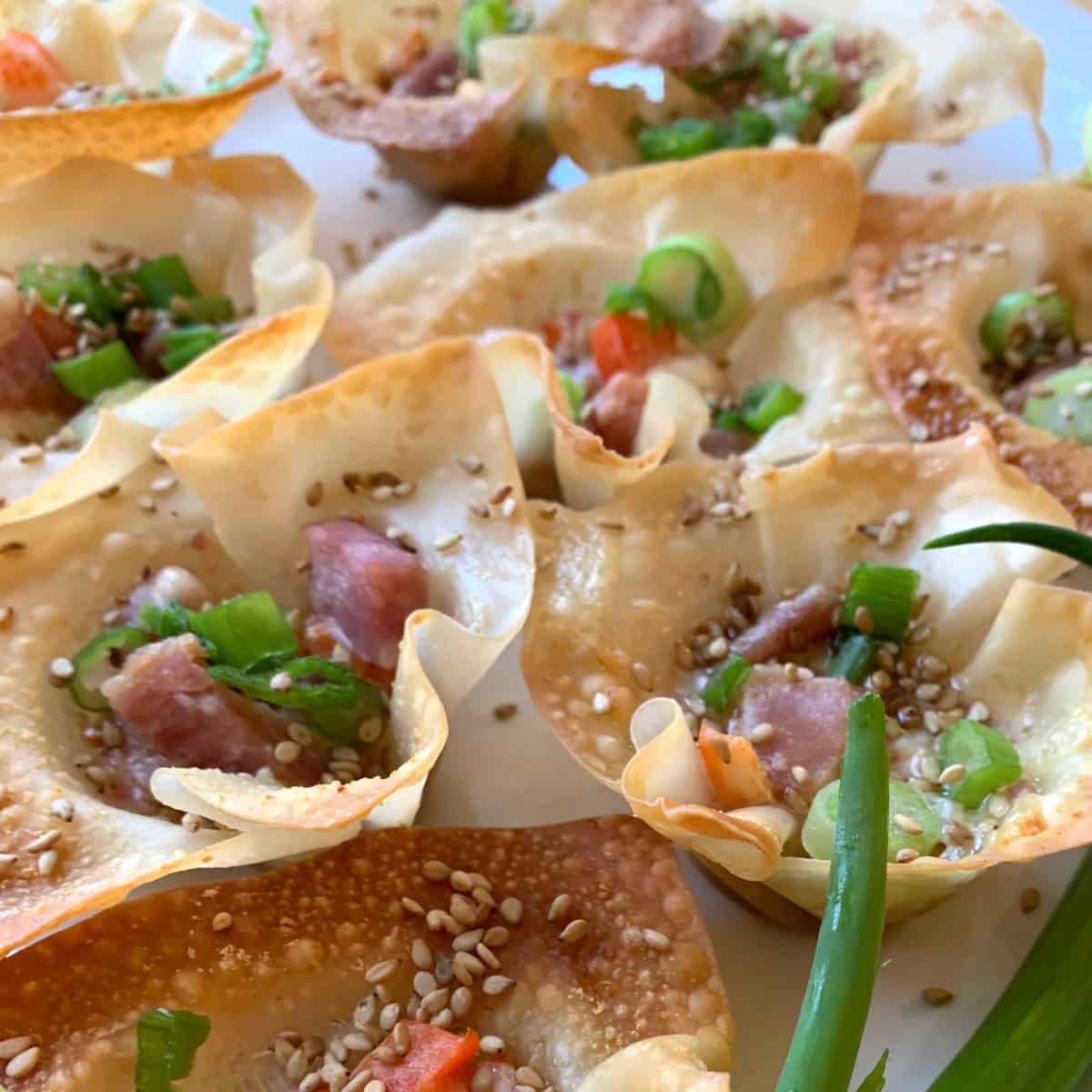 More Great Starters
There's something special about serving bite-sized appetizers. They are reasy to serve and help set the stage for the meal to come.
I love the shape and size of appetizer found by using miniature muffin pans. Here are a few more appetizers that bake in those mini-muffin cups.
Corn Dog Nuggets might remind you a trip to the county fair, but there's no corn dog stick involved in this recipe. Just bite-sized mini corn dog nuggets.
Philly Cheesesteak Bites are another mini version of an age-old classic flavor combination. If you like the taste of a Philly Cheesesteak then you'll love this smaller version of it as an appetizer.
I Love to Hear from You
Be sure to give a star rating to the recipes you make from the Crinkled Cookbook. I always love hearing from you. Sharing is great too! Use the buttons after the recipe to text it with just one click or send it to family and friends on Pinterest and Facebook. Enjoy.
Recipe