Forget the drive-thru. Cheeseburger Pie Without Bisquick includes all the flavors we love from a classic cheeseburger. Burger, onion, pickles and cheese. All that's missing is the hamburger bun, but you'll never miss it. The bun is replaced with a flaky and easy to make, pat in the pan crust. This is a family favorite recipe that kids and adults both love. Serve it with Cold Green Bean Salad or Red Potato Salad for a winning meal.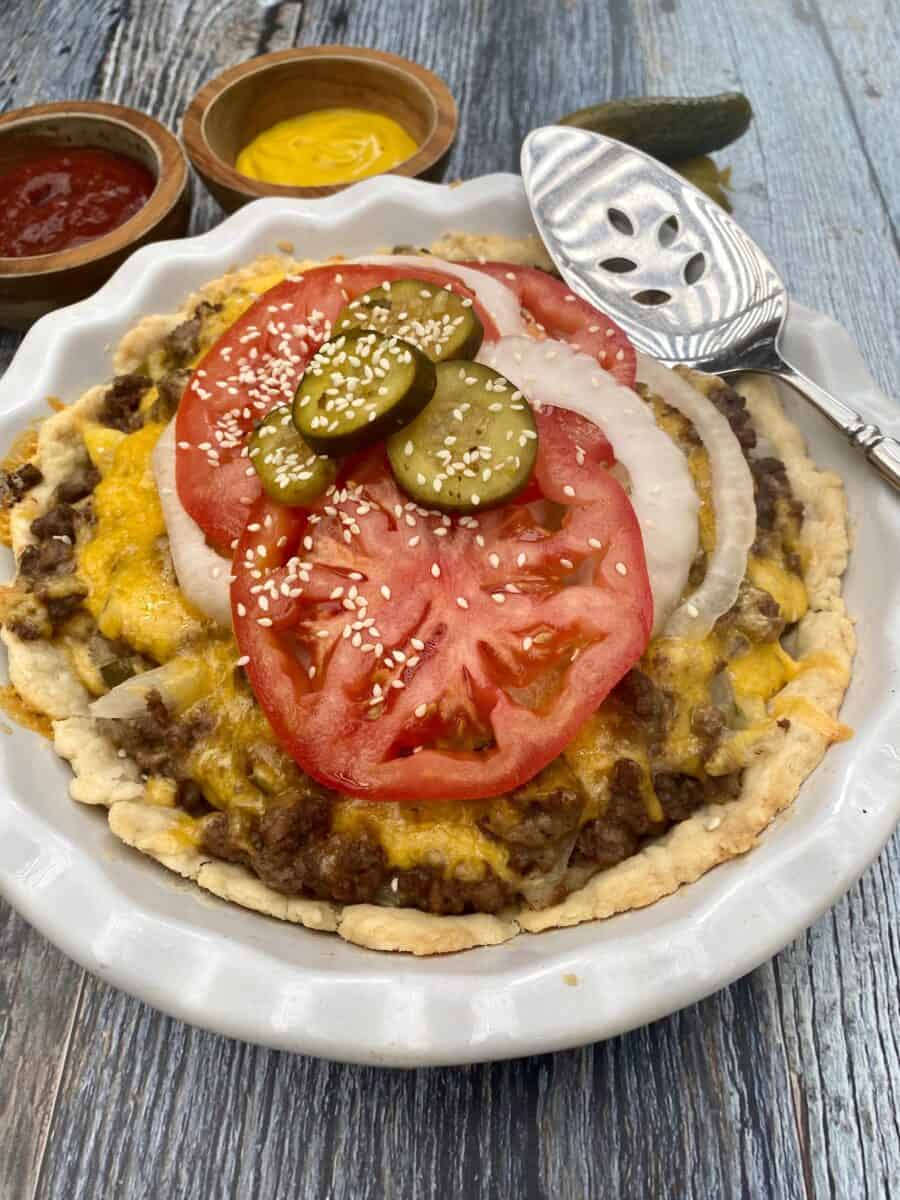 Jump to:
Ingredients to Have on Hand
This is a recipe that comes together with basic pantry staples. Here are a few other ingredients you'll need for your cheeseburger pie. Scroll down to the recipe card for all the details.
ground beef
dill pickles
cheddar cheese
onion
garlic
flour
salt
shortening
Easy-to-Make Cheeseburger Pie
This recipe is a great example of how to make a meal from scratch without spending more than an hour in the kitchen. The filling for a quick cheeseburger pie is easy to prepare in a skillet on the stove.
The crust comes together quickly. You could even use store-bought pie crust.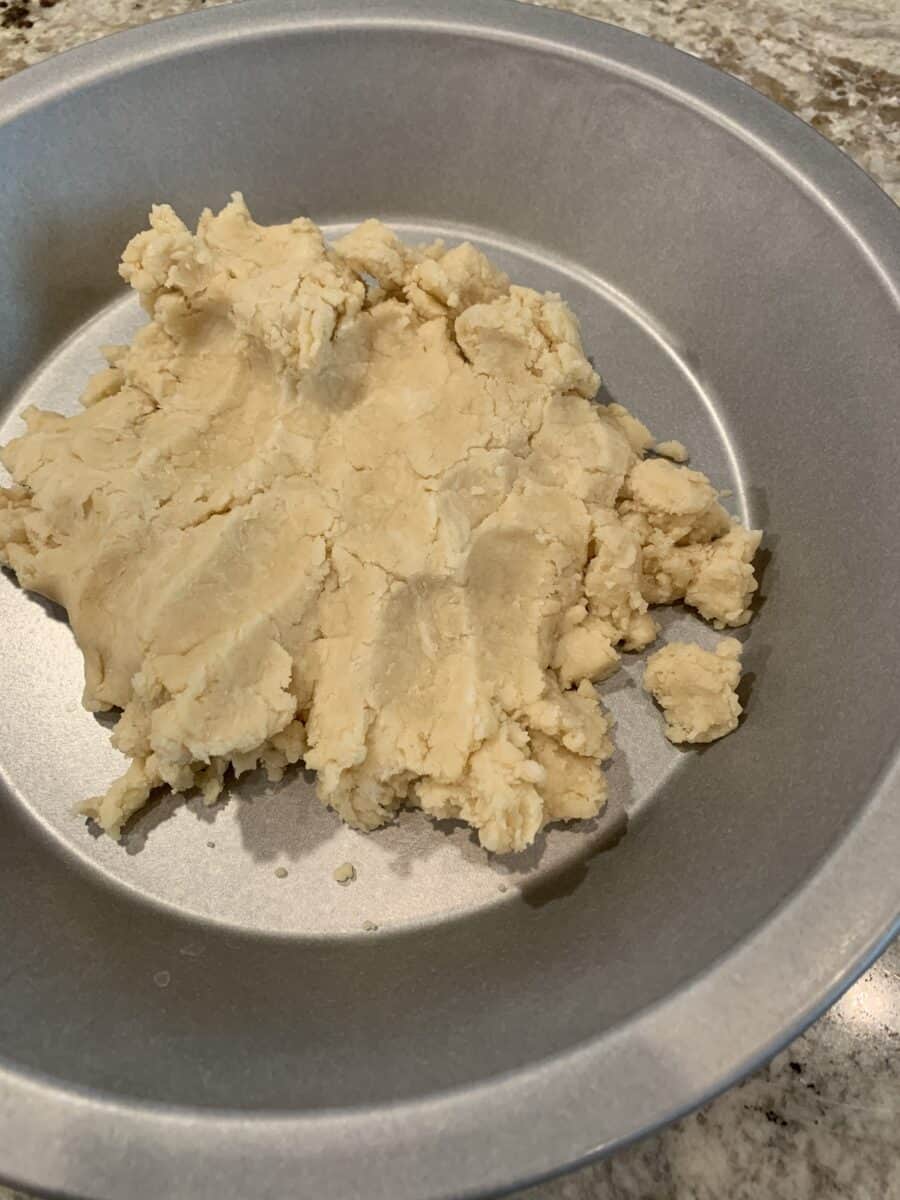 No Bisquick Needed
There's no rolling out a pie crust for this no-Bisquick cheeseburger pie crust.
Simply combine the flour, sugar and shortening in a bowl, then sprinkle with water and blend.
In the recipe, I suggest using a pastry blender to combine the ingredients, but your fingers can do just as good a job. Another plus about using your hands is that it makes it easy to know immediately if you've added enough water for the dough to hold together. You can feel it when the crust is ready to pat in the pan.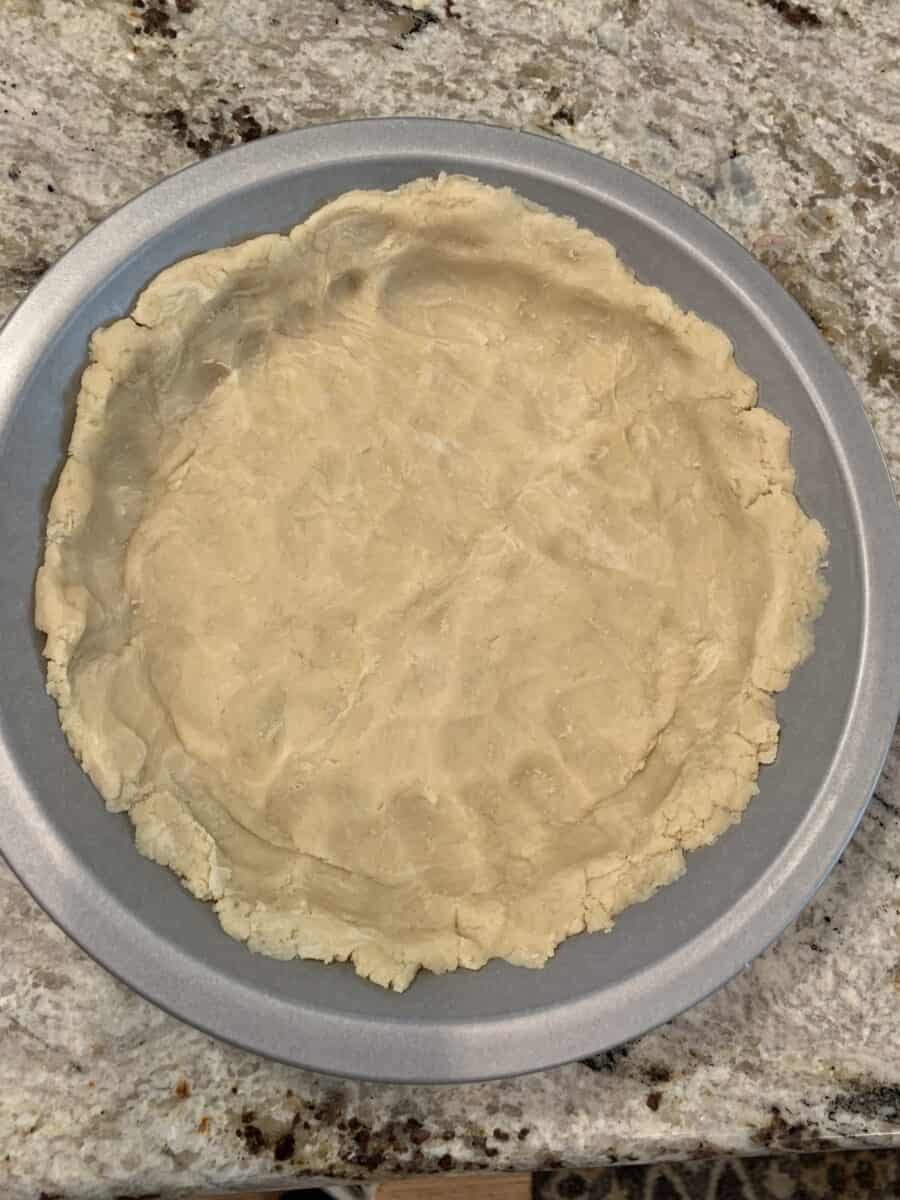 Pat the crust ingredients into a 9" or 10" pie plate, a quiche dish or a 9" square baking dish. Place in the oven and bake for 15 minutes at 425° F
While the crust is baking, it's time to prepare the cheeseburger filling.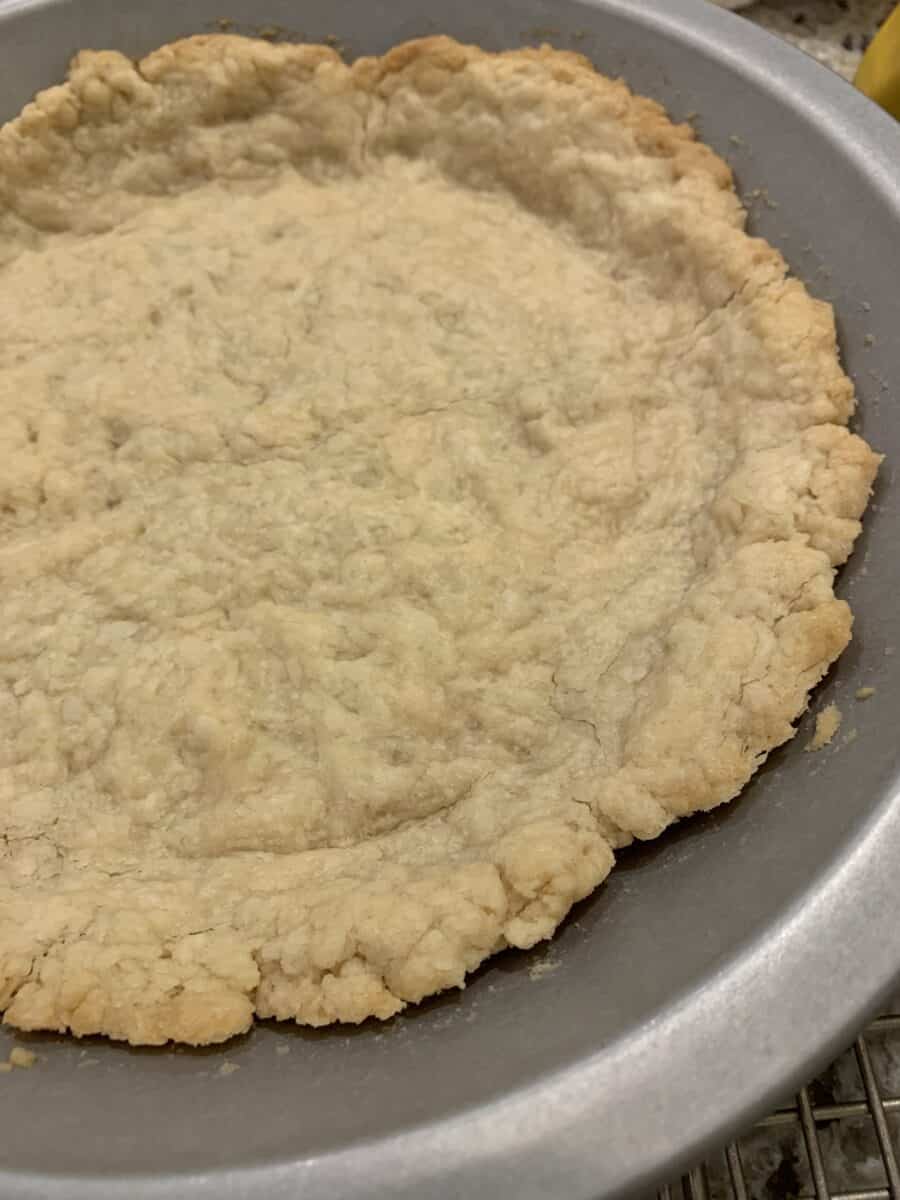 Thick, Sturdy Crust
You'll want to crust to be a bit thicker than the crust we make when we prepare pies. This crust needs to be fairly thick and sturdy.
It's going to hold all those wonderful cheeseburger pie ingredients. But be assured, even though it's thick, the crust will be tender and perfectly flaky.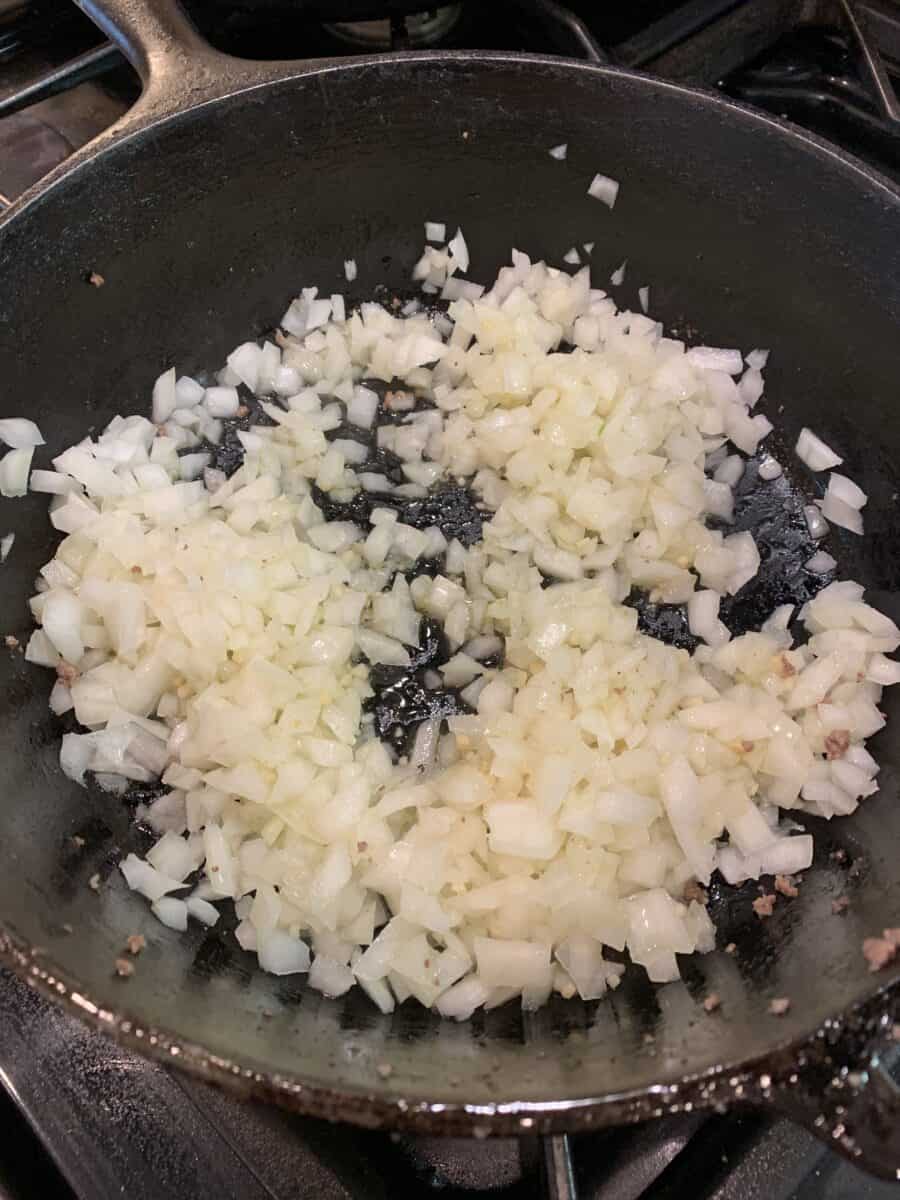 Prepare the Cheeseburger Pie Filling
The filling for Cheeseburger Pie without Bisquick cooks in a skillet on the stove. Super easy. This recipe comes together quickly and is the perfect dinner when everyone feels like cheeseburgers, but no one wants to grill outside.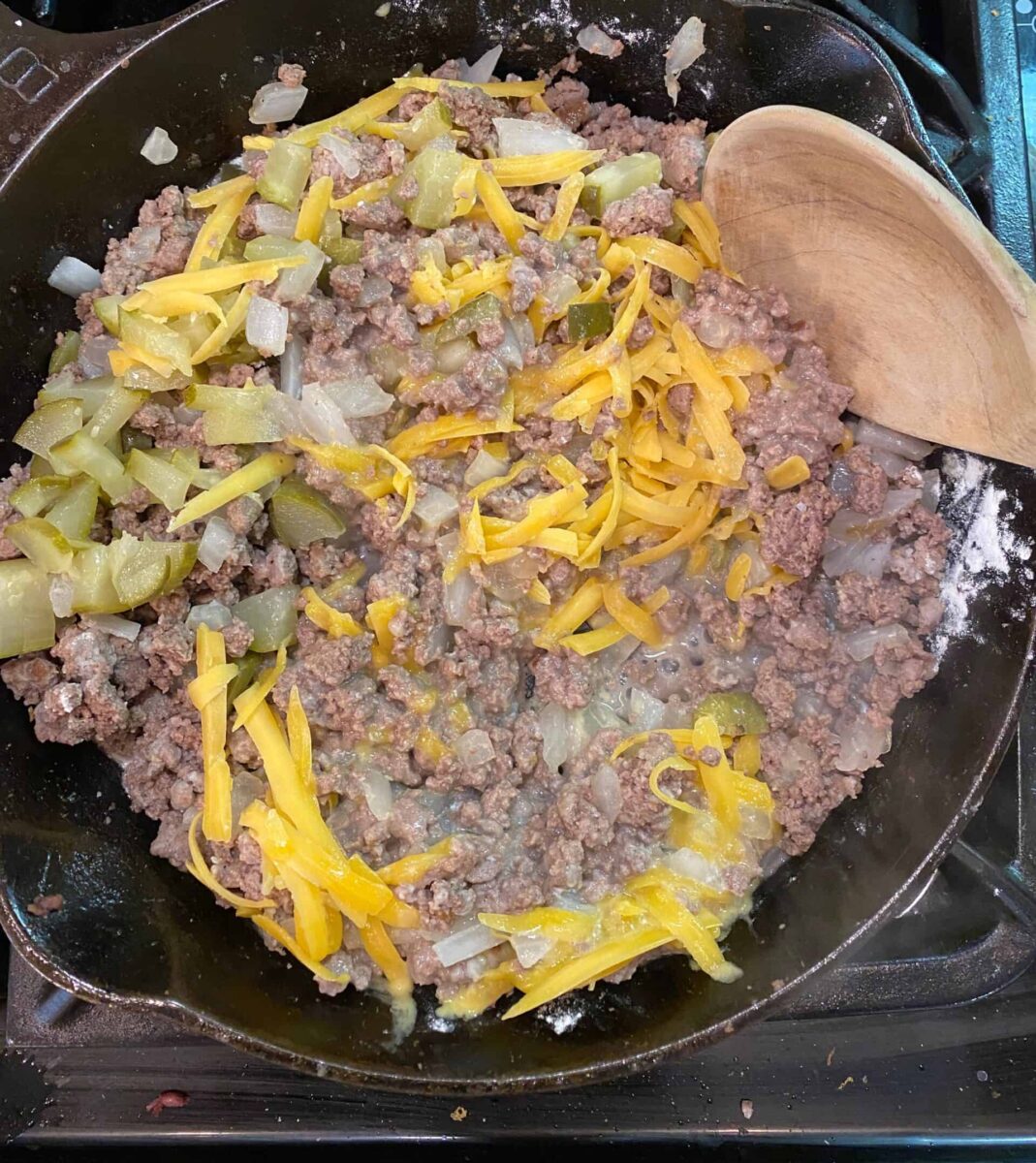 Star by browning the ground beef in a skillet on the stove. Remove the beef and drain it on paper towels. Then using the same skillet, cook the onions and garlic this gives the onions a chance to soften and caramelize.
After the onion and garlic cook, stir in the cooked beef, shredded cheese, diced pickles, pickle juice, milk and flour.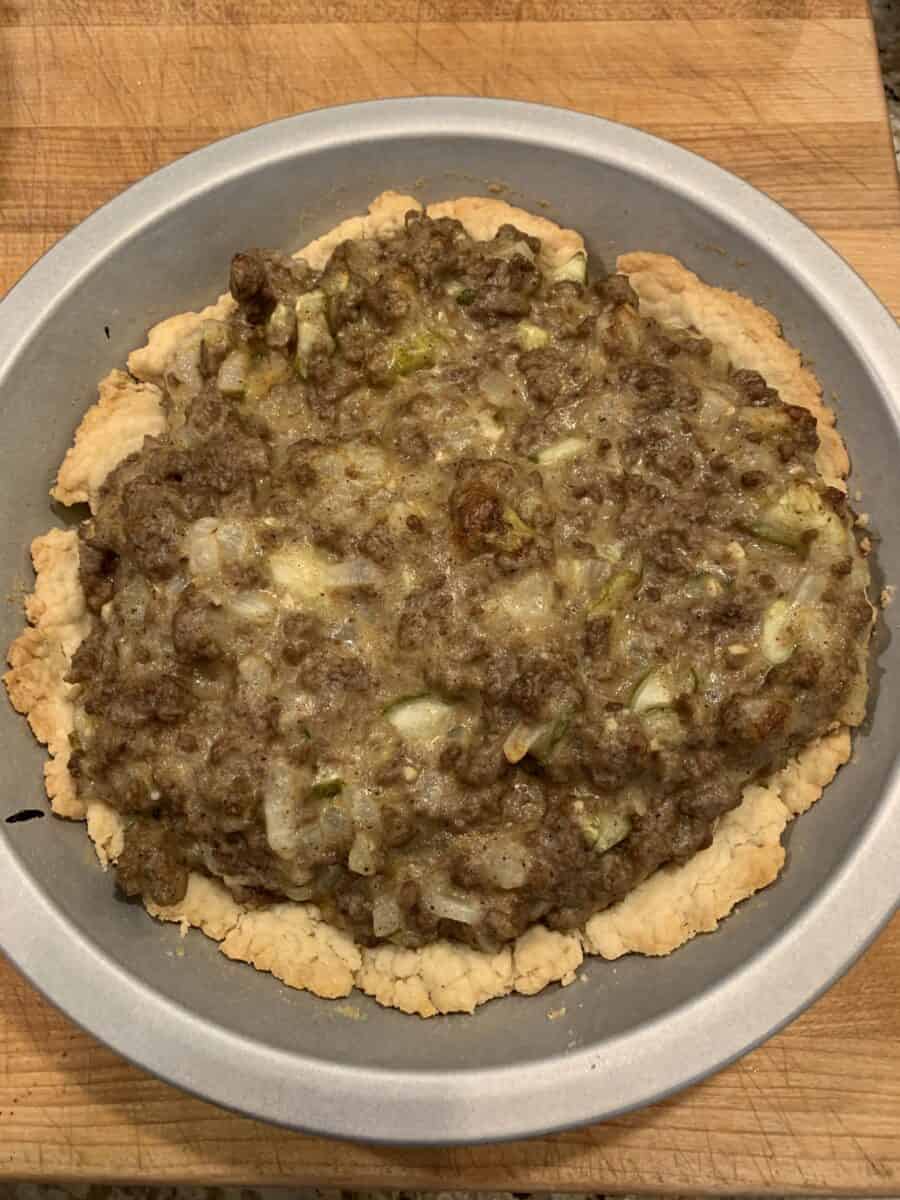 By now the crust will be ready. Remove it from the oven and spoon the cheeseburger pie filling into the crust. Return it to the oven and bake for another 15 minutes.
After that, remove from the oven and top with another cup of shredded cheese and bake for another 5 minutes, until the cheese melts.
Cheeseburger Pie Recipe
We don't often think of pie as a savory, dinner recipe. But when you fill it with great flavors and ingredients that go into a cheeseburger and combine it with a flaky crust and it's a fantastic new spin on a cheeseburger - minus the bun and minus Bisquick which is sometimes used.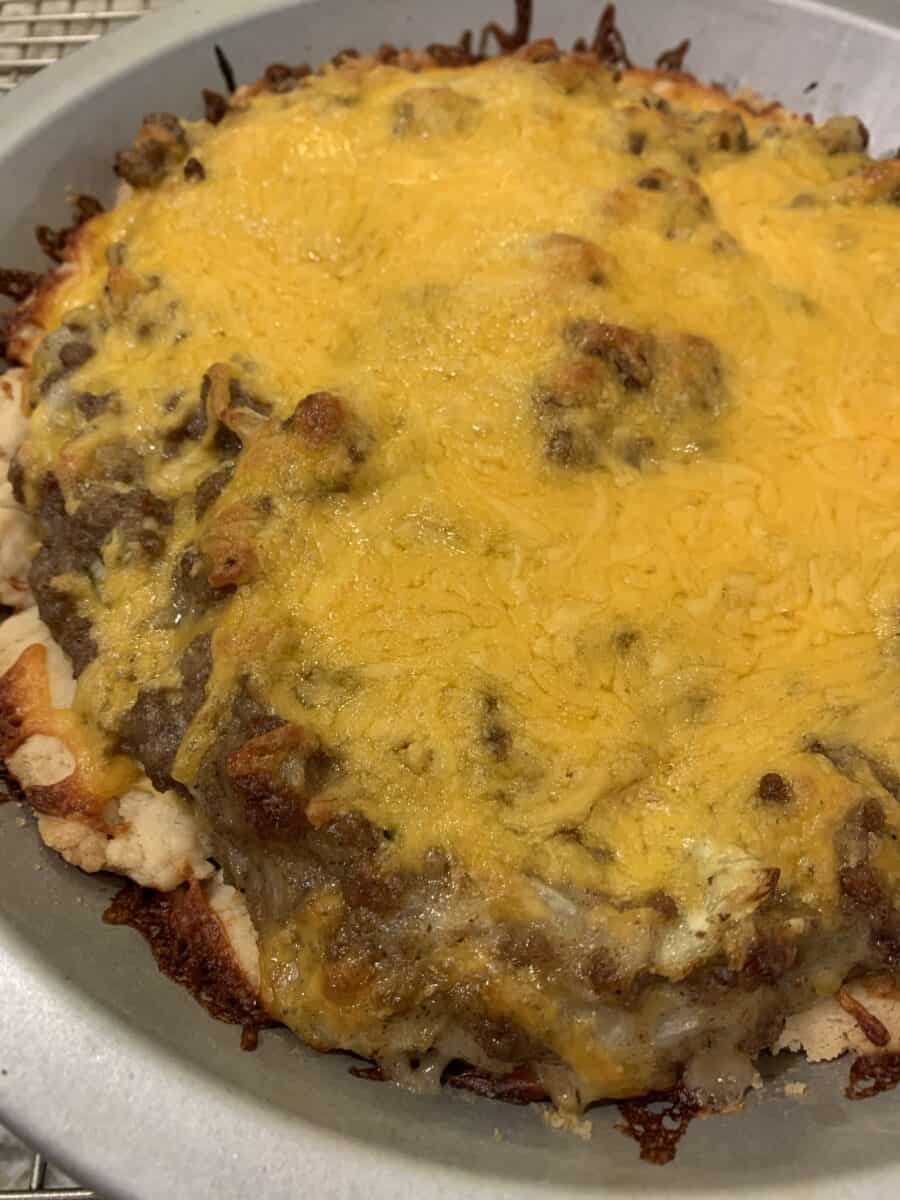 This is a family favorite recipe and I think your family will love it too. Be sure to serve it with plenty of ketchup and mustard.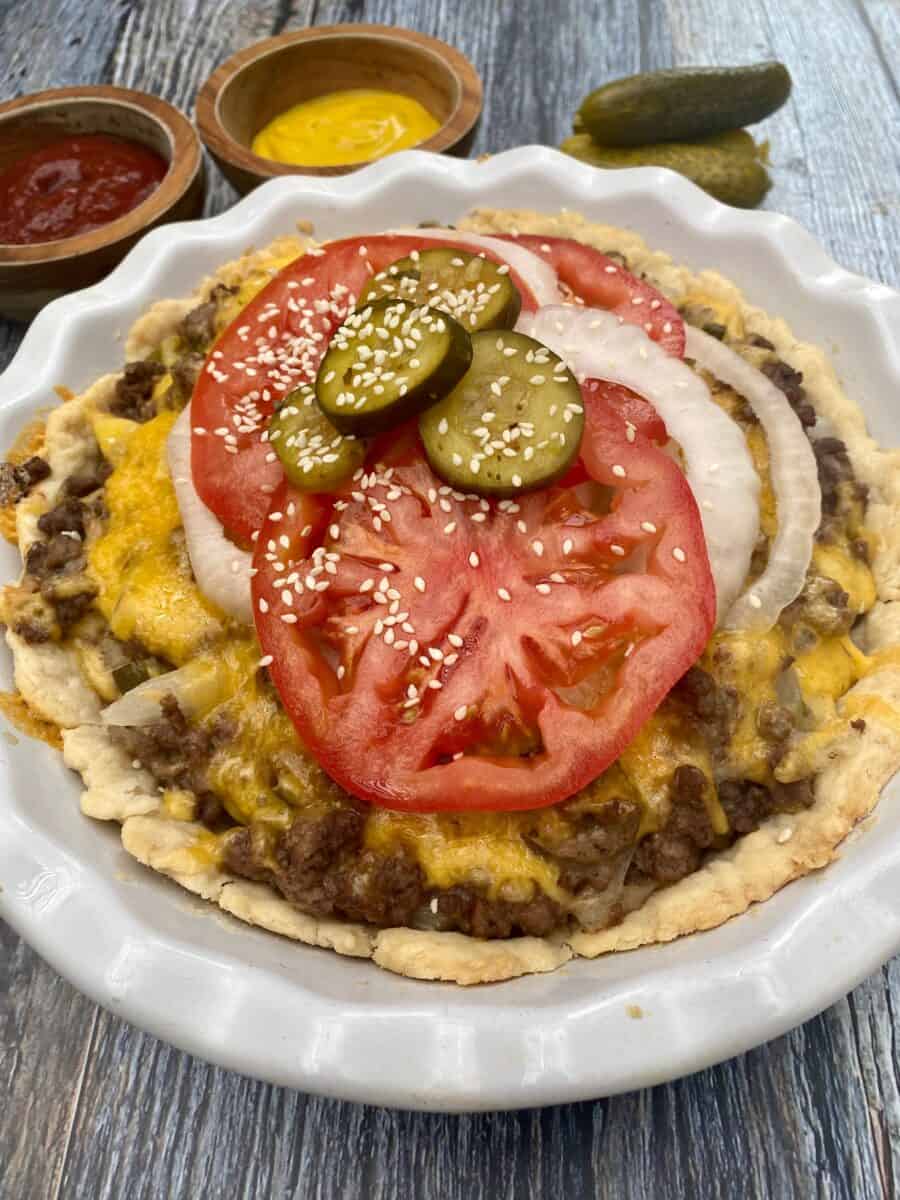 Topping for Cheeseburger Pie
To top off the baked cheeseburger pie, slice tomatoes, sweet onions, and more pickles and arrange them on top of the hot pie when it comes out of the oven. Either arrange the fresh ingredients on top or serve them on the side with plenty of ketchup and mustard.
For added taste and appearance, sprinkle sesame seeds on top of each serving.
The Inspiration
This recipe was inspired by one I found in the Alpha Bakery Children's Cookbook. It was a gift to my daughter from her Grammy (my mother-in-law) for Christmas in 1999. Thanks to the many years of regular use, it truly is a crinkled cookbook in our collection.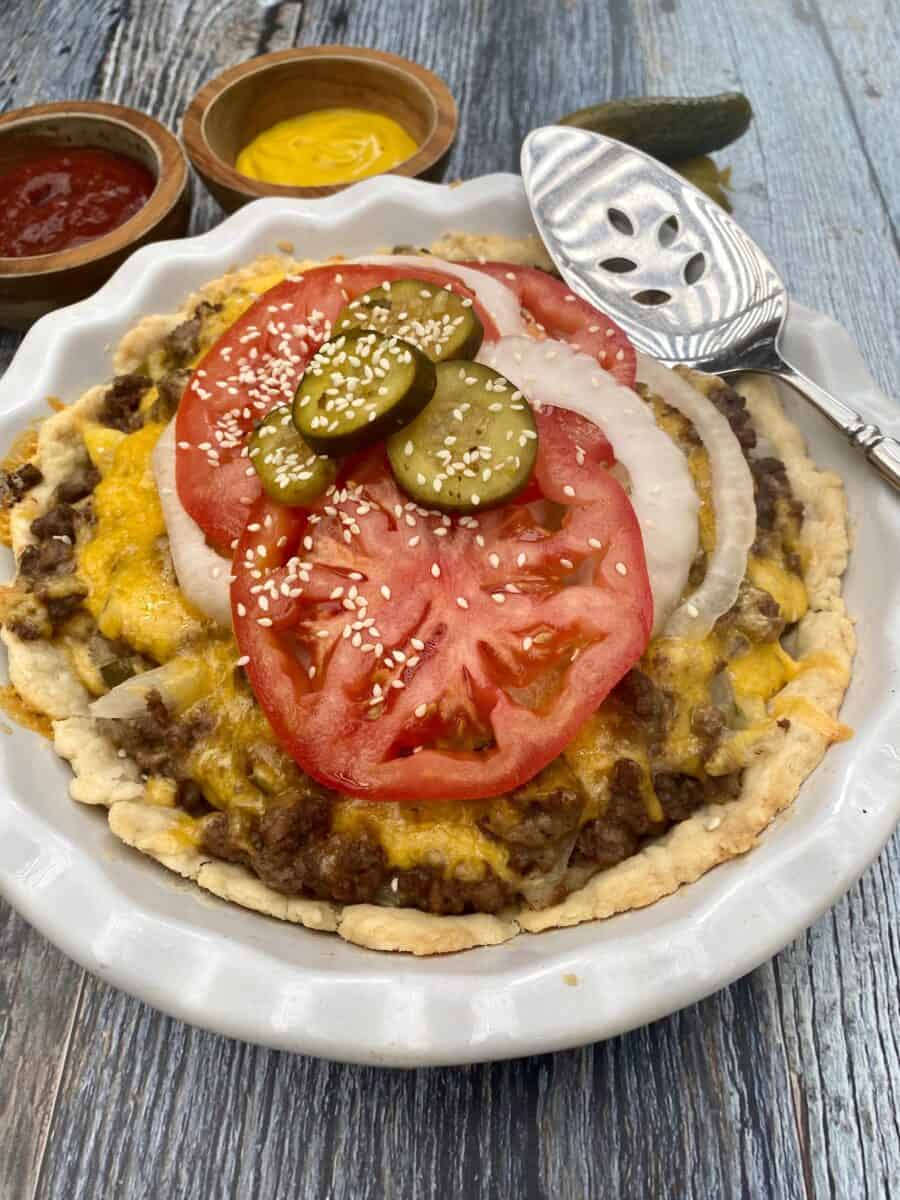 More Dinner Ideas
Here are a few more ideas for feeding your family on a busy weeknight, or any night. Or better yet, browse all my dinner recipes for a savory, tasty meal.
Rate the Recipe
Be sure to give a star rating to the recipes you make from the Crinkled Cookbook. I always love hearing from you. Sharing is great too! Use the buttons after the recipe to text it with just one click or send it to family and friends on Pinterest and Facebook. Enjoy.
Recipe