Green Chili Egg Casserole is perfectly versatile and wildly easy to make. The green chilis, eggs and cheese combine for a great breakfast casserole. But it's also worthy of a satisfying dinner. In a rush? Assemble the casserole the night before and bake for about an hour before you plan to dig in. Serve it alongside Cheesy Grits and Carrot Banana Muffins for a tasty brunch menu.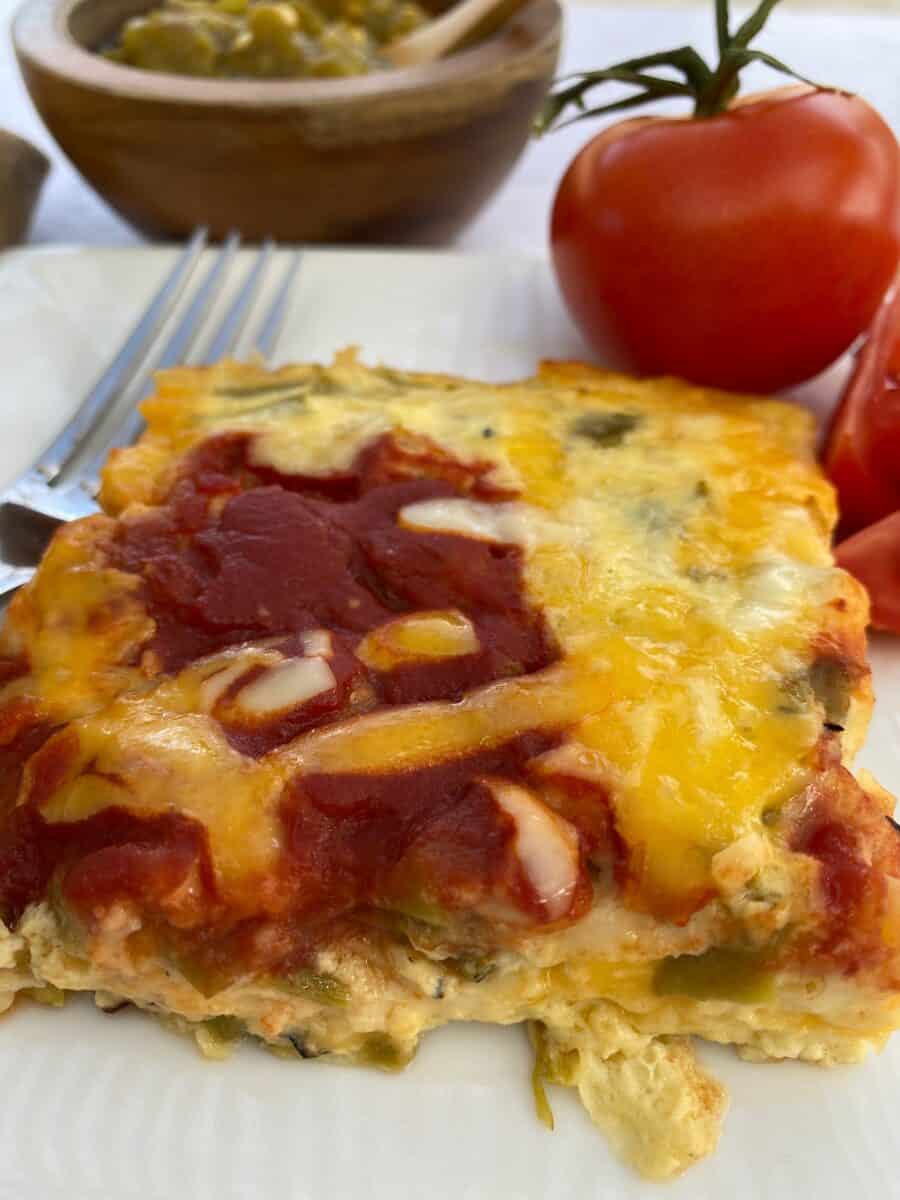 Note: Some of the links you find on this page are paid links, Amazon Associates. That means I make a small commission when you click and shop. Your cost is always the same and I only link to products or ingredients that I use and enjoy.
Jump to:
Ingredients to Have on Hand
Cheddar and Monterey Jack cheeses
Scroll down to the recipe card for all the details on how much you'll need for each ingredient and for the easy directions for Green Chile Egg Casserole.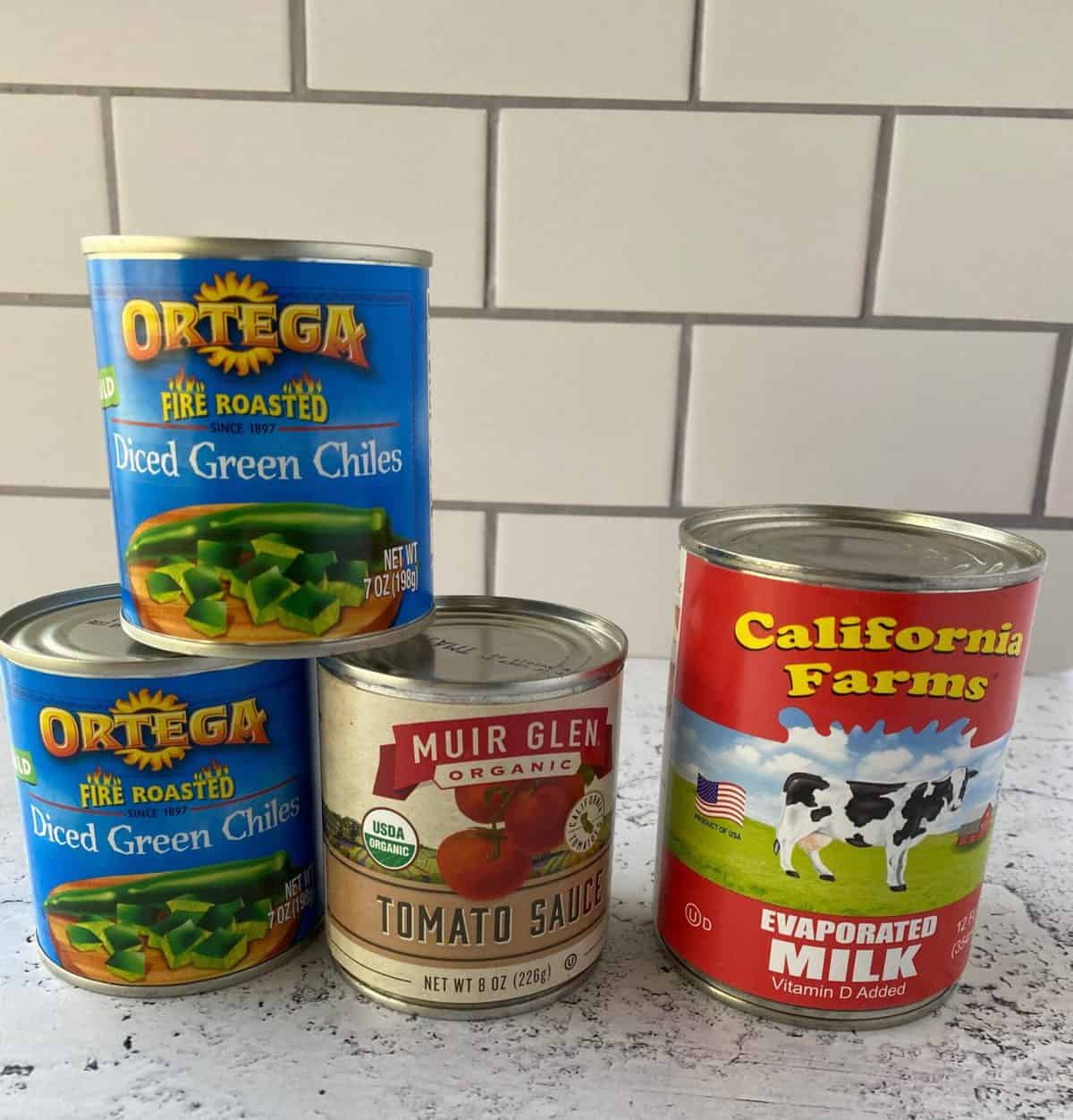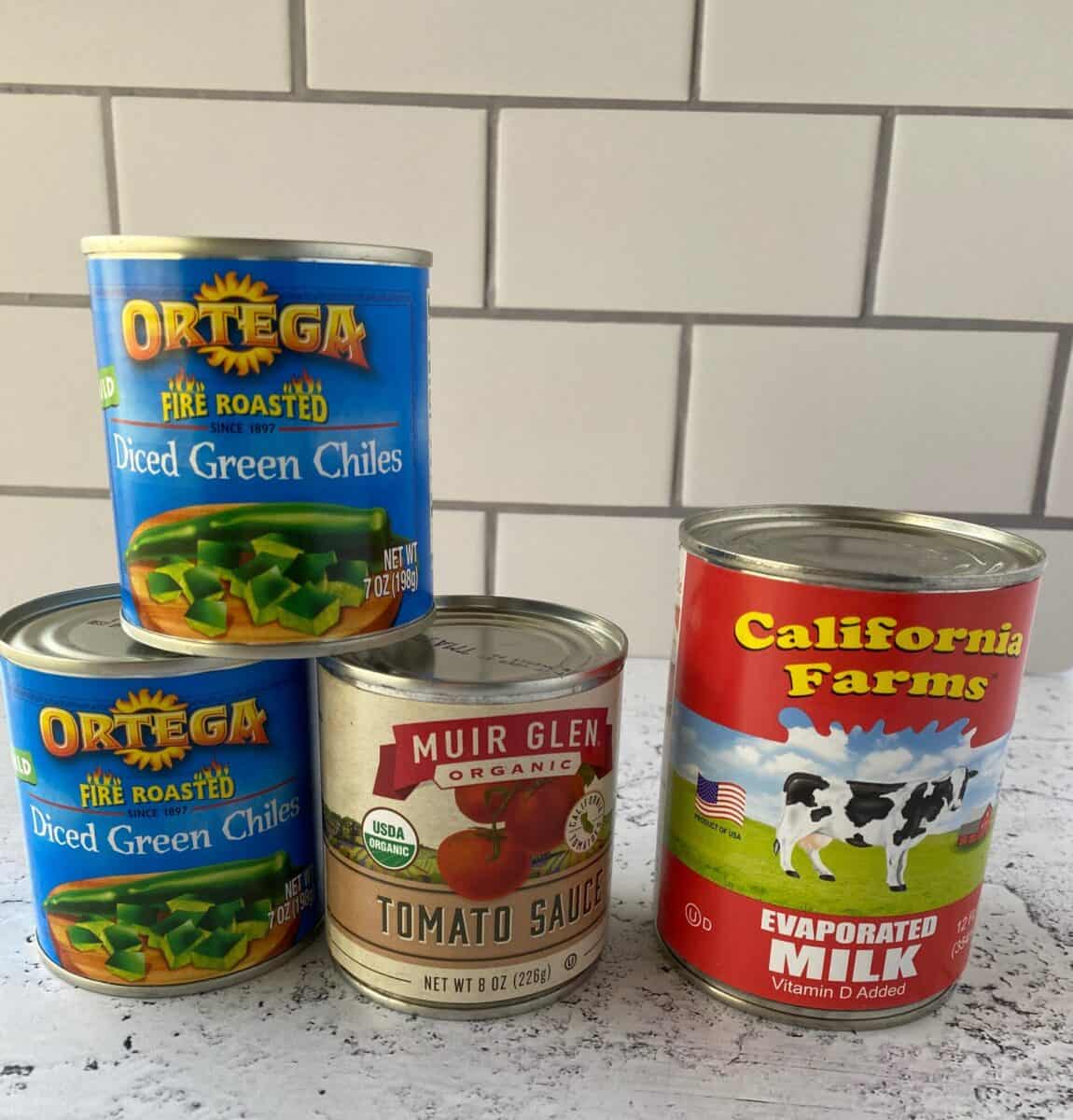 Whisk the Liquid Ingredients
A one-quart, or four-cup glass measuring cup is the perfect size to whisk together the can of evaporated milk, eggs and flour. It also makes for easy pouring when you layer the ingredients for this tasty egg casserole in the baking dish. This comes together similar to a cheesy quiche, just minus the crust.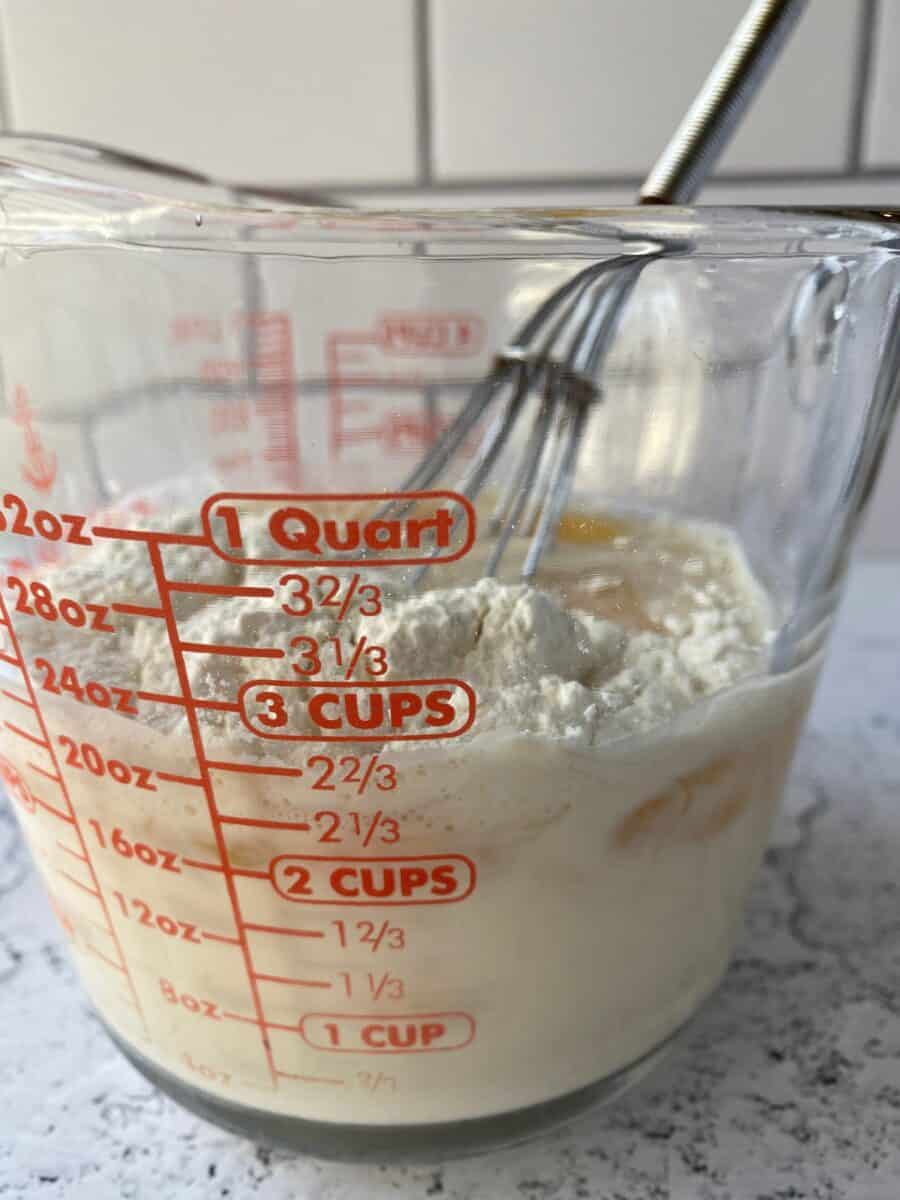 Recipe FAQs
Can I use all egg whites?
Yes. It's delicious when it's prepared with just egg whites and is incredibly fluffy. To get the appropriate amount of egg in the liquid ingredients, use 8 eggs and discard the yellow yolks.
Would fresh green chiles work?
Absolutely yes! Oven-roasting fresh green chiles, then chopping them into small sections and substituting them for canned green chiles is a fantastic option.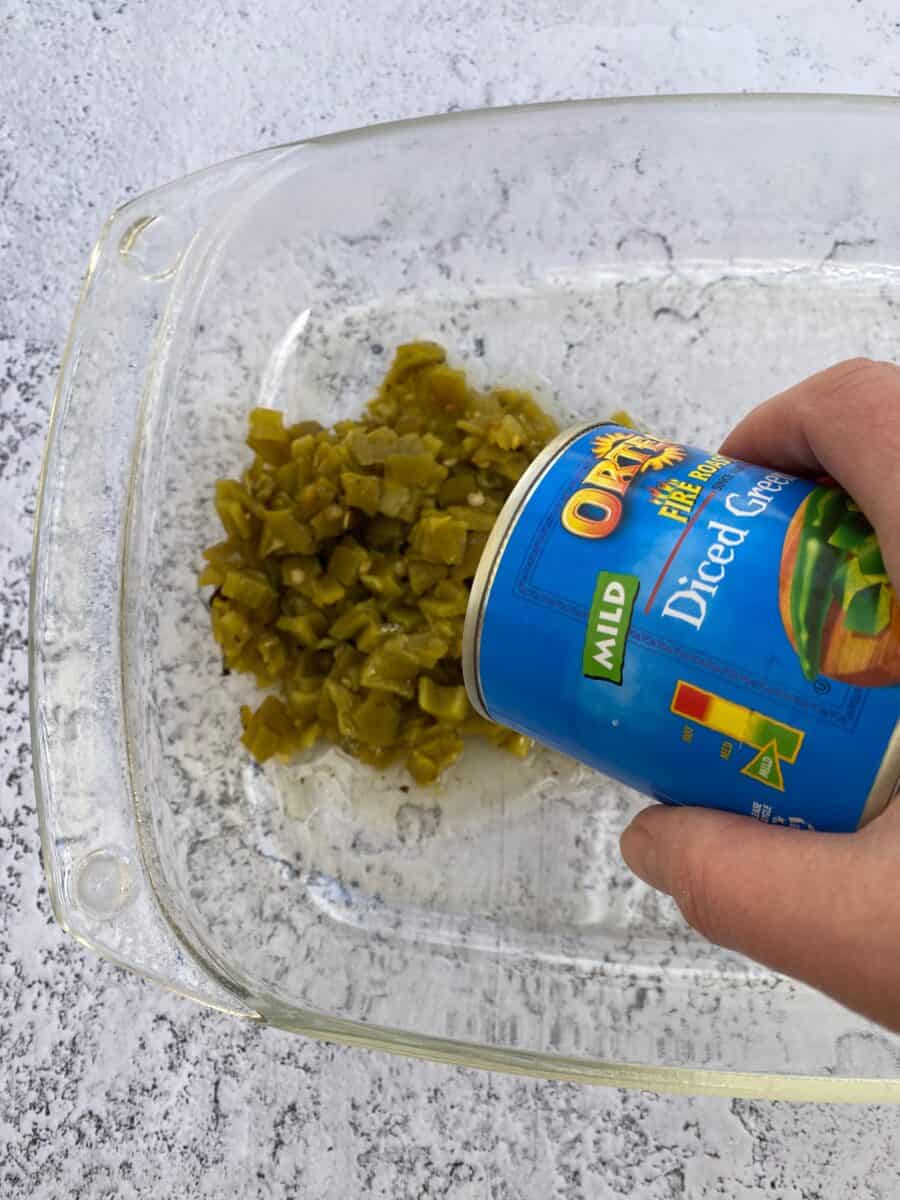 Baked Not Fried
Green Chili Egg Casserole might remind you of the classic Mexican dish chili relleno. The big difference is in that traditional dish the green chiles are stuffed with cheese and typically pan-fried in a rich egg batter. This casserole version has all the great flavor, minus the thick batter and the deep fat frying. Serve this with Mexican Fried Rice and Fresh, Homemade Guacamole for a great flavor combination.
This version of chili relleno is a baked, not fried option for enjoying a favorite recipe and oh so much easier to make than traditional chili rellenos.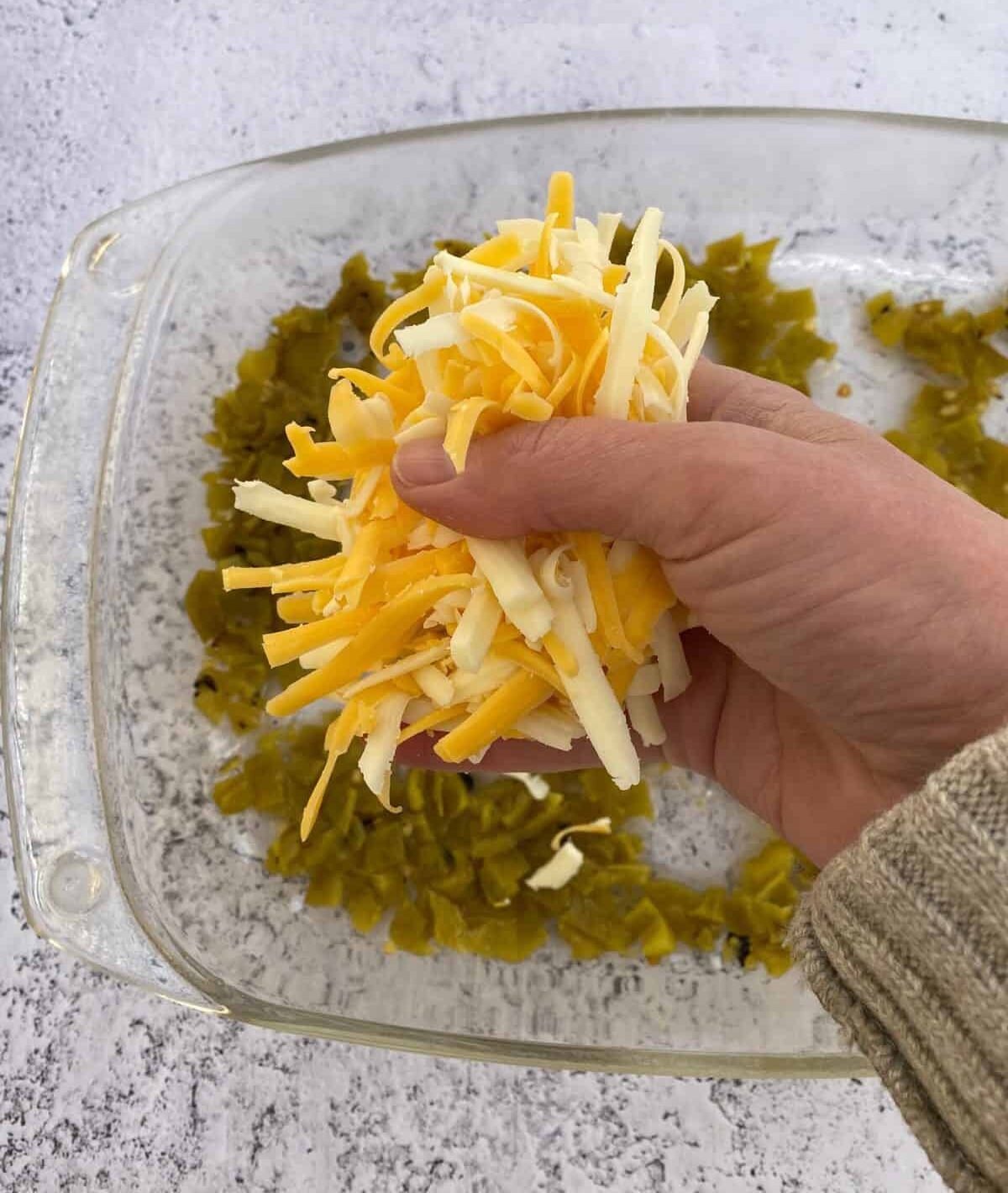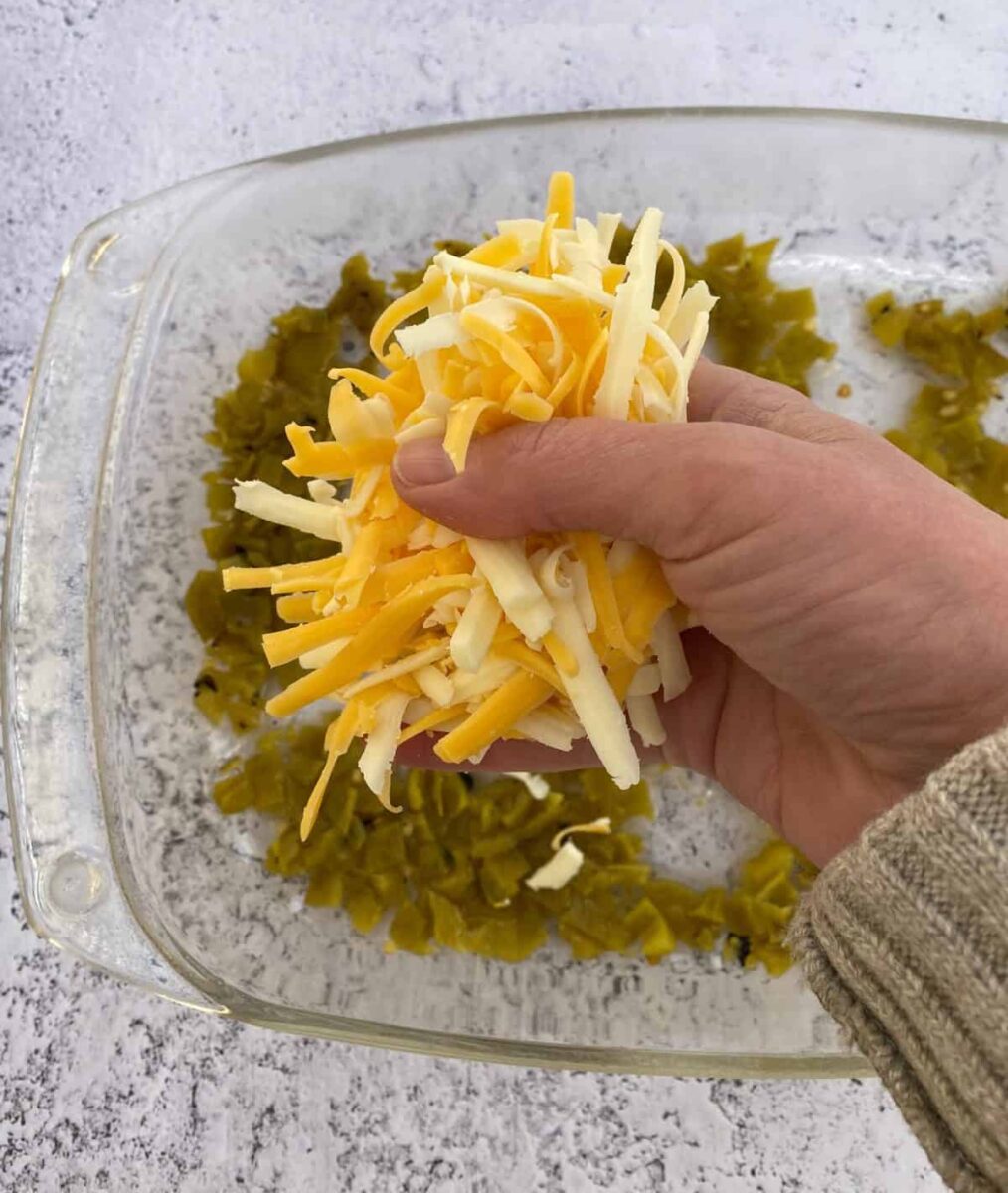 Egg Options for Egg Casserole
For many years I made this recipe using three egg whites and one whole egg, which gave the casserole a lighter almost fluffy texture. Then my husband made the recipe one day and decided to substitute whole eggs instead of egg whites.
We were so blown away by how it turned out I ended up modifying the recipe. It goes to show, that sometimes even our favorite recipes can be improved over time.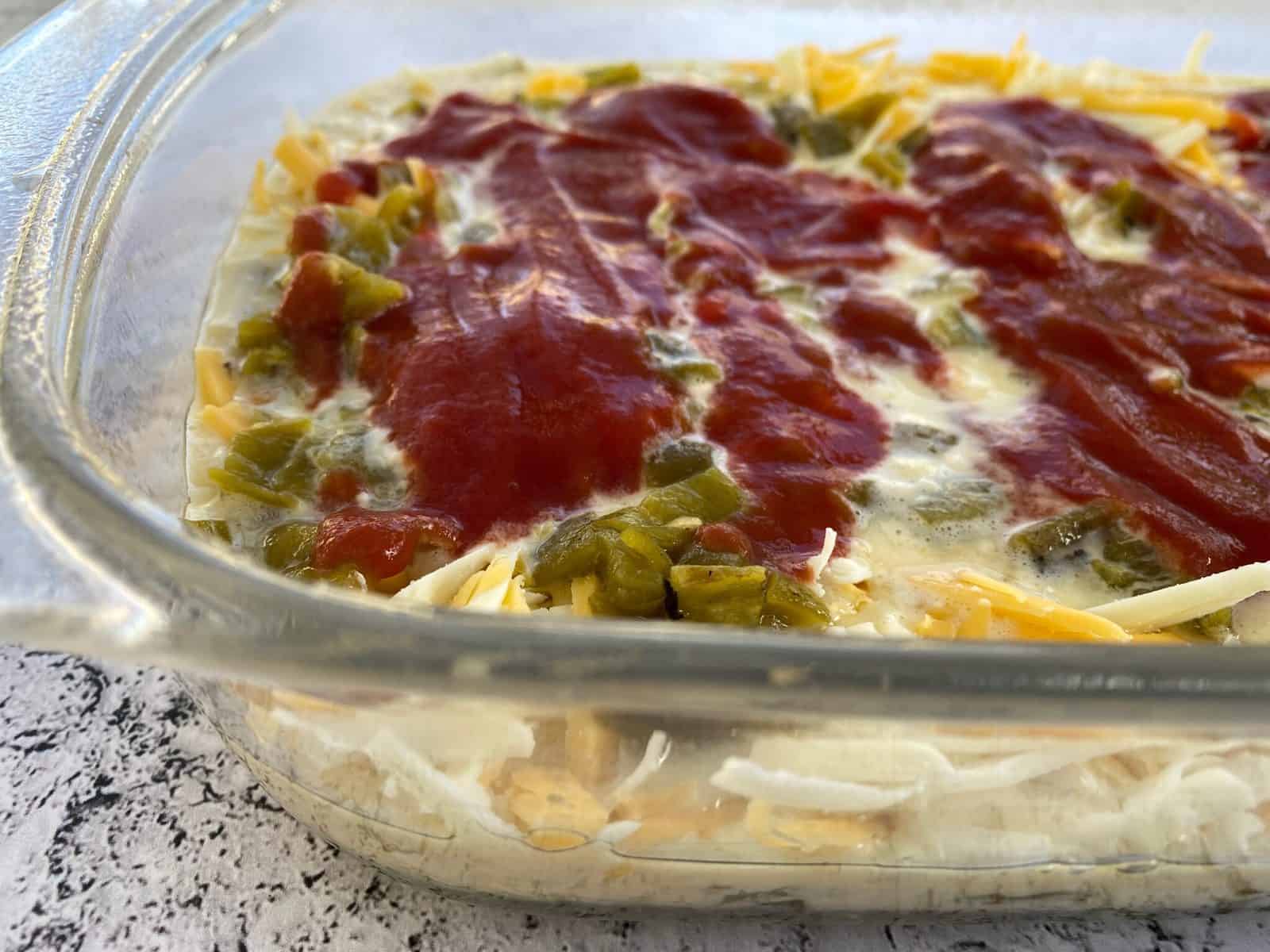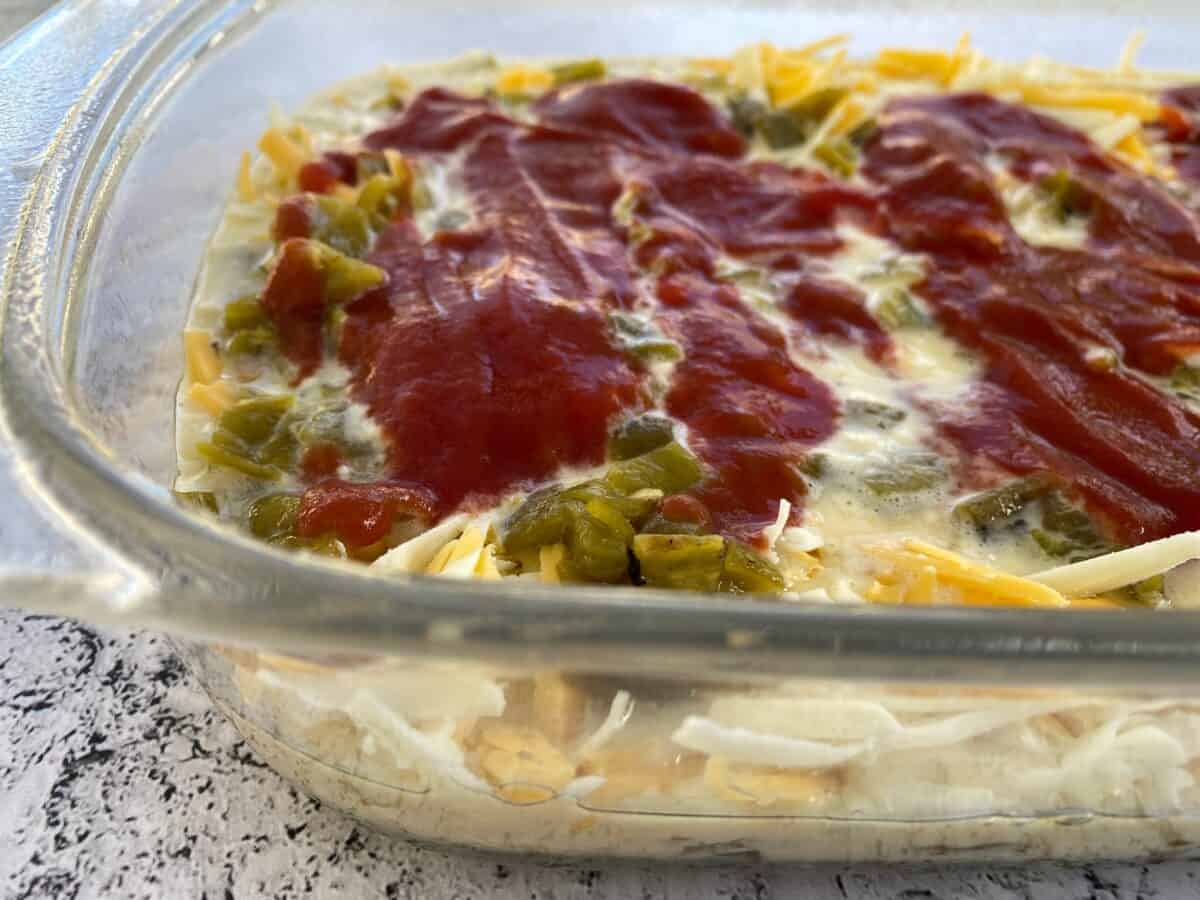 Green Chiles in a Can
Usually with a recipe for classic chili relleno the green chiles are either whole and stuffed with cheese or sliced in half. I have made this recipe using halved green chiles and it's delicious, but when it comes to easy prep and easy slicing and serving, those fire-roasted, diced green chiles in a can work great.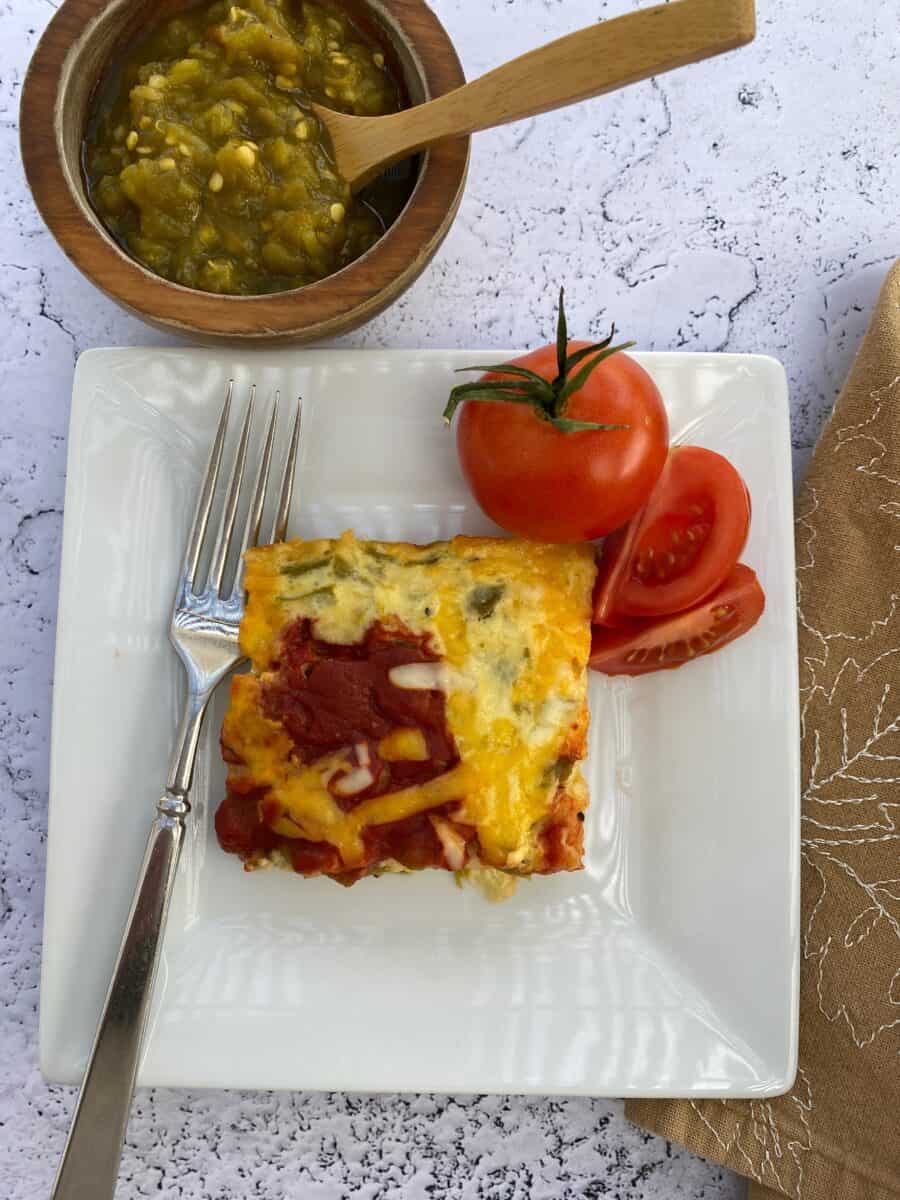 Storage and Leftovers
Green Chili Egg Casserole stores well in the refrigerator for 3-5 days which makes for quick delicious breakfasts on the go.
My kids love to warm up squares of the casserole in the microwave for a quick breakfast, even when time is short on a busy morning.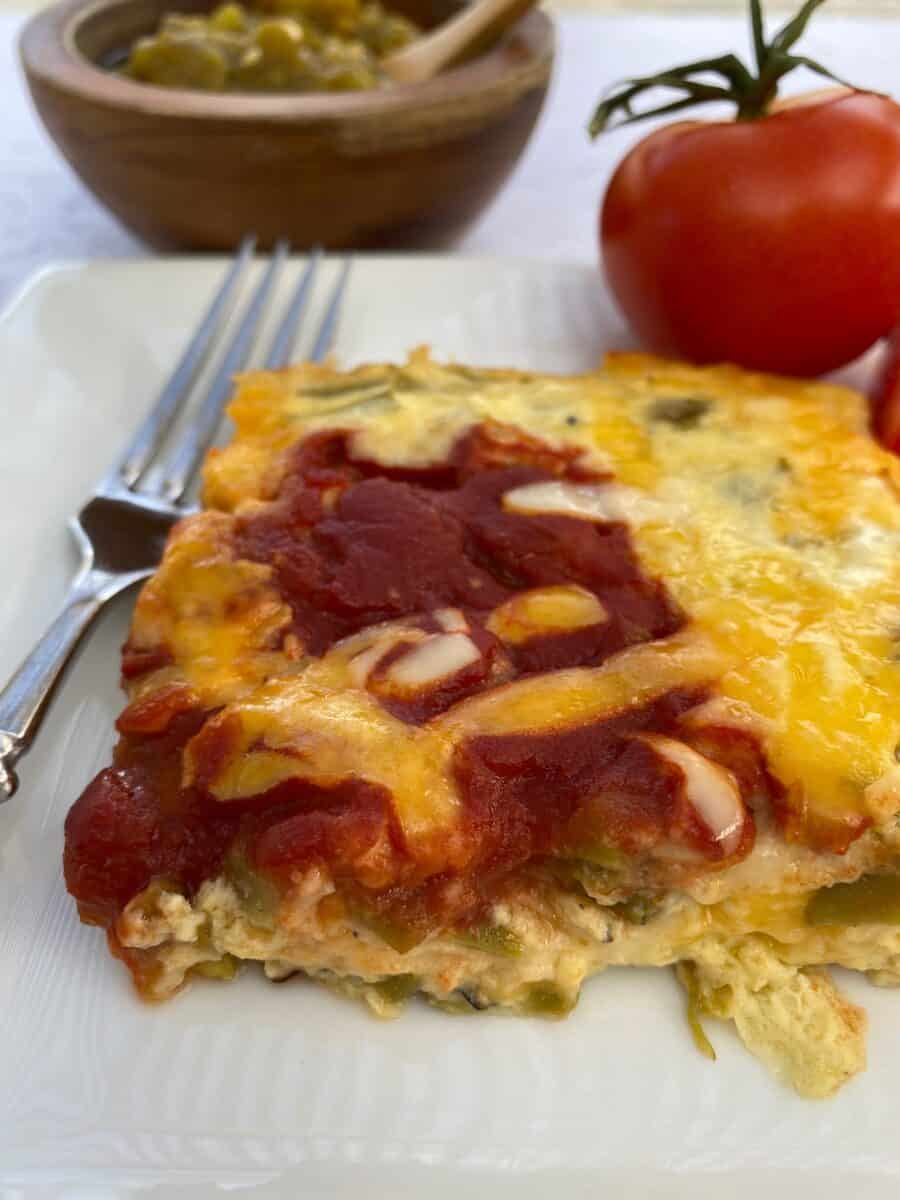 Is it Chili or Chile?
Such a dilemma! How to spell the main ingredient in this Green Chile and Egg Casserole. I take comfort in knowing even Webster's dictionary offers three spellings. The old journalist in me yields to the Associated Press preference for "chili" with an "i" instead of an "e," but no matter how you spell it, this is a delicious way to serve green chilis.
The Inspiration
I've been making Green Chili Egg Casserole for years! It's adapted from a recipe I found in the Healthy Homestyle Cooking cookbook back in 1994. It's the cookbook that inspired me to use egg whites instead of whole eggs in this recipe.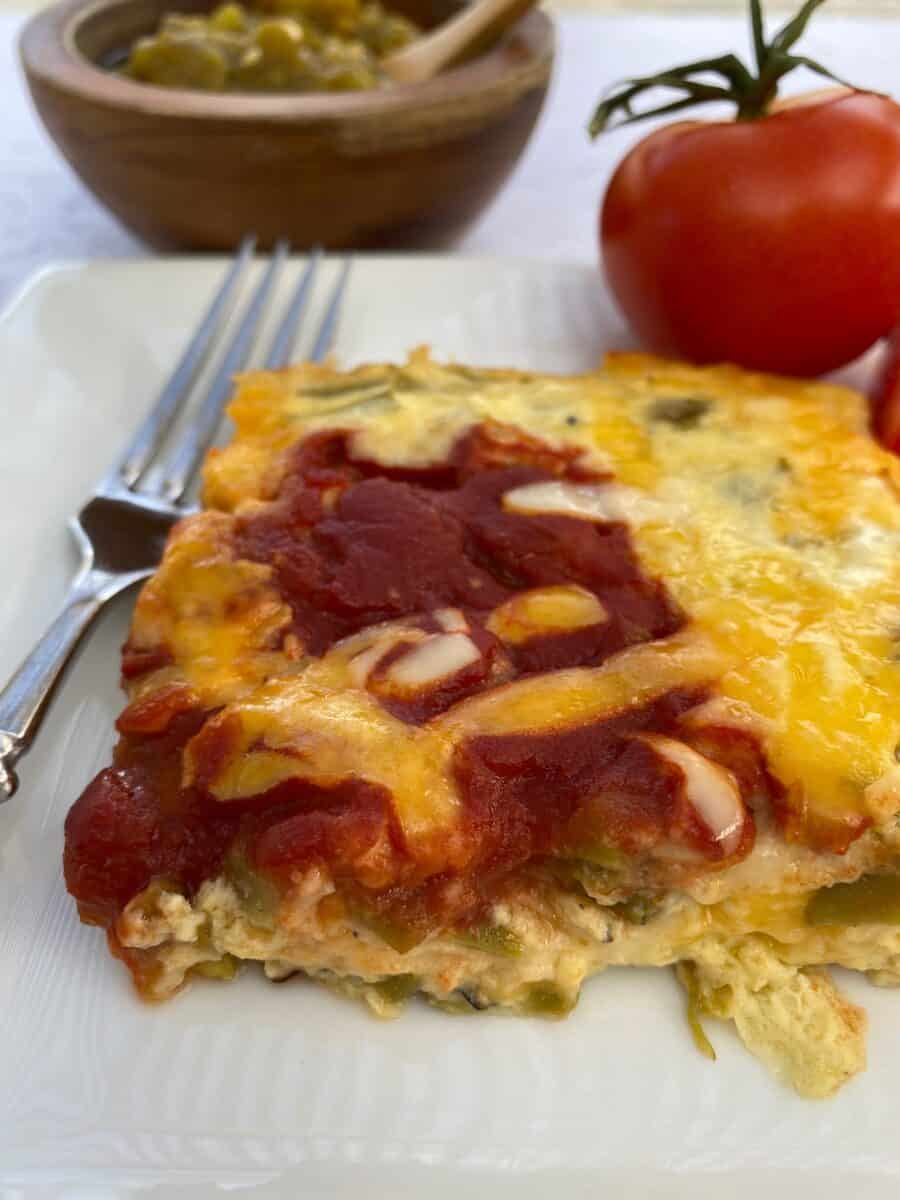 More Recipes that Use Eggs
Eggs are an incredibly versatile ingredient and certainly the star of the show in Green Chile Egg Casserole, but here are a few more recipes that use plenty of eggs. From sweet desserts to savory main course entrees.
If you tried Green Chili Egg Casserole or any other recipe on my website, please leave a 🌟 star rating and let me know how it goes in the 📝 comments below.
Recipe