Croissant Bread Pudding is a delicious combination of the rich, buttery flavor of croissants, with fresh fruit and a sumptuous vanilla pudding. But perhaps the best part of this bread pudding recipe is you can serve it warm or cold and it's assembled in less than 15 minutes. Serve it for your next gathering of family and friends at brunch or for dessert.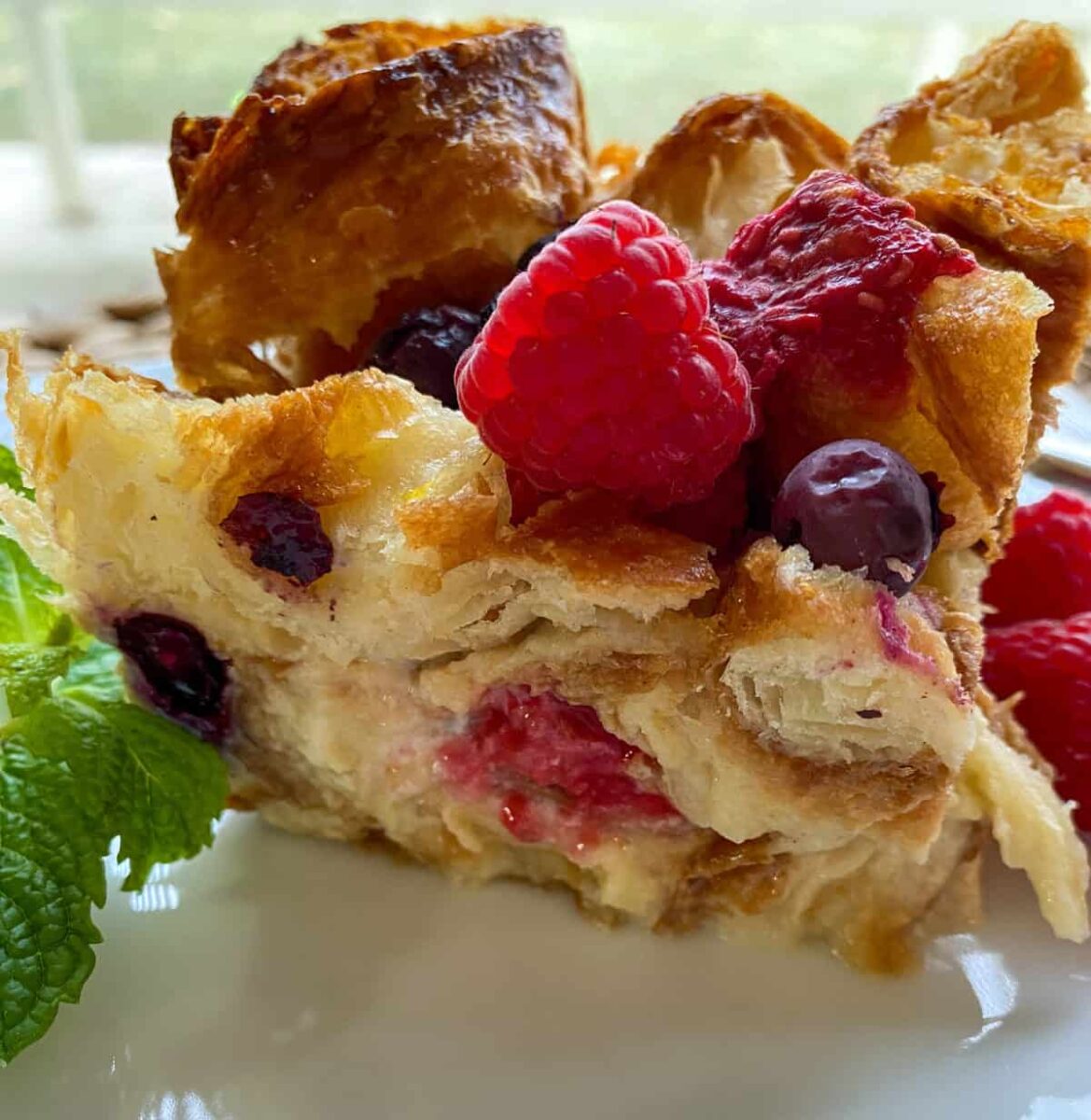 Jump to:
Ingredients to Have on Hand
It doesn't take many ingredients to create a delicious croissant bread pudding. Scroll down to the recipe card for specifics on quantities for each ingredient.
Croissants
Half-and-half
Eggs
Sugar
Vanilla extract
Fresh fruit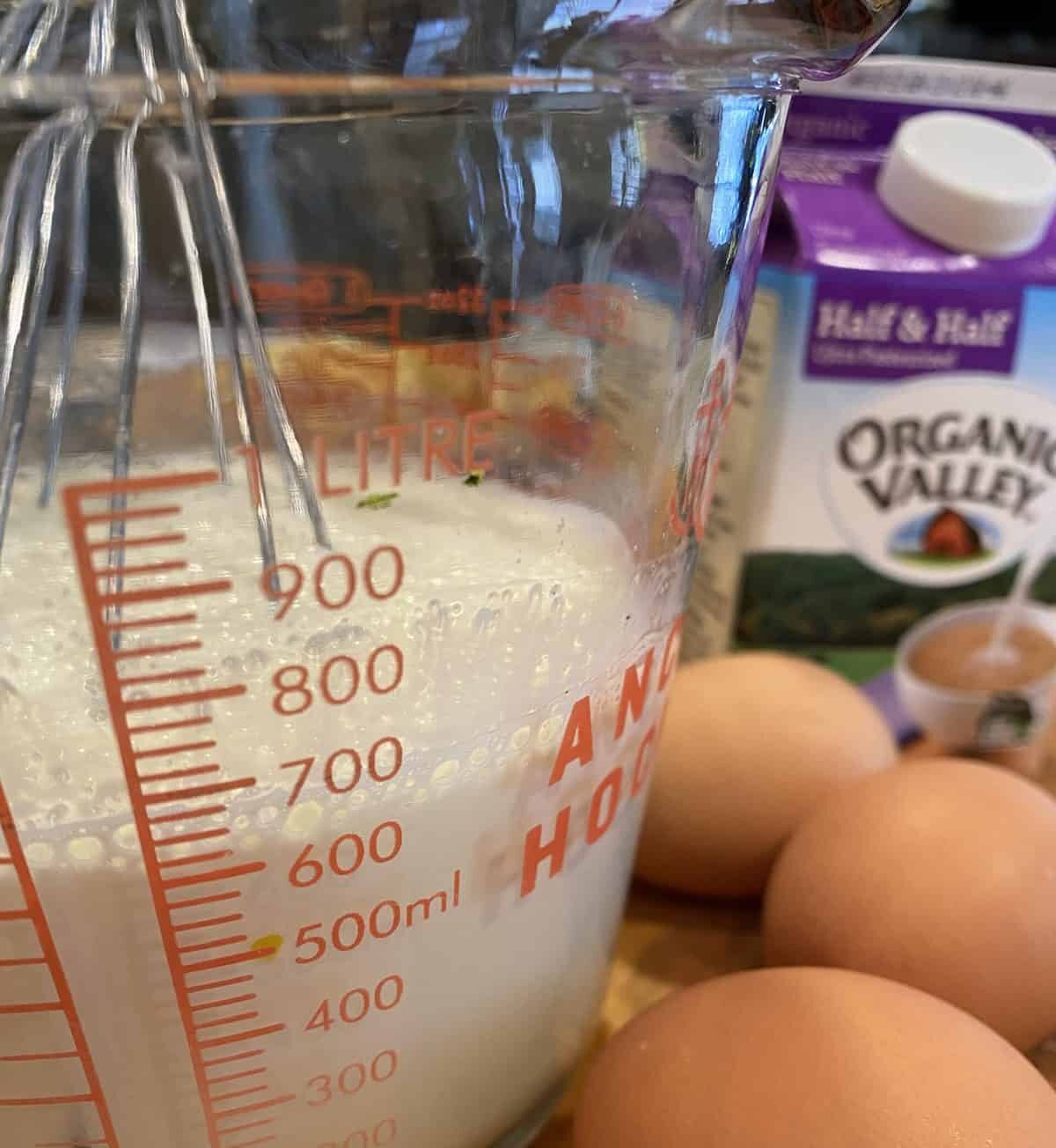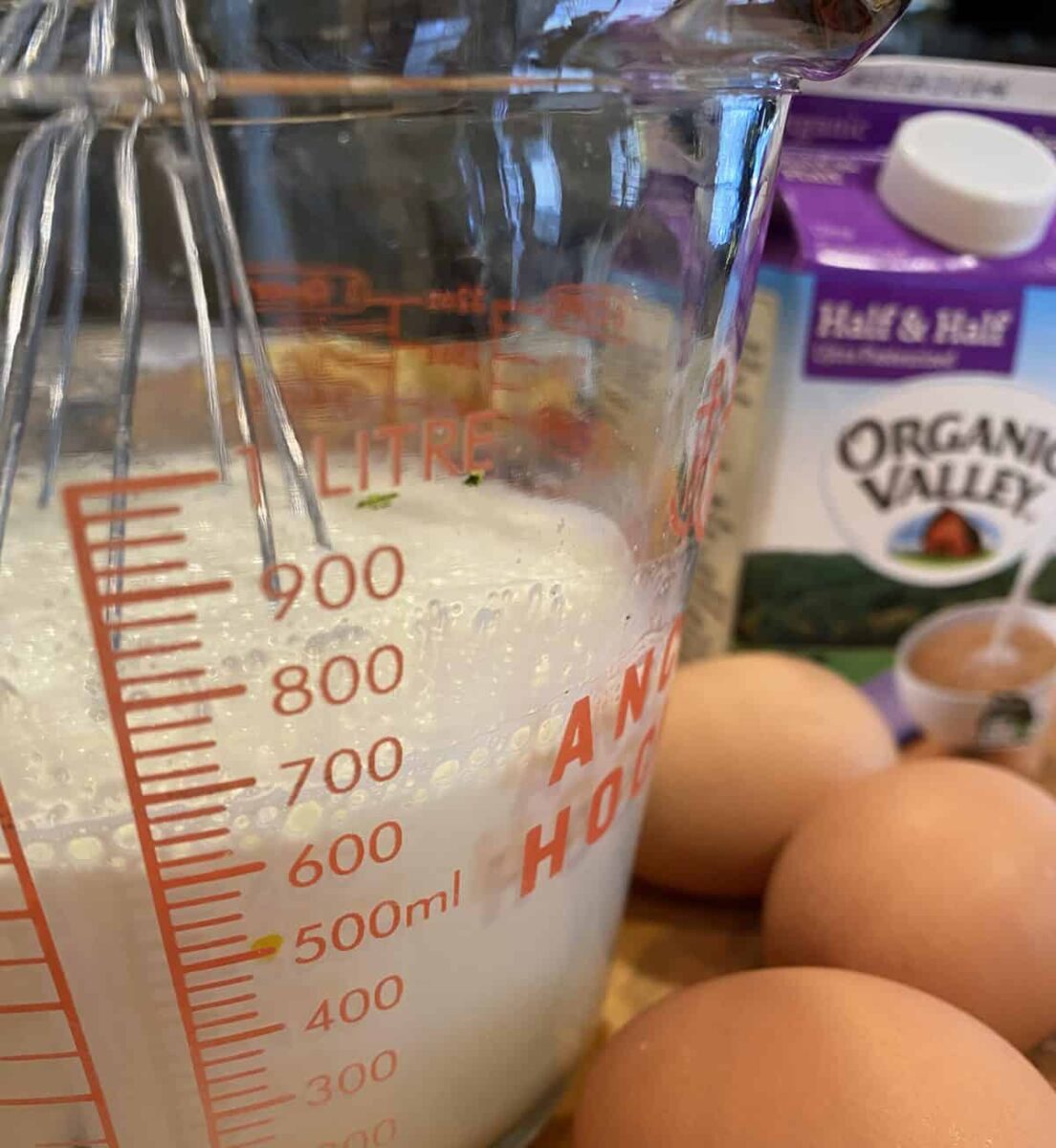 Step-by-Step
It takes fewer than 15 minutes to dice the croissants and pour the sweetened half-and-half mixture over the top.
Here's how to assemble it, step-by-step:
Whisk together the half-and-half, sugar, vanilla extract and eggs in a 4-cup glass measuring cup.
Use a knife to cut each croissant into bite-sized pieces.
Rinse the fruit and set aside to drain in a colander.
Place half the croissants and half the fruit in a 9" x 9" baking dish.
Top with the remaining croissants and fruit.
Pour the half-and-half mixture over the layers of croissants and fruit.
Baking Dish Preference
As you are assembling the croissant bread pudding, it will seem like the 9" x 9" dish is very full when you add the croissants and fruit. That's OK. But if you use a larger dish, keep in mind that will affect the baking time. If you use a larger baking dish, check it after 25 minutes.
I like to use glass bakeware for this recipe. Here's a dish that I recommend, but any 8" x 8" or 9" x 9" baking pan will work great.
Croissant Pudding
When you pour the liquid ingredients over the diced croissants and the fruit in the baking dish, you'll cover everything with just enough of the sweetened half-and-half mixture.
The rest of the liquid will settle to the bottom of the dish and create a delicate layer similar to a pudding, you could actually call it a croissant pudding and no one would argue.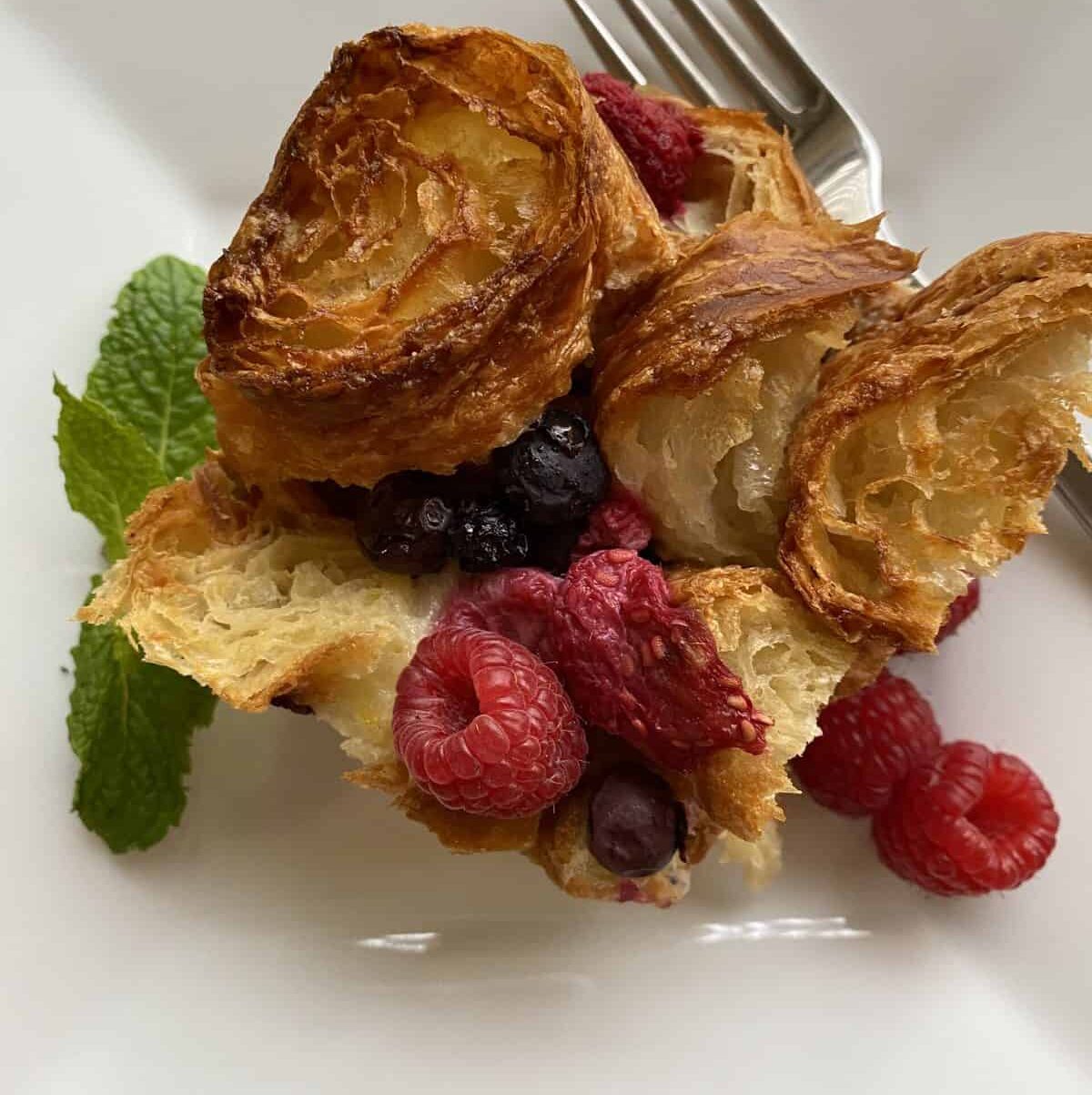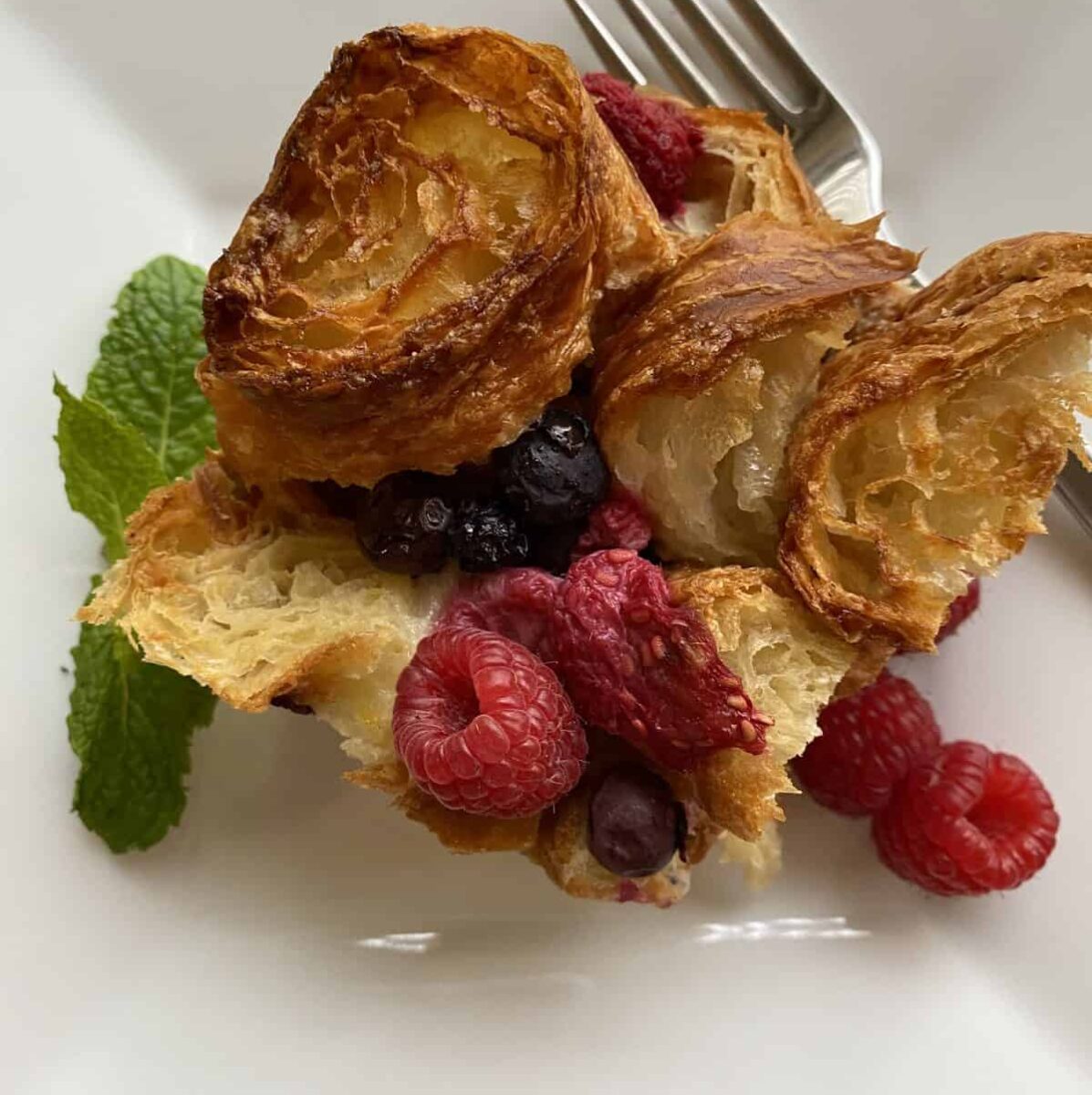 Top Tips and FAQ
How should I store croissant bread pudding?
In my experience with this recipe, it's best served within two days and definitely store any leftovers covered in the refrigerator.

Remember, there's a pudding-like layer along the bottom of the dish and those ingredients need to be refrigerated, even after baking.
Can I freeze bread pudding?
Technically yes, but I think croissant bread pudding is best served either warm from the oven on the day you bake it or it cold from the fridge.

You can freeze bread pudding after it's cooled. Be sure to cover the dish tightly with foil. You can freeze it for up to three months.

Thaw it in the refrigerator for 8 - 10 hours, and remove it from the fridge about 45 minutes before baking. Leave the foil on top, and reheat in a 350° F oven for about 15 minutes.
Are there substitutions for the croissants?
Yes, you can also use brioche or challah bread. But note, neither will have the same buttery flavor or flakiness of croissants and the result will be a more dense bread pudding.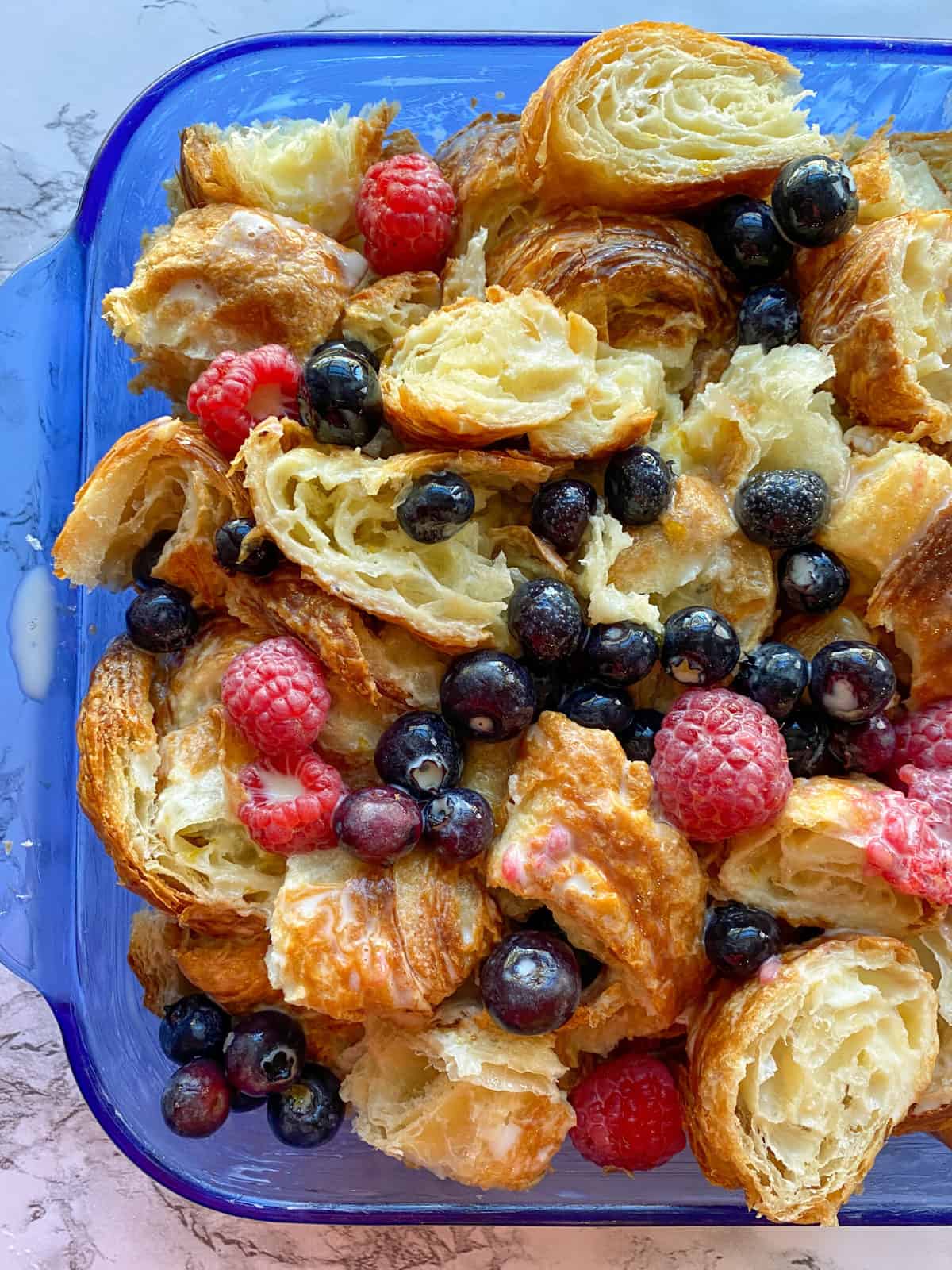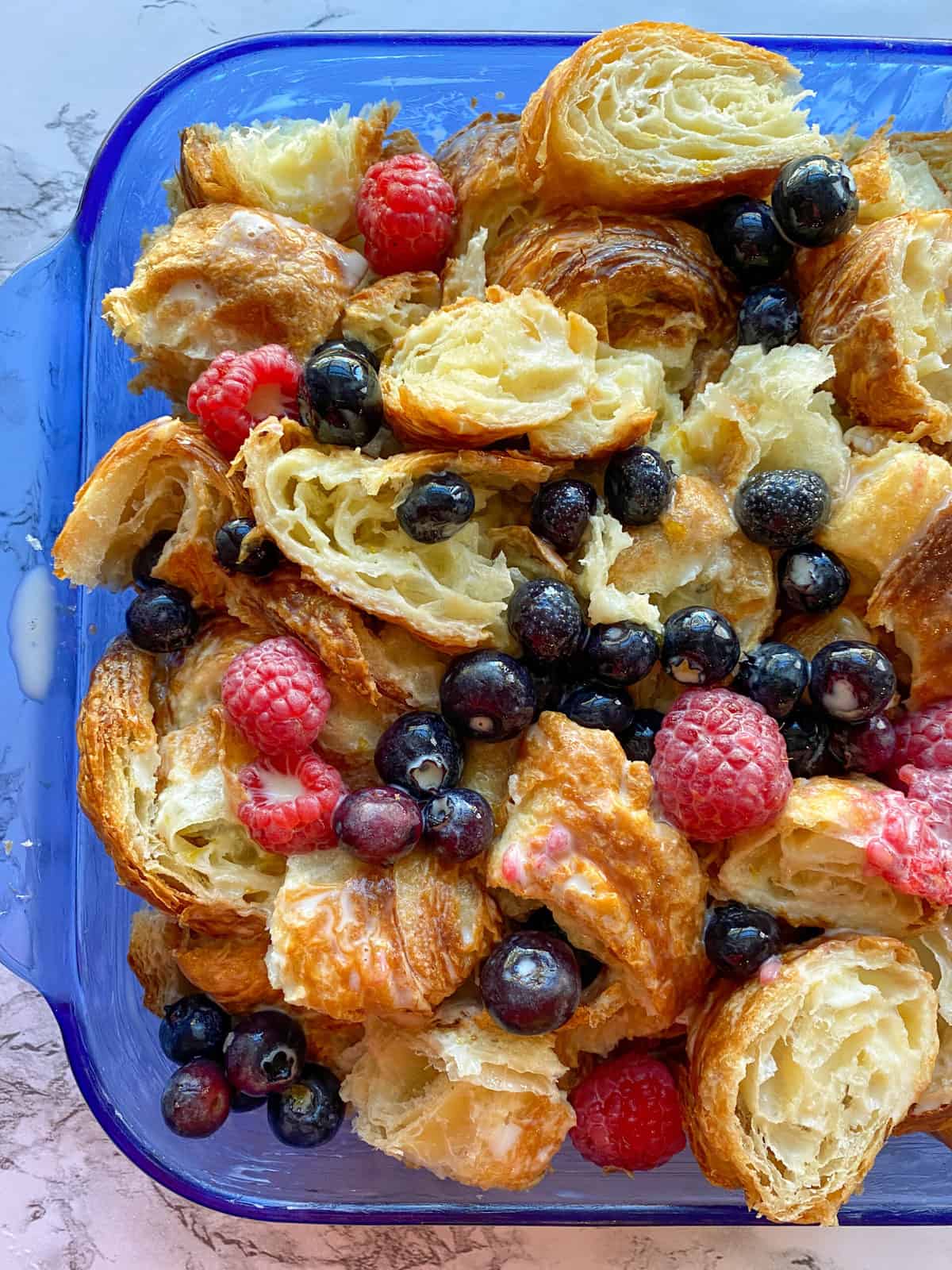 Fruit is Optional
While this recipe calls for 1 ½ cups of fresh berries, I've made this without adding fresh fruit and it's just as delicious.
The unsweetened fresh berries give the croissant bread pudding a tart, fresh burst of bright flavor, and the fruit tastes wonderful with those buttery croissants.
Be assured, this is a dessert (or brunch) recipe that will be enjoyed by all regardless of the fruit factor.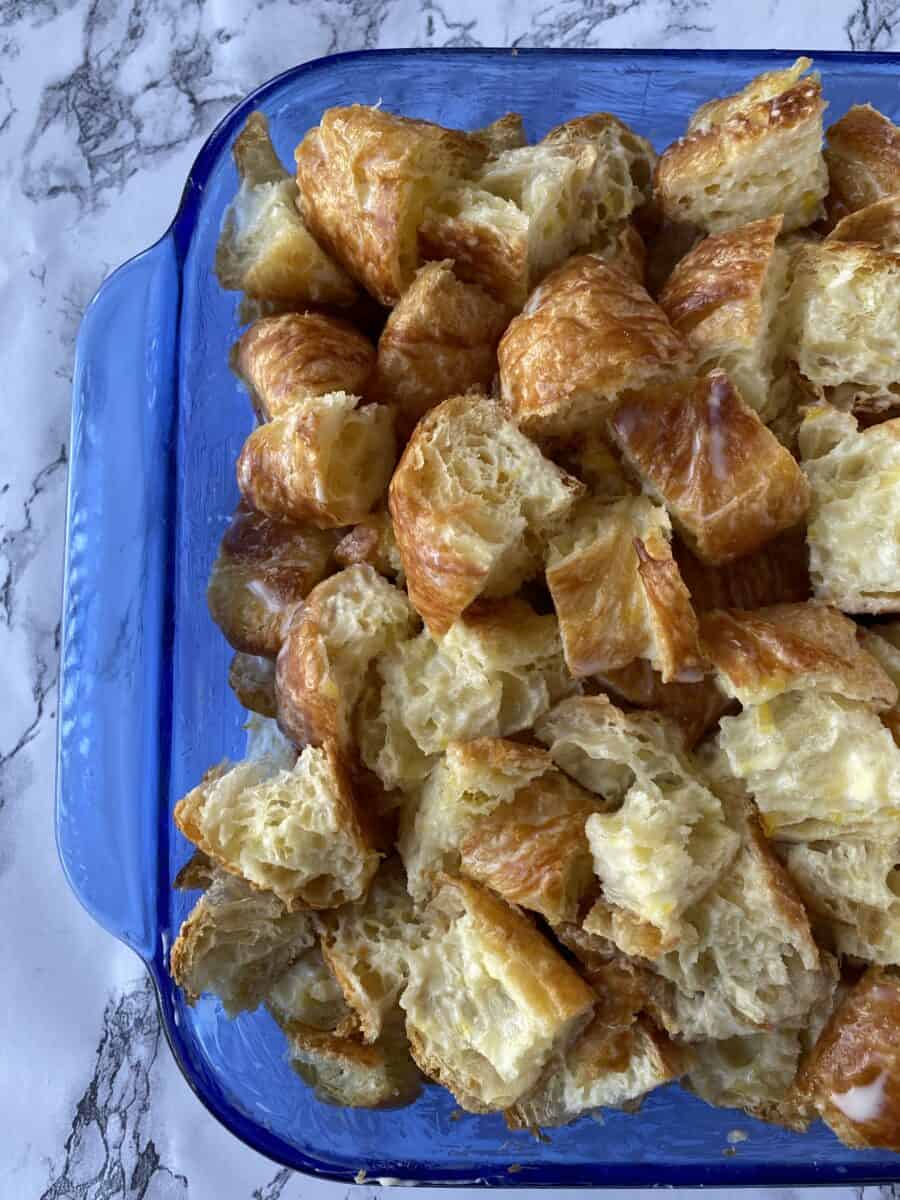 Croissant Size for Bread Pudding
I've made this using standard-sized, large croissants and much smaller mini-croissants. Personally, I prefer using the smaller croissants because it provides more of the sturdy croissant tips in the bread pudding since you use 12 small croissants instead of six standard-sized, large croissants.
Most grocery stores sell large packages of croissants, but they do dry out quickly. If you have a few extras, this recipe is a great way to ensure no croissants from that big package go to waste.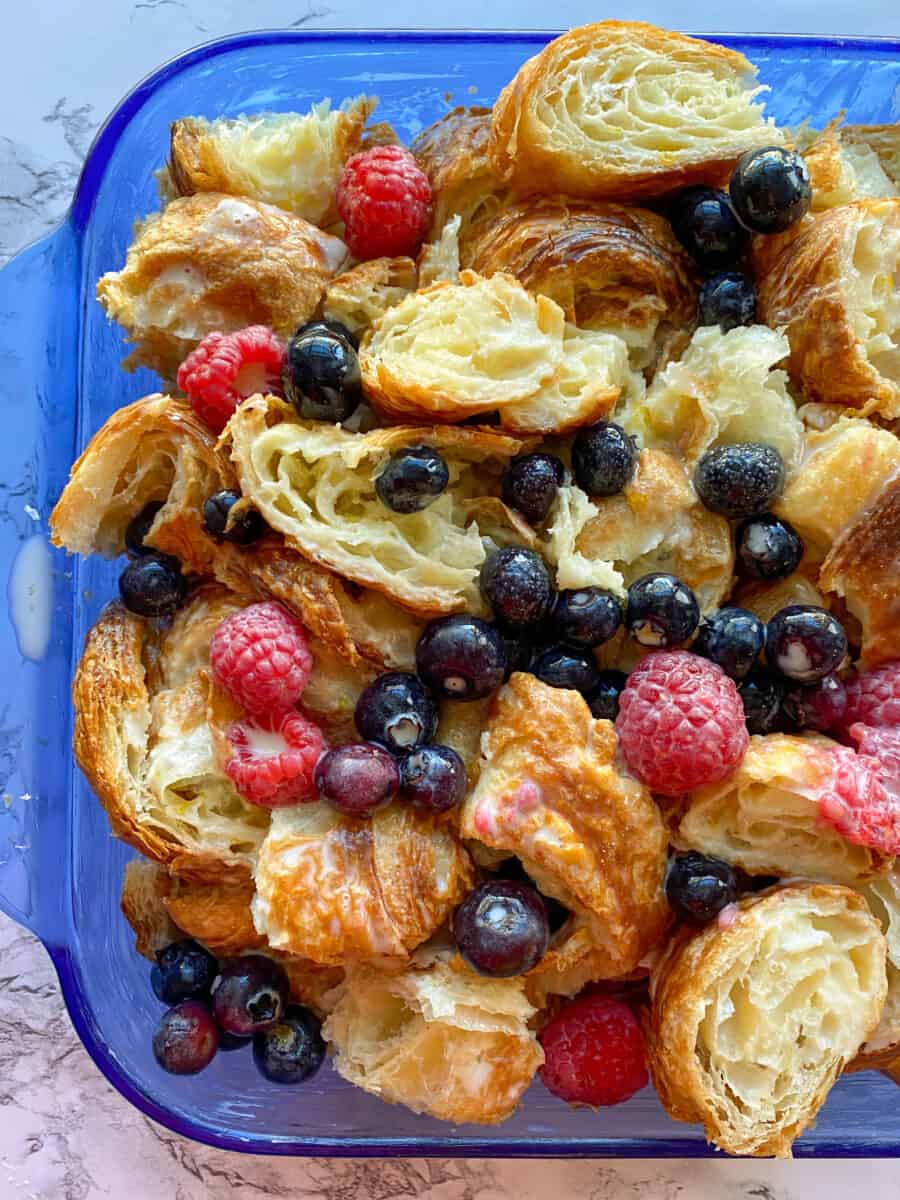 Different Fruit Options
Mix and match fresh fruit to add to your croissant bread pudding. I recommend choosing fruit that doesn't require a lengthy cooking time to soften. For fruit such as peaches and apricots, peel the fruit then slice and dice into small, bite-sized portions.
Raspberries
Blueberries
Blackberries
Strawberries
Peaches
Apricots
No Need for Sauce on Top
Many bread puddings call for a syrupy sauce drizzled on each serving. While I'm never one to decline an opportunity to add more sweetness to anything, this croissant bread pudding does just fine without a sauce on top. There's plenty of sugary sweetness in the dish already.
Sometimes though, just to be fancy, I've dusted each serving with a light sprinkling of powdered sugar and placed a sprig of fresh mint on the side.
The History of Bread Pudding
Bread pudding has come a very long way from it's humble beginnings in the 11th and 12th centuries in England. Now bread pudding is enjoyed as a standalone treat, rather than simply a way to ensure stale bread doesn't go to waste.
But hat tip to all those frugal bakers back in the day who came up with a great way to combine breads with a sweetened custardy pudding and with a delicious result.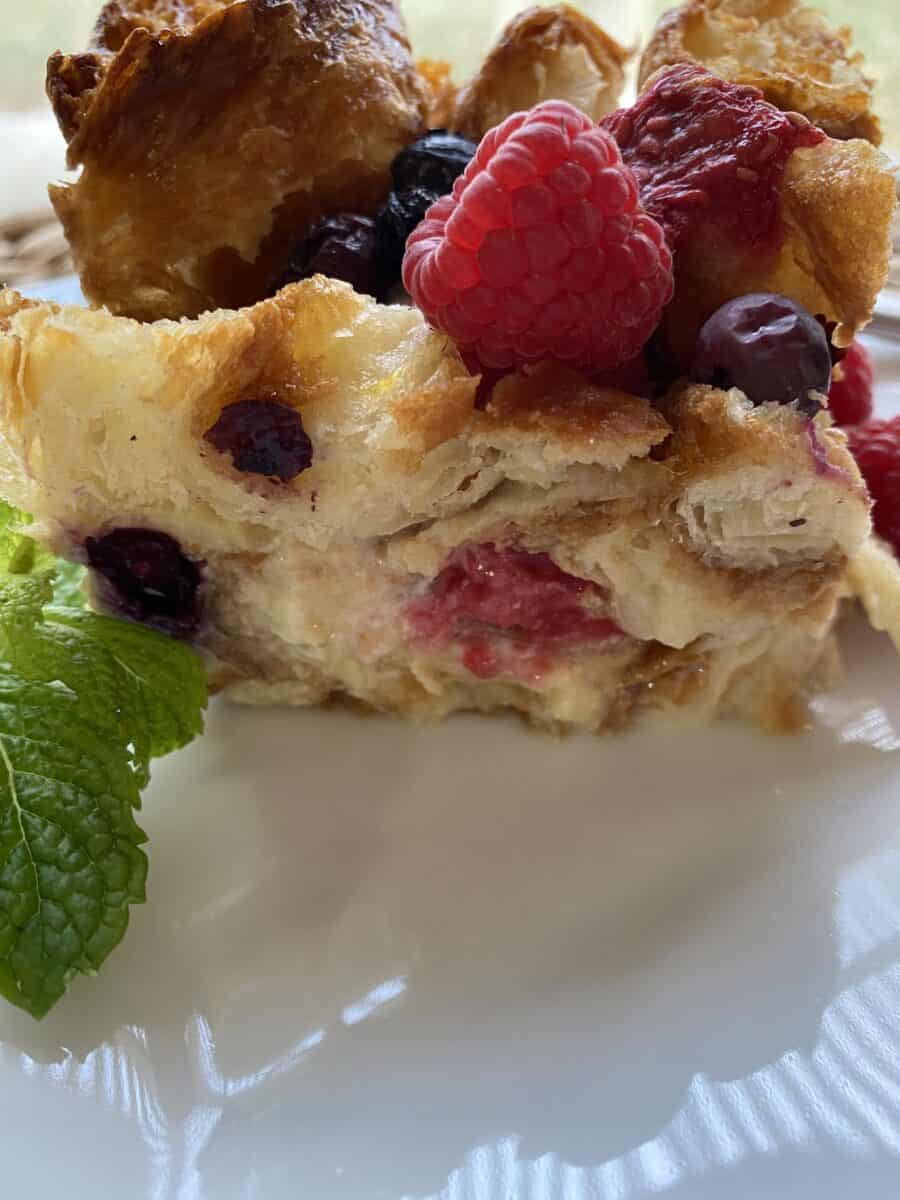 More for Your Brunch Menu
I call Croissant Bread Pudding an easy dessert recipe, and it is. But it's also a delicious and impressive dish to serve at brunch. Here are a few more brunch options that I think you will enjoy:
Other Dessert Ideas
I love to use fresh fruit in dessert recipes. Give these a try and let me know what you think.
Fresh Fruit Tart has a buttery shortbread crust that can't be beaten.
Chocolate Strawberry Pie is actually a recipe for making mini-pies and these are so good, especially when berries are plentiful.
No-Peel Apple Cake is one of the easiest apple spice cake recipes you'll find. We even keep the peels on the apples!
More Baking Recipes
Rate the Recipe
Be sure to give a star rating to the recipes you make from the Crinkled Cookbook. I always love hearing from you. Sharing is great too! Use the buttons after the recipe to text it with just one click or send it to family and friends on Pinterest and Facebook. Enjoy.
Recipe