Cougar Gold Cheese Quiche is a wonderful recipe that really complements an award-winning cheese from the campus of Washington State University. Any type of sharp cheddar works in this recipe, but Cougar Gold is special. This quiche recipe calls for classic, savory ingredients like crispy bacon and fresh green onions and it bakes in a flaky, buttery crust for a flavor combination that is both tasty and impressive.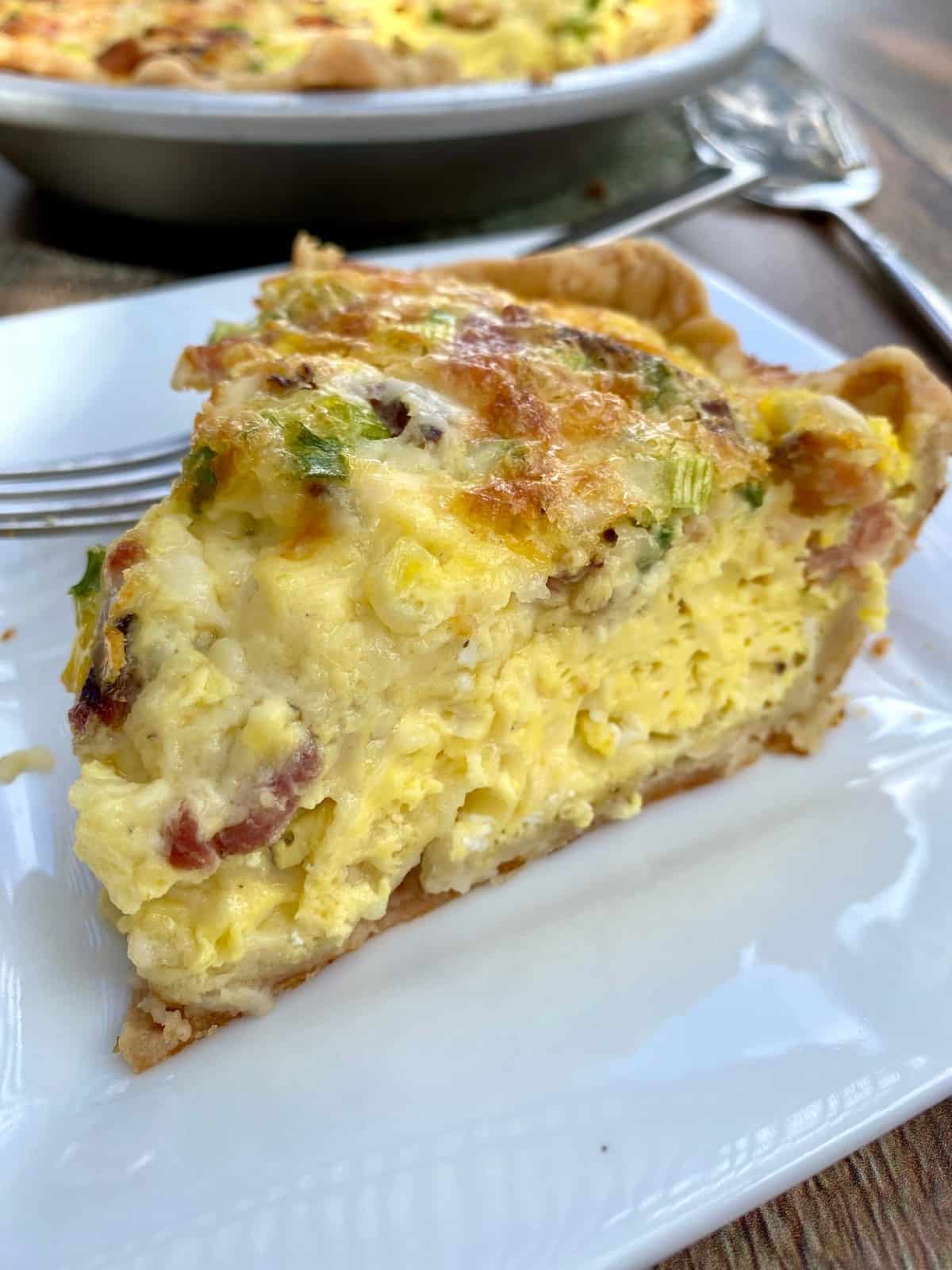 Jump to:
Ingredients to Have on Hand
Cougar Gold Cheese, or a sharp cheddar cheese of your choice
Eggs
Half-and-half
Bacon
Green onions
9" pie crust - store-bought or homemade
Where to Find Cougar Gold Cheese
Cougar Gold Cheese is a delicious, sharp white cheddar cheese made in the creamery on campus at Washington State University in Pullman, Washington.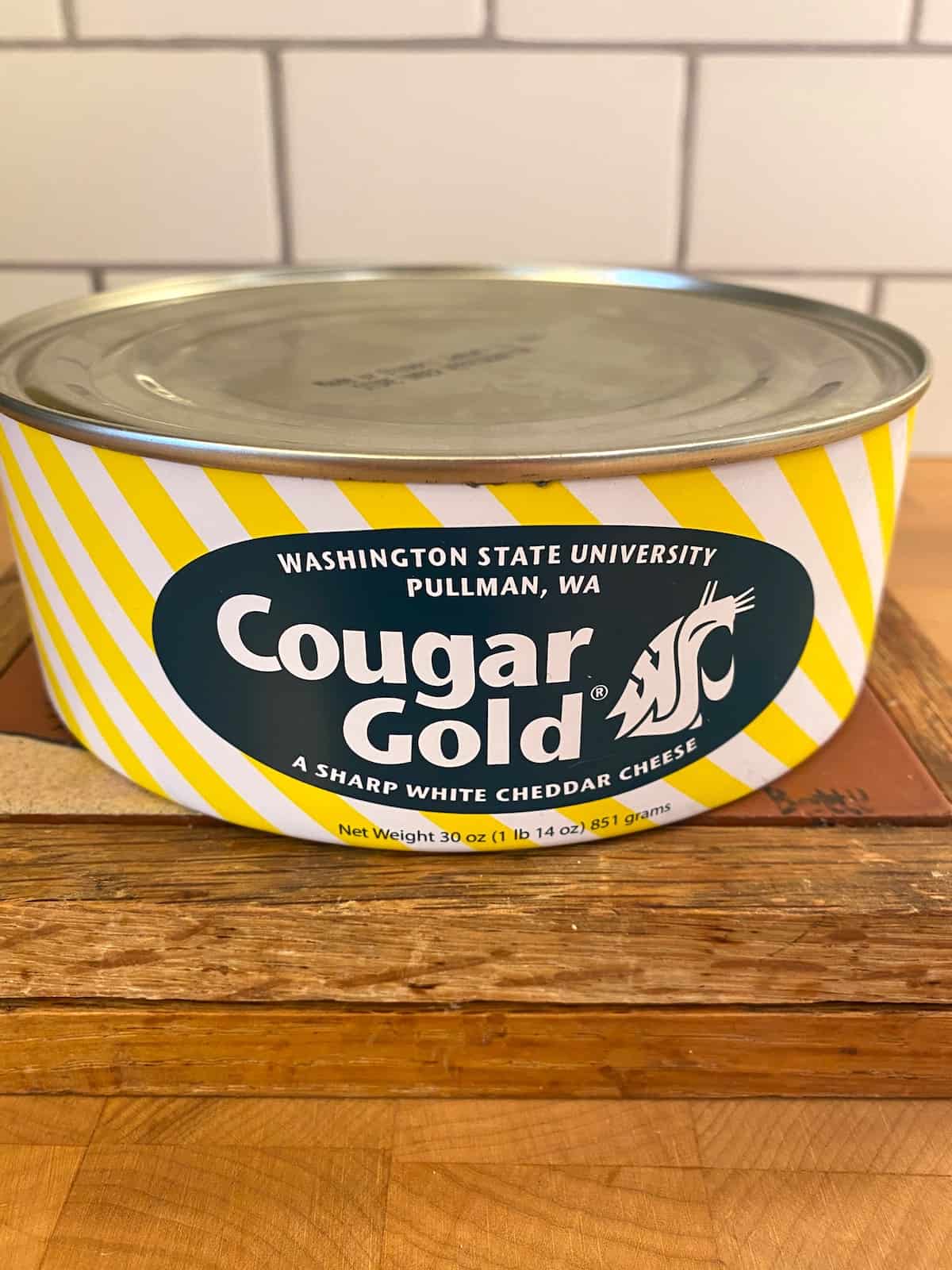 When I was a journalism student at WSU, one of my first assignments for Cable 8 News was a story about the process for making this famous cheese.
Mercifully, I don't have a copy of that story and fortunately, YouTube wasn't around back then.
There are a variety of cheeses to choose from at the creamery but Cougar Cold is my favorite, especially in quiche.
Cheese Substitutions
Any variety of cheddar cheese is delicious in quiche. Sometimes I've blended different types of cheese with the cheddar including Swiss cheese, Blue cheese and even Gruyere (a classic choice for quiche) and the result is always wonderful.
Sharp vs Mild Cheddar Cheese
Sharp cheese has a slightly drier texture and a distinctive tanginess that's developed because of a longer aging process than mild cheddar cheese has.
Sharp cheddar cheese also has a lower moisture content than mild cheddar, so it doesn't melt as quickly.
But there is no one rule for which type of cheese to use in quiche.
The best variety of cheese to use is whatever type you like the most!
Cougar Gold is Cheese in Can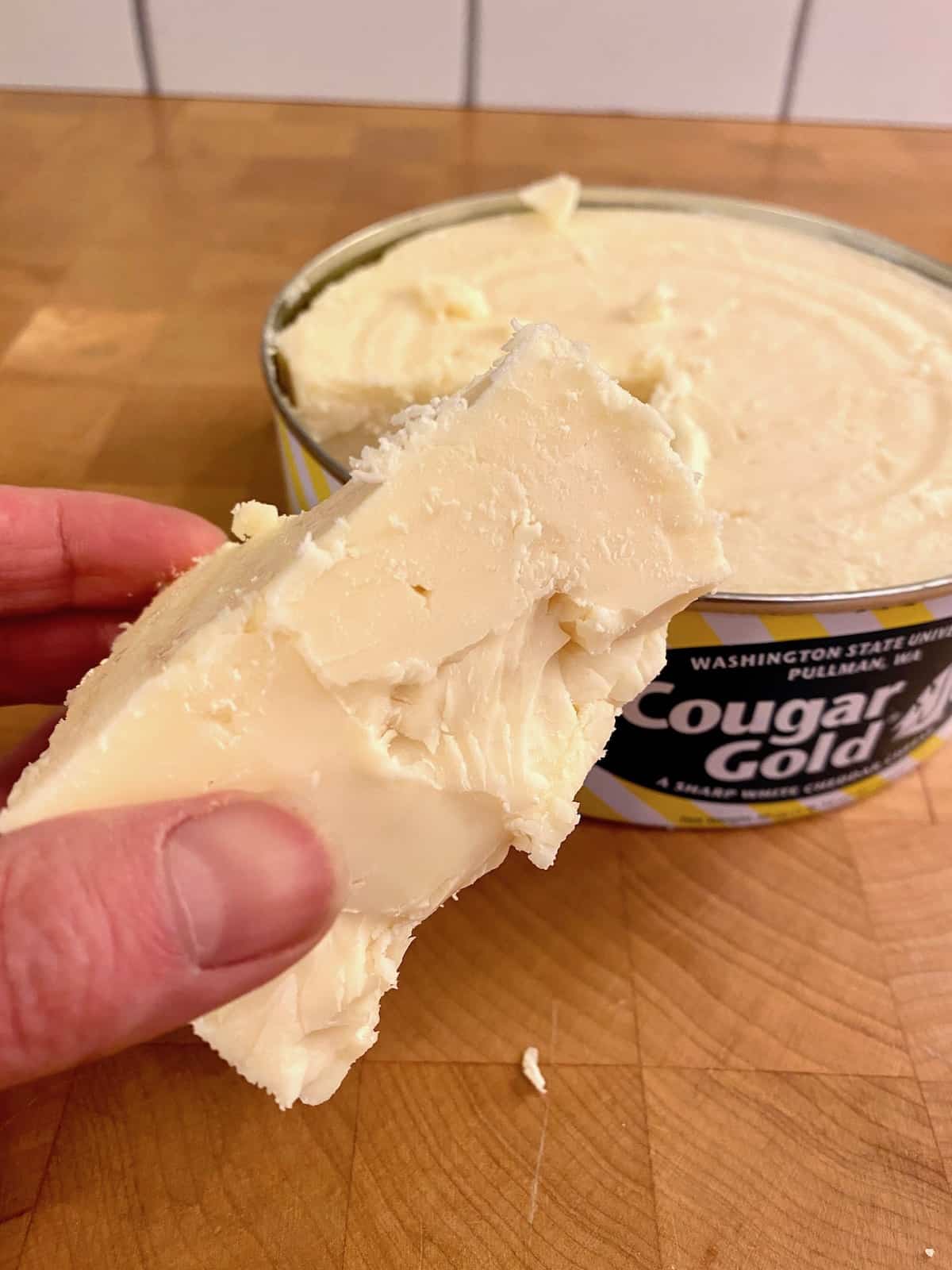 If you happen to order Cougar Gold Cheese, you'll notice it comes in a can. Yes, a can. That's one of the things that is so distinctive about it. Cougar Gold is not processed, it's all-natural and has been since its early production days in the 1930s, back before the packaging and storing techniques that we have today were available.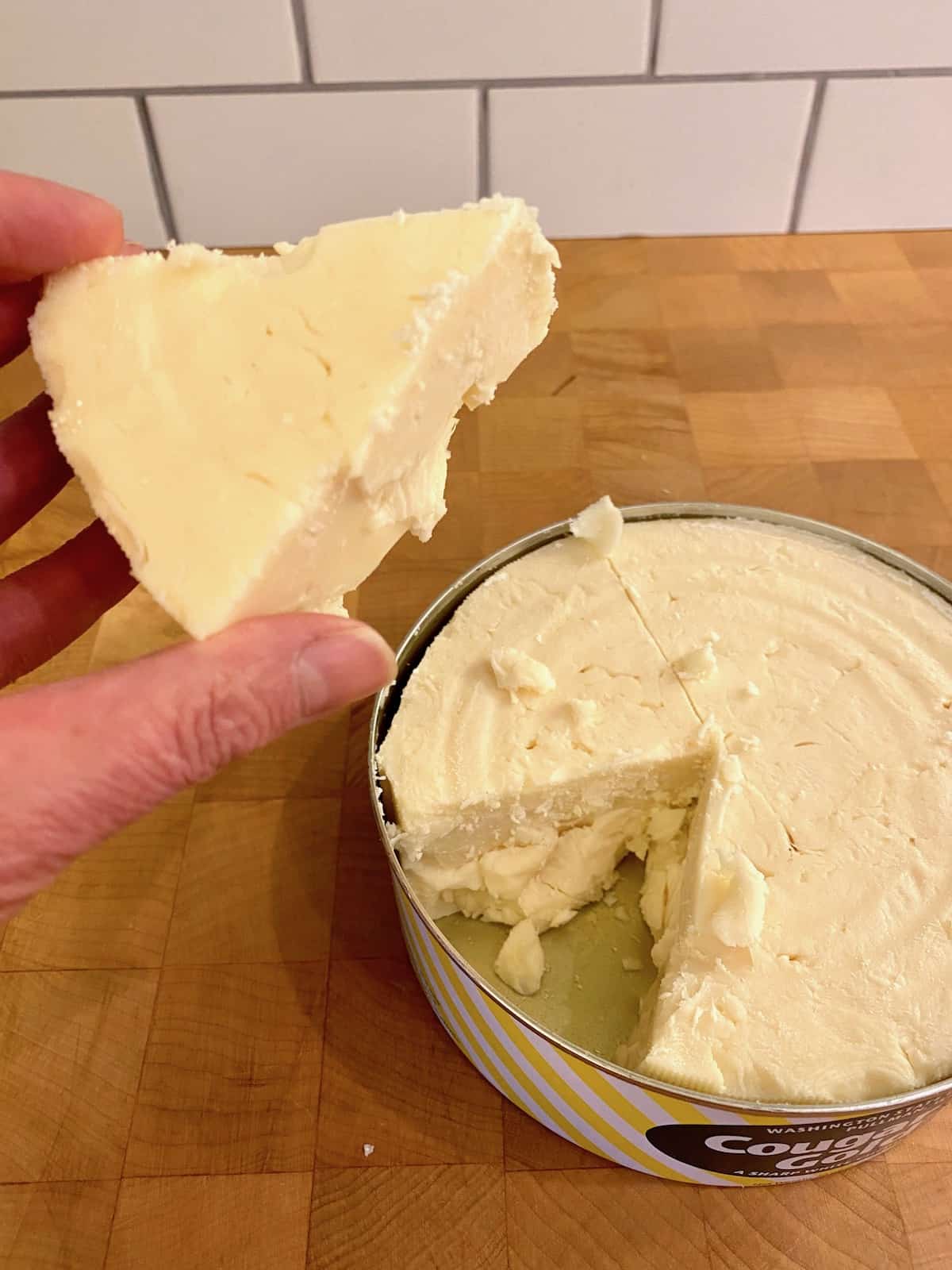 Quiche Ingredients: Cheese, Egg and Dairy
There are many varieties of quiche but when it comes down to the details, they all have three things in common, they all include a combination of cheese, eggs and dairy.
It's true that quiche is essentially an egg pie but the key to creating the perfect texture - neither too "scrambled eggy" or too runny is to balance the quantity of eggs and dairy.
There are some who recommend one egg for every half cup of dairy, but I've found that using that ratio produces a quiche that doesn't hold its shape as well and has a much softer, almost runny texture.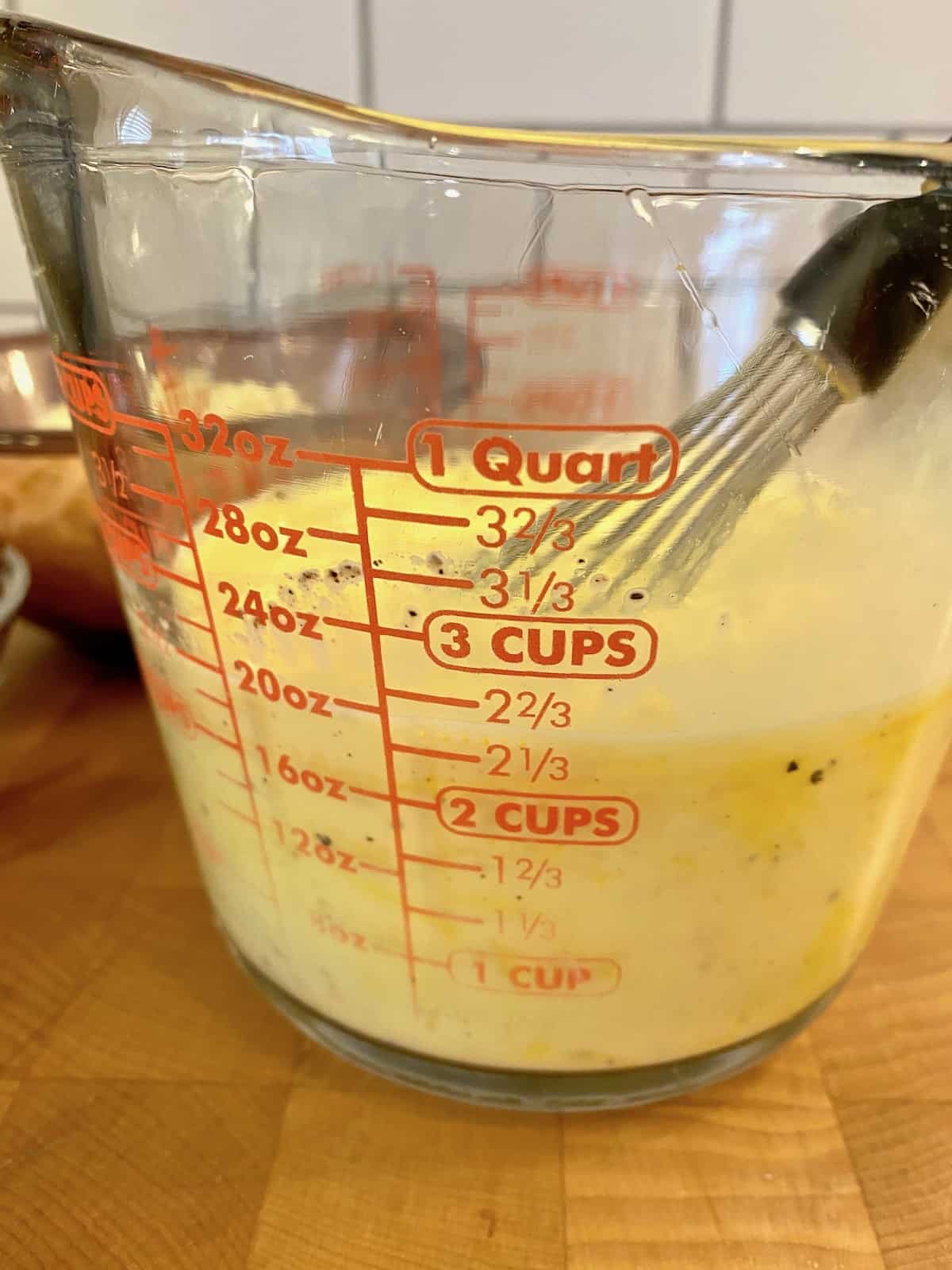 It's a personal preference of mine to use less dairy and more eggs.
Baking time is important too. You want to bake the quiche slowly, this also helps makes the quiche less custardy and more firm. If the oven is too hot and the eggs cook too fast, you'll end up with a scrambled egg pie.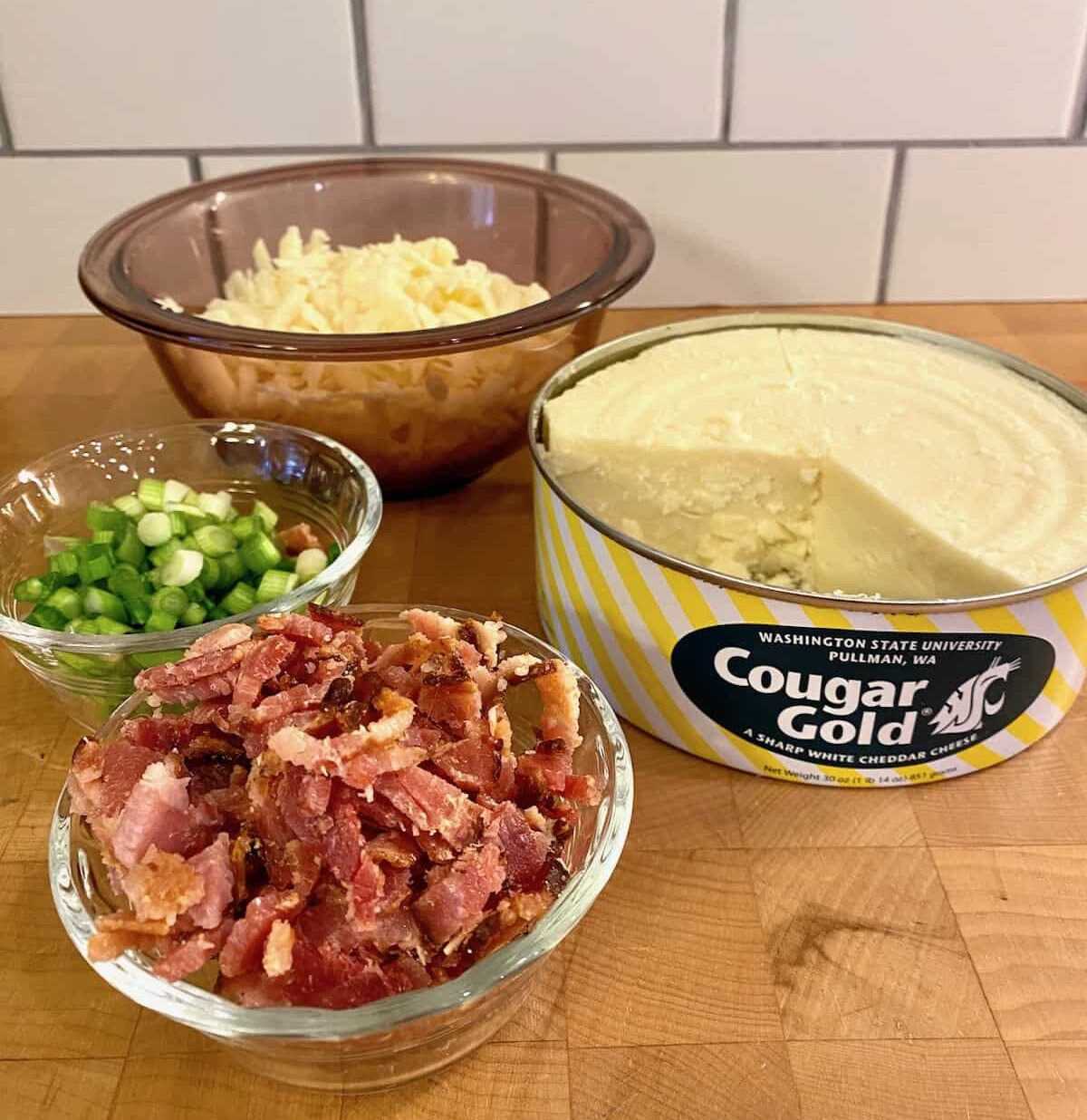 Other Quiche Ingredient Combinations
There is almost no limit to the varieties of veggies, meats or cheeses you can combine to create a delicious quiche. Bacon and green onions are my favorites, by far. But spinach, diced asparagus, parsley, ham, broccoli, and mushrooms are all wonderful options too.
Pre-Bake the Quiche Crust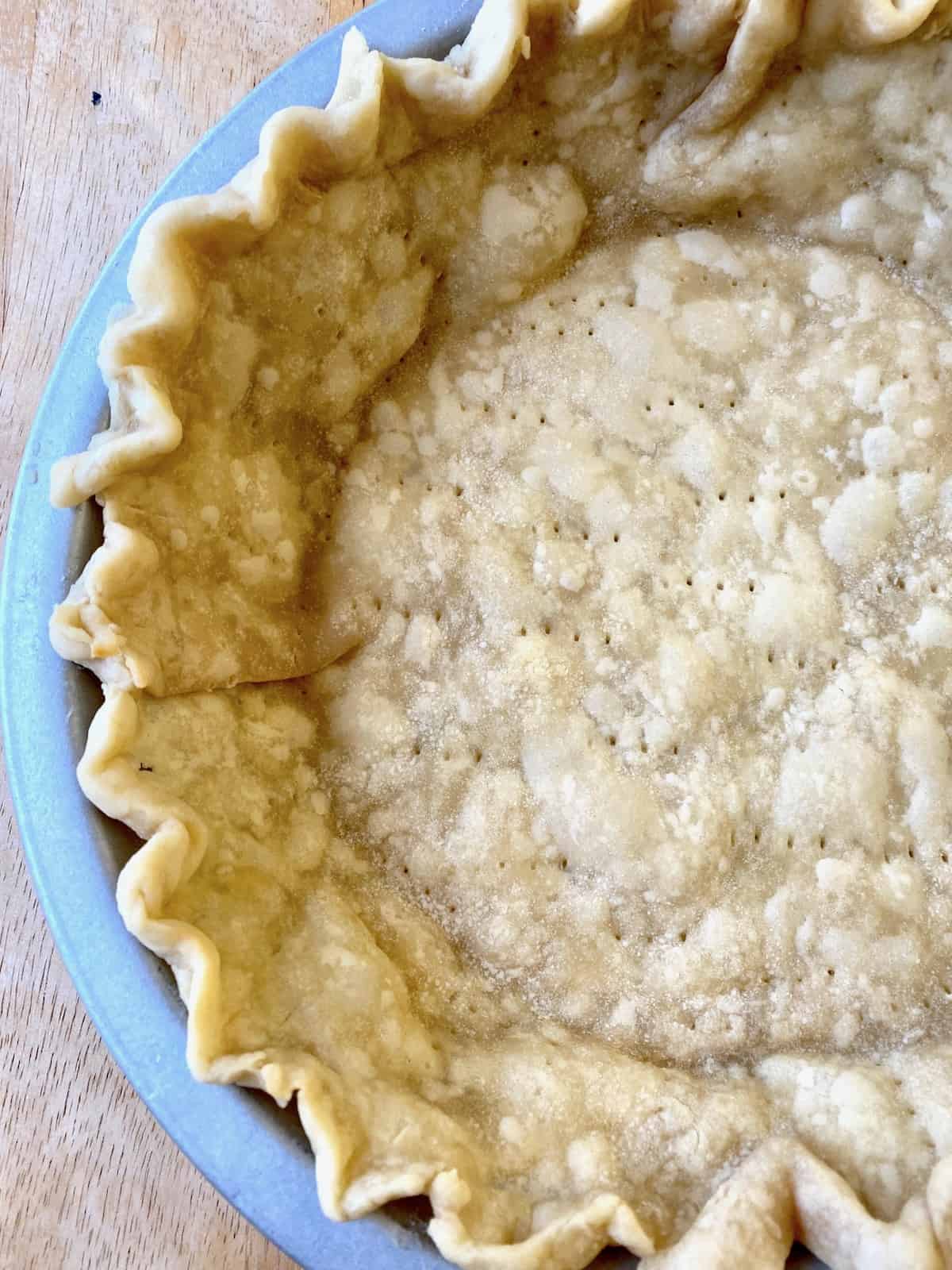 Regardless of whether you make a crust from scratch, or whether you buy a pre-make crust from the grocery store, you will want to pre-bake the crust before adding the filling ingredients.
This is an important step to keep the crust from getting soggy during baking.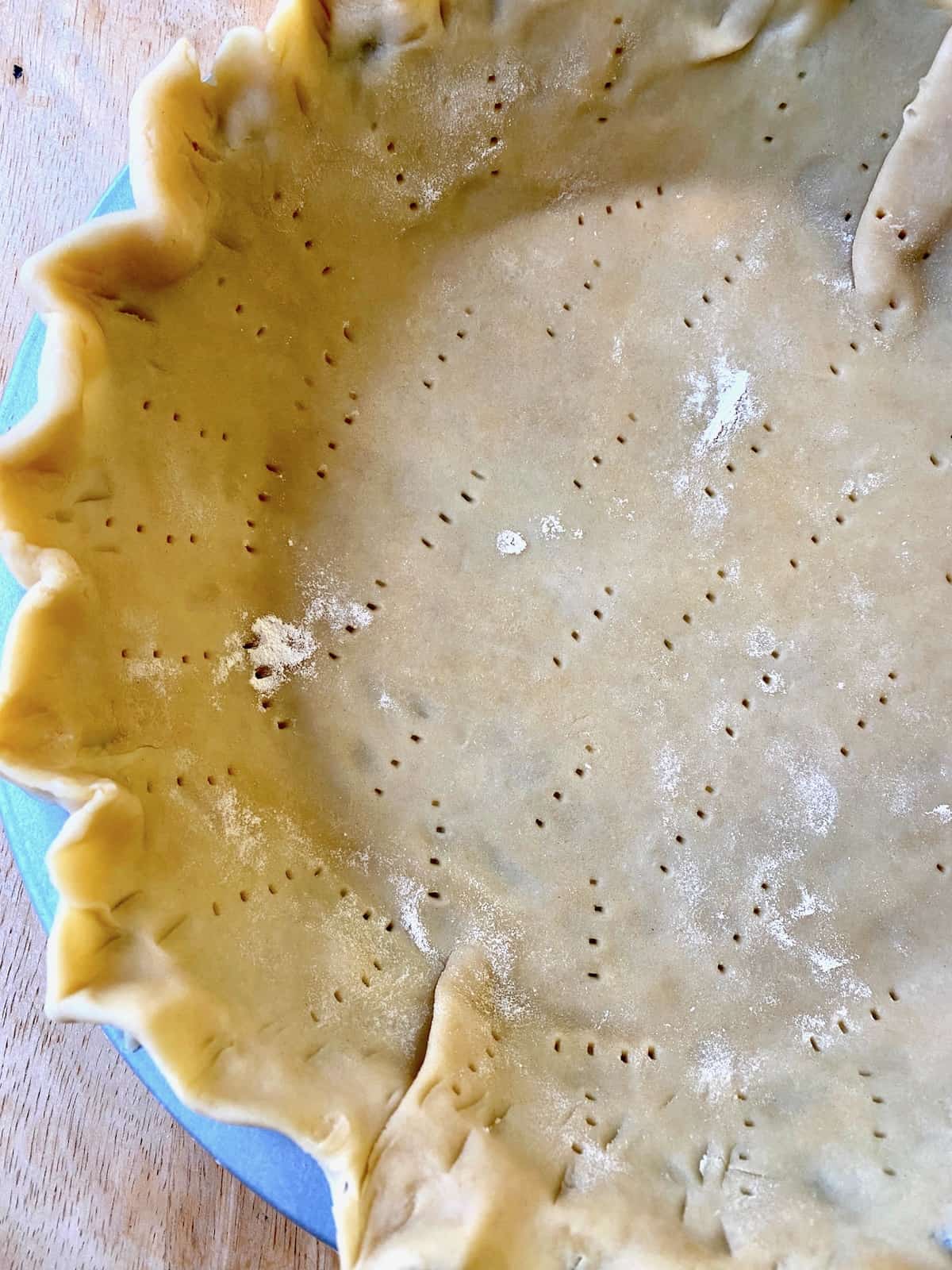 Roll out the crust and place it in a 9" pie plate, then using the tines of a fork, gently poke holes all over the bottom and side of the crust. This helps keep the crust in place as it bakes.
Step-by-Step for Making Quiche
Start by making the crust, pre-baking it and prepping the ingredients for the filling. This means cooking the bacon, shredding the cheese and dicing the green onions.
Add the filling ingredients.
Pour the half-and-half and egg mixture on top.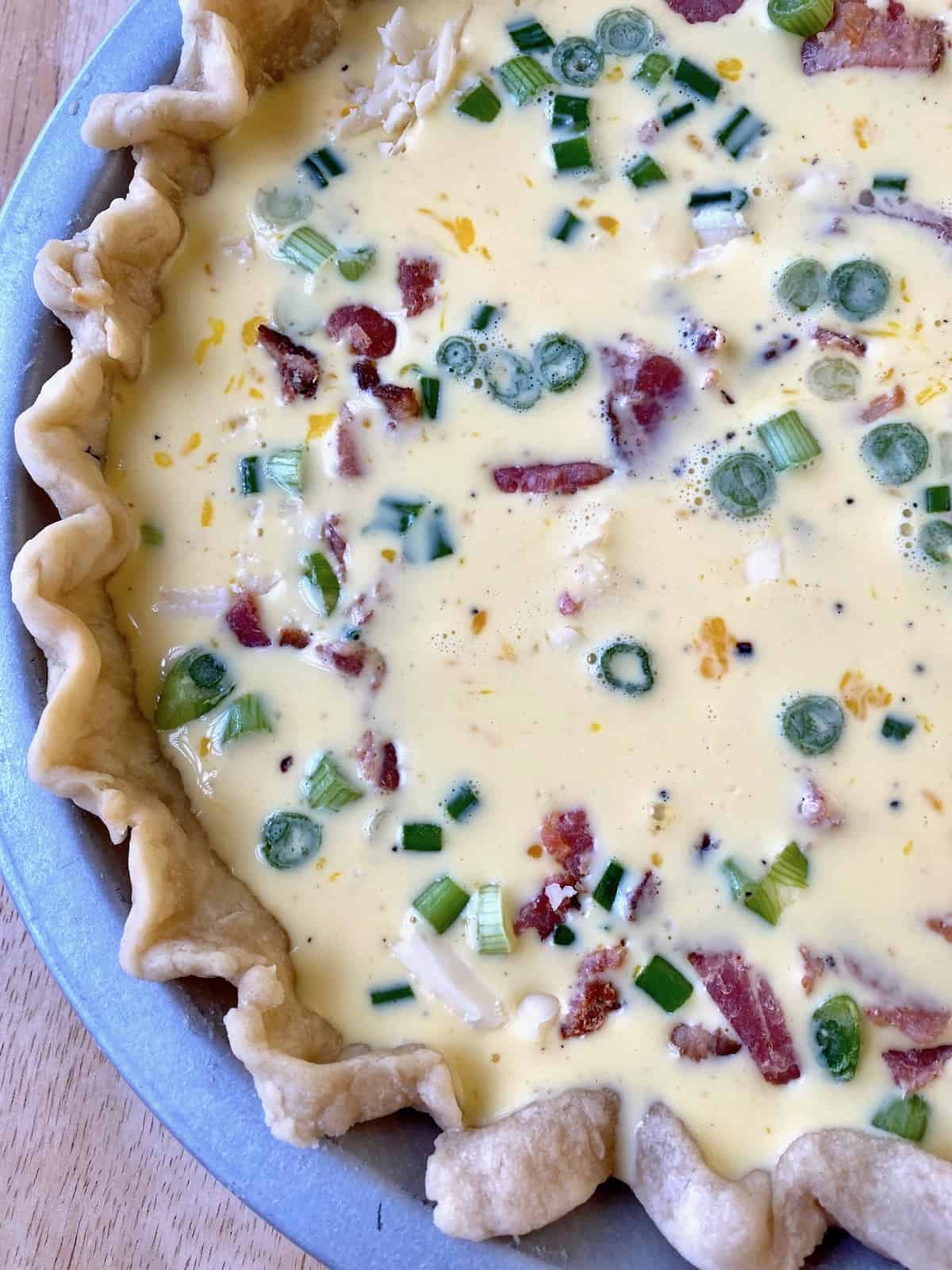 Next add another layer of the the cooked bacon, diced green onions and more shredded cheese.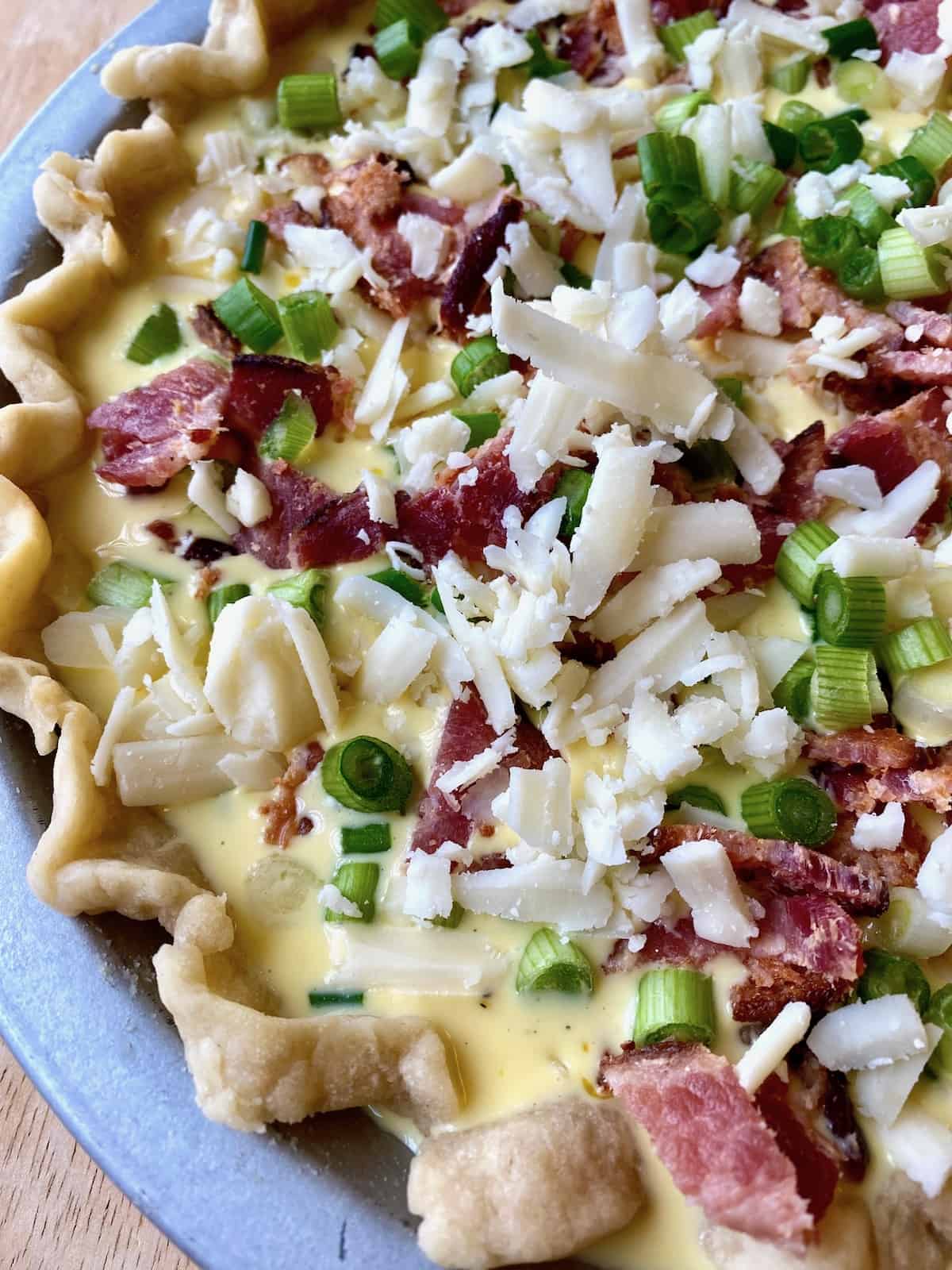 Now it's ready to bake. After it's done baking, allow the quiche to set for at least 15 minutes before serving.
The Inspiration
The Crinkled Cookbook is not in any way affiliated with Cougar Gold Cheese, I'm just a big, big fan of it! As a proud alumna of Washington State University, this is simply my attempt to share a recipe that uses the beloved and famous product from my alma mater in the great Northwest.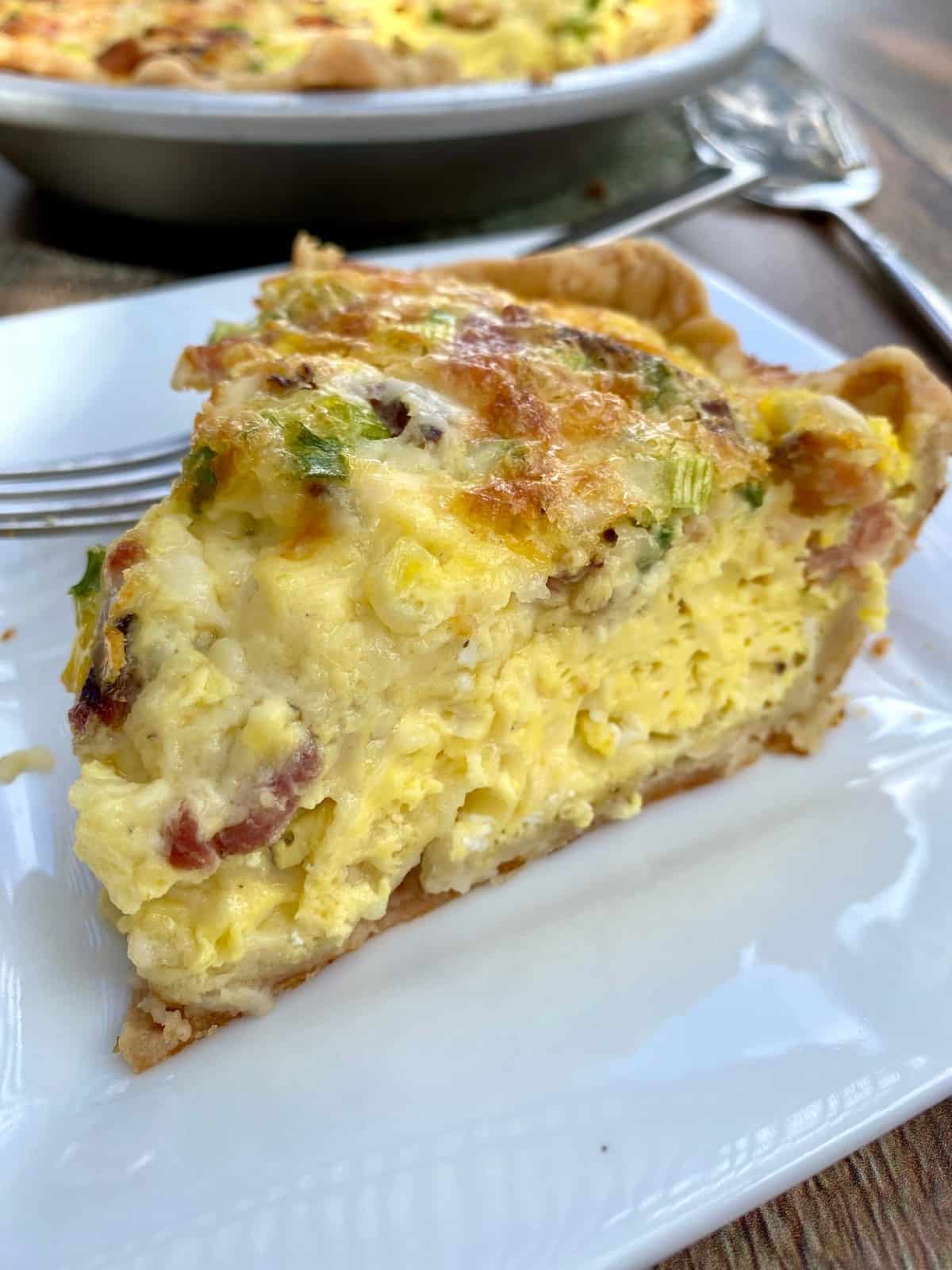 Top Tips and FAQ
Does the bacon have to be cooked before adding it to the quiche?
I prefer to cook and dice the bacon separately before layering it on the crust, combining it with the eggs and cheese and baking.

While the bacon would certainly cook during the baking time for the quiche, I like the crispiness that comes from cooking the bacon separately.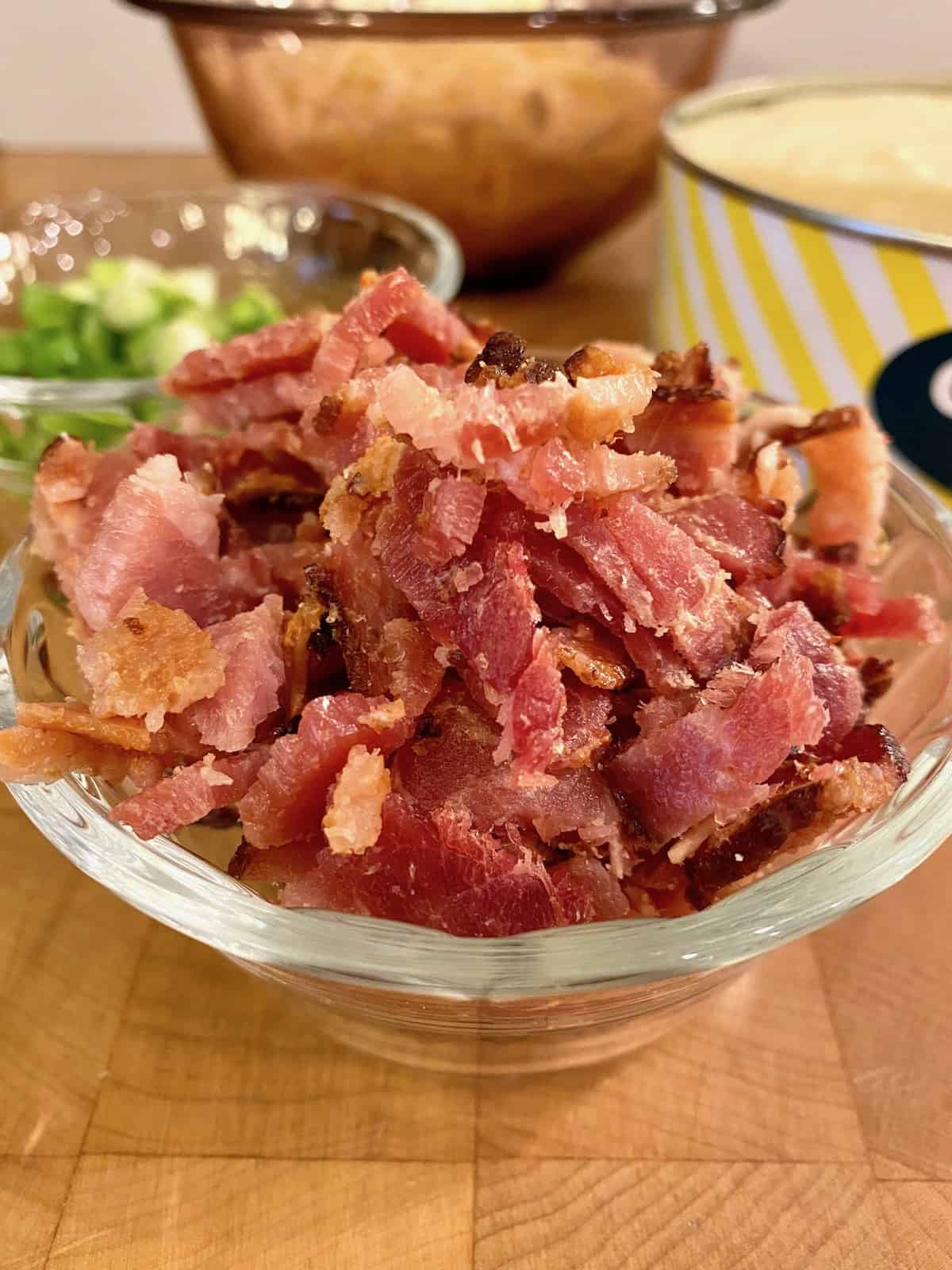 How can I tell if the quiche is fully cooked?
You'll want to see that the edges near the crust are firm and lightly browned. It's fine if the center is still somewhat soft or even a little jiggly, but not liquidly.
Can I substitute whole milk for the half-and-half?
Yes, and the results will be very similar. But half-and-half has a higher fat content which adds flavor and contributes to the custard-like texture of the quiche. I recommend using half-and-half.
Do I have to pre-bake the crust?
Yes, pre-baking the crust is important. It ensures that the bottom of the quiche doesn't turn out soggy.
Storing Leftover Quiche
Store your Cougar Gold Cheese Quiche in the refrigerator, covered. It will stay fresh and delicious for 3-4 days.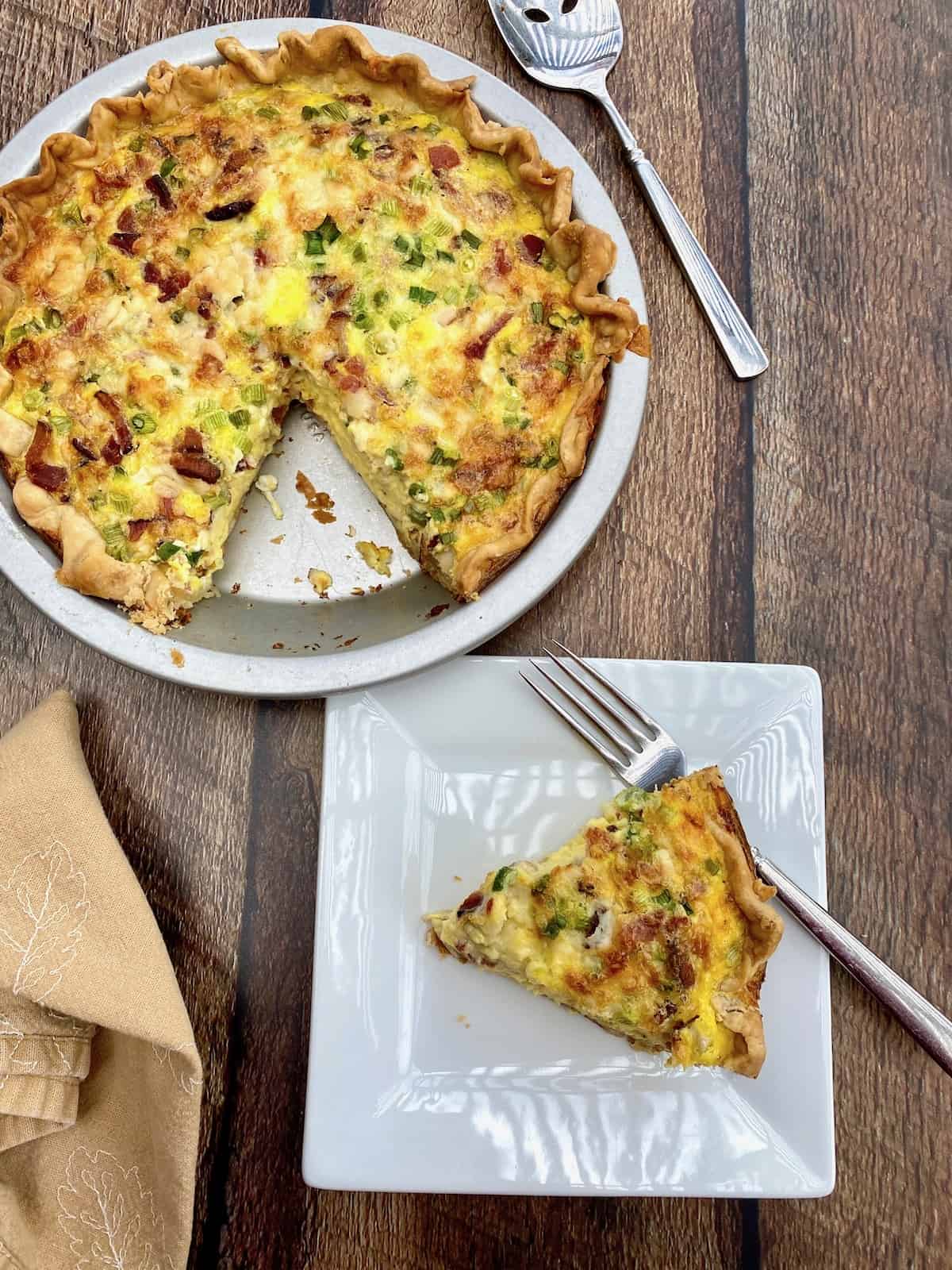 Freezing and Defrosting Quiche
Freezing is also an option. Either wrap each wedge of quiche in plastic wrap and place it in a freezer-safe container - or cover the entire quiche in plastic wrap, then wrap in foil.
To defrost a frozen quiche, remove from the freezer and place in the refrigerator until defrosted.
To serve quiche after being defrosted, remove the plastic wrap and warm in a 350° F oven for about 15 minutes. Place loose covering of foil on top to keep the crust from getting over-cooked.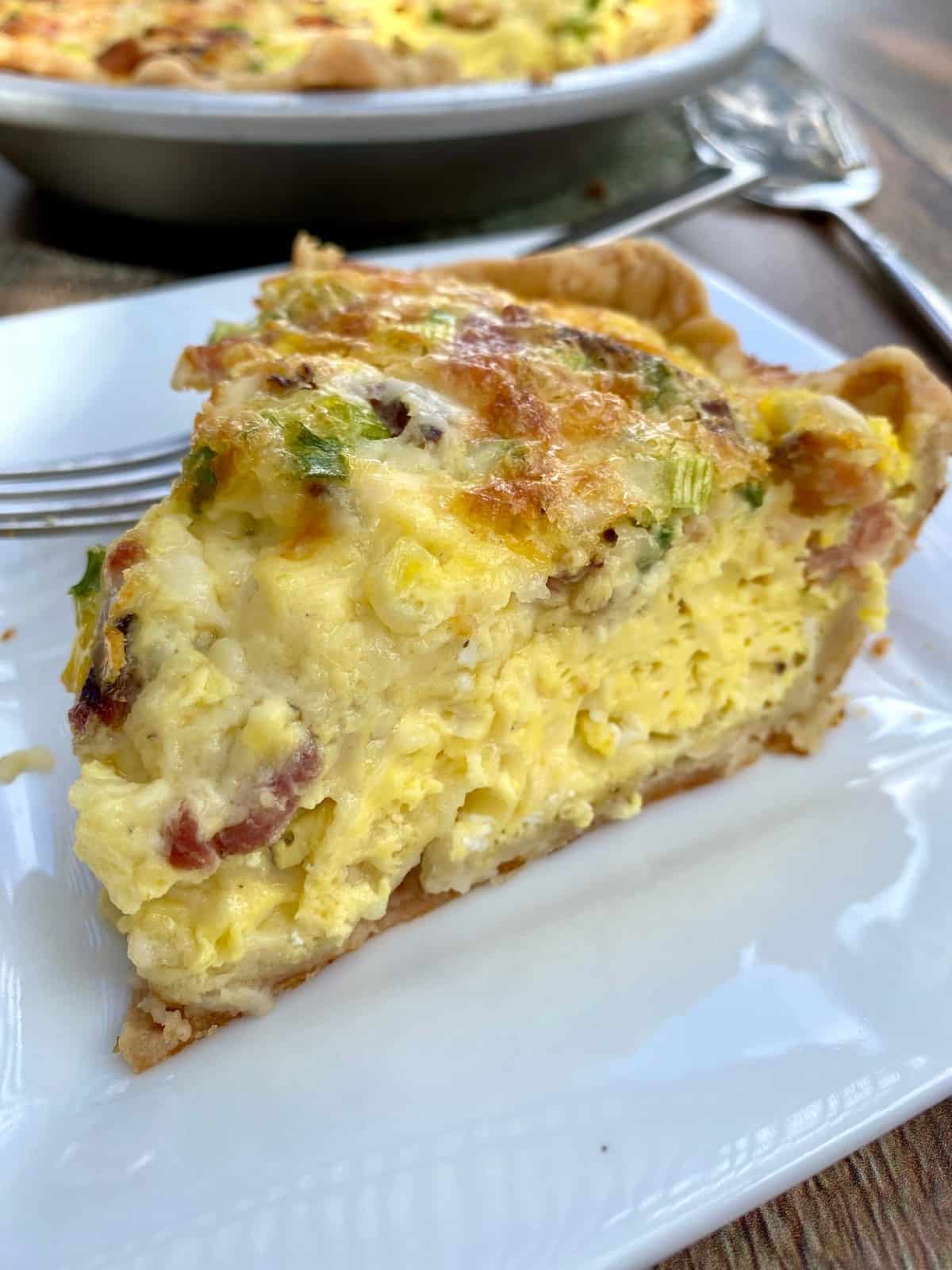 What to Serve with Quiche
Whether you are serving your quiche for breakfast, brunch or even dinner, here a few recipes that will taste delicious with it.
Orange Sweet Rolls have a technique to them that allow you to enjoy freshly-baked cinnamon rolls any time, plus there's a secret ingredient - fresh ginger!
Sweet Green Smoothie will remind you of a milkshake, but this smoothie is packed with fresh spinach and fruit and is the perfect pairing with a wedge of quiche.
Rate the Recipe
Recipe