Homemade brownies, warm from the oven are about as good as it gets. There's no need to use a store-bought, boxed brownie mix. Make your own brownie mix from scratch and enjoy freshly baked brownies any time you're craving the richest, most chocolaty brownies ever.
Note: Some of the links you find on this page are paid links, Amazon Associates. That means I make a small commission when you click and shop. Your cost is always the same and I only link to products or ingredients that I use and enjoy.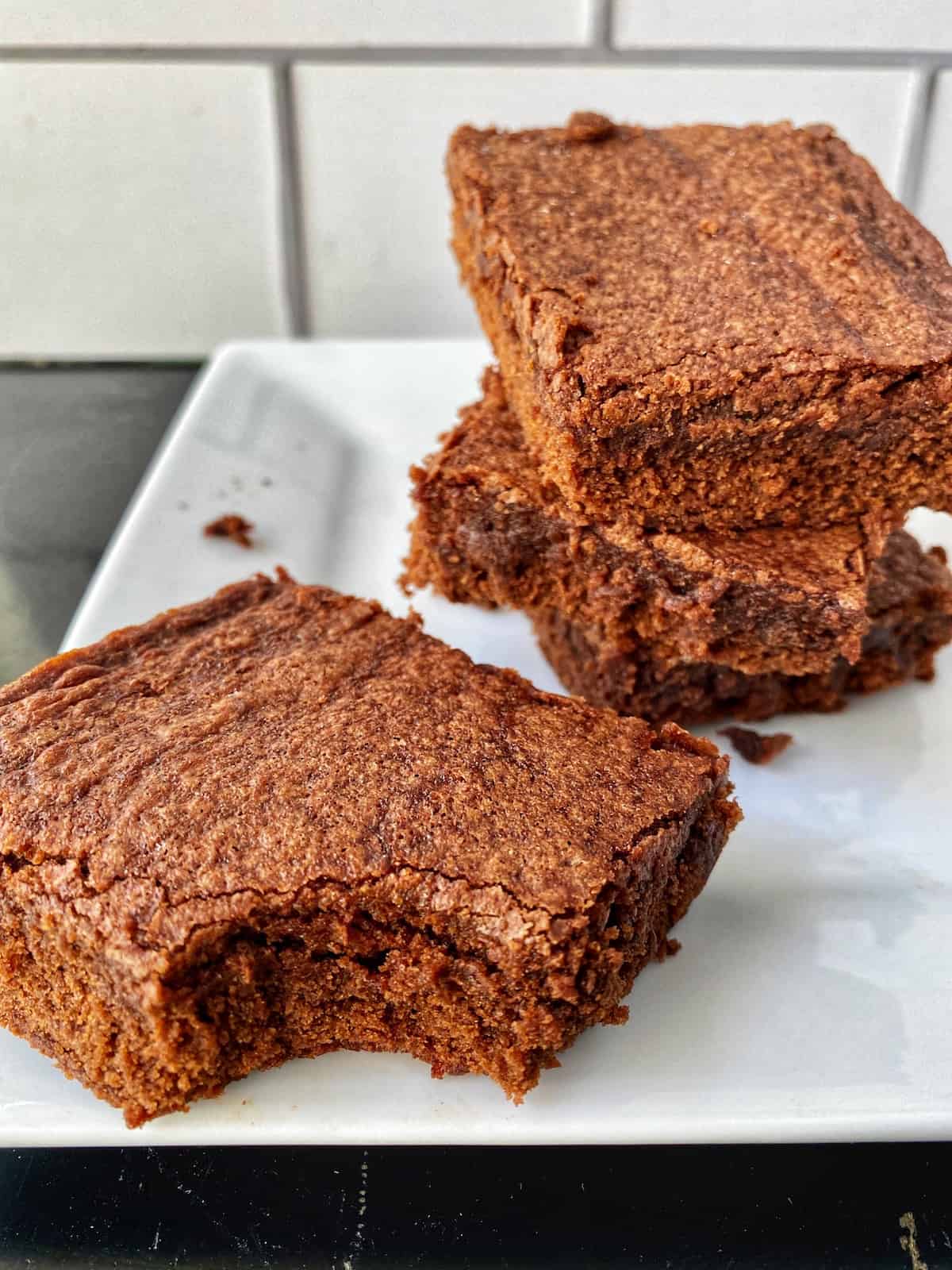 Jump to:
Ingredients to Have on Hand
Flour
Sugar
Cocoa Powder
Butter
Eggs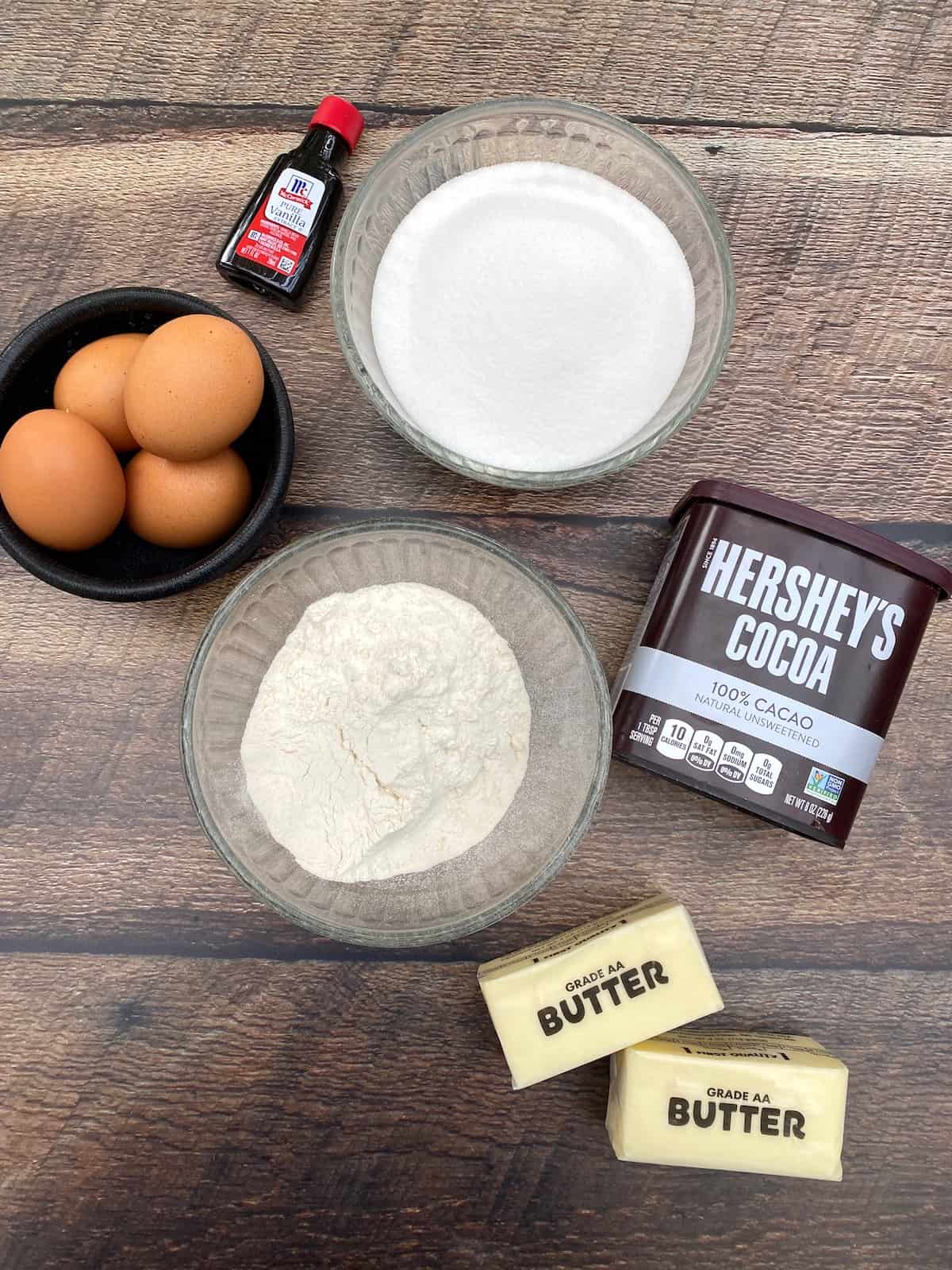 No Salt, No Baking Powder
Believe it or not, you don't need either salt or baking powder for this brownie recipe. Usually salt helps bring out the best flavor in recipes with chocolate, but with this brownie recipe you can rest assured that both of those ingredients can stay put in your spice cabinet.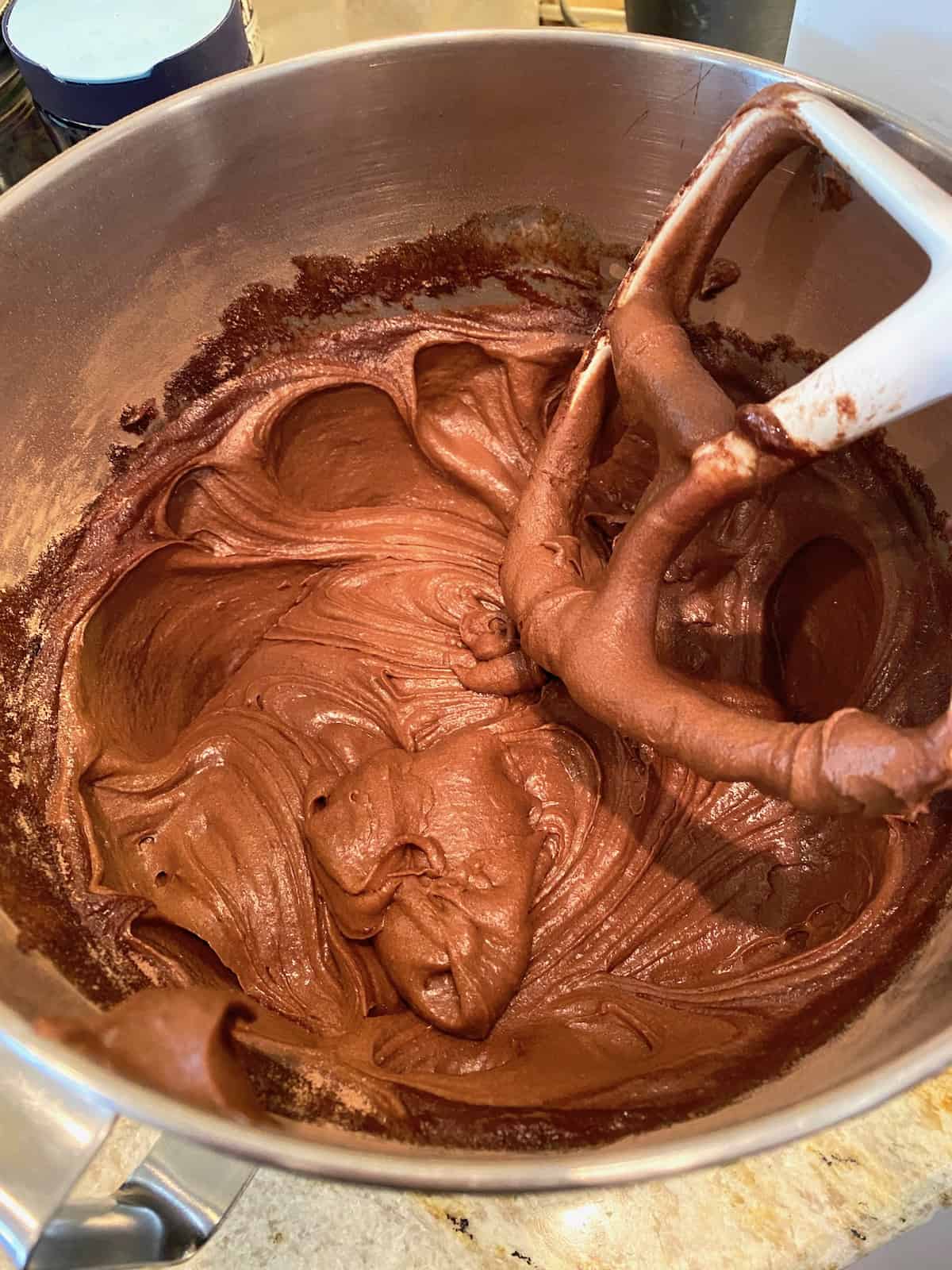 Easy to Make Brownies
Scratch-made brownies are so much better than what we get in a box. These brownies offer the same convenience as a store-bought brownie mix, but they are from your pantry shelf, not the grocery shelf.
Be assured, this is one of the easiest brownie recipes EVER.
Great for Gifts
Homemade brownie mix is great to keep on hand in your pantry. But it's also a delightful gift to share any time you want to offer a sweet treat to a neighbor, a teacher or to take along as a hostess gift.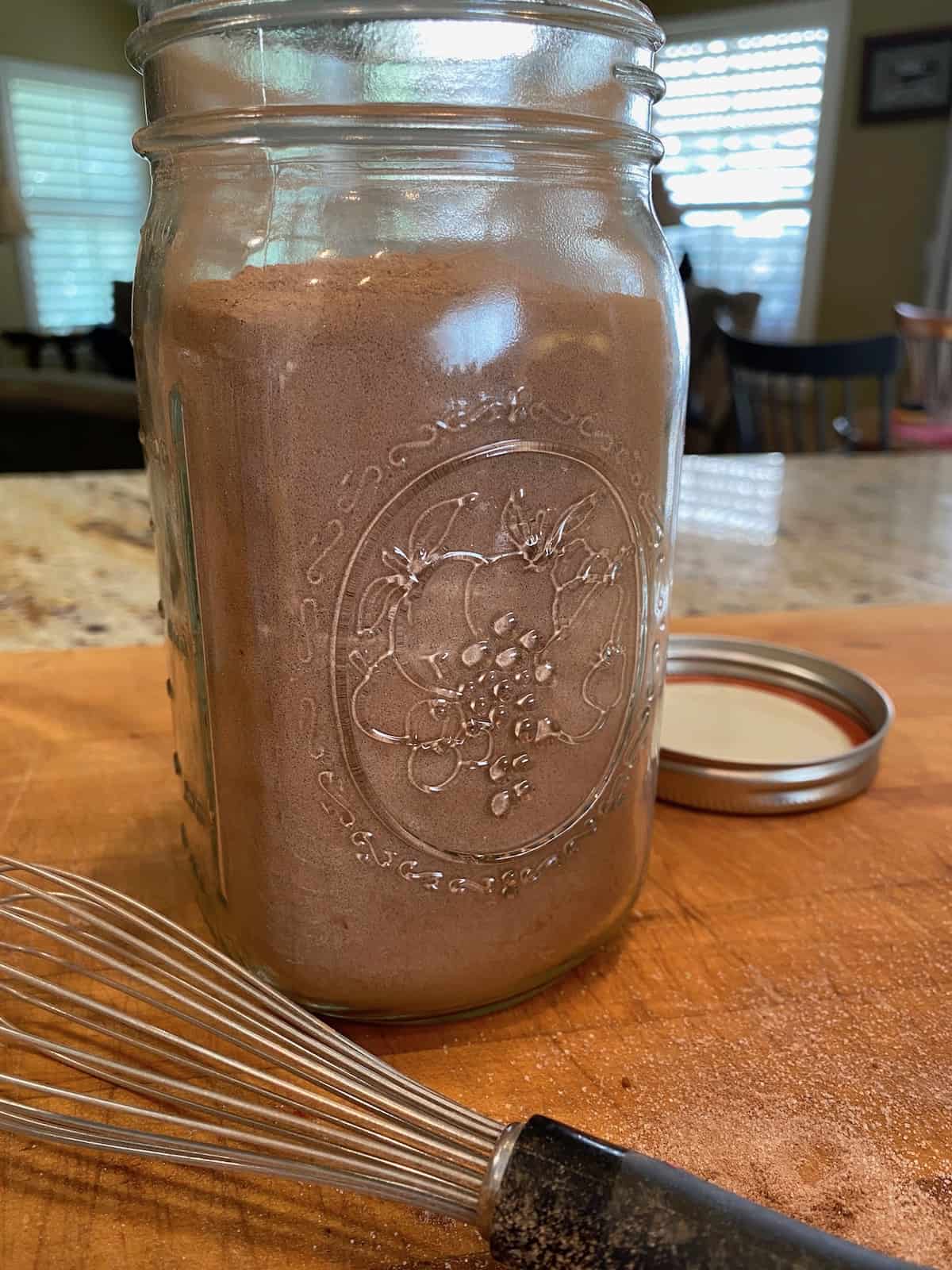 As an added bonus, I like to include a small jar of vanilla extract with the gift. It's an especially nice touch if you are giving it to some someone who may not normally bake from scratch and might not have vanilla extract on hand.
Print the recipe card below and include it with your jar of brownie mix. You'll be all set. The card has the baking instructions and lists the additional ingredients - butter, eggs and vanilla.
Frosting or No Frosting
These chewy, fudge-like brownies are fantastic with or without frosting. Each serving is rich with plenty of sweetness as-is.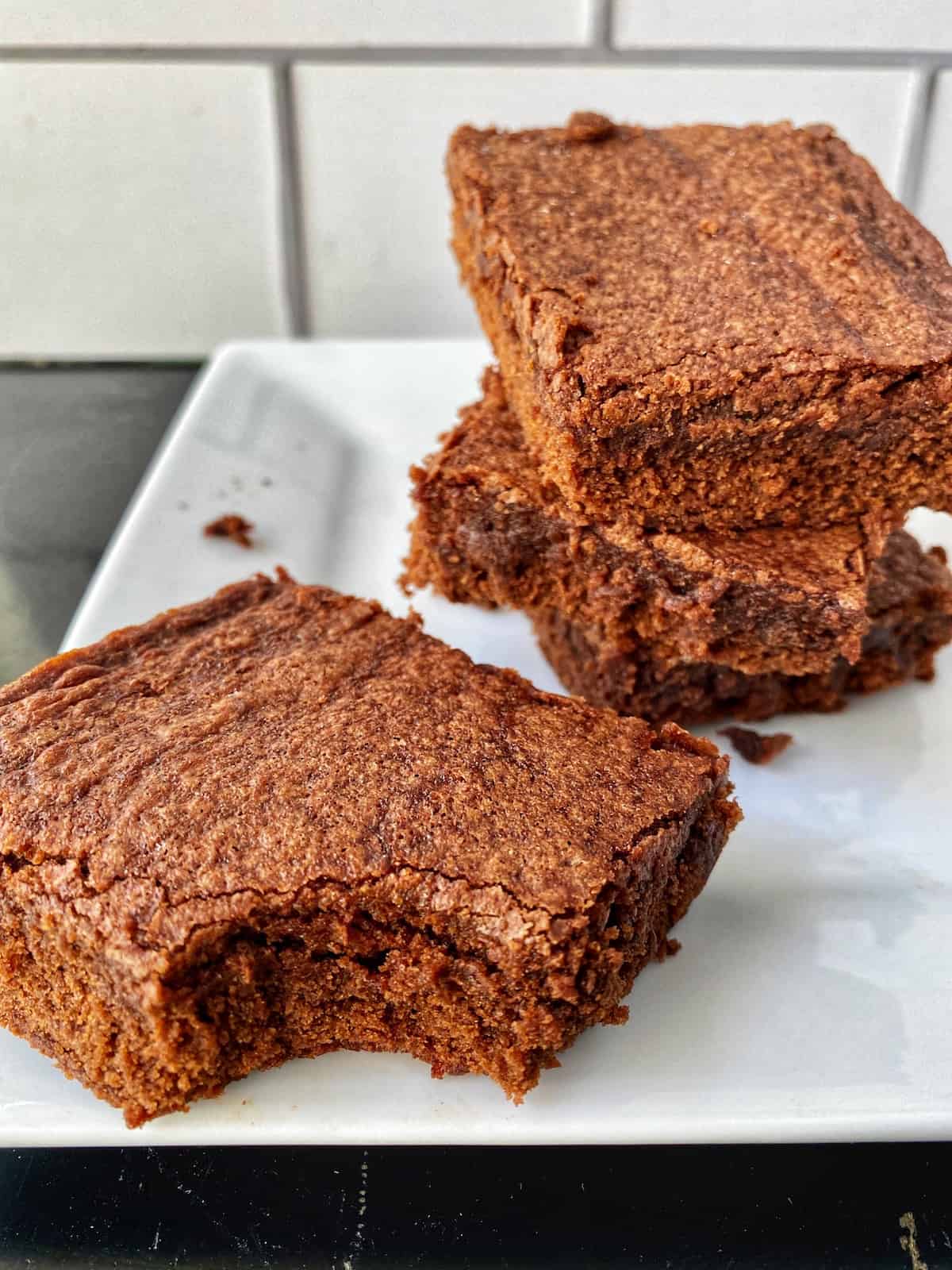 If you have a favorite chocolate or vanilla frosting that your family loves then by all means layer that on top.
Brownie Mix Storage
The dry, homemade brownie mix ingredients will stay fresh and ready to bake for as long as the expiration dates on the ingredients you use. I like to buy the flour, sugar and cocoa powder from the grocery store shortly before I prepare the mix to help ensure I'm using the freshest dry ingredients possible.
The brownie mix will stay fresh for an estimated 3-6 months in your pantry.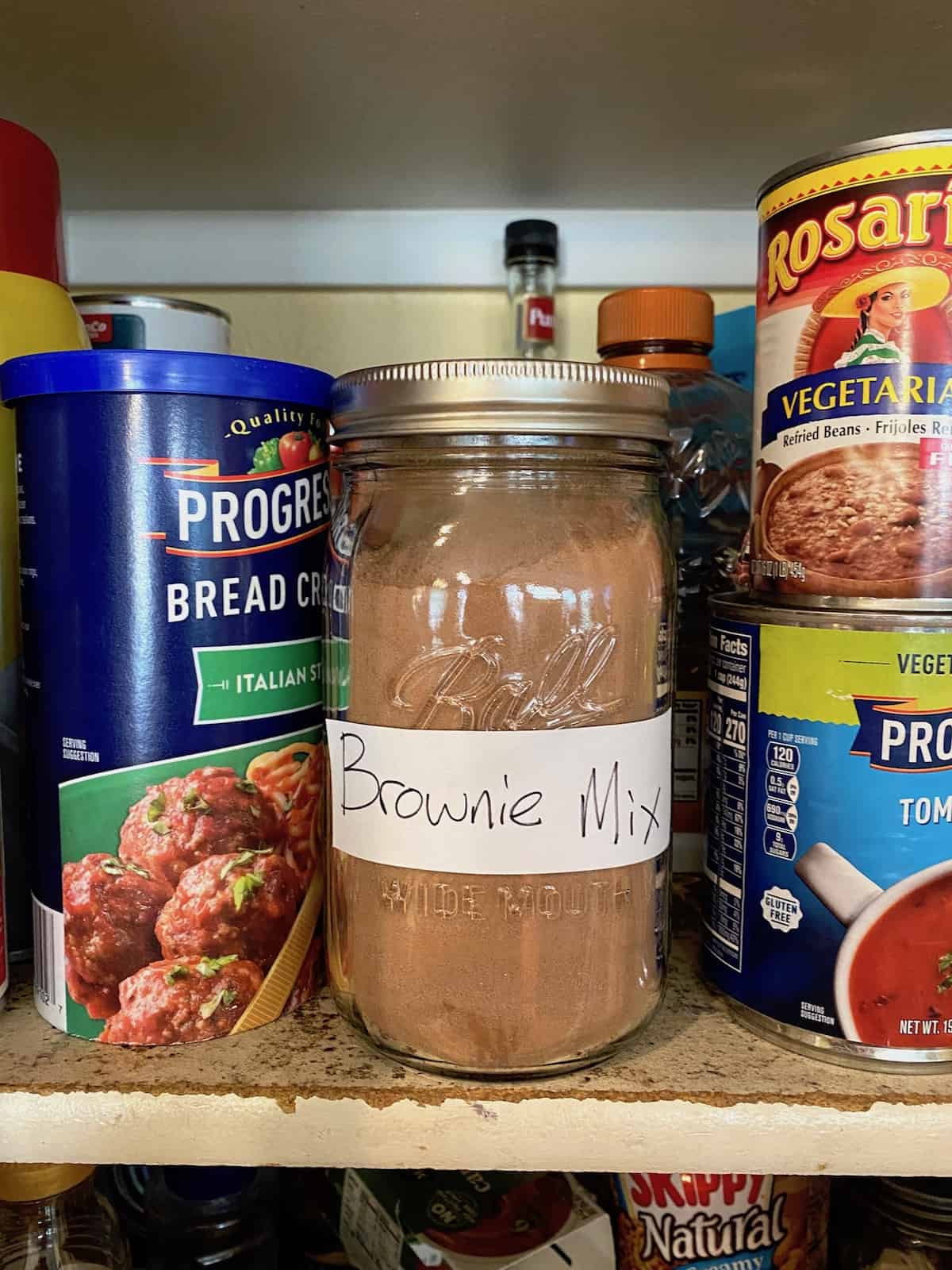 Top Tips and FAQ
Can I use shortening instead of butter?
In many baking recipes you can make that substitution, but I don't recommend making the swap with brownies. Shortening and butter are actually two very different ingredients.

Shortening is made with hydrogenated vegetable oil, has no water and no taste. Butter is 80% butterfat and 20% water (occurring naturally).
As we all know, butter adds delicious flavor to baked goodies.

As an option, margarine is a better substitute for butter in this recipe.
What size mason jar or container will hold the mix?
A quart-sized container is perfect, but any covered or sealed bag or jar that holds 4 cups will work great.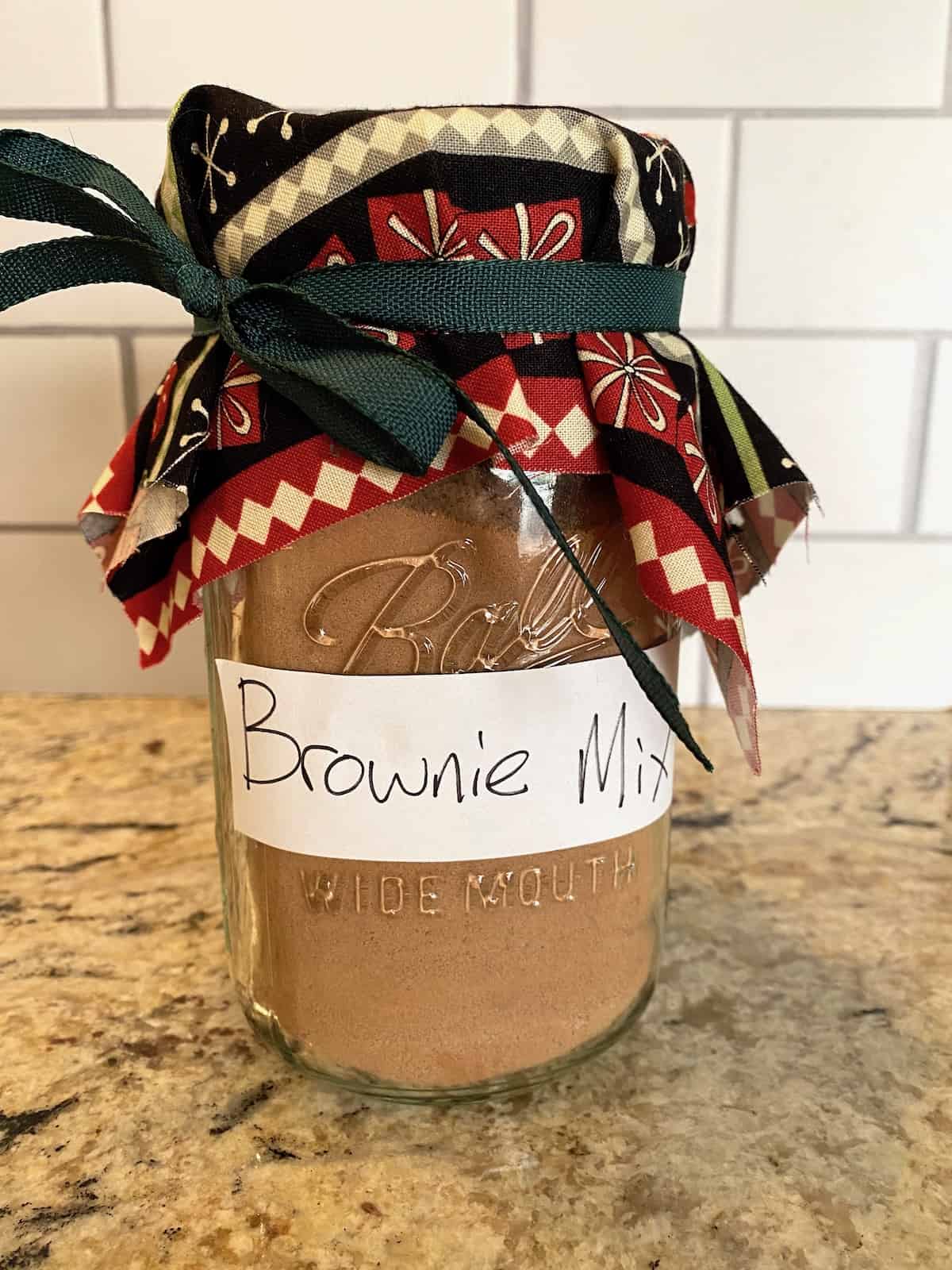 What to Write on a Gift Tag
If you use this brownie mix as an edible gift, be sure to include a list of the additional ingredients and baking instructions on a tag or sticker so your recipient knows how to bake their brownies from scratch.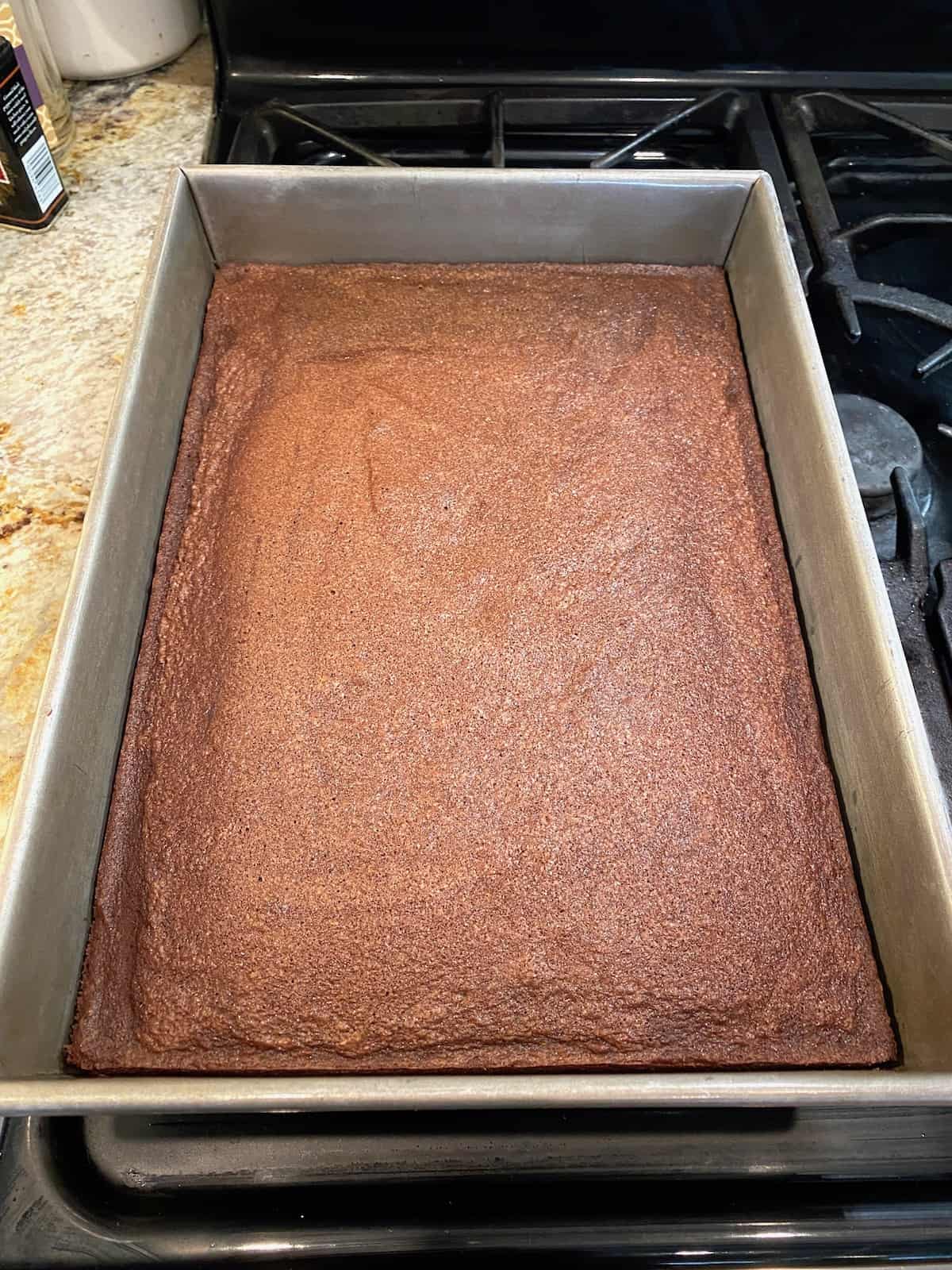 The Inspiration
This brownie recipe was kindly shared by Byron Yankey, a friend of my husband. Byron spent 50 years in public education, much of that time as a teacher and a principal.
Byron loves to cook and to bake and he regularly treated his staff and colleagues to special homemade confections.
Byron says he took these brownies to countless meetings across the state of Idaho. "They are often more welcome than I am," he said.
He estimates that he makes about 100 batches a year. "The brownies have been used to reward, soothe, make peace, energize and excite. But in general they are made - just because."
Thank you Byron for sharing your fantastic recipe with the Crinkled Cookbook!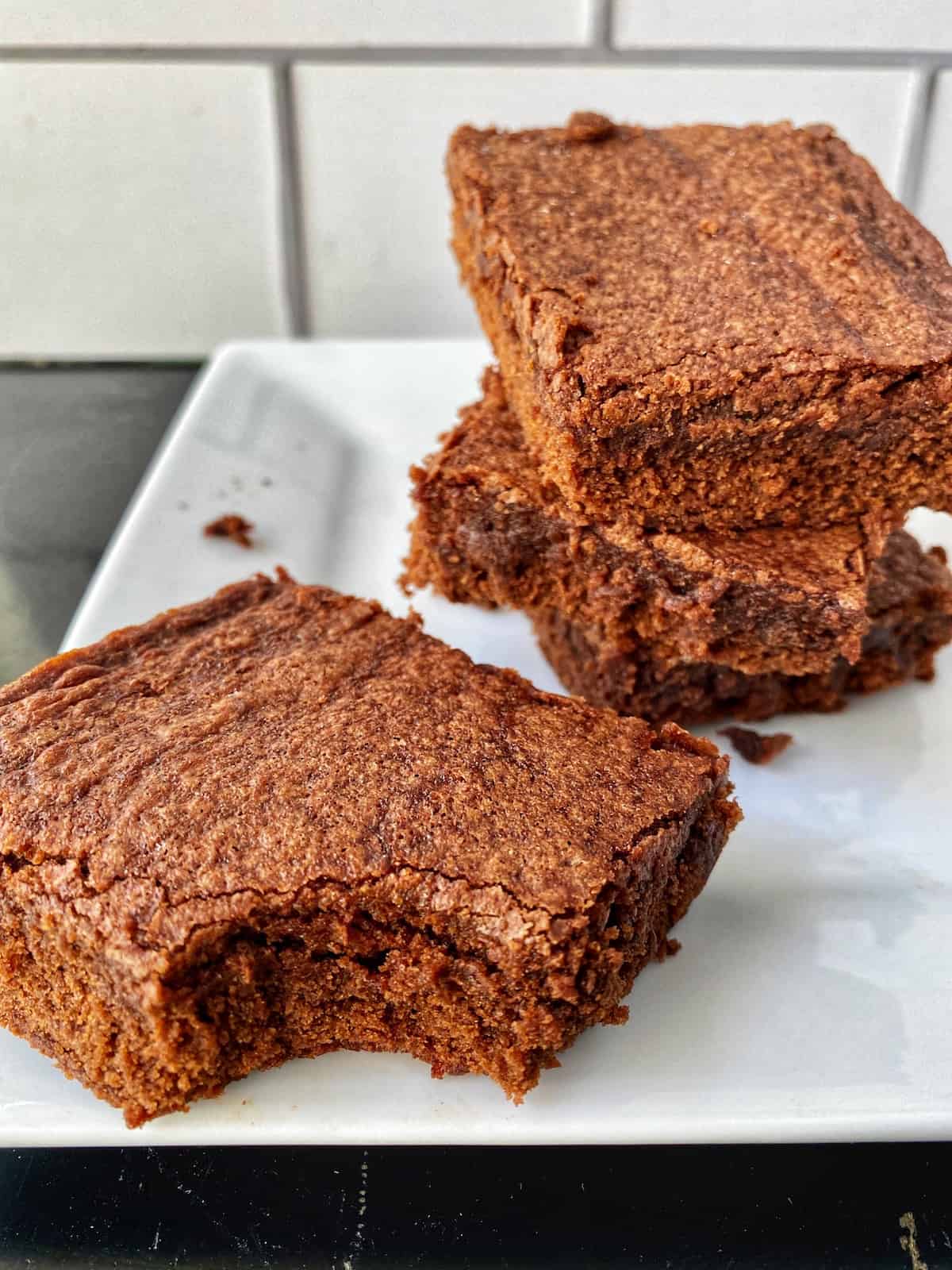 Note: I've adapted the recipe only to add the option of preparing it as a mix but the ingredient list and instructions are all Byron's.
Cookies and Treats
Here are a few more sweet treats to enjoy!
More Baking Recipes
Are you in a baking mood? Here are a few more recipes that are sure to please your family and friends:
The Best Blueberry Cake, this is a cake recipe that might remind you of the most tender, fruity blueberry muffin you've ever had!
No-Peel Apple Cake is loved by so many readers for it's simplicity. No need to peel the apples for this dessert recipe and it bakes in a pie dish.
Craving more chocolate? I think you'll love Old Fashioned Chocolate Pound Cake. It's a family recipe that has been shared for several generations. So good!
Be sure to give a star rating to the recipes you make from the Crinkled Cookbook. I always love hearing from you. Sharing is great too! Use the buttons after the recipe to text it with just one click or send it to family and friends on Pinterest and Facebook. Enjoy.
Recipe