Marbled Pumpkin Cheesecake Bars taste like a creamy pumpkin pie, but serve like a brownie and are the quintessential fall dessert. The velvety bars are easy to make and simple to serve. The homemade cookie crust is a chocolatey complement to the swirled cheesecake. It's a timeless treat worthy of serving any time of year, and a delicious dessert to serve after a meal of comfort food like Butternut Squash Mac and Cheese or No Ketchup Meatloaf.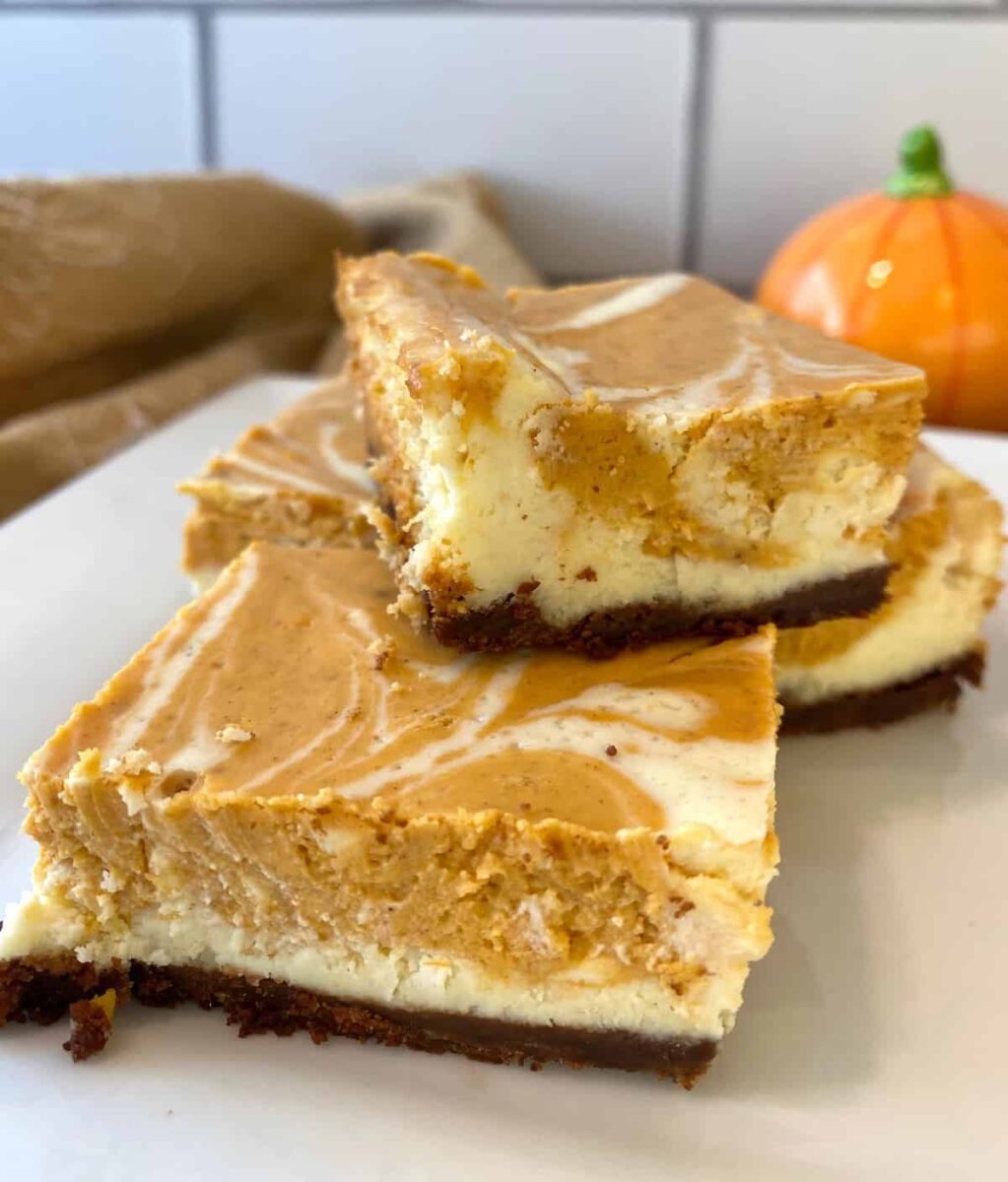 Ingredients to Have on Hand
Sweetened Condensed Milk, canned (not evaporated milk)
Cream Cheese
Nilla Wafers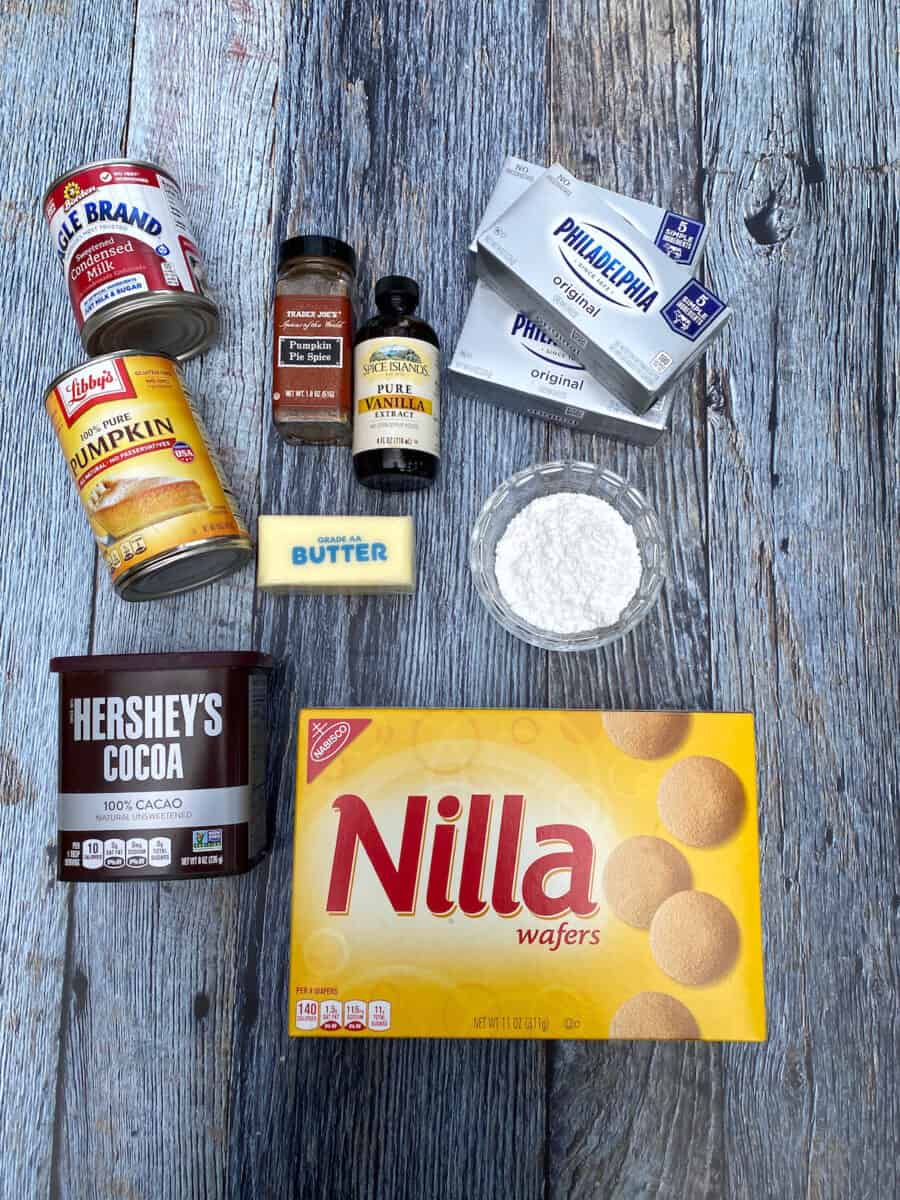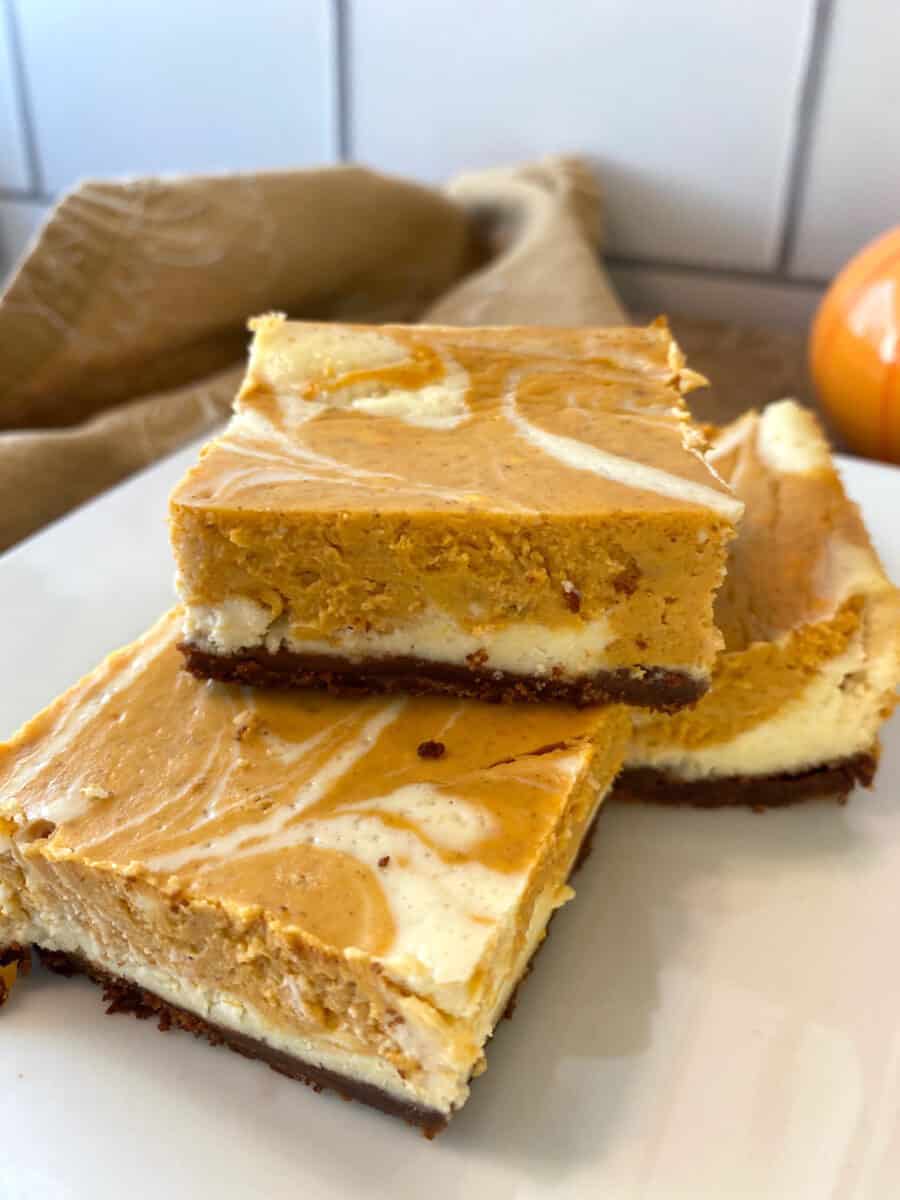 Easy-to-Make Crust
This recipe is unique. There's a homemade, buttery, chocolate cookie crust under the filling instead of a gingersnap or shortbread crust which are both common with pumpkin cheesecake.
Crushed Nilla Wafers are ideal for this easy-to-make crust. Use a rolling pin to flatten the wafers in a zipped top plastic bag then combine the wafer crumbs with cocoa powder, melted butter and powdered sugar. Voila! Chocolate cookie crust.
There's no need to line the pan with foil or parchment paper and there's no need to use shortening or Pam to prep the pan.
The buttery crust won't stick and will scoop out of the pan just fine after the bars are baked and chilled.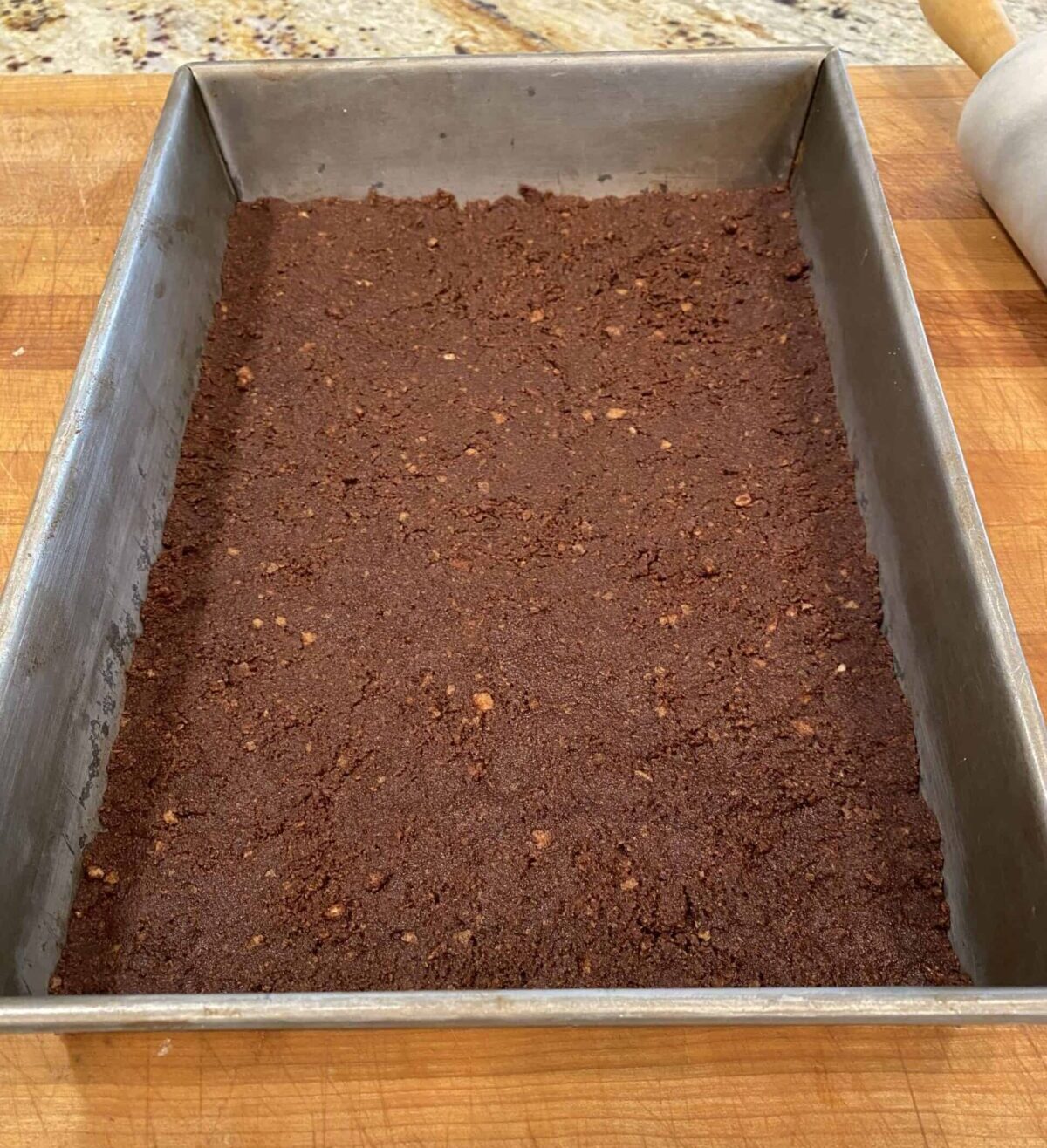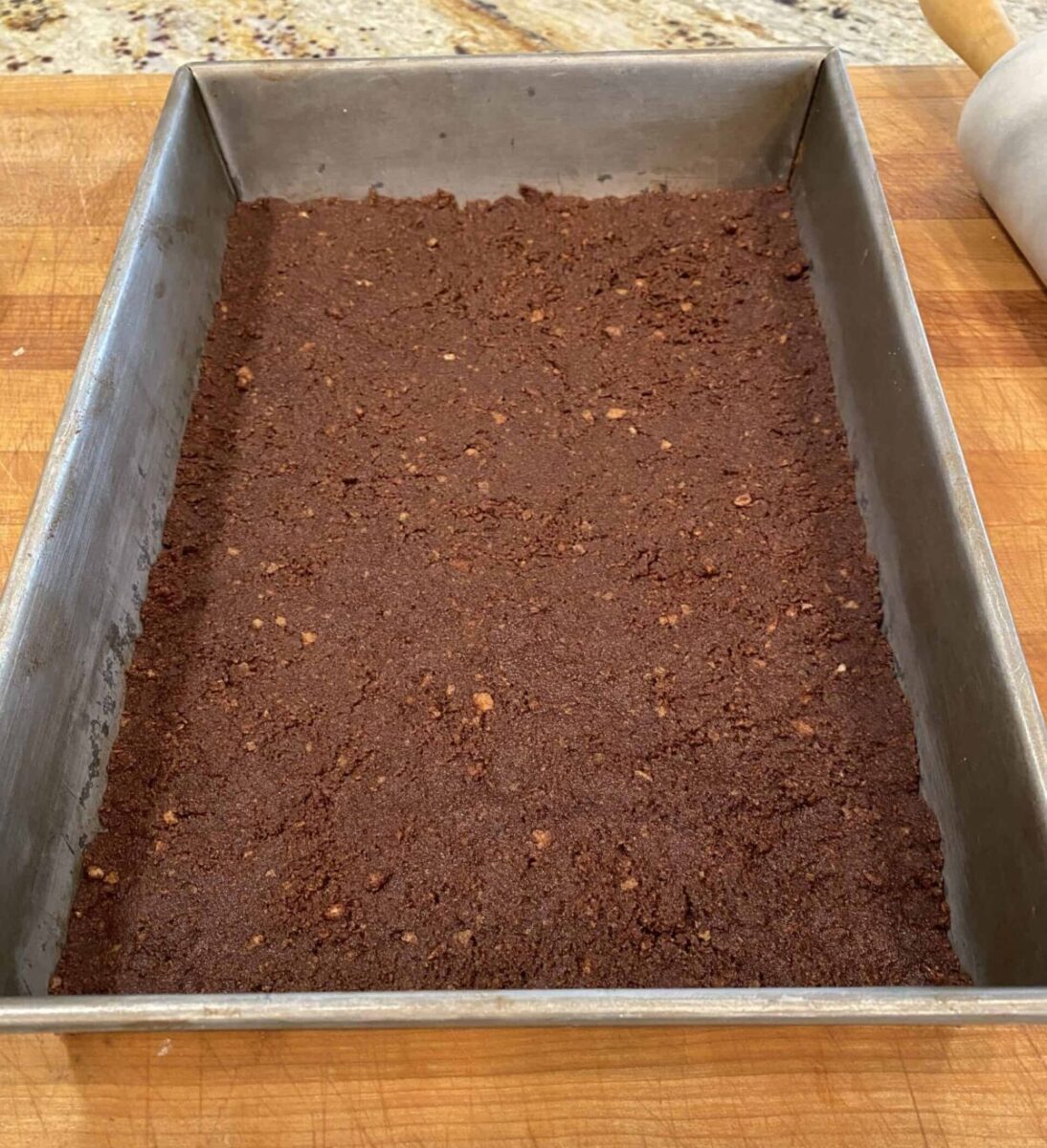 Pat-in-the-Pan Crust
When you first place the chocolatey, Nilla Wafer crumb mixture in the pan, it may look like there's not enough crust to spread across the entire baking pan, but there is!
Just take your time. Pat and push the crumbs to create a thin, even crust across the bottom of the entire pan.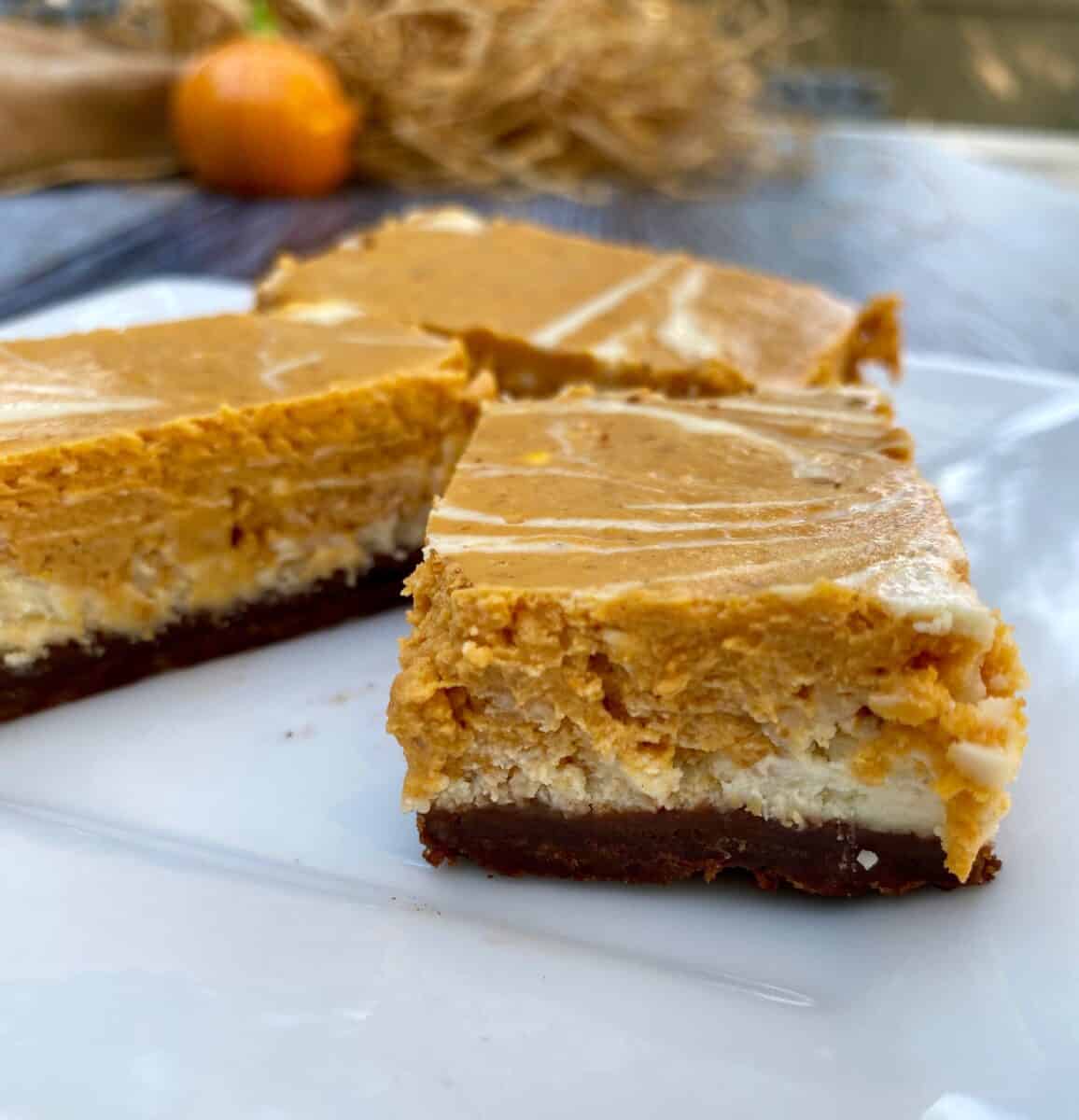 Use Pumpkin Puree
Be sure to use pumpkin puree, not pumpkin pie filling. It's really easy to confuse the two, especially since they are often displayed side-by-side on the grocery store shelf and the packaging looks very similar.
But there is a big difference between pumpkin puree and pumpkin pie filling. Pumpkin pie filling includes spices and sugar. Pumpkin puree is just that, pure pumpkin.
Use a Whole Can of Pumpkin
Marbled Pumpkin Cheesecake Bars use a 15 ounce can of pumpkin puree and you'll use every ounce, which is great. Nothing goes to waste.
I like to buy two cans at a time so I have pumpkin on hand any time I want to make this recipe.
How to Create the Marbled Effect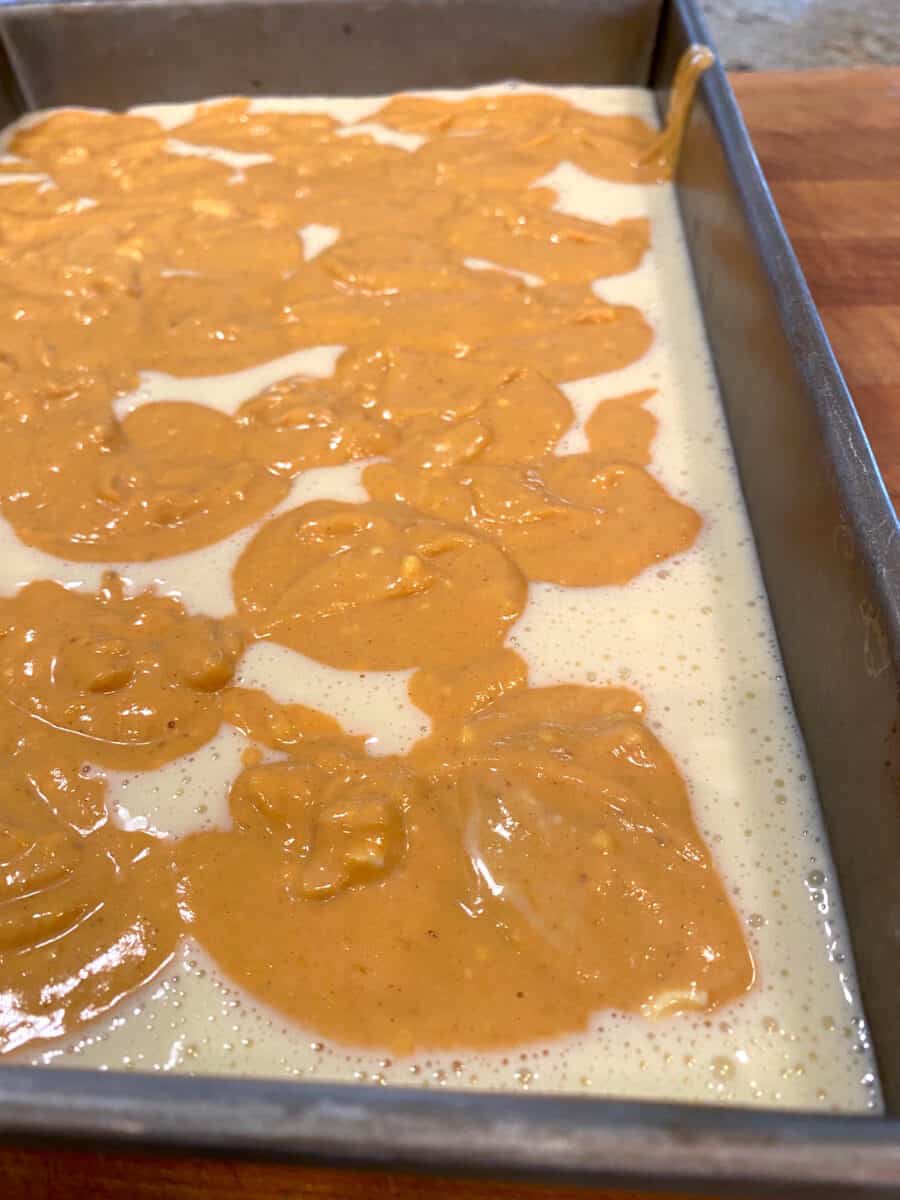 It's actually very simple to create that pretty marbled effect in these cheesecake bars and it just takes a few seconds. Watch this video to see how it's done.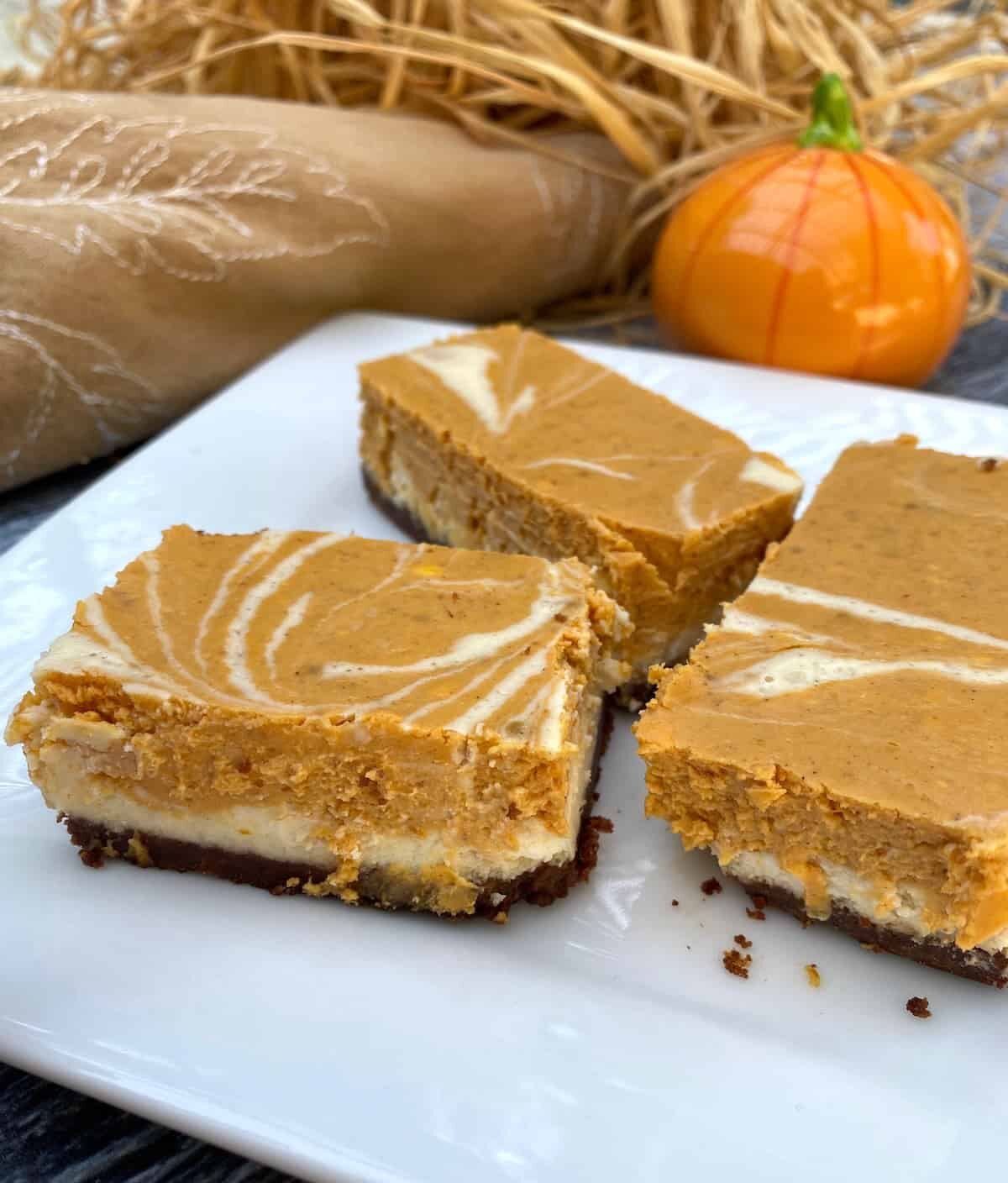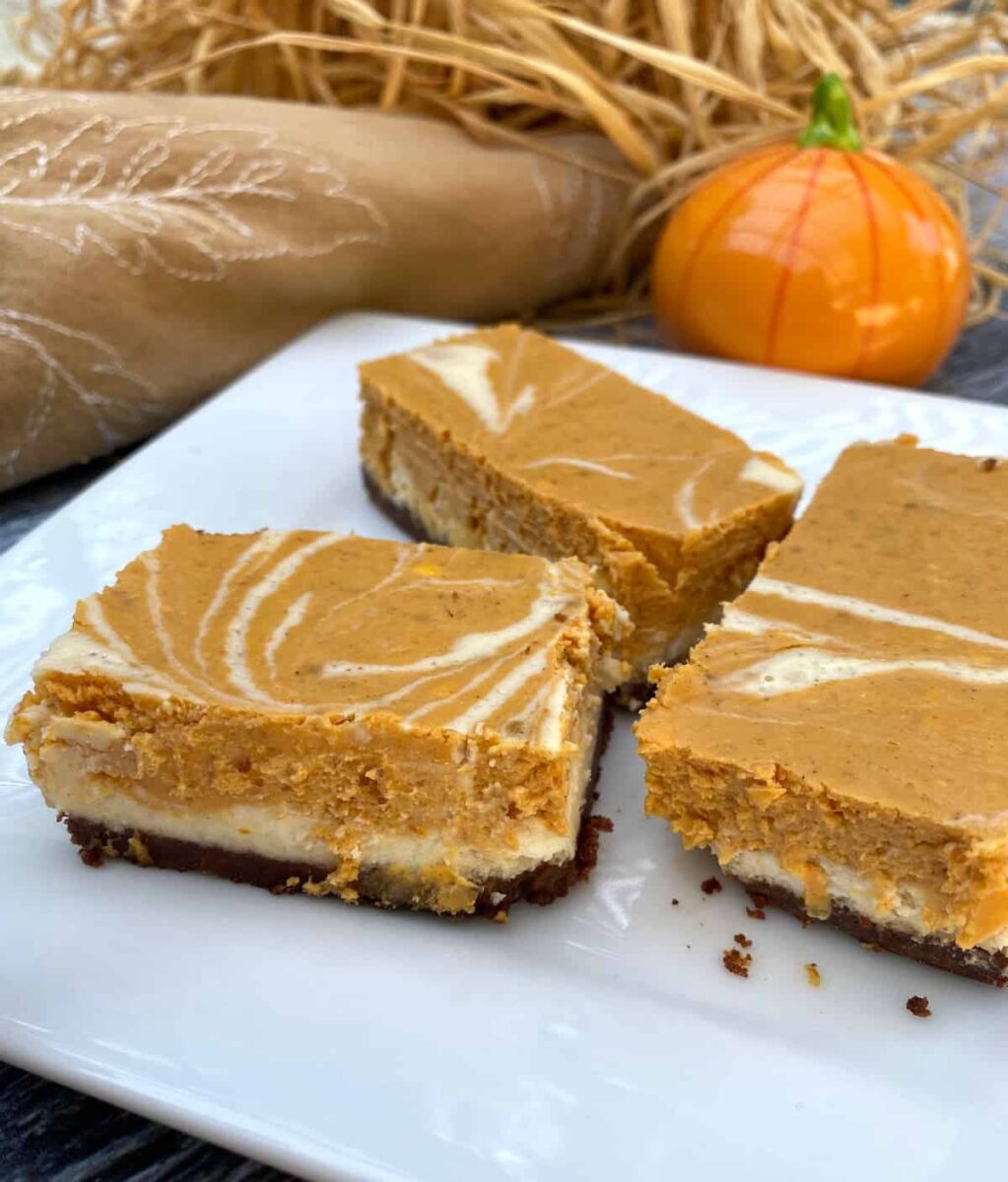 Recipe FAQs
Is there a substitute for pumpkin pie spice?
Sort of, yes. Pumpkin pie spice is simply a combination of five spices. If you have cinnamon, nutmeg, cloves, ginger and allspice on hand you could certainly create your personal version of pumpkin pie spice.

But to get the distinctive, warm flavor of pumpkin pie, you'll want to use that same combination of spices.
Do these cheesecake bars freeze well?
Yes! Just like cheesecake freezes great, so do pumpkin cheesecake bars. I recommend stacking the bars with a sheet of waxed paper between each layer.

Place them in a zipper-top freezer bag or freezer-safe storage container. Defrost in the refrigerator for a day before serving.
Can I use fresh pumpkin from my garden instead of canned pumpkin puree?
I'm sure that would be delicious. Just be sure to cook and mash the peeled and seeded pumpkin until it's really soft. You'll want to replicate the texture of puree found with the canned pumpkin.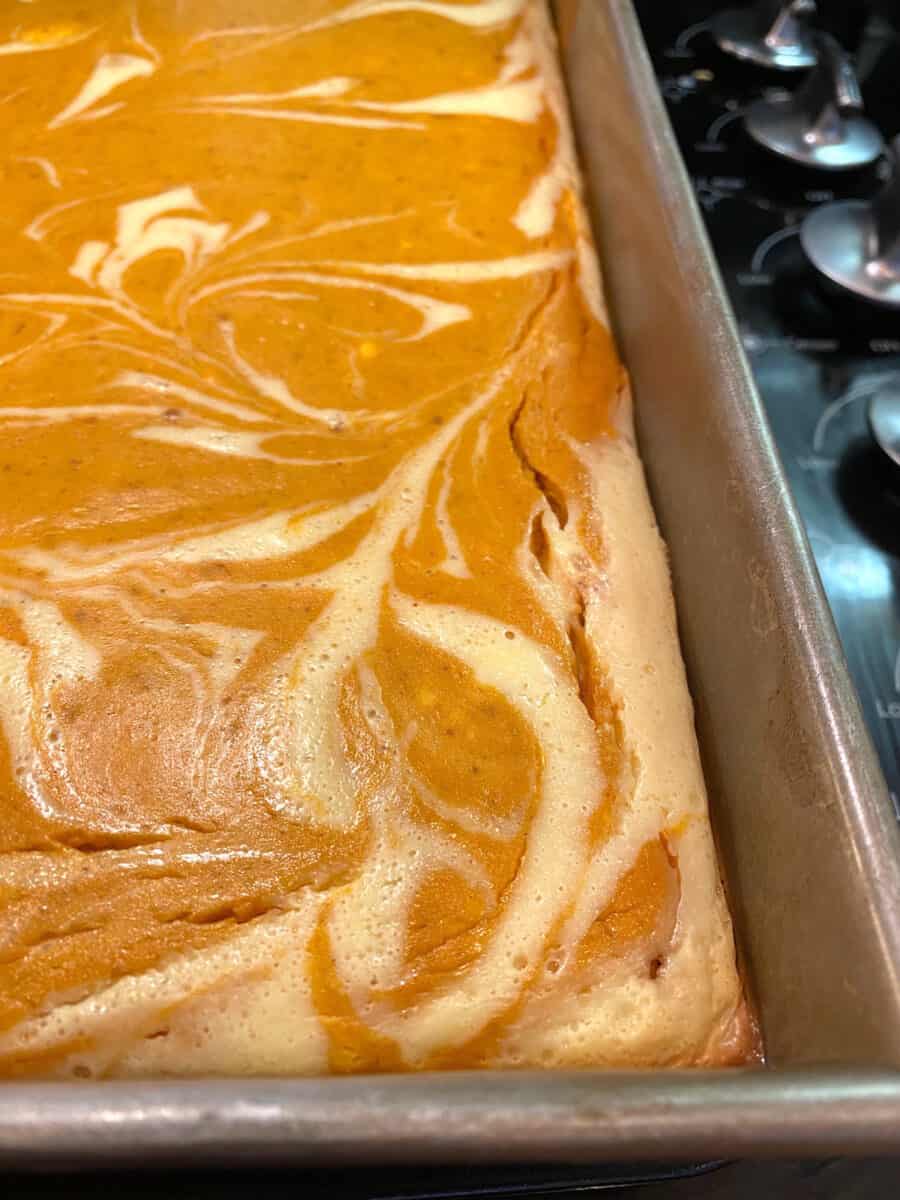 Easy to Serve
When we think of a fall treat or a Thanksgiving dessert it's easy to gravitate to our favorite pumpkin, apple or pecan pie recipes. And those are great. But pumpkin cheesecake bars might change everything for you and your family when it comes to fall or holiday desserts.
These velvety marbled cheesecake bars slice and serve easily. There's no filling to spill off the crust, there's not even a need for a fork.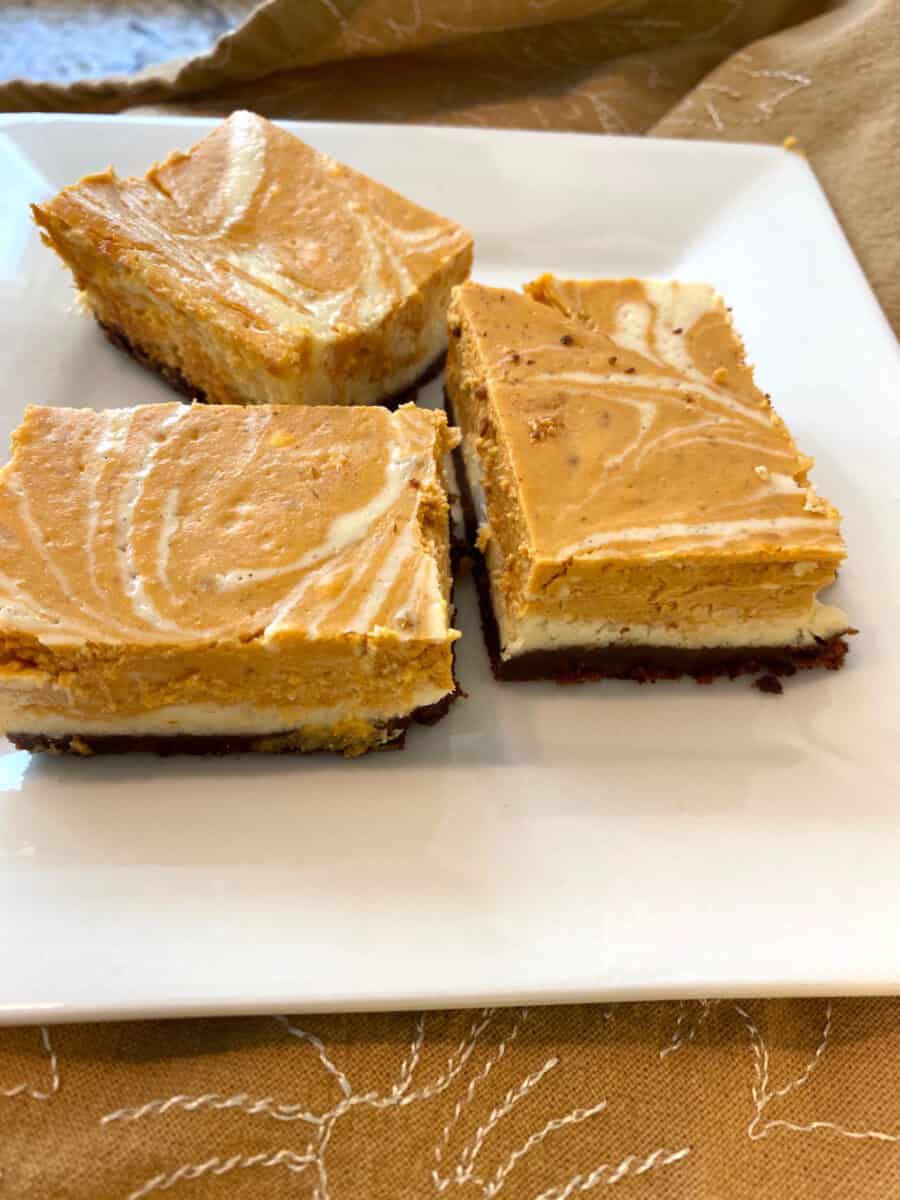 Serves Like a Brownie
When I bake this recipe, using a 13" x 9" baking pan, I cut the bars into 24 portions. But of course, you decide how big to make each serving. I've also served these as tiny bite-size portions and that was a big hit.
These serve just like a brownie. Just slice into bars, lift each serving using a spatula, take a bite and enjoy.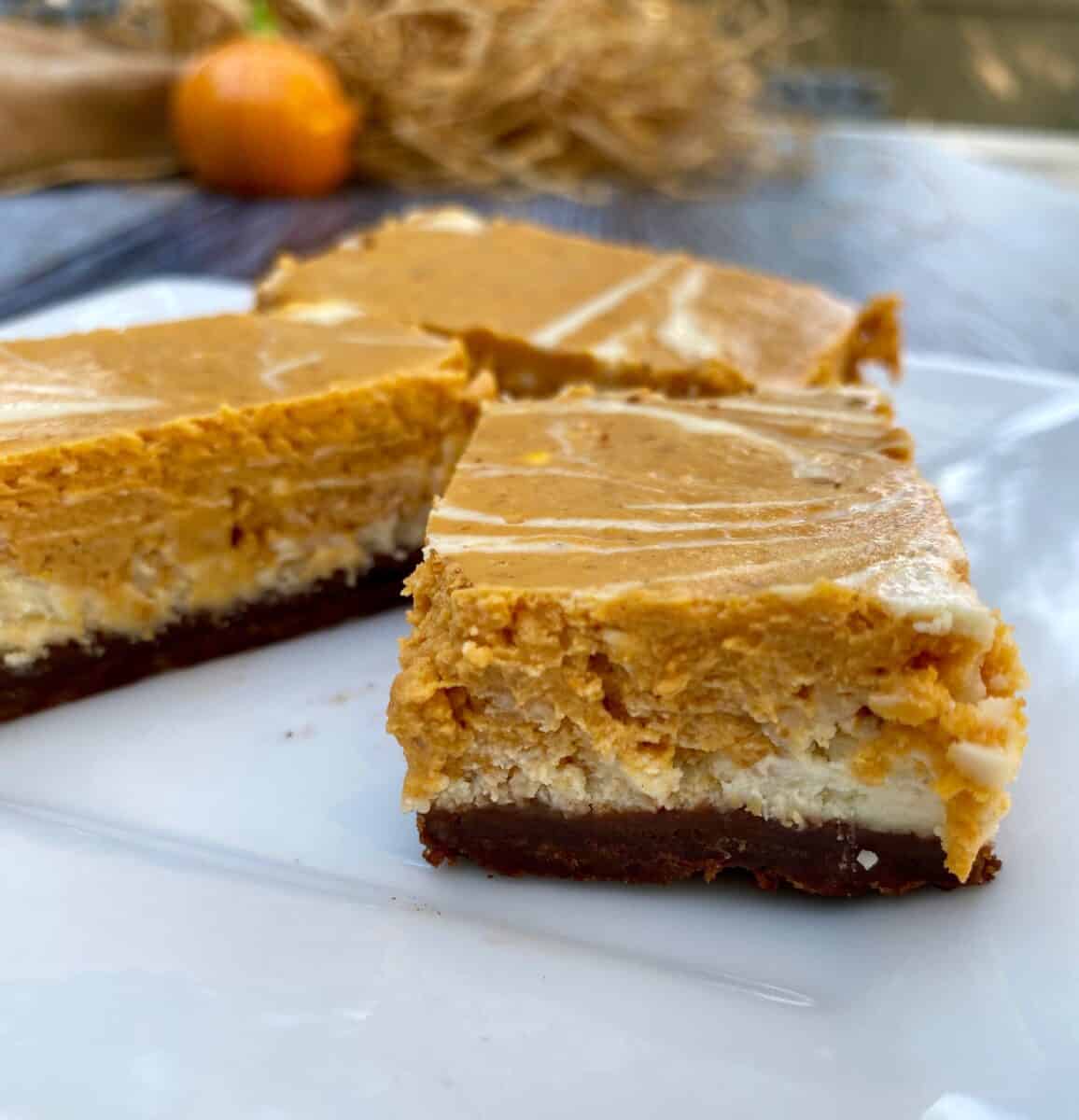 More Easy to Serve Treats
It's great to have easy-to-serve dessert ideas ready to go, here are a few more that I think you'll love!
Recipe