This flaky pie crust is pastry perfection. I've been making pies since I was a kid, but this recipe for pie crust is the best I've ever found. No need to chill the dough after you mix it together, just roll it out between two sheets of waxed paper and a dusting of flour. Best yet, it makes enough for 4 or 5 pies so you can freeze some for later.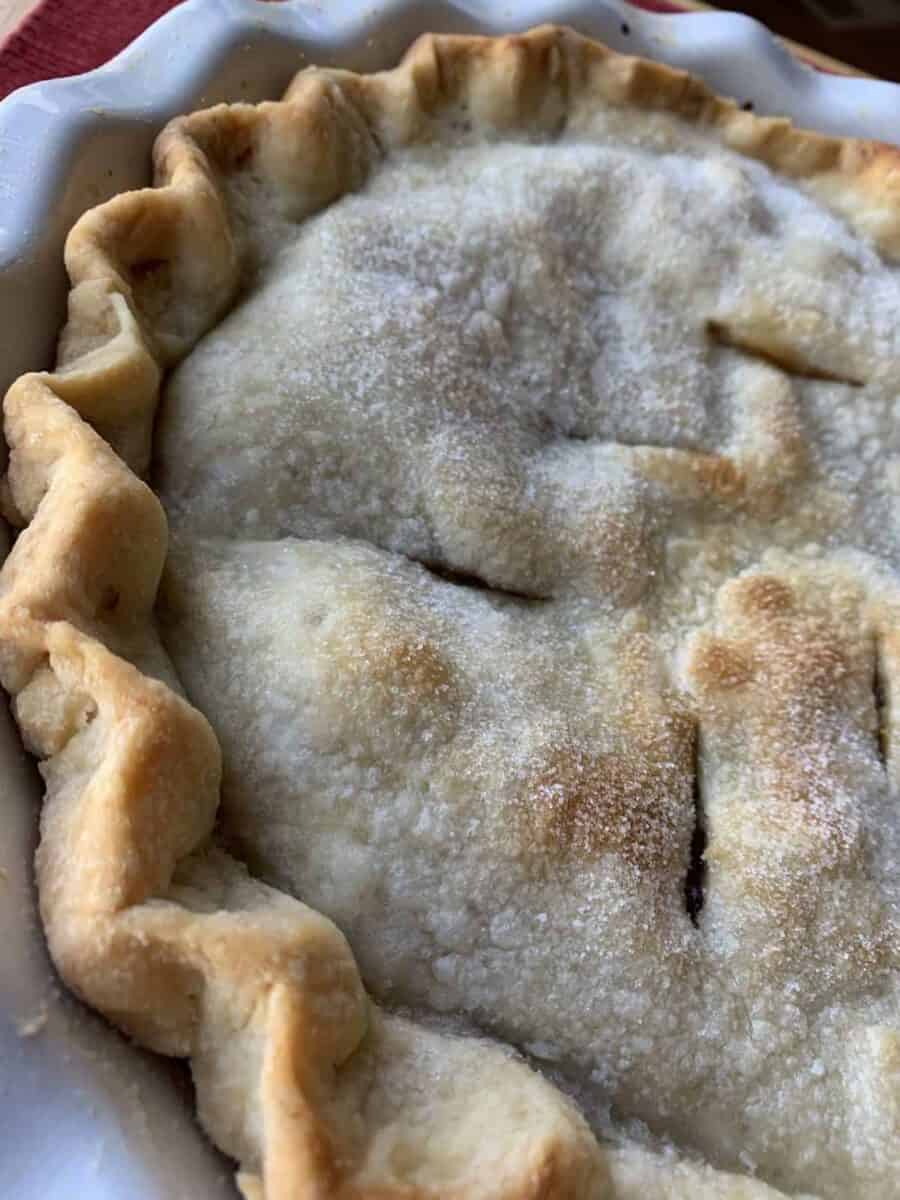 Pie crusts can seem daunting and often it's the time that goes into waiting while the crust chills that can make it that way. This recipe is a breeze because you are rolling out your dough within minutes of mixing it together
Freezer Friendly
When it's the holidays and we're making pies for a crowd, it's easy to use up every one of these crust in one baking project. But other times, we may just need one or two pie crusts. No problem! Once you divide the dough into four or five portions, just pat them into flat rounds and wrap in wax paper. Place each rolled portion in a zipped freezer bag, write the date on the bag and freeze until you're ready to make pies. The crust defrosts perfectly in the fridge, it takes about 8 hours.
This recipe is a family favorite from my daughter's boyfriend. It was his mother's recipe and I'm so thrilled to share it here on the Crinkled Cookbook.
And since we are talking about pies, here's a recipe that's a bit hit in my family and delicious. Strawberry Rhubarb Pie, it's one of my mom's specialties and one of my favorites. Best of all, it's oh so easy to make.
How to roll out pie dough
Rolling out your pie dough is one of those techniques that takes a little practice, but that's one more great thing about this recipe. Here you have at least four or five pie crusts to roll out and make beautiful pie crusts with. Waxed paper is important, some folks like to use parchment paper but I think the thinner waxed paper works best for pie crusts.
Single Crust Pies
If you are making a single crust pie such as a cream pie or lemon meringue and need to bake it before filling, here's what you do:
roll the crust for each pie
place the single crust in a pie pan and flute the edges
use the tines of a fork to create very small holes all over the crust
bake at 425° for 10-15 minutes
cool and fill with whatever pie filling you have prepared
Recipe