Mrs. Fields Chocolate Chip Bars are chewy, sweet and buttery with all the "deliciousness" of a chocolate chip cookie but with the ease of using just one pan. Make these yummy bars in a cast iron skillet and you have yourself a conversation-making treat that's especially fun to serve warm from the oven.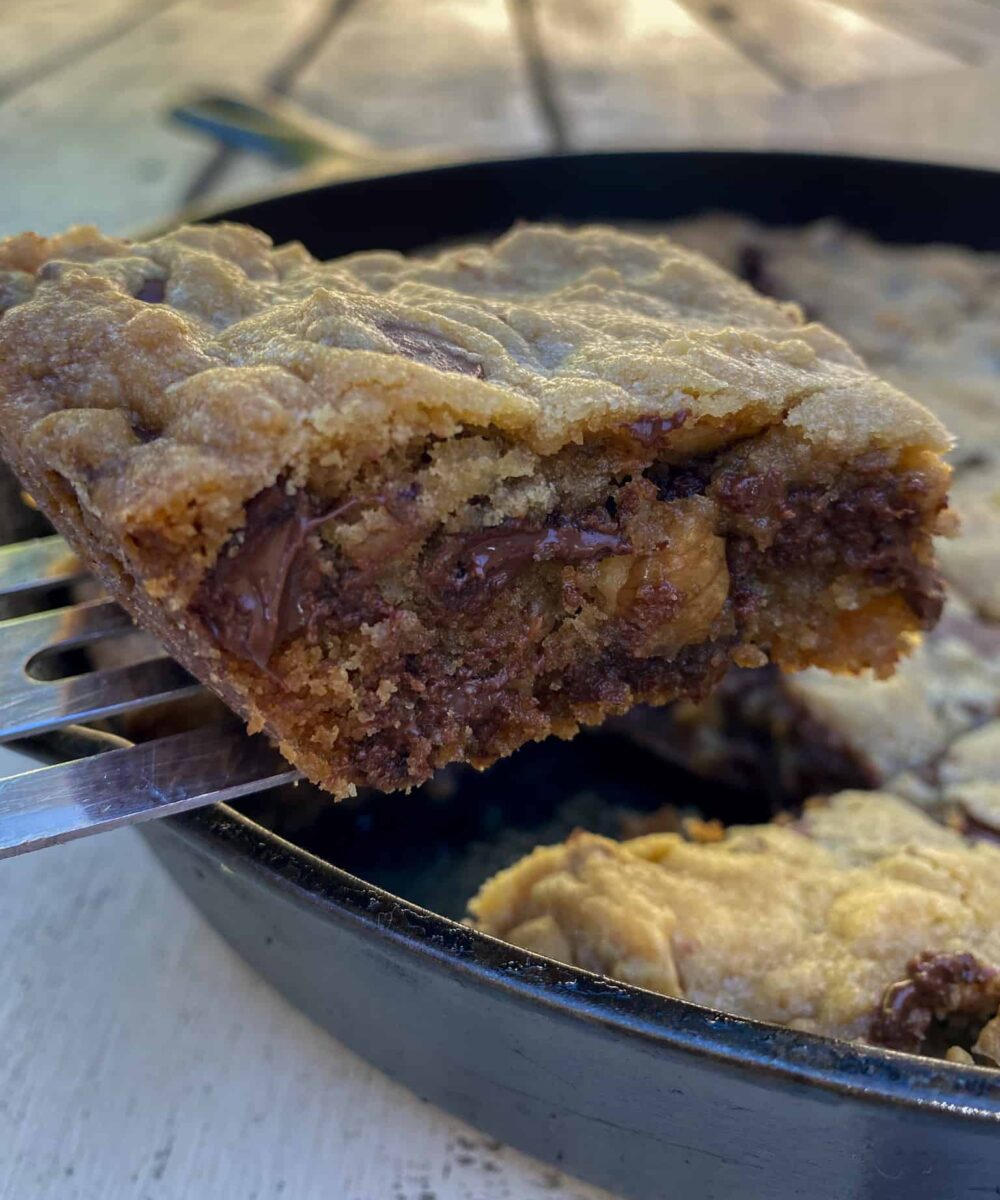 If you love homemade cookies just like mom used to make, like Peanut Butter Cookies or Molasses Snaps, then you are going to love this recipe for Mrs. Fields Chocolate Chip Bars.
Ingredients to Have on Hand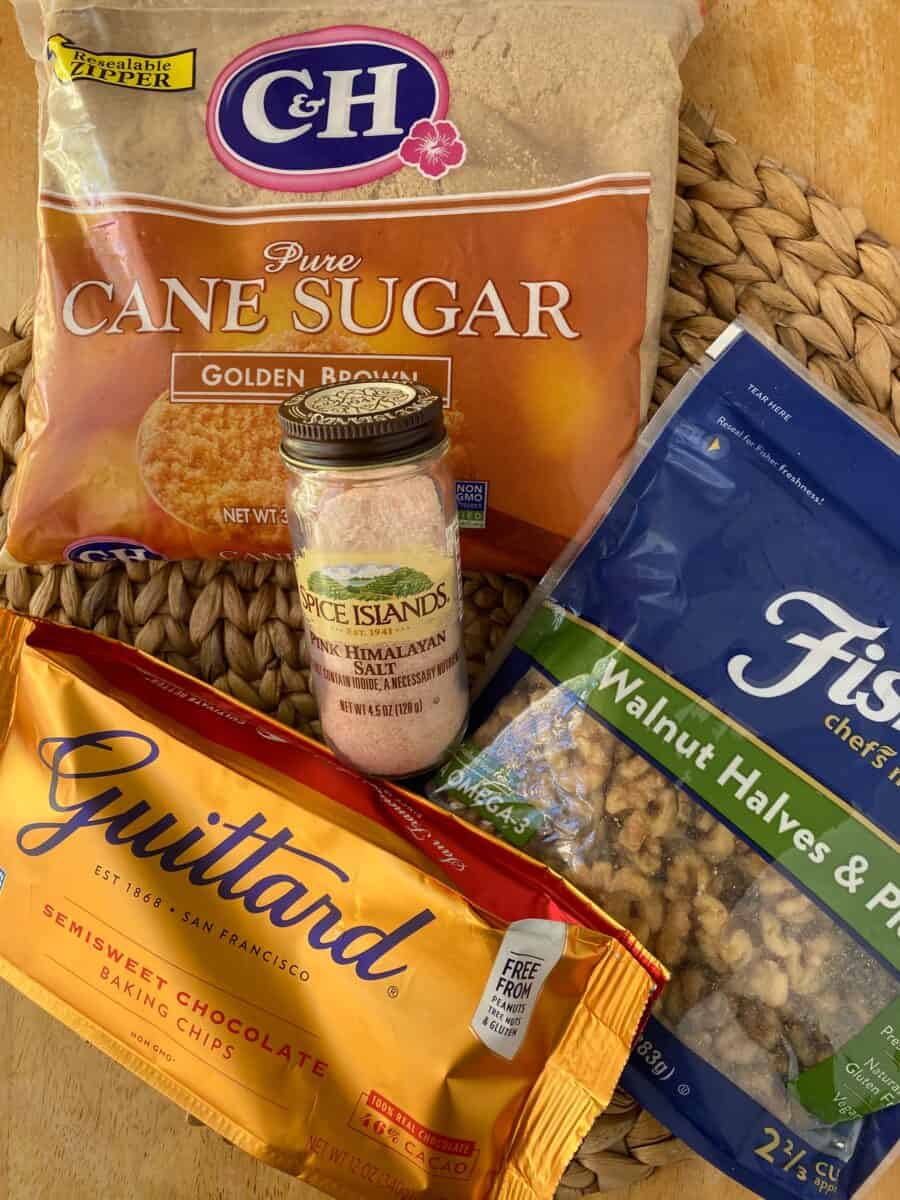 Cast Iron Skillet Method
Even if you have a glass 8" x 8" baking pan in the kitchen, there's something whimsical about making Mrs. Fields Chocolate Chip Bar recipe in an 8" cast iron skillet.
The baking time is about the same, but when you take it out of the oven, the presentation is so much more fun in a cast iron skillet. It's a special treat to dish up a chocolate chip bar cookie from a warm skillet.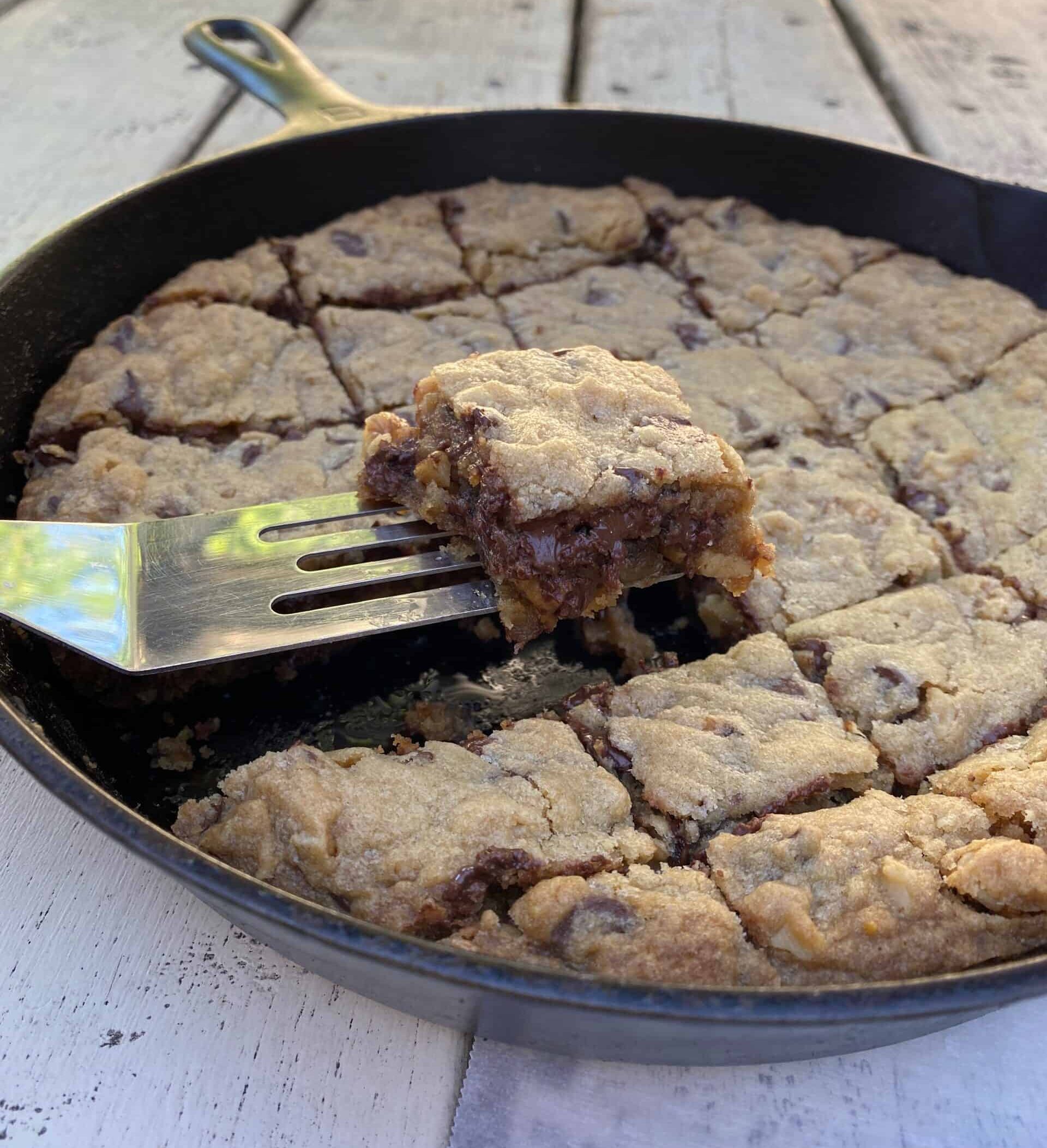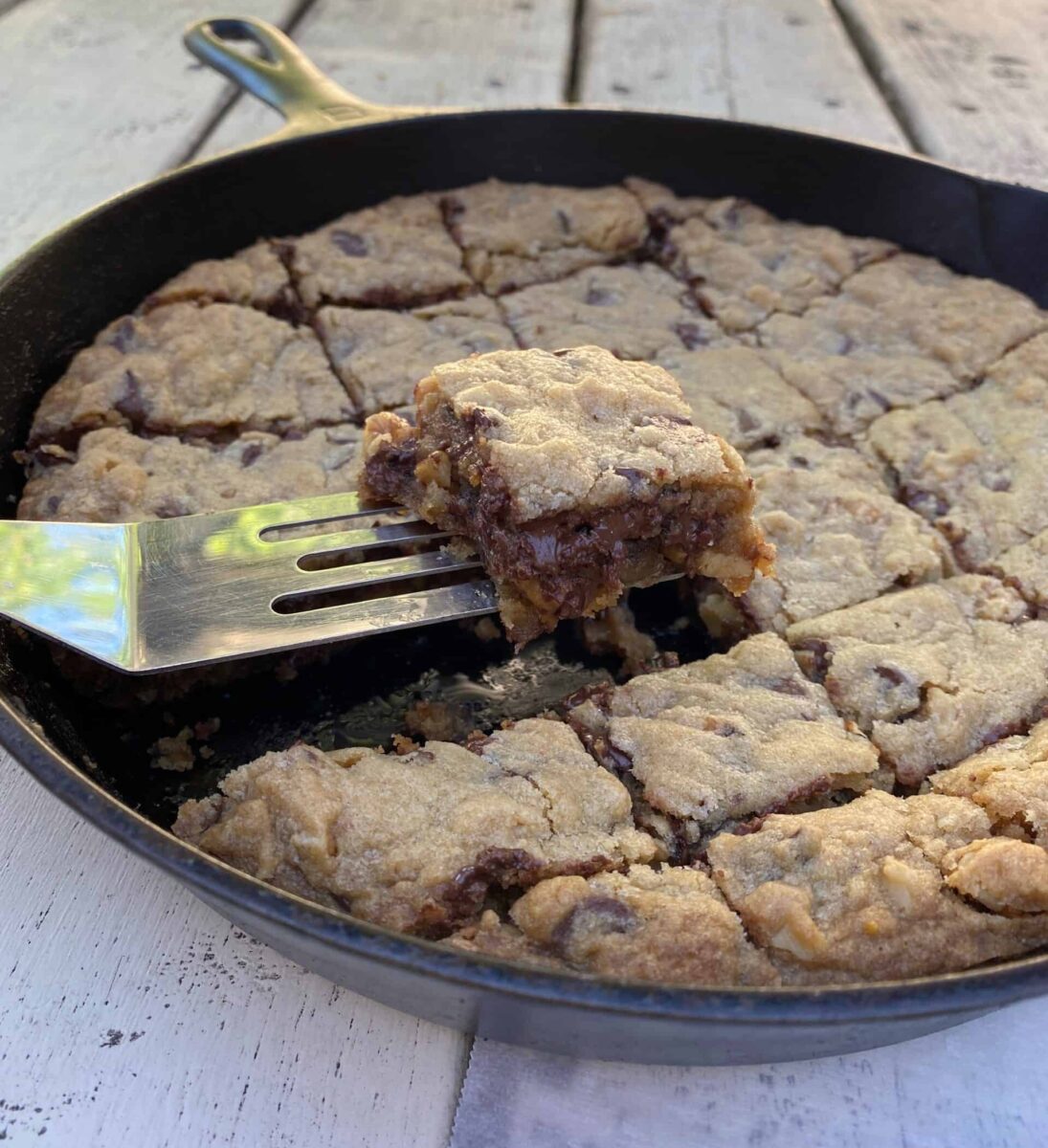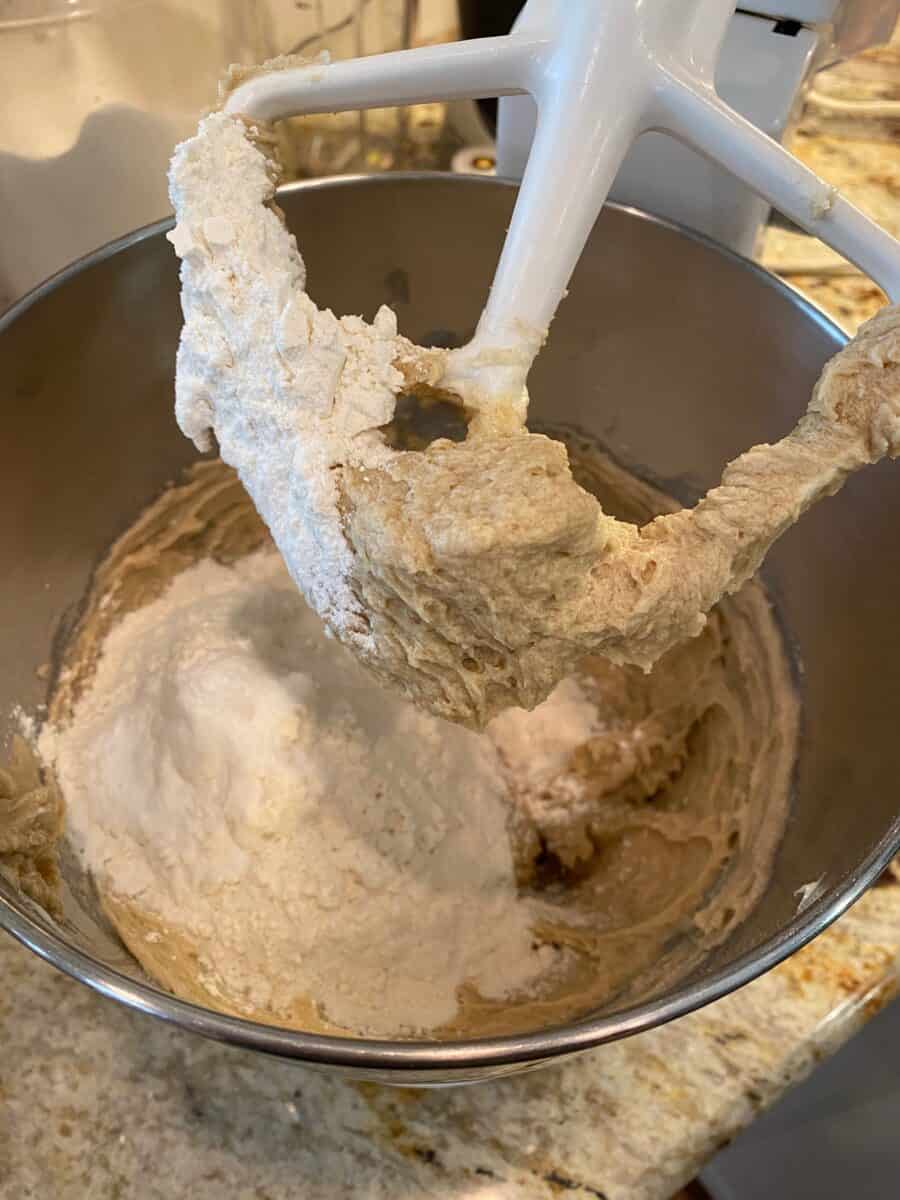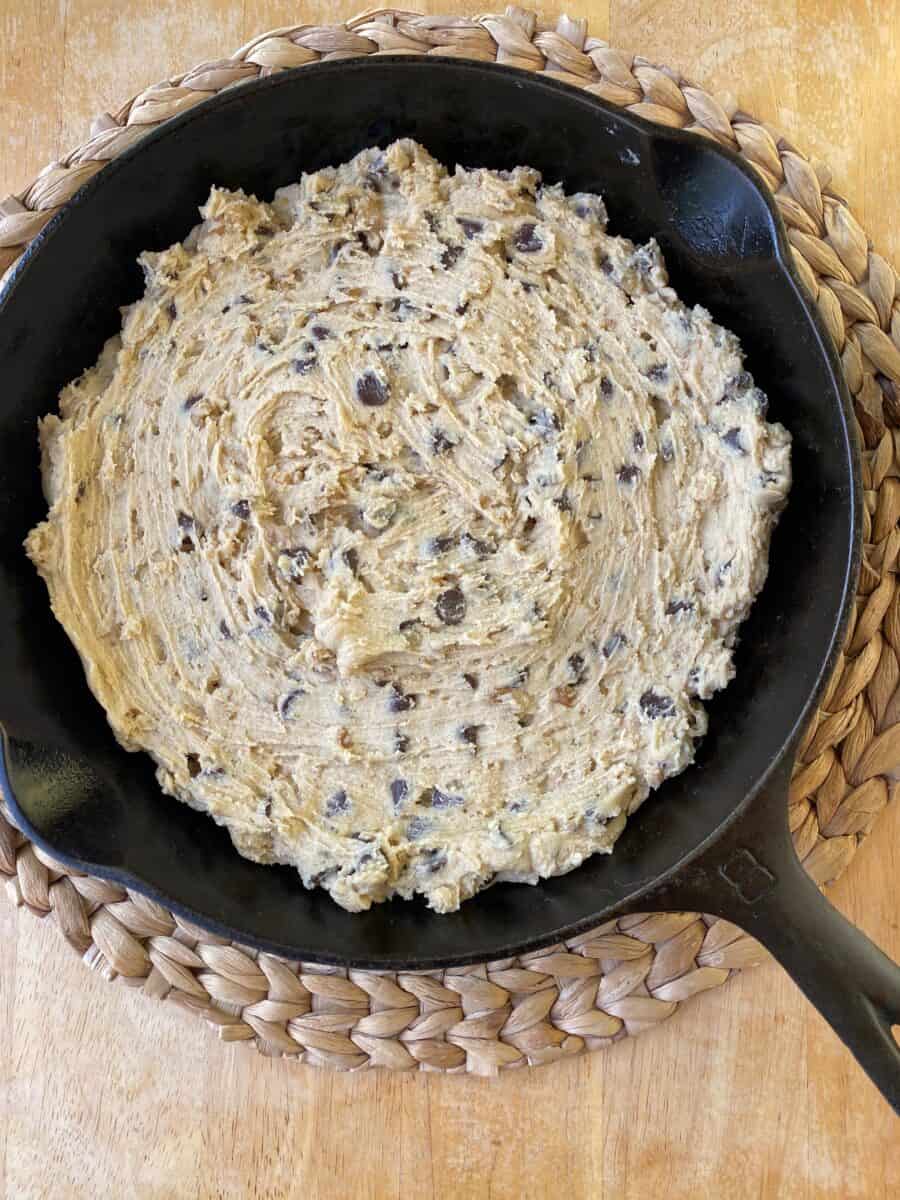 My Favorite Chocolate Chips
I've made this recipe using many, many different varieties of chocolate chips and it's fun to see how many of those brands rate on Epicurious. But hands-down, among all the many chocolate chip options out there my favorite brand is Guittard. The chocolate is creamy and the flavor is absolutely wonderful, it reminds me of what a really special piece of chocolate from a ritzy candy store tastes like and combined with chopped walnuts, it's chocolate chip cookie perfection!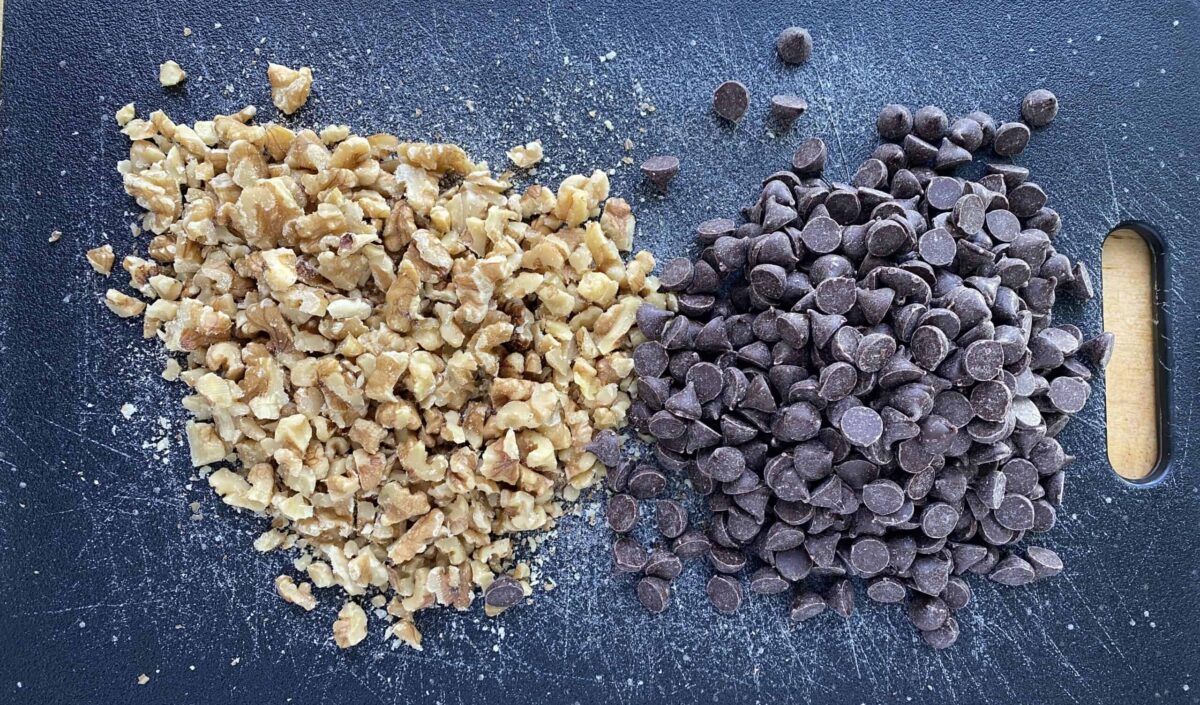 Salted Top
I like topping the cookies with a very, very light dusting of pink Himalayan salt. A little goes a long way, even a pinch of salt makes a big difference, but I think it heightens the flavor of the chocolate chips.
You could use any variety of salt, but I prefer to use pink Himalayan salt with buttery baked goods like cookies.
I also like the fine grain instead of a more coarse or flaky blend, it's a little more subtle than seeing a chunk of salt on a cookie.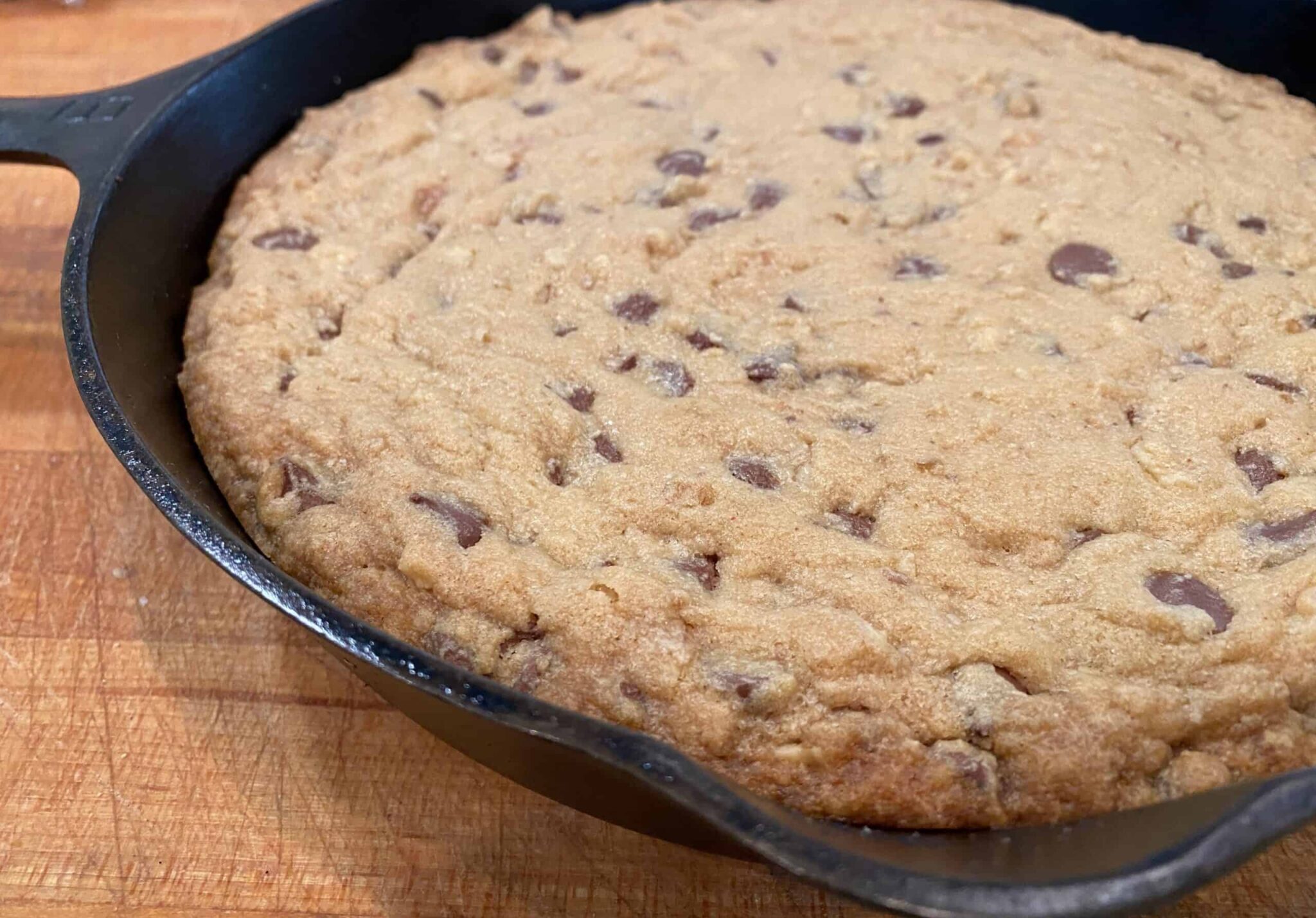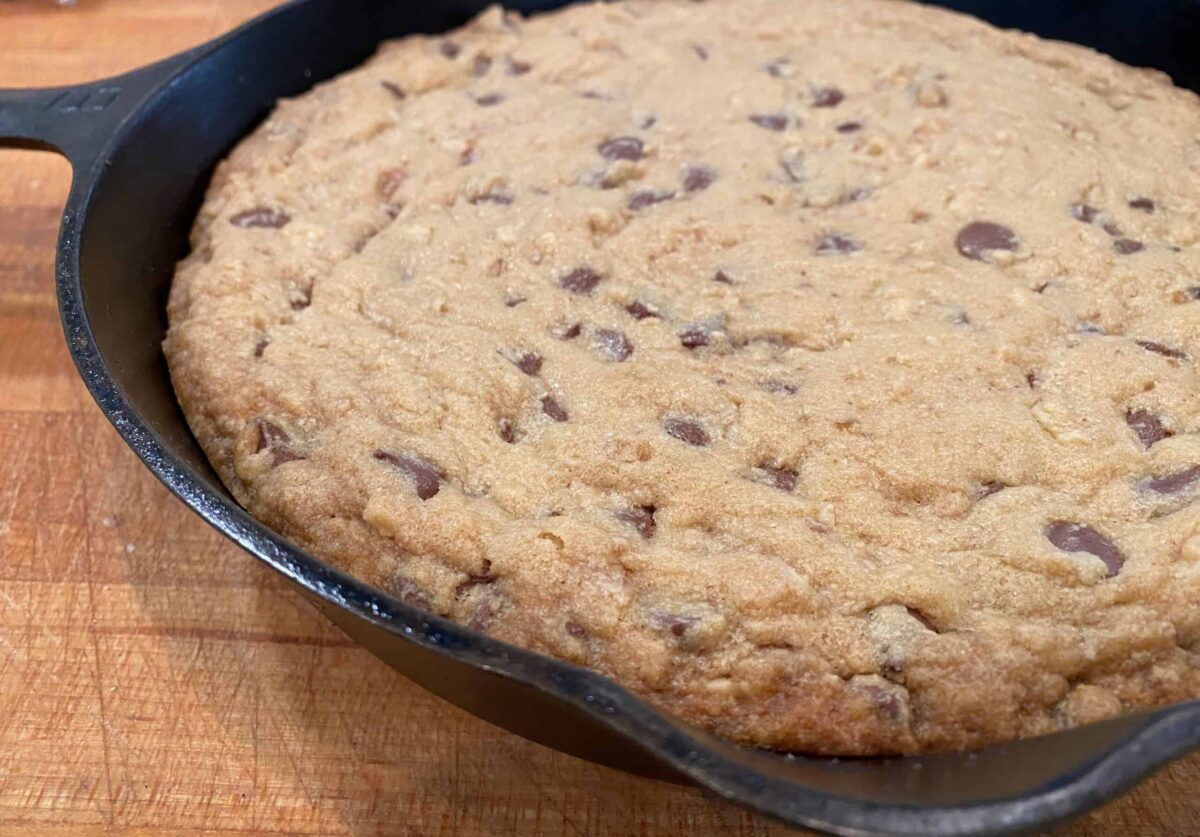 FAQs
I like the skillet idea. Does it have to be a cast iron skillet?
I've only made these cookie bars using a cast iron skillet so I can't vouch for or recommend using any other type of frying pan to make a skillet chocolate chip cookie.

Most frying pans are designed for stove-top cooking such as browning, sauteing or frying and not all of them are oven safe.

Cast iron is different, it holds and distributes the heat beautifully and can pretty much handle anything from an open flame, to charcoal, to the heat of the oven. Another plus of a cast iron skillet - if cared for properly, it will last for generations. Talk about a great investment!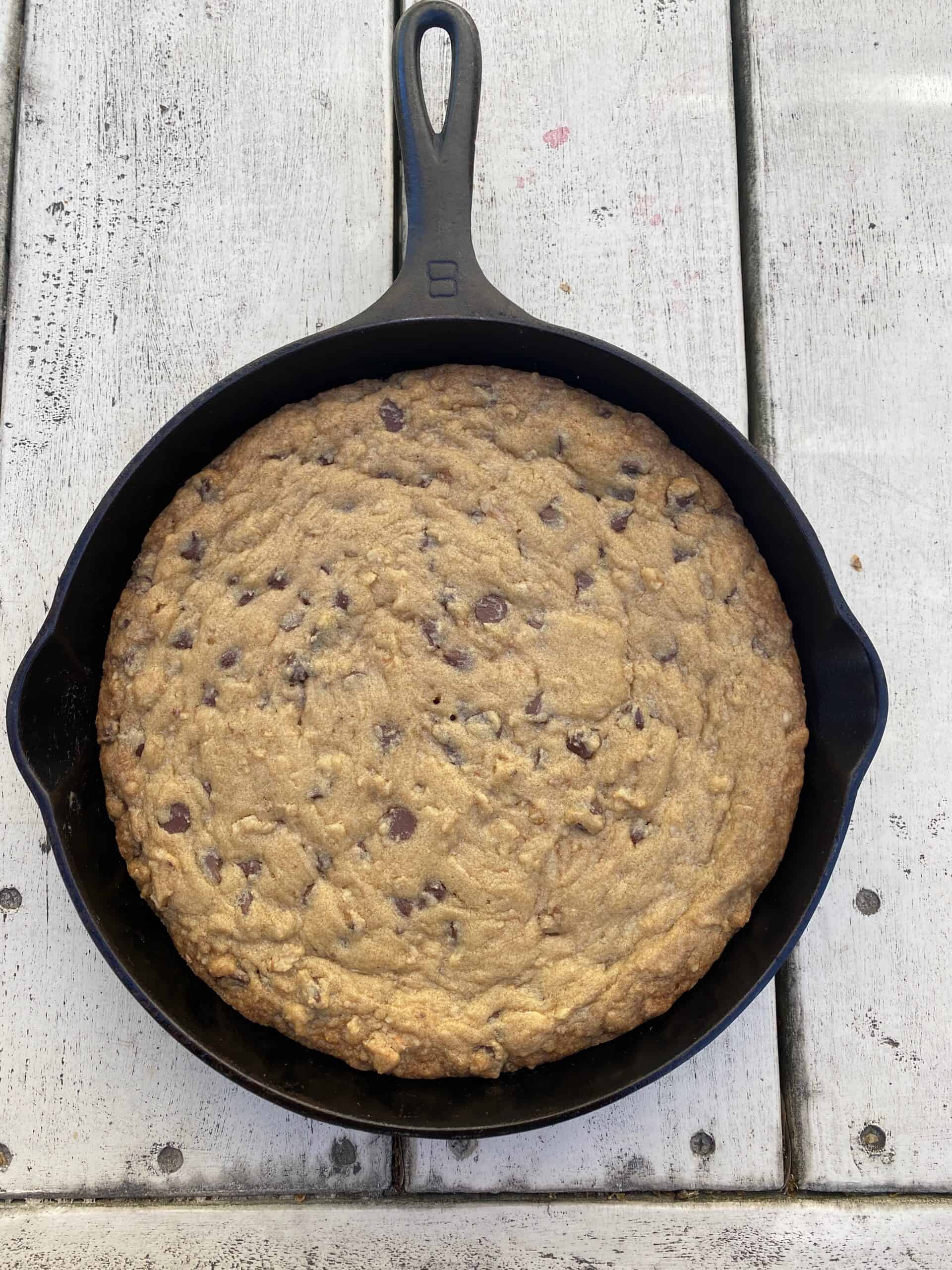 The center of the cookie looks really soft, it is thoroughly cooked?
The toothpick should come out clean, but the center should still be soft when you take this out of the oven. Once the cookie cools for 15 minutes or so, the center will set up beautifully.

When it's warm, this skillet chocolate chip cookie is chewy and soft, not crisp or crunchy. Rely on the toothpick test to ensure the cookie is in fact baked to perfection.
What's the secret to this cookie bar being so chewy?
It's the perfect storm of using higher moisture ingredients like brown sugar and butter - as opposed to granulated sugar and shortening, and baking the chocolate chip bars at a lower temperature, a mere 300° F.

All of those things combine to create thick, cookie bars baked to chewy perfection. King Arther Baking (my favorite brand of flour) has a great article about the chemistry of chocolate chip cookies.

Every ingredient and technique plays a role in how cookies turn out.
The Inspiration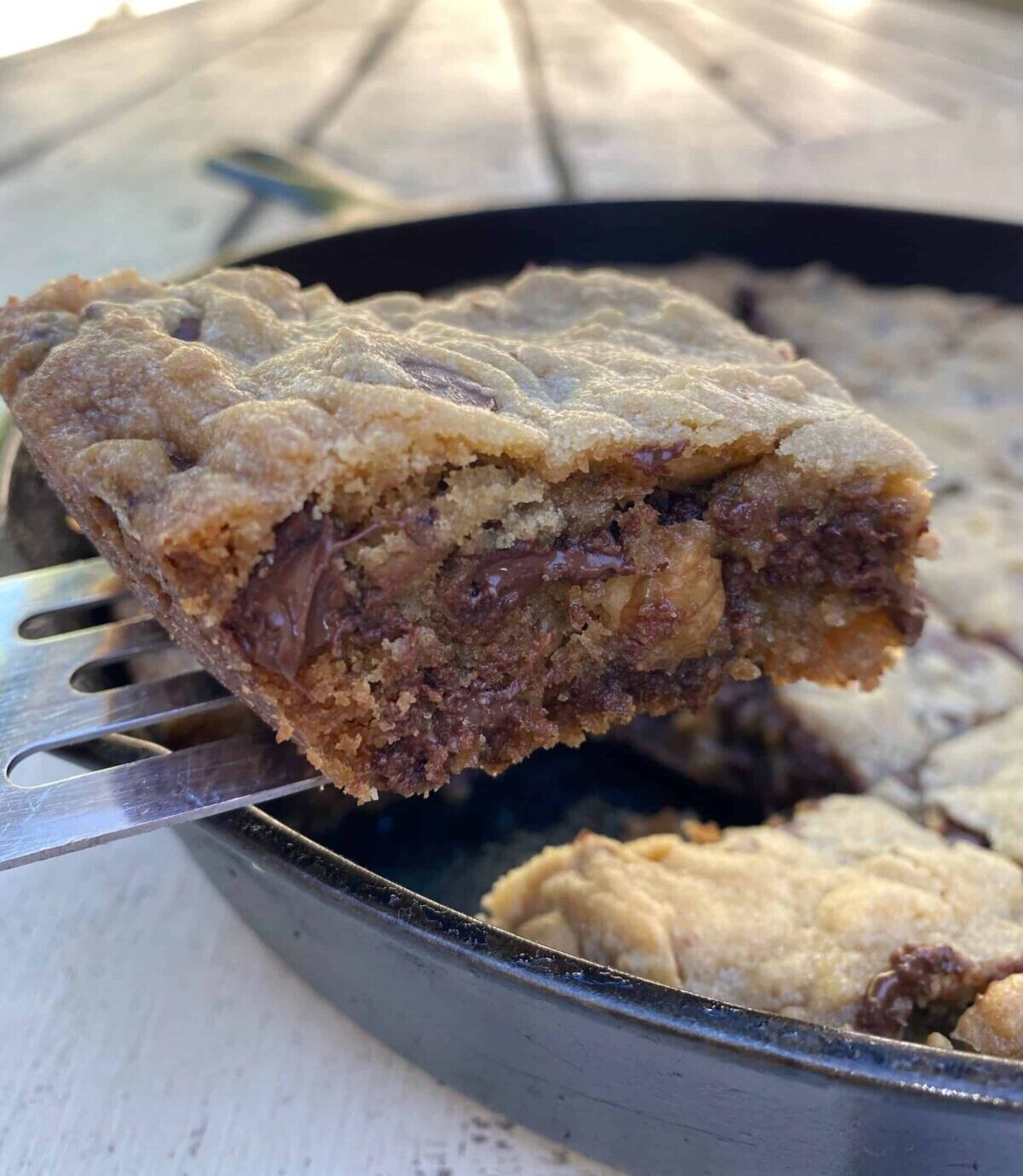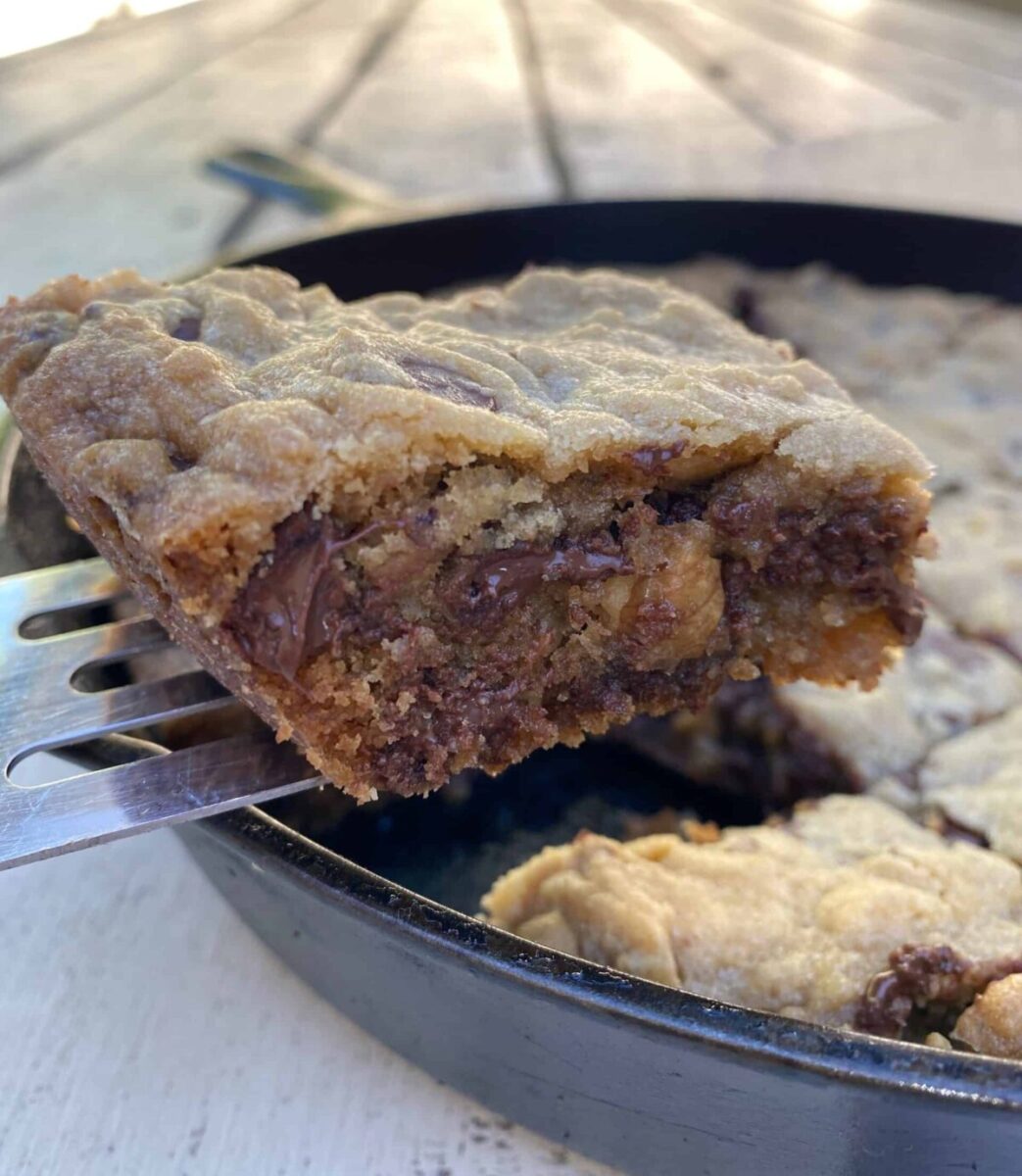 This recipe is my adaptation of a recipe called Chocolate Chip Butterscotch Bars found in Mrs. Fields Best Cookie Book Ever. This is an interesting title for the bar cookies because there's no butterscotch in them. But I think most of us can agree that when it comes to delicious cookies, Mrs. Fields is the ultimate pro and that particular cookie cookbook is wonderful.
Note: The Crinkled Cookbook is not in any way affiliated with Mrs. Fields or the famous Mrs. Fields cookie brand, I'm just a big fan who has always loved her cookies, plus I have fond memories of buying them every time I'd go to the mall as a teenager. 🙂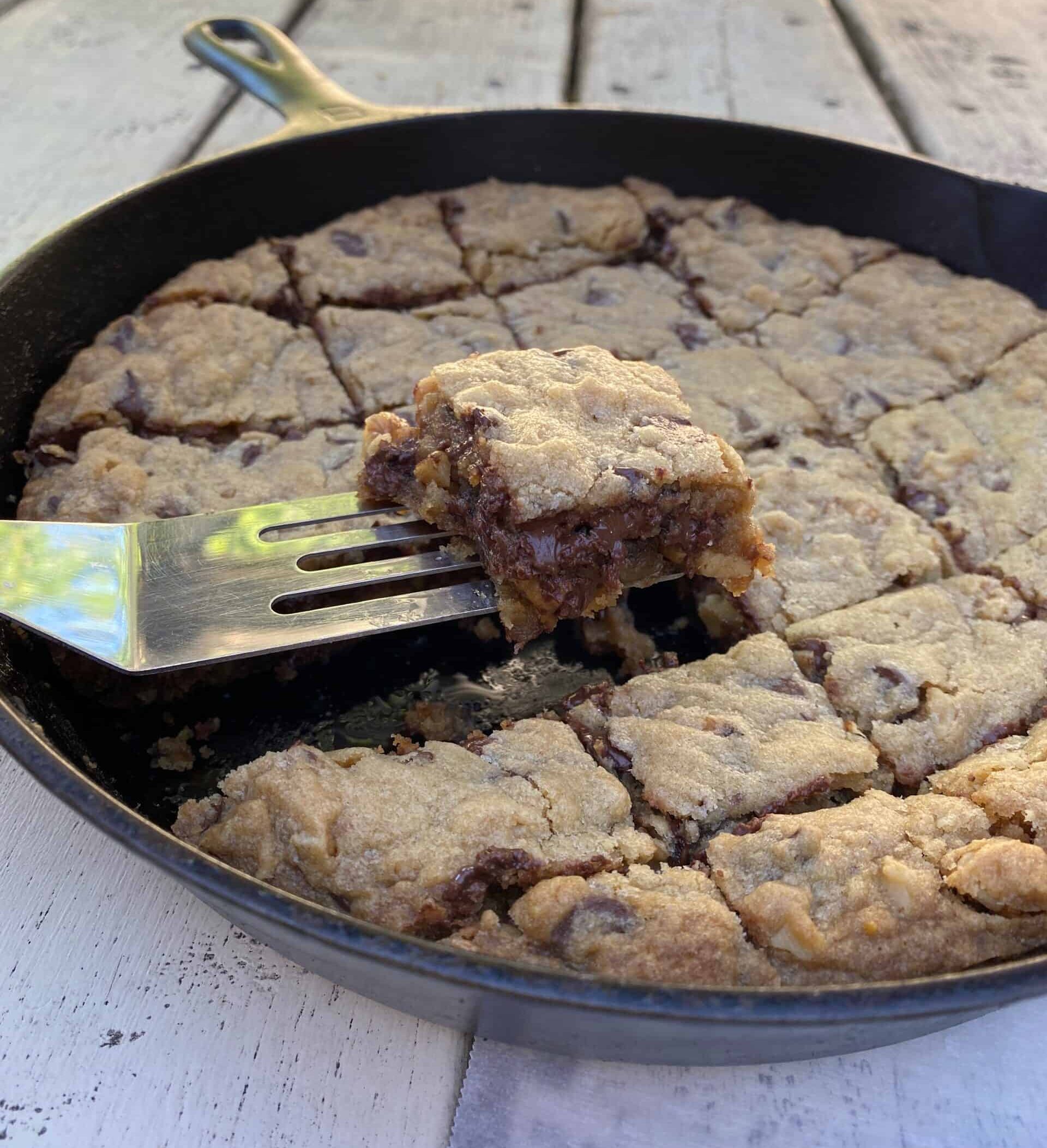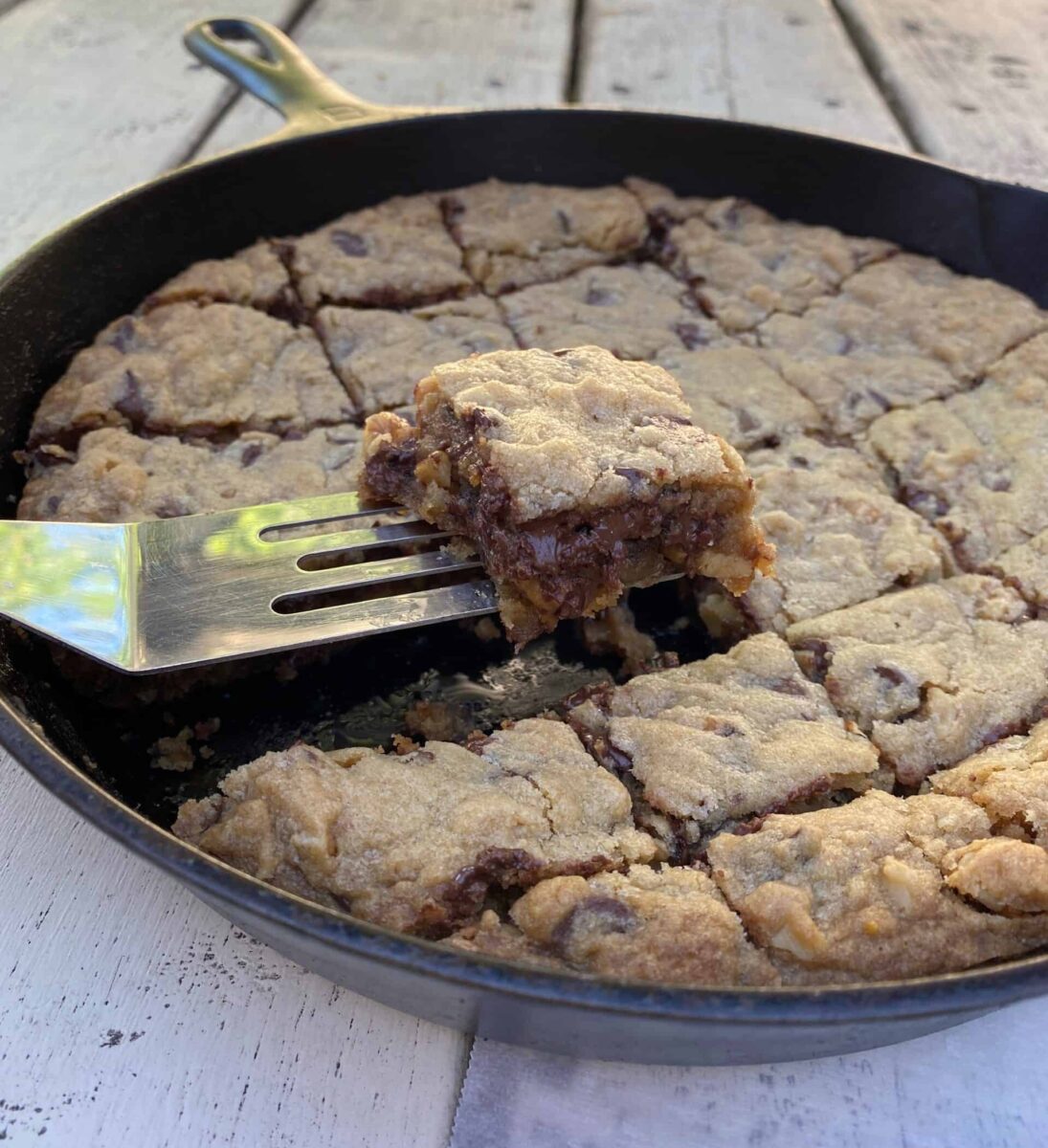 More Sweet Treats
If you tried Mrs. Fields Chocolate Chip Bars or any other recipe on my website, please leave a 🌟 star rating and let me know how it goes in the 📝 comments below.
Recipe