Fancy Rice Krispy Treats taste similar to an orange creamsicle and are perfect anytime you need a fast dessert or a quick after school treat. It only takes about 15 minutes to put these together. I've added chopped walnuts, dried cranberries, vanilla extract and orange zest to give them a wonderful and "fancy" touch. Everyone loves these!
Note: Links in the recipe are paid links, Amazon Associates. This means I make a small commission when you click and shop. Your cost is the same and I only link to products or ingredients that I use and love.
It's yummy enough to serve these for the holidays and best of all, these are so kid-friendly!
Ingredients to Have on Hand
These are the ingredients I keep in my pantry, especially during the holidays, so I can put this together quickly and be ready any time a treat is called for.
Mini-Marshmallows, 2, 10 ounce bags
Easy to Make
I hesitate to call this a recipe since it's SO easy and is inspired by a treat we've all made a million times. Rice Krispie Treats.
But the combination of flavors in this version makes this a very special treat.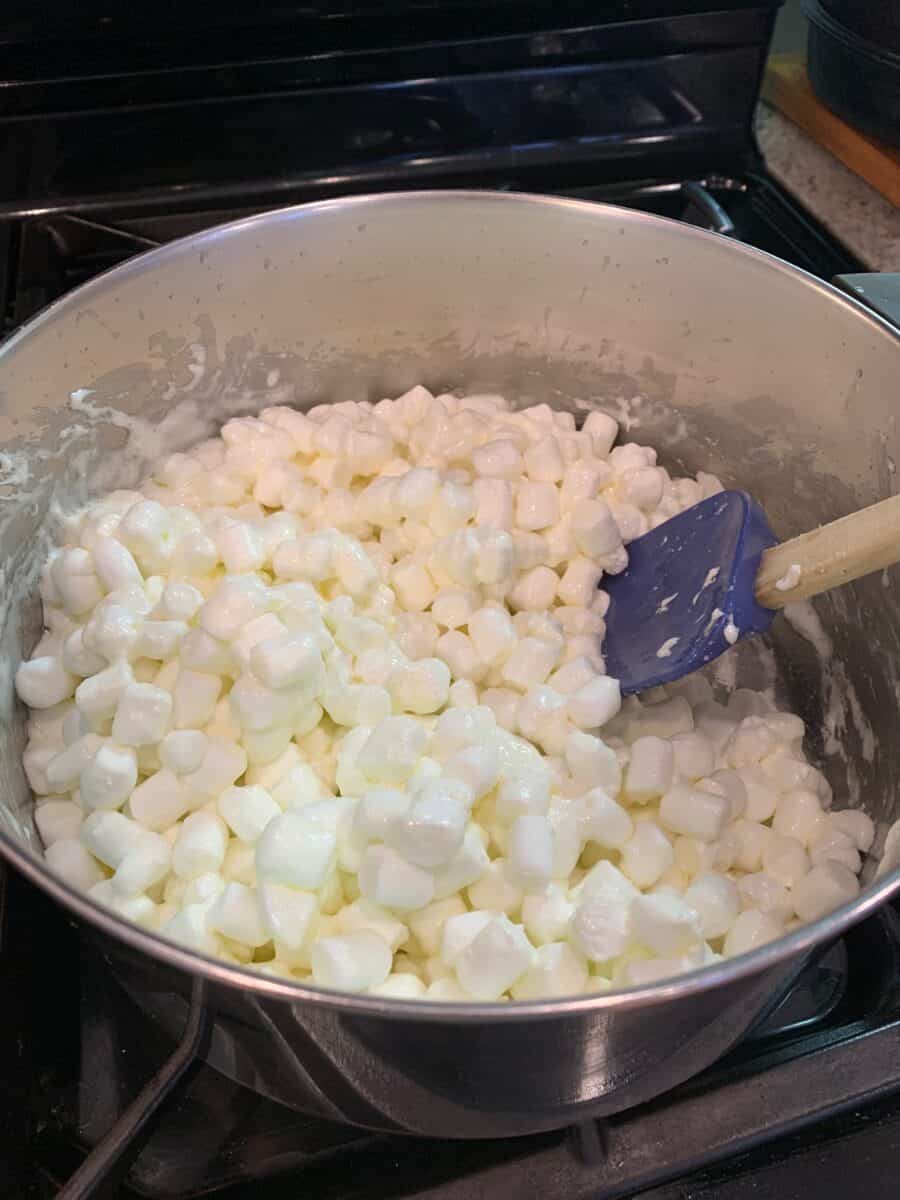 Top Tips and FAQ
Can I substitute marshmallows for marshmallow cream?
Yes. I've tried it both ways and I personally prefer the texture that comes from melting the marshmallows on the stove with the butter on low heat.

But marshmallow cream, which you buy in a jar, works fine.

You can substitute the mini-marshmallows in this recipe with about 10 ounces of marshmallow creme, which is about a jar and a half if you buy 7 ounce jars.
Does it matter if I use fresh marshmallows? I have a bag that's been in my pantry for a few months.
I recommend buying new bags of marshmallows to make Rice Krispy treats. Check the best before date on the bag.

If the marshmallows are soft and pillow-like, they'll be fine for this recipe. If they are hard, dry or starting to stick together in the bag, it's best to toss them out.

While most marshmallows will still taste fine for a month or two after that date, beyond that time period there's a chance that the marshmallows are stale.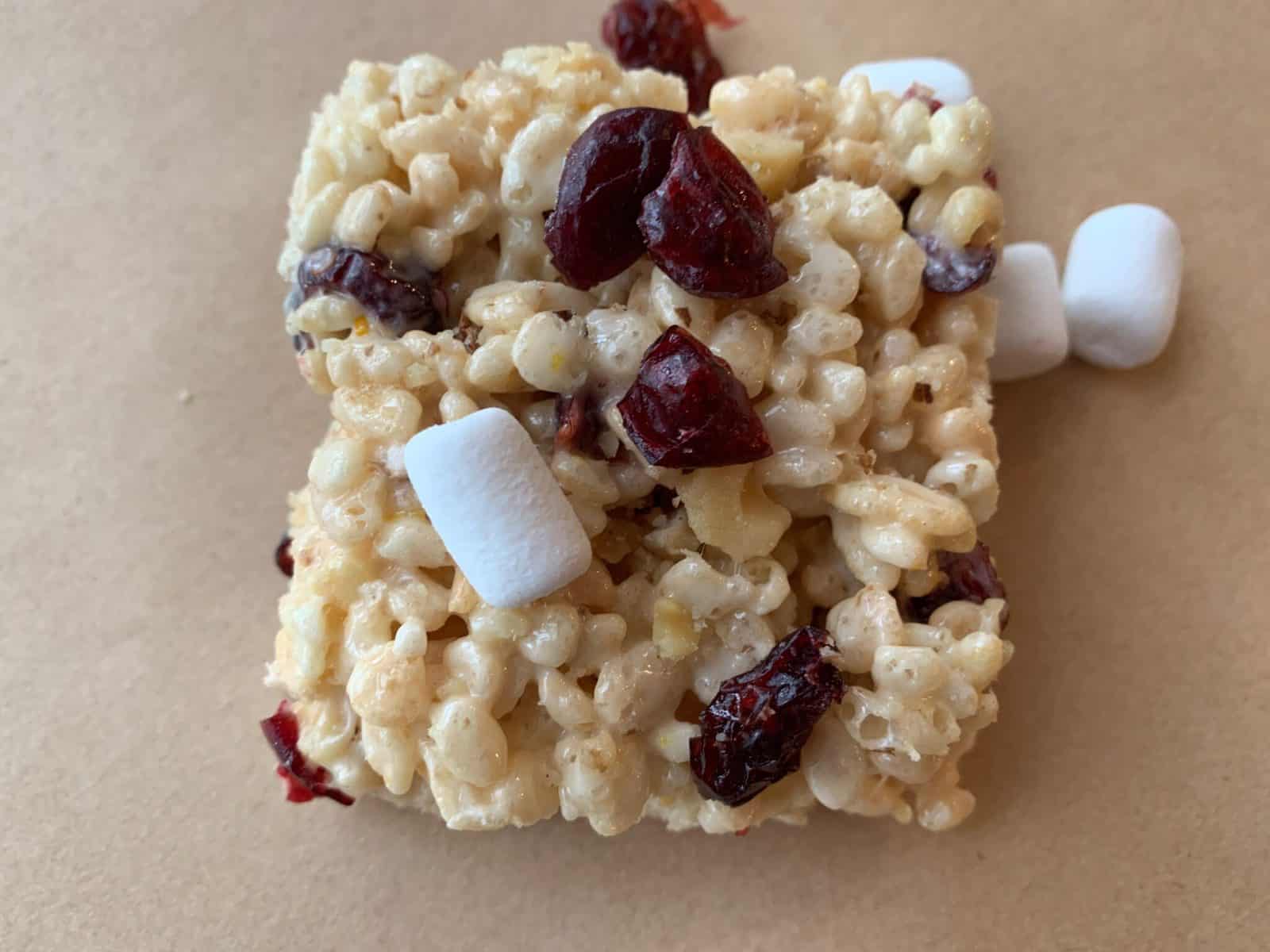 How to Store
Fancy Rice Krispie Treats stay fresh and delicious for 3-5 days at room temperature. Just cover your pan lightly with plastic wrap or remove each square and place in a zipped plastic storage bag.
Use waxed paper to separate each layer.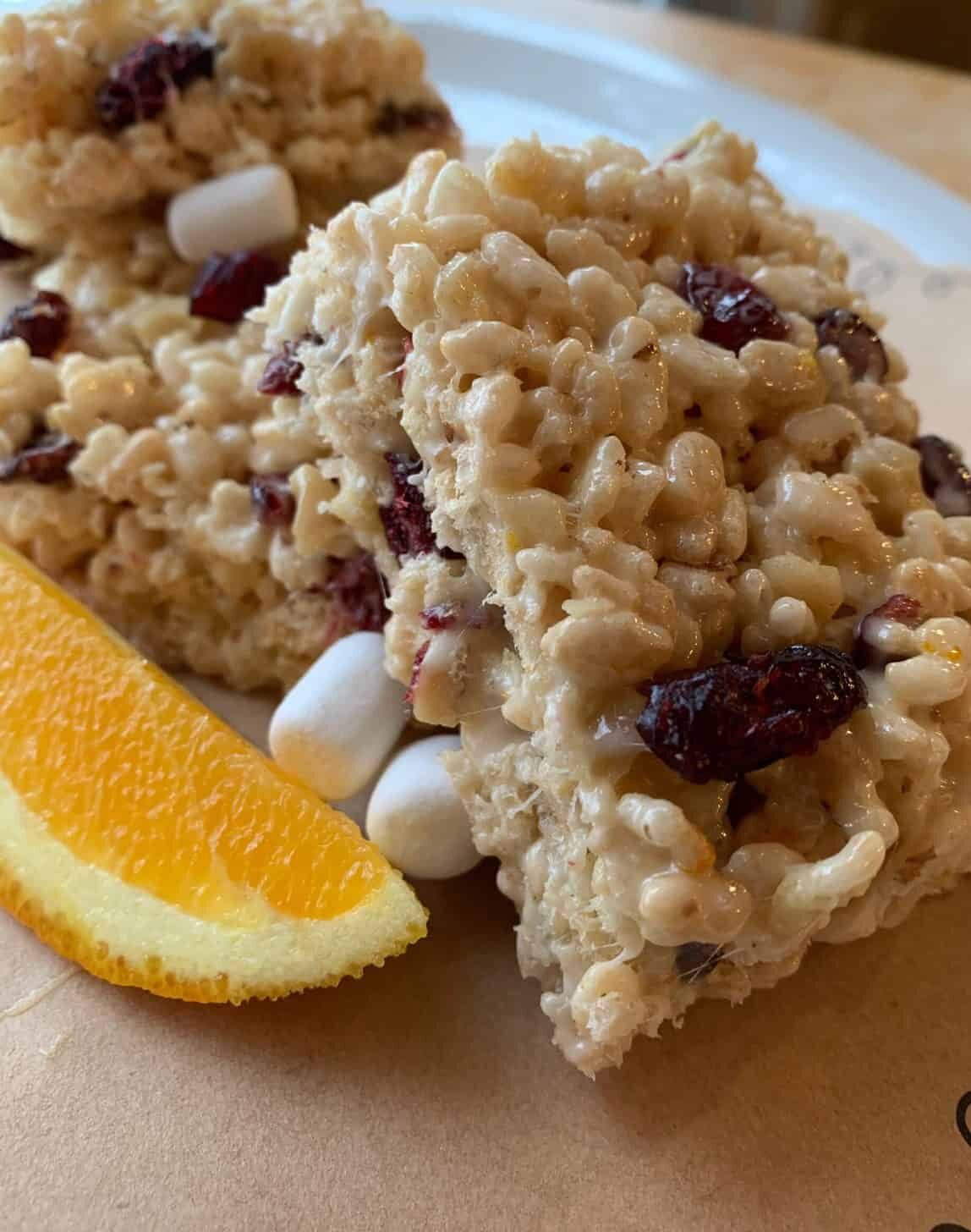 You can also freeze these treats. Just cut into squares, layer with plastic wrap or waxed paper and store in an airtight container in the freezer.
Defrost at room temperature for a few hours and enjoy.
The Inspiration
The orange-vanilla-cranberry essence is something that's delicious all year long. Special hat tip to my son Kyle who came up with the idea to add the orange zest to this recipe. Delicious. Give it a try and be sure to rate the recipe below.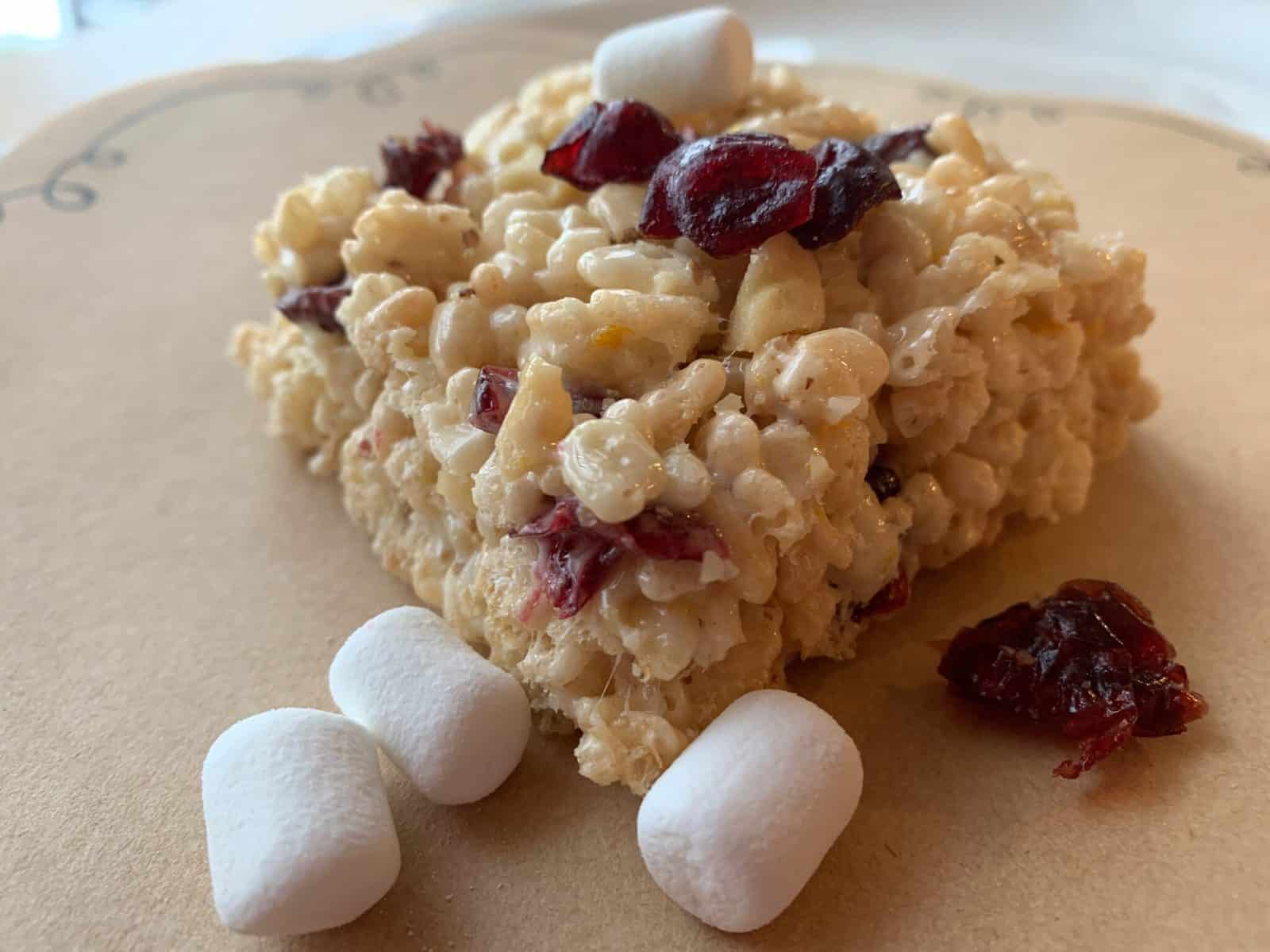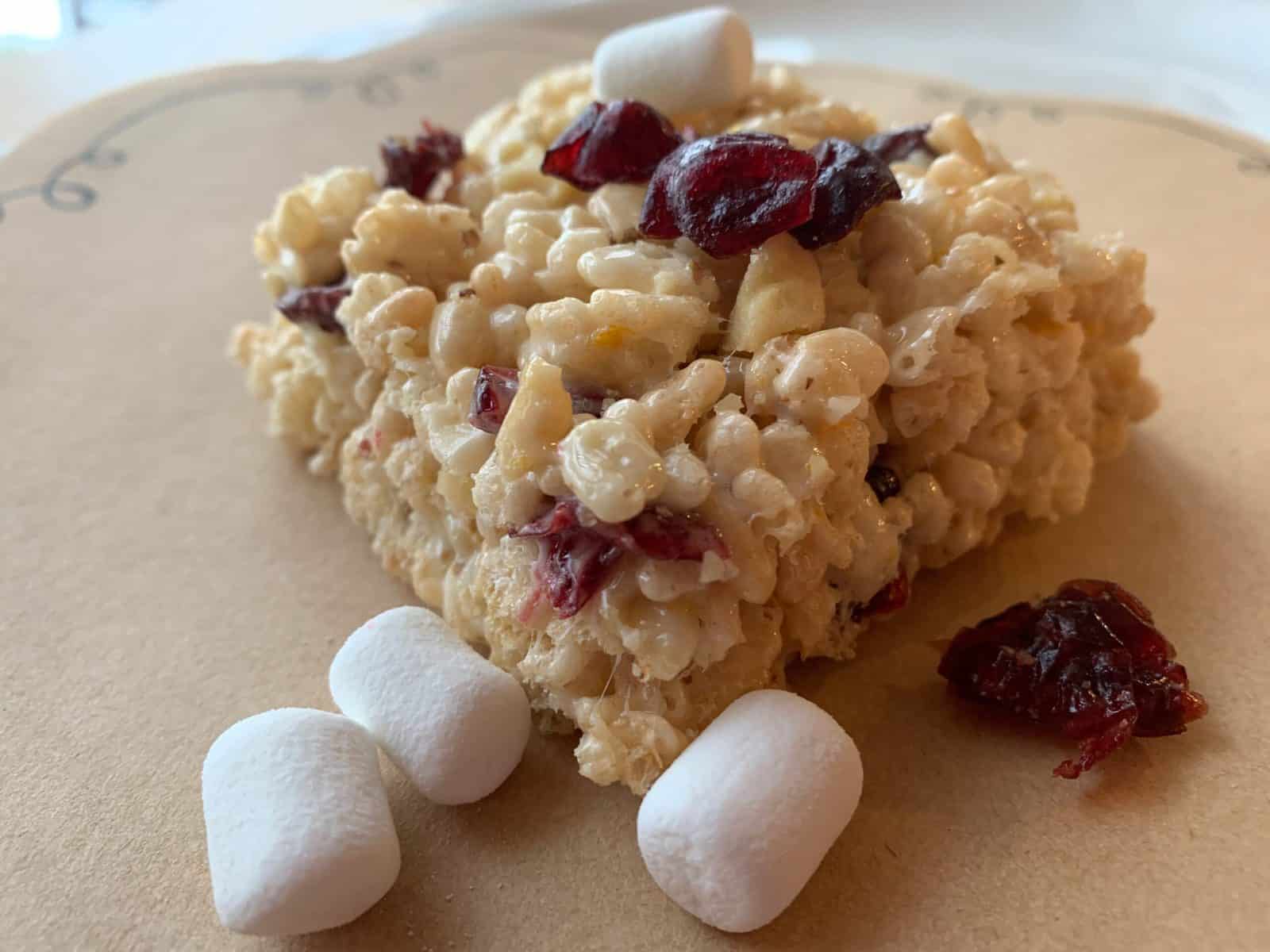 More Quick Dessert Recipes
Looking for more ideas? Here's another kid-friendly dessert: Peanut Butter Cookies these are chewy, tender and delicious... and not just for kids. Speaking of peanut butter, let the flavors of a beloved lunch-time sandwich inspire dessert. Peanut Butter Pies combine your flavor of jam with cream cheese and peanut butter. It might remind you a delicious candy bar.
No-Peel Apple Cake is a family-favorite recipe and incredibly easy to prepare. No need to peel the apples!
Stay in Touch
Recipe