Not your average pork chops and sauerkraut. German Pork Chops have a truly distinctive flavor combination. Any time you're in the mood for pork chops, apples and kraut, this recipe has everything you need. The pork chops are so tender! There's a light dusting of cinnamon and paprika at the end that really sets this dish apart.
Note: Some of the links on this page are paid links, Amazon Associates. This means I make a small commission when you click and shop. Your cost is always the same and I only link to and recommend products or ingredients here that I use.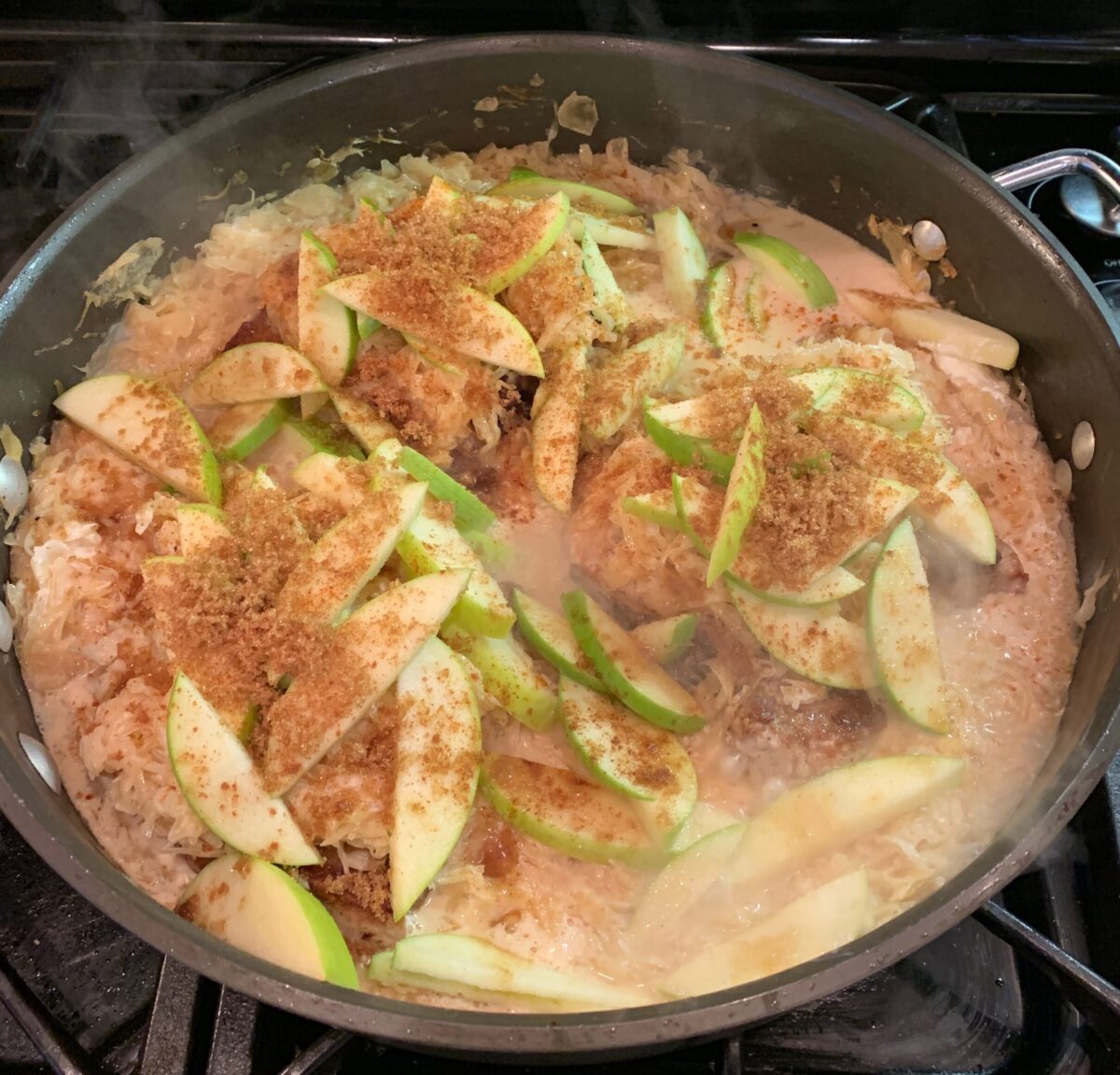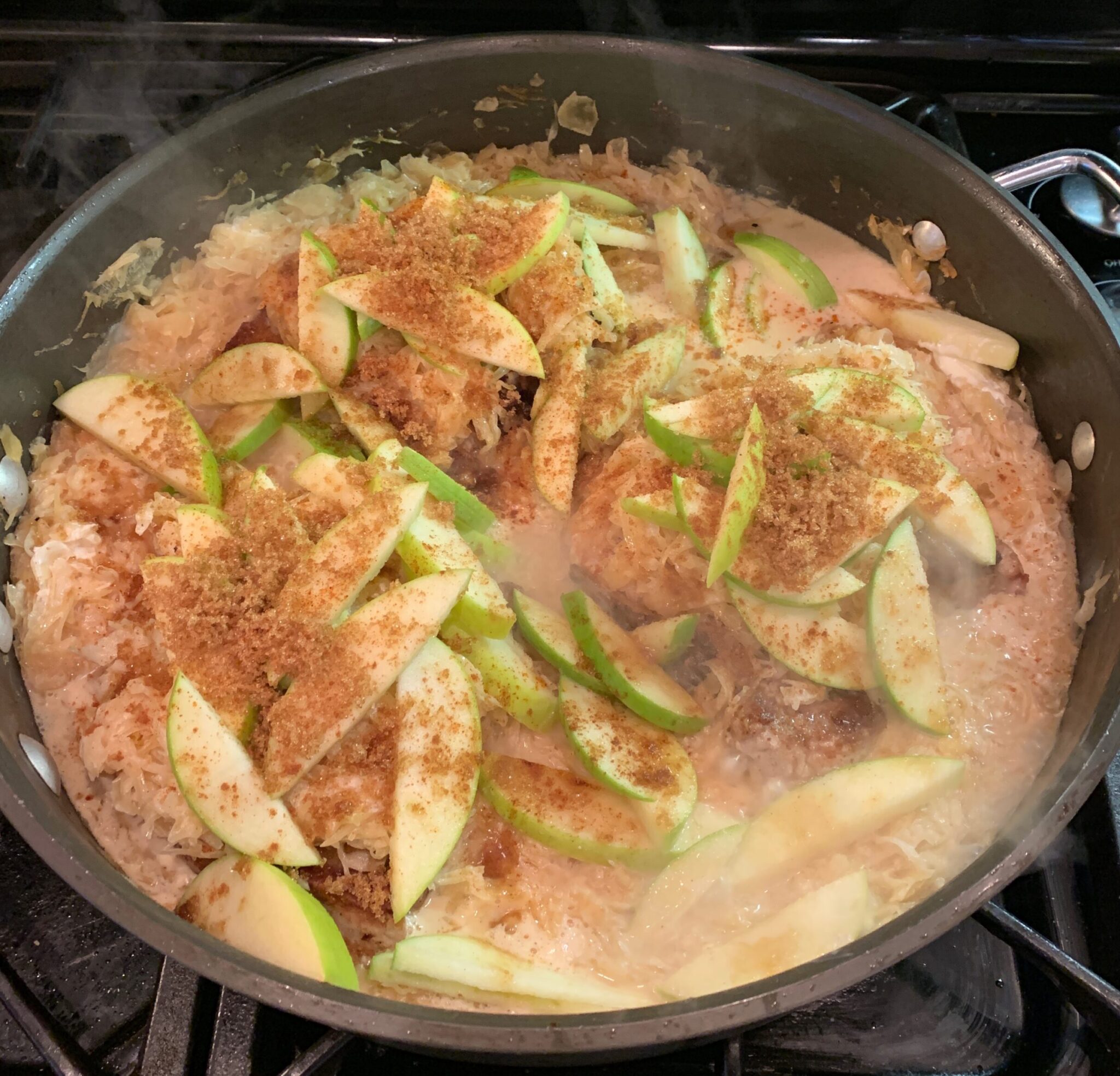 Ingredients to Have on Hand
Pork chops - bone-in
Sauerkraut
Apples - such as Granny Smith
Sour Cream
Brown sugar
Cinnamon
Paprika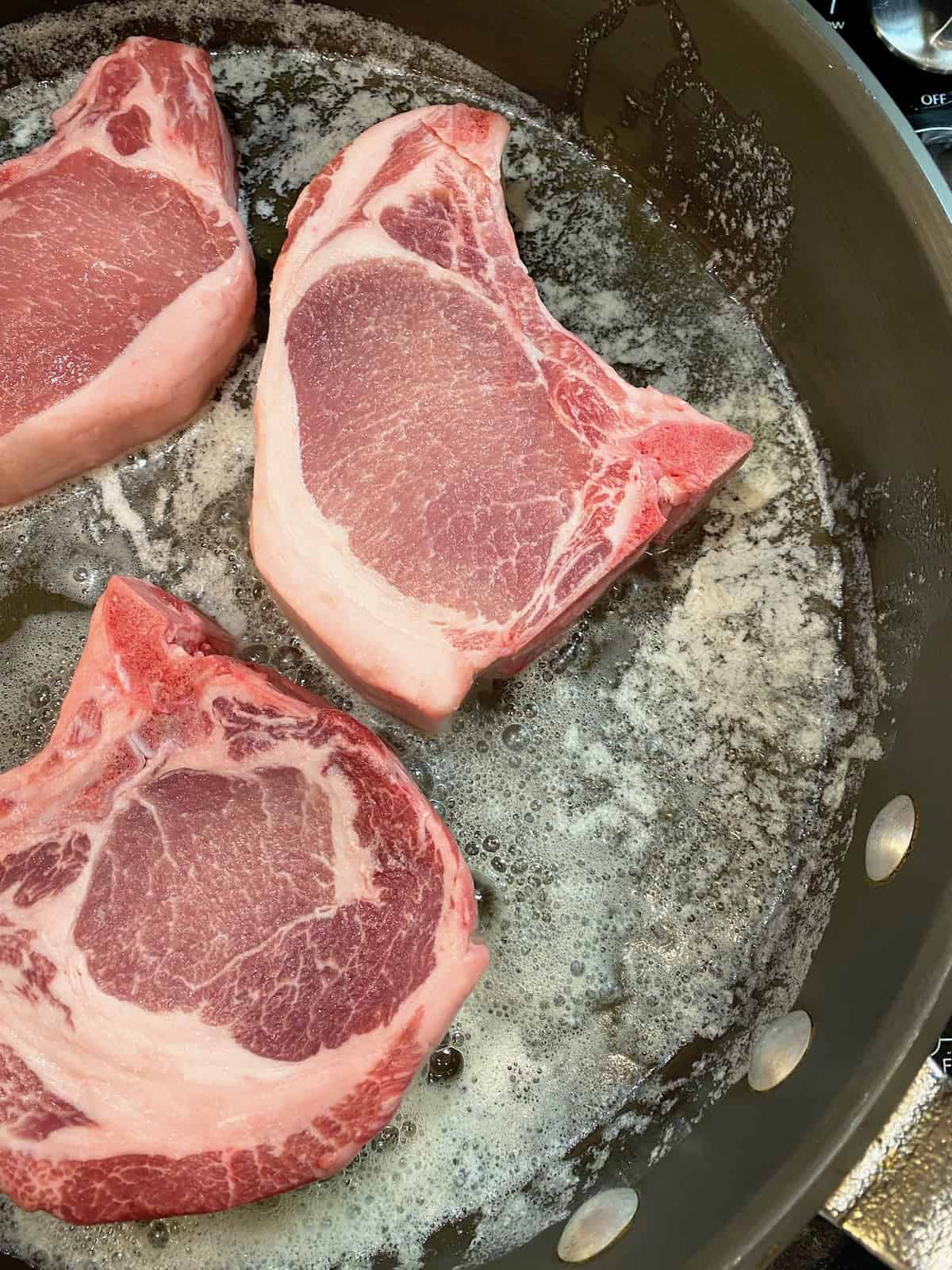 Tender Pork Chops Every Time
Get ready to enjoy super tender pork chops. This recipe for German Pork Chops is unique, in part thanks to the flavor combination of sour cream, beer kraut and apples, which the pork chops simmer in.
That's the secret to the pork chops cooking to fork-tender perfection. Plenty of time, plenty of moisture.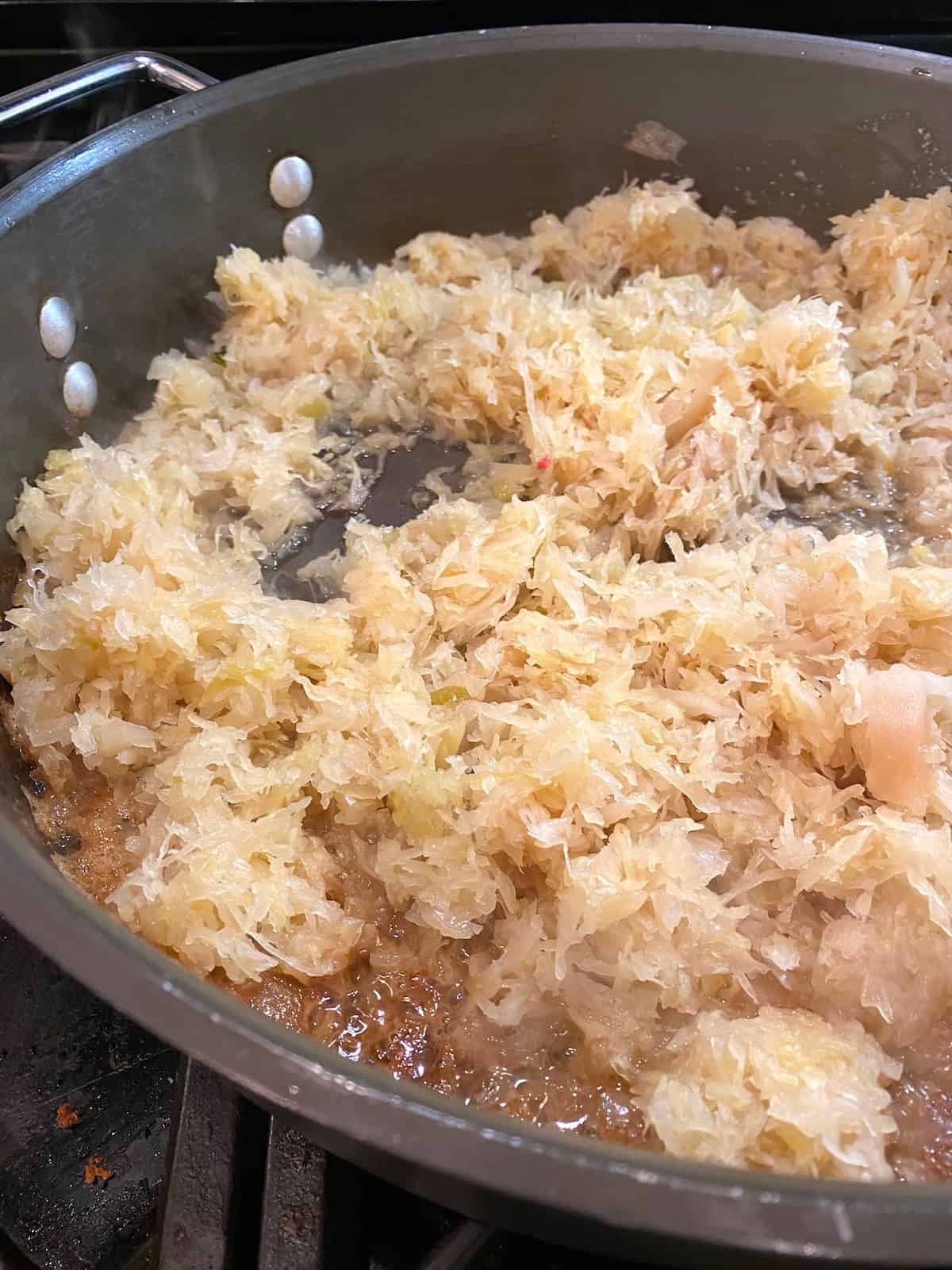 It's simply the way the chops are cooked and simmered in all that flavor-packed liquid.
The moisture from the apples makes a big difference, plus a subtle sweetness to the dish.
The kraut adds moisture too, plus that distinctive texture and taste.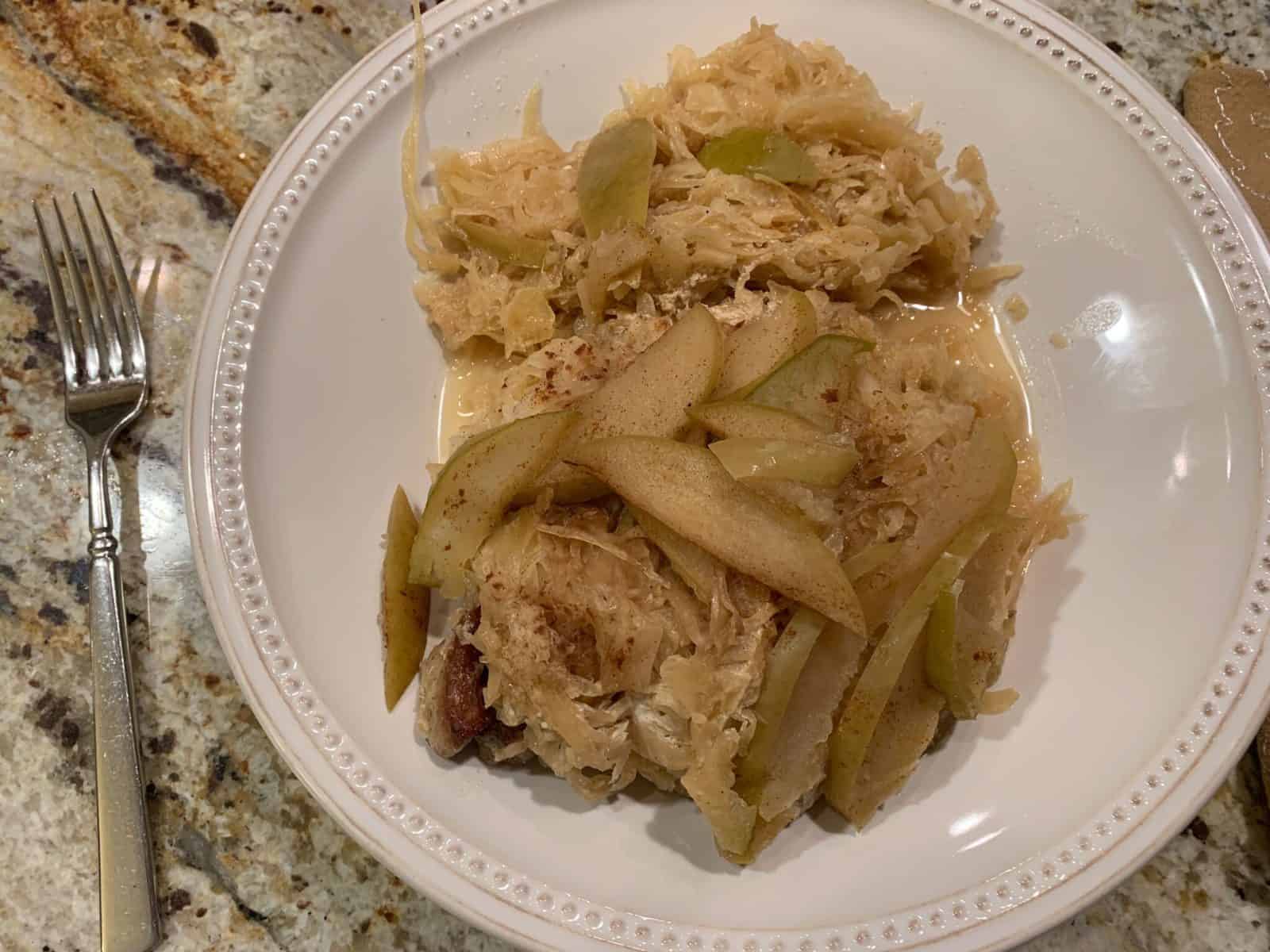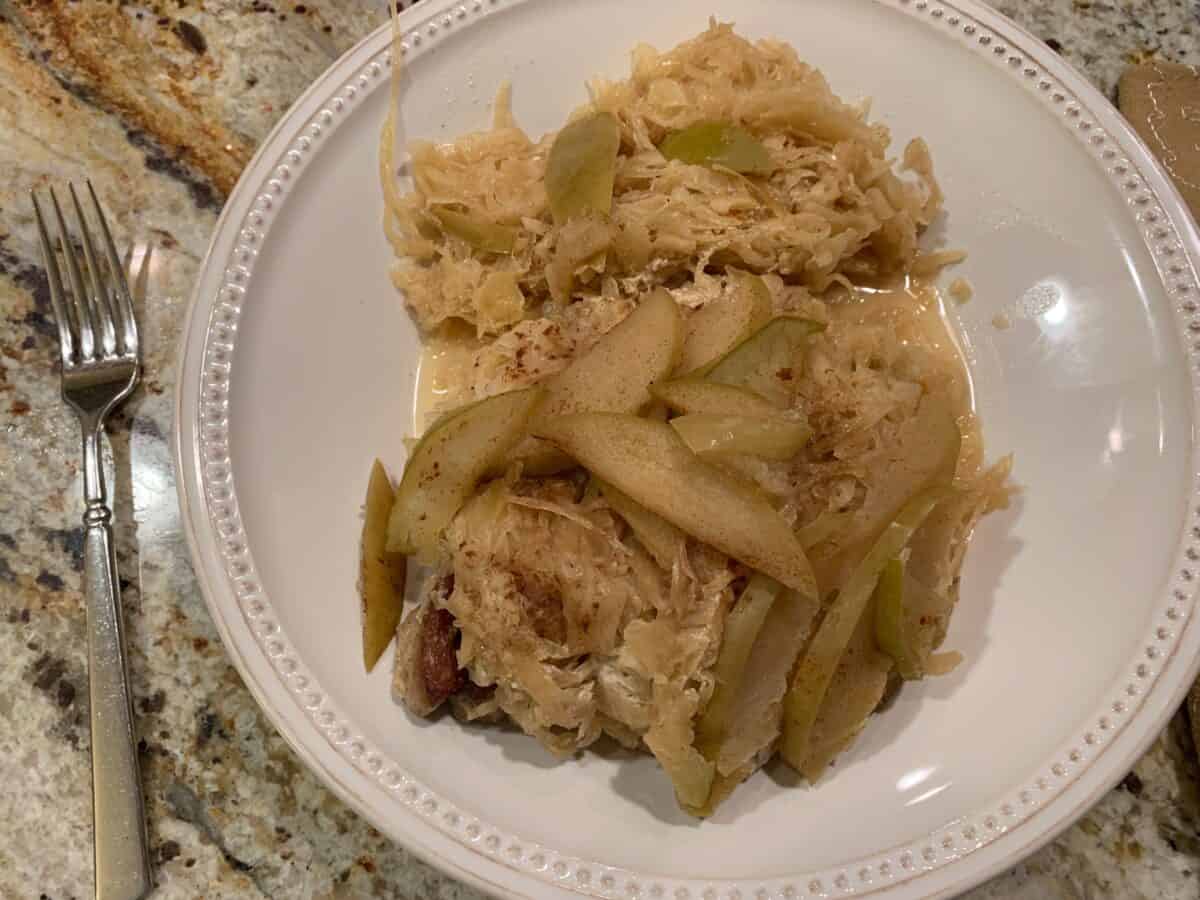 Top Tips and FAQ
What's a good substitute for beer in this recipe?
To be honest, I've only made German Pork Chops using beer (even though I'm not a beer drinker) and the flavor of the beer is very subtle here. But, generally speaking and in most recipes that call for beer you can replace it ounce-for-ounce with chicken broth, beef broth, mushroom broth, white grape juice, or ginger ale and get very similar results.
Can I use any cut of pork?
I like using thick, bone-in pork chops. But I've made this with boneless chops and with thin slices or pork tenderloin - and it's been equally delicious every time.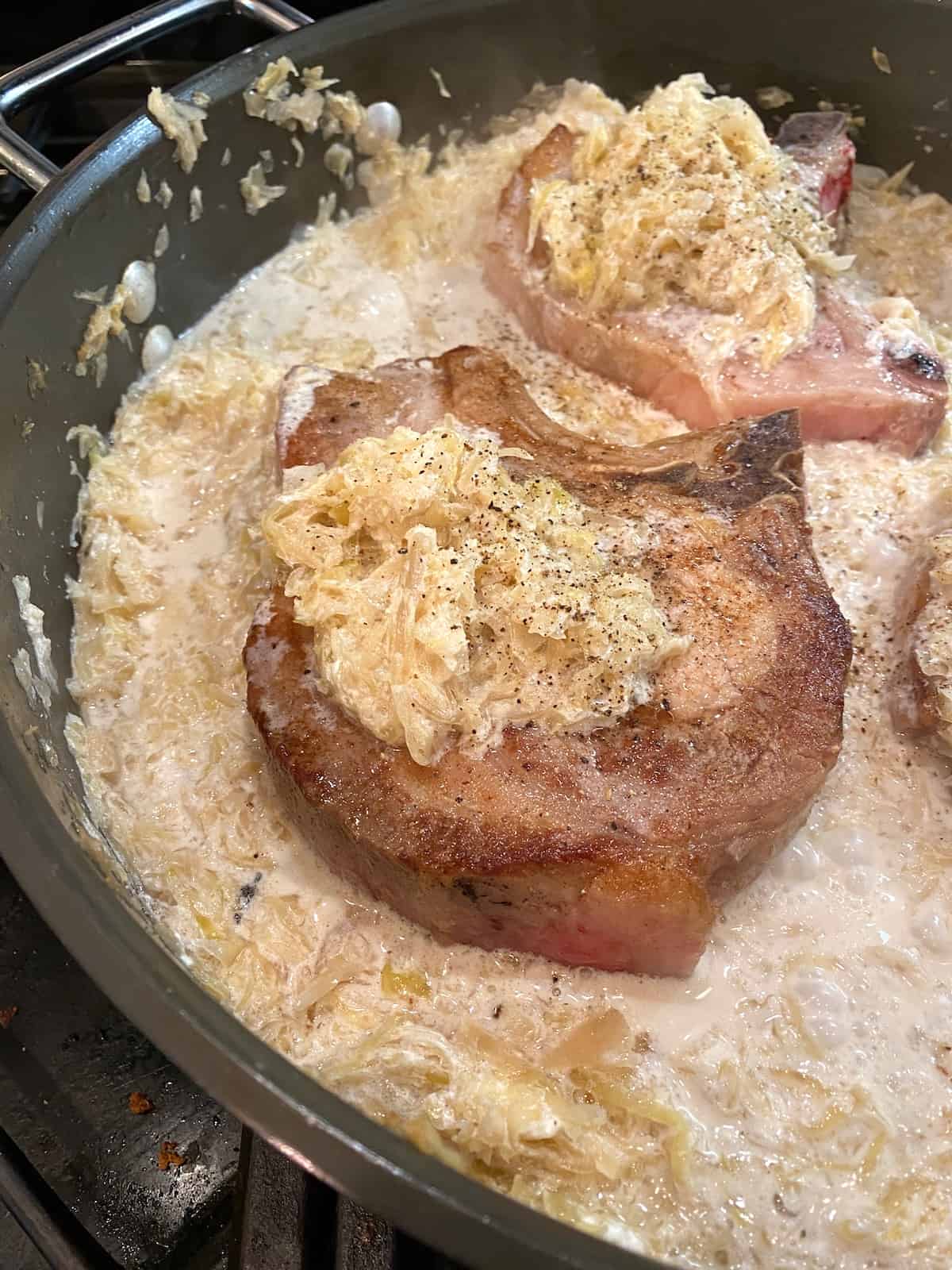 What type of apple should I use?
A cooking or baking variety of apple will work best because it will soften nicely while the chops simmer and taste delicious after cooking. Granny Smith apples are hands-down the best in this recipe, but the Fuji variety, Honeycrisp or Gala apples are also delicious.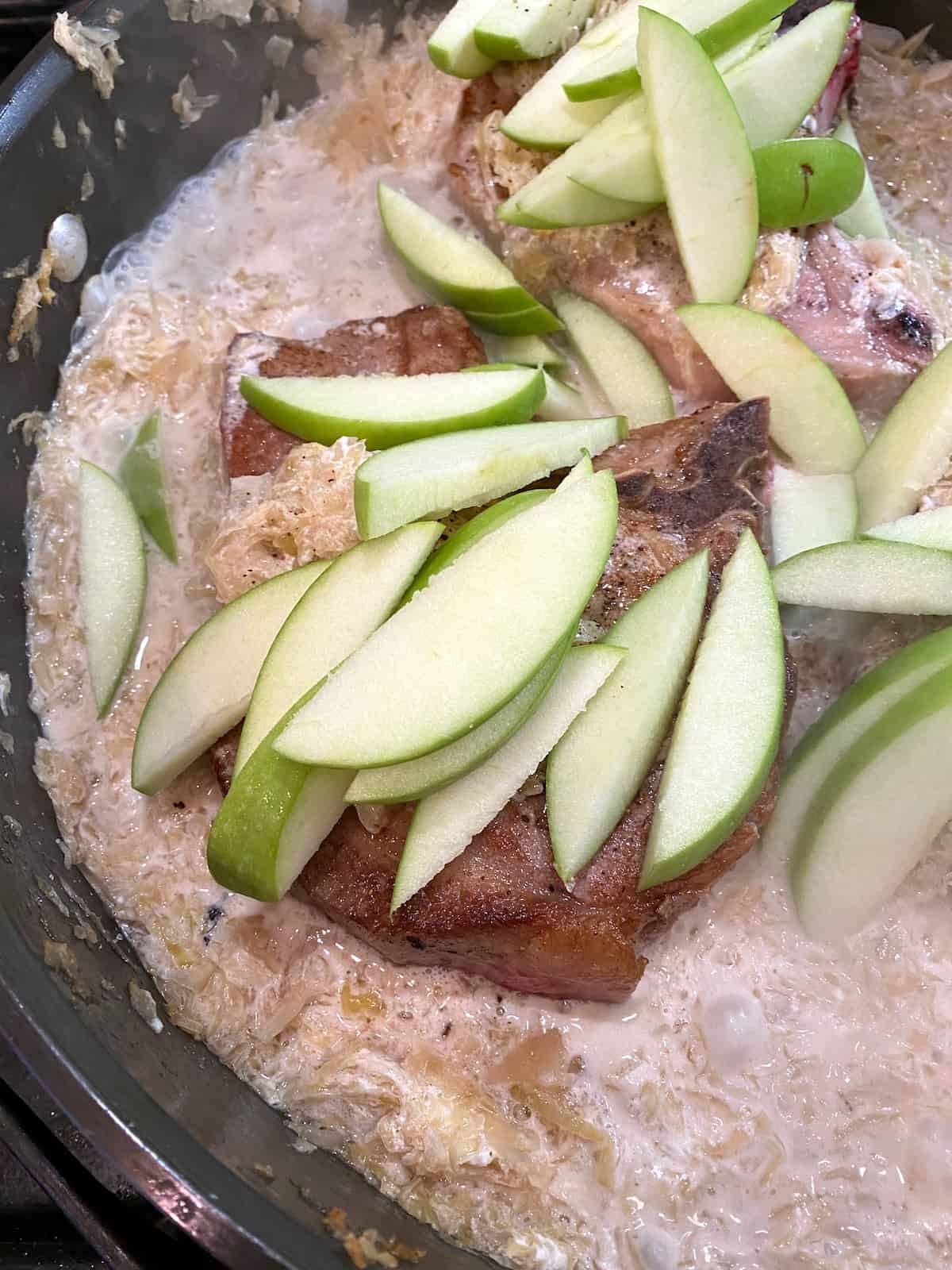 Easy Recipe, Good for Camping
This recipe is easily adapted for a camping trip or for cooking in your RV kitchen. The reason is, it's all cooked in one skillet, on the stove (or try it in the Dutch Oven). So simple. All the ingredients are handy to pack for the road. Just slice the apples when you are ready to start cooking.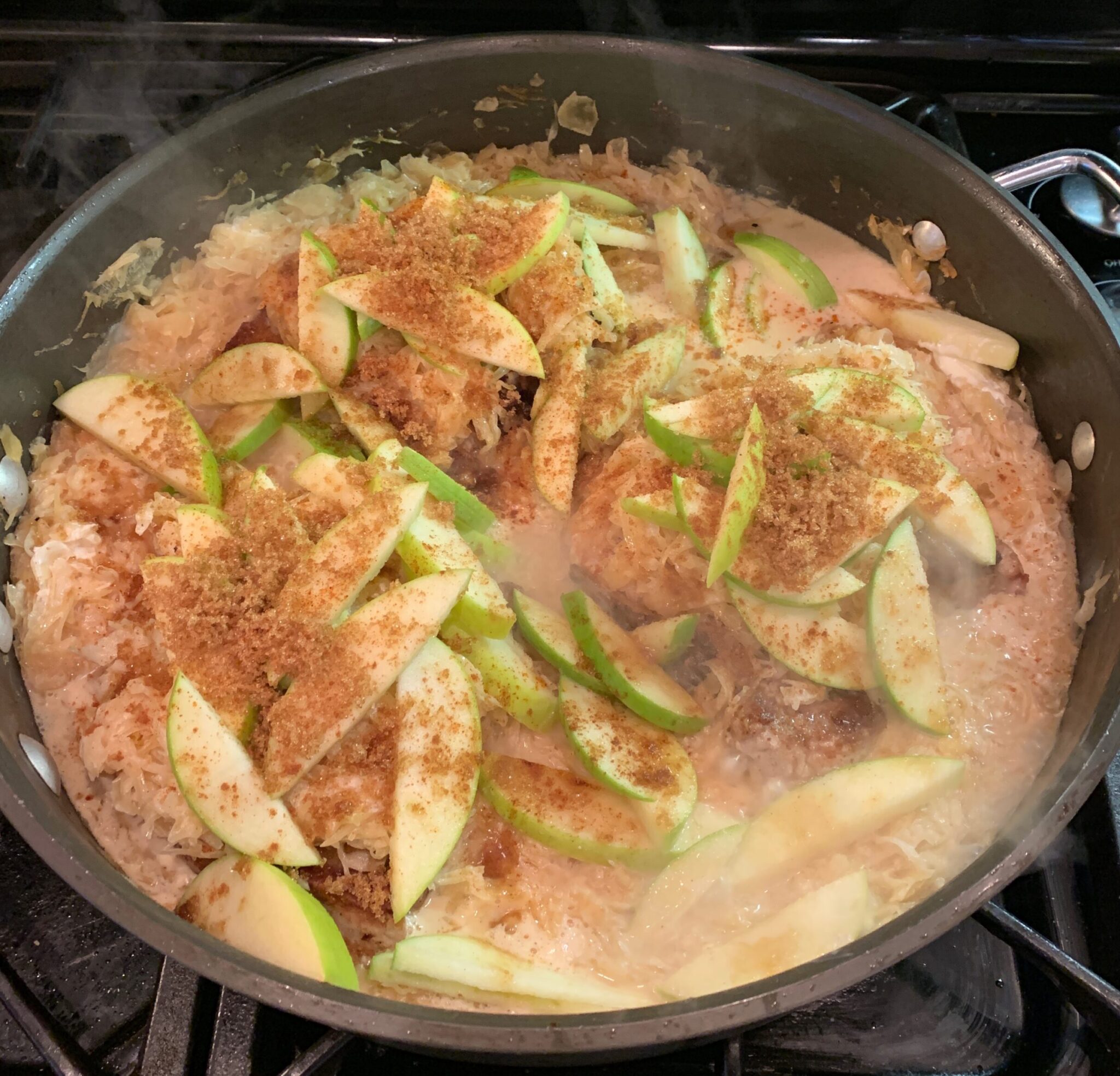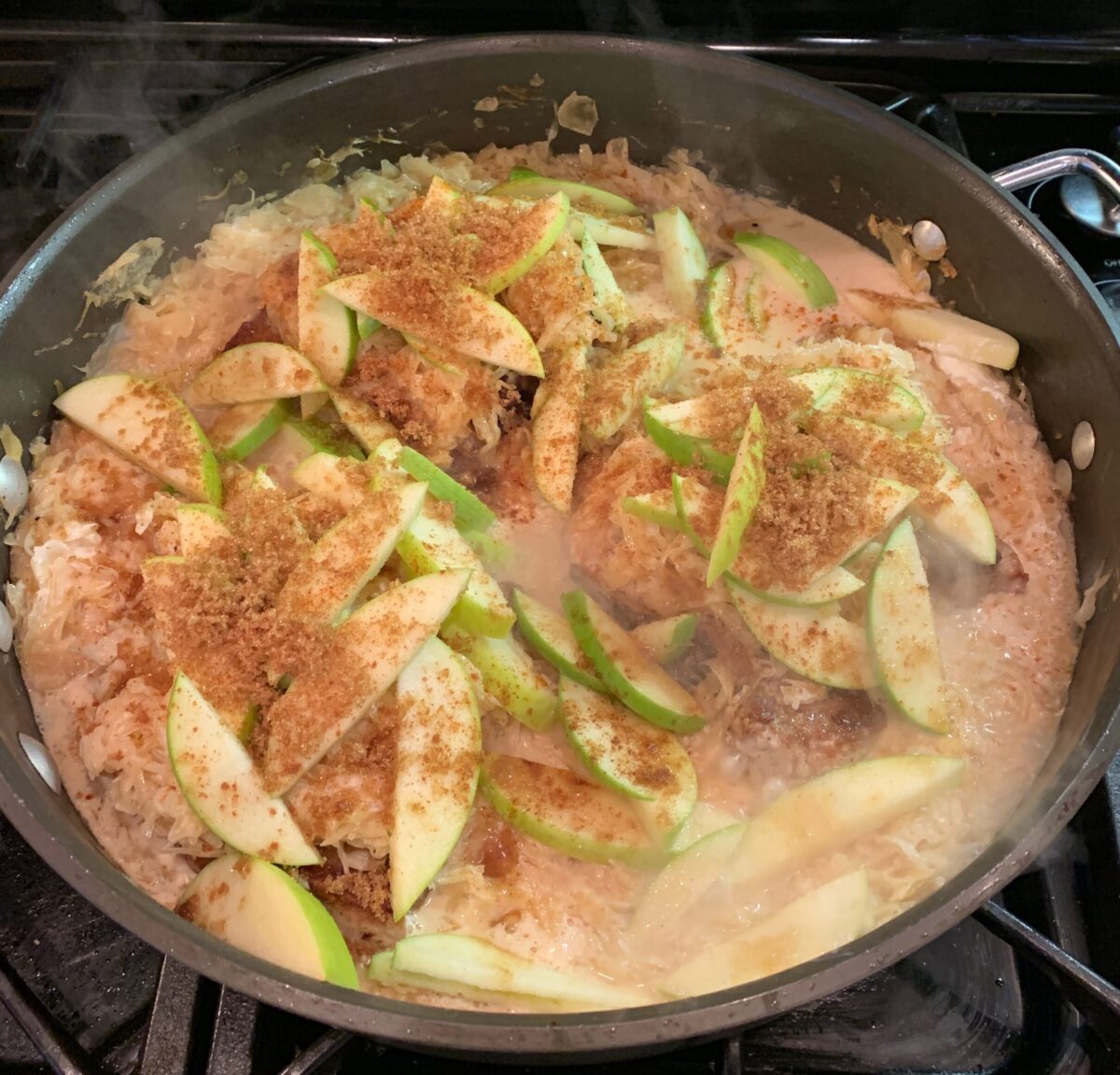 The Inspiration
This recipe was adapted from one found a well-used paperback titled The Great American Outdoors Cookbook, which belongs to my friend Melissa. It's a treasure trove of wonderful recipes.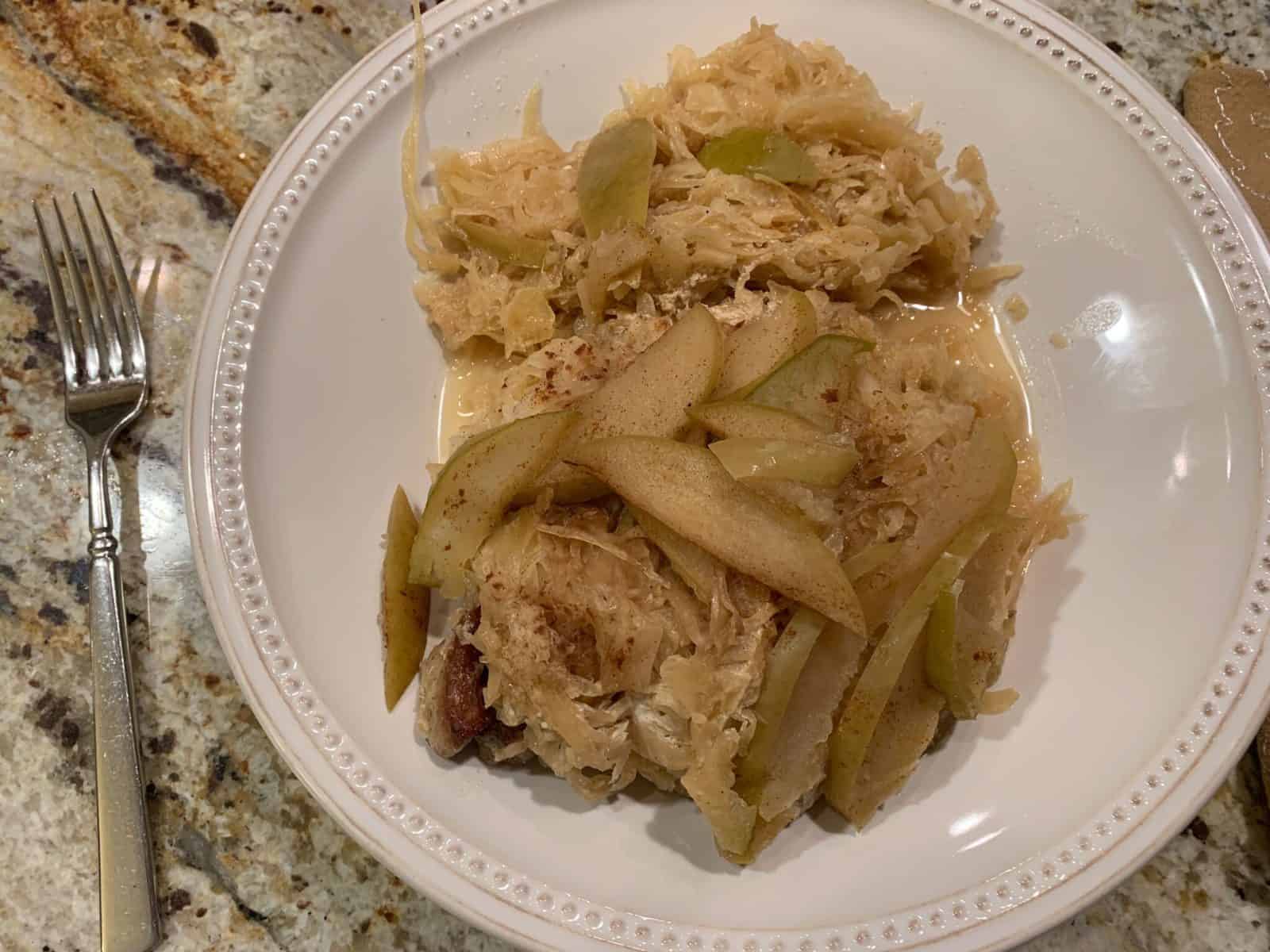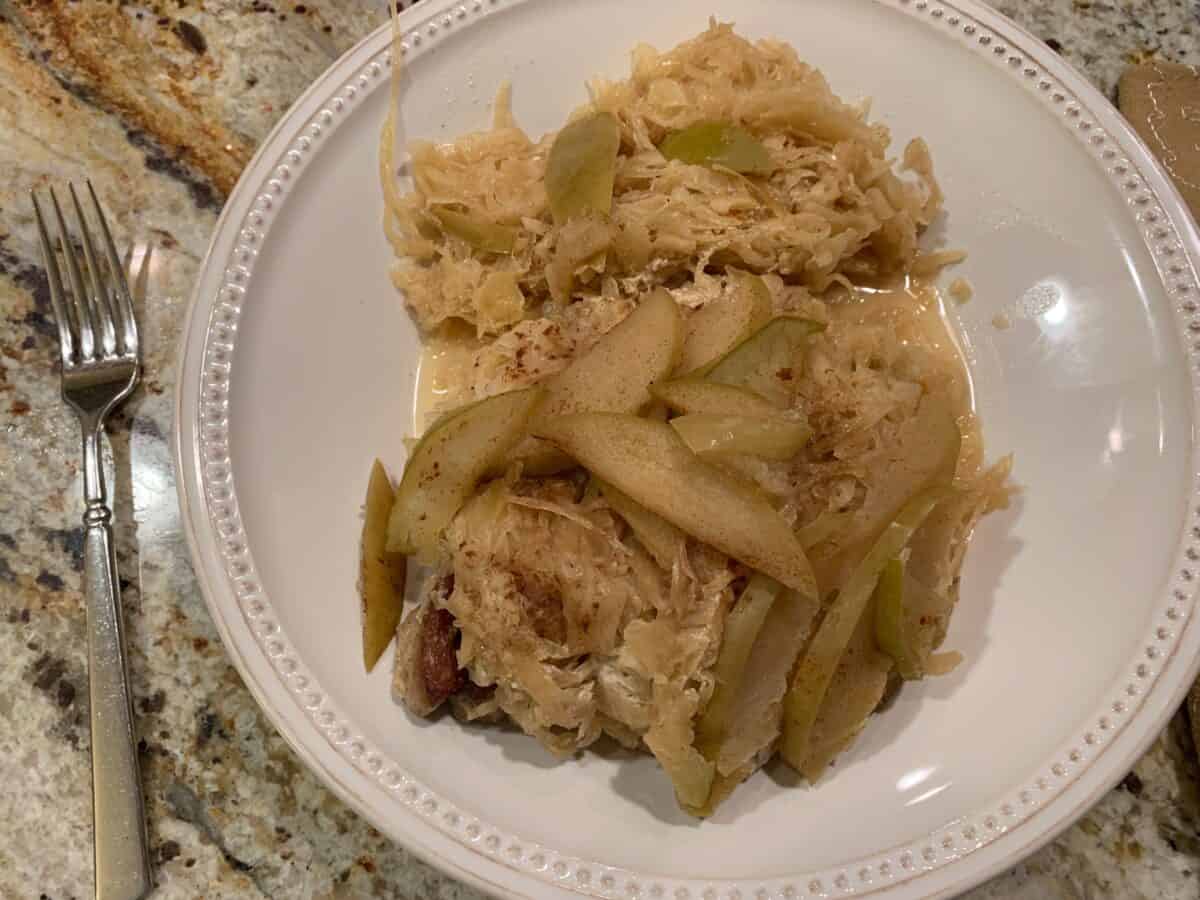 Other Dinner Ideas
Of course apples are a wonderful ingredient in dessert too. Be sure to try my No Peel Apple Cake any time you have a few apples on hand and want to make a delicious treat. The recipe is easy to make and just like German Pork Chops, you don't need to peel the apples.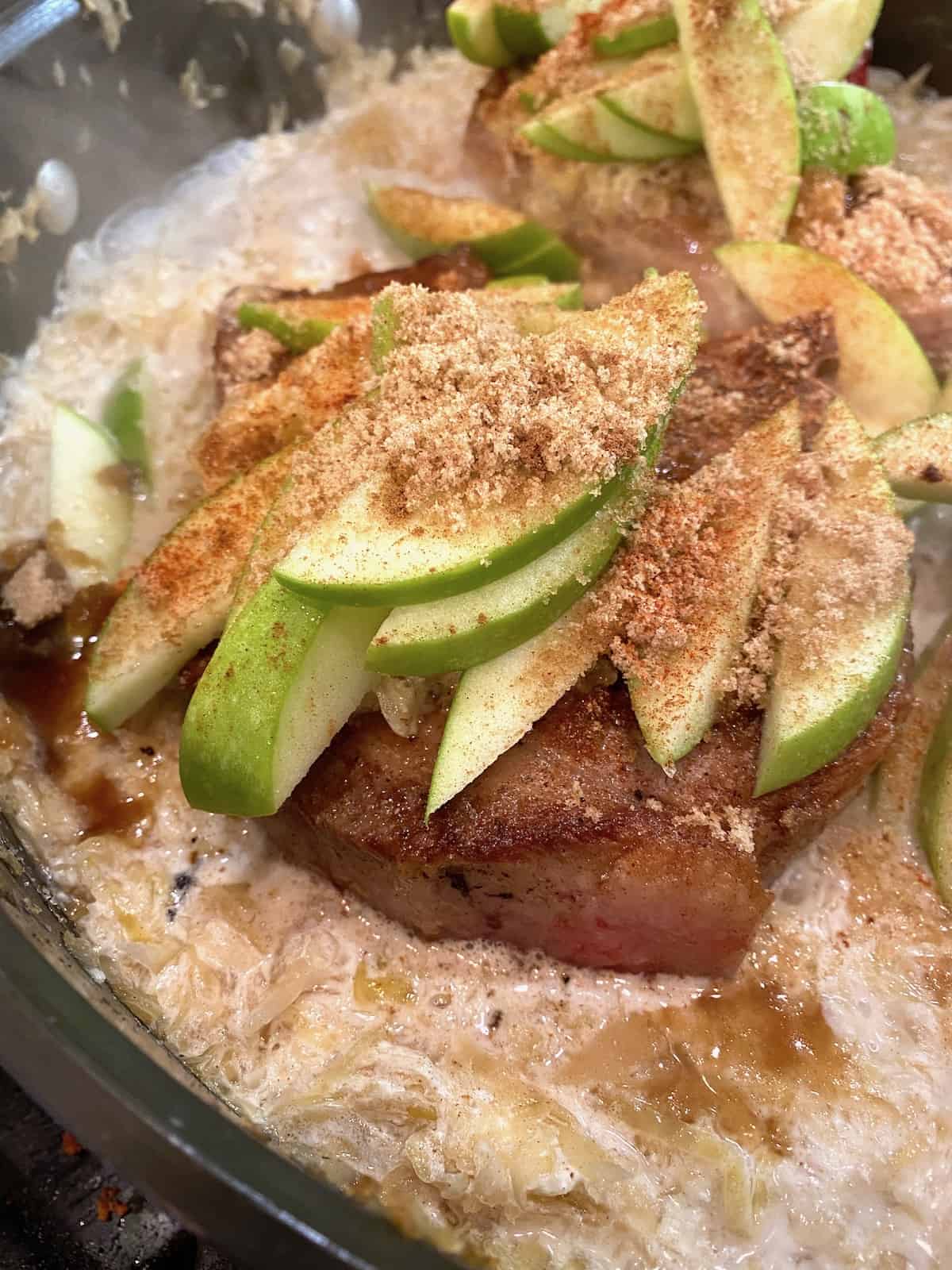 Be sure to give a star rating to the recipes you make from the Crinkled Cookbook. I always love hearing from you. Sharing is great too! Use the buttons after the recipe to text it with just one click or send it to family and friends on Pinterest and Facebook. Enjoy.
Recipe